April 28 - May 4, 2013: Issue 108
ANZAC Day in Pittwater - 2013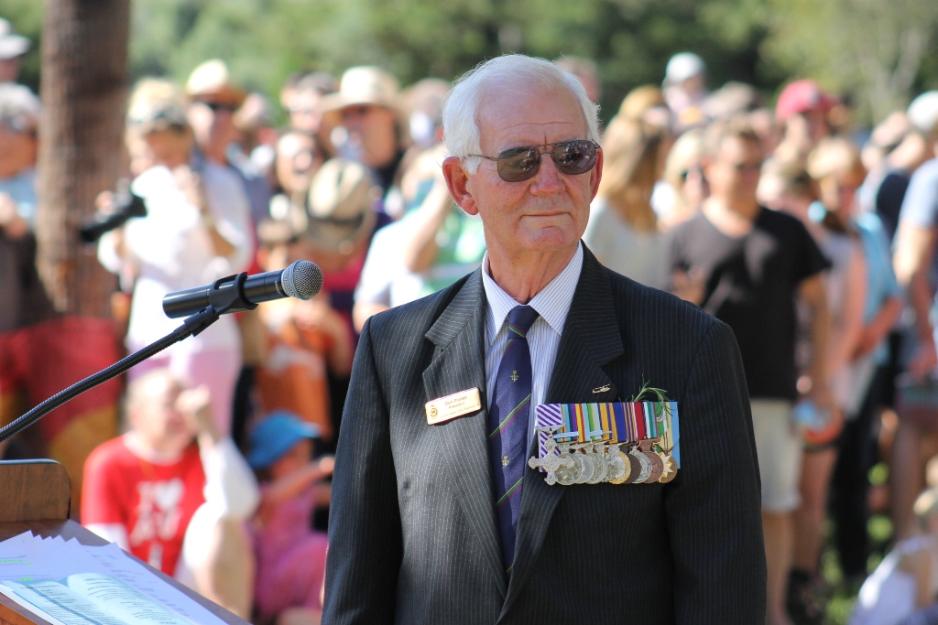 Don Porter, President of the Avalon Beach RSL Sub-Branch on April 25th, 2013 at Commemoration Service. Photo by A J Guesdon.
Anzac Day in Pittwater began on Sunday the 21st of April with the annual Pittwater RSL Sub Branch march to Mona Vale Memorial Park for a Commemoroative service. At dawn on Thursday, 25th of April, one of the longest running suburban dawn commemorative services commenced at Avalon Beach RSL. A clear night brought an autumn chill to the morning and the muffled sound of waves breaking against the shore behind the dunes gave a glimmer of what our ancestors may have experienced at Gallipoli and on all frontiers of conflicts past.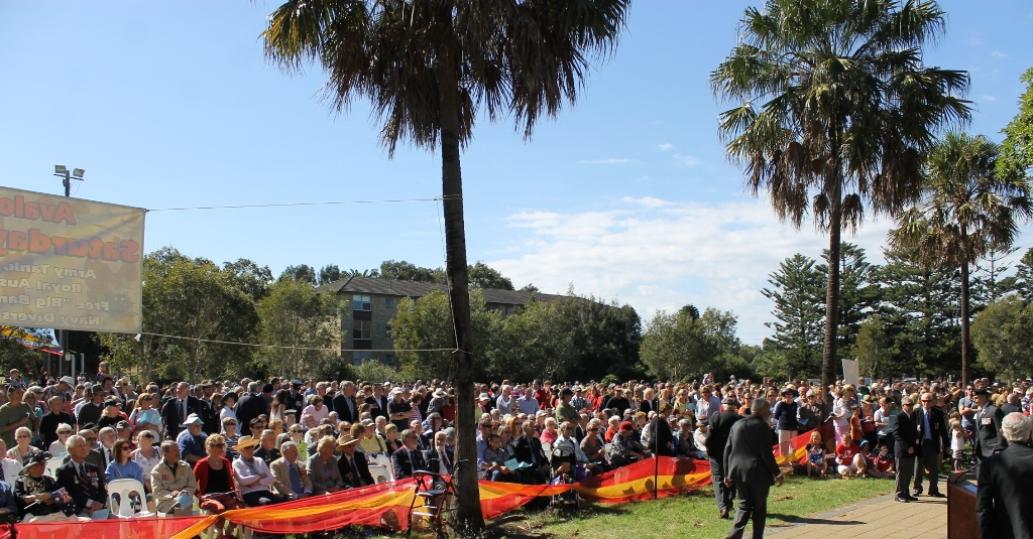 A sentiment expressed by one commentator during this year's ANZAC Day reports is that our Dawn Service on this day each year honours those who did not return while the March that takes place afterwards honours those who did and gives all a chance to see and thank these service people as much as allow them a chance to catch up with old friends.
The formal services of both dawn and mid-morning marches incorporates the Last Post, the Ode and these are followed by Reveille. The Last Post is used at Commonwealth military funerals and ceremonies commemorating those who have been killed in war.
It had another function at the close of a day of battle. It signalled to those who were still out and wounded or separated that the fighting was done, and to follow the sound of the call to safety and rest. Its use in Remembrance Day, ANZAC Day and Victory in the Pacific Day ceremonies in Australia has two generally unexpressed purposes: The first is an implied summoning of the spirits of the Fallen to the cenotaph, the second is to symbolically end the day so that the period of two minutes silence, before the Rouse (bugle call to wake soldiers up) and then the Reveille (bugle call to get out of bed) is blown, becomes a ritualized night vigil.
It allows all attending, whether at dawn or a mid-morning Commemorative Service after the March, two minutes silence to reflect on what the experience of war may be or to remember relatives still present or gone, may have gone or be going through.
These notes, the last long one, the silence and then the call to rise in quick piped call express our sadness, our melancholy, our turn at keeping watch and the sigh and determination and rush to do again with quick step, with clear eye.
The custom dates from the 17th century, originating with British troops stationed in The Netherlands. It draws on an older Dutch custom, called taptoe, from which comes the term Tattoo as in Military tattoo, and also the term Taps as in 'turn off the beer taps'. The 'Last Post' was also used by British forces in North America in colonial times. There its function was taken over as 'Taps' and has been used by the United States Army since 1862.
The use of both the Last Post and the Rouse and Reveille at cenotaph ceremonies here, since the First World War, also carries a Christian reference to Judgement Day and a hope that there will be one day when the living and the dead arise together.
This year the Prologue was given by Don Porter, President of the Avalon Beach RSL sub-branch:
We have assembled here this morning to remember and commemorate the day we cal ANZAC day – that day when this country joined with allies to fight at Gallipoli.
This was not the first time this country had sent soldiers overseas to fight wars. They left in 1885 to assist the British forces North Africa and again, in 1899, they were sent to assist the British in the Boer war in Southern Africa.
My wife Kathryn recently pointed out to me the writings of a lady, a Miss West, an English woman who with her friend Miss Clubbe came to Australia where, in 1913, they started a school for girls.
In an address to the school on ANZAC Day in 1954, Miss West made the following observations about Australian nationhood - she noted the following events as the important stages of the development of the Australian nation:
The First: In 1901 Federation - the six separate states of Australia became one
On 25th of April 1915 the ANZACs landed at Gallipoli
In May 1927 the first Federal Parliament was opened in the new capital Canberra
In 1931 by the Statute of Westminster, Australia became an independent nation – part of the British Commonwealth of Nations - all of which are equal
Miss West noted that all these events were important - they marked definite stages in the
evolution of Australia as a nation
But if we had to choose one of them of which we could say "Here our nation was born" - "This event made us a 1iving nation" we would probably choose the landing at Gallipoli on April 25th 1915.
Miss West, almost 60 years ago, observed that Laws, statutes, and parliaments cannot give life, nor can constitutions bestow nationhood – what makes a nation is the quality of its men and women and a nation is made great by consecrated lives and heroic deeds.
Miss West was pretty close to the mark.
Notwithstanding Gallipoli was a defeat – each year on this day – people all over Australia – and Australians overseas – meet to pay homage to all who have suffered and died for Australia – it has become a tradition and properly observed can exert a profound influence on our lives and a sense of responsibility.
In World War I, at Gallipli, in the Middle East and on the Western Front their deeds and sacrifice demonstrated to the world that they, the ANZACS, came from lands that deserved recognition.
And 21 years later, In World War II, the sons and daughters of those ANZACS came forward and discharged fully, in deeds and sacrifice, the heritage of the ANZACs.
They followed the call in Korea, Malaya, Borneo, Vietnam, Iraq and Afghanistan. They took up arms in peacekeeping, peacemaking and border control operations serving in Egypt, Pakistan, the Middle East, Somalia, Cambodia, Rwanda, East Timor, Bougainville and the Solomon Islands.
And there are those who lost their lives while training and preparing themselves for war in this and other countries.
We should remember not only our Defence Force personnel but also the members of our Australian police forces and volunteer medical staff who have also deployed to many of these countries.
It is also well to remember that Australians generally are welcome in most countries of the world where Australian Forces have trod and that welcome importantly includes Turkey and Vietnam where with our allies we suffered defeats.
Our freedom, our liberty and our humanity was won at great cost – 102, 000 lost their lives. Our freedom, our liberty and our humanity must not be lost by our own indifference – mourn with pride and hold fast the heritage they left us.
Hon Bronwyn Bishop gave the Commemorative Address and honoured all those who serve today as much as the many who preceded them. Having visited Gallipoli and many other cenotaphs around the world, our Member for Parliament reiterated her respect and support of all who serve Australia in every branch of the services and reminded all present how much we owe to our servicemen and servicewomen.
As has been the practice for several years now, formal wreaths laid at the cenotaph to honour the fallen are also complimented by tributes of books which are later distributed to local schools.
Order Wreath Service — Anzac Day 2013
Bronwyn Bishop, MP Pittwater, Wreath
Robert Dodds, Avalon Beach RSL Sub-Branch, Wreath
Mark Houlder, Avalon Beach RSL Club, Wreath
Order Book Laying Service — Anzac Day 2013
John Anderson, Avalon Beach RSL Sub Branch
Robert White, Avalon Beach RSL Club
Mayor Councillor Jacqui Townsend, Pittwater Council
Councillor Bob Grace, Pittwater Council
Supt. Doreen Cruikshank, Commander of Northern Beaches Police
Inspector Nigel Taylor, Northern Beaches Police OWN BOOK
Ian Bowsher, Principal Barrenjoey High
John McInerney, Manly Warringah Pittwater Legacy
Harry Crampton, President, Pittwater RSL Sub Branch
David Newell, Dee Why RSL Sub Branch, OWN BOOK
Marilyn Plaskett, St John's Ambulance
Susie Lough, Zonta Club of Northern Beaches
Col Dalgleish & Avalon Village Meats In Memory of 2"d Lt John Frazer
Mary Davidson, President, Avalon Beach Red Cross
Gloria Xuereb, Avalon Beach Red Cross
Aela Parkes, Avalon Surf Life Saving Club
Jack Wetherill, Avalon Surf Life Saving Club
Chris Elliott, Avalon Beach RSL Fishing Club
Peter Morrow, Avalon Beach RSL Golf Club
Jaimi Ward, Barrenjoey High School Captain
Will McMullen, Barrenjoey High School Captain
Keith Lorenz, Avalon Beach Bowling Club
Tom Baum, Avalon Junior Rugby League
Jude Benney, Avalon Soccer Club
Ron Hare, Avalon Voices Choir
Prayers were read this year by Barrenjoey High school Captains Jaimi Ward and Will McMullen. The Catafalque Party and Honour Guard was provided by 305 Squadron Australian Air Force Cadets. Andrew Laurich conducted the Barrenjoey High school Band. Bugler was Axel Akerman. Vocalists for the New Zealand National Anthem Maori verse were Jess Harris, Joy Yates and Kim Heart and all hymns were led by the Avalon Voices.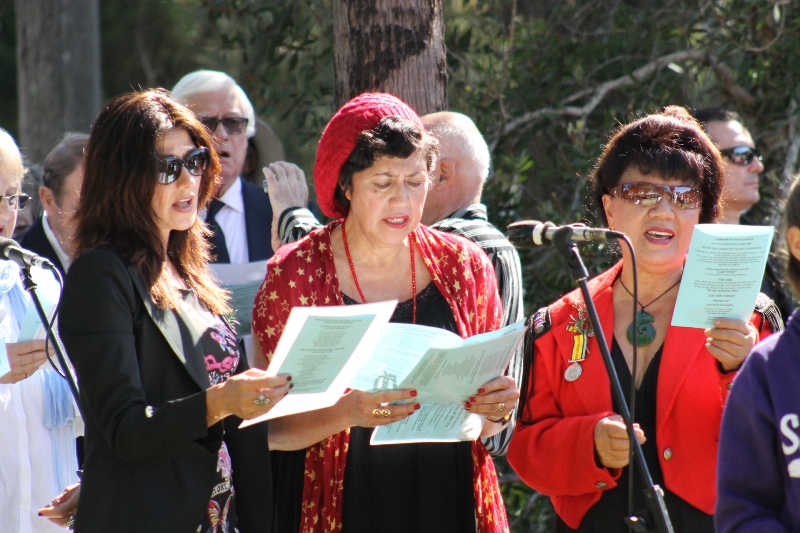 Kim Heart, Jess Harris, Joy Yates.
Our Pictorial this week is of the Pittwater RSL March, Avalon Beach RSL Dawn Service, Avalon Beach RSL March and Commemorative Service and Two Up at Palm Beach.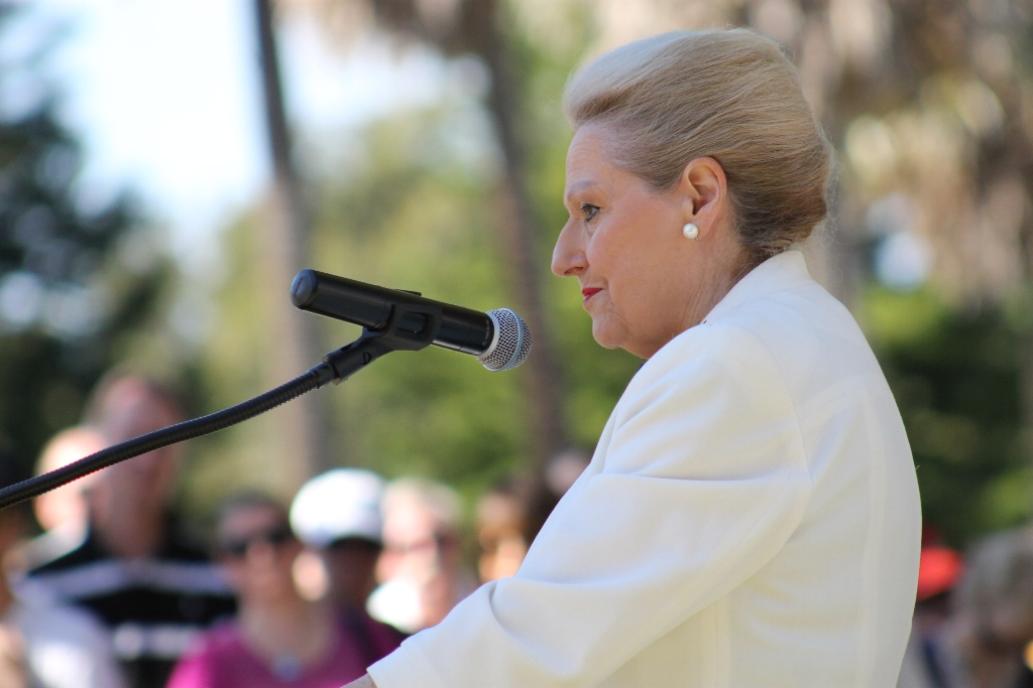 Hon. Bronwyn Bishop during her Commemoration Address.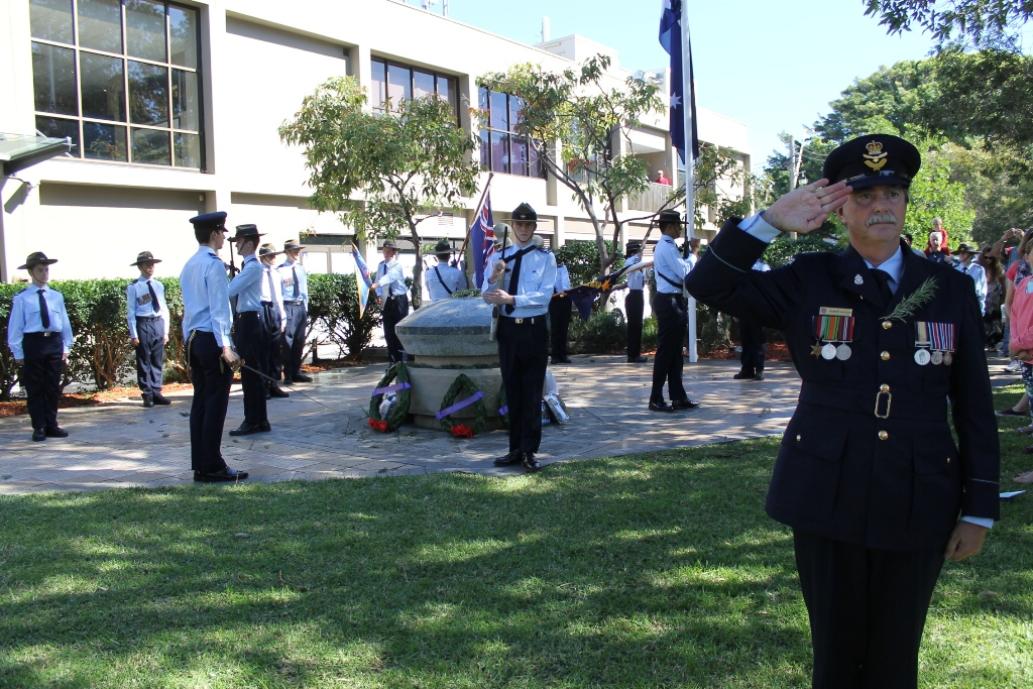 The Catafalque Party and Honour Guard - 305 Squadron Australian Air Force Cadets
Report and Photos by A J Guesdon, 2013.