May 15 - 21, 2022: Issue 538
local trifecta in 2022 Wynne Prize - archibald prize + Finalist Works that Celebrate Local Beauty, nature, character; saving the environment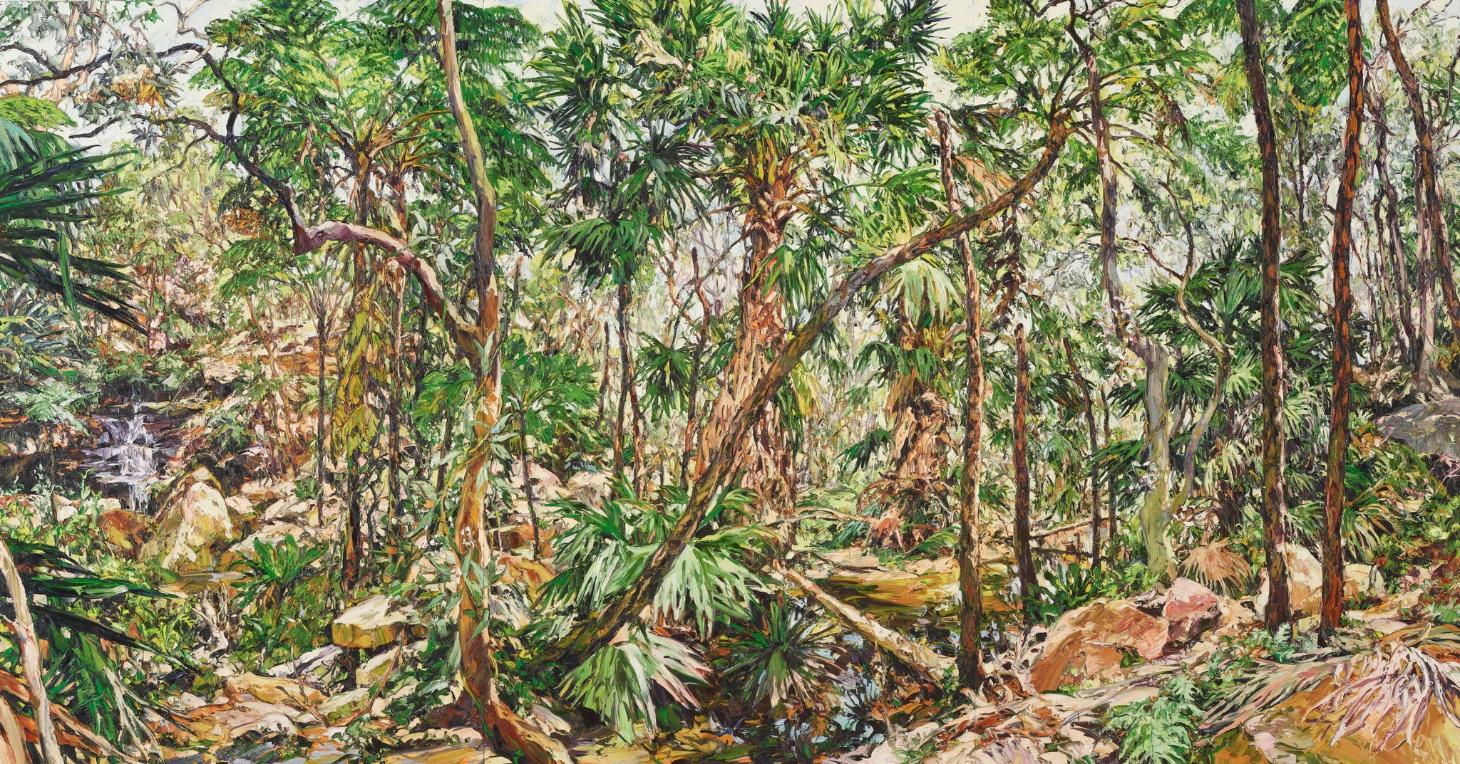 Winner Wynne Prize 2022, Nicholas Harding Eora, oil on linen, 196.5 x 374.8 cm © the artist, image © AGNSW, Mim Stirling
Nicholas Harding's
Eora
, was announced as the winner of the 2022 Wynne prize. Mr. Harding said his painting is a confluence of landscape around Narrabeen Lagoon and Sailors Bay walk on Sydney Harbour. In being named this year's Wynne Prize winner he joins Winner of the Wynne Prize in 1940, Sydney Long for '
The Lake, Narrabeen
', although Mr. Long was on the judging panel that year.
Another wonderful work featuring local scenes as a Finalist in this year's Wynne prize, is Gemma Rasdall's ''Framed by life offshore'', watercolour and gouache on paper; 75 x 85.5 cm (overall)
Artists' Statement
Welcome to Scotland Island: a short boat ride, casual paddle or vigorous swim from Church Point Wharf on Garigal Country, NSW. We offshore dwellers blow in and out with the tides, basking like seals when the sun shines and washing up like drowning rats when the squalls hit. This place and its people – a quirky and multifarious community – warm my soul and flood my creative practice with colour and movement. This artwork is a collection of moments captured around the island and its surrounding bays from friends' and neighbours' houses. It is an ode to the place I call home. - Gemma Rasdall, 2022
Find out more at: www.gemmarasdall.com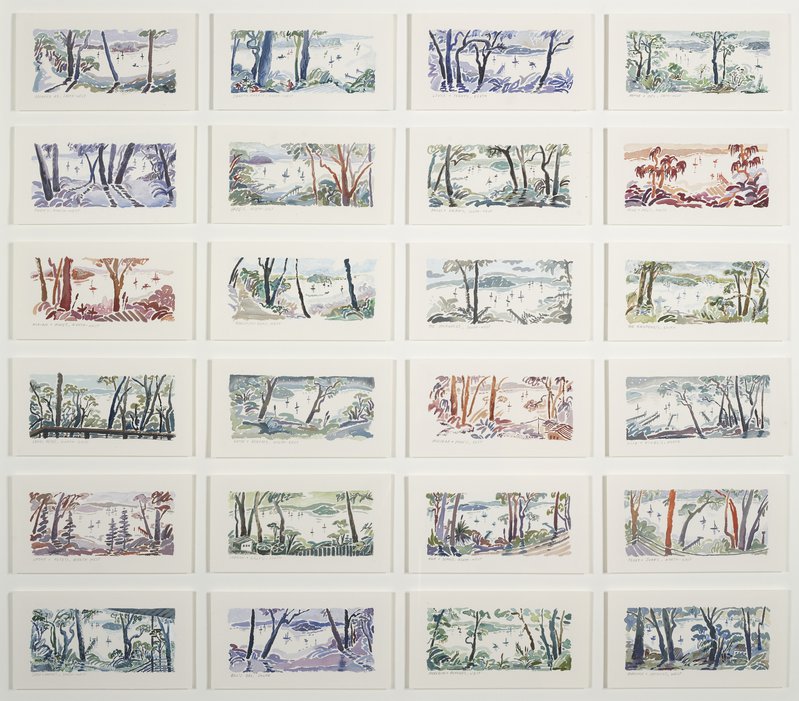 Framed by life offshore.© the artist, image © AGNSW, Mim Stirling

The Art Gallery of NSW also hosts the Roberts Family prize, specifically for work by Indigenous artists, which this year was won by Sally Scales for Wati Tjakura, acrylic on linen; 197.6 x 166.6 cm
Artists Statement
I am a Pitjantjatjara woman from Pipalyatjara in the far west of the Aṉangu Pitjantjatjara Yankunytjatjara (APY) Lands. In this work, I am painting Aralya, the ancestral home for my family. My painting practice combines elements of the artistic styles of my two grandmothers, Kuntjiriya Mick and Kunmanara (Wawiriya) Burton, and my mother, Josephine Mick. The painting depicts the Tjukurpa (creation story) of Wati Tjakura, an edible skink lizard. The Wal Mala (army) of Wati Wanambi (snake men) from Malara came and threw spears at Wati Tjakura. He tried to escape but they killed him. His family came to grieve and bury him. - Sally Scales, 2022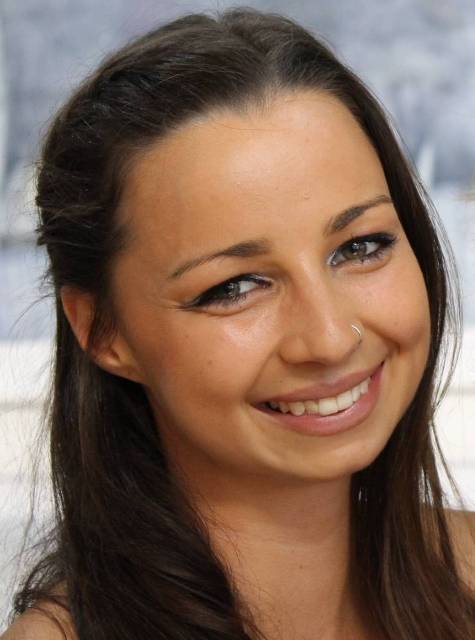 Gemma when exhibiting as part of ArtSpot 2013
Roberts Family prize 2022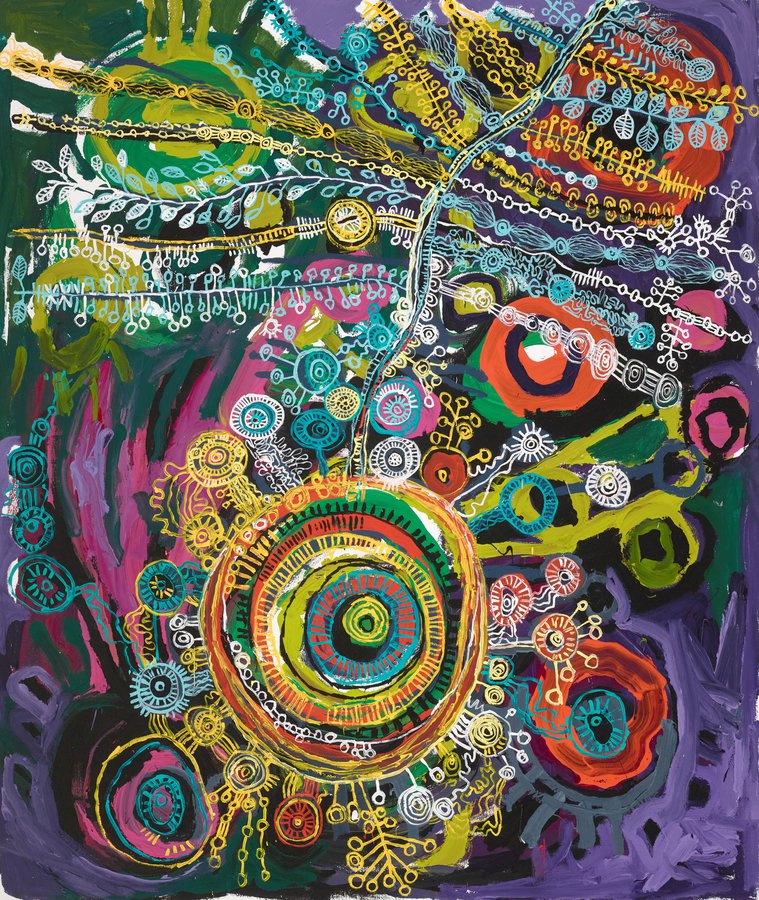 Wati Tjakura © the artist, image © AGNSW, Mim Stirling

Finalists in the Wynne Prize are eligible for the Roberts Family Aboriginal and Torres Strait Islander Prize, an annual prize of $10,000 awarded to an Aboriginal and/or Torres Strait Islander artist. Sally, a Pitjantjatjara woman from Pipalyatjara in the far west of the Anangu Pitjantjatjara Yankunytjatjara (APY) Lands in remote South Australia, is the fifth recipient of the prize, which was established in 2018.
The Wynne Prize 2022 had 601 entries with 34 selected as finalists. For the second year in a row, there are more finalist works by women artists than by men.
The Wynne Prize is Australia's oldest art prize, awarded annually for 'the best landscape painting of Australian scenery in oils or watercolours or for the best example of figure sculpture by Australian artists'.
This was Mr. Harding's 9th time as a Wynne finalist – he also exhibited in 1994, 1996, 1998, 2003, 2012, 2013, 2016 and 2017. He is also a 19-time Archibald finalist between 1994 and 2020, winning the Archibald in 2001 with John Bell as King Lear and the People's Choice in 2005 with Bob's daily swim. He's also a 3-time Sulman finalist (1980, 2003, 2007), and won the Dobell Prize for Drawing in 2001.
Mr. Harding said on Friday May 13th, when the winner was announced,
''Eora' was the word used by Aboriginal people of Sydney to describe where they came from when asked by the British invaders what the place of first settlement was called,'
'My favoured pandanus trees are harbingers for the cabbage palms, while the ferns are influenced by our courtyard ferns that were shadowed by a neighbour's eucalypt but perished when exposed to the sun's heat after the tree was removed. Leafless fern trunks haunt Eora as warnings for the consequences of land-clearing. The locations observed for this landscape are now small, dwindling pockets amongst suburban developments. The dragonflies, which are not easy to find, are symbols of change, transformation, adaptability and self-realisation.
'Eora stands as a memorial to how extraordinary the landscape must have been before white people got here and invaded the place and encroached on the landscape itself.'
This year two highly commended honours were awarded to Lucy Culliton for her painting Mooresprings, a good season, and Juz Kitson for her sculpture An unwavering truth. She walks in beauty, of the night and all that's best of dark and bright. In memory of the wildfires.

Archibald prize 2022: Blak Douglas's Moby Dickens
Environment was also the focus of this year's Archibald prize winner, Blak Douglas, a Sydney-based artist with Dhungatti heritage, in his portrait of his good friend and Wiradjuri woman Karla Dickens in Moby Dickens.
The muddy waters represent the devastating floods that claimed more than 3,600 homes in NSW's northern rivers region earlier this year. Karla a Wiradjuri woman and Lismore resident, who gave sanctuary and a roof to three homeless families in the immediate aftermath of the floods, while the leaky buckets are a rumination of the lot of most artists.
"I see them as a metaphor for the art world," Mr. Douglas said at the announcement.
"You have to take a swim across a murky estuary to find your goal … and the leaking buckets is a metaphor for the 50% of your earnings (commission) going out the bottom.''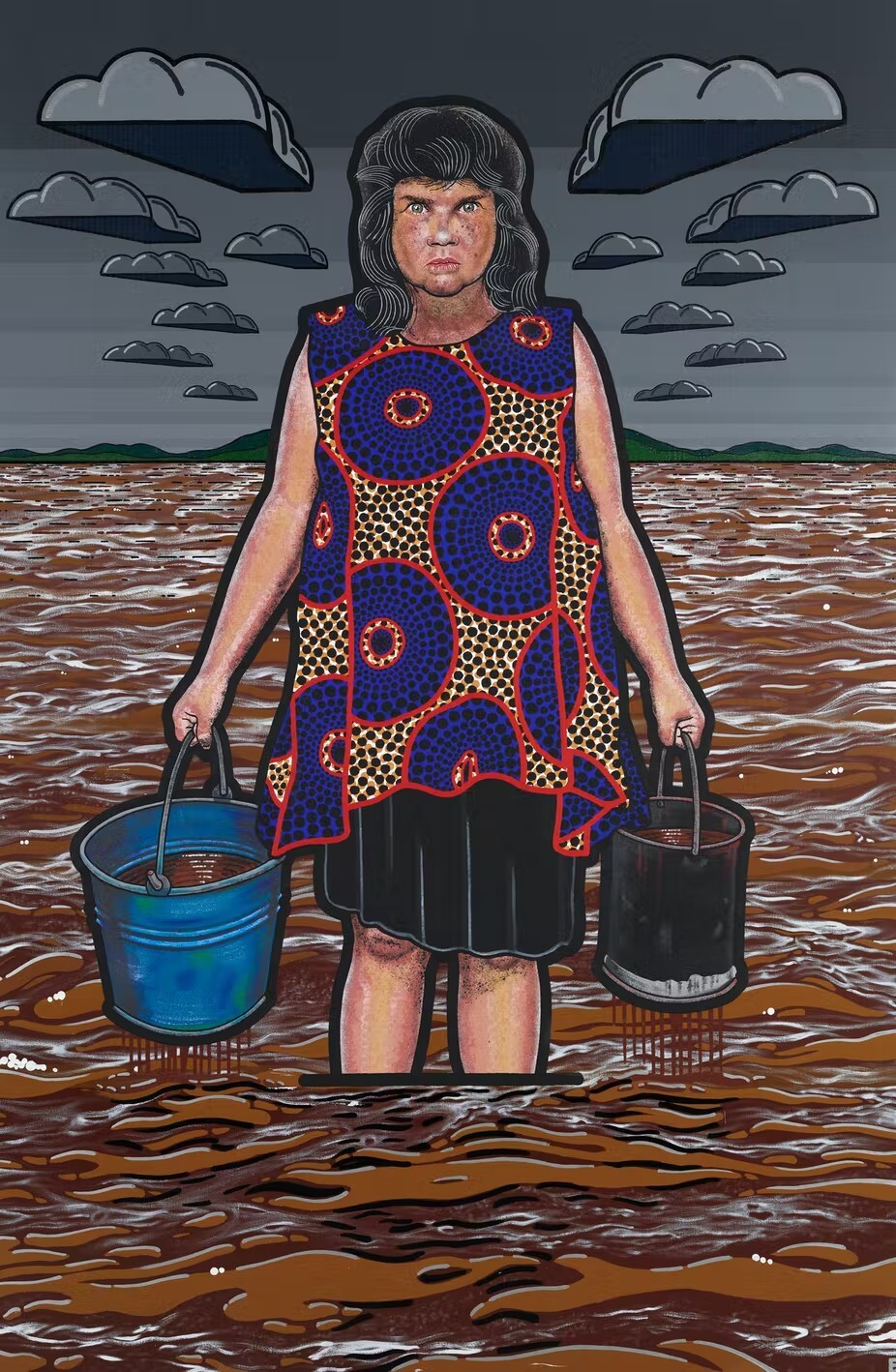 Winner Archibald Prize 2022, Blak Douglas Moby Dickens, synthetic polymer paint on linen, 300 x 200 cm © the artist, image © AGNSW, Mim Stirling

Karla Dickens, a Wiradjuri artist who creates on Bundjalung Country in Lismore, is likewise known for bringing black humour to her focus on race, inequality and gender, frequently being brave enough to communicate the annihilation she feels, rendering those who gaze steadily naked as well.
The Art Gallery of NSW has stated this week Dickens is one of nine artists who have been commissioned to produce a site-specific work as part of the Sydney Modern Project. Karla's work for this is a panel depicting hooded figures, which the gallery states is 'a powerful consideration of the continuing legacies of colonialism and patriarchy'. The frieze will be installed in the niche above the front door of the Art Gallery's historic building later this year.
''I am completely over the moon for my dear friend, brother in art and early morning confidant Blak Douglas,' Karla said. 'I love this talented man ... Adam is so deserving for all the praise and opportunity winning the Archibald will deliver.
'The painting – Moby Dickens – is a grumpy white sperm whale in muddy water ready to rip the leg off any fool with a harpoon who dares come too close. His painting not only has an incredible likeness to me and my mood in the last three months, but this killer work pays homage to each and every person who has found themselves knee deep in mud, physically, emotionally, mentally and financially after the natural disaster that has destroyed so many lives in the Northern Rivers of NSW and beyond.
'Let art be our witness - let Blak Douglas be acknowledged for the Dhungatti deadly visionary he is. Your old stand with you today.''
Douglas(born Adam Hill), a five-time Archibald Prize finalist, becomes the second Aboriginal artist to win the Archibald Prize in 101 years after Western Aranda artist Vincent Namatjira won in 2020, while Moby Dickens is the first time a portrait of an Aboriginal woman has won the prize.

''I'm elated to be the first New South Wales First Nations artist to have won with a painting of a New South Wales First Nations artist. It's a major historic win,' Blak said.
''Karla is my favourite female First Nations artist, we are dear friends, we are birds of a feather when it comes to our sentiment in art, and I really admire the way she pieces together her work.
Blak Douglas
Moby Dickens Artists Statement
'Spiritually, we all know that Mother Earth is angry at us' says Blak Douglas. His portrait of Wiradjuri artist Karla Dickens is a metaphor for the disastrous floods that hit northern NSW in early 2022. Its title references the 1851 novel Moby Dick, by Herman Melville. Douglas says, 'Karla is Moby – a strong, prized figure pursued by foreign combatants.'
Mr. Douglas often uses flat-bottomed clouds as a symbol in his work, representing what he calls the 'false ceiling of government'. There are 14 of them in this painting, indicating the number of days and nights that the first deluge lasted in February.
'The story of Noah's Ark comes to mind,' says Douglas. 'One would think that a devoutly religious prime minister might take significantly more note of the community's desperate call for assistance.'
He says that the leaking buckets in the portrait serve as a cryptic acknowledgement of the commissions that many commercial galleries take on artworks sold, which range from 10 to 50 percent. 'The rising muddied waters are a symbol of the artist's position within the art world – trepidatious, unchartered and ominous,'.
This year a highly commended honour was awarded to Sydney artist Jude Rae for her portrait of scientist, engineer and inventor Dr Saul Griffith, brother of Pittwater's own Selena, a remarkable creative in her own right, and both are the children of renowned Australian artist Pamela Griffith, whose work you see every day on your driver's licence. Here again environment and taking better care of the same is the focus for a family that practices what it preaches. Selena has one of the best permaculture homes in Pittwater, the family are all running their lives on net zero, while Saul's February 2022 book, The Big Switch: Australia's Electric Future, lays out in succinct simple detail how net zero can be achieved yesterday using already existing technology that's cheaper than what you're paying now.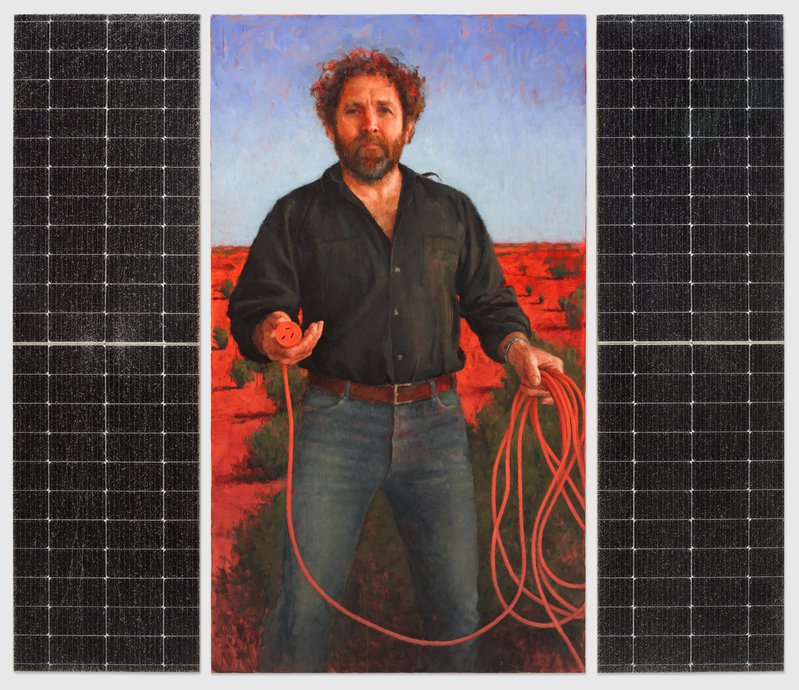 Jude Rae, The big switch – portrait of Dr Saul Griffith, © the artist, image © AGNSW, Mim Stirling
Artists Statement
In March 2022, Jude Rae heard Sydney-born inventor and engineer Saul Griffith on the radio. He was talking about using electricity to replace technologies that still run on combustion, such as petroleum, coal and gas. The new technologies powered by renewable energy would dramatically cut emissions and – with Australia's natural advantages – help our economy, not hurt it.
She contacted his San Francisco office, offering to paint his portrait for the Archibald Prize if he was in Australia, to find that he had just relocated his family to Wollongong in NSW.
'My portraits are always collaborations but this one went to the next level. We only had a month and the solar panels were quite an adventure. When we tried to cut them with a water jet, the toughened glass fractured but they were so beautiful we went with it,' says Rae.
'Like this portrait, Australia's climate policy is now going right down to the wire. It is crazed and cracked but the recipe is simple – electrify everything with renewables. We have to stop having debates, develop policies and hand the plans to engineers who are ready and waiting to get it done. Like Saul, they want to plug Australia into an abundant future.'
Jude Rae is also a finalist in this year's Wynne Prize with her landscape The white fig (Ficus cirens), Royal Botanic Gardens, Sydney.

There were 816 entries for the Archibald this year with 52 selected.

Sulman Prize Winners 2022
Collaborative duo Claire Healy and Sean Cordeiro have won the Sulman Prize 2022 with their work Raiko and Shuten-dōji, a depiction of the fight between Japanese warrior Raiko and the demon Shuten-dōji painted on the fuselage of a Vietnam War–era helicopter.
Based in the Blue Mountains, they have worked together since 2001 and are the first collaborative duo to win the Sulman Prize. On hearing that Raiko and Shuten-dōji, had been awarded the Sulman Prize 2022, Healy and Cordeiro said they were 'ecstatic' to win.
'It's such a beautiful exhibition, we are really proud to be part of that show,'.
The Sulman Prize, valued at $40,000, is awarded for the best subject painting, genre painting or mural project by an Australian artist and is judged by a guest artist each year. This year's Sulman Prize judge was artist Joan Ross, who selected 21 finalists.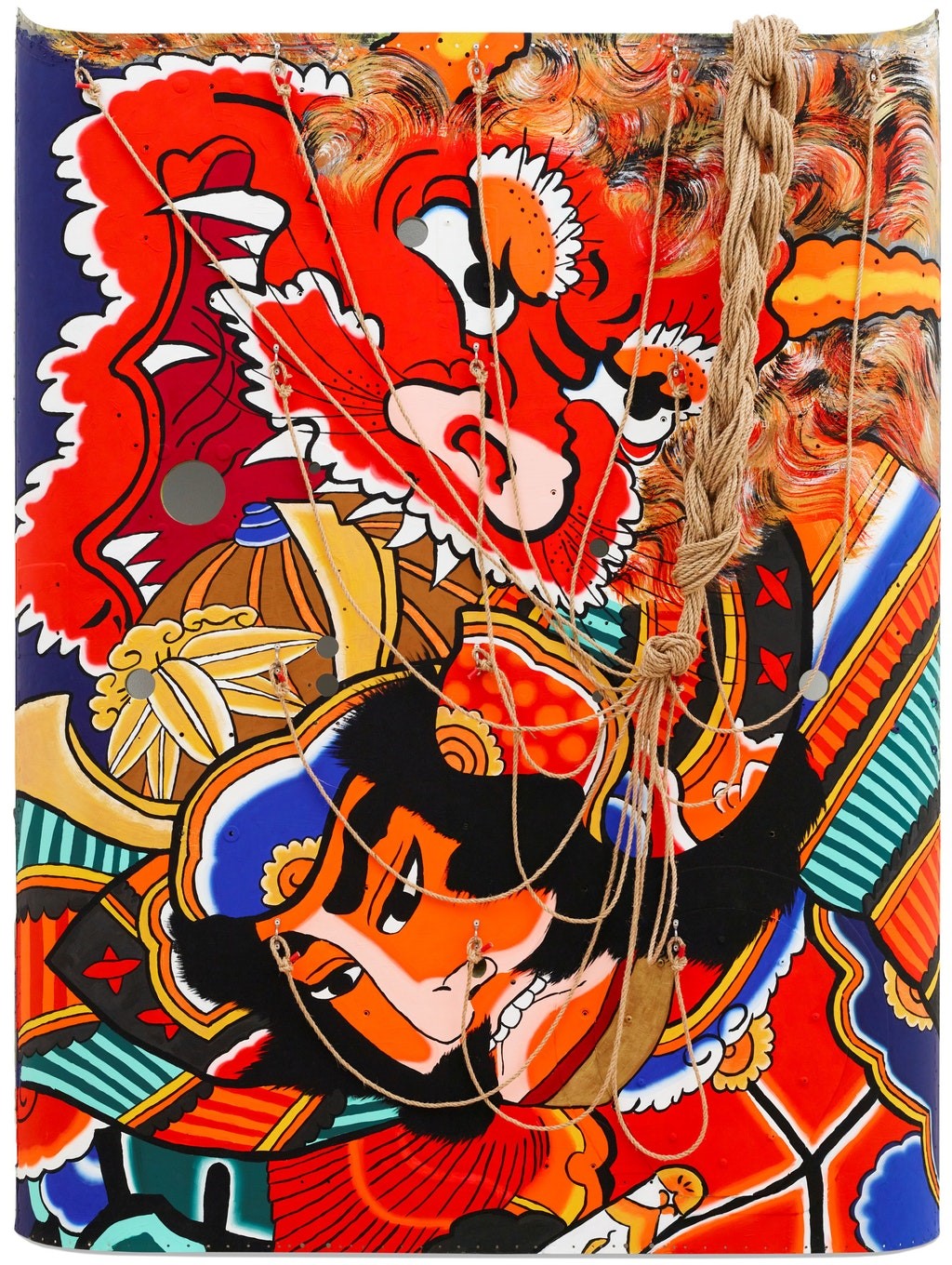 Winner Sulman Prize 2022, Claire Healy and Sean Cordeiro Raiko and Shuten-dōji, acrylic gouache, jute and tape on helicopter shell, 159.5 x 120 cm © the artist, image © AGNSW, Mim Stirling

All finalists in the Archibald, Wynne and Sulman Prizes 2022 will be exhibited at the Art Gallery of NSW from May 14th to August 28th 2022.
Archibald Prize 2022 will travel to six venues in Victoria and regional New South Wales, offering audiences outside Sydney the opportunity to see the finalists in the Archibald Prize 2022:
Bunjil Place, Melbourne | 3 September – 16 October 2022
Blue Mountains Cultural Centre | 22 October – 4 December 2022
Grafton Regional Gallery | 17 December 2022 – 29 January 2023
Wagga Wagga Art Gallery | 10 February – 26 March 2023
Museum of Art and Culture Lake Macquarie | 8 April – 21 May 2023
Western Plains Cultural Centre | 3 June – 30 July 2023
To keep up to date with all things Archibald and to buy tickets, please visit the Art Gallery of NSW's Archibald, Wynne and Sulman Prizes 2022 exhibition page.