The World at your Fingertips Online: during Isolation options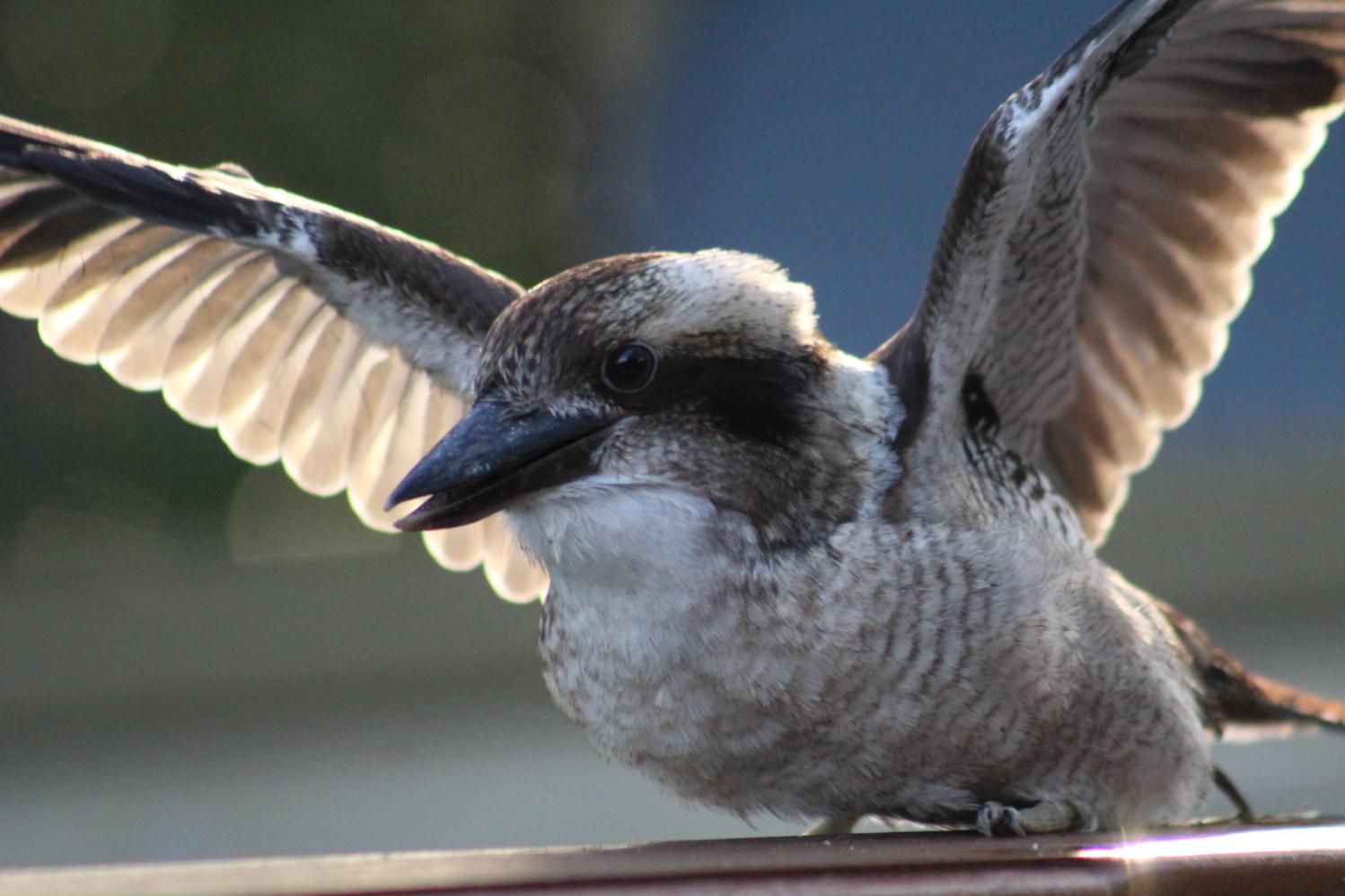 Whether you are self-isolating to protect your family from the coronavirus or due to age, vulnerability or illness, there is still a world of books, movies, galleries and cultural places you may tour online. On this page some are listed of those available and more will be added in.
Programs for Conferencing and hosting events
Zoom Software
Zoom is a cloud-based video conferencing, group messaging, and online meetings solution for the educational, financial, health care, and government sectors. It is compatible with both PC and mobile devices. Users can incorporate HD videos and audio to meetings and make them interactive.
There is a FREE option (hosts up to 100 people)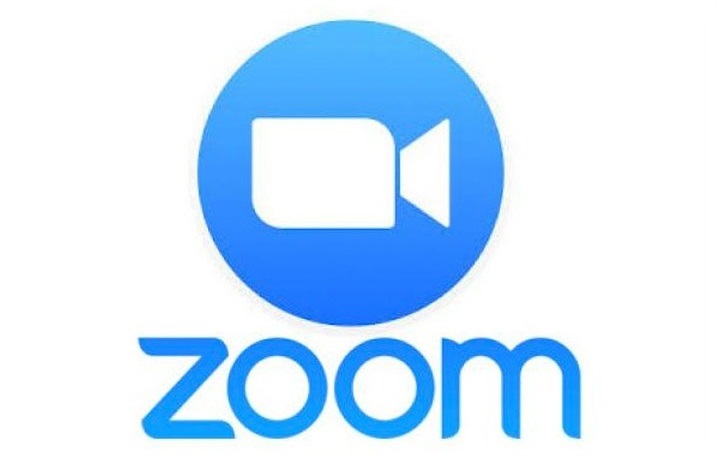 How to create an Event for an Online Virtual Facebook Party
Learn Something new: Australia MOOCs and Free Online Courses
There is a full range of everything your heart, mind and body wants to learn more about, presented and conducted by Australia's best universities, with courses starting Monday, April 6th!
Kids' Audio Guide To State Library Of NSW's Paintings
A new audio guide adventure for the State Library of NSW's Paintings from the Collection exhibition was created by kids, for kids.
This project is part of the Library's commitment to including the voices of children and young people in their exhibitions and learning programs. The project was led by Pauline Fitzgerald, Senior Education Officer, who has a particular interest in student voice. Ten students from Summer Hill Public School were invited to be part of the project and were supported by teacher librarians Carmel Grimmett and Lyndall Whiley from Summer Hill Public School.
Turn your home into a gallery with our Paintings from the Collection kids audio guide adventures.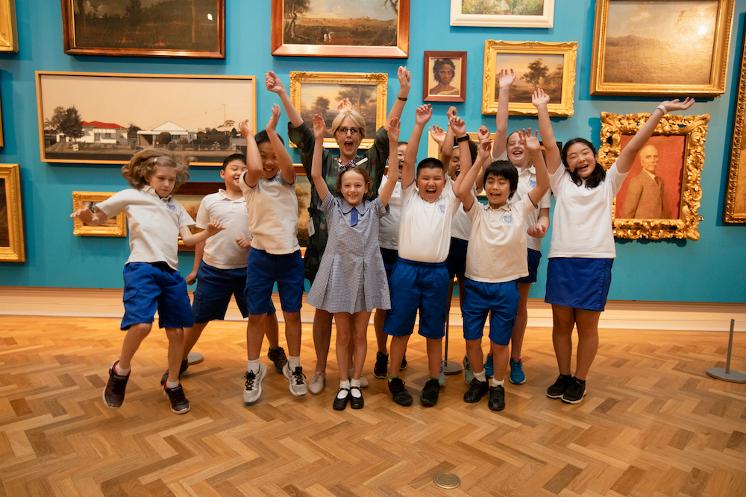 Fun And Games: New Wiggles Album + More - Live Streamed Concerts And...
Did you know that a new Wiggles Album came out on Thursday this week?
It's Called 'Fun and Games' and that's just what the Wiggles are getting up to at present on their Facebook page and with lots of new add ins on their YouTube Channel and the Wiggles website.
On Wednesday they even did a live stream concert on their Facebook page from the Hot Potato studios - magic - if someone you know has a Facebook page maybe you can visit with them too at: www.facebook.com/thewiggles
There's some great news there and they seem to be putting up something for you every single day - thanks Wiggles.
Also posted this week was the news that Emma's Sign Language Time has begun! Get ready to enjoy your favourite wiggly songs translated in Auslan. That is Australian sign language! Todays song is 'Toot Toot, Chugga Chugga, Big Red Car!
Auslan translation and consultation by The Deaf Society NSW and Deaf Services.
Enjoy the new video here: https://bit.ly/TootTootAuslan
Subscribe to their channel for more Wiggly videos: http://ab.co/WigglesYouTube
When you have had a good romp around indoors to those head over to their website where you can find lots of games you can play online with the Wiggles - cool - at: https://www.thewiggles.com.au/play/
Here's that first new Emma's Sign Language Time to get you Wiggling!:
Archive Of Millions Of Historical Children's Books All Digitised: Free To Download Or Read Online
Enter the 1: Baldwin Library of Historical Children's Literature here, where you can browse several categories, search for subjects, authors, titles, etc, see full-screen, zoomable images of book covers, download XML versions, and read all of the 2: over 6,000 books in the collection with comfortable reader views.
Find 3: more classics in the collection, 800 Free eBooks for iPad, Kindle & Other Devices.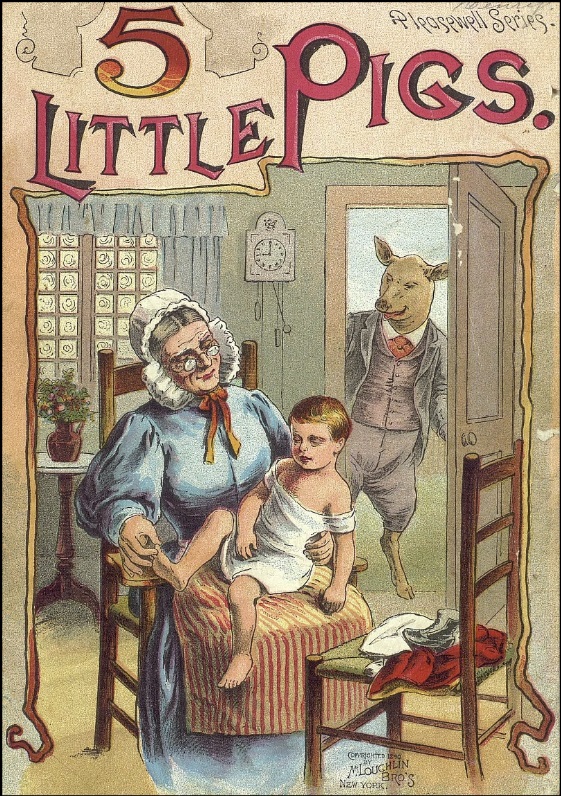 Bear Hunt In Postcode 2101
Elanora Heights Community Preschool is asking our neighbourhood friends to visibly place a teddy bear in their window, so that children can 'Go on a bear hunt' in their car or as they walk along the footpath. We're hoping this creates the ability for children in our community to develop positive and treasured memories during this difficult time.
Our community has many young children with a new daily schedule to spend more time at home and we're hoping our neighbours can help us in supporting young children through this experience by creating a new adventure in the community while also remaining at a physical distance.
We're asking our neighbourhood friends (2101) to visibly place a teddy bear in their window, so that children can 'Go on a bear hunt' in their car or as they walk along the footpath. We're hoping this creates the ability for children to develop positive and treasured memories during this time.
FOR CHILDREN THE BEAR HUNT RULES ARE AS FOLLOWS:
- Spot a bear whilst in the car or walking on the foot path. Take a picture and share your excitement with us in this group. If you have Instagram we'd also love you to tag us @elanorapreschool (Please don't knock on doors just look with your eyes.
- Practice safe physical distancing. If you spot another 'bear hunter' remember to keep a safe distance (1.5 metres) from each other.
- Remember we can't go over it, we can't go under it!
- Share the bears you've spotted throughout the neighbourhood and the street name, but not the house number. Please try to keep the exact bear location a surprise for other 'bear hunters'
-
Share our page
with your neighbours or print out our flyer as a letterbox drop invitation to invite your neighbours to participate.
- Remember to have fun and stay safe. We're not scared!
Your friends at Elanora Heights Community Preschool

MSO Live Streaming Of Concerts: Rimsky-Korsakov's Scheherazade
Streamed live on 16 Mar 2020: Melbourne Symphony Orchestra
We will keep the music going.
Throughout the ban on public events, the MSO will continue to perform for you. Our mission is to share great music, even if you cannot join us in the concert hall. While we cannot join you in the concert hall, we look forward to performing for you digitally. We invite you to join us on the
MSO YouTube channel
to enjoy free MSO live streams over coming days and weeks.
With ticket sales revenue impacted by the Coronavirus ban, we would ask you to consider a tax-deductible donation to the MSO via the link below. If you hold a ticket to an upcoming concert, and would like to donate the value of your ticket instead of receiving a refund, please email boxoffice@mso.com.au.
Ensuring the wellbeing of MSO audiences, musicians and staff – including those integral members employed on casual and contract bases – is our priority. As a not-for-profit organisation, we are committed to ensuring the longevity and sustainability of the MSO and will continue to support workers and musicians through this uncertain period.
Thank you for your support.
Hosted by MSO Cybec Assistant Conductor and Assistant Principal Cellist, Nicholas Bochner.
Conducted by Miguel Harth-Bedoya, this concert will feature Bloch's 'Schelomo' with soloist Timo-Veikko Valve, and Rimsky-Korsakov's 'Scheherazade'. This performance will also include Deborah Cheetham's Acknowledgement of Country, 'Long Time Living Here'.
Please note that due to connectivity issues during the live stream you may experience lagging throughout your viewing experience. We are working on resolving these issues in future streams and thank you for your understanding.
Vision: CVP Events, Film And Television
Audio: ABC Classic
NLA Ebooks - Free To Download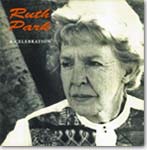 The National Library of Australia provides access to thousands of ebooks through its website, catalogue and eResources service. These include our own publications and digitised historical books from our collections as well as subscriptions to collections such as Chinese eResources, Early English Books Online and Ebsco ebooks.
Ebooks are books published in an electronic format. They can be read by using a personal computer or an ebook reader.
This guide will help you find and view different types of ebooks in the National Library collections.
Peruse the NLA's online ebooks,
ready to download - HERE
The Great Outdoors from Indoors
NSW NPWS Closes Campgrounds And High Visitation Areas
The NSW National Parks and Wildlife Service has closed campgrounds, visitor centres, high-visitation areas, and historic sites from 26 March 2020, in response to the COVID-19 emergency.
The NSW National Parks and Wildlife Service (NPWS) will temporarily close all campgrounds, high visitation areas and historic sites across NSW until further notice, in response to tighter Australian and NSW Government health directives on social distancing and non-essential travel to prevent the transmission of COVID-19 in the wider community.
National parks and reserves are special environmental, cultural and recreational places for the people of NSW and they will remain open to the community, but the health and safety of our visitors, staff and the wider community is our priority and these measures are important.
The following closures will take effect:
Campgrounds closed in line with the Government Public Health Order from 26 March 2020
Visitor centres, cafes and high visitation areas will be closed from 26 March 2020
Historic sites will be closed from 26 March 2020 (except for permanent residents)
All visitors with bookings impacted by the closures will be contacted to arrange full refunds.
All roads through national parks remain open.
Most walking tracks and trails will also remain open and visitors should observe necessary social distancing with others while using pathways and other facilities to maximise their safety.
NPWS staff and volunteer led tours and events have been cancelled with full refunds.
As this is a rapidly changing situation, we ask visitors to check our website regularly for
COVID-19 updates
.
We know how important our national parks and reserves are as areas for conservation and recreation and we are committed to reopen these areas as soon as possible in line with government and health advice.
NPWS staff will continue to undertake environmental protection and maintenance work in our parks and reserves, subject to all government and health advice, including in areas where important bushfire recovery action is underway. Other NPWS staff will work remotely to continue delivering conservation, research, visitor information and education services.
For more information about COVID-19 in NSW and how to protect yourself and the community, please visit the
NSW Health website
Closed Areas: Ku-Ring-Gai Chase National Park - Visitor Precincts Closed
Applies from Friday March 27, 2020, 10.47am.
Many high visitation areas and facilities within Ku-ring-gai Chase National Park are closed from Friday 27 March 2020. The closed areas include:
All large picnic shelters
All barbeque facilities
All playgrounds
Brooklyn Dam Campsites
Bobbin Head Information Centre is currently closed closed until further notice to protect the health and safety of our visitors and staff. You can still contact us by email or phone on 02 9472 8949.
If you are visiting the park, please bring a card to pay vehicle entry fees.
For more information regarding closures, contact the NPWS Contact Centre on 1300 072 757, the NPWS North Western Sydney area office on 02 8448 0400 or the NPWS Sydney North area office on 02 9451 3479.
Barrenjoey Lighthouse
Barrenjoey Lighthouse tours have been cancelled until further notice to protect the health and safety of our visitors and staff. Barrenjoey Lighthouse stands at Barrenjoey Head at Palm Beach on Sydney's northern beaches. Built in 1881, this heritage lighthouse is an iconic Sydney attraction.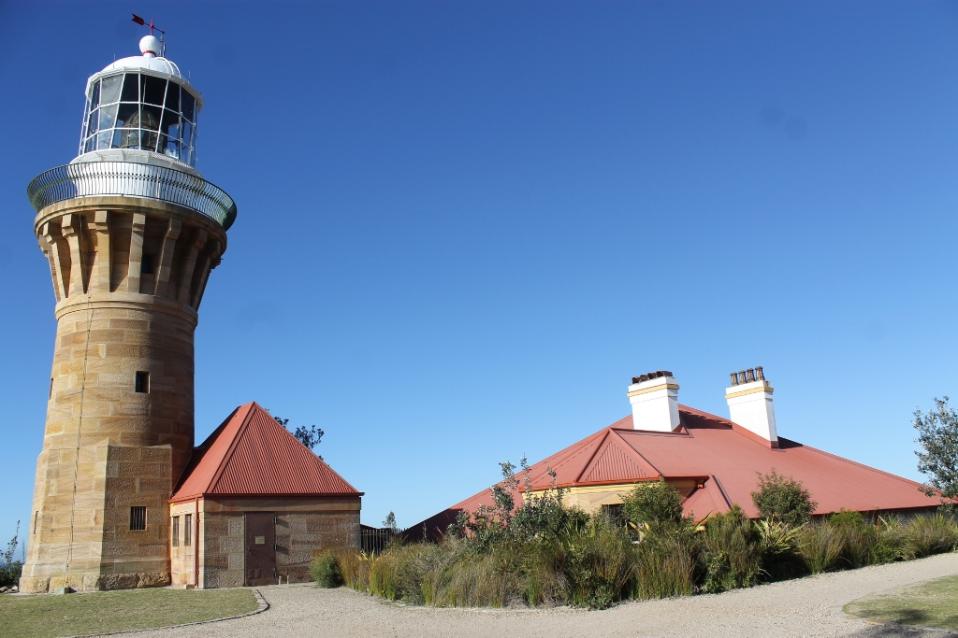 Forestville Office Is Closed Until Further Notice
Applies from Thu 02 Jan 2020, 3.27pm to Fri 01 Jan 2021, 1.00am. Last reviewed: Fri 27 Mar 2020, 9.28am.
Forestville office is closed until further notice to protect the health and safety of our visitors and staff. You can still contact us by phone or email for information.
Closed Areas: Collins Flat Beach Closed On Weekends
From Saturday 28 March 2020, Collins Flat Beach will be closed on weekends until further notice.
Affects 2 locations in this park:
Fairfax lookout, North Head
North Head
Middle Head Office Closed Until Further Notice
Middle Head office is closed until further notice to protect the health and safety of our visitors and staff. You can still contact us by phone or email for information.
Affects 4 locations in this park:
Middle Head
Middle Head
Fairfax lookout, North Head
North Head
Even If The Parks Are Closed You Can Still Go Google Trekking
A few years ago Pittwater Online shared some great news about the state government working with Google in what is called 'Google Trekker' - our own local MP, Rob Stokes, Member for Pittwater was the State Environment Minister at that time, so it was great to hear about this first-hand from him - he loves the great outdoors!

Back in June 2014 the work began of mapping our National Parks - by actually walking through them with a camera - this is what the ranger walking with the camera looked like - they started with doing 16 parks to begin with: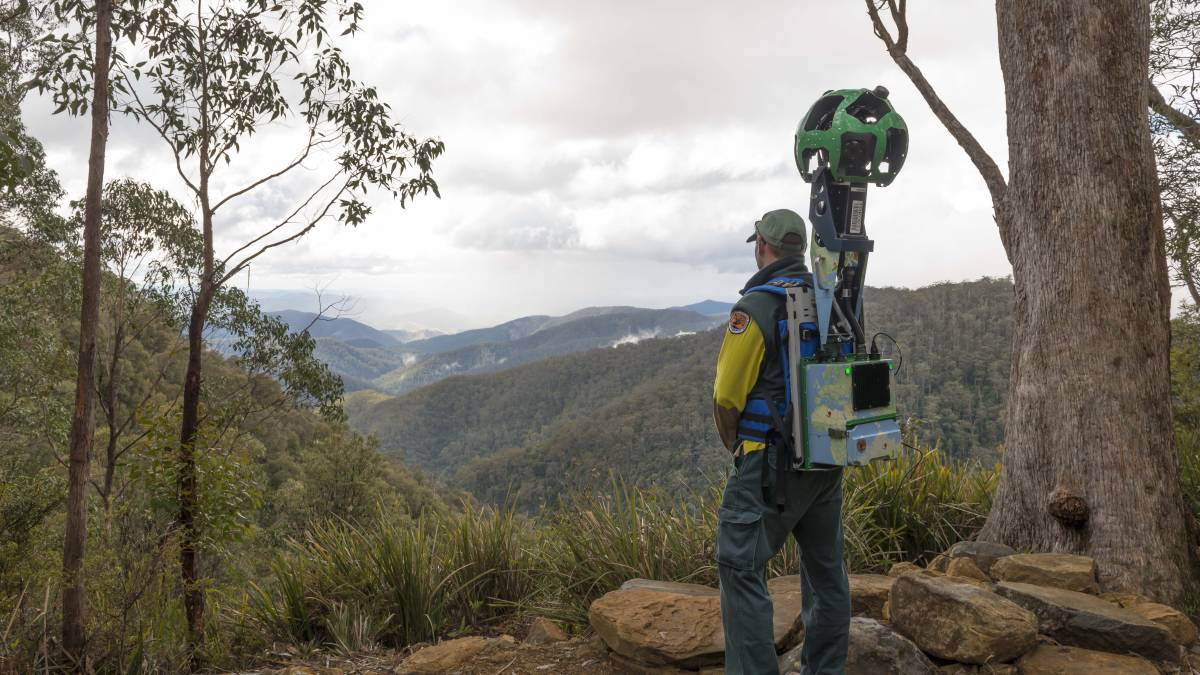 OEH - NPWS photo
Then in November 2014 Environment Minister Rob Stokes launched Google Street View imagery of some of the most picturesque and visited national parks in NSW.
Mr Stokes said the NSW National Parks and Wildlife Service is the first organisation in Australia to be part of the Google program, which sees organisations borrow the Trekker technology to collect imagery of hard to reach places and help map the world.
"NPWS have captured 360-degree imagery of 25 parks from Kosciuszko to Cape Byron, covering over 400 kilometres of walking tracks and 700 kilometres of roads and trails," Mr Stokes said then.
"This new service means people can scope out walks before they travel, or get a glimpse of places they would otherwise find inaccessible.
"People who have been unable to make it to the bottom of that gorge or the top of that ridge can now see all the sites our national parks have to offer.
"In conjunction with the NSW National Parks website, this imagery will give people another great way to plan their park visits, check walking tracks for suitability and learn about the area beforehand.
"We have a lot to be proud of in NSW with some of the most beautiful and remote places on the planet.
"These maps will ensure people who may not have the ability to walk in some of these popular locations will still have the opportunity to experience our vast natural beauty from their lounge rooms on the other side of the world."
Basically, Google Trekker allows you to explore our National Parks as though you were on their bush tracks. You can Discover new places with a virtual tour of walking tracks, lookouts and campgrounds on the coast, deep within rainforests, and even in Outback NSW. You can get 360 degree views of these incredible landscapes and go on your own virtual adventure.
Working in partnership with Google, NSW National Parks (NPWS) has captured imagery in over 50 national parks using Google's special backpack-mounted trekker. With more than 1350km of Google Trekker footage, there are hundreds of experiences to discover.
You can also visit beautiful and historic places all over the world via Google Trekker - but let's start with places around us to begin with.
Where would you like to visit today?: Here are some of our favourite Street View virtual tours - just click on the links to take a look around for yourself
Sydney and Surrounds
North Coast NSW
South Coast NSW
Country NSW
Snowy Mountains- Kosciuszko National Park

Outback NSW and Murray-Riverina
Please note: The backpack-mounted trekker has been specifically designed to go off the grid. Occasionally, trained NPWS staff take Google Trekker into ecologically sensitive areas so we can give you a peek of places you would otherwise never see.
When you explore these walking tracks for yourself, remember to always to stay on marked tracks, so we can continue to protect these special places for generations to come.
Manly Art Gallery & Museum
Online accessible Collection at: www.manlyartgallerycollections.com.au - Artists listed Alphabetically; just hover over links on left side of webpage and lists will pop up.
The Manly Art Gallery & Museum is a cultural facility only three minutes' walk from Manly Wharf. Opened in 1930 as the first metropolitan-based regional gallery in New South Wales, the Gallery has become a popular destination for thousands of visitors each year. MAG&M stands out among the regional galleries for two distinctive reasons: its focus on Australian ceramics and its extensive holdings of paintings by Antonio Dattilo-Rubbo.
Manly Art Gallery & Museum also holds a superb collection of contemporary and early Australian paintings and works on paper. The collection was established through the generosity of artists and donors including Margaret Preston, Thea Proctor, Will Ashton, Antonio Dattilo-Rubbo, Lloyd Rees and many more.
The most famous painting, Tom Roberts' ''Christmas Flowers and Christmas Belles'' was donated in 1936 by Colonel Spain, a gentleman who featured in many an early Pittwater and Sydney Harbour Regatta. The extensive collection now contains over 1,000 watercolours, prints, etchings, drawings and paintings. Images of the visual arts collection is currently being added to this website.
You can already now get to know the life and work of Antonio Dattilo-Rubbo, one of the founders and most ardent supporters of the Manly Art Gallery on the website www.antoniodattilorubbo.com.au.
The Ceramic Collection
Manly Art Gallery & Museum today is home to one of Australia's finest ceramics collections representing many major ceramics artists including Peter Rushforth, Ivan Englund, Janet Mansfield and Gwyn Hanssen Pigott to name just a few. The works showcase the diversity of techniques, aesthetics and artistic practice, tracing the development of styles and techniques in Australia since 1945.
As of 2009, the entire ceramics collection can be found displayed here online with images and descriptions. Browse the collection at your leisure; it comprises over 330 works by over 140 ceramics artists.
NB: The Manly Art Gallery owns one of the globally best known paintings, 'Christmas Flowers and Christmas Belles', a 52 by 36 cm oil on canvas borrowed by the National Gallery of Australia for its 2015 Tom Roberts exhibition in Canberra. The painting was one of five paintings stolen in 1976, and then after several years, mysteriously returned then to the gallery.
Tom ROBERTS, England 1856 – Kallista 1931 AD- Australia from 1869; England, Europe 1881- 85, 1903-23
Christmas flowers and Christmas belles, c. 1899, oil on canvas, 52.1 (h) x 36.2 (w) cm - Manly Art Gallery and Museum, Sydney Gift of Colonel A. Spain, 1940
Art Gallery Of NSW
Another brilliant example of taking it all online to share not only news and current exhibition insights but a wonderful collection of all genres of Art. There is so much to see here that you may well be jumping around their website longer than you would dwell in that great old building and its beautiful rooms. Their Collections landing webpage states:
The collections of an art museum such as those of the Art Gallery of NSW are enormously rich and varied. They are a fascinating barometer of the evolution of taste and style, and of changing social, cultural and even political values. They are also a definitive marker of the growth of an institution. In our roughly 130-year history, the Art Gallery of NSW has become far more than just a destination for looking at pictures. We have in that century or so evolved into a place of more extended experience: a place to enjoy lectures, films, concerts and performances, a place to meet friends or take part in education programs or special events. But above all, as a museum of art we must be a place of experience and inspiration, and at the heart of that lies our collection.
There are over 19 thousand digitised Australian artworks to peruse, Aboriginal works, Asian works, Contemporary Art, Pacific Art, Photography and more - all with great biographies or explanatory material.
One favourite the collator of this page would actually leave Pittwater to sit before, for hours - yes, that long long bus trip into town - is 'Spring Frost' a 1919 painting by Australian artist Elioth Gruner. The painting depicts a small herd of dairy cows in the early morning and reeks of home for some of us - a home possibly a while ago now - but still, home; in its texture, its essence and what it communicates. This is Gruner's most well-known painting and was awarded the Wynne Prize in 1919. Gruner actually won the Wynne Prize for landscape painting seven times, the most of any Australian artist besides Hans Heysen.
Spring Frost was largely painted en plein air at Emu Plains—now an outer western suburb of Sydney but then a rural area—and on the farm built by Isaac Innes and inherited by his son Jim Innes. It is actually Jim Innes in this painting with his cattle. Elioth Gruner's painting Morning Light also shows this farm. To compose the painting Gruner built a small structure on site to protect the canvas and, to avoid the chill, he wrapped his legs with chaff bags.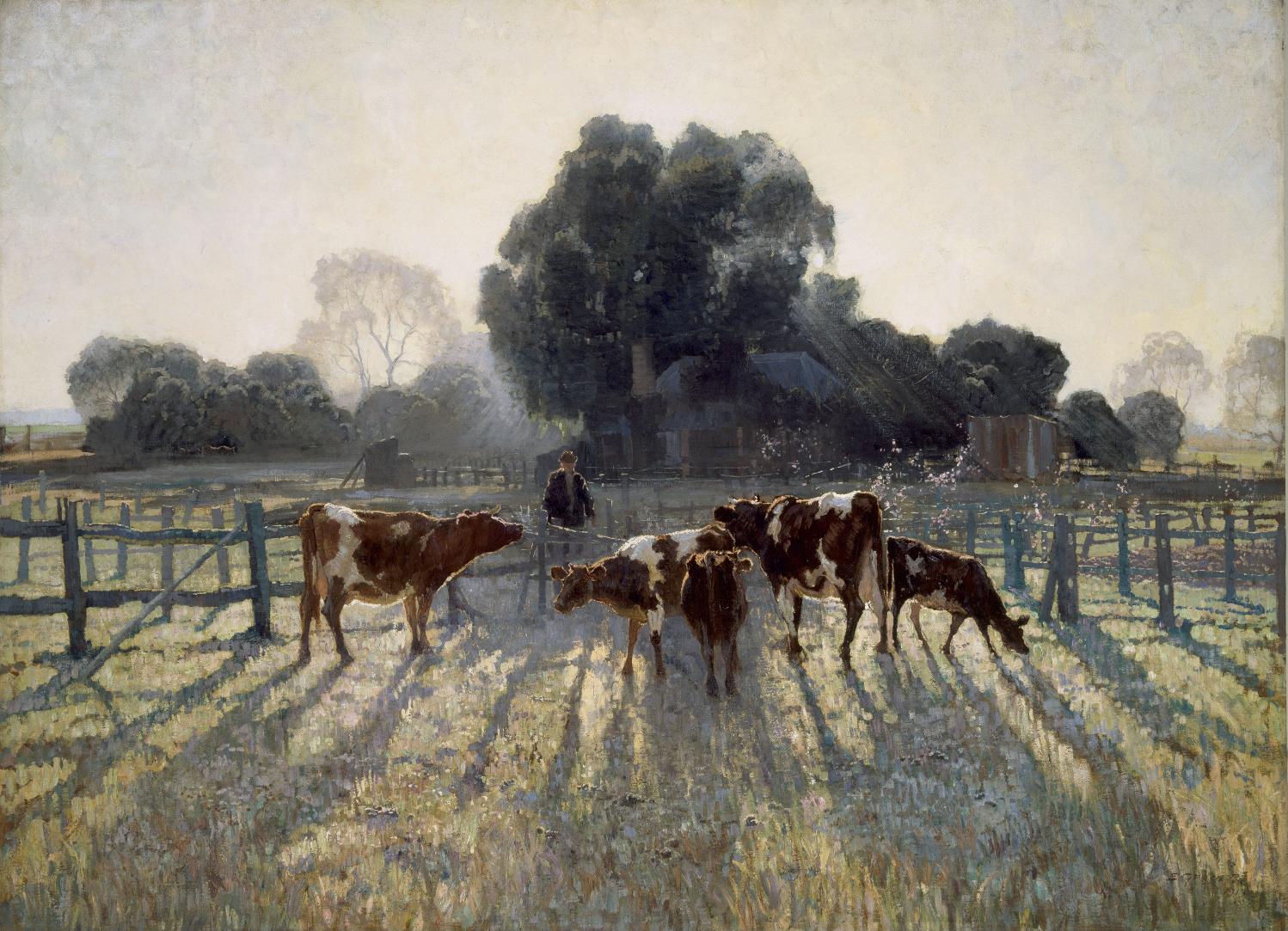 Elioth Lauritz Leganyer Gruner (16 December 1882 – 17 October 1939) - Spring Frost, 1919
The State Library Of New South Wales
Australia's first public library, the State Library of NSW, also houses the Mitchell Library and the Dixson Wing, contains over 5 million items including more than 2 million books, 1.2 million microforms, 1.1 million photographs, as well as newspapers, maps, architectural plans, manuscripts, Art works and other items. It is part of the PANDORA web archiving project of the National Library of Australia and also collects born digital material, such as Pittwater Online News weekly Issues.
Computer cataloguing commenced in the early 1980s for books, and in 1992 for pictures and manuscripts. A large cataloguing backlog of material without an electronic record prompted the library's successful 2008 application for government funding to create over one million electronic catalogue records. The library subscribes to electronic databases which are accessible for cardholders via the catalogue.
The digitisation of the papers of Sir Joseph Banks, completed in 1997, was the first digitisation project of original manuscripts undertaken by the library. It was followed by further digitisation of manuscript and picture collections including the papers of Matthew Flinders, the Hood collection of photographs by Sam Hood and son Ted Hood, and the Holtermann Collection of images of the NSW goldfields of the 1860s and 1870s, which is now listed on the UNESCO Australian Memory of the World Register. The most recent addition from the SL of NSW addition to the UNESCO Australian Memory of the World Register is the original Ethel Turner manuscript for Seven Little Australians - more Pittwater/Palm Beach connections there.

Once again, this is a place where the online resources on the main site and on Flickr underline the intent of the library to share and engage Australians of all ages and interests in Australian materials - exhibitions, events and online resources continue to be added in a dynamic format by people who have a passion for highlighting this great resource - go explore this wonderful New South Wales, Australian and World asset!
A few examples (although you may have already seen many local images in History pages run here):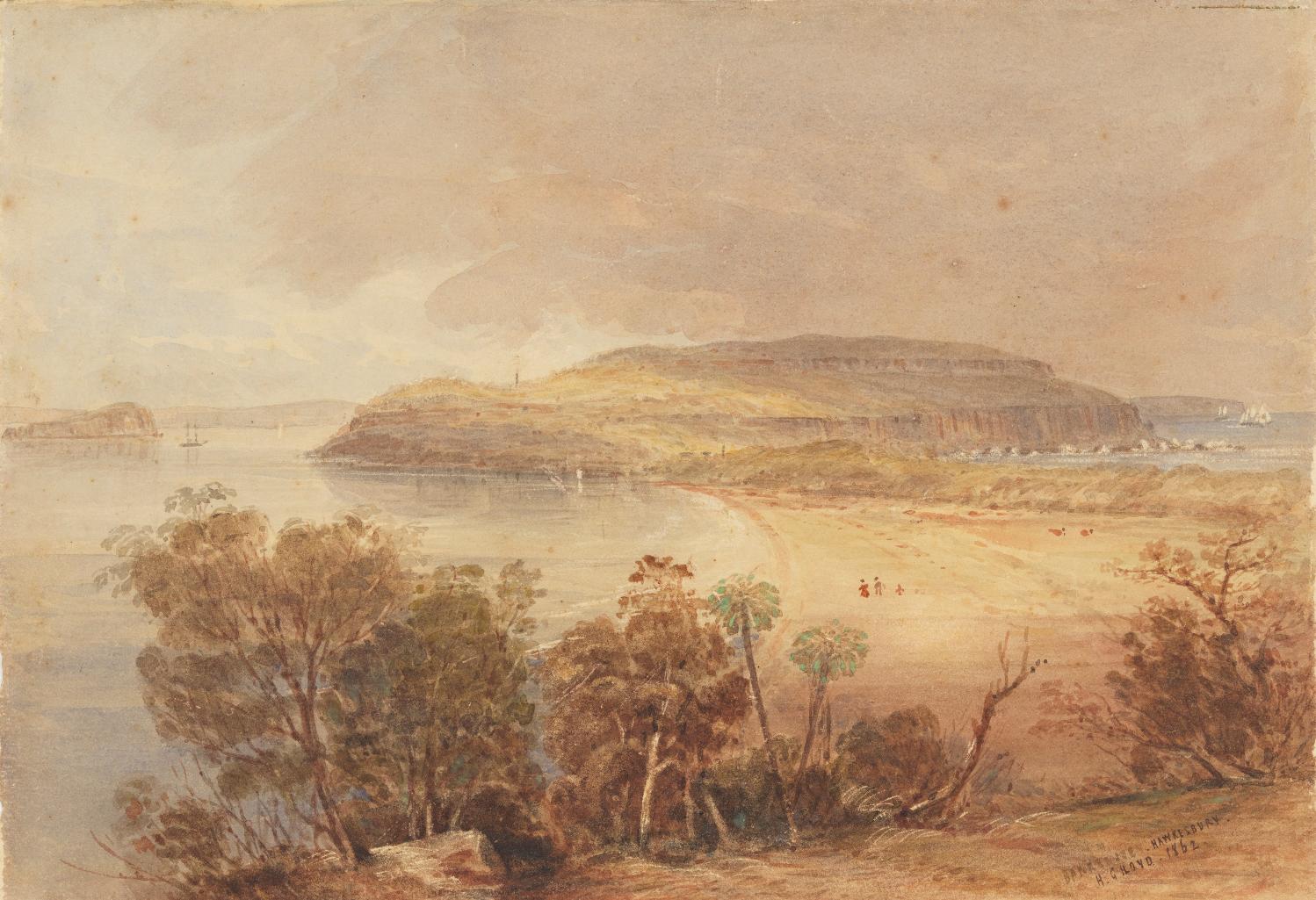 [View of]
Barrenjoey, Hawkesbury
,
1862
/ Henry Grant Lloyd, Item: 900984, Digitised: c073210001, courtesy State Library of NSW -
zoom in here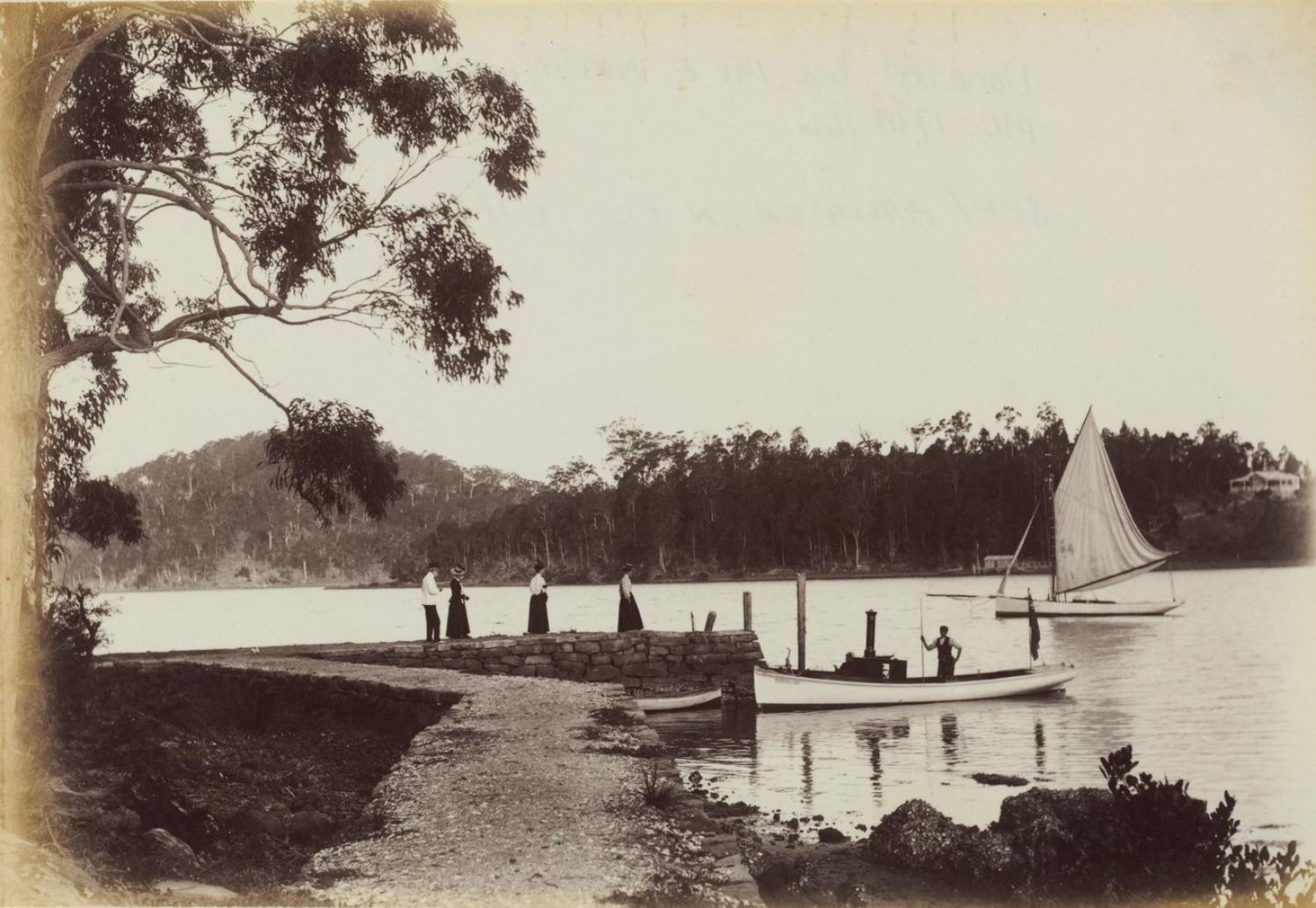 Powerhouse Museum – Museum Of Applied Arts And Sciences
At: maas.museum/powerhouse-museum
No online tour of all the Australian Art and Art Objects would be complete without a visit to the Powerhouse Museum – Museum of Applied Arts and Sciences (MAAS).
Not only is the Tyrell Collection, digitised onto Flickr, one of the projects completed by this NSW museum, a wealth of materials, objects, and Art is shared through the Collection on the main site.
A wonderful Pittwater Example: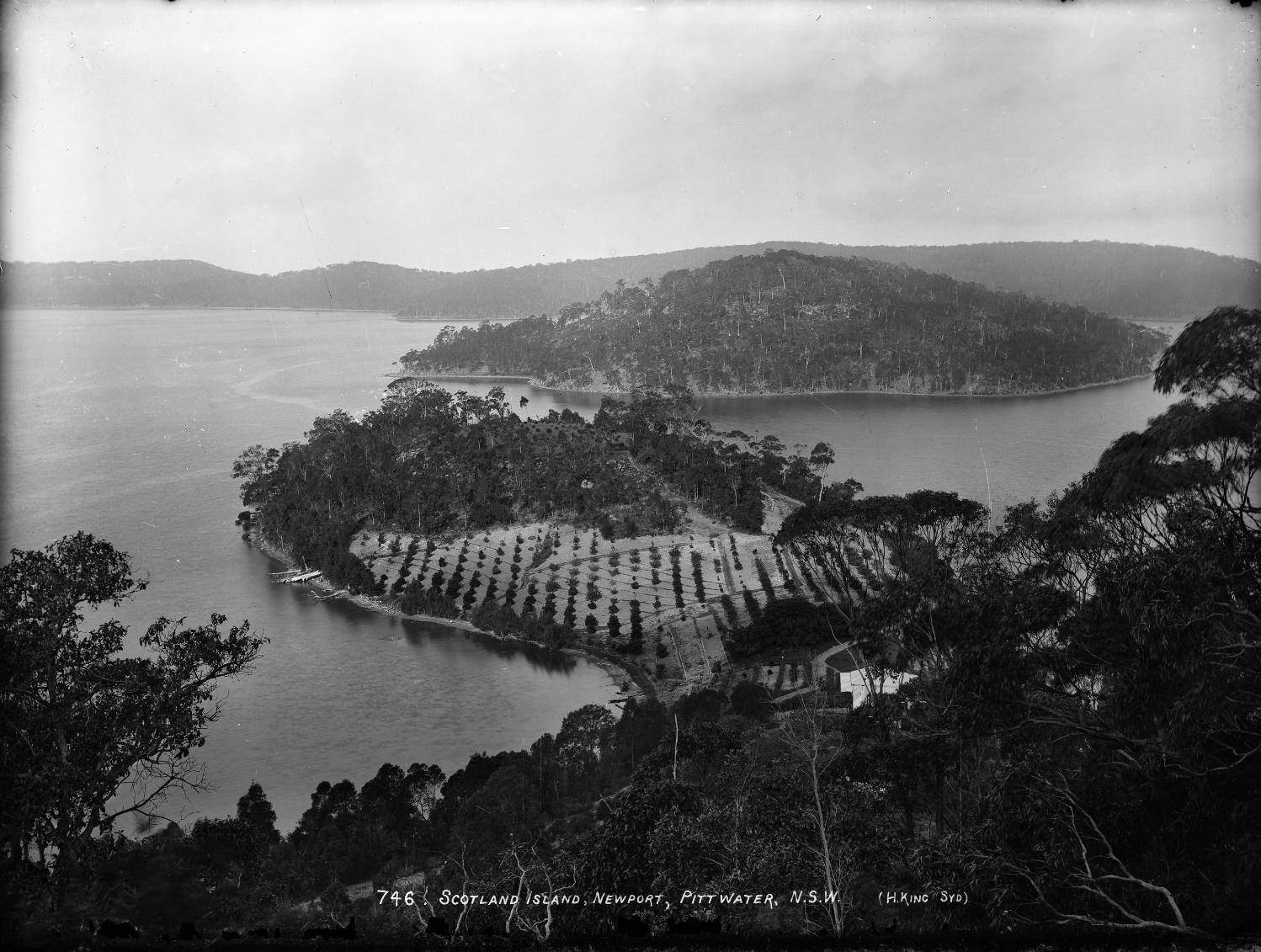 '
Scotland Island, Newport, Pittwater, N.S.W.
', Henry King, Sydney, Australia,
c. 1880
-1900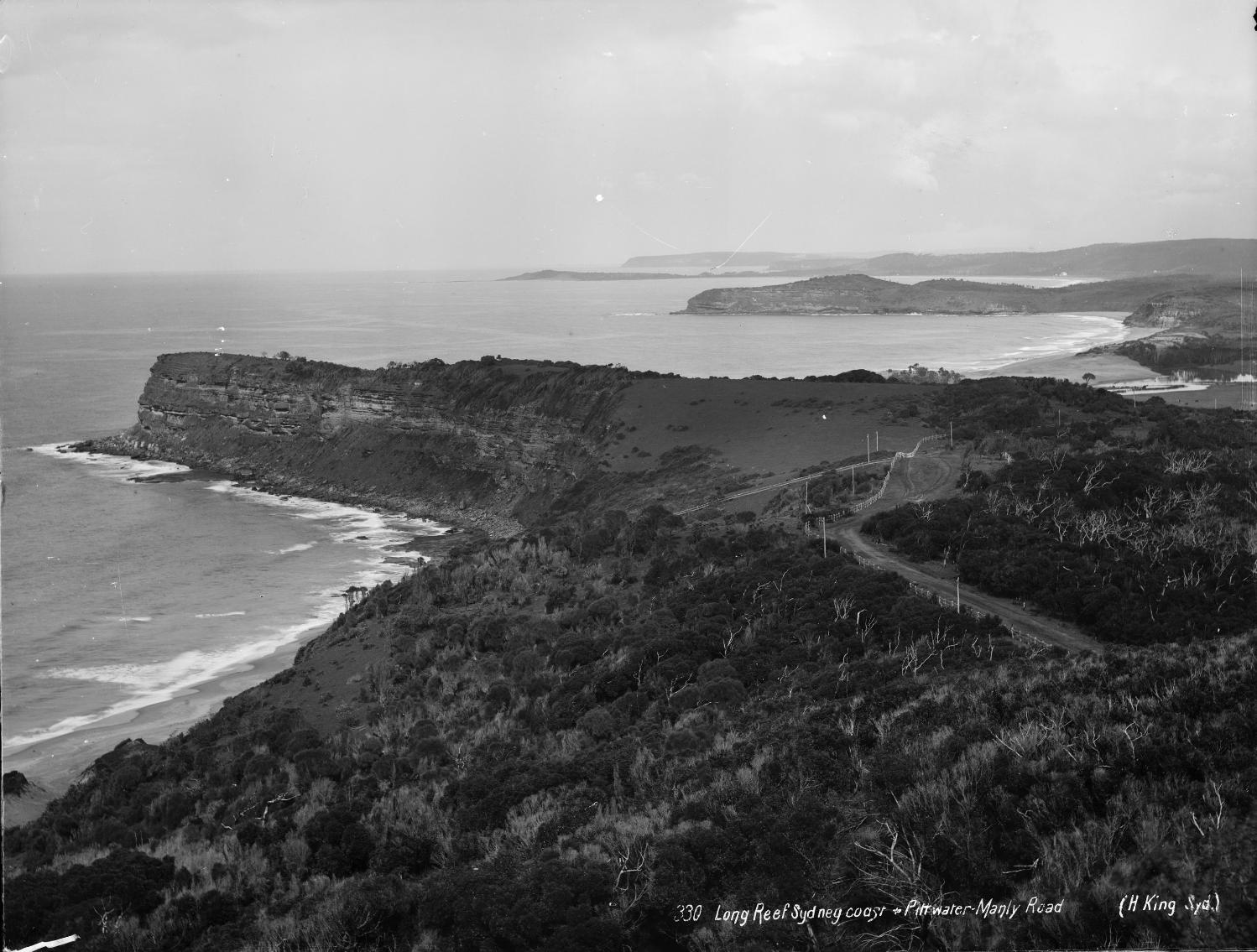 '
Long Reef
' -
on the Pittwater-Manly road
(is actually the view from Bushrangers Hill over Bungan Beach and towards Mona Vale). Henry King, Sydney, Australia,
c. 1880
-1900, courtesy MAAS
Australian National Maritime Museum (Sea Museum)
At: www.sea.museum
The Australian National Maritime Museum is a federally operated maritime museum in Darling Harbour, Sydney. This is also a great place to explore as their digitisation program, alike all others listed here, continues to expand - so even if you think you have seen everything, check again!m The ANMM also have a Flickr site where you can find great old photos of our area as well as other treasures.
There are over 140 thousand items and images digitised here. The last time an online visit was paid, new images of The Basin Regattas of the 1890s had been added in: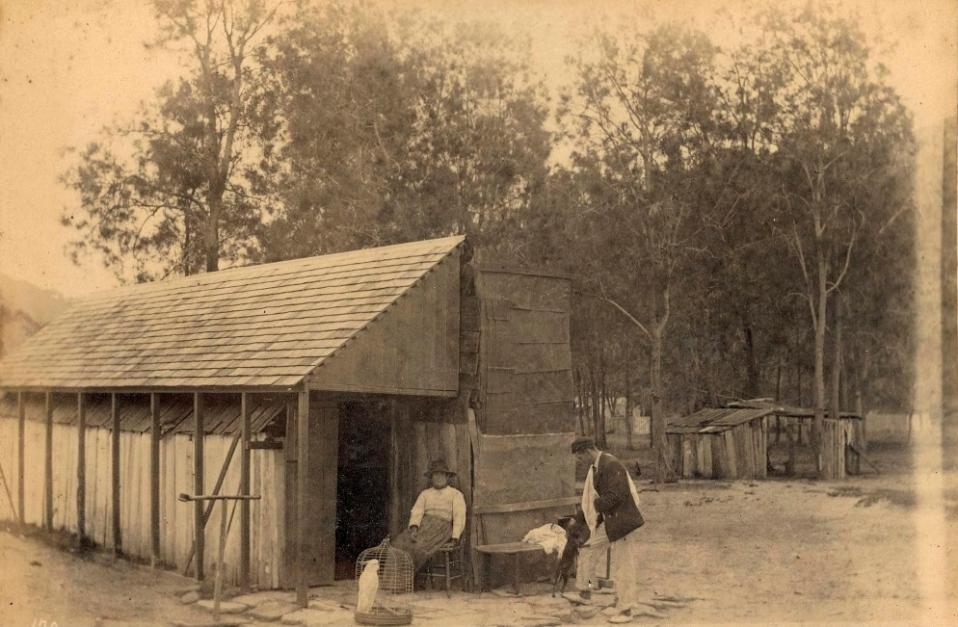 from
Australian National Maritime Museum, '
Photographs of boating on Pittwater including steam yacht ENA
' circa 1890
NSW State Archives
The New South Wales State Archives collection is a unique and irreplaceable part of our Australian cultural heritage dating back to 1788. Want to find which ship ancestors came out on? Some plans and drawings of early Manly hotels? See road building works going on or a photograph of a railway station still surrounded by bush on the north shore?
THIS is the place to go! You will be in there for days.... and then go back again.
There is also a State Archives Flickr platform add-in as well so you can appreciate some of the great Art.
Just one example: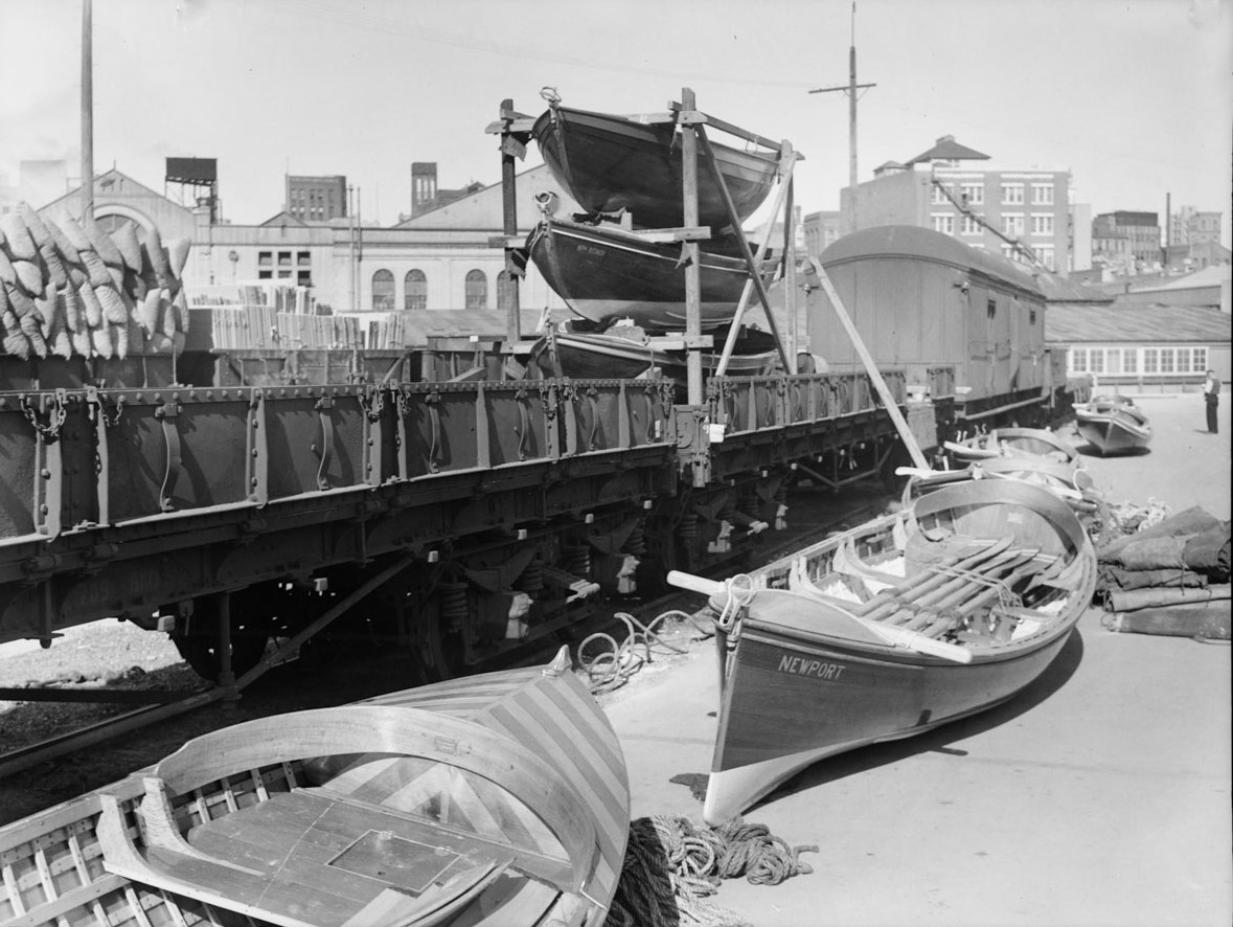 Surf boats arriving at Darling Harbour for transhipping to South Port Queensland by rail for championship competition,
Darling Harbour NSW.
Dated: 01/04/1947
The National Gallery Of Victoria
The National Gallery of Victoria (NGV) Collection contains approximately 75,000 works of art and approximately 90% of its records are available for viewing here. More than 30,000 images of works in the Public Domain are available to download at high resolution for free for publications and non-commercial use by clicking on the download icon. We are constantly improving and adding to the information on this website through research and scholarship, with updates being made to records on a regular basis and images added when they become available.
NGV KIDS AT HOME ACTIVITIES
The NGV has a range of kids activity sheets which can be used at home. Click here to download activity sheets and get creative! Including:
Mystical Creatures
Shoe Biz
Make It Bloom
Creative Cooking
Mystery Making
Message on Aboriginal and Torres Strait Islander content
The National Gallery of Victoria respectfully advises Aboriginal and Torres Strait Islander people that this site includes images, works and names of deceased Indigenous people and may include images of artistic, cultural or intellectual property that may be of a sensitive nature. We have made efforts to ensure that restricted works are not reproduced. This website may contain terms that reflect the period in which the item was created and may be considered inappropriate today. These are a reflection of past practices only and do not reflect the attitudes of the National Gallery of Victoria, Melbourne.
The NGV is committed to making as much of the collection available on line as possible. Please note some of these records contain images of First Nations people and cultural practices. Please contact copyright@ngv.vic.gov.au if you have reason to believe any of these records contain sensitive, secret/sacred, and/or restricted content, and therefore should not be publicly available.
EXPLORE THE COLLECTION - A few examples: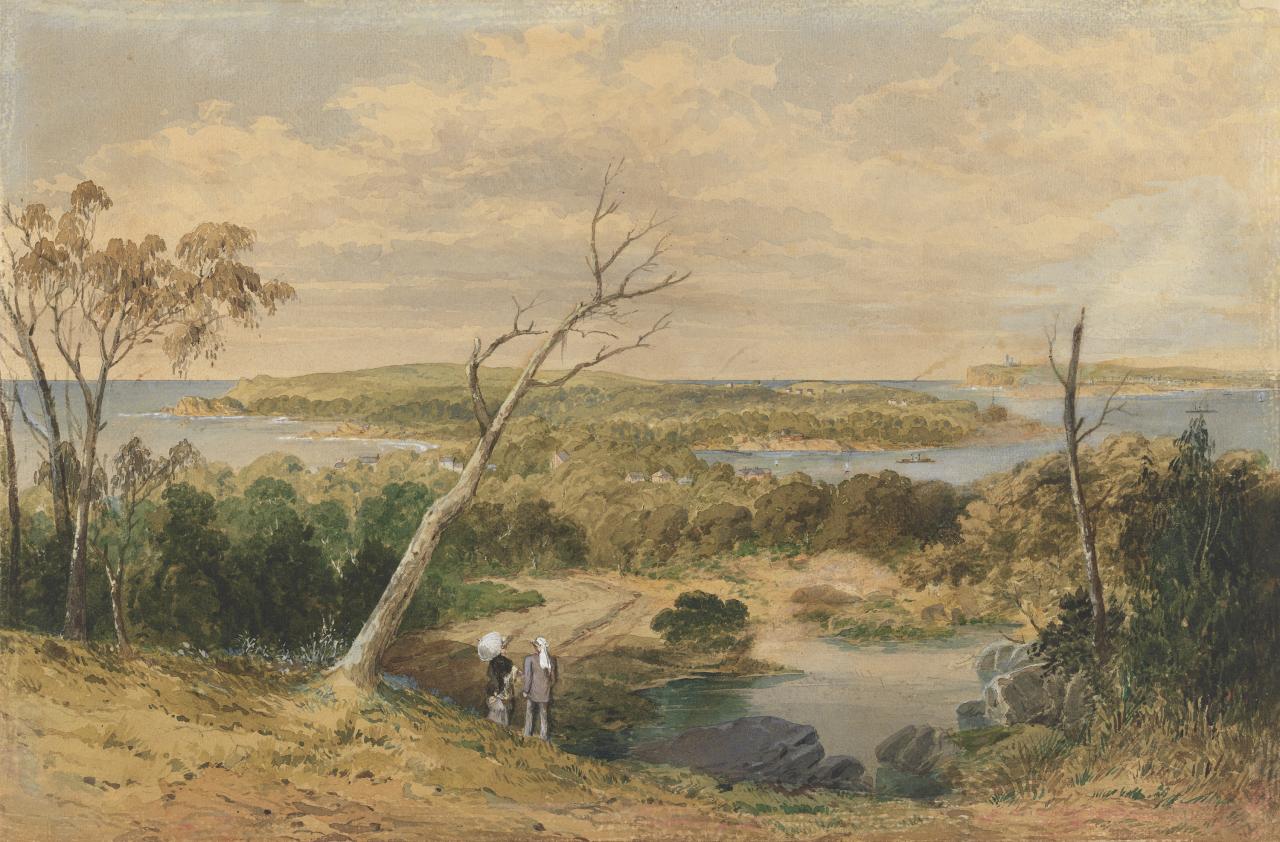 '
Sydney Heads looking south from above Manly Beach
'
dated; 1840-1944
- UNKNOWN Artist -
from and courtesy of the National Gallery of Victoria, Melbourne - watercolour with white gouache and gum arabic over pencil on buff paper. Measurements 32.1 × 48.7 cm (image and sheet)Place/s of Execution: Sydney, New South Wales. Inscription inscribed in pencil on reverse u.c.l.: ''Sydney Heads looking South / from above Manly Beach.'' Accession Number:- 116-4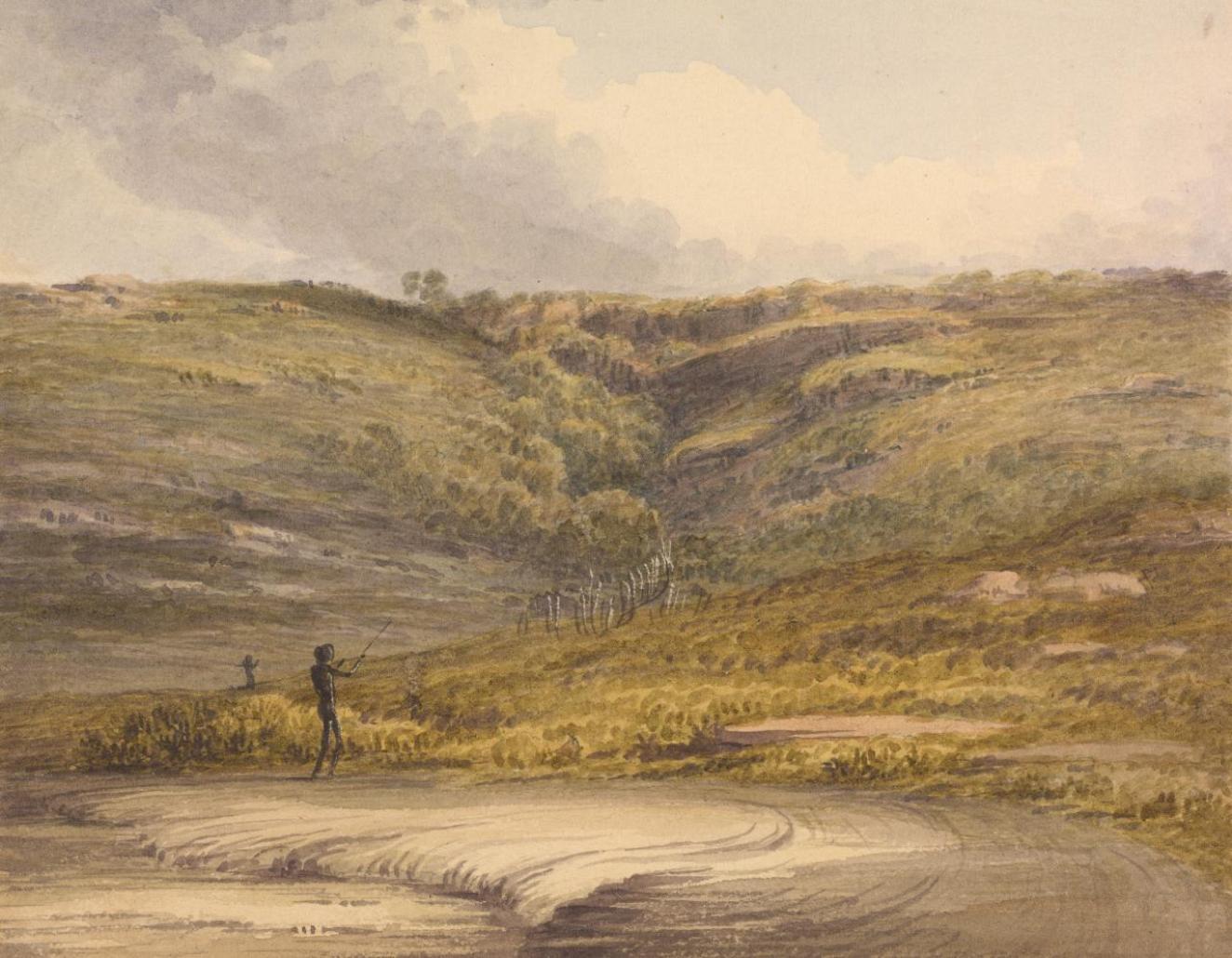 Coogee - (c. 1840) Artist: UNKNOWN
Medium: watercolour. Measurements10.1 × 14.9 cm (image and sheet)Accession NumberA36-1979 Department Australian Prints & Drawings. Credit LineNational Gallery of Victoria, Melbourne. Purchased, 1979. This digital record has been made available on NGV Collection Online through the generous support of the Joe White Bequest
State Library Of Victoria
Pittwater Online News has found a variety of materials here sourced for History pages as well as other great images, texts, music and Art.
Some Art examples: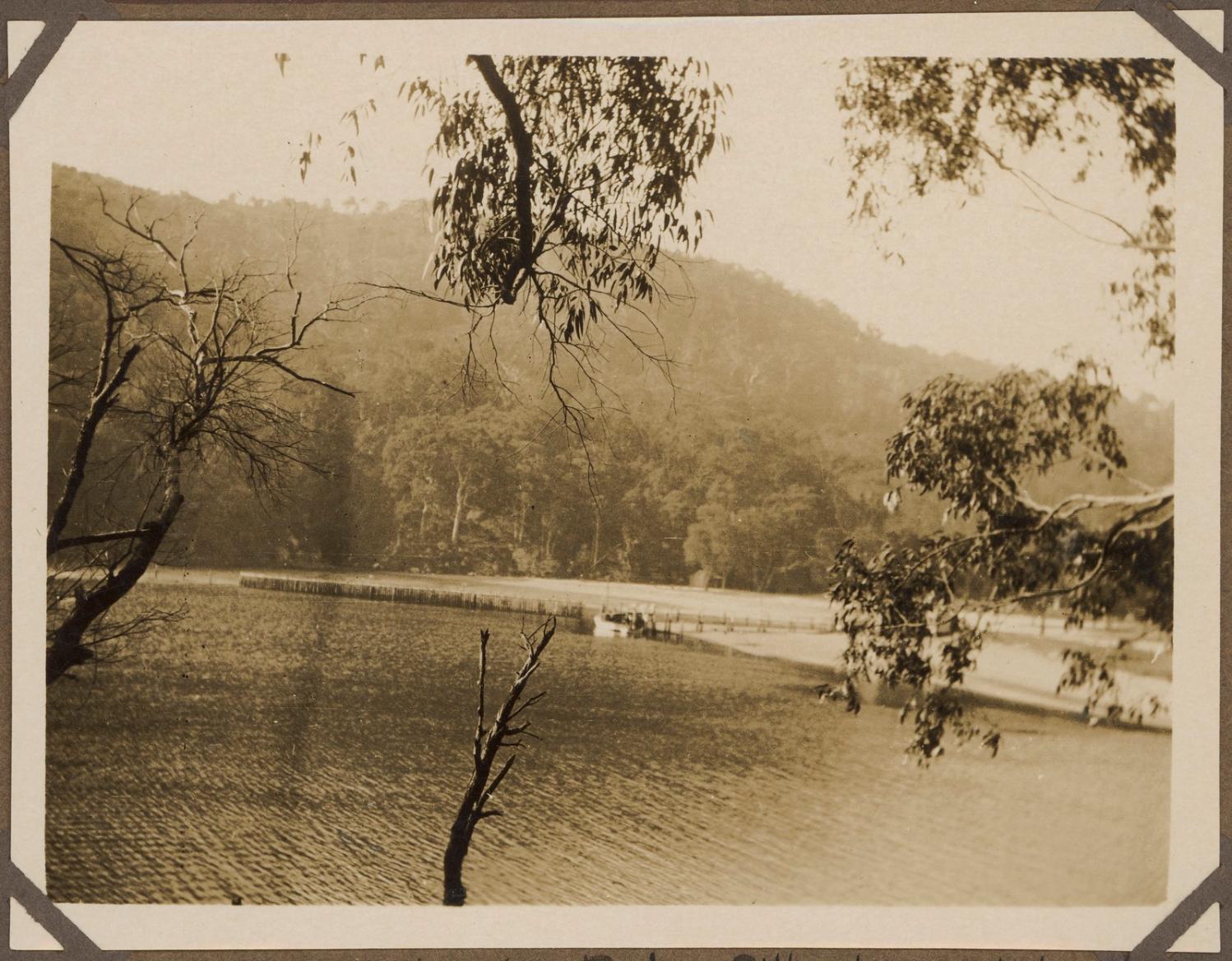 The Basin swimming pool, Pittwater
, [N.S.W.] [picture].
Gladys E Moss
1900-1950, photographer. [ca. 1926-ca. 1928]. Item: FL15691509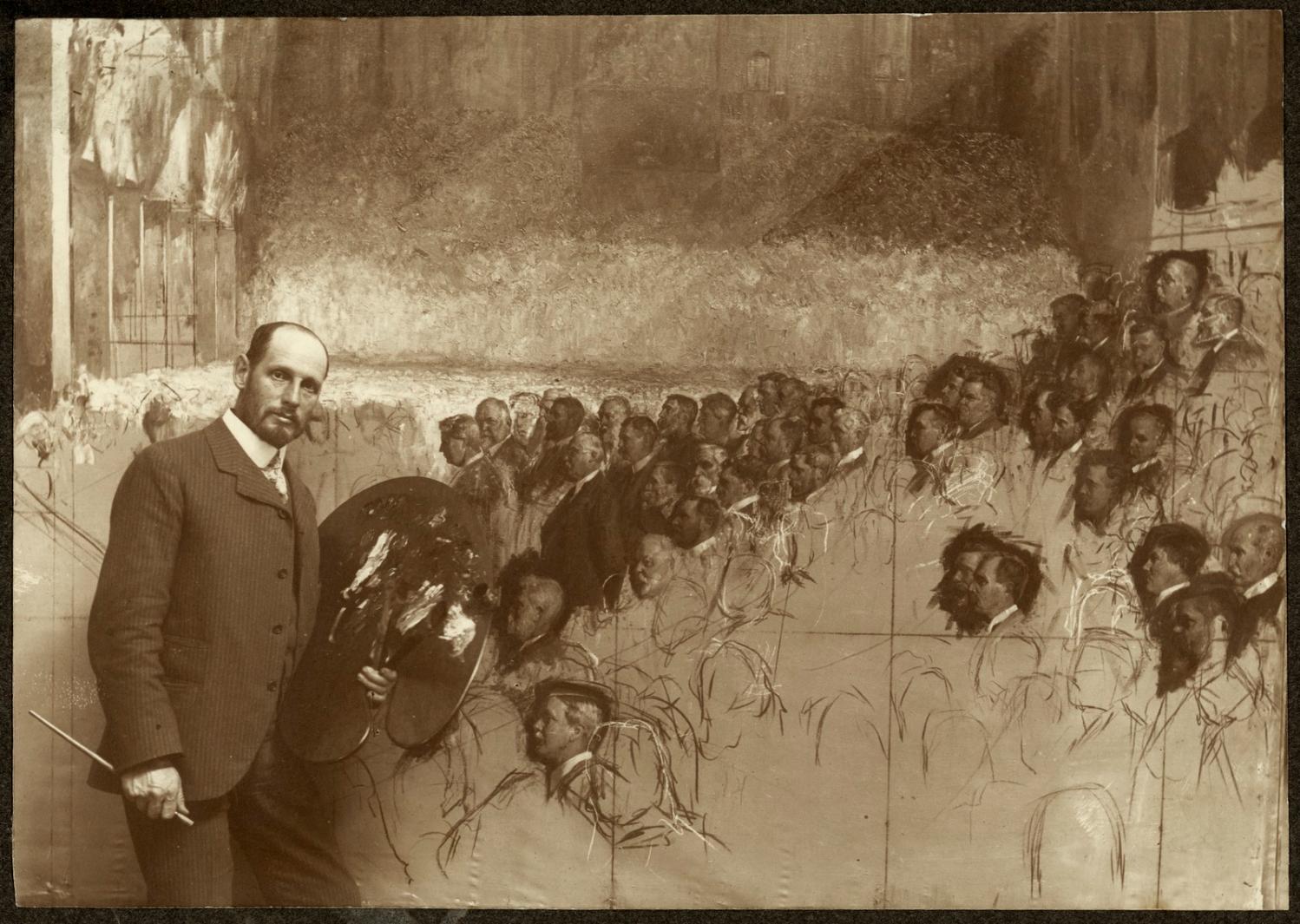 Tom Roberts painting 'The Opening of the First Parliament of the Commonwealth of Australia, May 9, 1901, by H.R.H. The Duke of Cornwall and York, Exhibition Building' [picture] [1903] Item: FL15749825
Tasmanian Museum And Art Gallery
At: www.tmag.tas.gov.au/learning_and_discovery
Explore online resources produced and collated by the Tasmanian Museum and Art Gallery's Centre for Learning and Discovery on a range of topics including Art, Tasmanian Aboriginal culture, history and climate change. Check back often. Fresh resources are published here as they become available.
Shaping Tasmania a Journey in 100 Objects is an online exhibition and gallery trail of objects from Tasmania's State Collection, selected from the objects on display throughout the Tasmanian Museum and Art Gallery. These objects explore significant events and movements that have helped create the Tasmania we know today. Visit HERE - NB: you can zoom in to see details of Objects.

A few other examples of what is available: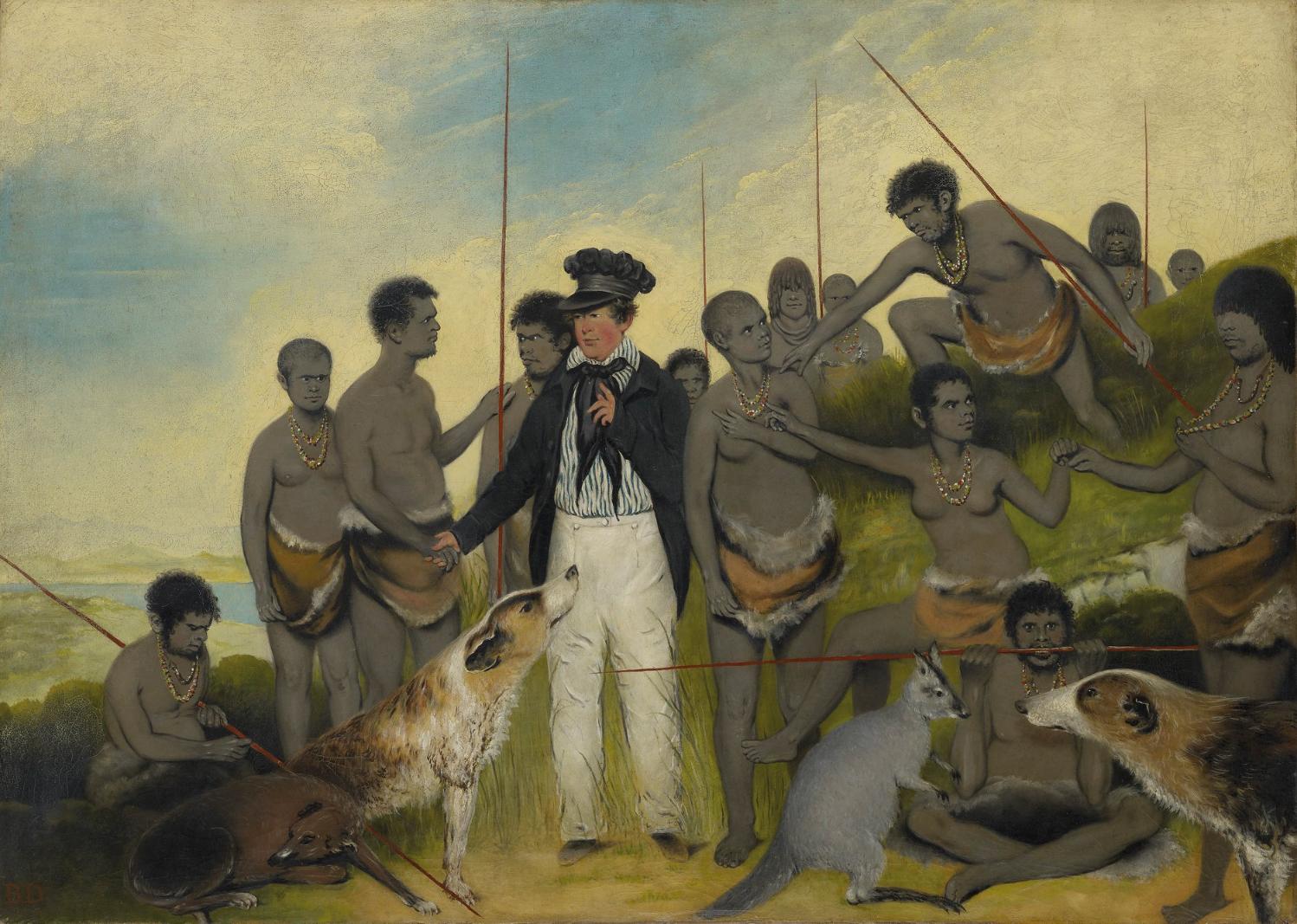 Benjamin Duterrau(1767-1851), The Conciliation, circa 1840, oil on canvas.
Object 84 from 100: TMAG states; -
Considered the first historical painting in the Australian colonies, Benjamin Duterrau's The Conciliation is an idealised depiction of the British 'Protector of the Aborigines', George Augustus Robinson, at the centre of a group of Tasmanian Aboriginal people. It refers to Robinson's role as a 'conciliator' between the Aborigines and white settlers during the period of 1829–1834, where the aim was to 'civilise' and 'Christianise' the Aboriginal population.

This process involved Robinson travelling around the island and gathering together the Aboriginal people, which eventually led to their transportation and segregation on Flinders Island. Here, many Aboriginal people died from disease and maltreatment, and Robinson's efforts resulted in the decline of their population. The surviving 47 Aboriginal people were moved to Oyster Cove, back on the Tasmanian mainland, in 1847.

Duterrau's painting is significant – not only because it romanticises Robinson as a heroic saviour, but also because he was the only colonial painter to concentrate on Robinson and the topic of the conciliation. Duterrau's objective was to create a 'National Picture' which could "extend feelings of universal philanthropy" – rather than dwell on the problems of colonisation. The extent to which Duterrau idealises Robinson in this painting reflects this goal and perhaps tells us more about Duterrau's Christian values than it does about the reality of the conciliation. Duterrau's central placement of Robinson, the mystical gesture of his hand towards the heavens, and the collective focus of the Aboriginal people around him all portray Robinson as a Christ-like figure.

With such an emblematic portrayal of Robinson, the painting is considered the first example of allegorical – or 'history' – painting in the Classical style in Australia. This smaller version is also the study for Duterrau's proposed epic (3.04 m x 4.26 m) National Picture – the search for which continues to inspire many art historians today.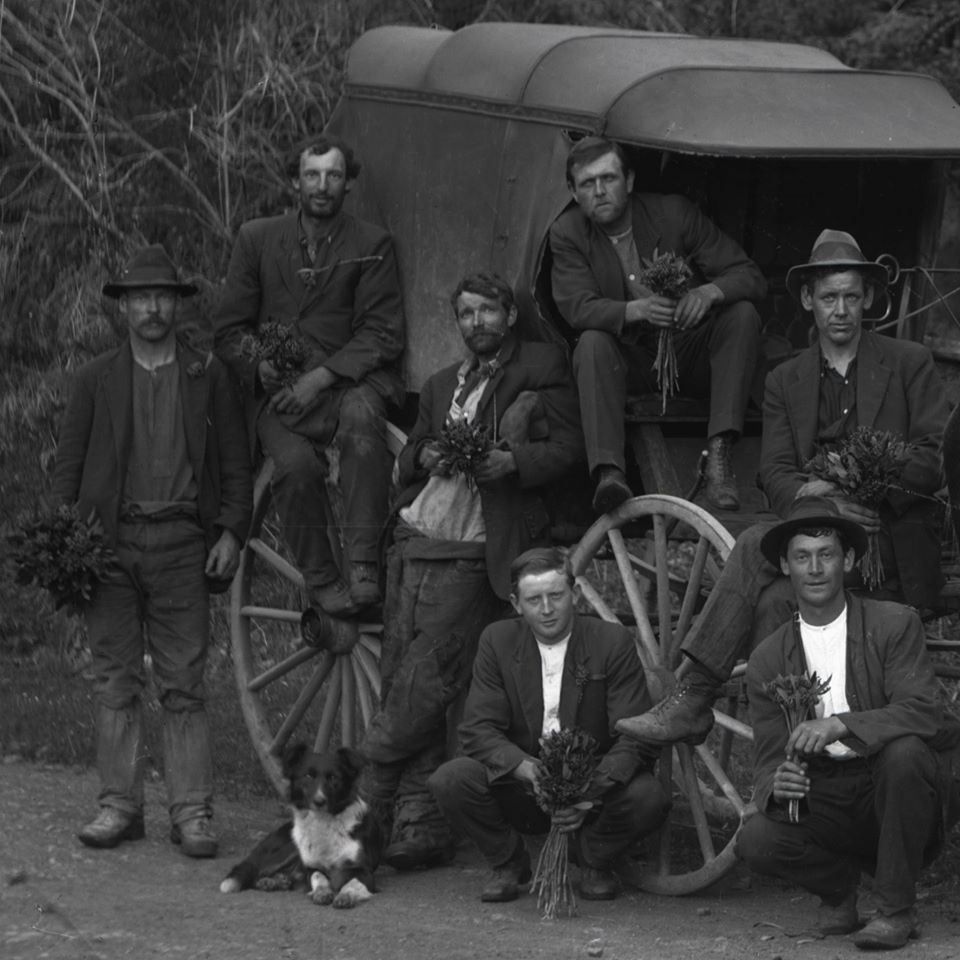 Image: John H (Jackie) Robinson (1883-1953),
Group of men holding waratah flowers at Seven Mile, near Waratah, Tasmania, c. 1920
(detail).
Worth Noting: The TMAG now has a female Chair of its Board of Trustees for the first time in its long history, following the appointment of Brett Torossi. The appointment was announced on February 24th, 2020. This is also the first time that two women have led the museum, with Ms Torossi joining TMAG Director Janet Carding, who has been reappointed for another five year term.
In addition, TMAG has also welcomed two new Trustees, Andrew Catchpole and Heather Rose, who have been appointed to three year terms.
Image: Brett Torossi pictured in the This Too Shall Pass exhibition gallery. TMAG photo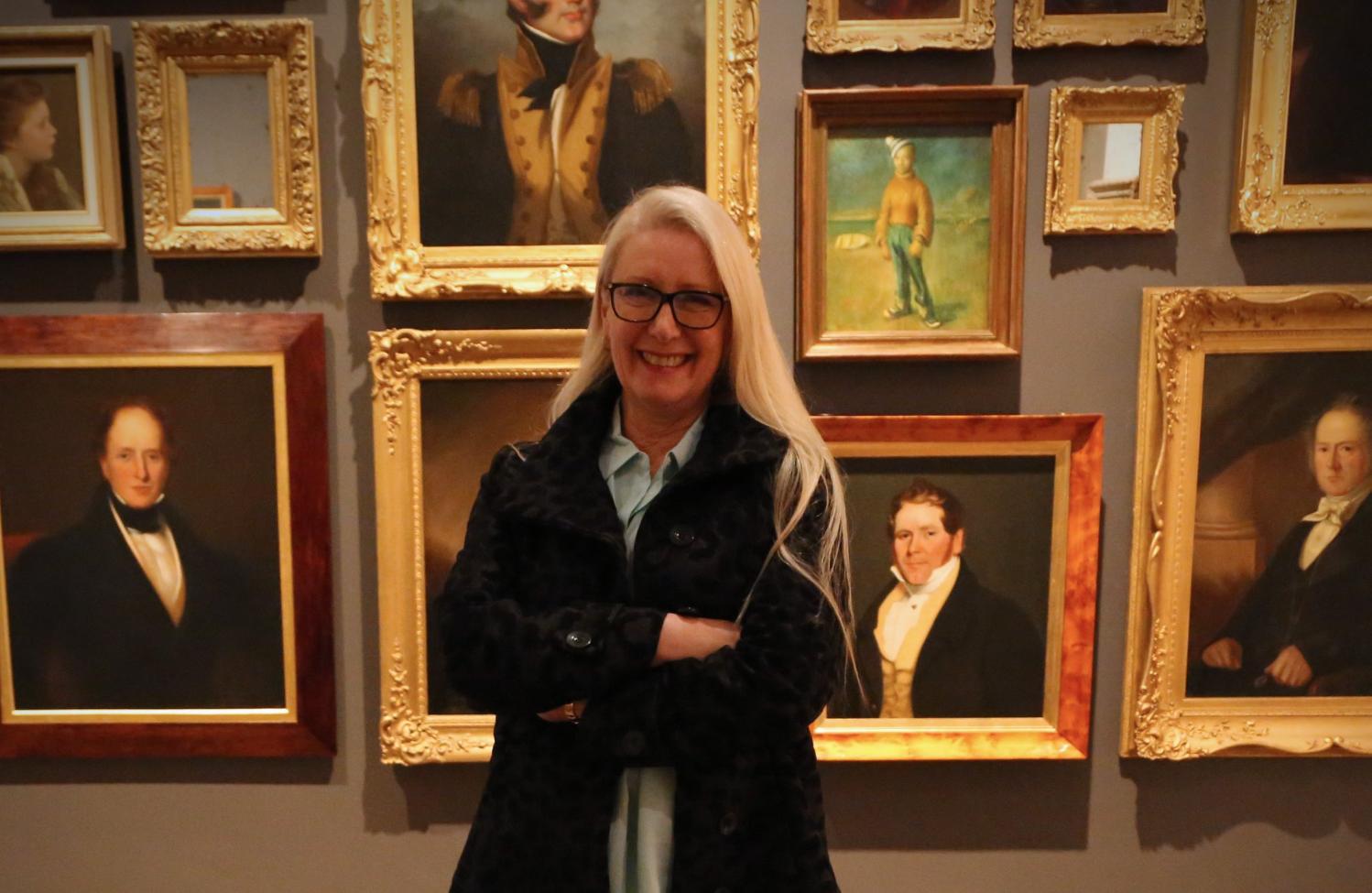 State Library Of Tasmania
Along with a great cache of resources, including Tasmanian archives and heritage, an elibrary, emusic, family history resoruces, and elanguages you can learn online, the State Library of Tasmania holds a vast collection of wonderful photographs of regattas or such luminaries as John Watt Beattie, along with Historic plans, Pictures, Maps and Prints.
To see Categories, visit: libraries.tas.gov.au/archive-heritage
A few examples: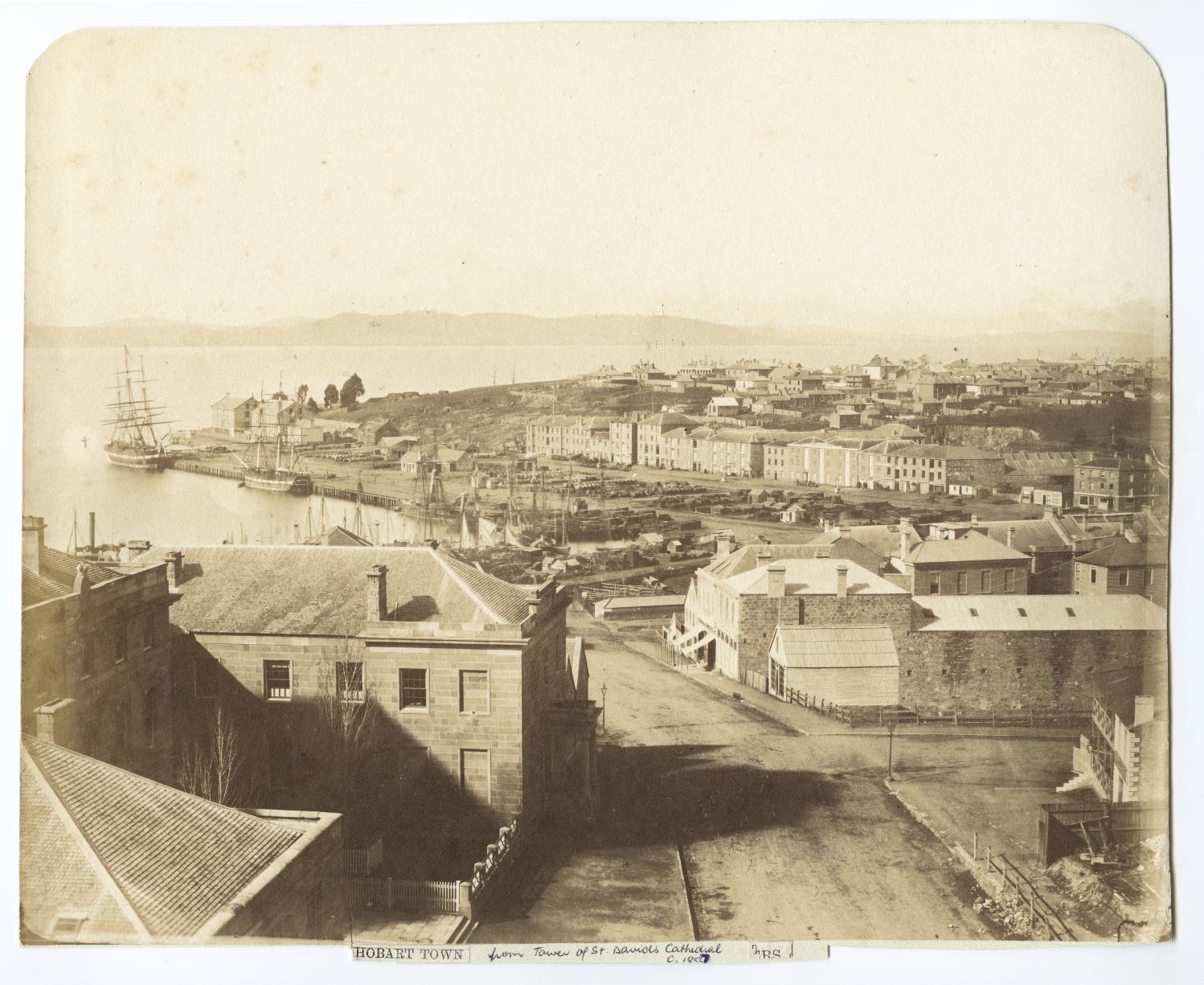 Hobart Town from tower of St. David's Cathedral, 1857. Publication Information: Hobart : C. Abbott?, 1857. Item: AUTAS001139592695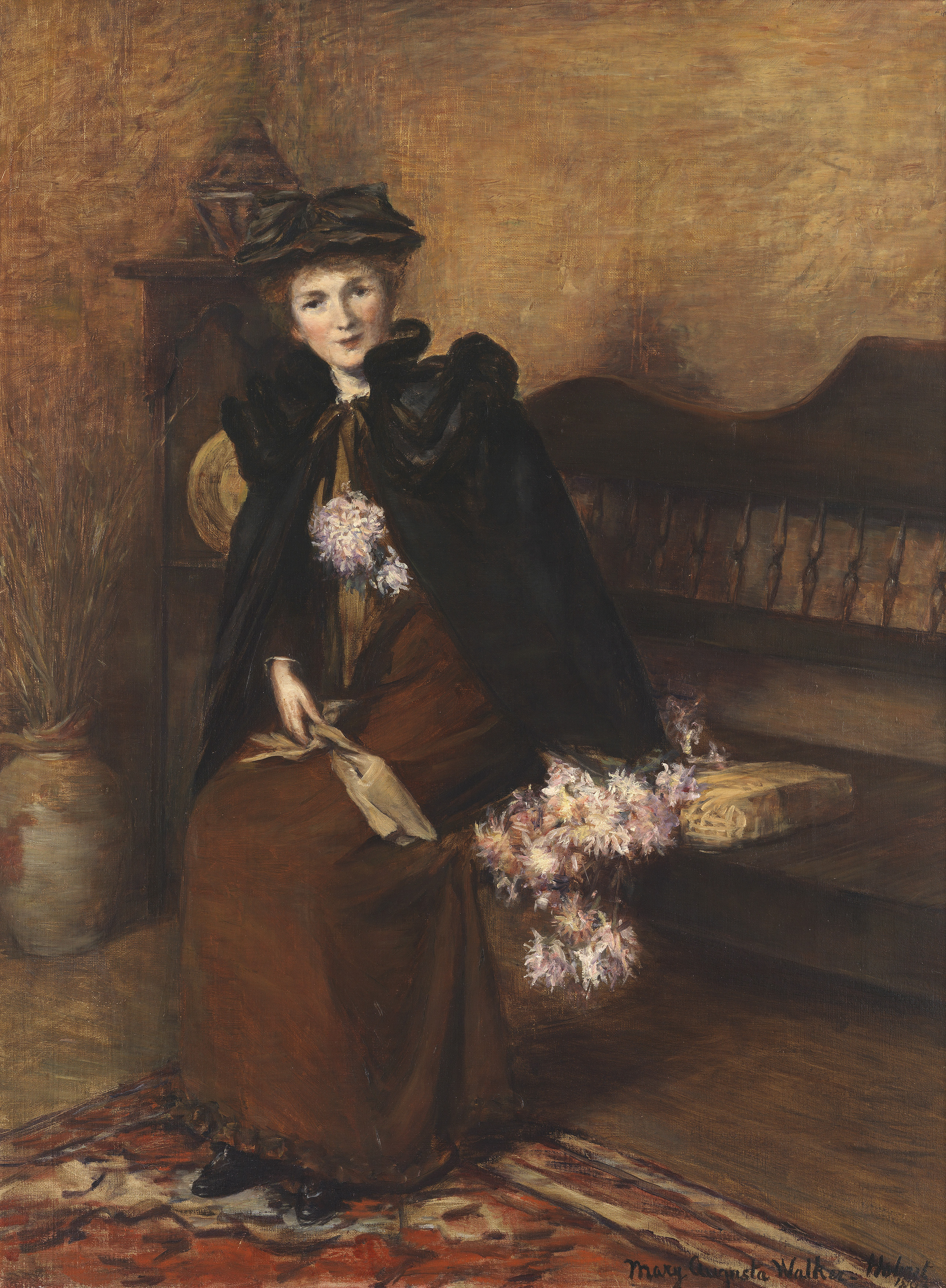 Seated lady with flowers - 1893. Author/Creator: Mary Augusta Walker, 1856-1952. Digitised item from: Allport Library and Museum of Fine Arts, Tasmanian Archive and Heritage Office. Record ID: SD_ILS:673384

Art Gallery Of South Australia
The Art Gallery of South Australia has one of the largest art museum collections in Australia, comprising almost 45,000 works of art spanning 2000 years. Their collection includes paintings, sculpture, prints and drawings, photographs and videos, textiles and clothing, ceramics, glass, metalwork, jewellery and furniture. Another glorious celebration of Australian Art as well as many other wonderful objects and images.
To date approximately 40% of collection records are available to view in the online collection.
Some examples: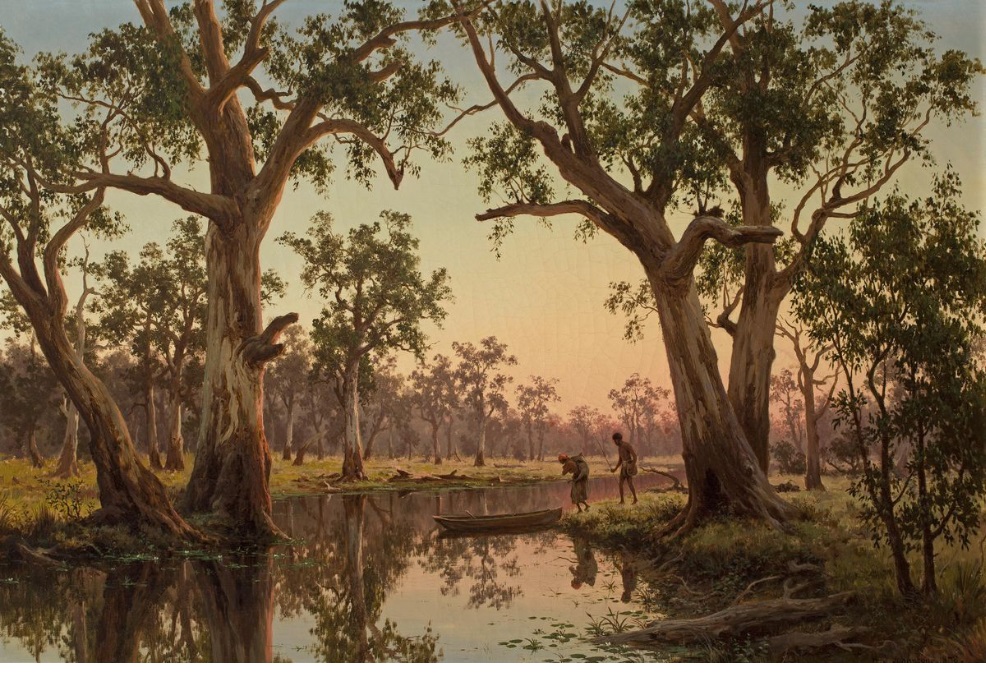 H. J. Johnstone (1835-1907), A Billabong in the Goulburn Valley, Victoria, Australia. 1878 - On display, Gallery 3 - AGSA zoomable version here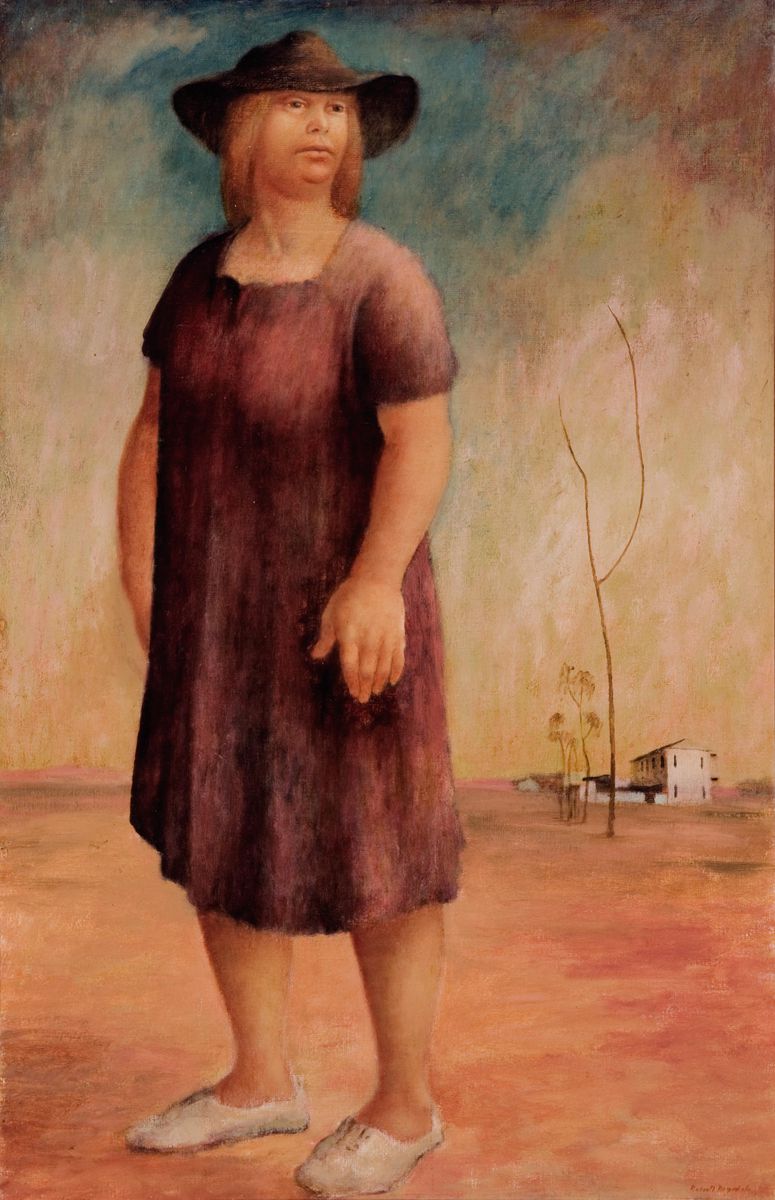 Russell Drysdale, ( 1912 – 1981), Woman in a landscape, 1949- oil on composition board
International Museums - Tours Online: just search for your favourites and find their virtual options, examples;
British Museum, London
This iconic museum located in the heart of London allows virtual visitors to tour the Great Court and discover the ancient Rosetta Stone and Egyptian mummies. You can also find hundreds of artefacts on this museum's virtual tour.
Tate Modern Art Gallery 360 Virtual Tour
Gallery virtual tours around the Turbine Hall at the Tate Modern during one of the art exhibitions for the Unilever Series. A collection of art gallery virtual tours, from world-renowned galleries like the Tate to smaller private galleries. Please click the thumbnails to view. Visit here.
Guggenheim Museum, New York
Google's Street View feature lets visitors tour the Guggenheim's famous spiral staircase without ever leaving home. From there, you can discover incredible works of art from the Impressionist, Post-Impressionist, Modern and Contemporary eras.
National Gallery of Art, Washington, D.C.
This famous American art museum features two online exhibits through Google. The first is an exhibit of American fashion from 1740 to 1895, including many renderings of clothes from the colonial and Revolutionary eras. The second is a collection of works from Dutch Baroque painter Johannes Vermeer.
Library of Congress - Washington
The Library of Congress is the nation's oldest federal cultural institution, and it serves as the research. Use the largest library in the world online by visiting: www.loc.gov
Smithsonian tour of the National Quilt Collection: USA
The National Quilt Collection had its beginnings in the 1890s when three quilts were included in a donation of 18th and 19th century household and costume items from one New England family. Since then, the collection has expanded to more than 400 items that cover three centuries of American history. These quilts represent a wide range of style, content, history, and even personality. But few are on exhibition at any given time. Now you can take a virtual behind-the-scenes tour on the museum's website and see where the collection resides when not on public view.
The J. Paul Getty Museum, Los Angeles
This wonderful museum holds European artworks from as far back as the 8th Century can be found in this California art museum. Take a Street View tour to discover a huge collection of paintings, drawings, sculptures, manuscripts, and photographs.
Uffizi Gallery, Florence
This less well-known gallery houses the art collection of one of Florence, Italy's most famous families, the de'Medicis. The building was designed by Giorgio Vasari in 1560 specifically for Cosimo I de'Medici, but anyone can wander its halls from anywhere in the world.
MASP, São Paulo
The Museu de Arte de São Paulo is a non-profit and Brazil's first modern museum. Artworks placed on clear perspex frames make it seem like the artwork is hovering in midair. Take a virtual tour to experience the wondrous display for yourself.
National Museum of Anthropology, Mexico City
Built in 1964, this museum is dedicated to the archaeology and history of Mexico's pre-Hispanic heritage. There are 23 exhibit rooms filled with ancient artefacts, including some from the Mayan civilisation.
Paris Museums Put 300,000 Works of Art Online: Download Classics by Monet, Cézanne
Fantastic! Visit: http://parismuseescollections.paris.fr/en
Musée d'Orsay, Paris
You can take a virtual walk through this popular gallery that houses the famous works of French artists who worked and lived between 1848 and 1914. Stand/sit before artworks from Monet, Cézanne, and Gauguin, among others.
National Museum of Modern and Contemporary Art, Seoul
A very popular Korean museum can be accessed from anywhere around the world. Google's virtual tour takes you through six floors of Contemporary art from Korea and all over the globe.
Pergamon Museum, Berlin
As one of Germany's largest museums, Pergamon has a lot to offer – even if you can't physically be there at present. This historical museum is home to many ancient artefacts including the Ishtar Gate of Babylon and, of course, the Pergamon Altar.
Rijksmuseum, Amsterdam
Explore the masterworks from the Dutch Golden Age, including works from Vermeer and Rembrandt. Take a Google offers a Street View tour of this iconic museum, so you can feel as if you're actually wandering its halls.
Van Gogh Museum, Amsterdam
This great painters' works can be viewed up close by virtually visiting this museum – the largest collection of artworks by Vincent van Gogh, including over 200 paintings, 500 drawings, and over 750 personal letters.
Zoos Victoria Now Live Streaming Animals: Bringing The Zoo To You
On Wednesday this week Zoos Victoria commenced live streaming videos of some of the animals they look after so people can see what's happening without having to leave home.
''We've set up a few live stream cameras from Melbourne Zoo and Werribee Open Range Zoo, so you can enjoy the zoo from anywhere.'' Zoos Victoria stated on a webpage dedicated to the live streaming setups.
'See Melbourne Zoo's three baby Snow Leopard cubs as they play under mum's watchful eye in their den. Enjoy the penguins as they go about their busy day; look up high and spot the giraffes as they spend most of the day eating; and check out the lazy lions of Werribee Open Range Zoo as they lord over their very own Pride Rock.
Can't see them? That's because our animals live in areas that are much bigger than what a camera can capture and they have the choice to wander wherever they please. Check back in later to spot them.' Zoos Victoria says.
Pittwater Online has embedded the Penguin Cam below but you can also visit the Snow Leopard Cub Cam, Giraffe Cam and Lion Cam - just click on the links we've place here and enjoy!