January 30 - February 5, 2022: Issue 524
woolworths Announces avalon supermarket will become a metro store: three month closure for conversion after easter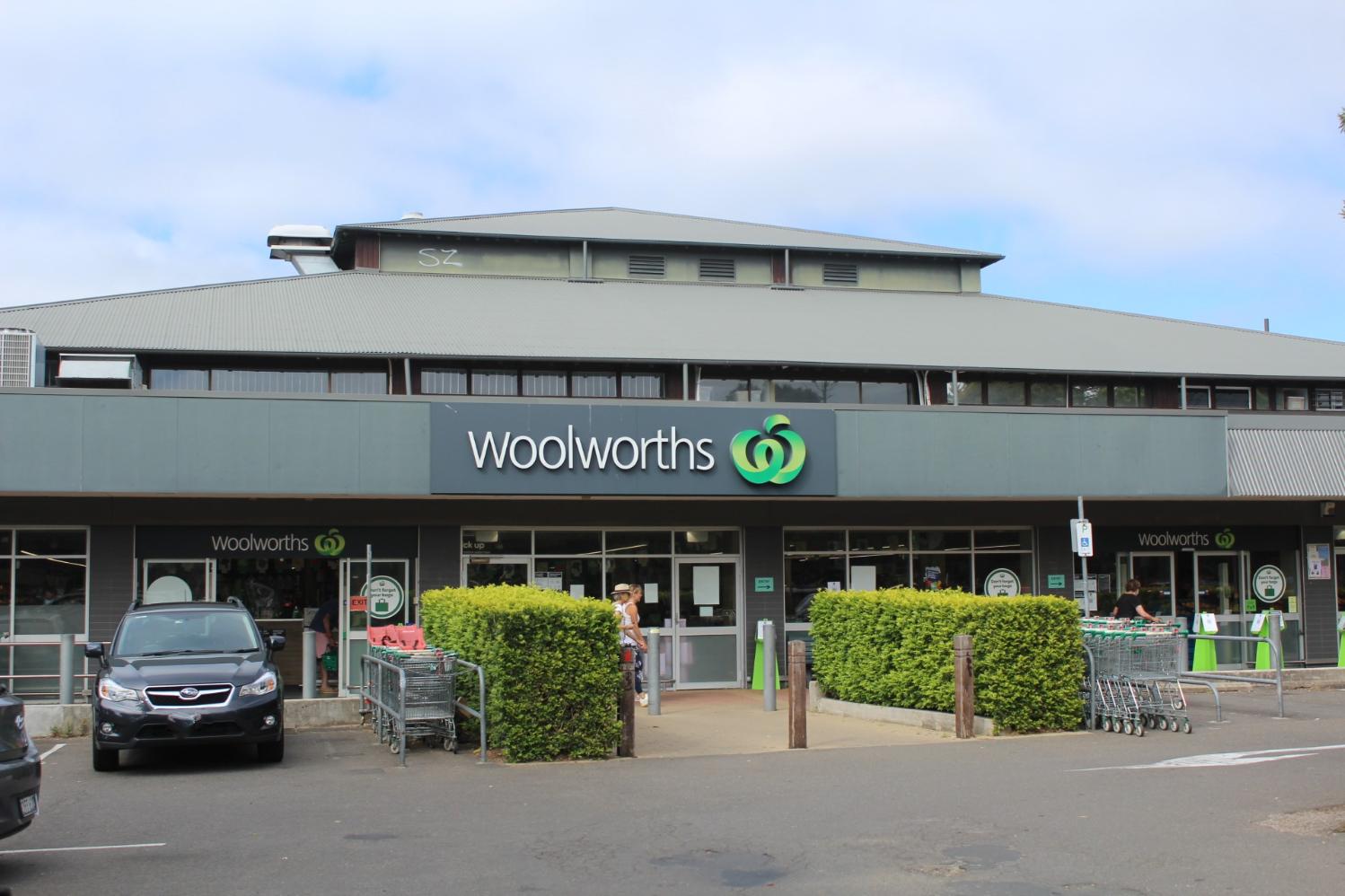 Woolworths has announced its intention to change the Avalon supermarket to a Metro store. Woolworths Metro stores do cater for the top-up shop, with everyday essentials, but the emphasis is on fresh produce and a range that's heavily weighted to meal occasions.
Woolworths launched their first Metro store in Melbourne in 2013 and has been rolling these out along the eastern coast of Australia since.
Pittwater Online News contacted Woolworths this week which sent back confirmation of the plan, which will include closing the store after Easter 2022 for a three month refurbishment.
''After Easter, Woolworths Avalon will temporarily close for a three month period as store amenities undergo a comprehensive upgrade combined with a new locally tailored offering, including an expanded range of fresh produce, entertaining and a great range of everyday essentials for the home.'' a Woolworth spokesperson said.
''During the construction period, customers will be able to shop at Woolworths Mona Vale or order groceries online through the website or the Woolworths app.''
''We are committed to engaging with the local community to help shape the range and service of the new neighbourhood food store and will be hosting two online information sessions in early February.''
''We look forward to talking to as many local residents as possible in the coming weeks and will share more details about the new store as we get closer to opening.''
In October 2021 Residents contacted Pittwater Online due to the change in how Woolworths is now displaying its hours of trade on the Woolworths's website store locator function, stating it is a Metro version of Woolworths.
As part of Woolworths' community engagement, a flyer commenced distribution this week.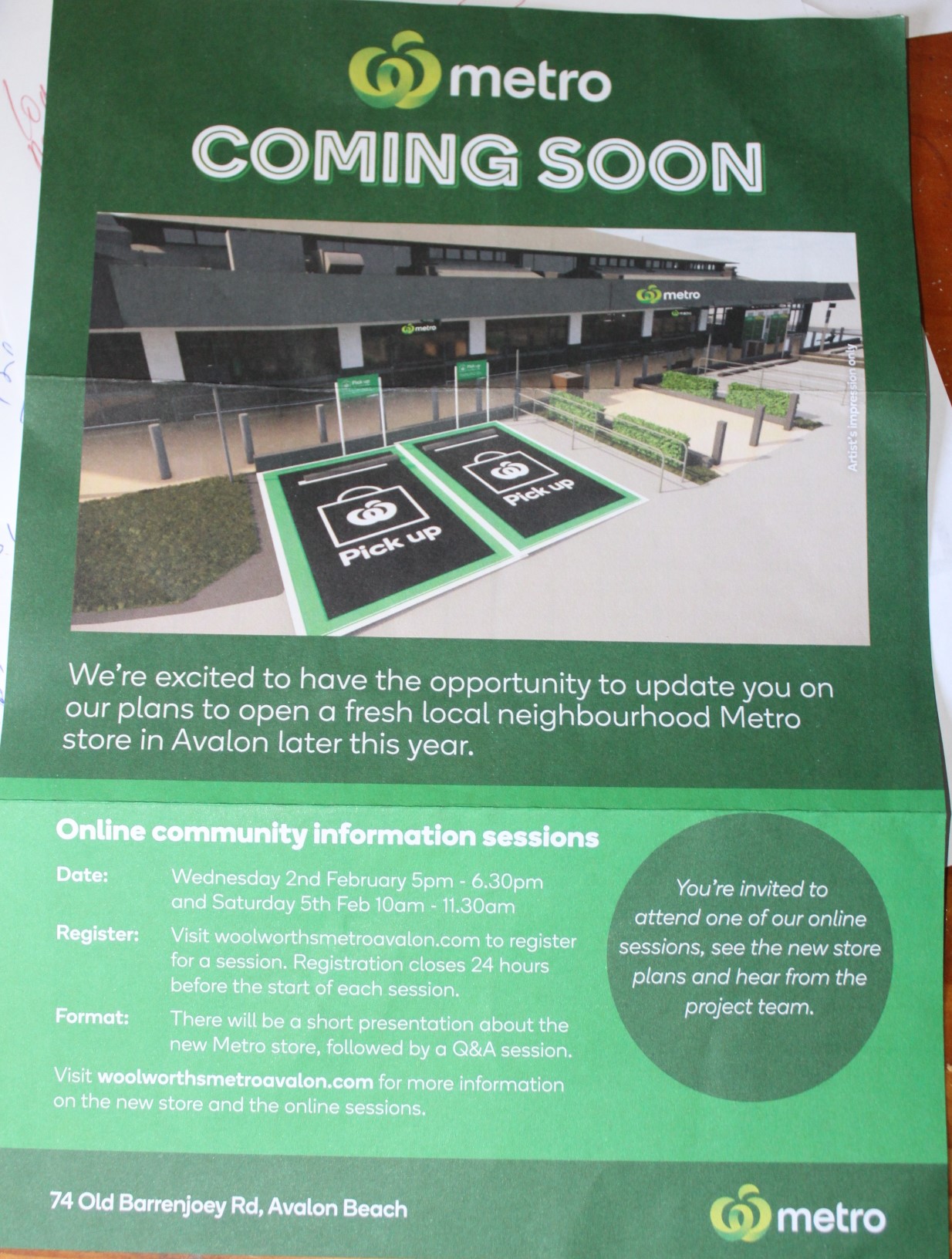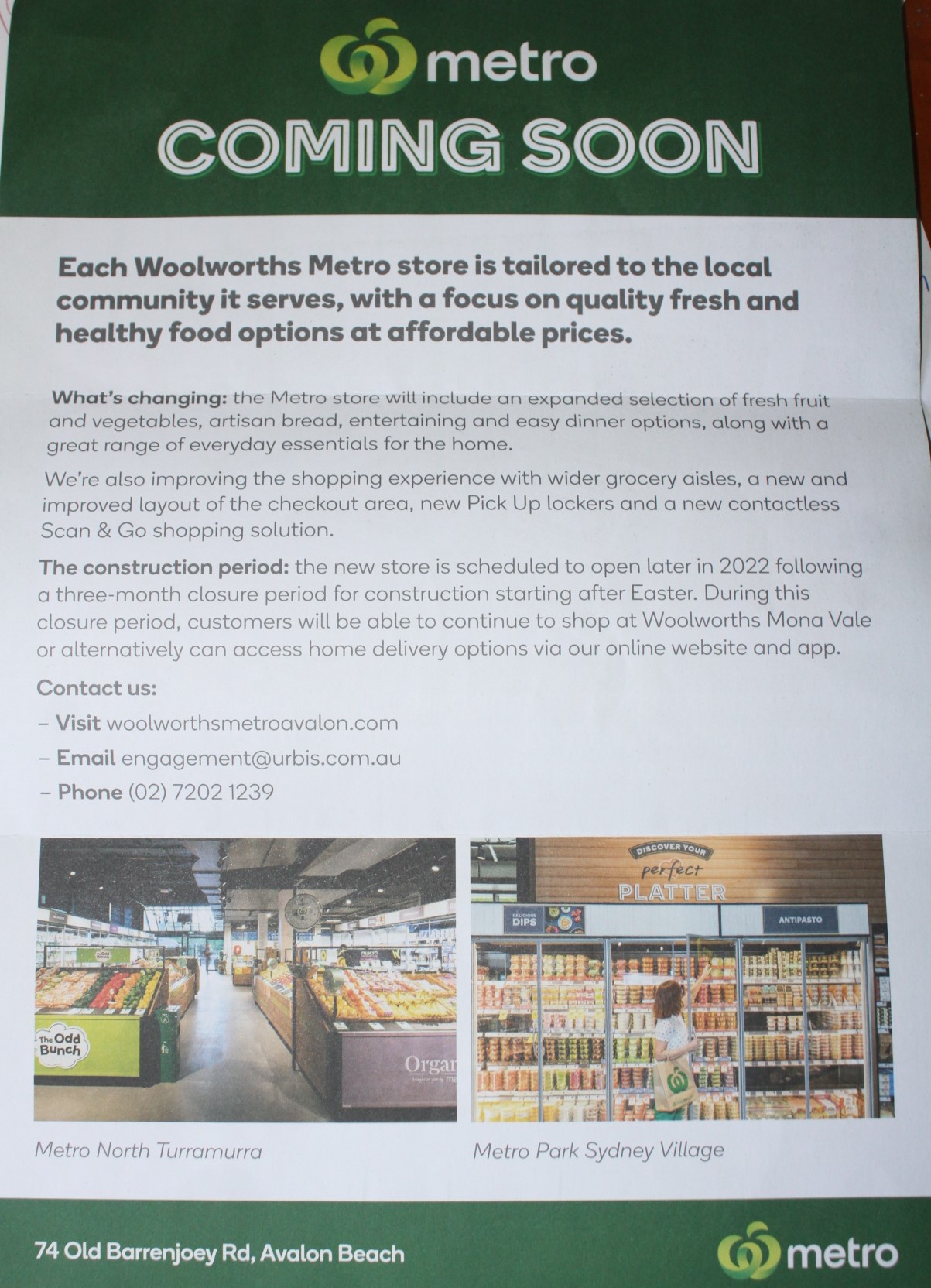 An Avalon webpage for the project states;
''Woolworths is planning to refresh the existing supermarket in Avalon to create a new Woolworths Metro store at 74 Old Barrenjoey Rd, Avalon Beach.
The new Woolworths Metro Avalon will use the existing store to deliver a fresh food store designed to meet the needs of the local community.
​
The store's existing size is consistent with other Metro locations that generally range from 250sqm – 1500sqm. Metro stores are Woolworths' small fresh food stores, offering a fresh, local and easy shopping experience with each Metro store tailored to the community it serves.''
The webpage states that once the refurbishment is complete, the store will offer an i
ncreased range of fresh in-season fruit and veg, w
ith a focus on sourcing from Australian suppliers, the store will have a larger variety of fresh, in-season and organic fruit and vegetables to choose from.
There will be a larger bakery area which will then stock
a larger range of artisan breads, speciality loaves, rolls, as well as sweet and savoury bakery snacks from local suppliers.
​
The store will stock an increased range of fresh ingredients and meals, made f
rom more fresh, quality ingredients from local suppliers, to health foods and 'hot meals to go'. The store will also be extending the range of premium seafood, organic beef and poultry.
​
There will be an expanded range of local and international entertaining cheeses, crackers, gourmet dips, antipasto, condiments, sliced meats and seafood.
There will also be more local speciality products, sourced from local suppliers - like free range eggs from Holbrook Paddock, Wood Fired Coffee and Arlington's Dairy, all produced on the northern beaches.
​
Woolworths states it is also ramping up its sustainability focus;
''
We know sustainability and reducing plastic waste are important issues for Avalon residents, so you'll notice a number of new initiatives in the new look store, including less plastic packaging throughout the store as well as loose pick tomatoes and potatoes in fruit and veg.'' the webpage states
''
We will be implementing our latest sustainability initiatives into the store, such as LED lighting, options to use cardboard boxes instead of plastic bags for shopping and reducing our energy consumption with upgraded refrigeration technology.''
​
As part of the refurbishment, Woolworths states the new store will have wider grocery aisles, a new checkout area layout, pick up lockers and COVID safe shopping initiatives, such as the convenient Scan & Go contactless shopping solution. The aim here is to increase customer safety.
The webpage also states;
''While Metro stores in CBD locations provide a wide-range of ready-to-go snacks and meal solutions, our neighbourhood Metro food stores offer a fresh, local and easy shopping experience. Each Metro store is tailored to the needs of the community it serves.''
The store is due to open mid 2022, following a three-month closure for construction.
Woolworths will continue standard operating hours from 7am to 9pm daily, with team access one hour either side of those times.
During the closure customers are urged to shop at Woolworths Mona Vale, or alternatively, access home delivery options via Woolworths online website or app.
Interestingly Woolworths first dedicated food store was opened in Sydney's Dee Why in 1957. The Grocery range was limited, but included fresh vegetables, delicatessen items and packaged fresh meat sold out of refrigerated cabinets.
The wider aisles announcement will also remind older Avalonians of the Woolworths store that used to be opposite Johnson Brothers Hardware up until the early 1980's - that too had wide aisles - and wooden shelves!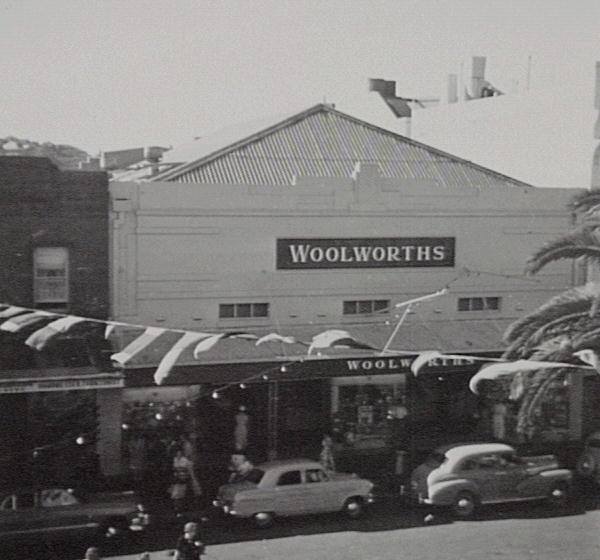 Woolworths in Avalon Parade (per Pittwater Council History Unit at Mona Vale Library)​
Community feedback sought
Woolworths is seeking community feedback and recommendations to shape the range and service of the new store. They
invite you to join one of their online community information sessions. The session will give you the chance to learn more about the proposal, share feedback and ideas, and speak with the project team.
​
Register your interest via Eventbrite to attend one of the following session options:
​
Session times – options:
Wednesday 2 February 2022 (5 – 6.30pm)
Saturday 5 February 2022 (10am – 11.30am)​
Following your registration, a Zoom link to join the session will be provided to you.
The impact on local cafes, bakeries and specialist food providers is already causing stress in the community. When the Woolworths Avalon store expanded its range of fresh meat it spelled the end of the butchers' shop that had been next door for years.
The suburb has also seen the loss of two local greengrocers through the store stocking fresh fruit and vegetable items.
It is also wondered whether the current staff at the store, all popular members of our local community, will all still be seen after the changes.
The Avalon Preservation Association are asking members and local residents to complete the below attached survey to provide a clearer picture of the response to proposed changes to the Avalon Beach Woolworths store.
These changes are raising some concerns that the present product range may be reduced by space limitations, and everyday grocery items may not be so readily available, or prices may rise. This could mean it may then be necessary to travel to Woolworths in Mona Vale or Coles in Newport, or order online permanently.
Palm Beach Whale Beach Association and Clareville and Bilgola Plateau Residents Association will be distributing the same survey and, depending on the results, a meeting will be set up with Woolworths at senior level to a. establish exactly what they are planning, and b. make it clear what residents want.
The survey form is designed to be: downloaded to your computer/opened, filled in, saved, then attached in a return email to APA -
avalonpreservationa@gmail.com
Alternatively, you can: print survey, fill in, scan, and attach to a return email to APA (address below).
APA state they obviously need as large a membership and residents response as possible.
Avalon Preservation Trust
Incorporated as Avalon Preservation Association