February 13 - 19, 2022: Issue 526
Water Dragons attacked by blow-Darts at Warriewood Wetlands: update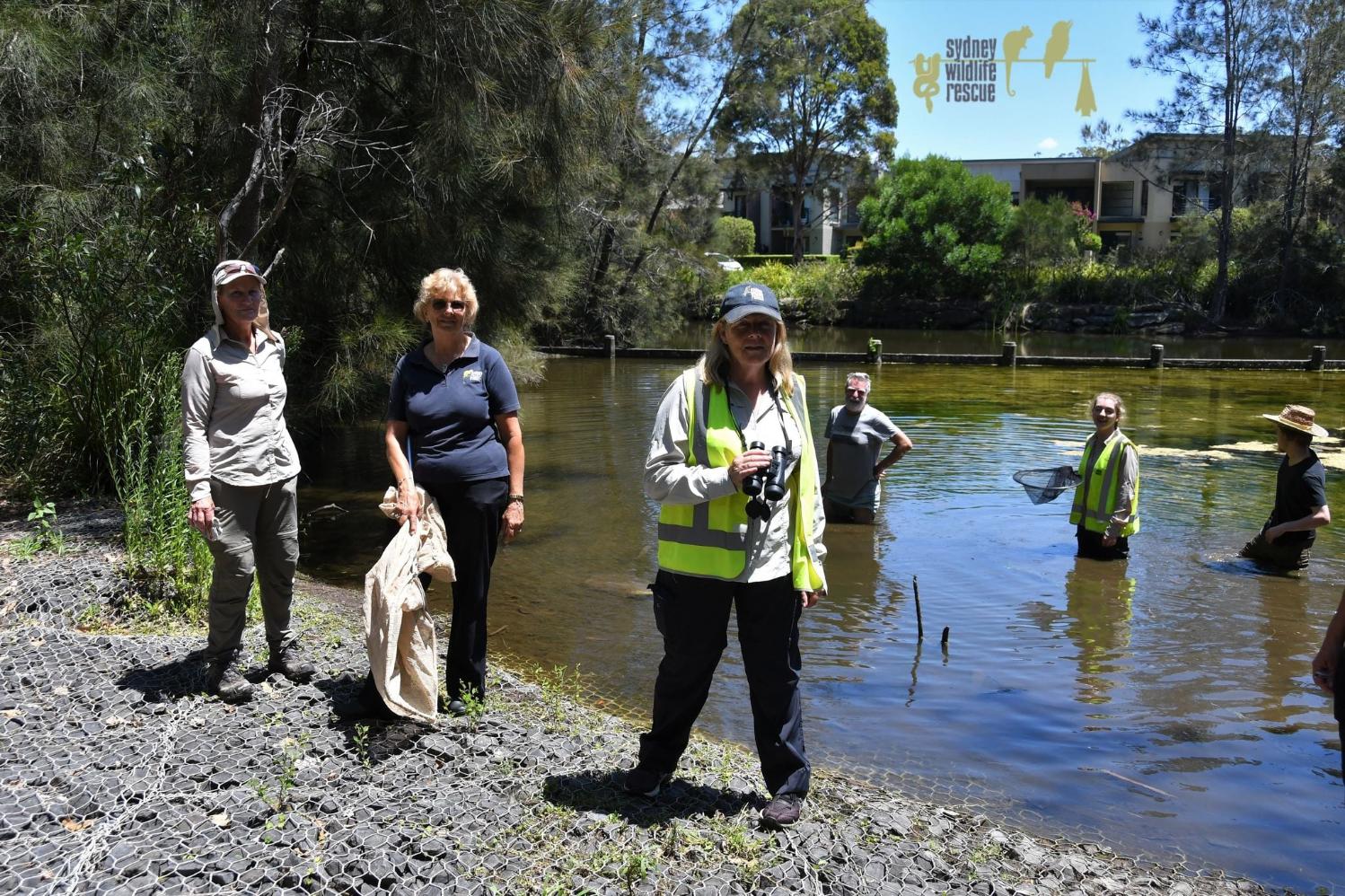 Sydney Wildlife (Sydney Metropolitan Wildlife Services) volunteers looking for injured Water Dragons in Warriewood Wetlands
Readers will recall on Australia Day, Sydney Wildlife's rescue line received a call from a distressed member of the public letting us know that a Water Dragon in Shearwater Estate ponds in Warriewood appeared to have pins in it.
Several of our volunteers rushed to the area and were horrified when they discovered multiple injured dragons, many of them with two or three darts embedded deep into their flesh.
One dragon had a dart that went through her shoulder and protruded from her chest, as well as facial injuries from another dart.
She was assessed by Collaroy Vet and taken into care by our volunteer and later treated for the injury to her mouth by volunteer vets at the Sydney Wildlife Rescue Mobile Care Unit.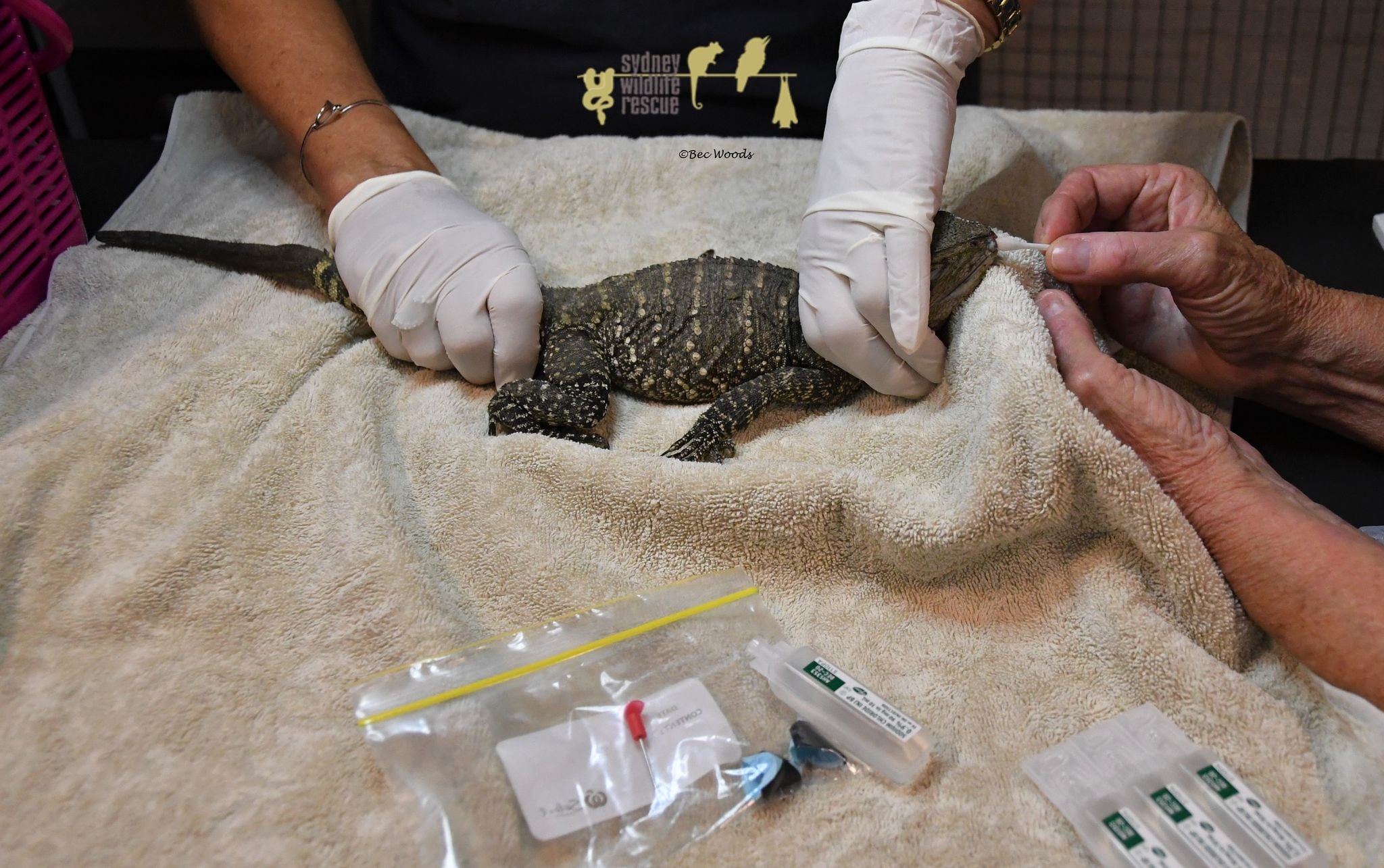 After a period of care with our member and monitoring by our volunteer vets, she was safely released.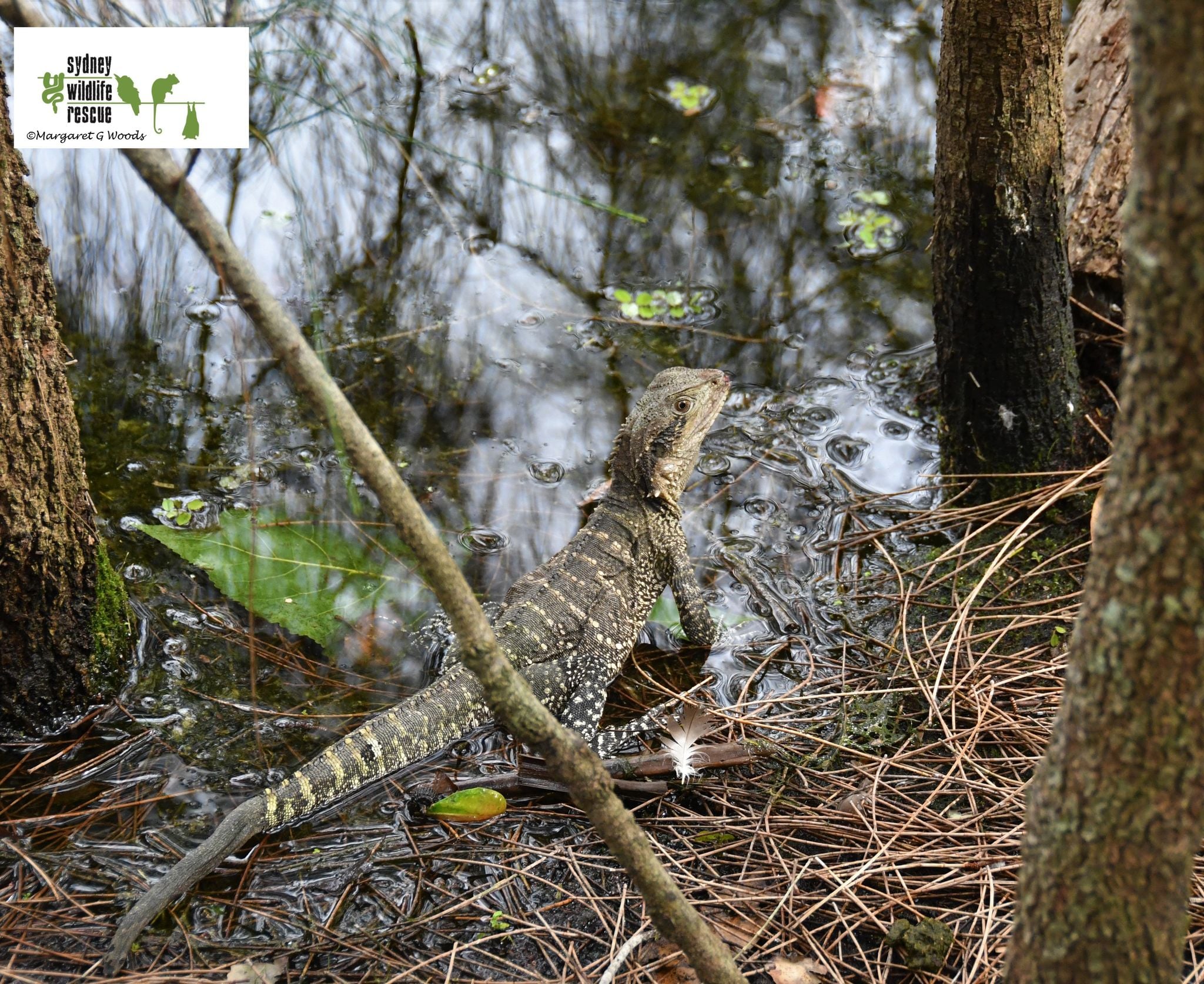 On 27 January 2022, we received a call from Collaroy Vet advising they had received another darted dragon from the same area. The vet removed a fully inserted dart from the middle of his shoulders – luckily it had missed his spine and brain. He too was released after time in care with one of our members and a check-up by our volunteer vets.
Our volunteers and concerned locals continued to do daily searches of the area and on 28 January spotted another dragon with a blue nail dart in its tail. They didn't manage to catch him – unfortunately Water Dragons are very quick and despite injury, can still swim and climb trees.
This incident of cruelty was reported to the RSPCA and the NSW Police who attended immediately. The darts gathered in the area plus those removed from the injured Water Dragons were handed over to the police for DNA testing, and they hope to identify the culprits.
If you have any information that would assist their investigations, please contact Dee Why Police on (02) 9971 3399 or Crime Stoppers 1800 333 000.
We would like to see the dart guns used in these cowardly attacks banned.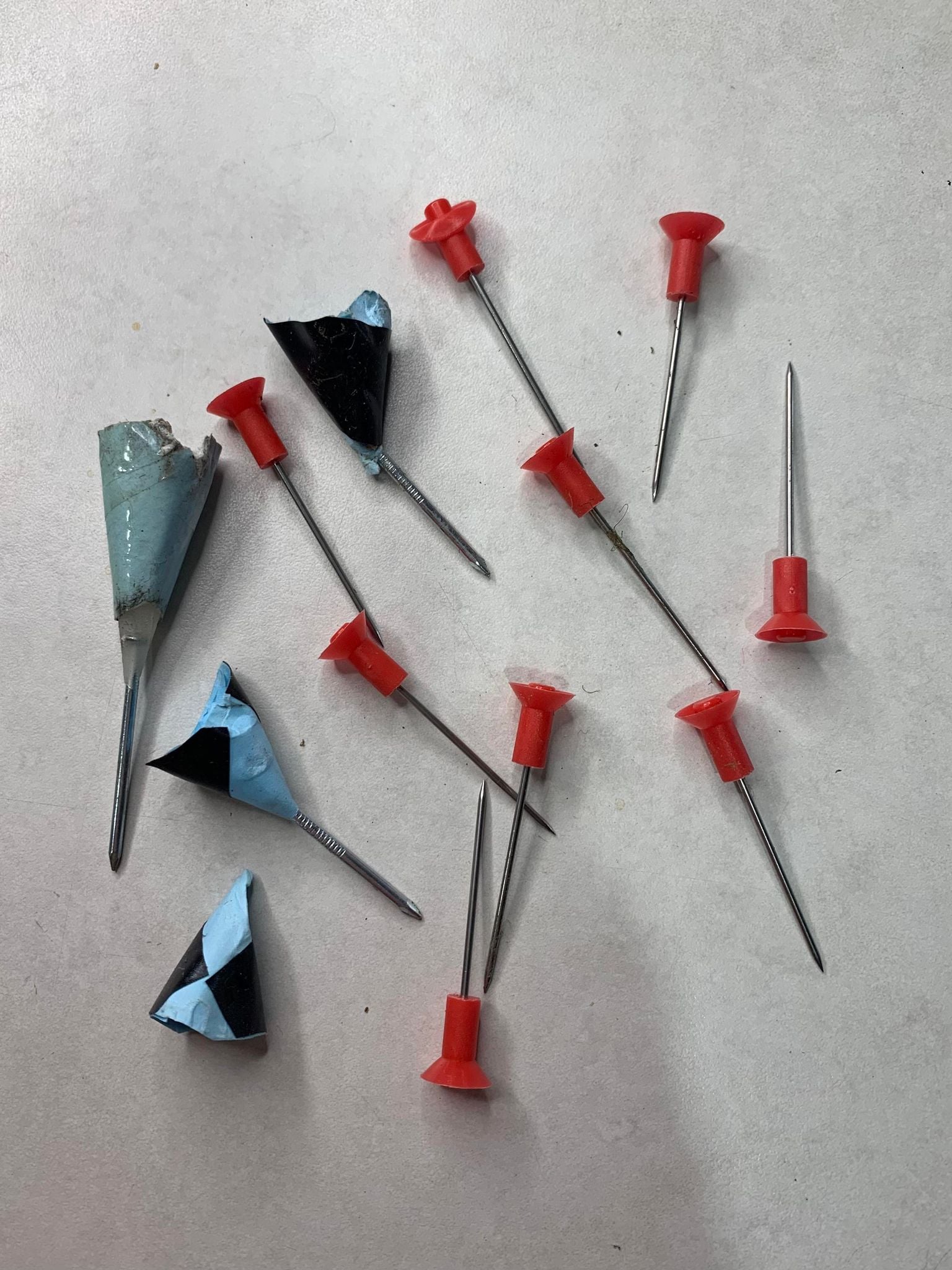 The darts found at Warriewood Wetlands
This week
Cr. Vincent De Luca OAM provided the following update from Council:
Council staff liaised with wildlife carers and bush regeneration contractors working in the reserve to investigate the incident and also notified the Police. As the use of these types of weapons is unlawful the lead agency for investigation rests with the NSW Police.
Members of Sydney Wildlife conducted searches for injured animals and remain on call. A small number of injured Water Dragons were rescued by Sydney Wildlife Rescue.
Contact details for local wildlife rescuers and local Police officers have been distributed to council's bush regeneration contractors and Council Rangers should further injured wildlife or evidence of such activities be observed.
Council Rangers will continue to undertake regular patrols of the Warriewood Wetlands, and Council's Biodiversity team have also liaised with local National Parks and Wildlife Service Rangers regarding the matter and will continue to work with all agencies involved to assist in the investigation and identification of injured wildlife.
Thanks to Sydney Wildlife Rescue members who attended: Margaret, Bec, Sam, Jacqui, Joan, Margot, Edwina, other volunteer carers and their supporters; the many members of the public who reported the attacks and also searched for injured animals; and importantly Collaroy Vet and the Sydney Wildlife Mobile Care Unit vet team who treated and cared for the Water Dragons.
Photos: Sydney Wildlife volunteers search, rescue, care and release of darted Water Dragons – Margaret & Bec Woods
Photo: Collected darts supplied by member of the public
Report: Diane Jenner & Margaret Woods, Sydney Wildlife
Previously: Protected Water Dragons Targeted By Illegal Blow Darts In Warriewood: Disgraceful Cruel Act On Our Wildlife - Police Appeal For Information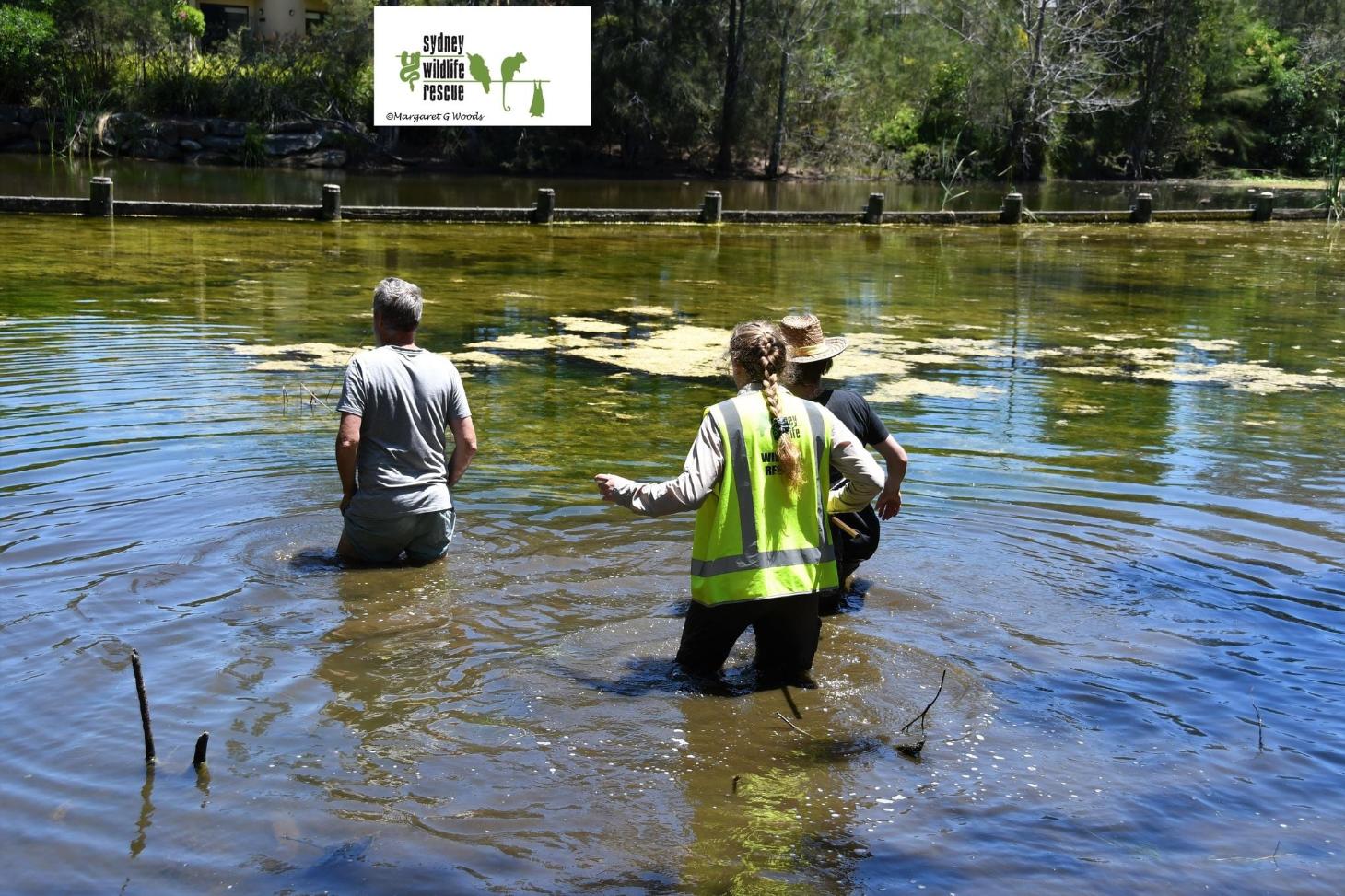 Sydney Wildlife (Sydney Metropolitan Wildlife Services) volunteers looking for injured Water Dragons in Warriewood Wetlands