May 28 - June 3, 2023: Issue 585
Two Catherines - a twisted Scotland Island tale: runs this June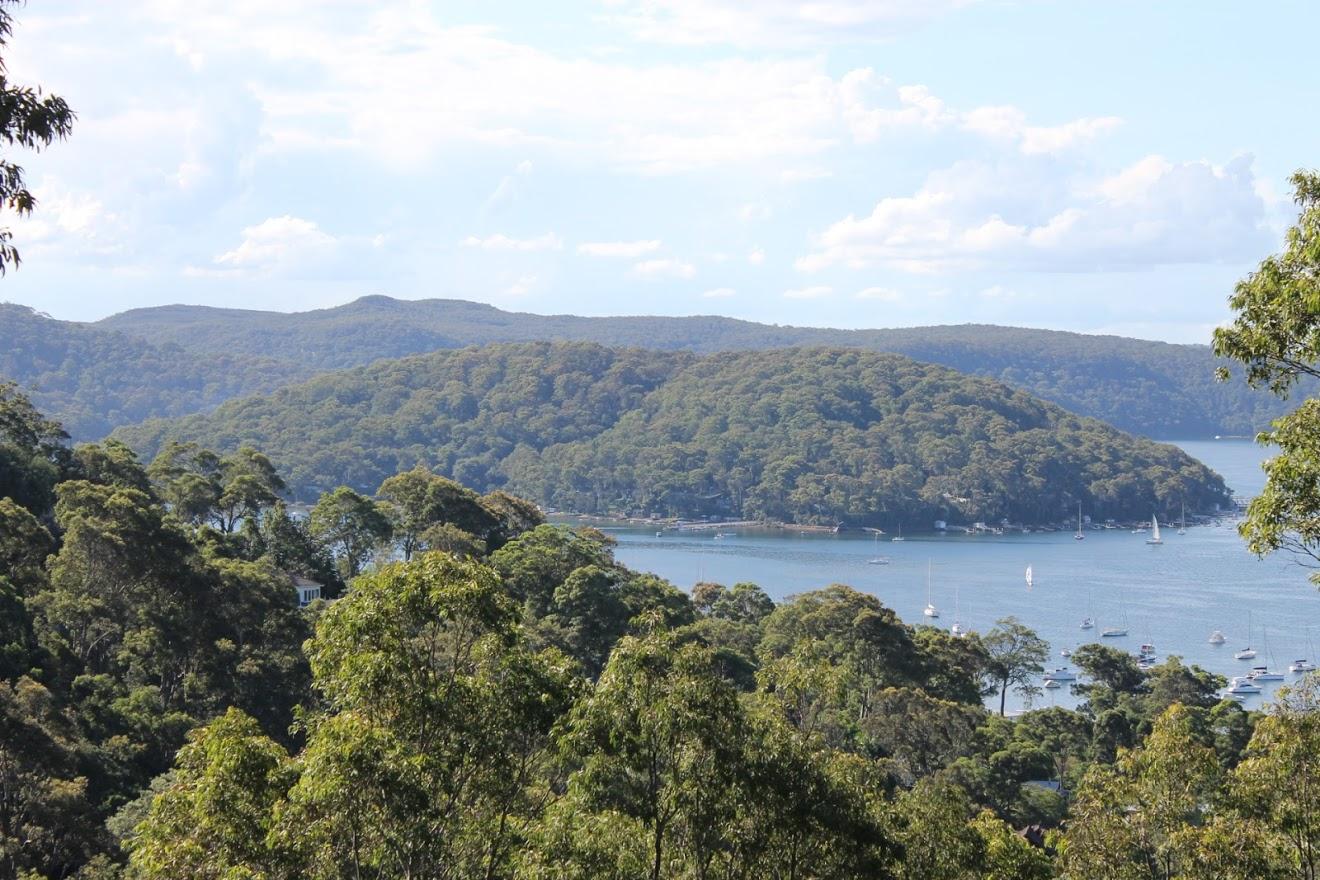 Scotland Island Residents Association is delighted to present a new historical fiction play based on two women important to the history of Scotland Island. The play is coming to the island community hall in June.
The history of Scotland Island is replete with stories about men – most notably Andrew Thompson (a former convict) and Herbert Fitzpatrick (a land developer). But we know very little about the women associated with the island. The opening of the Two Catherines Café, in August 2019, was the first step in redressing this imbalance. But to understand more about the role Catherine Benns and Catherine Bouffier played, we needed a story.
Catherine Benns was born on Bar Island in the Hawkesbury River in 1838 and moved to Scotland Island in 1874 when she married Jo Benns. She filled a very important role in Pittwater as a midwife and was often rewarded by her grateful clients with jewellery.
Catherine Bouffier (nee Gatenhoff) was born in Sydney in 1857 and married into a German family with a winery, the Bouffier Bros. When her husband died in 1898, she took over the family's wine business and became a prominent Sydney figure.
The play is staged around a wine exhibition by Bouffier on Scotland Island. The gathering of island residents keen to taste the wares includes Jo Benns who, unbeknown to Bouffier, knows where his wife hid her treasure but is reluctant to say.
A hunt for Benns' treasure begins but a chorus of 'wife-swappers' intercept the searchers and exercise their right to a toll. But who will pay the toll? The notorious Tilly Devine, also a one time resident of the island, reveals she has information crucial to their search.
The play is a new piece from a young playwright, Jasper Marlow. It is professionally directed by Elvina Bay resident Sophie Lepowic with the musical score and original songs produced by internationally renowned guitarist and composer Markus Plattner.
Pittwater Online News spoke to Jasper this week about his new play.
Do both Catherine Benns and Catherine Bouffier appear in your play, 'Two Catherines - a twisted Scotland Island tale'?
''They are both explored – Bouffier is more visible on stage; the two Catherines are a launching point to how they connect to the island and how they connect to everyone else on the island, through an imaginative story to bring them all to life.'' Jasper said
''If we can get across all of the fun and story and music involved I'm sure everyone will have a great time. It is very silly in some ways and about having some wine and having some fun. When you go to the theatre and you check your watch that is the worst possible scenario. I didn't want anyone to be checking their watches when they could be having fun so we've actually banned all watches from coming into the hall.'' [laughs]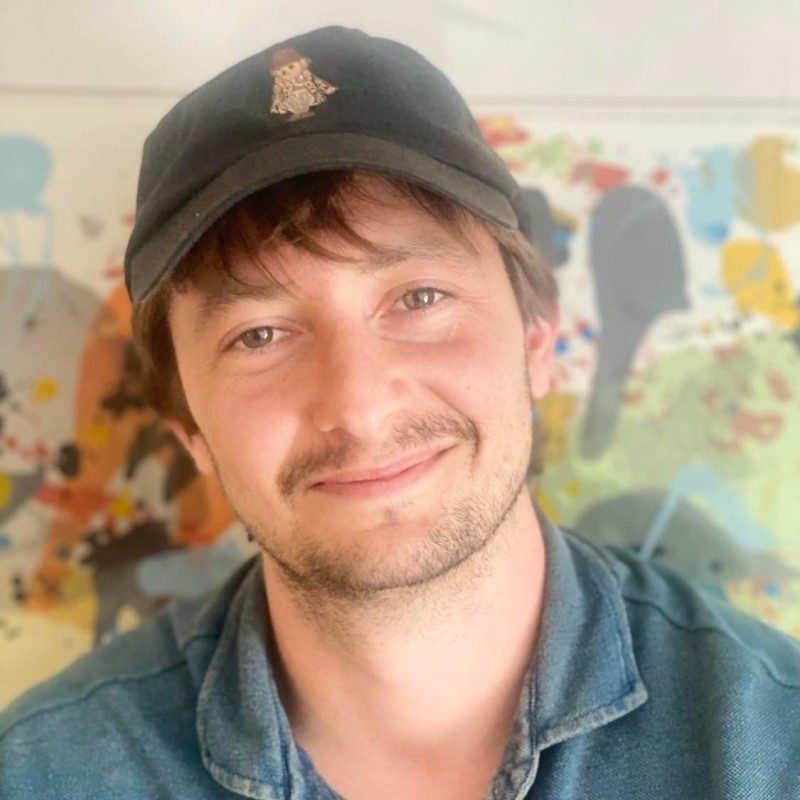 Jasper Marlow
Is this your first play?
''No, I've written a few, although it is writing for television and film that I've concentrated on in the last 10 years, so I haven't written for theatre in a long time.''
''I originally had a dream to be a wharfie in Balmain and work in ferries – mucking about with boats. Then I spilt a bucket of paint on the ferry once, which kind of traumatised me, so I wrote about it. I saw this competition in Drum Media magazine and submitted it and won. It was about that paint incident and the humiliation that comes with not knowing anything about your work place and lying on your resume.
Through that I found people who believed in my ability, particularly Lachlan Philpott, an Australian theatre writer, director, and teacher who is quite renowned, and I found a few mentors and just started by working really hard. It took 10 years to get my first television credit, but in sticking to it, in having the passion and doing the hard work, it has evolved from there.''
Jasper graduated from the Film and Television Academy in Berlin and the University of Technology, Sydney.

He wrote Zach & Kiki (2023), has written for Home and Away (Writer for 2013-2022 – and is still with Channel 7 as a Storyliner), SuperMarioGlitchy4 (2020- 18 eps) and penned The Hand That Feeds (2013). There are a long list of credits - too many to cite here. Jasper is known in the industry as being a strong arts and design professional.
His connection to Scotland Island is through his mum, a resident.
''My mum is Dr. Christine Hampshire, and she lives on Scotland Island and has been there for well over 10 years now. She is a doctor who works remote in Alice Springs. Mum raised us in Balmain and got very tired of the parking spots situation and decided to go somewhere where there are no cars and subsequently moved to Scotland Island. That's where she is from now and I've been visiting her there ever since – Pittwater is very very familiar to me.'' Jasper explained
Will you be present at Opening Night so we can shout 'Author! Author!?
''Yes, definitely - or boo me.''
How the rehearsals are going?
''I've heard from Robyn that they are going amazingly well. Some of the characters were written with certain people in mind and they have, serendipitously, ended up playing those roles.
I haven't heard any of the songs as this was thrown over to the community. As many people would know, there are some incredible musicians living offshore in Pittwater, brilliant composers, players and singers.
I'm just happy that the play has created a meeting ground for people – it's just a bunch of words on a page but when people turn up at a community centre to have fun bringing it to life, something memorable is happening. I think, in essence, that is what this project is about – community.''
Two Catherines - A Twisted Scotland Island Tale, is set to warm up the first month of Winter this June. Mainlanders and other offshore communities are encouraged to join in the fun amateur theatre production and have a great night out.
Performances
16 and 17 June, 7.30pm, Scotland Island Community Hall
23 and 24 June, 7.30pm, Scotland Island Community Hall
Update May 30, 2023: Please note that due to demand, we have added a matinee performance of the play, Two Catherines: A twisted Scotland Island tale, on 24th June at 3pm. Catch the 2.30 ferry across to Tennis Wharf and the 4.45 ferry back to Church Point. Simply choose that option when purchasing tickets.

Tickets are available for purchase here.
Adults: $30 Concession: $15
Program
6.45pm Doors open. Refreshments and bowls of beef stroganoff or Brazilian beans will be available.
7.30pm Play commences.
8.30pm Play concludes.
The audience is invited to stay and mingle until 9pm.
Transport
Arrive by 7.00pm ferry (Friday), 6.30pm ferry (Saturday) to Tennis Wharf.
The Water Taxi is available on 0428 238 190 as an alternate and can accommodate up to six people at $36 per trip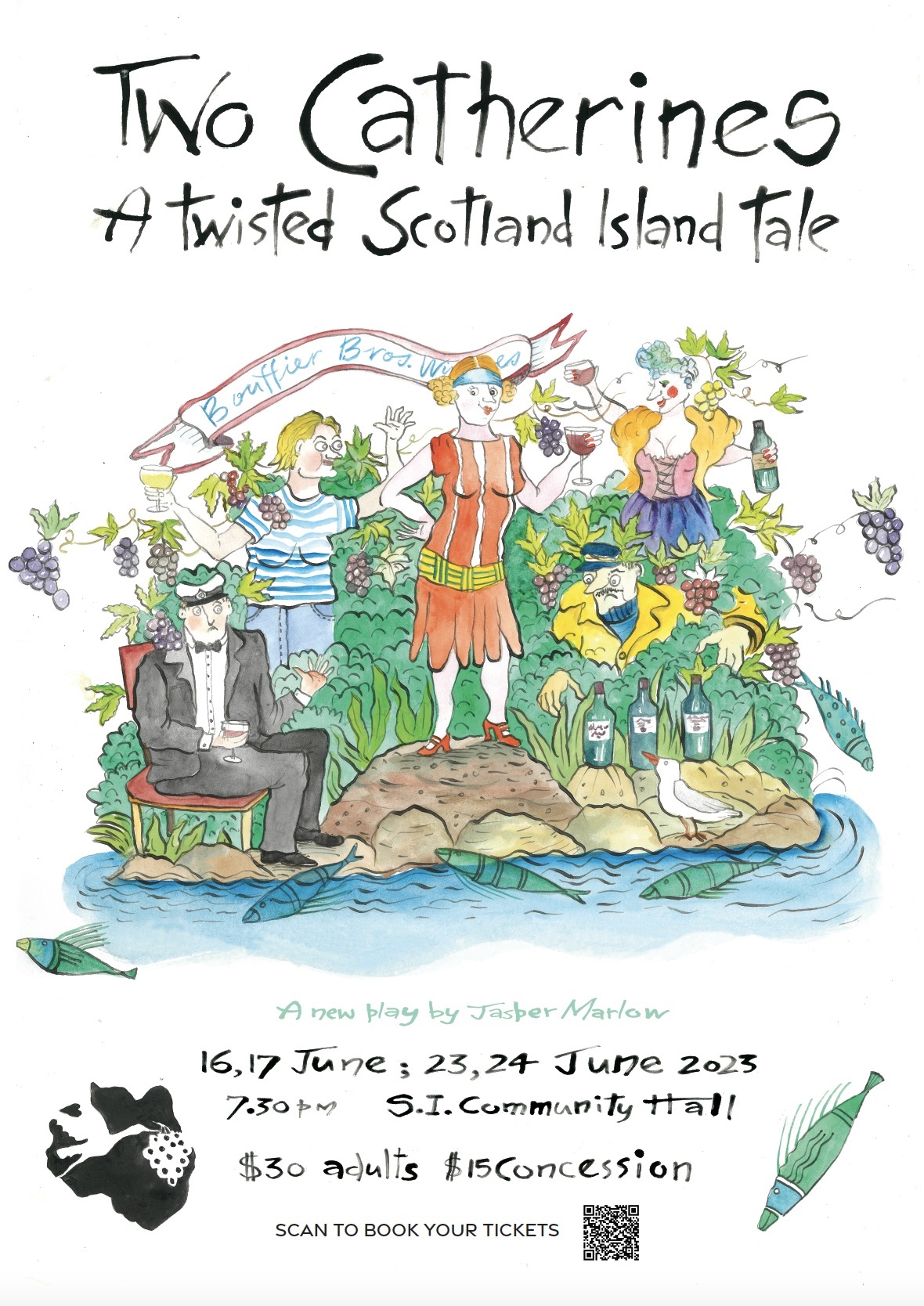 illustrated poster by local artist, Nettie Lodge
Background information
Catherine Benns (1838-1920) came to live on Scotland Island in the 1840s. Catherine's mother, Biddy, was a tribal Aboriginal woman who belonged to the Broken Bay Group. In 1847, Biddy married John Lewis Ferdinand and they had 10 children. Catherine Martha, their fifth child, was born in 1838. Catherine had a daughter, Emily, in 1862, and by 1874 Catherine and Emily were living on Scotland Island where Catherine met and married Joseph Benns, a Belgian master mariner. Catherine became a midwife to many local families and her grandmother's 'Queen' title, as well as her reputed bright, intelligent and dignified nature, earned her the title of 'The Queen of Scotland Island'.
Catherine's 'treasure' stories stem from a few local anecdotes and were repeated in newspapers and journals:
The old church at Church Point has almost disappeared, but we noticed, across the water, the historic Scotland Island. Andrew Thompson, famous emancipist, successful farmer, merchant, brewer, and magistrate, received Scotland Island as a grant in the early days of the century. He established an extensive salt works there, farmed the land, and, at the time of his death, a vessel, the Geordy, was in the process of being built.
Arnbroff Josef Diercknecht, a Belgian, took over the island soon afterwards. He was called locally 'Joe Benns,' and the abbreviation is excusable. He rebuilt Thompson's house with the able assistance of an old bullock. The language Joe used to his bullock was atrocious, but their understanding was complete. Mrs. Benns was known as the 'Queen of Scotland island.' She was a little dark woman of gentle manners, a great kindness of heart, but with a certain regal bearing.
Her jewellery Befitted her 'royal' rank. She wore a set of pink coral and gold with eardrops hanging to her shoulders and a magnificent necklet. There is a story that, before her death, she buried her necklace somewhere on the island.
Nor is this the only legendary treasure buried on; the island. A three-legged pot full of holey dollars is; said to have been hidden there by two men in a stolen boat full of stolen treasure in Andrew Thompson's time. ROADS OF TO-DAY—TALES OF YESTERDAY. (1937, August 25).Sydney Mail (NSW : 1912 - 1938), p. 43. Retrieved fromhttp://nla.gov.au/nla.news-article160498911
SCOTLAND ISLAND
CHATEAU TANUNDA SCRAPBOOK No 16
There is very little about Scotland Island(in the southern portion of Pittwater) to suggest that once it was of considerable importance in the affairs of the young colony. Today its heavily timbered slopes, save for the cleared spaces about the few isolated cottages would seem to be in almost the same condition as they were over a hundred years ago. In spite of this, however, the island was the scene of a considerable ship-building industry in the early years of the last century, in addition to being the site of extensive salt-works. It was Andrew Thompson, that stalwart pioneer of the Windsor district, who was the first owner of the island. It was Thompson, too, who gave to it its name in honour of his native Scotland.
On the island he built his home, established a farm, and carried on a prosperous business for some years, combining shipbuilding with his other interests. When he died in 1810 the "Sydney Gazette" made mention of the launching of a vessel at Scotland Island, "one of the finest ever built in the colony," and named by Andrew Thompson at the laying-down of the keel as the "Geordy."
After the death of Andrew Thompson many attempts were made to sell the island, but for some considerable time no buyer was to be found, for its isolated position rendered farming there an unprofitable venture, in view of the amount of readily accessible land that had been opened up. For many years the island remained uninhabited; then came a romantic and mysterious person, one Joe Benns, a Belgian who rebuilt Thompson's cottage and established himself on the island in company with his wife. Very little was known of these two, save the obvious fact that they had "known better days."
Mrs. Benns was known throughout the district as the "Queen of Scotland Island." She possessed some valuable jewellery, which is supposed to be hidden somewhere on the island to this very day. TUCKER & CO. PTY. LIMITED, SYDNEY. Distributors of Chateau Tanunda Brandy, Tucker's Old Tudor Whisky, Foster's Export (Blue Label) Lager, etc. Advertising. (1942, January 27). The Sydney Morning Herald(NSW : 1842 - 1954), p. 1. Retrieved from http://nla.gov.au/nla.news-article17785081
Catherine Bouffler (1860-1940), was the mother-in-law of Herbert James Fitzpatrick (1889-1938) who owned land on Scotland Island and other parts of Pittwater. Catherine Bouffler's daughter, Florence Agnes Bouffler, married Herbert James Fitzpatrick in 1923. Herbert had just bought Scotland Island and he named many features on the island and surrounds. He named Catherine Park after his mother-in-law, Catherine Teresa Bouffler (nee Gattenhof) and Elvina Bay after the woman through whom he met Florence.
The Scotland Island Community Hall was opened in 1982, Vivianne's mother, Elvina Holmes (nee Fitzpatrick), attended the opening as a special guest. It was her parents, Herbert and Florence, who once owned the entire island.
Herbert Fitzpatrick was a builder and developer with land holdings around Church Point, Newport, Scotland Island and Avalon. He was also a keen yachtsman and a foundation member of the Royal Motor Yacht Club and served as Commodore. He instigated a famous race called the Scotland Island Cup and owned a very famous boat called the 'Bona'.
A relative has previously sent in some images of some of the yachting trophies held in the family. Florence Fitzpatrick who was one of the first lady members of the club, one of the first lady committee members and actually won some female sailing races such as the 1928 Ladies handicap race on a boat, aptly named 'Elvina'.
Herbert and Florence honeymooned on the island and named the parks and tracks after members of the family. Herbert also named Elvina Bay after Florence's aunt, Katherine Elvina Bouffier, who had been instrumental in them meeting.
Unfortunately, Herbert fell into bad health and died in 1938 at age 48. After his death, the island was sold and Florence moved from Manly to Lewisham.

The Naming of Scotland Island Parks
Herbert named Elizabeth Park after his mother, Elizabeth Fitzpatrick (nee Finneran) and Florence named Catherine Park after her mother, Catherine Bouffier (nee Gattenhof). Other streets throughout Pittwater are also named for family members.
Catherine Gattenhof was born in 1857 along the Rhine River area in Germany. Her family migrated to Australia in 1855, because there was a lot of unrest in Germany.
When she was 21, Catherine married another German, Frank Bouffier. The Bouffiers had a similar history to the Gattenhofs in that they also originated from the Rhine River in Nassau and had immigrated in the mid-1850s. Frank's parents were vignerons and they were pioneers of the Hunter Valley wine industry. Their winery, the Bouffier Brothers Vineyard (Marcobrunner), won a lot of medals and trophies.
Catherine and Frank were very involved in the early NSW wine business and promoted it overseas. They owned a wine shop in Oxford St., Paddington. Catherine was also a wine judge at the Royal Easter Show. When Her husband Frank died, he left the winery and the two shops to Catherine in 1898. It was unusual for a woman to run a business but she kept the wine shop operating for a few years.
Catherine Bouffier, one of the Catherines after whom this café is named, was a strong German Catholic woman who bore six children between 1881-1890, with two children dying in childhood. She was also involved in charitable work, such as raising money for the Waitara orphanage by organising a Ball at the Sydney Town Hall. Catherine died in 1940 aged 83 and is buried at Randwick cemetery.
This first photo shows Catherine, Frank and three of their children: Katie Elvina (standing), 7 years, known as Elvina; Stephen Vivien (standing), 5 years, known as Vivien, and Hilda Mary (sitting), 3 years old. (Note: Their fourth daughter, Agnes Florence (known as Florence), was born in 1890.)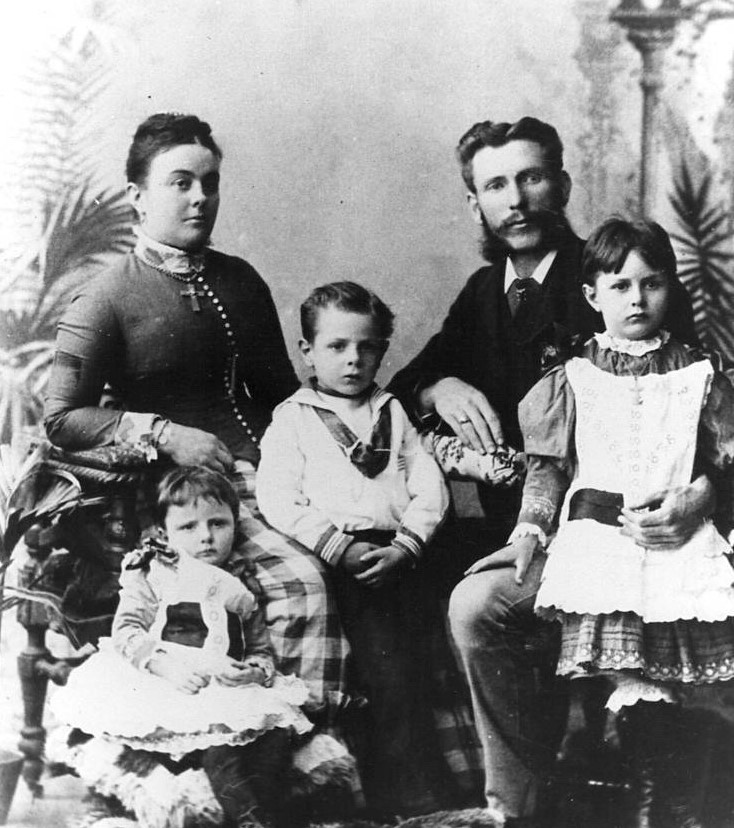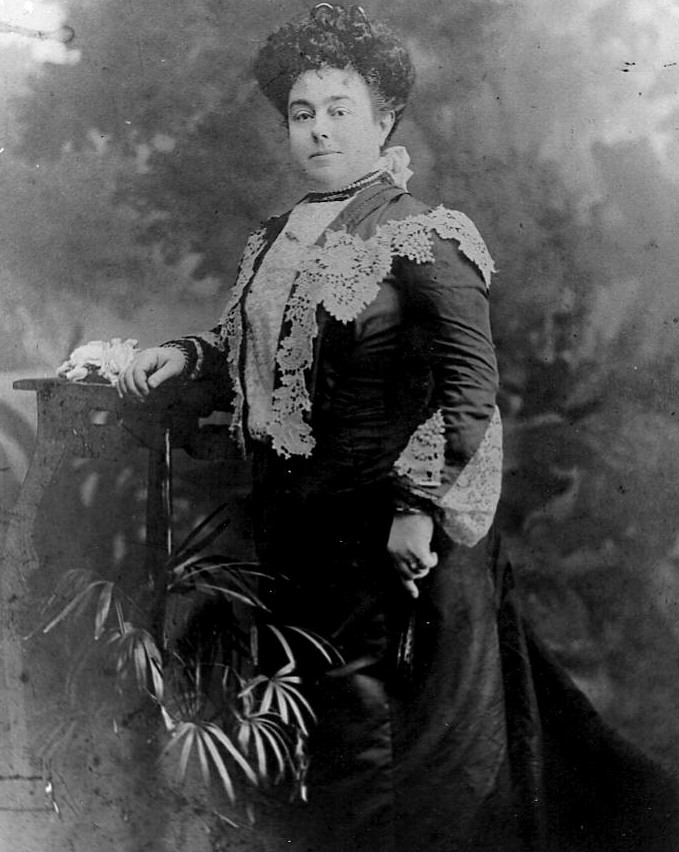 Catherine and Frank Bouffier, 1887 Catherine Bouffier, wearing a 'grape motif' lace, 1897
(photos supplied by Vivianne Byrnes)
There's more Scotland Island history insights available in: