August 20 - 26, 2023: Issue 595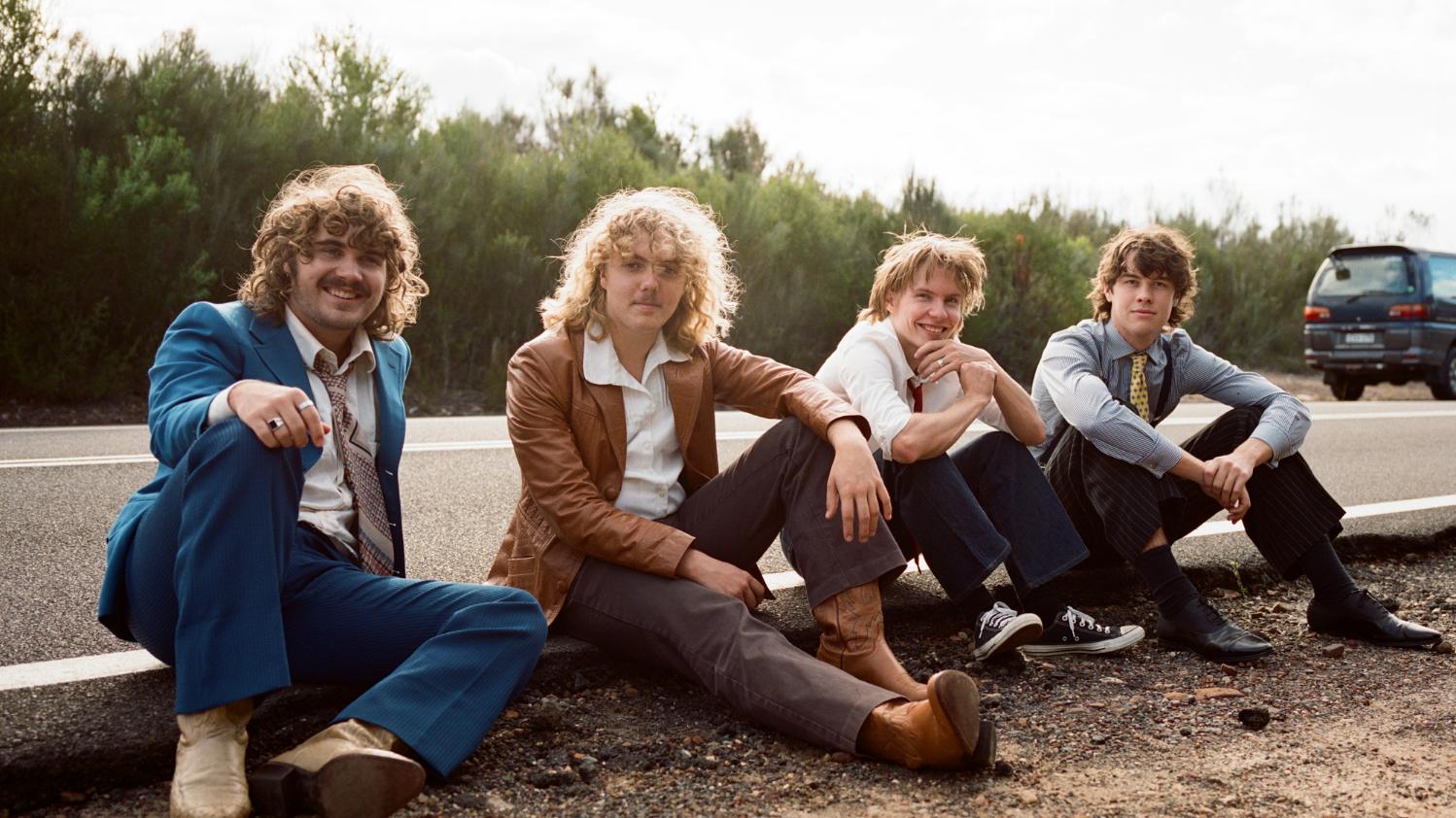 Website: therions.com/home
Instagram: www.instagram.com/therionsband
Tik Tok: www.tiktok.com/@therionsband
Facebook: www.facebook.com/TheRionss
There will be no better way to spring into Spring and Summer 2023 than tuning in to the sounds coming from Pittwater band and former Barrenjoey High School alumni The Rions this September through November. To back up newly released EP 'Minivan' the boys will be on the road, taking it to the streets, and nightclubs, in a tour that stretches from Queensland to Tassie and even a jaunt over to Western Australia. Although only one local gig is scheduled so far, at Dee Why and 18+, included are performances with the Grapevine Gathering national tour, indicating The Rions are happy to inspire locals to join the road trip phenomenon to 'see and be in other places' during Australia's warmer months.
First forming as a band following a 2016 high school talent show, when they were in Year 7, their music teacher Mr Stone (father of Angus & Julia) saw something special and encouraged the boys to get gigging.
The name stems from the inability of Harley to pronounce the word 'lion' when a toddler; he would pronounce it 'rion'. He had been telling fellow band members about this when the organisers asked them what they were going to be called and the spontaneous response from his band mates was 'The Rions!'.
The band consists of Noah Blockley (lead vocals, bass guitar), Harley Wilson (guitar), Asher McLean (guitar), and Tom Partington (drums).

They started performing in our area at the age of 13 and have ventured through a multitude of genres, citing Arctic Monkeys, Lime Cordiale, Spacey Jane, and Dayglow as their musical influences.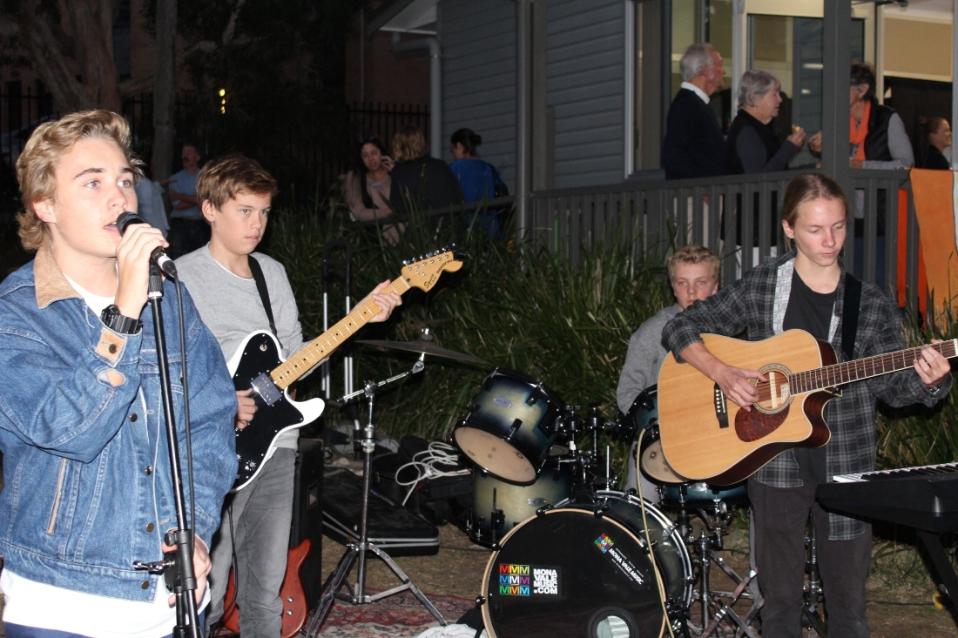 Awesome music from The Rions at the opening of the Avalon Youth Hub in 2018 Asher was playing piano initially, and this is before Noah took up the bass. Tom, using borrowed drums here, would build his own drum kit as his Year 12 Design and Technology (DT) major work at Barrenjoey High School. Photo: A J Guesdon
Besides being talented musicians they also have 'put back' into our local community – just some of these 'fronting ups' were making music at the opening of the Avalon Youth Hub in 2018, playing the Breath Festival in 2019 and teaming up with Marvell in 2020 to help 2019/2020 fire impacted Mogo Public School at Batemans Bay when BHS was raising funds for these youngsters.

At just 17 years old, their natural talent and hard work helped them create a loyal following, winning a spot in the Bluesfest Busking Comp Grand Final, taking out the Northern Composure Audience Choice Award and winning Triple j's Unearthed High 2021 with their single 'Night Light' produced alongside Callum Howell (Ocean Alley).
The win built on the momentum of debut singles 'Sadie', 'Halfway Out' and 'Head Still Hurts', followed by 'Disassociation' and 'Anakin', each stronger than the last.
Since, The Rions racked up some 10 million streams worldwide, gone back-to-back in consecutive Hottest 100 countdowns and drawn praise from the likes of even the most unlikely of fans in Avatar's Sam Worthington.
Night Light would land at No. 51 on triple j's Hottest 100 countdown for 2021, and they'd follow it up with Anakin which appeared at No. 64 in 2022.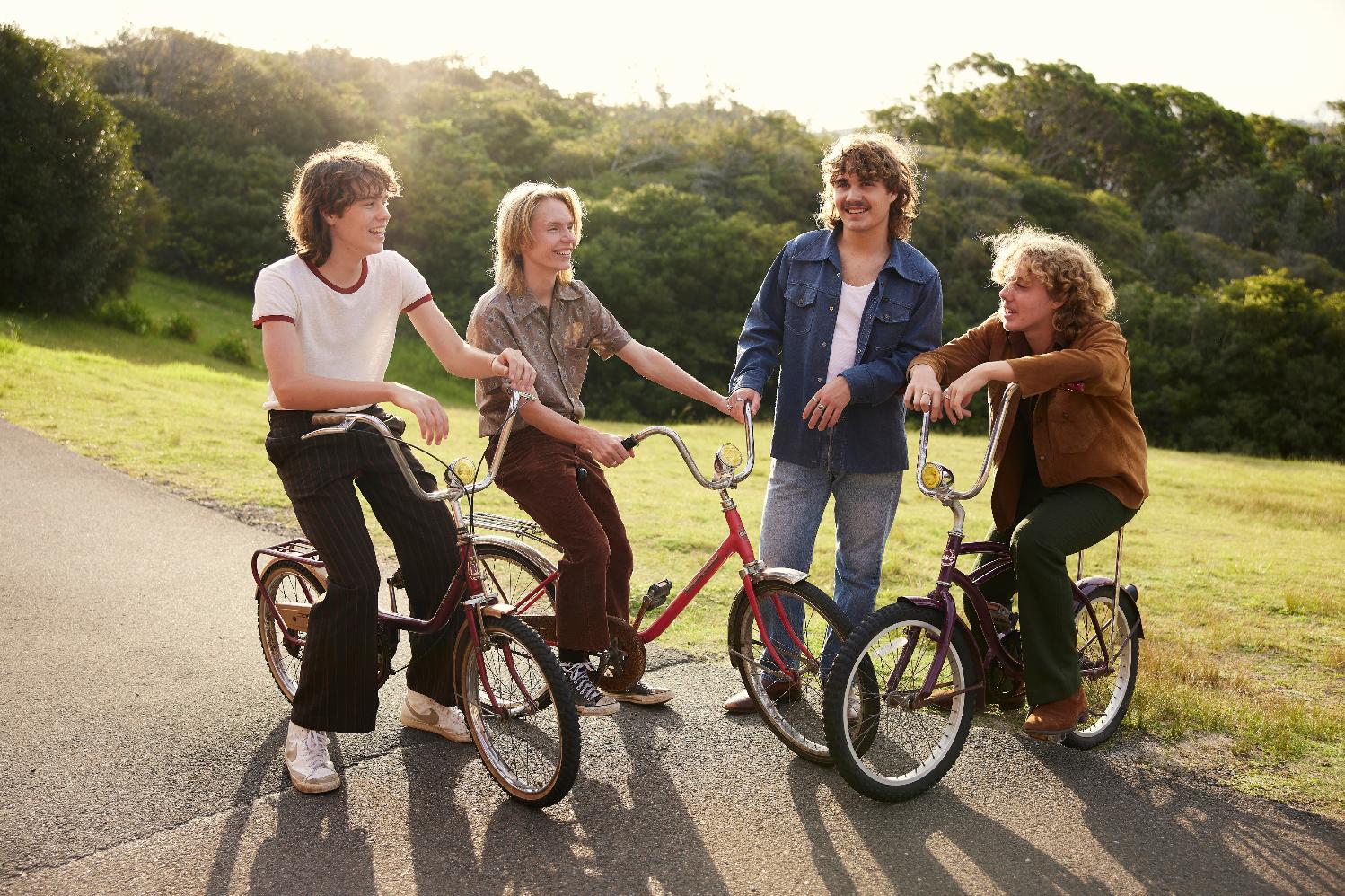 Pittwater Online spoke to The Rions after their 2021 win. As they were studying and trying to get HSC work done then - it was a short chat.
Congratulations on winning Triple J Unearthed High – how does it feel?
Tom - Winning unearthed high was the absolute peak of our lives so far, and to be surprised like we were on zoom was insane. Having some of our biggest inspirations and role models like Lime Cordiale, Spacey Jane and Tones and I to congratulate us was incredible. I don't think any of us have mentally recovered from the moment we found out.
Video here (NB: mild language warning)
We noticed the Limes were in on the announcement and love your 2020 cover of their Dirt Cheap song; why do you like their music so much?
Noah - So awesome for Lime Cordiale to be in on the announcement surprise. They are 100% one of our biggest inspirations coming into the indie northern beaches rock sound that we've tried to develop into the sound we have now. Being from the northern beaches themselves it was a big old coincidence that they struck us as the sound we wanted to model our sound from. We love their whole persona, style and music alike, has a very sick chill beaches vibe we all know and love.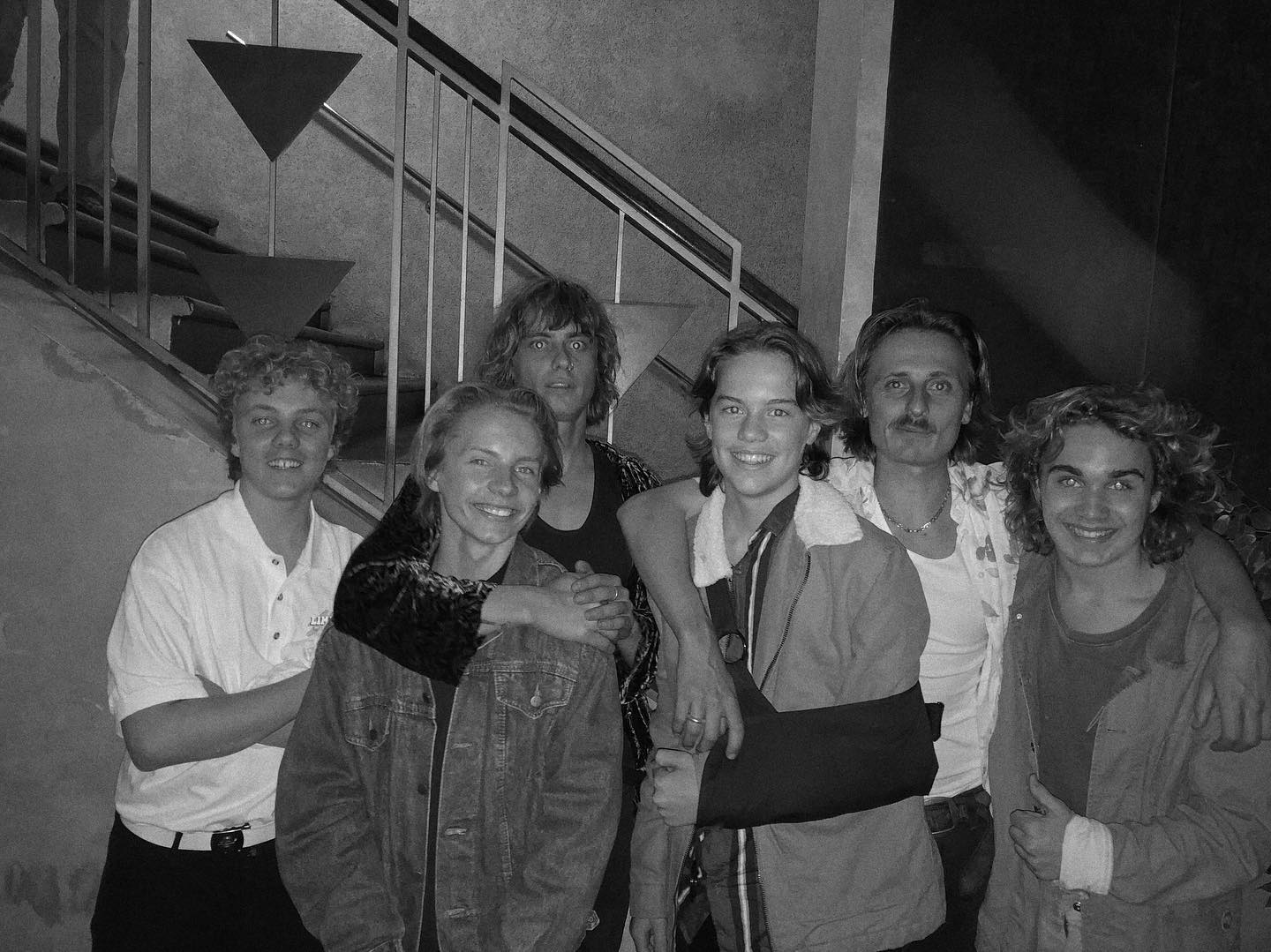 The Rions with their own 'big brothers' Lime Cordiale brothers Louis and Oli, June 17, 2019 - Source: The Rions Facebook page
You also have had some help from BHS's John Stone along the way; what did he teach you that stuck?
Asher - Having Mr Stone as our music teacher in year 8 and through halfway of year 9, He had shown us the way into music with key fundamentals of theory and practical knowledge, such as knowing how to read Key signatures being FCGDAEB, He would say 'Fat Cats Go Dancing at Elvina Bay' which was funnily enough, easy to remember. Also inviting us to play music down at the local bowlo really gave us a taste of playing live music, and further invited us onto the School band tour as the special guest 'Rock Band' which toured around Byron Bay and Lennox Head. Overall, just an amazing mentor that brought us into the industry.
Filming at the Q Station in the gravediggers cottage, have stayed there; pretty creepy – did you see any ghosts?
Noah - Q-station was an awesome place to film the Night Light music video, a very rustic spooky location which fit what we were looking for perfectly. As surprising as it may be, I (Noah) did actually have a sort of paranormal experience if you will. All the producers and camera men had left the room and I had a lamp next to me that started to flicker off an on again and I thought they were playing a prank on me, but when I asked, no one in the room had touched anything. So pretty spooky experience!
It's a great song and great video; are you pleased with the result and what was hardest on getting it done?
Harley - Thank you! Yeah I'm pretty pleased with how it all came out in the end, after scrambling everything together to film our own music video for Head Still Hurts, it was a huge relief having Zac Lynch-Woodlock directing and the amazing team behind the camera and practical effects doing what they do best. It was an unforgettable experience and the hardest part of the whole process was probably riding up and down the hill's at Q Station on the push bikes!
How are you doing practice sessions at the moment?
Asher - We have been fortunate enough to access the school grounds for music practical work for a maximum of 2 hours in accordance with the department of education. Not only this, but we have also been using a free online digital audio app called Soundtrap to keep up the song writing as well as make adjustments to new upcoming songs. It's not the same as performing live but it enables us to keep on track and then apply what we have done digitally, Live when lockdown ends.
Lockdown; what are you doing to keep yourselves healthy and happy?
Tom - Keeping happy and healthy through lockdown has been pretty tough. Exercise in small groups has been keeping us entertained and fit throughout but I think on the happy side of things, winning triple j Unearthed High will keep our happiness sustained for a long time.
Their back-to-back Hottest 100 entries and tours supporting Pittwater musicians Lime Cordiale, along with Boy & Bear, and Pacific Avenue further solidified their confidence in presenting to an audience and spread the love of their kind of music - although they are still developing and don't want to fit into any genre. The Rions are still enjoying writing and playing in all styles.

With the latest single 'Minivan', the band says "we really wanted this song to reflect the wild spirit of youth, with a sound that would evoke a sense of maturing and growing into the person you want to become".
Along with three new singles joining the widely embraced 'Scary Movies' and 'Minivan', the EP release came with the news of their global signing to Sony Music Publishing.
At Sony Music Publishing, The Rions join a roster that includes catalogues from The Beatles, Queen, Stevie Wonder, Michael Jackson and such contemporary songwriters as Ed Sheeran, Beyoncé, Lady Gaga and Calvin Harris.

They celebrated the release of Minivan with the announcement of their upcoming national tour, presented by triple j, from late September to November.
Produced in the Byron Bay hinterlands and recorded in close collaboration with Chris Collins (Matt Corby, Skegss, Middle Kids), Minivan sees The Rions make sense of the noise happening around them in real-time. Weaving their own dreamcatcher for listeners, a protective vessel for solace and community from the big brothers who've already gone through it, combines with an innate maturity and musicality that has built the group a loyal fanbase and gone on to sell out national tours in the time since their Unearthed High win.
While on their titular release 'Anakin' (#64 in triple j's Hottest 100), they might not have felt like they were enough in the face of destiny, Minivan quells any doubt on The Rions' blooming trajectory.
Elated by the release of their debut EP, The Rions shared, "We've been looking forward to this day for a couple years now. An EP is something we've been wanting to create for a very long time and to finally reveal it to everyone is a huge deal for us. We hope that the story of Minivan (EP) resonates with our fans the way it does with us."
Like most coming-of-age projects, Minivan rolls through the motions of finding yourself, grief and heartbreak, delving deeper than ever before compared to their earlier work 'Sadie' or 'Dissociation'.
It's less angst ridden sojourn through the peaks and pits of love in all its forms, and more a thorough excavation of the youthful effervescence of that torpedo period between life's most pivotal stage: attempting to understand adulthood.
The EP's title track Minivan the Rions stated this ''explores the feelings of purpose and chasing your dreams. We really wanted this song to reflect the wild spirit of youth, with a sound that would evoke a sense of maturing and growing into the person you want to become."

Including new tracks 'Talking To Walls', the fork in the road that triggers self-reflection in a time of crisis; 'Got My Hopes Up', where the reality of needing to move on from a faulty relationship despite all efforts to continue, is gut-wrenchingly apparent; and 'Take What You Want' as the catalyst of heartbreak for change, this is sublime and beautiful musicianship realised.
Of Take What You Want they explain,
"With time, heartbreak can turn into many things. It can be channelled into powerful emotions and in this song's case, bitterness and regret are the outcome of said heartbreak. The chorus retrospectively and confidently recognising the problems that the love they used to share caused them. The song is meant to feel like you're joining arm in arm with the people who have your back, and healing through admitting what the problems were."
In Scary Movies the 19-year-old band set out to make a song that conveys the fun side of falling in love. They share, "Too often stories about love are written from the perspective of the hardships that come along with a relationship, or the heartbreaks a lot of people can relate to, but an aspect that isn't touched on enough is how fun falling in love can be and how happy finding your person can make you."

Scary Movies is not just a great song, the film clip is great - in fact, ART!
The black-and-white German Expressionist-inspired music video was directed by Ben Develin and Alex Given. Likening falling in love with the jump-scare of horror films, Develin said, "The track was really calling out for something fun and upbeat, so the challenge was to see if we could play that contrast between super dramatic visuals, and quirky character moments." Given added, "It couldn't have worked out better. The cast, the crew, the location, the song, the costuming, and the make-up; absolutely everything fit together so perfectly to create such a memorable, quirky, and funny music video. I've watched it countless times and I laugh every single time, without fail – all thanks to Noah, Harley, Asher, and Tom's ability to pour so much personality into their monster characters and bring this little story to life."

Connecting their recent string of releases, 'Scary Movies' and the title-track, both supported by triple j playlisting and consistent placement as the most played releases on the station, amongst praise across the ABC: triple j, Unearthed and RAGE, MTV, Music Feeds, Life Without Andy, and more broadly, back-to-back Hottest 100 entries, tours supporting Lime Cordiale, Boy & Bear, Pacific Avenue, festival appearances at SPIN OFF, Party In The Paddock, Festival of the Sun amongst upcoming appearances at Grapevine The Gathering, Yours & Owls and more, these young men are taking their music seriously - they know you have to work, not strut, and practise, not preen, and be open and honest and brave, even if shy and scared sometimes - who isn't?
The Rions thread universally felt experiences of existentialism and both inter-and-outer personal relationships with an innate understanding of their influences. Backed by a clear drive for consistent evolution, Minivan covers the gamut of the band's offering: Mylo Xyloto-like, arena-ready choruses with their keen ear for humility and intimacy intact; capturing a similar jolly mischief of the four best friends running rampant through train stations and fields in A Hard Day's Night. With each steady stride that's carried their music forward, The Rions' debut EP is a giant leap into the band, and men, they seek to become.
With fans already singing their songs louder than their own microphones, experience The Rions live this September - November.
The Minivan EP by The Rions is out now, buy/stream here.
TRACKLIST
Talking To Walls
Scary Movies
Got My Hopes Up
Take What You Want
Minivan
LISTEN TO EP HERE + BUY TICKETS HERE.

MINIVAN TOUR DATES
Aug 26 – The Station, Ngarigo Land/Jindabyne
Sep 29 – Dee Why RSL, Dharug Land/Dee Why
Sep 30 – King St Bandroom, Awabakal Land/Newcastle
Oct 6– Torquay Hotel, Wadawurrung Land/Torquay
Oct 7– Grapevine Gathering, Wurundjeri Land/Coldstream
Oct 8 – Grapevine Gathering, Noonucal, Gorenpul, Nughi Land/Mount Cotton
Oct 14 – Grapevine Gathering, Whadjuk Land/Caversham
Oct 14/Oct 15 – Yours & Owls, Dharawal Land/Wollongong
Oct 20 – Drifter's Wharf, Darkinjung Land /Gosford
Oct 21 – Grapevine Gathering, Wonnarua Land/Pokolbin
Oct 22 – Grapevine Gathering, Kaurna Land/McLaren Vale
Oct 27 – Corner Hotel, Naarm/Melbourne
Oct 28 – Pelly Bar, Bunurong Land/Frankston
Oct 29 – The Gasometer Hotel, Naarm/Melbourne (AA)
Nov 3 – Lion Arts Factory, Tarntanya/Adelaide (LIC/AA)
Nov 4 – Jack Rabbit Slims, Boorloo/Perth
Nov 9 – Solbar, Kabi Kabi Land/Maroochydore
Nov 10 – The Northern, Arakwal Land/Byron Bay
Nov 11 – Burleigh Bazaar, Kombumerri Land/Burleigh Heads
Nov 18 – The Zoo, Meanjin/Brisbane
Nov 19 – Mary's Underground, Eora/Sydney (LIC/AA)
Nov 24 – Oxford Art Factory, Eora/Sydney
Nov 25 – Volta, Wadawurrung, Dja Dja Wurrung Land/Ballarat
Nov 26 – Republic Bar, Nipaluna/ Hobart
Speaking on the inspiration behind Minivan EP, the band cite an autobiographical nature, stating, "This EP is definitely a reflection of many experiences the four of us have had individually over the course of our teenage years. The narrative connecting the songs is that of a person that experiences all the ups and downs of an ordinary life. Having issues with yourself, falling in love, having a meltdown and separating yourself from what hurts you most in an attempt to better yourself as a person."

Resilience!
And a clear understanding of the realisation that we are not here to tear each other down, we are here to lift each other up.
However, just one last thing regarding a few of the lyrics in the title song - when your parents wake up in the morning, talking to you here The Rions, they will definitely notice you have gone - gone touring - to support this great EP, Minivan.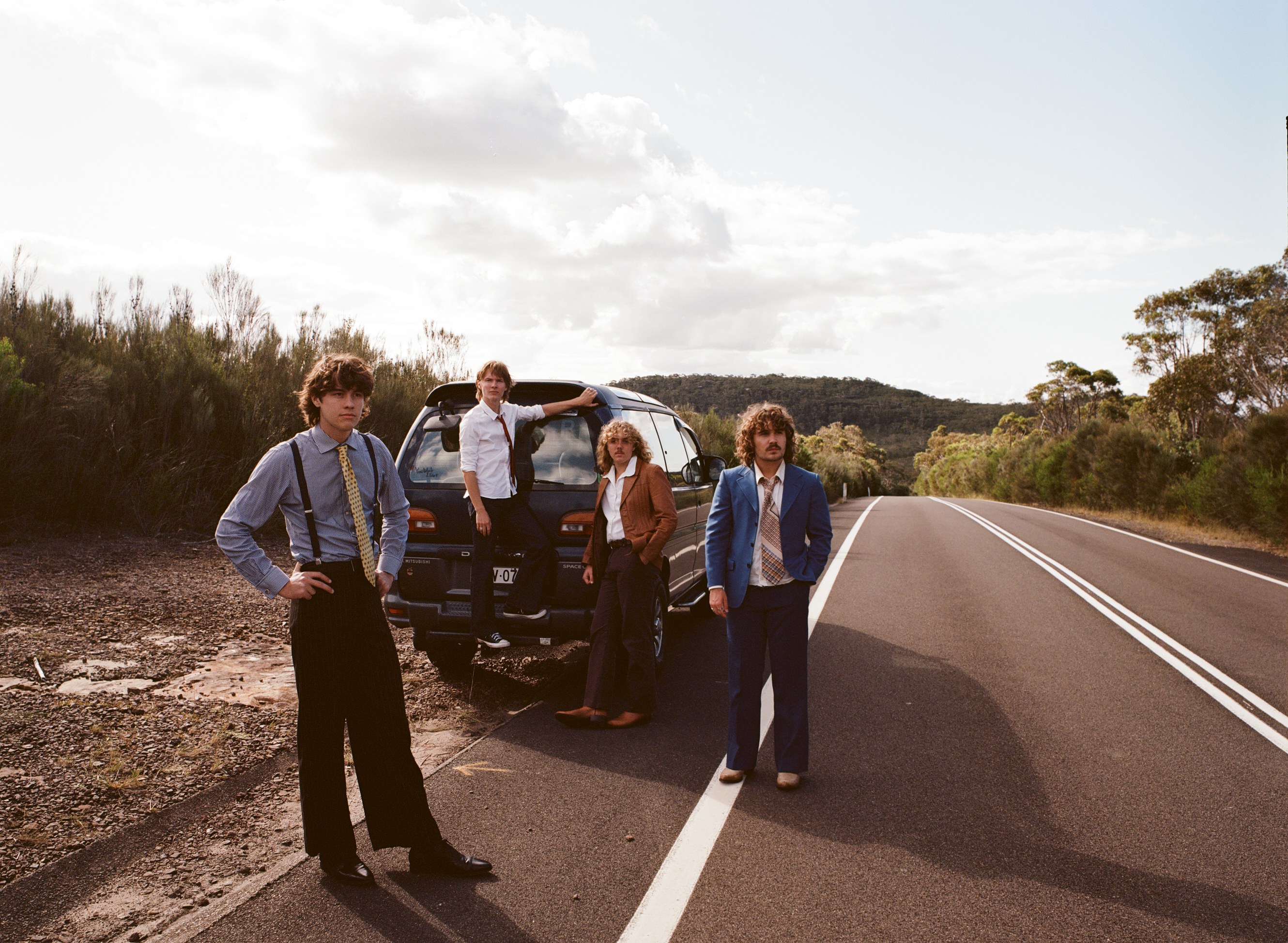 Photo: Maclay Heriot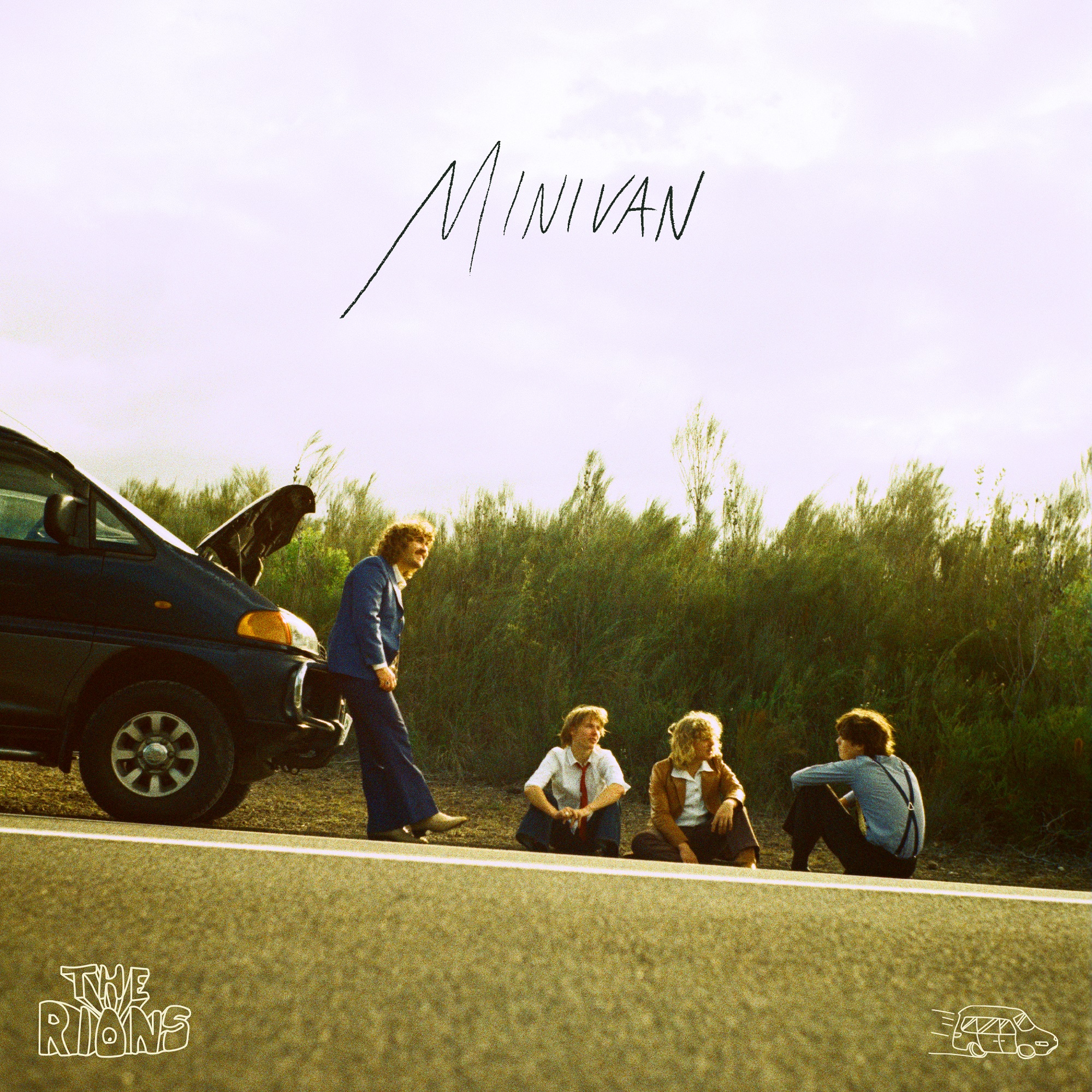 Minivan msuic vid Credits: Creative Direction & Production: Sure Studios Director: James Tarbotton Assistant Director: Rosie Byrne Director of Photography: James Tarbotton & Markus Sternecker Video Edit: James Tarbotton Colour Grade: James Tarbotton
Scary Movies music vid Credits: Starring - Vanessa Sepúlveda Uribe,
Production Company - Mude,
Directors - Alexander Given & Ben Develin,
AC - Rachel Frankenbach,
Gaffer - Nicolas Nalbandian ,
HMUA - Emma McManus,
Asst HMUA - Katiana Silkiss,
Runner - Halee Smith.