August 22 - 28, 2021: Issue 507
The Rions win triple j's 2021 Unearthed High Comp.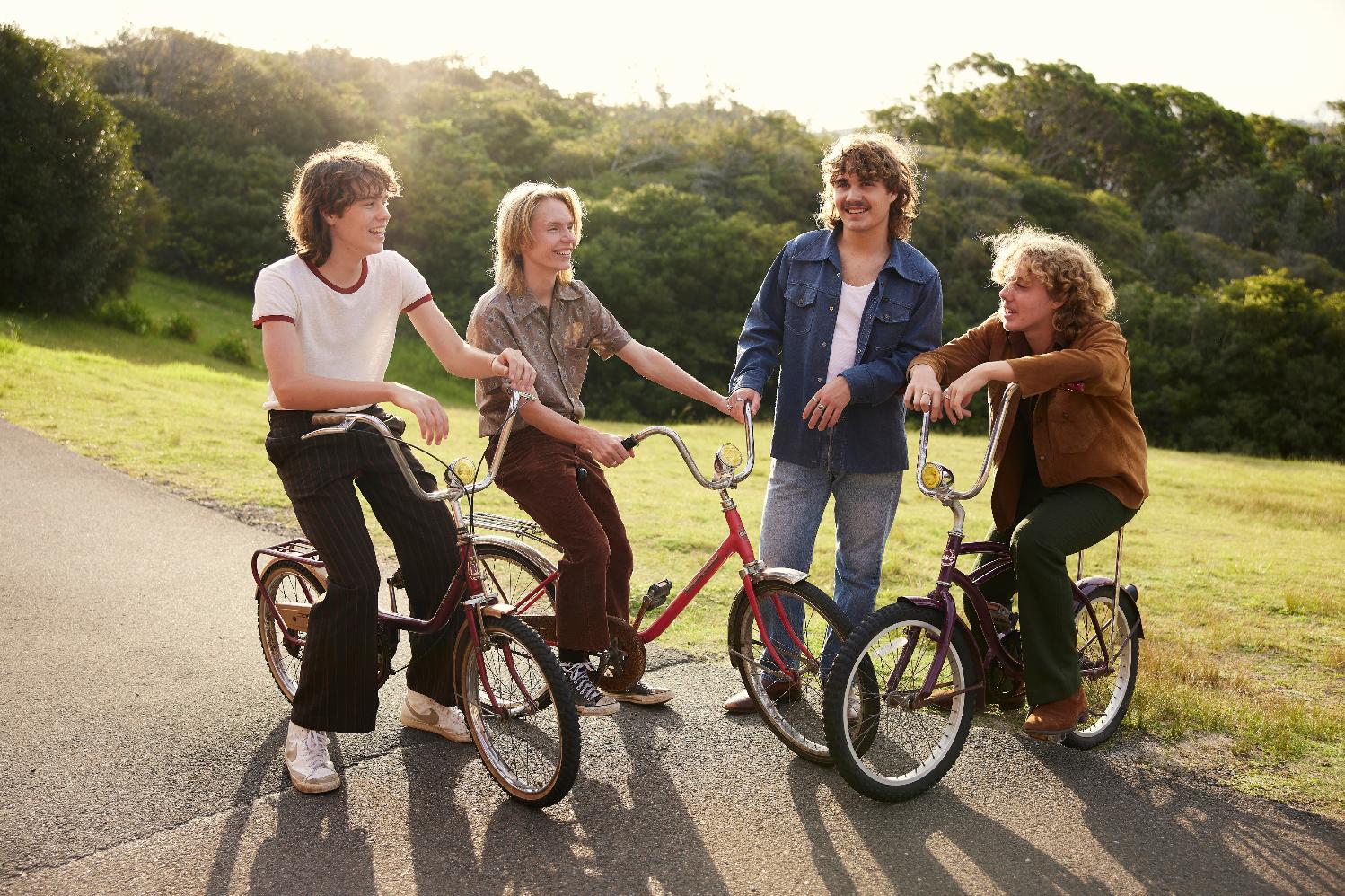 The Rions; Asher, Harley, Noah and Tom - Photo: Andrew Fawcett
Noah Blockley, Tom Partington, Harley Wilson and Asher McLean are The Rions, a Barrenjoey High School band that many a resident has been enjoying the sounds of for a few years now.
This week they were announced as the 2021 triple j Unearthed High winners for their 4th single – Night Light.
This marks yet another milestone for these local musicians – they were runners up at the 2021 Byron Bay Bluesfest Busking Competition, they took out the Audience Choice for the 2020 Northern Composure Band Competition, bumped that up a notch by winning 1st place in the 2021 unplugged version, and are so attuned to the various online platforms, they're sharing the love via TikTok, Insta, Spotify and YouTube with hundreds of thousands of streams and views in just the last year alone. This week the band received some more great news - they made it all the way to 71st most Shazamed song in Australia for a period (a list of 100) and Australia's 2nd most Shazamed 'Artist on the move'.
Pretty cool for 4 young men who are also tackling their HSC!
In 2021 triple j's Unearthed High was back for its 14th year – this is triple j Unearthed's annual search for the country's best high school talent. Past winners include George Alice, Kian, Japanese Wallpaper, Gretta Ray, Arno Faraji and more, with Adelaide punk duo Teenage Joans taking out last year's comp.
This year's competition had a record-breaking 1,400 entrants, with high school students across the country submitting original tracks.
The 2021 champs now join that mega impressive list and also score a pretty impressive prize. They'll be able to record, mix or master their next big hit at the triple j studio. They'll also receive professional industry advice from a senior music manager and the crew at triple j will hook them up with a mentoring session with one of their favourite artists.
For those of us who have been listening since triple j was double j, and looking forward to yet more evolutions from this premiere radio station, this comp. reiterates what we all love about this passionate fusion of truths, handstands and first-run of the best brand-new music in Australia and the world – it triples your yays!
The opening hit-out for The Rions was during a 2016 school talent quest in their first year of high school. The name stems from the inability of Harley to pronounce the word 'lion' when a toddler; he would pronounce it 'rion'. He had been telling fellow band members about this when the organisers asked them what they were going to be called and the spontaneous response from his band mates was 'The Rions!'.
On April 9th this year The Rions released Night Light.
This had been preceded by Head Still Hurts, Halfway Cut and Sadie.
They have a great range and repertoire - their covers of others' tunes in everything from 1950's Chuck Berry classics through to contemporary artists such as Spacey Jane are note true and on point. It's also easy to detect a certain air of Beatles and Stones influences....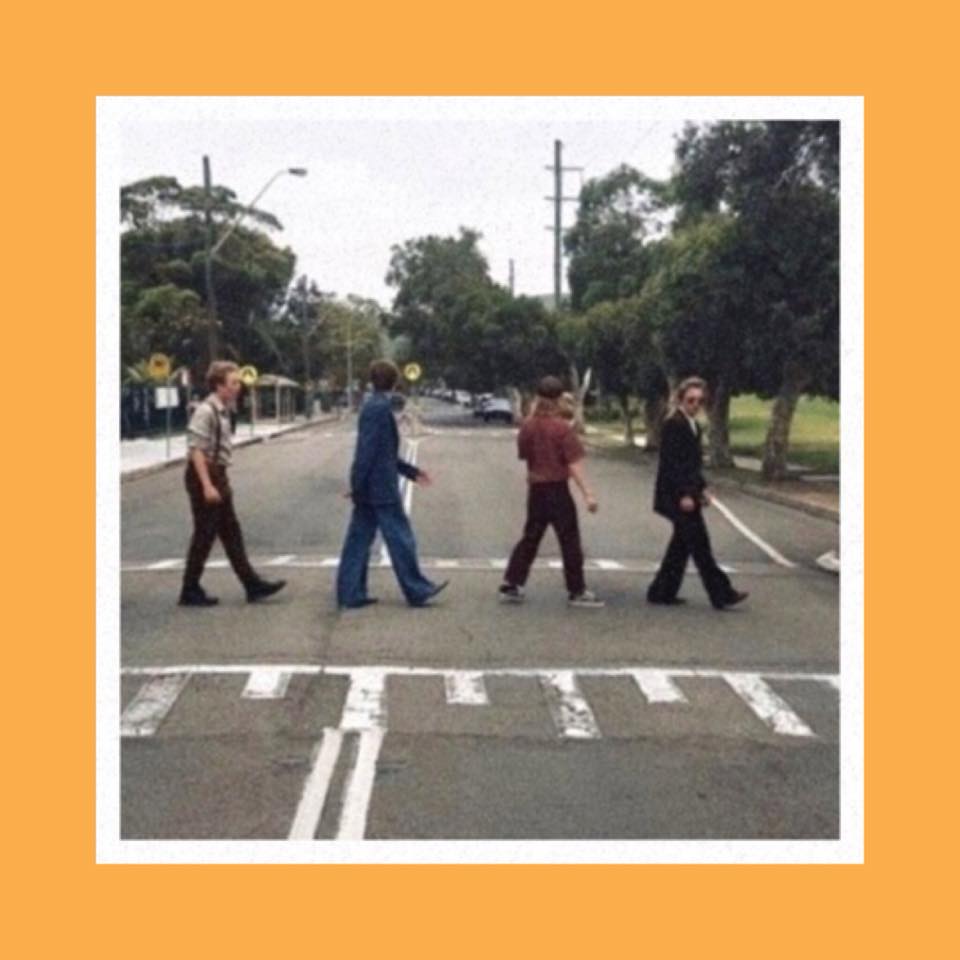 The Rions have a Beatles thing going on, November 23, 2018 - after playing for Avalon and Bilgola schools - from The Rions Facebook page
Along the way they've grabbed every gig offered and won fans at every event - some of these jobs playing to audiences in their tens of thousands.
Besides being talented musicians they also have 'put back' into our local community – just some of these 'fronting ups' were making music at the opening of the Avalon Youth Hub in 2018, playing the Breath Festival in 2019 and teaming up with Marvell in 2020 to help 2019/2020 fire impacted Mogo Public School at Batemans Bay when BHS was raising funds for these youngsters.
Given they're trying to get HSC work done at present - a short chat with The Rions:
Congratulations on winning Triple J Unearthed High – how does it feel?
Tom - Winning unearthed high was the absolute peak of our lives so far, and to be surprised like we were on zoom was insane. Having some of our biggest inspirations and role models like Lime Cordiale, Spacey Jane and Tones and I to congratulate us was incredible. I don't think any of us have mentally recovered from the moment we found out.
Video here (NB: mild language warning)
We noticed the Limes were in on the announcement and love your 2020 cover of their Dirt Cheap song; why do you like their music so much?
Noah - So awesome for Lime Cordiale to be in on the announcement surprise. They are 100% one of our biggest inspirations coming into the indie northern beaches rock sound that we've tried to develop into the sound we have now. Being from the northern beaches themselves it was a big old coincidence that they struck us as the sound we wanted to model our sound from. We love their whole persona, style and music alike, has a very sick chill beaches vibe we all know and love.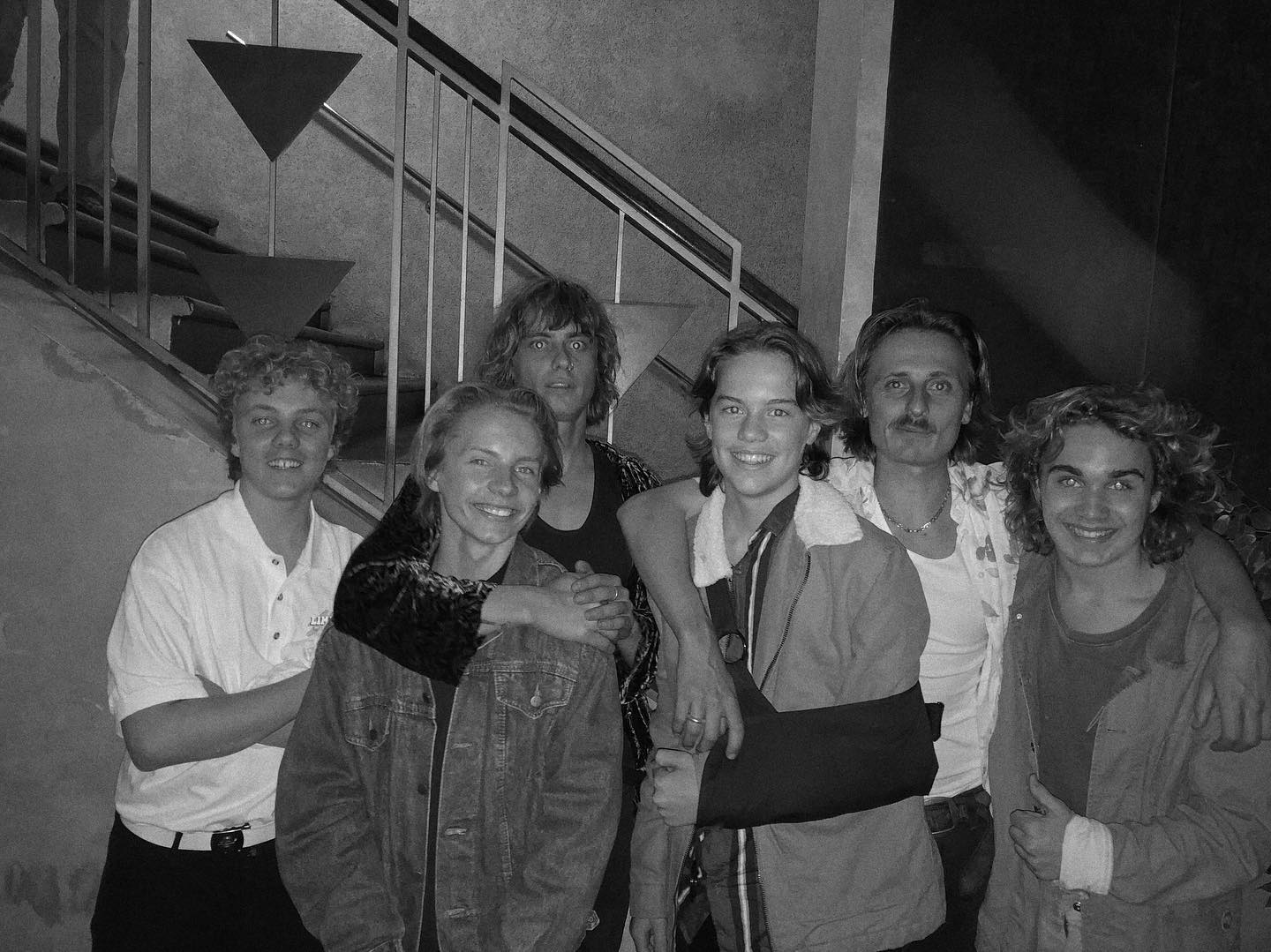 The Rions with Lime Cordiale, June 17, 2019 - Source: The Rions Facebook page
You also have had some help from BHS's John Stone along the way; what did he teach you that stuck?
Asher - Having Mr Stone as our music teacher in year 8 and through halfway of year 9, He had shown us the way into music with key fundamentals of theory and practical knowledge, such as knowing how to read Key signatures being FCGDAEB, He would say 'Fat Cats Go Dancing at Elvina Bay' which was funnily enough, easy to remember. Also inviting us to play music down at the local bowlo really gave us a taste of playing live music, and further invited us onto the School band tour as the special guest 'Rock Band' which toured around Byron Bay and Lennox Head. Overall, just an amazing mentor that brought us into the industry.
Filming at the Q Station in the gravediggers cottage, have stayed there; pretty creepy – did you see any ghosts?
Noah - Q-station was an awesome place to film the Night Light music video, a very rustic spooky location which fit what we were looking for perfectly. As surprising as it may be, I (Noah) did actually have a sort of paranormal experience if you will. All the producers and camera men had left the room and I had a lamp next to me that started to flicker off an on again and I thought they were playing a prank on me, but when I asked, no one in the room had touched anything. So pretty spooky experience!
It's a great song and great video; are you pleased with the result and what was hardest on getting it done?
Harley - Thank you! Yeah I'm pretty pleased with how it all came out in the end, after scrambling everything together to film our own music video for Head Still Hurts, it was a huge relief having Zac Lynch-Woodlock directing and the amazing team behind the camera and practical effects doing what they do best. It was an unforgettable experience and the hardest part of the whole process was probably riding up and down the hill's at Q Station on the push bikes!
How are you doing practice sessions at the moment?
Asher - We have been fortunate enough to access the school grounds for music practical work for a maximum of 2 hours in accordance with the department of education. Not only this, but we have also been using a free online digital audio app called Soundtrap to keep up the song writing as well as make adjustments to new upcoming songs. It's not the same as performing live but it enables us to keep on track and then apply what we have done digitally, Live when lockdown ends.
Lockdown; what are you doing to keep yourselves healthy and happy?
Tom - Keeping happy and healthy through lockdown has been pretty tough. Exercise in small groups has been keeping us entertained and fit throughout but I think on the happy side of things, winning triple j Unearthed High will keep our happiness sustained for a long time.
_______________________________________________________
The Rions are Noah Blockley (vocal and bass), Tom Partington(drums), Asher McLean and Harley Wilson (axemen – guitars!)
Cue track: