October 23 - 29, 2022: Issue 559
Surfers Honoured in Oldest Room in Parliament: midget farrelly lifetime achievement awards to pam burridge - tom carroll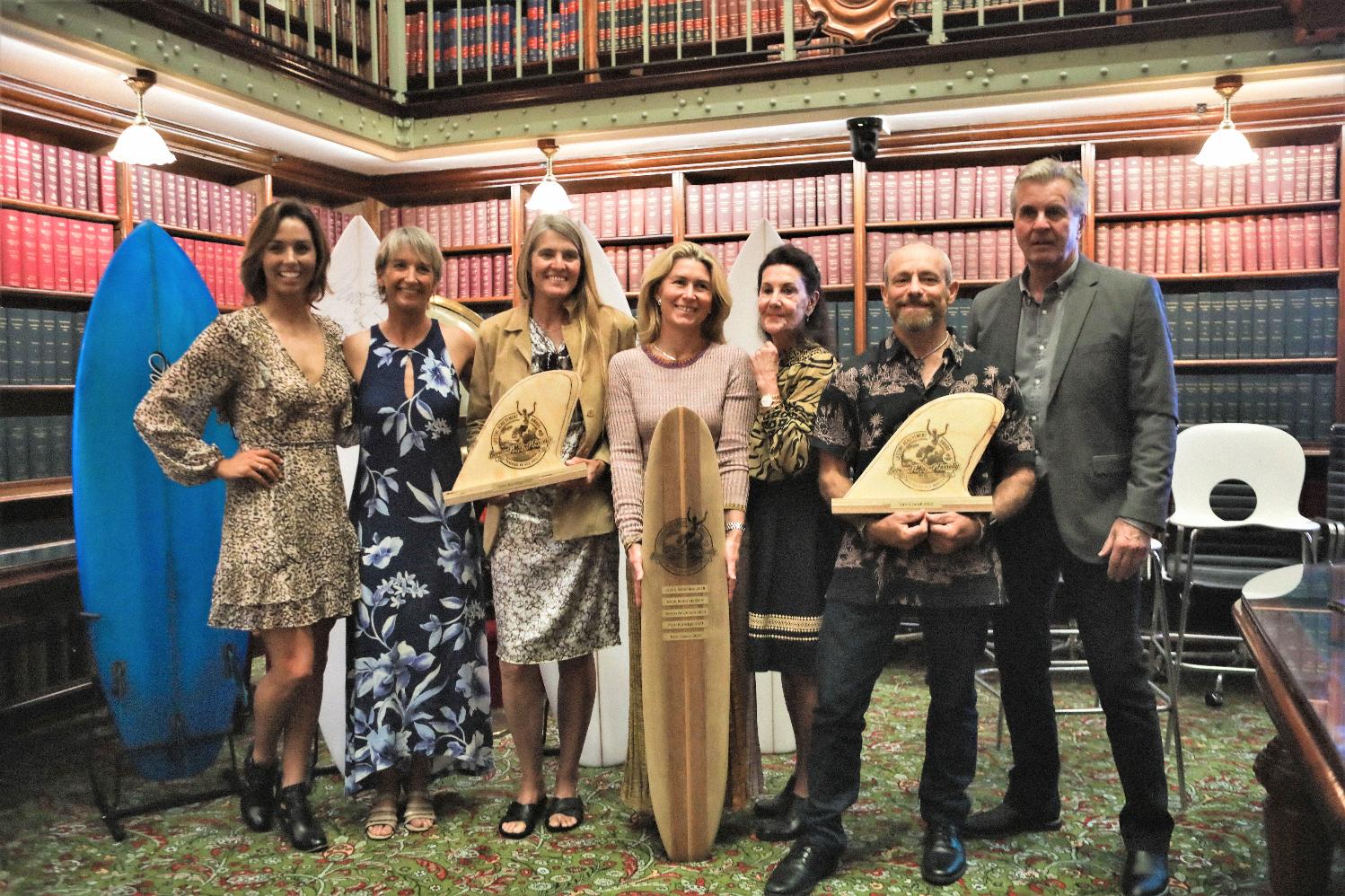 Sally Fitzgibbons, Layne Beachley, Pam Burridge, Johanna Farrelly, Beverlie Farrelly, Tom Carroll, Harry Hodge. Photo by Harry Hayes.
It's not everyday you see surfboards in Parliament House but on Friday October 21st Surfing NSW and four of the state's surfing legends captivated the NSW Parliamentarians in one of the grandest rooms of the NSW Parliament, the Jubilee Room.
It was a special day with the presentation of the Midget Farrelly Lifetime Achievement award to two former world champions, Pam Burridge and Tom Carroll by Farrelly's family, as well as the acknowledgement of the award-winning Her Wave initiative and Surfers Rescue 24/7.
Both award recipients paid tribute to Farrelly, Surfing NSW's first president and first world champion, and the incredible life he led as a pioneer in the sport and in all aspects of ocean sports.
"This is an amazing honour to receive this award," said 2021 recipient, 1990 world champion Pam Burridge.
"I feel very privileged to stand here in Parliament House to receive it. I feel so connected to Midget, he did so much to inspire me as a competitor, to run a business, making surfboards. Surfing has given me everything," she said.
Pam Burridge is known as one of Australia's first professional surfer girls and blazed the trail for a generation of surfers to come. She won NSW State, National and in 1990 the ASP World Title. Pam toured the world competing for close to 20 years before moving from Newport, Pittwater, to the South Coast.
Pam was the first women in Australia to become a full time professional surfer and has devoted herself to the pursuit of excellence in her chosen sport. Born in Sydney in 1965, Pam was given her first surfboard at the age of 10. Being a strong swimmer and having good ocean knowledge gave her a quick progression in the sport of surfing. Pam entered her first surfing contest in 1977 and won 1st place. She continued her thirst for competition by entering and winning various amateur titles which then led her to join the professional tour at the age of 15.
By the age of 17 she had her first runner-up finish and to her disappointment this happened another 5 times throughout her career. In 1990 she finally broke through winning her first world title at Sunset Beach, Hawaii.
Pam finally quit the pro tour in 1998 retiring to the beautiful NSW South Coast where she now runs her successful surf schools.
More recently Pam was one of five women surfers who featured in the 2021 released documentary Girls Can't Surf which shone a light on how girls who can surf fought through the 1980s fought to create their own professional sport, changing the face of international surf culture forever. The women interviewed include Australians Jodie Cooper, Pam Burridge and Layne Beachley; South African Wendy Botha and Americans Frieda Zamba, Lisa Andersen and Jorga and Jolene Smith. They speak frankly of the fight for equality in a chauvinistic time, their struggles in the surf and their own coming of age.
To highlight how much these women shifted things through their perseverance and persistence, it's worth remembering seven times world champion Layne Beachley was selected as the inaugural winner of the Midget Farrelly Lifetime Achievement Award.
The award, which honours surfing legend Midget Farrelly, was awarded to Beachley at the Vissla Sydney Surf Pro. in Manly in 2018.
Midget won Australia's first world surfing title in 1964 at Manly Beach, the same beach that was hosting the QS 6000 event.
"As a 17-year-old, Midget literally put Manly on the map," Layne said on receiving the award.
"Winning the first world title here in front of hundreds of thousands of people, it looked like from the photos, he gave Manly its core surf culture through his performance and through his love of surfing and competitive nature. He helped inspire a future generation of surfers who came from Manly to become world champions."
"I remember when I staged the first Beachley surf event here at Manly, I remember Midget coming down here to check it out and I thought that's pretty cool, that the Godfather of surfing has come to check it out."
"The thing about Midget is that there's so much people don't know about his impact and contribution that he made to surfing. From being a world champion and standing up for what he believed in to creating the surf foam blanks, that I used to ride. And to shaping magnificent pieces of equipment and still going out there and demonstrating what it takes to be a great ballerina on the water even into his late 60s. He was a true gentleman, a true lover of the ocean and a true custodian of what it means to be a surfer."
Tom Carroll was equally pleased with receiving his
Midget Farrelly Lifetime Achievement.
"It really is such an honour. Surfing has given me so much and it just doesn't stop. It's a script that was written and it's in me and now I can pass it onto the young kids," said 2022 recipient and two-time world champion Tom Carroll, who told the story of how his first world title was won with the influence of ballet training after hearing Farrelly drew elements of his surfing style from his sister's ballet.
Tom is another surfer who has grown up by the water and was surfing as a 7 year old. During his Profile interview a few years back, he described his first wave wheer he stood up;
''It was in front of Newport Surf Club on a Thursday afternoon. My sister and my dad were there, on the shorebreak watching, my brother was in the surf. I felt like I stood up for about a minute – I came in said this to dad and he answered 'you stood up for about a second Tom.'

I'd just gone 'Really? Is that it?!'''
And that was IT - for decades the man was unbeatable and even today stays focused on what really counts; family, community, sharing the surfing stoke, and being involved in keeping our oceans healthy. Tom opened his week by getting involved in a new partnership between Operation Crayweed, SeaTrees and Boardriders Foundation that is bringing Sydney's lost kelp forests back to life.
Pam and Tom were joined by Layne Beachley, Sally Fitzgibbons and Surfing NSW CEO Luke Madden in a panel discussion around lives saved and the community impact surfers have.
Surfers Rescue 24/7 is a free board rescue and CPR course available for all surfers and recreational water users in NSW. The course provides crucial training to assist in an emergency situation and could save a life.
Surfing NSW has been rolling out courses across the state through community groups and private groups, Boardrider Clubs, and Surf Schools for years, sharing this knowledge with thousands annually. In 2013, Surfers Rescue 24/7 won the Community Education Program of the Year at the NSW Water Safety Awards.
Surfing NSW's Her Wave has a mission of 'Empowering Women through Surfing'.

Her Wave is a platform that offers access, experience, progression and leadership opportunities. It is a community for every woman and girl of all ages and ability in NSW. Her Wave works to build a more inclusive and joyful female surf culture in NSW.
In February 2022 Surfing NSW, with the support of the NSW Government, launched a unique, all female surf series, the Challenge Her Team's Classic. The series aims to increase female participation and support across the state through three events that focused on fun, skills development and community.
Surfing NSW's Her Wave platform was awarded the 2022 NSW Her Sport Her Way Outstanding Organisation Award in March.

Her Wave Tiers:
Get Her Onboard – Empowering Her To surf
Her Community – Empowering Connection Through surfing
Progress Her – Empowering Women To Progress
Lead Her- Empowering Women To Lead
Celebrate Her – Empowering and Celebrating Women In Surfing
State members from coastal electorates as well as regional electorates joined in the celebration of achievements of the state sporting organisation and were delighted to be part of the event.
NSW Parliamentary Friends of Surfing Chair, the Hon. James Griffin said it was a great day and a great way to bring the essence of surfing to Parliament House.
"I've had the enormous privilege of being the Chair of the Parliamentary Friends of Surfing, and it's been an amazing opportunity to work with the team who do such great work within communities up and down the coast," he said.
"For both coastal MPs and those from the regions, there's a real opportunity for everyone to engage with Surfing NSW to ensure that people who have a love for the ocean know that there's a board, a club or surf school there for them to be part of. There are endless opportunities available."
Surfing NSW Deputy Chair Harry Hodge proudly highlighted the organisation's successes and the state of surfing in NSW to the packed room.
"103 World Titles have been decided since 1964. Out of those, 37 have been NSW surfers, that's more than any country or state in the world," said Hodge.
"What Surfing NSW does is provide critical pathways that enable this kind of success through our initiatives that support every aspect of surfing from kids through to adults. Our partnership with the NSW Government is crucial to ensure we can continue to deliver world-class events, community programs and athlete pathways."
Find out more about the Surfing NSW Her Wave initiative and Surfers Rescue 24/7 program.
For more information on Surfing NSW programs and how you can get involved, please email the team at Surfing NSW at info@surfingnsw.com.au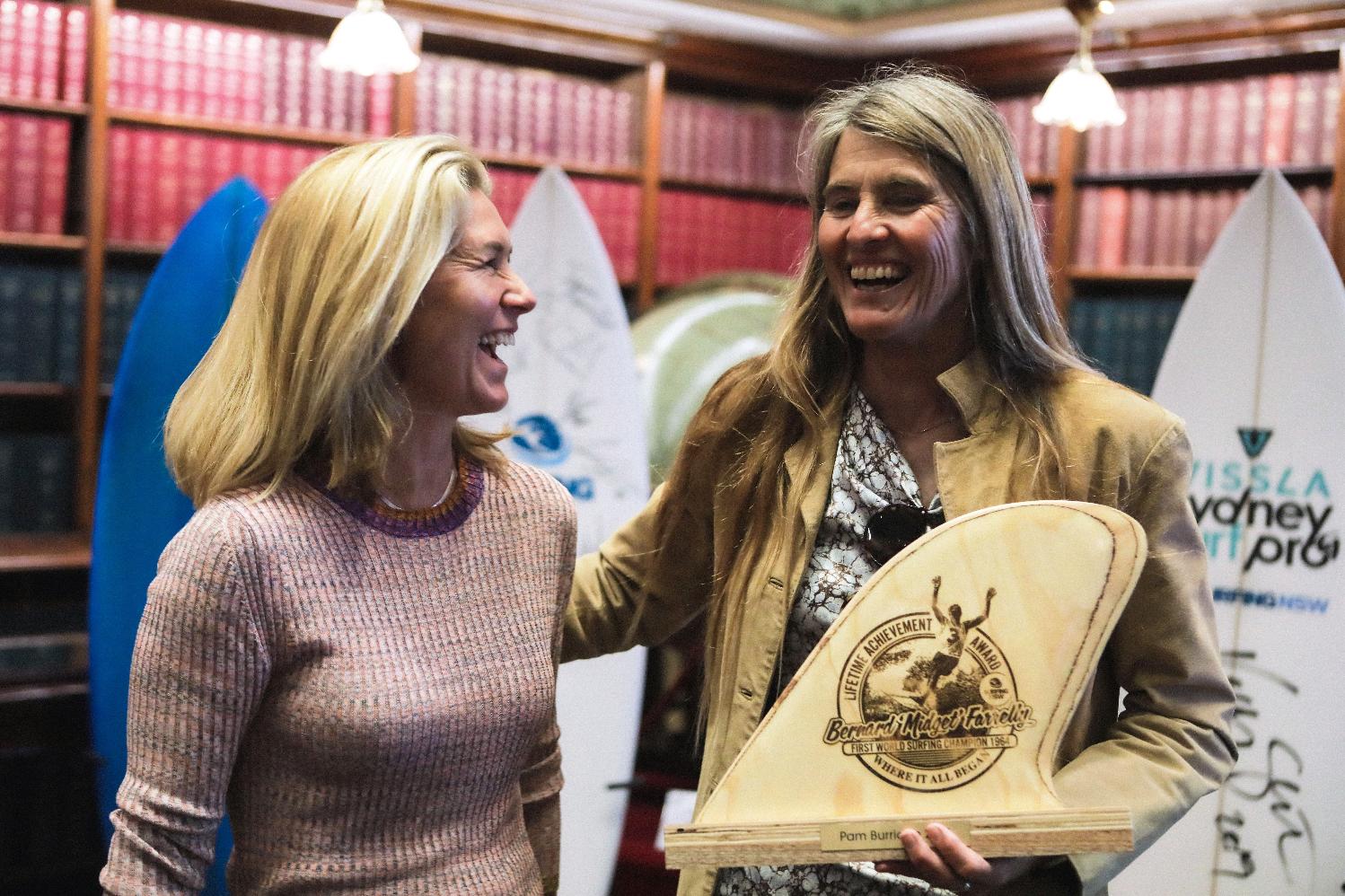 Johanna Farrelly and Pam Burridge. Photo by Harry Hayes.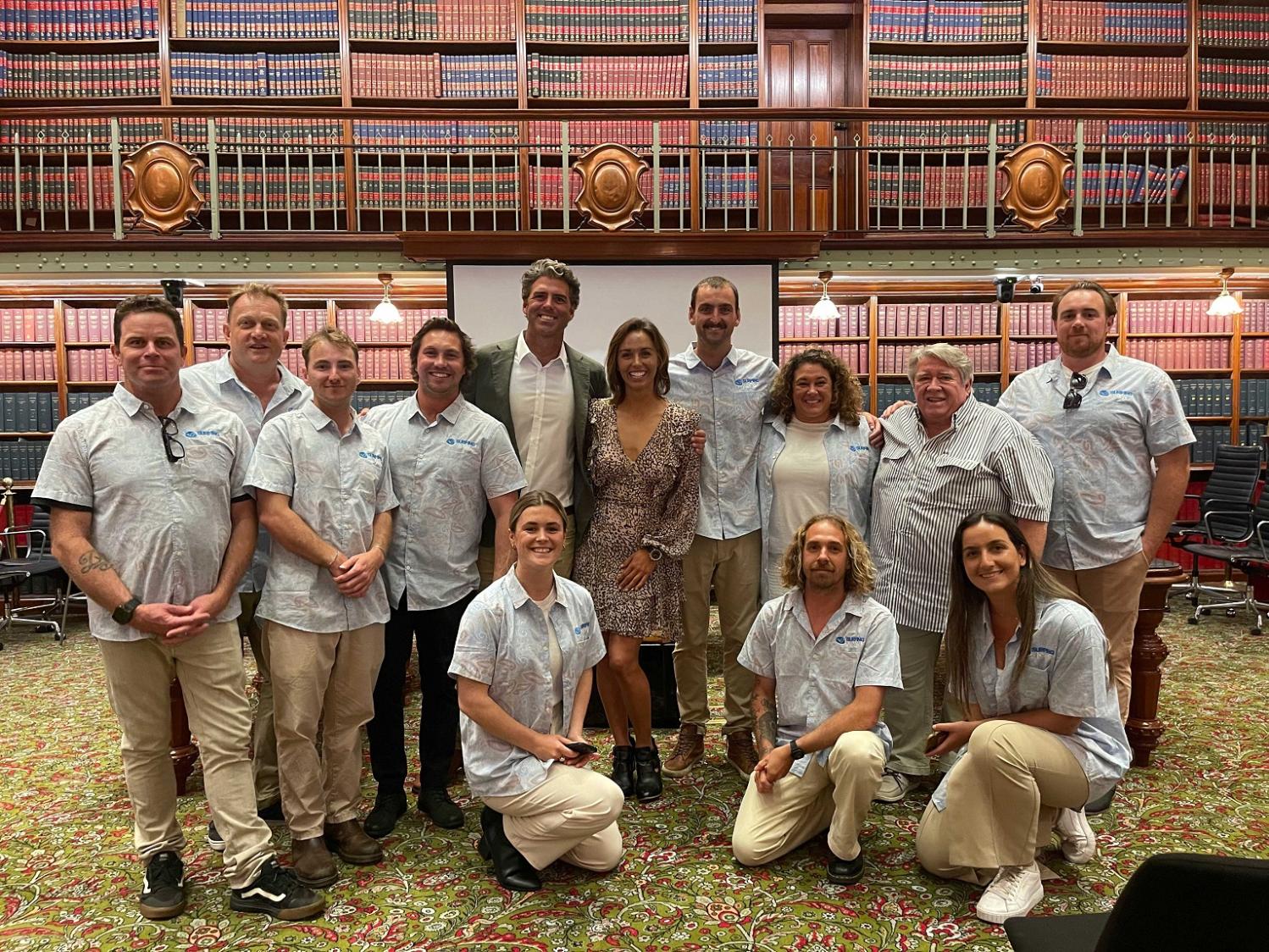 Team Surfing NSW. Photo by Harry Hayes.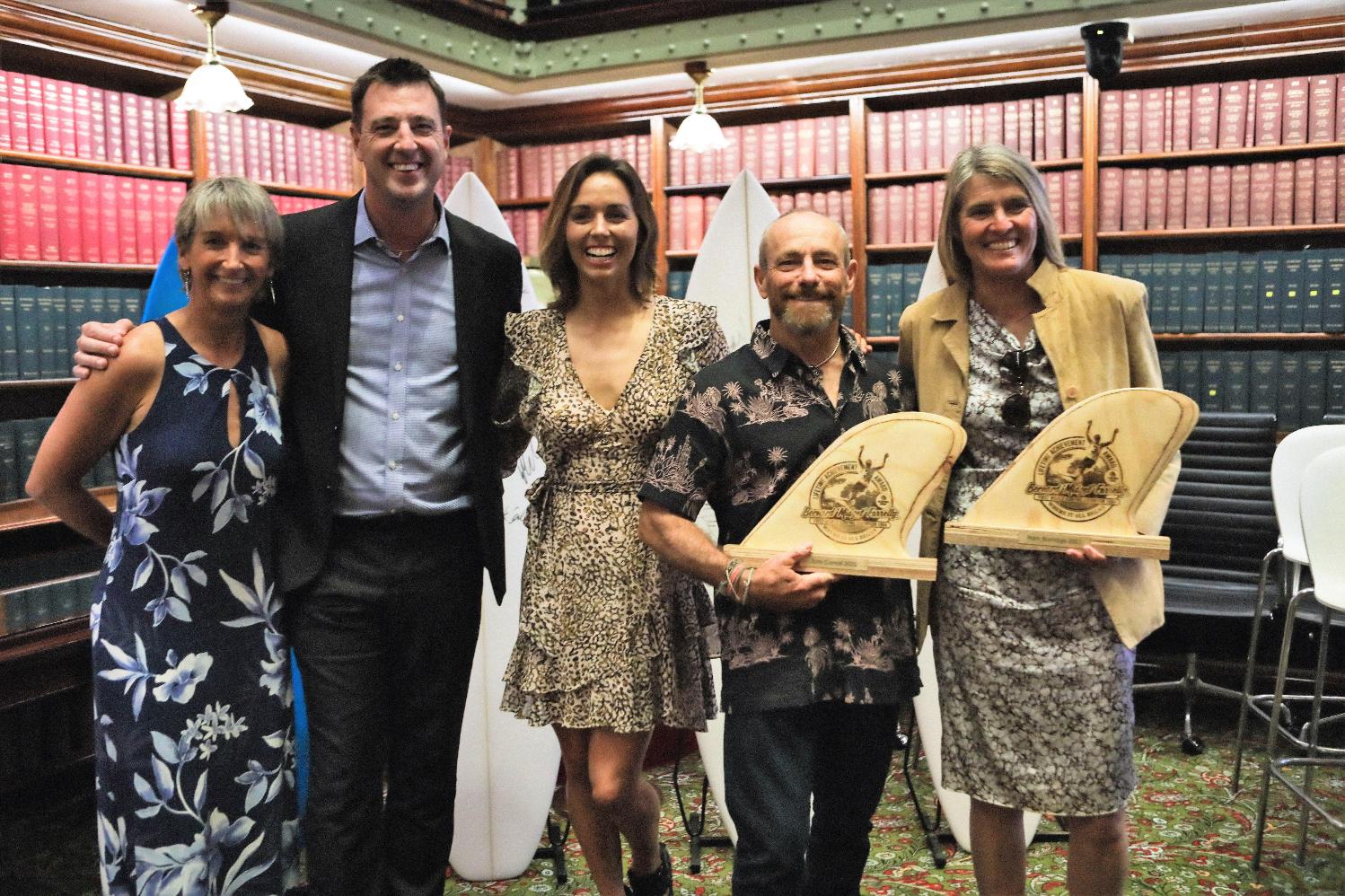 Layne Beachley, NBC Mayor Michael Regan, Sally Fitzgibbons, Tom Carroll, Pam Burridge. Photo by Harry Hayes.