August 9 - 15, 2020: Issue 461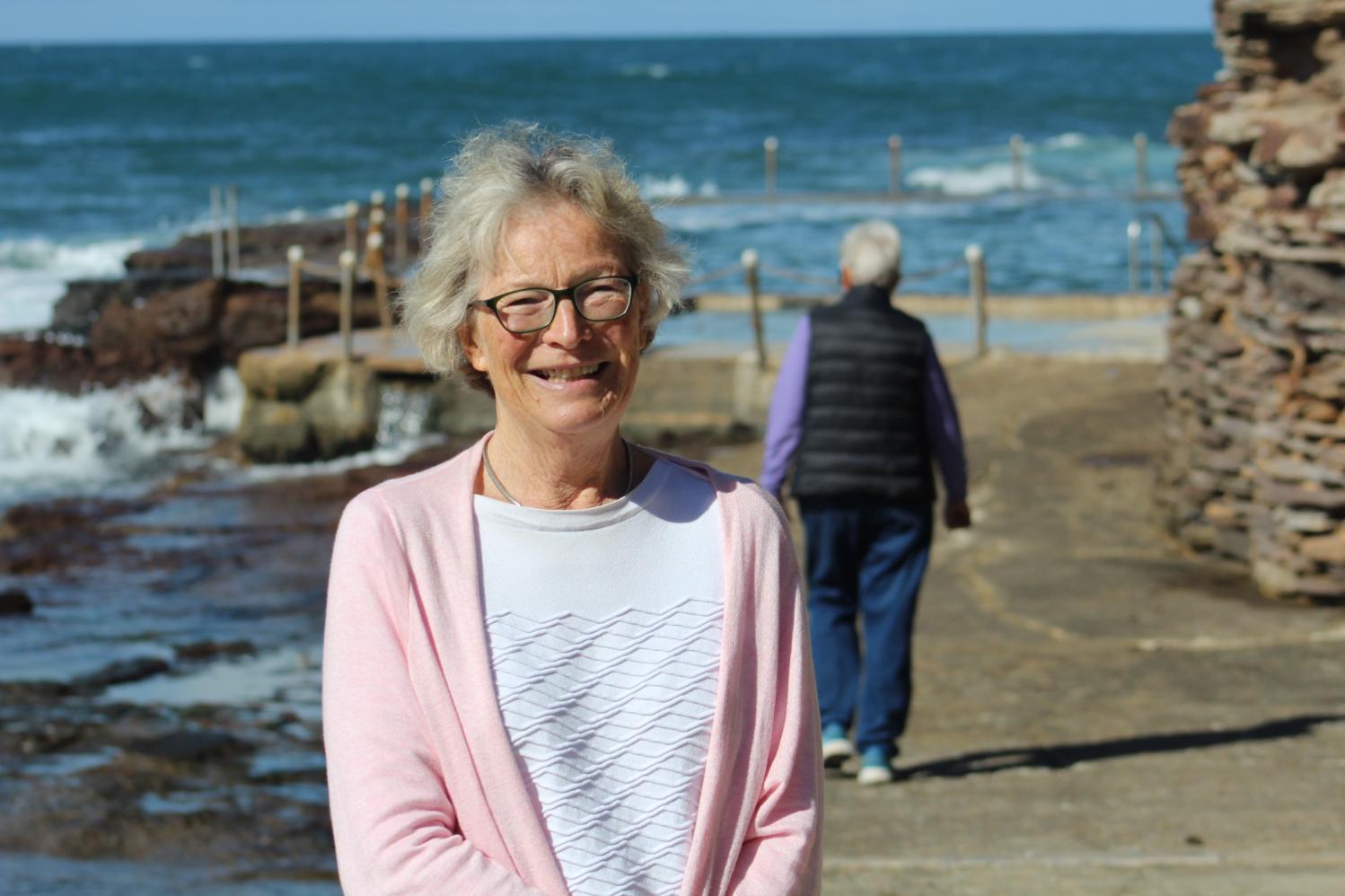 The Pittwater community has been built and maintained on the individuals who live here contributing in one form or another to its residents organisations, its bushcare groups, the surf life saving clubs or those organisations that help foster connection and sharing skills that allow others to be able to access and negotiate new ways to connect - such as being able to use computer technology as one instance.
This week a small insight into a former Barrenjoey High School teacher and current volunteer member of the Friends of Currawong, AvPals (computer skills for seniors taught by seniors), the Save Mona Vale Hospital Committee, founder of the Pittwater Ramblers, secretary for years of the Avalon Preservation Trust (now APA), committee member of the Careel Bay Pittwater Protection Association.
Where and when were you born?
I was born on 5 April 1949 in England.
Where did you grow up and what did you do for fun as a youngster?
I am the oldest of six children and spent my primary years in London. My father was a returned serviceman (WW11) who trained as a quantity surveyor and worked for a London firm. In 1959, he was taken aside by one of the partners who said that although he was a talented quantity surveyor, he would never be made a partner because he was from the wrong class with a father who was a council worker. The partner advised dad to "go to the colonies"!
Applying from London, Dad got a job with a Sydney firm of quantity surveyors. In 1961, we emigrated as ten pound poms. Dad asked the firm to arrange some accommodation for us as he was bringing a wife and six children ages 11 to 3 years. Avalon was then very affordable, being mainly basic holiday accommodation and so we were housed in a small weatherboard cottage in Elaine Avenue, next door to Brenda and Garvon Kable, two fine community members who made us welcome.
On the day we arrived, there was a mother koala with her baby in the back garden! Over the creek were the sand hills leading to Avalon Beach. This was "heaven on a stick" for kids from a city. Mum and dad subsequently bought a house in Avalon and that is where we grew up, enjoying fishing at Careel Bay, riding our bikes, playing in the sand hills and going the beach where we swam and watched Midget Farrelly surfing.
What are the most noticeable changes between the landscapes and playgrounds of your childhood and how those places are now?

The most noticeable changes are of course the loss of native bush land, the homes of native animals and birds. Poor koalas had a dreadful time as the local population increased and cars and dogs played havoc with the slow moving and trusting koalas. The weatherboard and fibro holiday cottages have either been demolished or gentrified and the magnificent native trees have been replaced with palms and shrubs that don't drop leaves in the swimming pool.
Where did you go to school?

As my parents were catholic I was sent to Stella Maris at Manly rather than Narrabeen Girls which was the closest public school.
What did you want to do when you left school – AND – what did you end up doing?

I wanted to go to university to study humanities and then join the diplomatic service. Friends would laugh at that ambition as I am not known for my tact. However, money was tight and so instead of a Commonwealth Scholarship I accepted a two year teachers college scholarship which included a living allowance.
In those days, teaching scholarships had bonds. After a four year degree, you had to teach for five years or else pay a large bond which was guaranteed by a family member. There were stories of parents and grandparents being strong armed into repaying the bonds of students who realised that teaching was not for them. To be on the safe side, as I had no intention of remaining in teaching I took a two teacher training scholarship which meant I only had to teach for three years before doing what I really wanted to do, (or not).
I therefore went to Wagga Wagga Teachers College for two years. In 1968, I began teaching at Murrumburrah Intermediate High. I turned 19 in that first year and there was a boy in year 12 older than me but fortunately he did not know it.
I met my husband in a barn dance at the local country club. When we married in 1970, I had to apply for a school in Sydney. We had no idea where to live and so on my transfer form I put "north of the Harbour Bridge". The authorities must have laughed and decided to teach me a lesson by sending me as far north of the harbour bridge as possible, namely Barrenjoey High School, where I enjoyed teaching until 1996.
Teaching – what was the best part of this for you?
I am so proud of having been a teacher in the public education system and Barrenjoey was and is a great school. Initially I taught English and History but a after completing an undergraduate degree and post graduate diploma I also taught computing studies.
I feel frustrated with the current focus on preparing for a job. To me, secondary education is a time to help young people develop as thinking and analytical individuals, with a capacity to learn. Specific job related "stuff" can come later. When I was in high school, l was told what to think and what the right answers were. When at teachers college and university, I was asked for my opinion, I was stumped because no one had ever asked me before. I had just been told what to think and say. Now we seem to be going focusing only on what is relevant to a specific job! This is somewhat ironic what most people these days will have several difference careers. .
I tried to ensure that my students developed a sense of self worth, entitled to their own opinions and ideas. I wanted to guide and stimulate them to being people who would become good members of society with the transferable skills. I tried to encourage them to think for themselves, develop informed opinions and learn how to learn and feel good about themselves. Stuffing them with facts was not as much a priority as learning how to learn, how to investigate, research and assess. Of course teaching English provided wonderful opportunities for this.
I love the fact that I still see former students and I have a sense of achievement that I may have helped them to grow into the fine people they are. The fact that that they want to talk to me is some sort of recognition. I wonder how many other careers have that sort of feedback. Do other retired processionals have the same sort of achievement and expressions of appreciation?
Where did you teach? How many children/generations have you seen grow tall?

My first school as Murrumburrah Intermediate High and then Barrenjoey for 26 years. I then was appointed as a Department of Education senior curriculum adviser. For the next 10 years, I worked with teachers helping them to integrate IT into teaching and learning. I also managed a website containing resources for HSC students. Sadly the Department stopped funding the development of HSC resources and so the website which would have been very helpful during Covid 19 was cancelled.
My first cohort of students are now in their mid sixties and at Barrenjoey I also taught the children of some of my former students. Barrenjoey is the sort of school that teachers are happy to send their children to and former students also send their children there.
Bushcare and our natural Environment – why is this important to you and what have you done over the years to protect this and why did you do this work?

Coming to Avalon in 1961 was life changing. for my family. Here trees not bricks and mortar dominated the landscape. Like many others, over the years, I have been concerned by inappropriate development that has detracted from rather than enhanced living in the local area. For this reason, I joined the Avalon Preservation Trust (APT) in 1988 and for 30 years I wrote the quarterly news bulletin, updating the local residents and raising their awareness of issues affecting the local environment.
I became concerned by the number of public reserves and paths that seemed to be disappearing into private ownership and so in 1995, I formed the Pittwater Ramblers. On the last Friday of every month after work, the ramblers would go for a walk in the local area using as many public paths and reserves to raise awareness as to their existence. On occasions, I spoke at Pittwater Council meetings to oppose proposed selling off of public land or to ask for council support in removing illegal encroachments. We had some wins and it did make people more aware of the many public tracks and reserves in this beautiful area.
In 2005 I joined the management committee of the Careel Bay Pittwater Protection Association, opposing a $6.5 million proposal from Austral Monsoon to significantly change and upgrade the Careel Bay wharf and put at risk the local sea grasses. We won that battle and Careel Bay Wharf and boat shed remain.
In 2008, I became secretary of the Friends of Currawong as we campaigned to block the sale to private interests with plans to build macmansions. This long and hard fought campaign led by Shane Withington ultimately resulted in 2011 in the purchase of Currawong by the NSW State Government thereby securing it for the people of NSW. I am still the secretary of FOC as we still have more to do there in conjunction with NBC.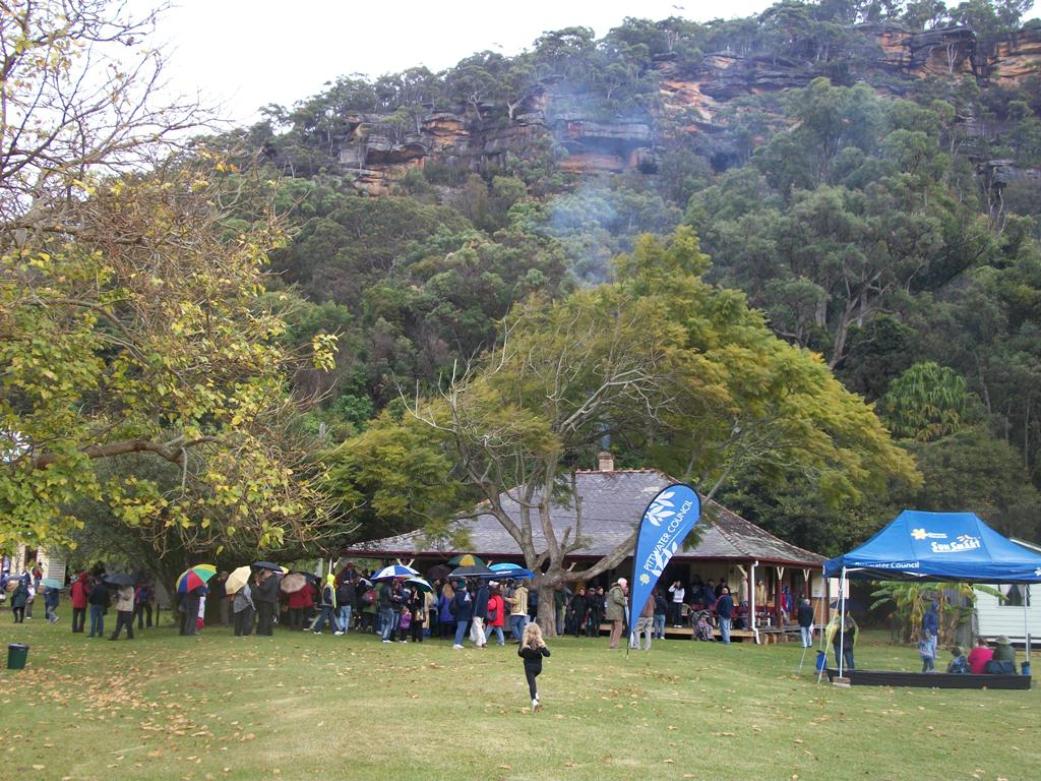 Currawong Day - May 29th, 2011 - photo by A J Guesdon
Save Mona Vale Hospital Committee (Secretary) – why are you involved with this group – why is it important to advocate for a public health facility in Pittwater?
In 2017, I became and remain secretary of the Save Mona Vale Hospital Committee. Like many others, I had been tricked by the local member, Rob Stokes, into believing that MVH would continue as a fully functioning hospital. Since Mona Vale Hospital was downgraded to a virtual medical centre, there has been ongoing proof of the folly of this decision and the ongoing disadvantage for the people of this safe Liberal party electorate.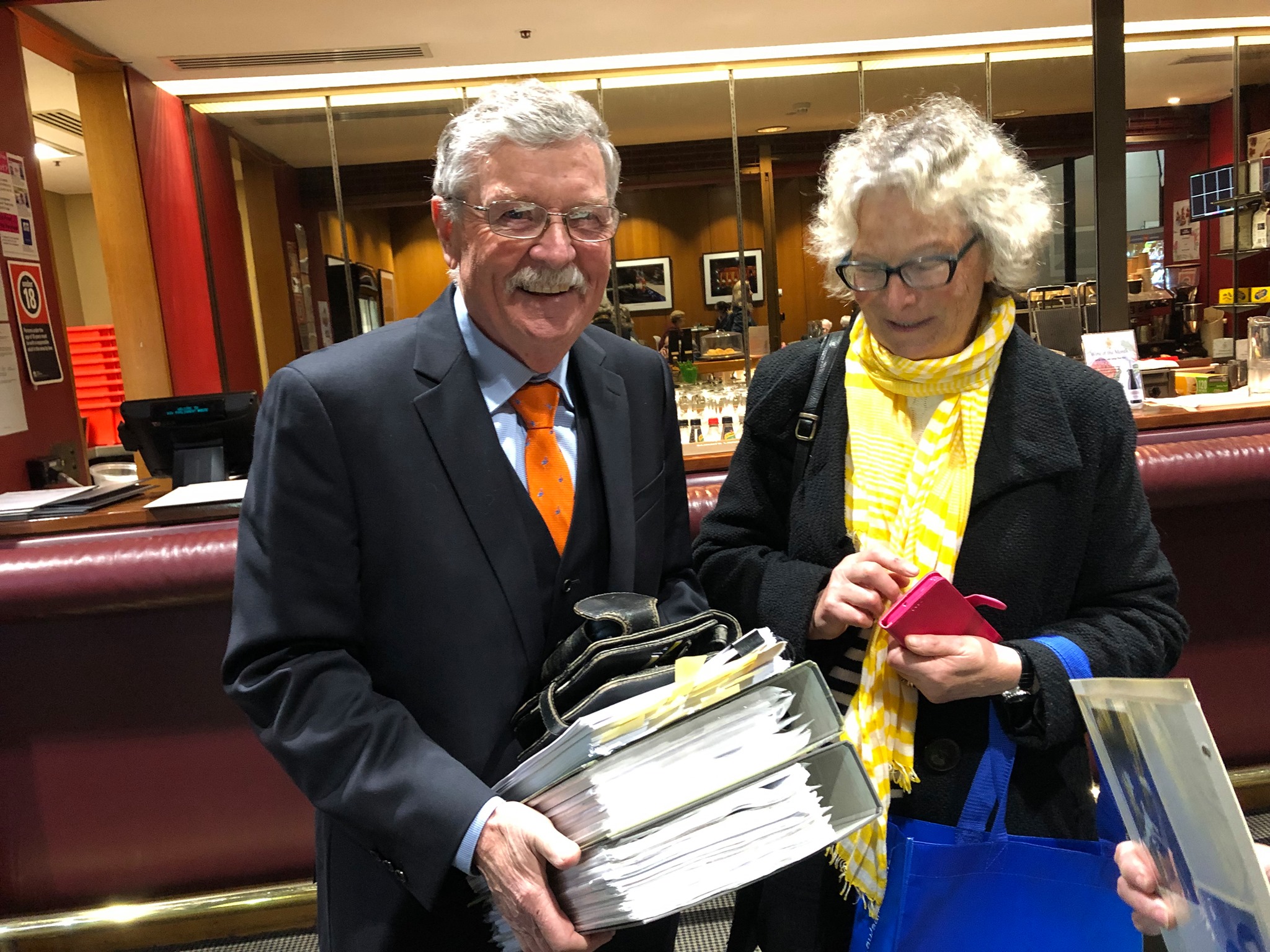 With SMVHC Chairman Parry Thomas at the Upper House Inquiry into the Operation and Management Northern Beaches Hospital, presenting to retain MVH - SMVHC photo
You have done many things in many areas for our community through the decades – what are the 3 projects/works that stand out STILL for you as important to you – and why are they?

Hmm, hard to think! Definitely Currawong and SMVH for reasons I have stated. I am also a trainer with the Avalon Computer Pals and I enjoy working both one on one with seniors and being part of the AvPals team at Newport providing two hour workshops and presentations on the use of technology. I like the idea that we are empowering senior citizens in the application of technology in their daily lives. Seniors are often stereotyped as a generation reluctant to use technology but I can assure you, that is not our experience at AvPals. In the brave new world of Covid 19, we are running sessions via Zoom for our seniors!
What are your favourite places in Pittwater and why?

My favourite place in Pittwater is Avalon Beach rock pool where I like to swim winter and summer. It is a lovely friendly community . Even in winter there is a constant stream of people coming for their swim and a chat to solve the problems of the world. Often the people one meets are known in no other context and may only be recognised in their swimmers!!.
What is your 'motto for life' or a favourite phrase that you try to live by?
I believe it is important to try to make a difference. I am an atheist and so believe this life is my only chance to make a difference. I believe it is important to help others. That is why I enjoyed teaching. When I die, I would like people to consider that I had made my mark in small but worthwhile endeavours.