July 25 - 31, 2021: Issue 503
Staying Home - Staying Safe: issue 503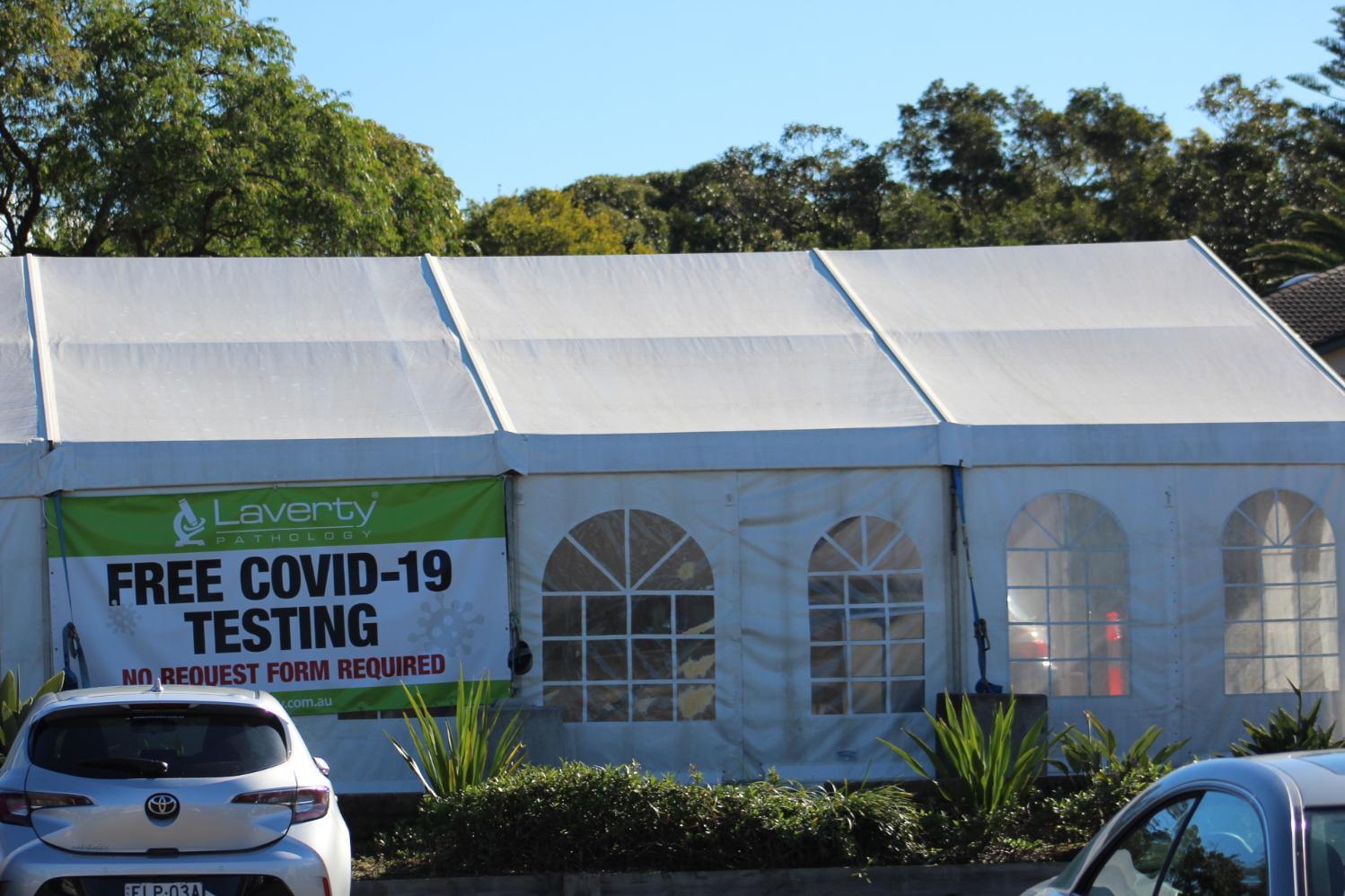 Covid-19 Testing Clinic at Avalon Bowling Club carpark. AJG photo
Key Points
Although over 4000 people have been listed as 'close contacts' after going to Woollies at Glenrose, including the great staff who work there stocking the shelves with food or serving, pretty much anytime over the last week, and their immediate families are listed as 'casual contacts' meaning they're all in isolation for at least 14 days, the community is rallying around each other and those not in iso are running around dropping food to others, the local churches included.
To cheer each other up, some are putting up Christmas lights, in July, or sharing images online of projects they're managing to get done inside the home.
There's no whinging about measures being taken to look after them, no bucking to be part of super-spreader events like that seen in the CBD on Saturday, and no having a go at people in service industries straining to look after them - there are no strains of 'it's all about me' or doing some truck dance on the Sydney Harbour Bridge.
The focus is on reaching out to those asking for help and helping each other when and if we can or finding someone or some department that can - Let's look out for our elders and youngsters.
Late last week NSW Health stated fragments of the virus have been detected at Warriewood treatment plant. Mask up and keep socially distancing, especially when getting your daily exercise.
If you are feeling any of the symptoms associated with this virus such as: fever, respiratory symptoms, coughing, sore throat, shortness of breath, runny nose, acute blocked nose (congestion), headache, muscle or joint pains, nausea, diarrhoea, vomiting, loss of sense of smell, altered sense of taste, loss of appetite and fatigue - get tested and keep your loved ones and community safe.

The NSW Government will provide financial assistance, support measures and tax relief to help businesses and people across the state impacted by the current COVID-19 restrictions. Visit: www.nsw.gov.au/covid-19/2021-covid-19-support-package - to not lose your place on the initial webpage where it's all list, a) right click and choose b) 'open in another tab'.
If you have an HSC student at home getting anxious, there's a great Practical Guide for Getting through your HSC by Sydney Uni at: cce.sydney.edu.au/getting-through-your-hsc-a-practical-guide
Some of our fellow residents commence their Olympic campaigns this week; lets tune into that and tune out of the sensational rubbish, you don't need it at the moment. Get the 11am updates and do as asked to keep you and your loved ones safe, then switch off.
During the week the NSW Government has moved to help people in Western Sydney LGA's with a program to increase testing and making available vaccinations. On Saturday Michael Kidd, acting Chief Medical Officer stated the Commonwealth will increase the emergency allocation to New South Wales of additional doses of Pfizer from 150,000 to 200,000 doses this week, as requested by Premier Berejiklian.
Brad Hazzard, Health Minister for NSW, the Premier and ATAGI now advise Sydneysiders to strongly consider getting vaccinated with any available vaccine.
''The Commonwealth will constantly assess requests against any reserves held by the Commonwealth. In New South Wales, the Commonwealth will be providing a sustained weekly increase of an additional 20,000 doses to General Practices and an additional 20,000 doses to New South Wales government clinics on an ongoing basis. This increase is consistent with increases for all states and territories on a per capita basis. A remind that are we now have over 1250 general practices across Australia administering the Pfizer vaccine, and it's anticipated this number of practices involved in administering Pfizer had increase to 1550 by the end of this coming week.'' Michael Kidd stated

The ATAGI Statement, Response to NSW COVID-19 outbreak on 24th July 2021:
All individuals aged 18 years and above in greater Sydney, including adults under 60 years of age, should strongly consider getting vaccinated with any available vaccine including COVID-19 Vaccine AstraZeneca. This is on the basis of the increasing risk of COVID-19 and ongoing constraints of Comirnaty (Pfizer) supplies. In addition, people in areas where outbreaks are occurring can receive the second dose of the AstraZeneca vaccine 4 to 8 weeks after the first dose, rather than the usual 12 weeks, to bring forward optimal protection.

ATAGI reaffirms our previous advice that in a large outbreak, the benefits of the COVID-19 Vaccine AstraZeneca are greater than the risk of rare side effects for all age groups.

In the context of the current risk of COVID-19 in NSW and with the ongoing constraints on Comirnaty (Pfizer) vaccine supplies, all adults in greater Sydney should strongly consider the benefits of earlier protection with COVID-19 Vaccine AstraZeneca rather than waiting for alternative vaccines.

Maximal protection requires two doses of vaccine, but even a single dose of either vaccine provides substantial protection (by more than 70%) against hospitalisation. A single dose of COVID-19 Vaccine AstraZeneca partially reduces transmission by around half and therefore may also benefit close contacts and the community. It should be noted that there is a delay of 2-3 weeks after receiving a first dose of vaccine and being protected from COVID-19.

A second reason for ATAGI to recommend that individuals strongly consider vaccination at this time is emerging data about severity of disease. The Delta variant may be more severe than the original SARS-CoV-2 strain. The proportion of people less than 60 years requiring hospitalisation appears to be higher than was reported in outbreaks with the original SARS-CoV-2 strain. This reinforces the benefit of protection with any available vaccine.

People considering vaccination should be informed of the benefits and risks and give informed consent. People who receive COVID-19 Vaccine AstraZeneca should be aware of the symptoms of thrombosis with thrombocytopenia syndrome (TTS), and when to seek prompt medical attention. Early detection of TTS means that people can get treatment and this can improve their outcomes.

ATAGI has previously issued advice recommending a shorter interval between the first and second doses of COVID-19 Vaccine AstraZeneca of 4-8 weeks in an outbreak (versus the routine 12 week interval) so that maximal protection against COVID-19 can be achieved earlier.

ATAGI also reinforces that the interval between the first and second doses of Comirnaty (Pfizer) is 3-6 weeks, providing flexibility in managing available supplies of vaccines, whilst also noting two doses are required for optimal protection. Spacing Comirnaty (Pfizer) to a routine interval of 6 weeks would allow limited vaccine supplies to be redirected to obtain first dose protection in outbreak areas of greatest need.
On Saturday Michael Kidd said, ''.... as you know, we're getting increased doses of Pfizer during this current quarter, the third quarter of this year. And there'll be even more doses coming in the fourth quarter of this year. And as we've been told, we can expect that all people who wish to receive vaccination against COVID-19 will be able to have done to do by the end of this year.''

This morning, Sunday July 25th, it is being announced that the Federal government has signed a deal with Pfizer to acquire 85 million COVID-19 booster shots.
Sixty million will be sent to Australia next year and the remaining 25 million are due to arrive in 2023.
Earlier Health Minister Greg Hunt previously had said no final decision had been made about whether booster shoots would be required, but the government was planning as if they will be required.
The announcement is atop of the 40 million doses of Pfizer already ordered. Of that 40 million, some are already here, while the remainder are due between now and the end of the year.
The booster doses (the 85 million) would be made available to people who have been fully vaccinated against COVID-19 as an additional shot to protect against new strains.
Last Week's Issue: Restrictions To Further Limit The Spread Of The COVID-19 Delta Strain + Link Community Care Food and Hampers at Warriewood + NSW Gov. COVID-19 Business Support – 2021 info., + Covid-19 Disaster Payment info., + Lifeline For Performing Arts and Live Music + Assistance For Renters and Landlords + COVID-19 Mental Health Boost + where to access food parcels or vouchers, transport or chemist vouchers, and assistance with bills - all on one page for you