July 25 - 31, 2021: Issue 503
anti-lockdown march through sydney CBD puts millions at risk: Strike Force Seasoned launched by NSW Police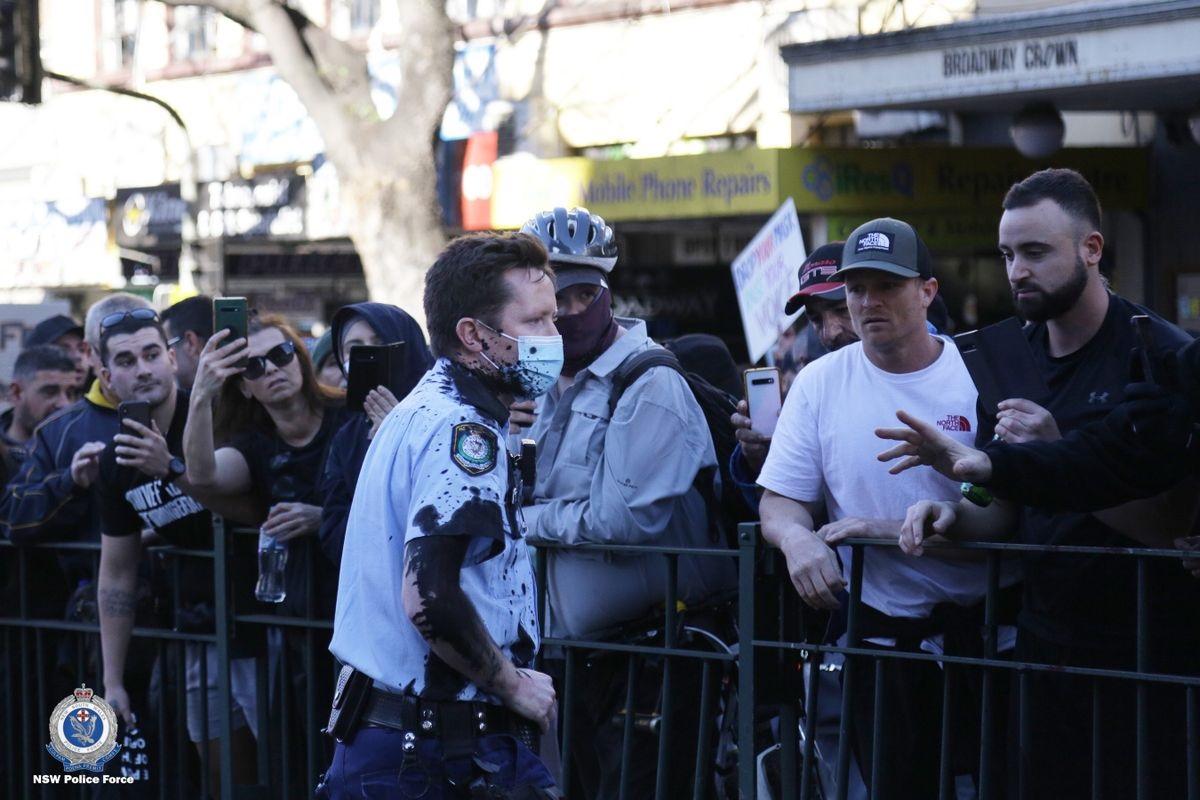 NSW Police Officer has black ink thrown over him. NSW Police photo.
Saturday, 24 July 2021
Police have established Strike Force Seasoned following a police operation in response to unauthorised protest activity in Sydney's CDB today.
A high-visibility policing operation was launched about 12pm (Saturday 24th July 2021) to ensure the safety of all protest participants, as well as the wider community and local businesses.
General duties officers from across the Central Metropolitan Region were assisted by specialist police from the Public Order and Riot Squad (PORS), ODIN, Police Transport Command, Traffic and Highway Patrol Command and the Mounted and Dog Unit.
During the operation, 57 people were arrested and are currently in the process of being charged.
At least 90 Penalty Infringement Notices were also issued for breaches of the public health orders.
Minister for Police and Emergency Services David Elliott said he shared the community's outrage at the actions of those present at this afternoon's protest.
"These individuals are on notice, as they have also risked the safety of our frontline officers," Minister Elliot said.
"They should know that a police strike force has been established and will forensically investigate all CCTV and social media footage collected over the course of the afternoon's protest.
"Police will not hesitate to bring more charges.
"It will only take one person with COVID-19 to turn to today's event into a super-spreader, so decent-minded Australians have every right to feel infuriated at such selfish behaviour."
"I'm appealing to all 3,500 people to get tested tomorrow, if not for themselves for the sake of their family and friends."

The NSW Premier Gladys Berejiklian issued a statement saying she was utterly disgusted that the community's safety was compromised by the selfish actions of the "illegal protesters".
"The protesters have shown utter contempt for their fellow citizens who are currently doing it tough," she said.
"This type of activity during lockdown will not be tolerated and the full force of the law will be brought against anyone who engages in this type of illegal activity."
The protest was initiated by groups of conspiracy theorists whose message is anti-vaccination and anti- stay-at-home-orders, as well as anti- 'vaccinated-passports', a European discussion that has been taking place, and that even the pandemic is false or fake news being used to control people. Their posts on social media during and after the event calling it a 'success' have attracted scathing remarks from others.
To July 24, 2021 there have been 193 million cases of Covid-19 worldwide and 4.14 million deaths from the disease. Over 8 thousand people are dying every day from the disease, still.
Deputy Commissioner Mal Lanyon, Metropolitan Field Operations, said the work of Strike Force Seasoned, which will comprise of at least 22 detectives, starts now.
"Our officers have already started to identify attendees and will continue for as long as required to identify and prosecute all those who broke the law today.
"I want to thank the more than 350 police who were part of today's response. They did not go to work to be assaulted or have projectiles thrown at them – the actions of the individuals involved in those offences was a disgrace.
"I also want to thank the majority of the community who continue to work with police and abide by the public health orders.
"They are in place for a reason and police will continue to enforce them – our officers will not tolerate those who think the law does not apply to them."
In an earlier the same day statement the NSW Police Force stated it ''recognises and supports the rights of individuals and groups to exercise their rights of free speech and peaceful assembly, however, today's protest is in breach of the current COVID-19 Public Health Orders.''
Anyone with information or vision of today's protest activity is urged to contact Crime Stoppers through the online portal or by contacting 1800 333 000. Every single report will be investigated.

Police continue to appeal to the community to report suspected breaches of any public health order or behaviour which may impact on the health and safety of the community by contacting Crime Stoppers: https://nsw.crimestoppers.com.au. Information is treated in strict confidence.
The public is reminded not to report crime via NSW Police social media pages.
NSW Police Force UPDATE (6pm): Good news! Troop horse Tobruk was not injured and is recovering back at the stables after a hard day's work.
If you have any information to assist in identifying the man depicted, please contact police. Strike Force Seasoned, comprised of at least 22 detectives, has been established to identify and prosecute all those who broke the law today.
Photo credit: Brook Mitchell
Mounted Unit - NSW Police Force: July 24; 7pm, ''Our beautiful brave Tobruk safe and uninjured after his awful encounter today. Thank you again everyone for your words of support.''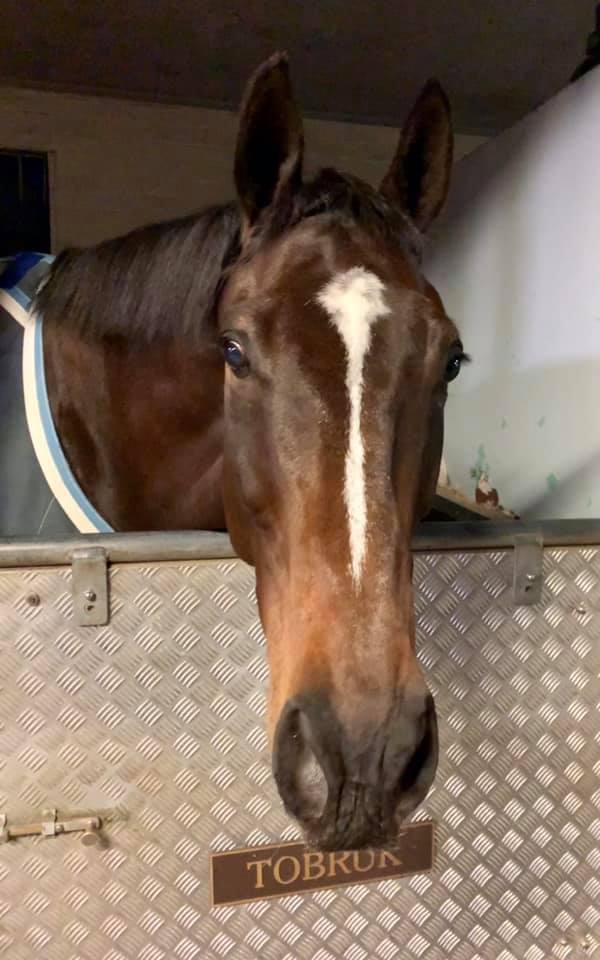 Photo: Mounted Unit - NSW Police Force