June 23 - 29, 2019: Issue 410
Soibada Update – Maternity Clinic
Maternal and child health remains a grave concern in Timor Leste. The country still has one of the world's highest child mortality rates, but this is gradually improving. A couple of years ago the Timorese Government built a new maternity clinic in Soibada. Unfortunately, due to the extreme weather conditions there is no water in the clinic in the dry season. The midwives need to carry soiled sheets to the river to wash them. Families carry water to the clinic when Mothers give birth.

The village medical staff asked if there was any way we could help with this dilemma. Fortunately we had plumber, Rory Halliday with us and he and Vaughan, a Mater Maria College student, measured up the building in preparation for us to fit guttering and a water tank. When the midwife requested a washing machine she never imagined that it could one day become a reality.
This week, with funds raised by our community, I managed to purchase an industrial washing machine and the guttering and get it loaded onboard a Royal Australian Navy ship in Darwin bound for Timor. This in itself was a miracle! A generous donor bought five sewing machines and delivered them to the wharf in Darwin. The wonder of online shopping meant that I could buy sporting goods from Rebel Sports for the schools in Soibada and art supplies from the art Store in Darwin too. The crew of HMAS Leeuwin, a hydrographic vessel, ensured the ship was alongside HMAS Coonawarra in time to collect the goods.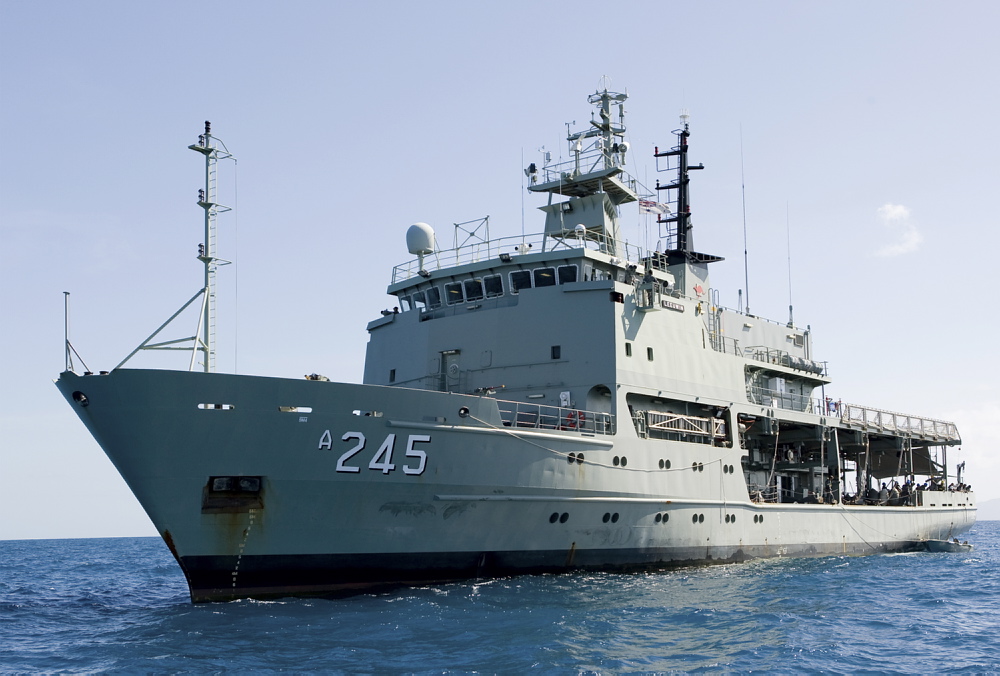 HMAS Leeuwin - photo by and courtesy RAN

All these materials will be waiting for us at the Dili Naval Base when we arrive in July. Volunteers Peter Randazzo and Michael Halliday are going to coordinate a working party in the village to get it all connected!
The Australian Navy's help made our dreams a reality. HMAS Leeuwin is a hydrographic vessel and gathers high quality hydrographic information. She is 71 metres in length, with a beam of 15 metres, and a draught of 4.3 metres. The ship displaces 2,550 tonnes and is manned by a crew of 46 officers and sailors. A state of the art Hydrographic Survey System developed by STN Atlas will integrate accurate position information with data from a multi-beam echo sounder, towed side-scan sonar, single beam echo sounder and a forward-looking sonar. The ships carries a fully equipped 9 metre Survey Motor Boat for surveys in waters not suitable for the ship herself. She is also capable of carrying a helicopter to assist in survey operations.
One of the junior officers onboard, Midshipman Elizabeth Lewis, liaised with our team here in Sydney and the suppliers in Darwin. She went beyond the call of duty to help us help our friends in Soibada. It was lucky that the ships program means she will visit Dili in Timor in the next week.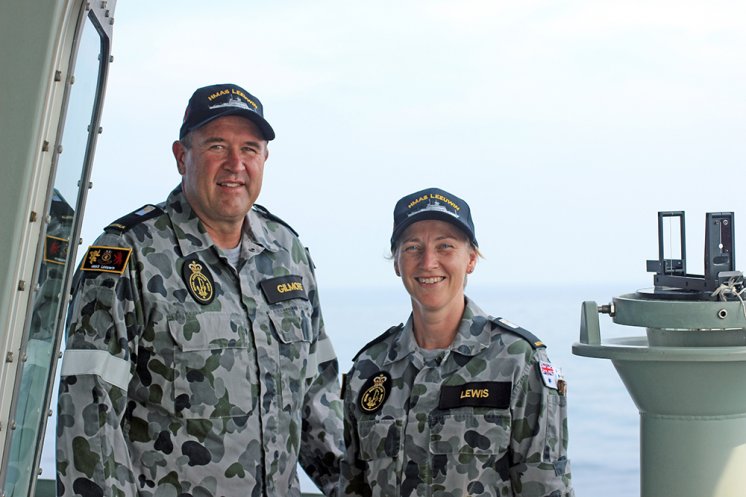 Midshipman Elizabeth Lewis
Last week I shared the news that the community has asked us to bring sealed packets of vegetable seeds so that they can grow a variety of healthy food for their families.

A very simple way for you to help is by dropping a packet of seeds into the various collection points around the beaches.
Avalon
Studio Hair, Old Barrenjoey Road Avalon
La Bannette, Avalon
Maria Regina Church, Avalon
Avalon RSL Club
Mona Vale
Sacred Heart Church, Mona Vale
La Bannette Mona Vale
Please drop a couple of packets in every now and then and know that you are making a difference to the children of Soibada. Thank you.
Tamara Sloper-Harding OAM
Email: tamara.harding@bigpond.com
Ph: 0403 226 699
On Facebook: www.facebook.com/Pittwater-Friends-Of-Soibada
Website: www.pittwaterfriendsofsoibada.org.au