June 2 - 8, 2019: Issue 407

Social Pittwater: A Verge Of Winter Mix Of Wonderfully Brilliant Smiles!
MP For Pittwater Hosts Student Leaders In NSW Parliament House
Rob Stokes has been working hard since being returned by the Electorate but not so busy he can't find time to host the next generation and show them around the hsitoric building where he does a lot of that work.
Posted on his Facebook page on Thursday, May 30th this week:
'If kids are the future, we're in safe hands with these exceptional student leaders from my electorate of Pittwater who visited NSW Parliament today.'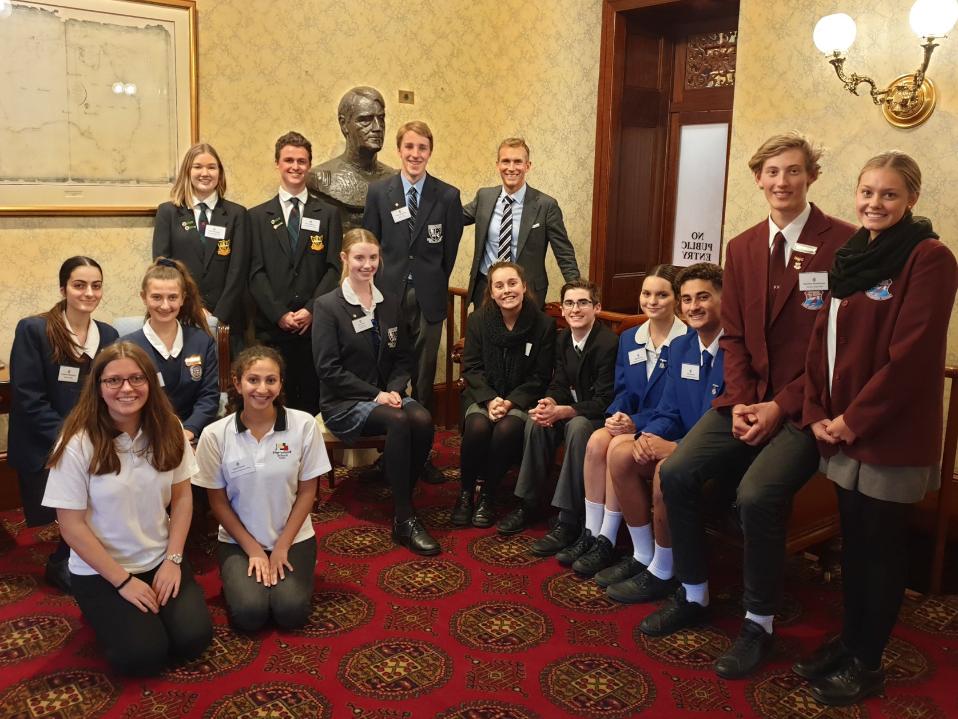 Bayview To Church Point Stairs Opened!!
New community stairs are now officially open to all, creating a formal connection through a lovely piece of bushland, between Captain Hunter Rd, Bayview Heights and Quartersessions Rd Church Point The funding came from a NSW Govt Community Building Partnership Grant awarded to the Bayview Church Point Residents Association, with Roberta Conroy as project sponsor.
"Before the stairs were built residents in Bayview Heights had to bush-bash through the rocky hillside, but now the community has much easier access to Church Point transport, water, eateries, and egress in emergencies e.g.; bushfires. BCPRA and our community are very grateful to Northern Beaches Council, they have been tremendously supportive throughout the whole project, in fact it could not have happened without them." Roberta said on Tuesday, May 28th at the official opening.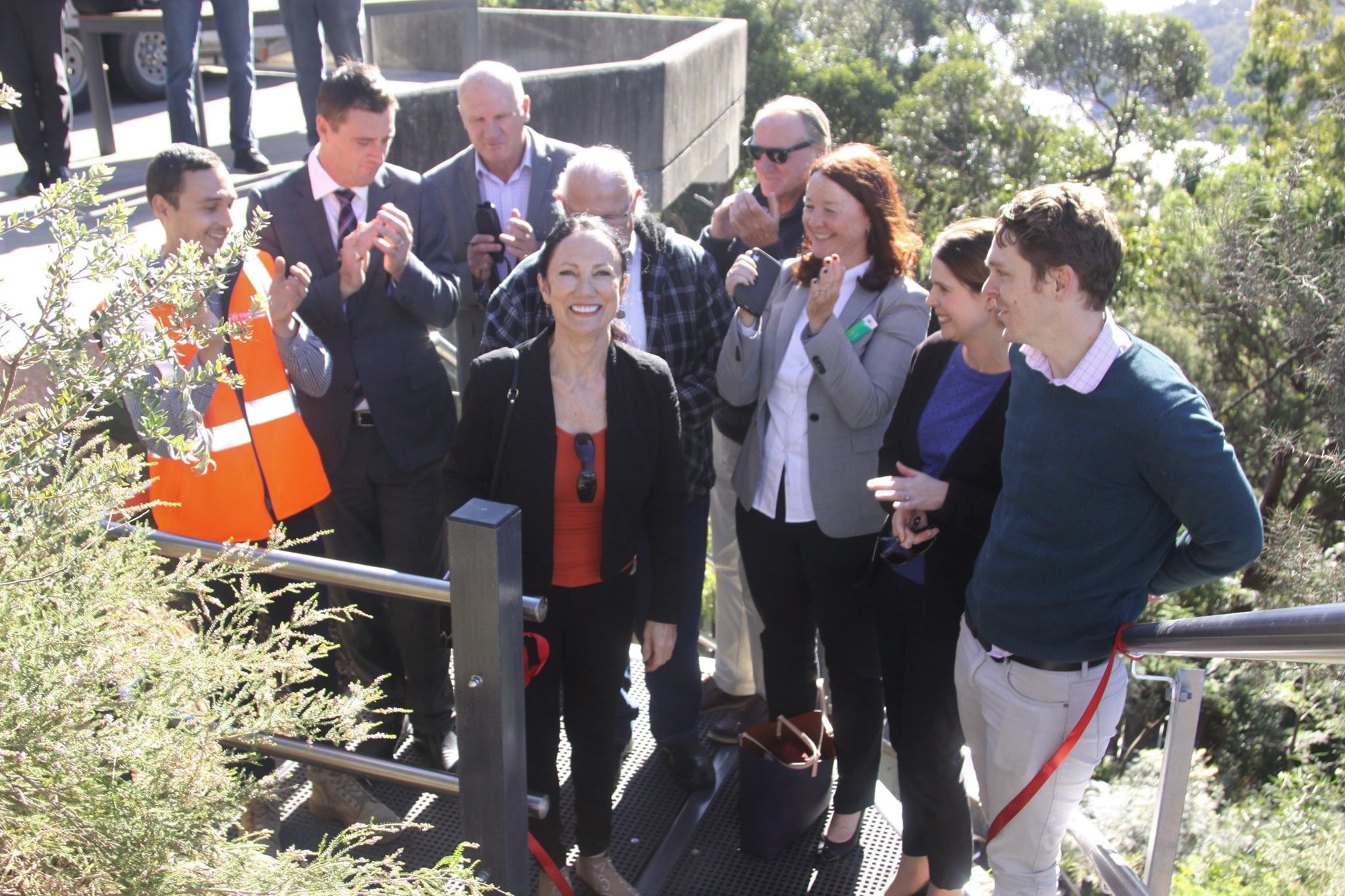 MP for Pittwater Rob Stokes also congratulated the Bayview Church Point Residents Association on the official opening of the new stairway trail from Bayview Heights to Church Point.
"This is a great example of cooperation between the community, Council, and State Government – with funding assistance secured through the NSW Government's Community Building Partnership Program and the project delivered by Northern Beaches Council."
Mayor Michael Regan along with Councillors Kylie Ferguson, Alex McTaggart and Ian White gathered with residents and members of the association to celebrate the opening and formal ribbon cutting this week.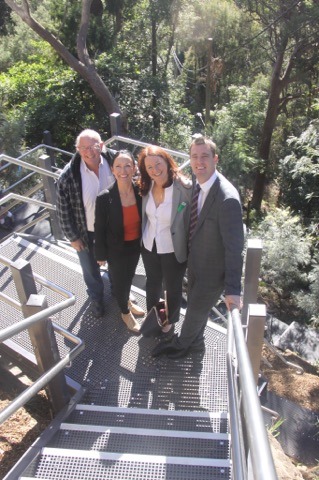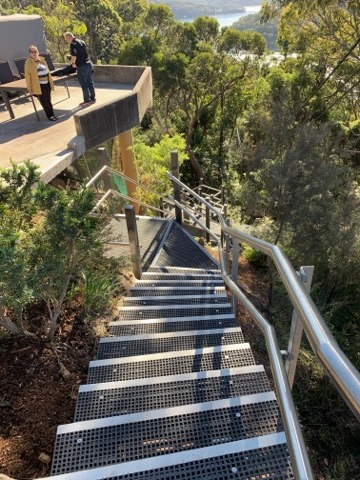 Time to add this to you scenic walk list!
Our thanks to Cr. Ferguson for the photos.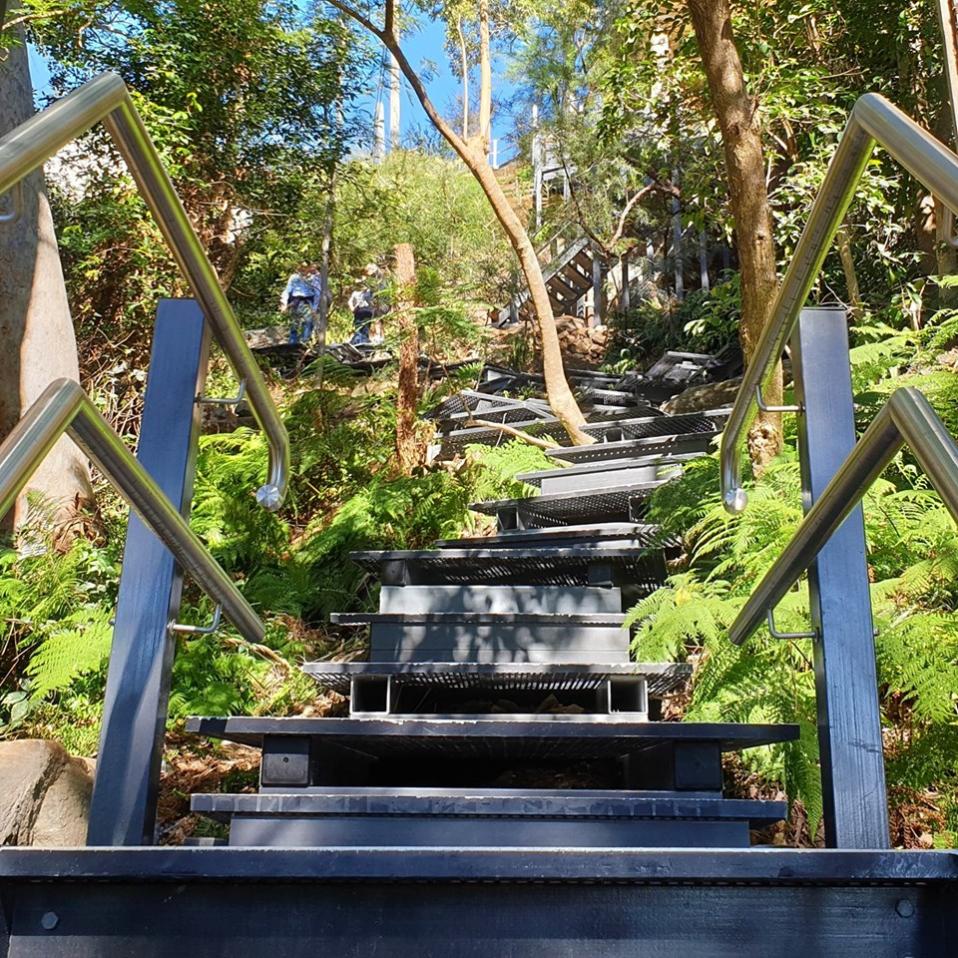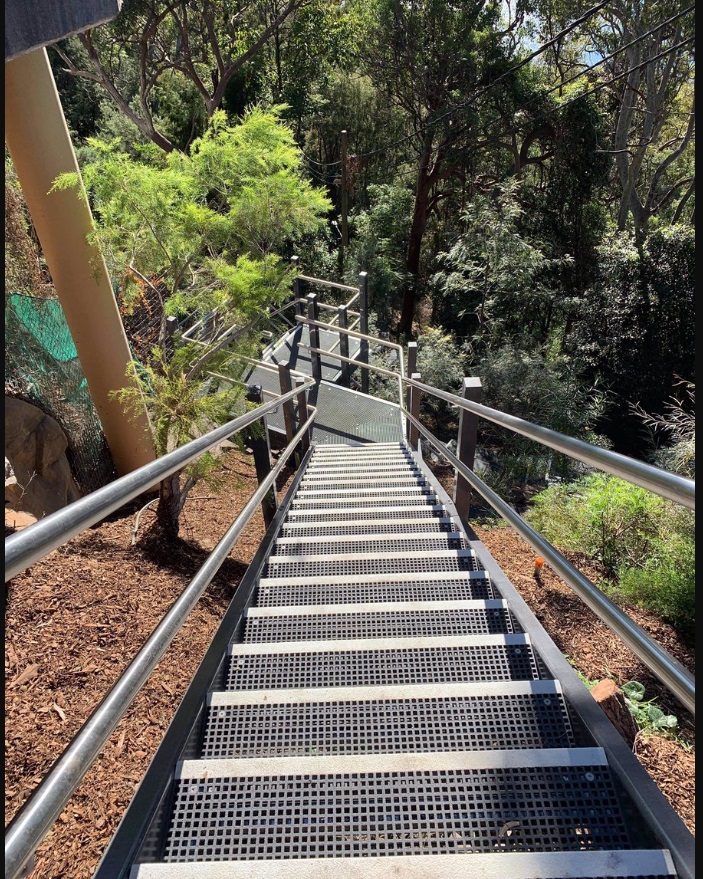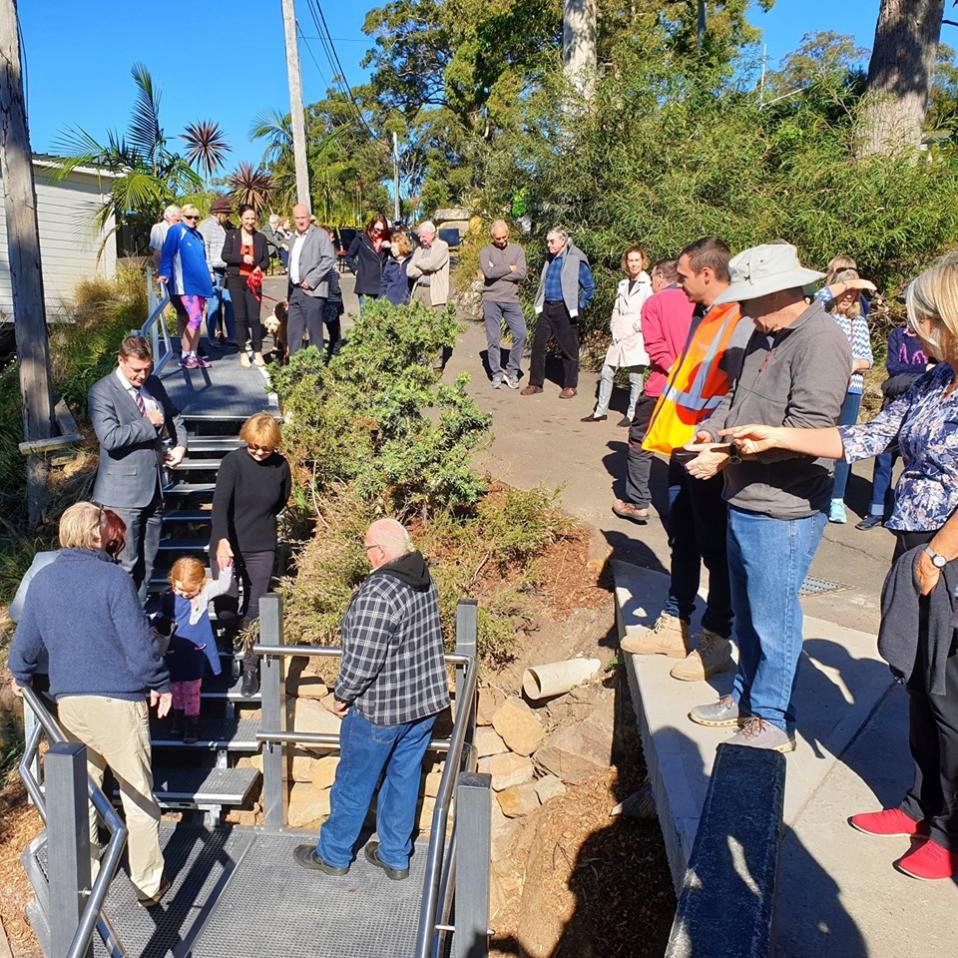 Avalon Beach SLSC - SLSA National Surf Club Of The Year Celebration
Avalon Beach SLSC celebrated their DHL Club of the Year Award and welcomed the Directors of Surf Life Saving Australia to Avalon Beach, at a gala cocktail party on Friday 31 May, 2019.
In attendance were members of the SLSA Board of Directors who will also be holding a board meeting at the club over the weekend:
Graham Ford AM, President Surf Life Saving Australia
Adam Weir, CEO Surf Life Saving Australia
John Baker ESM, Deputy President Surf Life Saving Australia
Mark Fife OAM, President Surf Life Saving Queensland
Grant Barnett, President Surf Life Saving Northern Territory
Craig Smith-Gander, President Surf Life Saving Western Australia
Stephen Godfrey, President Surf Life Saving Tasmania
Tom Mollenkopf, President Surf Life Saving Victoria
Brian Wilcox, Acting President Surf Life Saving New South Wales
Lyn Barratt, Independent Director
Melanie Evans, Independent Director
Christine Hopton OAM, Independent Director
Martin Walsh, Independent Director
Helping the club celebrate the special occasion were Club Patron Bronwyn Bishop, Federal Member for Mackellar Jason Falinski, (State Member Rob Stokes gave his apologies) Mayor Michael Reagan, Deputy Mayor Sue Heins, Cr. Ian White, Cr. Kylie Ferguson and Club Life Members.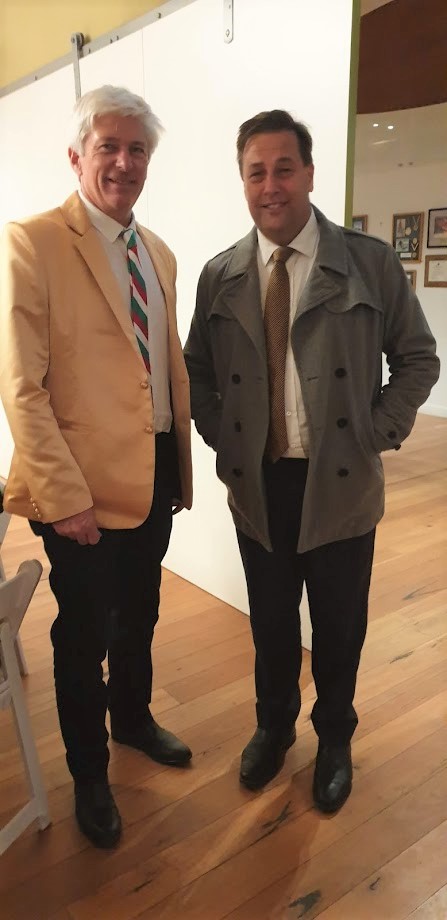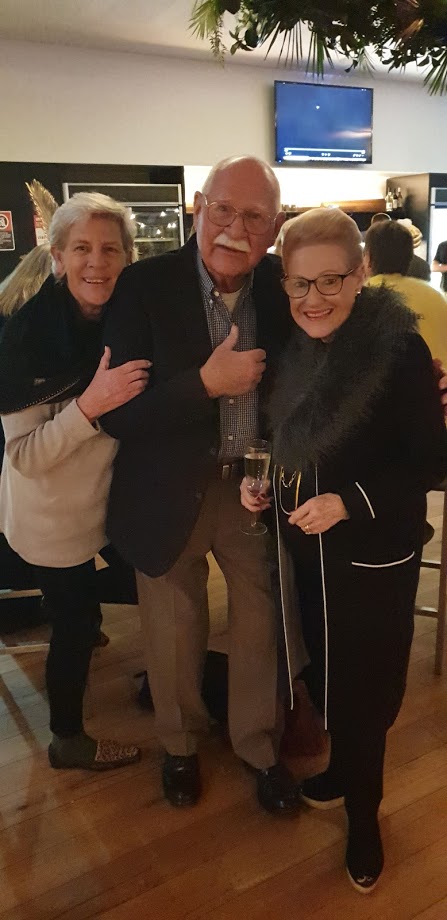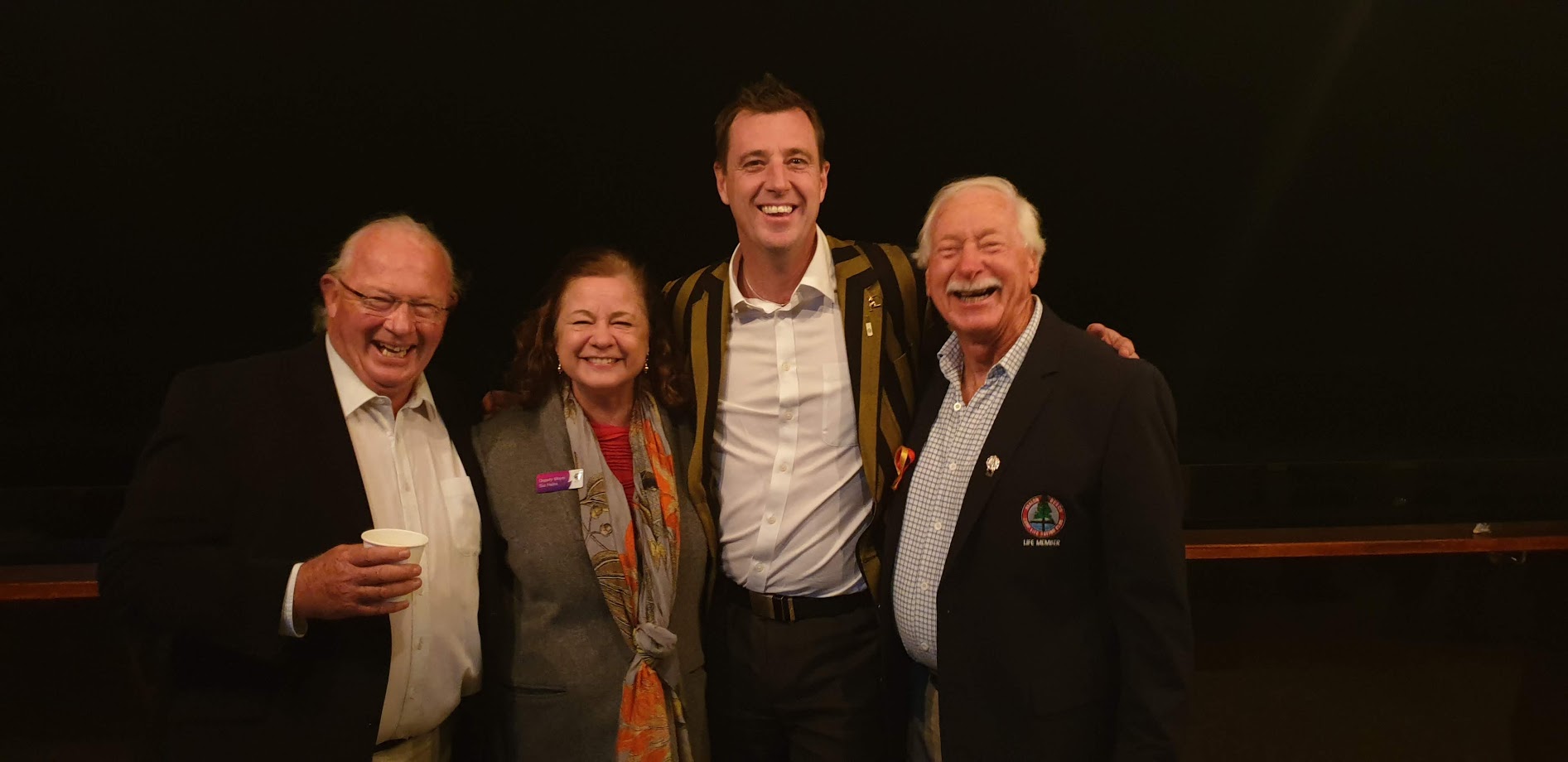 A great night was had by all thanks to President Ashley Cardiff, Past President Richard Cole who prepared the club of the year submission and Club Administrator Leanne Austin who organised the event.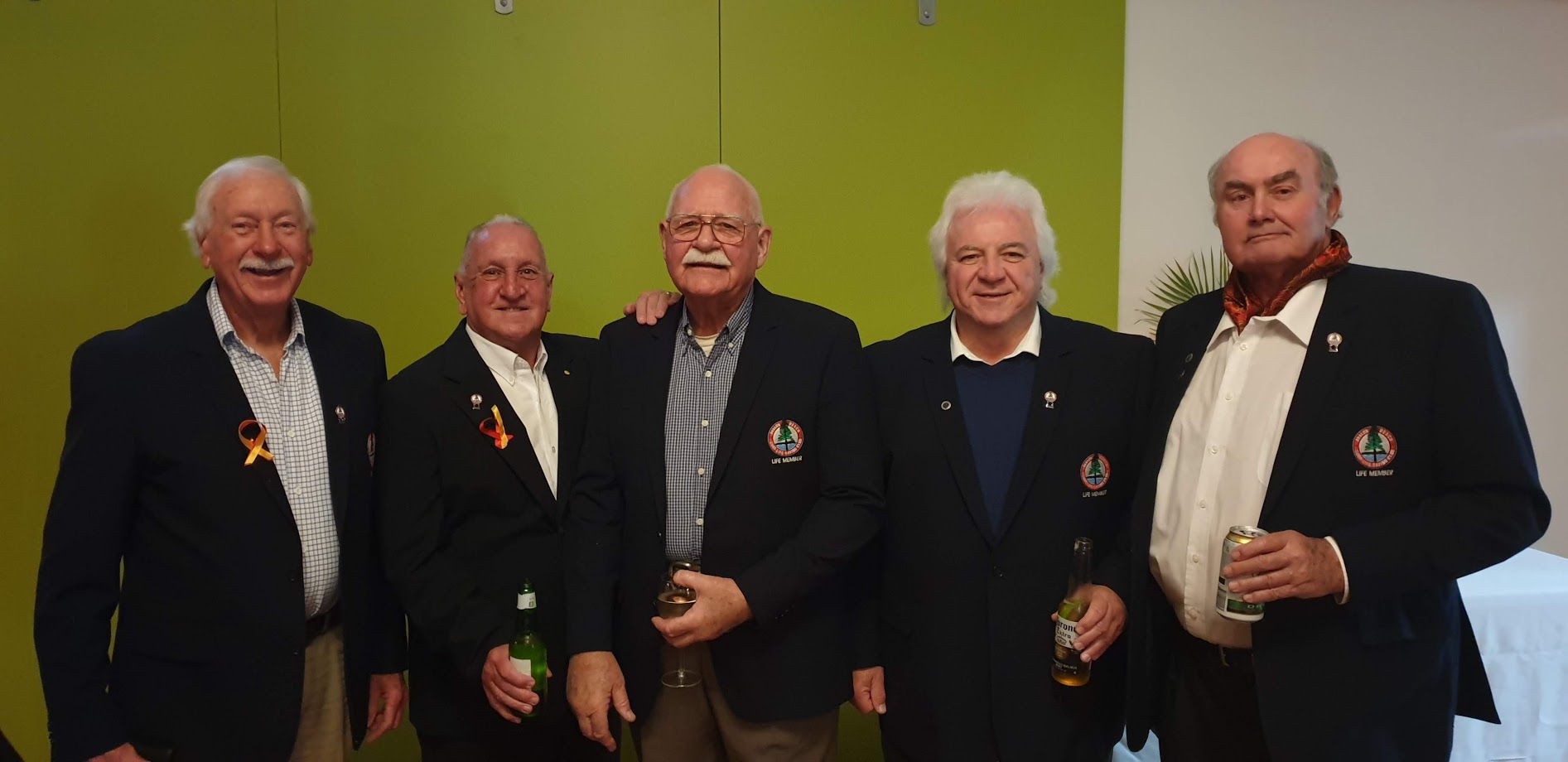 Avalon Beach SLSC Life Members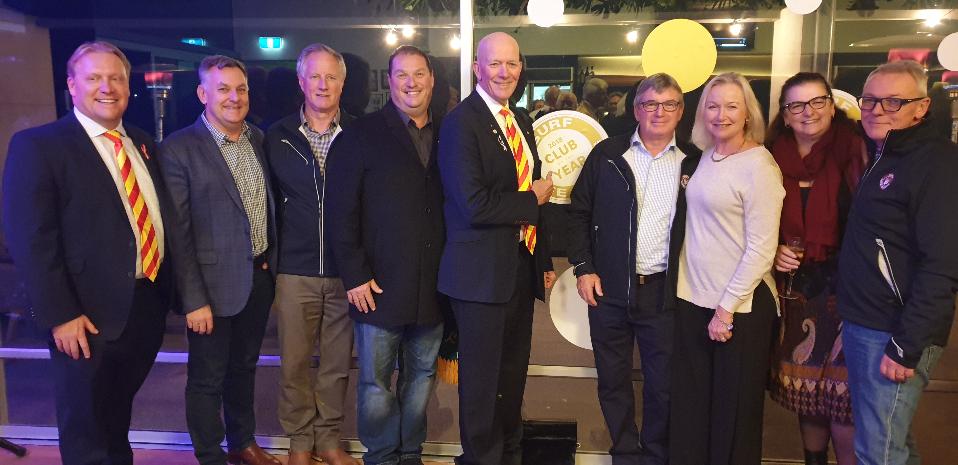 SLSA Board of Management - Lto R: Adam Weir - SLSA CEO, Darren Bragg - Chair SLSF, Stephen Godfrey - President Tasmania SLS, John Restuccia - Deputy President NSW SLS, Graham Ford AM - President SLSA, Mark Fife OAM - President QLD, Christine Hopton OAM - Independent Director SLSA/SLSF, Lyn Barrett - Independent Director SLSA, Tom Mollenkopf - President Vic SLS.
Bilgola SLSC 2019 Presentation Evening
Bilgola SLSC held their 2019 Presentation evening on Friday May 31st. Congratulations to all who were acknowledged for their brilliant efforts and achievements in serving others throughout the Season, including all those who completed SLSNSW courses through the club this season. A wonderful event held in the clubhouse as Bilgola's President Romilly Madew, with Steven Pearce Chief Executive Officer of SLS NSW present, to see all those members collect their awards and certificates. Councillor Kylie Ferguson was also in attendance, making this another life saving celebration she attended on Friday evening.

Bilgola SLSC will be celebrating their 70th Anniversary on Saturday September 21st this year. Club Patron John Brogden will be the Master of Ceremonies for the celebration, including speeches from long standing, current and young members, images of Bilgola's history and live music. More information will be issued closer to the date.
Bilgola SLSC held their first AGM on September 24th, 1950, following the first year of operation starting in September 1949. There were 49 members.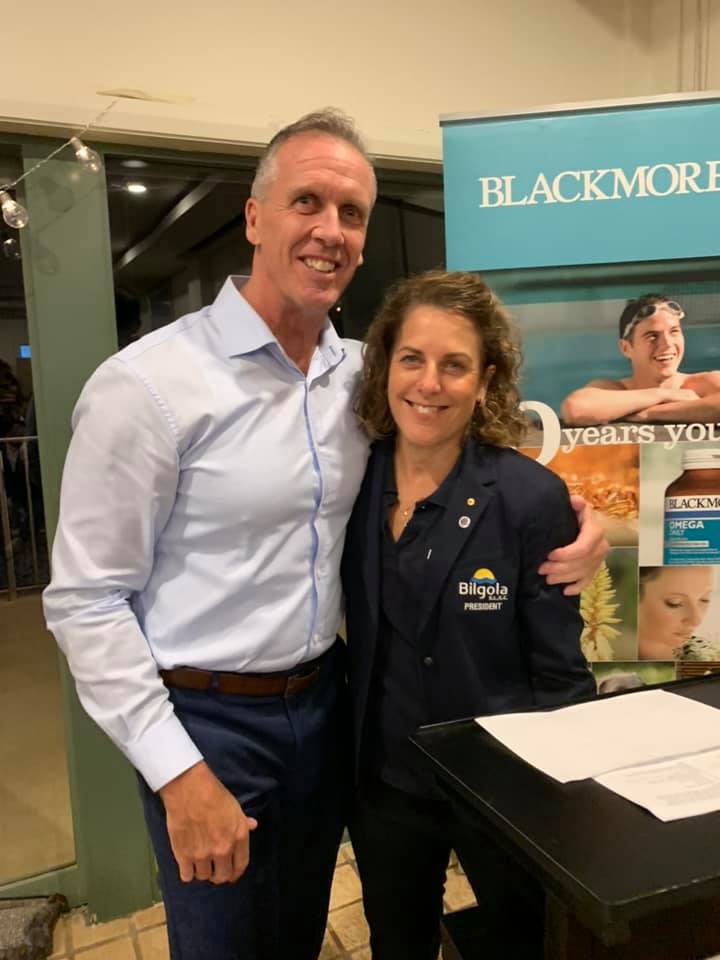 Bilgola's President Romilly Madew, with Steven Pearce Chief Executive Officer of SLS NSW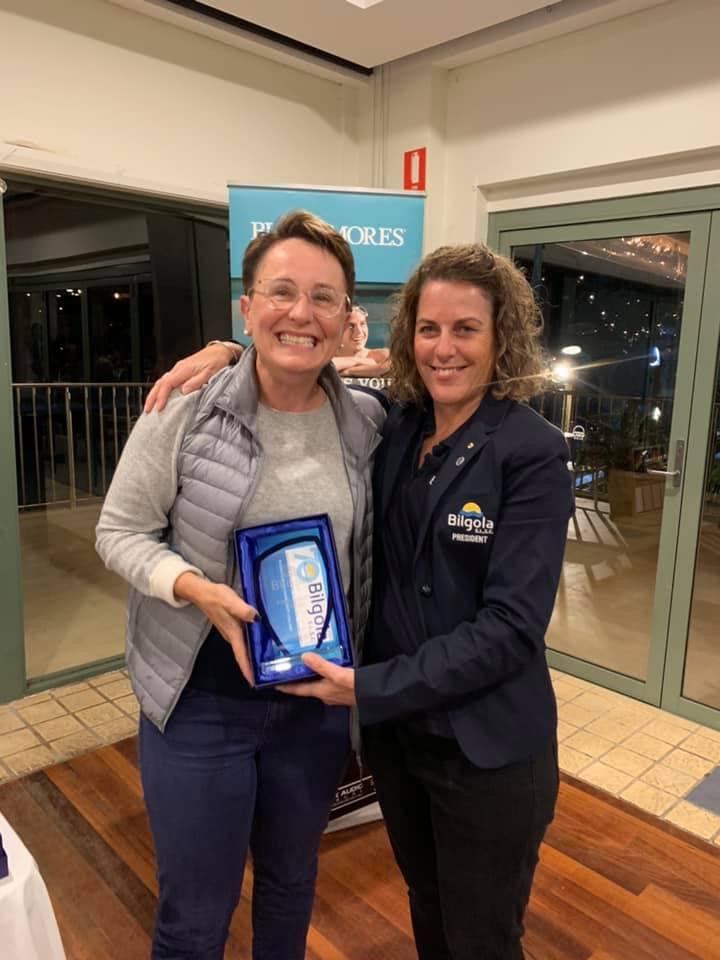 Lucy Brogden with Romilly Madew - all smiles!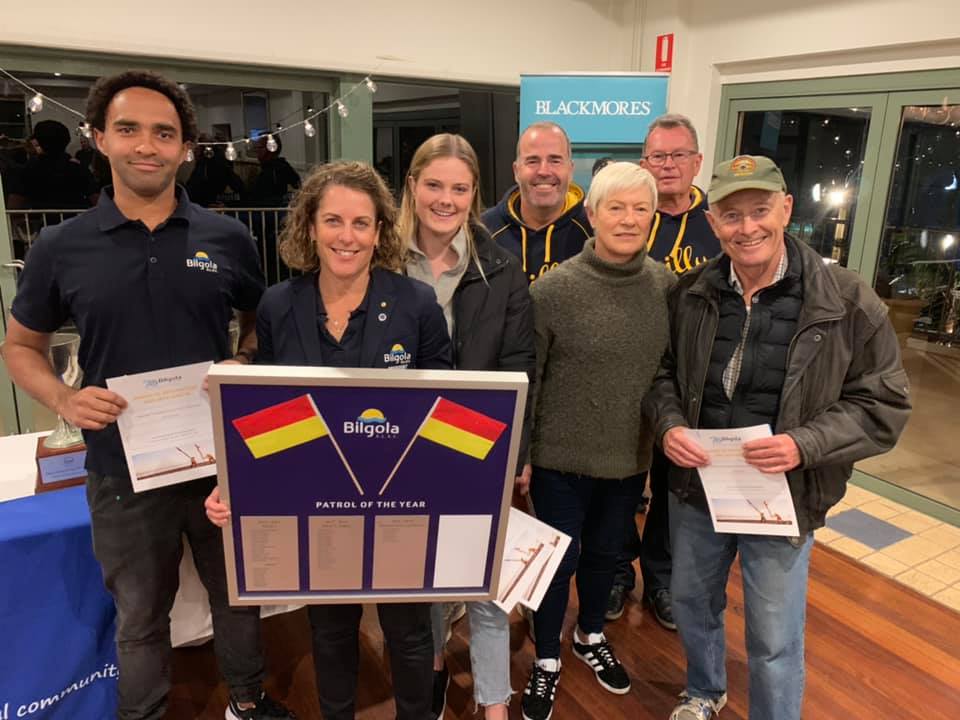 Patrol of the Year Awardees
The Fabric Of Life Exhibition Opening Night
Opened on Friday night by Cr. Penny Philpott, this is a group exhibition of makers and creatives who express themselves artistically through tapestry, embroidery, weaving, beading, sewing, felting, knitting, basketry and constructing new forms from natural materials is wonderful.

Be amazed!
Showcasing the work of 15 talented textile artists including;
Soraya Abidi
Debra Beale
Gill Brooks
Suzanne Davey
Rachel Hine
Caitlin Johnston
Niki McDonald
Julie Nicholson
Emma Peters
Nicole Robins
Tracey Trinder
Kylie Walsh
Becky Williams
With a selection of work from Ni-van traditional weavers, Regina Lulu and Leimok Peters from Vanuatu. On now at the Be Brave Art Space, Careel Head Road, Avalon - Sat/Sun: 10 to 4pm and , Thurs/Fri: 11 to 3pm. More about these Artists and their works run as our June Artists of the Month.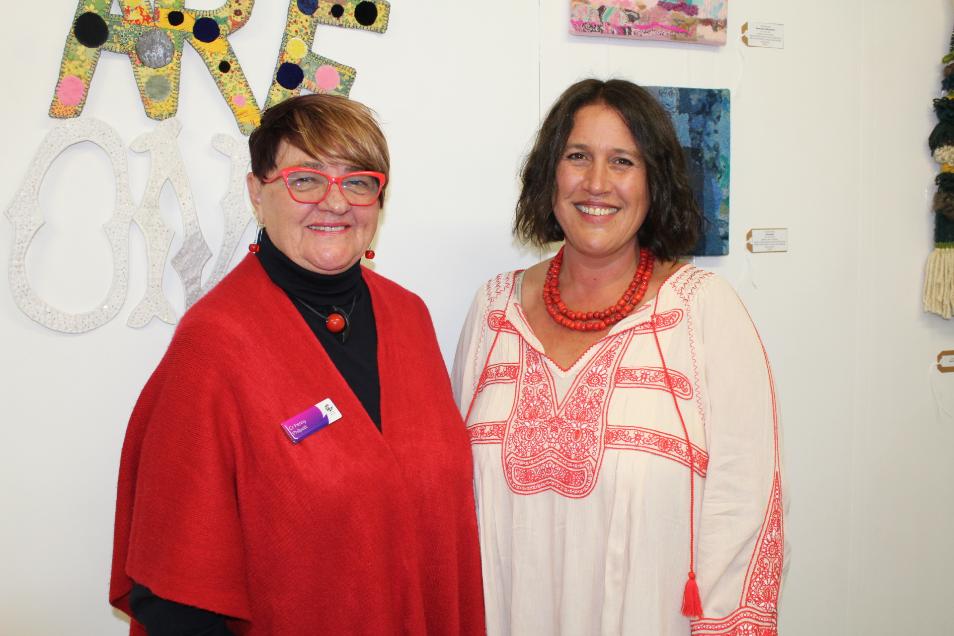 Cr. Penny Philpott with Tina Berkeley, Be Brave Artspace founder and curator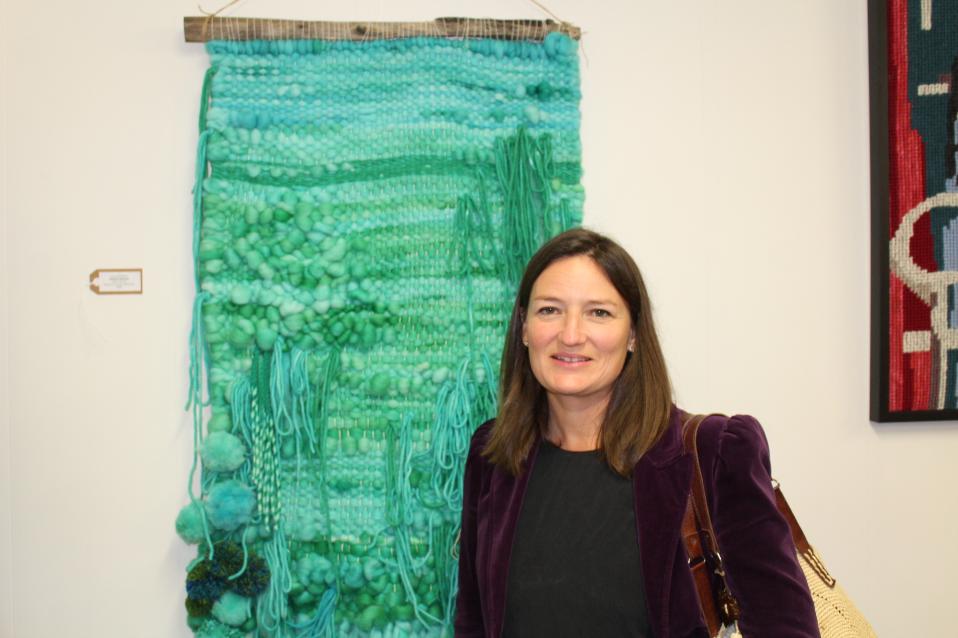 Julie Nicholson with her work 'Coasters Retreat' - wool all hand dyed!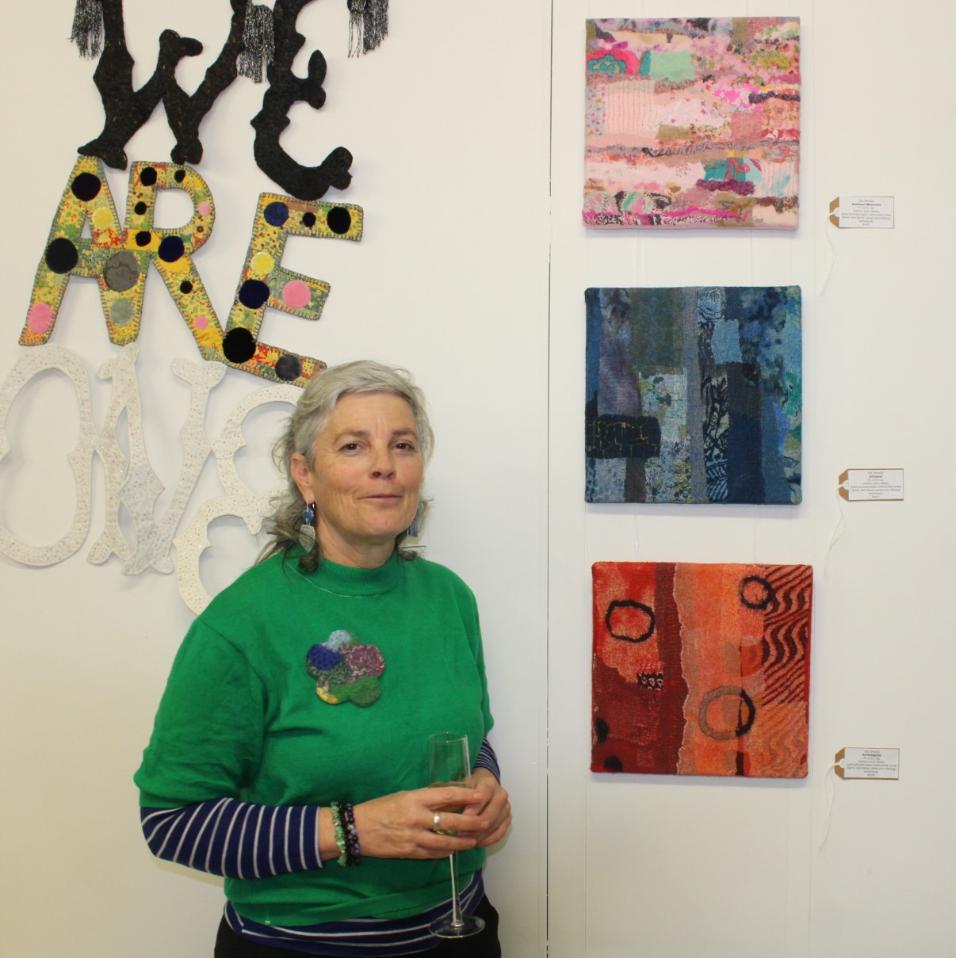 Gill Brooks with a selection of her works - 'Intimacy', 'Remnant Memories' and 'Sovereignty'
Rats Ring Some Bells
Warringah Rugby Club's Rats were having a good day too on the first official day of Winter.
The Rats report as it came in last night:
ROUND 9 UPDATE
RATS vs EASTWOOD
SHUTE SHIELD - 1ST GRADE
Full time - TG Milner with the Rats mounting a courageous comeback to win the game 21-19.
Scores were locked at the full time whistle with the conversion to come. As he has done many times before, Hamish Angus calmly stepped up and slotted it over.
IN OTHER GAMES
GRADE
2nd Grade 17-10 Won
3rd Grade 20-15 Won
4th Grade 10-41 Lost
COLTS
1st Grade 29-27 Won
2nd Grade 22-19 Won
3rd Grade 19-15 Won
The other wining news coming out of the Rats Club lately is that their Tackling Violence round held on May 11th produced a
tremendous game of footy and even better community spirit with 445 pledges to stand against domestic violence and $1,689.80 raised for the Northern Beaches Women's Shelter.
T
he Tackling Domestic Violence Charity Match between Northern Beaches Over 35s vs NSW Police Over 35s, involving plenty of legends from Newport Breakers Rugby Club, Dee Why Lions Rugby Club and Narrabeen Tigers Junior Rugby Club was a great testament to what community sport is all about.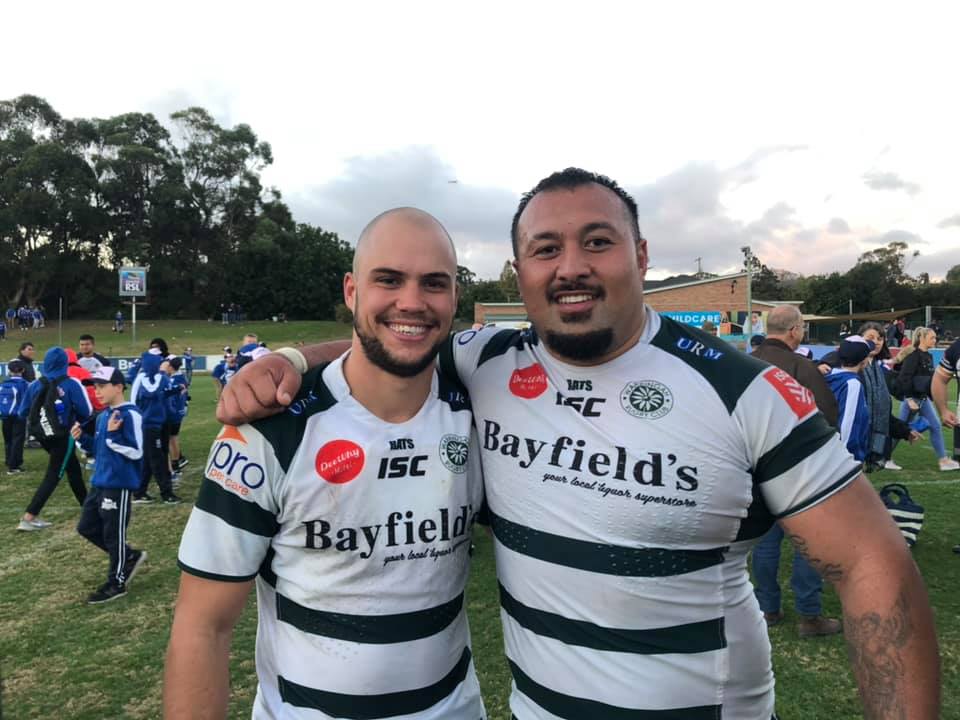 24 Hour Treadmill For RUOK
The Narrabeen Shark JRLFC A-Grade were right behind this fabulous cause and put the call out to 2101 to head down to Anytime Fitness Narrabeen (right next to the B-Line bus stop).
Sharkies legend and Life Member Gary Liddell kicked off for the club on May 31st. You can up their ante by donating online
HERE
Thank you also to Jordan Williams and Matt Lee who completed the Suicide Prevention 24 Hour Treadmill Challenge at Anytime Fitness (Avalon), walking from 3pm Friday May 31st to 3pm Saturday, June 1st, to raise funds for R U OK :).
The boys set themselves a challenge to raise 10 thousand in total and they're pretty close - you can help get them over the line
HERE
.
All donations over $2 are tax deductible within Australia, and you will be issued with a Deductible Gift Recipient (DGR) receipt via email as soon as you make a donation.
Along the way many other residents joined in for a dollar a minute, some donning great hair for their leg, and a stack of great local businesses were sponsors for the event, contributing funds, goods or services - including haircuts yesterday!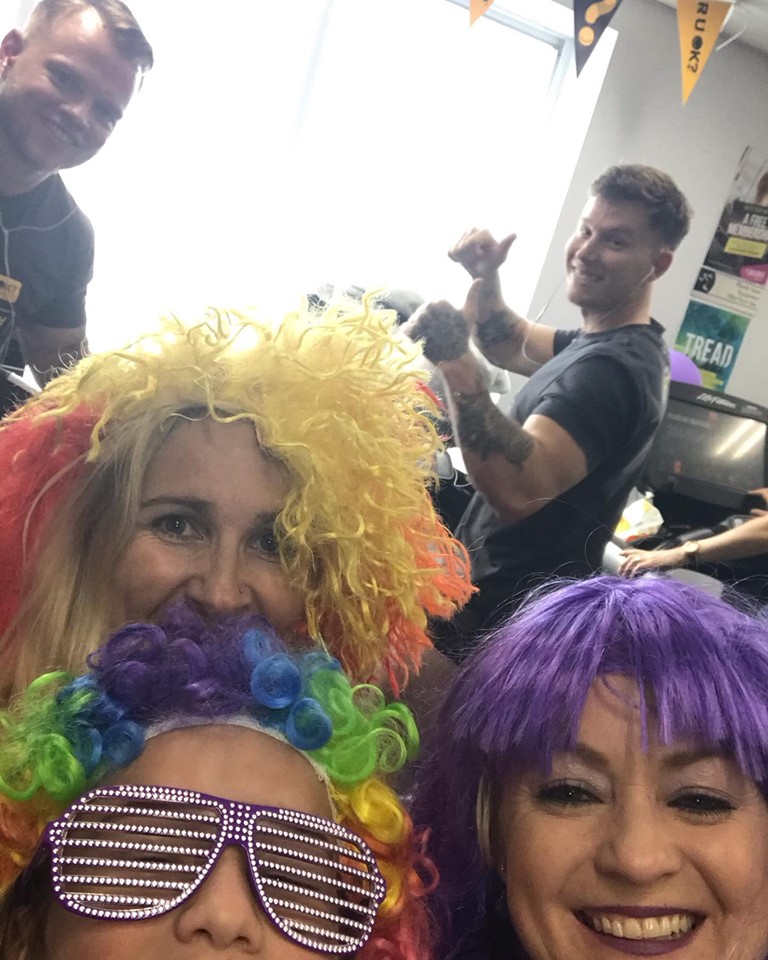 Jordan and Matt with Roberts family and friends doing their bit yesterday, June 1st - photo courtesy Fiona Roberts
Anytime Fitness holds a 24 hour treadmill challenge each year and shines a positive light on the talks we need to keep happening - or simply speaking up when you need to.

This is the second BIG walk Jordan has completed this year. In January 2019 he took on the extraordinary task of walking 849km from Palm Beach to Brisbane. He expected the walk to take 31 days but completed the challenge in just 19, averaging 44-68km per day.
That 'walk' raised an incredible $5,990 for Black Dog Institute.
"I chose to support the Black Dog Institute because I can't express enough how amazing and crucial the work they do is. The facility is top of the range and the workforce behind the scientific research is astonishing. It warms my heart knowing they are here and are helping to create a mentally healthier world." Jordan said.
After the walk, Jordan had a special commemorative tattoo done on his legs."My tattoo is the words "Solvitur Ambulando" he explained. "It is Latin for 'it is solved by walking' and it was a phrase I used during my walk. It means that no matter how much of a shadow you feel is being cast over you, there is a way forward, just keep going. Walking in this positive and powerful way, with support from everyone I met, meant I could face my fears and keep going."
R U OK Day happens on September 12th, 2019
this year
- but of course everyday is a great day to ask each other R U OK?
Avalon Beach SLSC 2019 Presentation Evening
One of the highlights of the season is the annual Presentation night and this year members hit the slopes for an Après themed party. Presentation Night is an opportunity to celebrate the highlights of the season, congratulate those who gained Surf Life Saving awards and to recognise various members for their outstanding contributions to both our Club and Surf Life Saving in general. Congratulations to all of our Award recipients and a special shout out to our perpetual award winners for 2019!!
The Norman Cook Most Outstanding Member of the Year - Louise Billia
President's Award - Shannon Fletcher & Matt Mayall
The Steve Parkes Award for Achievement in Lifesaving Education - Mark Head
Patrol Captain of the Year - Sophie Valentine
Patrol Member of the Year - Terry Barber
Junior Member of the Year - Lachlan Mills
Cadet of the Year - Jack Roberts
The Warren Mitchell IRB Award - Giles Stoddard
The Chris "Detho" Dethick Boatie of the Year - Pete Carter
Max Watt Competitor/s of the Year - Chris McGuckin
Massive thank you to Amelia Barber, Social Committee organiser extraordinaire and Johnny Harper for a fabulous video of Aussie highlights.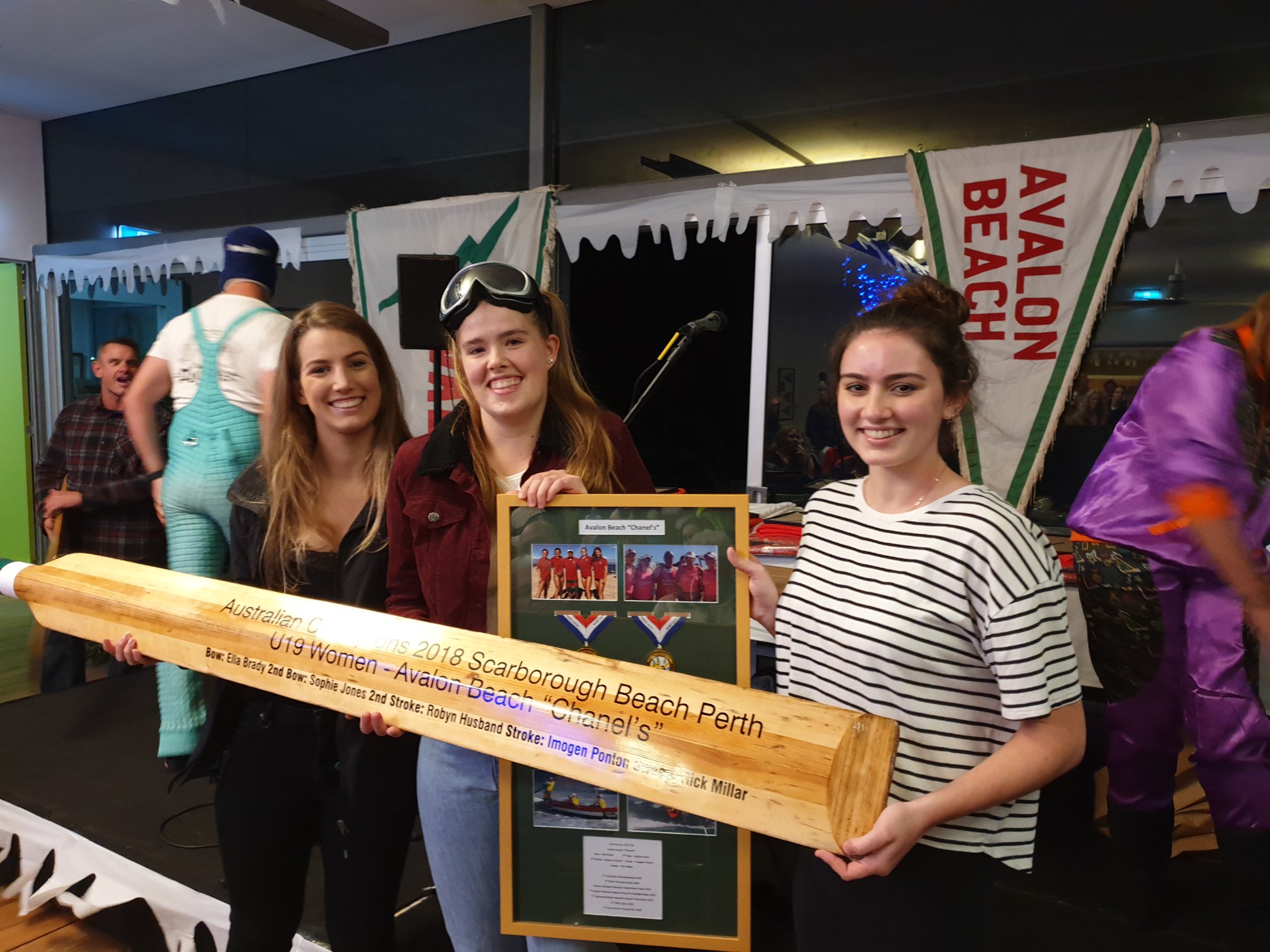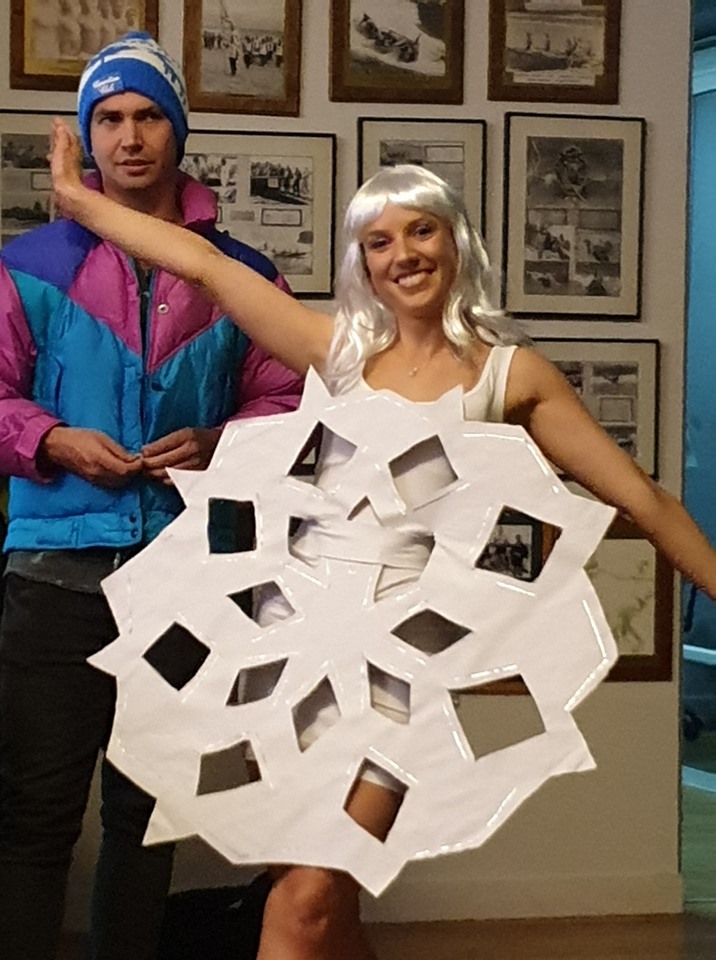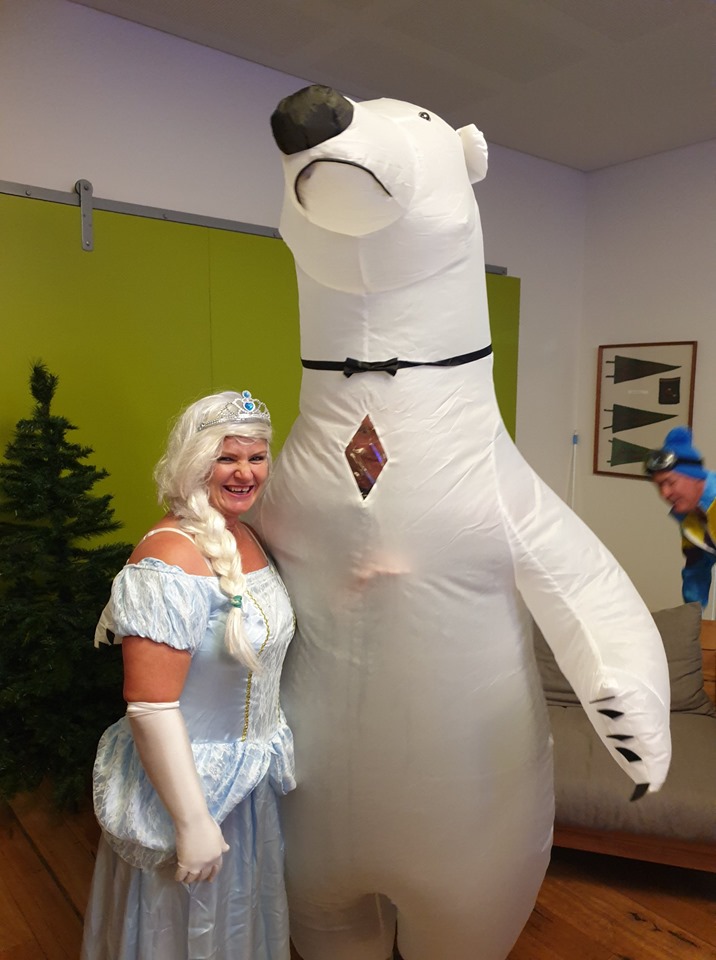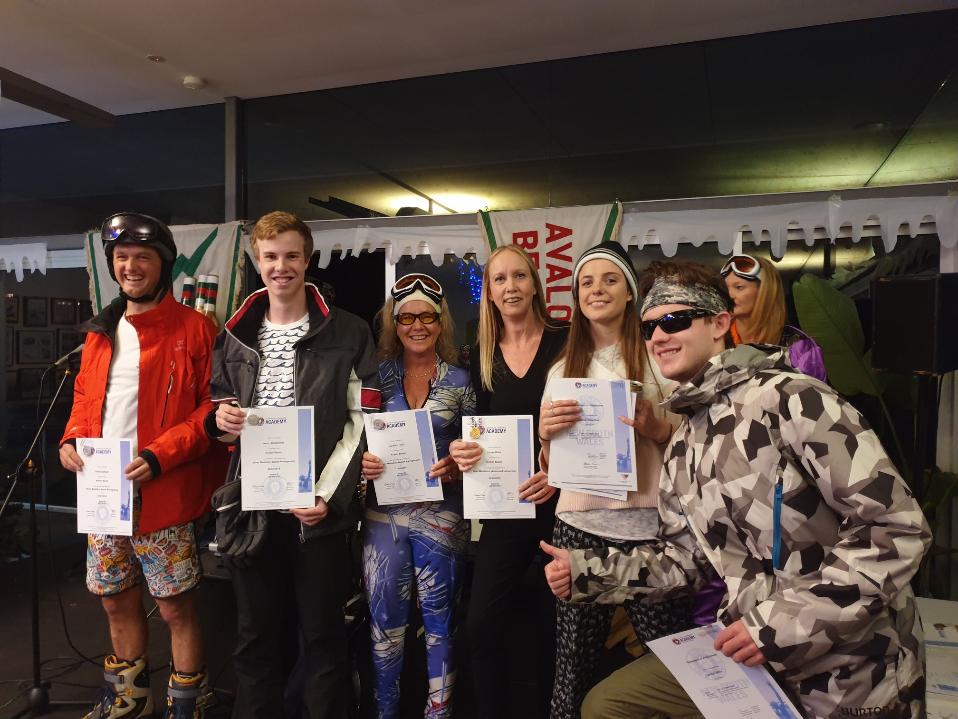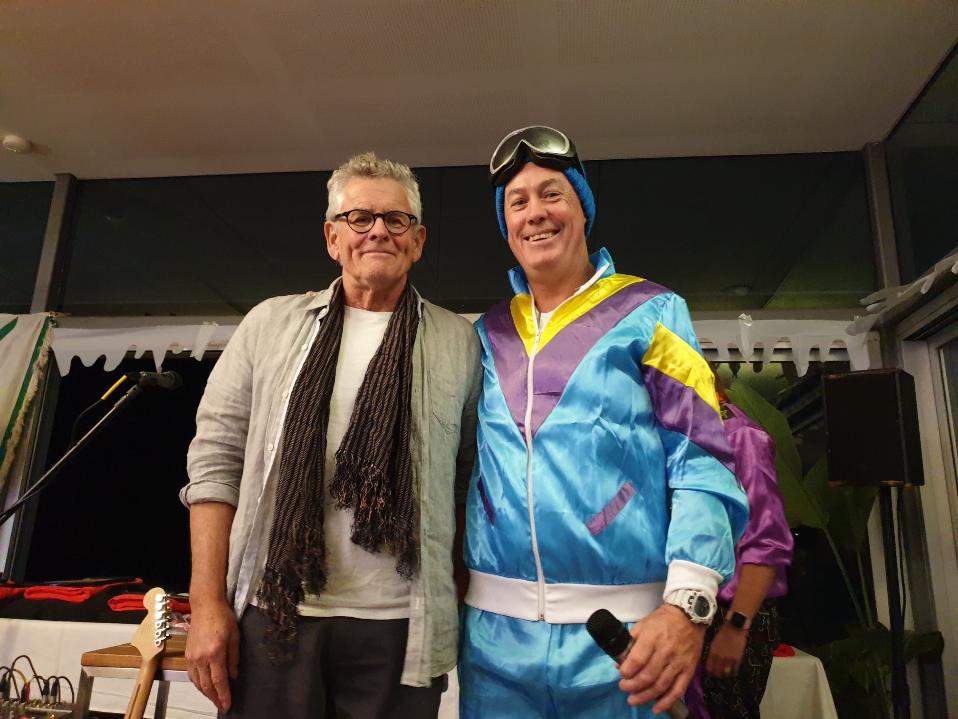 Avalon Beach SLSC Member Tim Hixson and President Ashley Cardiff
Avalon Beach SLSC's Ava-Tri
On Saturday May 25th, another Mike Stanley-Jones initiated event saw 18 of Avalon's finest adventurers launched themselves into the ocean on paddle boards. They would paddle 4 kilometres from Avalon to Whale Beach and the stopwatch would stop. They would wait until the last paddler arrived, start the stopwatch again, launch themselves into the water and swim 2 kilometres to Palm Beach and the clock would stop. When the last swimmer arrived safely, they would don their running shoes (all but one), start the clock again and run the 6 kilometres back to Avalon Beach surf club.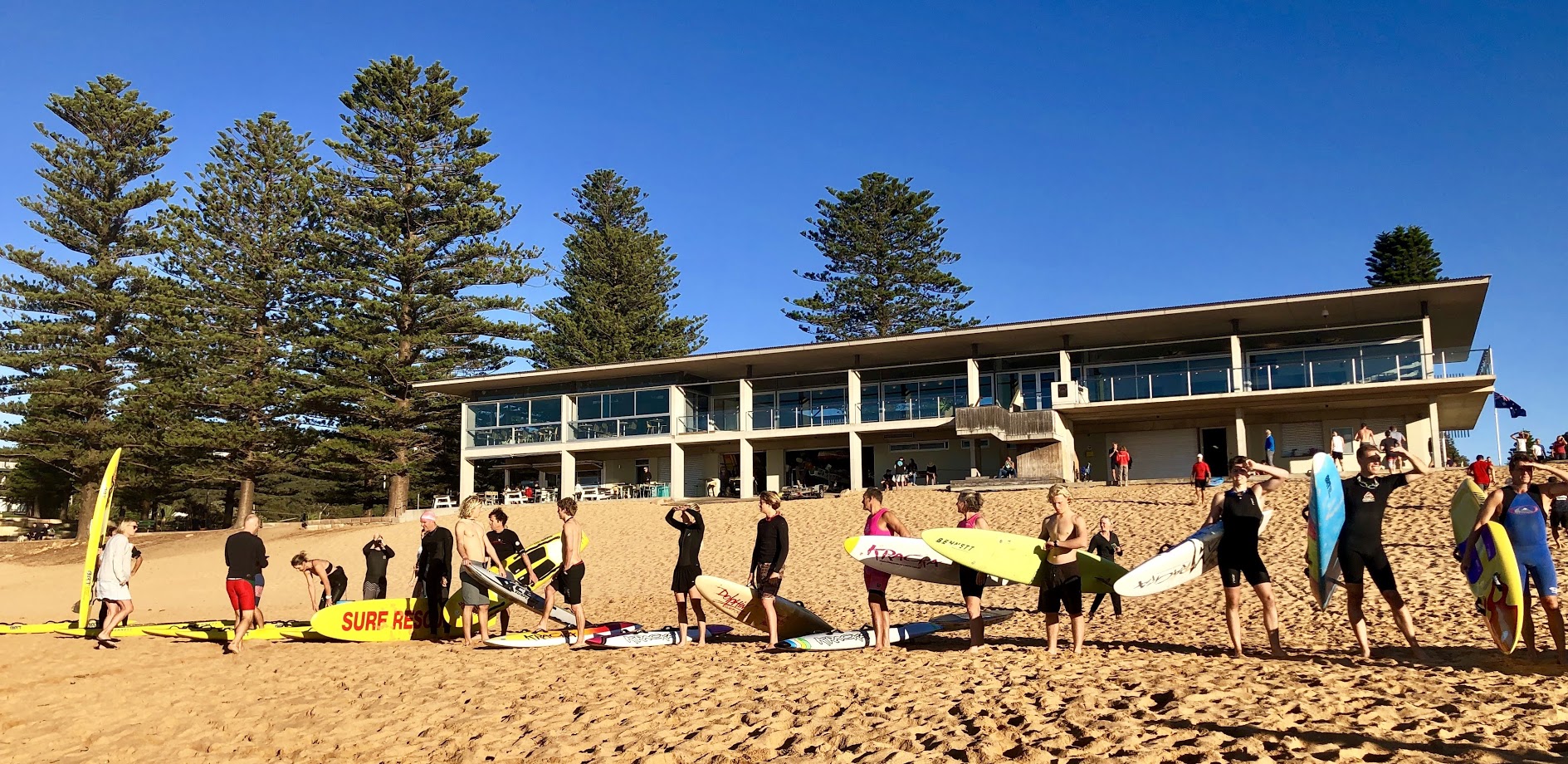 It's called the 'Ava-Tri'' and its all about conquering 3 beaches before breakfast. "Tri" could be interpreted as 3 beaches or events, it could also mean – try.
It's all about having a go. It's getting people off their couches or screens and sampling some of the gorgeous nature we have to offer. The early sunshine on the sandstone cliffs of Bangalley Head is beautiful as you board paddle. The fish on the rock shelves as you swim around the headland is something that you'd usually see on holidays and the run back through parks and rights-of-way isn't as hard as you think.
Nobody knows whose won the adventure until the times of the board paddle, swim and run have been tallied together. The winner gets to burn their initials into a trophy made of driftwood from all 3 beaches – using a magnifying glass. (meaning, after completing all that before breakfast, they still need a steady hand for burning their initials!).
It's an annual event and it's run by Avalon Beach Surf Club. If you'd like to have a go, give them a call and mention you'd like to "Ava-Try".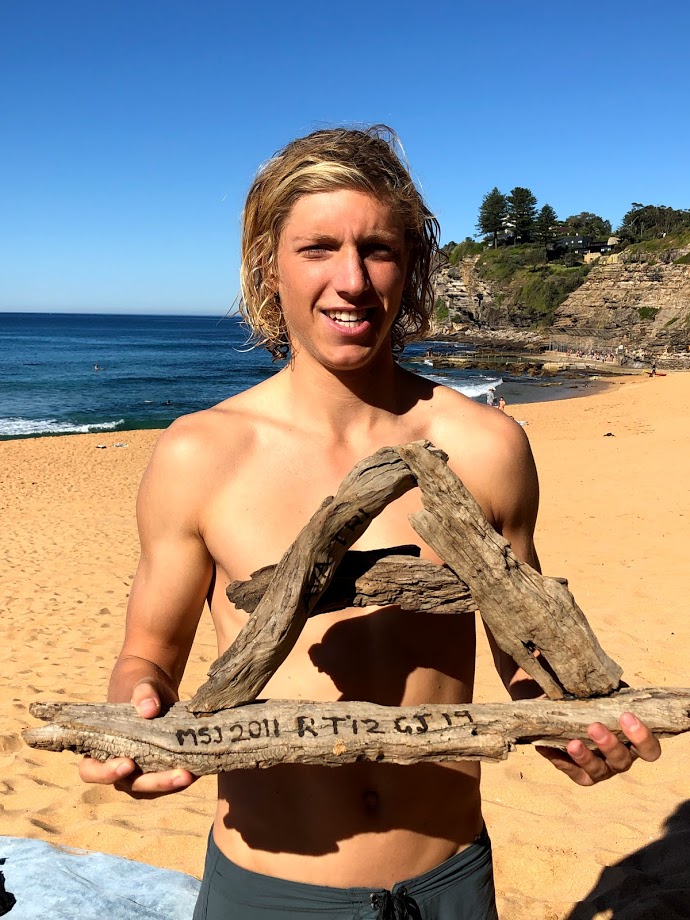 Winner! Photos by Warren Young OAM, 'Wazza About photos'
Mike Stanley-Jones and
Warren Young OAM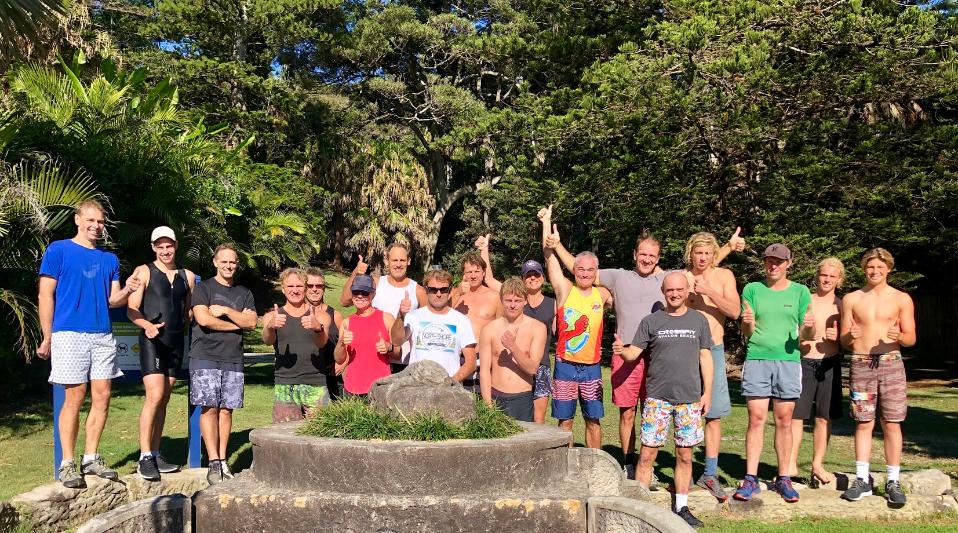 Italian National Day Celebrations 2019
Italian National Day Celebrations were this year held Sunday May 26th in the Western Suburbs at Club Marconi with the Northern Beaches represented by the first woman of Italian origin to be elected in 2005 to the Senate, Senator the Honourable Concetta Fierravante-Wells and Northern Beaches Councillor Vincent De Luca OAM.
The Northern Beaches is also the home of the first woman of Italian origin elected to an Australian Parliament (NSW Legislative Council 1981), Franca Arena AM who has been the heart and soul of the Italian community since the 1950s.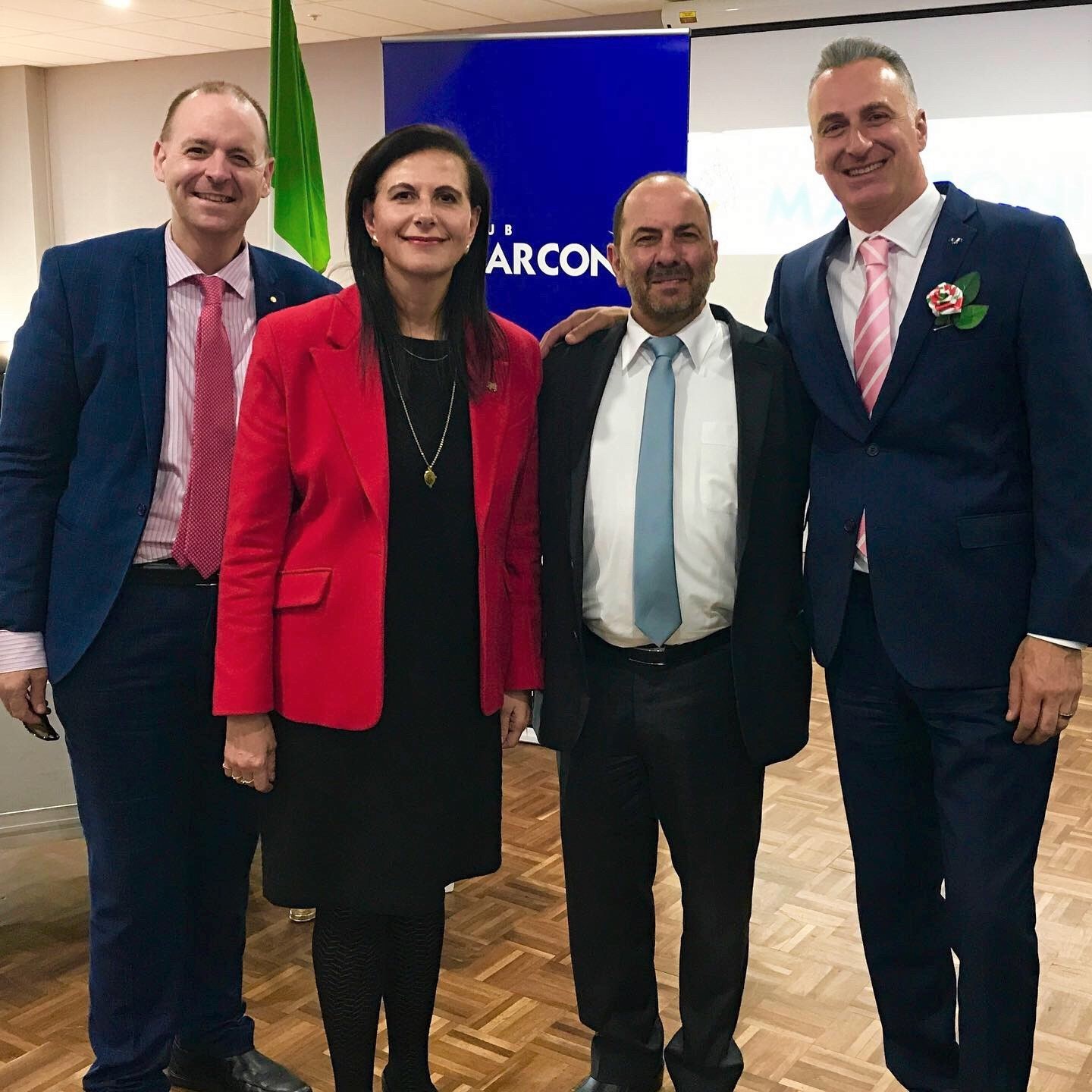 Photo: Northern Beaches Independent Councillor Vincent De Luca OAM, Senator the Honourable Concetta Fierravante-Wells, NSW Liberal Upper House MP The Honourable Lou Amato MLC and Minister for Multiculturalism and Liberal MP for Drummoyne The Honourable John Sidoti MP.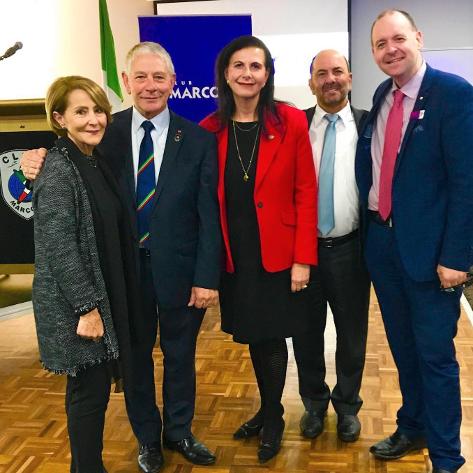 Photo:
Mrs Elizabeth Foti, Mr Vince Foti (President of Club Marconi), Senator the Honourable Concetta Fierravante-Wells, NSW Liberal Upper House MP, The Honourable Lou Amato MLC and Northern Beaches Independent Councillor Vincent De Luca OAM.