August 8 - 14, 2021: Issue 505
Science week runs august 14-22 2021 - A Cache of Brilliant Online Events for all ages + downloadable Resource books for Food: Different by Design theme + Ideas to do locally!
National Science Week 2021 will run from 14-22 August.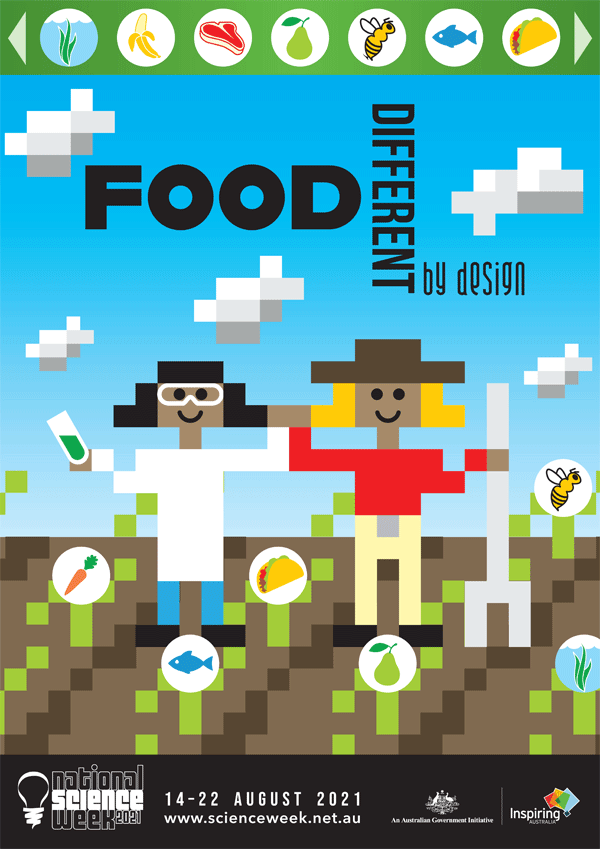 The school theme for National Science Week 2021 is Food: Different by Design. It honours the United Nations International Year of Fruits and Vegetables and the International Year of Creative Economy for Sustainable Development. Tea bag rockets, doughnut-flinging robots and a singing palaeontologist are among the events being supported by the Australian Government's 2021 National Science Week grants.

Minister for Industry, Science and Technology Karen Andrews said the Australian Government was proud to support inspiring, innovative and accessible projects as part of National Science Week.
"Science is everywhere, and National Science Week is for everyone," Minister Andrews said.
"It's exciting to see this year's schools theme of Food: Different by Design embraced by our national grant recipients, with events exploring Australia's bush foods and agriculture, discovering the science of digestion through dinner with a biologist, and even a musical discussion of how some of the biggest dinosaurs survived on a vegetarian diet.
Bring Science Week into your home schooling:
"Even in the midst of last year's lockdowns, more than one million Australians took part in events across every state and territory. This year, we're looking to boost those numbers even higher.
"From concerts to VR tours and everything in between, this year's National Science Week grant recipients have something to offer every Australian."
Pittwater Online News is running an extra Science Week activity in the DIY Ideas page, Science Week 2021 Food Theme: A Salad Garden For Children, and below run some of those you can do from home this year. Full lisitings at the Science Week 2021 website.
NSW Events funded include:
STEAM Ahead: Foodlovers
Western Sydney Parklands Trust
There's not much in life that isn't covered by food and science and you'll find both in Western Sydney Parklands. STEAM Ahead Foodlovers will combine Aboriginal and science educators and The Urban Farms with Sydney's leading science institutions – and people who just like to eat – to explore Australia's traditional food sources, the science of food production and the latest research in food recycling.
Other groups involved are the Australian Museum, Western Sydney University, UNSW, Macquarie University with community groups like the Frog and Tadpole Study Group, Eaton Gorge Environmental Theatre, and citizen science projects like Frog ID.
Indigenous Science Experience @ Redfern
Macquarie University
What can Aboriginal astronomy tell us about the night sky? How is native flora used in bush medicine and soap-making? How do Indigenous Australians make axes and other artefacts from stone? What can we learn about sustainable living from more than 60 000 years of Indigenous culture?
The Indigenous Science Experience at Redfern Community Centre is a celebration of Indigenous and Western science, and Indigenous youth and Elder achievements. A four-day event at the Redfern Community Centre, it will demonstrate the value of traditional and contemporary Indigenous knowledge in science and technology, and the relevance of science to everyday lives. Indigenous students from National Indigenous Science Education Program (NISEP) partner schools will assist in demonstrating activities.
Science in the Swamp: Superheroes' kitchen
Centennial Park and Moore Park Trust
Who are the superheroes among Australia's wildlife, and what keeps them going? Which are the fastest and strongest and who has the best vision and hearing? Learn about the food that powers them – and humans too. Explore the science behind Australia's traditional food sources, the scientific processes used in food production, the latest research around food recycling, and what we are doing to conserve essential food sources.
Live From the Lab
University of Sydney
What happens when you combine musicians with scientists? Find out by listening to Live from the Lab.
Musicians and scientists will be united on FBi Radio each weekday morning of National Science Week to share conversation and to reveal new songs and compositions inspired by Australian science. There will also be two live events: a live gig featuring the musicians involved in the project, and a listening party featuring immersive conversations between scientists and musicians.
STEAM: Intersections between science and art – Engaging Communities
University of Newcastle
Explore how brain health changes through life, the emerging problem of eco-anxiety, and how our wellbeing is inextricably linked to our environmental footprint through two National Science Week events, 'Brain' and 'Biomes'. These interactive exhibitions and experiential workshops showcase innovative collaborations with artists, technologists, industry and community, creating a genuine and continuing exchange of information with a broad audience. 'Brain' explores the impressive inner workings of our brains. 'Biomes' re-engages us with the wonders of the natural world. Together these exhibitions show how connected to our environment we really are.
Student lead science: Evaluation of natural and urban soil soundscapes
Seedscape
Healthy soil supports wildlife, helps our food to grow, and has huge potential to store carbon and slow climate change, but who knew it also has a story to tell?
This initiative takes students, landholders, and other participants to the field to measure and record sound, which tells a lot about soil's health and the state of the wildlife it supports. You can learn about the vital role of sound in nature and day-to-day life, from the tone of a ripe melon, to the melodies that help birds define territory, find a mate, and defend themselves.
Riverina Science Festival
Wagga Wagga City Council
Paint a portrait of a parasite, join the fun at a Nerd Night or be challenged the future foods of deep-fried grasshopper or cockroach flour bread. The week-long Riverina Science Festival returns for 2021 in multiple venues throughout the region. This festival includes activities for all age groups, including a Food Odyssey, science for pre-schoolers, talks from plant scientists, sustainable gardening, and Indigenous science and engineering. This event is presented by the Riverina Science Hub and partner organisations.
The New England Table: Different by design
University of New England
Great food has a great story and there's both on offer through an exploration of the culinary culture of the New England Tableland. A community dinner with local produce, featuring talks by local scientists, will reveal the complex science of digestion throughout the dining experience. Great Hops brewer Sam Martin will later share his passion for the scientific process of fermenting fresh ingredients and crafting the perfect beer, while in the marketplace you can challenge yourself to see if you can tell designer food made in the lab from nature's own.
Significant Figures
Tom Gordon
Can you work out who the mystery scientist is and what they researches in their lab? That is the challenge for panellists on a live recording of science communicator Tom Gordon and his popular STEMpunk podcast. It all looks a lot more like a game or variety show than a science panel, as non-experts try to figure out what the expert does in and out of the lab.
The team will stage four live recordings during National Science Week – one in Sydney and three in regional locations. Each one will see a local scientist playing games and answering questions about research, hobbies and homelife.
Young Scientists of Australia: Celebrating National Science Week
YSA Sydney
Teabag rockets, magic snow, strawberry DNA and other experiments are among a series of science activities organised by young people for young people. These events connect with students and increase the visibility of the emerging STEM workforce within the Australian community. By demonstrating weird and wacky phenomena in our everyday lives, they hope to inspire young people to consider further studies in STEM.
If those don't take your fancy how about learning more about paper planes?
The Royal Australian Air Force, as it commences its second century of flight, states that inspiring young people about aviation and STEM has never been more important.
They've teamed up with paper plane experts 'The Paper Pilots' to create a range of free teaching resources, instructional videos, paper plane templates and even a guide on how to run your own paper plane competition — a great activity to work towards during this year's National Science Week on 14 - 22 August.
To learn more, visit airforce.gov.au/100 and head to The Paper Pilots page.
Find more events at: www.scienceweek.net.au/your-state/nsw
Governor General's Science Week Design Challenge
Questacon in conjunction with the Office of the Governor General are excited to present the 2021 Governor General's Design Challenge. This live one hour virtual workshop is set to be a valuable experience for students to use design thinking in a hands-on and highly interactive way for deeper learning about science, technology, engineering and mathematics (STEM).
Join Questacon presenters and Their Excellencies, the Governor- General of the Commonwealth of Australia, General the Honourable David Hurley and Mrs Hurley as they beam into your classroom for an exciting journey of tinkering, experimenting, and exploring innovative solutions around water sustainability.
A link to the Zoom room will be provided closer to the event which will be held on Monday August 16th, 10.30am to 11.30am. Visit: www.scienceweek./event/governor-generals-virtual-design-challenge/
Filtering Water
The following is a list of materials to prepare prior to the activity that you can use to build your own water filter.
Water filter equipment (per group/pair):
disposable plastic bottle cut in half, with small hole in lid (or lid removed)
chair/table leg to attach soft drink bottle to
masking tape
measuring utensils/cups/spoons (for scooping materials into bottle)
disposable or reusable cups (to pour and collect liquids)
scissors
towels and tubs (for clean-up)
Liquids to test
1 cup of clean tap water (as a control for comparison)
1 cup of black tea (discolouration)
1 tablespoon of cornflour dissolved in a cup of water (small particles)
1 handful of dirt/potting soil dissolved in a cup of water (large particles)
Materials to put into water filter container – a selection of:
sand
gravel
rocks/pebbles
activated charcoal
material mesh/coffee filter (old cut up t-shirt for example)
rubber bands
other assorted materials eg:
cotton wool
tanbark
grass clippings
straws
upcycled materials
In keeping with this year's theme the DIY Ideas page this week shares what to plant now for Spring and Summer food crops you can harvest at home - a kind of 2021 Victory Garden, everyone can plant scrumptious greens and salad items, even if their only spot for a garden is an apartment balcony.
Those doing schooling at home could also expand on the Food: Different by Design by having a look around when doing their daily exercise at what our local wildlife eat. Down along the foreshores there are birds that fish or get worms from the mudflats. Along our beaches are glorious rockpools and platforms filled with sea snails and an abundance of other creatures - even seaweeds - who eats these?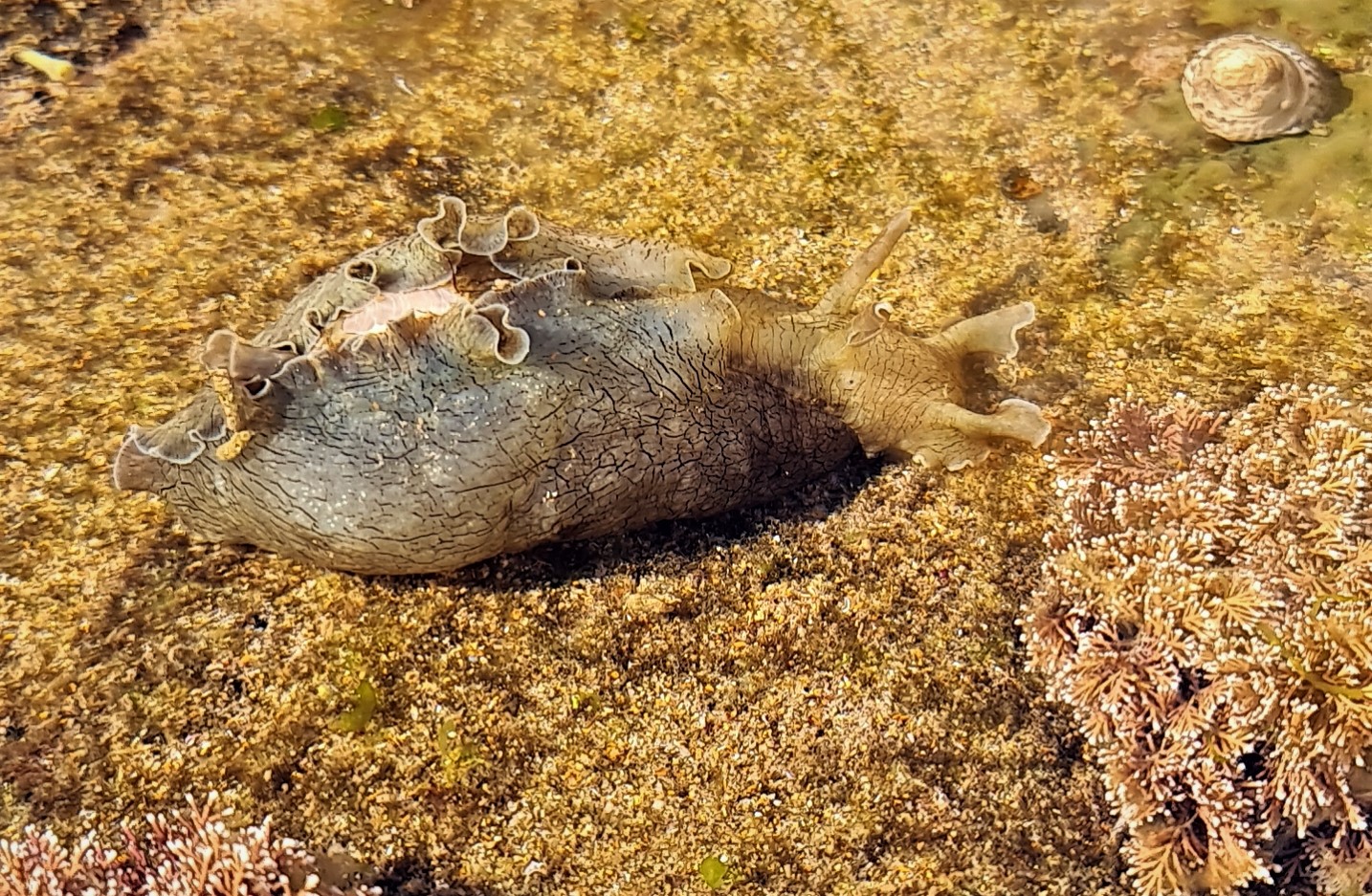 Sea Snail at Narrabeen rock platform this week - photo by Joe Mills, August 2021
How about a stroll through a bush reserve or beside a creek or over one of our many green sports playing fields - what are those magpies eating? What about that quick flitting willy wagtail; are they eating insects or worms or???
Then at night, as dusk falls, we see the microbats and flying foxes emerge, we hear the snuffles and squeaks of ringtail possums, brushtail possums and bandicoots - what are these nocturnal fellow residents eating?
What does 'nocturnal' mean?
What about bush foods? Who has a lilli pilli growing in their garden? What are foods are there - for wildlife and humans?
How about making some muffins at home - this will include maths (in measuring the ingredients), reading (a 'formula' or recipe!) and witness the science of seeing some eggs, flour, butter and cream become, when wet mixes with dry - a cake! Visit: Children as young as two can learn to cook – here are the kitchen skills they can get to grips with
Lilli pilli - for jams, ice creams, muffins, relish - A J Guesdon photo
But wait, there's more!
This year, 2021 is the 70th Anniversary of the Science Teachers Association for NSW and they are celebrating, during National Science Week, the scientific and educational advancements that have taken place across the last 70 years during 7 Decades in 7 days.
Details and links below
7 Decades in 7 Days
The Science Teachers Association of NSW celebrates its 70th birthday with more than a big bang!
2021 is the 70th Anniversary of the Science Teachers Association for NSW celebrating, during National Science Week, August 17-21, the scientific and educational advancements that have taken place across the last 70 years during7 Decades in 7 days. Join us for a seven day celebration for all lovers of science.
7 Decades in 7 Days is an opportunity to bring people together, to step out of the classroom and the labs, for families to converge in thought and space, to integrate with arts, and for diverse communities to celebrate that, which makes us great.
70 years is a long time in scientific advancement, during this time, Australia pioneered the way in cochlear implants that gave hearing to hundreds of thousands of deaf people, we have revolutionized mental health treatment, we forged the way in ultrasound technology that has had an impact on millions of people and we have driven technology that has ensured safe flight. It's a moment to celebrate. Behind the scientists that drive this innovation and progress for a better world were the science teachers, who believed in inspiring their students, who supported them to reach further and higher and remain curious about the world in which we live.
Recognising the scientific advancement of the traditional owners of this land we will be kicking celebrations off with a cultural tour of Sydney Harbour and across National Science Week and in partnership with some of NSW's significant cultural institutions, the Australian Museum, Taronga Zoo, Garvan Institute and the Powerhouse Museum, the Australian Fossil and Mineral Museum we will showcase the advances in science and education. Events will include exhibitions and forums on women trailblazers, panel discussions on the advances in medical sciences and environmental education, talks that encourage critical thinking about pioneering science and exploring the diverse environment within which we live.
About the events:
Science in the House 10.8.21, 11am to 2.30pm, speeches commence 1.30 pm:
At: ptcnsw.eventsair.com/2021-stansw-7decades/science-in-the-house
Showcasing Science Education and public discourse, we celebrate science education initiatives with policymakers. We are teaming up with the Minister for Education and the Shadow Minister for Education to create an opportunity for Members of the NSW Parliament to come together on the cusp of National Science Week and acknowledge the great work being done by Science Teachers and Educators in this state.
Aboriginal Astronomy Harbour Cruise 15.8.21
An Aboriginal Astronomy lesson on board Tribal Warrior Harbour Cruise where participants will be offered a glimpse into the knowledge held by the oldest astronomers in this world. First Nations People have a long history with the land, waters and skies of this continent that stretches over 60,000 plus years. They observed and mapped the sun, the moon and stars to inform navigation, calendars and predict weather patterns long before European settlement on these shores.
Celebrating Strong Women in Science 18.8.21, 12.30 to 1.30pm
At: ptcnsw.eventsair.com/2021-stansw-7decades/celebrating-strong-women-in-science
In association with the Garvan Institute, we celebrate all the strong and inspirational women, who have dedicated their lives to medical research. Recognising some of our great female trailblazers and reflect on how we support the development of our next generation of pioneering thinkers. Speakers include Professor Susan Clark FAA, Head of the Epigenetics Research Lab at Garvan. Sarah Alexandrou, PhD student in the Replication and Genome Stability Lab at Garvan. Associate Professor Elissa Deenick is Head of the Lymphocyte Signalling and Activation Laboratory at Garvan.
Propelled by Science – A provocative Talk Fest 19.8.21, 5pm
At: ptcnsw.eventsair.com/2021-stansw-7decades/propelled-by-science---a-provocative-talk-fes
Teaming up with MAAS at The Powerhouse Museum, this event is an opportunity to network with fellow teachers and explore where scientific advancement pushes social boundaries. What are the implications of space exploration and digital manufacturing and how can science shape the future of our climate change conversations? Moderated by Professor Fred Watson, Australia's first Astronomer-at-Large, with speakers including Matthew Connell: Acting Director of Curatorial, Collections and Exhibitions and Dr Sarah Reeves, Science Curator at the Powerhouse Museum who will be focusing on the areas of astronomy and space. They will be joined by Nina Earl, a curator and science communicator. Following which participants will attend the Powerhouse's Sydney Science Festival event - 'Climate Feast'.
70's Dinner Party at the Museum 20.8.21
An evening of everything 70s - dance, music and dinner at the Australian Museum. Keynote speaker, Federal Chief Scientist Dr Cathy Foley will delight us in a conversation about science education in Australia. Where we have come from, where we are at and where to next. Special guest Dr Karl Kruszelnicki.
Family Fun Day at the Zoo 21.8.21
Date: August 21, 2021
Time: 10.00am - 12.00pm
Venue: V-Fairs – Virtual Platform
Speeches: Delivered via Zoom
Register at: taronga.org.au/education/national-science-week
Taronga Zoo and the Science Teachers Association NSW have teamed up to present to you a Family Fun Day with the Zoo as part of 7 Decades in 7 Days, a week-long celebration of the 70th Anniversary of the Science Teachers Association for NSW in and around National Science Week.
We will explore advancements in animal conservation over the past 7 Decades with Dr Phoebe Meagher, following which the Taronga Zoo Education Team have prepared online activities for you to watch and do with the kids - Who's Poo in the Zoo and Echidna Enrichment Feeder.
We will explore the advancements in animal conservation over the past 7 Decades. Audiences will be treated with an online interactive activities that dives deep into the skill of thinking scientifically and will hear from conservation scientists on the latest in protecting species. Join us for a family fun day with the zoo as we celebrate 7 Decades of supporting science teachers and gain an insight into the future of conservation.
Propelled By Science – The Future of Energy 22.8.21, 5-6.30pm: ptcnsw.eventsair.com/2021-stansw-7decades/propelled-by-science
Hear how scientific advancement in energy production has propelled our progress and discover what the future has in store for us. Wrapping up the evening we will be entertained by Michelle Griffin with a specially curated cabaret. With guest speakers, Dr Mark Ho from ANSTO and Sam Riggall CEO of Sunrise Energy and director of VRB Energy, a global leader in vanadium redox flow battery technology.
Further information on these events can be found at https://ptcnsw.eventsair.com/2021-stansw-7decades/
Science Teachers Association NSW Background
Founded in 1951, The Science Teachers Association NSW inspires Science Teachers and the learning of science in NSW, providing leadership and promoting excellence in science education. We are an association led by science educators who volunteer their time to foster an environment of supportive collegiality.
Science teachers seek to infuse their students with a love of science, inspiring curiosity, and scientific thinking about the world within which we live. We believe that both education and scientific endeavours remain at the forefront of a progressive society, and it will be the next generation of thinkers who will tackle some of the world's greatest challenges.
We are a hub for science teachers across NSW where our network of over 3000 science educators converge to learn, network, and discover.
Learn - We provide opportunities for teachers to continue to learn, supporting them to be inspirational in the classroom and to champion science literacy through the delivery of Professional Learning Conferences, Workshops and Mentoring Opportunities.
Network – We foster connections for teachers across K-12 to network with their peers, share resources and ideas in person, via our publications and supporting a vibrant online community of practice.
Discover - We support teachers in discovering innovative advancements in science, linking real world science to the classroom, and enhancing teaching and learning through access to the latest research.