February 21- 27, 2021: Issue 484
SLSA Welcomes Australian Government's Funding Boost for Surf Clubs Nationally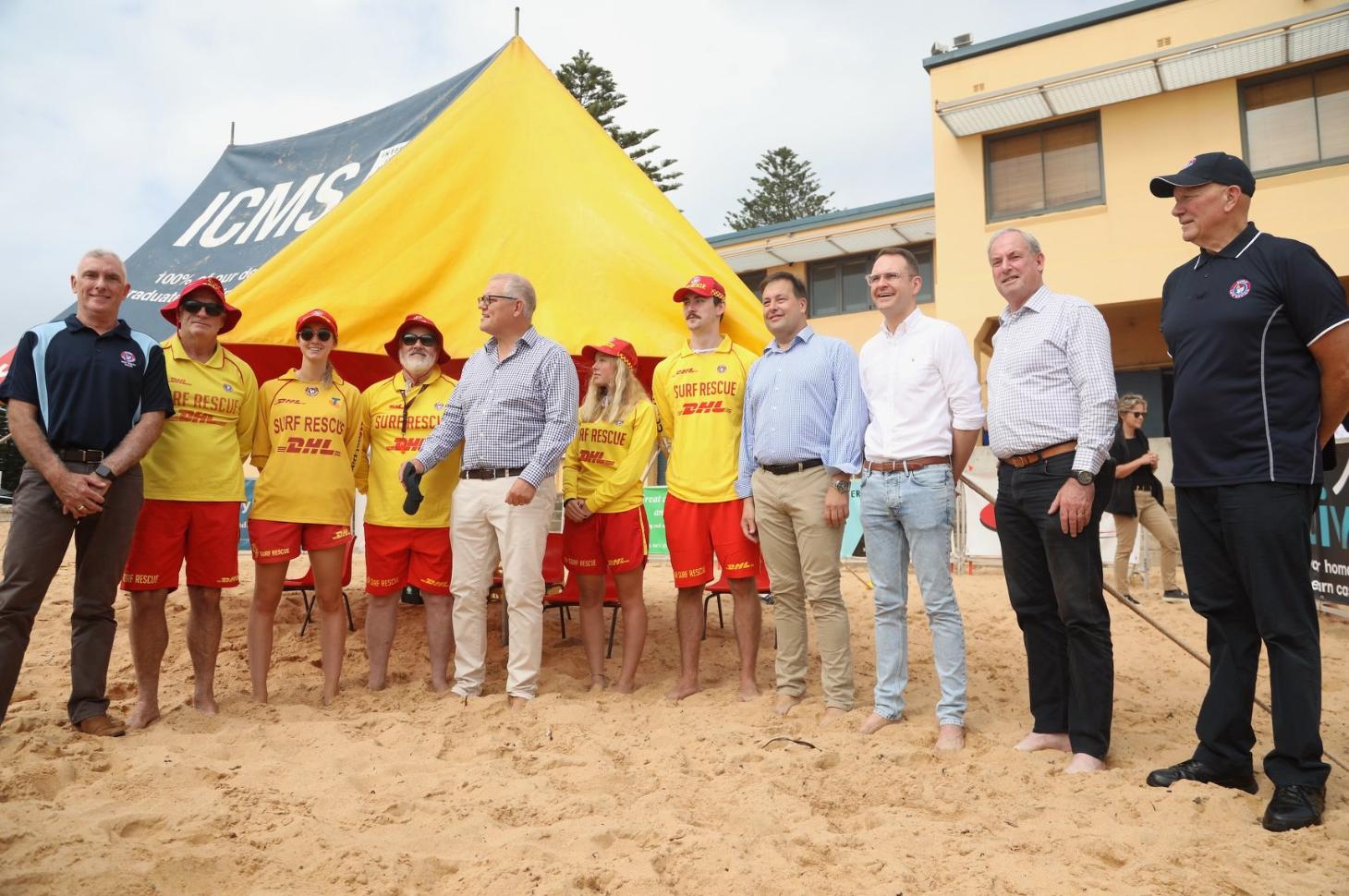 Those who live at Collaroy and North Narrabeen report having heard a bit of noise from helicopters on Saturday morning, February 20th, as the current Australian Prime Minister came to the beach - a not unusual Summer time event for Aussies - and one of two made this week centred around our aquatic lifestyle - the other being that
NSW has secured a major surfing competition event for North Narrabeen
.
This one was great news for all local surf clubs and all surf clubs around the country - most of whom have lost the opportunity to raise funds this Summer due to the Covid pandemic curtailing crowd gatherings and even ocean swim fundraisers which enable them to fund the
purchase
of new equipment and save lives.
Surf Life Saving Australia stated on Saturday they welcomed the Australian Government's announcement of an additional $3.1 million in funding to protect beachgoers and $6.6 million to improve volunteer lifesaving skills across the country.
The announcement made by the Prime Minister of Australia the Hon. Scott Morrison MP, in conjunction with the Minister for Sport, Senator the Hon. Richard Colbeck and Member for Mackellar, Jason Falinski MP at Collaroy Surf Life Saving Club, will see all Surf Life Saving Clubs across the country have their grants through the Beach Safety Equipment Fund doubled.
Surf Life Saving Australia President Graham Ford AM said the extra funding would be a timely and crucial boost to surf lifesaving clubs and volunteer lifesavers around Australia, particularly given the increase in drownings this summer.
"SLSA is incredibly grateful to the Australian Government for doubling the Beach Safety Equipment Fund, which goes directly to Surf Life Saving Clubs to help volunteers improve their ability to perform rescues and will also provide additional water safety to help protect beach visitors," Graham Ford AM said
"The boost in funding from the Federal Government comes at a vital time where we have unfortunately seen a tragic number of summer coastal drowning deaths," Mr. Ford added.
"This summer we have had 45 coastal and ocean drowning deaths which is eight above the 10-year average of 37".
The Australian Government will invest a further $3.1 million through the Water and Snow Safety Program, to support SLSA's Beach Safety Equipment Fund aimed at preventing fatal and non-fatal drownings.
This funding means surf lifesaving clubs will now be able to access up to $10,000 per annum over the next two years to purchase new or replacement patrol equipment such as rescue boards, life jackets, rescue manikins, inflatable rescue boats, all-terrain vehicles, defibrillators, and first aid and medical supplies.
The $6.6 million over two years in Vocational Education and Training (VET) for volunteers will support the Surf Life Saving movement with a sustainable training and education system.
Training offered by Surf Life Saving to volunteers provides transferrable skills that can often transcend beyond surf lifesaving. One in four of our members say their training has assisted them to secure paid employment.
"As well as the increase in equipment funding to Clubs, SLSA also welcomes the VET funding, which will help us to continue to train highly skilled volunteers who keep beachgoers safe," Mr. Ford said.
This funding boost is additional to the $21 million in core funding being provided to SLSA under the Australian Government's Water and Snow Safety Program over the next three years.
Over the next three years, Surf Life Saving Australia will receive almost $30 million in funding from the Australian Government.
Surf Life Saving Australia is Australia's peak coastal water safety, drowning prevention and rescue authority. It is the nation's largest volunteer organisation and one of the largest volunteer movements of its kind in the world.
Established in 1907, SLSA has grown to now include:
314 Surf Life Saving Clubs nationwide
181,000 volunteer members
Perform around 11,000 rescues every year
Undertake 1.6 million preventative actions every year
Volunteers contribute 1.4 million hours patrolling annually, in addition to the 647,000 hours spent on training and education