November 8 - 14, 2020: Issue 473
Surf Boats Season Kicks Off At Newport November 14; A Whole Range Of Local Sydney Northern Beaches Branch Carnivals Set To Roll Out Over The 2020-2021 Season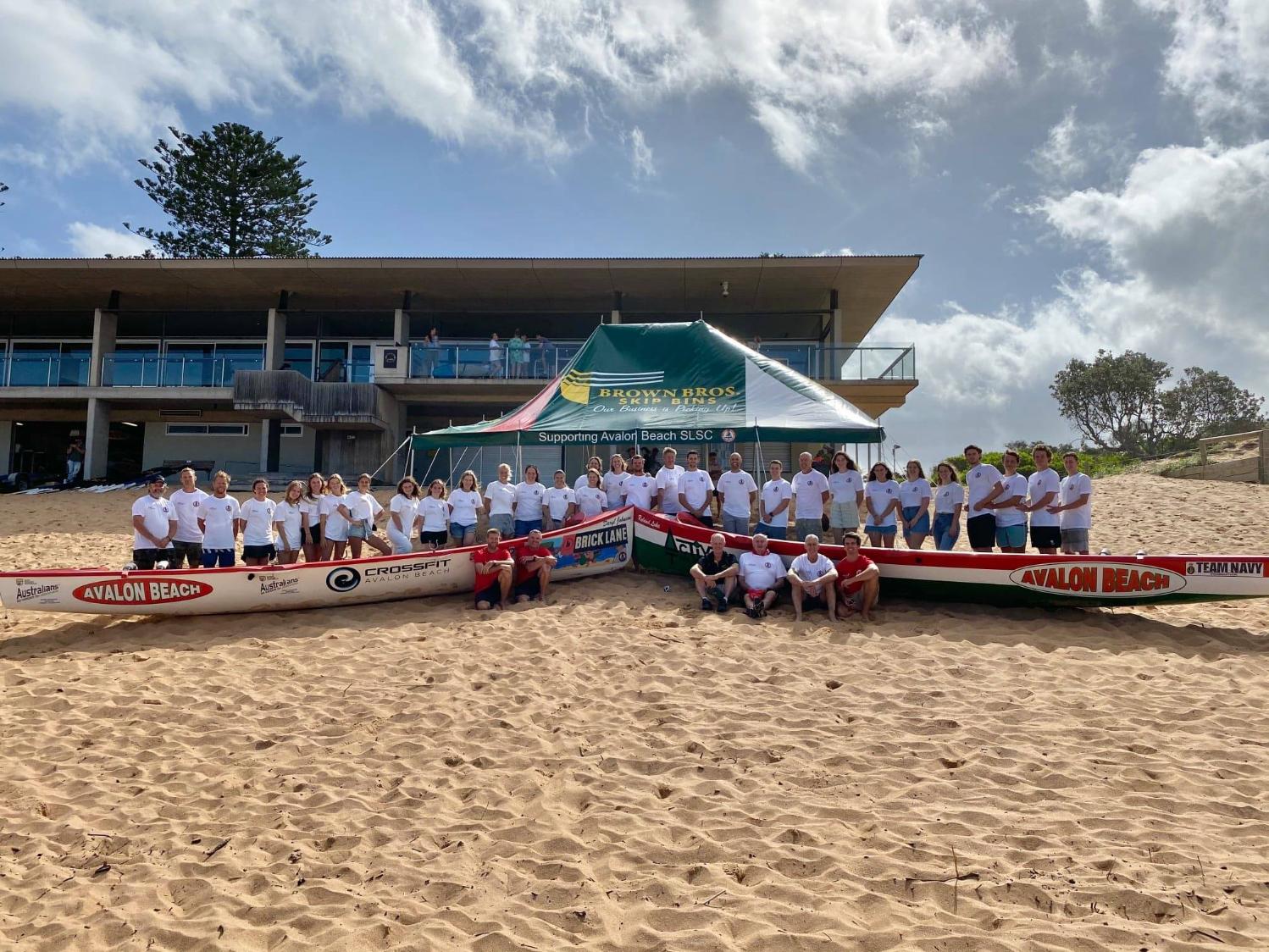 Avalon Beach SLSC's Boat Division - with crews from U19's up to Masters for the 2020-2021 Season
The 2020-2021 Surf Life Saving Sydney Northern Beaches Branch Surf Sports Season kicked off in winter like conditions at Dee Why Beach with the Bennett Board Classic for juniors on Sunday October 25th 2020. Branch had over 300 youngsters take part in very cool conditions, but all were happy to get a chance to take part in the season opener.

These local carnivals have been a great way to bring together several generations on the sand for well over 110 years and continue to be a way to make new friends, strengthen the bonds between beaches in the community, test out your surf life saving skills alongside your peers and why when everyone heads off to the States or Aussies each year it is 'Team Sydney Northern Beaches' - the name for our local Branch - as much as striving to do well for whichever local club volunteers are representatives of.

Saturday October 1st was Round 1 of the new Bennett Boards Fast Fives Series at Newport Beach. For under 14's through to opens Branch had 200 competitors signed up for their biggest ever Fast Fives event, forcing them to open up two water areas – a good problem to have. All Competitors will be entered into the series draw for a chance to win their choice of either a Bennett Boards 10' 6 Racing Board or two Bennett Ski Paddles, which will be drawn at Round 4 of the series at Palm Beach on December 19th. Round 2 takes place at North Curl Curl next Saturday, November 14th, Round 3 at Dee Why on November 28th.
The Paul Hammond Junior Beach carnival hosted by Queenscliff runs this Sunday, November 8th. Being the first beach carnival of the season for our Nippers, it is always a great event, with plenty of great competition from not only local clubs but from outside the branch. The Carnival is one of eight local clubs hosted carnival for youngsters prior to the Branch Championships slated for the end of January 2021 and the State championships which will commence on February 20th 2021.
Entries are also open now for the Freshwater Masters, also to be held next weekend, November 14th, and one of four great carnivals being hosted by local clubs over the Season; the Adrian Curlewis Twilight Masters on January 8th 2021, named for the 'Father of Surf Life Saving'; and a founding member of the Palm Beach SLSC, and with the loss of son Ian Curlewis just a few months back a special one this Summer, the brilliant 'East Coast Masters' Carnival hosted by Collaroy SLSC, while the popular 'Branch of Origin' hosted by Warriewood SLSC on March 21st 2021 will set all Masters up nicely for the Aussies, should they go or get to go to the Sunshine Coast in Queensland from April 16-24, 2021.
Round 1 of the Surf Boat Premiership at Newport will also run next weekend, Saturday November 14th 2020, and is one of three local carnivals that will be hosted by local clubs prior to Christmas. The Second round of the Premiership is hosted by Freshwater SLSC on Saturday November 28th 2020 while the Third round of the Premiership is hosted by Bilgola SLSC on Saturday December 5th 2020.
This kicks off a great Surf Boat program of events hosted locally in the 2020-2021 Season which includes Young Guns hosted by Collaroy SLSC on Sunday January 10th, the State Selection rounds, hosted by Queenscliff on January 16th and 17th and then North Steyne on January 23rd and 24th, Round 1 of Ocean Thunder on January 9th at Dee Why, the Branch Boat Championships, Battle of the Boats at Pacific Palms in February as well as the State Championships and then the Australian Championships.
On the 28th of October 2020 an announcement was made regarding the 2021 Trans Tasman Surf Boat event:
SLSA & SLSNZ have been continuing to observe developments regarding Trans-Tasman government travel restrictions and requirements.

Unfortunately, together we have had to come to the tough decision to cancel the 2021 Trans-Tasman Surf Boat Series between Australia and New Zealand. The 2021 event was due to be hosted by New Zealand at Waihi Beach 6-7 February as part of the annual North Island Surf Boat Championships. Although there has been some progress with limited international travel between the countries, with mandatory quarantine periods likely to be remaining into next year the Trans-Tasman is not feasible to be held in February.

We appreciate the disappointment crews will experience not being able to compete Trans-Tasman as planned in February 2021. Accordingly, SLSA & SLSNZ will continuing discussion about potential Trans-Tasman competition for when further easing of restrictions, and removal of mandatory quarantine eventuates.

As a result of this decision the Australian Surf Boat Team Trial scheduled to be held on Saturday 12th December at Tugun SLSC will be cancelled. SLSA would like to thank the ASRL for their work and continued support in working to develop surf boat rowing across all states. An update will be provided regarding potential revised dates and selection criteria for the Australian Surf Boat Team over the coming months as more information regarding international travel is made available.
At this stage the ASRL committee are pleased to announce Mollymook as the venue for the 2021 ASRL Open. The dates are 18th – 21st of February. The event has opened up to a 3.5 day program releasing restraints on competition and allowing for potential Covid crowd restrictions. The Masters will be held on the Thursday afternoon and competitors are encouraged to celebrate their event, or rest and prepare for entry into the reserve grade the following day. The final race on Sunday will be completed at 2:00pm, medals ceremony to follow.
All of these great local carnivals provide an opportunity for residents to see some great action and do so in a safe way. They are also a great way to see how these sports hone the skills of all the volunteers in using equipment and fitness to read the water and make the best of the conditions that enable lifesavers to do just that - save lives.
Saving lives on our local beaches is something that goes back a long way now and can be seen in the work undertaken by those who manned the Broken Bay Customs Station at Barrenjoey in 1843 and the adaptation of whale boats, butcher boats and fishing clinkers to surf life saving by the Sly brothers at Manly in 1903, along with adapting the lifelines used by earlier rescuers to pull people out of the surf.
GALLANT RESCUE FROM DROWNING,
The thousands of excursionists who visited Manly yesterday afternoon witnessed the narrow escape of a boy named William Grey, who resides in Victoria-street, Waterloo, and who is about 15 years of age, from death by drowning, and a gallant rescue. The boy, who was bathing on the beach, got beyond his depth, and was carried out a couple of hundred yards past the breakers. Mr George Moore, of Willoughby, who is staying at the Clarendon Hotel, and Mr. John Kerr, another Manly resident, ran out a life-line, and, plunging into the surf, went to the lad's assistance. They succeeded in bringing him to shore, but only after a struggle of about 20 minutes duration, at the conclusion of which they were heartily applauded for their plucky conduct. GALLANT RESCUE FROM DROWNING. (1902, December 27).Evening News (Sydney, NSW : 1869 - 1931), p. 4. Retrieved from http://nla.gov.au/nla.news-article114503699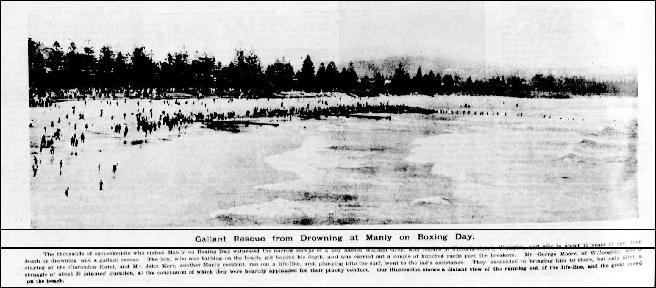 Pic: Gallant Rescue from Drowning at Manly on Boxing Day. (1902, December 31). Australian Town and Country Journal (NSW : 1870 - 1907), p. 26. Retrieved from http://nla.gov.au/nla.news-article71496924
One of the earliest versions of a Surf Boat harks back to the Tom Thumb of George Bass with a later version of this boat connected to Palm Beach. Soon after Warringah Shire Council was formed, and although the rescue work was still undertaken by local fishermen residents, Surf Boats were called for at Mona Vale Beach and in 1909, at the newly formed surf club at Newport Beach.
In 1908, from Warringah Shire Minutes of Meetings, the following records:
14th August 1908: 51st Meeting, Minutes: Mona Vale Park Trust ; Re handing over the park to Council. Mona Vale Progress Association – complaining of roads in that district. Motions – Purchase of life boat – CR. Powell and Cr. Quirk, seconded the following motion: That the Works Committee report on the advisability of purchasing a life-boat for Mona Vale and establishing a life-boat Brigade – carried unanimously
Just prior to this:
10/2/1904- 10th Meeting: That the present Douglas pump at Mona Vale be replaced with a force pump and stand pipe similar to the one at Narrabeen, if it is thought advisable by the Engineer
8th May 1908 Works Committee Surf swimming; Correspondence – Manly Council re amount to put beaches in order for surf bathing, the following amounts were agreed upon Beach maintenance; Freshwater Beach £300; Dee Why Beach £100; Narrabeen Beach £100; Mona Vale Beach £100; Bayview Beach £100; Newport Beach £100
And just after a lifeboat is mooted for Mona Vale Beach:
DOCTOR DROWNED. The surf claimed another victim at Mona Vale beach on Saturday afternoon, when Dr. Charles Murray Woods, lately residing at Arnott House, Wynyard Square, was swept out by the current, and drowned in full view of his companions. The deceased was 32 years of age, and a single man. He was in the habit of visiting the spot on week-end trips, being the medical officer to the Oddfellows' Lodge at Mona Vale. He entered the water in company with several others about6 p.m., and, being a good swimmer, ventured well out into the breakers. Mona Vale beach is rarely used by visitors, and is considered at times to be treacherous at several places. The doctor was seen by his companions suddenly to disappear under the water, and, on rising, signalled for assistance. A man named Lloyd, who was in the vicinity, attempted to render aid, but could not cross the swirling current that separated him from the struggling swimmer. On the other side of the channel was a sandbank, and the unfortunate victim was washed against this, but all attempts to reach him failed, and Lloyd himself had to be taken out of the surf in an exhausted state. The body was washed ashore some hours later. The deceased was widely respected in the district. DOCTOR DROWNED. (1911, November 14). Goulburn Evening Penny Post (NSW : 1881 - 1940), p. 4 Edition: EVENING. Retrieved from http://nla.gov.au/nla.news-article98811751
The first local Carnival was at Manly and scheduled to be held on Saturday March 16th, 1907 and took place on Saturday March 23rd 1907, with the launch of a surf boat especially for coming to the aid of those in trouble part of what happened. Manly also hosted another carnival later that year, in December. Freshwater followed on in January 1909, along with the North Steyne club, and a surf life saving demonstration was given by members of North Steyne SLSC on Newport Beach in 1909 and 1910's Summer as well.
MANLY SURF CARNIVAL.
This afternoon the first annual Surf Carnival will be held at Manly, when fancy diving, shooting the breakers, and other aquatic sports will form the programme. Selections will be played by the Manly Band, and there will be a special steamer service. MANLY SURF CARNIVAL. (1907, March 16). The Sydney Morning Herald (NSW : 1842 - 1954), p. 16. Retrieved from http://nla.gov.au/nla.news-article14833502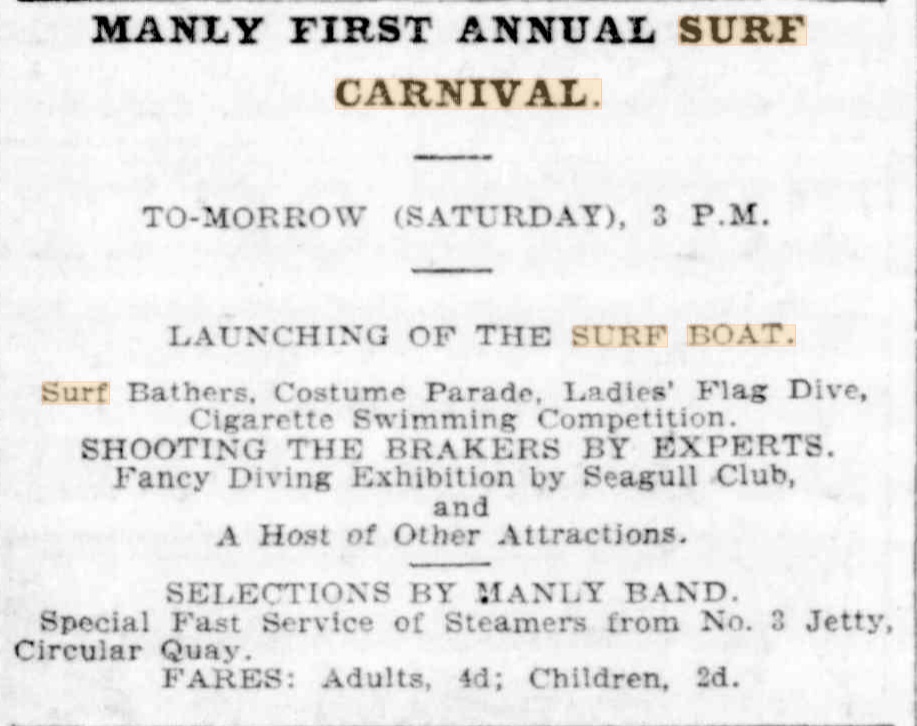 Advertising (1907, March 15). Evening News (Sydney, NSW : 1869 - 1931), p. 1. Retrieved from http://nla.gov.au/nla.news-article115216180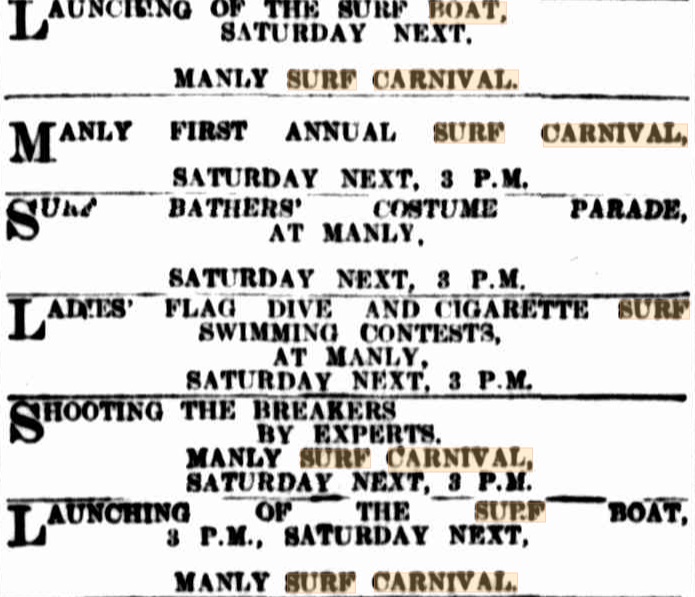 Advertising (1907, March 22). The Sydney Morning Herald (NSW : 1842 - 1954), p. 1. Retrieved from http://nla.gov.au/nla.news-article14847716
Launching the Surf Boat at Manly, March 23.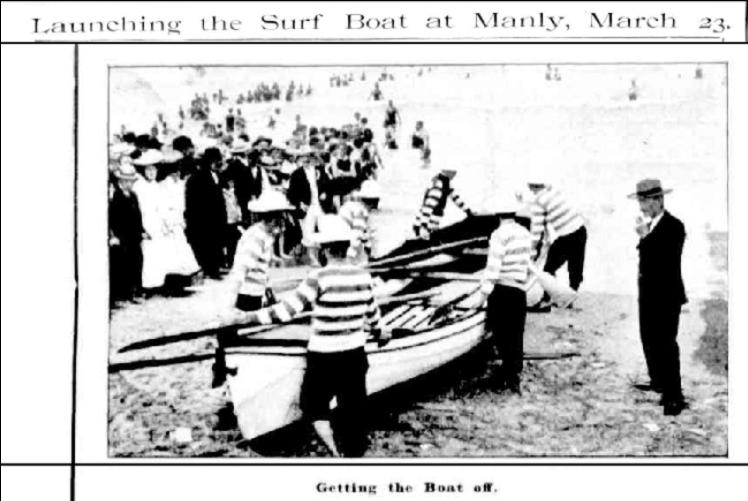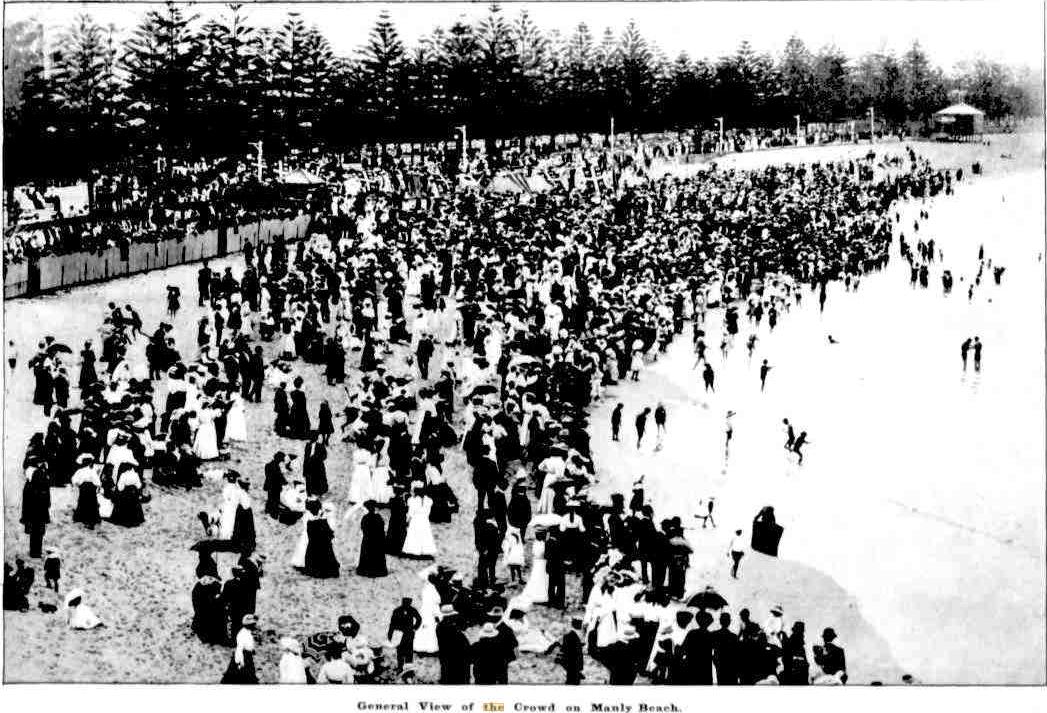 General View of the Crowd on Manly Beach.

Listening to the speech-making - The Attorney General (Mr. Wade) Addressing the Crowd
Launching the Surf Boat at Manly, March 23. (1907, March 27).Australian Town and Country Journal (NSW : 1870 - 1907), p. 20. Retrieved fromhttp://nla.gov.au/nla.news-article71590669
The surf bathing enthusiasts at Newport recently Invited members of the North Steyne Club to give a demonstration of life saving at their rendezvous down the district, and a large number of surfers put in an appearance.- Mr. O. G. H. Merrett (vice-captain of the North Steyne Club) had charge of a squad, and went through the various stages of the instruction, much to the interest of the Newport contingent. The visitors were afterwards entertained at luncheon. AMONG THE BREAKERS. (1910, February 24). The Star (Sydney, NSW : 1909 - 1910), p. 2 (LATEST EDITION). Retrieved from http://nla.gov.au/nla.news-article228300692

The year 1910 also introduced the Newport Womens surf life saving crew: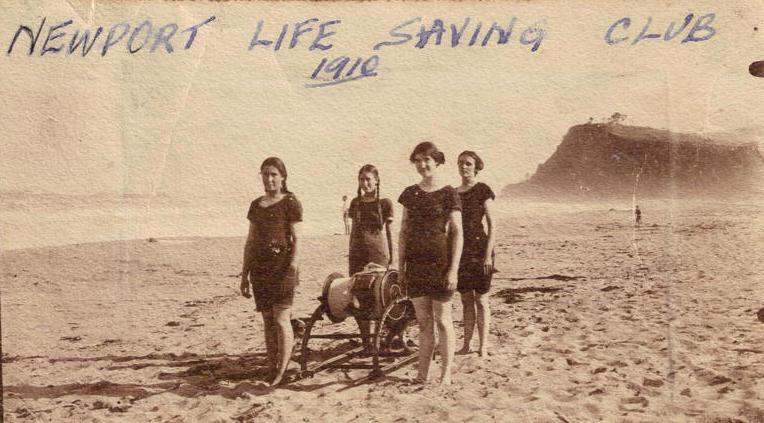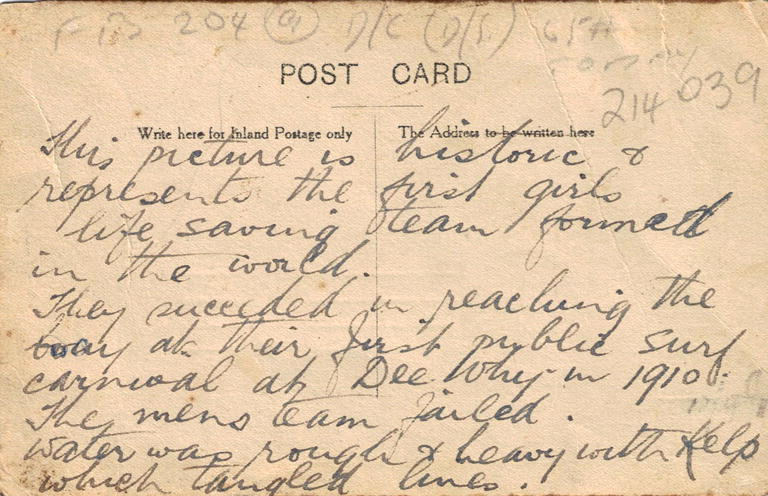 The three Hope sisters and Vera Lewis - one of the first in the world girls life-saving team, 1910; Women in at the beginning of Newport Surf Club - Annie Brennan, Elsie Brennan, Muriel Bulfin (Newport School and Hotel), Alto Corner, Olive Corner, Doris Hope, Francis Hope and Winn Hope - to name a few!
Newport has always had a strong focus on Surf Boats with a number of champion sportspeople and boat innovators among their ranks during the over 110 years the club's membvers have been serving residents and visitors - just two items of interest show:
NEWPORT'S NEW SURF BOAT
The Newport Surf Life Saving Club will launch Its new surf boat on Sunday. Presented by the local Ladies' Surf Club, the boat Is of the latest design, and will be specially valuable for competitive work.
Newport expects to figure prominently in boat races at future surf carnivals. With Empire Games oarsman E. R. Bromley, Olympian W. Jordan and King's Cup representative, J. Burrell, the club has the material for a fine crew. NEWPORT'S NEW SURF BOAT (1939, January 12). Daily News (Sydney, NSW : 1938 - 1940), p. 10. Retrieved from http://nla.gov.au/nla.news-article236319436
A surf boat's design gave stability
About five months ago, when the surf was grey and cold, a group of hardy young men stood waist deep in the sea at Newport Beach and watched a 3ft. model surfboat shoot inshore on the breakers. Time after time the little boat bobbed and slithered in on the waves. Sometimes it swung round, filled with water and capsized. But more often it rode straight, even righting itself when it slewed off course. The model was the forerunner of a new type surf boat 22- years-old engineering student, John Harrison, is building for the Newport Surf and Life-saving Club. The new boat is scheduled to take the water by the New Year. Tall, bespectacled, Harrison is looking forward to the launching with some impatience. But that doesn't interfere with his work on his engineering degree. His thesis is "How to Design a Surfboat." He sees his surfboat as a stabilised group of resistive forces in equilibrium on the trochoidal waveform.
Said Harrison: "The bulk of the water hi those big green combers that roll in on Sydney beaches is largely still water. The only water that is moving forward is the froth and bubble that makes up the white crest of the wave.
" What appears to be a forward-moving wall of water. Harrison explained, is just a trochoidal waveform passing through the sea. It is not until the trochoidal shape breaks up completely in a flurry of broken water a few yards from the beach that any considerable bulk of water is in motion.
The "bump" in o rope
Trochoidal wave-forms run through the water off-shore in the same way as a "bump" can be made to run along a length of slack rope by twitching one end of it" in the hand. The "bump" in the rope runs along until it peters out at the end. ""t no Part of the rope itself is shifted forward. A surfboat coming in on a wave is really just sliding down the face of a heap of still water.
Orthodox surfboats, built on the Nantucket whaleboat plan with cutaway bows and sterns, are liable to slew about during this downhill sliding motion. Harrison's new design has five main characteristics— all calculated to increase the boat's stability when riding a wave — which differ from the orthodox surfboats. The new boat has a slightly finer deckline fore and aft. It is not symmetrical — it has a cutaway bow and a lifeboat, or tuck stern. Its waterline is rather broad for'ard and finer than usual, aft. The underwater shape flattens out quickly as it sweeps back from the bow to give it a planing action. The stern is fine and deep. The flat-bottomed for'ard section is designed to give the boat a maximum sliding efficiency and buoyancy. The narrow stern should provide a better steering grip on the still-water body of the waves. The main disadvantage, from the point of view of racing, is that the new design will not turn as quickly as the orthodox style. But what is lost in turning round the buoys may well be made up in the run to shore in big surf. One of the greatest hazards in getting a boat through the surf is the tendency for the boat to slew off course. Harrison's lifeboat stern gives greater stability, (like a couple of extra sweeps in the water), and its flattened-out underwater shape for'ard gives an extra buoyancy that keeps the nose of the boat from digging in. One golfer was 6, another, a baby (1946, December 15). The Sun (Sydney, NSW : 1910 - 1954), p. 4 (SUPPLEMENT TO "THE SUNDAY SUN AND GUARDIAN"). Retrieved from http://nla.gov.au/nla.news-article229551737
The passion for Surf Boat events continues with Newport's Boat Division having crews in all age divisions from the Under 18's through to Reserves.
One of the Pittwater club's that was formed around a 1920's land subdivision and the rise and rise of getting on a beach or living permanently in these then still 'country' places was Avalon Beach. Although Avalon Beach surf club was formed in March 1925, and with some of Sydney and New South Wales premier rowers among foundation members a picture of one of their surf boats doesn't turn up for a while longer.
Geoff Searl OAM, President of Avalon Beach Historical Society shared this story when the Avalon Beach SLSC celebrated its 90th year in 2015:
Three sons were born to Sydney dentist, Arthur Cecil Hanson and his wife Mildred Blanche Faviell. Arthur George Hanson (known as 'Tom' to most) was first born at Hunters Hill in 1911. Geoffrey Faviell Hanson followed in 1914 and Kenneth John Hanson completed the family. (Ken was born January 27th, 1918)
Prior to 1920 Arthur bought a block of land on the corner of Avalon Parade and Ruskin Rowe on which he built a two-room cottage. It consisted of a bedroom and a kitchen/dining room but both were surrounded on 3 sides by a generous open verandah where later children of the families spread their mattresses and camp beds. He called the cottage 'Keilor' after the north-west suburb of Melbourne from where Blanche's family hailed. The family spent considerable time at 'Keilor' travelling down from Hunters Hill and later Killara in Arthur's bull-nosed Hupmobile.
The 3 boys loved the water and decided to join the surf club. In the photo taken in 1925 of the meeting on the steps of 'Avalon' which resulted in the formation of the Avalon Beach SLSC, Dr Hanson is standing on the steps alongside A .J. Small, the owner and developer of Avalon Beach.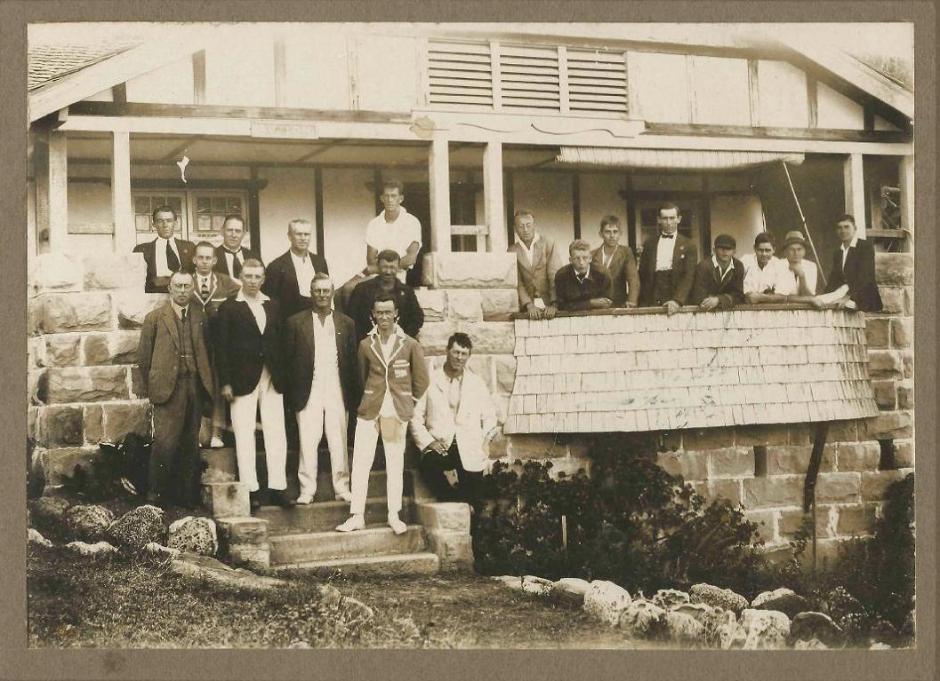 The foundation meeting - on the steps stand Dr.
Sydney dentist, Arthur Cecil Hanson with A J Small (second from left in white trousers) on his right, Stan Wickham (2.) and Bert Paddon (also white trousers) to his left. Also among these founders of Avalon Beach is A G (Tom) Hanson - verandah, and Small's son Geoff is on the far right of the verandah, who was also in the first squad. Third boy from left in balcony bay alcove looks like Neville Fox, gentleman without collar back row of those on steps looks like Mr. Henry Fox while the tall lad beside him looks like Vincent. If you compare the faces in this picture with those of the Fox-Williams wedding picture and that of the Pittwater rowers at Parramatta in 1935 further down the page, a few faces are definitely the same.
A.G. (Tom) and Geoff were in the same successful Bronze Medallion squad on 7 April 1935 (the Club's 2nd squad). The 3rd brother Ken obtained his Bronze Medallion with the Club's 3rd squad on 29 March 1936. Geoff gained the Club's 2nd Instructor's Certificate with the 4th squad which passed on 31 January 1937. Geoff became Club Captain one year later and it is recorded that he held a card night at the home which raised 6 pounds which went to the new boat under construction (launched on 4 December 1938). Geoff served as Hon. Treasurer in 1939 and rowed competitively in the new boat under the new Boat Captain and Sweep, Gordon Brown.
In November 1939 Tom Hanson was among several members who left to join the AIF. The last of the Club's Active Members to leave was Ken Hanson when he joined the RAAF in January 1941.
Dr Hanson died in 1935 and so never knew of the death of his youngest son Ken who perished when his Liberator bomber was shot down over Celebes (Sulawesi) in 1945. - Geoff Searl, 'The Hanson Boys' - 2015. See: Avalon Beach SLSC 90th Anniversary Exhibition and Celebrations, Pittwater Online News, Issue 211, 2015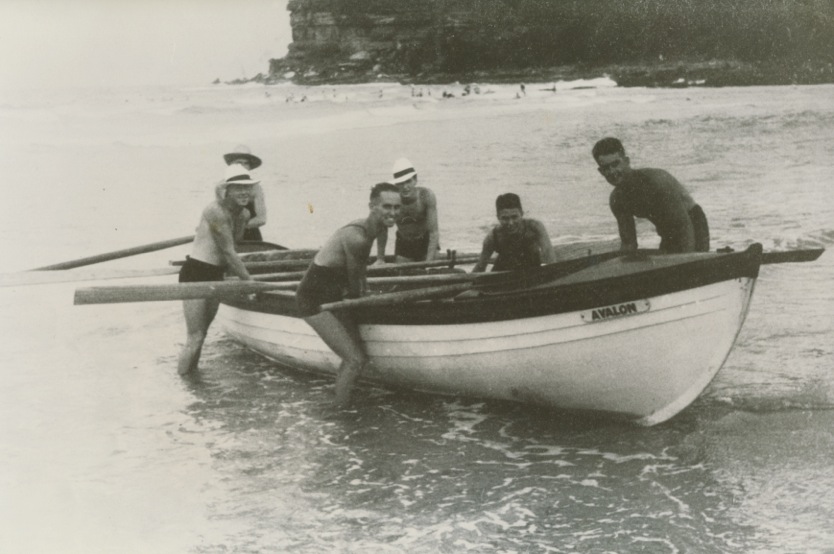 'The boat shot (our first) is from 1938 and although the nameplate reads 'Avalon' it was most probably the original "Akubra" which Wally Simmonds obtained from his old club Queenscliff. The crew include Geoff Hanson (starboard side midships) brother Tom Hanson (sweep), Ted Sanders (Sanders Lane fame) on the port side in the hat and Peter Paterson (almost obscuring the sweep).' - Geoff Searl, February 2016
Avalon Beach SLSC also has a big Boat Division of passionate sports people who can be found, when not rowing, being support crew or undertaking officials duties during carnivals, and they have been training all Winter and Spring to do their best in the upcoming Season. From this great club:
Avalon Beach Surf Boat Rowers 2020/2021
'Guns Up'
Welcome to a new season of Surf lifesaving. We have truly been through some strange times. It has been a challenge to keep all of our crews motivated and interested throughout the pandemic.
As you are aware Surf Boat Rowing is a group effort that requires crews to train and motivate each other. With the restrictions to group gatherings it made it difficult to keep crews together during the off season. Coaches had to adapt and overcome accepting the new challenge.
At Avalon Beach boaties we have always prided ourselves on being a family club and consisting of mainly local juniors.
This season Avalon Beach will have;
Open men and women
Reserve male and reserve female (both masters' crews)
Under 23 male crew
2 x Under 23 female crews
Under 19 Male crew
2 x under 19 women's crews
As you can see we have some great depth coming through and hope to be a dominate force in years to come.
Our mighty Avalon Beach Antiques have decided to have a season off after many years of dominating their division. They have suffered some and had some lingering injuries and have finally decided to take a season off. We will still have their wisdom and experience around the club and wish them a speedy recovery.
Our 2 main contenders for medals would have to be our Masters women the DB's and our junior Boys the Huey's.
The DB's are current ASRL champions in their division and have been an awesome crew for many years now. The Huey's are coming into their 4th season in the under 19 division and really should be one of the main contenders. They already have earned a bronze medal at the Australian titles And hopefully can go all the way.
Of course none of this can happen without the help of our great sponsors.
We would like to thank:
Active Tree Services
Brown Brothers skip bins
Voss clothing
Avalon Beach Crossfit.
Bricklane Brewery's.
Lastly I would like to thank all of our coaches and senior members who all work together to make this an awesome family club.
Bring on season 20/21 lets hope we have a great season and able to travel very soon.
__________________________________________________
All Sydney Northern Beaches Branch Carnivals this Season have a Covid Event Plan. Prior to every Sydney Northern Beaches carnival, the event program as well as any other important event details will be posted on this page. This season SLSSNB Branch will also be posting important information regarding Covid-19 event and safety plans that everyone needs to be aware of to ensure everyone runs COVID Safe events. Please visit the page linked to for updates.
Programs for all upcoming events are accessible from the Carnival Programs page and a PDF of the Surf Sports Calendar may be downloaded HERE. Please be aware that the times listed on each program act only as a guide. Conditions on the day may require that the program is changed on the day of the event and it is at the discretion of the Carnival Referee.
This information will also be accessible from the SLSSNB Surf Sports Team App – https://slssnbsurfsports.teamapp.com/ – where Branch will have an online calendar and chat rooms made available for each carnival, plus plenty of other news and information. To enter a local carnival, visit the SLSNSW Carnival Manager System.
With so many local little Carnivals taking place this Season this news service may have to be in 10 places at once on some days to bring you some photos and results - although, with the great teams within each club and at Branch and State level also working to keep it safe while keeping it all going, and sending in their reports as they become available, there should still be a lot of great news for those who cannot get tpo the beach, or be at all the carnivals being run right along our beaches on the same day.
As Avalon Beach SLSC's Boat Divisions says;
Bring on season 20/21!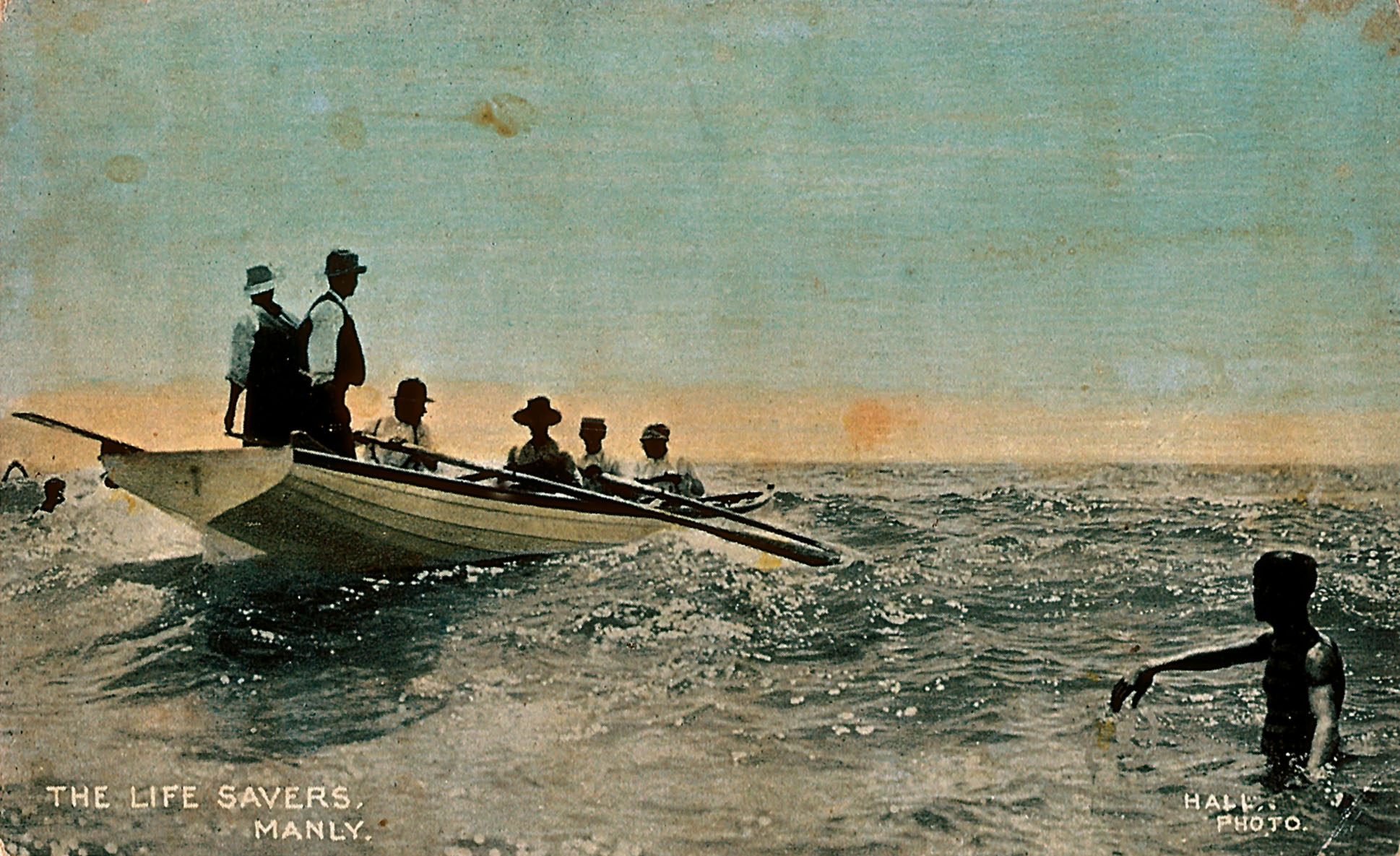 This postcard is titled 'The Lifesavers, Manly', and is likely referring to the Sly brothers. The Sly brothers were fishermen from Fairy Bower, who, in 1903, received funding from Manly Council to build a modified whaleboat to patrol Manly and nearby beaches. This shallower version was replaced by a brand new open whaler, the
second boat that was launched in 1907 - see below. The image used for this postcard was taken by William Hall photographic studio, Sydney. It was possibly a means to advertise that Manly, now that people may swim in the daylight from this year on, had safety measures in place for inexperienced visitors who wished to 'bathe' or go 'surfing'. Courtesy Australian National Maritime Museum collection.