September 4 - 10, 2016: Issue 279

Royal Prince Alfred Yacht Club Opens 150th Sailing Season - The
Sesquicentennial Year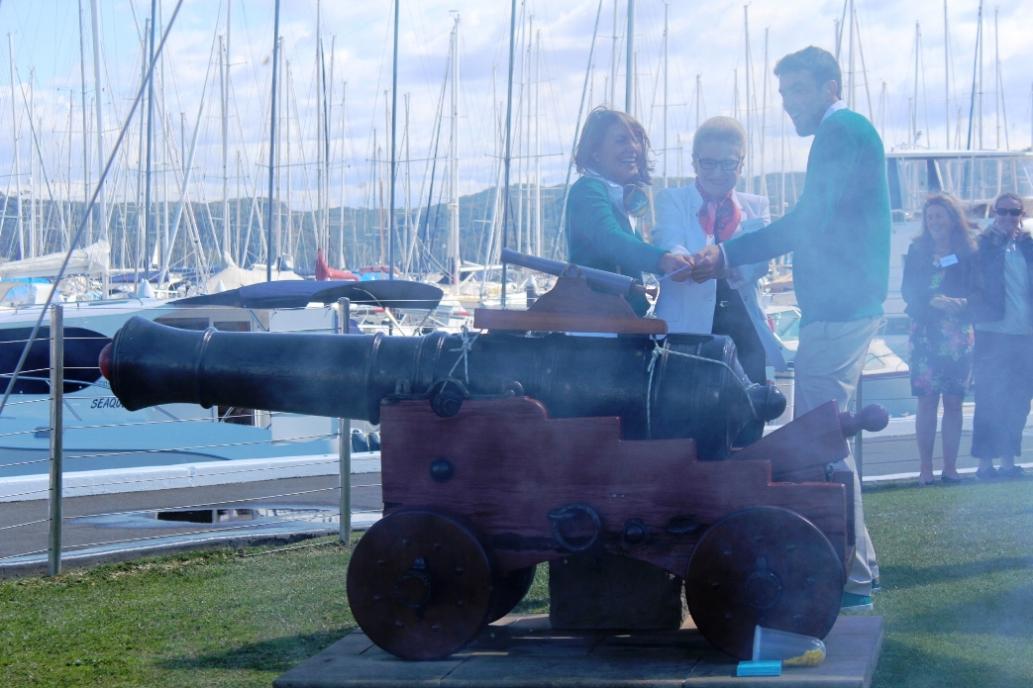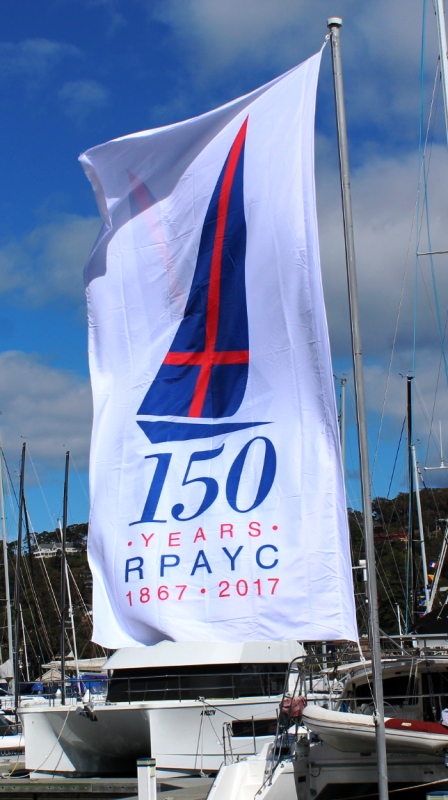 On Saturday September 3rd, 2016, the Royal Prince Alfred Yacht Club, one of Australia's most iconic yacht clubs, known for 'Excellence in Sailing' commenced the celebrations of their Sesquicentennial year.
Rio2016 Olympic Medallists Jason Waterhouse and Lisa Darmanin were on hand to help Club Patron Bronwyn Bishop fire the cannon after Commodore Ian Audsley had declared the Sailing Season officially open.
Jason stated he and Lisa would be aiming, and had already begun training, towards being able to represent Australia and the RPAYC in the Tokyo 2020 Olympics and should they gain a place, do their utmost to bring home a gold medal to pair with their silver.
Newly elected MP for Mackellar, Jason Falinski, who will give his Inaugural Speech in Parliament House Canberra on Thursday September 15th, also attended. Mr Falinski remarked during his Address that not only was it a great honour to be attending the 150th Opening of the Sailing Season celebrations of a club that is such an integral part of the community it was also an honour to be in the company of Silver Medallists, stating that sailing is a cornerstone of Australian Olympics sports.
The Royal Prince Alfred Yacht Club's Members have represented Australia since 1964 in Olympic Games, opening their tally of medals at the Tokyo games with two Gold Medals via Bill Northam and Peter O'Donnell in the International 5.5 Metre Class.
RPA Members Martin Visser, in the International Star Class and Ian Winter, Flying Dutchman Class, were also RPA Olympic Australian representatives at those games.
For the 1968 Mexico Olympics RPAYC Member Bill Solomons raced in the International 5.5 Metre Class.
At the 1972 Munich games five RPA Members and two more Gold Medals were part of the Australian team; John Anderson (International Star Class Gold Medal) , David Forbes (International Star Class Gold Medal), Ken Berkeley (International Soling Class), Bob Miller (International Soling Class), and Gordon Ingate (International Tempest Class).
Australians John Cuneo, John Shaw and Tom Anderson also won the gold medal in the Dragon class sailing at Munich 1972, meaning Australia placed 1st overall at that games.

John Anderson and David Forbes again represented Australia in the 1976 Montreal games, this time in the International Soling Class.
In 1980, the Moscow games, Australia withdrew their Yachting team but Gary Gietz (470 class), Glen Bourke (Flying Dutchman) Peter O'Donnell (Star) were named prior to the withdrawal.
The 1984 Los Angeles Olympics mark the first time RPAYC Member Colin Beashel represented Australia as part of the Olympic Team. Mr. Beashel then went on to represent Australia in the 1988 Seoul games, the 1992 Barcelona games, the 1996 Atlanta games, 2000 Sydney games and the 2004 Athens games for which he was the Opening Ceremony Flag Bearer. Colin Beashel secured a Bronze Medal in the International Star Class at the 1996 games.
Alongside Mr. Beashel's outstanding record yachtsmen and yachtswomen such as Stephen McConaghy, Richard Coxon, Mike Mottle, Glen Bourke, Angela Farrell, Andrew Palfrey, and even members of the successful America's Cup crew in Iain Murray and Rob Brown, OAM, have all come from this club to be Australian Representatives in Olympic Games.
RPAYC Member Alyse Saxby has brought home three Medals for Australia, the first a Silver at the 2007 Beijing Special Olympics, then Gold at the 2011 Special Olympics and Gold again at the 2015 Los Angeles games.
At the 2012 London games it was Gold and Silver all the way with Nina Curtis blazing her way to a silver in the Women's Match Racing, something at which the RPA excels, while Dan Fitzgibbon and Liesl Tesch won Gold at the London Paralympics.
Jason Waterhouse's Silver makes the
9th medal overall won for Australia by RPAYC Sailors or the
12th Medal in total counts and the 17th Olympics, Special Olympics and Paralympics at which RPAYC Members have been part of the Australian Teams.
When Dan and Liesl complete their campaign in Rio in two weeks time, that will mark the 18th consecutive games representation of Australia by Royal Prince Alfred Yacht Club members, and they may bring something else home with them too - perhaps the 10th, or 14 in total medals held.
We thank Commodore Ian Audsley for a copy of his 2016 Speech for the opening of what will be an historic year for a club that shares an attitude that sailing is for life.
Commodore Ian Audsley's 2016 Address
Good morning everyone and welcome to our most esteemed Club Patron, The Honourable Bronwyn Bishop, The Honourable Jason Falinski, Federal Member for Mackellar, Representatives from our IDS Community partner organisations Soldier On and Sailability Crystal Bay, Representatives of our sister sailing Clubs, parent sailing bodies and local community Groups, and of course my fellow members and Club staff and lastly but not least our Olympic silver medallists in the Nacra17 Class Jason Waterhouse and Lisa Darmanin, both with some great bling, and a great selection of their family.
Thank you all for joining us here today to celebrate the launch of The Royal Prince Alfred Yacht Club's 150th Sailing Season.
Indeed on our Sesquicentenary Opening Day it is a great honour to be here again and still be able to recognise how truly blessed we are to be here looking out at the best part of the best country in the world and thanks to many generations of effort by members and staff we can look around us at one of the truly great yacht clubs in the world, not only in terms of our physical assets but in a long history of achievement and positive engagement in our sport of sailing and principally through that, the local and broader Australian and International communities.
Our 150th season will see a continuation of the Club's commitment to our sport and positive engagement with the community across the broadest spectrum of sailing and related community activities.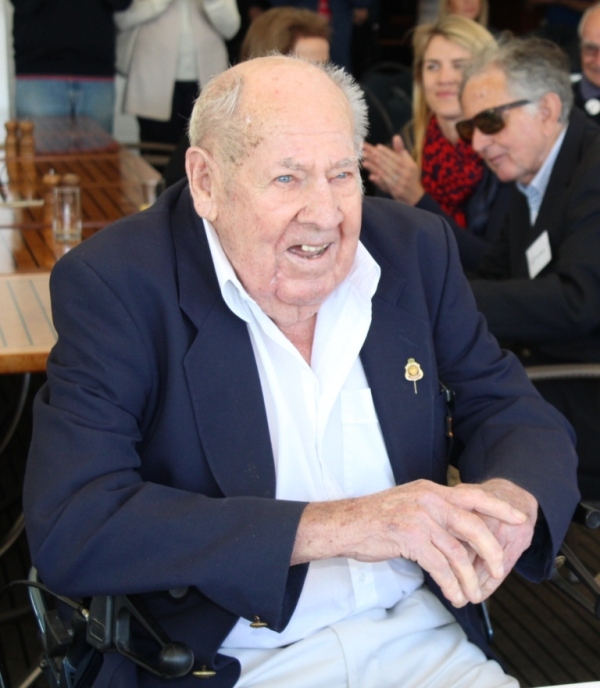 As an indication, our 2015/16 season will see, in a normal week, 600 to 700 participants on 6 or 7 days a week coursing through our refurbished centreboard area including the Jack Gale training facilities (and it is also great to see Jack here again for his well 63rd Opening Day).
These weekly participants through our Centreboard facilities will be involved in
• Programmes for Local schools
• School holiday camps
• Junior introductory sailing through the Tackers programme as well as our own Opti programmes where we hope to convert participants into sailors for life
• Our Centreboard racing for the young and not so young(like me and many other adults)
Through our Jack Gale Centre and other facilities you will see our World renowned Youth Development programme, which has produced more than its fair share of World Class sailors, including Olympians(most notably our latest two Silver medallists Nina Curtis and Jason), Americas Cup champions, and of course our World Youth Match Racing Champion team. As with all our training, those Youth Sailors attending are provided with many positive life skills.
This year we will continue to run many technical courses along with advanced and introductory Adult training.
Through our award winning IdS programme the Club will continue to support our Community partners Sailability Crystal Bay and Soldier On as well as Paralympic sailors in providing use of our facilities and human resources for Boat storage, ongoing training and hosting Regattas and other events.
Thanks to the Club, generous members and the sponsorship of Link Healthcare and some inspirational drive from Dan Fitzgibbon and Liesl Tesch, who are over in Rio about to start their Paralympic event, our award winning Integrated Disabled Sailing(IDS)programme continues to grow at pace and has achieved and I am sure will continue to achieve some fantastic results.
With this in mind I can also announce today that our Club Coach Tom Spithill will be making a sacrifice not seen since Delilah cut into Samson's mane and will be shaving his Beard in the Great Operation Beard Off next Saturday the 10th and combined with Tom, John Ball will also be making a major sacrifice with both eyebrows and beard ready for the barber's razor.
Pledges to ensure this momentous occasion happens can be made in the form of Tax deductible donations To IdS and the forms are available in Halyards and online.
Donate to Operation Beard Off here:
au.gofundme.com/operationbeardoff
Now while I am talking about great things, I can once again give a special Opening Day welcome to our latest Olympian and Olympic medallist Jason Waterhouse, his Olympic campaign partner and cousin Lisa Darmanin, Jason's parents Rod and Kerry, and grandfather Don Wood who was clearly the star attraction at the Club on that wonderful very early Wednesday morning.
Jason joins an unbroken chain of Olympic representation by Club Members starting in 1964 and including Richard Coxon who is also here today, our London medallist Nina Curtis represented by her dad, Commodore Rob Curtis.
Jason and his family, along with our club community family, represent all that is good in sailing, not only in terms of competitive results but what got them there; great sportsmanship, underlying commitment to the sport, self sufficiency and many other attributes which I am sure will keep Jason in good stead to keep his and the Club's amazing unbroken Olympic journey going(no pressure there Jason)and as with our other Olympians and fellow members inspire our Young sailors to follow their ambitions in the sport and whatever those ambitions are, and most importantly, have sailing as a positive part of their life "for life".
Wood-Darmanin-Waterhouse-Bolewski Family
For those with an interest in exploring our waterways in a more leisurely fashion, we have our "elite" cruising division who try and go about their sailing and socialising in a most non elitist manner. There will be a vast array of cruise destinations over the season from today's overnighter "recovery cruise" to Towlers Bay, to much further afield including the 2017 Sesquicentenary Coral Coast Cruise. In fact, there will be a Club organised cruise or a social event to suit everyone during this 150th year.
The Club will also host a broad range of social activities to both support our Sailing programmes and social engagement with members and visitors, as well as numerous functions for community Groups like Zonta and other local sporting organisations.
Yacht Racing will of course remain a foundation stone of the Club's activities and member participation and this year's calendar will continue to attract around 700 sailors in a normal week for our regular Club racing and many more for Regattas hosted by the Club.
This season we will be hosting the NSW and Australian Etchells Championship, The Huntingfield Cup in the Jubilee Class, Sydney 38 State Championships, The Wattle Cup for Couta Boats as well as of course our Youth Match Racing Harken Regatta and another East Coast Championship with our Centreboarders to name but some of our Regatta Racing.
As all our members and visitors can attest Our Racing, Training and Cruising programmes are extensive and cater for a full range of sailing preferences, skill levels, age, gender and physical capability.
We will continue to appreciate and take care of our magnificent Pittwater environs. The Club is certified Fish Friendly by the MIA and we have declared our Marina a "marine sanctuary", as well as investing heavily in environmentally sound facilities, most particularly in our boat yard which is now regarded as one of the most advanced environmentally friendly maintenance yards in the industry.
I am sure it doesn't need restating to this audience, but the Club will continue to strive to optimise our wonderful sport, facilities and human capital to engage with all on a "sailor for life basis" and continue to meet our constitutional objectives to support the sport of sailing as well as being a positive part of community life and our surrounding environment.
In addition we will be marking our Sesquicentenary year with due homage to the legacy left by our club forebears and many other generations of members recognising the amazing sailing achievements of our members and the role they played in developing the Club in absolute sympathy with the human and physical development of our local and broader community. We will have history story boards placed around the Club site as well a lot more archival displays in the Club and in due course the completion of our next history book.
I would now like to welcome Jason Waterhouse and Lisa Darmanin to the stage - while they are stepping up I will mention that we had a fantastic morning at the Club
watching you in the medal race
, incredibly exciting; Gary Gietz had to be held back from lodging a protest on the gold medallists delay in taking their 360 penalty. Traks Gordon and Tony Walls were proud emotional wrecks and your granddad Don avoided his fear of having a coronary in front of the ABC cameras.
But most of all we enjoyed seeing you have a great race, and the way you represented Australia in your Sailing and the way you conducted yourselves both on and off the water was absolutely awesome. So congratulations again.
In closing this part of proceedings, and whilst we are all preparing our ears for our Patron, Jason Waterhouse and Lisa Darmann to fire the cannon and our Volunteer of the Year Commodore Russell Murphy and Will Dargaville skipper of our World Youth Match Racing Champions, raising the Flag, I would like to thank you all again for joining us here today, I hope you enjoy the rest of today's festivities and most importantly the 2016/17 season.
I look forward to seeing everyone around the Club and out on the water participating in Club Events and on that Note
I declare the 2016/17 Royal Prince Alfred Yacht Club season open.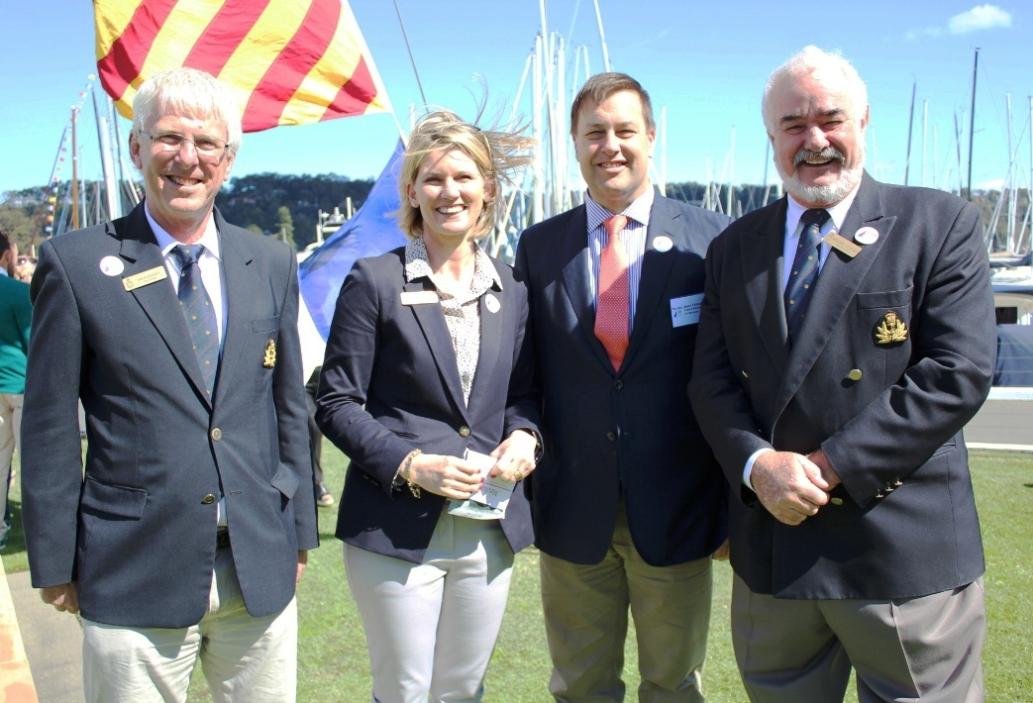 RPAYC Commodore Ian Audsley, RPAYC General Manager Suzanne Davies, Hon. Jason Falinski, MP for Mackellar, RPAYC Vice Commodore Michael Lockley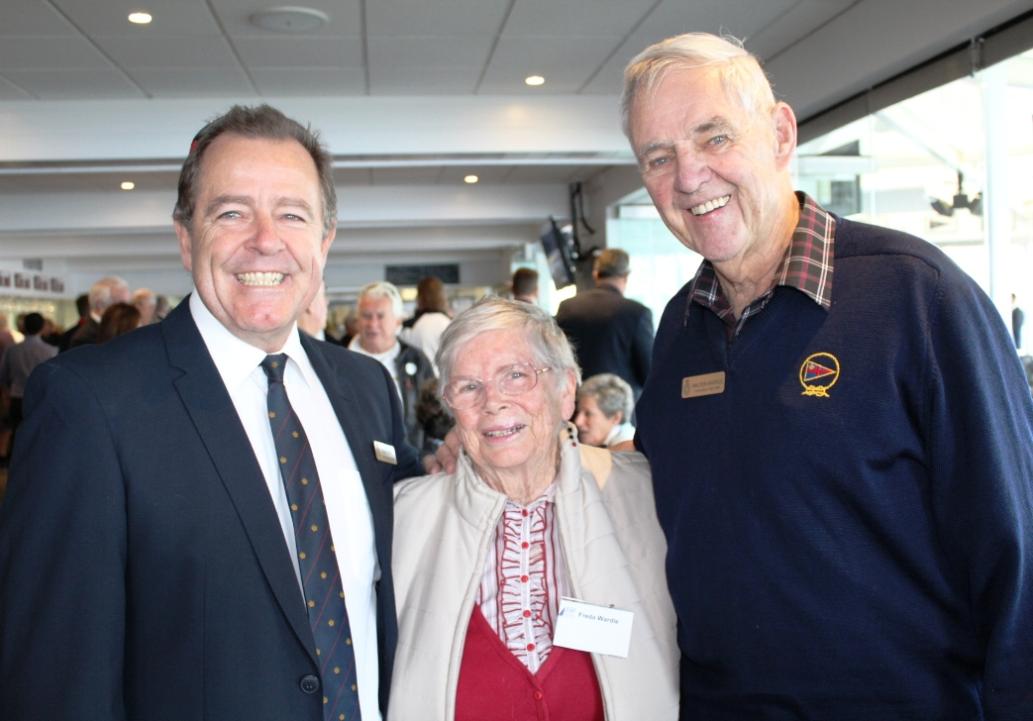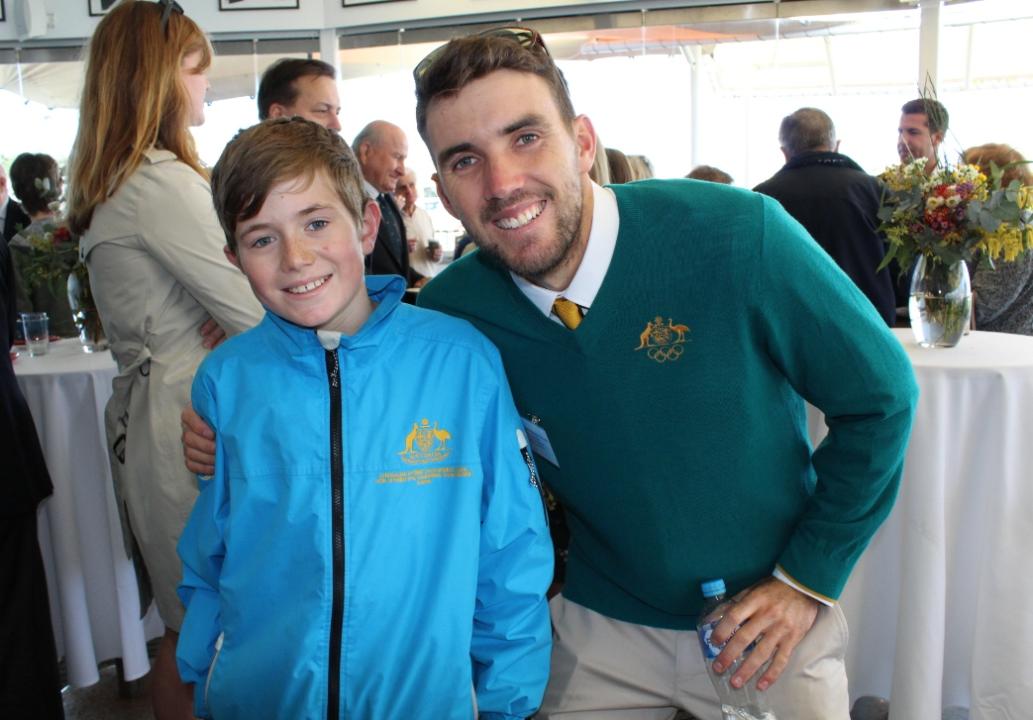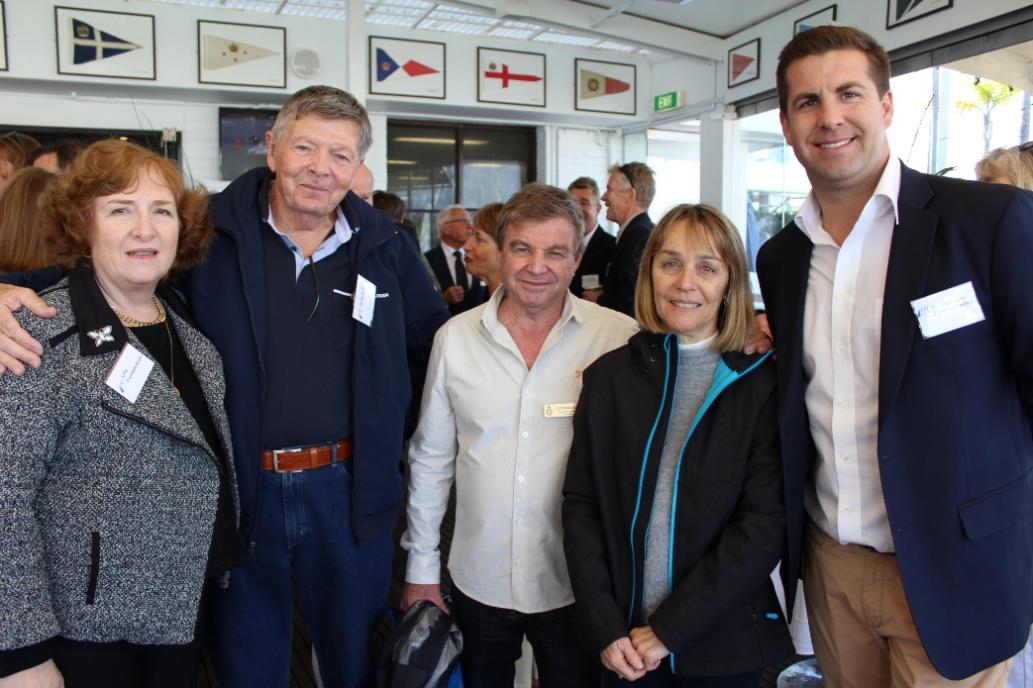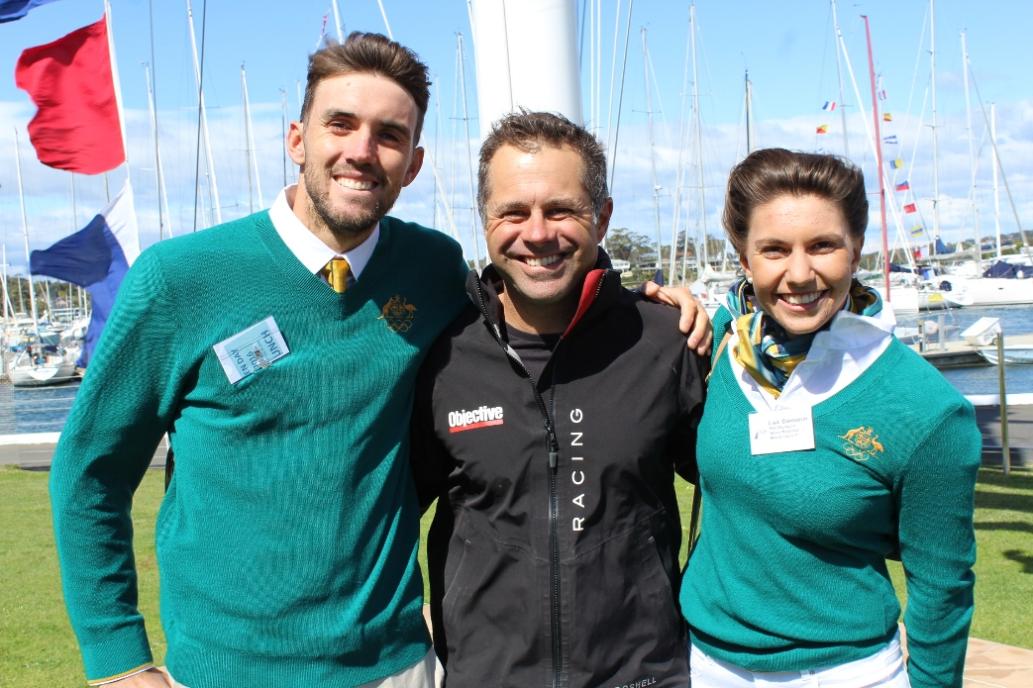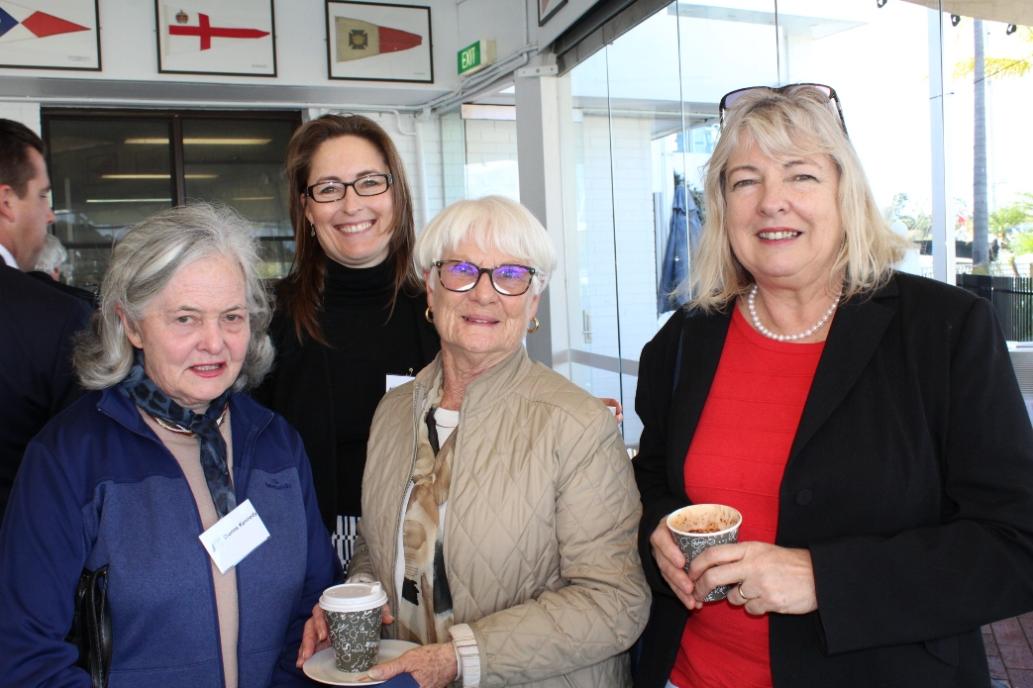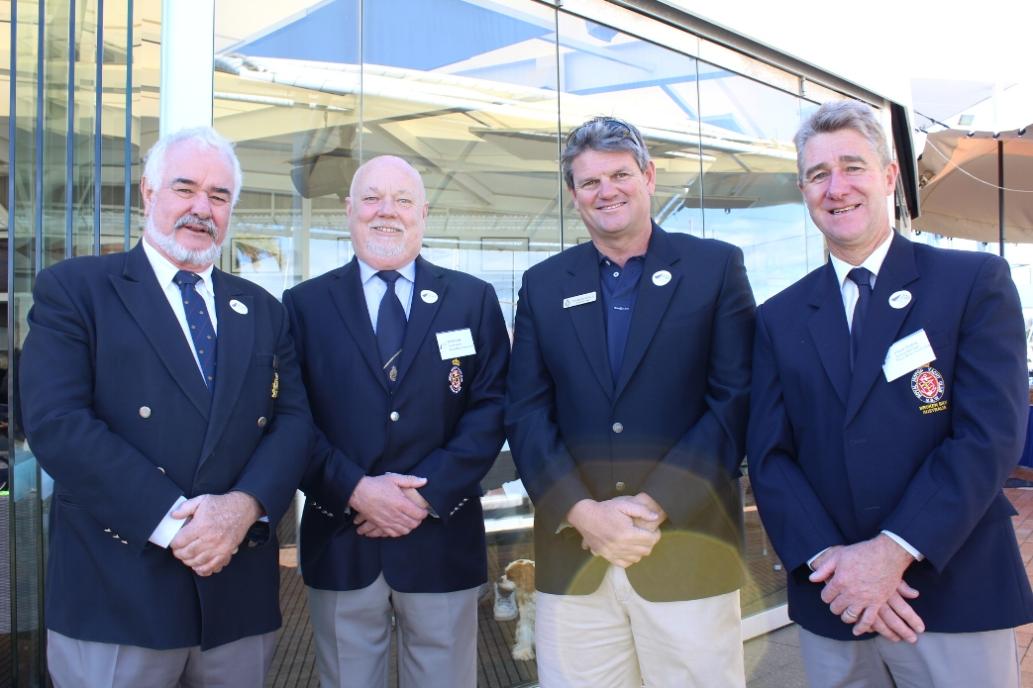 RPAYC Vice Commodore Michael Lockley, RMYC Director Chris Lee, RPAYC
Facilities / Waterfront Manager
David Randall, RMYC General Manager, Steve Euers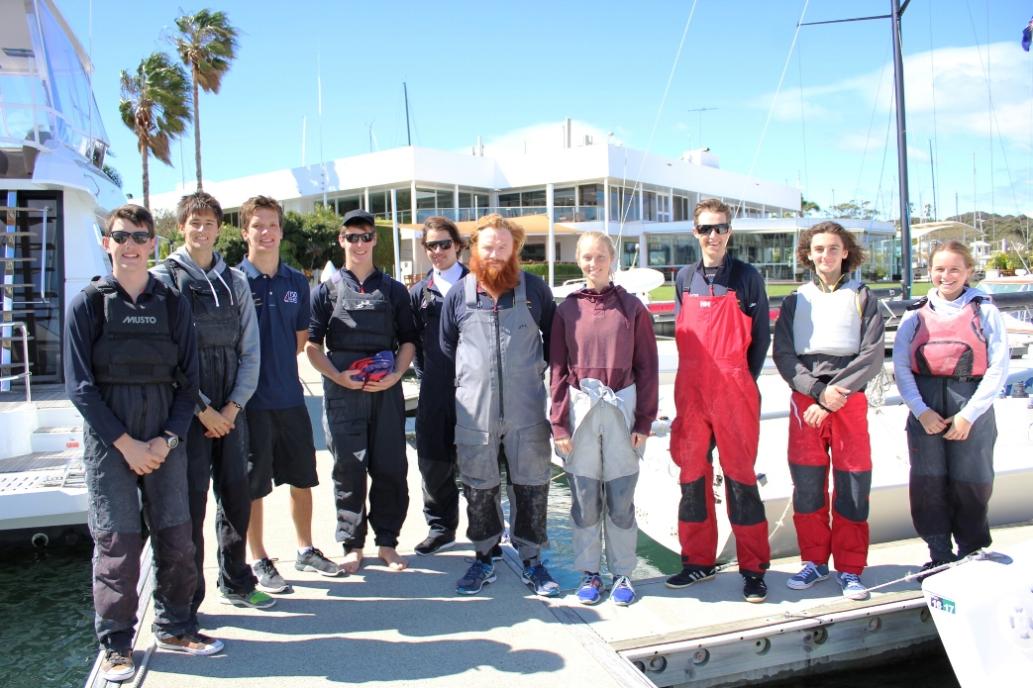 RPAYC Head Coach Tom Spithill and some of the great Youth Sailing members including Will Dargaville skipper of the World Youth Match Racing Champions.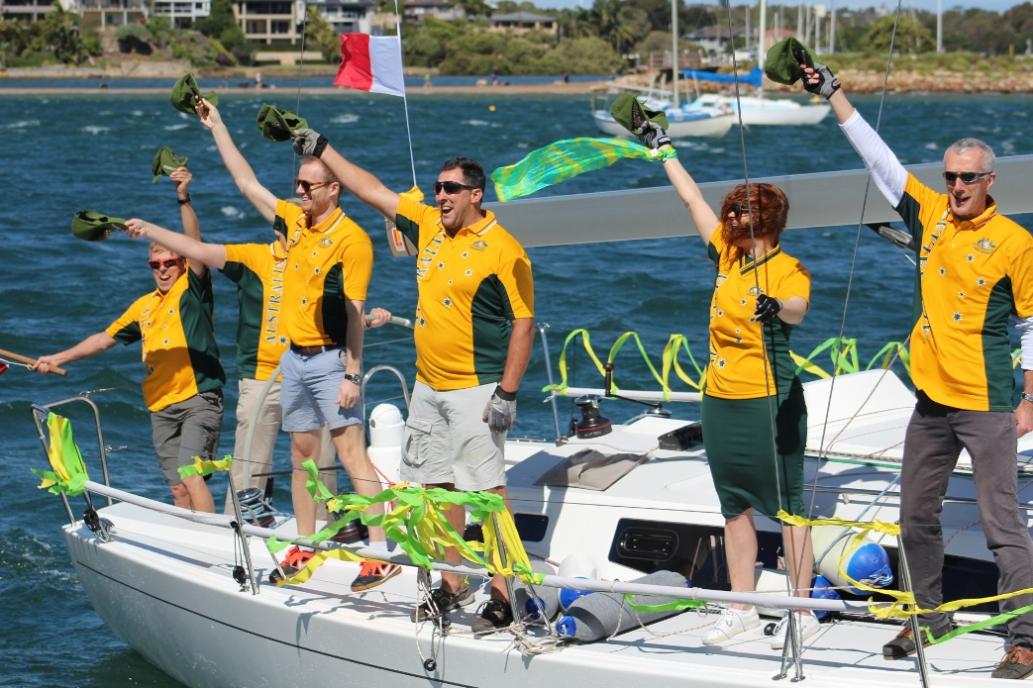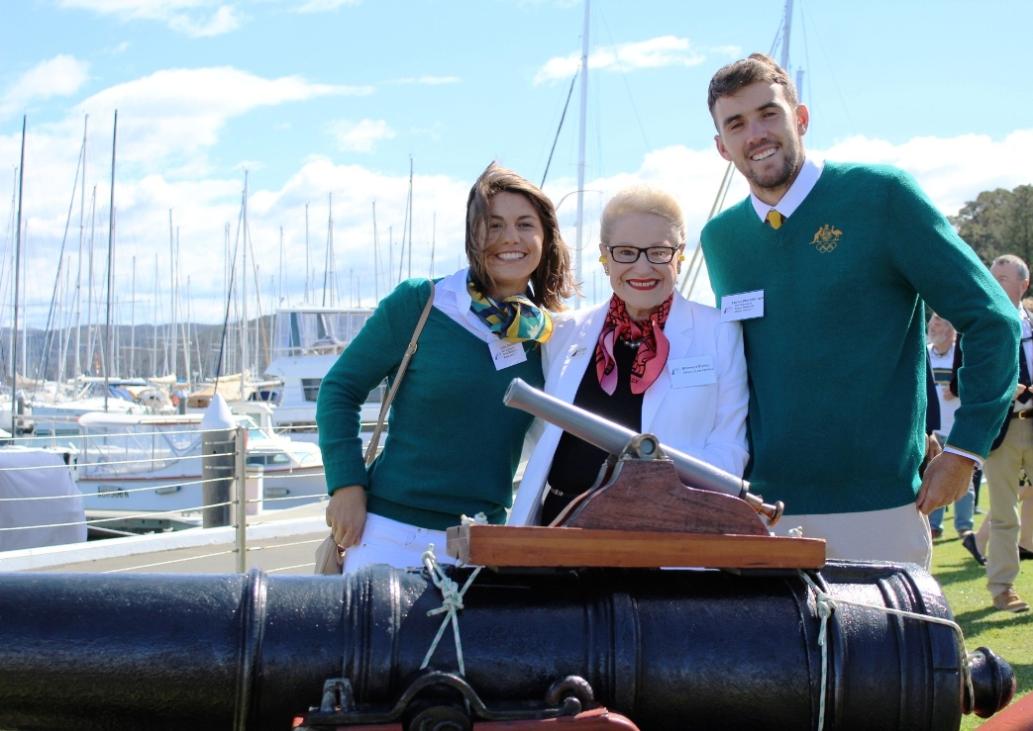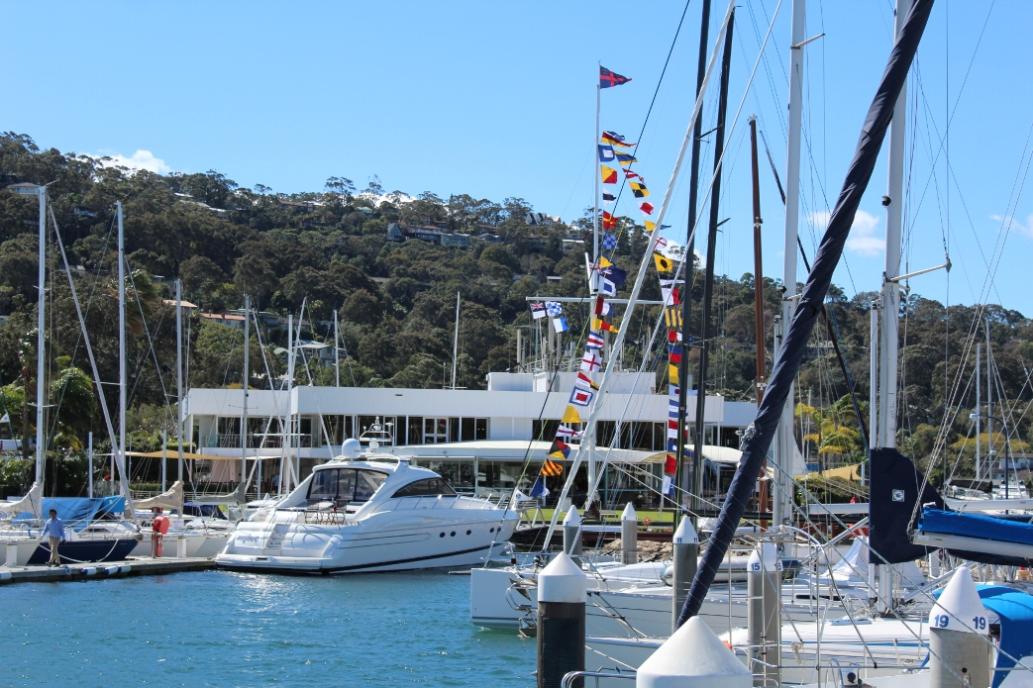 Report and Pictures A J Guesdon, 2016