July 17 - 23, 2022: Issue 546

Pittwater Pathways A History Of Pittwater Films Remastered
John Illingsworth's brilliant Pittwater Pathways YouTube films are a boon to local residents, sharing insights and news as well as great Historical features John has clearly spent a lot of time and effort making just for a local audience - although many are enjoyed right around the world.
A few years ago he published his A History of Pittwater film series. While many of us were off looking after youngsters on the Winter School Holidays break, or were those youngsters themselves taking time off, John has published remastered versions of his A History of Pittwater Parts 1 and 4.
These 2022 versions have been upgraded to 1080p HD, have improved sound, a clearer narrative and location subtitles, along with extra materials added in.

This week, as we all head back to school or work, an opportunity to look back even further through John's great films presents itself - who could resist such wonderfulness? Not us!
Also included this week is a great history feature John published last year, 'BROKEN SECTION: the story of Pittwater's anti-submarine boom net'.
This great photo from the collection of the NSW State Records & Archives, dated 1945, shows the submarine boom and net still in place across the mouth of Pittwater, between Barrenjoey and West Head. Another just below this, from the same great resource, now digitised and freely available, shows the same vicinity just a few months later, in 1946 - when campers are seen occupying Governor Phillip Park at Barrenjoey. Some of these campers became year round residents at this place, caught up in post-WWII housing and building materials shortages. The camp had also been home to many during the 1930's Great Depression when so many were made homeless and came to our area under the reasoning that at least here they could live in a tent and catch fish to feed hungry mouths or obtain work through the various schemes the Warringah Shire Council, in part funded by the then State Government, to build roads, rock pools or drain and fill in places like the now vanished Newport Lagoon.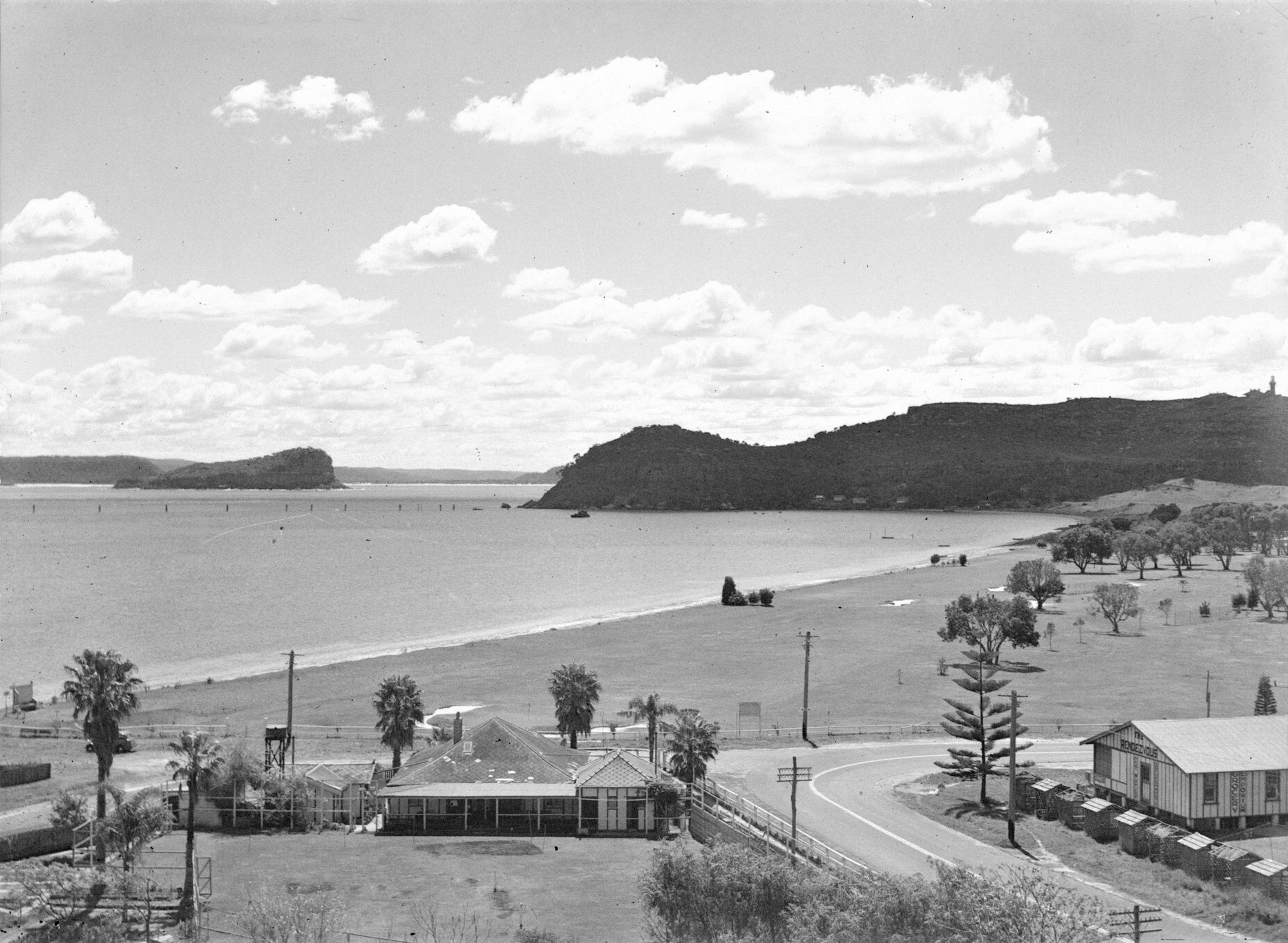 Palm Beach and Lion Island [From NSW Government Printer series Pittwater] 1945 - note the submarine boom is still in place. Item FL3734311 courtesy NSW State Records & Archives
Palm Beach 1946 - worth noting is this Item from Warringah Shire Minutes of Meetings - Meeting held 19th of June 1945: Recommending that preliminary steps be taken in regard to the proposed construction of a Caretaker's residence and First Park Aid room at Governor Phillip and Lake Park: Resolved, - That the recommendation be adopted. (Crs. Green, McLean) Item FL3733992 Government Printing Office d1_36503 - courtesy NSW State Records & Archives - Also note that there is no Palm Beach Boathouse in place yet.
Pittwater Online will also let you know when John's other films in this series have been remastered and made available too - or visit Pittwater Pathways and subscribe to get those updates. There is a dearth of films presented through the Pittwater Pathways YouTube site on all subjects - you may be watching for days!
A HISTORY OF PITTWATER PART 1: DISCOVERY Remastered
Published July 6, 2022 by Pittwater Pathways
The discovery and first explorations of Pittwater, Broken Bay and the Hawkesbury River by Governor Arthur Phillip 1770-1789. Strong focus on plants, animals & the First Australians as seen through the journals of the officers and the First Fleet water-colours.
A HISTORY OF PITTWATER: PART 4: WEST HEAD FORTRESS Remastered
Published July 5th, 2022 by Pittwater Pathways
2022 version with more historic drone footage. Definition and video stability greatly improved.
The story of the WWII fortress at West Head up to March 1941, including the installation of the guns as told by the man who was there - Jack 'Bluey' Mercer. The history of Commodore Heights, attempts by speculators to subdivide Kuringai Chase and the building of the Hawkesbury River railway bridge. An over-arching strategic theme from 1882 onwards reveals how the defence of Pittwater, Broken Bay and the Hawkesbury River railway bridge was essential to the war effort and the defence of Sydney.
BROKEN SECTION: The Story Of Pittwater's Anti-Submarine Boom Net
Published March 31, 2021 by Pittwater Pathways