May 28 - June 3, 2017: Issue 314
Palm Beach Sailing Club 2016/2017 Season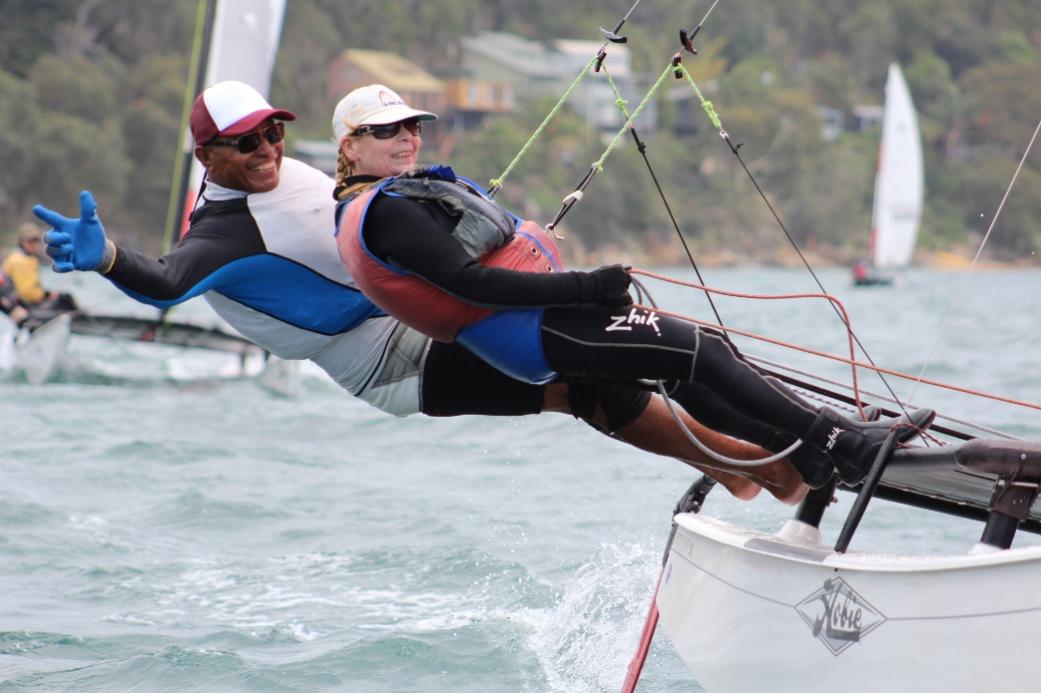 Upu Kila and crew mate Samantha Duchatel on Pittwater for the 2016 PBSC's Beware the Bullets Regatta
Palm Beach Sailing Club 2016/2017 Season
A very successful sailing season for Palm Beach Sailing Club has just finished.
PBSC is predominantly family orientated with great opportunities for young sailors to get the feel of fast "off the beach" multihulls. PBSC sails from Snappermans beach at Palm Beach on most Saturdays from September to May each year.
There are a number of its sailors though that compete at elite levels who have won or placed in State, National and World events over the last season.
Upu Kila won the National Hobie 16 Grandmasters and podiumed in the Open event at the NSW and Victorian State titles.
Peter (Doogie) McDougall won the Hobie 14 NSW State titles for both cat rigged at sloop rigged categories. Sophie Renouf and Lucy Copland won the Hobie 16 Womens at the same event.
At the Hobie 16 World Titles in China, Rod and Kerrie Waterhouse doubled up and won the Hobie 16 World Masters and Grandmasters with club mates Anthony Duchatel and Evelyn Curtis taking silver in the Grandmasters and Nina Curtis and Hayley Outeridge also taking silver in the Women's.



Haylee Outteridge and Nina Curtis

At the World Masters Games held in New Zealand, in the Weta Trimaran class, Martin Cross and Rod Waterhouse took gold and silver respectively in the Grandmasters, Peter Martin took gold in the Apprentis Masters and John McCormick took bronze in the Great Grandmasters.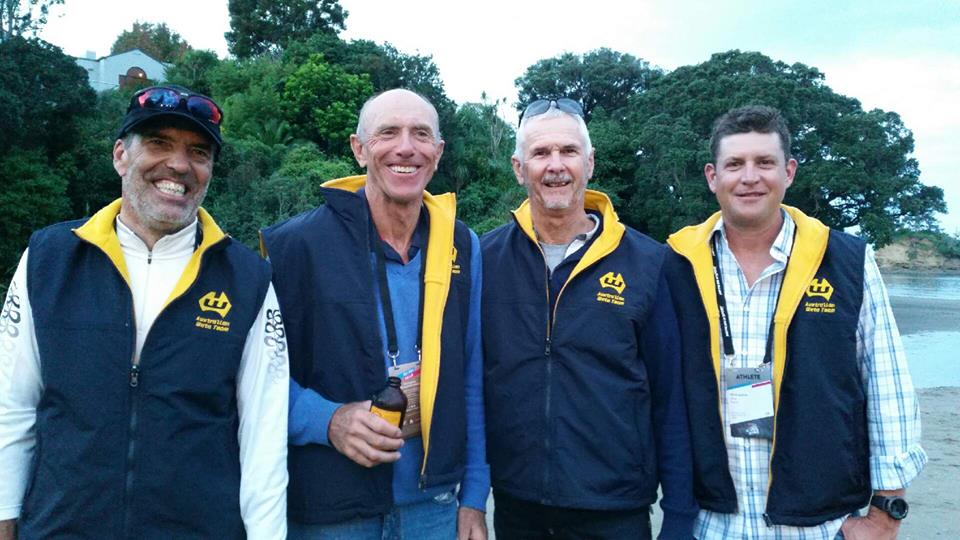 Martin Cross, Rod Waterhouse, John McCormick and Peter Martin at Waiake Beach.
The main game closer to home, on Pittwater between Careel Bay and Barrenjoey headland, brought some great sailing which was celebrated at the clubs presentation day last Saturday.
To kick things off the club was privileged to have Nina Curtis as its guest speaker. Nina is a silver medallist from the London Olympics, current runner up in the Hobie 16 Womens Worlds and is campaigning for Tokyo 2020 with Haylee Outteridge on the Women's 49erFX skiff. Nina talked about her "pathway" in sailing that started at BYRA, then Avalon and RPAYC and recently PBSC that took her from dinghies to an Olympic match racing silver medal and on to Olympic class catamarans and skiffs. Her enthusiasm and love for sailing was infectious and she confirmed how the exhilaration of sailing, especially on a "cat", can be found at any age. She loved the inclusive family/youth focus that PBSC has in place and the "pathway" that it provides for younger sailors.
Martin Cross who won the Steve Kiely Memorial Trophy for the annual marathon held in demanding conditions this year, a trophy that recognises great seamanship epitomised by Steve who was considered a master sailor.

Phil Malcom and Anna Hill our most improved team and Caitlyn Bell our most improved crew.

Jake and Tess Sweeney for the youth team award.

Peter Duross for the hotly contested Weta Cup.

Andrew Nelson for the Poinstcore series sailing 1up on a Hobie 16

Anthony Duchatel and Evelyn Curtis for their 6th Club Championship win.
photo by Regina Renfree
The season once more saw the club host the very successful
Beware the Bullets Regatta
(November 19-20, 2016) which attracts sailors from around the state to compete in the
F18,
Hobie 14,
Hobie 16,
Hobie 17 Sport,
Hobie 18,
Nacra 17 and Viper and
Weta classes.
Our thanks to the organisers, volunteers and sponsors for helping make this regatta such a success again this Season.
Fun social events such as the annual Princess Race and the
Patonga Fish and Chip Run ensure club members can enjoy the beauty of the location we sail in and on as well as each other's company.
On behalf of all PBSC members, thank you to the outgoing committee of Richard Lacey, Andrew Nelson, Anthony Duchatel, Michael Henman, Regina Renfree and Darren Schmidt. All those hours you put in throughout the year paved the way for a very successful season.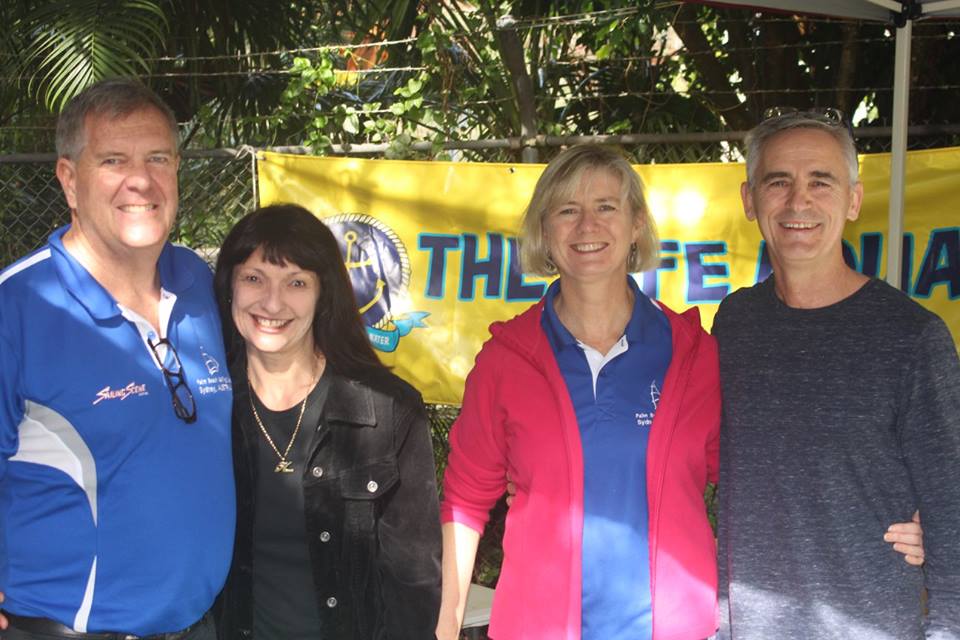 Congratulations and welcome to the incoming committee for season:
Commodore - Andrew Nelson
Vice Commodore - Richard Lacey
Treasurer - Anthony Duchatel
Secretary - Michael Henman and Regina Renfree
Next season looks like it will be a cracker with more youth sailors likely to join in advance of the youth and women's State titles to be held in February 2018 along with increased class sizes in some classes such as the A Class, F18/16, Weta and Hobie multihulls.
Report courtesy Anthony Duchatel and Trevor Gourlay, 2017.
Prize Winners For Season 2016/2017:
1st Anthony Duchatel and Evelyn Curtis
2nd Darren Schmidt and Barbara Klampfer
3rd Peter (Doogie) McDougall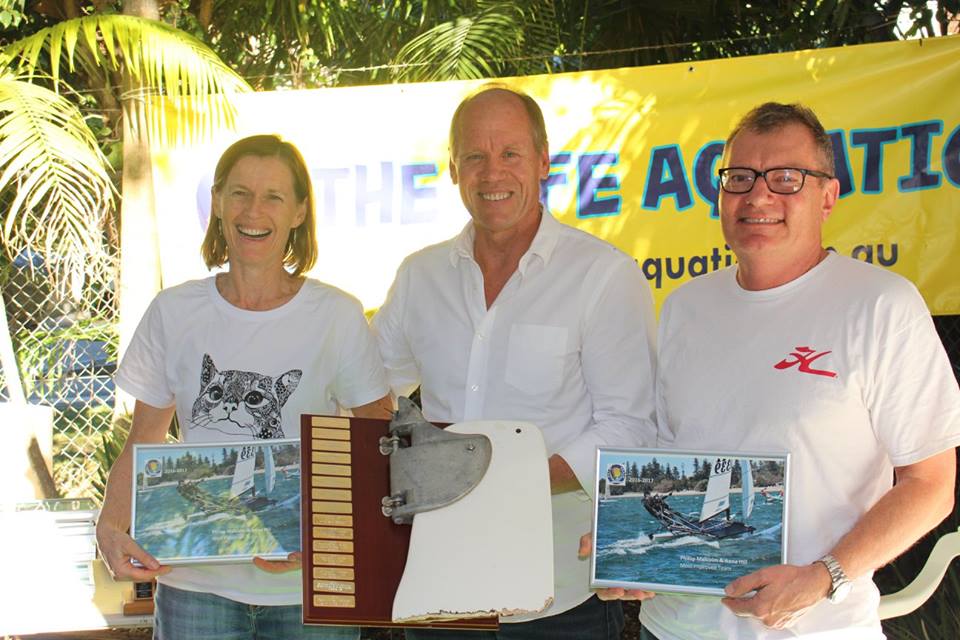 1st Andrew Nelson
2nd Trevor Gourlay
3rd Michael Henman and Regina Renfree
1st Andrew Nelson
2nd Rob and Nathan Weiss
3rd James and Ashley Butler
H16 Combined Series 1 & 2:
1st Andrew Nelson
2nd Rob and Nathan Weiss
3rd Michael Henman and Regina Renfree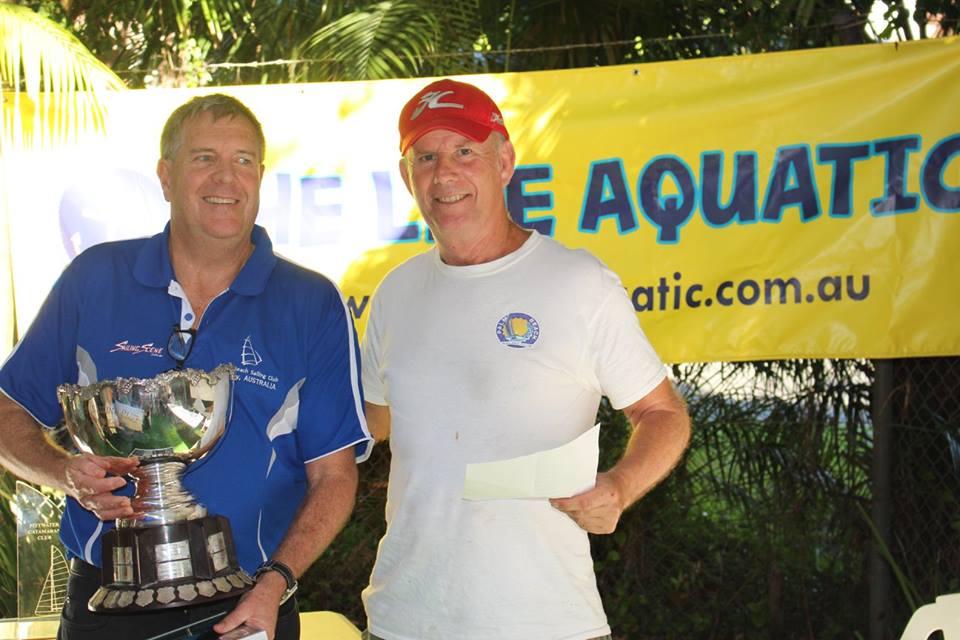 Miscellaneous Combined Series 1 &2:
1st Darren Schmidt and Barbara Klampfer
2nd Denis and Gavin Williams
1st Peter DuRoss
2nd Martin Cross
Steve Kiely Memorial Trophy (Marathon):
Martin Cross
Denis and Gavin Williams
Phil Malcolm and Anna Hill
Jake and Tess Sweeney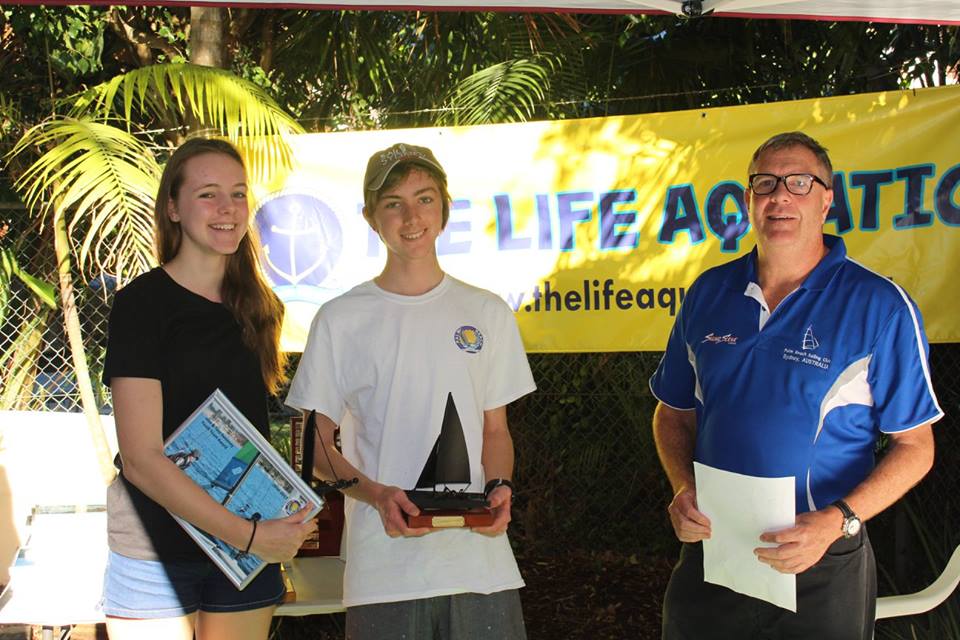 Caitlyn Bell
Richard Lacey
Trevor Gourlay
Alicia Rhoda
Appreciation Award for Continued Support of Club Championship Races:
John Goldsmith and Kerry Holmes
Most Fun in the Sun Award:
Dave, Megan and Hayley Fisher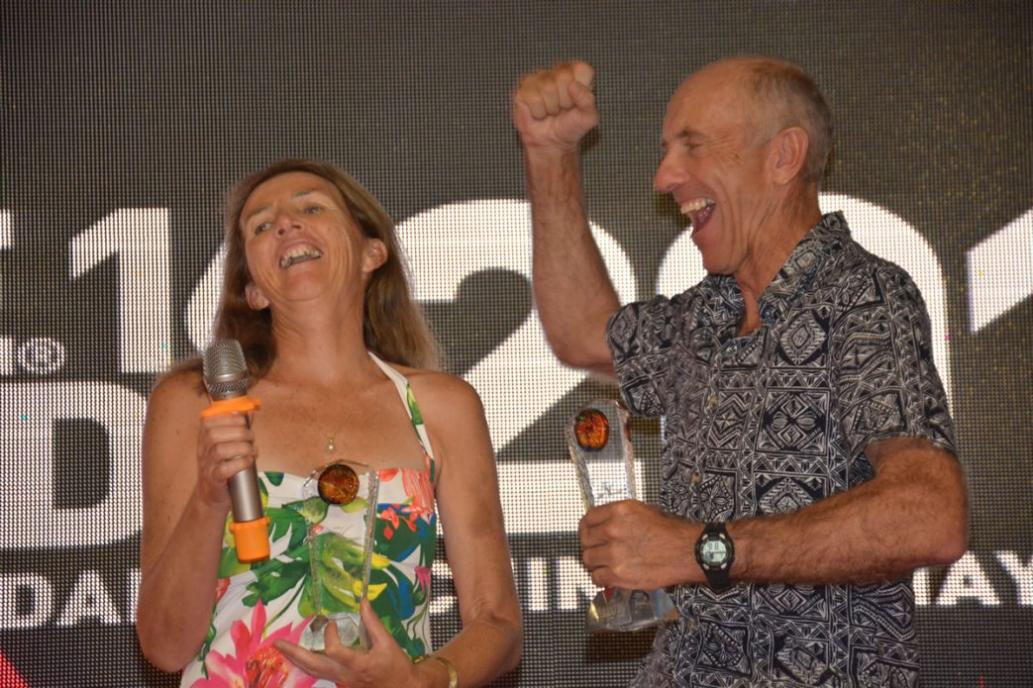 Rod and Kerry Waterhouse 2x 2016 Hobie World Champions!