May 16 - 22, 2021: Issue 494

NFSA Releases Unseen Footage Of Nellie Melba To Celebrate Her 160th Birthday On May 19th: The Day Dame Nellie Melba Lunched At Bilgola Cottage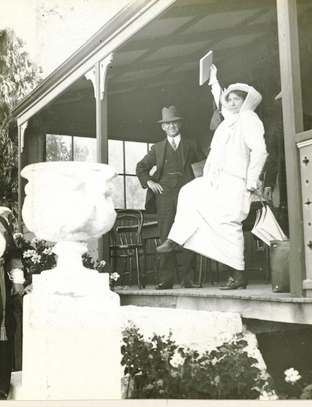 'Madame Melba with John Lemmone' Picture a3293015, Courtesy State Library of NSW
In celebration of the 160th anniversary of Dame Nellie Melba's birth on 19 May 1861, the National Film and Sound Archives have this week released previously unseen private footage of Australia's 'Queen of Song'. She is seen relaxing with her family at Coombe Cottage, her outer Melbourne residence, in 1927.

Called Australia's First Diva, Dame Nellie Melba, had a long association with the Allen family of Sydney who were highly cultured and enjoyed cultivating and entertaining the who's who of Sydney Society. One of their number, Arthur Wigram Allen, was an enthusiastic photographer and vehicle owner, with the combination of both providing generations of Australians wonderful insights through the masses of images he took, all now housed at the State Library of NSW and known as the Allen Family Albums.
On Wednesday 23rd of September, 1914 'Madame' Melba, as she was referred to by Arthur Wigram Allen, went with the family and others to visit and explore Bilgola beach. They were entertained 'at lunch' lavishly and spent the afternoon exploring the grounds and beach.
Dame Nellie was accompanied by Mr and Mrs H Ward (Mr. H J Ward had taken over the management of J C Williamson's entrepreneurial entertainment firm on that man's death in 1913. Melba had established the Melba-Williamson Opera Company in 1910), and her business manager, flautist John Lemmone. It would have certainly been an august party given whom attended.
As A. W. Allen states beneath one of the photographs: 'a number of us went up to Bilgola today to show the place to Madame Melba. We had a very successful afternoon'.
Also in the party were Mr and Mrs George Armstrong, Mr Chalmers, Denis and Mr. Allen.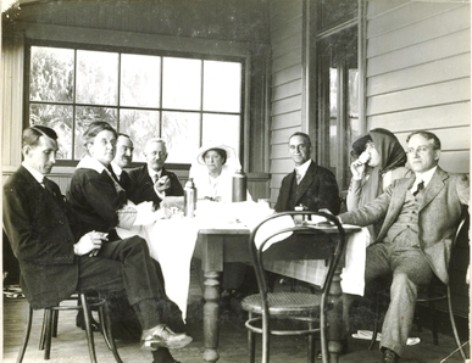 Above: Balcony photo of(from left): George Armstrong, Mrs Hugh Ward, Mr Chalmers, AW Allen, Madame Melba, John Lemmone, Mrs Armstrong, Hugh J Ward. Pic No: a3293014h Album 64: Photographs of the Allen family, 23 August 1914 - 7 March 1915 , courtesy State Library of NSW.
Early Spring is beautiful in Pittwater and considering Dame Nellie Melba had sung the role of Mimi in La bohème at the Royal Opera Convent Gardens in London at the request of King George V on May 11th of 1914, the visit probably formed part of a well deserved day off. You cannot tell from the black and white images here that this lady had auburn hair nor that she was highly spirited with sparkling eyes but the way she is pictured stepping off the veranda gives us some insight to a sprite spirit. Given that she was 53 years of age on this day, born May 19th, 1861, it seems that the blithe aspect of her hard worker nature was well and truly intact.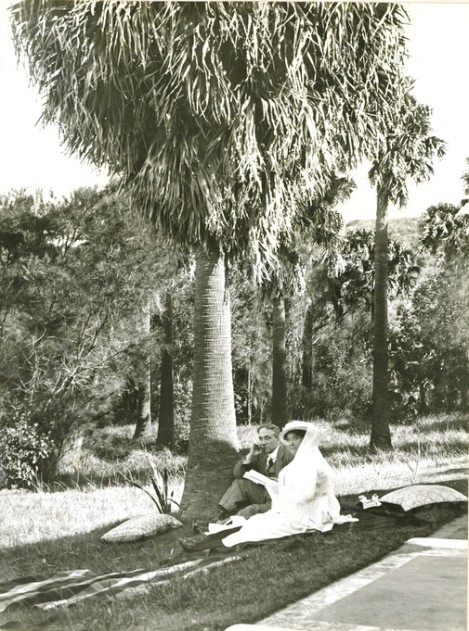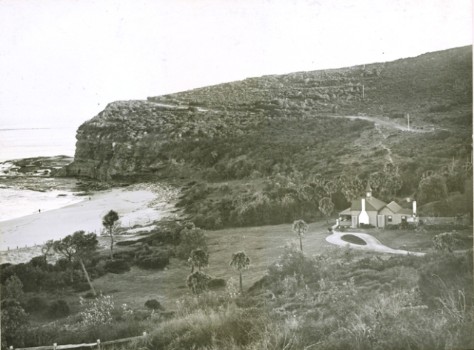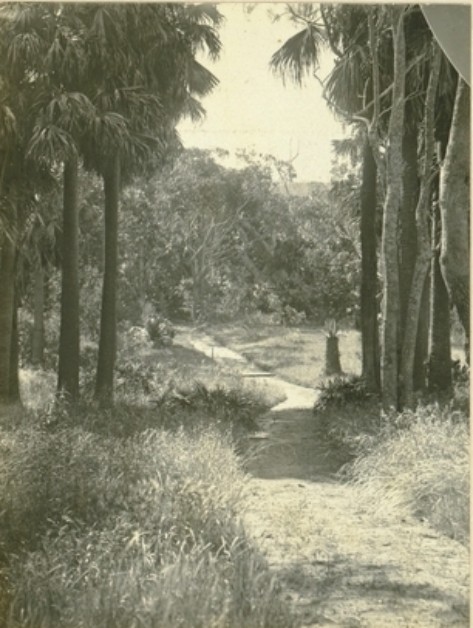 Above: Melba with H J Ward in the grounds Pic: a3293016h. And; 'Bilgola Cottage' in 1913 taken from headland by A W Allen, 11th of May, Pic a3291037 and 'Within the Grounds', a3293016h , Dec 1913 all courtesy of State Library of NSW.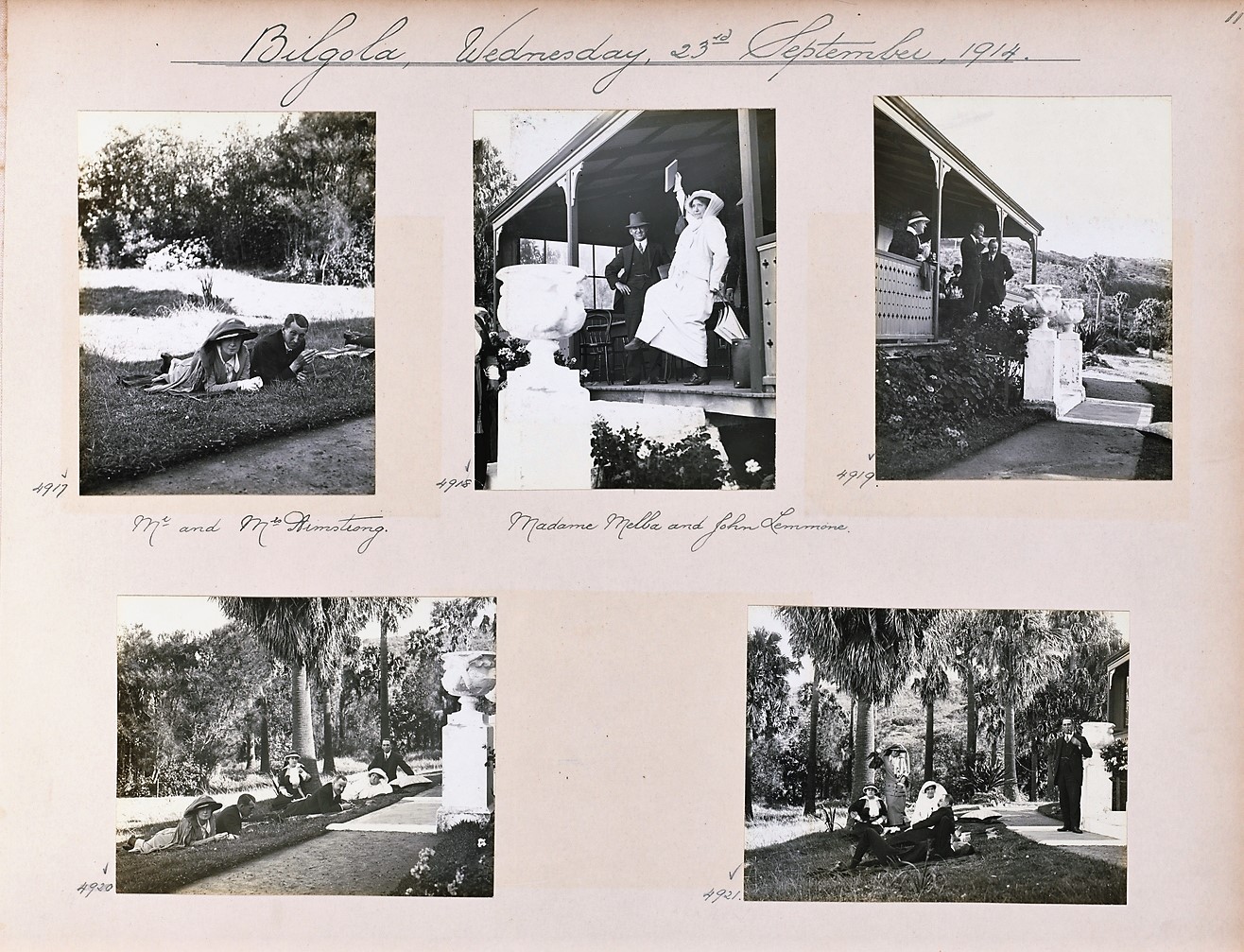 Dame Melba with her car also appears in another Allen family album from May 1909, which also includes a trip to Bayview for lunch at La Corniche.
What was called 'Bilgola Cottage' was built in 1870 by William Bede Dalley (1831-1888), orator and politician, a gentleman who was born in George street to Irish convict parents. The Hon. W B Dalley, called to the Bar in 1856 is described as being highly educated, refined, articulate and with an open, warm and magnetic personality. In 1878 his second son, John Bede Dalley, was born. Educated in England and called to the Bar in London in 1901 John practised in Sydney until 1906 at Wigram Chambers in Phillip Street, Sydney until a fall from a horse deafened him and he turned to journalism and writing.
John was described as a bit of a character, always immaculately dressed and perfectly mannered, who satirised the upper echelons of Sydney society, even though a part of this crowd, in all his books. He was known as a 'man about town' from an early age and named as co-respondent in his older brother's divorce proceedings in 1905.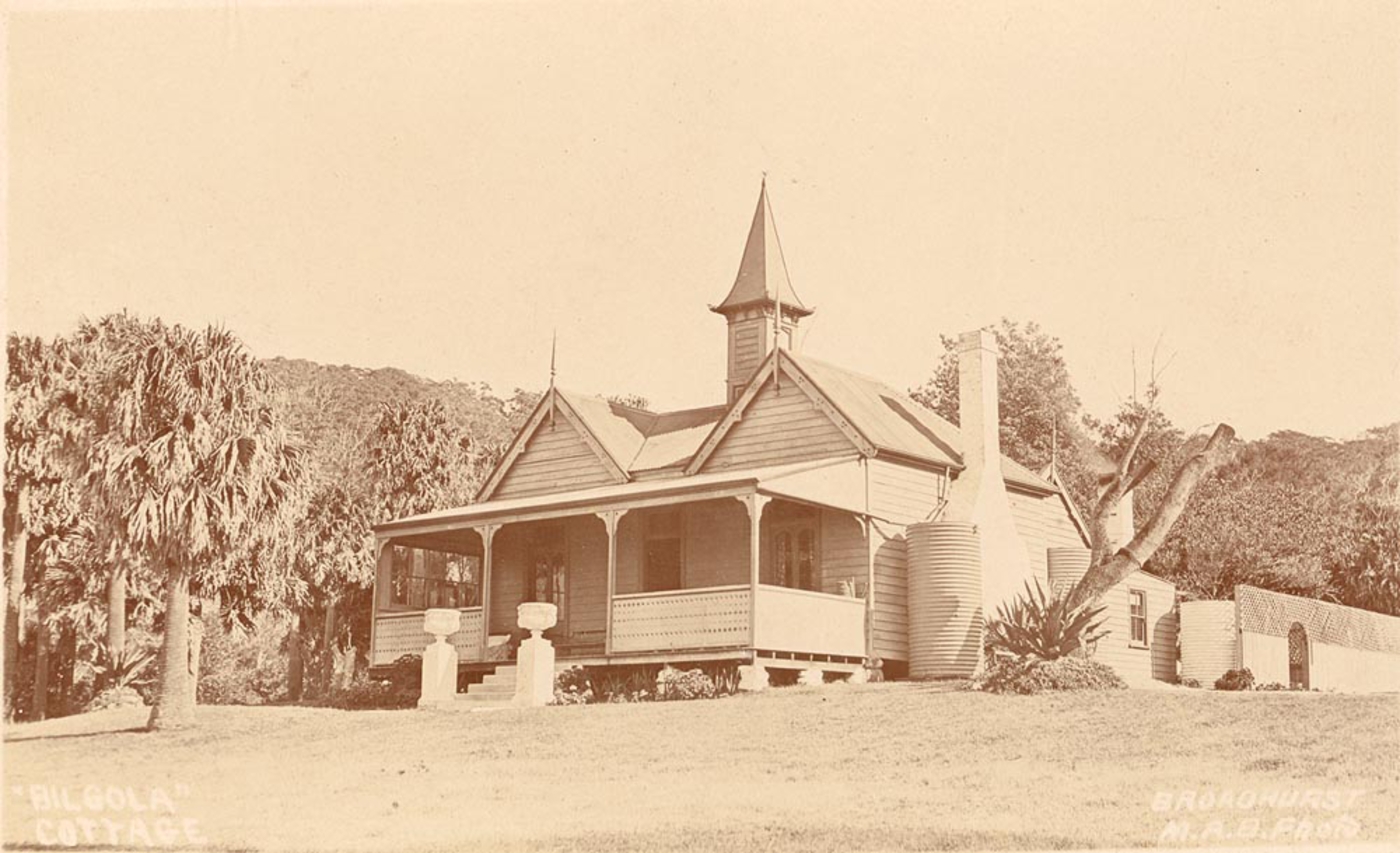 'Bilgola Cottage' Pic No: a105043, ca. 1900-1927, Sydney & Ashfield : Broadhurst Post Card Publishers, courtesy State Library of NSW.

The weekender Bilgola Cottage was the scene of many Allen Family lunches and picnics through the Springs and Summers of 1913 to 1915. They seem to have come and gone as though they owned the cottage and notes in the family photo albums seem to infer a stronger link then merely having access through their association with the, by then owner, Walter Oswald Watt, the famous WWI Australian pilot, who was overseas serving in France when this luncheon took place. Images of him do turn up in other Allen family albums.
It is interesting to note that there is an Allen Avenue in Bilgola after the family became involved in the first Bilgola Beach Subdivisions.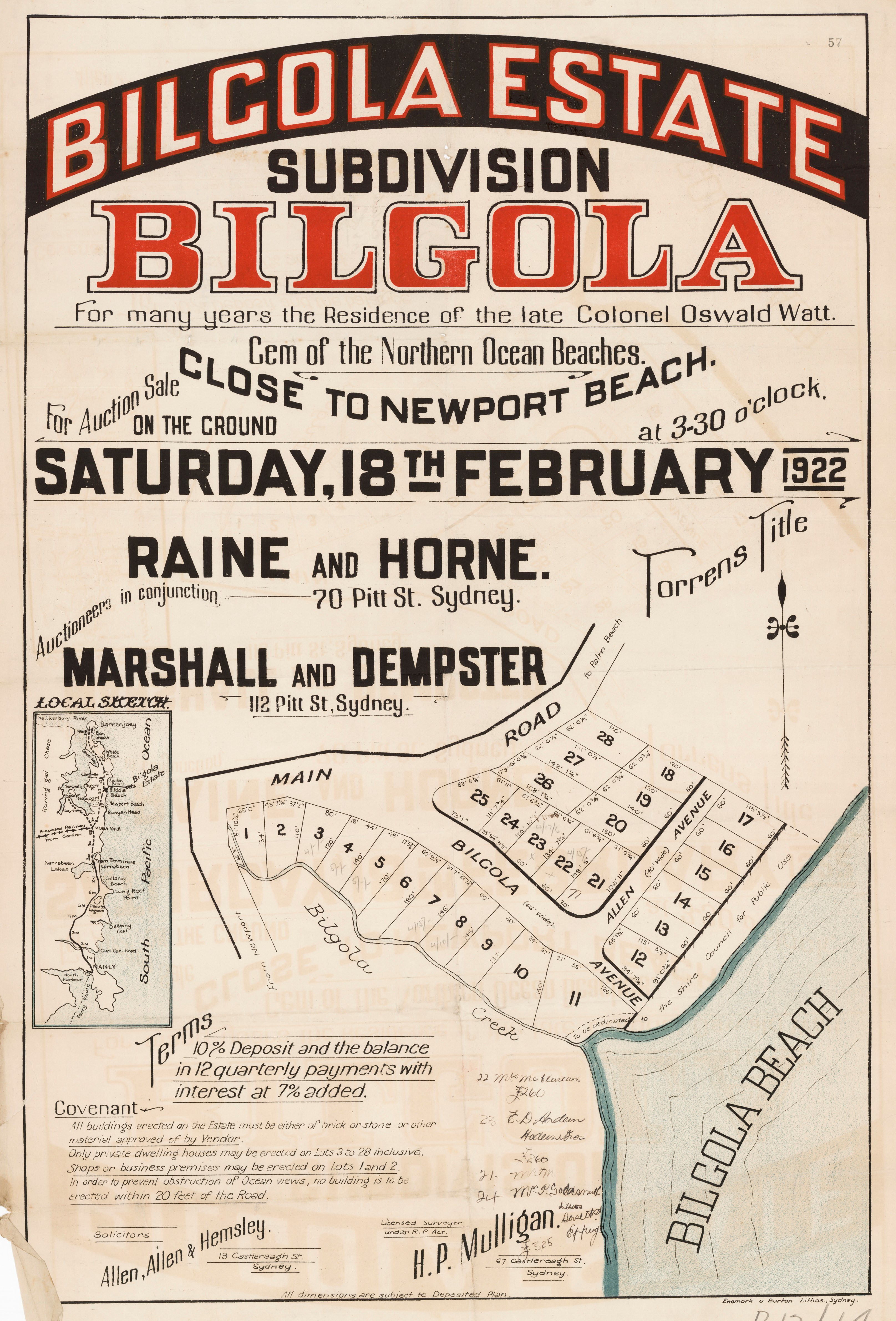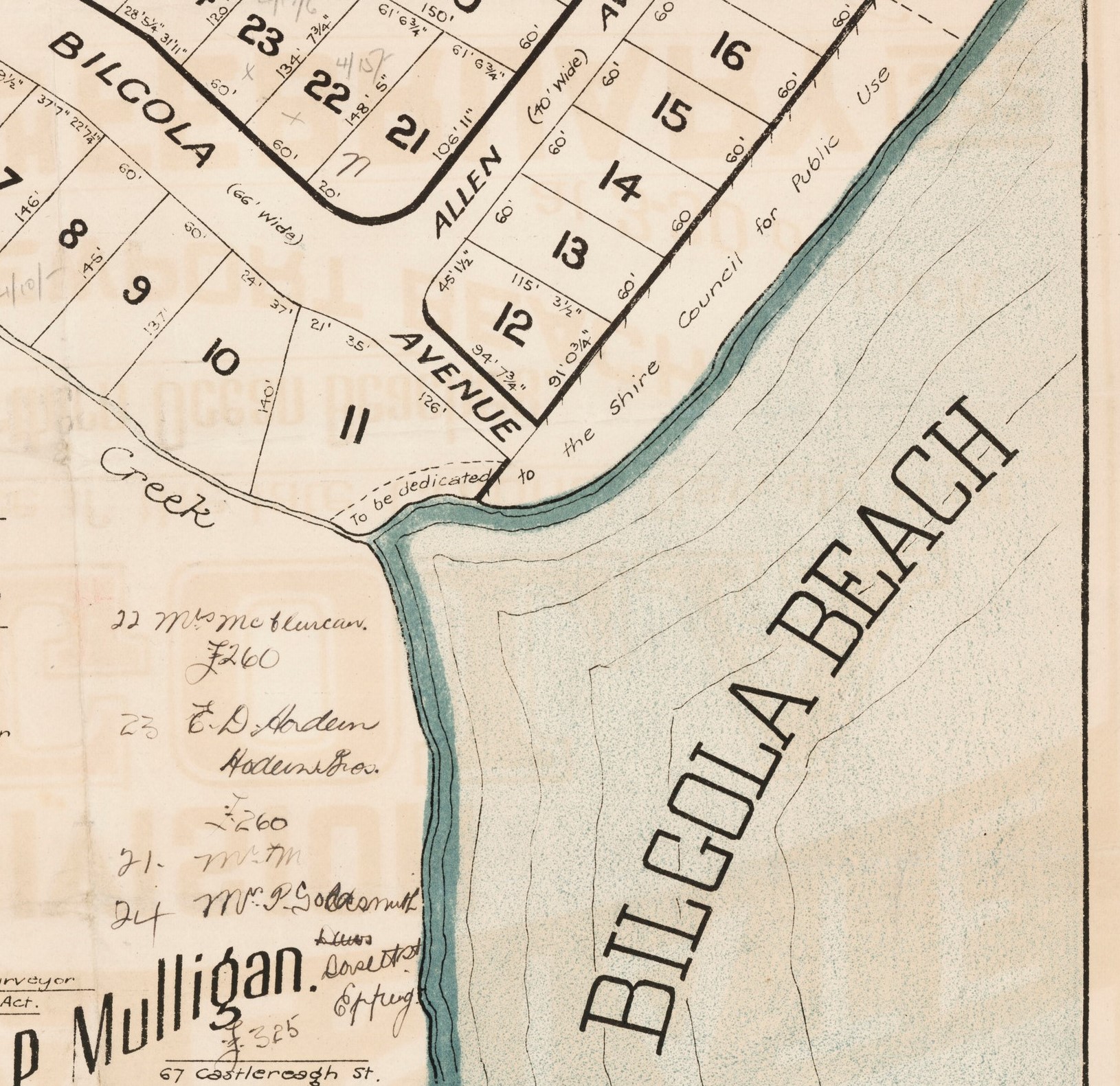 Bilgola Estate Feb 1922. Item No. c053460014, and section from showing purchasers from Avalon Subdivisions Folder, courtesy State Library of New South Wales

LAND SALES
Bilgola Estate
Messrs. Raine and Horne and Marshall and Dempster in conjunction yesterday submitted for public auction on the ground a number of lots in the Bilgola Estate. In spite of the heavy rain there was a large attendance. Several lots were disposed of at prices ranging from £4 10s to £5 10s per foot. The total sales reached £2400. The unsold lots are held for private treaty. LAND SALES (1922, February 19). The Sun (Sydney, NSW : 1910 - 1954), p. 5. Retrieved from http://nla.gov.au/nla.news-article225213788
Allen, Allen and Hemsley had a long association with being solicitors in Sydney, and Australia for that matter, and one of their sons, and a frequent visitor to Bilgola, and Pittwater for that matter, was Arthur Wigram Allen. The Allen Family albums, largely photographed by this gentleman, and digitised by the State Library of New South Wales, hold a record of Pittwater places from Rocky Point, Church Point, Bayview, to Mona Vale, Newport, Careel Bay and Palm Beach dating from 1909. There are also several Manly, Long Reef and Narrabeen photographs among this collection.
Their frequent visits to Bilgola were not an accident - they were attendees at his funeral and clearly had a long friendship with Col. Watts, stretching over years. Arthur Wigram Allen's son, Arthur Denis Wigram Allen(1894-1967), was an aviator too, who served in France in 1916 and so would have known Watt.
A small insight:
Sunday, 8th September, 1907; Jack and I motored to Oswald Watts' at Wivenhoe near Camden (41 miles), Mrs Wilson and Mrs Rhoda Anderson came with us. We had a very nice day getting back at 6 p.m.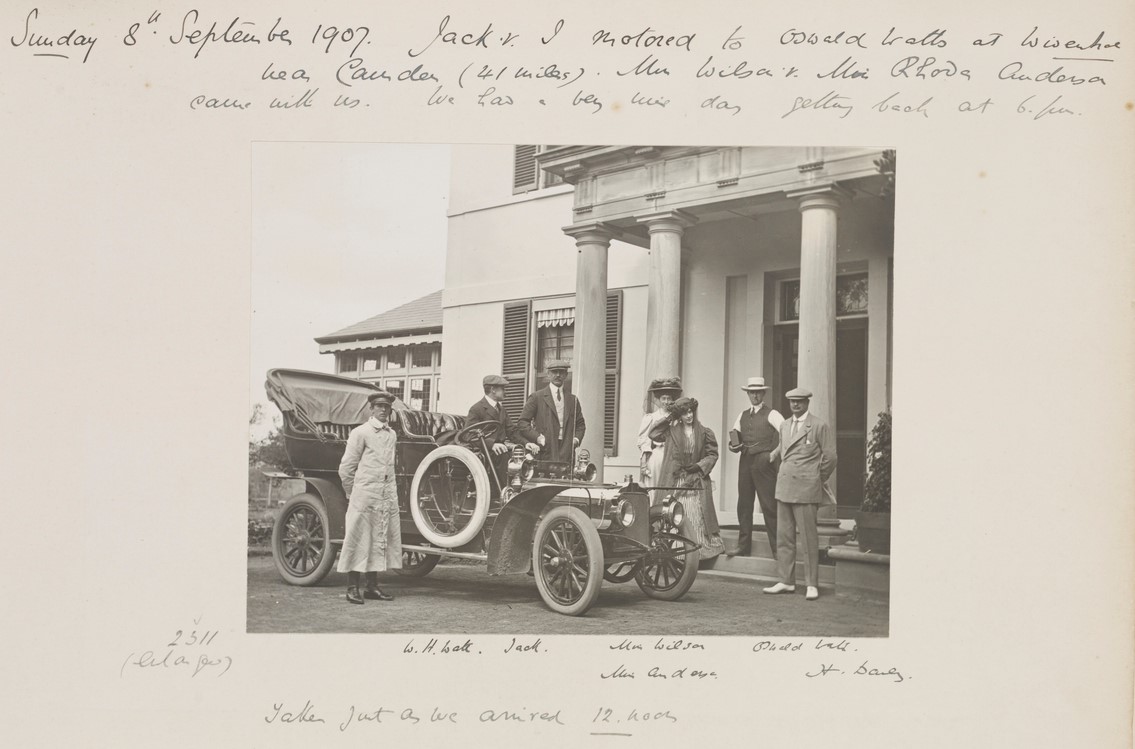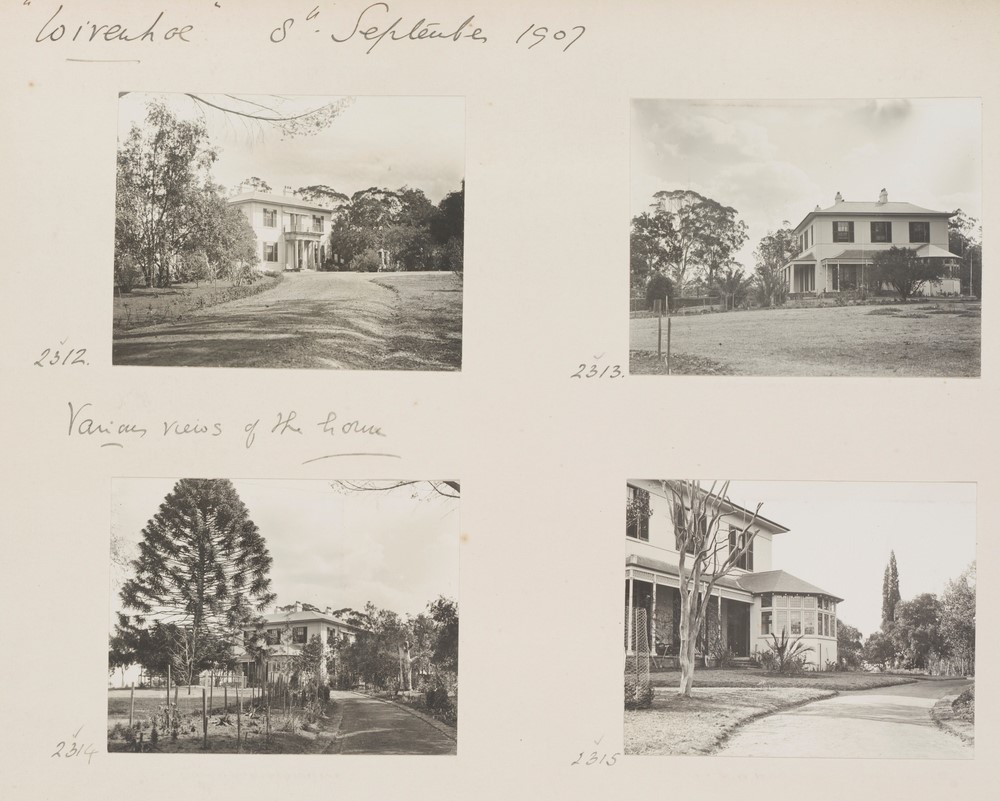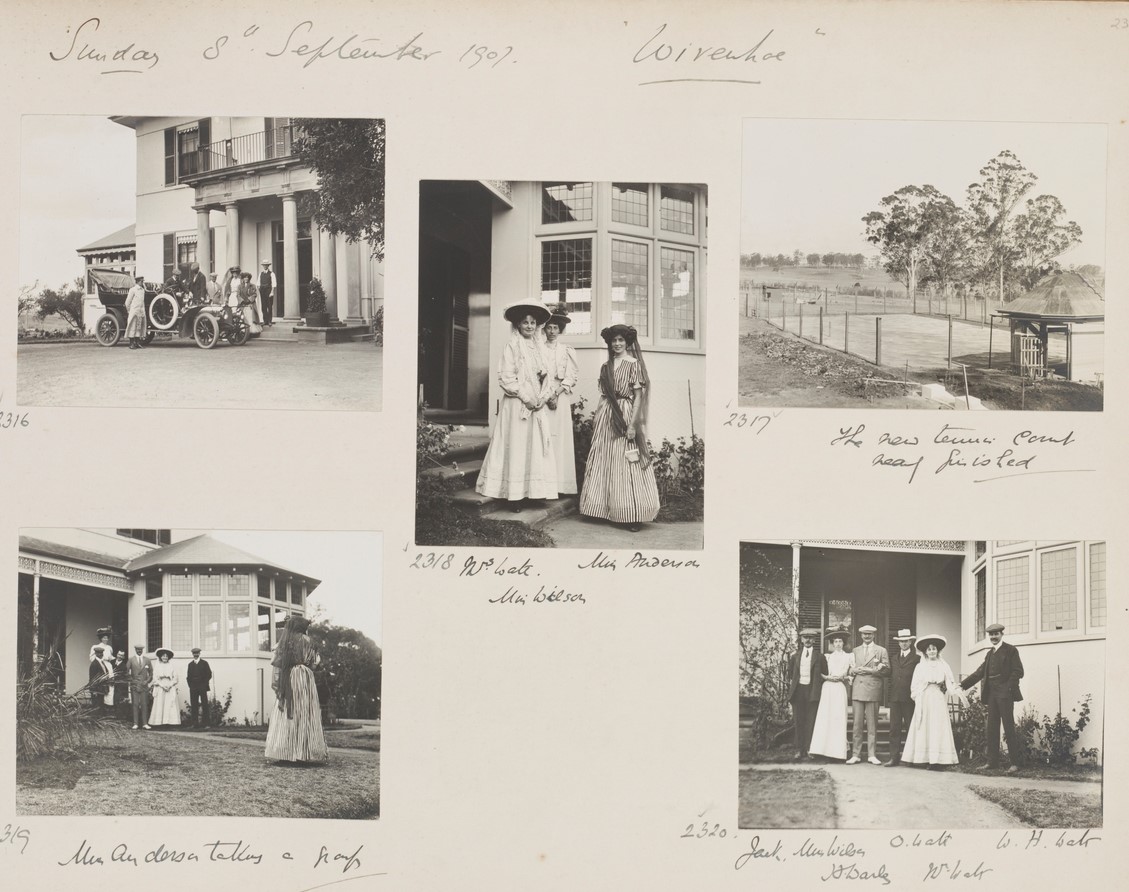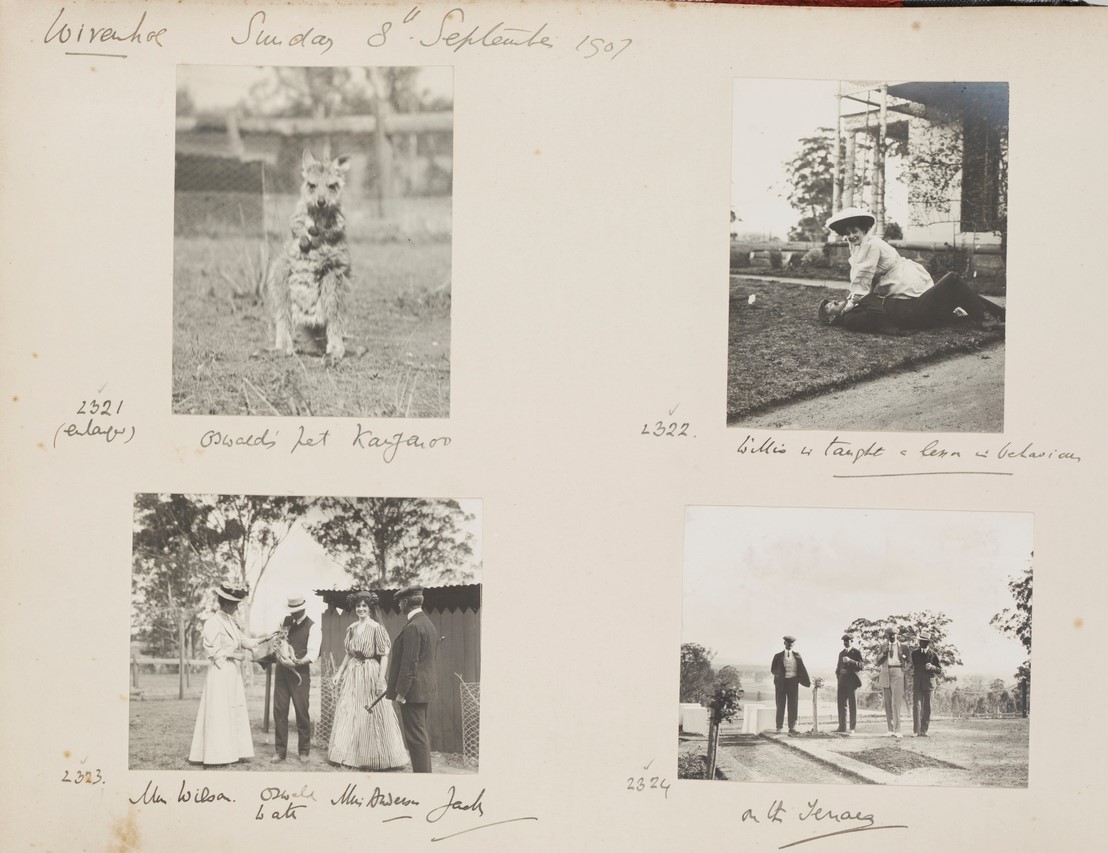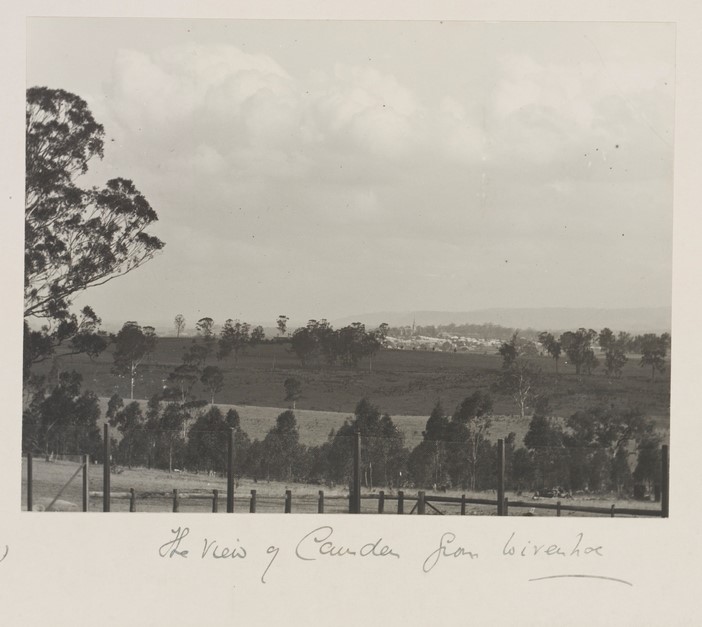 Wivenhoe - various views of the house. Items: a2883025h to a2883029h. All from Album 40: Photographs of the Allen family, 6 July 1907 - November 1907, Mitchell Library, State Library of New South Wales
Dame Nellie Melba GBE (born Helen Porter Mitchell; 19 May 1861 – 23 February 1931) was an Australian operatic soprano. She became one of the most famous singers of the late Victorian era and the early 20th century, and was the first Australian to achieve international recognition as a classical musician. She took the pseudonym "Melba" from Melbourne, her home town.
Born in Richmond, Victoria, the eldest of seven children of the builder David Mitchell and his wife Isabella Ann née Dow. Mitchell, a Scot, had emigrated to Australia in 1852, becoming a successful builder. Melba was taught to play the piano and first sang in public around age six.[n 2] She was educated at a local boarding school and then at the Presbyterian Ladies' College, Melbourne. She studied singing with Mary Ellen Christian (a former pupil of Manuel García) and Pietro Cecchi, an Italian tenor, who was a respected teacher in Melbourne.[3] In her teens, Melba continued to perform in amateur concerts in and around Melbourne, and she played the organ at church. Her father encouraged her in her musical studies, but he strongly disapproved of her taking up singing as a career.[4] Melba's mother died suddenly in 1881 at Richmond.
Melba's father moved the family to Mackay, Queensland, where he built a new sugar mill. Melba soon became popular in Mackay society for her singing and piano-playing. On December 22nd 1882, in Brisbane, she married Charles Nesbitt Frederick Armstrong (1858–1948), the youngest son of Sir Andrew Armstrong. They had one child, a son, George, born on 16 October 16th 1883. The marriage was not a success; Charles reportedly beat his wife more than once. The couple separated after just over a year, and Helen returned to Melbourne determined to pursue a singing career, debuting professionally in concerts in 1884. She was often accompanied in concert, and some of her concerts were organised, at times throughout her career by the flautist John Lemmone, who became a "lifelong friend and counsellor".
On the strength of local success, she travelled to London in search of an opportunity. However, her debut at the Princes' Hall in 1886 made little impression, and she sought work unsuccessfully from Sir Arthur Sullivan, Carl Rosa and Augustus Harris. Melba then went to Paris to study with the leading teacher Mathilde Marchesi, who instantly recognised the young singer's potential: she exclaimed, "J'ai enfin une étoile! ("I have a star at last!"). Melba made such rapid progress that she was allowed to sing the "Mad Scene" from Ambroise Thomas's Hamlet at a matinée musicale in Marchesi's house in December the same year, in the presence of the composer.
The young singer's talent was so evident that, after less than a year with Marchesi, the impresario Maurice Strakosch gave her a ten-year contract at 1000 francs annually. After she had signed, she received a far better offer of 3000 francs per month from the Théâtre de la Monnaie, Brussels, but Strakosch would not release her and obtained an injunction preventing her from accepting it. She was in despair when the matter was resolved by Strakosch's sudden death.
Melba made her operatic debut four days later as Gilda in Rigoletto at La Monnaie on October 12th 1887. The critic Herman Klein described her Gilda as "an instant triumph of the most emphatic kind ... followed ... a few nights later with an equal success as Violetta in La traviata."
It was at this time, on Marchesi's advice, that she adopted the stage name of "Melba", a contraction of the name of her home city.
Melba made her Covent Garden début in May 1888, in the title role in Lucia di Lammermoor. She received a friendly but not excited reception. The Musical Times wrote, "Madame Melba is a fluent vocalist, and a quite respectable representative of light soprano parts; but she lacks the personal charm necessary to a great figure on the lyric stage."
Melba was offended when Augustus Harris, then in charge at Covent Garden, offered her only the small role of the page Oscar in Un ballo in maschera for the next season. She left England vowing never to return. The following year, she performed at the Opéra in Paris, in the role of Ophélie in Hamlet. The Times described this as "a brilliant success", and said, "Madame Melba has a voice of great flexibility ... her acting is expressive and striking."
Melba had a strong supporter in London, Lady de Grey, whose views carried weight at Covent Garden. Melba was persuaded to return, and Harris cast her in Roméo et Juliette (June 1889) co-starring with Jean de Reszke. She later recalled, "I date my success in London quite distinctly from the great night of 15 June 1889."
After this, she returned to Paris as Ophélie, Lucia in Lucia di Lammermoor, Gilda in Rigoletto, Marguerite in Faust, and Juliette. In French operas her pronunciation was poor, but the composer Delibes said that he did not care whether she sang in French, Italian, German, English or Chinese, as long as she sang.
In the early 1890s, Melba embarked on an affair with Prince Philippe, Duke of Orléans. They were seen frequently together in London, which excited some gossip, but far more suspicion arose when Melba travelled across Europe to St Petersburg to sing for Tsar Nicholas II: the Duke followed closely behind her, and they were spotted together in Paris, Brussels, Vienna and St Petersburg. Armstrong filed divorce proceedings on the grounds of Melba's adultery, naming the Duke as co-respondent; he was eventually persuaded to drop the case, but the Duke decided that a two-year African safari (without Melba) would be appropriate. He and Melba did not resume their relationship. Melba's marriage to Armstrong was finally terminated when, having emigrated to the United States with their son, he divorced her in Texas in 1900.
In the first years of the decade, Melba appeared in the leading European opera houses, including Milan, Berlin and Vienna. Melba sang the role of Nedda in Pagliacci at Covent Garden in 1893, soon after its Italian premiere. The composer was present, and said that the role had never been so well played before.
In December of that year, Melba sang at the Metropolitan Opera in New York for the first time. As at her Covent Garden debut, she appeared as Lucia di Lammermoor, and as at Covent Garden, it was less than a triumph. The New York Times praised her performance – "one of the loveliest voices that ever issued from a human throat ... simply delicious in its fullness, richness and purity" – but the work was out of fashion, and the performances were poorly attended. Her performance in Roméo et Juliette, later in the season, was a triumph and established her as the leading prima donna of the time in succession to Adelina Patti. She had at first been nonplussed by the impenetrable snobbery at the Metropolitan; the author Peter Conrad has written, "In London she hobnobbed with royalty; in New York she was a singing menial." Assured of critical success, she set herself to achieve social recognition, and succeeded.
From the 1890s, Melba played a wide range of parts at Covent Garden, mostly in the lyric soprano repertoire, but with some heavier roles also. She sang the title roles in Herman Bemberg's Elaine and Arthur Goring Thomas's Esmeralda. Her Italian parts included Gilda in Rigoletto, the title role in Aida, Desdemona in Otello, Luisa in Mascagni's I Rantzau, Nedda in Pagliacci, Rosina in The Barber of Seville, Violetta in La traviata, and Mimì in La bohème. In the French repertoire, she sang Juliette in Roméo et Juliette, Marguerite in Faust, Marguerite de Valois in Les Huguenots, the title role in Saint-Saëns's Hélène, which was written for her, and Micaëla in Carmen.
Some writers expressed surprise at Melba's playing the last of these roles, since it was merely a supporting part in the opera. She played it on many occasions, saying in her memoirs, "Why on earth a prima donna should not sing secondary rôles I could not see then and am no nearer seeing to-day. I hate the artistic snobbery of it."
By now established as a leading star in Britain and America, Melba made her first return visit to Australia in 1902–03 for a concert tour, also touring in New Zealand. The profits were unprecedented; she returned for four more tours during her career.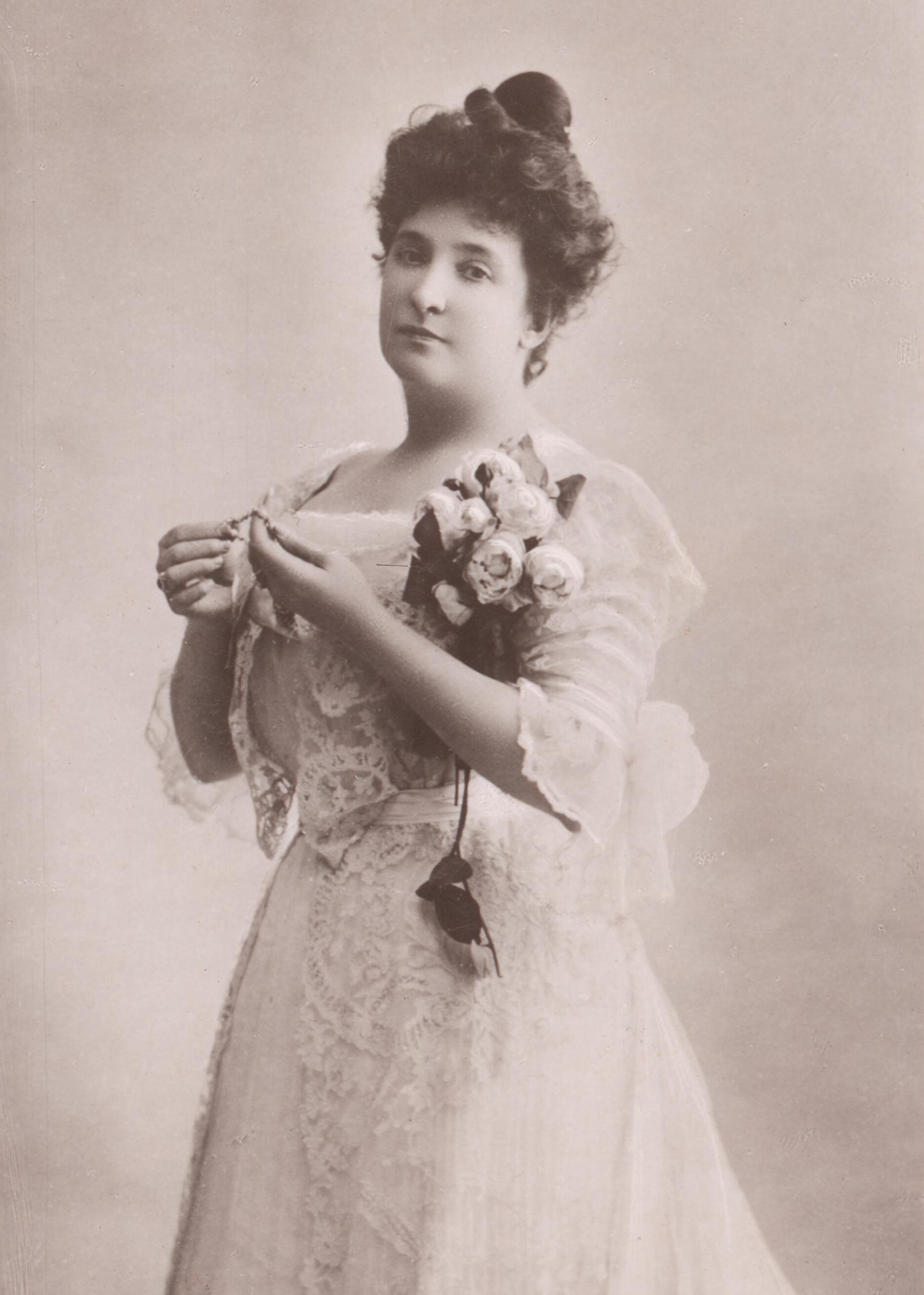 Melba, c. 1907, courtesy National Library of Australia

Melba performed 26 times at the Royal Albert Hall in London between 1898 and 1926, and, although she called Covent Garden "my artistic home", her appearances there became less frequent in the 20th century. One reason for this was that she did not get on well with Sir Thomas Beecham, who was in control of the opera house for much of the period from 1910 until her retirement.
Another factor in her reduced appearances at Covent Garden was the appearance on the scene of Luisa Tetrazzini, a soprano ten years her junior, who became a great success in London and later in New York in roles previously associated with Melba.
A third reason was her decision to spend more time in Australia. In 1909 she undertook what she called a "sentimental tour" of Australia, covering 10,000 miles (16,093 km) and including many remote towns. In 1911 in partnership with the J. C. Williamson company, she appeared in an operatic season.
In 1909, Melba bought property at Coldstream, a small town near Melbourne, and in 1912 she had a home built there (extending an existing cottage) that she named Coombe Cottage after a house she had rented near London. She also set up a music school in Richmond, which she later merged into the Melbourne Conservatorium.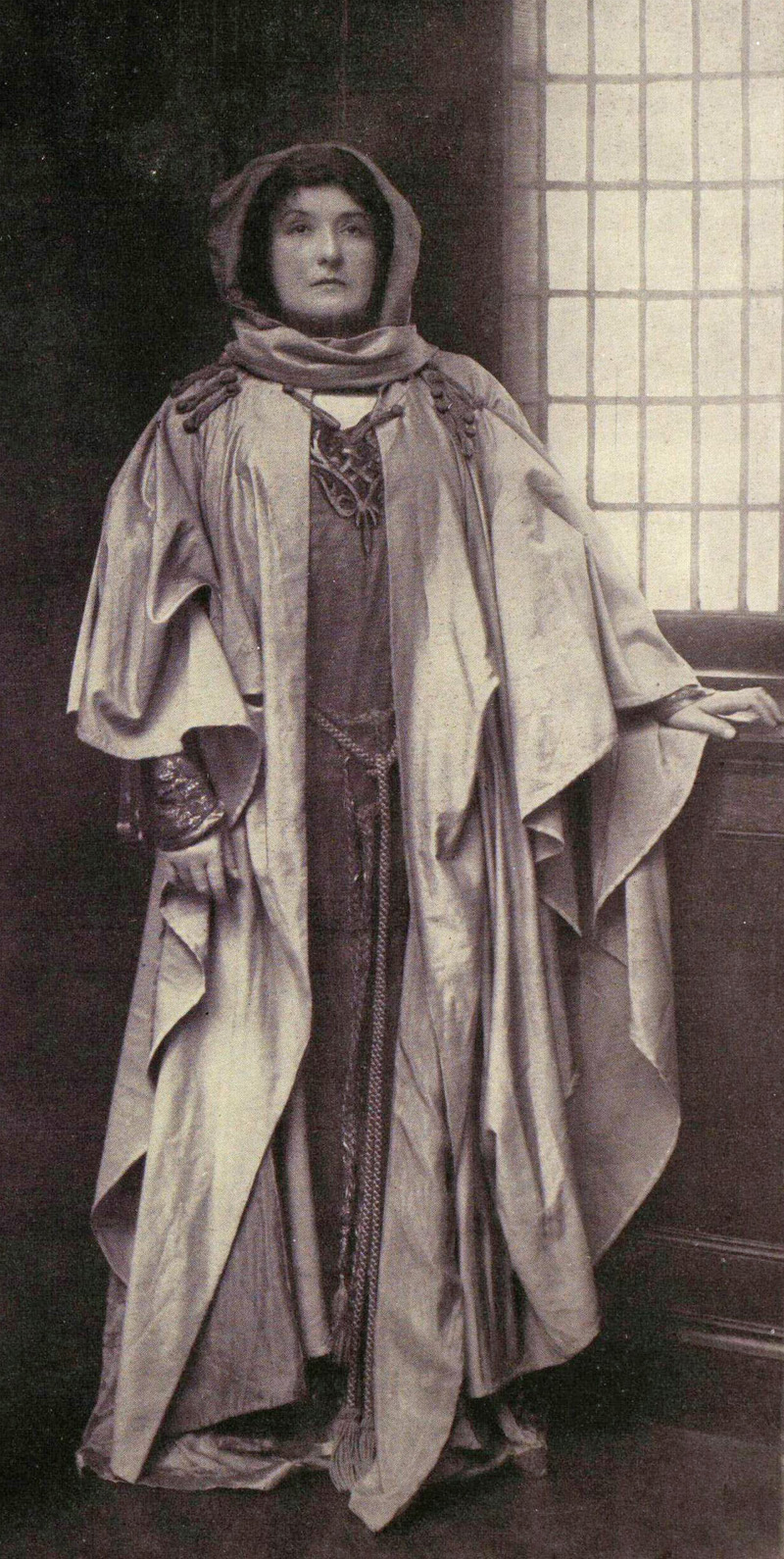 Melba in 1913 - published in and scanned from "Twenty-Five Years at Covent Garden: A Great Prima Donna", Illustrated London News, 31 May 1913, p. 789.

Melba was in Australia when the First World War broke out, and she threw herself into fund-raising for war charities, raising £100,000. In recognition of this, she was created a Dame Commander of the Order of the British Empire (DBE) in March 1918, "for services in organising patriotic work".
After the war, Melba made a triumphant return to the Royal Opera House, in a performance of La bohème conducted by Beecham, which re-opened the house after four years of closure. The Times wrote, "Probably no season at Covent Garden has ever started with quite the thrill of enthusiasm which passed through the house."
In 1922 Melba returned to Australia, where she sang at the immensely successful "Concerts for the People" in Melbourne and Sydney, with low ticket prices, attracting 70,000 people. In 1924 for another Williamson opera season, she caused resentment among local singers by importing an entire chorus from Naples. In 1926 she made her farewell appearance at Covent Garden, singing in scenes from Roméo et Juliette, Otello, and La bohème.
Melba is well remembered in Australia for her seemingly endless series of "farewell" appearances, including stage performances in the mid-1920s and concerts in Sydney on August 7th 1928, Melbourne on September 27th 1928 and Geelong in November 1928. From this, she is remembered in the vernacular Australian expression "more farewells than Dame Nellie Melba".
In 1929 she returned for the last time to Europe and then visited Egypt, where she contracted a fever that she never entirely shook off. Her last performance was in London at a charity concert on June 10th 1930. Melba returned to Australia but died in St Vincent's Hospital, Sydney, in 1931, aged 69, of septicaemia which had developed after facial surgery in Europe some time before.
She was given an elaborate funeral from Scots' Church, Melbourne, which her father had built and where as a teenager she had sung in the choir. The funeral motorcade was over a kilometre long, and her death made front-page headlines in Australia, the United Kingdom, New Zealand, and Europe. Billboards in many countries said simply "Melba is dead". Part of the event was filmed for posterity. Melba was buried in the cemetery at Lilydale, near Coldstream. Her headstone, designed by Sir Edwin Lutyens, bears the farewell words of Mimì in La bohème: "Addio, senza rancor" (Farewell, without bitterness).
The Australian $100 note features the image of her face, and her likeness has also appeared on an Australian stamp. Sydney Town Hall has a marble relief bearing the inscription "Remember Melba", unveiled during a World War II charity concert in memory of Melba and her First World War charity work and patriotic concerts. A tunnel on Melbourne's EastLink freeway is named in her honour.[77] A street in San Francisco, Melba Avenue, is also named for her.
Melba's home in Marian, Queensland, during her brief cohabitation with her husband was relocated from the Marian Mill (where it was due to be demolished) to a riverbank setting along the main Eungella Road in Edward Lloyd Park, where, under the name Melba House, it was restored and now operates as a Melba museum and the Pioneer Valley Visitor Information Centre.
Her home Coombe Cottage in Coldstream, Victoria, passed to her granddaughter Pamela, Lady Vestey (1918–2011). It is now owned by Lady Vestey's sons, Sam (3rd Baron Vestey) and Mark, who reside in the United Kingdom. The house was designed by John Harry Grainger, father of the composer Percy Grainger, and a close friend of Melba's father David Mitchell.
Melba's name is associated with four foods, all of which were created in her honour by the French chef Auguste Escoffier; Peach Melba, a dessert made of peaches, raspberry sauce, and vanilla ice cream, Melba sauce, a sweet purée of raspberries and red currant, Melba toast, a crisp dry toast and Melba Garniture, chicken, truffles and mushrooms stuffed into tomatoes with velouté sauce.
Melba planted a variety of poplar tree known as Populus × canadensis "Aurea", or golden poplar, on the Central Lawn in Melbourne Botanic Gardens on 11 April 1903, which has become known as "Melba's poplar". On May 19th 2011 Google celebrated her 150th birthday with a Google Doodle. For 2021 Australia's National Film and Sound Archives has gone one better, and shared the film below, which is the ladu herself, accompanied by her voice.
Extras, References
NFSA Releases Unseen Footage Of Nellie Melba To Celebrate Her 160th Birthday On May 19th: The Day Dame Nellie Melba Lunched At Bilgola Cottage by A J Guesdon, 2021.

Dame Nellie Melba At Coombe Cottage, 1927
Published by the NFSA, May 14, 2021
In celebration of the 160th anniversary of Dame Nellie Melba's birth on 19 May 1861, we reveal previously unseen private footage of Australia's 'Queen of Song'. She is seen relaxing with her family at Coombe Cottage, her outer Melbourne residence, in 1927. MORE HERE