October 10 - 16, 2021: Issue 513

Nathan Wellings: The 2021 24 Hour Row For Mental Fitness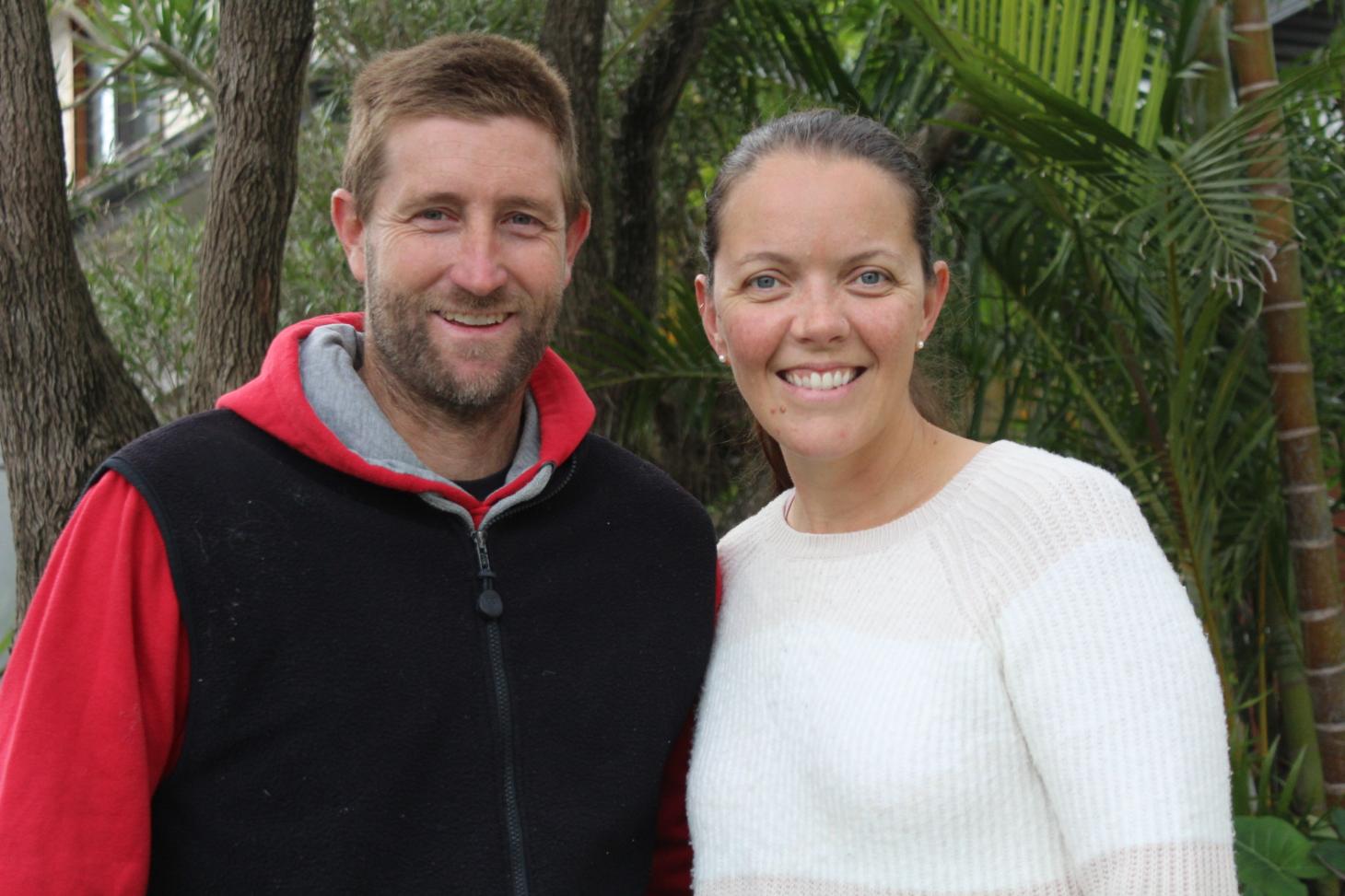 Nathan and Mel Wellings. AJG pic
Nathan Wellings was voted Life Member at this year's Avalon Beach SLSC AGM.
Nathan Wellings initial involvement with the Avalon Beach Surf Life Saving Club was as a Rower through the Barrenjoey High Schools' sports rowing program run by the legendary Rick Millar.
Nathan has been a distinguished, conspicuous and sustained volunteer member for more than 26 years. He gained his Bronze Medallion in January 1995 and has gained 44 awards including the Silver Medallion, IRB driver and 25-year Long Service Award.
Nathan has contributed to all aspects of the Club; Competition, Patrols and Administration, and has patrolled in excess of 700 hours during his time as a senior Club member.
In 2007 he received the President's Award and in 2014 was the "Max Watt" club competitor of the year and also the Chris "Detho" Dethick boatie of the year. He has represented the club in beach and rescue events at State and National levels, IRB racing and most predominately in surf boat competition. Nathan has won numerous medals at World, Australian, State, Branch and ARSL levels.
In both the 2015/2016 Season and in the 2017/2018 Season he represented Australia in the Trans-Tasman test.
"This is something that comes around maybe once in a lifetime, so they're soaking it up and having a real good time," Nathan explained after the first successful debut of this initiative - he was just as stoked the second time.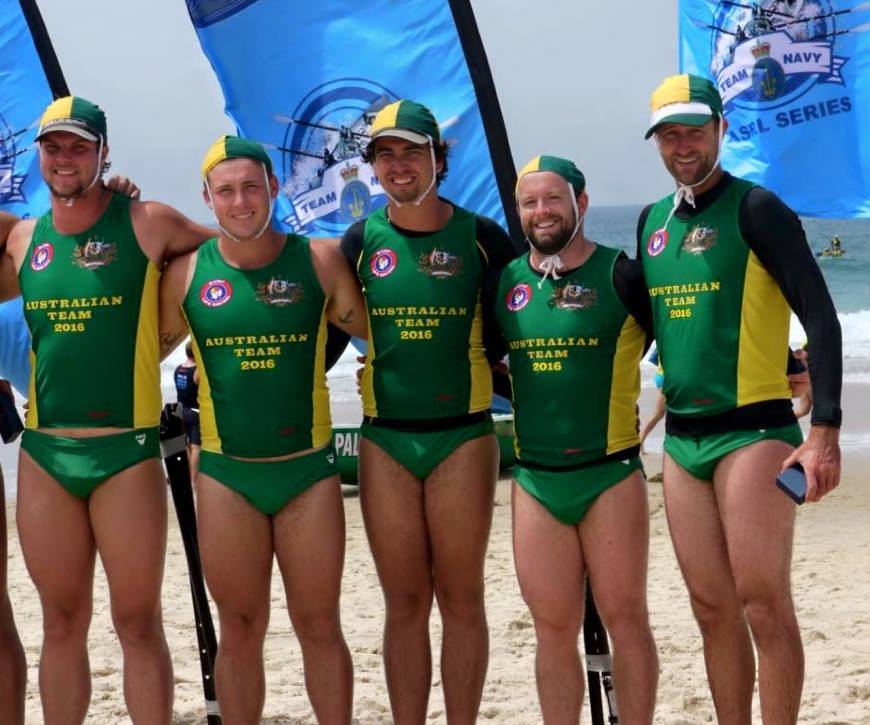 Avalon Beach SLSC's Pinkies, U23's Male Development Squad: Andrew Bright, Nick Sampson, Matt Mayall and Tom Curnow, Sweep - Nathan Wellings. Feb. 2016 ASRL photo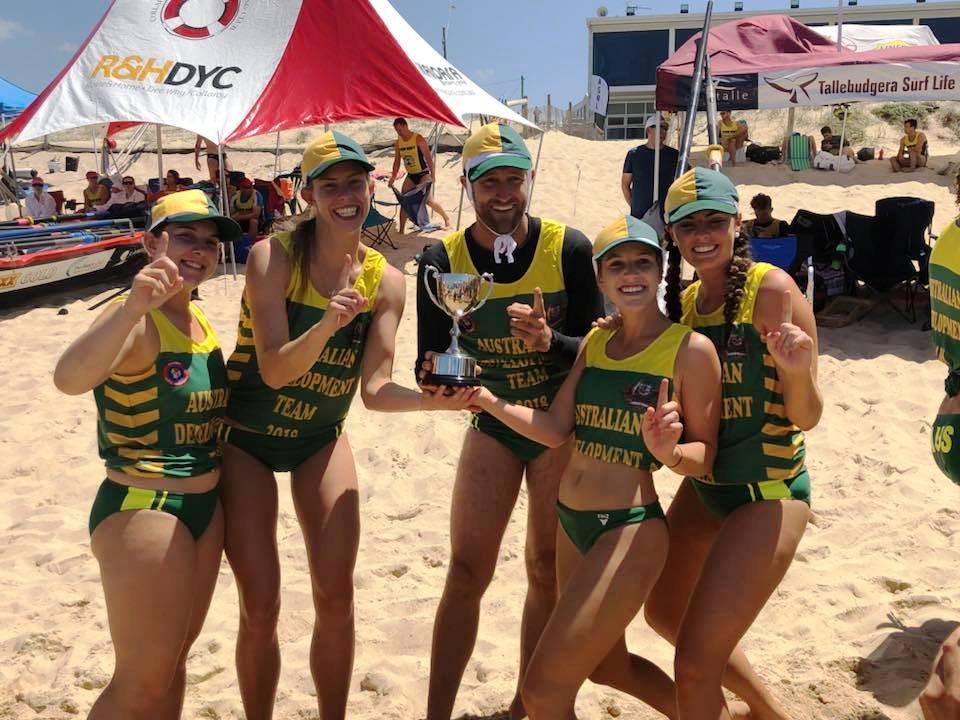 Avalon Beach SLSC's Avocados, U23 Women: Sweep Nathan Wellings, Bow Ellie Di Biagio, 2nd Bow Lauren Petersen, 2nd Stroke Chloe Scott, Stroke Amelia Barber. Feb. 2018
Nathan has been instrumental in building successful surf boat teams, which has led to a high retention rate among our junior members and added to the strong spirit that marks everything undertaken and progressed by Avalon Beach SLSC.
Nathan was Club Captain for four years between the 2007/2008 Season and 2009/2010 Season. He took over the position again in Season 2014/2015. He has held positions on the surf club's Board of Management and has also been on the Life Membership and Building Committees.
Nathan is the licensee for the Club's liquor license and ran the bar through the initial years after the club was rebuilt. As a licensed tradesman he helps with maintenance and various building projects around the clubhouse.
Nathan is also a current member of the club's emergency call-out team; those who will come whatever the time, day or night, whatever the season.
In 2018, Nathan and his wife Mel founded and organised the first 24 Hour Row to raise money for local mental health organisations Gotcha4Life and OneEighty. This has grown each year since to now be a nation-wide event that raises hundreds of thousands of dollars, and this year already has teams in each state with gyms and other organisations joining in. In keeping with the nation-wide support all funds raised for mental fitness this year will be allocated to Gotcha4Life who intend to reinvest directly back into the communities it was raised by.
This year the 24 Hour Row aims to better the 2020 total of 130 thousand dollars raised. The 2021 edition will take place over the October 30th to 31st weekend with everyone encouraged to get involved at: 24hourrow.com.au
One of the original rowers from 2018 who has kept up participating each year is Pittwater MP Rob Stokes.
Rob said this week "This is a great initiative which I'm really proud to support.
"Nathan and Mel Wellings have amazing passion and determination, and they've continued to grow this local concept into a nation-wide event.
"I've been really privileged to participate over recent years – even though I'm increasingly sore the following day!''
This week a few insights from Nathan about his passion for surf boats, community and reminding people that you're never alone - there's always someone, 24 hours a day, you can reach out to if you need help.
You were awarded Life Membership of Avalon Beach SLSC during this year's AGM, what does that mean to you?
It means a lot. I've been a member of the surf club for 25 years now, I started when I was 16. This recognition of the work and effort I've put into the club over the years, and to be awarded such a high recognition, is very appreciated.
How did you join the club?
I started when I was 16, in Year 10 at Barrenjoey High School through the school sports, when Rick Millar was in charge of rowing as a school sport. I enjoyed this and obviously to row you have to be part of the club and so I joined. From there it opened up all these other avenues; Surf Boat Rowing, IRB Racing, all the Patrols and getting all your Proficiencies, First Aid and the Bronze Medallion.
Did you start rowing under Rick?
Yes. I rowed Second Stroke to start with and then I moved into Bow and that's where I finished off.
When did you start being a sweep?
I started doing this around 15 years ago. Rick started coaching me to Sweep, doing bits and pieces here and there and slowly working me up to have my own crew, while still rowing on the side. Then I began to have two crews, three crews, four crews and up to six crews now as I progressed and gained more experience.
How many Sweeps does Avalon Beach SLSC have now?
There will be 3 this season; myself, Peter Carter and Matt Myall.
You have also represented Australia in the Trans-Tasman, how was that?
Awesome. I've done this twice, with the Avalon Beach Pinkies, Under 23 Mens and the Avocadoes, the under 23 Women. Both experiences were different but equally amazing. It's such a great idea and concept, especially if you achieve becoming part of that team – it actually motivates you that little bit more to strive and push harder.
You gained your Bronze in 1995 and since then have clocked up an amazing 44 awards against your name, including the Long Service Award and Medals in rowing at State, Nationals and World level, which are your highlights among these?
Medals come and go; for me it's all about the teamwork, when we're rowing together as one crew, so that would be what remains a highlight for me. It's the actual steps that we take from when we first start the Season to how we finish the Season. That's what actually keeps you going; as long as we enjoy it and feel we've progressed it's a good Season, and not necessarily wining or losing, it's the actual rowers themselves stepping up and making the commitment and putting the hard effort in that inspires me.
In rowing, all it takes one wave that can make you or break you.
You have had a few of those 'one waves' where the boat ends upended, and seem to be able to bring it back down and the crew, boat and yourself to shore safely – you are actually known for this. Where does that skill come from?
It's a little bit of luck but it comes down to crew work, to team work; keeping the boat level. You will see in a lot of older crews that when they're out and a wave hits them or a mistake happens that their instinct is to keep the boat upright and they know how to move to re-establish that. This is a building block from when you start at Juniors and work your way up into Opens.
When you go through all these experiences of rolling over and backwards and upside down, the way you learn how to get yourself out of those situations is through finding yourself in those situations and practicing.
Mel: I'd also add to that that Nathan is very patient, especially when he's in the boat. When he has a less experienced crew; the gun will sound, all the boats will take off. If Nathan sees a massive set is about to come through, he will not take off, he will not put those crew members into a dangerous position. So, while other boats may roll or flip, Nath will keep his crews safe and get them out safely and back safely. And that's core of a part of where the family, especially within Avalon Beach surf club, the Avalon Boaties family shows. The parents of those kids can see Nathan has their kids safety as his priority and it's about bringing them up into knowing how to deal with all those different conditions and to adjust how you approach any carnival's conditions accordingly.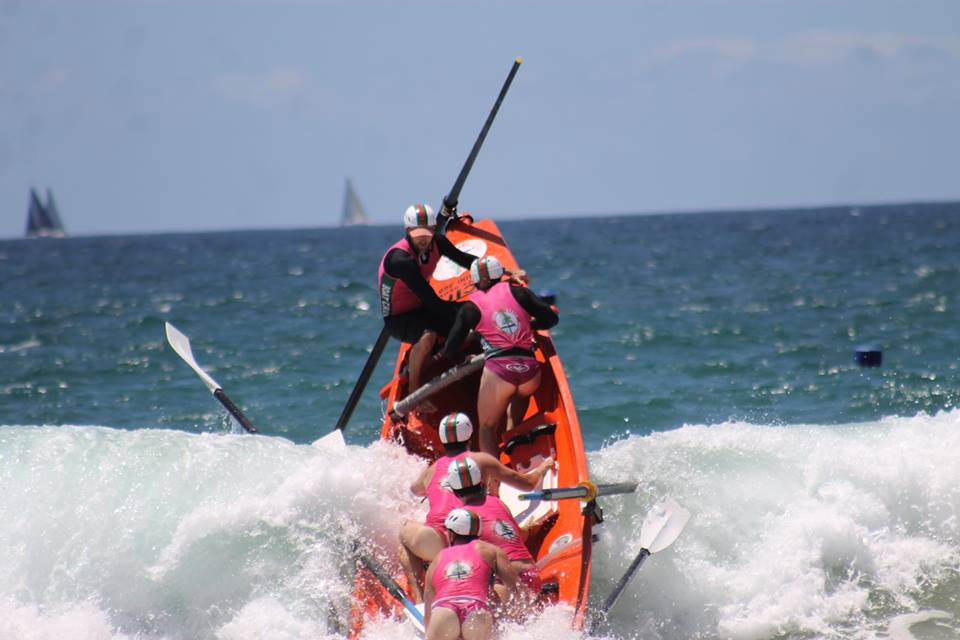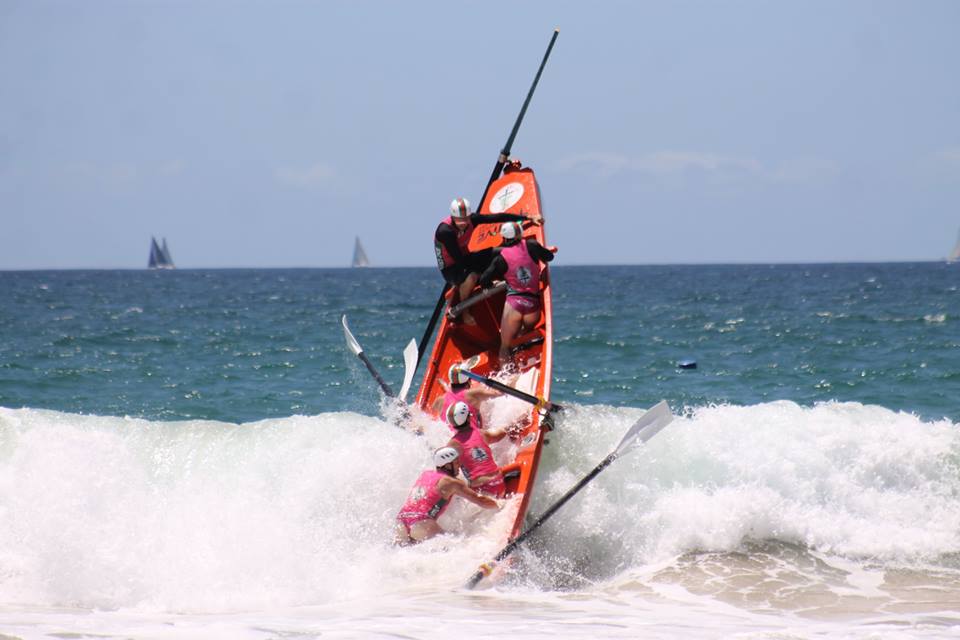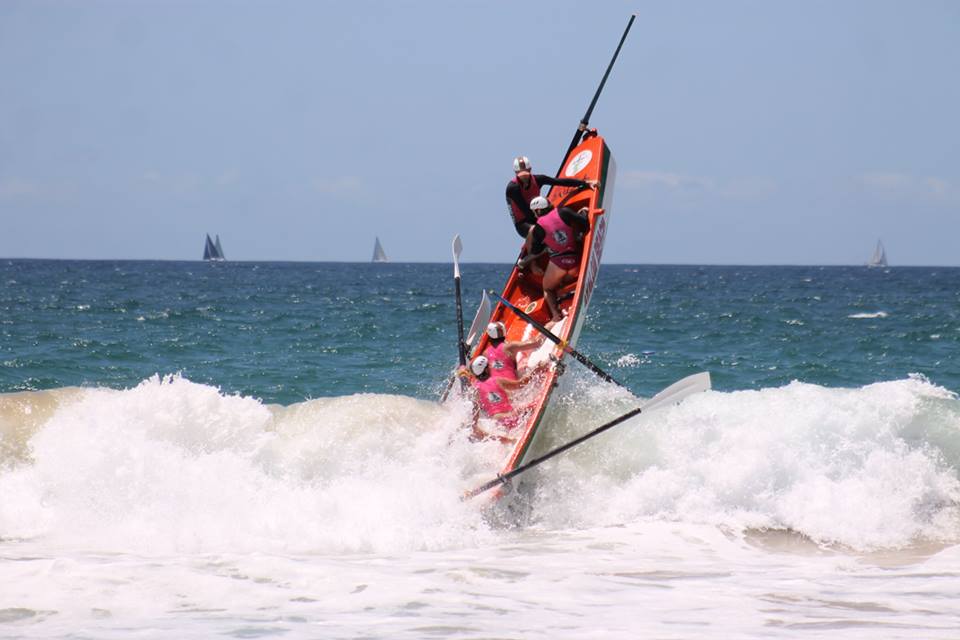 At Warriewood SLS SNB Surf Boat Carnival a few years back; they brought the boat and crew back to shore safely. AJG pics.
Looking at the 2021-2022 Surf Boat carnivals calendar there is a reduced number of evets this year?
Yes; this is all to do with ensuring Covid-safety measures are maintained and people protected. We can't be racing until community sports are back – which won't be until later this month – October 25th at this stage, but obviously conditional on what has been announced.
We may not even get to participate in any carnivals this year (if measures change again).
What I'm looking forward to at the moment is just getting back into the boat, getting the crews worked up to compete.
Carnival wise I'm looking forward to the ASRL in February at Elouera as that could be our Aussies Titles, depending on how things go.
The 2021 24 Hour Row for Mental Fitness; this event is getting more and more popular each year – last year this raised over 130k for Gotcha4Life – what's happening this year?
Mel: so far we have over 40 clubs registered plus schools and gyms. There are close to 2000 participants across all those and across the 24 hours. However, in the lead up, we still have 3 weeks to go, more and more people may get involved.
How do you contribute or help out if you can't row?
Mel: With Covid we won't be able to fill up the clubs and venues with people cheering on and we won't be able to run any raffles to draw people to the club. If people want to contribute to this they can either sponsor those who are rowing or simply make a donation – if they go to https://24hourrow.com.au/
The 2021 24 Hour row for Mental Fitness will be streamed live on Facebook for the whole 24 hours, so people can also watch their members and others doing their section of the row.
Any donations would be so appreciated and will be put back into the community as well.
Live stream at: www.facebook.com/24HrRow
Where are the funds raised going in 2021?
It's all going to Gotcha4Life who have pledged that they will be the funds raised into the whichever community you are raising money from. So if you're raising funds from Manly or Avalon or Narrabeen, that money will go back into that community.
Do you have any outstanding rowers this year?
Rob Stokes, MP for Pittwater, is definitely going to be there although he has broken his ankle, but intends to go ahead. He was one of our original rowers and continues as a supporter. Steve Pearce, the head of Surf Life Saving NSW will definitely be showing up at Avalon as well.
We are approaching world record breaker Georgie Rowe to be part of this again in 2021 as well as the Captain of Australia's rugby team, Sharni Williams. We're also approaching the NRL and the Manly Sea Eagles to hopefully get some of their members out to all the different clubs and incentivise the rowers over the event 24 hours both locally and across Australia.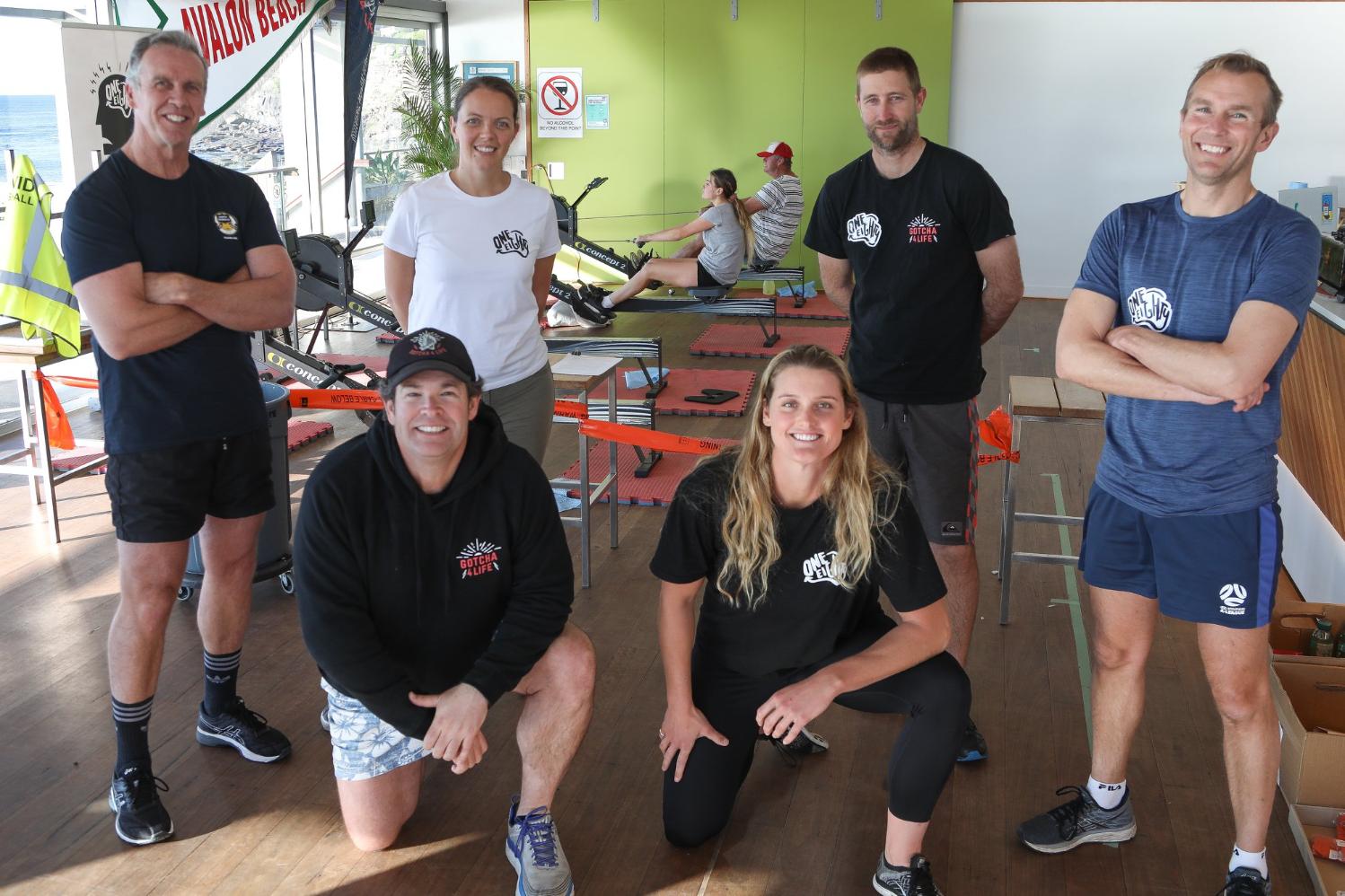 L to R: Surf Life Saving NSW CEO, Steven Pearce, Gotcha4Life Founder Gus Worland, Collaroy SLSC Member and 2021 Olympian Georgie Rowe, The Hon. Rob Stokes, MP for Pittwater and Mona Vale SLSC Member, Back; Mel and Nathan Wellings, Avalon Beach SLSC Members and Founders of the 24 Hour Row. Photo by Surf Life Saving NSW.
For those who have not heard of the 24 Hour Row; why did you start this initiative?
One of our Avalon Beach surf boat rowers lost his battle with mental health back in 2017.
Nathan and I had an idea that we could put on a 24 Hour Row event in the off-season; we usually hold this event each August. We wanted to bring the club members together to do something in the off-season and something that is positive and push back in the other direction by raising funds for mental fitness information and health events in our local community.
We wanted to remind everyone that you're not alone, wherever and especially when ever – when you're rowing at 2am in the morning you have 3 other rowers beside you slogging it out as well. Now, there is going to be thousands beside you slogging it out, which you can see via the live feed.
People can be feeling very alone at night time and so we're rowing through the night to show you you are not alone.
Nathan, what is for your personally, the best thing about being a member of a local surf club?
I've been in Avalon all my life so being a part of an organisation that is so central to the community is great. I can go down to the beach at any time and find someone there to go for a surf with or have a chat to. Being a part of a surf club opens so many avenues – you don't even have to know the people but recognise their face through you both being members and can strike up a conversation about mutual interests or any other subject.
What is the difference between the Avalon you grew up in and the Avalon of today?
When I look back, it's hard to believe that there were 7 petrol stations in Avalon. More petrol stations than cafes. We used to muck around at the squash court, played tennis at Careel Bay, but we were always drawn back to the beach. Avalon was filled with Wellings and Taylor family members. Both sets of my grandparents lived here, as well as many of my Uncles, Aunties and cousins.
Avalon Primary School and Barrenjoey High school haven't changed too much over the years. Some of my teachers are even still teaching there.
Some businesses have remained through the years, many haven't. The cinema, Johnson Bros. I'll always have fond memories of growing up in Avalon Beach.
What are your favourite places in Pittwater and why?
Clareville beach would be one of my favourites because a) we do a lot of training off there and because it was great when the kids were young; we've had so many awesome afternoons down at Clareville watching the sun go down and the kids mucking about in the water. It's always been a lovely family time down there.
Obviously Avalon Beach – we love that, North Av. – that's our home beach.
Newport Beach, that's where I proposed to Mel. We then got married at Mona Vale headland, so that too is a personal favourite.
Mel: we had photos done at Irrawong and then more down at North Narrabeen pool.
Nathan: so those too are favourites for us.
What is your 'motto for life' or a favourite phrase you try to love by?
Work hard, give everything a go and do your best.
If you, or someone you know, is thinking about suicide or experiencing a personal crisis or distress, please seek help immediately by calling 000 or one of these services:
Lifeline 13 11 14
Kids Helpline 1800 55 1800
Suicide Call Back Service 1300 659 467
NSW Mental Health Line 1800 011 511