October 10 - 16, 2021: Issue 513
Opening Narrabeen Lagoon: keeping the community safer for over 100 years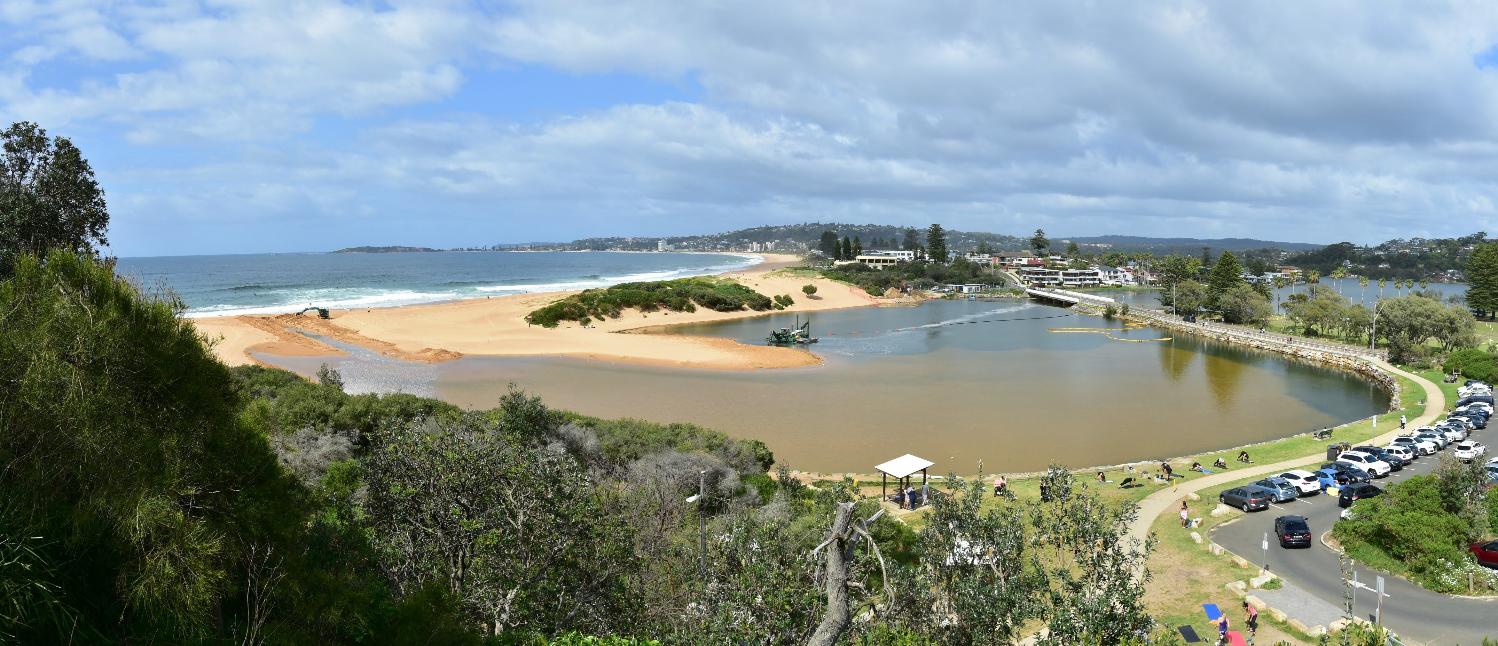 Narrabeen Lagoon Entrance on Friday October 8, 2021 - Panorama by Kevin Murray.
The Council announced on Friday October 9 they were getting works done to open the entrance of Narrabeen to let the water flow as there is rain forecast for every day this coming week. These works are undertaken to protect residents and their properties.

One of the great photographers who shares images for you to see, Kevin Murray, has sent in photos of what they were doing on Friday which are very interesting.
The dredging of Narrabeen Lagoon and the creeks that flow into it, commenced soon after Warringah Shire Council was formed in 1906 - with some of the creeks flowing in also being cleared so people could go boating in these - the larger ones at least:
DREDGING NARRABEEN LAKES.
Alderman F W. Heaton has forwarded to the Warringah shire a communication regarding the Narrabeen Lakes. He said he had had an interview with the Minister for Works in reference to the clearing out of the mass in the creeks surrounding the lakes. The Minister said that if the Warringah Shire Council would submit to him an estimate of the cost, he would favorably consider the matter. The writer estimated the cost would be £50, and if the sum were spent the creeks would be made suitable for boating parties. Quite recently a boat full of ladies and children encountered a snag, and sustained such injuries that the gentlemen of the party had much difficulty In getting the occupants ashore before the boat became full of water. The council decided to submit to the Minister a proposal for clearing the lakes and creeks. DREDGING NARRABEEN LAKES. (1913, January 2). Evening News (Sydney, NSW : 1869 - 1931), p. 7. Retrieved from http://nla.gov.au/nla.news-article113780618
By December 1914 the Warringah Shire Council were discussing taking out a £10, 000 loan for:
WARRINGAH SHIRE PROPOSED LOAN OF £10,000.
At a meeting of the Warringah Shire Council the president (Councillor Quirk) suggested that the council should secure a loan of £10,000 for the purpose of draining certain low-lying land, providing a suction dredge for Narrabeen Lakes, and repairing and maintaining main roads. A special meeting will be called to further consider the proposal. WARRINGAH SHIRE. (1914, December 15). The Sydney Morning Herald (NSW : 1842 - 1954), p. 10. Retrieved from http://nla.gov.au/nla.news-article15555186
Prior to that it was closed - as shown in these old photos from around 1900 and an even earlier drawing by Conrad Martens: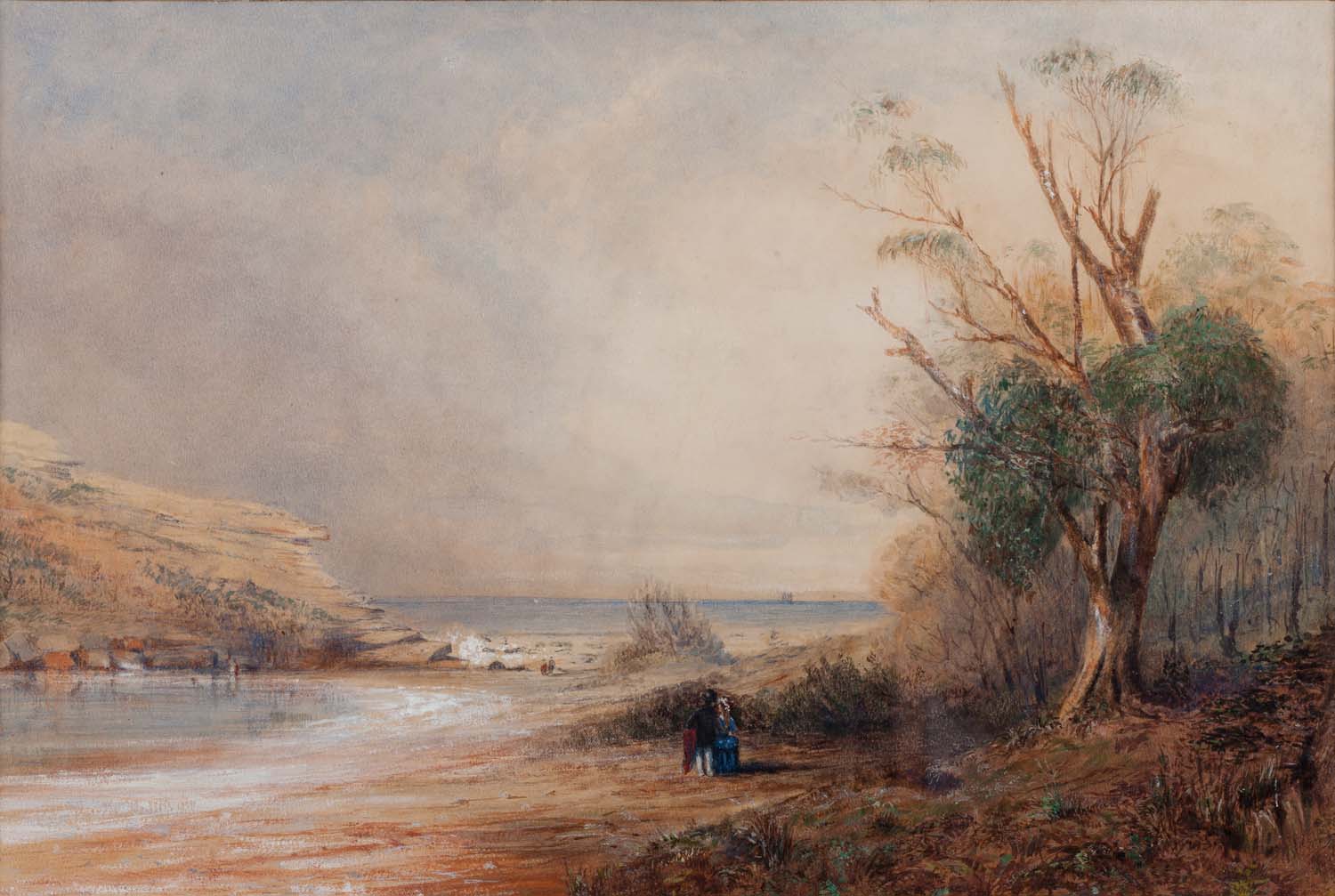 CONRAD MARTENS (1801-1878)
Entrance to Narrabeen Lake
watercolour signed, titled and inscribed verso: Entrance to Narrabeen Lake by Conrad Martens 39.5 x 44.5 cm
courtesy The Alan & Margaret Hickinbotham Collection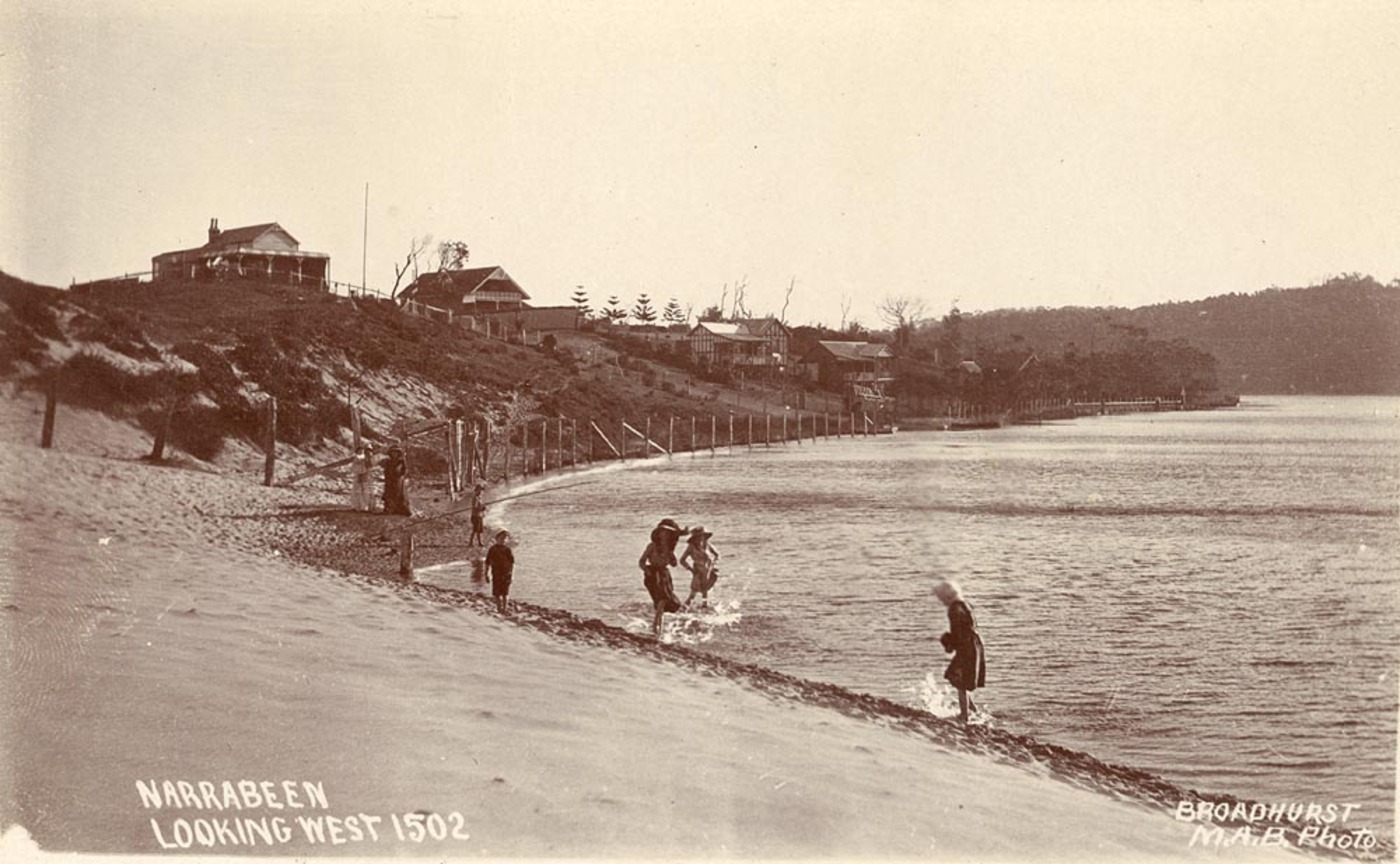 Narrabeen Looking West - From Scenes of Narrabeen album, ca. 1900-1927- Sydney & Ashfield : Broadhurst Post Card, courtesy State Library of NSW. Images No: a106056h (above) and a105060h Courtesy The Mitchell Library, State Library of Australia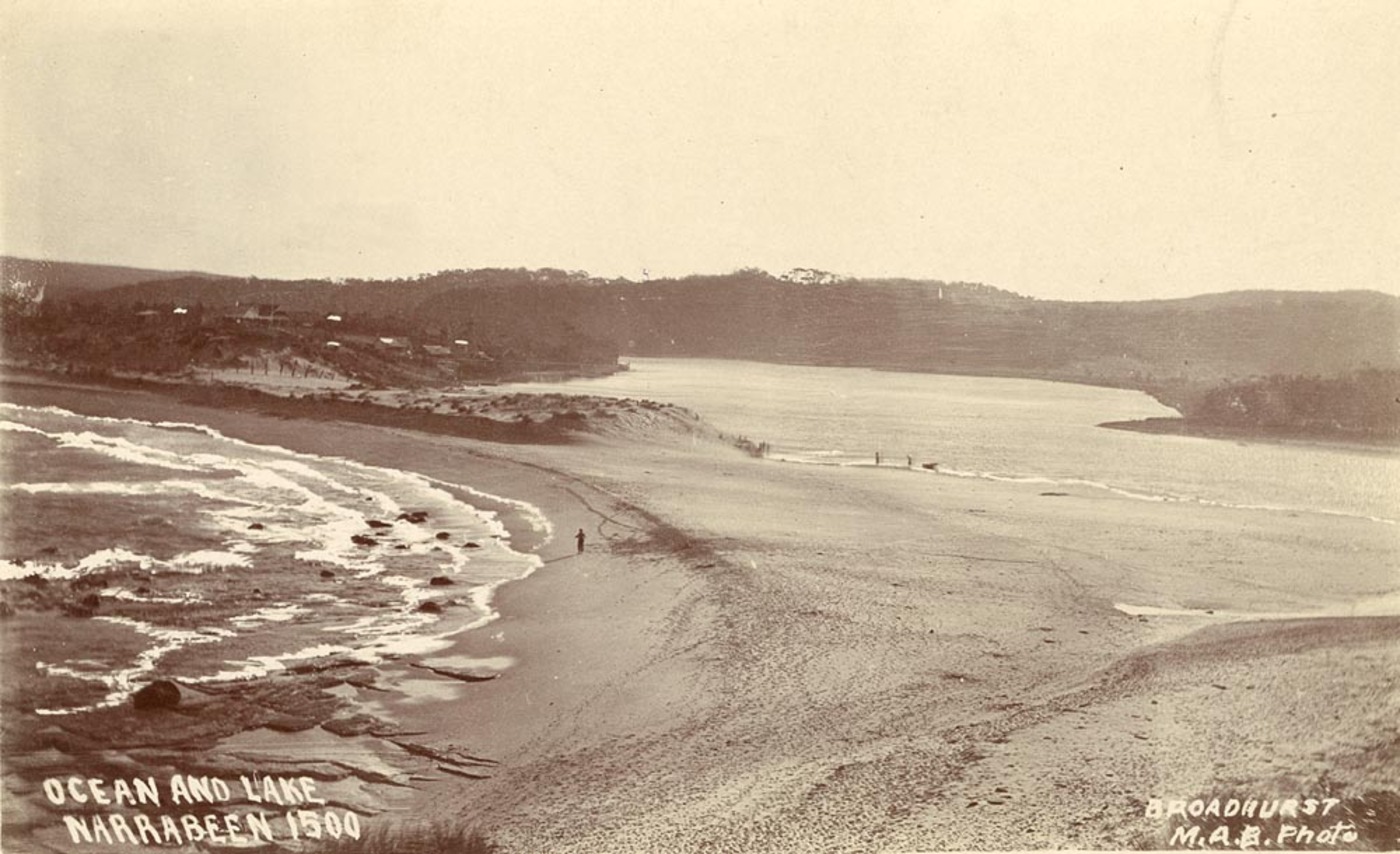 As can be seen above, Narrabeen did not have a permanent opening for flood waters to rush out to sea - this occurred as an overspill. When sand had built up too much for this to occur a channel had to be dug. This eventually became a permanent and ongoing requirement.
Although many works have been completed over the decades and ideas proposed, including
a 2013 AECOM study
that estimates the social benefits of adaptation to climate change in terms of willingness to pay, rather than just costs avoided, discusses opening the ocean entrance to Narrabeen Lagoon permanently by excavating a channel through the headland rock shelf, stating doing that would lower the water level by up to 1 metre. The report also states;
'Modelling suggests that a 70-metre wide channel is economically viable now, but the benefits increase if deferred until 2035. However, the study suggests that a 100-metre wide channel would be far more expensive, with little additional benefit, and could therefore not be justified economically...'
AECOM was engaged by the Australian Department of Climate Change and Energy Efficiency to undertake an economic analysis of climate change impacts on infrastructure through the development of a series of case studies

Council announced on September 21 the commencement of their major sand excavation project at Narrabeen Lagoon.
''Every 3-4 years we do a major excavation of sand from the entrance of the lagoon to help reduce flood risk and increase tidal flow. The excavator is moving in to start this work today.'' Council's statement said
Repairs to the abutments of Ocean Street Bridge will be done simultaneously to minimise disruption to the community.
The works will take about 12 weeks to complete (weather dependent) with the entrance reopened in time for the Summer holidays. These works are generally timed to avoid the disruption from the winter storm season but to reopen in time for the peak swimming season.
There may be minor traffic disruption and some limits to access to parts of the lagoon entrance during the project.
These major sand clearances are conducted periodically as swell and tides gradually push more and more sand into the lagoon. Council completed the last Narrabeen Lagoon entrance clearance in 2018 and has had to undertake more frequent mechanical openings in recent months as the sand has built up.
Works will be conducted using amphibious excavators to pump the excess sand through flexible pipes to a central stockpile location next to Birdwood carpark. From there it will be trucked down to Mactier Street where a bulldozer will spread it along Collaroy-Narrabeen beach.
Once the major excavation is complete, the lagoon is expected to remain open for a number of years, although as always, we are at the mercy of mother nature as to how long.''
To understand how Council manages the lagoon please watch the video explainer below:
Kevin Murray's photos of the machines at work: