March 8 - 14, 2020: Issue 441
Newport unbeatable- secures seventh straight win at 2020 Surf Life Saving NSW Open division state Championships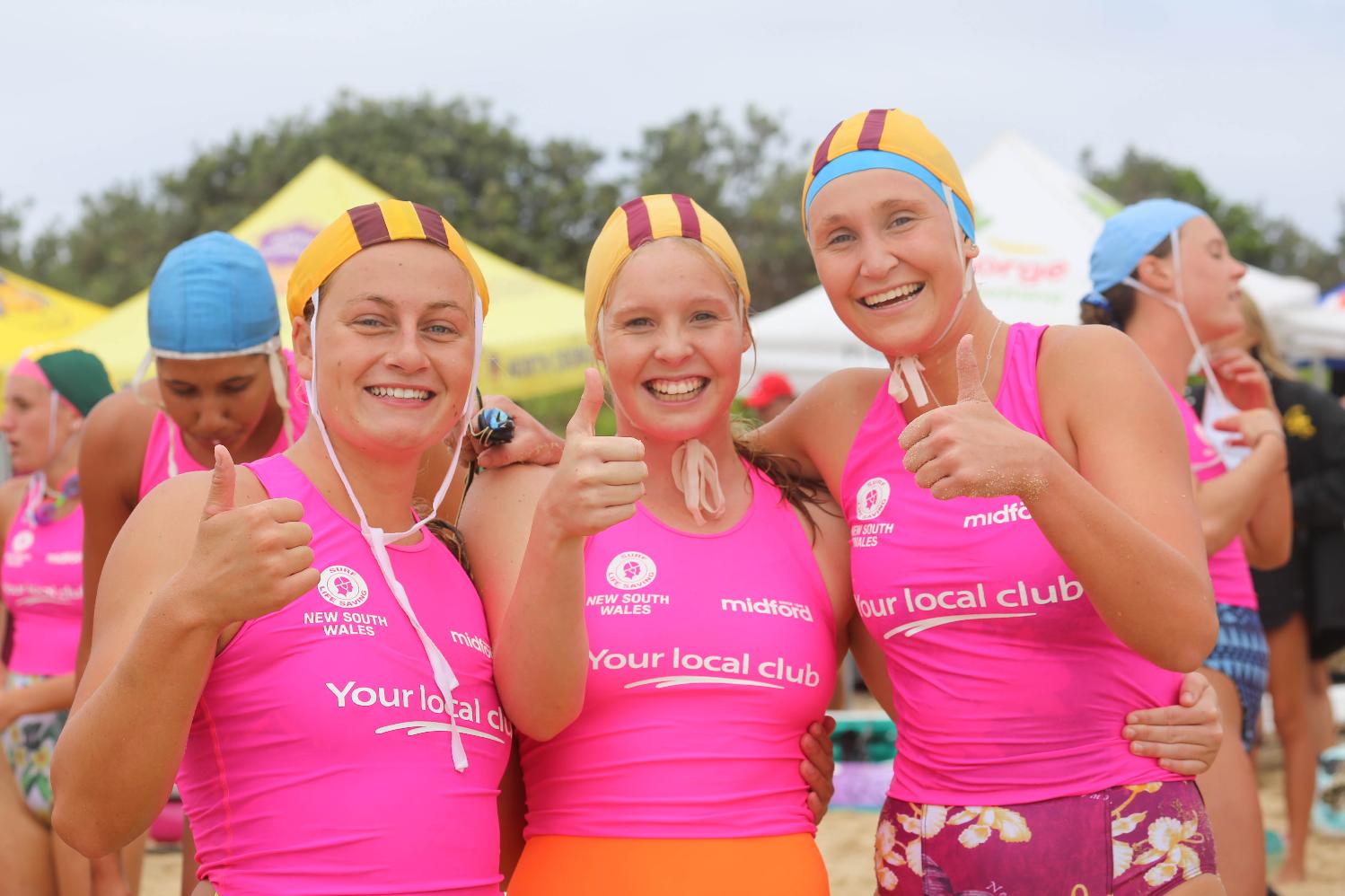 NEWPORT UNBEATABLE IN SEVENTH STRAIGHT STATE TITLE
Sunday 8 March 2020
By Surf Life Saving NSW
Newport romped home to take out the double in the Open Ironperson and double Open Taplin Relays to seal the deal on an incredible seventh straight NSW Championships title.
The 2020 NSW Surf Life Saving Championships, proudly supported by Your local club, wrapped up today after a solid three days of Opens event competition at Swansea Belmont SLSC on Blacksmiths Beach.
After two weeks of competition, the 2020 State Championships finished on a high today with Newport SLSC winning the final Opens Championships event – making it seven championship titles in a row and an unparalleled achievement.
The NSW State Championships attracted around 6,000 competitors of all ages from across NSW - along with 600 volunteer officials and 15,000 family members and spectators.
Events kicked-off this morning with the traditional ceremony of the March Past event. Being International Women's Day - and 2020 being the 40th anniversary of women becoming active surf lifesavers in Australia - a special Colour Party was formed to celebrate the achievements of women in Surf Life Saving. Led by newly awarded SLSA life member (and Carnival Referee) Jenny Kenny from Cudgen Headland SLSC, the Colour Party included some of the surf lifesaving movement's trailblazing women.
Then it was down to business and NSW elite surf sports athletes' skills were demonstrated during competition with the premier finals events being run in near-perfect weather conditions. Another day of sunshine and three-to-four-foot swell allowed all athletes to perform to the best of their ability.
It was fitting that on International Women's Day, one of the best performances of the event came from Ironwoman Jemma Smith from Umina SLSC. She delivered a knockout performance in the surf to win the Female Open Ski Race and came third in the Ironwoman event after Emily Doyle from Newport and Naomi Scott from Manly.
"It's certainly great conditions out there today – very challenging. But we managed to get a pretty clean start in the Opens and that set me up for the rest of the race. And then I managed to ride in on the back of a little clean wave which was nice. The start can make or break your racing on a day like today," said Jemma Smith.
"Some of these races have been really tight on that shorey today so I was just praying that I'd pick up a nice little wave to bring me to shore and I did which was really nice," she said.
The Newport club juggernaut tested the competition on finals day to consolidate the club's overall lead and finish with an unassailable victory of 568 points - 181 points ahead Wanda on 387 and North Cronulla on 187. North Cronulla beat Manly by just one point – third place coming down to the wire with some handy last-minute points coming to North Cronulla in the final event in the competition – the Open Surf Boat Relay.
Darren Warrener – Competition Director at Newport said that the result was 'wonderful'.
"Seven in a row is an outstanding achievement for any club. It's all about the kids and the competitors and they all blend and gel well together and I think it's outstanding. We're pretty excited.
"There are many highlights. The Open Taplin Finals are always the premier event – outside the ironperson – and Newport won both which I think is outstanding. And then Max to win the Open Ironman and Emily got the Open Female so it was altogether a great weekend.
Newport Coach Trent Herring said that having 'Mr Newport', Nick Carroll turn up to cheer the team on brought some special energy.
"Emily Doyle won the under 19 ski race which was really exciting for her. The boys in the 15s did really well in the Team events and backed up again today. They went one, two, three, four in the Surf Race and they went one, two, three, four in the Irons. They're a great bunch of kids and super-competitive. Those guys have got a long career ahead of them," Herring said.
After winning the Female Iron event, an exuberant Emily Doyle said that the race was hard but great because it was super close the whole way.
"I kept my head together and just worked with Jemma and Naomi and we worked with each other in the swim and we all got the same wave. And I just put my head down and I didn't care if I was going to pass out without breathing. I really wanted that win,", said Emily Doyle.
Emily Maythers from North Cronulla was equally surprised and delighted with her win in the U19 Female Surf Race. And she backed up that performance with a second place in the U19 Female Ski Race.
"I'm actually really stoked with my swim. I'm actually more of a ski paddler or an ironwoman, but I always have a go at the swim because it's something I train for. And I was stoked to swim in the top pack with all the girls getting amongst it and on the way in I was quite lucky to jump on an awesome wave as a run up the beach," said Emily Maythers.
The prestigious Open Ironman event was won by Max Brooks from Newport - with fellow club mate and reigning title holder Jackson Borg coming a close second.
"I'm definitely happy with that. It's a short race with a lot going on. A lot of good athletes. It was good for the club to win two years in a row. It was a really good day for the club so hopefully we can build the momentum," said Max Brooks.
"We have a really good club culture and we focus on the teams. Good teams breed good individuals. Any individual results are a bonus," said Brooks.
Second-placed Wanda SLSC had a stellar day at the championships and came in first in the U17 Male Ski Relay and the Open Female Ski Relay. They also won the Open Male Surf team and the U17 Male Surf Team.
It was announced that the Championships will return to Swansea Belmont in 2021 for a fifth year and club president Graham Burge says the team are all happy to host the event again, despite the hard work.
"The event's been fantastic. We had terrific conditions for competition again this year and everyone's enjoyed the competition over the past few weeks which is great. And the Opens was great today with perfect waves.
"The local community and our volunteers worked so hard to pull the event together, these people are fantastic. We thrive on this sort of stuff and when people from the surf life saving family come up to thank our workforce personally for their hard work it's fabulous," said Burge.
After two weeks of competition across all age groups, the competition winners in each Championship event were: Age Championships – North Curl Curl SLSC (289 points), Masters Championships – Bondi Surf Bathers (396 points) and Opens Championships – Newport (568 points).
Top 10 Pointscore – Opens Championships- 2020
Newport SLSC - 568




Wanda SLSC 387




North Cronulla SLSC - 187




Manly LSC - 186




Elouera SLSC 180




North Bondi SLSC - 162




Swansea Belmont SLSC - 155




Cronulla SLSC - 137




Coogee SLSC - 136




Umina SLSC - 122
Pointscore - SLS SNB Branch clubs
12 Freshwater SLSC 79
14 North Curl Curl SLSC 64
17 Collaroy SLSC 57
20 Palm Beach SLSC (NSW) 53
22 Mona Vale SLSC 33
25 North Steyne SLSC Inc. 23
25 South Curl Curl SLSC 23
32 Avalon Beach SLSC 12
32 Queenscliff SLSC 12
35 North Narrabeen SLSC Inc. 7
41 Long Reef SLSC Inc 1

Newport On A Roll For Seventh Straight Win
Saturday March 5th, 2020
By Surf Life Saving NSW
After two days of competition, Newport SLSC, the current title holder, is on track to win their seventh Open Championship at the 2020 NSW Surf Life Saving Championships at Swansea Belmont SLSC.
After a wet start to the day, the rain cleared and the teams events got underway in perfect race conditions - with three-to-four-foot swell and a gentle southerly breeze producing great waves for competitors to perform at their best.
Newport continued their strong lead in the overall point score today, with Wanda positioned comfortably in second place - ahead of third-placed Elouera. However, competition was fierce between Elouera, Manly, Coogee, North Cronulla and Cronulla for third place - with only four points separating them going into day three of the competition and the individual events. At this stage, any of these five clubs could end up with a podium finish on day three.
Newport Coach, Trent Herring, said that he was delighted with the women's performance in the water today and that the U19 Female Board Relay was a highlight – where Newport's Analise Kibble, Alex Lefevre and Sascha Taurins took gold for their club ahead of Wanda. However, Newport also took out bronze in the same event with Emily Eaves, Mia Ross and Rachel Sothern performing well.
"Having waves today makes our competitors smile. It really lets the kids show off their skills," said Newport coach Trent Herring.
"The U15s and U17s performed well yesterday which set us up well for today. And we're well represented in the individuals and finals tomorrow. With the battle of the Taplins yet to come," he said.
Newport also produced some impressive performances in the U19 Female Ski Relay with Emily Doyle, Jami Prowse, Sascha Taurins taking out the gold ahead of the Redhead and Wanda teams.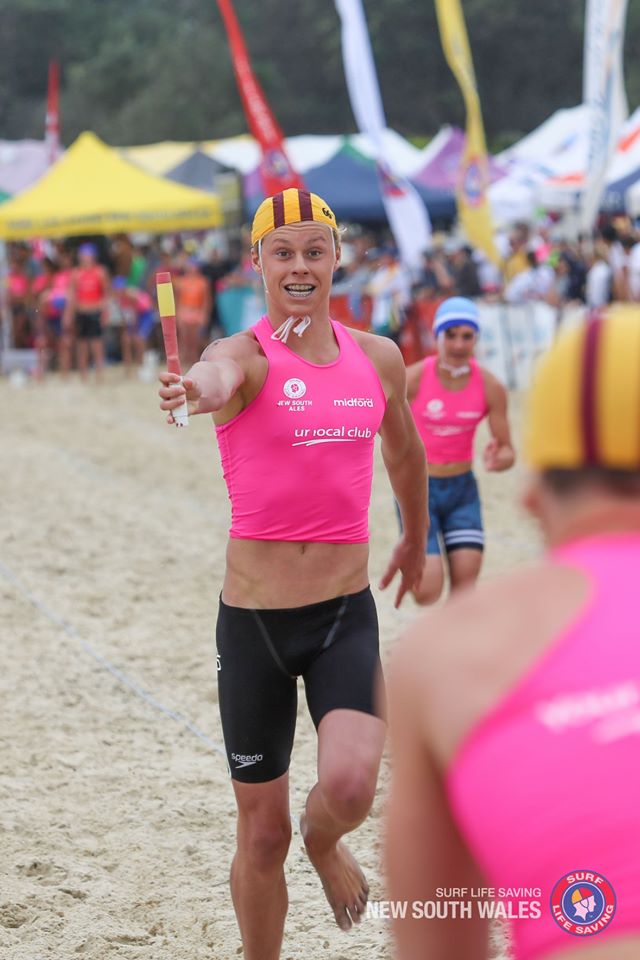 Wanda SLSC had a good day on the beach and in the water and ended the overall pointscore in second place. Team coach Nathan Smith acknowledged his club doesn't have the strength of Newport but that his athletes were working hard, doing well and scoring points - and that he hoped to bridge the points gap between Wanda and Newport compared to last year.
"Our number one priority is just to get as many people as we can into finals. If you make a final, with a smile on your face, that's an achievement. But you have to be in the top six to score points," said Nathan Smith.
Wanda's Open Female Taplin teams performed well in the semi-finals with three teams booking a place in Sunday's finals.
"To be honest that wasn't a surprise. We expected those three teams to do well. We've built a great training environment," said Nathan Smith.
On the sand, there were some stand-out performances from some of the smaller clubs. Mollymook and Fingal both had impressive wins in the Mens Open Flags and Female Beach Sprint. Lightning-fast Sam Zustovich from Mollymook was in fine form and took out the Open Flags. But it was Grace Hewitt from Fingal whose remarkable form had everyone talking. She won both the Open Female Beach Sprint and the U17 Beach Sprint - proving that she will be a competitor to watch in the future.
Corrimal SLSC wasn't to be left behind in the beach sprint events either – with impressive performances in the U15 Male Beach Sprints by the Sommers twins, Levi and Bailey, who came in first and second respectively. The twins also performed well in the U15 Male Beach Relay Final banking a third place for their club – with Max Waddell and Vegas Myers also helping the Corrimal team to victory.
Host club Swansea Belmont finished strongly on day two in eighth position – one place higher than at the end of day two in last year's competition. The U17 Female Taplin Relay was a highlight win for them today with Zali Berge, Eliza Johnson and Hayley Warmsley bringing in some early points for their club with a blistering final-leg swim by Warmsley. It was a dominant win in the water and the home crowd loved every minute of it.
Tomorrow the March Past will kick-off the final day of NSW's largest surf sport event. It's International Women's Day and some of Surf Life Saving's most outstanding women will form a Colour Party to celebrate the 40th Anniversary of women's formal involvement in Surf Life Saving. They will honour women's achievements throughout our 113-year history. It's an event not to be missed.
The 2020 NSW Surf Life Saving Championships, proudly supported by Your local club conclude Sunday with the Open Ironperson, Taplin, Board race events and surf boat finals. All the action will be streamed live on the SLSNSW Facebook Page.
Day Two Top 10 Pointscore
Newport SLSC - 340
Wanda SLSC - 304
Elouera SLSC - 132
Manly LSC - 129
Coogee SLSC - 128
North Cronulla SLSC - 128
Cronulla SLSC - 125
Swansea Belmont SLSC - 112
Umina SLSC - 102
North Bondi SLSC - 87
Freshwater SLSC - 74
Photos from Open Championship at the 2020 NSW Surf Life Saving Championships
All images by Surf Life Saving NSW