November 6 - 12, 2016: Issue 288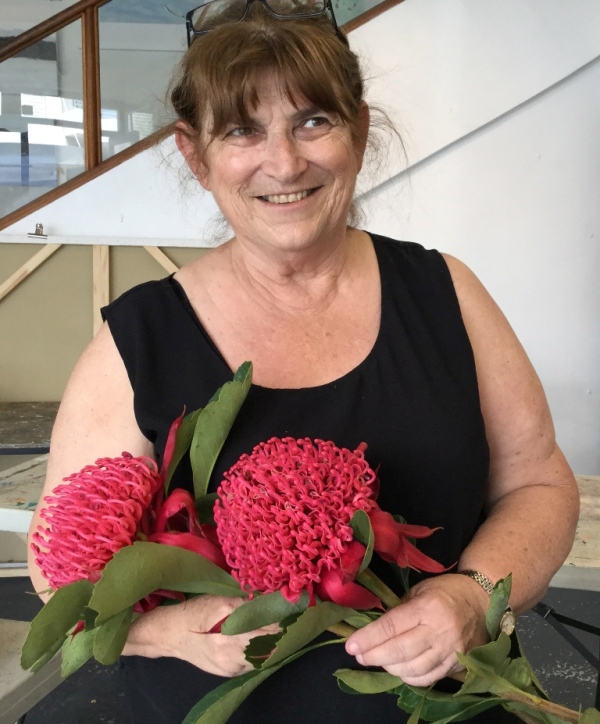 Renowned for her adaptability and prowess in numerous mediums;
watercolour, acrylic, oil, rust oxidisation, patinas and encaustic
, Mignon Parker is famous for her wonderful paintings of bush flowers. An Elanora Heights resident for decades, her work is infused with a connection to the bush surrounding her home.
Mignon also shares her experience, offering classes in what she has learned and even expanding and encouraging the imagination of those who attend in one latest offering, as just one example, Notebook 101.
Mignon has participated in numerous group and solo exhibitions and is represented in various galleries and private and corporate collections in England, Europe, New Zealand and Australia. We are
privileged to have her exhibiting here as our
Artist of the Month
for November 2016.
This week, a small insight into how her wonderful gift evolved:
Why were you named Mignon?
My father loved the music, Mignon is a short piece of music by Franz Schubert ( Mignon, D,321Schubert, Franz).
Where did you spend my early childhood?
For the first ten years I lived at Artarmon where the streets were lined with date palms and lemon scented gums, and the kids drove billy-carts made from fruit boxes with any sort of wheels attached to them down pathway s and slopes. Nobody locked their backdoors in those days and the kids would play together outside until being called in for tea. A lot of fun was up the camphor laurel tree we had in the back garden after cicadas, green grocers, yellow mundey's and flowery bakers, and the boys would rattle and squeeze them to see if they were pizzas or double drummers, or block off the gutters when it had been raining and float boats made out of match boxes down the rushing water. When I wasn't doing this I was always drawing, my mother always keeping me supplied with paper and coloured pencils, usually drawing birds, flowers, butterflies and cats, I think I must of been fixated with fairies as a drawing that I did at age four still exists today.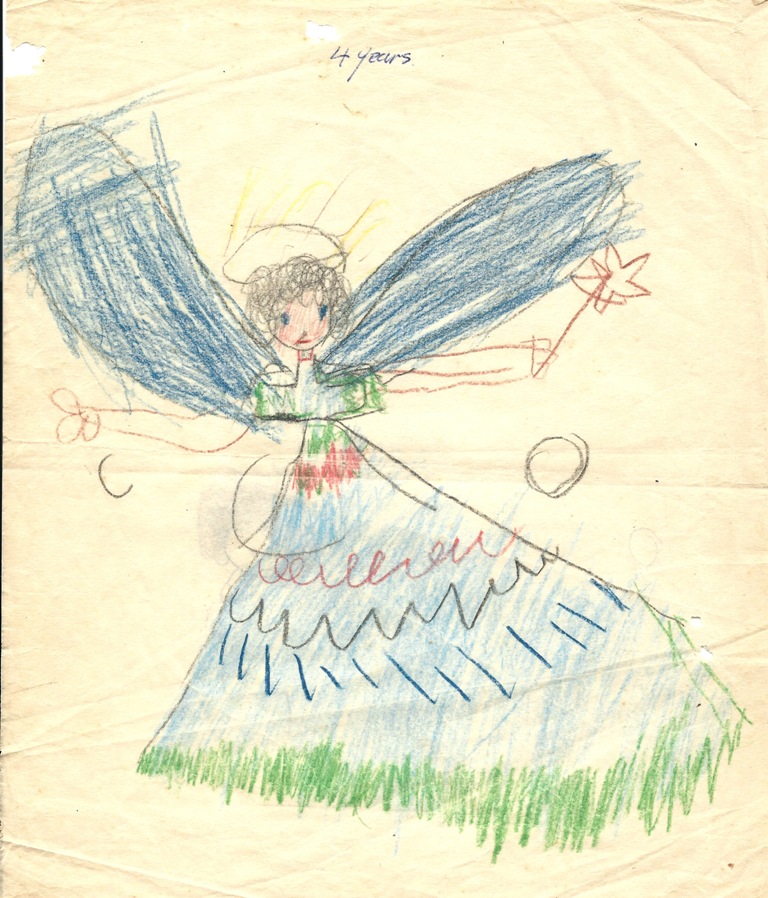 one of Mignon's earlier fairies
I attended Artarmon Public School which was an experimental school way ahead of it's time, when I was eight I was used to trial run a new form of hand writing called the Marion Richardson Writing, which was a form of speed righting where you actually printed, joining the letters and cutting out the serifs. I still write like this today.
During this time my parents Jack and Heidi Wellings purchased two blocks of land at Elanora Heights, ( 500 pounds each ). During the school holidays and weekends we would travel up to Elanora Heights with a friend in a baby Austin, clutching bottles of home made ginger beer and holding onto two black cats in a wicker basket.
In those days Wakehurst parkway was just a crude road with a set of lights known as the blinking lights which was strung across the intersection of the cross roads. It was bush the entire way. We would reach Elanora Road and only one car at a time could travel on this rough bumpy up hill road, it was said the Dunny Mans truck went over on one of the bends but he was able to jump out. T
here were only half a dozen houses up Elanora we would camp in a tin shed while Dad was clearing the land and building the retaining walls out of the sandstone which there was an abundance of on the land. The land was covered in flannel flowers, banksia, bottle brush and grass trees. On these occasions cooking was done outside under the stars over a wood fire with a heavy metal hot plate. The quietness of the bush at night was beautiful, you would hear the frogmouths calling and a thumping coming through the brush and then there would be a little black nosed wallaby appear curious of the camp fire. It would then continue its journey further down the land to rock pools of water which eventually ran down into Deep Creek.
The wild life was amazing then, wombats, echidnas, goannas and frilled neck lizards. The bird life was very different then as well; we had kingfishers, rosellas and little honey eaters to name just a few. As a young child I would play in three middens, which are large piles of oyster shells brought up from the sea by the aboriginals, eaten and then the shells all thrown into a pile. I think these middens would be about 150 years old. Today, in the bush park opposite, there are still remains of yet another midden being unearthed by passing activity on the bush track.
There was a dairy then on Powderworks road. We would walk along this bush track for about half a mile with our billy cans to get some fresh milk swinging it on the way back home. The dairy was replaced by a Methodist Church later becoming a Uniting church and today town houses are now situated there.
After Dad had finished building the house we moved to Elanora when I was ten, (1957) and my sister Suzanne and myself attended North Narrabeen Public School. This was a new school which did not have a uniform for the 1st year later having the Black Watch Tartan for Winter and Bottle Green tunic for Summer.
I then attended Narrabeen Girls High School, with one of the subjects being Art, a lovely young art teacher would give up his Tuesday lunch hours to tutor three other girls and myself in oil painting. What kindness I have never forgotten this man.
Did you further your studies?
After completing my intermediate certificate I went on to attend North Sydney Technical College for two years, I just loved these days, we studied life drawing with models of all shapes and sizes, drawing, lettering, watercolour and sculpture, then continuing my training at East Sydney Tech now the National Art School, doing a colour and design course along with other subjects. John Coburn was one of my tutors while he was designing the tapestries for the Opera House. This was to be a five year course but before the end of year three I was offered a job in advertising, at prestigious agency with big name advertisers ''Rodgers, Holland and Everingham'' as a commercial artist.
What colourful days these proved to be. Unfortunately the agency had to fold and I sought a job at David Hewestons Art Studio. This studio was situated in Crown Street in a terrace house, three doors up from the Smith Family and almost opposite the famous Chapel Street, where all the working girls did business. It was always wise to not forget your key as if you stood outside the front door you would be propositioned at 8.am in the morning so you just kept walking. I stayed with the studio until my first child was born in 1971.
David the boss used to throw these great spur of the moment parties, where other creative people would file in after work and party. I later found out these were the toast of the town parties to go to. From what I remember they were the best and most colourful and fun.
While I was bringing up my two children James and Nicholas, I worked in Hospitality at the Manly Pacific Hotel. Now that was very interesting and I learnt a lot about human nature and celebrities as there were many staying at the hotel in its hey day. While I was working there I did a two year night course in showcard and ticket writing, at Brookvale TAFE but did nothing with it when I finished, although I was asked to do posters for the hotel restaurants and for hotel safety.
How did you get back to your Art?
After leaving the hospitality industry I started to paint again, holding exhibitions at the Tramshed at Narrabeen, both solo and group over ten years and teaching in watercolour, Decoupage, Mosaics, Encaustic, Acrylic and Mixed media. At this point of time I also worked for Mass media magazines, one of them being Better Homes and Gardens, doing the hero item then the step by step of this. Most of this work was hideous stuff but it paid well so you worked through the night as everything was wanted yesterday. I must admit to loving doing the big Christmas decoration spreads.
Working on other related magazines had fun elements too as you had more of a free range to produce more interesting pieces like fresco, designing and painting papers to be used for Decoupage and step by step projects.
Today I am busy painting and teaching at various venues local and around Australia, at Summer and Winter Schools.
One really sad year I was teaching at the USQ McGregor School of Arts at Toowoomba when the freak flooding happened. It was terrifying, and every one in the classes had horrific stories to tell. I cried every time one of my students were able to get out to go back home by helicopter or road, to farms and what they had left of their homes. Those Queenslanders are made of incredible stuff.
I have just come back from Halls Gap in the Grampians in Victoria where I was teaching acrylic and mixed media for six days, beautiful place wallabies and deer everywhere you went. I'm off in a couple of weeks to teach a sketch book workshop at Dunedoo on the beautiful property of Ken and Kylie White.
Many local artists have mentioned your classes as inspiring and yourself as a great teacher – why do you think they like taking classes with you?
Why do other artists like to take lessons from me, well that is a hard question, as I don't really think about it, I find it a pleasure to share my techniques with others
What makes a good teacher?
I think patience and an understanding of every students individuality and to encourage their own painting skills and techniques.
I was part of Pittwater Artists Trail in it's 1st few years. I had 200 visitors through over the week end of the 1st trail, was I stuffed. It was very rewarding though, I met a lot of lovely people until circumstances changed and I could no longer open my home to visitors
How do you decide on subject matter for your paintings?
Where do I draw my inspiration from, that is easy; in short nature. It has so much to offer; flowers, trees, sea, textures all around us. Sometimes I will see a fab texture and then think how to reproduce it on canvas or board, but my big love are flowers, I never tire of these, my favourite being gum blossoms.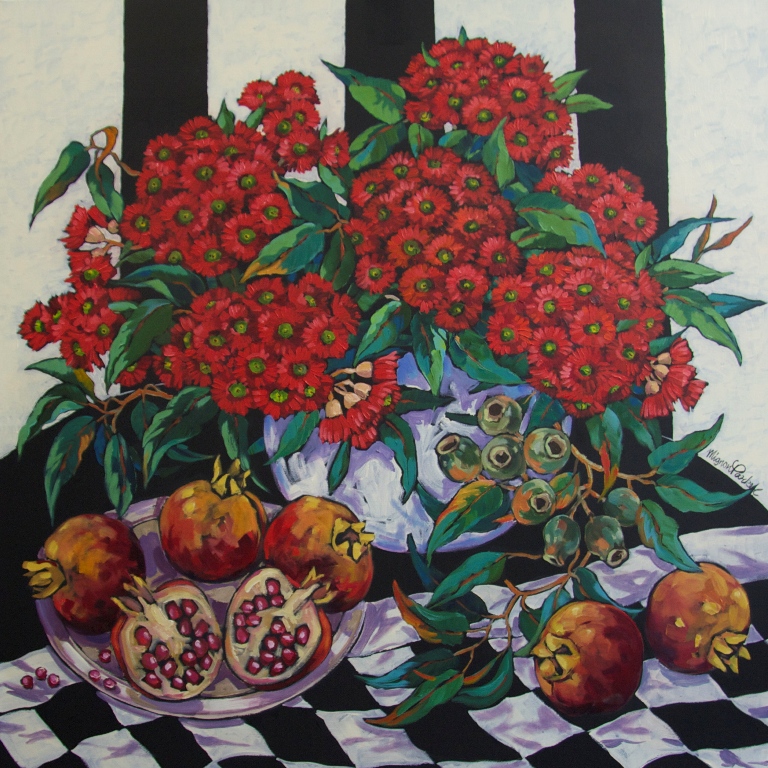 What are your favourite places in Pittwater and why?
Favourite locations, well that is easy, in Pittwater everywhere is so beautiful, but the Boat House at Palm Beach has to top the list. Stephanie Galloway-Brown and I like to get out once a week and sketch and this location has it all, flowers, fruit, water, boats, great pockets of interest everywhere, as well as enjoying a lovely lunch.
What is your motto in life or a favourite phrase you try to live by?
Just take each day at a time, be appreciative of what we have and be happy.
What's available in 2017?
Next year I will be conducting watercolour and related media workshop at Artsmart Seaforth, from 1pm - 4pm on Mondays. 2017
Or people may like the Mitchell School of Arts a five day acrylic and Mixed Media art course held at the Sturt University Bathurst held the 15th -21st January 2017
If interested you need to book by contacting Art Scene 02 9807 6900 before the end of November.