May 19 - 25, 2019: Issue 405

Mid Autumn Captures
from Election Day to Fundraisers, Footy and Fire Station Open Days and Hazard Reductions at Turrimetta - it's all been happening this week - photos by a few!
Federal Election Day Queues: A Tale Of Meandering
For those who went as soon as they could, they were greeted by lines of people waiting to cast their vote. A steady stream of voters, some on their way back from children's Saturday morning sports events, meant most polling booth places stayed that way until after lunch. Fortunately you could get some breakfast or lunch at most booths, with local sports clubs and schools raising funds for various projects. There were also a few local organisations taking the opportunity to let you know what they do.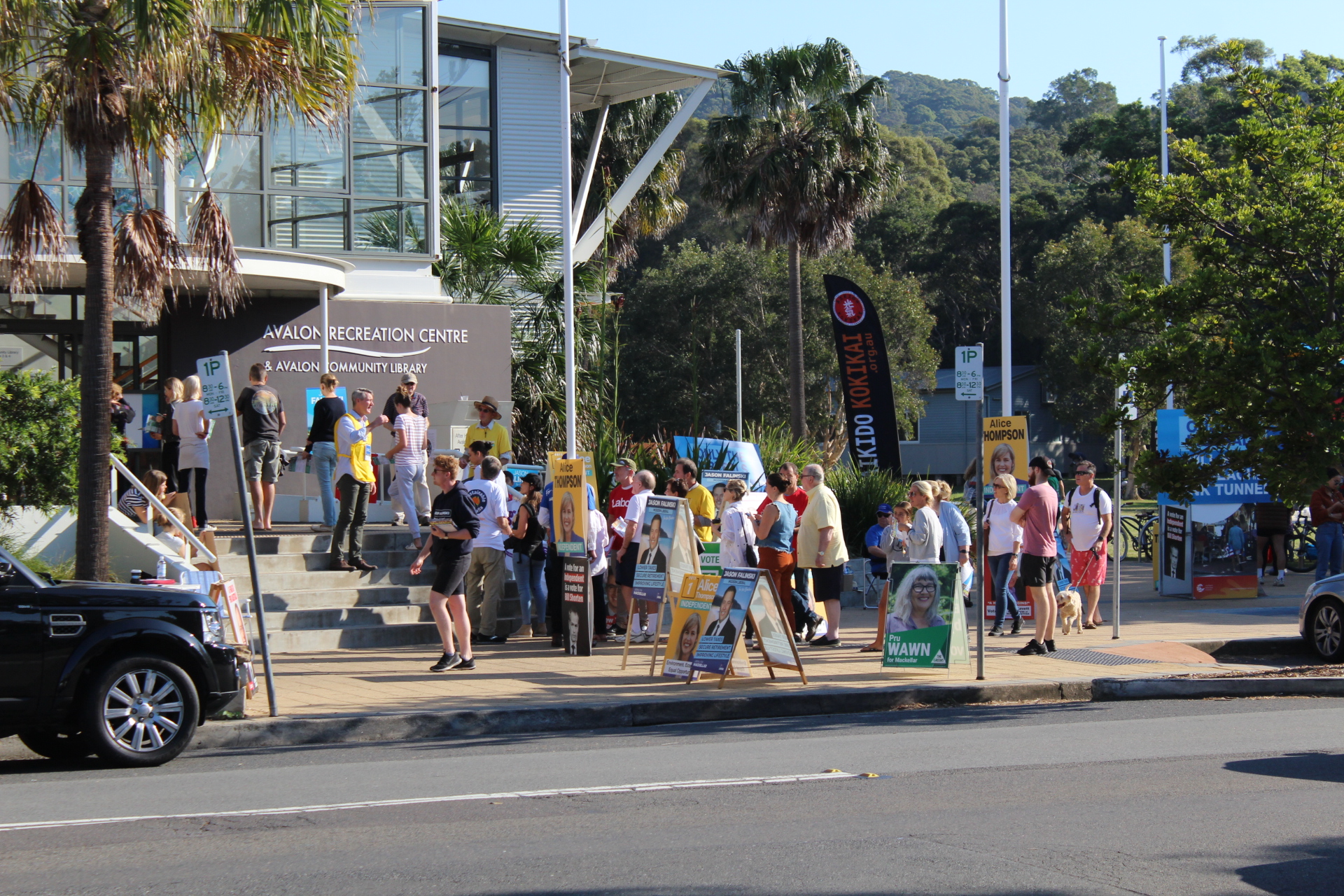 The Early voters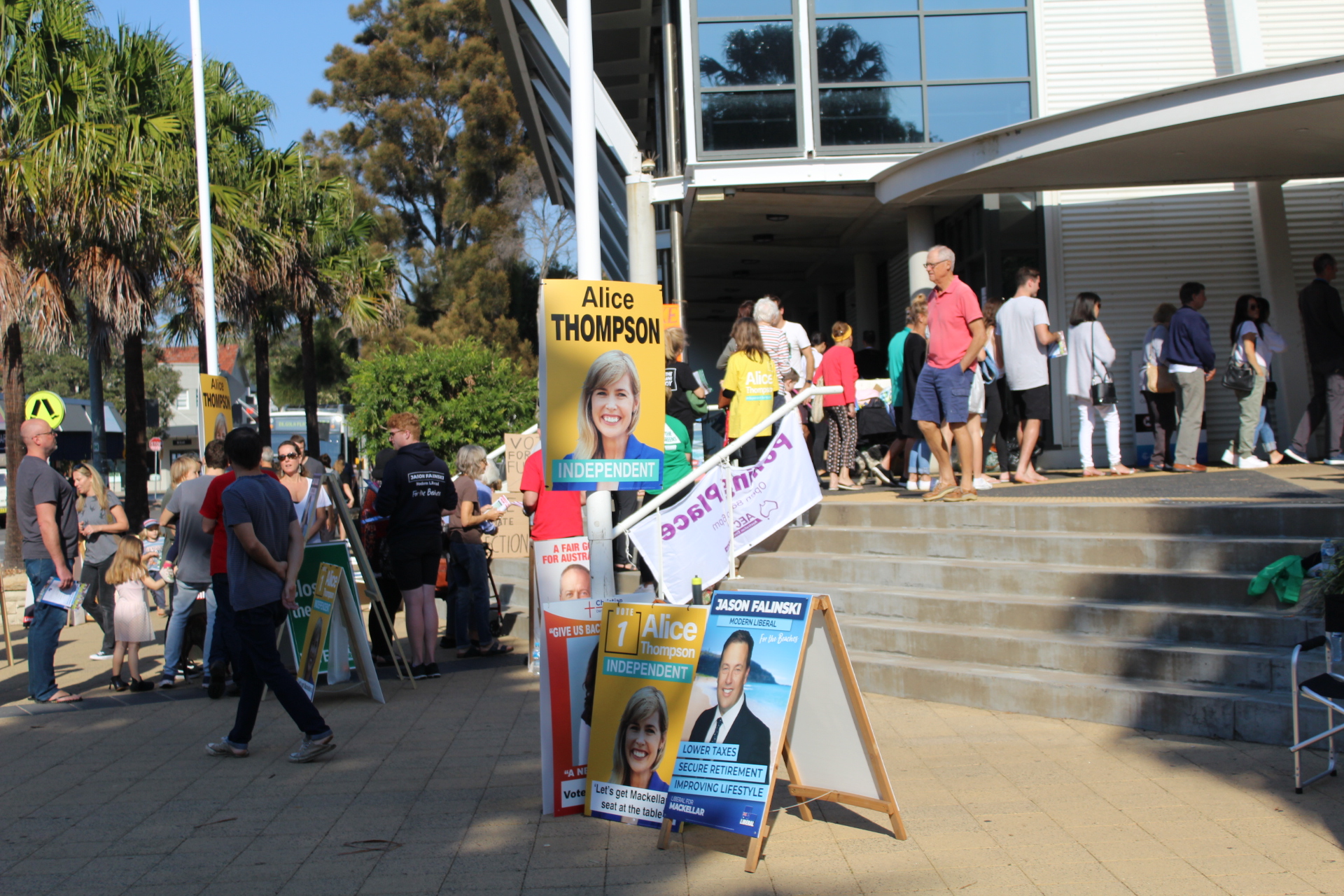 An hour on, the queue is longer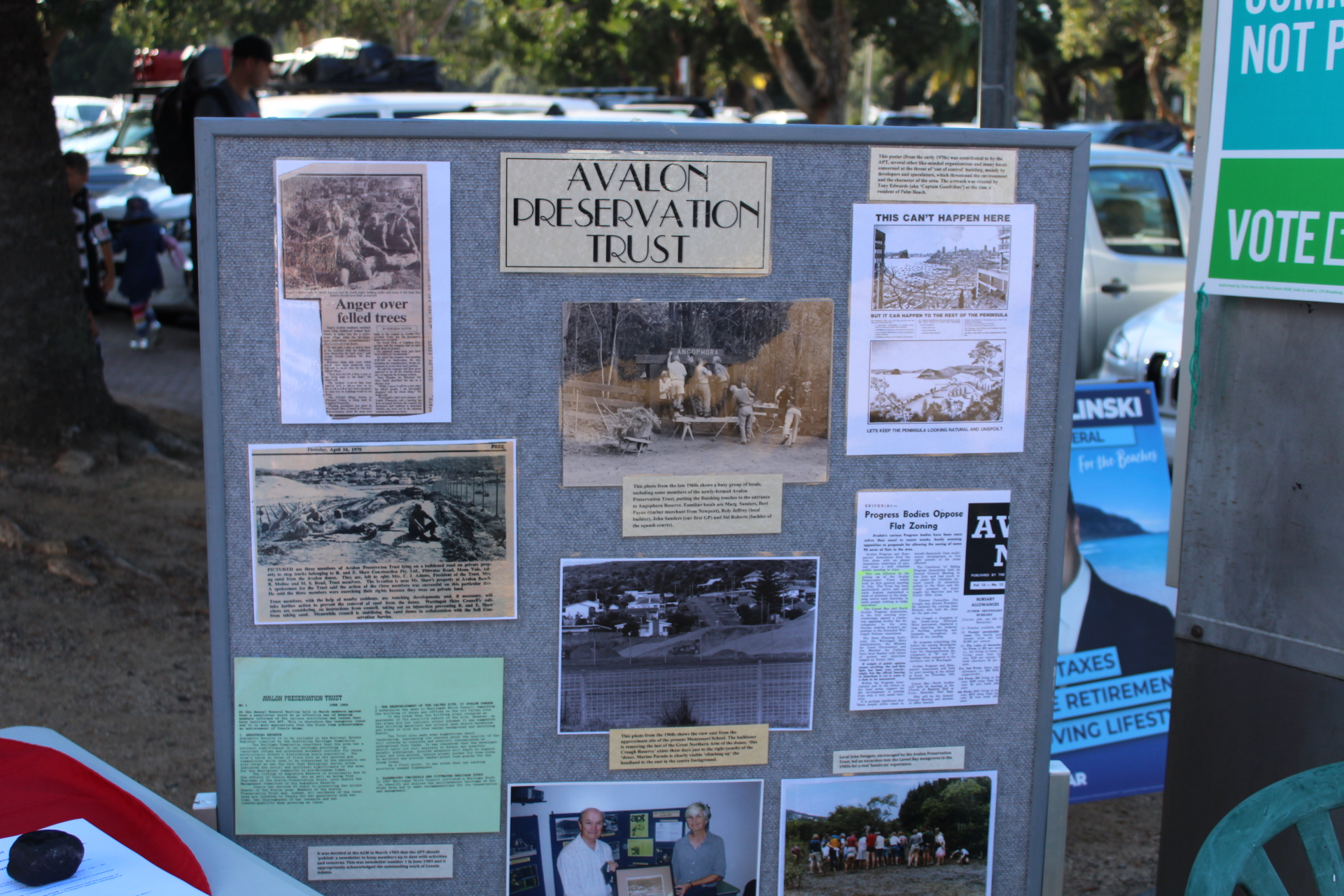 Have a chat to the Avalon Preservation Association secretary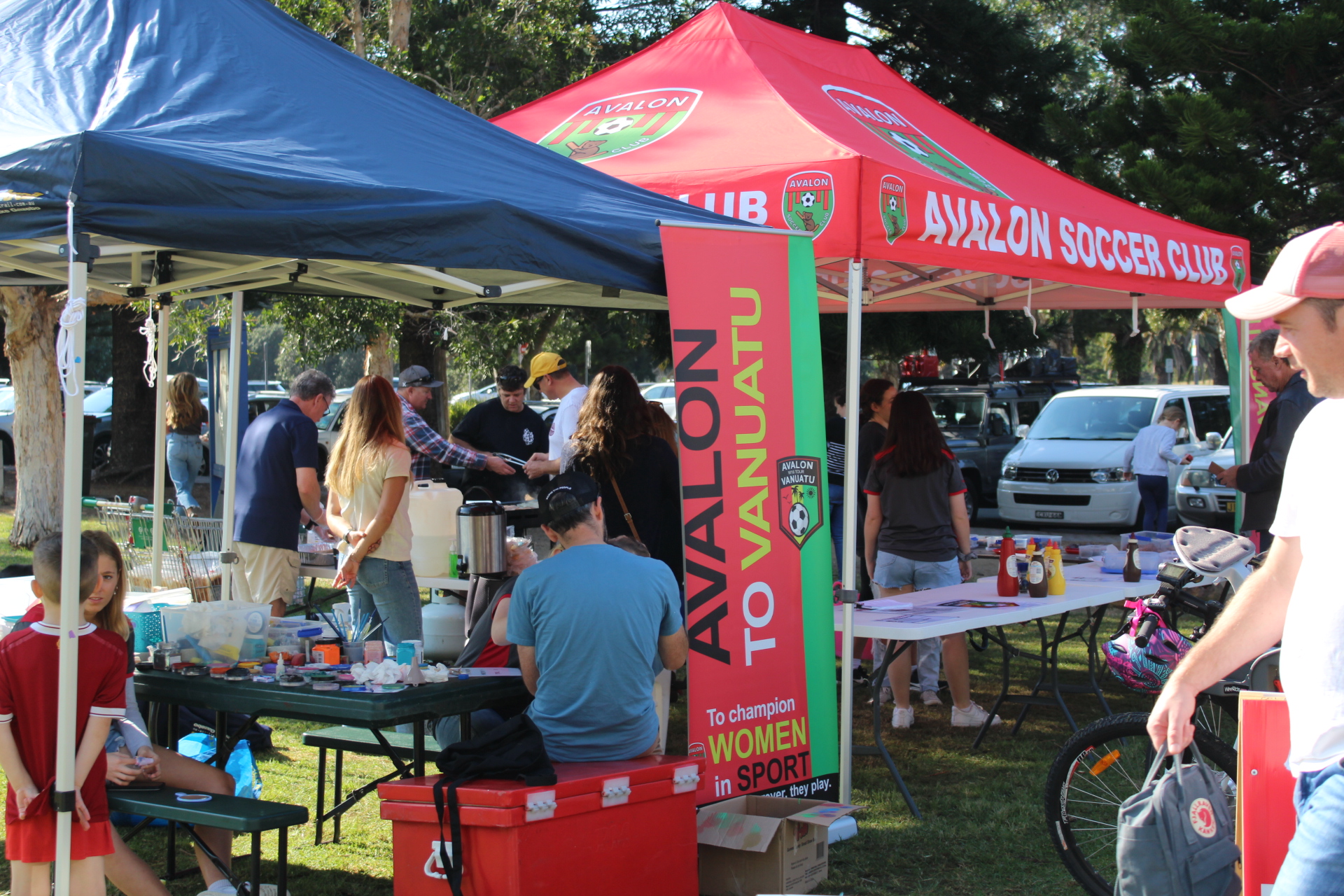 Grab our first sanger sandwich today and head over to BHS instead!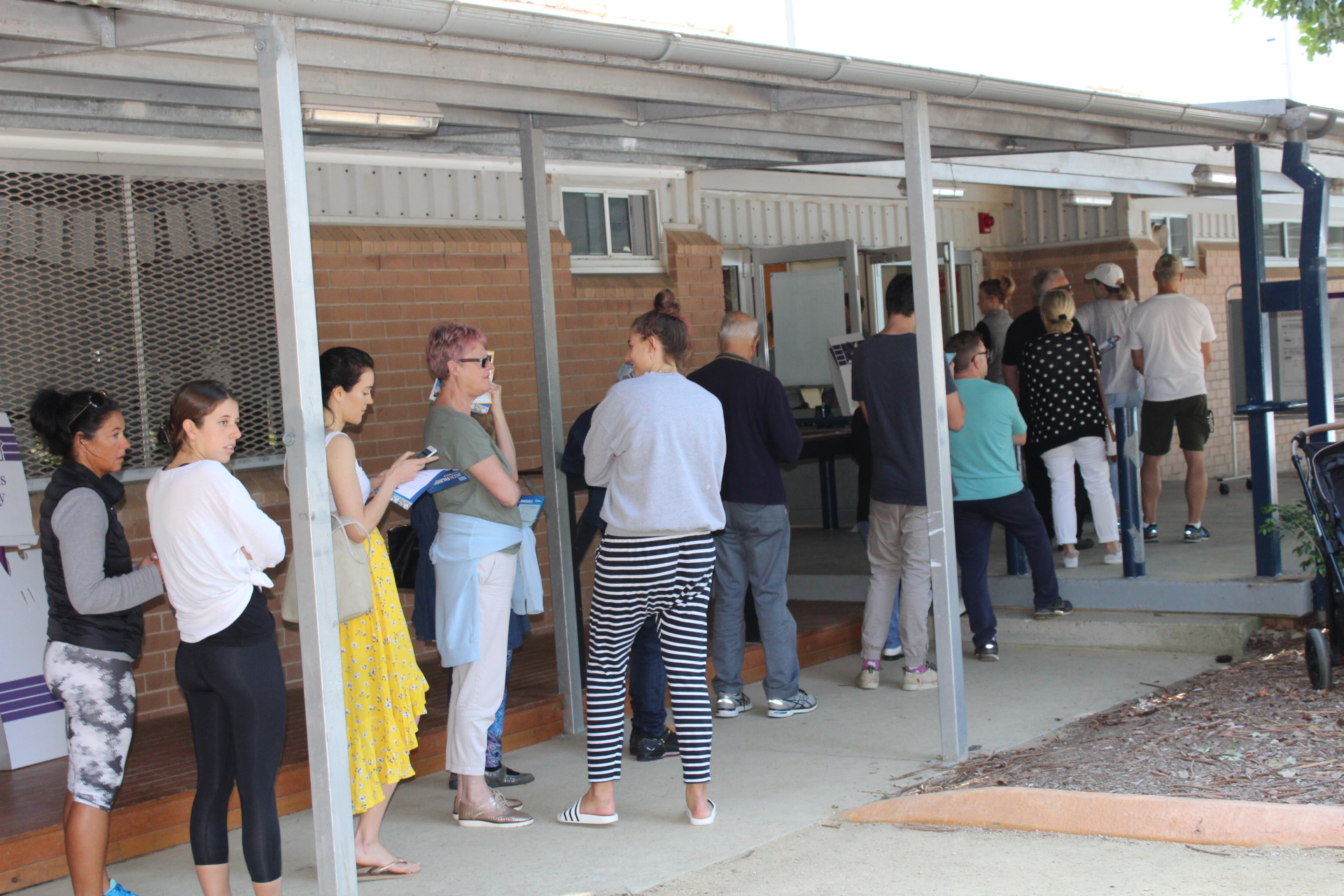 At Barrenjoey High School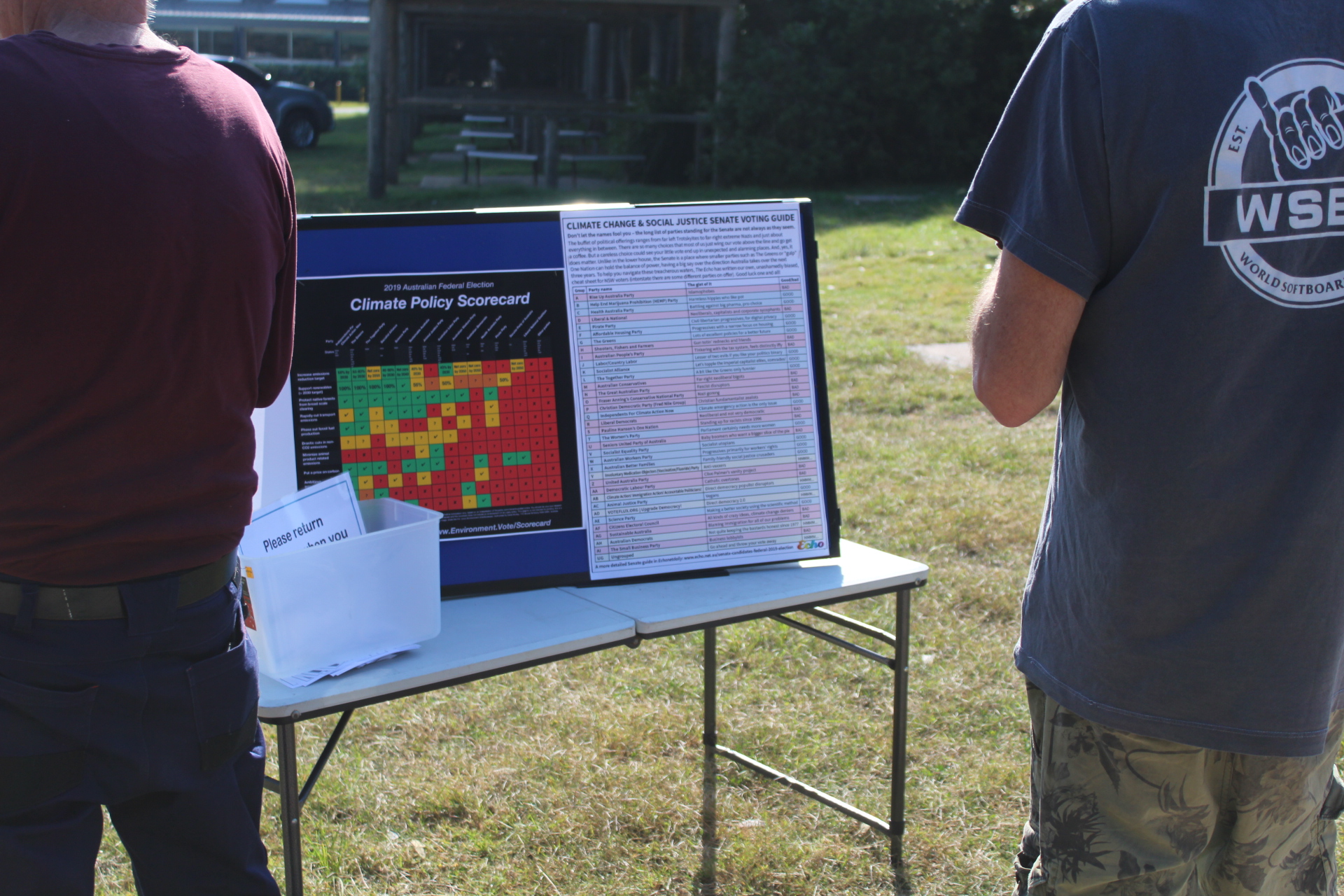 Stand around with others and Read a few signs instead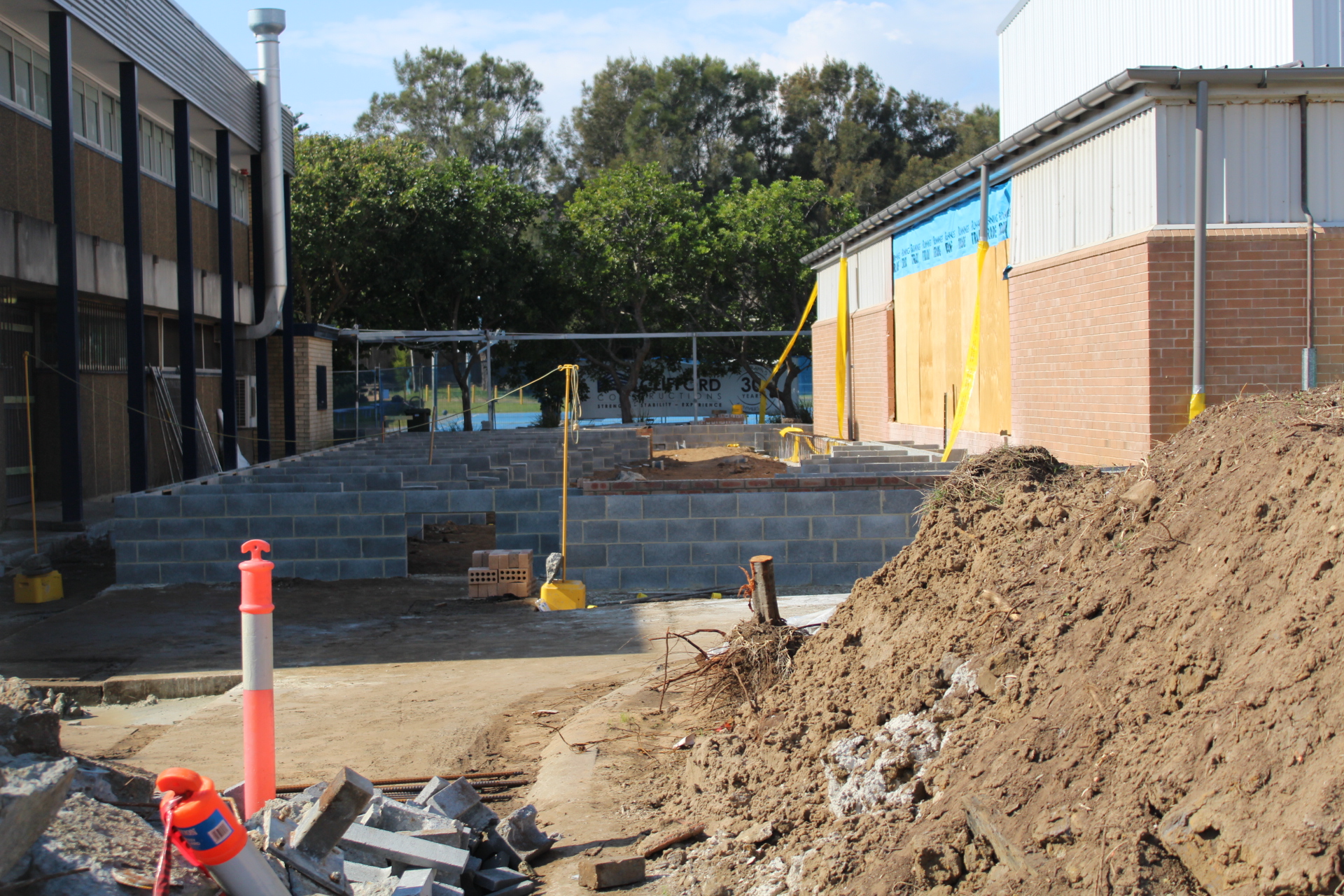 Check out the footings for the brand new Barrenjoey Performance Space instead for a bit - looks great, heaps done already!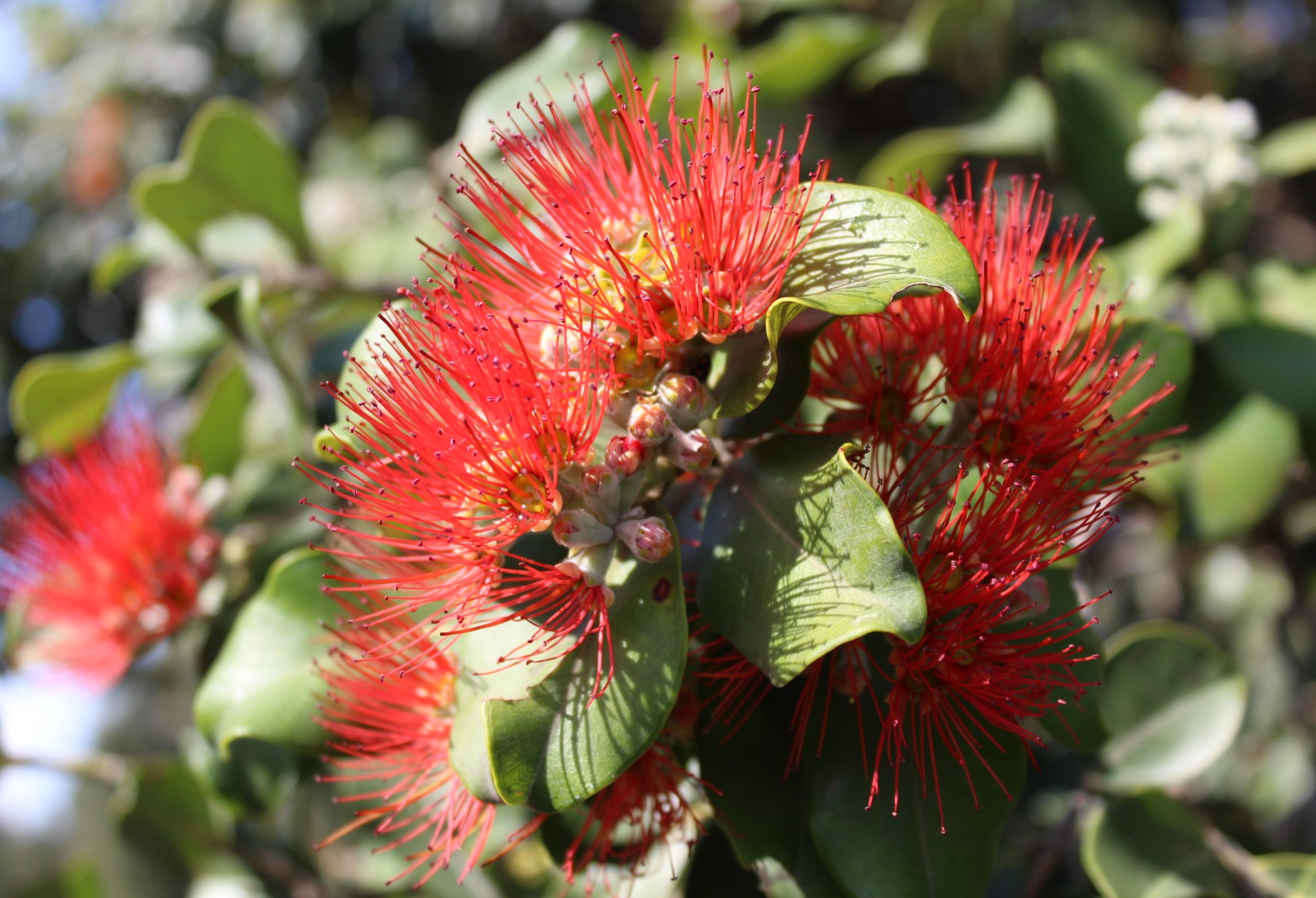 Smell a few flowers and marvel at how bountiful Avalon Community Garden is looking: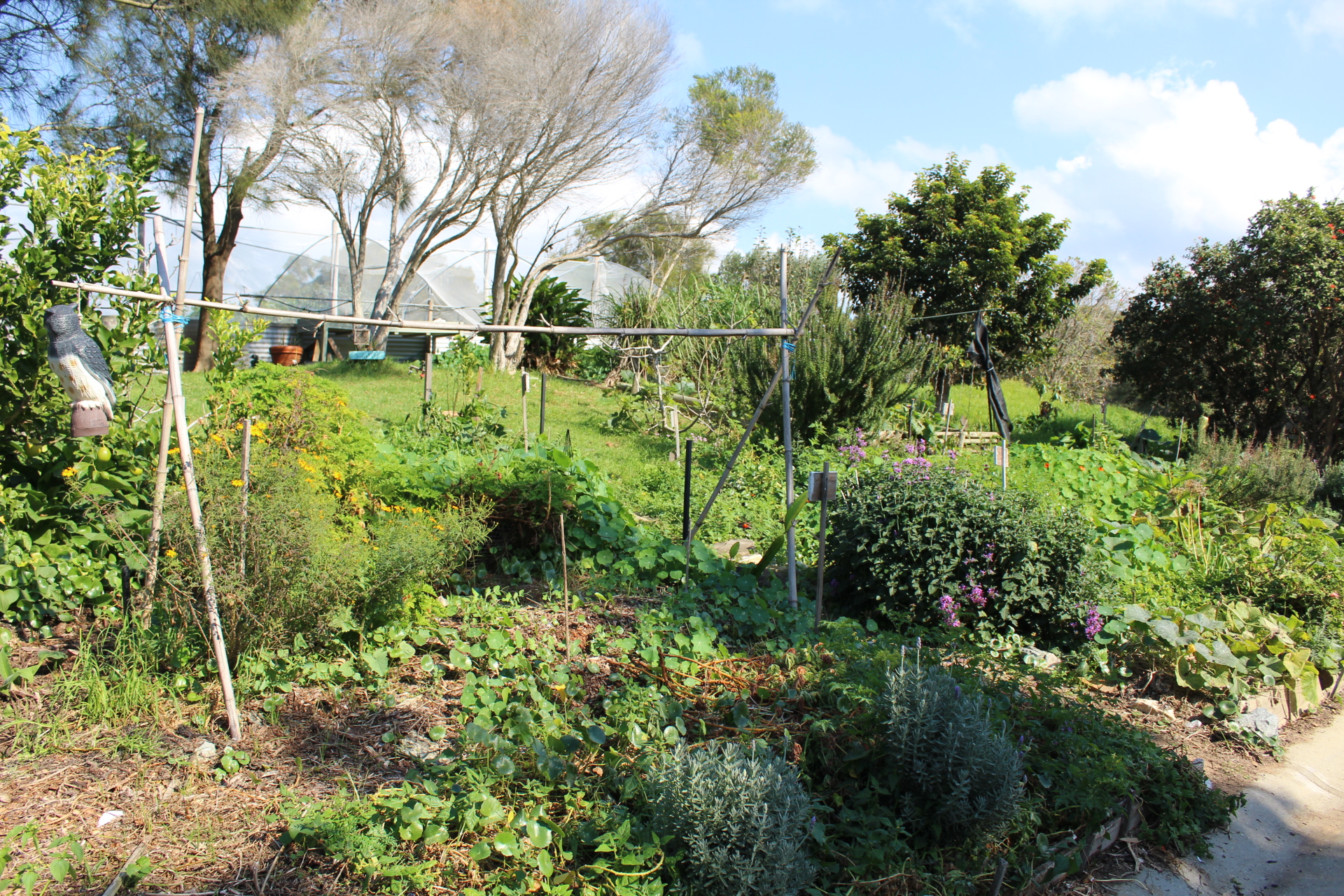 Avalon Community Garden

Avalon Community Garden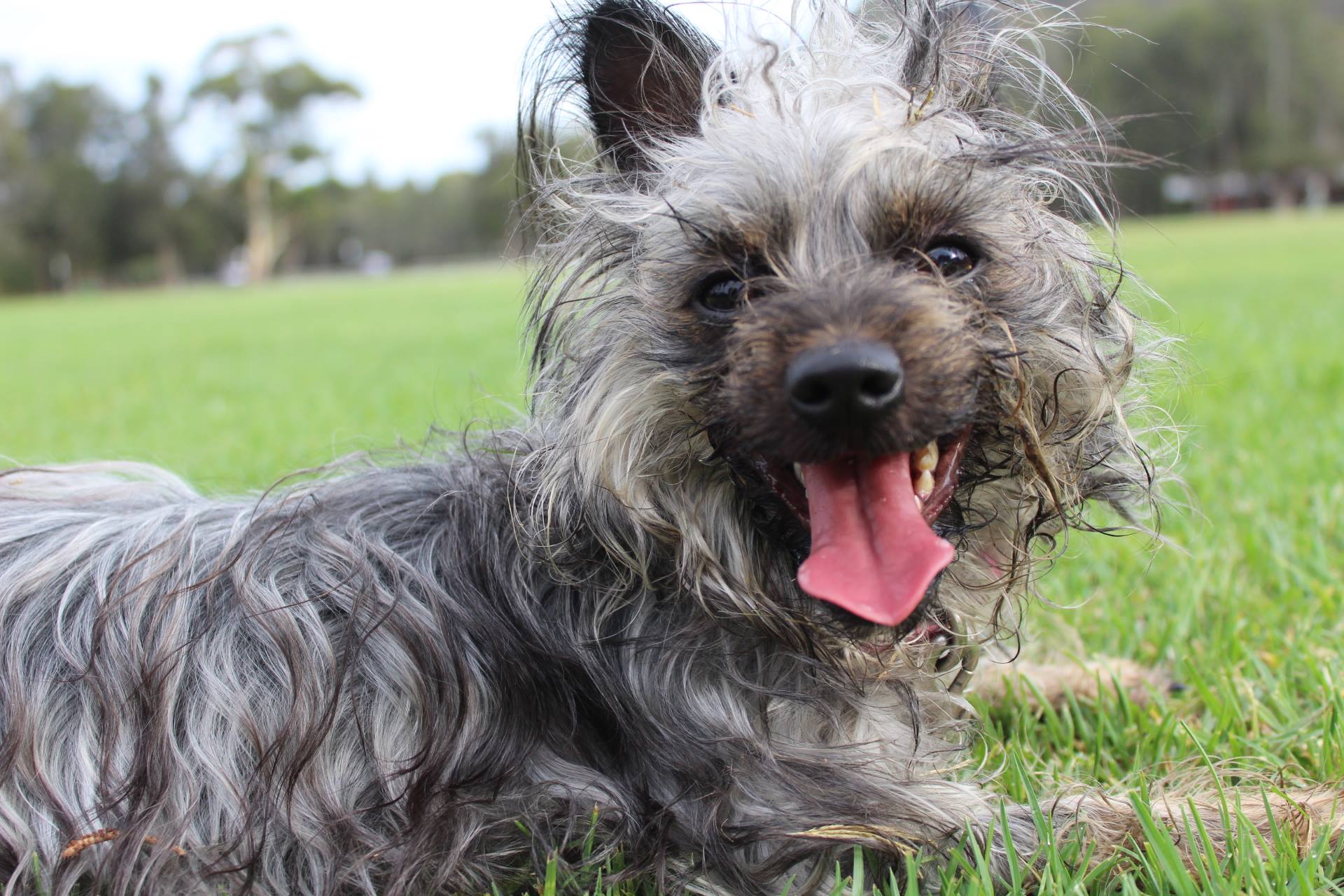 Take our on-leash dog back to the fenced, safe, clean, green space near the fenced off Barrenjoey Performance Space build and find and throw a stick around for her for a bit - how fantastically cool is a single stick?!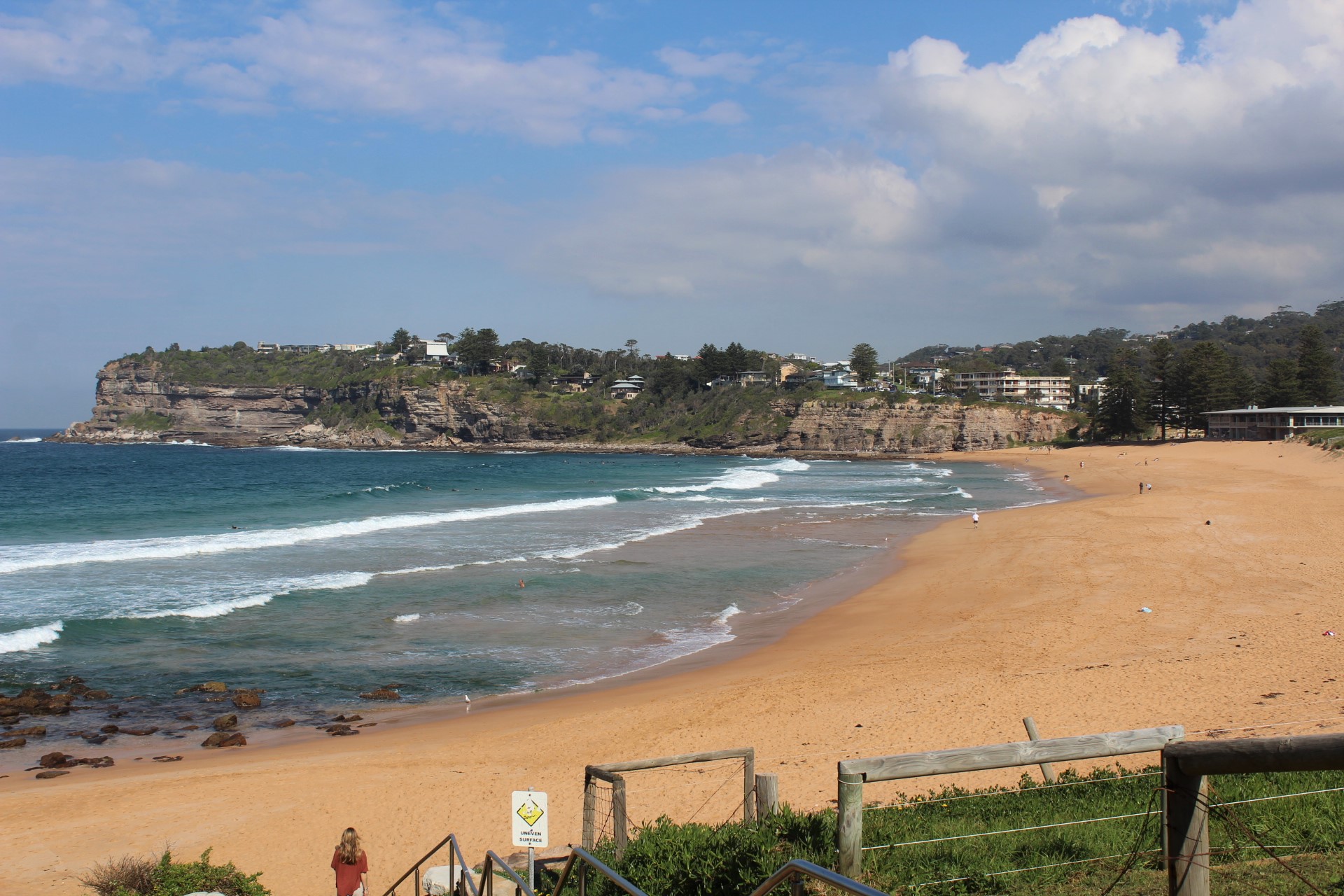 Finally cool heels long enough to VOTE! Buy another yummy sandwich (x 3) and head to the beach!
Open Day 2019 At Local Fire Stations
Fire and Rescue NSW (FRNSW) held its annual Open Day on Saturday 18 May 2019.
Visitors got a glimpse into Australia's busiest fire and rescue service. They had an opportunity to hop on a fire truck and chat with firefighters to learn more about what they do every day.
From chemical spills, car accidents and natural disasters to prevention education and humanitarian relief across the state, the country and even overseas or supporting other emergency service agencies, FRNSW firefighters are prepared for anything and ready to help anyone, anywhere and at any time.
Open Day includes safety demonstrations, fire station tours and the chance to inspect equipment and trucks used by our firefighters when responding to all kinds of fire and rescue emergencies. There also had an array of activities for all children who attended.
It's a great time to also speak to firefighters first-hand about fire safety in the home, including how to install and maintain smoke alarms and how to develop a home escape plan to ensure they can quickly and safely escape in the event of a fire.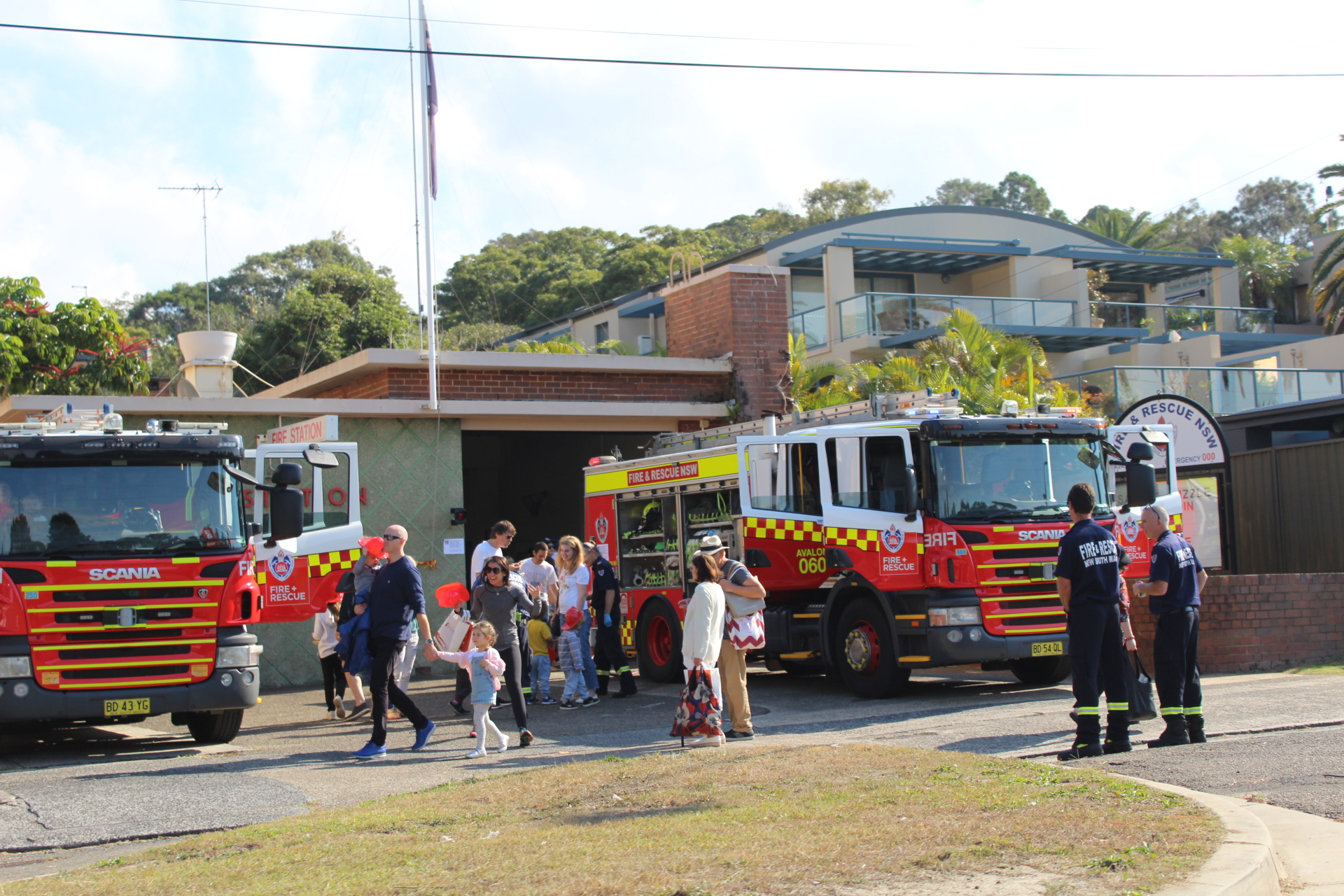 Avalon Beach Fire Station yesterday - Avalon also had a sausage sizzle and was raising funds for Bear Cottage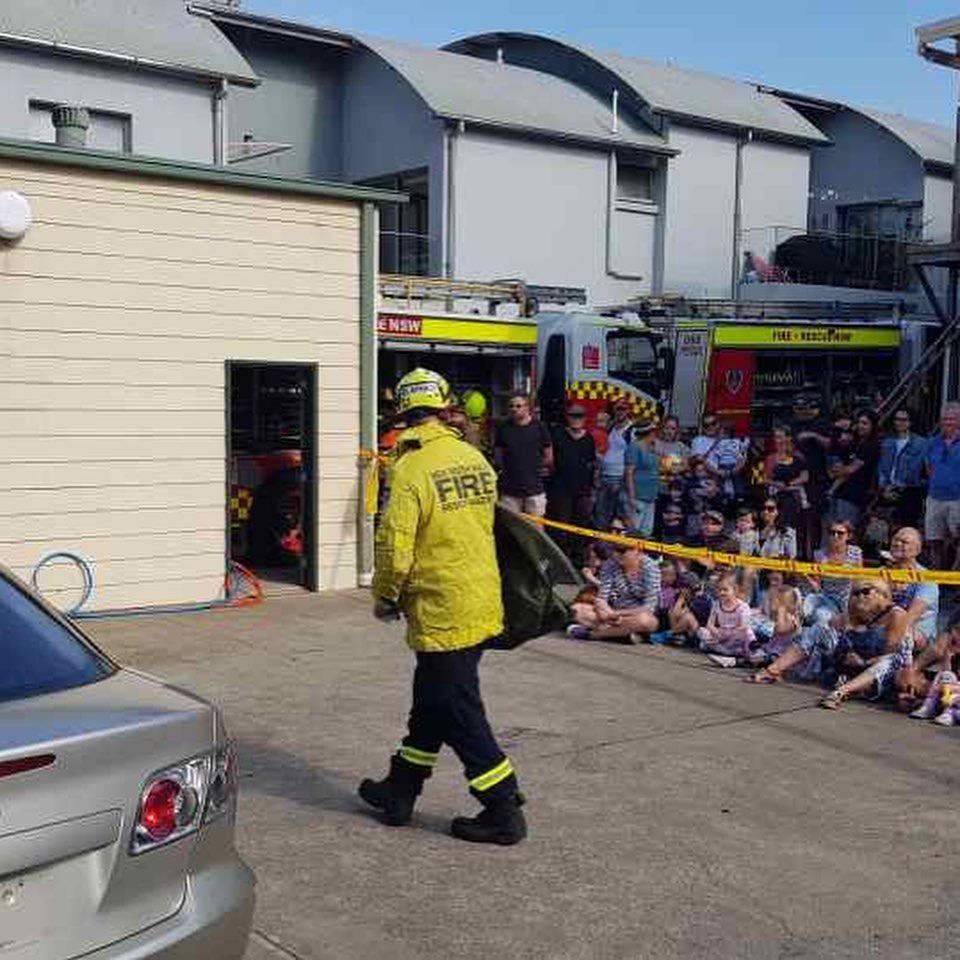 At Fire and Rescue NSW Station 068 Narrabeen.

Hazard Reduction Burn At Turrimetta Headland
May 15th, 2019
Photos taken by Joe Mills with his mobile phone of a hazard reduction burn at Turrimetta Headland near his niece's home.
Joe reports;
"I was very impressed with the use of a drone to overview the whole operation, and a tanker to spray water on vegetation near the main road, Narrabeen Park Parade. A very professional operation by the Brigade in ideal weather conditions."
Thanks Joe! Great captures.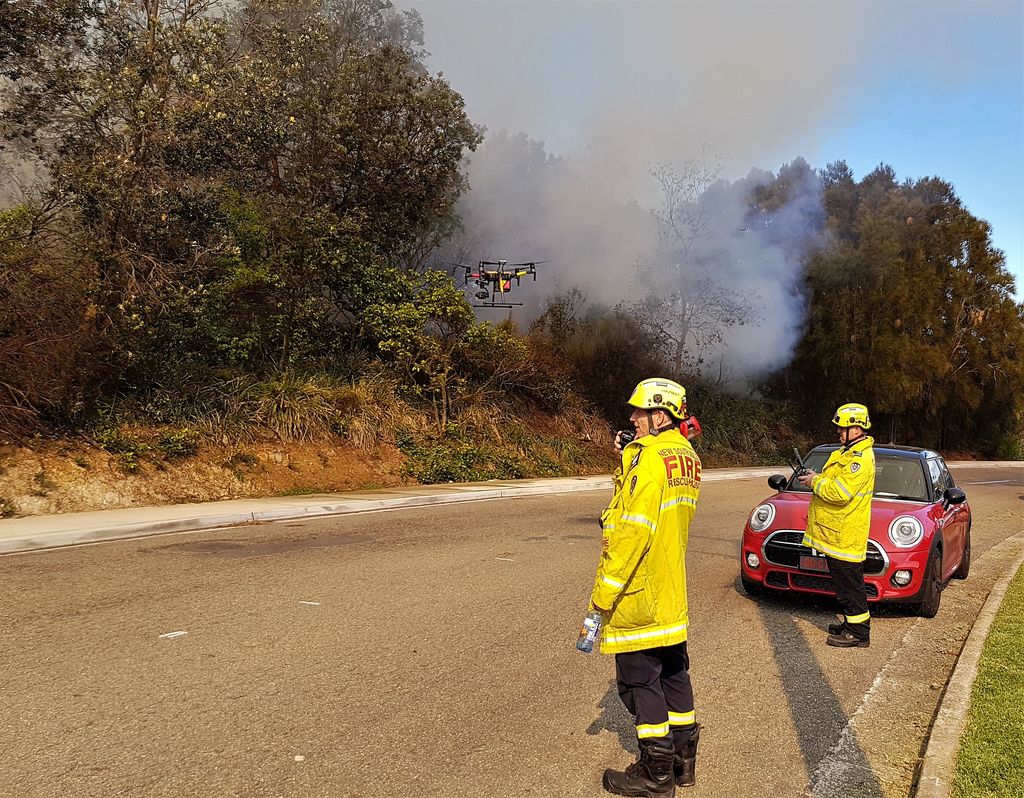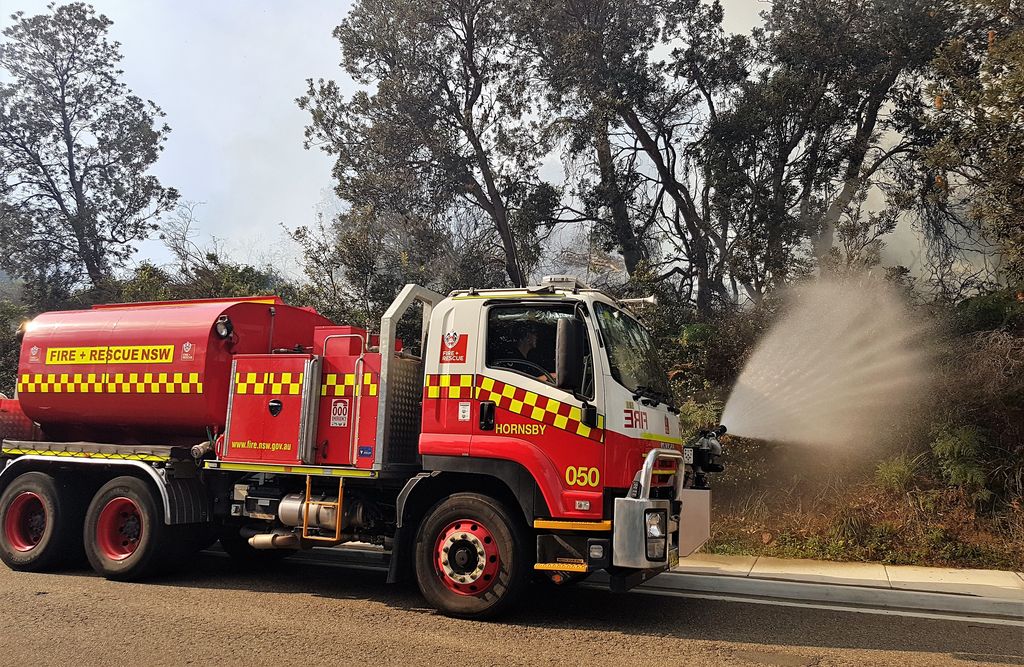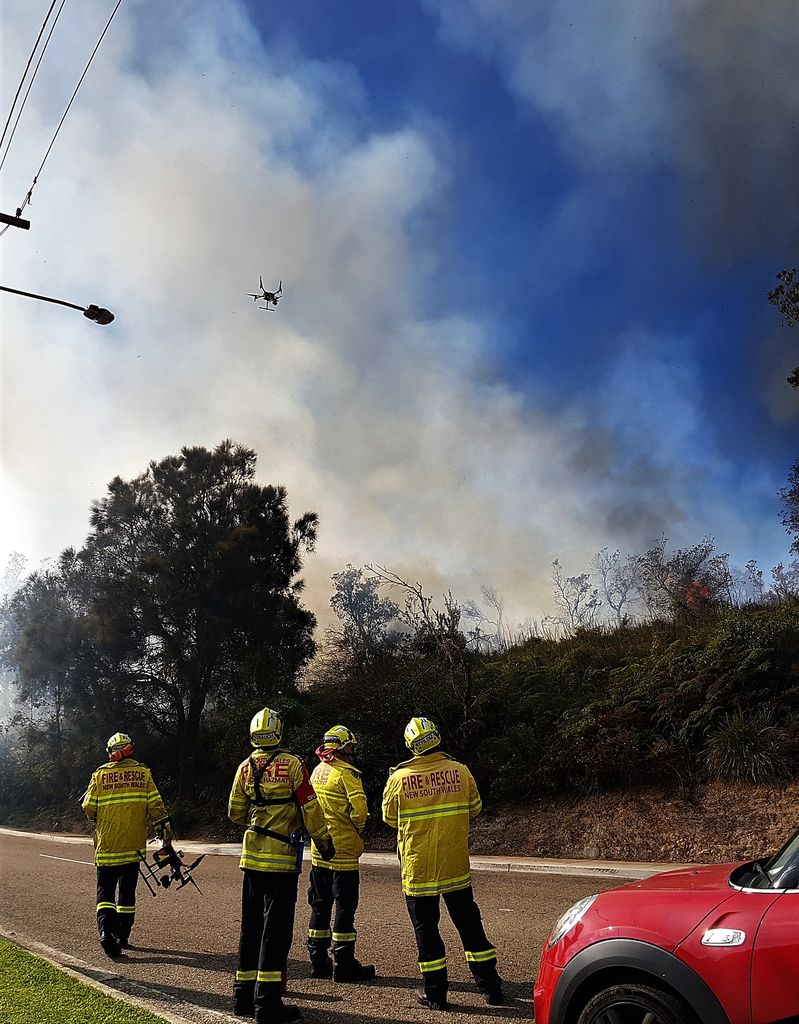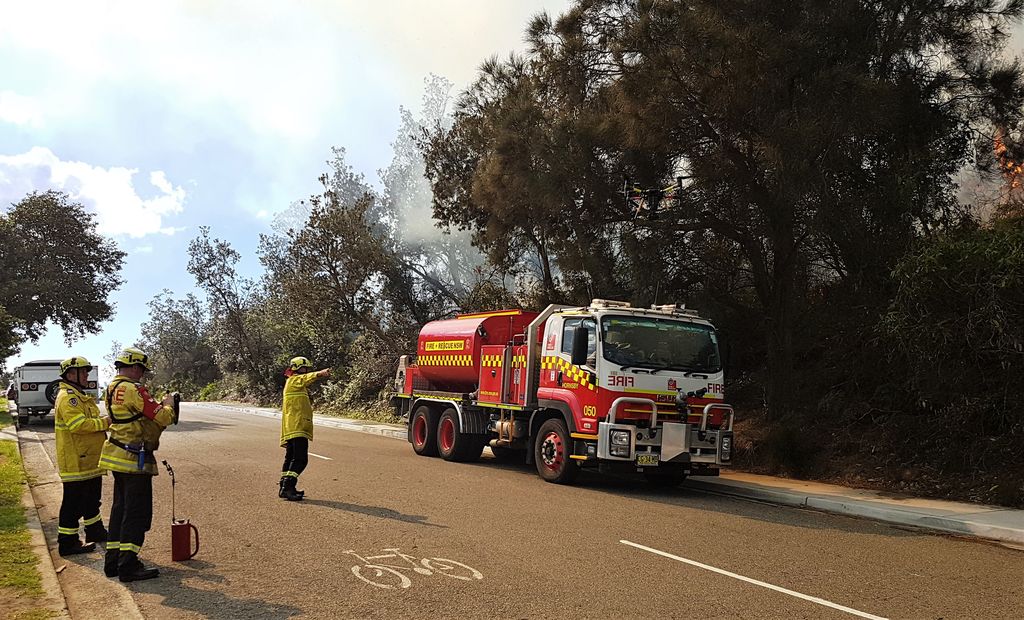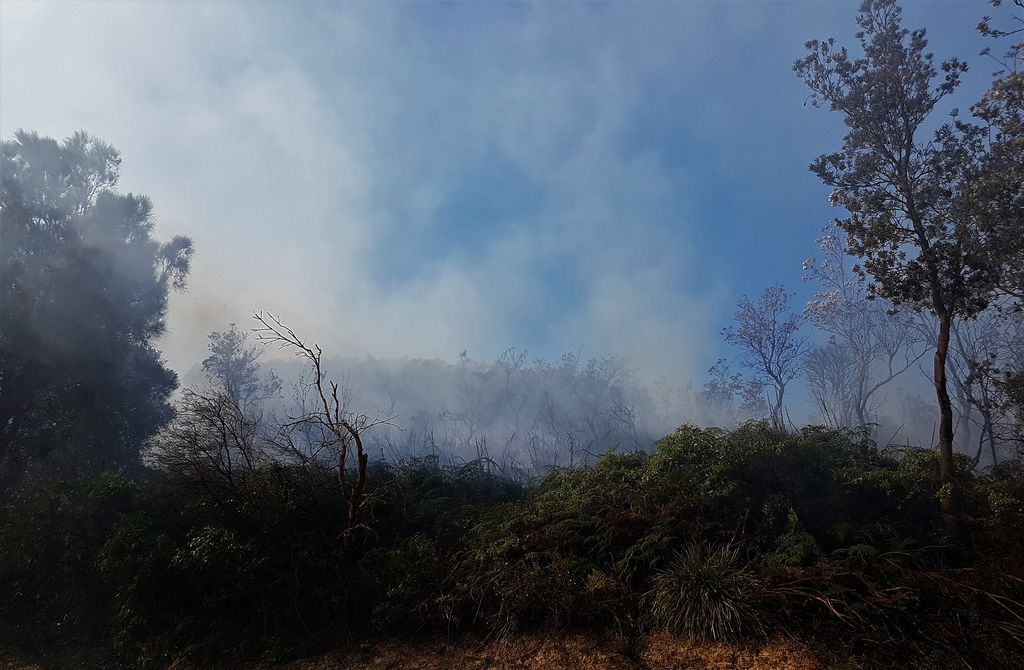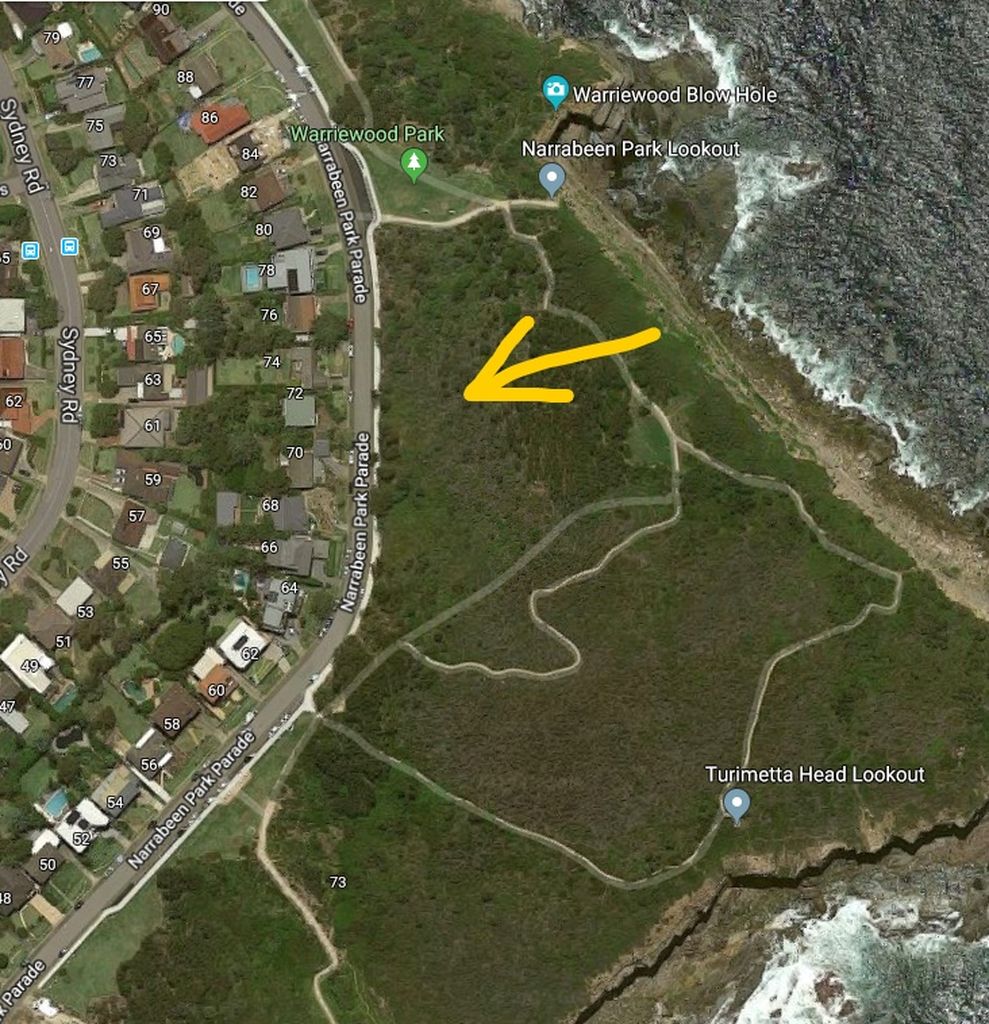 Avalon Beach Historical Society President On Duty On A Saturday
The ABHS has been very fortunate to have been given space in an office at 15 Bowling Green Lane and from here we are able to assist students, including tertiary students, with local history assignments. Residents also seek information concerning the history of their or other properties in the area.
John Stone, who ran the photographic and record centre in Avalon Beach from 1965 to 2000 has for 5 years been restoring photographs for residents from his office in Bowling Green Lane. It is here that John generously provided space from where the ABHS could conduct business. John was made the inaugural life member of the ABHS in 2001 for his photographic services provided to the Society over many years.
The Society provides displays of early photographs in the office, including some remarkable and original panoramas from the 1920 and 30s. They also have a display board which is changed regularly to feature the many different aspects and topics of local history in their collection. We are slowly building up a collection of appropriate memorabilia and are happy to accept relevant pieces. From time to time visits to properties and guided tours are conducted.
While the office is open Thursday, Friday and Saturday, Geoff Searl OAM is available there on Saturdays only. He has met some students 'out of hours' when an assignment or request for help was urgent.
The Society has a website which is mainly pictorial (and great for students project support photographically). Visit: http://abhs.org.au/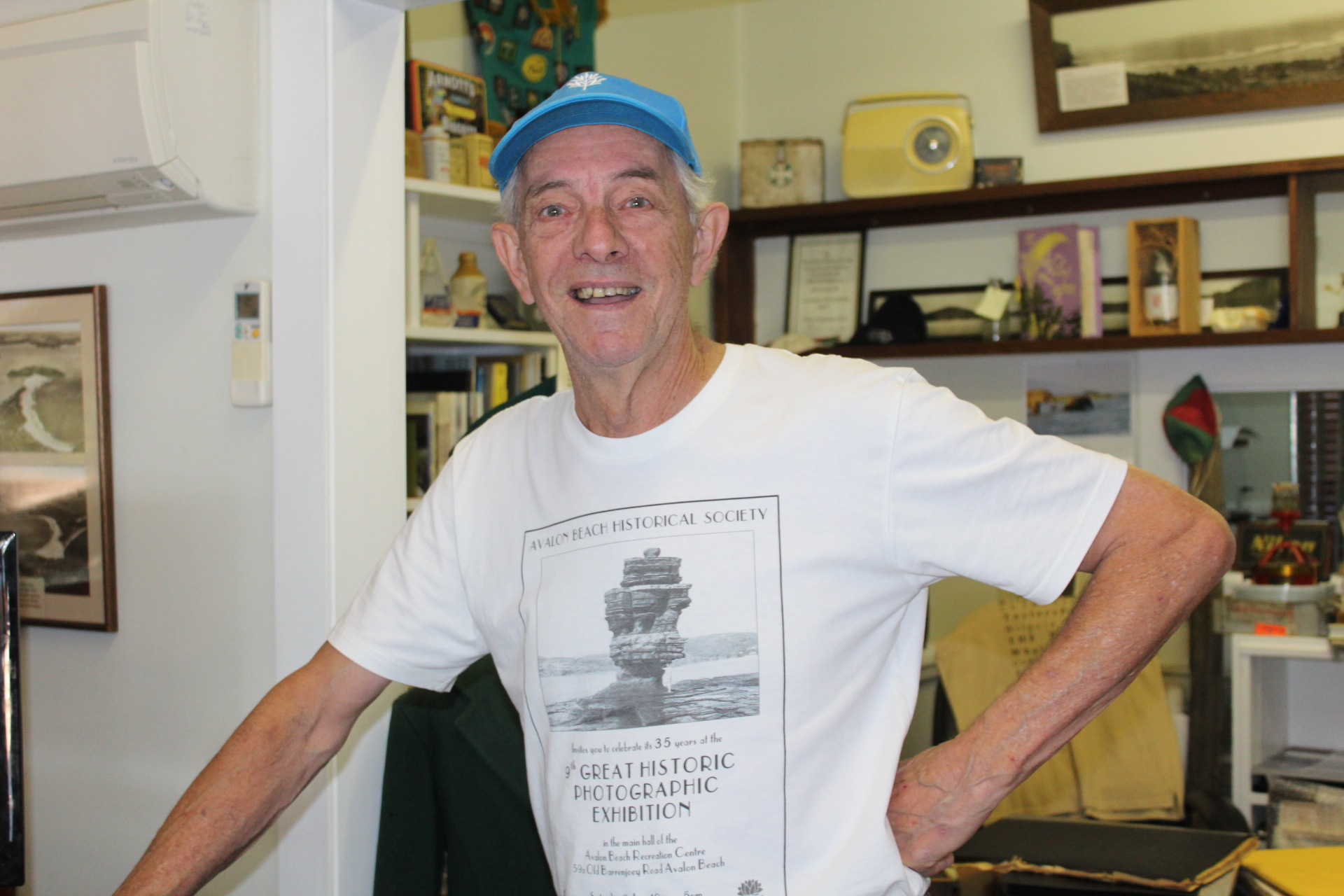 Geoff Searl OAM on duty yesterday, Saturday May 18th
ROUND 7 - WARRINGAH RUGBY CLUB Vs SOUTHERN DISTRICTS
May 18th, 2019
Warringah Rugby Club has partnered with some amazing sponsors for the 2019 season and in an effort to acknowledge WRC's sincere appreciation and gratitude, this weekend's clash against Southern Districts we have respectfully named "Sponsor's Round" on this Saturday 18 May 2019.
There are four key pillars that have played a significant role in the resurgence, growth and success of Warringah Rugby Club. They are our players and coaching staff, our incredible volunteers, our supporters and our wonderful sponsors.
The importance of our sponsors goes far beyond the invaluable funds they provide, funds that are not only greatly appreciated, but vital to our ongoing survival and growth in a difficult rugby environment. Each and every one of our sponsors are passionate supporters of our Club, our players and our coaches.
They are involved personally and financially because they want to provide every player the opportunity to not only play rugby, but to perform to the very best they can and achieve in our wonderful sport everything they wish.
General Manager, Guy Fraser-Hills says, "Without our sponsor's support over many years, WRC would not be recognised as one of the powerhouses in the Intrust Super Shute Shield. Their personal investment in our success is evident by their passionate support at every match, their personal disappointment that they feel when our players feel it and the great joy they share in their success. Whilst the terms "family' and "community" are easily thrown around, they are the terms that most aptly describe the relationship between WRC and our sponsors. We are truly humbled by what they do for us."
On a perfect day at Rat Park all grades made sure they'd voted and then voted for Warringah Rugby on the field at Rat Park.
Congratulations to Hamish Angus for his 150th game and it was certainly one to remember with such an emphatic win.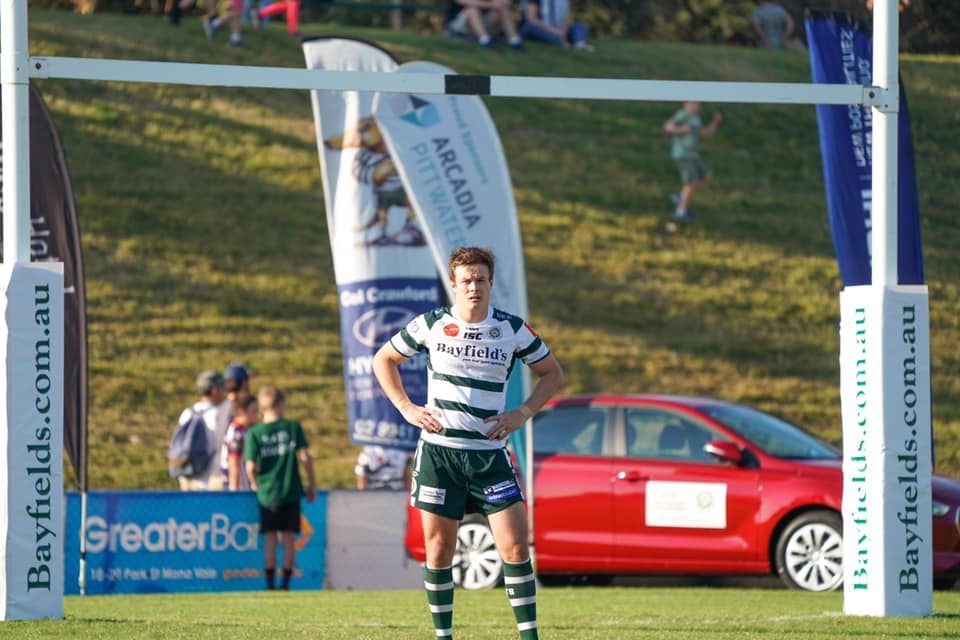 150 game milestone - Hamish Angus

It was a tough day in the office for 2nd, 3rd and 4th grades, with each game going down to the wire but the Rebels were able to end up on the right side of the ledger.
However, our 5th grade side maintain their unbeaten record after defeating Easts for the second time this season and our Mighty Colts left Sylvania with all the chocolates securing a clean sweep.
FINAL RESULTS
GRADE
1st Grade 38-7 Won
2nd Grade 22 - 26 Lost
3rd Grade 12 - 14 Lost
4th Grade 24 - 27 Lost
5th Grade 32 - 10 Won
COLTS
1st Grade 25 - 19 won
2nd Grade 21 - 10 won
3rd Grade 28 - 7 won
Action photos by: Rising Sun Photography Sydney (Newport)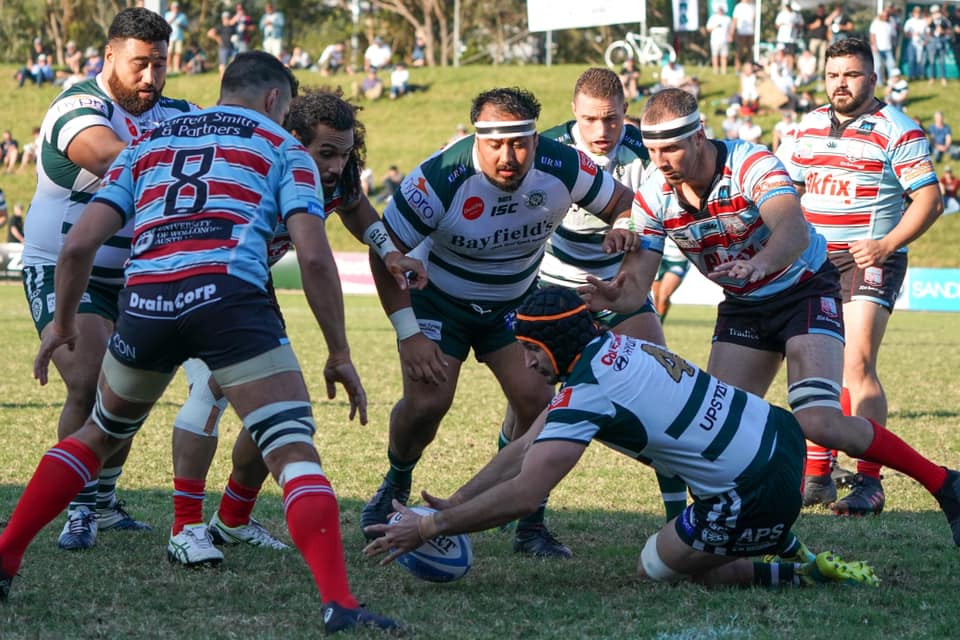 Matt Foulds all over anything loose.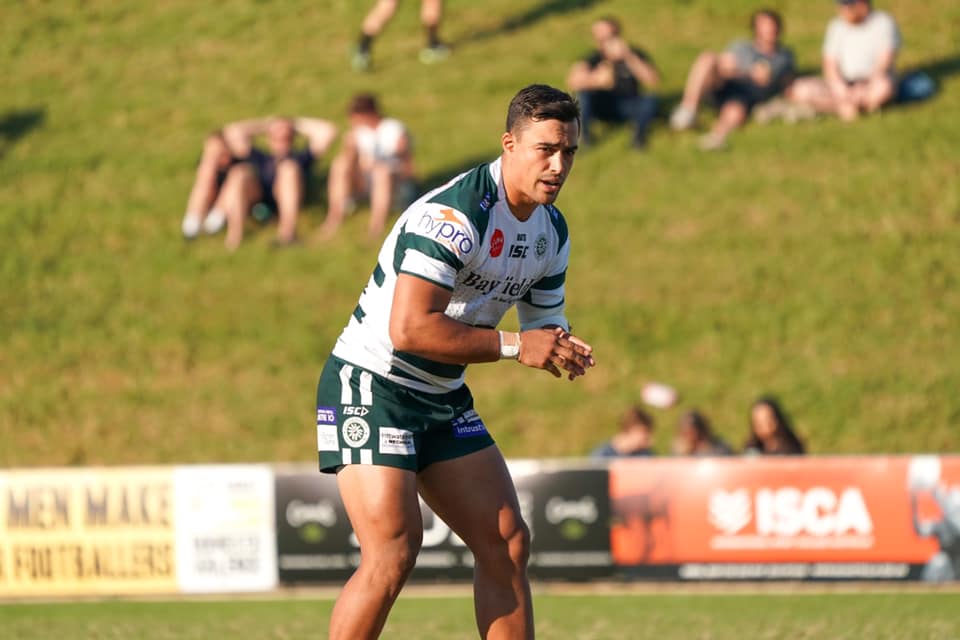 Tyson Davis.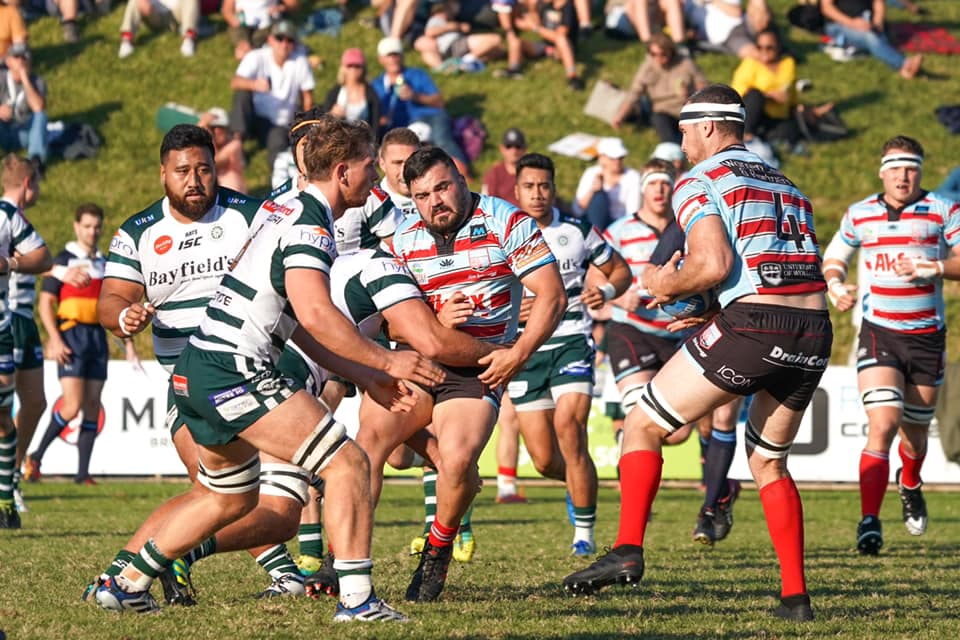 The rib tickler.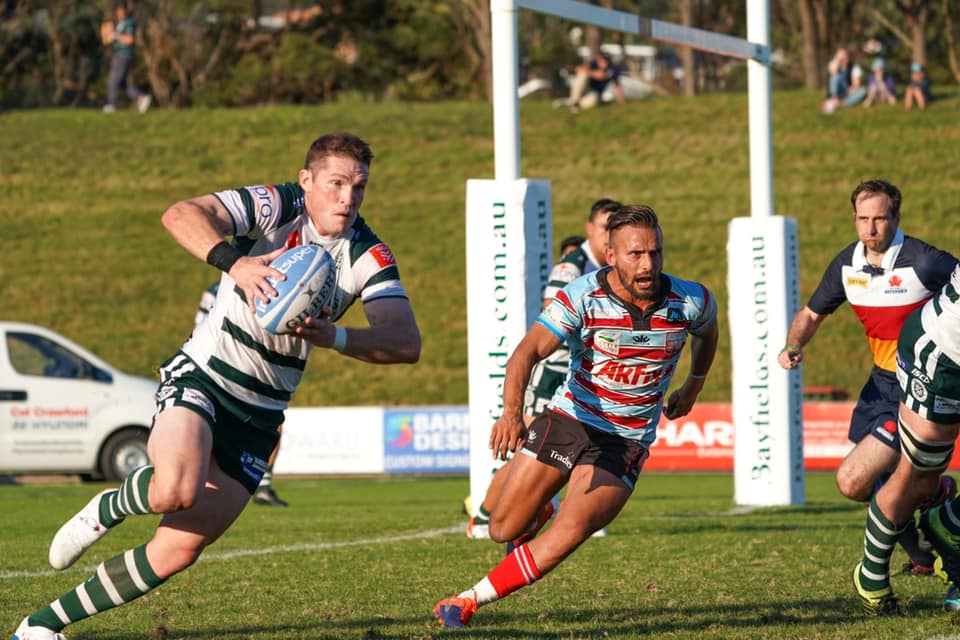 Josh Holmes quickly turning defence into attack.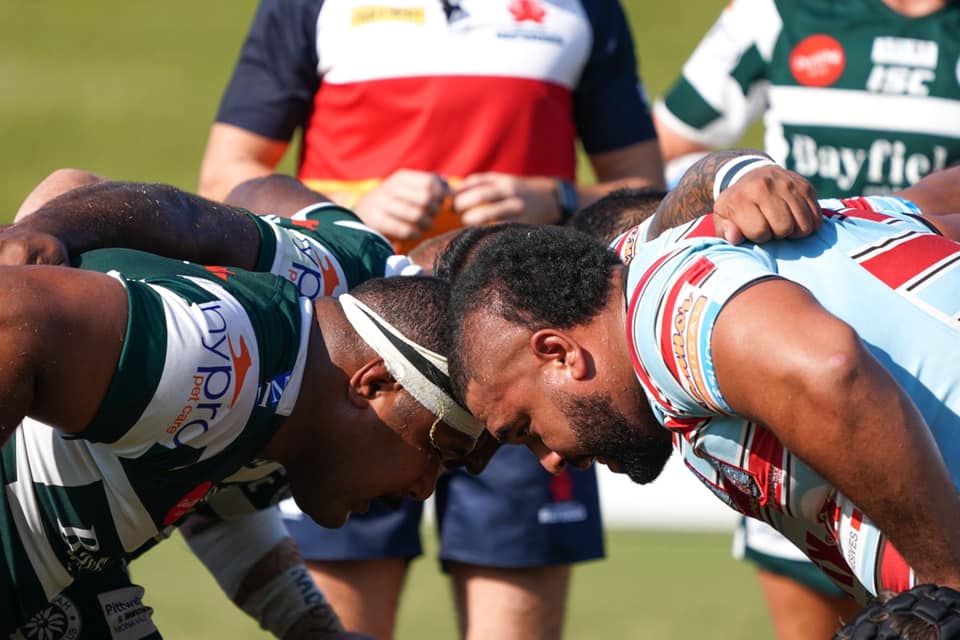 2nd Grade.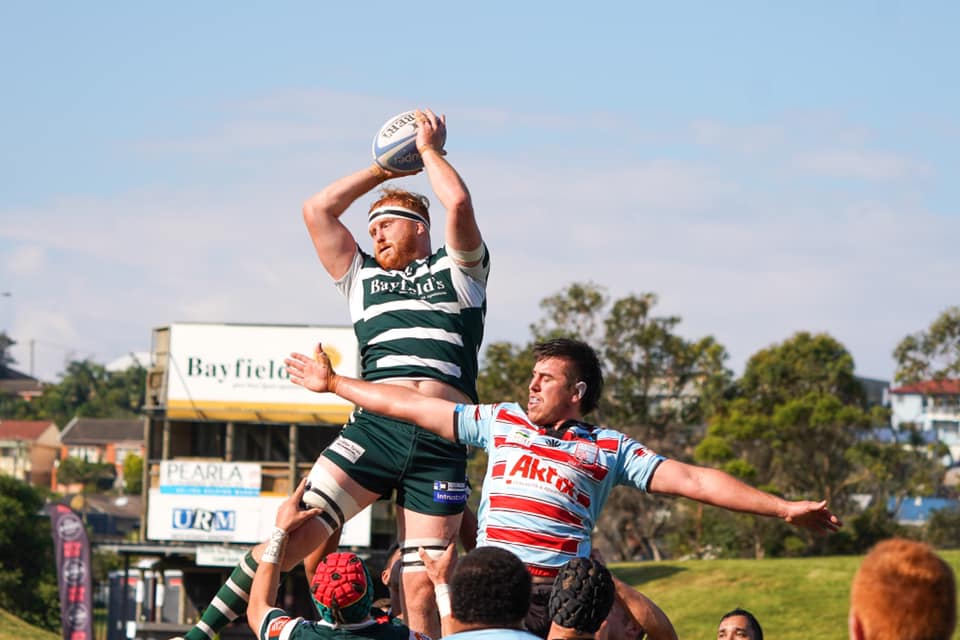 2nd Grade.

3rd Grade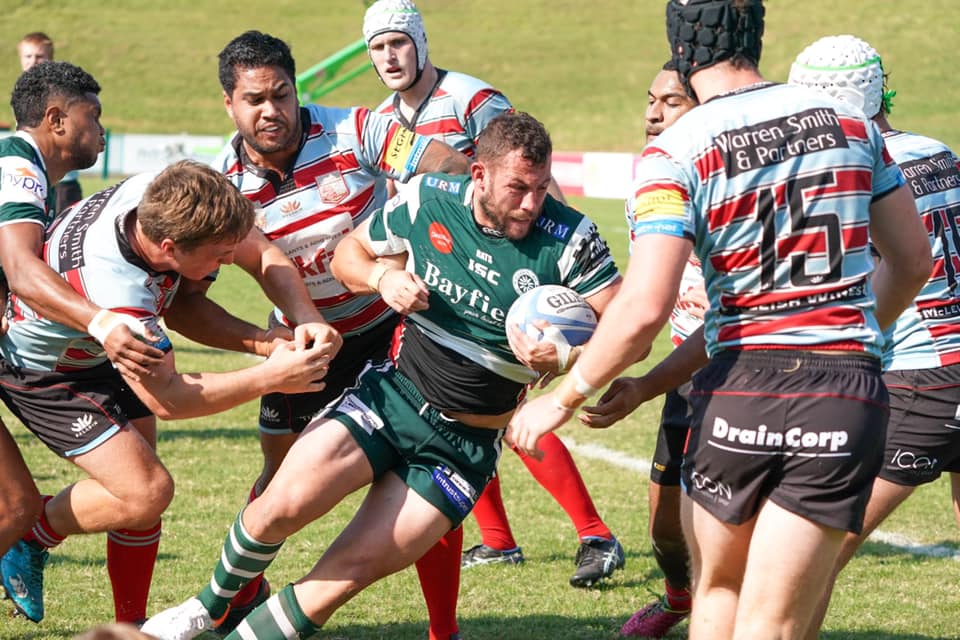 3rd Grade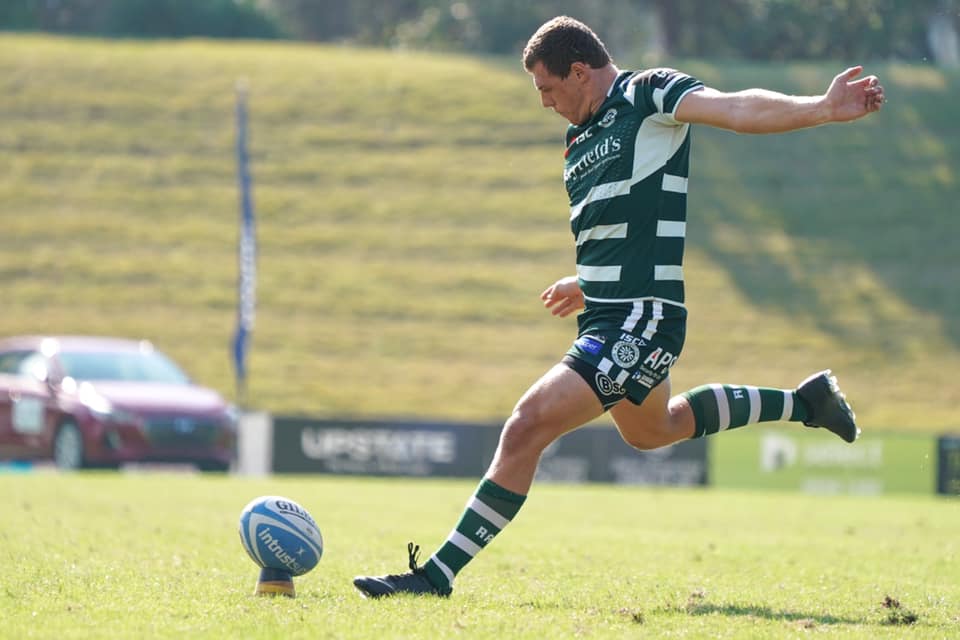 3rd Grade

More Cool Bugs At Elanora Heights
Selena Griffith, mother, teacher, and human dynamo currently working as part of a team putting together the 3D pieces for their Vivid Sydney 2019 'Ocean Sentinels', takes time out to exhale in her beautiful Elanora Heights garden and capture a few resident insects: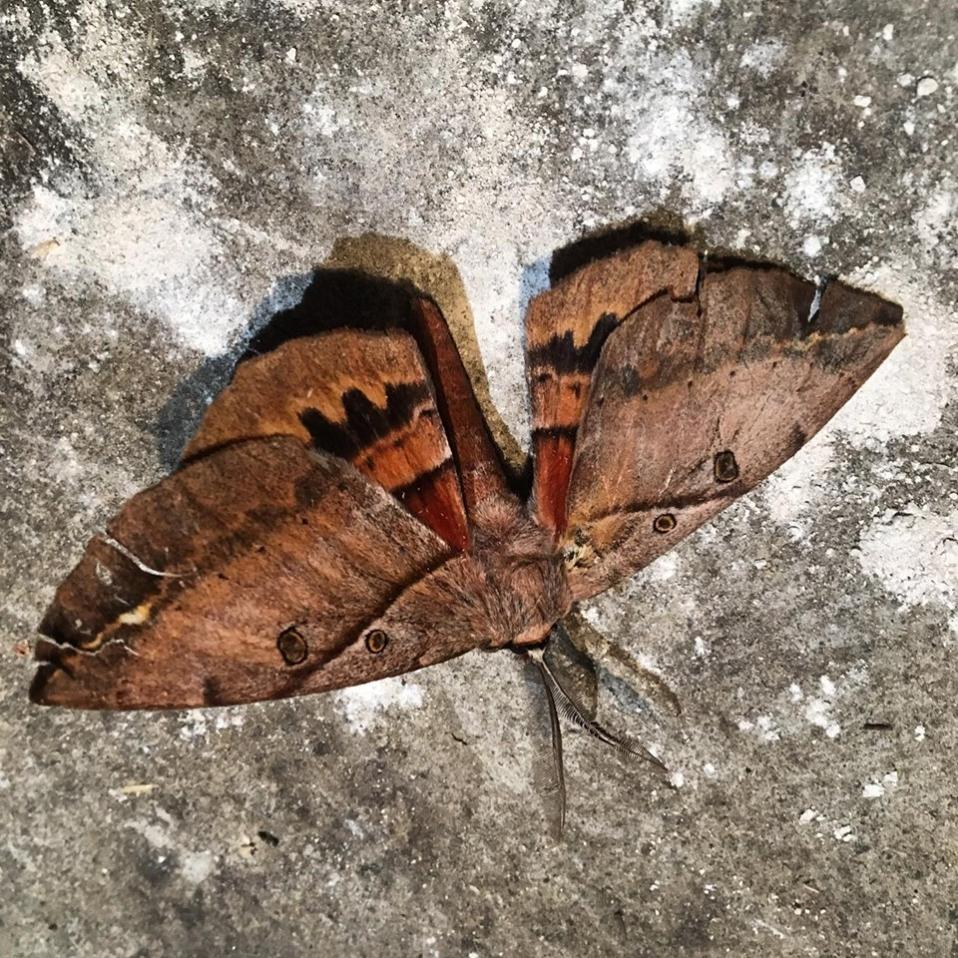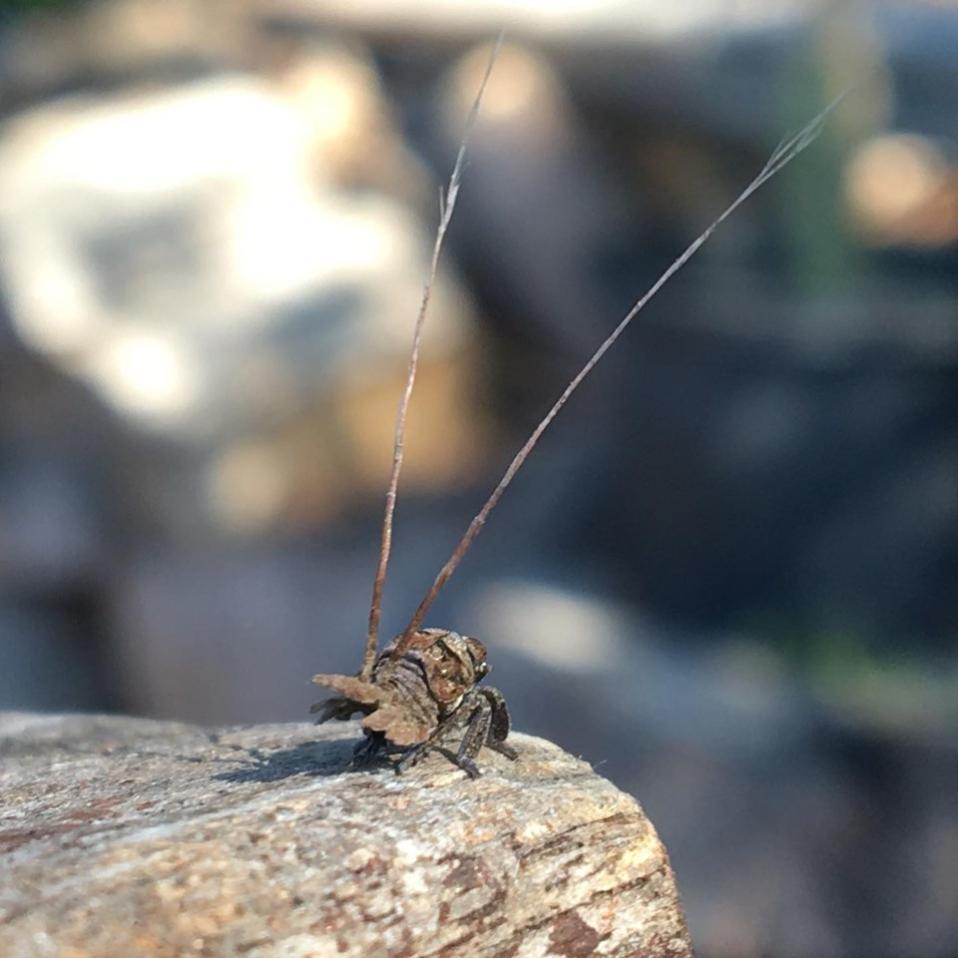 White Ribbon Cocktail Fundraiser Success
The beautiful Loft Room in Doltone House on Jones Bay Wharf was the venue on Friday May 17th to support the work of White Ribbon Australia and the Homicide Victims' Support Group.

This cocktail-style event raises critical funds to support families impacted by homicide as well as funding essential programs to prevent violence against women.
Cr. Vincent De Luca OAM was MC for the evening with guests of honour, The Hon Gladys Berejiklian MP, Premier of NSW, Homicide Victim Support Group Executive Director, Martha Jabour and White Ribbon Australia CEO, Delia Donovan.
All profits from this event are split 50% going to White Ribbon Australia and 50% to Homicide Victim Support Group for their project, Grace's Place - a world first residential trauma recovery centre for children after homicide.
Vincent has been a host or co-host of this event for years now and a few photos show more and more residents are attending each year to hear insights and support this work. Some faces you will recognise: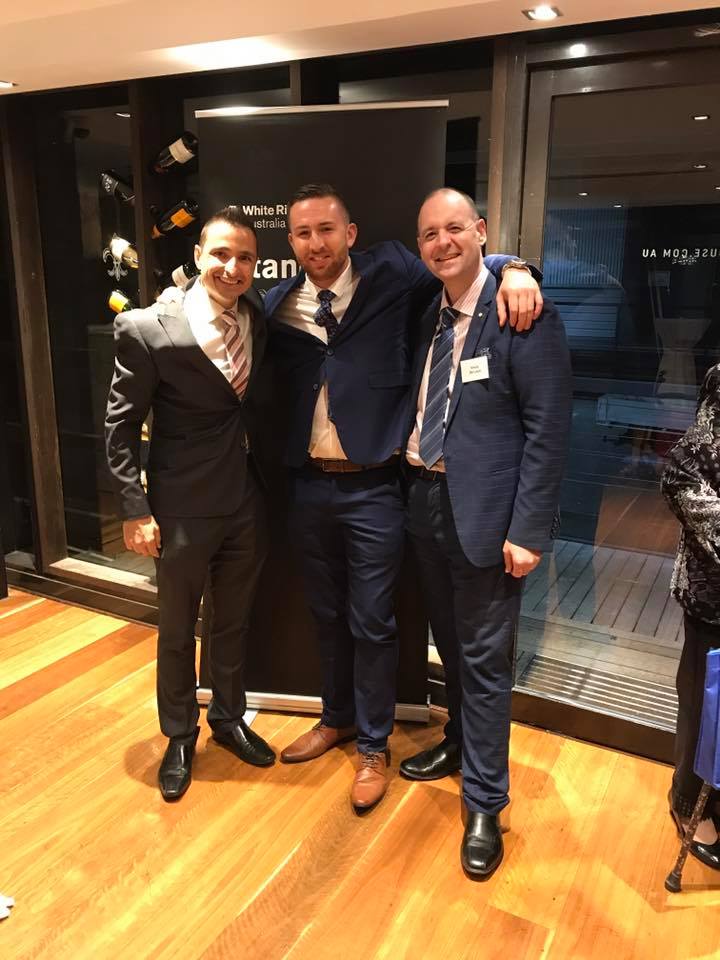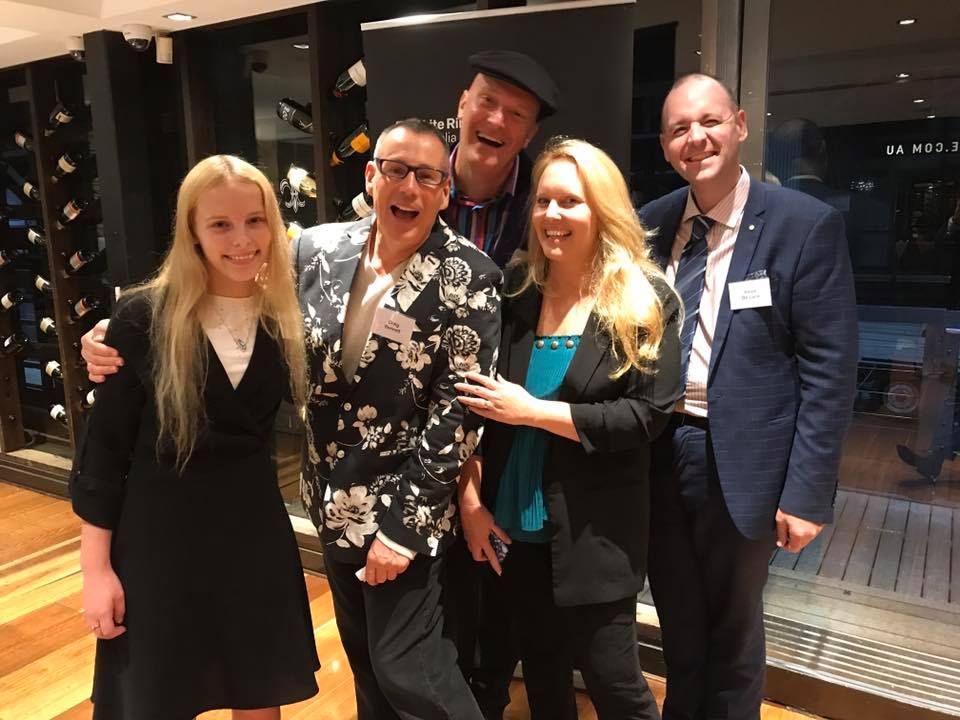 Mona Vale Road Upgrade: Some Progress Photos
The scope and shape of the Mona Vale Road East upgrade is becoming more apparent to commuters along the section of road between Mona Vale's Foley Hill and Ingleside at present. The January 2019 Update run a few months back stated that preliminary works included removing trees, shrubs and other vegetation on both sides of Mona Vale Road between Daydream Street, Mona Vale, and Lane Cove Road, Ingleside. This part of the project is estimated to take 16 weeks.
A reference in all community updates being sent out from the RMS at the moment that reads - 'During clearing, an independent ecologist is on site to ensure no animals are harmed and any found are relocated to a safe habitat'.
The fauna bridge construction will take place as part of the road construction.
The April 2019 Update states
As mentioned in our January update, some of the excess soil and rock from the Mona Vale Road East construction site will be reused at the Mona Wale Road West site. The excess material will be used to build an embankment in readiness for the future widening work on the Mona Vale Road West project.
The two projects have been designed to ensure a minimum amount of material is removed from the projects combined. This will reduce the number of truck movements along the corridor, overall cost for both projects, and reduce our carbon footprint. The work will cover area on the northern side of Mona Vale Road, between Kimbriki Road and Tumburra Street, Ingleside.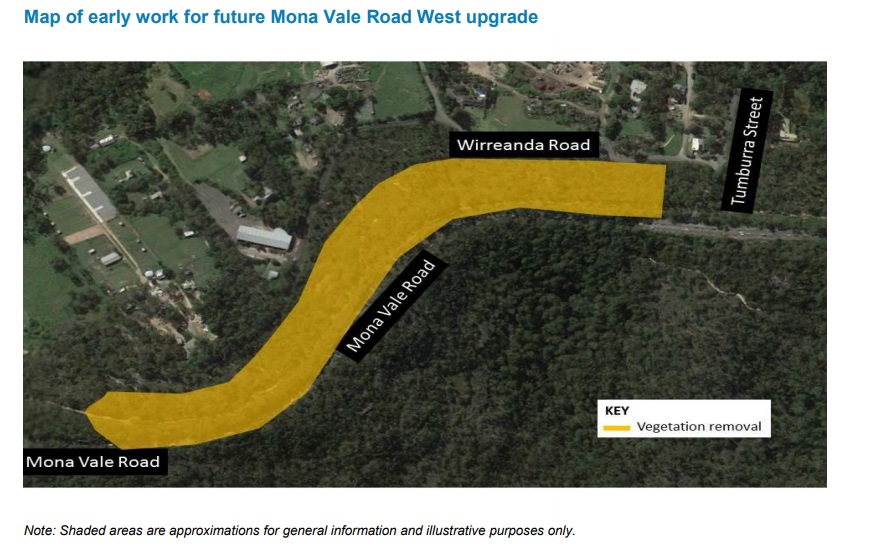 Our work program
Work will include installing erosion and sedimentation controls, removing vegetation, relocating services and building an embankment for the future road alignment.
Surveying the area, setting out the work zone and installing signage is being undertaken.
From Monday 29 April we will begin clearing vegetation and establishing the site's foundations. This work should be completed by the end of May, 2019. Utilities relocations will then take place from mid-2019. The area will be used to stockpile the extra soil and rock later in 2019. Our work hours will be 7am to 6pm from Monday to Friday and 8am to 1pm on Saturdays. There will also be up to three nightshifts (Monday, Tuesday and Thursday) each week from 9pm to 5am.
How will the work affect you?
There will be noise and dust as vegetation is removed and fencing is installed. There will be changed traffic conditions during the day and at night with temporary lane closures required.
Equipment to be used includes excavators, saws, water carts to suppress dust, lighting and small tools.
We will make every effort to minimise the impact by using noise shields to dampen noise where possible, and ensuring equipment and vehicles are turned off when not in use.
Please keep to speed limits and follow the direction of traffic controllers and signs. For the latest traffic updates, contact 132 701, visit livetraffic.com or download the Live Traffic NSW App.
Contact
We are committed to minimising the impact of construction on the community and will continue to keep you informed as the project progresses. If you have any questions, or would like to sign up for our emailing list, please contact our delivery partner, Georgiou Group.
Call: 1800 413 640 (during business hours)
Email: monavaleroad@georgiou.com.au
Website: rms.work/mvreast
With just over three months of the project elapsed, a photographic record of these initial changes runs below. The project is expected to be completed in 2022.
For those interested in these projects, and for History buffs, you may like to do a comparison with the development of Mona Vale Road from a bush track to a dirt road and beyond in: Roads To Pittwater: The Mona Vale Road
There is also a photographic record of the small birds who once inhabited the trees in Tiny Tiny Birds of Ingleside, and the Flora that covered those sections in Ingleside Wildflowers - 1st Of August, 2013
It should be noted that landscaping over the length of the proposal is part of this project.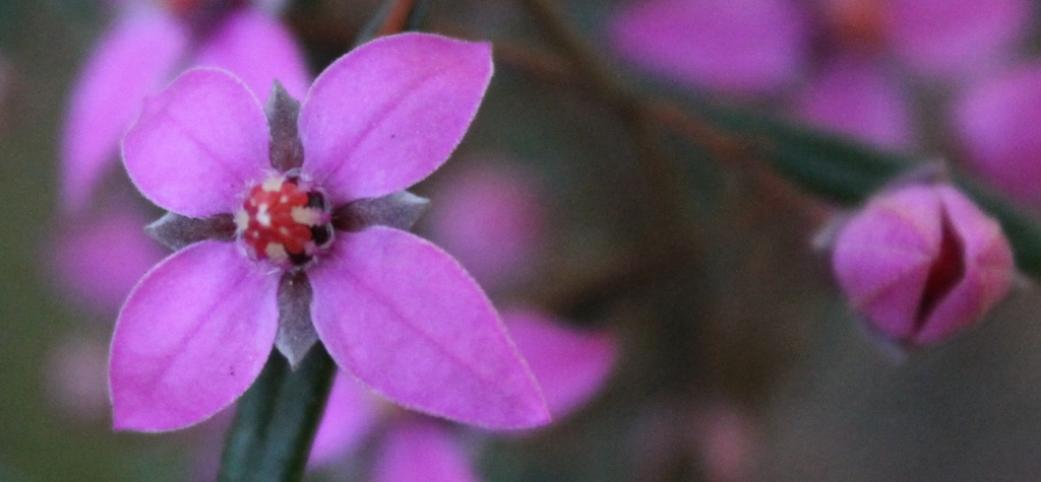 Boronia ledifolia - Sydney Boronia - photographed on the bend that leads down Foley's Hill on the verge of Spring 2013
The key features of the Mona Vale Road East upgrade include:
Widening Mona Vale Road between Manor Road, Ingleside and Foley Street, Mona Vale from two lanes to four lanes with a central concrete safety barrier. The concrete safety barrier would be located from east of Manor Road to west of Daydream Street
Providing three metre wide shoulders along Mona Vale Road between Manor Road and Daydream Street to allow a safer area for breakdowns and on-road cyclists
Replacing the existing roundabout on Mona Vale Road at the intersection of Ponderosa Parade and Samuel Street with new traffic lights and signalised pedestrian crossings on all legs
Providing new bus priority lanes on Mona Vale Road on the approaches to and departures from the intersection of Ponderosa Parade and Samuel Street
Relocating the eastbound bus stop on Mona Vale Road near the Ponderosa Parade and Samuel Street intersection further east to the departure side of the intersection
Providing a three metre wide shared path along the northern side of Mona Vale Road between the eastern end of the Lane Cove Road cul-de-sac and Samuel Street for pedestrians and cyclists
Providing a three metre wide shared path along the southern side of Mona Vale Road between Ponderosa Parade and Foley Street for pedestrians and cyclists
Changing the speed limit from 70km/h to 80 km/h once the road upgrade work is complete
Implementing a 60km/h truck and bus speed limit for the downhill descent from Ingleside Road to the base of the escarpment
Providing a truck arrester bed, about 180 metres long, for eastbound vehicles next to Walana Crescent
Building six fill retaining walls up to six metres in height and five cuttings up to 16 metres in height along the length of Mona Vale Road due to the local terrain
Providing fauna connectivity measures
Upgrading the existing road and cross drainage systems including the construction, reconstruction and extension of the road drainage network
Establishing temporary site compounds and stockpile locations during construction
Landscaping over the length of the proposal
Installing traffic monitoring cameras at all signalised intersections to assist with traffic management
Photos taken Monday May 13th, 2019 by A J Guesdon: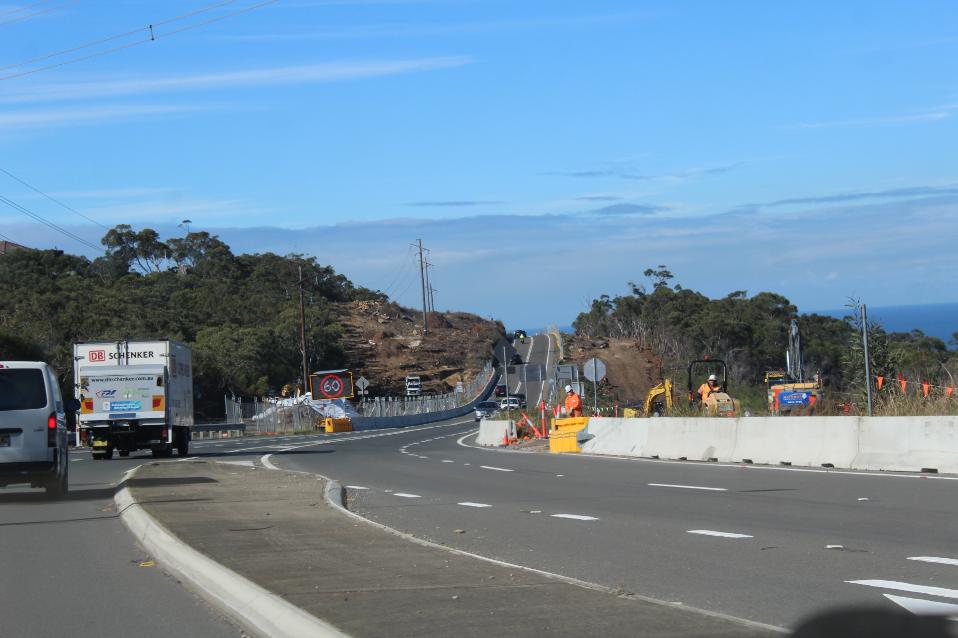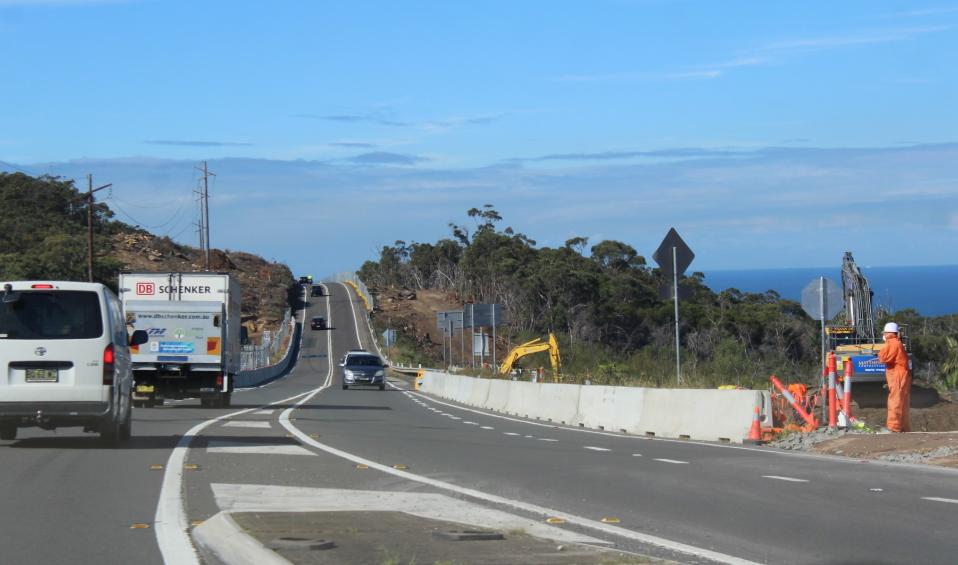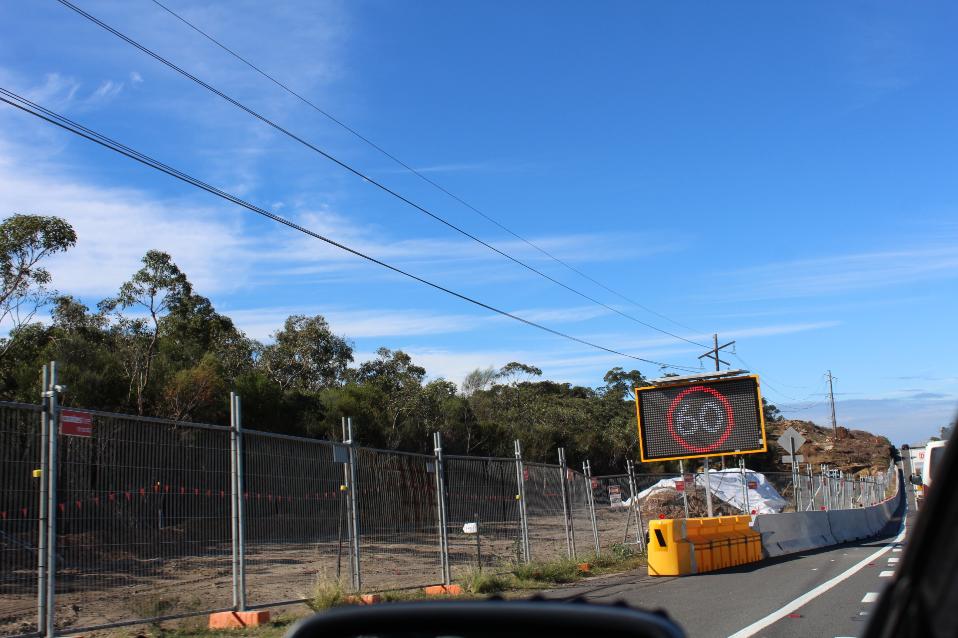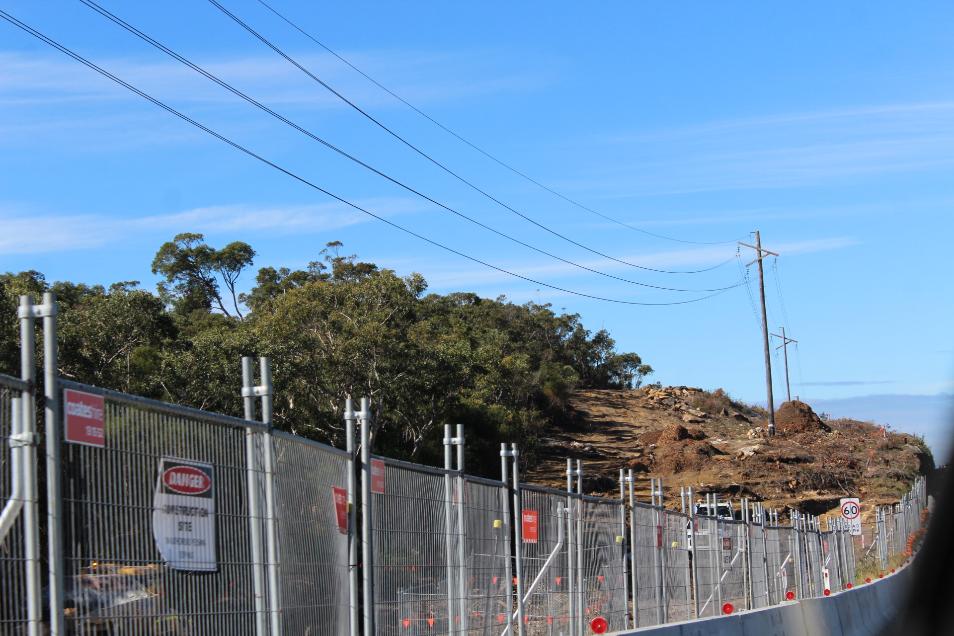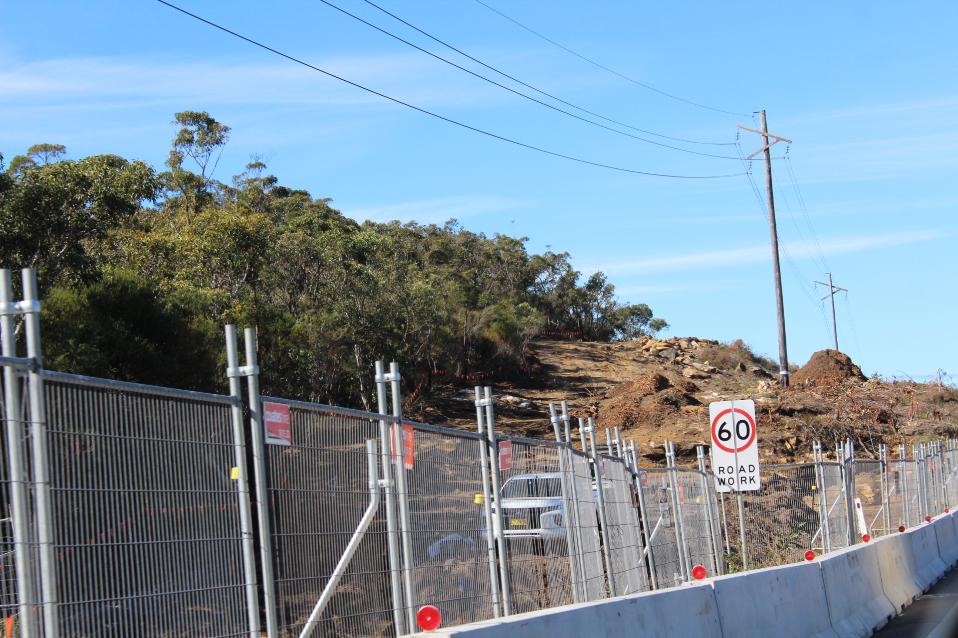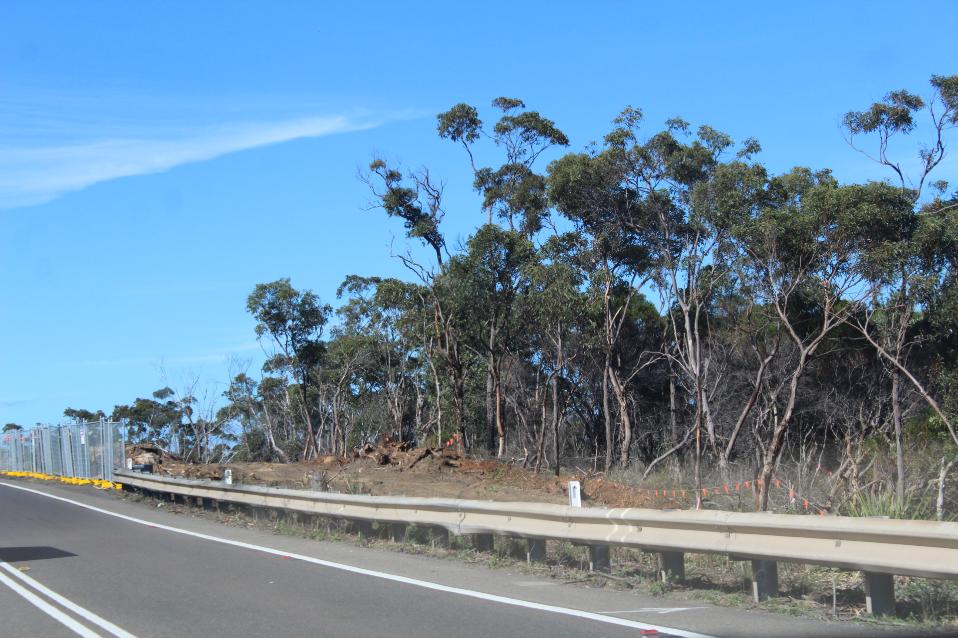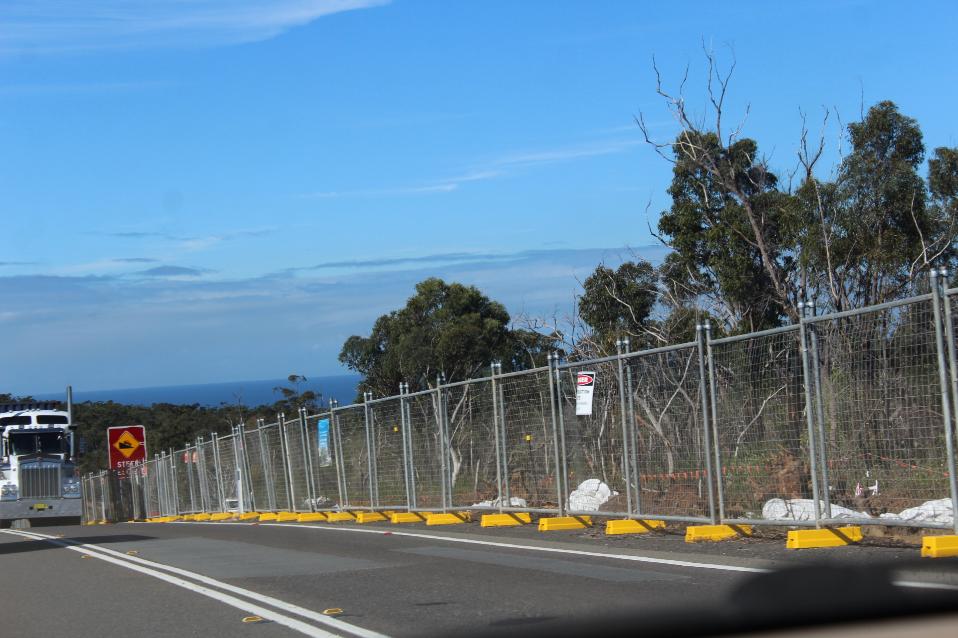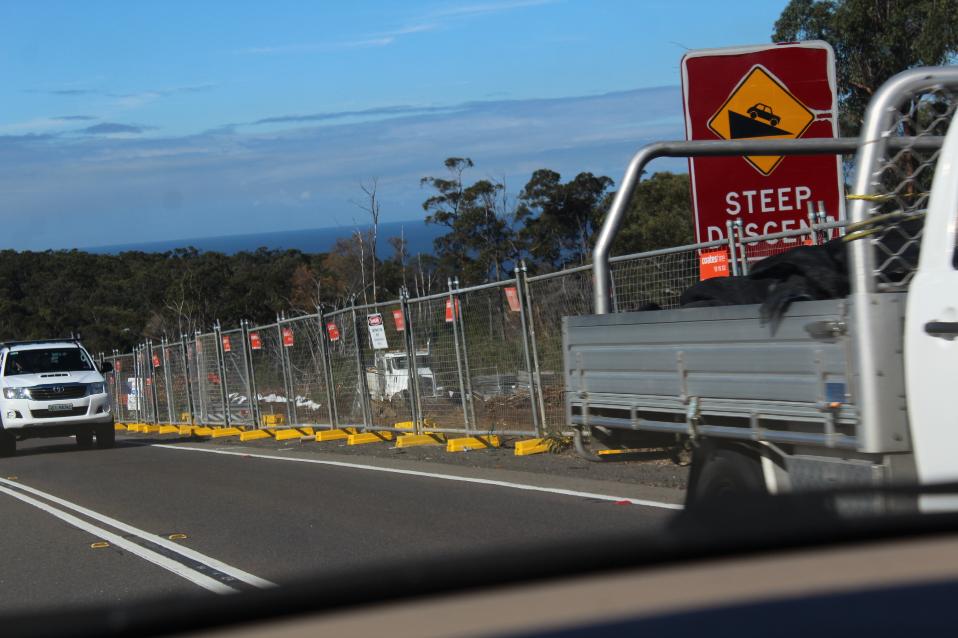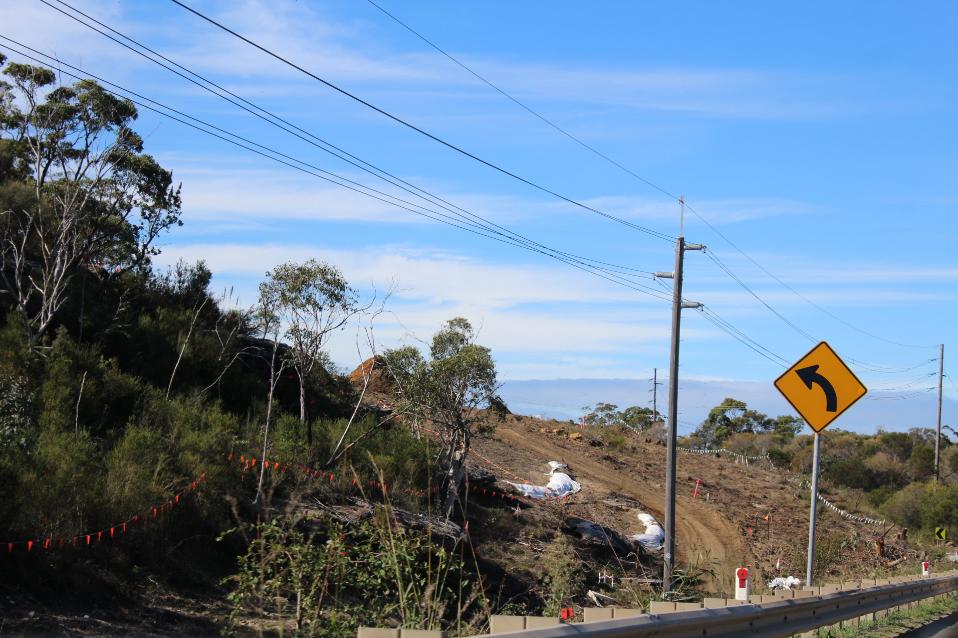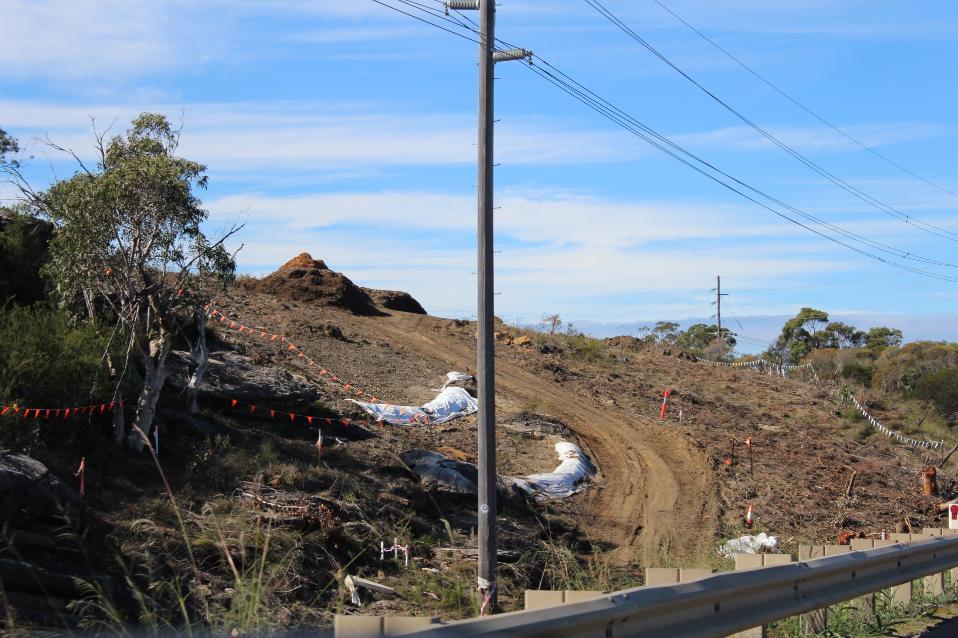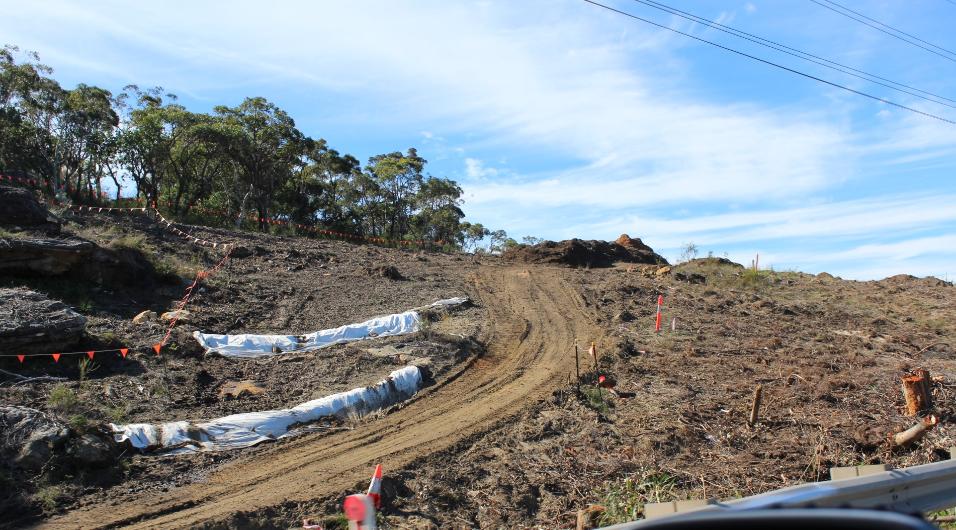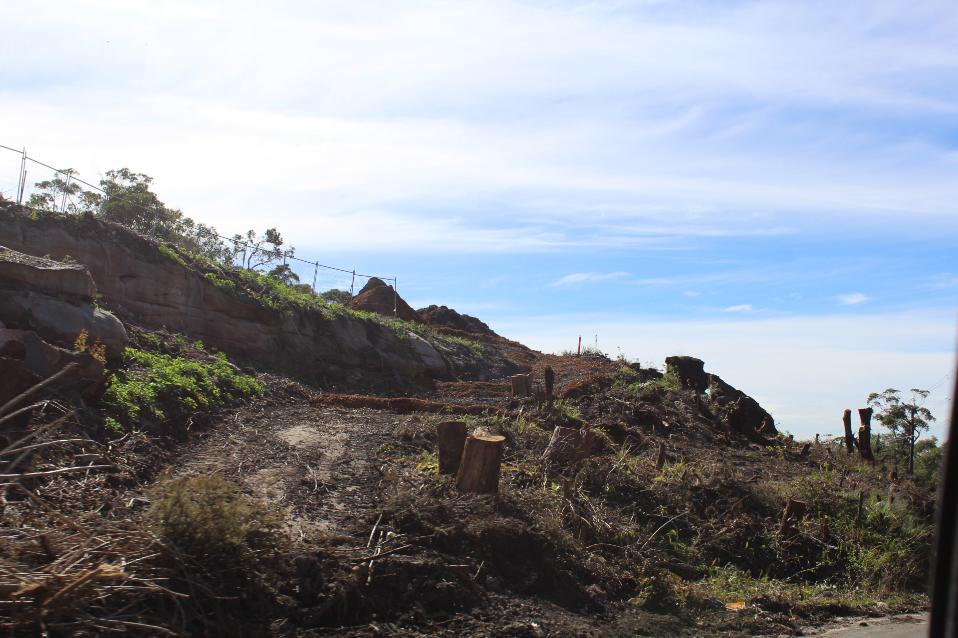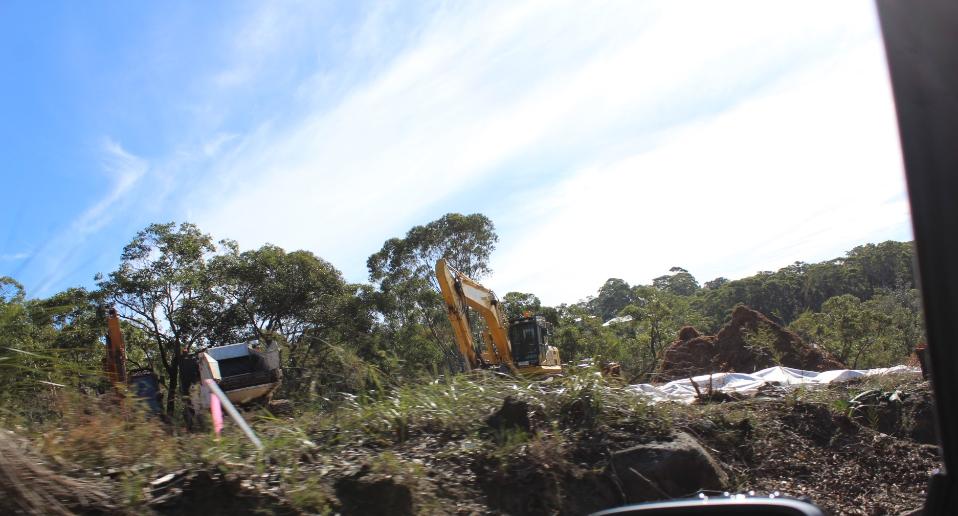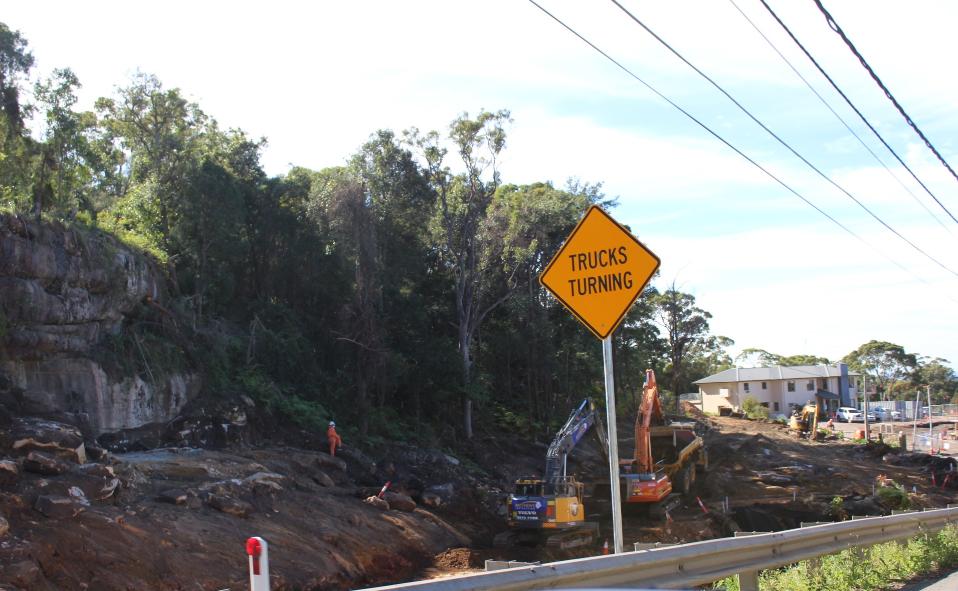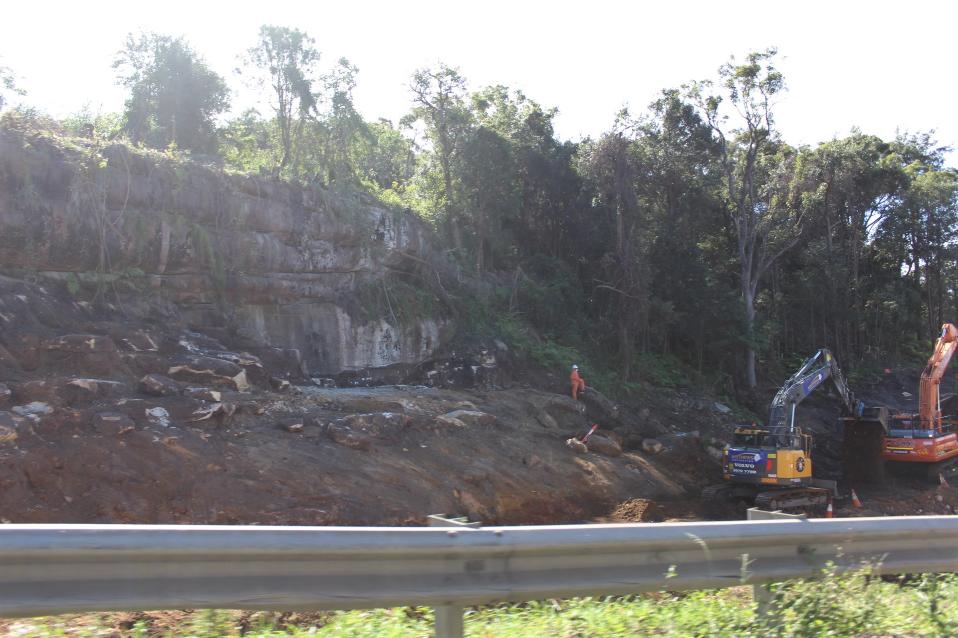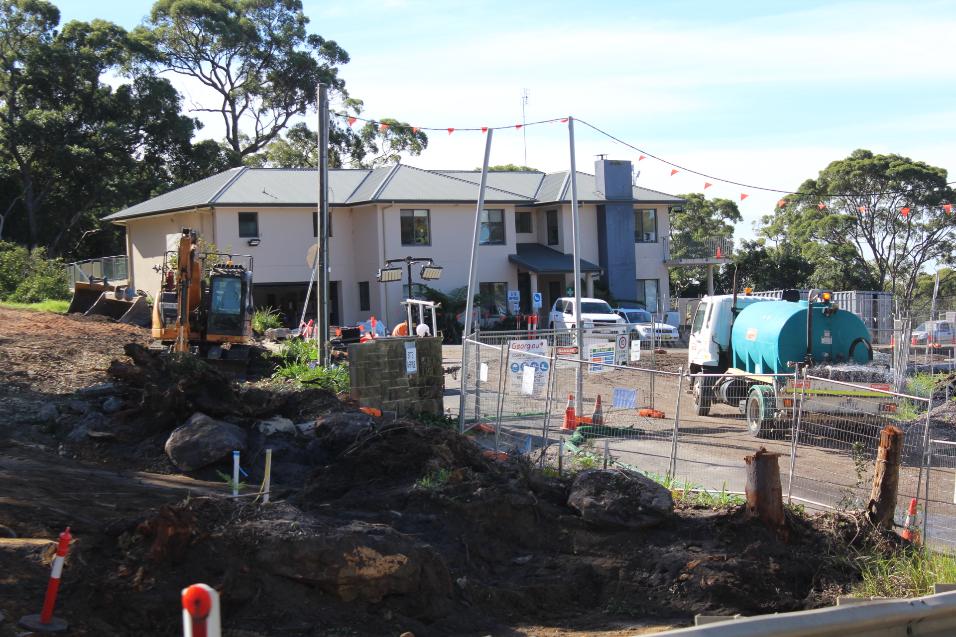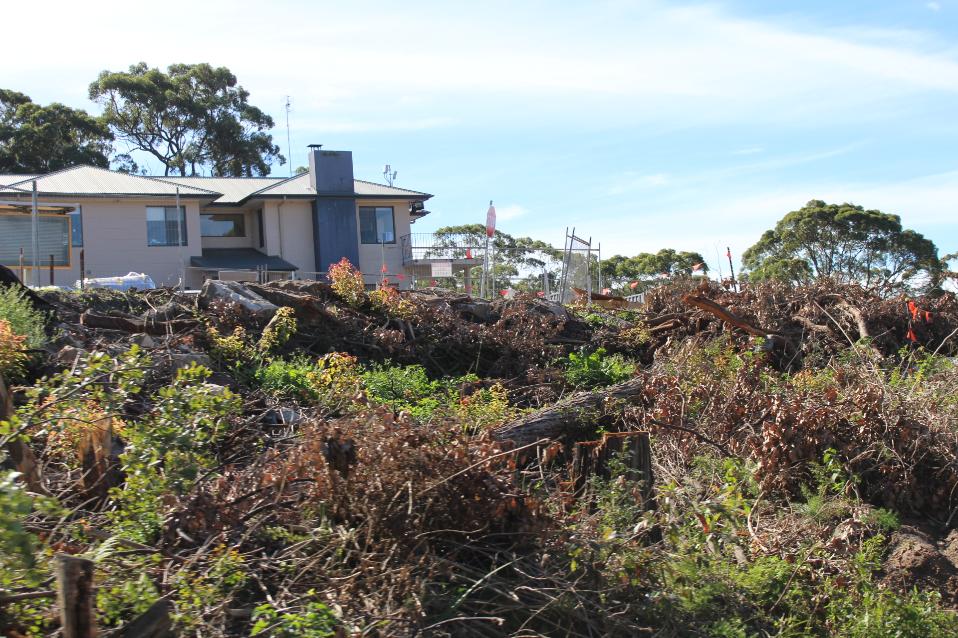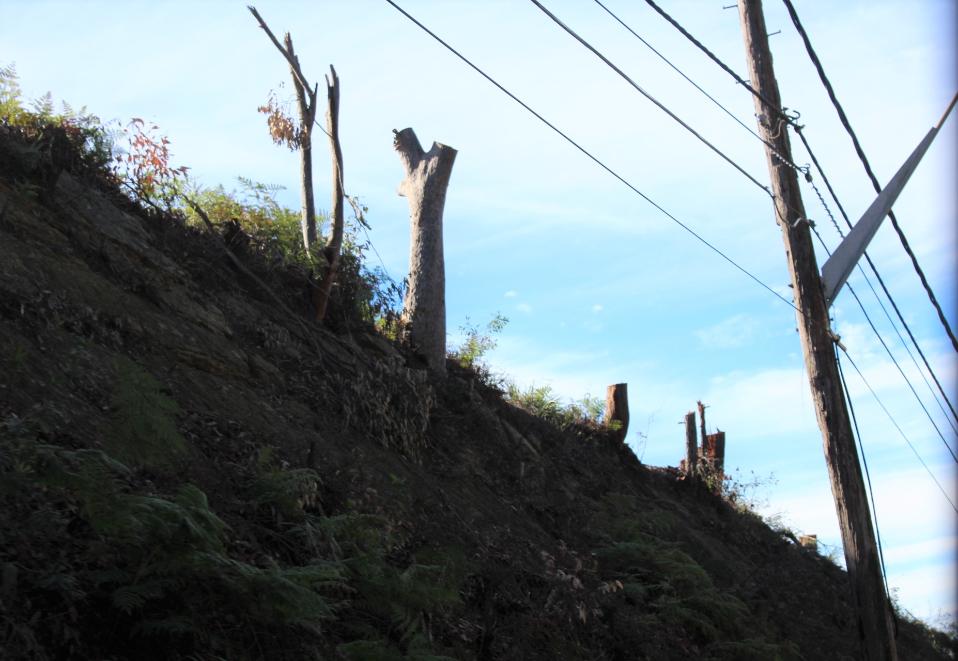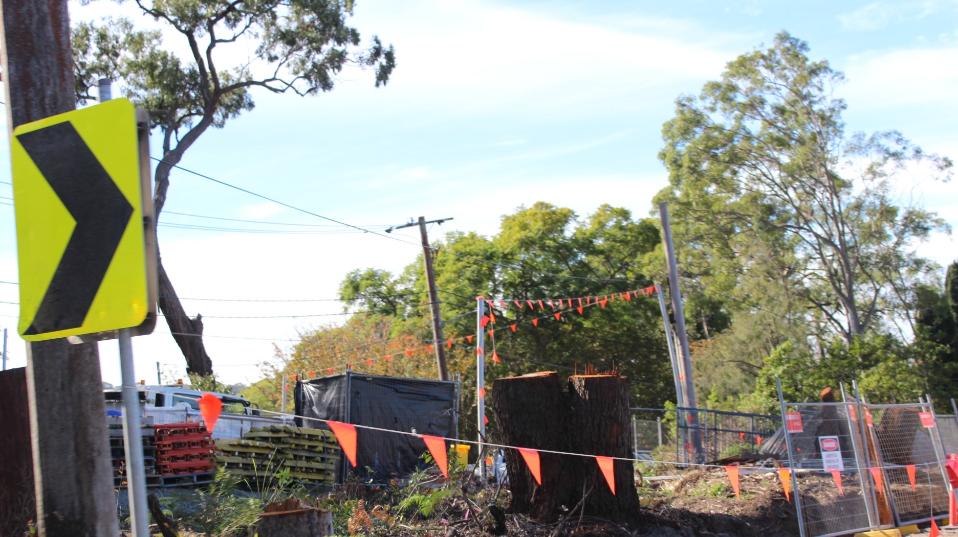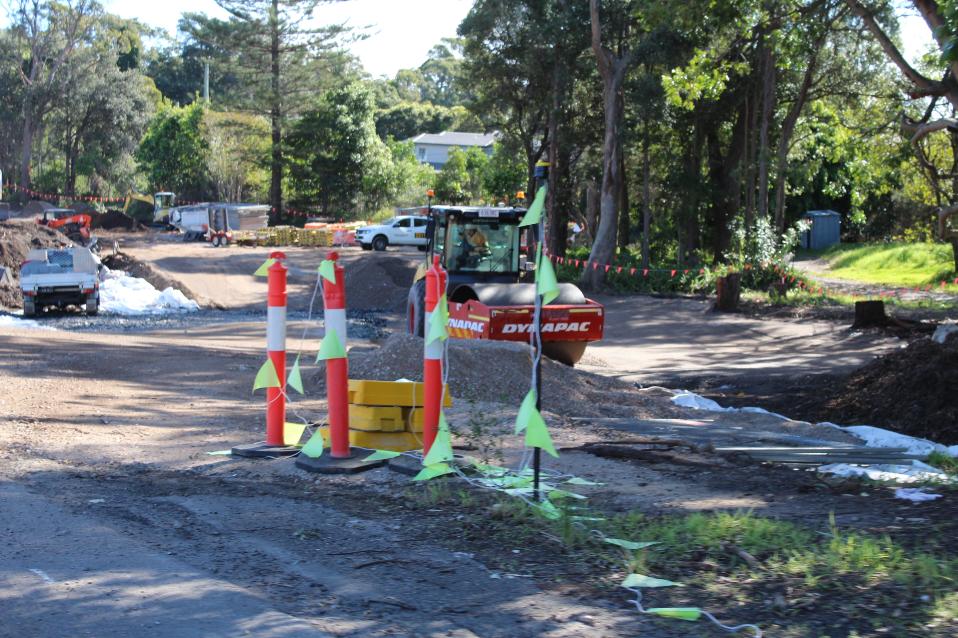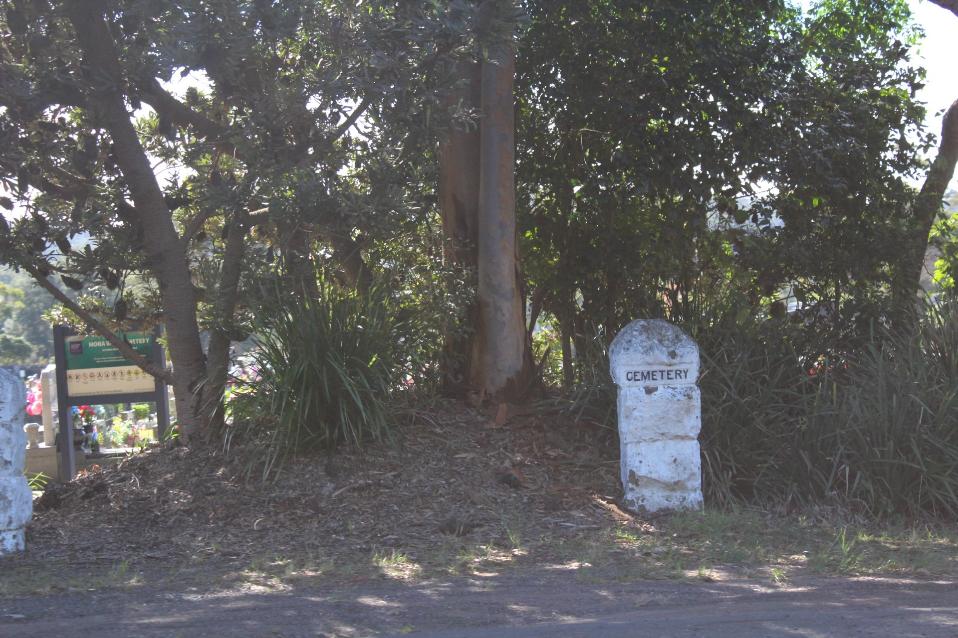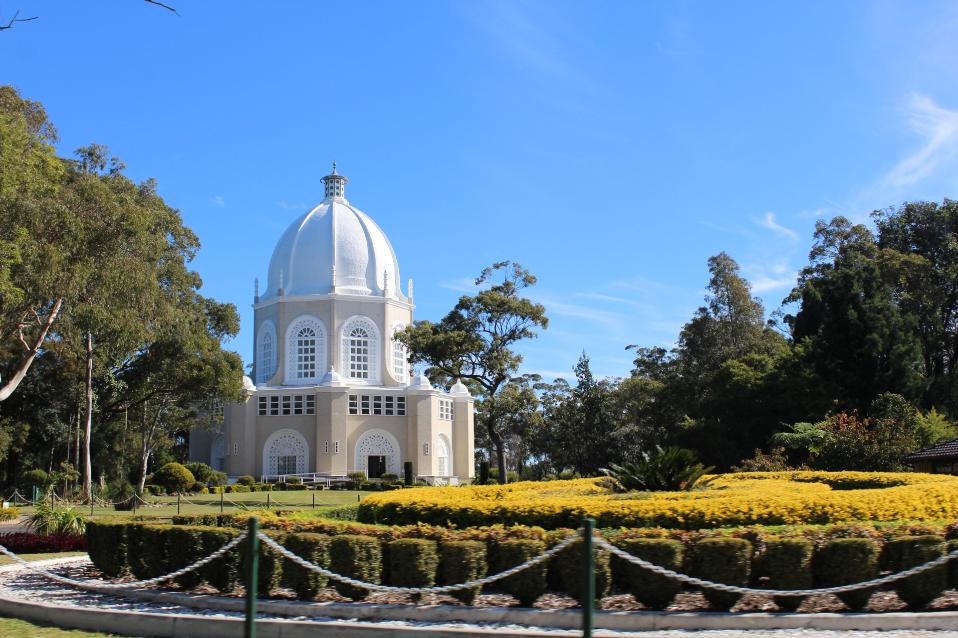 Grevillea Caleyi Bushcare May Day 2019 This Week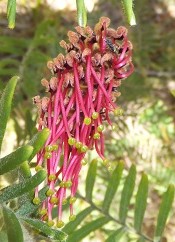 Next volunteer bushcare day will be on
Monday the 27th of May, 2019.
Meet at the picnic shelter at 8.30 am
New volunteers welcome - training will be provided
Wear long trousers, a long sleeved shirt and boots or closed in shoes
The session will be cancelled in the event of rain. For more information contact David Palmer on 0404 171 940.
Please join our Bush regeneration morning at the Baha'i Temple, 173 Mona Vale Road Ingleside.
Based on our past success PNHA has been given a new round of funding to continue work on conserving the threatened Grevillea caleyi - so we look forward to your support.
Morning Tea provided.
Pittwater Natural Heritage Association