February 24 - March 2, 2019: Issue 394
Great News story of the Week: Michelle Lee – First Australian Female to Row SOLO across the Atlantic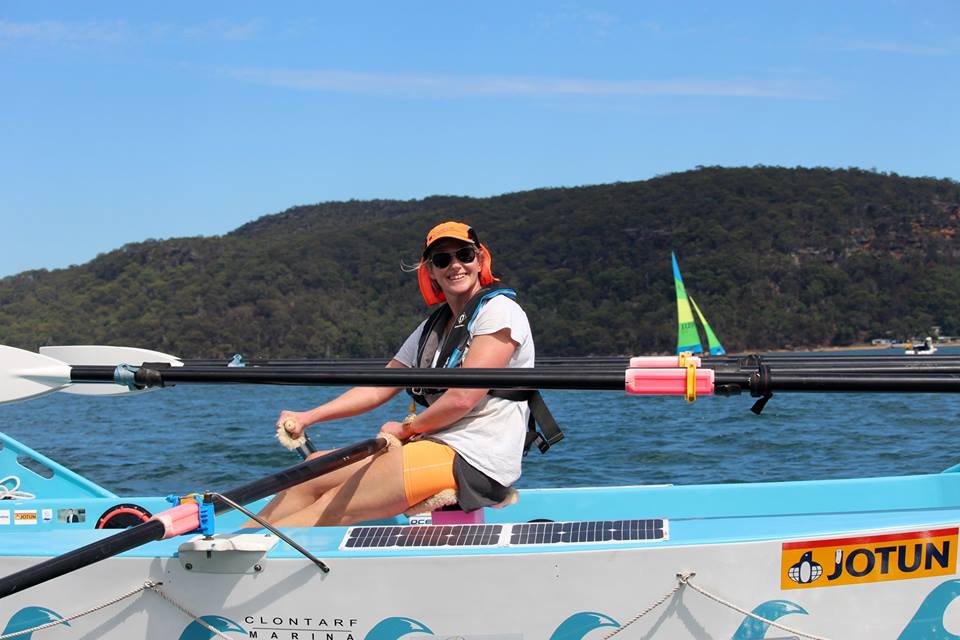 Michelle on Pittwater in February 2018 - photo by Regina Renfree, PBSC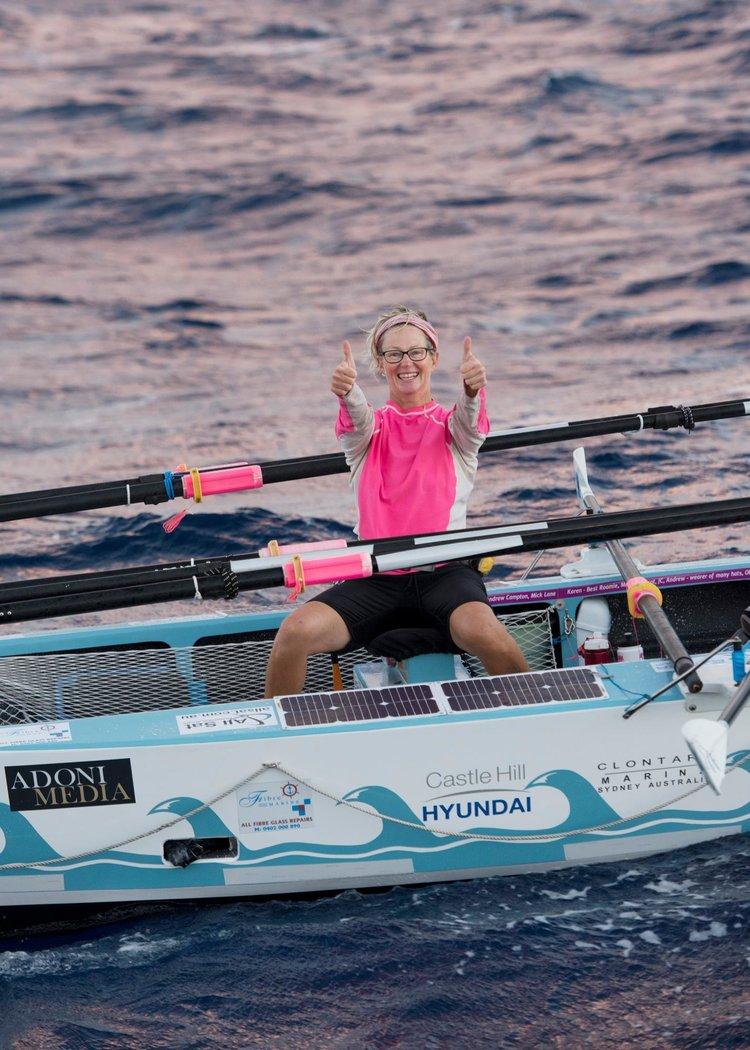 Australia's First Female to row SOLO across Atlantic in February 2019 - Photo Credit: Robin Skjoldborg
Who remembers our February 2018 story on Michelle Lee, the lady who was striving to be the first Australian woman to row SOLO across the Atlantic and the way our Pittwater community rallied to support her efforts, including a fundraiser held at The Quays Marina, Church Point?:

Spotted On Pittwater: Michelle Lee's Different World's Canoe - This Lady Is Getting Ready To Row Solo Across The Atlantic

Well, you have probably seen this week that she has done it!
Congratulations Michelle - everyone here is thrilled for you!
"There were days when I thought I wouldn't make it," Michelle said dockside, after completing the 3000 kilometre marathon
"I'll never do that by myself again."
"I'm really relieved to be on land. The isolation was overwhelming (at times) – there has been joy, I've been in awe of so many things, there's been anxious, nervous – I've gone through the lot.
After Day 46 it started to hit home – you realise that you're doing something a bit bigger than running aro8und your neighbourhood naked. I just wanted to feel safe again."
War wounds... 68 days at sea...raw.. mental.. push thru the pain

Asked about her most significant moment;
"Being able to fix stuff and mend stuff on my boat and being able to think quickly on the spot. At the time it was horrendously frightening but at the end, triumphant."
But also;
"It's the wildlife I think. I had dolphin armies, I had whale armies come through.
The birds – the bird life – unbelievable – every single day."
Some sea birds flew beside Michelle for days on end, as had the dolphins and whales swum beside her.
You said you can't wait to see what you are made of – what are you made of Michelle?
"I'm stubborn, and have determination, grit and integrity. Integrity for me is to finish what you start and to do what you say you'll do. That is what is important to me."
And being involved in the Talisker Whisky Atlantic Challenge 2018?
"Building a boat from scratch. The courses we've had to complete in order to do this race as well; Sea Survival, Navigation. There has also been the interaction with The Atlantic Campaign crew – who have been awesome and so supportive. I love the fundamentals this has now set me up for – if I want to go and row in an ocean independently I can because I have had to tick so many boxes to get here and to do it safely.
What is your take away from this experience?
"Start thinking you can and you will!
That's what this all started from. I started reading the book 'Rowing the Atlantic' and was then plagued by that notion of rowing the ocean for two whole years and eventually thought í would rather do it than die wondering'
So, don't die wondering – start thinking you can do it and you will."
Michelle started her journey on December 12th 2018. Michelle has 3,000 miles rowed for women who need shelter - Michelle supports The Sanctuary, The Hills Community Shelter which provides safe, temporary, supported accommodation, for up to 3 months, for women and their children who are escaping homelessness and/or domestic violence. Violence is the reason they are homeless.
In closing she said she would do it again but she wouldn't do it solo
First female to arrive, first female to row any ocean, first Australian to row Atlantic Ocean - amazing!
Different Worlds- Michelle Million Metre Row + Atlantic Ocean Row
February 19 at 12:13 PM ·
Michelle is flying in! She's pumped. Her rowing rate has slowly increased as she get closer....so exciting! Less than a nautical mile to go!
Speed: 2.1 knots @ 262.75°
Owner: RV Australian Maid
Position at: 19 Feb 2019 01:00 UTC
Lat/Lon: 16° 59.74 N, 061° 45.12 W
DTF: 0.7 NM
25th in All Teams
3rd in Solo
Rowing the Atlantic Ocean with a time of 68 days, 12 hours and 49 minutes!
For more information, go to: https://www.differentworlds.com.au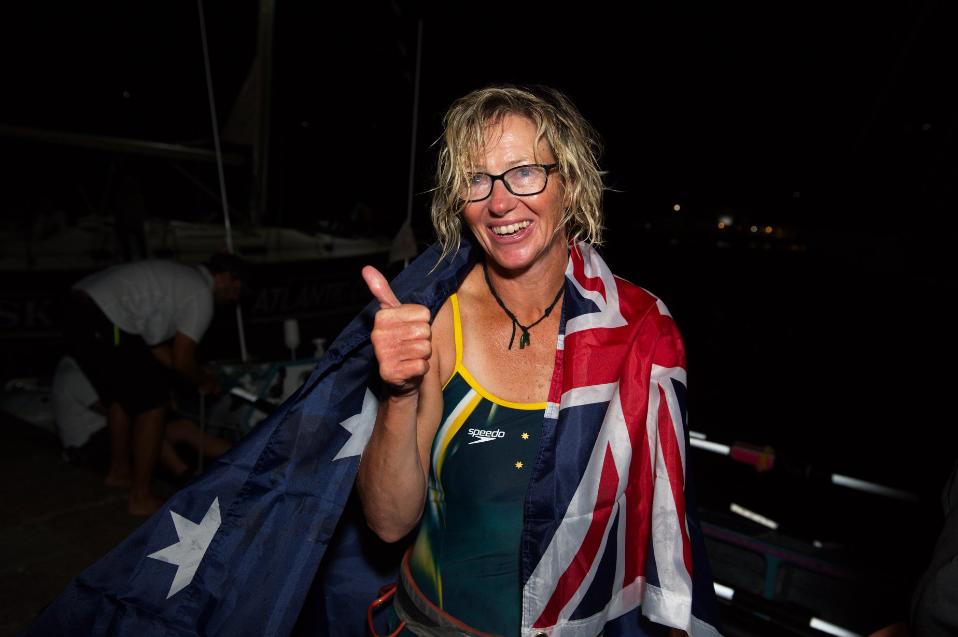 Photo credits: Ted Martin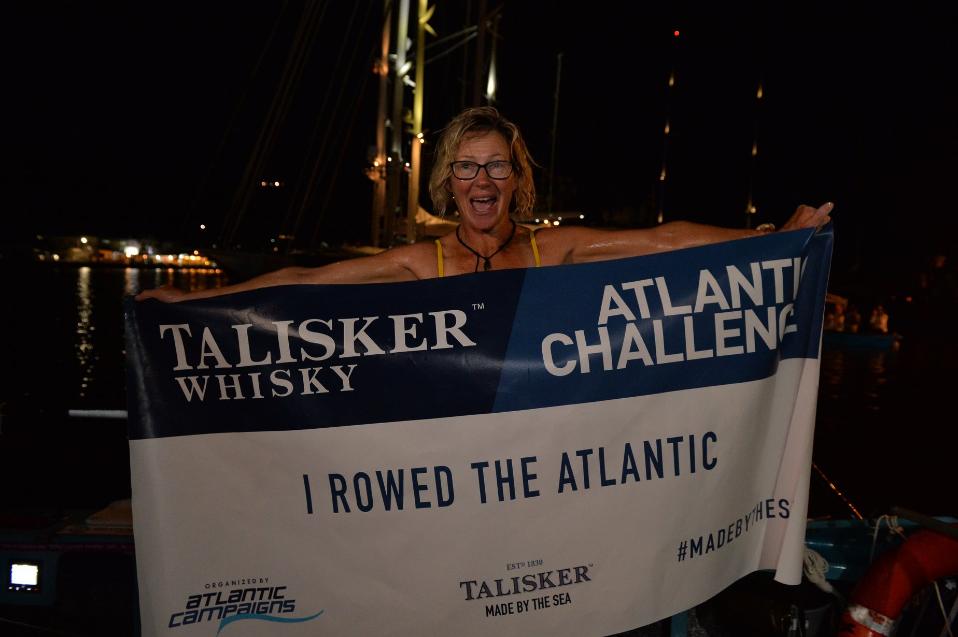 About the
Atlantic Challenge
The premier event in ocean rowing – A challenge that will take you more than 3000 Miles west from San Sebastian in La Gomera, Canary Islands, Spain (28oN 18oW) to Nelson's Dockyard, English Harbour, Antigua & Barbuda (17oN 61oW). The annual race begins in early December, with up to 30 teams participating from around the world. The race structure brings together an environment where teams from across the globe gather in the race village San Sebastian in La Gomera, Canary Islands. The atmosphere is electric as people help each other prepare for the challenge of the mighty Atlantic Ocean. All with the same objective – to take on the unique experience of crossing an ocean in a rowing boat.
The Talisker Whisky Atlantic Challenge brings together teams from all walks of life united by the same objective: to take on the unique challenge of crossing an ocean in a rowing boat. The atmosphere is electric as people help each other prepare for the challenge of the mighty Atlantic Ocean. Teams battle with sleep deprivation, salt sores, and physical extremes inflicted by the race. Rowers are left with their own thoughts, an expanse of the ocean and the job of getting the boat safely to the other side.
The race offers different experiences to all involved. The challenge creates strong friendships and competitiveness gives way to the camaraderie that is required to complete the challenge. Upon finishing, rowers join a small community of friends that have shared the adventures of an ocean crossing. The mental and physical endurance will result in a life-changing achievement, that will never be forgotten.
RACE FACTS
Each team will row in excess of 1.5 million oar strokes over a race.
Rowers will row for 2 hours, and sleep for 2 hours, constantly, 24 hours a day.
More people have climbed Everest than rowed an ocean.
Over €6million has been raised for charities worldwide over the past 4 races.
At its deepest, the Atlantic Ocean is 8.5km/5.28 miles deep.
The waves the rowers will experience can measure up to 20ft high.
There are two safety yachts supporting the teams as they cross the ocean. In the 2013 race, one yacht traveled a massive 9000nm!
The 2013 winning Team Locura arrived in Antigua with a blue marlin beak pierced through the hull of the boat.
Each rower is expected to use 800 sheets of toilet paper during their crossing.
The teams are supported 24/7 by two land-based duty officers.
In the 2016 race, solo rower Daryl Farmer arrived in Antigua after 96 days, rowing without a rudder to steer with for nearly 1200miles/40 days.
Each rower needs to aim to consume 10 litres of water per day.
Rowers burn in excess of 5,000 calories per day.
Each rower loses on average 12kg crossing the Atlantic!
Find out more at: www.taliskerwhiskyatlanticchallenge.com