October 2 - 8, 2011: Issue 26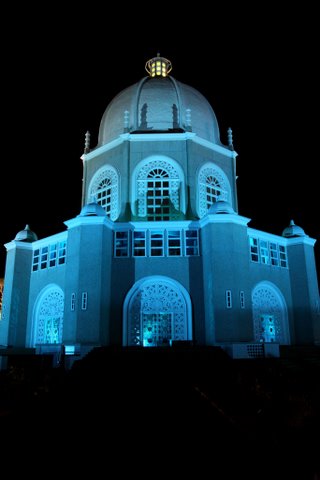 Copyright Mary Jones, 2011. All Rights Reserved.
Blue Light at Baha'i Temple
From Mary Jones
Editor, Northern Beaches Prostate Cancer Support Group

During the final week of September the lighting of the Baha'i Temple in blue has been organised to publicise Prostate Cancer Awareness Month and to make everyone conscious of the need to encourage men to ask their G.P. for a PSA (Prostate Specific Antigen) blood test. Early detection with this simple blood test could save a life.
Here on the Northern Beaches we have a wonderful organisation - the Northern Beaches Prostate Cancer Support Group which meets on the first Tuesday of every month at The Cottage, in the grounds of Mona Vale Hospital and is there to give support to sufferers and their families.
Dr John Conroy OAM, established the Support Group in 2002, when he, himself, contracted the disease. It claimed his life but the work he did continues to make a significant difference to people on our peninsula living with that disease. The group aims to keep his dream alive.
At each monthly there are interesting speakers who keep us up to date with the latest research and treatment options. Supper is served after the meeting giving men the opportunity to socialise and to speak with someone in the same situation.
Prostate cancer is the most common cancer in Australian men and is the second most common cause of cancer deaths in men.
Each year in Australia, close to 3,300 men die of prostate cancer - equal to the number of women who die from breast cancer annually. Around 20,000 new cases are diagnosed in Australia every year.
As many men die from prostate cancer as women die from breast cancer but a national survey by PCFA in 2002 showed that while 78% of women felt well informed about breast cancer – only 52% of men felt informed about prostate cancer.
For more information phone 9981 2616 or 9997 2709 or visit www.prostate.org.au
Photographs courtesy of Qi-Jie Oh of the Baha'i Temple