May 17 - 23, 2020: Issue 450

Margie Charlton (Nee Watt)
Actually, I'm A Mermaid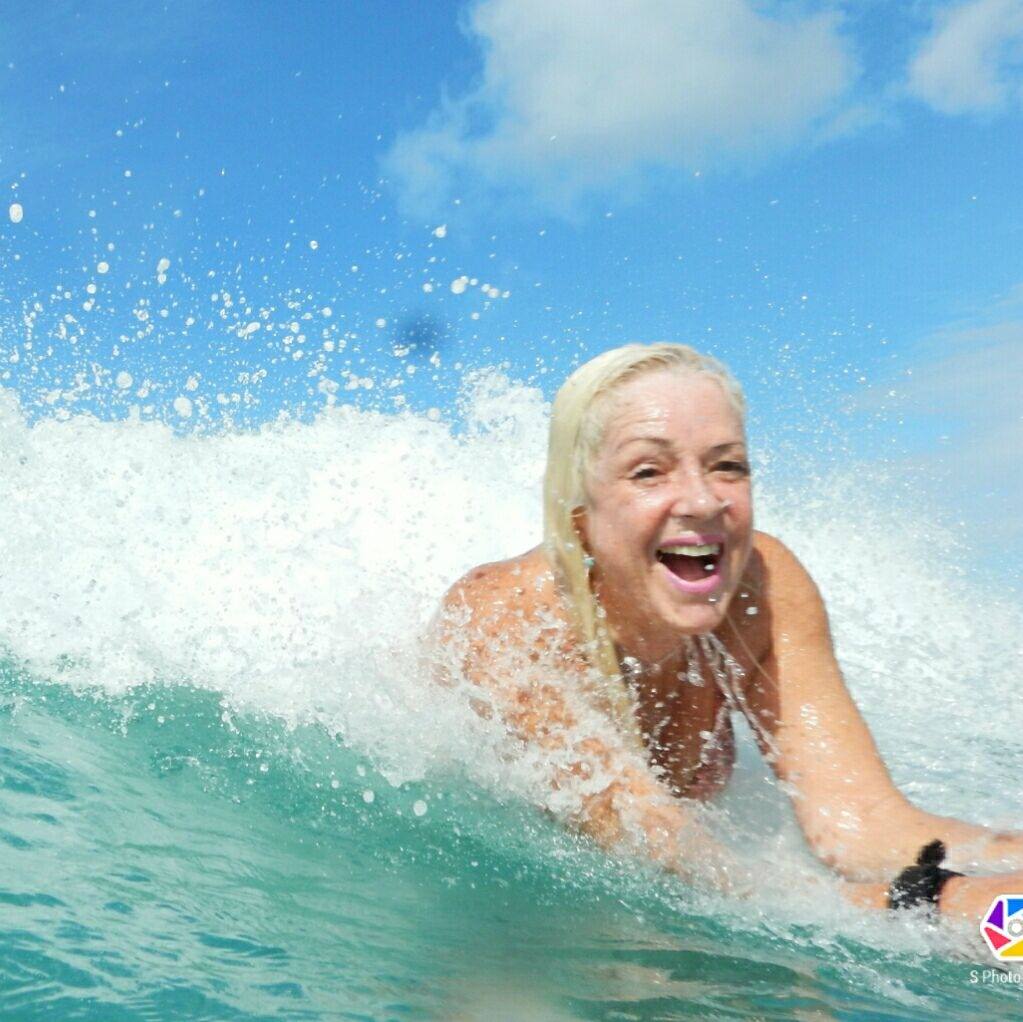 Giving back to the community is an ethos many in our community have been surrounded by while growing up, it's how we were taught to be. Sometimes people are part of surf clubs and fulfil Summer patrols, volunteer at Meals on Wheels cooking or delivering food, or visit the ill, do a stint as Girl Guides selling boxes of biscuits, pull weeds.
Others are not so easily recognised, but they're there; caring about those around them, picking up the pint of milk for their senior neighbour, giving their time to listen so others know they are heard, filling out the forms for those befuddled by endless questions or arthritic of fingers and wrist, stepping up to 'woman' the Australia Day barbecue down at the beach.
Some people will pick the plastic bag out of the water, return the fish caught in the pool to the sea just because it is in their nature to do so – they care about others, about community, about the world other creatures live in – and this, although they live their lives quietly, makes them champion human beings. Margie Charlton is one of these.
This week a small insight into the youngest daughter of Avalon Beach stalwarts Norma and Max Watt. A mum, a champion of others, a lover of the garden, birds and the ocean – and part of the Barrenjoey Breakers swim group who dive off Palm Beach Rock Pool to enjoy being in the sea. In fact Margie spends so much time in the water, she quite rightly thinks that she may, in fact, be a mermaid. However, at heart, she remains an Avalon Beach girl.
When did your dad Max Watt first come to Avalon Beach?
Dad came here when he was 14 as part of the Woolloomooloo Police Boys Club. They came to help out on the beaches when the men were serving during the war (WWII) – as so many were serving, many of the local beaches went unpatrolled until one of the men from the Woolloomooloo Police Boys Club brought him and his mates out here. (See under Notes)
Dad eventually joined the surf club when he was old enough – I think he was then 16.
When did he move out here?
They lived at Marrickville with my mum's parents. Her father died and they lived with her mum while building a house in Catalina Crescent, Avalon, the one second from the corner at the Barrenjoey High School end of that street. That was 57 years ago as we moved in when I was born.
Nanna came and lived with us, mum's mum, and she used to take care of me a lot. They bought the land for £3000.00 and then built the house.
Careel Bay Boatshed – didn't your grandfather on your mum's side build that?
Dad helped mum's dad build the boatshed – and that's how mum met dad – he rented a boat off my grandfather. Back then, when you rented a boat, they had a little Magneto that went in the motor and you had to bring that back to get your deposit returned. He saw mum in the tent, and his eyes opened wide, and that was it – when he was 15 or 16!
The Scharers used to come up from Marrickville of a weekend, or during the Summer, and rent the boats out. Dad met her when they were staying in their tent at Avalon Camping grounds. The surname Scharer, is originally from Switzerland and Sweden, although they'd been in Australia for a few generations by then.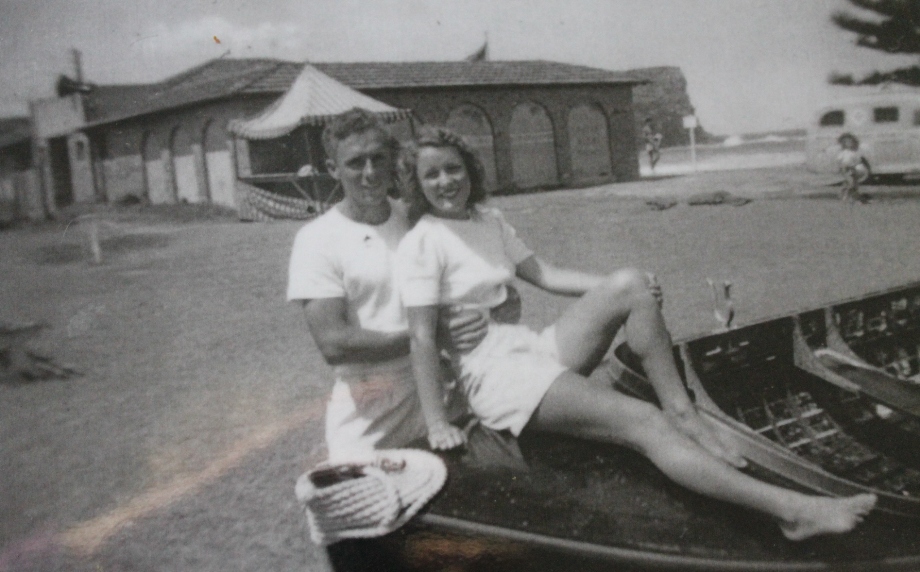 Max and Norma at Avalon Beach SLSC, circa 1950
Where were you born?
My sister Julie, who is 7 years older than me, my brother John, who is 5 years older than me, and myself were all born in the same place – St. Margaret's Hospital – hence the name 'Margaret' – but I refused to be called 'Margaret', I prefer 'Margie'. I seemed to be always in trouble when I was called via 'Margaret!!'
What did you do for fun while growing up?
Well, we lived on the corner close to the beach, so our whole childhood was spent having fun around the area. The only rule we had was that we had to be home by dark.
So I was in the Carell Creek at the back, which was then full of septic sewerage as everyone's' pipes just ran out into that, but that didn't bother us – we never got sick.
I remember we lived on fish simply because they couldn't afford a lot of things, no one could. I have really fuzzy curly hair and I put it down to no shampoo when we were younger – dad used to say 'just wash your hair in Sunlight soap'. My hair was dreadful as a child – I hated it. The first conditioner we had was that Apple conditioner; green Apple conditioner and shampoo there was (1980s).
Every Summer was spent on the beach because dad was on Patrol or at the Surf club. He used to have a big surf ski and would take it out fishing of a morning and bring it back and then just leave it on the beach.
When we went down the beach he'd take the surf ski out and take all my girlfriends with me – there would be 2 on the back and 1 on the front. He'd catch waves and we'd all stand up on the surf ski. He taught all of my girlfriends to surf, to swim, everything.
Where did you go to school?
First of all I used to go to Palm Beach Kindergarten. To get to Palm Beach Kindergarten Nanny used to walk me up the street to North Avalon bus stop, and she'd put me on the bus and I'd catch that down to the pre-school where the ladies were waiting for us, at 4 years of age. Of an afternoon I remember walking back along to what is now the Greedy Goat and crossing there to the bus stop, getting on the bus, and there Nanny would be waiting for me at the other end.
I then went to Avalon Primary School. I remember my first day – it had been pouring with rain and was very muddy and I remember sitting at that desk at the back of the classroom crying and crying when mum walked out the door. I didn't want to be at school.
Can you remember any of your teachers from Avalon Primary School?
I remember my second class teacher, Mrs. McKay. She died of cancer while she was our teacher. Mrs. Zara, the Infants Principal, came in and told us – and then we were all sitting there crying at our desks – we'd lost our teacher.
I had to repeat second class as I was a bit young – mum and dad had to send me to school because I was too bored, I needed people around me all the time. So I was held back in second class just because I was that bit too young.
My third grade teacher was Miss Swanell – I fell in love with her, she was just beautiful. My fourth class teacher was Mrs. Willis, who was really mean to me.
My fifth grade teacher was Mrs. Martinnew – I remember she had a funny eye. I was a pretty clever kid but I was also a pretty naughty kid. I remember we were doing our times tables and had a test on this – I got 99 out of 100 and she didn't believe me – she said I cheated! And I didn't!
At the time dad was working at Tooth's Brewery, which I always used to call 'the brewry' because dad called it the 'brewry', and she made me write on the blackboard 100 times 'brew-er-ry'!
He was working at Tooth's in town?
Yes, every day he went into town. Mum would get up with him every morning, make his breakfast, and something to take into work. During school holidays I always went into work with dad and worked with him on the truck. At first he was doing the empty kegs; so Darling Harbour used to be all railways and the empty kegs would come in on the (train) trucks. Dad would take his big empty truck down and we'd roll the empty kegs onto the truck – we'd build a big pyramid – we then would take them back to the brewery to be washed and cleaned and refilled again.
Eventually he bought the next truck up (in size) and he was now delivering beer. Of a morning we'd go down through the sheds and then drop off all the different cases of cans of beer into the different trucks that were going out into the country. So you might have a pallet going out to Hay and only six cases going out to Bullamakanka or wherever; but we did all of those loads – I used to just love it. He always used to say to me that I was going to take over the brewery truck. I worked with him until I was 15, going into town during the holidays. He used to teach me how to drive the truck in the yard there – it was great fun. Sometimes we'd be driving through the city and he'd just pull up, in the middle of the road ! – there would be an auction on and he'd just pull up outside the auction, in the middle of the road, it would be a jewellery auction or something like that, he was forever buying things from auctions – new furniture – he'd ring mum up and say 'get the lounge room ready, I just picked up a new lounge from the auctions' – and there would be chaos going on in the house with this new delivery of something he'd found at an auction.
At any rate, he'd just pull up in the middle of a street and I'd say 'you can't park here dad, we're in the middle of the road. He'd say 'of course I can, we're brewery, we can park anywhere we like!'
Your dad and his truck were renowned in Avalon – he used to help people move or take all the gear to a surf carnival?
That's right. Before he was working at the brewery he was a removalist and delivery man for Grace Brothers. He used to have this enormous truck and would bring it home. We'd all pile in to the back of the truck and hang onto the ropes there and as he'd go around a corner we'd all be swinging around in the back of the truck – great fun!
One year he filled the truck up with all these kids and drove them all down to Sussex Inlet – I still have all the photos from that adventure – more great fun!
Where did you go to High School?
I went across the road, to Barrenjoey High School. Interestingly my sister Julie had to go to Pittwater High School as Barrenjoey hadn't been built yet. And didn't we have some fun when it was getting built; we were always over there mucking about in the building site.
I remember we were all coming back from the beach one day, a Sunday afternoon, and I had a few of my cousins with me, and there had been a delivery of all these big white bags of stuff. There were no walls up yet, it was just the slabs.
We all went over there and were on the second floor, and jumping off into these big white bags. It was fantastic fun!
Until we started to itch…. It was fibreglass. Dad piled us all in the car and took us down the beach and put us in the salt water.
High school was good. I was pretty well liked when there as I lived just across the road. On cold days I could see the smoke coming out of the chimney, we had a fireplace, and people used to be my friend just so they could come home and have a bowl of hot soup or a hot jaffle.
Were you at Catalina Crescent throughout high school?
Mum and dad bought a double waterfrontage up at 981 Barrenjoey Road, Palm Beach, 'Sandy Point Lodge', off my uncle when I was 17 – so Year 6, the current Year 12, was spent at Palm Beach. I did not want to move – I didn't want to go. The whole house was empty and my bedroom hadn't been touched. I remember mum coming in one day, the car was up the back, and she said 'right, you're going, we're out of here'.
Must have been nice to be on the waterfront though?
I didn't appreciate it. I was also given this tiny little poky room, as big as a small office, at the back of the home – it was dark and cold and all my shoes and handbags went mouldy.
But – I had the surf ski. Every afternoon I'd come home, and we had a cattle dog 'Georgie', and I'd say 'Georgie, do you want to go for a paddle?' and she would be off down the bottom to get on the front of that ski as soon as I put it in the water. We'd go around the torpedo launches that were out in the middle of Pittwater and then come back.
Those torpedo launches were great fishing spots.
What did you do for work when you left school?
I had part-time jobs while still at school, the first being a checkout chick at Woolworths at Avalon when it was still in Avalon Parade and on the old registers on Thursday nights and Saturday mornings. That paid $2 an hour.
When we moved up to Palm Beach a job my girlfriend had, she lived just 10 doors up from us, was cleaning the old one arm bandits at Palm Beach RSL every morning – there were 30 odd poker machines. I'd spray them all, clean all the dirty finger marks off – and it was very exciting when there was 10 cents left in the tray at the bottom. I'd put the 10 cents in and pull the arm and think 'I hope I don't win anything'. All the money would drop out of those if you won anything.
The only days I had off from that job was Good Sunday and Christmas day. It was good money though - $30 a week – which was good money then.
Well, I didn't know what I was going to do when I left school – as I said earlier, I was a clever girl but a naughty girl. I could have done a lot better if I had applied myself, but that is hindsight.
I was very artistic at school – out of the six years of high school I topped the year five times. The only one I didn't top was in Year 11 where we didn't do much Practical but a lot of Theory. My Practical work was good though.
In Year 12 I did 3 Unit Art – two units of Practical. For my Major Work I did two posters of Palm Beach in acrylics and one of the Avalon Rock Pool that I grew up in. That one was taken in what is now called 'Art Express'. Unfortunately it came back a little bit damaged.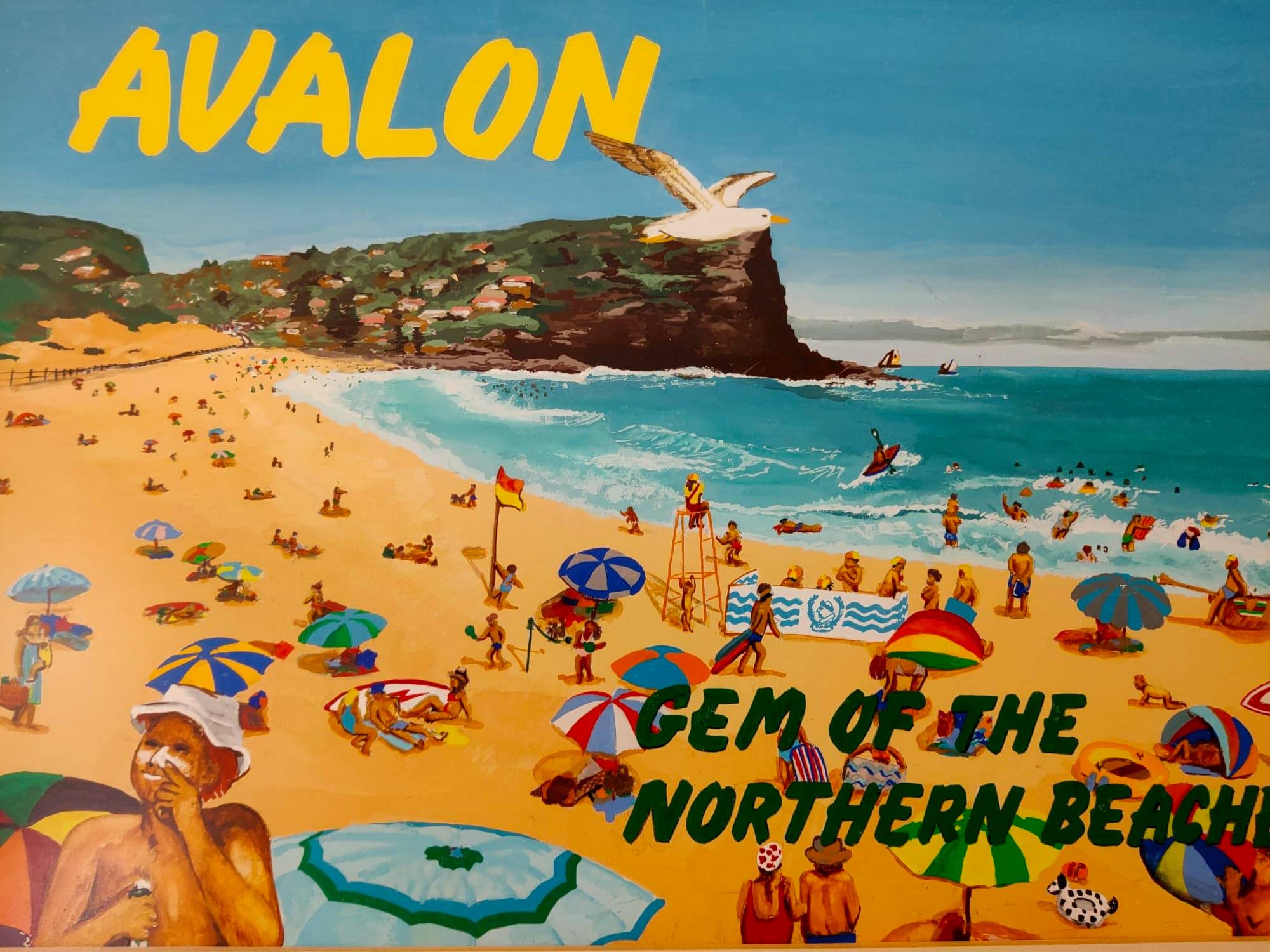 Margies' Yr. 12 work example 1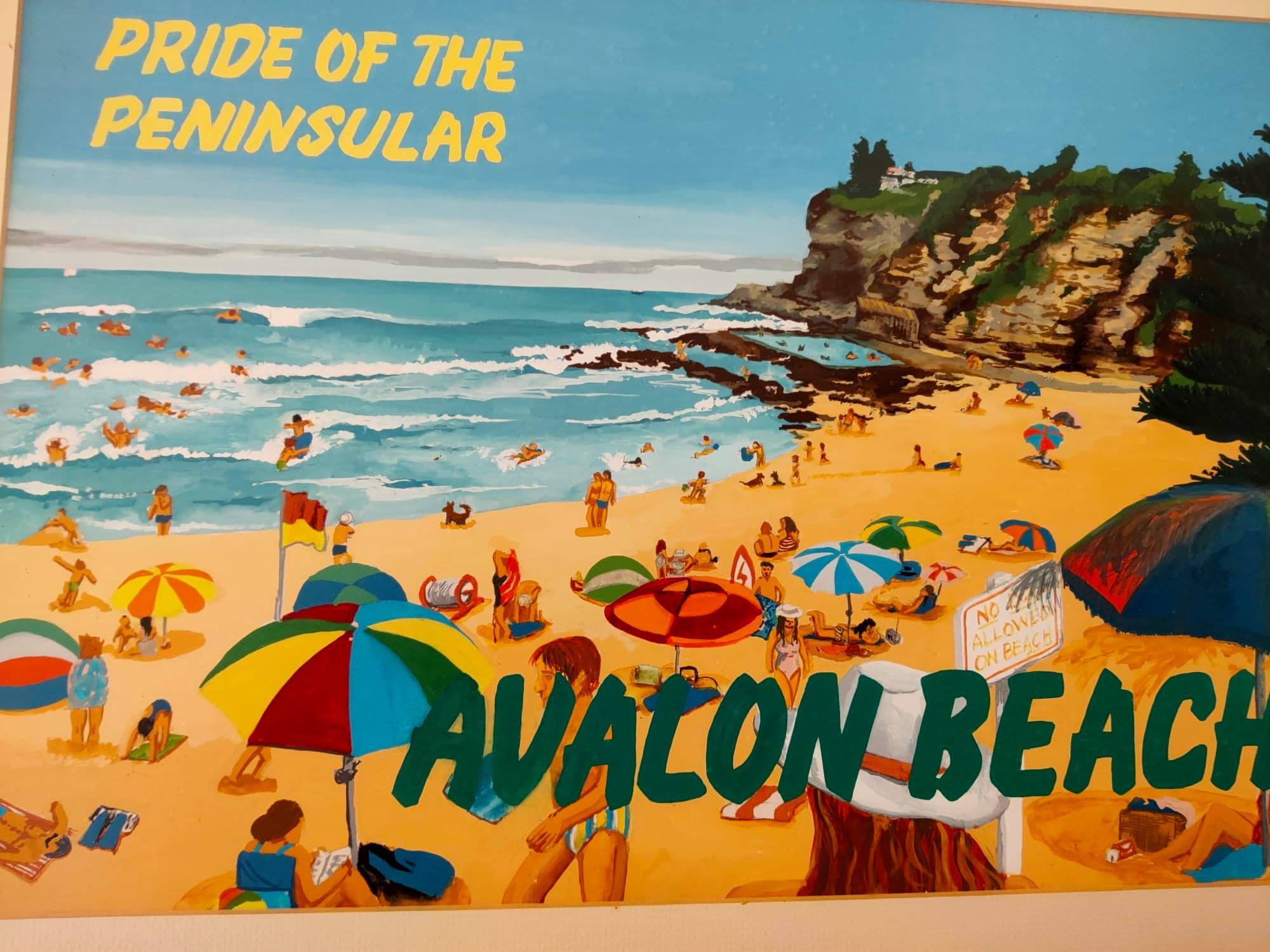 Margies' Yr. 12 work example 2

There were three rock pools along the rocks at North Avalon that local people used to clear out to keep them free of rocks. The first one was a small baby one, then there was a middle one, and the end one, which is where I spent most of my childhood either fishing for toads, swimming around or just laying on the little sandy beach there. At high tide it was magnificent, and really quite deep. And that was what I based that artwork on – that third rock pool.
In Winter, when it was too cold to do anything, I'd have friends over and used to get dad's bobby corks and rig these up with tiny little hooks. We'd go down and smash open the limpets and fish for toads with them. When you caught a toad you'd hold its lips together until it puffed up and then throw it back in the water and watch as it would deflate.
I spent a lot of time fishing with my father and would do this when he was not around too.
I remember when we were living at Palm Beach, and would have been in my 20's by then, we'd go up the Hawkesbury River to in between the two bridges – the road bridge and the railway bridge. We'd first knock off all the big clumps of oysters on the railway bridge and then we'd go around to the back of Dangar Island and set up 4 rods for the Black Bream. We'd sit there together and open the oysters and fish.
Dad's theory was you always came home with a feed.
When I left school my sister suggested I try out this Art Course in the city – the school of Visual Arts. So I did a Visual Arts Course. It was all about Drawing, Layouts, Photography – there was a subject on every day. Every day you had a different teacher and every day you had about 3 or 4 hours homework at night. It was heavy duty. If you didn't get your homework done and present it the following week you were suspended. At the time it was quite expensive – mum and dad said 'if you're going to do it, make sure you do it all'.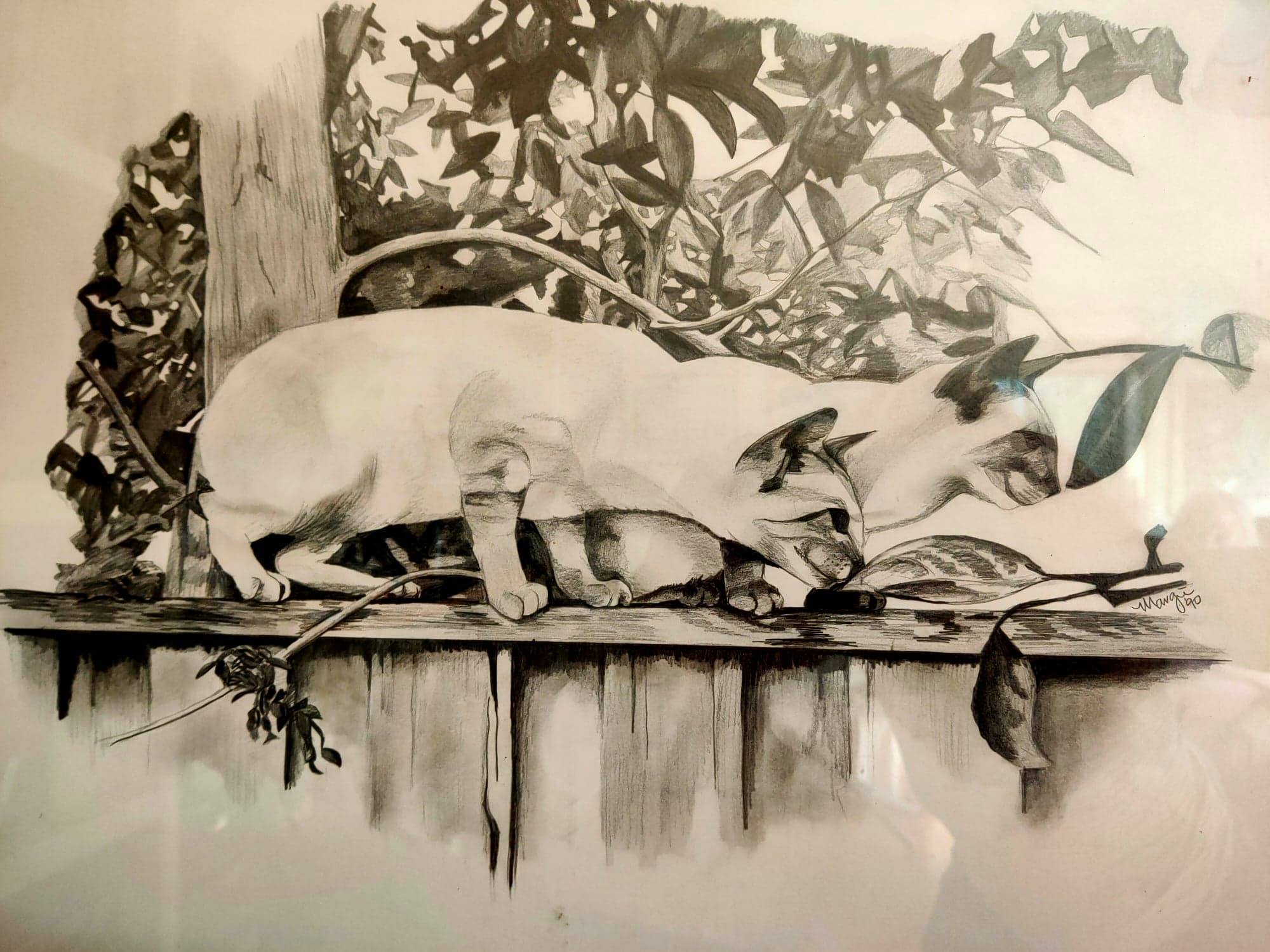 Margie - Cat drawing 1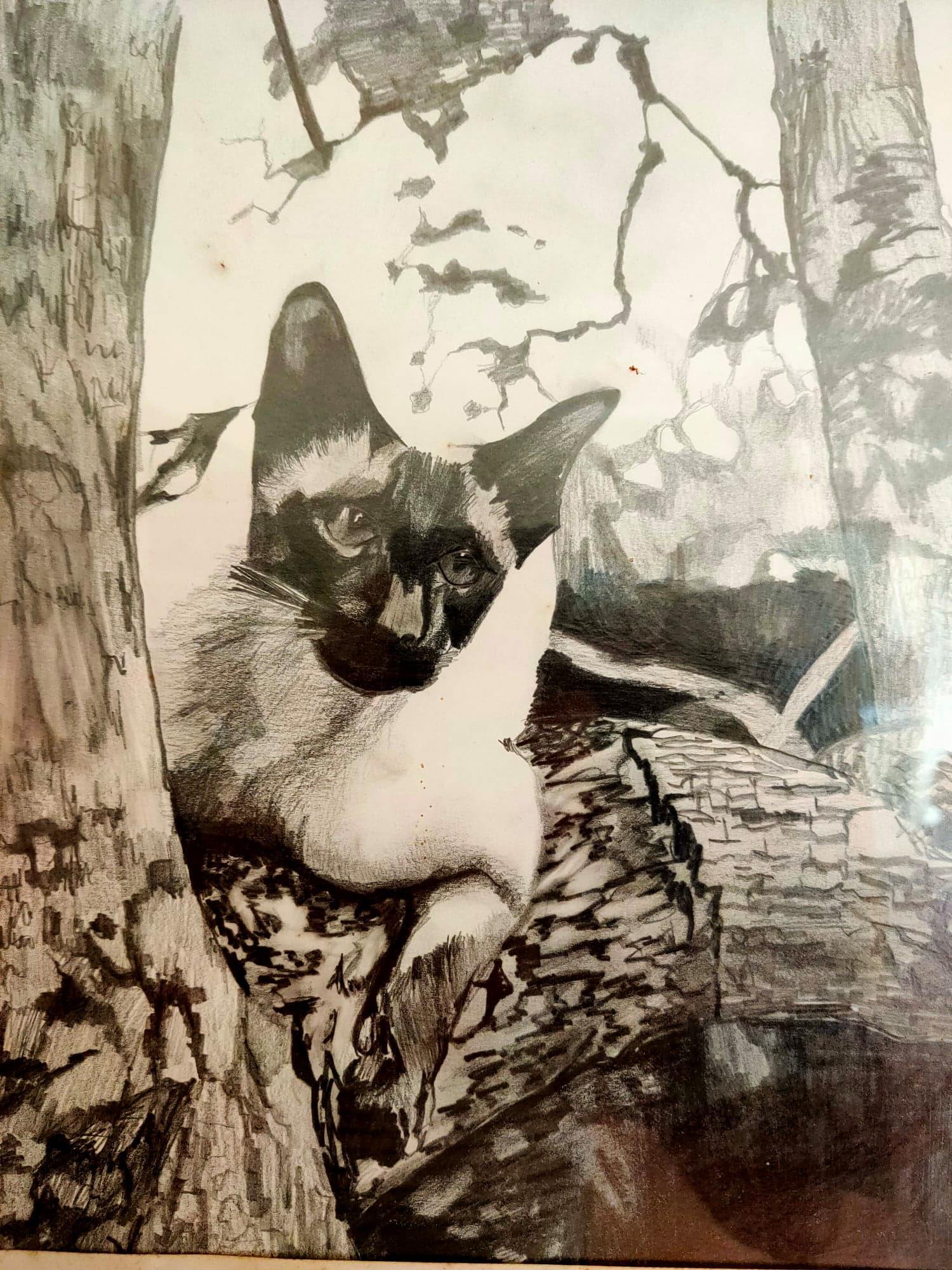 Margie - Cat drawing 2

When I finished that I applied for a few jobs but found I just couldn't get my head over the saltwater line and ended up getting a job in Avalon, above Barefoot Boulevard – at Australian Boating Magazine as a Layout Artist. I worked there for a long time.
I then got a job in Just Jeans and went into Window Dressing as part of their visual arts department. My run was from Palm Beach out to Campbelltown. It used to take me 2 hours to get to Campbelltown to dress 3 windows; one at Minto, one at Macquarie Park and then one at Campbelltown, and then another 2 hours to get home. I also used to go to Annandale and Miranda Fair.
I then embarked on my own little business; painting sloppy joes for the Warringah Rats. I was painting these little rats on white sloppy joes. As people got to know me and what I was doing I'd take orders and spent a lot of my time tracking down white sloppy joes, then painting them to be ready for the next game they were playing. So that little industry worked well for a while.
I did the Just Jeans job for about 5 years and then went overseas with an old mate of mine – my maths teacher from Barrenjoey High School.
I went to Los Angeles and then down to San Diego. We then caught the train to San Francisco and then another train to Sacramento and then on to Lake Tahoe because we were skiing. That was the whole idea – to go skiing.
Then on to Vancouver with a couple of mates who were playing footy up there. We ended up in Whistler, supposedly for 3 days and I ended up staying there for 3 months and he kept travelling. I then met up with him over in Italy and a girlfriend I'd grown up with – she was in Italy with her boyfriend, called 'Fabio'.
I stayed with Fabio and Sharyn in Bologna – we went up to a tiny town called Calvarsano to meet up with another friend of mine who was playing rugby in Car Varsano - these were all Rats players…
They were over there playing rugby?
Yes; they used to go over and play for Italian teams. I've had a long-term association with the Rats. My husband Jeremy also used to play for the Rats and we're both still big supporters.
From there we explored the top end of Italy, I went to Venice, Brescia and Milano.
What was your favourite place?
Apart from Whistler, because it was fantastic skiing, was Rome. When I got off the plane and had to catch the bus into Rome itself, we went around the Colosseum and it was all lit up as it was dark, night-time. For the first time it actually hit me; 'oh my god, I'm overseas- I'm not in Australia!'.
How long were you overseas?
About five months – and I just wanted to be home, the whole time. I wasn't homesick – and I saw some great things and met great people but really, here is absolutely amazing, nothing can top it.
What did you do on your return home?
I then decided that I wanted to work with children. I did a few Childcare Courses, nothing that got me any qualifications as you didn't need those then, but I figured if you worked in a pre-school then you got all the school holidays off.
I used to love the kids, and they used to adore me because I was bent on having great fun with them. I would make up this play dough that looked like food and made a playdoh pizza, which we used to call 'the magic pizza'. I'd take them all into the kitchen, which you wouldn't allow now, and we'd put the playdoh pizza in the oven to cook and we'd all come up with magic words and say them – I'd then say 'ok, everyone back in the other room now' and as soon as they walked out I'd quickly stick a McCains pizza into the oven.
In the other room you could smell it cooking –'can you smell that?' I'd say. And then they would get to eat and they thought it was amazing – this 'magic pizza'.
I remember we had an old slippery dip, a huge curvy one made of fibreglass, and the way it was put in the ground it wouldn't work properly, they couldn't use it. One weekend I got a working bee together and we got about 30 tyres and 4 tons of soil and built a mound which we put the slippery dip atop so it worked properly. They loved it – the kids could slide down the grass or slide down the slippery dip.
In Summer, on really hot days, I'd put big foam mattresses at the base, a piece of plastic up the top and a hose down these so they could have a waterslide. They loved that too.
I worked there for 5 years.
While working there I was also working with a little blind girl. The girl who was looking after her left and the family asked me if I'd take over – so I went into that work as a Special Needs provider. That family then moved away and I got a job with Kay Cottee as a nanny for her little boy, Lee. I worked with Kay for 5 years, only 2 days a week, but long days, 10 hours or so. I also started working for Marcus Blackmore two days a week around then too – he lived just around the corner and needed a housekeeper a few days a week.
They were and are both just lovely down to earth people.
Kay and I used to have the best fun. I recall she took us up to Hayman Island on one occasion. Her and her husband went up for a week by themselves and then Lee and I flew up together. There were all these people relaxing around the pool, all being very quiet in this good resort. They had this big foam mats for laying on in the pool and Kay and I decided we'd put them all together and see who could run across them the furthest over the pool.
When we first arrived Kay said to me, 'come on. We'll go down to the beach and have a sail'. They had these catamarans all lined up and you had to sign your life away (a waiver) and put on a lifejacket etc. before going on one. The chap there put the cat n the water for us and then said 'would you like to me to show you how to use the sails and how to steer it?'
Kay said 'no, I think I've got this'.
We tore off across the bay – zipped across this way, zipped across another way. When we came back in the poor guy came back down to the beach, he was absolutely mortified – 'I'm so sorry, I didn't realise who you were.' We had a lot of fun Kay and I.
I then met Jeremy, my husband, and Kay moved north to Yamba.
Did you end up having children as a result of working with children?
No. I didn't meet my husband Jeremy until I was 35, at a Rats third-grade Grand Final. I remember I piled into this van with my girlfriend and he was sitting in the passenger seat. I thought 'nice shoulders' – I fell in love with the shoulders. At any rate, we got to talking and I really liked him.
We were together 3 years before I fell pregnant with my daughter Elizabeth. We married when she was six months of age. Our ceremony was on Avalon Beach, under the pine trees, and had a Calypso reception in the surf club with a steel drum band – it was fantastic. There was conga lines and limbo dancing – great fun. We were married on the 20/01/2001 – I picked that date so we'd always remember our anniversary – and guess what? We've never remembered. The only reason we remember now is that Jeremy has become very digitised through his work and his phone and computer tells him it's our anniversary.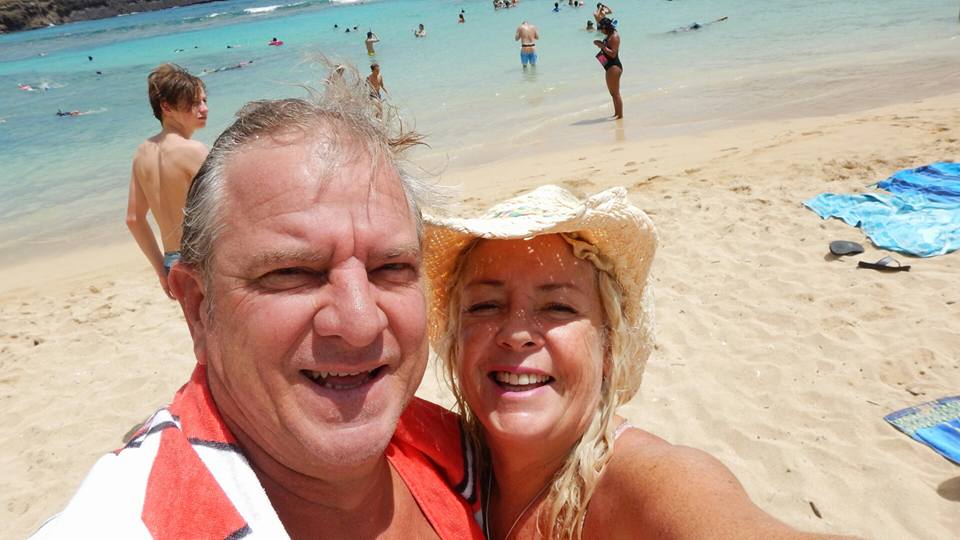 Jeremy and Margie
Years ago I recall mum ringing me a week afterwards to speak about something (she's a bookkeeper, nothing gets by her), and she mentioned it. Even last year she rang me in the morning to say 'Happy Anniversary' – after Jeremy had left for work. I thought 'oh, have already spoken to him and he didn't say anything, so he didn't remember either.
We then had Ricky two years later, our son. I was 40 by this time.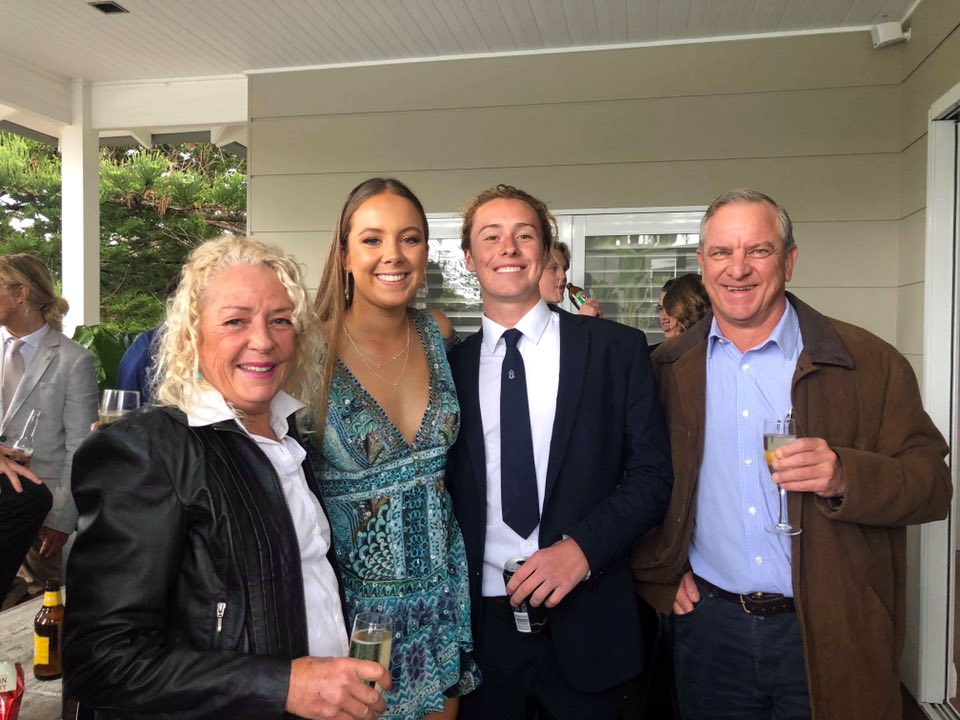 The Charlton family
Once Elizabeth started pre-school I went back working causal shifts at the kindergarten. Mum and dad would look after Ricky so I could pick up days here and there. When they went to school I started picking up more casual work and started doing Special Needs at a kindergarten in Newport.
Then in 2009 I roared down our driveway on Elizabeth's skateboard and the skateboard went one way and I went the other. I came down hard and smashed my back.
Nine months later I had a spinal fusion and a lumbar-ectomy, where they took the bone off my lower spine – all the spurring that was there. Unfortunately the nerve I damaged, the femoral nerve, was crushed for too long and hasn't recovered.
So then I discovered swimming.
Let's talk about the Barrenjoey Breakers – how did you get introduced to that?
My father's good mate Phillip Porter has always swum with them, he's 84 now but still comes down and swims every morning.
I had been swimming at Newport but the walk down to the pool was getting too much for me; I'd be in agony by the time I'd get there, would swim and feel great, but then the long walk back over the sand undid any benefits gained from the swim. Dad said 'go up and start swimming with Phillip', which I did and that was 10 years ago.
It has been the most fantastic thing and now I have to do it every morning. There is also the social aspect of it too – that has a lot to do with it for me. We also have visitors such as an old friend of mine who came down the other day to clean up our stroke a bit – her emphasised that when you're swimming what you really want to do is glide along and through the water, much like a fish or dolphin will – so when you are pulling with your stroke you want to do that which will make you glide, not be pulling yourself too deep under the surface.
So what are the social aspects you find so good about being part of this group?
On birthdays, Australia Day, at Easter I fill the car with goodies; sausages, bacon, bread rolls and eggs, tables, chairs, cookers, and set everything up at the pool so that when we come back in from swimming we can have some food together to celebrate a birthday.
The social aspect is great to me – wonderful people, from a variety of backgrounds. There is also the peace of mind I get from swimming in the ocean alongside others.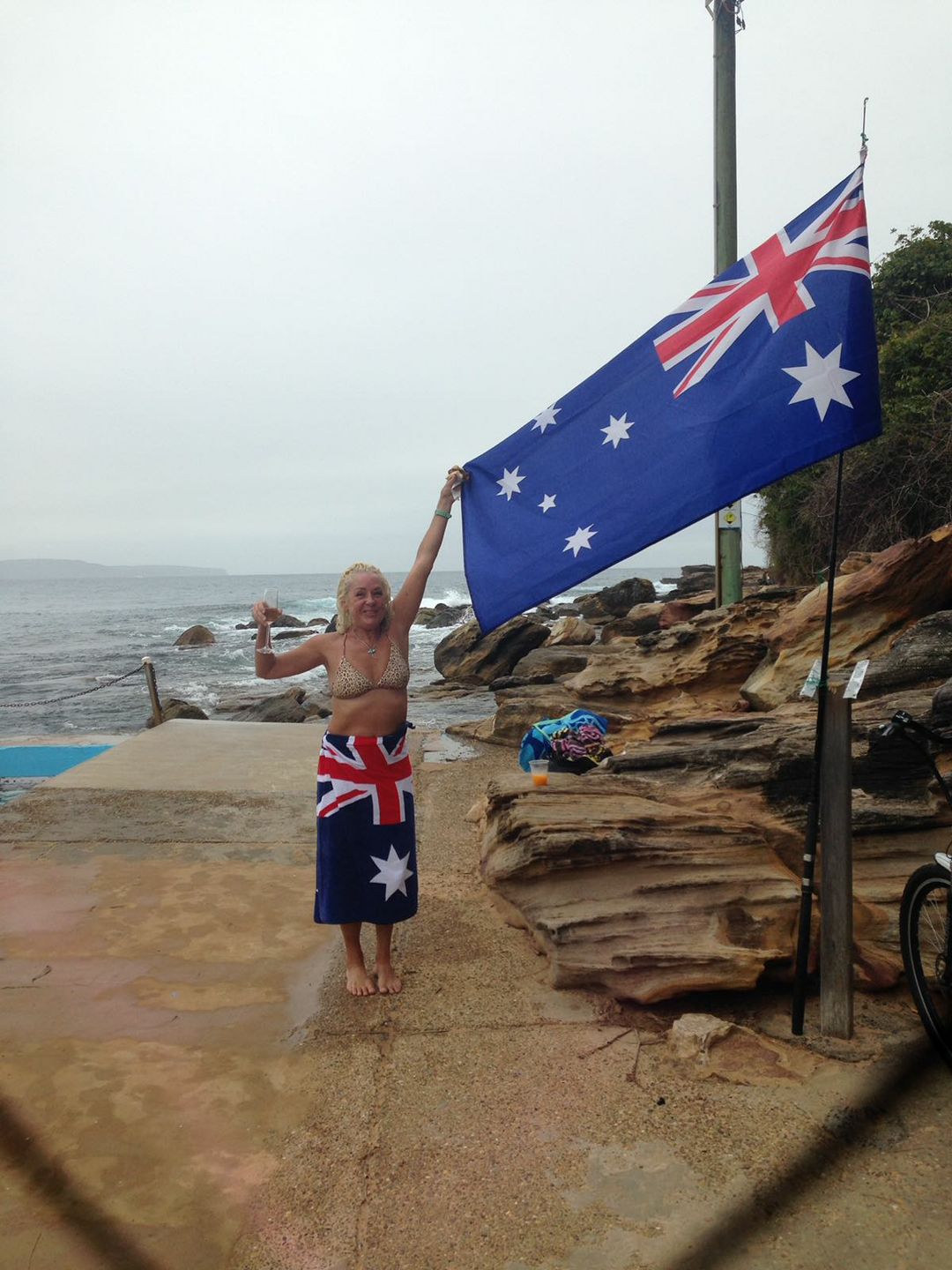 Australia Day at Palm Beach Rock Pool
My favourite is being with the animals you find in there.
I remember one day we were swimming along just near Black Rock and there was a Port Jackson shark just sitting on the bottom. Because I've spent so much time with my father diving around the rocks at North Avalon, and at South Avalon, for lobsters – a great trick; diving right down and putting your arm up a hole, not knowing if there's an eel up there or a wobbegong, I have little fear of what you may find n the ocean.
I dove down to look a little closer at this Port Jackson shark and grabbed it by the tail. My old friend Marcello, an Italian in his 70's, came swimming along behind me and as he did I put this shark up in front of him. He almost left the water entirely and ran along the top of it; 'whadda ya trying to do to me?!' he said, 'are you trying to kill me?! You give a me a sharka heart attack!'
There's also seals we see regularly. I haven't had a close encounter with a whale that close to the beach but there are pods of dolphins there that swim under us regularly as well. One day a half dozen dolphins came shooting under my girlfriend Sonya and I. We stopped and said to each other 'oh, did you see that, did you see that?!!'
They went behind us and we kept swimming and then just one came shooting up directly underneath us again. We stopped and said to each other 'oh, did you see that, did you see that?!!'
We kept swimming and as we came up, here's this dolphin sitting on the bottom of the sand just twisted up, looking at us as he swam up to it. As we got closer he just swam away - We stopped and said to each other 'ah, did you see that, did you see that?!!'
We kept swimming and here was that dolphin again, about 30 metres in front of us, sitting there waiting for us. He did it a third time – three times this dolphin sat and waited for us to catch up. I think that has been one of the most amazing experiences I've had out there.
When we come back from our swim we like to just float out to Jump Rock and back. While there we look for our friend 'Big Blue', this great big groper, who has his girlfriends hanging around him. Sometimes he's in closer and we'll swim over the top of him as he swims back out.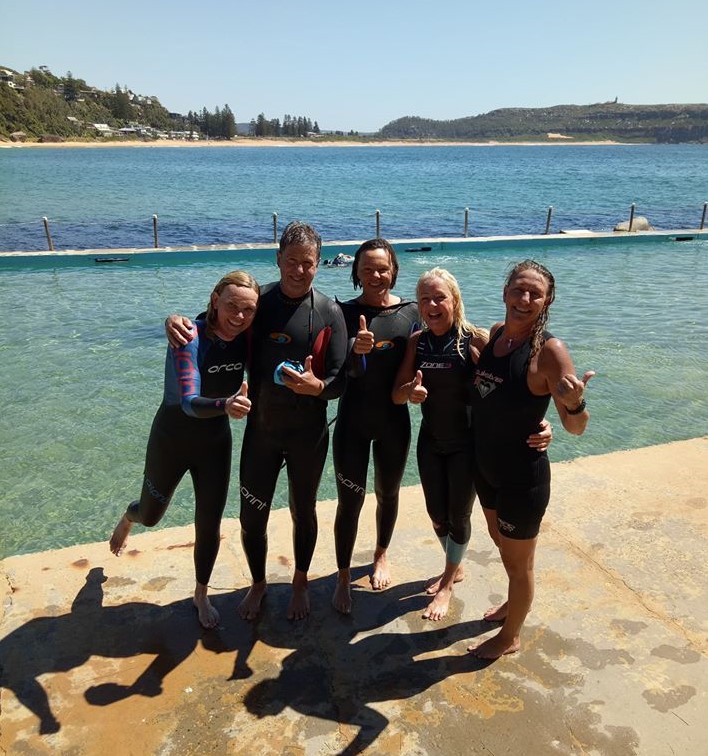 Margie and fellow Barrenjoey Breaker swimmers just after completing a to Barrenjoey and back 5.8 k swim, October 24 2017

You also have a reputation locally as a Palm Beach Rock Pool shark rescuer Margie – what's going on there?
Well, they're not really sharks, they're rays; the shovel-nosed ray or the banjo ray – although a lot of people call them 'shovel-nosed sharks' or 'banjo shark', probably because their tail and fin looks like a shark, but they are completely harmless. What's happening there is the fishermen who go out on the rocks to fish past the pool are throwing them in there because if they throw them back into the ocean after catching them they will probably take their bait again. So they throw them in the pool.
I get so excited when someone messages me to tell me there's something in the pool - another shark in the pool. I swim all around the pool until I find him and catch him by the tail and pull them out. I have rescued a few.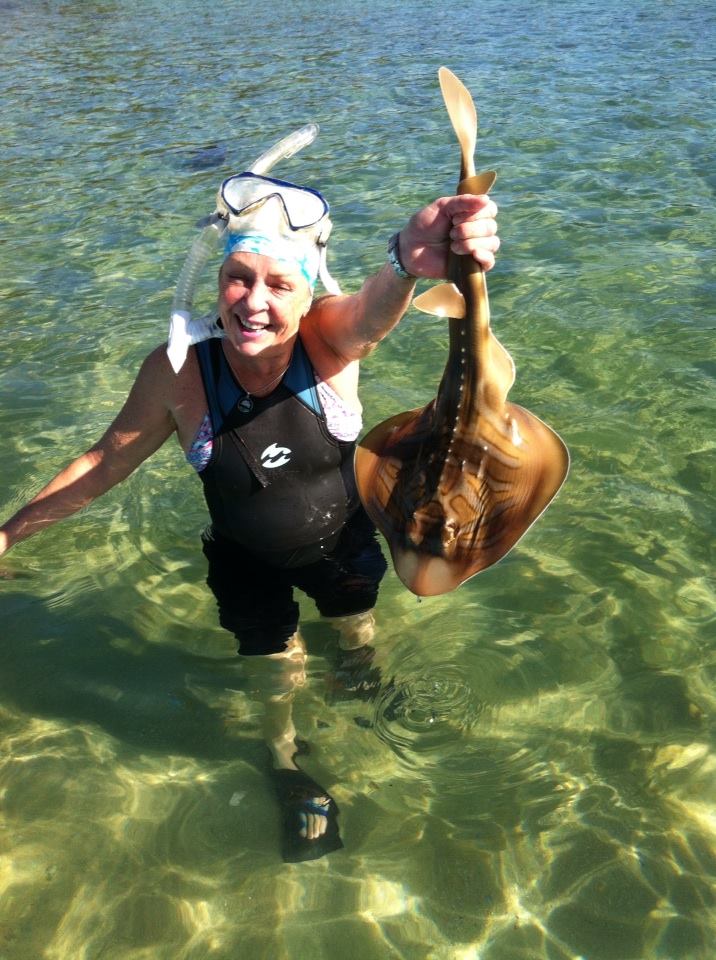 A Banjo saved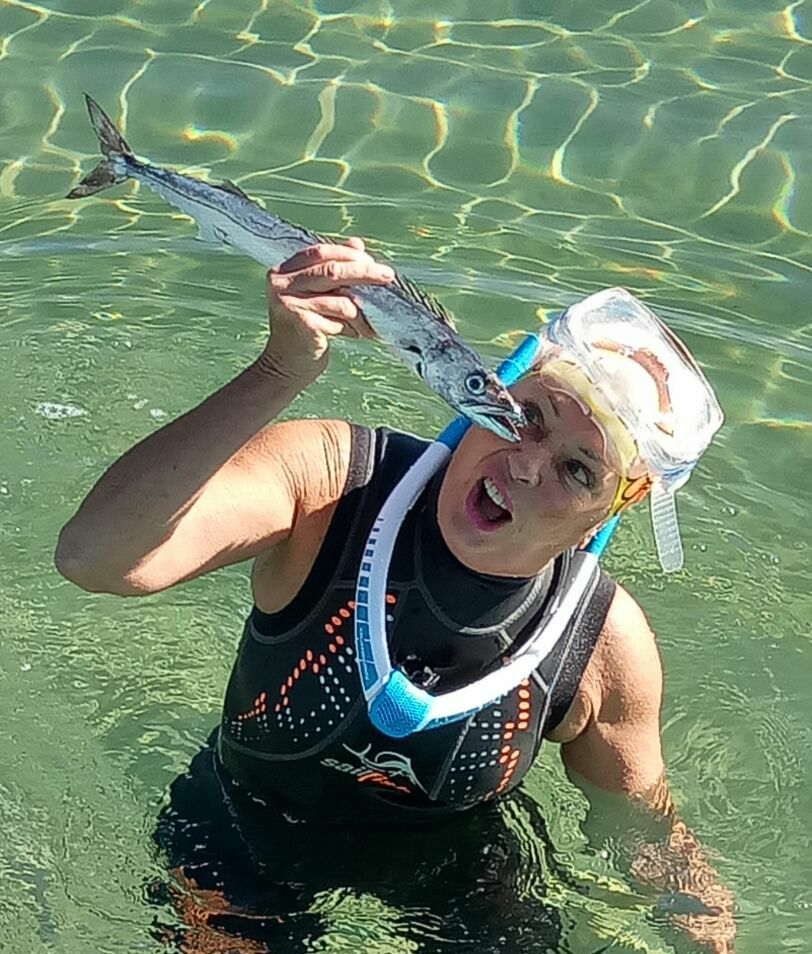 A Barracuda saved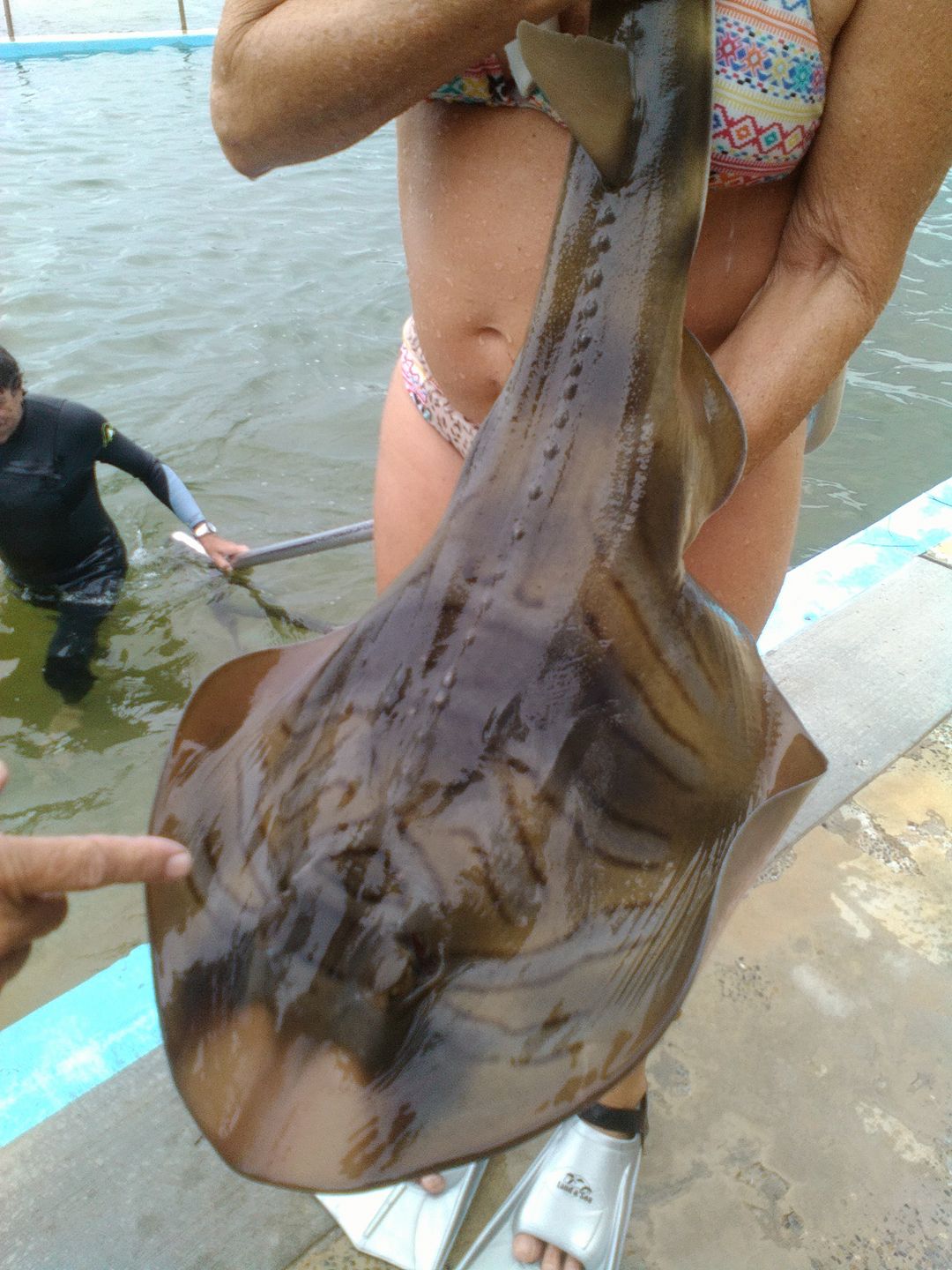 Another saved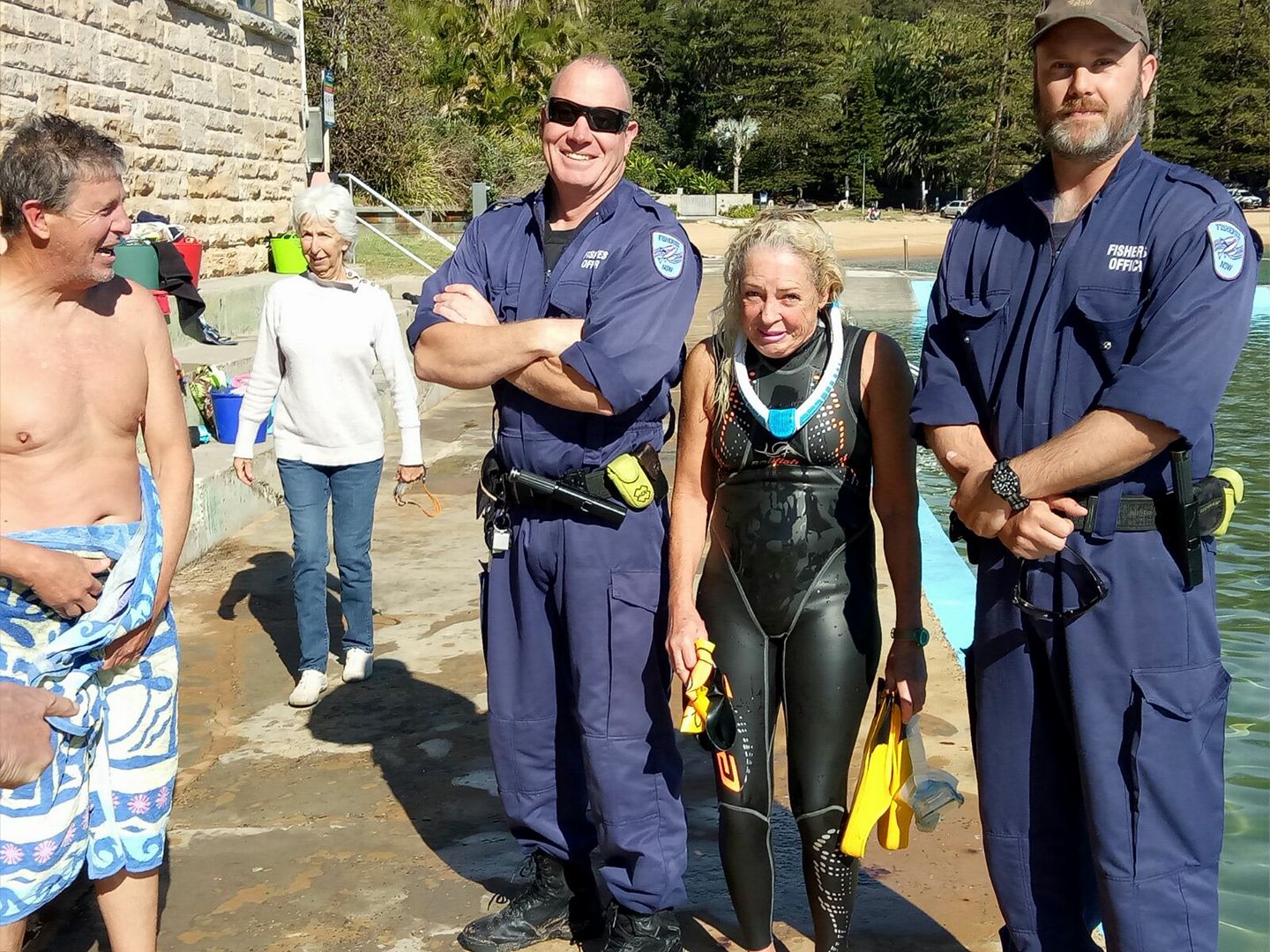 Mucking about with NSW Fisheries Officers, August 2017 - Margie had warned them off spearing 'her blue groper' earlier, and then they emerged from the sea and donned their uniforms!
It sounds as though you have had a very aquatic life – is that your dad again, his influence?
Oh yes – the ocean is my place, my haven, my fun, my peace.
What are your favourite places in Pittwater and why?
I love Avalon Beach; it's my familiar beach – because of dad, and dad's ashes are scattered out there. I love everything about Avalon beach – north and south, and the middle of Avalon, where dad's special stand is, with his plaque dedicated up there.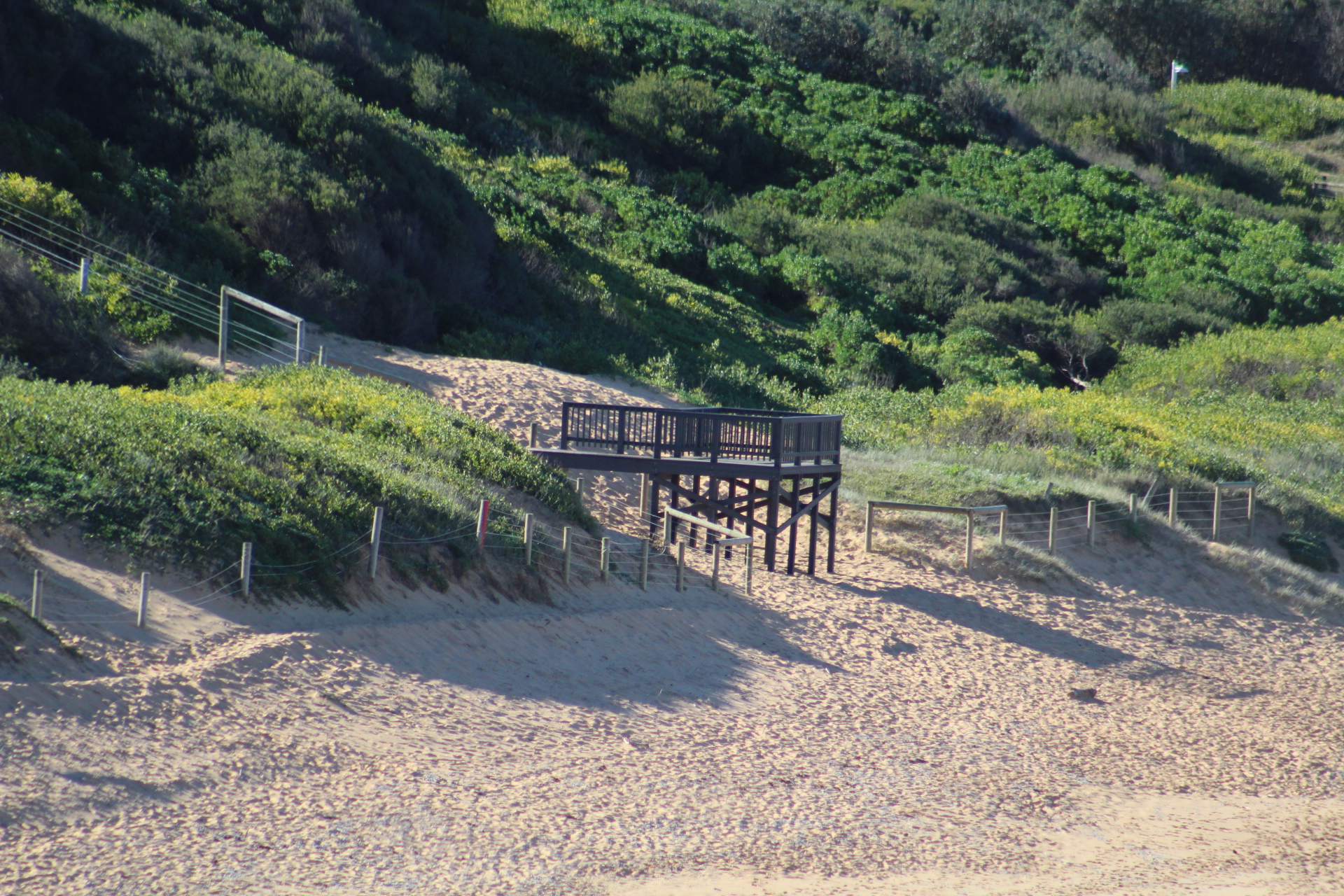 Maxs' place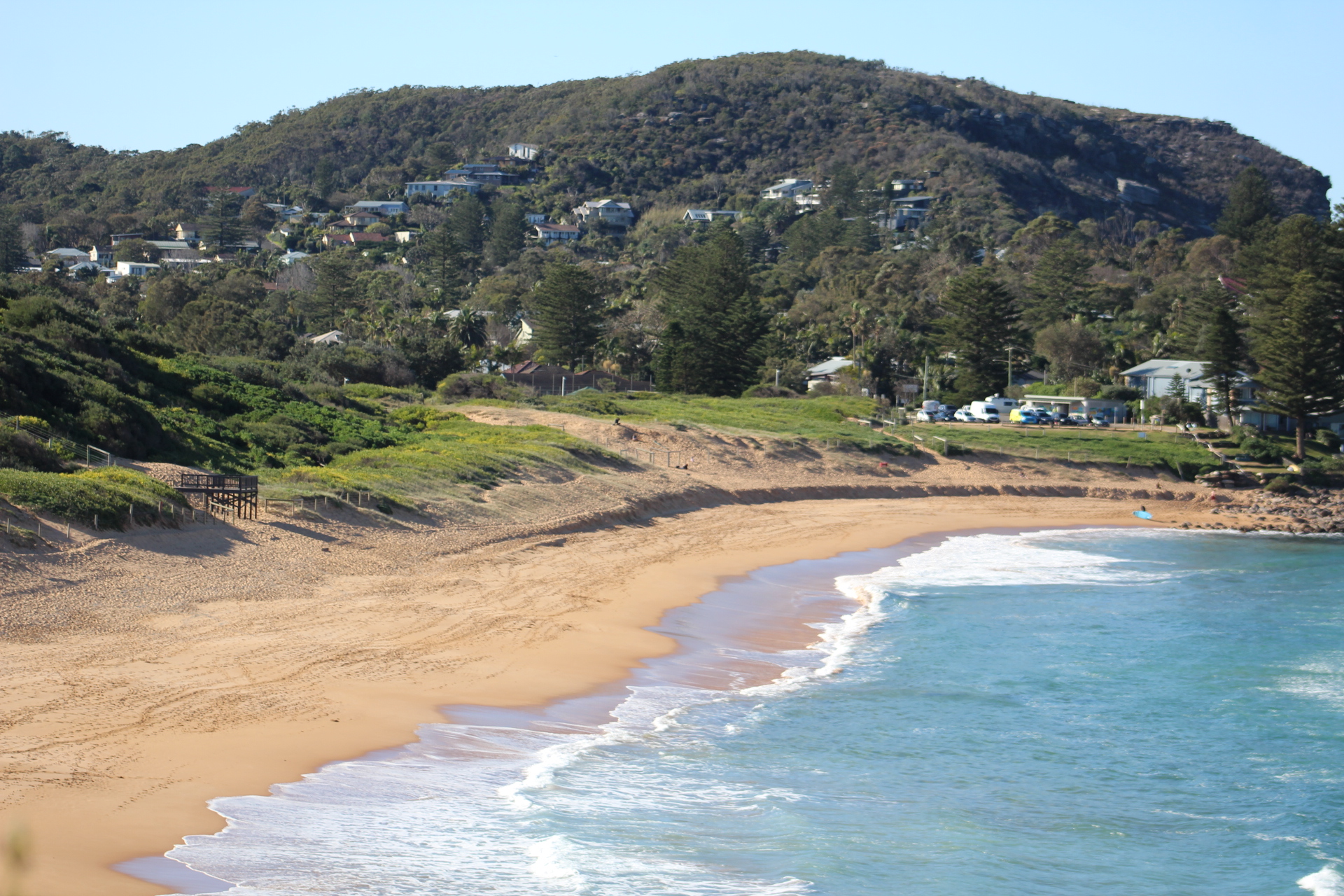 I still love body surfing, and he taught me how to body surf. All we use is a piece of plywood with a handstrap, so you don't lose it. Even last month I went out body surfing with the boys who all knew dad. I swim out to them and the first thing I ask is 'is he out here?' to which they say 'yeah, he's out here.'
We then catch waves and I just have this feeling of him being present and have this really strong connection with being there.
Palm Beach, on Pittwater is also special for me – just because we spent so much time out there, fishing. I love the Hawkesbury River, I love Careel Bay – again because of the family association and so many great memories in these places.
I also have a fondness for Clareville – I didn't know how great a spot this is until I had my own children, even throughout growing up here. I didn't even know there was a beach down there because mum always took us to Sandy Point. When I had Elizabeth and Ricky I took them down to Clareville beach.
Paradise Beach similarly has a family association – mum's grandmother used to go up there camping as a kid – they had land there. Kind of makes me wish we still had the boatshed at Careel Bay, the place at Palm Beach and that block of land on Paradise Beach.
What is your 'motto for life' or a favourite phrase you try to live by?
The ocean is my church and my religion is kindness.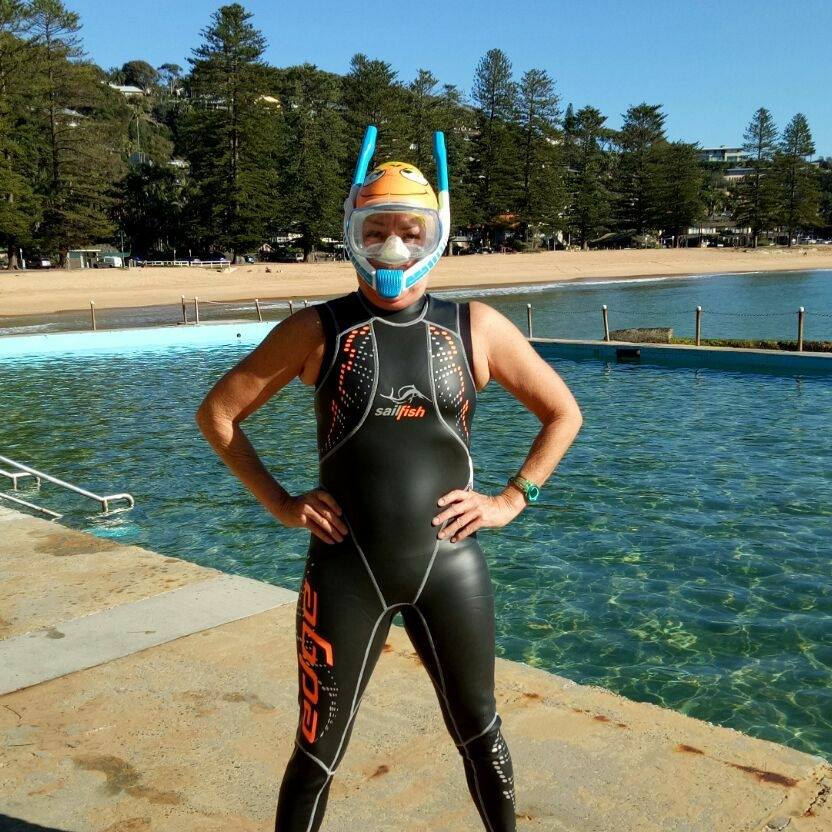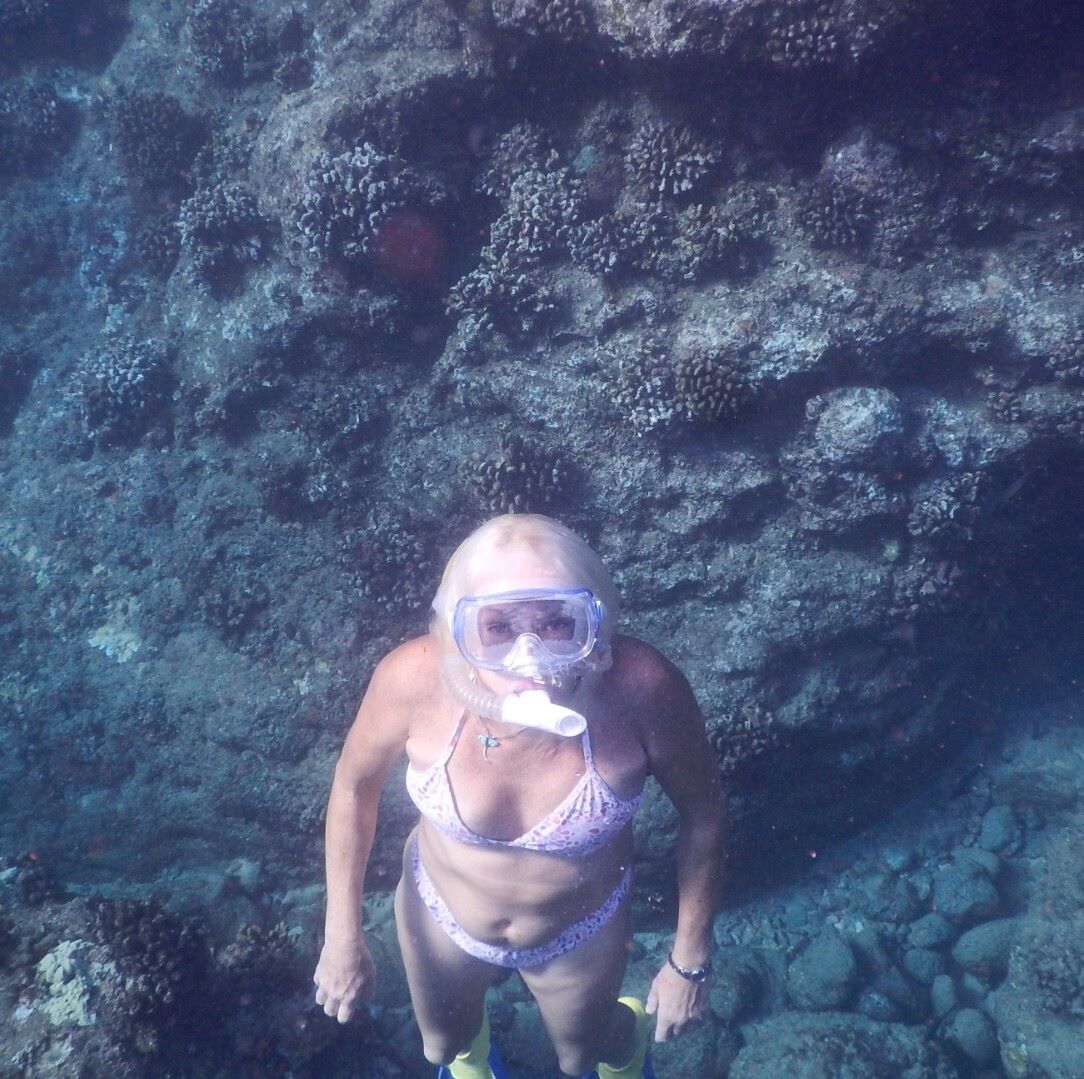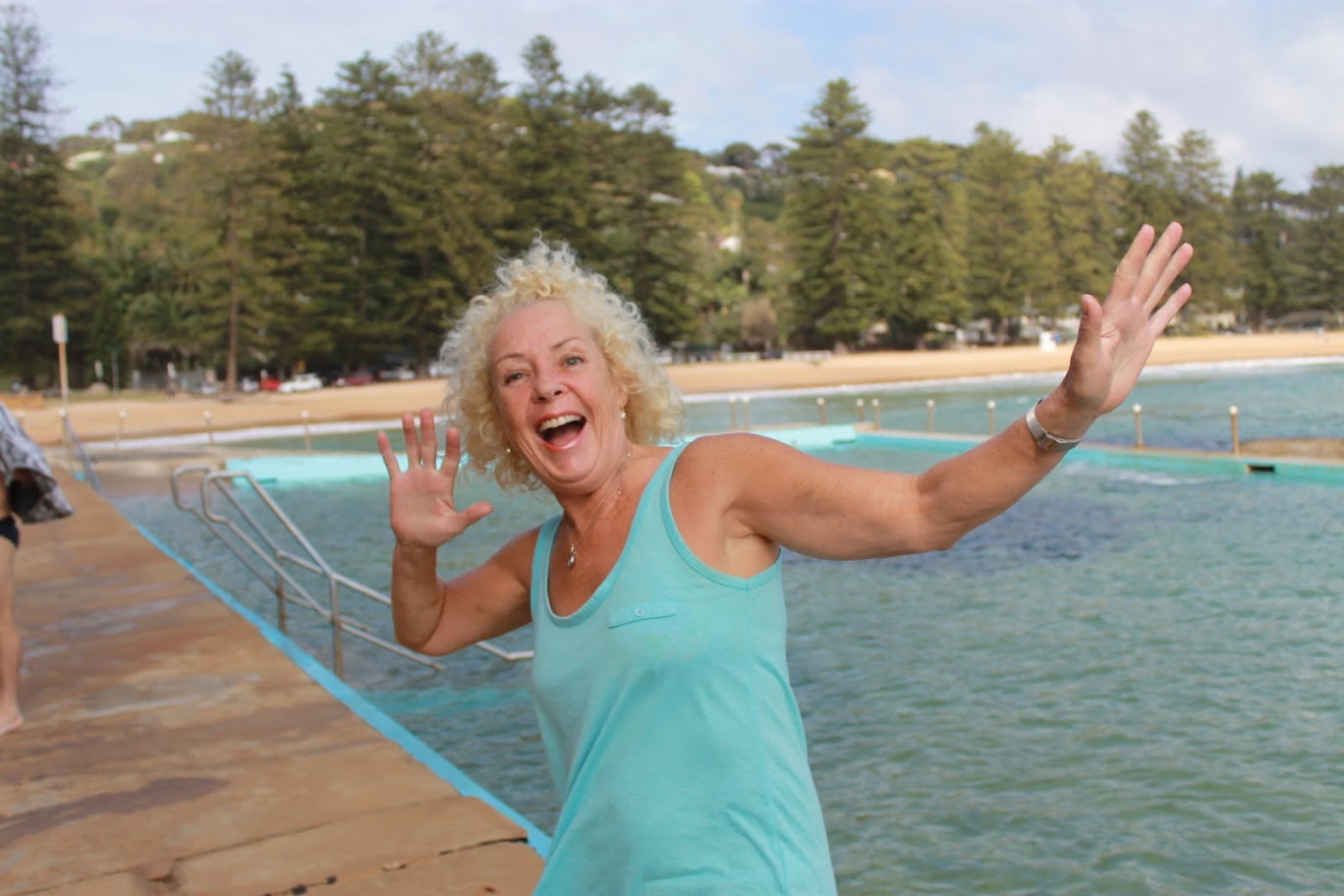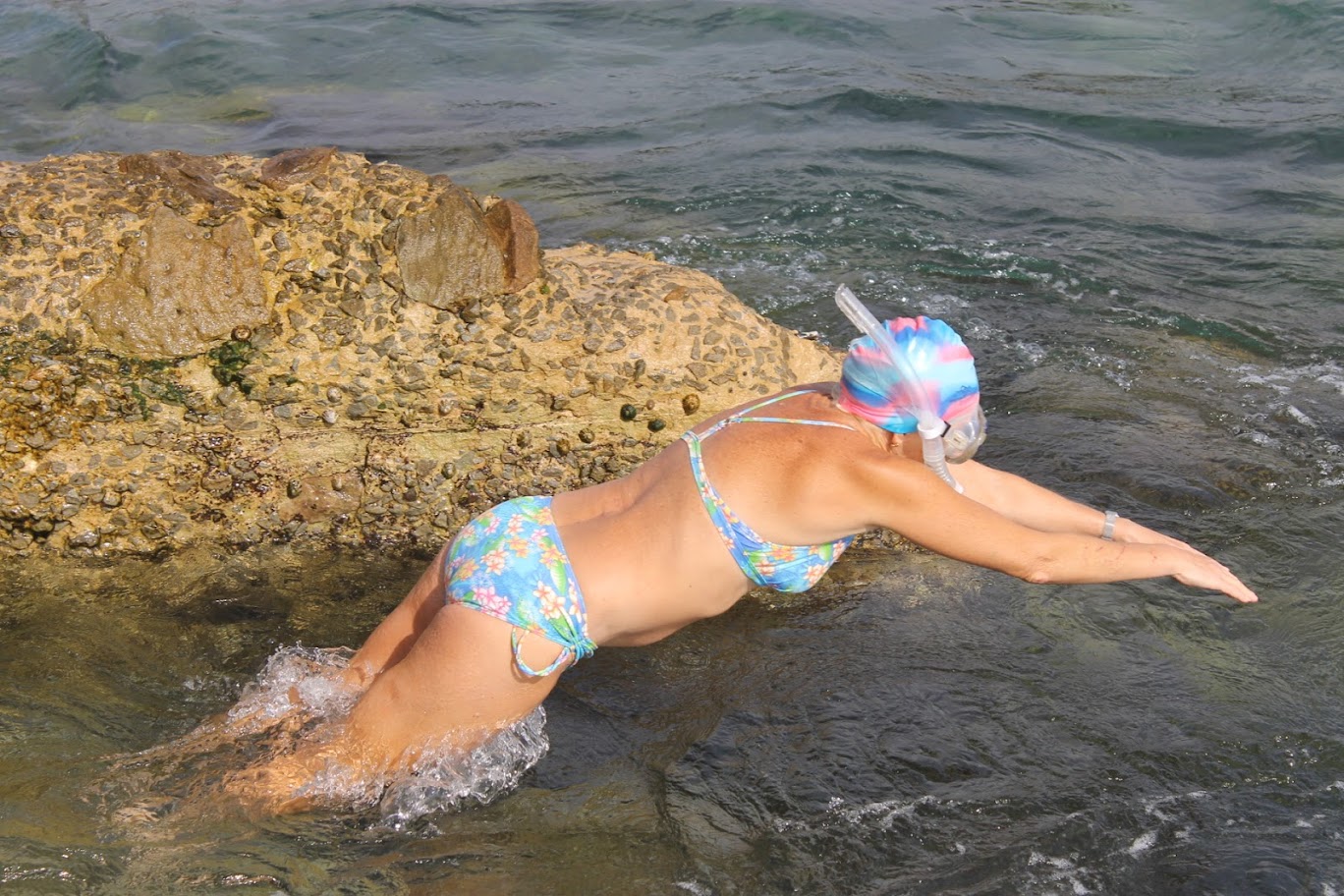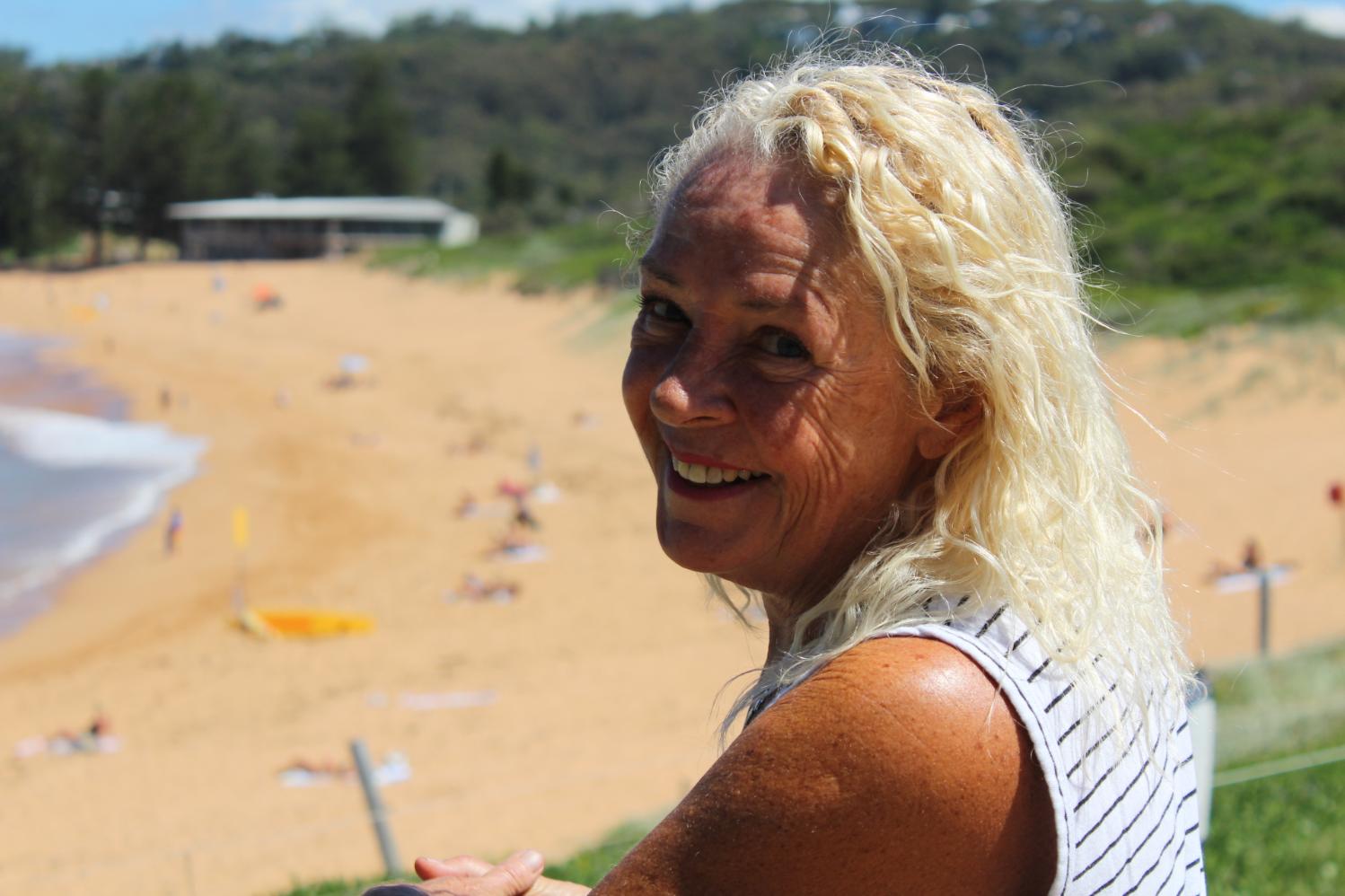 Notes
Woolloomooloo Police Boys' Club members who came to Avalon Beach during WWII - Profiles: Max Watt - Doug Crane - Reg Wood

POLICE SURFERS TO HELP NORTH SIDE CLUBS

A Police Surf Club will be formed to assist in the protection of beaches on the north side of the harbor. Warriewood Beach, near Mona Vale, has been suggested as headquarters.
It is proposed that surplus members assist in the patrolling of Avalon, Newport, Collaroy, Palm Beach, Dee Why, and South Narrabeen. The Police have star surfers in Alan Fitzgerald, Alan Fidler, Rothe Bassingthwaighte, Clem Walsh, Max Whitehead, Russ Crook, Gordon Cunningham, and L. Sharpe to form the nucleus of a powerful club. A foundation membership of more than 30 is expected.
Police "Boys" Training
Mr. J. R, Cameron, Chief Superintendent of the Examinations and Instructions- Committee, said the Surf Life-saving Association would welcome the formation of the Police Club. "With 3000 surfers in the Forces, we will find It difficult to adequately patrol beaches, especially those on the north side of the Harbor," he said. The Police Department is already assisting the Surf Association by training squads for beach patrol work at the Woolloomooloo Police Boys' Club. POLICE SURFERS TO HELP NORTH SIDE CLUBS (1941, July 9). The Daily Telegraph (Sydney, NSW : 1931 - 1954), p. 10. Retrieved from http://nla.gov.au/nla.news-article247503352
ONLY 2 LIFESAVERS GUARD AVALON BEACH
Only two of Avalon surf club's pre-war membership of 22 are now on patrol.
They are Walter Simmonds, 45-year-old president. and Reg. Ray, club captain. Mr. Ray, who lives in Drummoyne, travelled 30 miles, and Mr. Simmonds (Potts Point) 25 miles to patrol the beach last season. They were responsible for 20 rescues. Last year they had part-time assistance from four bronze medallion recruits. Those four members have since joined the fighting forces. The club will cease to function this season unless its membership grows.
The Liquid Fuel Control Board rejected Mr. Ray's application for petrol to' allow him to travel to Avalon to perform what he claims is a public duty. Mr. Simmonds said yesterday that the club was prepared to engage a professional lifesaver. "The Warringah Shire Council and residents of the Avalon district will each pay 50 per cent, of the life-saver's wages," he added. "During the Christmas holidays and other busy periods there are more than 1000 lives to protect." Any paid lifesaver available for the position can contact Mr. Simmonds. Phone BW3701. ONLY 2 LIFESAVERS GUARD AVALON BEACH (1941, October 14). The Daily Telegraph (Sydney, NSW : 1931 - 1954), p. 10. Retrieved from http://nla.gov.au/nla.news-article247623568
Surf Offer By Women
"Lack of adequate protection at Avalon Beach strengthens the claim for recognition of women life-savers.'' Miss Joyce Aldridge, captain of the North Curl Curl associate club, said this last night. She was commenting on the report that only two lifesavers guard Avalon. ' "There, are 20 women surfers at North Curl Curl, who could make Avalon a safe beach," she said. "The offer of the Bondi and Sydney Telephone Women's Swimming Clubs to assist to the protection of metropolitan beaches was rejected.
Welcome Socially
"The association' does not mind women helping them in social functions and bringing In money.
"But they shy at letting us get down to real lifesaving," added Miss Aldridge.
"I consider it essential that every woman should be able to swim well and understand the methods of rescue and resuscitation."
Mr. Jack Cameron, chief superintendent of examination and instruction, Surf Life Saving Association, yesterday granted permission for two squads from the Woolloomooloo Police Boys' Club to patrol Avalon Beach on Sunday. The Police Club boys' squads undergo their preliminary lifesaving examinations at Queenscliff Beach on October 25. Two applications for the position of paid lifesaver for Sundays and holidays were received yesterday by Mr. W. Simmonds, president of Avalon Club. Surf Offer By Women (1941, October 15). The Daily Telegraph (Sydney, NSW : 1931 - 1954), p. 10. Retrieved from http://nla.gov.au/nla.news-article247627330
POLICE BOYS ANSWER S.O.S.
Ten members of the Woolloomooloo Police Boys' Club have joined the Avalon Surf Club. They answered the appeal made by the Avalon club for new members.
Owing to enlistments in the Fighting Forces, the club opened the season with two members— the president (Mr. W. G. Simmonds) and captain (Reg Ray). The 10 police boys passed their preliminary examination at Avalon Beach on Sunday in preparation for the bronze medallion. Among them are five well-known amateur wrestlers. Four of them are State novice champions. They are H. Kerslake (welter-weight), E. Dash (middle-weight), B. Wilkins (featherweight), and B. Harris (flyweight). L. Sweeney Is Woolloomooloo Police Boys' Club light-heavyweight champion.
Donald Duff was runner-up In the State featherweight boxing championship. Russell Crook, member of the Surf Association board of examiners, has trained the boys for beach protection. POLICE BOYS ANSWER S.O.S. (1941, October 28). The Daily Telegraph (Sydney, NSW : 1931 - 1954), p. 10. Retrieved from http://nla.gov.au/nla.news-article247629240
WRESTLER-SURFER WINS RACE, MAKES RESCUE
Eddie Dash yesterday won Avalon Surf Club's opening surf race, and brought off the first rescue at the beach this season. He swam out 120 yards to bring in a bather who had been swept out in a channel. Dash will represent Woolloomooloo Police Boys' Club in the State wrestling championships at Sydney Stadium tomorrow night. WRESTLER-SURFER WINS RACE, MAKES RESCUE (1941, November 24). The Daily Telegraph (Sydney, NSW : 1931 - 1954), p. 8. Retrieved from http://nla.gov.au/nla.news-article248714366
Boys' Club Members As Beach Patrols',
Members of the Woolloomooloo Police Boys' Club will patrol Avalon Beach during the summer season, it was stated at last night's meeting of the Surf Life
Saving Association.
Eleven of Avalon Surf Club's 14 members have joined the services.
Rothe Bassingthwaighte, a Boys' Club member, will instruct his fellow members in life saving and resuscitation.
He will use a reel borrowed from the Bondi Surf Club. Boys' Club Members As Beach Patrols (1942, August 5). The Daily Telegraph (Sydney, NSW : 1931 - 1954), p. 8. Retrieved from http://nla.gov.au/nla.news-article247989092
Some More Of Margies Photos Taken Underwater: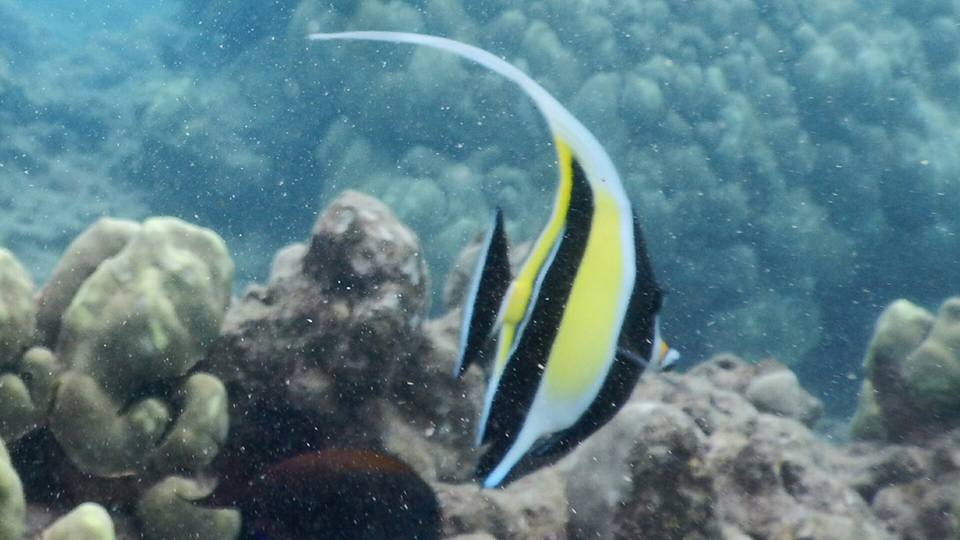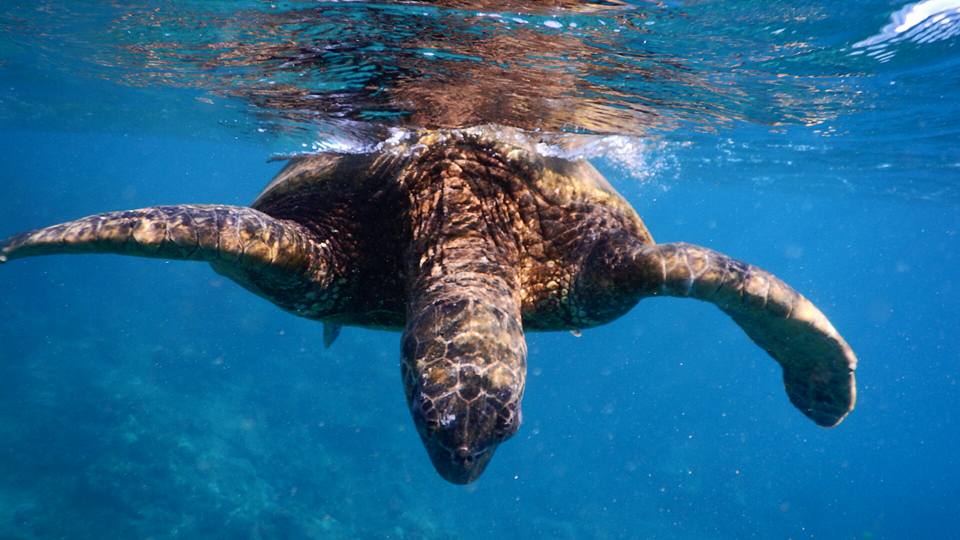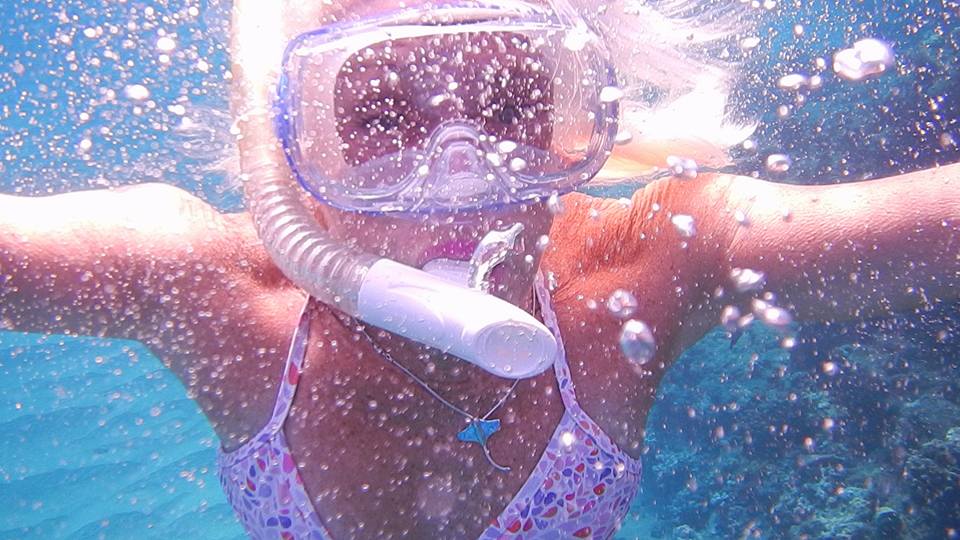 Photo by husband Jeremy