November 20 - 26, 2022: Issue 563

Margaret Mulvey AM (Lady Schlink) Of Careel Bay
1916 - 2001
While researching for materials for a page on
Careel Bay
habitué
Sir Herbert Henry Schlink
the remarkable lady known as Margaret Mulvey, 'Meg', appeared again and again through his records. A small insight into Meg Mulvey ran as a history insight in 2012, although it was obvious there was much more to this story.
Pittwater residents spoken to clearly remembered this lady and passed on small insights over the years, all of them referring to her gentle spirit and kind and loving nature.
Margaret Mulvey was not only an exceptional Doctor in Obstetrics and Gynaecology, and a brilliant teacher beloved by all whom she helped during her career, she was also an author, a supporter of Painters, Poets and Writers and Thespians, while her home at Careel Bay, 'Marara', was a salon of the first degree open to many and all throughout the decades this property was owned by the Schlinks.
Recently, and fortuitously, Meg's still resident in Pittwater relatives kindly forwarded one of the Tributes read at her Service. Penned by Dr. Nic David Jools AM, an obstetrician gynaecologist who later went on to teach medicine at the University of Sydney, his collated memories from many of those whom came in contact with Meg shares insights into her long career and the happy times so many spent at Careel Bay as her guests. This reads a little like a 'who's who' of Sydney Medicine during her lifetime.
Dr. Jools Tribute from the Celebration of her life in December 2001 runs below.
Margaret Mulvey was the eldest daughter and born November 12th 1916 at Concord to Roy Dadson Mulvey and Gladys Esme (nee Taylor) who met while they were some of the first teachers at Parramatta High School when it was still in Macquarie street.
MULVEY-TAYLOR.-December 20, 1915, at the Congregational Church, Pitt-street, by the Rev. N. J. Cocks, M.A., Roy Dadson, son of Mr. and Mrs. G. W. Mulvey, of Mayfield, Newcastle, to Gladys, eldest daughter of Mrs. R. C. Taylor, Concord. Family Notices. (1916, January 29). The Sydney Morning Herald (NSW : 1842 - 1954), p. 16. Retrieved from http://nla.gov.au/nla.news-article28782345
Mrs Mulvey remained teaching while her husband served in WWI and on his return produced their first son, Eric William (1919). Roy Mulvey worked as a GP on his return. Two other sons and a daughter were born in the 1920's. Mrs Mulvey died 8 days after a fourth son, stillborn, in 1929, when Margaret was just 12 years old, an experience and memory that seemed to mark the rest of her life. The family was living at Oberon then but moved to Bathurst soon after.
Margaret was a highly intelligent sensitive and loving woman, which was apparent even when she was still young:
BATHURST HIGH SCHOOL PUPIL'S SUCCESS
Miss Margaret Mulvey, a student of the Bathurst High School. has been informed that she has won the 'Mrs Septimus Harwood Peace Prize' for 1933. This prize, a cash one to the value of £10 is offered annually by the N.S.W. branch of the London Peace Society to country High School pupils who have passed the Intermediate examination, and who are engaged in work leading to the Leaving Certificate. The subject for this year's essay was the following topic: 'What Should be the attitude of youth towards the prevention of war'. A similar prize is for pupils of metropolitan High Schools. A pupil at St. George's High School is this year's winner. BATHURST HIGH SCHOOL PUPIL'S SUCCESS (1934, June 15). National Advocate (Bathurst, NSW : 1889 - 1954), p. 2. Retrieved from http://nla.gov.au/nla.news-article159741999
FOR PEACE
Lieut. Governor's Plea SYDNEY, Tuesday.
'The idea of warfare as a means of settling international quarrels is barbarous and abhorrent to my mind.' declared the Lieut. Governor, Sir Philip Street, when presenting prizes at the Peace Society's meeting to-day. 'However ardent lovers of peace may be, we are forced to admit that there are circumstances under which, hateful as the necessity may be, a nation may be compelled to go to war. A policy of peace at any price would be an ignoble policy.'
Miss Margaret Mulvey, a student of the Bathurst High School, was presented by Sir Philip with a cheque for £10 for an essay on International good will. FOR PEACE (1934, June 27). National Advocate (Bathurst, NSW : 1889 - 1954), p. 2. Retrieved from http://nla.gov.au/nla.news-article159750601
THE LEAVING
The List of Honors Bathurst Successes SYDNEY, Tuesday.
List of first-class honors in connection with Leaving Certificate Examination were issued to-day by the Department of Education, and included the following Bathurst District scholars; English: Noni Braham (Bathurst High School) Jessie U. Curshaw (Orange High School), Margaret Mulvey (Bathurst High School), Anne B. Suttor (Marsden Church of England Girls' School, Bathurst), Elizabeth Dietrich (Orange High School), Joan McDonald (Cowra Inter. High School). Modern History: Margaret Mulvey (Bathurst High School) ; Noni Braham (Bathurst High School) . Physics: Horace P. Klower (Bathurst High School), Douglas G. Humphries (Bathurst High School) . Chemistry: Horace F. Klower (Bathurst High School). THE LEAVING (1935, January 16). National Advocate (Bathurst, NSW : 1889 - 1954), p. 3. Retrieved from http://nla.gov.au/nla.news-article159827163
Meg then attended the University of Sydney:
Riding and tennis are simply the sports," say Margaret Mulvey, Betty McKibben, Elwyn. Hayes, Joyce McCartney, and Kathleen Webb, who are playing as the "Bathurst Would-bes." Each and everyone of them is as much at home in the saddle as on the court — and that is saying a good deal.
Margaret has just completed her first year of medicine at the Sydney Varsity, and will go back to the country for a spell before next term begins. The LIFE of SYDNEY (1936, January 16). The Daily Telegraph (Sydney, NSW : 1931 - 1954), p. 10. Retrieved from http://nla.gov.au/nla.news-article246485787
DEBUTANTES
University Ball
FANFARE OF TRUMPETS
Nine debutantes will be presented to the Chancellor of the University, Sir Mungo MacCallum, and Lady MacCallum at the annual Sydney University Settlement ball to-night. The presentation will take place in the Creal Hall, and will be preceded by the procession of University dignitaries, announced by a fanfare of trumpets.
CARRYING fan-shaped bouquets, their partners wearing University caps and gowns, the white-clad debutantes should present a picture In keeping with the dignity of the Great Hall. They are the Misses Sheila Chasey, Jacqueline Miller, Leonie Martin, Dorothy Lober, Joy Bramble, Rahda Rayner, Lorna Wilson, Joyce Miller, and Jean Hogg.
Dancing will take place In the Union, and the Union refectory will be decorated with blue hydrangeas and gold dahlias. In the official party will be, in addition to the Chancellor and Lady MacCallum, the Registrar (Mr. W. A. Selle) and Mrs. Selle, Dr. and Mrs, W. J. Hull, Mr. and Mrs. Faunee Allman, Lady Hosie, Mrs. B. Muscle, and Miss Isobel Fldler. Lady MacCallum has chosen a gown of mist grey satin, threaded with gold. Mrs. Harold Dew, who will present the debutantes, will wear a flame-colored French model, fashioned with a long train, and a collar finishing in a bow. Red gardenias outline the high neck of the black frock to be worn by Mrs. Selle. Mrs. Hull will wear black velvet, the corsage adorned with a posy of violets.
Parties Arranged
Dr. A. .H. Martin, and Mrs. Martin, wearing blue flat crepe, have arranged a party which Includes Dr. and Mrs. W. L. Kirkwood, Mr. and Mrs. G. Davidson, Mr. and Mrs. S. Macdonald, Misses Jean Treweeke, Margaret Mulvey, E. Baldock, and Mr, James Baldock. A large party has been arranged by Professor and Mrs. Macdonald Holmes and the Chief Secretary (Mr. Chaffey) and Mrs. ChafTey. Mrs. Holmes will be frocked in black lace and taffeta. Included In the party will be Professor C. G. Lambie, and Mrs. Lambie, wearing black, with net sleeves, Professor and Mrs. Harvey Sutton, Mr. and Mrs. Alan Bramble, of Newcastle, Dr. and Mrs. Garnet Halloran, Misses Betty Lawrenoe, Kitty Back, Laura Chaffey. Dr. Kempson Maddox, Messrs. B. Chaffey, L. Owen and J. Rutherford, and Harold Maze.Fink Fink and gold changeable taffeta is the choice of Mrs. C. E. Fawsitt, who will accompany Professor Fawsitt. Their daughter, Miss Beatrice Fawsitt, will be frocked in gold lame. Mrs. Gregory McGirr, who will entertain a large party of undergraduates. including her daughter, Miss Beatrice McGirr. will be gowned in amethyst velvet, featuring scarf sleeves of lace. TOPICS FOR WOMEN (1936, April 23). The Sun (Sydney, NSW : 1910 - 1954), p. 38 (LAST RACE EDITION). Retrieved from http://nla.gov.au/nla.news-article230829859
By 1940 Margaret and her brother Eric were both at Sydney University, Margaret graduating that year with Honours (Bachelor of Surgery). In 1942 the first of her brothers, John Dadson, enlisted. In 1943 Eric William enlisted and died a few months before his son was born in 1945 of disease while serving in Borneo. In 1945 Peter Maxwell Mulvey, then a few months short of being 18, enlisted. Roy Dadson, their father, also re-enlisted. This family's sons and father served in the Army, Air Force and Navy.
During this period Margaret, or 'Meg' as she was popularly known, began her career in 1941 as a Junior Medical Officer at the Royal Prince Alfred Hospital. By 1943 Dr Mulvey was Clinical Superintendent at the King George V Hospital for Mothers and Babies which was attached to the RPA. Around this time she also began to come into contact frequently with Dr Herbert Schlink, a man who had served in WWI, was Chairman of the RPA with a like interest and focus, like Dr Mulvey, in the field of women's health, particularly obstetrics and gynaecology. He was one of the Founders of King George V.
A keen skier, man who sought funds to improve the hospital and rewrote much of the strata of private and public patient definitions in his time, also owned a few acres on Careel Bay called 'Marara'.
This was his favourite place and Meg was taken there on numerous occasions during her courtship as this gent also had a touch of poet about him… "It's the tracery of the trees I want to share." (from: A HOSPITAL REMEMBERS ITS 'CHURCHILL'. (1973, September 5). The Australian Women's Weekly (1933 - 1982), p. 15. Retrieved from http://nla.gov.au/nla.news-article52260970)
On the 28th of June 1945, at St Mary's Cathedral, Sydney, Margaret married Herbert. Theirs was to be a marriage that focused on the passion they shared; bringing new lives into the world and ensuring the women who gave birth survived.
Medical Visitors From Sydney: Dr Herbert H. Schlink, chairman of directors of the King George V Hospital, Sydney, who is in Melbourne, is accompanied by his wife, whom he married shortly before coming here, so their trip is in the nature of a honeymoon, though Dr Schlink is here on business as well. His wife was formerly Dr Margaret Mulvey, deputy superintendent of the same hospital. She is a daughter of Dr Mulvey, of Bathurst, and the late Mrs Mulvey. She will go into partnership with her husband, "as a wife and a doctor," as he put it. THE LIFE OF MELBOURNE. (1945, July 12). The Argus (Melbourne, Vic. : 1848 - 1956), p. 8. Retrieved from http://nla.gov.au/nla.news-article974929
This small insight also reiterates that although Margaret was effectively Mrs. Schlink she retained her own surname, or that of her father, unlike so many other women who became 'Mrs. Smith' or 'Mrs. Brown' and lost even their own first name after marriage. Throughout her career Meg remain 'Dr. Mulvey', an indication of the respect with which she was regarded as well as her work in her chosen field.
ROYAL COLLEGE CEREMONY
Fellows Admitted
Five Fellows and 12 members were admitted to the Royal College of Obstetricians and Gynaecologists by the vice-president, Sir William Fletcher Shaw, at the University last night. In addition one Fellow and one member were admitted in absentia.
Two women were admitted, Dr. Ida Saunders as a Fellow and Dr. Margaret Mulvey as a member.
Professor Bruce Mayes presented the Fellows and members individually to Sir William Fletcher Shaw, ac-cording to the tradition and ceremony of the Royal College. The first regional council in Australia of the Royal College was also inaugurated. Its chairman is Dr. F. A. Maguire.
Those admitted to the Fellowship of the Royal College were: -
John Nicholas Chesterman, Gordon Bradley Lowe, Ida Blanche Saunders, Henry Bruce Williams, Thomas Dixon Hughes, and, in absentia, Hugh Sylvester McLelland.
Those admitted to membership were: -
Elton Dudley Holman, Marcus Mathew Kennedy, John Wallace Knox, Robert Mackey, Margaret Mulvey, Kenneth Stephen Richardson, Lionel Pelham Saps-ford, George Grafton Lees Stening, Mal-colm James Lees Stening, Albert Stuart Bradridge Studdy, Mervyn McAuley White, Gordon Neville Young, and in absentia, Roger Burnett Salter. ROYAL COLLEGE CEREMONY (1947, March 8). The Sydney Morning Herald (NSW : 1842 - 1954), p. 3. Retrieved from http://nla.gov.au/nla.news-article18006937
Mrs. Bertie Schlink entertained at her flat after the ceremony, in honor of her sister, Mrs. Colin Buchanan, formerly Helen Mulvey, who received her B.A. degree. Pages for Women (1948, May 30). The Daily Telegraph (Sydney, NSW : 1931 - 1954), p. 28. Retrieved from http://nla.gov.au/nla.news-article248272331

Meg and Bertie Schlink are spending the holidays at their house at Careel Bay. They usually spend their weekends there. The Jottings OF A LADY ABOUT TOWN (1946, December 29). Truth (Sydney, NSW : 1894 - 1954), p. 33. Retrieved from http://nla.gov.au/nla.news-article168773420

The Schlinks had a very happy and successful marriage. Although they did not have any children they did bring thousands, literally, into the world through careers that spanned over a hundred years between the two of them. Their research, articles and advances in women's health and medicine may have healed the deep wound Dr Mulvey experienced while still a young girl. A focus on the treatment of pelvic cancer, its early detection and radical surgical extirpation saw Meg supporting her husband's pioneering the use of cobalt ray therapy in treating pelvic cancer and instigated the systematic follow-up of cancer patients. During their downtime they dwelled at Careel Bay, entertaining and gardening.
In 1954 Dr Schlink was recognised for all his, his public services and his service to medicine and was created Knight Bachelor. Margaret became Lady Schlink. Sir Schlink passed away in 1962. Her father had passed away a decade prior to this: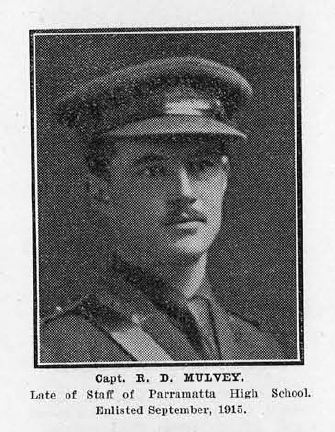 Roy Dadson Mulvey
Officer, N468940
Enlisted: 20 February 1915
Last Rank: Captain
Last Unit: 30th Infantry Battalion
Born: Mayfield, Newcastle, New South Wales., 3 November 1889
Home Town: Mayfield East, Newcastle, New South Wales
Schooling: East Maitland High School, New South Wales, Australia
Occupation: Teacher
Died: 15 August 1952, aged 62 years, at The Hague, S-Gravenhage, Zuid-Holland, Netherlands
Memorials: Cook's Hill Superior Public School , Maitland High School Roll of Honour, Mayfield Public School Honour Roll, Sydney Technical High School WW1 Roll Of Honour
Dr. R. D. Mulvey, formerly of Newcastle, died suddenly in England only three weeks after his second marriage. Dr, Mulvey, who was educated at East Maitland High School, was Government Medcal Officer for Bathurst at the time of his death, He was born in Newcastle in 1889.
He left for a holiday in the United States, England and the Continent in April, and recently married Miss Vera Clemo. He was to have sailed for Australia on Wednesday.
Dr. Mulvey obtained his B.A, and B.Sc. before World War I, and entered the N,S.W. Department of Education, He was awarded a scholarship to Cambridge University in research on the teaching physics and chemistry in high schools, but did not take it, because he enlisted in the A.I.F.
He became a Captain, was Mentioned In Dispatches in 1916, and awarded the Military Cross in 1917.
He graduated in 1923, and was two years at Randwick Military Hospital before going to Oberon. In 1930 he went to Bathurst, where he also he became Medical Officer and President of the Western Medical Association.
In 1938 he was appointed representative for the Medical Association on the Royal Commission on Insurance.
His first wife died 26 years ago, Dr. Mulvey is survived by sons John and Peter (Bathurst), and daughters, Mrs Colin Buchanan (Bathurst) and Mrs. H. H. Schlink (Dr. Margaret Mulvey, of Sydney). Miss M. Mulvey, of Church street, Newcastle, is a sister Mr. Colin Christie, grandfather, was a Mayor of Newcastle. - Newcastle Morning Herald and Miners' Advocate (NSW : 1876 - 1954) 18 August 1952
Meg continued her work as a Dr. as well as being a bastion for other women going through the University:
FAREWELL PARTY.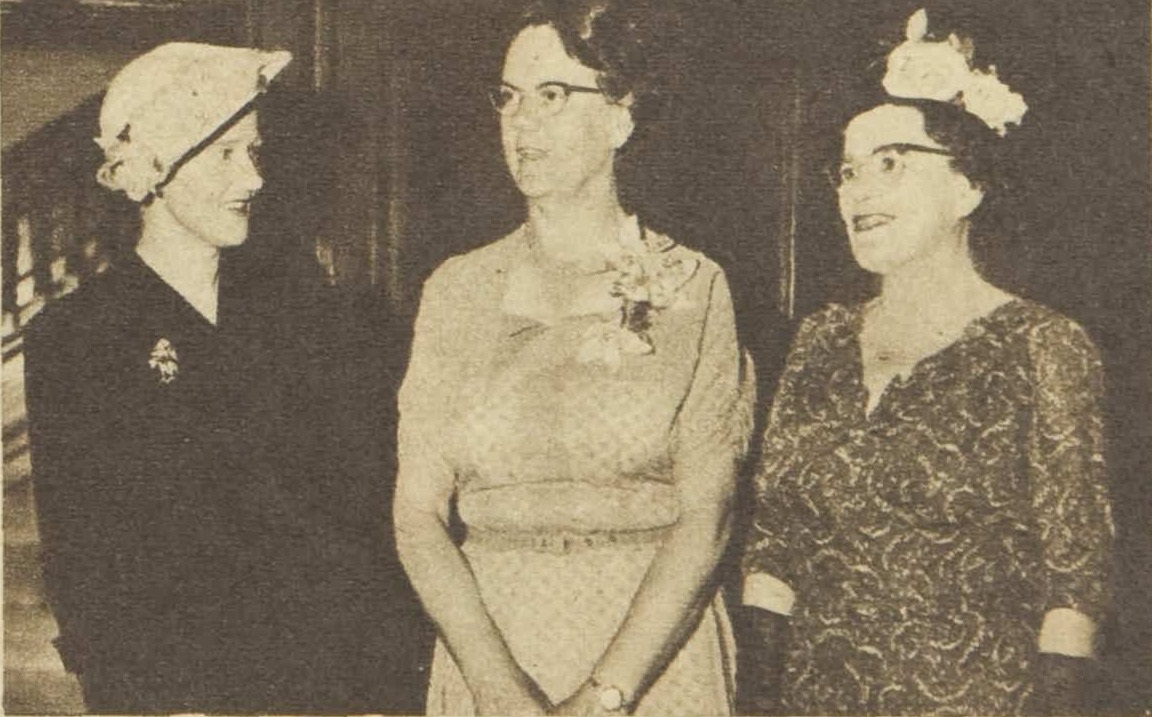 The Council of the University Women's College gave a party for the retiring principal, Miss Betty Archdale. With Miss Archdale are Dr. Margaret Mulvey (left) end Miss Kate Ogilvie (right). SOCIAL JOTTINGS (1957, November 6). The Australian Women's Weekly (1933 - 1982), p. 15. Retrieved from http://nla.gov.au/nla.news-article51190278

In January 1986 Margaret Mulvey was appointed Member of the Order of Australia, for her 'service to medicine, particularly in the field of obstetrics and gynaecology, and to the community' (as Margaret Mulvey). In 1990, now 74, Dr Mulvey retired.
To be Members in the General Division of the Order of Australia (A.M.)
Dr Margaret MULVEY,
88 Cabarita Road, Careel Bay, NSW 2107
For service to medicine, particularly in the field of obstetrics and gynaecology, and to the community.
AUSTRALIA DAY 1986 HONOURS (1986, January 25). Commonwealth of Australia Gazette. Special (National : 1977 - 2012), p. 1. Retrieved from http://nla.gov.au/nla.news-article240546088
Margaret lived at Marara until mid-2001 when health necessitated her being moved to a nursing home. In December of that year she passed away.
Her career chronology
1941 - 1942
Career position - Junior Resident Medical Officer/Senior Resident Medical Officer at the Royal Prince Alfred Hospital, New South Wales
1942 - 1945
Career position - Clinical Superintendent at the King George V Hospital and Royal Prince Alfred Hospital, New South Wales
1945 - 1979
Career position - Honorary Medical Officer at the King George V Hospital, New South Wales
1946 - 1977
Career position - Chairman of the Women's College Council at the University of Sydney
1946 - 1977/1980
Career position - Member of the Women's College Council at the University of Sydney
1964 - 1994
Career position - Founder and Member of the King George V Appeals Committee at the Royal Prince Alfred Hospital, New South Wales
1970 -
Career position - Member of the Sir Herbert Schlink Memorial Trust Fund
1979 - 1981
Career position - Visiting Medical Officer in Obstetrics and Gynaecology at the King George V Hospital, New South Wales
1981 - 1990
Award - Consultant Medical Officer in Obstetrics and Gynaecology at the King George V and Royal Prince Alfred Hospitals, New South Wales
1986
Award - Member of the Order of Australia (AM)
1990
Retired
Dr Nic Jools Tribute - Biography Of Her Life:
The Women's College
within the University of Sydney
A Celebration of the life and work of Dr Margaret (Meg) Mulvey, AM 1916 - 2001
The Women's College
Friday 14 December 2001 at 11:00am
Order of Proceedings
Recital by
Brielle Clapson, Leo Kram, Jane Stanley and Anita Gluyas
Conservatorium of Music
Divertimento No. 2 in B flat minor K137 (Mozart)
Serenade (Haydn)
The Official Party enters, the assembly standing
Welcome:
Ms Quentin Bryce, AO Principal, The Women's College
Tributes to Dr Meg Mulvey, AM will be presented by:
Her Excellency Professor Marie Bashir, AC Governor of New South Wales
Professor Roger Houghton, Clinical Director, Women's and Children's Health Central Sydney Area Health Service
Sure on this shining night Op. 13 No. 3 (Samuel Barber) Helen Mitchell, voice
Samantha Tong, piano
Ms Dinah Shearing, AM
Mr Andrew Buchanan, PSM Nephew
Romance Tom Eine Kleine Nachtmusik K525, (Mozart)
Andante Tom Divertimento No. 1 in D major K136, (Mozart)
First movement from Quartet in C major Kl57, (Mozart)
Dr Margaret (Meg) Mulvey (Lady Margaret Schlink) 1916 - 2001
Dr Margaret Mulvey, known as Meg, was born on 16 November 1916 at Concord New South Wales. She was the first child of two exceptional people. Her mother, Gladys Taylor, was the first woman to graduate with first class honours in Psychology, which she followed with a Master of Arts at the University of Sydney. Her father, Dr Roy Mulvey BA BSc, also at Sydney University, was originally a teacher. He enlisted in the First AIF as a private and was promoted to the rank of captain. He was wounded in France, awarded the Military Cross and repatriated. He graduated in Medicine in 1923 and set up practice in Oberon. By 1929 he and Gladys had five children. Tragically, Meg's mother died in childbirth when Meg was 12. As the eldest, she replaced her mother in the care and upbringing of her younger sister and brothers, perpetuating her mother's qualities.
Meg was schooled in Oberon and Bathurst. She was a brilliant student achieving a high academic standard, as well as being a good sports woman she was the School Captain. 'It was no surprise when she told us she was going to do Medicine at Sydney University, and that she wanted to specialise in Obstetrics' wrote Kath Gibson one of the Ray family who were very close friends of the Mulvey family. This friendship that commenced in the Oberon days more than ninety years ago still goes on today. Afterwards she took up residence at the Women's College within the University of Sydney. There she showed signs of leadership. She was 'a mother figure at the College and rock solid as a friend' : Betty Crombie, Meg's travelling companion to India, China and other international destinations. As Dr Gwen Gerard, (Kennedy) a friend from University and another gynaecologist says, 'Meg was always interested in people, never failing to understand their own character and treated all with kindness'.
Meg graduated Bachelor of Medicine and Bachelor of Surgery with honours in 1940. After two year's residency at Royal Prince Alfred Hospital she crossed Missenden Road to King George V where she became Clinical Superintendent. She decided to make a career in Obstetrics and Gynaecology. Meg gained her MRCOG in 1947 and the FRACOG in 1979.
'Aunty Meg was driven to perfectionism in her work to monitor and deliver healthy babies as a result of the death of her mother and sister': Janet, her niece.
Meg was a member of the staff of King George V for 47 years. Her love and generosity to King George was a feature of her life both in an intangible way but also by some of gifts to the hospital which included an exquisite small marble stature sculptured the late Professor G. Sarte of Florence in 1949. It still resides in the Labour Ward in all its elegance on a pedestal in a small glass cabinet. It shows a mother comfortably settled on a cushion with her young baby nestled on her breast.
'Drs Margaret Mulvey and Peter Elliot have provided funds for patient and staff education' wrote Pamela Hayes in the book "With Triumphant Stride" published as part of the "KGV Jubilee History"
She was revered by her patients and delivered thousands of babies. 'To work successfully', Meg told Joan James, a former sister in Meg's surgery, 'one has to be all in or all out of Medicine'.
Her much loved sister, Helen Buchanan, developed polio at the end of her pregnancy with her first child, Andrew. Daughter Janet and son Kim followed some years later. Helen spent 51 years in a wheelchair, dying in 2000.
Meg's brother John, the only surviving Mulvey sibling, became an accountant, while her other brothers, Eric and Peter, followed the family tradition and became doctors.
Sadly, Eric died while on active service in New Guinea during World War II. His son Ric continued the medical tradition to the next generation of Mulveys.
Peter also died relatively young, at 55 after a series of heart attacks. The first and most serious of which resulted in Meg, who feared flying, weathering a violent storm in a small plane to offer her support to her country GP brother and his family. Pam Mulvey, Peter's widow, described Meg as 'a wonderfully eccentric and marvellously generous sister and sister-in-law'. Meg was fond of her nieces and nephews—Ric, Andrew, Janet, Kim, Jenny, Philip, Penel and Cathy. Penel describes Meg as practical, abrupt, hospitable, intriguing, our very own 'Aunty Mame".
In 1945, after a whirlwind courtship during which she was showered Herbert Schlink, a bastion of Royal Prince Alfred Hospital and a man with red roses, she married Sir who helped to chart its future growth. Bertie was 62 and Meg was 28.
DR. H. H. SCHLINK TO MARRY DR. M. MULVEY
The chairman of the board of directors of Royal Prince Alfred Hospital, Dr. H. H. Schlink, is to marry Dr. Margaret Mulvey, who for the past two years has been superintendent of the King George V Memorial Hospital for Mothers and Babies, which is attached to the R.P.A. Hospital.
The wedding is expected to take place this week.
Dr. Schlink has been chairman of the R.P.A. Hospital board since 1934. A distinguished gynaecologist, he is a foundation fellow of the Royal Australasian College of Surgeons.
Dr. Mulvey, who is the elder daughter of Dr. R. D. Mulvey, of Bathurst, has been on the staff of the R.P.A. Hospital for nearly five years. DR. H. H. SCHLINK TO MARRY DR. M. MULVEY (1945, June 28). The Sydney Morning Herald (NSW : 1842 - 1954), p. 4. Retrieved from http://nla.gov.au/nla.news-article27938245
Dr. Margaret Mulvey, who is to wed Dr. H. H. Schlink.
Dr. Schlink has been chairman of RPA Hospital since 1934, and Dr. Mulvey has been superintendent of the King George V. Hospital, which is attached to RPA, for the past two years. No title (1945, June 28). The Sun (Sydney, NSW : 1910 - 1954), p. 3 (LATE FINAL EXTRA). Retrieved from http://nla.gov.au/nla.news-article230457397
The day after the wedding, Bertie told Ben Chifley, then Prime Minister, that he had married a 'Bathurst peach'. Previously, while a locum in Bathurst, Meg had pulled Mrs Chifley through a severe asthmatic attack and Chifley recognised her as 'the doctor who saved my wife's life'.
Meg regarded her marriage to Bertie as 'the happiest 17 years of my life'. With characteristic modesty, she said, 'He was an avid reader of history, philosophy and autobiographies. He taught me so much'.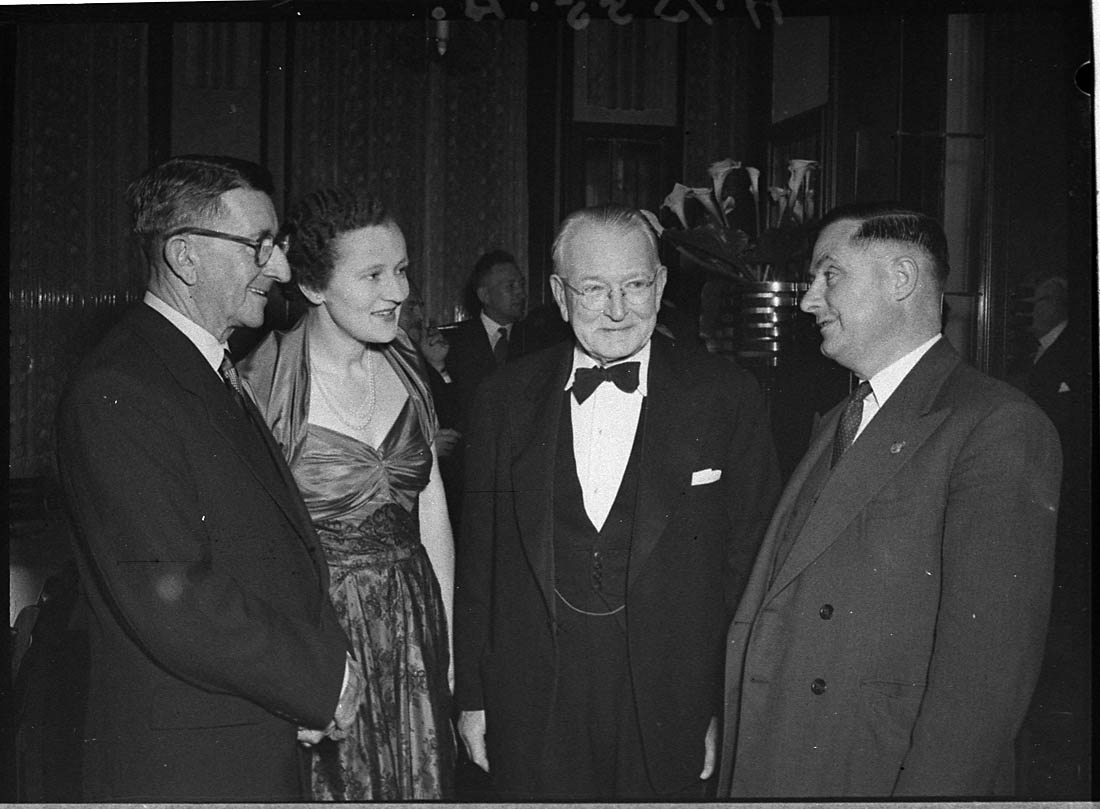 Above: From left to right: Mr G Parry, Lady Schlink, Sir Herbert Schlink, Mr G Duncan, Date of Work; 20/10/1955 Home and Away – 28347, Taken for Newcastle Morning Herald, hood_28347, Courtesy State Library of NSW

They spent their scarce spare time at their magnificent property Marara at Careel Bay on the Pittwater side of Sydney's northern beaches. Their retreat was generously shared with many others. After Bertie's death Meg and Helen continued this tradition. Sunday lunch at the Bay was an unforgettable experience. As Meg wrote to Sir Kempson Maddox for his book "Schlink of PA" published in 1978 'life was never dull, as unexpected visitors were frequent and dinner parties often lasted until 3 am' .
'She was a true Lady'.'- Lucy Fox, next-door neighbour and bushwalking companion.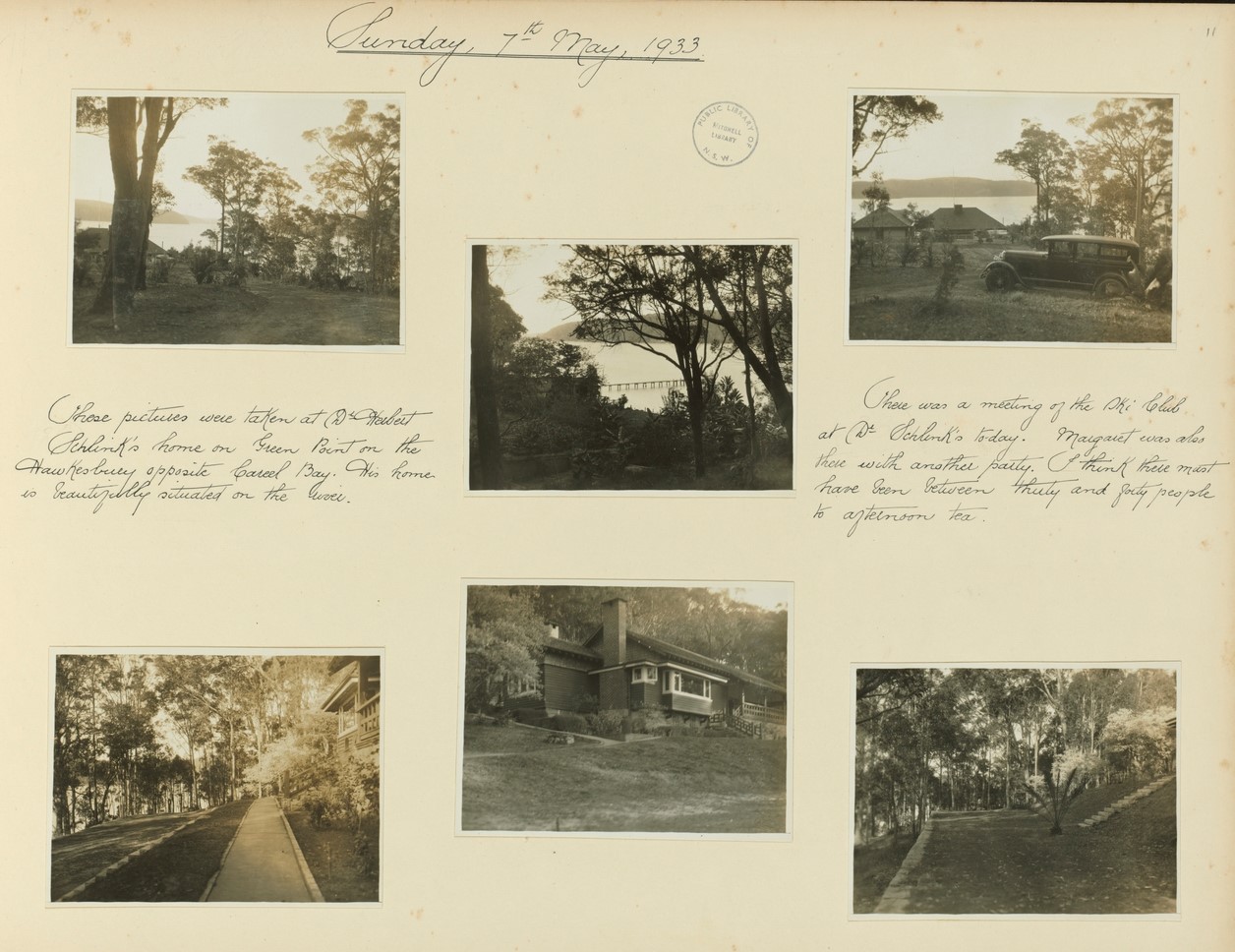 Marara April, 1933 Digital Order No a3299015, Caption; Album 74: Photographs of the Allen family, November 1932 - March 1934, Courtesy State Library of NSW - the Margaret referred to here is Margaret Allen who went skiing with Dr. Schlink from at least 1919

SKI-ING EXTRAORDINARY.
The Government Tourist Bureau has received advice, to the effect that Dr. Schlink on the 4th inst. skied from the Hotel Kosciusko to the summit of the mountain and back (34 miles) in 10 hours 60 minutes, thereby breaking the record the and Dr. Fisher established on July 30, 1918, by 22 minutes. Miss Margaret Allen, who went with Dr. Schlink on Monday also, took just one hours longer than he. Dr. Fisher, the other member of the party, broke a ski at Charlotte Pass, and was unable to complete the journey. He, however, repaired his ski, and rode it back to the hotel. The manager of the Hotel Kosciusko and Mr Percy Pearson, secretary of the Kosciusko Alpine Club, are of opinion that Dr. Schlink's new record will be very hard to beat. They further regard Miss Allen's performance as wonderful, and believe that she is the only lady who has negotiated the distance in one day. The journey is a feat of endurance for experienced men, who train each year for the effort. Several years ago two Continental experts, a Norwegian and an Austrian, completed the distance in a little over 12 hours, which was regarded by the Alpine Club enthusiasts as an extraordinary feat, which they hardly hoped to excel. This makes Miss Allen's achievement the more remarkable. There is at present an unbroken snowfield be tween the Hotel Kosciusko and the summit, and of late an excellent surface on the frozen lake has made ice skating thoroughly enjoyable. SKI-ING EXTRAORDINARY. (1919, August 15). The Albury Banner and Wodonga Express (NSW : 1860 - 1938), p. 20. Retrieved from http://nla.gov.au/nla.news-article101504746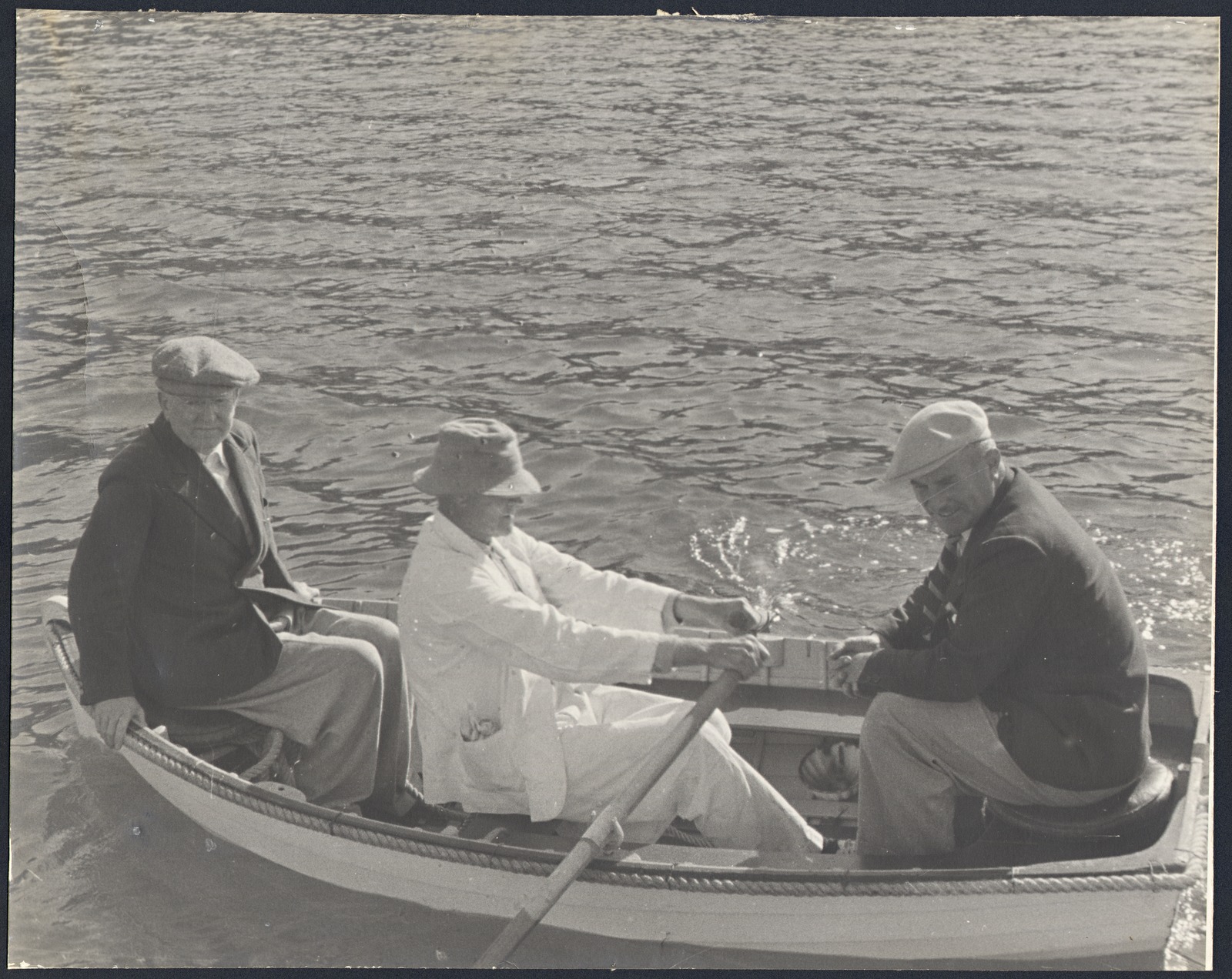 Sir Herbert Schlink & Sir Arthur Stephenson at Careel Bay, circa 1951-54 image No.: pi017198:3061360, courtesy State Library of Victoria
Meg was the Senior Student in her final year at the Women's College, and then spent 50 years a member of the Women's College Council, being Chairman for 22 years. Her tenure was characterised by her 'steel toughness concealing infinite tenderness and compassion". - John Coombs QC, her successor as Chairman of Council.
She was 'supportive, perceptive and fun and a liberal and progressive thinker' -: Leonie Star, former principal.
Professor Marie Bashir, now Governor of New South Wales, followed as Chairman and was a member of Council for many years. She recalls Meg as 'having limitless energy and extraordinary generosity. She glowed in the company of young people because she had a wonderful youthfulness of attitude. Meg revelled in inspiring young professionals in achieving their di earns. I recall her frequent and regular telephone calls to me around 6.00 am to discuss issues of concern relating to University matters when we both served on the Council of The Women's College'.
Professor Janet McCredie, yet another long-standing member of Council and former Chairman, describes Meg as 'Loyal, generous and beloved'.
Just as Bertie built up Royal Prince Alfred Hospital, so Meg was a key figure in the expansion of Women's College. When Prime Minister Menzies made generous federal grants for educational institutions, to be matched by grants from the states, Meg grasped the opportunity to treble the size of the College by initiating the building of the Langley Wing. She maintained a close interest in the welfare of the students and was in constant contact with them during her years as Chairman of Council.
'She was always willing to help with both emotional guidance and financial assistance'; Julie McCrossin, herself a resident student of the college during Meg's tenure, and now a well-known broadcaster.
Meg became a close friend of many of her colleagues at King George V, including Sir George Stening, Dr Frank Pigott who 'had a long and fruitful relationship with Margaret Schlink for 60 years as a colleague and special friend.' and Professor Malcolm Coppleson in his words: 'Meg was a great doctor in the traditional sense of the word. She lived her life with energy and passion and was an exemplar ‹›f the best of human values. Married to one of Australia's Medical leaders she provided unlimited support far projects of great verve and vision, especially' those related to the hospital she loved and served with such distinction.'.
Dr Peter Elliot: 'industrious, tenacious and generous'.
She was 'kind. Thoughtful, with a deep interest in the welfare of others, particularly young medical people, helping them in their careers': Dr John Solomon. She had 'humour, a twinkle in her eyes and compassion' : Judy Shearman, widow of Professor Rod Shearman.
Dr Fred Hinde commented: 'for over a quarter of a century Meg as the only female Gynaecologist on the Honorary Medical Officer of the KGV participated fully in the life of the hospital. She brought a woman's point of view with friendliness and humour.'
Dr Andrew Child, now Superintendent of KGV: ' a medical quality champion before her time In recent 'quality jargon, always trying to do for her patient, the right thing, at the right time the first time.'
Dr Nic Jools, Dr Andrew Korda and Professor Roger Houghton, her longest serving registrar, were some of the many of the young specialists who Meg helped in their careers. They were all regular visitors to Marara.

Dr Andrew Korda said 'What I found remarkable and admirable about Meg was that she was an woman, altruistic, compassionate, a great humanist, a true liberal and someone who was unprejudiced and regarded everyone as equal. She was a beacon of caring in a sea of indifference'.
'Margaret Mulvey was a passionate and generous teacher of student, residents, registrars and nursing staff alike. Her clinical slide collection was legendary and formed the leviathan-like teaching load that she undertook in the 60s. She was always an enthusiastic surgical teacher, chiding the slow to learn with 'Come along Ducky, hurry up'. At the end of a term with her, we were all given the current edition of Parsons and Ulfelder. "An Atlas of Pelvic Operations", suitably inscribed and handed at our inaugural luncheon at the ''The Bay" Marara. On this auspicious occasion it was expected that you acted as waiter (being the most junior person present), a somewhat overawing experience and 'a duty that some of us continued to fulfil until the early 1990s' recalls Professor Roger Houghton.
Meg was adored by the Italian and Greek communities and was a consultant to women from New Caledonia. To overcome language difficulties it was often necessary for her to have an interpreter. She employed a full-time interpreter who was fluent in French, Italian and Greek for 23 years.
She was a 'wonderful person, she gave a bonus every year, was generous and often did not charge her patients.' – Val Galea, former interpreter and nurse.
'In Obstetrics you must be involved seven days a week, but she was so uncomplicated and absolutely dedicated.' - Joan James nee Perrottnet, sister in her surgery in the early days.
'Human relationships forged over several generations were a constant source of pleasure to Meg. 'In practice I saw adolescent girls with problems, later again when I delivered their babies, and finally, as grandmothers, their came to consult about menopause symptoms and other conditions. Since retirement I especially miss those patients whom I saw through various stages of their life.' Meg told Dr Anne Sarzin in an interview for the Radius, a journal of the Medical Graduates of the University of Sydney, in December 1992.
She had a passionate interest in the arts and made great friends with many artists and actors. They included James Jackson, Cath and Leon Shellac, Charles Blackman. the Boyd family, Sir Sidney Nolan; 'A good friend to the artists, kindly and enthusiastic'. Artists Paul Delprat and Rod Milgate said of her that in this company she was 'loved and loving'. She also developed an intense interest in the theatre and was friendly with many of Australia's great actors. Her attitude to the theatre and its players was 'realistic, practical and compassionate'; Dinah Shearing well known Australian actress. She also knew many writers and poets and encouraged them in their careers. George Johnson and Charmain Clift were regular visitors to Marara.
All her professional life Meg was closely involved in the Medical Women's Society of NSW. Dr. Margaret Mills, another close friend, wrote; 'It was through involvement with the Medical Women's Society that I met Dr. Margaret Mulvey. She participated in the activities of the Society over may years when time made this possible in her bust professional life. Dr. Mulvey was always supportive of women doctors. Both colleagues and patients were conscious of her loving and generous nature. She was a doctor who cared for her patients as a whole person beyond that normally expected from a medical practitioner.'
In 1972 she founded the King George V Appeals Committee, an institution that she championed and strongly supported. She deeply regretted that changes in societal behaviour meant that there was no longer the steady stream of supporters from the hospital staff.
She was judged 'an energetic doctor displaying an extraordinary capacity for work' – Medical Book, 1979
So much is summarised in a letter from John Kemp, a now retired senior Gynaecologist at the Royal North Shore Hospital:
'Meg Mulvey - a great lady and certainly one of the best ever female consultants in Gynaecology. It was very reassuring for me to have her opinion on woman patients whom I felt needed to talk to "another woman". She was direct and quick with these opinions; in particular resolving the fears these patients often had. I had the privilege of examining final year medical students with Meg for many years. She had the wonderful ability to put even the most nervous students at ease within seconds, giving them the chance to do their best. Meg had a great love for her residents and particularly her registrars for whom she could never do enough. Her greatest love was "Bertie", Sir Herbert Schlink although she herself was never Lady Margaret'.
In 1984 she became a Member of the Order of Australia. "From that day Aunty Meg became 'AM squared' to her family": Cathy, a niece. Prior to this her pet name in the family had been 'AM'.
In 1985 her achievements were recognised with the award of a Doctorate in Medicine ( Honoris Causa) from the University of Sydney. This was at the occasion of the Centenary of the First Women Graduates. Before she received the Honorary Degree the Chancellor of the University, Sir Hermann Black, wrote to Meg 'I am honoured, and the University is honoured that you accepted to have the Honorary Degree conferred; and you would have blushed had you been able to hear the compliments we received on the news that we wished to confer the Hon MD on you. 1 am afraid you have allowed your overwhelming modesty to prevent you from understanding the esteem you have in the eyes of your fellow medicos and in the University community generally, embracing the Women's College but also the Royal Prince Alfred people as well. Take a bow, dear Meg'.
She was elected to Honorary Membership of the Faculty of Medicine very shortly after.
In 1990 Meg retired from practice and moved permanently to Marara.
Vale Meg. You have been called the Mother of Australian Obstetrics, a worthy clinician, and role model. You have set a shining example.
by Nic Jools
Dr Margaret Mulvey
The honorary degree of Doctor of Medicine was conferred upon Dr Margaret Mulvey by the Chancellor Sir Hermann Black at a special conferring of degrees ceremony held at 6.00pm on Thursday 2 May 1985 which celebrated the centenary of the first graduations by women at the University of Sydney.
Dr Mulvey specialised in obstetrics and gynaecology, and from 1973 to her retirement in 1981 was a member of the Board of Studies of the Royal Prince Alfred Hospital. She also did much for the Women's College as a member, then Chairman of its Council for a total of 33 years.
The other four women awarded honorary degrees at the ceremony were Miss Helen Elizabeth (Betty) Archdale, Ms Edna Ryan, Dr Grace Warren and Justice Elizabeth Evatt.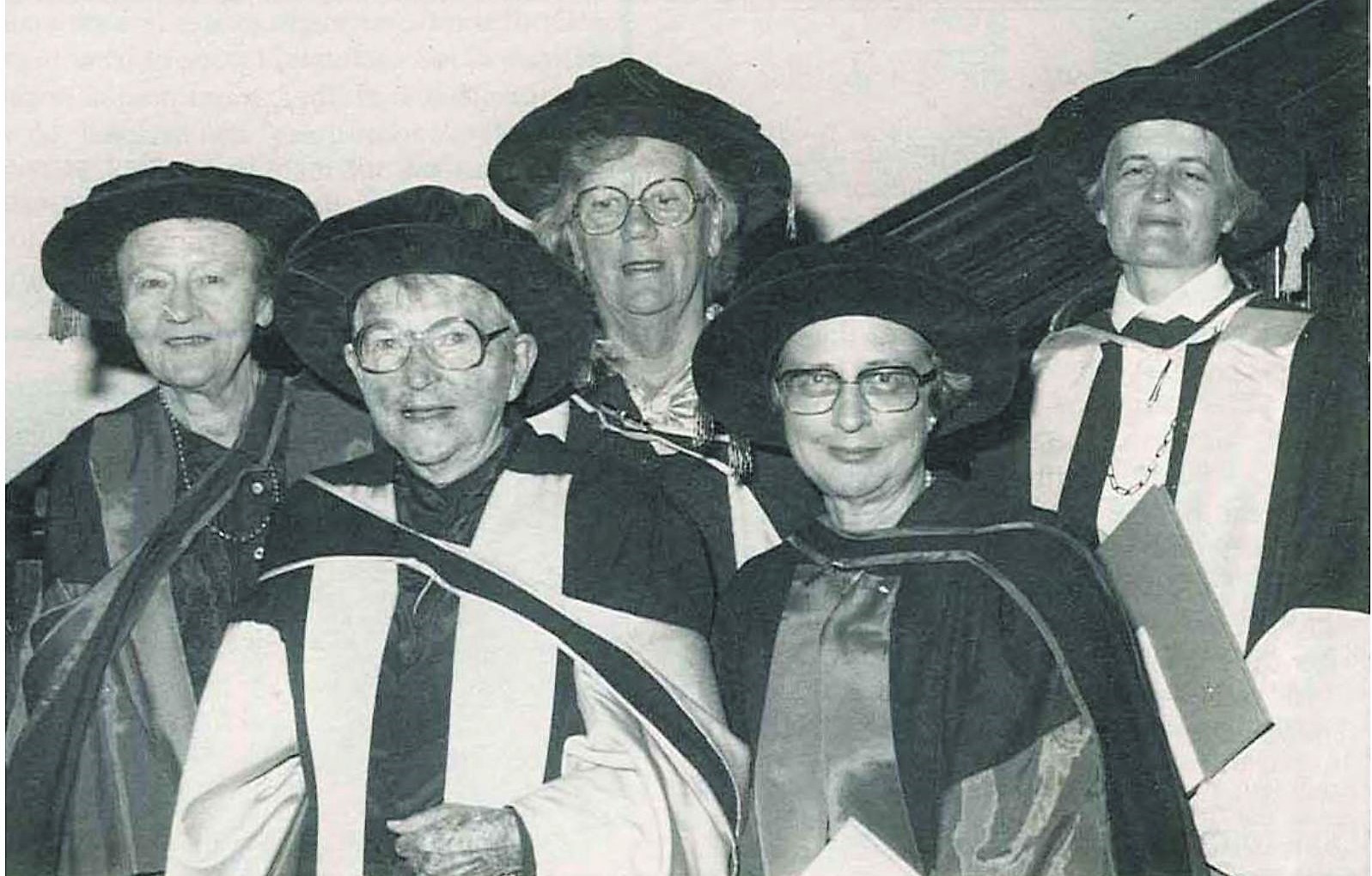 Photo: The five women who received honorary degrees: from left to right, Dr Margaret Mulvey, Ms Edna Ryan, Miss Betty Archdale, Dr Grace Warren and Justice Elizabeth Evatt, photo, 'The University of Sydney News' 21 May 1985, University Archives
A Sample Of Meg Mulvey's Authorship
WHAT ARE THE PROBLEMS OF THE MENOPAUSE?
By Margaret Mulvey, M.B., B.S., M.R.C.O.G.
IN the Bible, menstrual phenomena were regarded as a kind of "sickness." (Lev. 20, 18.) The ancient Egyptians thought that the uterus exerted a paramount rule over all other systems, governing them with a potent, if capricious, sway; it created or modified disease in every portion of the body.
Since the time of Hippocrates, the association of guilt and fear with menstruation and the menopause has been known to result sometimes in mental disturbances. It was also believed that the moon had a great influence on women's behaviour.
The melancholies of menstruation and the menopause, or the "Witch Syndrome," have been described by poets, philosophers, and historians. The important role these syndromes have played, and still play, in the rise and fall of men and nations, is as evident today as it was, say, in the time of Antony and Cleopatra.
To suggested therapies over the year; have included votive offerings to deities, potions of ingenious combinations, stews, and brews enhanced in strength by secret incantations, mesmerism, herbs, and fermented spirits. In the Middle Ages alcoholic drinking was thought to drive away evil spirits from the womb.
Premenstrual Tension Syndrome
Before considering the menopause, I would like to mention the syndrome of "premenstrual tension," which occurs most commonly in women of 30 to 45 years. They seek advice because they fear it is an early menopause, which it is not-having nothing to do with the menopause.
Most women have vague symptoms of headache. backache, irritability, and fatigue a week prior to menstruation, but it is when symptoms become so severe as to cause ''cyclic recurrent impairment of health"' that they really are perturbed.
In addition to the above, the main symptoms are a sense of insecurity, depression, insomnia, lassitude; unreasonable emotional outbursts; soreness and discomfort of the breasts; increase of weight (which may be up to 101b.); swelling of the feet and abdomen.
The patient is conscious of her nervous tension, her inability to concentrate; crying spells and bad temper make her feel ashamed. Her husband and children are nagged at and pushed around. She has clear insight into her condition and realises she must seek advice from her doctor-before her husband seeks a separation!
All symptoms are not present in the one patient, but the pattern is fairly constant for each patient, though the severity may vary from cycle to cycle. The change of personality may be so marked that it impairs moral judgment.
In France, the temporary "insanity" or incompetence often felt during that week is accorded legal recognition. In the United States, a prison survey showed that 62 percent of the offences by women had been committed in the premenstrual week.
In my opinion, the syndrome is not primarily psychogenic in origin, as the sufferer is usually a sane, well-adjusted, sensible person, happy at home, and with insight into her condition.
Treatment is, first, reassurance that she is not "going mad," as some women think they are; and an explanation that symptoms are due to fluid retention and a hormonal imbalance (not completely understood).
Fluid elimination seven to ten days before the period is the most important part of the therapy. Fluid intake should be restricted-no salt to be taken at all, and diuretics to be given to eliminate fluids. Mild sedatives may be necessary. For painful, tender breasts, testosterone in very small doses or oral progestogens, before the period, give dramatic relief.
THE MENOPAUSE
THE menopause, or change of life, is the cessation of menstrual function, and is accompanied by various symptoms and physical changes. It usually occurs between the ages of 45 and 52 years.
Since ancient times, the physical and emotional disturbances to which woman is subject through-out her life have been well known, but are still only partly understood.
In the absence of general or pelvic disease, the only known factors governing age are familial and racial. In the islands to the north of Scotland, for example, menstruation continuing to the age of 55-60 years is common among isolated and in-bred communities. It is not proved that the mean age of the menopause is rising. If it is rising, it may reflect increased vigor and health in the community.
Usually the menopause is heralded by a gradual decrease in the amount or frequency of the periods, during several months or years. Rarely the periods suddenly cease without warning. Excessive and prolonged bleeding is never a feature of the approaching or normal menopause, and if it occurs medical advice should always be sought.
It is difficult to be certain when conception is no longer possible; but this probably is no later than 12-18 months after complete cessation of the periods.
The menstrual cycle ceases because the ovaries cease to react to the stimulus of the anterior pituitary gland. This is related to the disappearance of all primordial ova in the ovaries, which is an aging effect.
The pituitary gland continues to pour out follicle-stimulating hormone (FSH), and indeed, being released from inhibition, produces it in very large amounts. It is thought that excessive amounts of this hormone produce "flushes."
On present knowledge we do not know the nature and biological meaning of the aging process. We have not yet found the "elixir of youth," so that we cannot eliminate the menopause. But the patient can be helped through the period of menopausal adjustments.
The late menopause
Beyond the age of 53, regular or irregular menstruation should be regarded with grave suspicion, and specialist medical advice should be sought.
Associated conditions or causes of the late menopause are:
(a) Constitutional (a familial or racial tendency).
(b) Cancer of the body of the uterus,
(c) Diabetes mellitus (usually called "diabetes").
(d) Uterine fibroids.
(e) Malignant tumor of the ovary.
With the exception of the human female, there is no species which significantly out-lives its reproductive years.
It is felt by some that a male "change of life" exists between 50 and 70 years. Symptoms expressed include depression, apathy, irritability, lack of concentration, palpitations, weakness, loss of libido (sexual desire), apprehensions about work and security, and even "flushes."
Most male authors consider, however, that a male menopause does not exist, and that the above symptoms are part of a psychiatric illness. Chemical evidence of altered steroids in the male can, however, be quoted.
Psychological Background
Adaptation to the psychological reactions of organic decline is a difficult task for both men and' women.
In women, the menopause represents the loss of ability to reproduce. This means something to all women, particularly to the childless or unmarried woman who previously lived in hope, and suddenly feels that "old age is round the corner."
In the well-adjusted, balanced woman, psychological changes are few and in-significant if a period of slight emotional instability is followed by dignity, tolerance, and understanding. By repeated intelligent self-analysis, she adapts herself to be useful in the autumn of life. Such a person develops heightened interests and activities outside the home. She may display then long-suppressed abilities in artistic or intellectual creation.
Unfortunately, many women approach the menopause with anxiety, dread, and horror. Symptoms are exaggerated by "old wives' tales." They fear insanity, loss of femininity, of their figure, loss of their husband's affection; they may develop a cancer phobia - which is not always ex-pressed at conscious level.
There are other factors making for stress at this time. Children are at an age when they may cause their parents unnecessary anxiety and expense; the mother may not feel physically fit to cope with all the household duties; there may be the economic insecurity of increasing age, and death of lifelong friends.
If the above anxieties, whether justified or exaggerated, are superimposed on a lifetime of maladjustment and psycho-neurosis, the psychogenic manifestations of the menopause may take the form of a reactive depression. The woman then withdraws from activity and becomes pre-occupied with her inner feelings and bodily sensations, and needs psychiatric help; or she may react by becoming the middle-aged flirt and behaving as an immature adolescent.
It must be remembered that the menopause is not the only period of psychological stress in the emotional development of a woman, and if she has withstood the stress and strain of 40 years she will have no difficulty in passing through her menopause philosophically and with confidence.
'The Menopausal Syndrome"
As already mentioned, the incidence and severity of symptoms depend a great deal on the presence of emotional instability before the menopause.
The most important symptom is "hot flushes," due to a vasomotor instability which results in flushing especially around the face or neck, often associated with profuse sweating. Flushes occur by night or day, and may be precipitated by nervousness, excitement, or a hot atmosphere. Vasodilatation is followed by vasoconstriction, so the flush is followed by a cold shiver.
Nervous and Emotional Symptoms
These include depression, lack of drive or interest, excitability, inability to con-centrate, moodiness, inexplicable crying fits, and unwarranted suspiciousness about the most helpful persons. Headaches are common, and there may be giddiness and head noises.
There may be palpitations, appetite can be increased or decreased, and there may be dyspepsia and constipation associated with spasm of the bowel.
Many other symptoms which may occur at this time of life are ascribed to the menopause - for example, joint pains, fibrositis, pigmentation of the skin, osteoporosis, and menopausal hypertension (raised blood pressure).
After the menopause, the incidence of coronary thrombosis rises, approaching that for men of similar age, and there is evidence to support the fact that oestrogens may protect women from coronary disease.
Physical Changes
Oestrogen lack causes atrophy and in-activity of the genital tract. The breasts become flat, as there is atrophy of glandu-lar tissue, except in obese women, in whom they remain large. The woman may become coarser in build and appearance, with loss of waistline and slight growth of hair on the face, due to functional changes in the anterior pituitary, thyroid, and adrenal glands. Body hair becomes sparse later in life; this is part of a senile change affecting all organs. Axillary (arm-pit) and pubic hair are not altered, as these depend on the adrenal rather than the ovary.
Increase in weight is common, but can be avoided by dieting and taking exer-cise. Many women overeat when emo-tionally upset, and it would appear that tolerance to carbohydrates is lessened with oestrogen lack.
The Management of the Menopause
It is essential to report any abnormal symptoms at this age to your doctor, any irregular or abnormal bleeding, or "periods" after 53 years, and to have a routine full physical check-up in any case. This includes examination of the breasts for lumps, Papanicolaou smear, heart and blood pressure checks, and ex-amination of urine. Any organic disease must first be excluded before symptoms are regarded as "menopausal."
There is no reason to fear the menopause. Sedatives at night and mild tranquillisers may be necessary for a time.
I firmly believe that oestrogen therapy is most beneficial and should be given:
1. To relieve menopausal symptoms, especially flushes.
2. To alleviate atrophic changes in the vulva and vagina.
3. To retard, if possible, the development of coronary disease.
4. To retard osteoporosis and other skeletal changes.
Oestrogen is just as effective by mouth as by injection, and it is cheaper. It can be given continuously to those who have had a hysterectomy, and intermittently to those w'ho have not, as it can cause with-drawal bleeding from the uterus.
So far there is no evidence at all to suggest that oestrogen therapy causes cancer.
Every patient should be under the care of her doctor when taking oestrogens, as they should not be taken in a haphazard manner.
Dosage and duration of treatment de-pend on the individual. I have never found it necessary to give androgens (i.e., male hormone), and I feel there is no logic in giving progestogen therapy (i.e., the pill) with oestrogen, as the latter on its own will alleviate all menopausal symptoms.
The doctor must explain the reason for the changing phase of life, and encourage the patient to accept it philosophically. She must appreciate that the autumn of life has compensations of i's own, and that it is a challenge to keep fit in mind and body. She must be reassured that libido usually remains as it was before, and that her weight can be controlled by diet and exercise.
The woman whose children have left home should be encouraged to take up new and useful interests. With reassurance, insight, and knowledge, she will accept her new role gracefully and with dignity.
WHAT ARE THE PROBLEMS OF THE MENOPAUSE? (1966, November 23). The Australian Women's Weekly (1933 - 1982), p. 5 (Medical booklet of the First A.M.A. Seminar for Women). Retrieved from http://nla.gov.au/nla.news-article47813836