November 27 - December 3, 2022: Issue 564
The Making of the 2021 Avalon Beach Centenary Quilt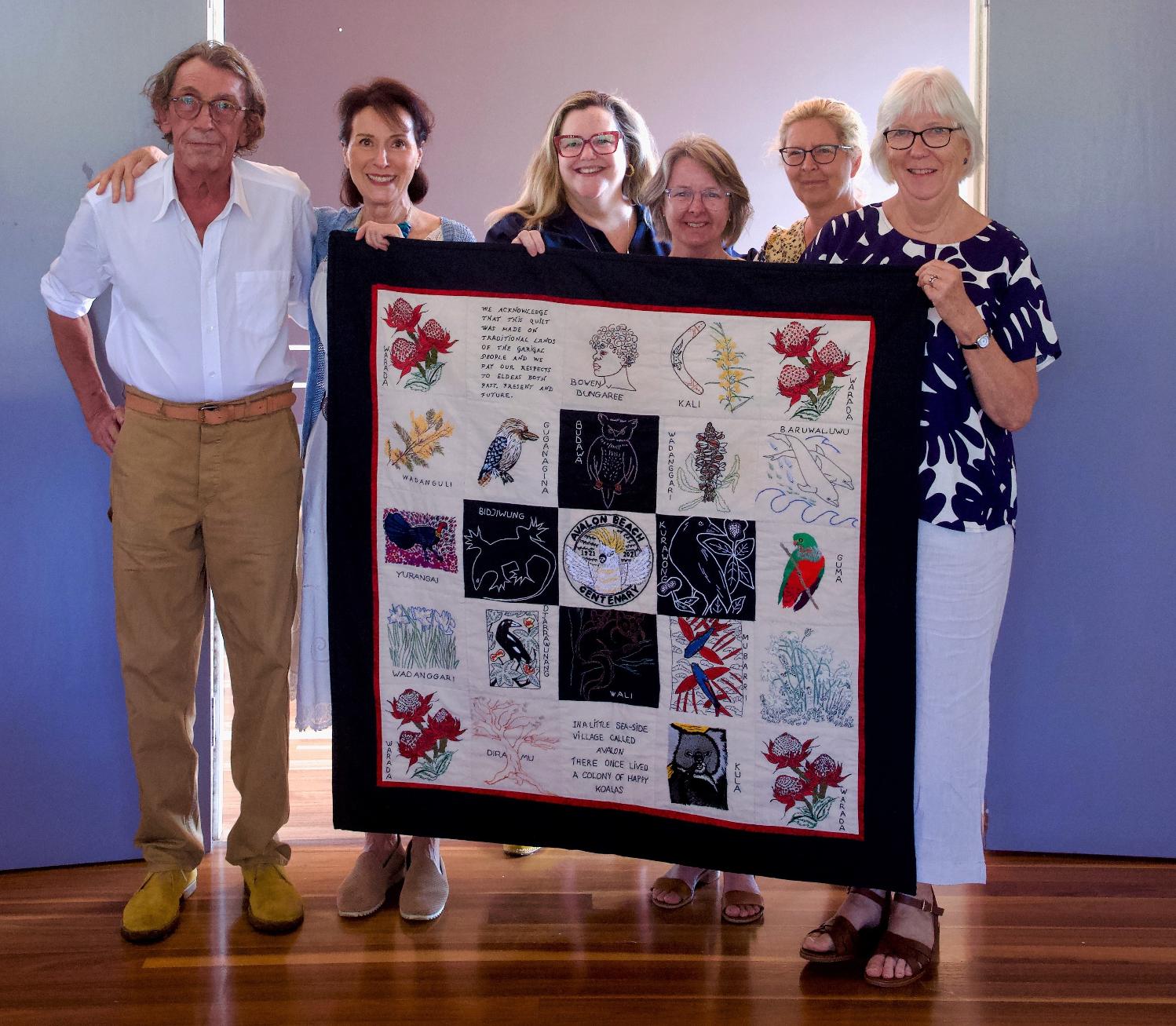 The Avalon Beach Centenary Quilt Project co-ordinator Anna Maria Monticelli with all the people involved in making the quilt: Wendy Ashley, Kim Nicholson, Lou Sceats - including the quilt's sponsor Barbara Hermann and Bruce Goold. Photo: Greg Barrett
The final gift to the community of Avalon Beach as part of the Avalon Centenary 2021-2022 celebrations is the Avalon Beach Centenary Quilt - a project undertaken and realised by Anna Maria Monticelli.
The quilt, which will hang in the Avalon Community Library, was handed to Meg Dunn, Avalon Community Library President, at an afternoon tea held on Friday November 26th, 2022.
Anna Maria has kindly provided an overview of how the many panels of this work were produced.
Ros Marsh was in charge of the mammoth organisation of the Avalon Beach Centenary Celebrations to be held on the 4th of December.
At our first volunteers' meeting we were asked to submit ideas.
Tamara Sloper Harding and I both agreed we should make a quilt, as we're both quilters. Ros asked me to write a submission, which I did with our ideas for the quilt, so she could find a sponsor. We discussed using local artists to draw motifs relevant to the area and to then embroider them.
We were thrilled when Barbara Hermann, from Avalon Organics, loved the idea and came on board to support the Quilt project financially.
Tamara and I met to discuss going forward with a plan. When looking at the Centenary logo designed by Bruce Goold, it became apparent that we should use it as the centre piece for the quilt.
I popped in to see my dear friend Bruce and asked him to print his logo on calico. Bruce also gave me some of his artwork for us to copy.
When looking at our local flora and fauna it became obvious to me that we should acknowledge the past Indigenous presence in the area and that I should write the names of the animals and flowers in Garigal language. So I rang Neil Evers for his advice. Neil enthusiastically embraced this idea and said he would help with the translations.
I wrote an Acknowledgement of Country and a little story about the Avalon koalas who had disappeared and embroidered it into the calico squares.
Tamara decided she would do the centre piece and the kookaburra and her mother, Dannie, would do the currawong and irises. We would form a group of volunteers and meet and sew together.
However, it soon became obvious when Covid hit hard that this was not going to be possible. Combined with Tamara's unbelievably busy work-load and travels, I decided to reduce the quilt size.
Tamara was now going to Timor Leste, so while she packed her bags, I gave her a smaller sized centre piece she could do on the plane.
Now I had to find others to help.
My daughter Bella, (a brilliant illustrator) who was home for Christmas, drew the waratahs, owl, angophora tree, possum and flannel flowers on paper. I then traced them onto the fabric so we could embroider once I found volunteers. The other animals from Bruce's work I had already traced onto calico and they were ready to distribute.
Now that I had the drawings, I had to find women to embroider them.
Kim Nicholson who works at the Avalon Physio part time and also volunteers at the Avalon Library, kindly offered to embroider 2 waratahs, a wattle branch, flying fish, the magpie and possum. Her contribution was enormous and got us off to a good start. I did the banksia, Bowen Bungaree, more wattle and boomerangs, the owl, dolphins and all the Garigal names.
But I needed more helpers. Ros suggested I go to Pittwater Palms to talk to the knitters. Helen Sherrington put her hand up and said she would do the flannel flowers – alas midway through she got Covid and had to hand it over for Kim to finish. But I still had 2 more waratahs, a wild turkey, a king parrot and a koala that needed to be done.
I knew where in Avalon on a Thursday I could find proficient and remarkable quilters. So off I went on a rainy day to the Uniting Church in Bellevue Avenue, Avalon where these amazing ladies convene to produce delicate hand work, share a chat and a cup of tea.
'I need your help' I announced as I walked in soaking wet.
Disturbing their set-up, they looked up wondering what this stranger could possibly want. They were very busy making a special quilt to send to the Ukrainian people who were now at war with Russia. What they were doing was important and I was disrupting their morning work.
But once I explained my situation, Anne Perry, being the wonderful woman she is, swiftly took my urgent matter in hand. She conferred with Denise Skinner and Wendy Ashley and promptly said they would do the two waratahs and the angophora tree in the evenings while watching TV. What a relief I felt as I walked out.
But I still needed a koala, a wild turkey and a king parrot.
The charm of a small villages is in its narrow side streets and I happened to be passing through Bowling Green Lane. At the end of this lane there was this mysterious little shop which had very artistic and colourful objects inside with a large painting of Frida Kahlo and behind the front door a rack full of colourful embroidery thread. What kind of shop could this be? To add to its mystery – this shop was always closed whenever I went past. But this time the rack of embroidery threads propelled me to write down the phone number on the shop window.
I rang the number and arranged to meet its owner the next day.
As soon as I walked inside the tiny little shop I knew I would like its owner – and I did. Louise Sceats (also known as The Elusive Miss Lou) was every bit as creative, wonderful and inspiring as her shop. Lou announced she could cross stitch – which is not what I needed. But she promptly proposed to give it a go.
Ok, I said: why not– this woman had panache.
A few days later she rang and said she had finished the wild turkey.
Captivated by this English eccentric living in Avalon I went to her shop.
What she handed to me was not what I expected – it was remarkable:
'Wow. I thought you never did embroidery work!". "No, I don't: I went online and took a couple of lessons" she replied.
And that was that – I gave her the koala and king parrot.
Carolyn Harris, one of my oldest local friends came for a cup of tea and a 'look see'. As soon as she sat down she automatically started to help pin the squares together with me.
Now that I had all my squares secured, I started to hand sew them together. When that job was done, I went to see Anne once again at the Avalon Quilt workshop.
We placed the quilt on the floor and everyone came around to give their opinion. A small definition of red material between the black border edging would be the perfect touch, was suggested.
Anne found a piece of red material discarded in their 'help yourself' basket and she cut it up for me with millimetre precision.
Anne, a master quilter and generous woman with her time, secured the black lining to the calico squares with her sewing machine and made a casing so we could slide in a rod for hanging the quilt – ready for the Library wall.
And that is the final journey of many wonderful hands on the Avalon 2021 Centenary Quilt.
Anna Maria Monticelli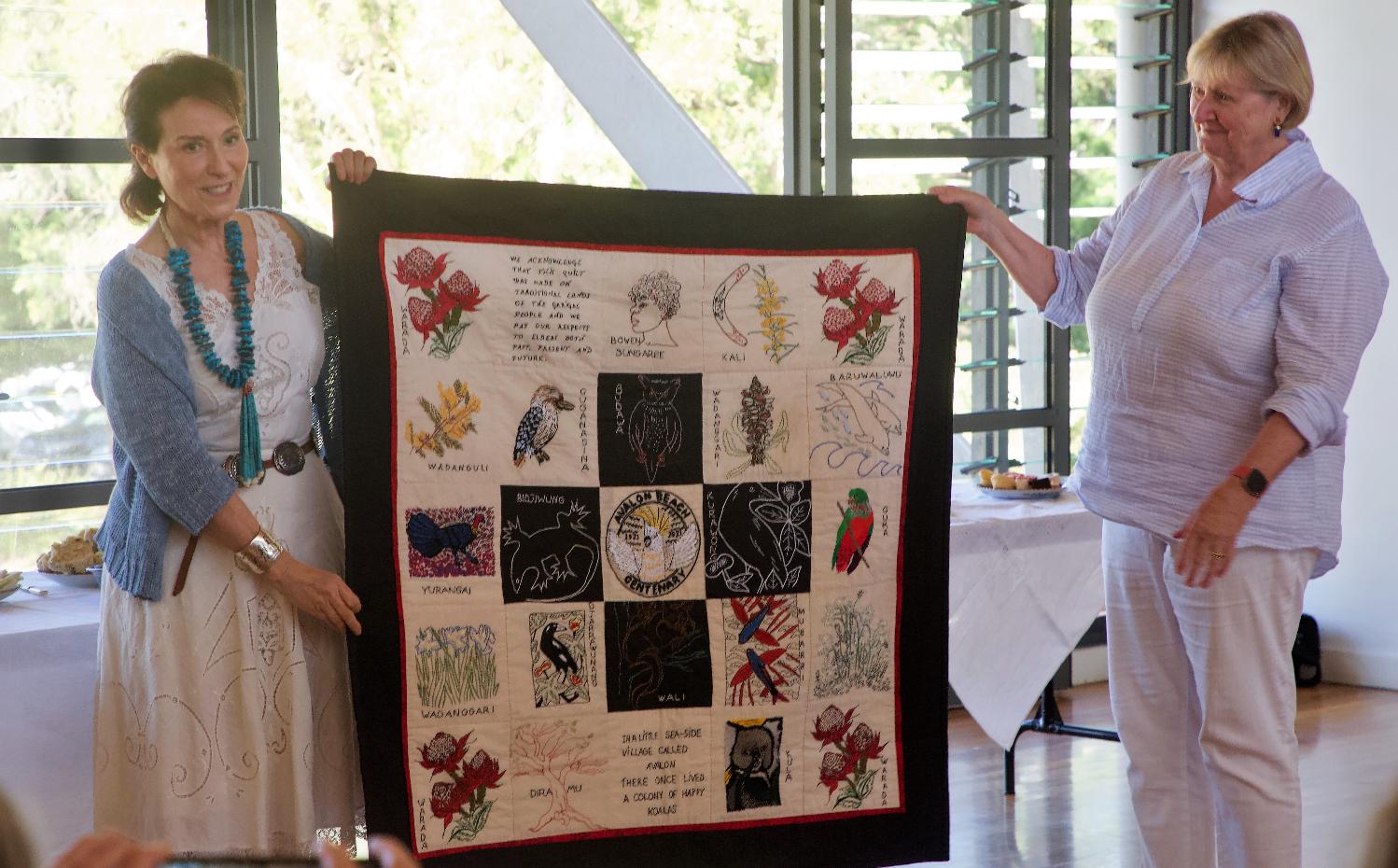 Handing the quilt to the Avalon library for hanging - to Meg Dunn. Photo: Greg Barrett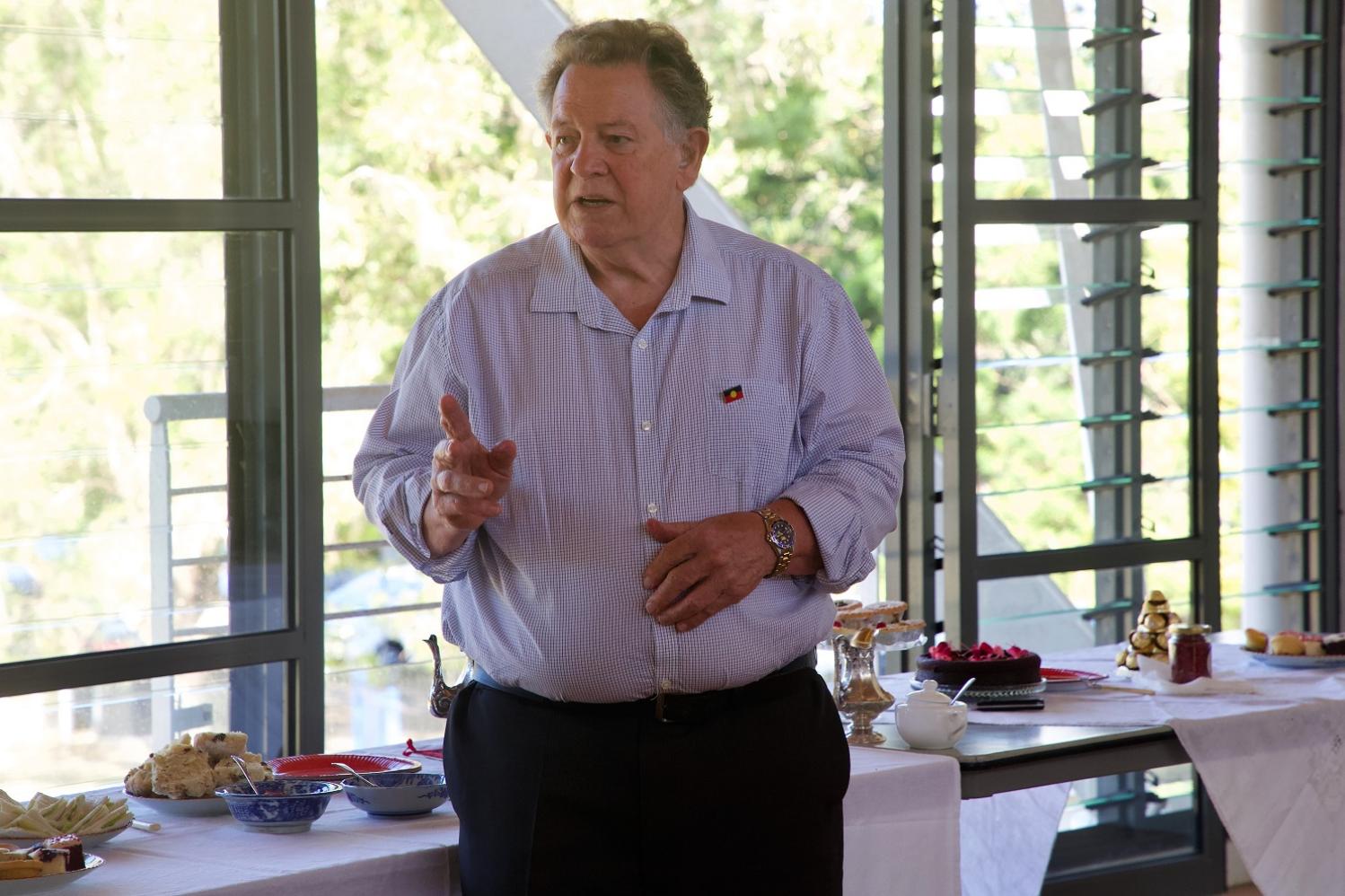 Neil Evers welcoming us to country during the handing over celebration. Photo: Greg Barrett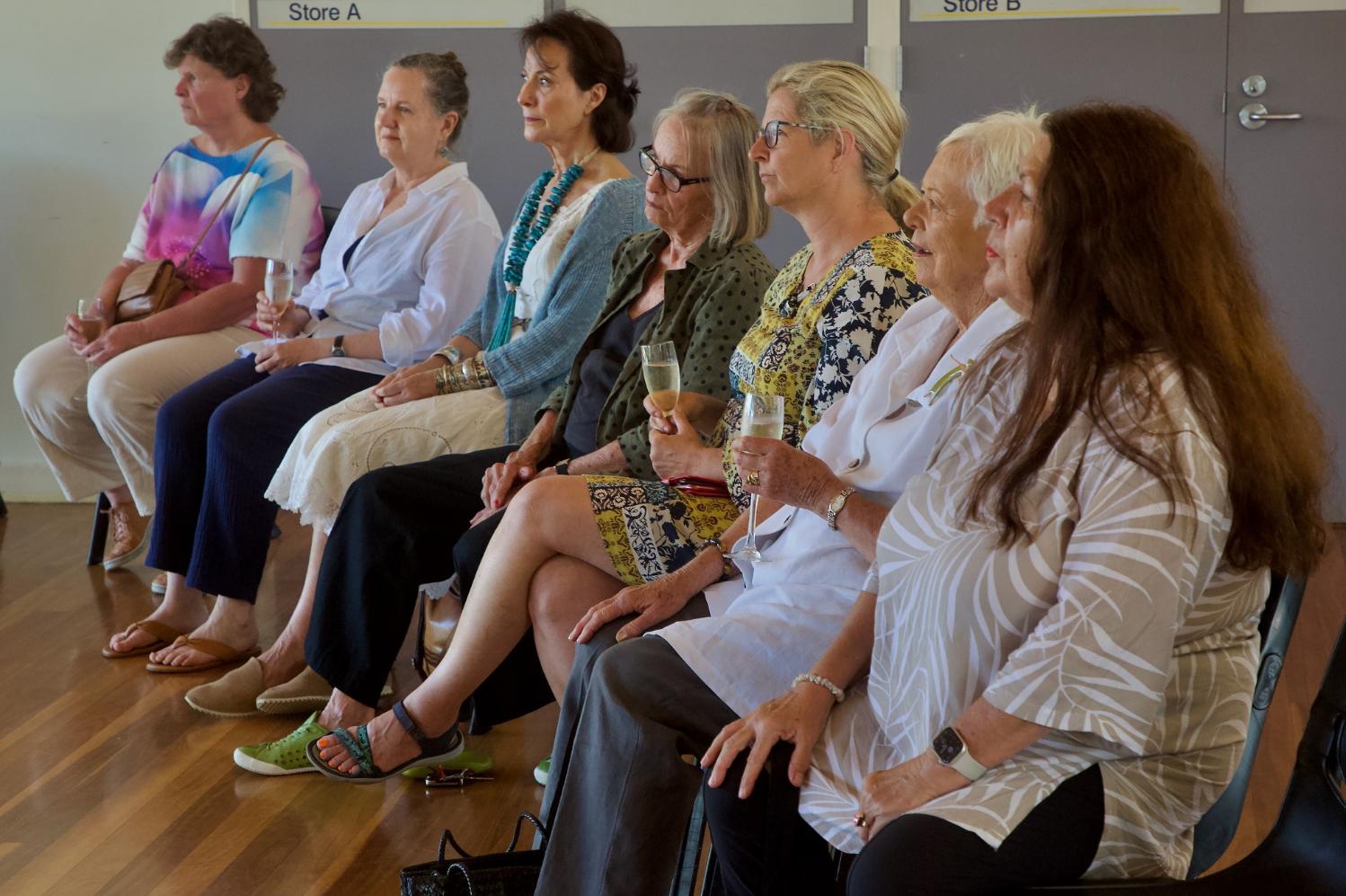 Some of the volunteers/attendees at handing over celebration. Photo: Greg Barrett