August 14 - 20, 2022: Issue 550
Avalon Quilters 2022 exhibition of members work will present over 80 quilts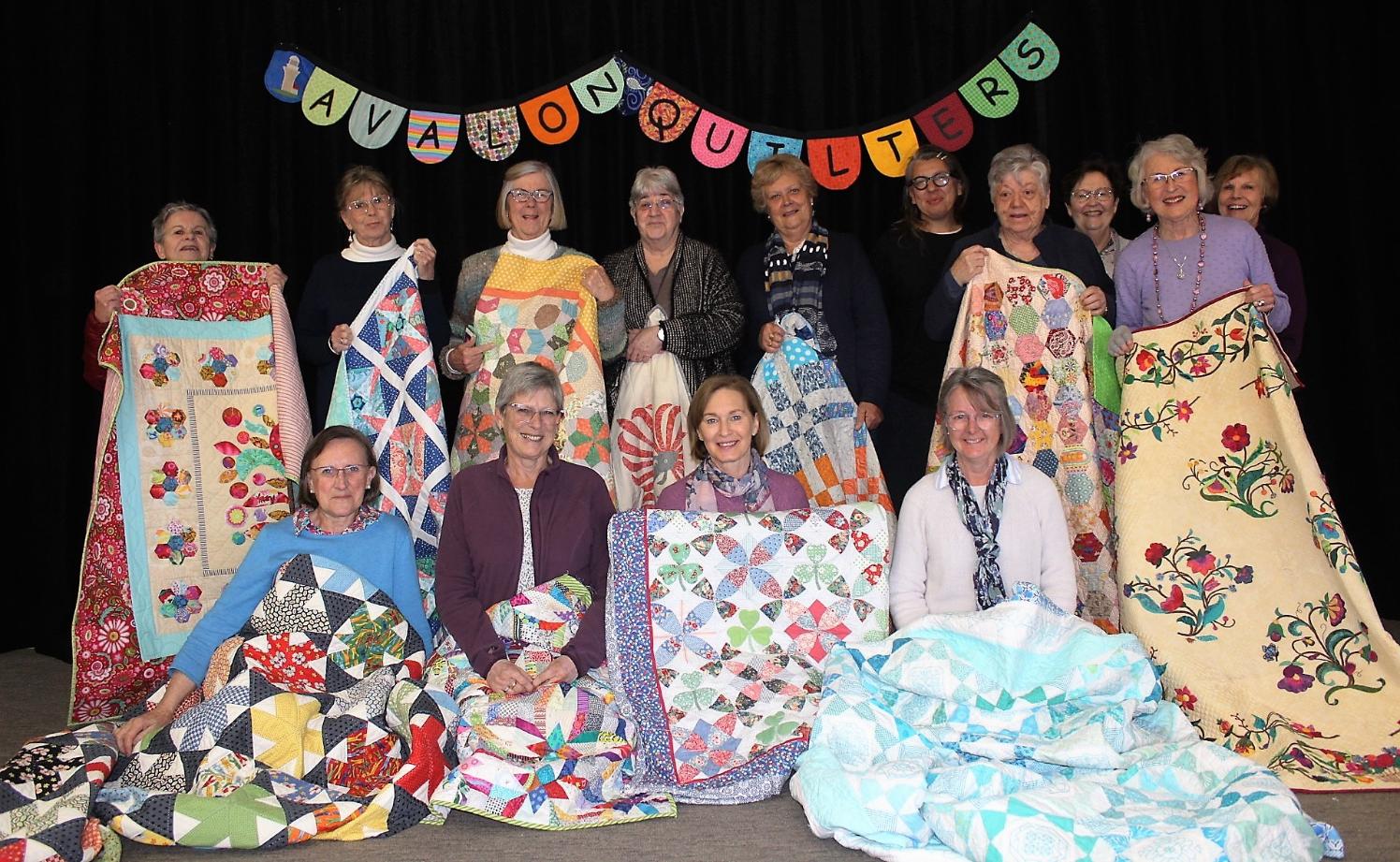 The 2022 Avalon Quilters Exhibition of Members Work, with historic and contemporary quilts will take place on Friday and Saturday September 2-3, 2022 at the Avalon Uniting Church, 44 Bellevue Avenue, Avalon Beach, from 9am to 5pm both days
The Raffle Quilt this year, with tickets already on sale at Avalon Fabrics & Craft, 4/24 Avalon Parade, one for $2, or 3 for $5, is called 'Which Way Now' and based on the Tokyo subway.
This has been made by all members – as have all previous years' 'Raffle Quilts'.
After a few years of Covid cancellations the members will have well over 80 quilts on display.
There will be a wonderful Craft stall with lots of babies hats, needlework books, bags and sewing items, as well as visiting Improvisational Contemporary quilt specialist Jessica Wheelahan (@birdie_beetle) to share insights into her works.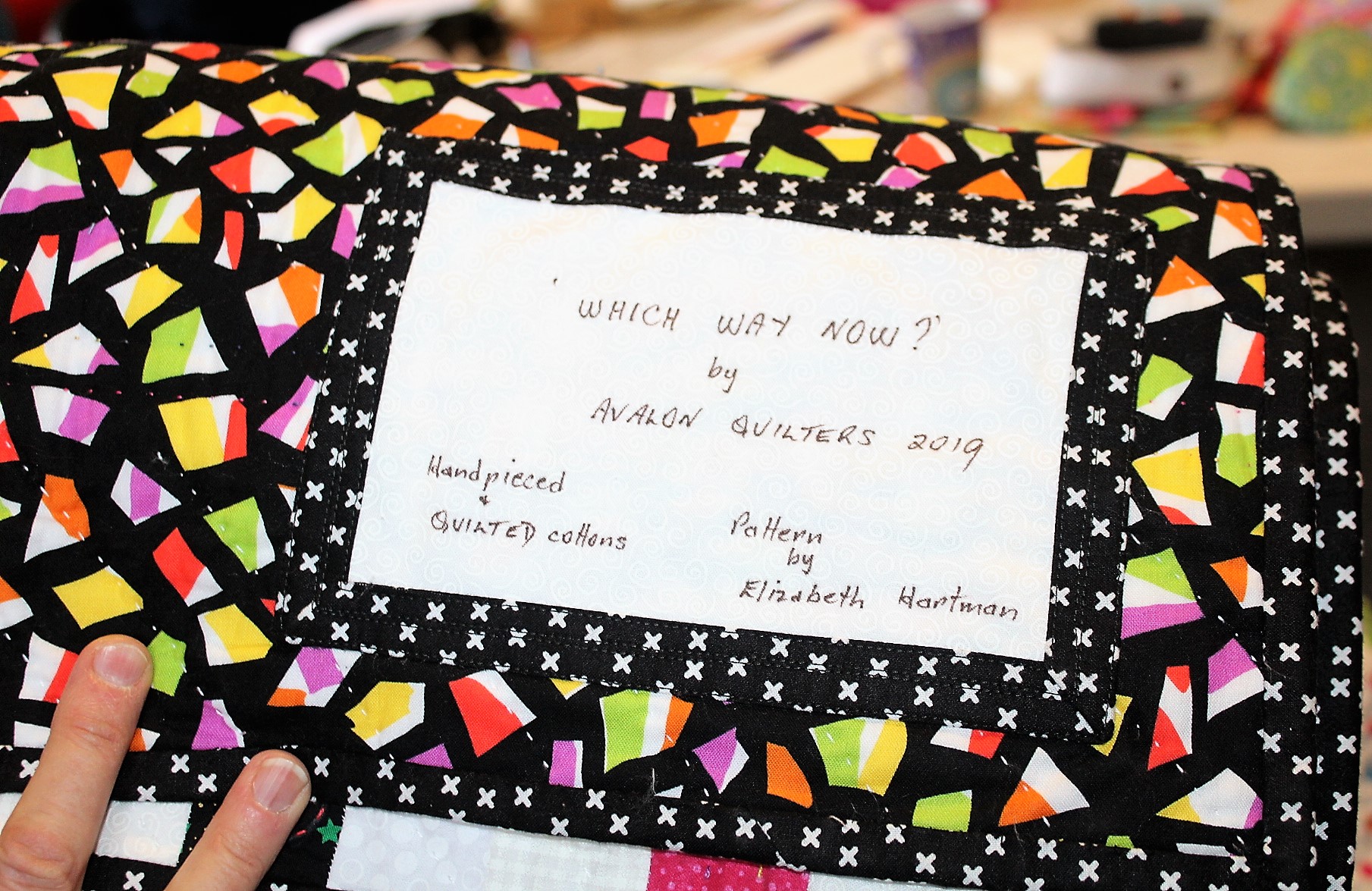 Historic Quilts will also form part of the displays, some of these will be available for purchase.
All these have great stories – as an example; one lady maker of a quilt was a descendant of the British 'patriots' in the American Revolution War who fled to Canada – so that is a Canadian quilt.
Another is one Australia made in the 1940's whose owner remembers her mum ands grandmother making it when she was five years old.
All of these come with the Provenance details.
This image shows a Avalon Quilters member Trish Bloomfield with President Anne Perry and the 1850's quilt pattern Trish is currently working on – 'a reproduction of a reproduction'.
Next year will be 40th anniversary of Avalon Quilters. They were formed in 1983, which makes them one of the oldest quilters groups in Australia.
The group started when a small group of ladies who had completed a course locally in patchwork and decided they wanted to continue meeting on a regular basis. They began meeting in each other's homes until it proved difficult with small children. The opportunity to use the Avalon Uniting Church hall came through a suggestion from a member, the late May Read. This was early in the days when there was a growing interest in patchwork and quilting in Australia. More in: Avalon Quilters Profile
During the Covid lockdowns no Avalon Quilters Show could be made available to all those who travel from further afield and locally to see these works.
That didn't mean the quilters weren't busy though – a brilliant display of classic and contemporary quilts have been produced.
During the lockdowns Avalon Quilters members met in local parks where they could 'socially distance', chat and exchange ideas and help on their works.
Earlier this year we ran the news that an Avalon Quilters member had a contact with a group of quilters in Norway. These Norwegian ladies were gathering quilt blocks of sunflowers to make into beautiful quilts for Ukrainian refugees. These quilts are all yellow and blue, the colour of the Ukrainian National flag.
Avalon quilters enthusiastically produced a beautiful collection of sunflowers along with an amazing contribution from Illawarra and Shoalhaven Quilters. Together they posted these to Norway, with the 250 sunflowers made being be enough to make many warm comforting quilts.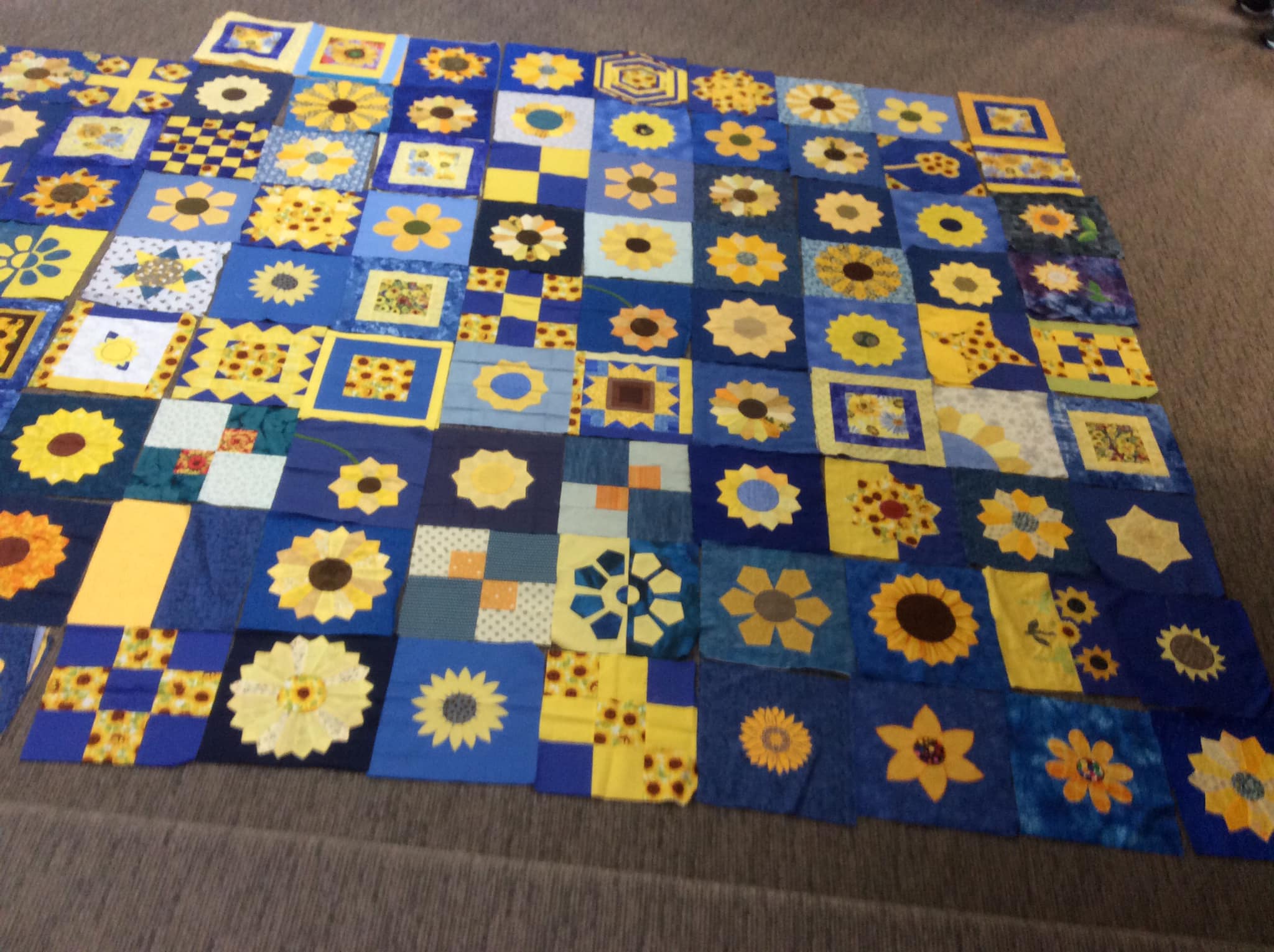 The latest news from Norway is that just that has happened and 21 quilts have been assembled to go to refugees from Ukraine in Norway.
Norway says; ''Thank you for blocks and friendship; 3 more (sets of blocks) are coming in and they will be sent to ladies in Kyiv MQG.''

Mali Storli Engedal: June 10 and 17, 2022:
I dag har ikke sylysten vært helt tilstede. Jeg hadde planlagt å sy 3 quilte-topper, men det ble med en. Her må jeg virkelig berømme de som har vært med meg på veien og de som blir med meg til ferdig quilt. Tusen takk Elisabeth Kristiansen for gule stoffer og det som skal bli lukkekant. Tusen takk til Kathrines Quilte Stue for bakstykke. Og sist , men ikke minst, kjære australske quiltevenninner hos Avalon Quilters og Quilting Shoalhaven.
Translation
.... I had planned on sewing 3 quilt tops, but ended up with one. Here I really have to commend those who have been with me on the road and those who are joining me to finish the quilt. Thank you so much Elisabeth Kristiansen for the yellow fabrics and what will be the closing edge. Thank you to Kathrines Quilte Stue for the back piece. And last, but not least, dear Australian quilt friends at Quilting Shoalhaven and Avalon Quilters



Første Ukraina quilt er ferdig. Flotte blokker fra damene i Avalon Quilters og jeg håper de er fornøyde med jobben min. Bakstykke fra Quilt & Sånt og lukkekant fra Fjordlappar.
Translation:
First Ukraine quilt is finished. Great blocks from the ladies at Avalon Quilters and I hope they like my work. Backpiece from Fjordlappar and closing edge from Quilt & Sånt .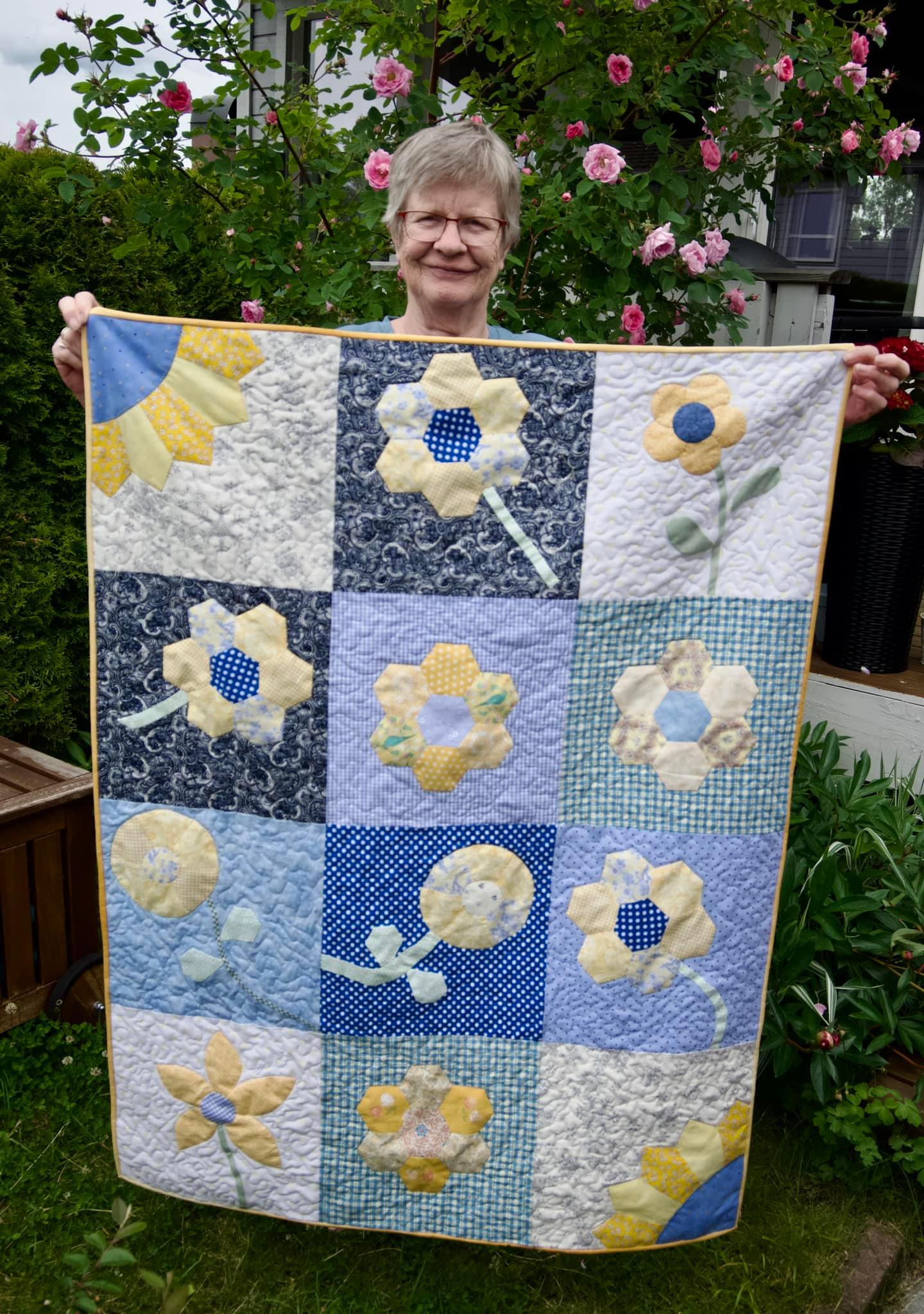 Mali Storli Engedal, June 17, 2022 - Mali is member of the Scandinavian Modern Quilters, who made up the quilts.
The latest news from Norway is that just that has happened and 21 quilts have been assembled to go to refugees from Ukraine in Norway.
Norway says; ''Thank you for blocks and friendship; 3 more (sets of blocks) are coming in and they will be sent to ladies in Kyiv MQG.''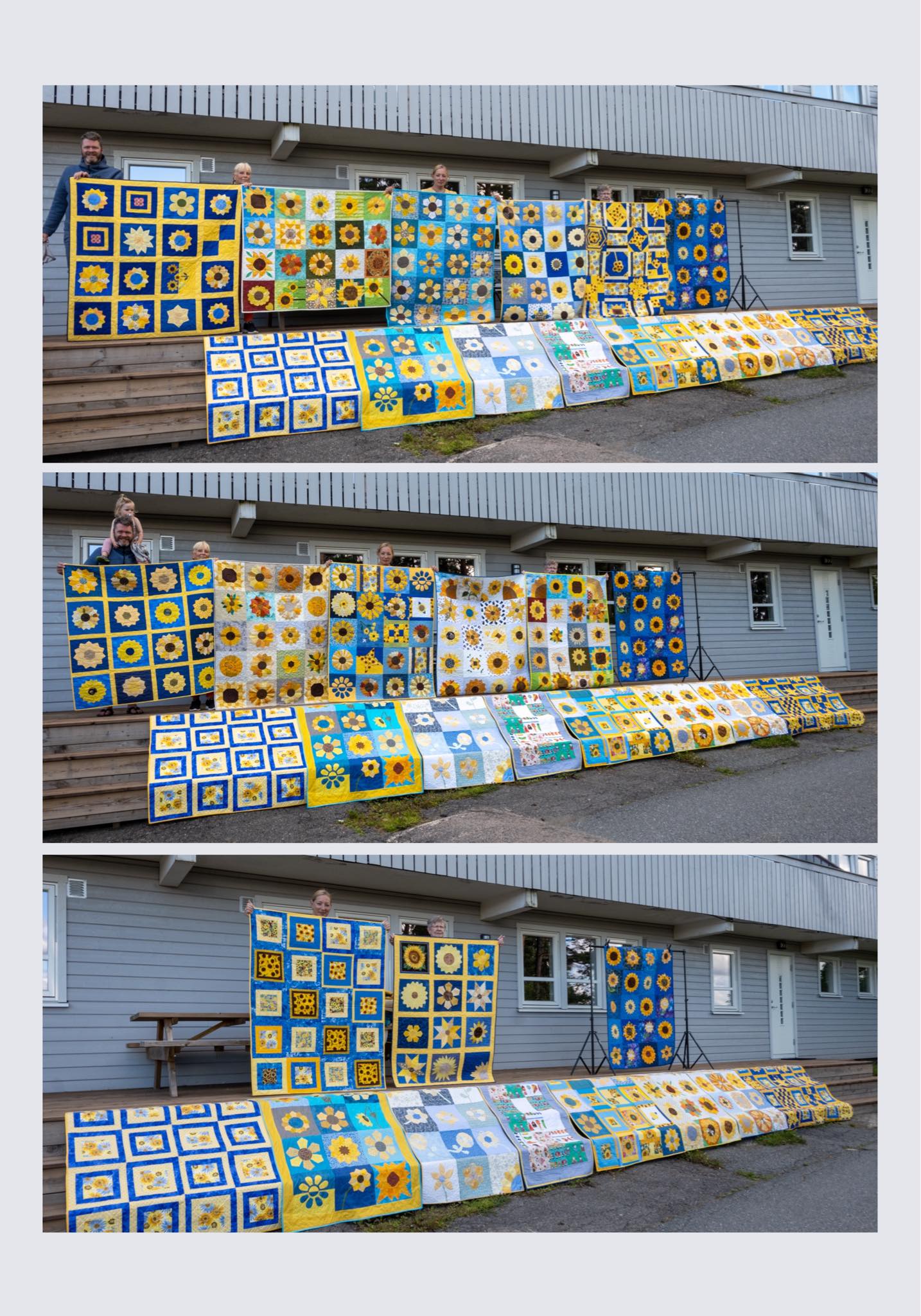 photo courtesy Mali Storli Engedal, Norway, August 9, 2022
The Quilts for Ukraine has seen Quilters from across the world either making the blocks in the Ukraine colours or making quilts they have auctioned to raise funds to help registered organisations help Ukrainians. Designers have and are hosting online fundraisers and provided downloadable patterns as a thank you to donors.
Wrapping Ukrainians in love with these bright quilts hasn't been the only contribution by Norway. On July 2nd Norway pledged 1 billion euros ($1.04 billion) to help Ukraine defend itself, support people in need and for reconstruction in the wake of Russia's invasion.
Addressing a news conference in Kyiv alongside Ukrainian President Volodymyr Zelenskiy, Norwegian Prime Minister Jonas Gahr Stoere said Norway wanted to express its solidarity with Ukraine's fight for survival.
"I'm here to say that Ukraine's fight is not only for Ukraine. This is about some fundamental principles of the world we are going to offer to our children. This is about security in Europe, this is about the fate of your neighbour," he said.
It's wonderful to know that those blocks made by our own Avalon Quilters are providing warmth and comfort in a place over 16 thousand kilometres from here.
Visiting the annual Avalon Quilters Exhibition of Members Work is a rare treat – you are educated in the intricacies of what forms a quilt, what kinds there are and where the historical ideas incorporated into some stem from.
The 2022 Raffle Quilt, 'Which Way Now', with all proceeds from the Raffle Quilt ticket sales at this year's show will be donated, as in previous years, to Australian Mitochondrial Disease Foundation.
The Founders of the Australian Mitochondrial Disease Foundation are local residents Margie and Dr Doug Lingard.
Margie's Story, 2013:
Thirty years ago our seven year old son, Alex died from what was then an unknown illness. Despite his tissue samples being sent to several top laboratories overseas and being seen by many neurologists there was no firm diagnosis – possibly a virus of unknown neurological origin. As a mother I was shattered to find out there was no cure for Alex and yet men could walk on the moon. Where were peoples' priorities?
Alex's illness was always at the back of my mind.
Six years ago we received a phone call that brought Alex's death flooding back to haunt us. Our beautiful daughter, Rose (20) had been found convulsing and unconscious by her flat mates. We knew, although we hoped we were wrong, that she had the same illness as Alex.
After a phone call to one of Alex's neurologists we were told that he had most likely died from a mitochondrial disorder. What? It was the first time we had heard the word, and when we Googled it our hearts and hopes sank ... an incurable illness for which there was yet no cure.
Meanwhile Rose's life hung in the balance as she spent several weeks on life support and in a coma. She recovered consciousness but spent months in rehab learning to walk again, regain her balance and many other physical activities we take for granted. A cocktail of anti-convulsants and supplements to enhance her body's energy production became part of her daily diet - about 30 different pills in total.
Rose's determination, for which she deserves a medal, and outstanding medical support, have given her part of her life back. Her greatest wish is to be normal, get through a day without convulsions, and be like her friends. It breaks our hearts to see her struggling and trying so hard but it's also what motivates us to find a cure for Rose and every other sufferer.
_________________________________________________________
Sadly Rose passed away in 2017 but Margie continues the work as Chairman of fundraising for the Mito Foundation Australia – The Bloody Long Walk that began as a stroll from Palm Beach to Manly is now an Australian-wide event, with walks taking place in each state.
Mito Foundation supports people affected by mitochondrial disease (mito), funds essential research into the prevention, diagnosis, treatment and cures of mitochondrial disorders, and increases awareness and education about this devastating disease.
Entrance fee is $5 and that too goes to the Australian Mitochondrial Disease Foundation.
The 2022 Avalon Quilters Exhibition of Members Work will take pace in the Avalon Uniting Church, 44 Bellevue Ave, Avalon Beach, on Friday and Saturday September 2-3, 2022 from 9am to 5pm both days
Don't miss it!