May 7 - 13, 2017: Issue 311
Inaugural Lifeline Classic An Investment In Waves Of Hope For Everyone's Loved Ones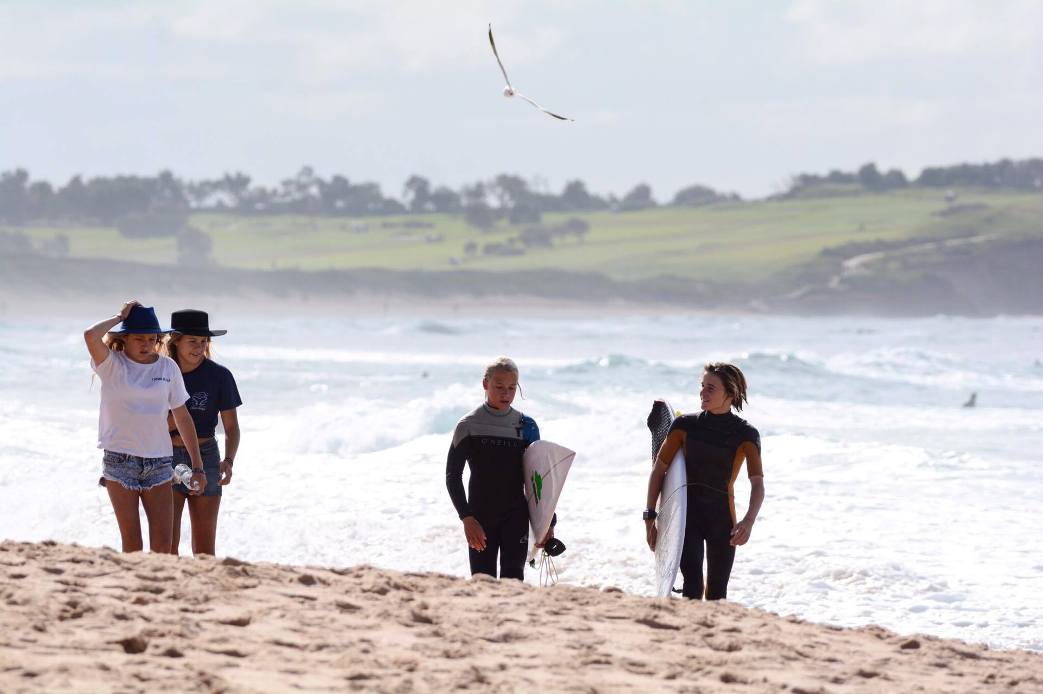 Lifeline Classic 2017 - photo by Jack Barrip, Living Ocean team
The inaugural Lifeline Classic held last weekend is a clear indication our community wants to turn the tide on losing loved ones to suicide and ensure services are in place to assist those afflicted with depression. Supporting those who can provide what is needed anytime it is needed is one step in the right direction.
As it costs Lifeline $27.96 for every call responded to, every dollar raised at the first ever Lifeline Classic will help save lives.
Lifeline Northern Beaches CEO David Thomas said the organisation was more than happy to raise over $50,000 in the inaugural Lifeline Classic at Dee Why Beach on Sunday. $51,855.19 has been donated so far.
"It was a bit out of the box for Lifeline to do a surfing event, but we got the surf and the weather," he said.
Mr Thomas said suicide is our national emergency. "When you look at the statistics, the biggest killer of 15 - 44 year olds is suicide. It's a crisis and the peninsula is no different - our community has felt the devastating effects of this far too often."
"So that's close to 2,000 calls to crisis counsellors we will be able to fund from this event. That's 2,000 cries for help, potentially 2,000 lives that can be saved with those calls," he said.
Mr. Thomas said that Lifeline as an organisation has struggled to get to a younger demographic. "A lot of people in my middle-age group know about the 13 11 14 crisis hotline but they don't know about our counselling services or the other services we offer.
"Huge thanks to all the pros, all the fundraising teams and everyone who supported this event, plus Steve Harrison from Global Surftag and Jo Lynas from Lynas Events who put it all together. Hopefully it will build that trust and confidence, and also that brand identity, with the younger demographic. If they do have a crisis somewhere along the line, they'll know that Lifeline is there and that there are services available to help them," he said.
The Living Ocean team (Hunter Roberts, Sam Partington, Van and Arch Whiteman and pro surfer Fraser Dovell) won the fundraising with more than $7,000. They were inspired to get involved by Claudia Newman.
"Depression and mental health issues have been a big part of my life personally, and a few of my friends have passed away, so I've been looking for something to do about it for a very long time," Claudia said. "With the Lifeline Classic, we got an opportunity to make a difference and include all the youth in it. So I involved my family and Living Ocean, which was co-founded by my parents, Carol and Robbi and their friends, and the response was absolutely incredible.
"We need the youth to understand that there are people to call if you don't want to talk to your family or friends. If you're not ready for that kind of communication yet, you can call up Lifeline on 13 11 14 and there will be someone there 24 hours a day who can help you with any problem you are having, just so you know that in no way, shape or form are you alone."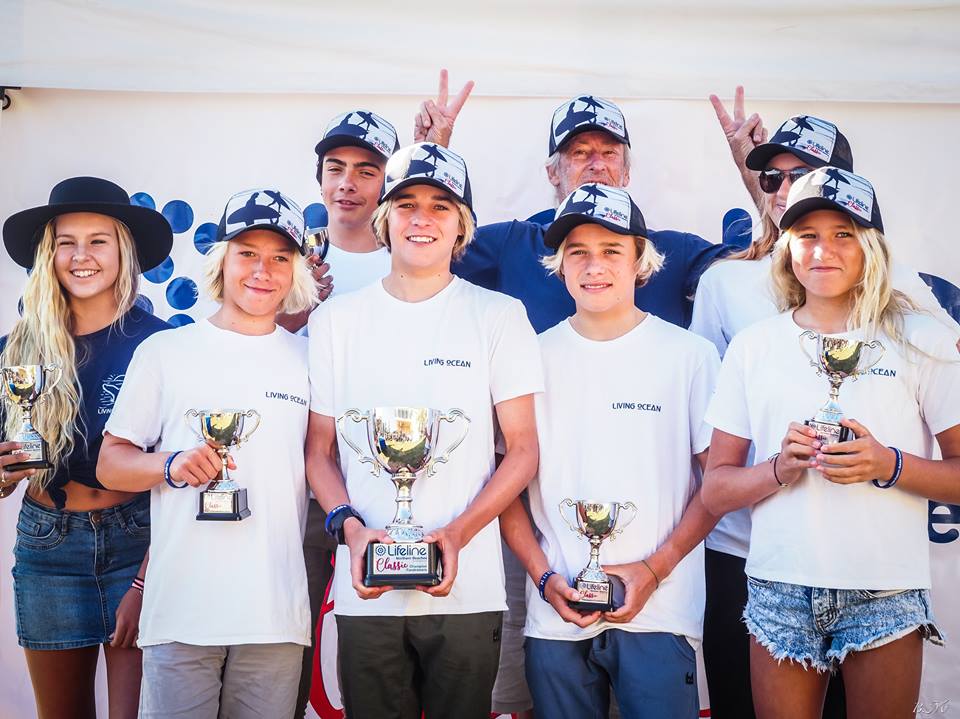 Living Ocean won the fundraising and will give more than $7,000 to Lifeline
Photo courtesy Bernadette Johnson McAlinden
Fourteen teams fundraised, with 13 competing on the day.
Although the focus is clearly on winning something else here, the Manly Surf School team (Cooper Chapman, Shane Conwell, Harley Ross, Darcy Crump and Tas Grainger) won the final from Salty Roosters, White Horses and North Steyne. Sharing fifth place were
Living Ocean
and
Swellnet
, while equal seventh were Surfing Mums and Adrenalin Wetsuits. The other fundraising teams, Saltwater Hope, Avalon Beach SLSC, The Rebels, Redback Surfware, Hot Grommet and The Surfing Lawyers, all added to what can be done through Lifeline Northern Beaches.
Among those who wanted to support the teams were
Manly Sea Eagles star Dylan Walker, who competed on the Hot Grommet crew as well as former pro surfers Simon Anderson, Rob Bain, Toby Martin, Matt Bemrose, Dayyan Neve and Nick Carroll.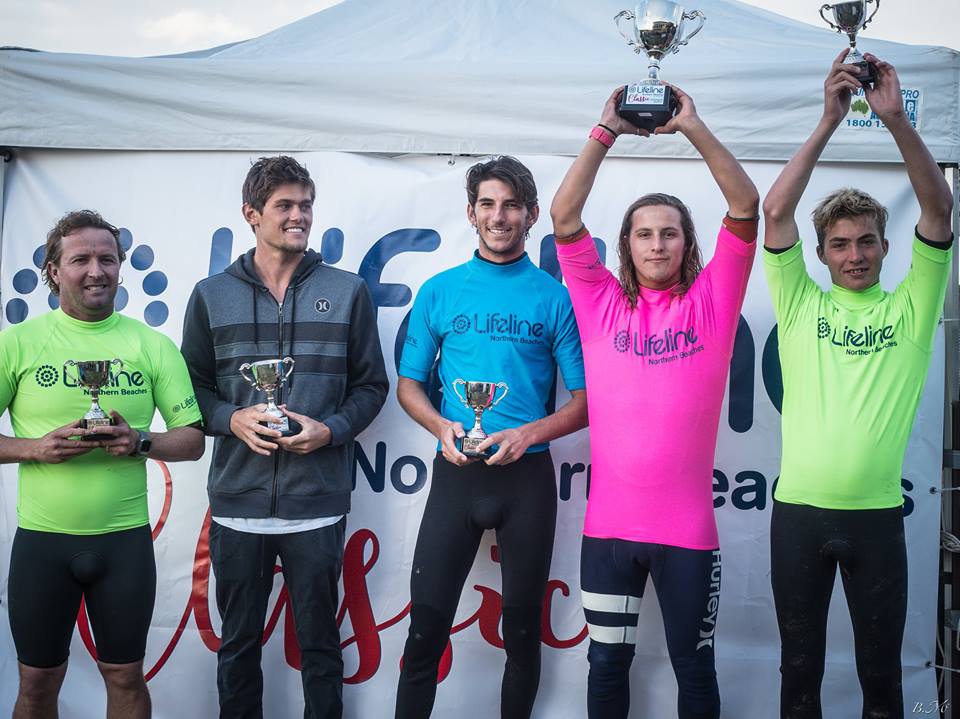 Manly Surf School came first in the surfing competition
Photo courtesy Bernadette Johnson McAlinden
Alongside the 13 11 14 telephone crisis support service, Lifeline Northern Beaches offers other services including face-to-face counselling, telephone support for the isolated and at risk, and support groups, training and community visitor programs.
If you or anyone you know needs help, please contact:
Lifeline on 13 11 14
Kids Helpline on 1800 551 800
MensLine Australia on 1300 789 978
Suicide Call Back Service on 1300 659 467
Beyond Blue on 1300 22 46 36
Headspace on 1800 650 890
$20,000 For Suicide Prevention On The Northern Beaches
Minister for Mental Health Tanya Davies today announced $20,000 in NSW Government funding to expand Lifeline Northern Beaches' Accidental Counsellor Training program, which raises awareness about suicide.
"Suicide is one of the most alarming issues in Australia today, having a devastating impact on families, loved ones and the community.
"This practical, 'first aid' styled course will help members of the community 'recognise, respond and refer' support when someone is at risk of suicide.
"As a government we know we must take a multi-dimensional approach to suicide and self-harm prevention. We are committed to doing this by building partnerships between Government, NGOs and the community to connect people at-risk of suicide with the treatment and support they need," Mrs Davies said.
Mrs Davies was joined by Liberal candidate for Manly, James Griffin, Lifeline Chairman John Brogden and, Lifeline Northern Beaches Chief Executive Officer, David Thomas.
Mr Brogden said this funding means many more students and community leaders will be provided with lifelong skills and techniques in situations where suicidal feelings may be present.
"This funding also means Lifeline can also provide this evidence-based course to 15 secondary schools over the coming 12 months, in addition to several local surf lifesaving, football and rugby clubs," Mr Brogden said.
Mr Griffin welcomed the additional funding in support of the Northern Beaches community, saying the program had the potential to make an enormous difference.
"Every suicide is a tragedy and has a profound effect on the entire community. The additional Government funding will make a difference to our lives, by equipping the local community with skills to build awareness and prevention," Mr Griffin said.
The NSW Government is committed to tackling this important issue and has a range of suicide prevention initiatives in place to reduce the rate of suicide across NSW.
If you are at risk of suicide or self-harm please call Lifeline on 13 11 14.
Lifeline Northern Beaches Accidental Counsellor Training
Have you ever found yourself supporting someone with a mental health issue or in a crisis situation, by accident?
The Accidental Counsellor program draws on the expertise of our organisation's proven crisis handling skills and presents them in a 4 hour workshop. The program equips people to RECOGNISE when others are struggling, to RESPOND appropriately with confidence, and to REFER them to the best place for help.
Lifeline Northern Beaches will be holding Accidental Counsellor training sessions on the following dates in 2017. The cost of the course is $150 per person.
Graduates of Lifeline Northern Beaches' Accidental Counsellor program frequently reflect on how effective they find the teaching, especially the scenarios, in helping them to initiate the often-awkward conversations they have previously avoided.
Lifeline Classic 2017
$51,855.19 - aiming for $60, 000

HERE ARE THE OFFICIAL RESULTS
Congratulations to LIVING OCEAN for taking out the Fundraising Champions trophy!
The Rebels are just a fundraising team not surfing).
1st
Living Ocean
$7,193.95
2nd
Surfing Mums
$6,733.93
3rd
Saltwater Hope
$5,591.76
4th
White Horses
$5,525.24
5th The Rebels $4,216.40
6th
Avalon Beach SLSC
$4,007.55
7th
Salty Roosters
$3,635.86
8th
Manly Surf School
$3,429.97
9th
Nth Steyne Boardriders $2,546.80
10th
Red Back Surf Ware
$2,449.23
11th
Hot Grommet
$2,229.30
13th
Adrenalin Wetsuits
$1,615.70
14th
Surfing Lawyers
$841.50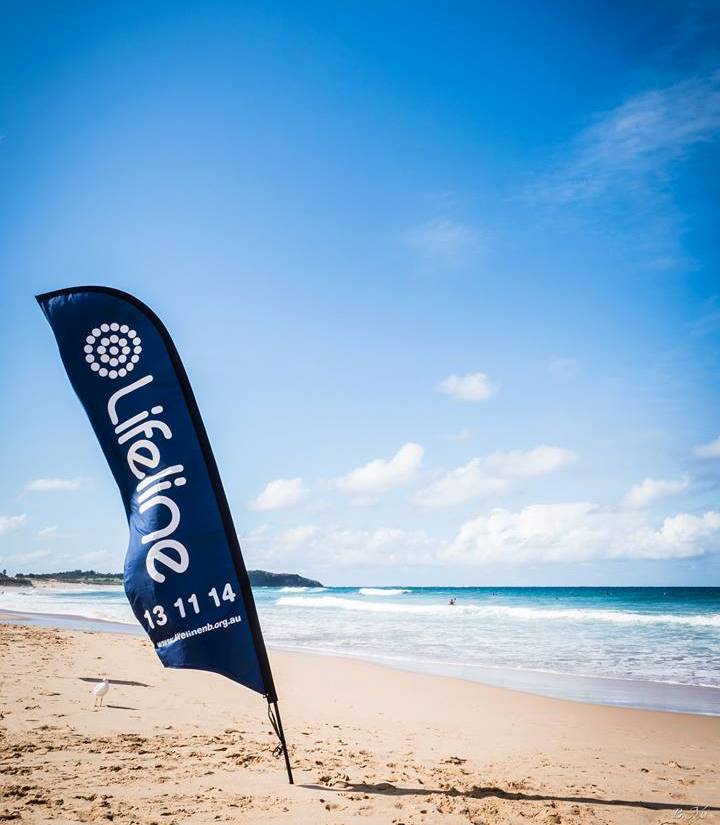 Photo courtesy Bernadette Johnson McAlinden