February 6 - 12, 2022: Issue 525
Kimberley Country part 3
by Robyn McWilliam
Odyssey motors up the Prince Regent River, sunlight shimmers the surrounding water. We take off in Homer to clamber up a rocky track to a site of Bradshaw art. Originally, this art was named after Joseph Bradshaw, the first European to encounter it in the 1890s. Now it's known as Gwion Gwion rock paintings. These weird figures appear shadowy on the ochre surface.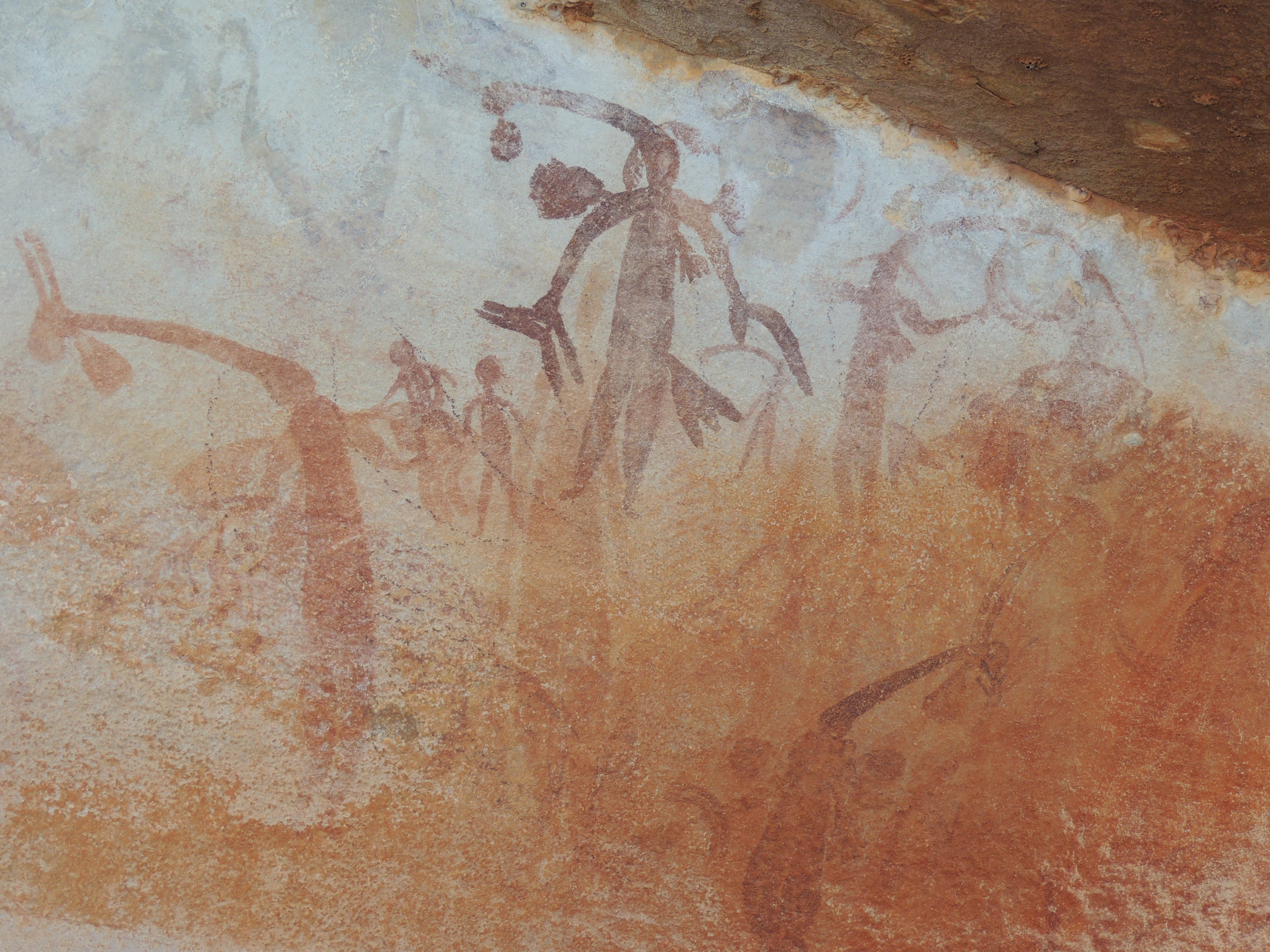 Bradshaw art

Heat builds in the afternoon. Many read in our air-conditioned cabins. As we cruise into Cascade Falls, the skipper suggests the men cool off. He manoeuvres the bow under a descending mass of water, it roars and shushes over them.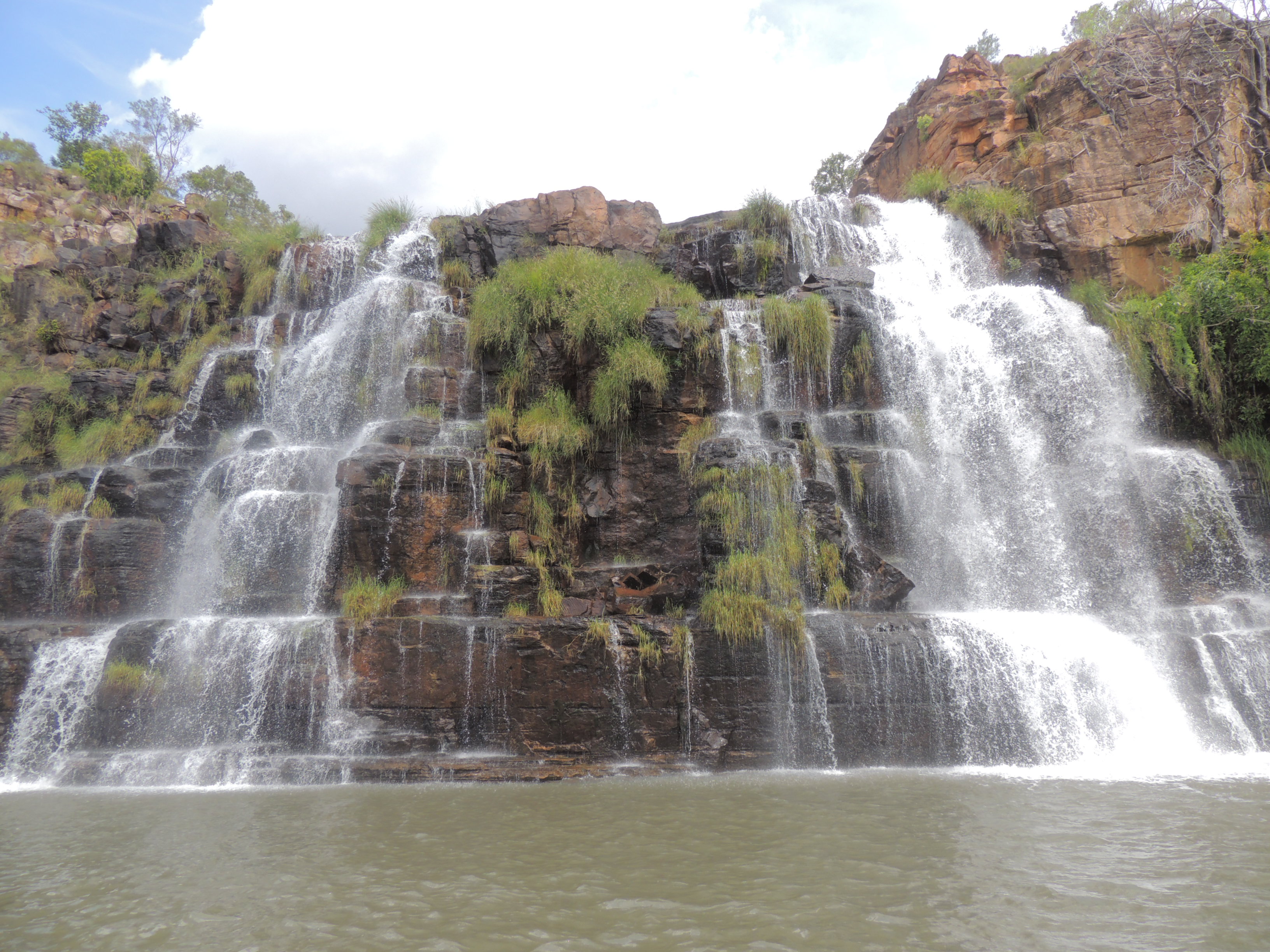 Cascade Falls

Fall after fall spreads out across a cliff face of ledges with masses of foliage. Streams of white water thunder their way into the murky bay. We hear a story of a US model taken by a croc trying to swim ashore from a yacht; a reminder of our ever-present reptilian monsters.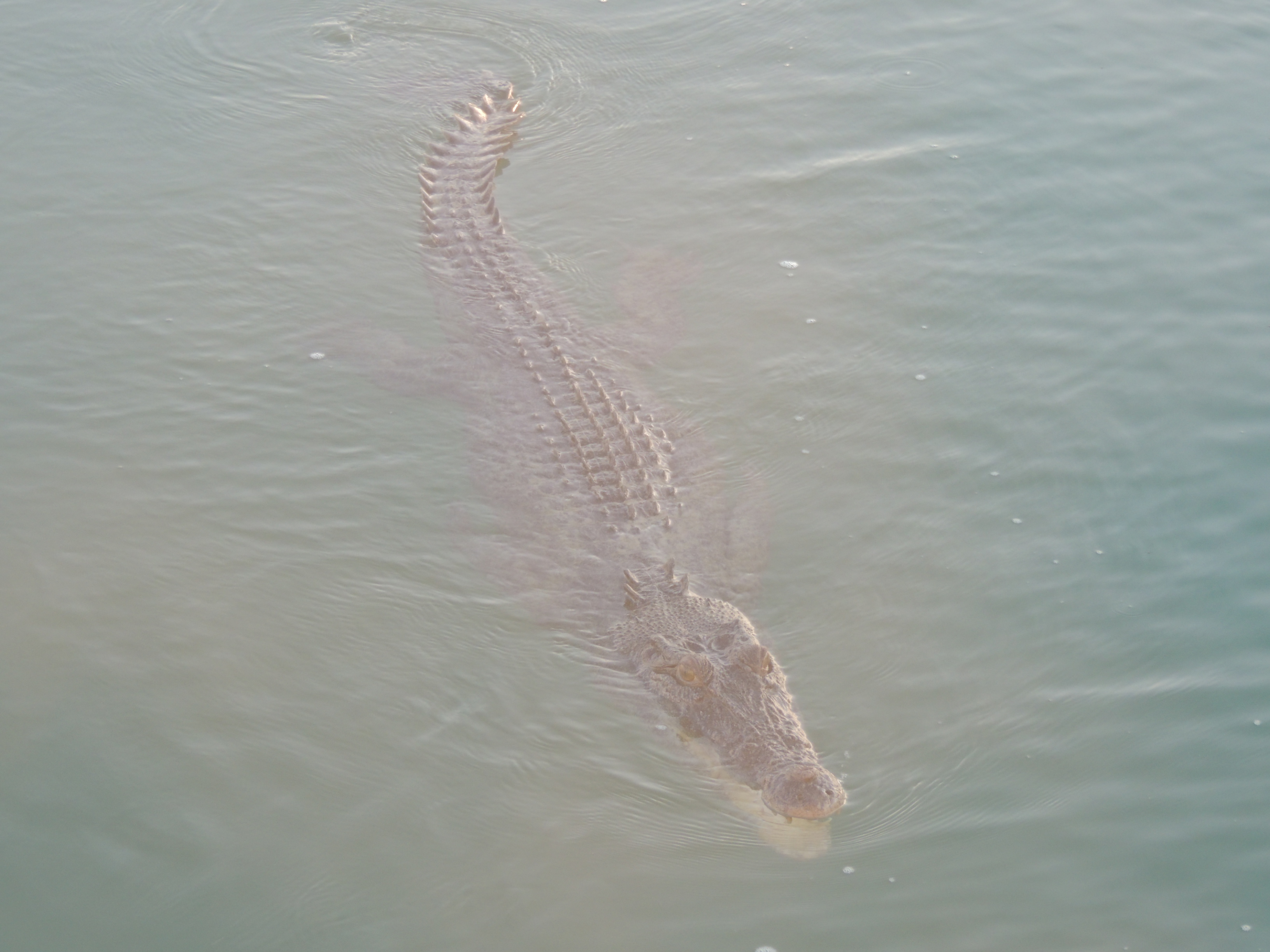 A waiting Kimberley crocodile
We wear cossies for our trip in Homer up to the Ampitheatre where water cascades from 68 metres above us. The bow is hammered by the flow, the splashes cooling us all. The sun appears a red ball descending through clouds before it sinks below the horizon.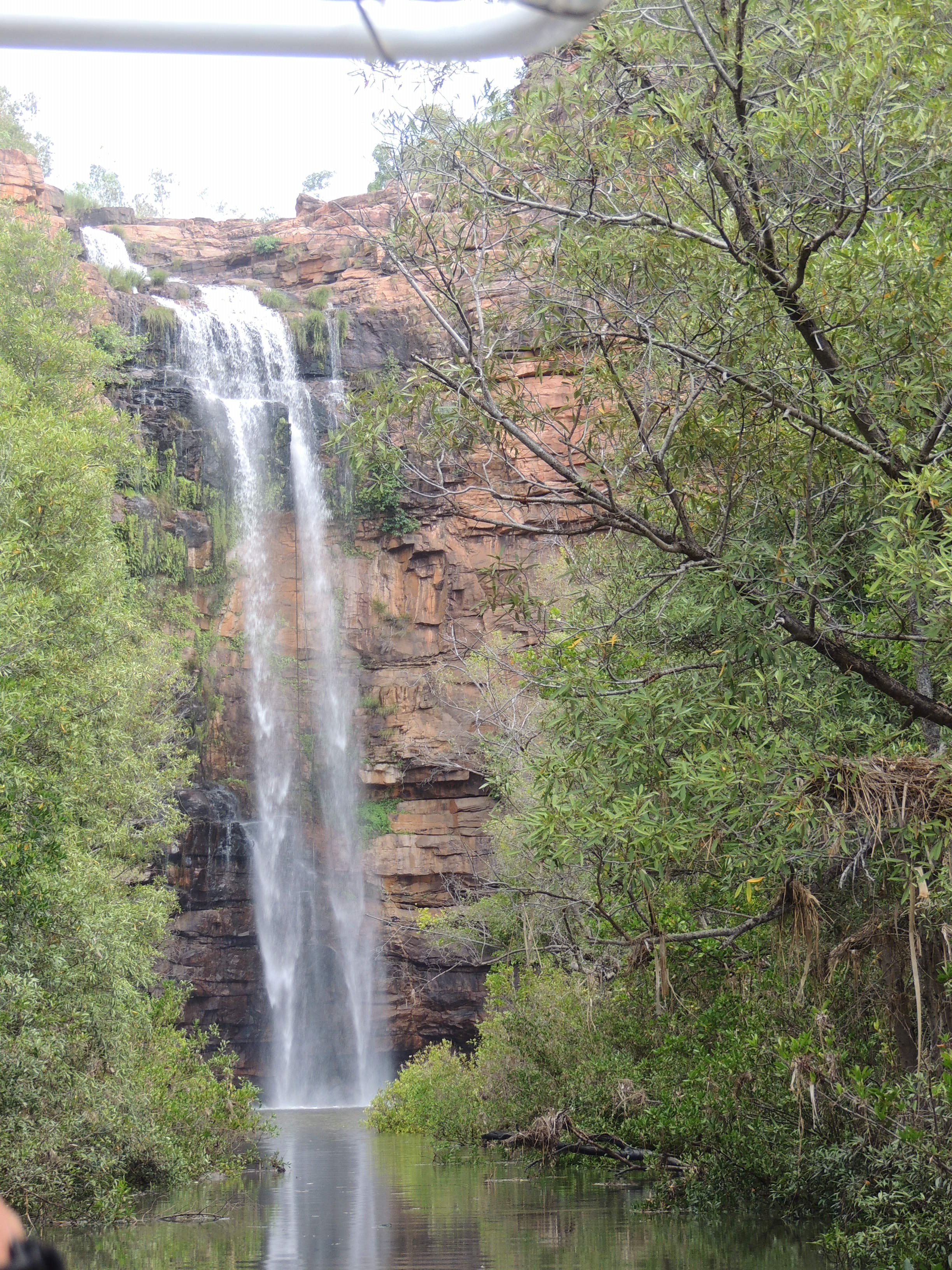 our chopper
The Ampitheatre

Back on Odyssey the temperature is pleasant as we motor downstream. The Prince Regent River is wider than I expected. Currents eddy around us as I scan the tumble of reddish rocks on the hillsides. Leafy green mangroves at the water's edge become indistinct as the sky darkens. Lightning flashes, illuminating the clouds.
Next morning, we visit a massive boab tree with Mermaid 1820 carved in its trunk by Philip Parker King's exploration team. Their cutter was careened on a beach nearby.
The Mermaid tree

For our island party on the last night, the women of our crowd composed then read an Ode to the Odyssey mentioning our skipper and all the marvellous crew.
My husband's eyes lit up as our helicopter soared past and landed on the beach. We zipped ashore, climbed in and rose above the Mitchell Falls. An expanse of countryside below us, we took in the majesty of these canyons spilling water. Landing on a dirt airstrip, we boarded a light plane, did a final arc over the falls and headed for Broome.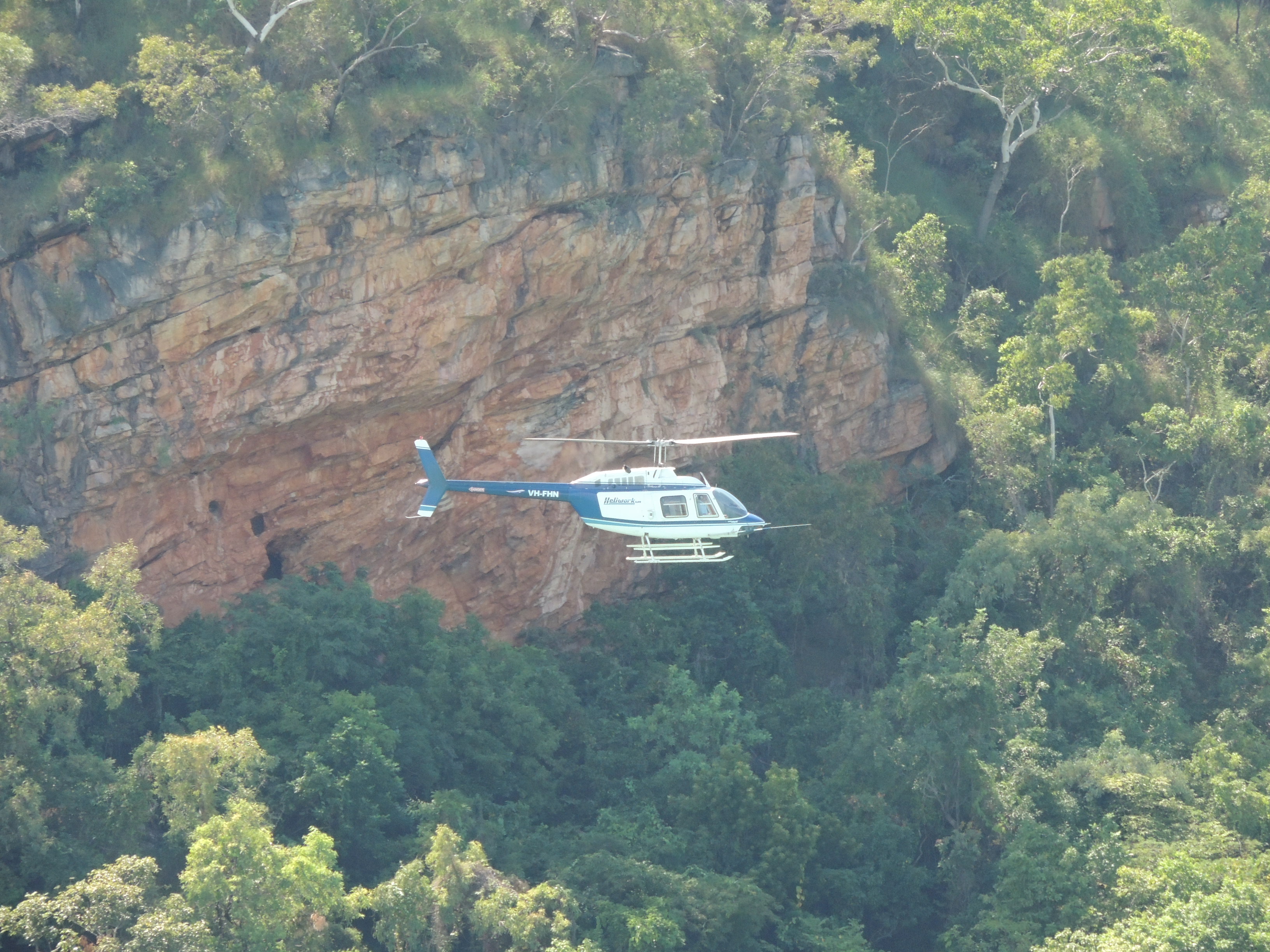 Our chopper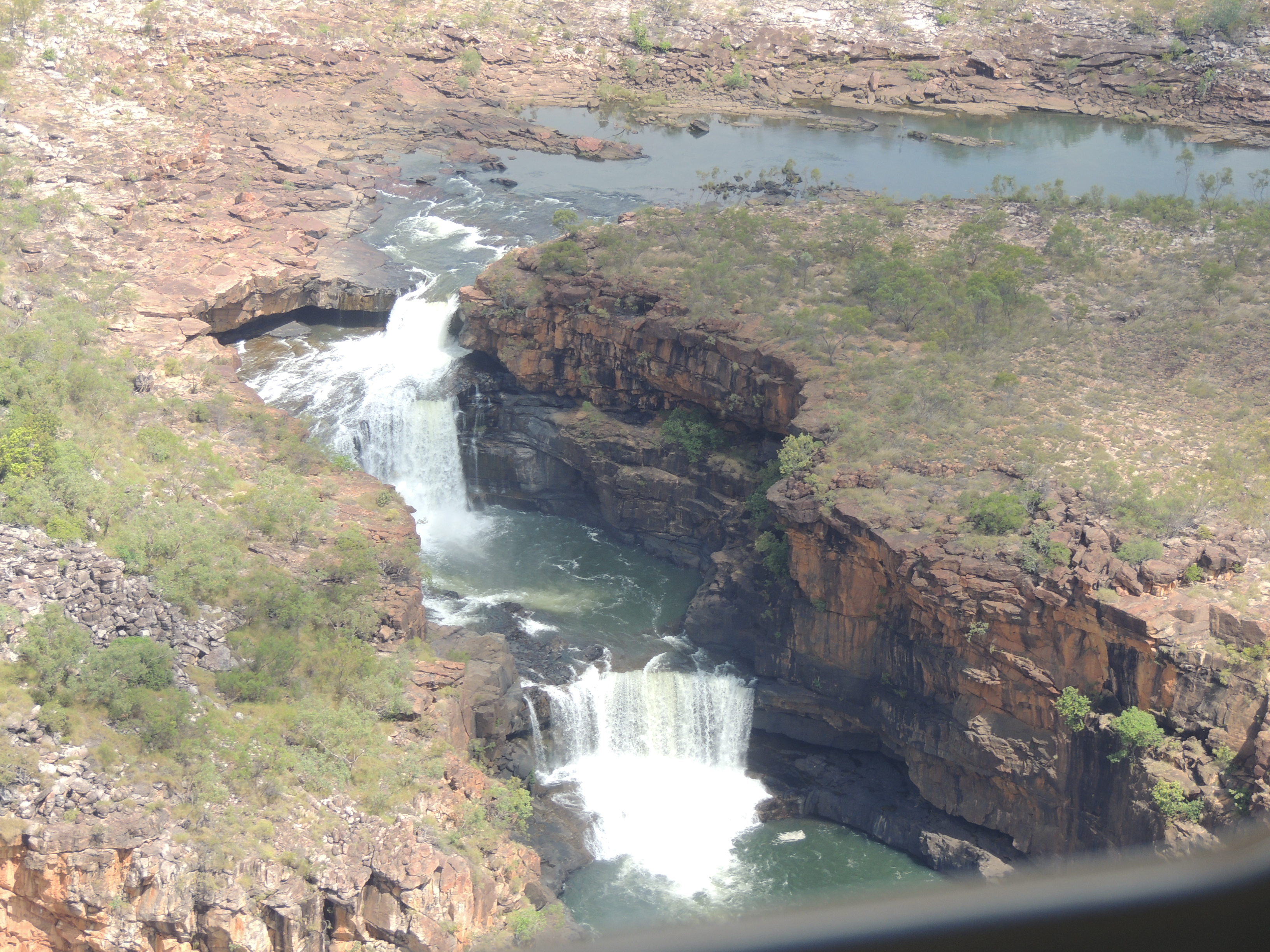 Mitchell Falls

Our holiday over, we were left with images of this rugged wilderness, its steamy heat, rushing water and raging tides. The Kimberley region is Australia at its best. Here's hoping every Aussie will eventually venture north to experience this stunning landscape.
Photos: Robyn McWilliam