March 5 - 11, 2017: Issue 303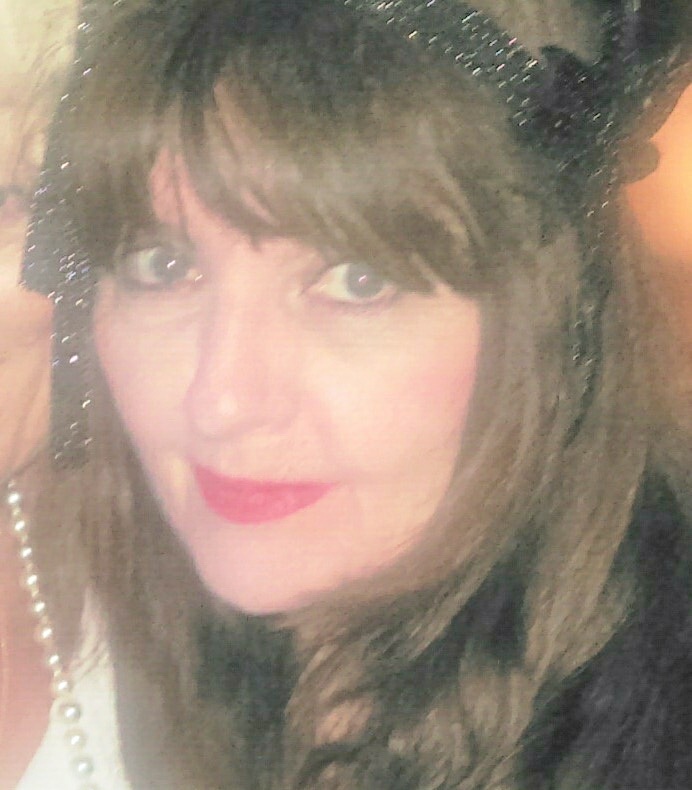 Currently showing some of her works at Rust (Avalon Parade, Avalon) until March 24th is a lady whose works many may have seen around our area for decades - including 8-metre mural for Whaley's Cafe, Whale Beach.
All Art is a language of its own that does not easily translate into words – but we know what we like and we know we like it the moment we see it. Ms. Rose's works are of this kind - strong and bold in one way, soft and feminine in others, they remind you of the mandalas employed in meditations.
Among the range of mediums and ancient methods employed to make art is Linocut, a printmaking technique and a variant of woodcuts - the older version. Linoleum is a floor covering that dates to the 1860s. The linocut printing technique was used first by the artists of Die Brücke in Germany between 1905 and 1913, where it had been similarly used for wallpaper printing.
Tasmanian born illustrator William Kermode, was one of our early exponents in this artform, illustrating Henry Williamson's The Patriot's Progress, published in 1930 with linocut prints.
Spanish painter Pablo Picasso has also done linocuts, as has Horace Ascher Brodzky (30 January 1885 – 11 February 1969) the Australian-born artist and writer most of whose work was created in London and New York. His work included paintings, drawings and linocuts, of which he was an early pioneer.
Jude Rose, apart from being a passionate painter and printmaker with Linocut, works in oil on linen and canvas. Some recent works are based on the feeling she gets from dancing Argentine tango, the passion and femininity, the connection with the music, the partner and the floor. A small insight into decades of great works from
our March 2017 Artist of the Month - Jude Rose
:
Where were you born and where did you grow up?
I was born in Darwin but only there for a few months. My father was a pilot so we moved around the whole of Australia, Asia and Europe, so I've travelled most of my life.
And for playtime while a child?
I loved the bush. I also did ballet, jazz ballet mainly, and I loved swimming.
Where did you go to school?
I went to MLC Burwood in Sydney. When dad moved to the Brisbane Air Force Base he thought I should have some more strict more conservative schooling. My father was posted to Paris and became the Military Attaché there so I went straight into the École nationale supérieure des Beaux-Arts (ENSBA), which was the National University of Arts and at Atelier Sornas. I did three years there while we were there and when we came back I had a year at East Sydney College and a year at the Julian Ashton Art School.
While I was at school I was always focused on the Arts, that was my major subject.
What was the first thing you ever drew?
I tried drawing a cane toad, when I was about three years old.
I went into textile design after this for a few years and became Head of Design for Universal in Sydney and later a Freelance designer and illustrator for Speedo Swimwear and Windsurfer.
Your works are very vibrant, where do you draw your influences from?
Definitely Freda Kahlo, the Mexican artist, has been a great influence. Also my ten years living in Penang in Asia, I was influenced by the bright colours, the tropical feel. This is still in my work to this day.
There have also been influences when I've travelled. I went to South America, to Brazil, and that was really influential on the colours I use, the textures and the vibrancy. Then living in Paris for a couple of years I was influenced by the classics of course and the Masters.
How about Australian artists, something about the quality of your works reminds of Bruce Goold during the 1980's…?
Bruce and I know each other, he's a master at what he does. His works have more of a masculine bolder feel than mine, whereas mine are the feminine, have more detail and use softer colours and make me the feminine linocutter of the Northern Beaches.
I love Elizabeth Cummings work, although I haven't ventured into abstract yet, not to say I won't.
There's quite a lot of contemporary linocutters in Australia who are definitely among the best in the world and I think we all influence each other.
What is the process involved in creating a linocut work?
I employ the old-fashioned traditional methods of making a linocut which is everything by hand. Many Artists today use a computerised printing program though, which gauges the weight and the amount of ink you use.
I'm more of a traditionalist where I use everything from a wooden spoon to a barrel, which is the way to print; I carve everything by hand and print everything by hand and colour everything by hand.
Are your prints limited editions?
Yes, they're all 1/50 – there are a few older ones that were one out of a hundred but I've phased those out. Traditionally you do one out of 80 to experiment with the colours and then you do a series of one out of fifty – 1/50.
You've also extended these works and incorporated this with your work in Textiles and producing cushion covers?
Yes, I'm doing a range of cushion covers, lampshades, posters, placemats and smaller items like fine bone china, as well as other fabrics like curtains and bedspreads.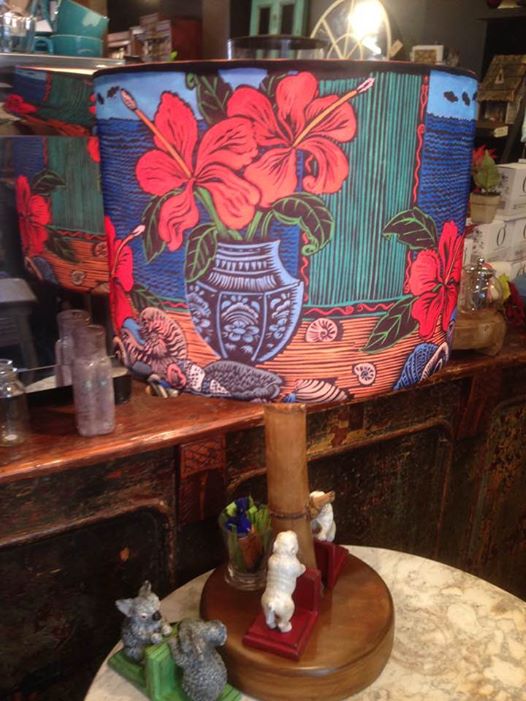 One of Jude's Lampshades - currently at Rust, Avalon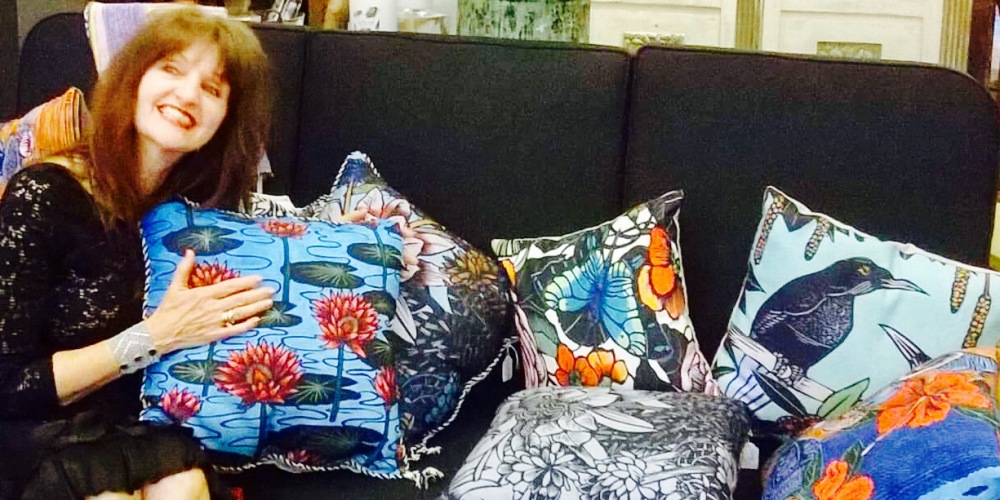 Jude with a range of her cushions with Linocut designs Ranging from $89-$170

They would make beautiful skirts too!
Yes, I would like to make a range of clothing.
Where can people access this range of home furnishings past your four weeks exhibiting at Rust?
I'm currently updating my website with this range and people can contact me via there through my email or mobile phone number: 0422 489 787 or email address is
artjude@yahoo.com.au
Coming up next is a series of Landscapes as metaphors. These will be waterfalls, inlets and more subdued and a little bit more abstract, so not quite so pedantic or detailed as the current series. These will be quite mystical, mysterious and much darker.
Will people recognise local landscapes in this series?
Yes, some will be of places around here and others from the time I spent on the South Coast (Of N.S.W.).
Nature is celebrated throughout your works – is this your primary subject?
Nature is definitely my guru and has always been a thread throughout my works. My main passion is to try and influence people to do all they can to stop or be aware of we are now living with global Warming and they too may contribute to being responsible in their everyday life for not making this worse and contribute nationally and internationally by defending places that require us to be responsible citizens.
I'm very much into protecting and preserving the planet and doing all we can to reverse this tide of flora and fauna becoming extinct due to what humans have done. This is a primary narrative in all my work. I'm also expressing aspects of the human condition – this has always been a large influence for my works.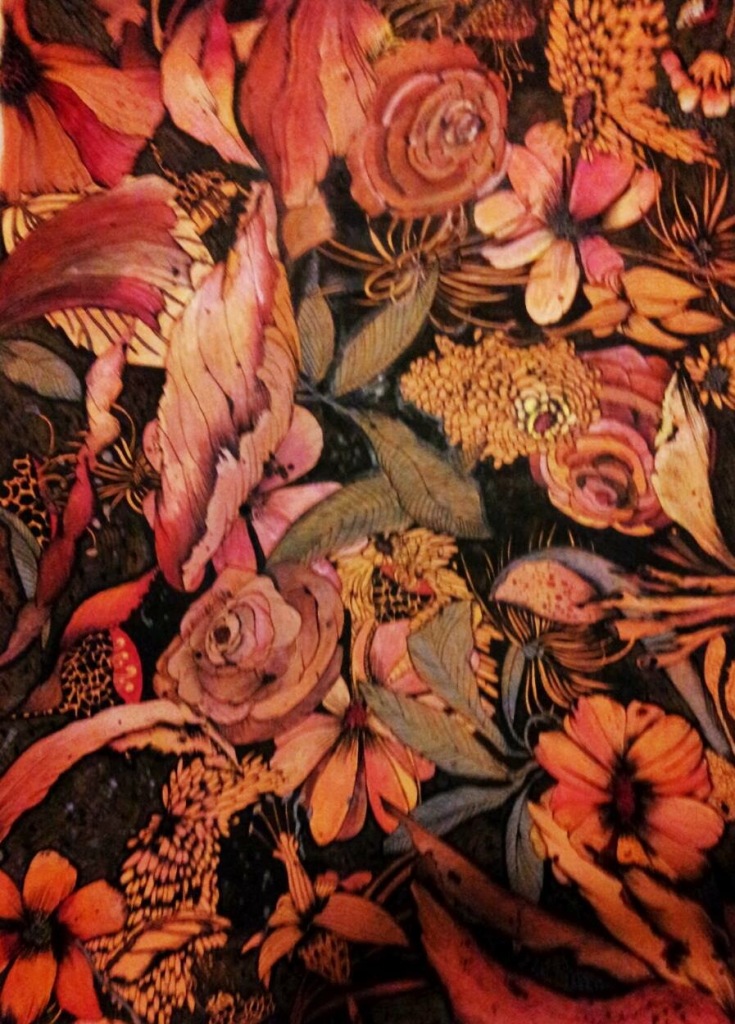 "The Webs We Weave" from the "On The Brink" series. Pen and ink, 130 cm x 80 cm.
Where have your works been on show apart from local galleries?
I've been hung in 2000-2006 Wynne prize for landscape,
The Salon des refuses, 2000 and
the Mosman Art Prize 2000, 2002, 2003, 2004, 2005.
I've also been on the Front page of the Sydney Morning Herald with a photo of my Archibald entry of Richard Clapton.
My work was Highly Commended when hung in the Nature Art Prize in Thirroul.
You're obviously a successful working Artist; what guidance would you give younger Artists contemplating a career in the Arts?
Simply that you must follow your passion and forget about what other people think. Just concentrate on developing your own feelings and your own work and your own influences. Don't ever think about what other people are going to think of your work, don't think about doing it for recognition – do it for yourself first and then you will become recognised as an individual Artist.
Do you offer any classes?
I do teach as well – I offer classes in Drawing and help people with major HSC works. People can contact me through the website or via my mobile number or through email if they want a lesson – and they can come to me or I can come to them.
I also offer classes for groups of people if these are wanted.
Why have you moved back to Pittwater?
I wanted to be closer to my family and also missed my friends here. I was a bit isolated on the South Coast. Another bonus was being close to Tango again – this has also been a big influence in my Art and my life and resulted in producing body of works influenced by Argentine tango. I've been doing Argentine Tango for nine years and this is a big passion.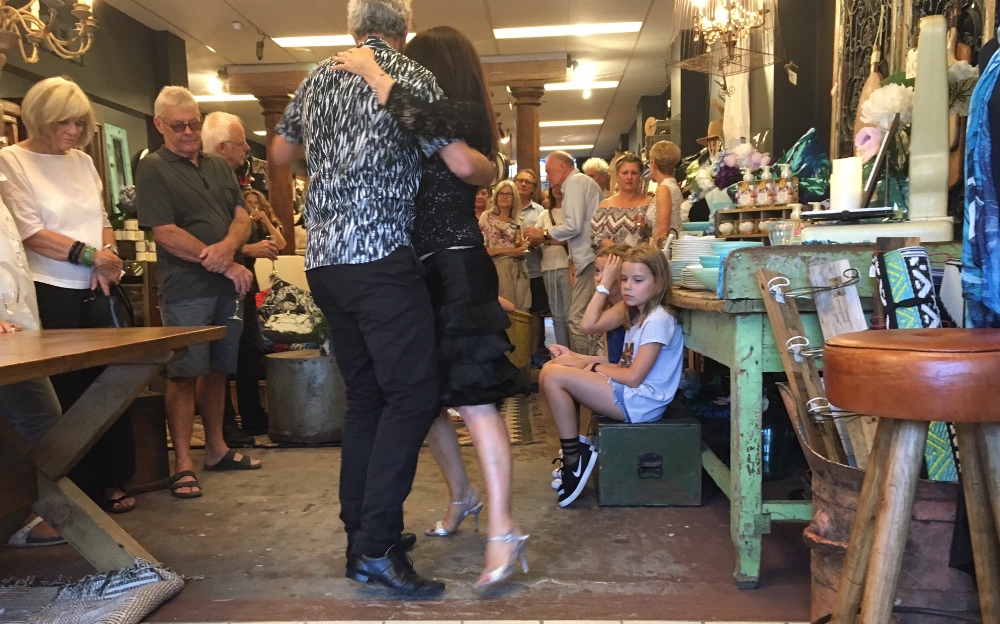 Jude dancing Argentine tango at her new Linocut exhibition at RUST Exhibition runs until 24th March 2017 Drop by!

Even though you speak calmly and quietly everything coming out of you speaks of an intense inner fire…why is that?
You could attribute some of that to my ancestry. There's definitely Spanish gypsy and Romany Gypsy and French aristocracy in my background on my father's side and Irish-Scottish passion on my mother's side. While 'Rose', my surname, comes from the War of the Roses and the 14th century in England; we can trace our family history all the way back to there, and that was quite a passionate time.
What are your favourite places in Pittwater and why?
I really love Warriewood Beach; I actually live near Warriewood Beach and it's a very quiet little tucked away bay which not too many people know about. I love taking long walks all the way up to Mona Vale; this is a gorgeous walk that takes about 45 minutes.
I really love Palm Beach and Avalon also because this is where my kids grew up, attending Avalon Primary and then Barrenjoey High School. I remember when Avalon was just this little village where everyone waved to everyone and even though that has changed somewhat to become something more cosmopolitan there's still that fund of memories form way back for me that influences how I see it and how I feel about this place. I bought my first house there in 1989.
There's also so many bush areas still extant – that lovely walk around Careel Bay with the mangroves and wildlife remains a favourite.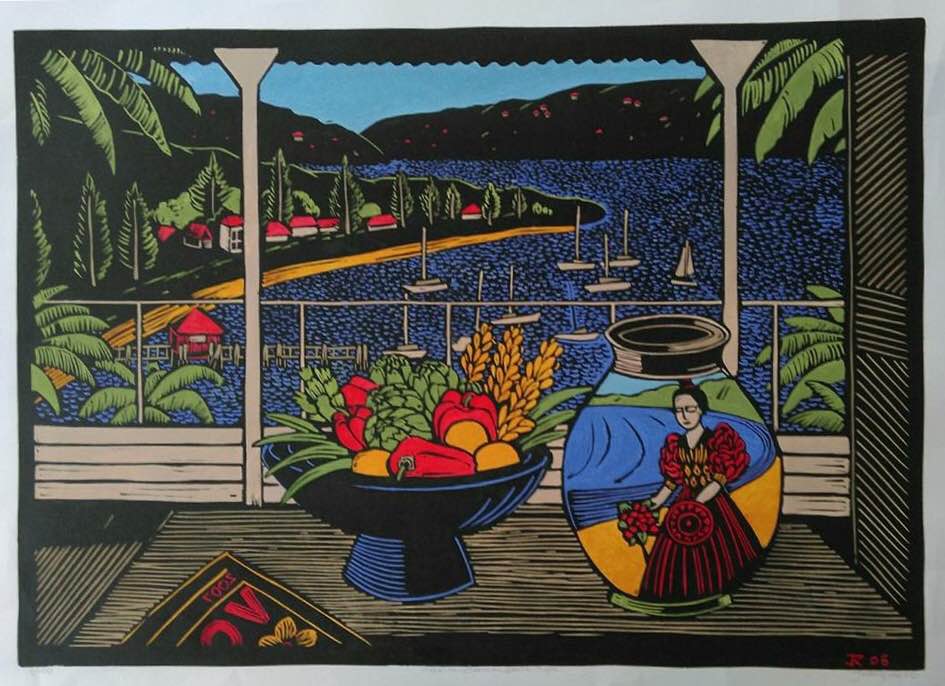 Palm Beach - Still Life
What is your 'motto for life' or a favourite phrase you try to live by?
One favourite is from John Lennon – Life is what happens when you're busy making other plans.
Jude Rose
Paintings -
Linocuts -
Works On Paper -
Home Furnishings
Jude is a dedicated and passionate painter and printmaker. She mainly works in oil on linen and canvas. Her recent works are based on the feeling she gets from dancing Argentine tango, the passion and femininity, the connection with the music, the partner and the floor.
She loves the tactile and dramatic quality of linocuts, and the vivid colours and textures of the Pacific, Asia, South America and Australia. Her main goal is to take the viewer on a visual journey of symbols and forms, a trip into another world.
Jude enjoys the never ending and constantly changing challenge of light and shade, the undulating surfaces in nature, and the play with forms. She presents a creative melange of symbols and layers that draw the viewer into another realm that mesmerizes intrigues and tantalises with lush form and colour.
She is influenced by the great masters, and some contemporary artists such as Frida Kahlo, and the writings of many contemporary authors such as Gabriel Garcia Marquez., being intrigued by the combination of fantasy and reality as is evident in their work.
Also a noted textile designer, she is responsible for many notable works such as the design for the commonwealth swimsuit design in 1982. She is currently working on a series of linocuts on fabric for furnishings.
Her colourful and sometimes whimsical prints are a celebration of life and show a deep affinity for the colour and light of the natural world around her.
Jude was teaching and painting in the beautiful Illawarra area, but has moved back to her other home base - Pittwater, and currently resides in Warriewood. Jude enjoys swimming, yoga, tennis, photography, salsa dancing, Argentine tango dancing, singing acapella and music.
Her prints and paintings are represented in art galleries and private collections throughout Australia, America and Europe.
Jude was born in Darwin, NT, Australia, and spent her early childhood in Australia and Malaysia. She then lived in Paris, France. After travelling extensively throughout the world studying various printing and painting techniques, she settled in the Illawarra area, where she teaches and paints full time.
1971-1980 Traveled extensively throughout South America, South Africa, Asia
and Europe studying printing and painting
Studied Art at Atelier Sornas, Paris
Studied at Beaux Arts, Paris
1980-1990 Freelance designer and illustrator for Speedo Swimwear and
Windsurfer
1990-1995 Completed many commissions including 8-metre mural for Whaley's
Cafe, Whale Beach NSW.
Civilization Graphics, Avalon
Anita Ellis Gallery, sell-out exhibition
Bow Wow, Palm Beach
Solo exhibition at Strokes Gallery, Paddington
Arthouse, Sydney
Mullumbimby Art Gallery
Cape Gallery, Byron Bay
L'Eglise Exhibition, Brittany, France
1995-1999 Avalon Art Gallery
Palm Beach Art Cafe
Newport Beach Artworks
Artstream, Newport
2000-2006 Wynne prize for landscape,
Salon des refuses, 2000
Mosman Art Prize 2000, 2002, 2003, 2004, 2005.
Teaching gifted children part-time in her studio.
Teaching ceramics to adults once a week.
Preparing a body of work for exhibition at the end of 2006
Developing a range of textile designs based on new series of linocuts.
Front page of SMH with photo of Archibald entry of Richard Clapton
2007-2009 Working on preparation for works on paper exhibition.
Inks on hand made paper and linocuts.
2009-2010 Affordable Art Show, Nov 2010, Sydney.
Producing body of works influenced by Argentine tango.
2011-present day, working on a nature series of drawings depicting rare and endangered species of plants and animals.
2014 - Postcodes From The Edge, Wollongong Art Gallery - 2nd Prize
2017 Two Exhibitions at Rust in Avalon Beach 'Lush' and "Alchemy' - working on metaphorical linocuts (Inlets, islands and more), Still Life oils, Continuing a series of ink drawings titled 'On The Brink'.
Taught Linocut printing at Barrenjoey High School
Taught drawing at Avalon Primary School
Taught adults with special needs privately
Taught children with special needs at Mona Vale Primary School
Completed book plates for the library of Dr. Mark Ferson
Worked on the backdrops for the Rock Estedford for Barrenjoey High School three years running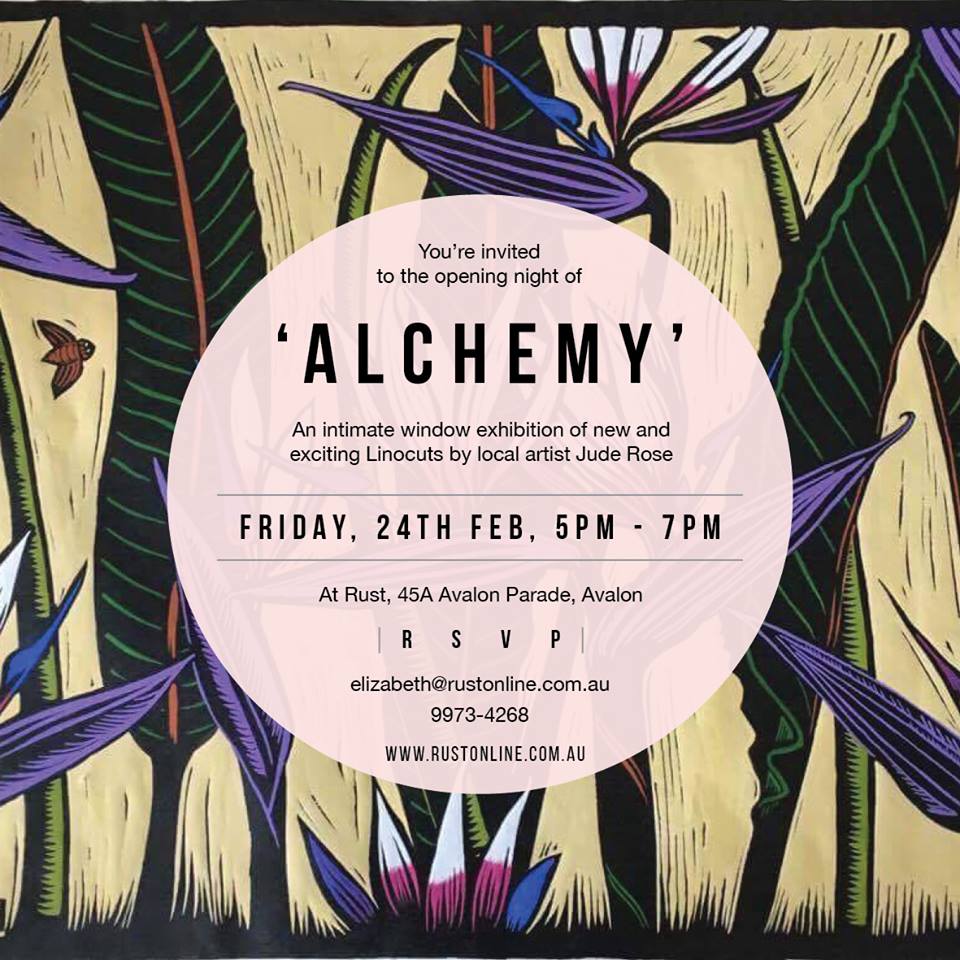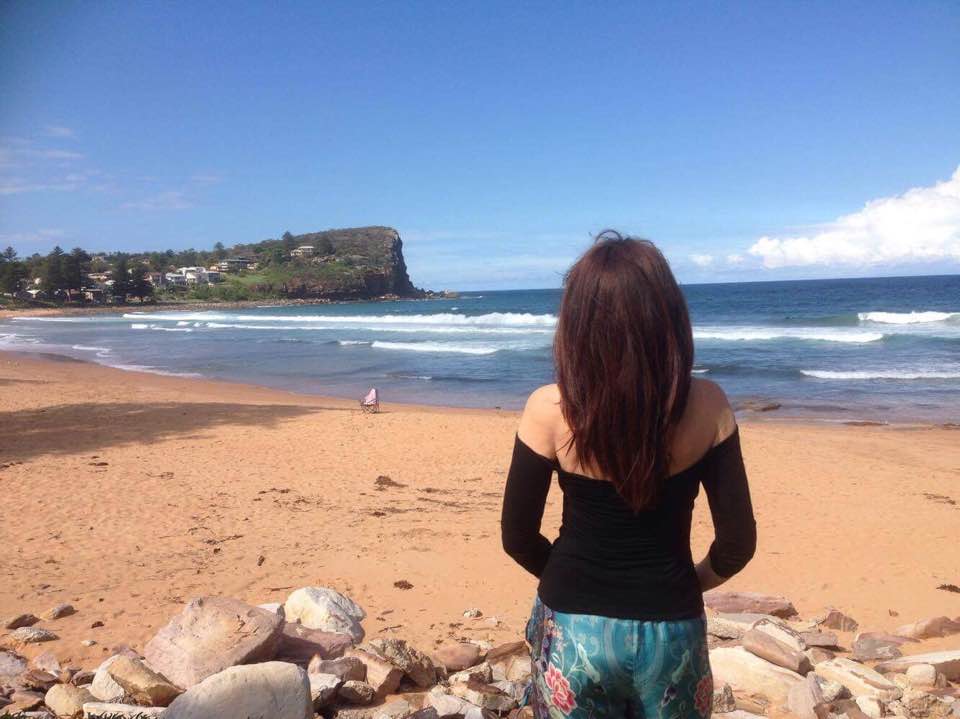 Jude at Avalon Beach this week - 'my other home'.