Inbox and environment news : Issue 599
September 17 - October 7, 2023: Issue 599
School Holidays Break
We're taking a break from Sunday September 17 - BUT - we'll be back on Sunday October 8th.
We hope you all have a great Spring break too making great memories with friends and family.
Please look out for and after each other and take some time out to curl up with a book or movie or get in the water or bush and relax.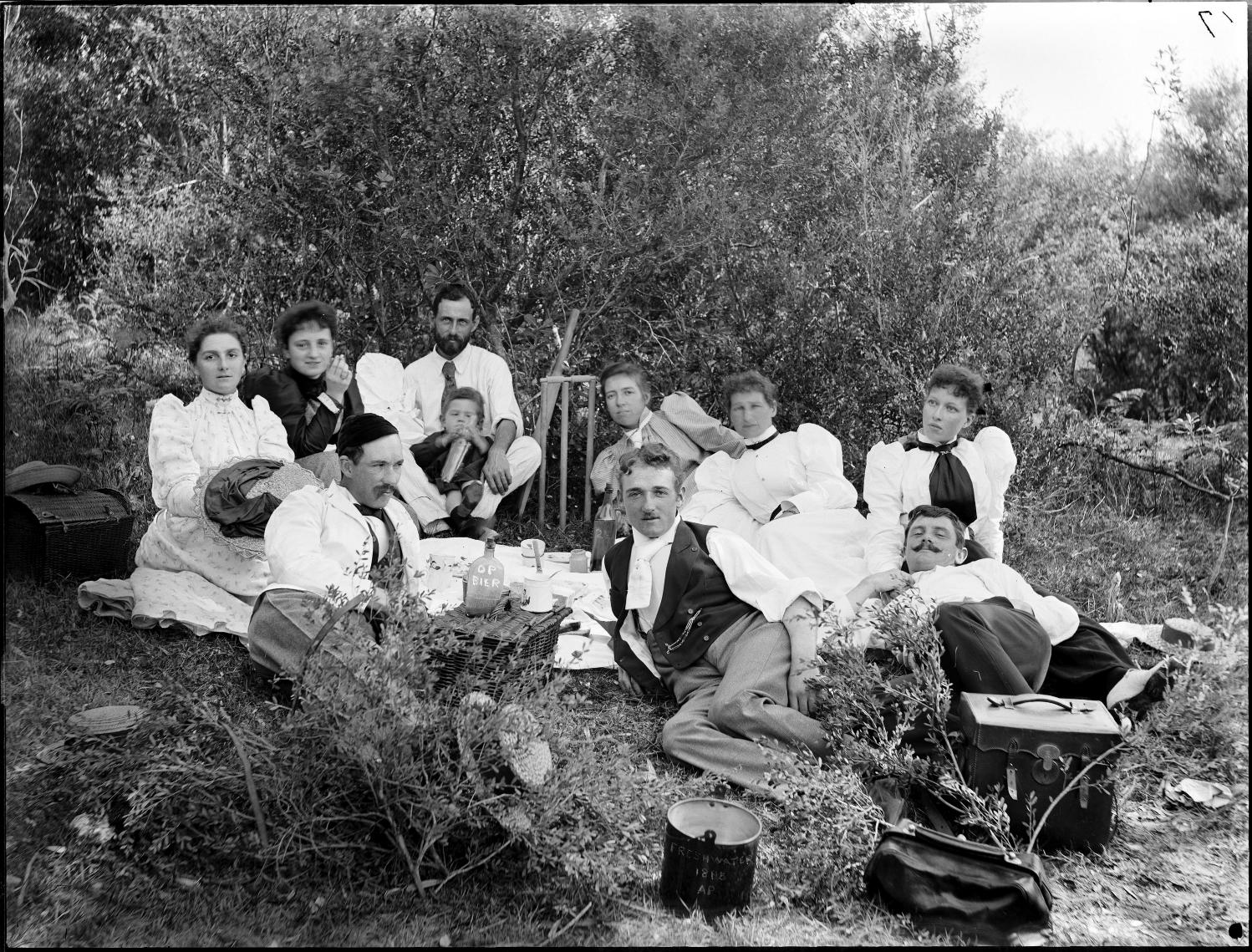 Picnic at Freshwater photographer possibly Arthur Phillips, Australia, 1895 Courtesy Powerhouse Museum
Kitchener Park Lighting Upgrades Completed
It's the biggest sporting field in Mona Vale spanning two hectares with two full sized soccer fields and a recent upgrade to the ground's lighting means increased energy efficiency and greater light distribution for users.
The ground, which is home to the Pittwater RSL FC, is used in the winter season for both junior and senior soccer and in the summer season it is used for cricket.
The installation of six new light poles with efficient LED lights means the lights are now up to current Australian Standards for soccer.
The lights are centrally controlled allowing users to switch to a training mode which reduces the energy output.
President of Pittwater RSL Football Club Ben Collock said the new lights were a monumental stride forward for the club.
"The enhanced visibility and coverage that these new lights provide have allowed us to fully utilise the ground. It's an incredible sight to see every section of the pitch filled with kids playing in a well-lit, safe and fully accessible environment.
"Teams can now access sections of the ground they have never been able to access before. This allows us to have more room to meet the incredible demand for sport on the Northern Beaches.
"It's also the first time we've ever been able to host a competitive match at the ground, with our Women's Premier League and Women's 13/1's playing the clubs first ever night matches. We couldn't be more thankful to have Council and Government investment directed at this significant community benefit." Mr Collock said.
This project was made possible thanks to a $150k grant from the NSW Government's Football Legacy Fund, Office of Sport and Council.
More in:
Eight Sailors Selected For 2023 Pacific Games In Solomon Islands Including Evie Saunders
The Australian Olympic Committee (AOC) has announced the selection of an eight-strong sailing team for the 2023 Pacific Games.
Local sailor and 2022 Australian Sailing Youth Sailor of the Year Evie Saunders joins Ellen Sampson, Thomas Farley and Isaac Schotte who will each contest the one-person dinghy, while Amelia Wilson, Charlotte Wormald, Jarrod Jones and Lachlan Vize will compete in the sailboard class.
The young team, ranging from 15 to 19 years old, will be part of an expected 80-strong Australian Team competing with more than 5000 athletes from the Pacific region.
Olympic champion Kenny Wallace, Chef de Mission for the Australian Team at the Pacific Games, congratulated the athletes on their selection.
"This is a fantastic achievement for each of the eight sailors to make this Australian team," Mr Wallace said.
"The Pacific Games is a great environment for the athletes to gain valuable experience in a multisport team environment and I know they will represent their sport, their families and their country with pride.
"Congratulations on your selection, I look forward to seeing you in action at the biggest multisport event in the Pacific region."
Australian Sailing has already shown their support for the Games, in conjunction with the Department of Foreign Affairs and Trade, providing boats, training and mentoring to the Solomon Islands to help grow the sport in the Solomon Islands ahead of the Games.
"Australian Sailing and the support of the Australian Government's PacificAus Sports Grant program have already demonstrated the spirit of these Games," Mr Wallace said. "Donating boats and providing training and mentoring to grow the sport of sailing in the Solomon Islands shows the power of sport to bring people together."
Seventeen-year-old Evie Saunders has already shown her racing class, winning silver at the 2022 World Youth Championships, named Australian Youth Sailor of the Year in 2022. Evie commenced sailing when aged 8, with her family, at Manly Yacht Club.
Fresh off competing at the senior World Championships in the Hague, Netherlands, in August, Evie was thrilled to be named to the team.
"I'm really excited to represent Australia in sailing at the 2023 Pacific Games," Evie said.
"It's a unique opportunity to consolidate on my learnings from the European season and to finish the year with a solid performance."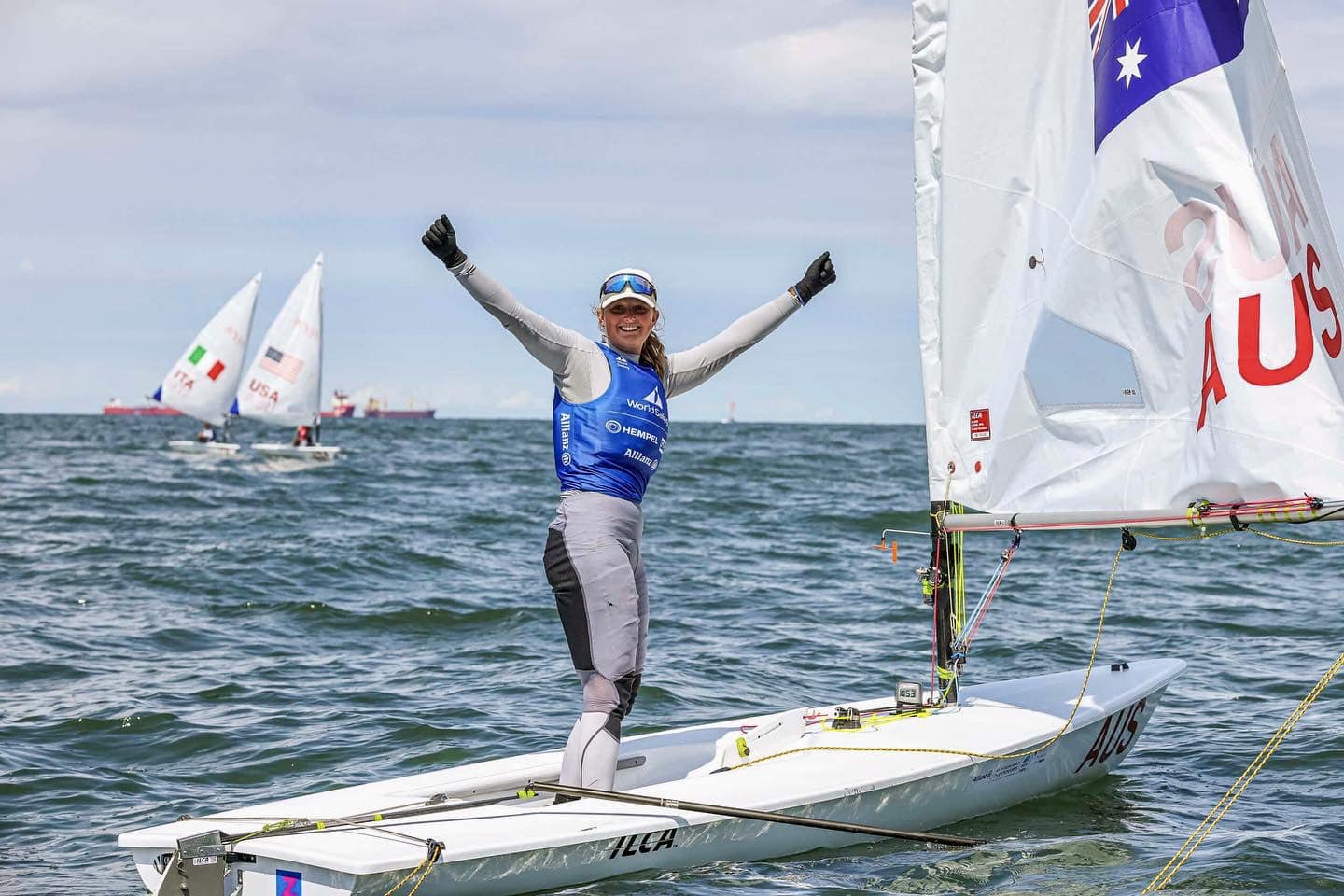 Evie Saunders Photos; Sailing Energy and Australian Sailing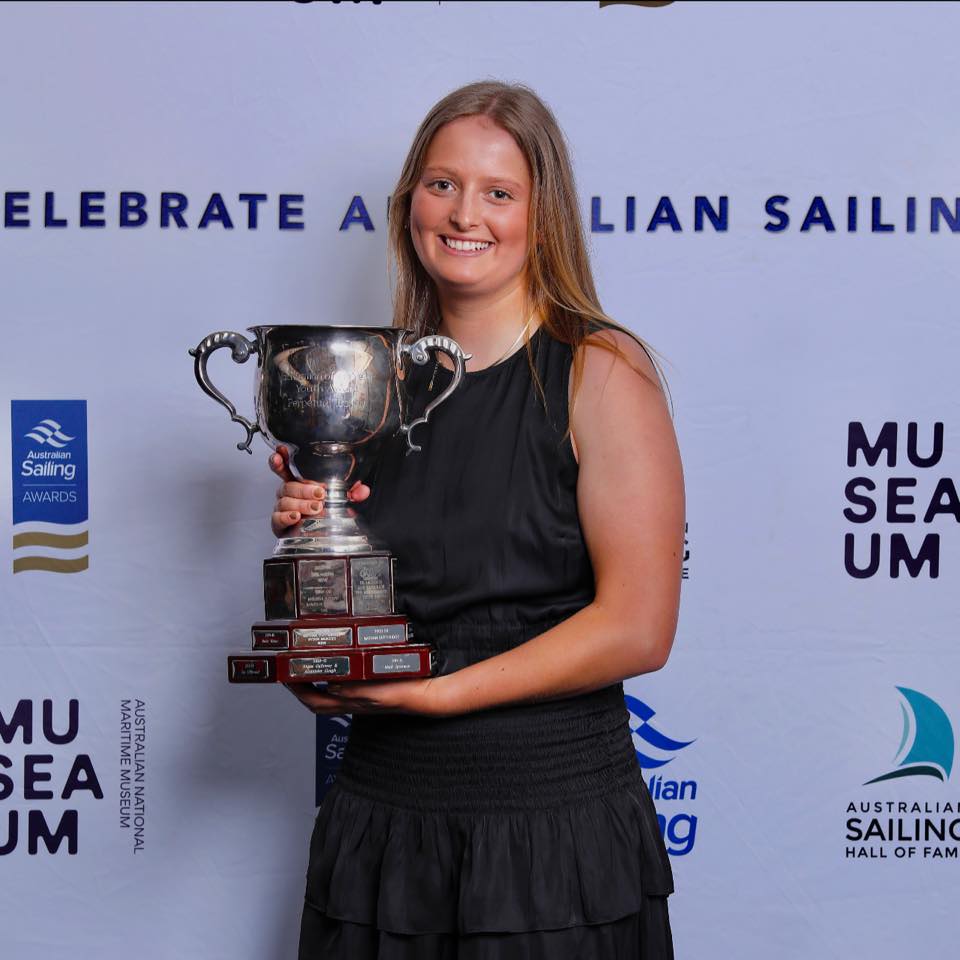 Australian Sailing High Performance Director Iain Brambell OLY welcomed the announcement.
"We are exceptionally proud of the eight sailors selected to represent Australia at this year's Pacific Games," Mr Brambell said. "These are some of the best young sailors in Australia across their classes, and we are particularly pleased with the depth across the female classes where selection battles were incredibly competitive."
"We would like to thank the Australian Olympic Committee for their support in leading this team to Honiara. The Pacific Games are an exciting and invaluable opportunity for young athletes to gain the experience and learnings of representing Australia at a multisport games.
"Australia has a strong record of success at the Pacific Games, and we wish this group of sailors all the best in continuing that tradition."
Australia will send a team of around 80 athletes across the sports of Archery, Athletics, Boxing, Beach Volleyball, Judo, Sailing, Taekwondo and Weightlifting. The 2023 Pacific Games offer a direct Paris 2024 qualification opportunity for boxers and the mixed archery team, as well as world ranking points vital for qualification and international experience across other sports
.
The Pacific Games will see more than 5000 athletes and officials from 24 nations compete across 24 sports in the Solomon Islands capital Honiara.
Solomons 2023 is the third time Australia has participated after first being invited to compete in several sports at Port Moresby 2015.
The 17th Pacific Games, also known as 2023 Pacific Games and SOL2023, is hosted by Solomon Islands from Sunday 19 November – Saturday 2 December 2023.
"For every four years the Pacific comes together in friendship to celebrate the Pacific Games, a multi-sport event that is by its very design of and for the Pacific. A celebration of sport and culture in common bonds acquired through a shared physical geography and community," the Pacific Games Council said.
Alternating between different countries of the Pacific Region, Solomon Islands will host the Games in its capital city Honiara. 5,000 participants (including athletes, technical officials and support staff) from 24 countries will compete in 24 sports. This will mark the second time in the history of Solomon Islands to host the Games, with its first experience in 1981 hosting the Mini Pacific Games.
SOL2023 welcomes you to a conglomeration of
Challenge, Celebrate, Unite
.
8 Student-Backed Study Tips To Help You Tackle The HSC
By University of Sydney: Last updated 6 July 2023
Our students have been through their fair share of exams and learned a lot of great study tactics along the way. Here they share their top study tips to survive and thrive during exam time.
1. Start your day right
Take care of your wellbeing first thing in the morning so you can dive into your day with a clear mind.
"If you win the morning, you can win the day," says Juris Doctor student Vee Koloamatangi-Lamipeti.
An active start is a great way to set yourself up for a productive day. Begin your morning with exercise or a gentle walk, squeeze in 10 minutes of meditation and enjoy a healthy breakfast before you settle into study.
2. Schedule your study
"Setting up a schedule will help you organise your time so much better," says Master of Teaching student Wesley Lai.
Setting a goal or a theme for each study block will help you to stay focused, while devoting time across a variety of subjects will ensure you've covered off as much as possible. Remember to keep your schedule realistic and avoid over-committing your time.
Adds Wesley, "Make sure to schedule in some free time for yourself as well!"
3. Keep it consistent
"Make studying a habit," recommends Alvin Chung, who is currently undertaking a Bachelor of Arts and Bachelor of Laws.
With enough time and commitment, sitting down to study will start to feel like second nature rather than a chore.
"Do it every day and you'll be less likely to procrastinate because it's part of your life's daily motions," says Alvin.
4. Maintain motivation
Revising an entire year of learning can seem like an insurmountable task, which is why it's so important to break down your priorities and set easy-to-achieve goals.
"I like to make a realistic to-do list where I break down big tasks into smaller chunks," says Bachelor of Arts and Advanced Studies student Dannii Hudec.
"It's also really important to reward yourself after you complete each task to keep yourself motivated."
Treat yourself after each study block with something to look forward to, such as a cup of tea, a walk in the park with a friend or an episode of your latest Netflix obsession.
5. Minimise distractions
With so many distractions at our fingertips, it can be hard to focus on the task at hand. If you find yourself easily distracted, an "out of sight, out of mind" approach might do the trick.
"What helps me is to block social media on my laptop. I put my phone outside of my room when I study, or I give it to my sister or a friend to hide," says Bachelor of Commerce and Bachelor of Laws student Caitlin Douglas.
While parting ways with your phone for a few hours may seem horrifying, it can be an incredibly effective way to stay on task.
"It really helps me to smash out the work and get my tasks done," affirms Caitlin.
6. Beware of burnout
Think of the HSC period as a marathon rather than a sprint. It might be tempting to cram every single day but pacing out your study time will help to preserve your endurance.
"Don't do the work for tomorrow if you finish today's work early," suggests Daniel Kim, who is currently undertaking a Bachelor of Commerce and Advanced Studies.
"Enjoy the rest of your day and save the energy for tomorrow," he recommends.
Savouring your downtime will help you to avoid burning out before hitting the finish line.
7. Get a good night's sleep
Sleep is one of your greatest allies during exam season.
"I've found that a good night's sleep always helps with concentration and memory consolidation," says Bachelor of Science (Medical Science) student Yasodara Puhule-Gamayalage.
We all know we need to be getting around 8 hours of sleep a night to perform at our best, but did you know the quality of sleep also matters? You can help improve the quality of your sleep with some simple tweaks to your bedtime routine.
"Avoid caffeine in the 6 hours leading up to sleep, turn off screens an hour before going to bed, and go to bed at the same time every night," suggests Yasodara.
8. Be kind to yourself
With exam dates looming and stress levels rising, chances are high that you might have a bad day (or a few!) during the HSC period.
According to Bachelor of Arts and Advanced Studies student Amy Cooper, the best way to handle those bad days is to show yourself some kindness.
"I know that if I'm in a bad state of mind or having a bad day, I'm not going to be able to produce work that I'm proud of," she says.
For Amy, the remedy for a bad day is to take some time to rest and reset.
"It's much more productive in the long run for me to go away, do some things I love, and come back with a fresh mind."
Immerse yourself in a mentally nourishing activity such as going for a bushwalk, cooking your favourite meal, or getting stuck into a craft activity.
If you feel completely overwhelmed, know you're not alone. Reach out to a friend, family member or teacher for a chat when you need support.
There are also HSC Help resources available at: education.nsw.gov.au/student-wellbeing/stay-healthy-hsc

Wednesday 11 October, 2023: HSC written exams start.
School Leavers Support
Explore the School Leavers Information Kit (SLIK) as your guide to education, training and work options in 2022;
As you prepare to finish your final year of school, the next phase of your journey will be full of interesting and exciting opportunities. You will discover new passions and develop new skills and knowledge.
We know that this transition can sometimes be challenging and the COVID-19 pandemic has presented some uncertainty. With changes to the education and workforce landscape, you might be wondering if your planned decisions are still a good option or what new alternatives are available and how to pursue them.
There are lots of options for education, training and work in 2022 to help you further your career. This information kit has been designed to help you understand what those options might be and assist you to choose the right one for you. Including:
Download or explore the SLIK here to help guide Your Career.
School Leavers Information Kit (PDF 5.2MB).
School Leavers Information Kit (DOCX 0.9MB).
The SLIK has also been translated into additional languages.
Download our information booklets if you are rural, regional and remote, Aboriginal or Torres Strait Islander, or living with disability.
Support for Regional, Rural and Remote School Leavers (PDF 2MB).
Support for Regional, Rural and Remote School Leavers (DOCX 0.9MB).
Support for Aboriginal and/or Torres Strait Islander School Leavers (PDF 2MB).
Support for Aboriginal and/or Torres Strait Islander School Leavers (DOCX 1.1MB).
Support for School Leavers with Disability (PDF 2MB).
Support for School Leavers with Disability (DOCX 0.9MB).
Download the Parents and Guardian's Guide for School Leavers, which summarises the resources and information available to help you explore all the education, training, and work options available to your young person.
School Leavers Information Service
Are you aged between 15 and 24 and looking for career guidance?
Call 1800 CAREER (1800 227 337).
SMS 'SLIS2022' to 0429 009 435.
Our information officers will help you:
navigate the School Leavers Information Kit (SLIK),
access and use the Your Career website and tools; and
find relevant support services if needed.
You may also be referred to a qualified career practitioner for a 45-minute personalised career guidance session. Our career practitioners will provide information, advice and assistance relating to a wide range of matters, such as career planning and management, training and studying, and looking for work.
You can call to book your session on 1800 CAREER (1800 227 337) Monday to Friday, from 9am to 7pm (AEST). Sessions with a career practitioner can be booked from Monday to Friday, 9am to 7pm.
This is a free service, however minimal call/text costs may apply.
Call 1800 CAREER (1800 227 337) or SMS SLIS2022 to 0429 009 435 to start a conversation about how the tools in Your Career can help you or to book a free session with a career practitioner.
Word Of The Week: Spring
Word of the Week returns in 2023 simply to throw some disruption in amongst the 'yeah-nah' mix.
Noun
1. the season after winter and before summer, in which vegetation begins to appear, in the northern hemisphere from March to May and in the southern hemisphere from September to November. 2. an elastic device, typically a helical metal coil, that can be pressed or pulled but returns to its former shape when released, used chiefly to exert constant tension or absorb movement. 3. a sudden jump upwards or forwards - dated/innformal; an escape or release from prison. 4. a place where water or oil wells up from an underground source, or the basin or flow formed in such a way. 5. an upward curvature of a ship's deck planking from the horizontal. 6. a hawser laid out diagonally aft from a ship's bow or forward from a ship's stern and secured to a fixed point in order to prevent movement or assist manoeuvring. 7. (rare)a flock of teal.
Verb
1. move or jump suddenly or rapidly upwards or forwards. 2.originate or arise from. 3. (especially of wood) become warped or split- (of a boat) suffer splitting of (a mast or other part). 4. pay for; Archaic - spend (money). 5. INFORMALAUSTRALIAN - come upon (an illicit activity or its perpetrator).
From: Old English spring (noun), springan (verb), of Germanic origin; related to Dutch and German springen . Early use in the senses 'head of a well' and 'rush out in a stream' gave rise to the figurative use 'originate'.
NB: language warning for one word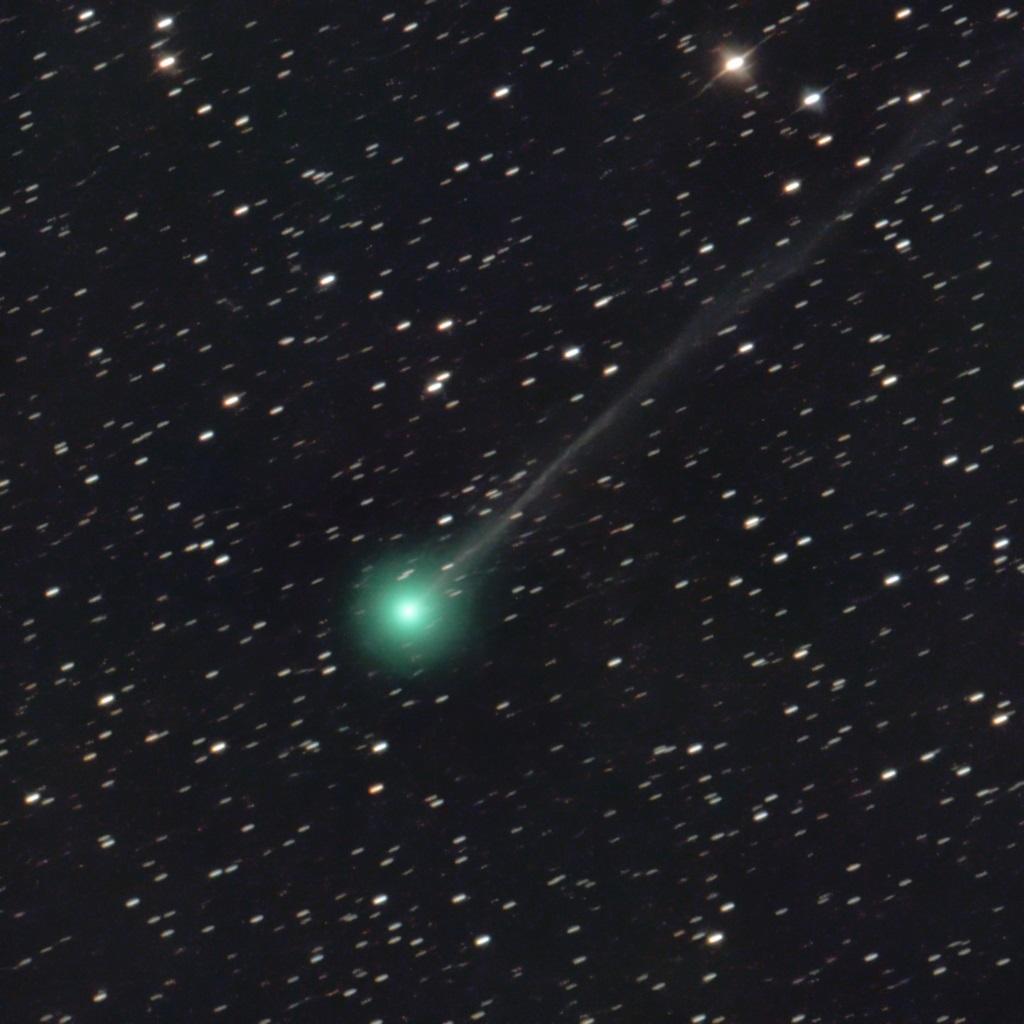 Photo: This is a image of C/2023 P1 (Nishimura) taken on 25.8.2023 @ ~6:20 (UTC+2). From Trevinca-Skies on Spain, image courtesy SomeAstroStuff -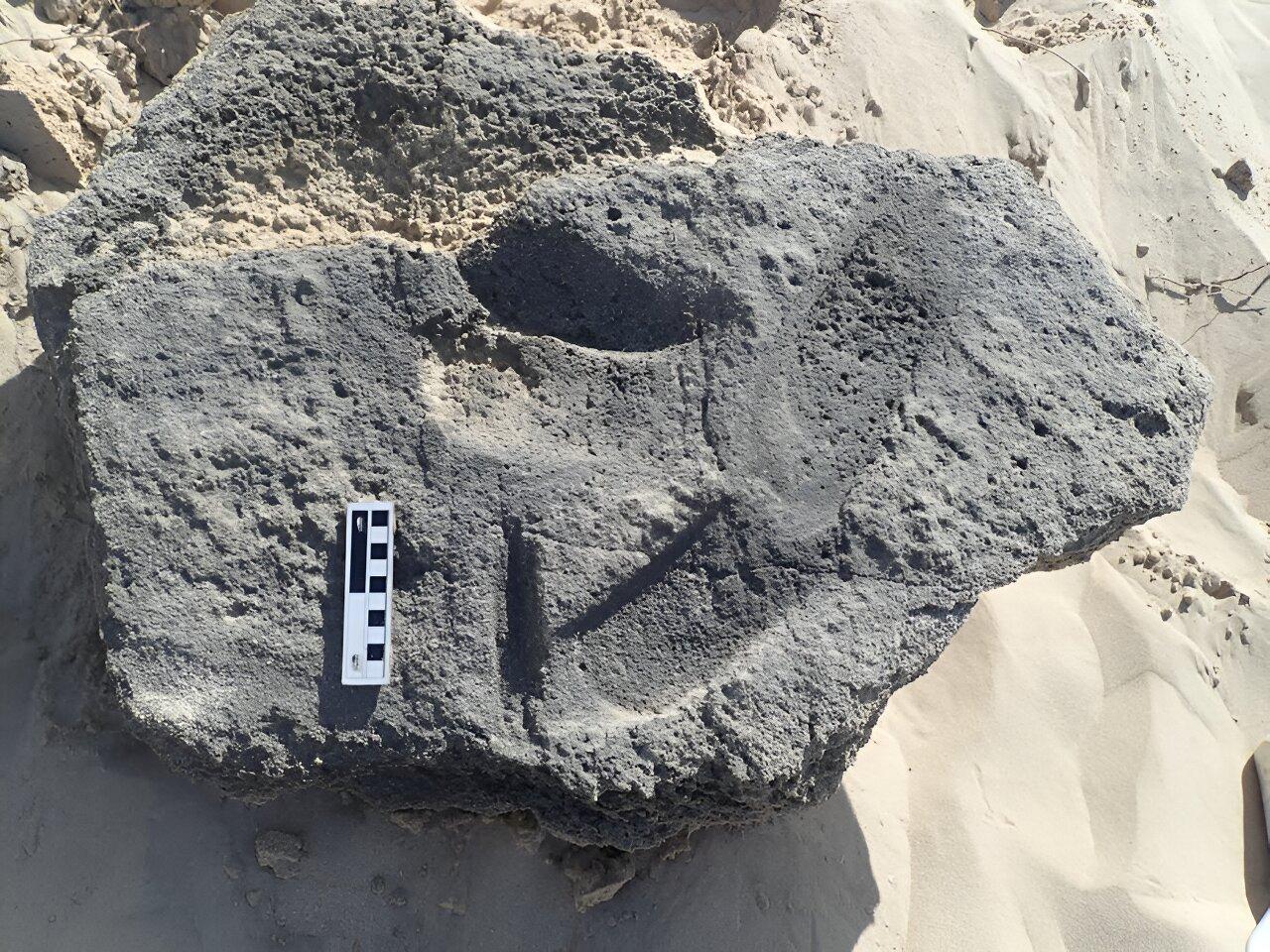 Possible shod hominin tracks in the Garden Route National Park, South Africa. Credit: Charles Helm
avalon Beach Historical Society Celebrates 40 Years
On Tuesday September 12 2023, in the Annexe in Dunbar Park, 51 visitors and members of the Avalon Beach Historical Society were welcomed by President Geoff Searl to celebrations for 40 years of the Society.
18 locals were present in the upstairs dining room of the Avalon Beach RSL Club on 14 September 1983 to give birth to the Society and there were 3 members present at Tuesday's meeting who were there on that night – Gwen Lansbury, Nick Manfield and Geoff.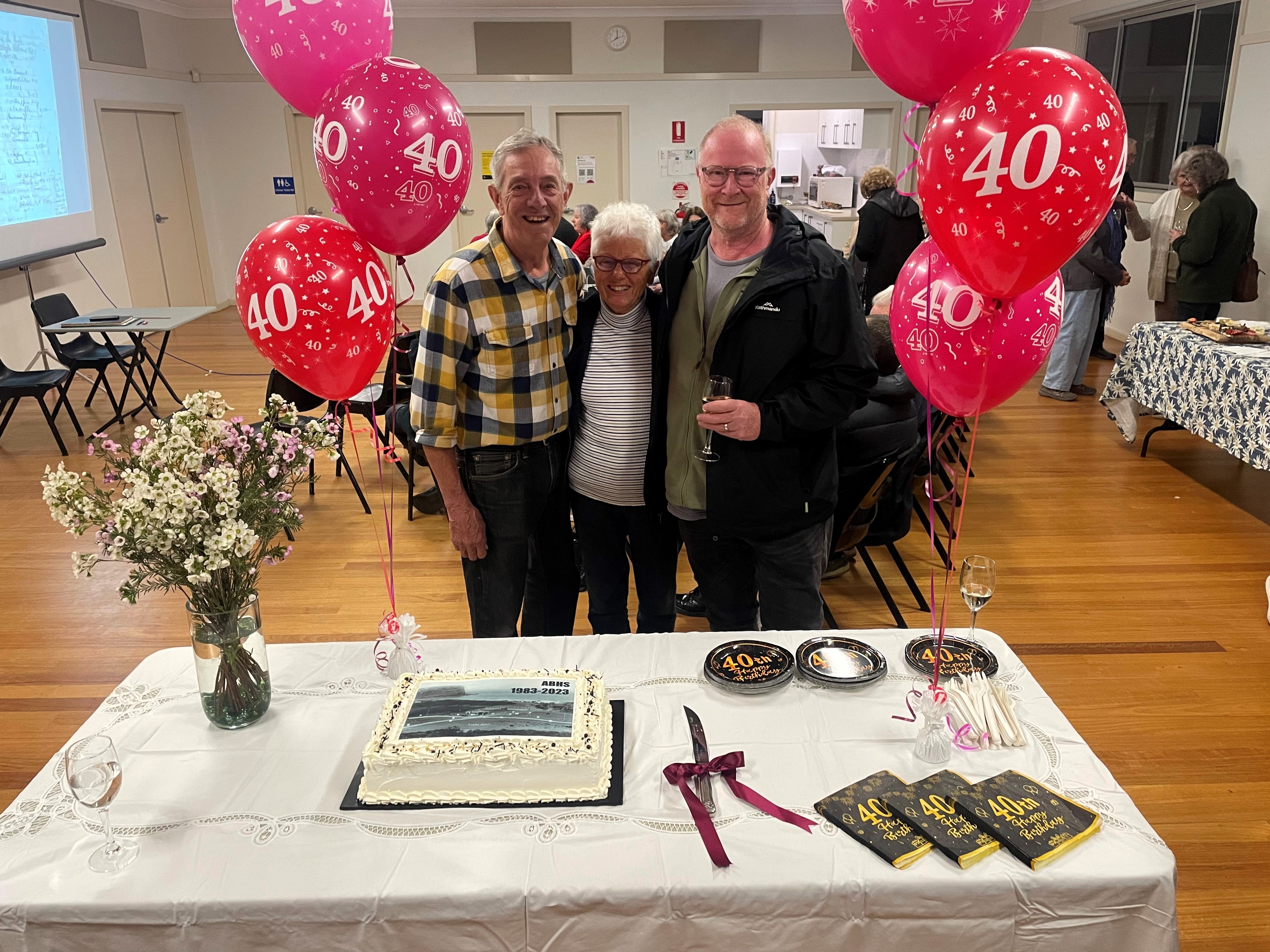 Three original members: Geoff Searl OAM (President of ABHS), Gwen Lansbury, Nickolas Manfield.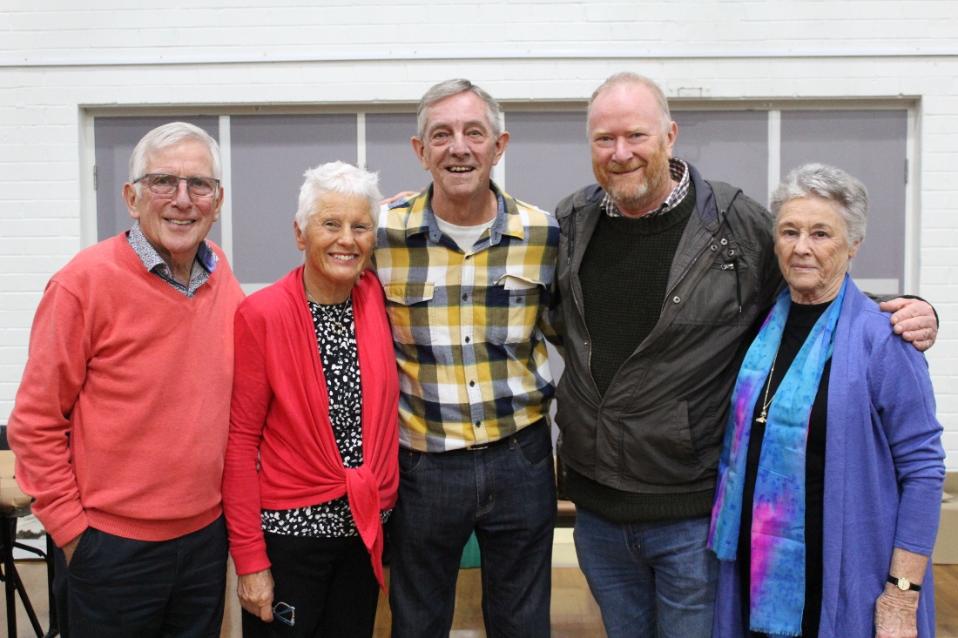 Five of the original 19 ABHS Members in 2018;
Russell and
Gwen Lansbury,
Geoff Searl,
Nickolas Manfield, and Judy Thomson.
Geoff was elected President on that night and Nick was elected Vice-President while Gwen put her hand up as a committee member.
The Society has been affiliated with the Royal Australian Historical Society since inception.
It has grown considerably and now has the following of 135 keen members, including 7 recipients of OAMs and one AM.
66 photographs illustrated the many activities of the Society from witnessing one of the last firings of a torpedo from the observation deck of the testing station at Clareville in September 1983 to the '
10th Great Historic Photographic Exhibition
' held last year.
Bill Goddard ably provided the projection skills necessary for the evening.
Mention was made of the huge contribution to the Society by its inaugural Life Member (in 2003), and Patron, John Stone. John has made available to the Society the front portion of his office at 15 Bowling Green Lane for the last 10 years. John's computer skills have also enabled restoration of damaged or poor quality photos loaned to the Society for exhibition and research.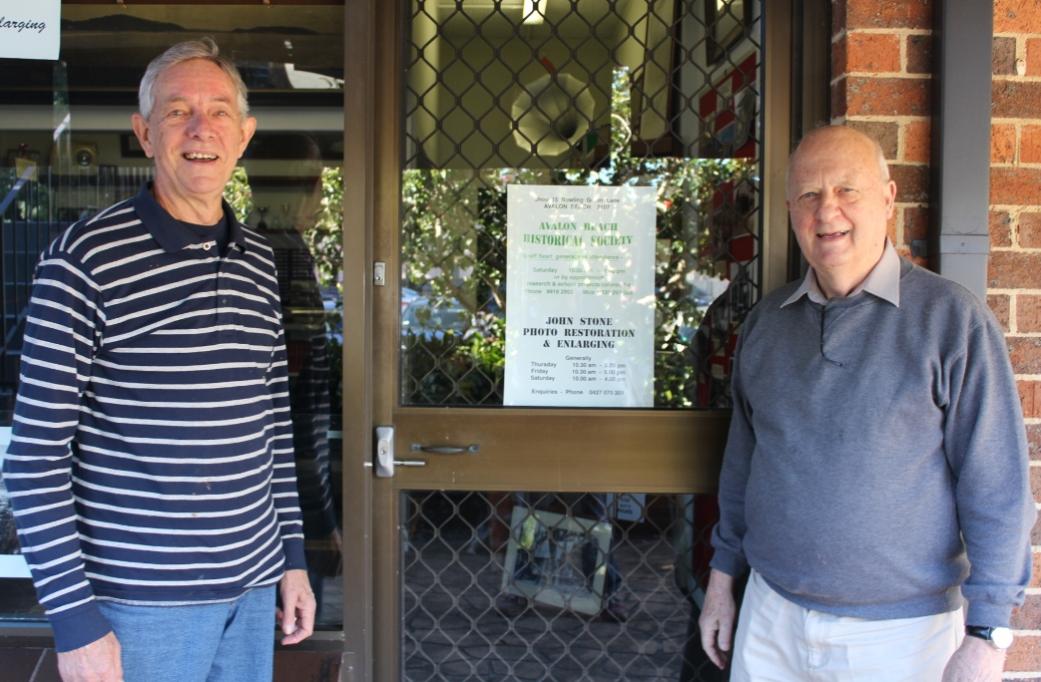 Geoff Searl and John Stone at entrance to John Stone Photographic services business where ABHS office also is.
A special cake to celebrate the occasion had the Society's logo covering the entire top of the cake – the first general store in 1922!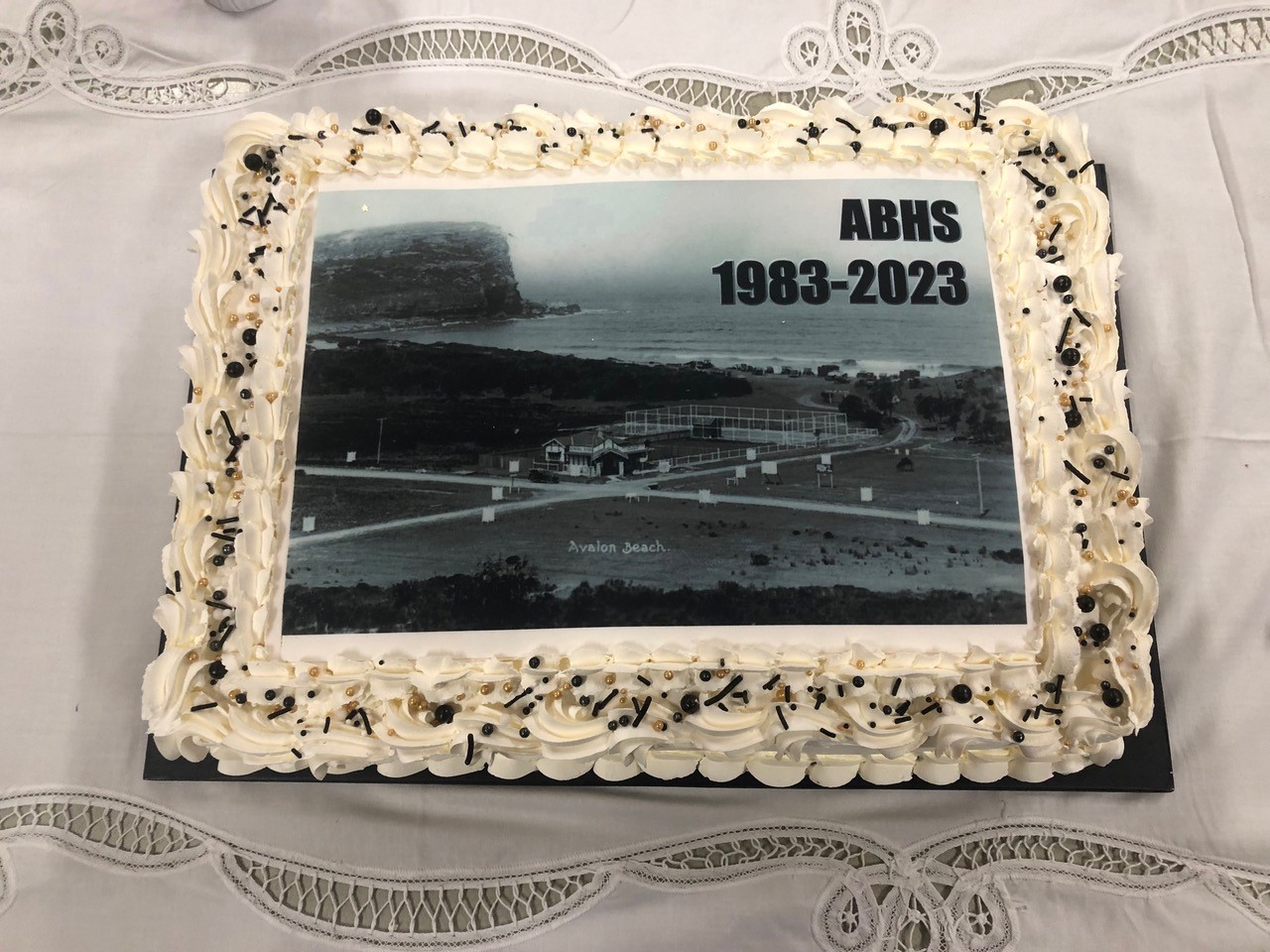 Election of Office Bearers for the coming year was simple as those from the past year were unanimously re-elected – Geoff as President, Nina Gow as Secretary, Christine Ellis as Treasurer, Roger Sayers as Publicity Officer and Sue Morrow and Collette Searl as Committee members.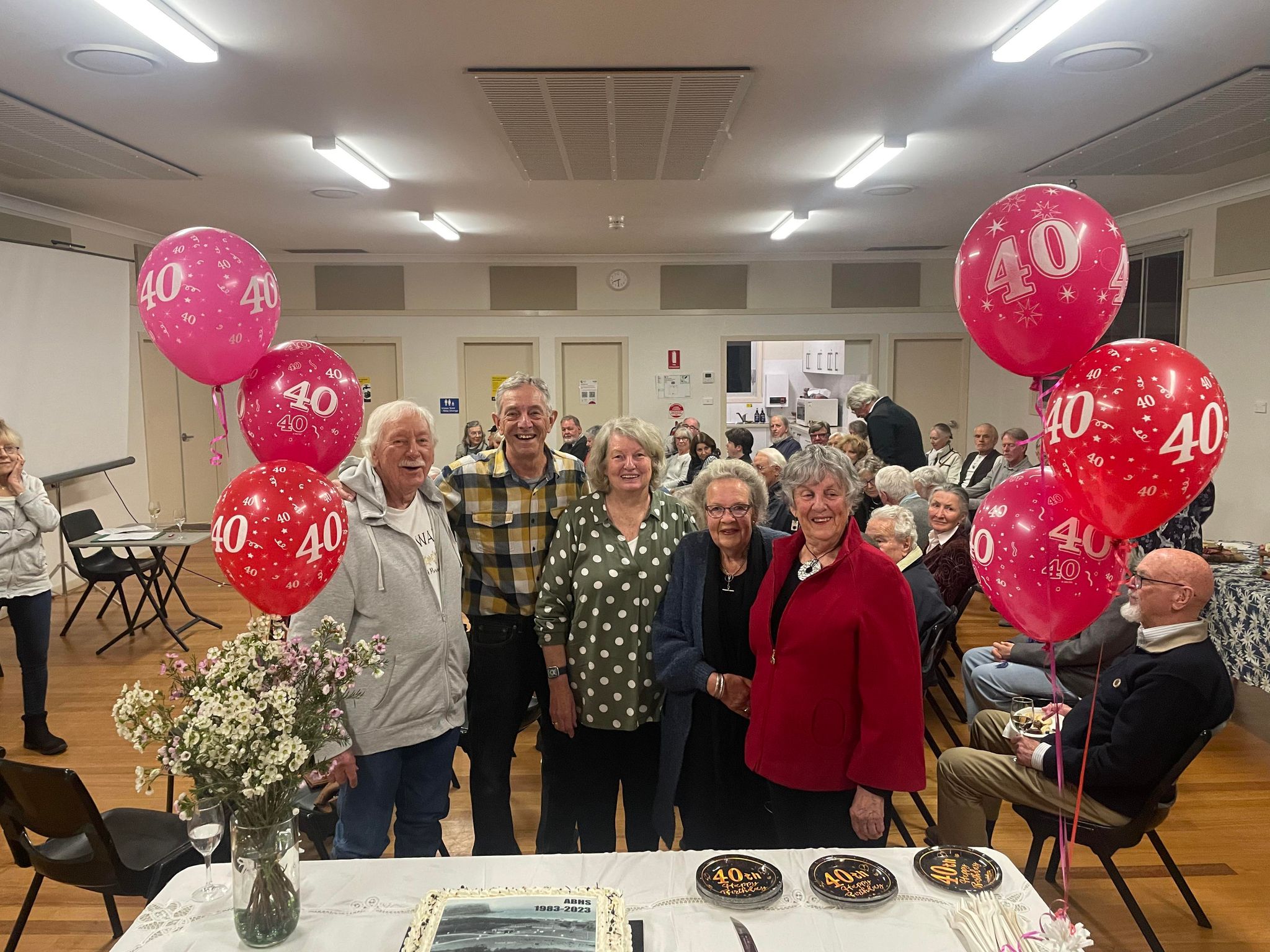 Committee Members for the coming year - Roger, Geoff, Collette, Christine and Sue

The Society holds 4 meetings a year with the September meeting being the AGM. Meetings are always of interest with either a guest speaker or photographic show focussing on a particular area of research and interest.

If you wish to become a member of the Society, drop a line to the Avalon Beach Historical Society, Post Office Box 1, Avalon Beach or call Geoff on 0439.292.566.
You are also very welcome to visit the Society any Saturday morning between 10am and 1pm.
Photos: Brian Friend OAM/AJG
Vale: Ken 'Sava' Lloyd
It is our sad duty to advise our community that Ken ''Sava'' Lloyd from Gunnedah, ex Collaroy, Warriewood and Bayview, passed away in Tamworth Hospital on Monday September 11, 2023.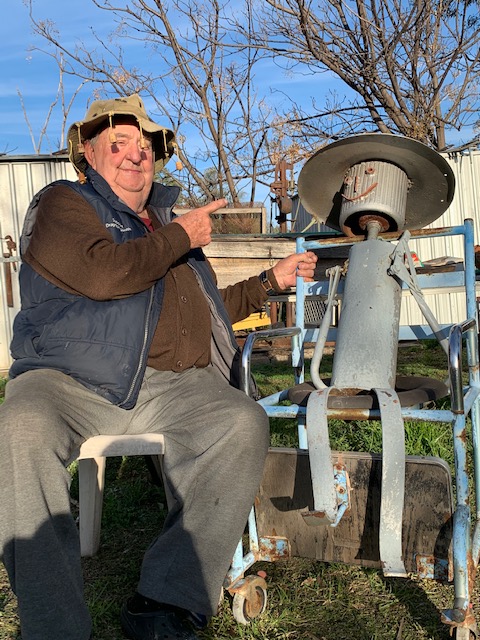 Sava was a member of Collaroy SLSC earlier in his teens and later, of Warriewood SLSC. He often told Pittwater Online about his adventures in and along the coast here, as well as his distress that the fairy penguin colony that once lived on Turimetta Beach had been displaced by dogs being taken onto that beach.
In his teens he and 3 others from the Collaroy Club formed a singing foursome called the Four Brothers. See ''
My Singing Story
'' by Sava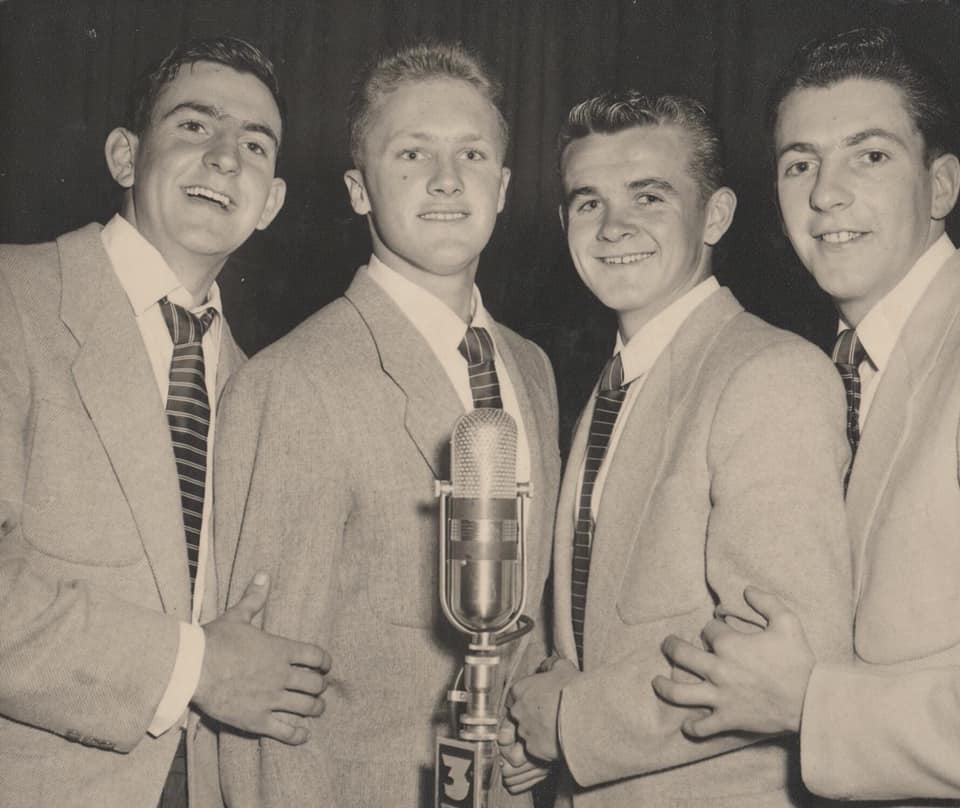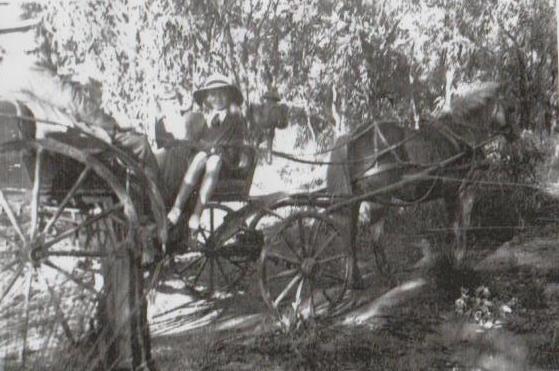 Sava; ''I have attached a photo of Fred, Elva and Bill and myself in trap and Fred was taking sister Elva to school at Katoomba. The sulky is the one Fred Lloyd borrowed off Mark Foy.''
His grandfather held one of the first fishing licences in NSW and his dad had one of the fisherman's shacks at Long Reef:
Dad's Fishing Shack At Long Reef
by Sava.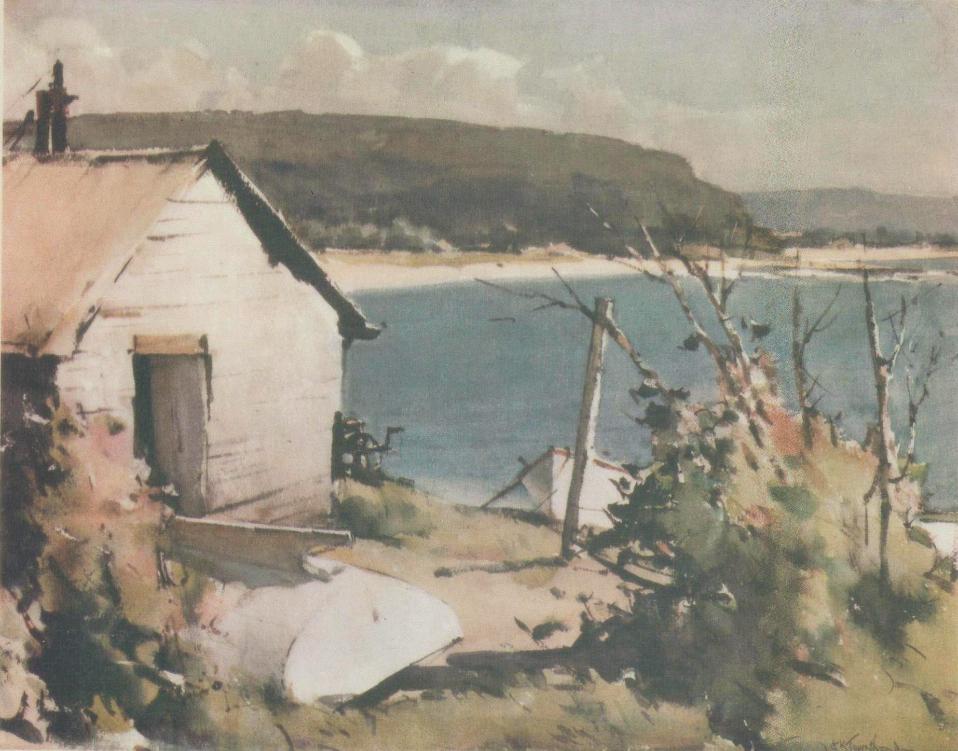 Mr. Lloyd's Fishing Shack at Long Reef. Painting by G K Townshend - courtesy 'Sava Lloyd'.
Along with asking us to find out where the display gun that had once been at Narrabeen Cenotaph may be and sparking a month's long delving into those records for him as that Marker and Narrabeen RSL were commencing some anniversaries.
More on that here
.
In recent months Pittwater Online sent Ken in a new camera after his had been destroyed in flooding (a few times) along with new wheels for his 'seniors scooter' so he could keep on getting out and about, todays' pension for seniors not stretching to afford these physical and emotional necessitates, especially after those floods – Ken loved taking photos, and he loved getting around his neighbourhood!
Ken was also a member of the Manly Warringah DJRFL. His father was a founding member of the Narrabeen Rugby Club in the 1930's – along with being a very good lifesaver himself. His dad, Bill Lloyd, was a foundation member of South Narrabeen SLSC where he made a rescue and received an award for bravery:
BATHER DROWNED.
NARRABEEN FATALITY.
Although a gallant rescue was attempted, Harold Spooner, a baker of Pittwater-road, Narrabeen, was drowned in the surf not far from his home yesterday.
The bather had been in the surf for a brief time before he was seen to throw up his hands as if trying to attract attention. Mr. William Lloyd, a member of the Narrabeen Surf Club, immediately went to the rescue. The club's life-saving appliances were too far from the scene to be of use, but Mr. Lloyd pluckily plunged into the surf without their aid, and attempted to reach the bather. His efforts, however, failed, and Mr. Spooner disappeared. The body has not been recovered. BATHER DROWNED. (
1925, February 26
).
The Sydney Morning Herald
(NSW : 1842 - 1954), p. 12. Retrieved from http://nla.gov.au/nla.news-article16202590
R.I.P. 'Sava' – you and your generous sharing of local stories and those quirky poems will be missed.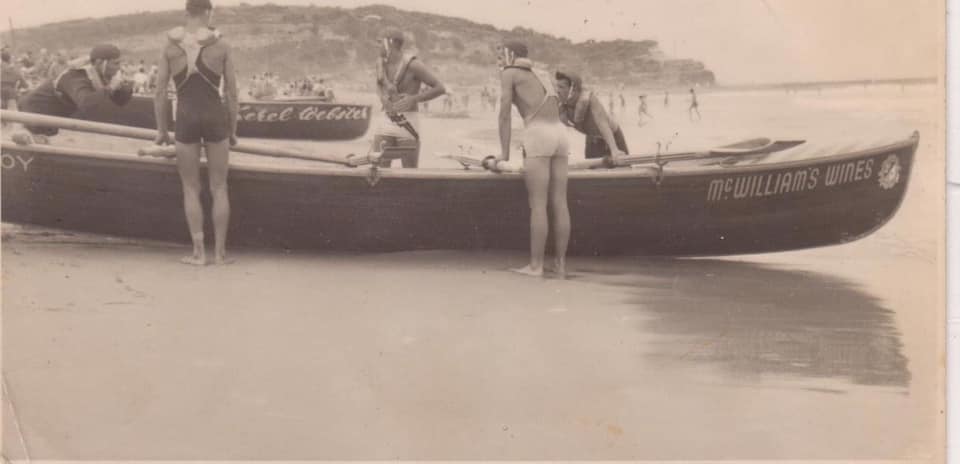 Photos; Ken's including Collaroy Junior Boat crew 1955; Bob Maladay Sweep.Wally Bienson, Ken 'Sava' Lloyd, Tom Whelan, The Late Bede Brodigan, and Collaroy's first Tuck Stern Surf Boat and this boat's First time competing at a Carnival at Nth Narrabeen. Photos: Ken ''Sava'' Lloyd - who liked saveloys!
Celebrations For Dedicated NSW RFS Members: September 2023
Experienced RFS firefighters from across the Northern Beaches were recently celebrated for their collective contribution of more than 1,000 years of service to their communities.
Across two ceremonies at the Northern Beaches Headquarters Brigade Station in Terrey Hills, Commissioner of the RFS, Rob Rogers and Deputy Commissioner Kyle Stewart presented 18 National Medals and 33 Long Service Medals.
Commissioner Rogers said these medals are a proud acknowledgement of the commitment shown by these individuals over the years.
"The members being recognised this week range from 10 to 52 years of service, with a special mention of three members who have each contributed 50 or more years' Service.
"I acknowledge Northern Beaches Headquarters Brigade member Allan Brett, a member for 52 years. Alan is receiving the National Medal 3rd Clasp for his long and distinguished service beyond normal expectations.
"Ronald Hughes has been an active member of the Ingleside Brigade and continues to impart his knowledge and skills on fellow Brigade members, and is a worthy recipient of the Long Service Medal for his 50 years of Service.
"I also note Retired Chief Superintendent Alan Brinkworth of the Terrey Hills Brigade for his 50 years of service. Alan has served his Brigade, District and the wider Service though his various roles as both a volunteer and staff member, all while maintaining the history of the Service as the RFS Honorary Historian."
Commissioner Rogers congratulated each of the Northern Beaches volunteers on their dedication, commitment and service to their communities.
"Members of the Northern Beaches District exemplify the very essence of community service. They stand as role models, inspiring others to come forward and contribute to the betterment of our communities.
"The hard work and professionalism of all RFS members does not go unnoticed and while they do not ask for praise, we should take every opportunity to acknowledge their contribution and commitment to their community.
"We also thank the family, friends, employers and colleagues of all our members. It takes their ongoing support and patience to assist and enable our volunteers to do what they do to save lives and property."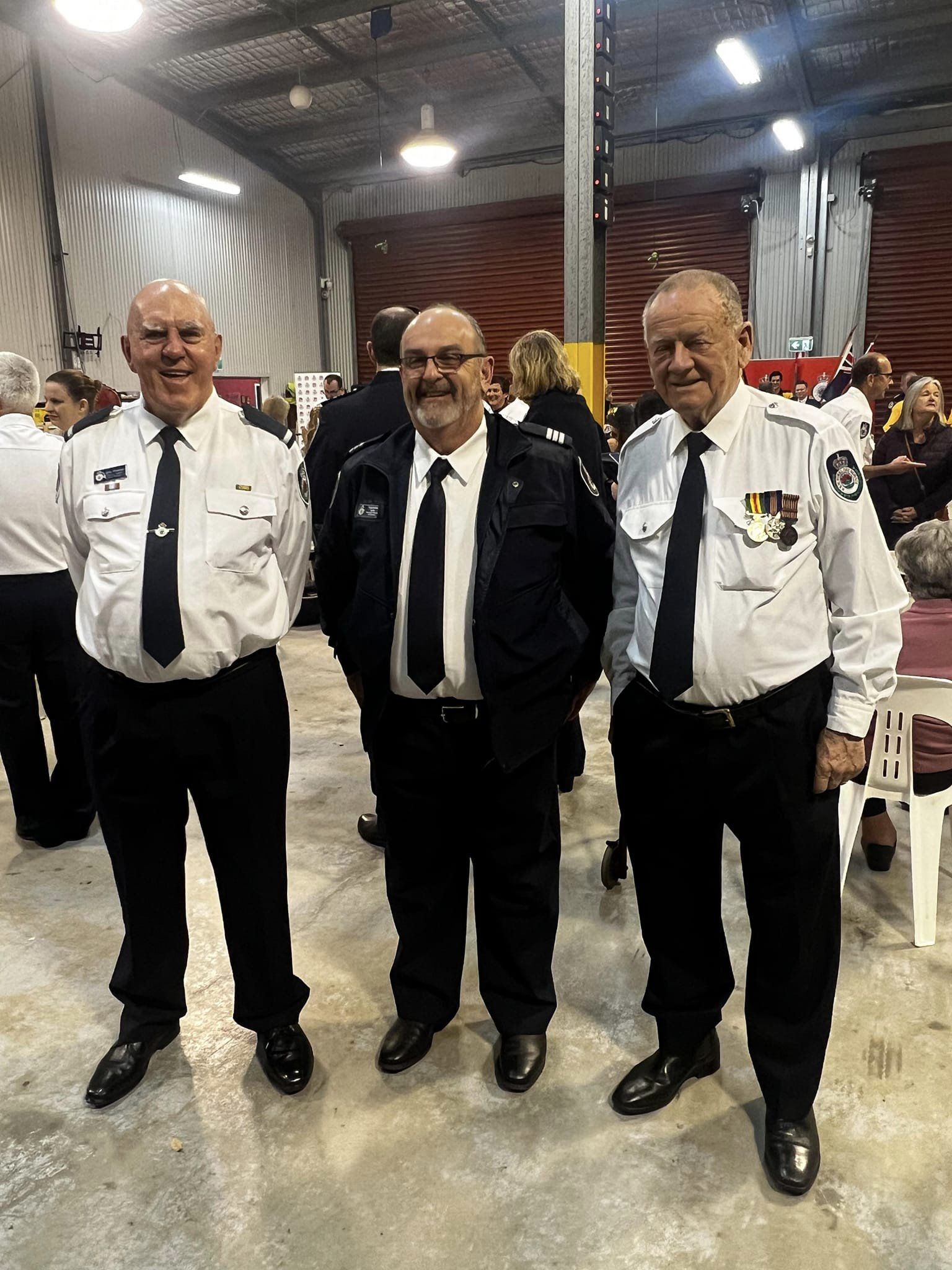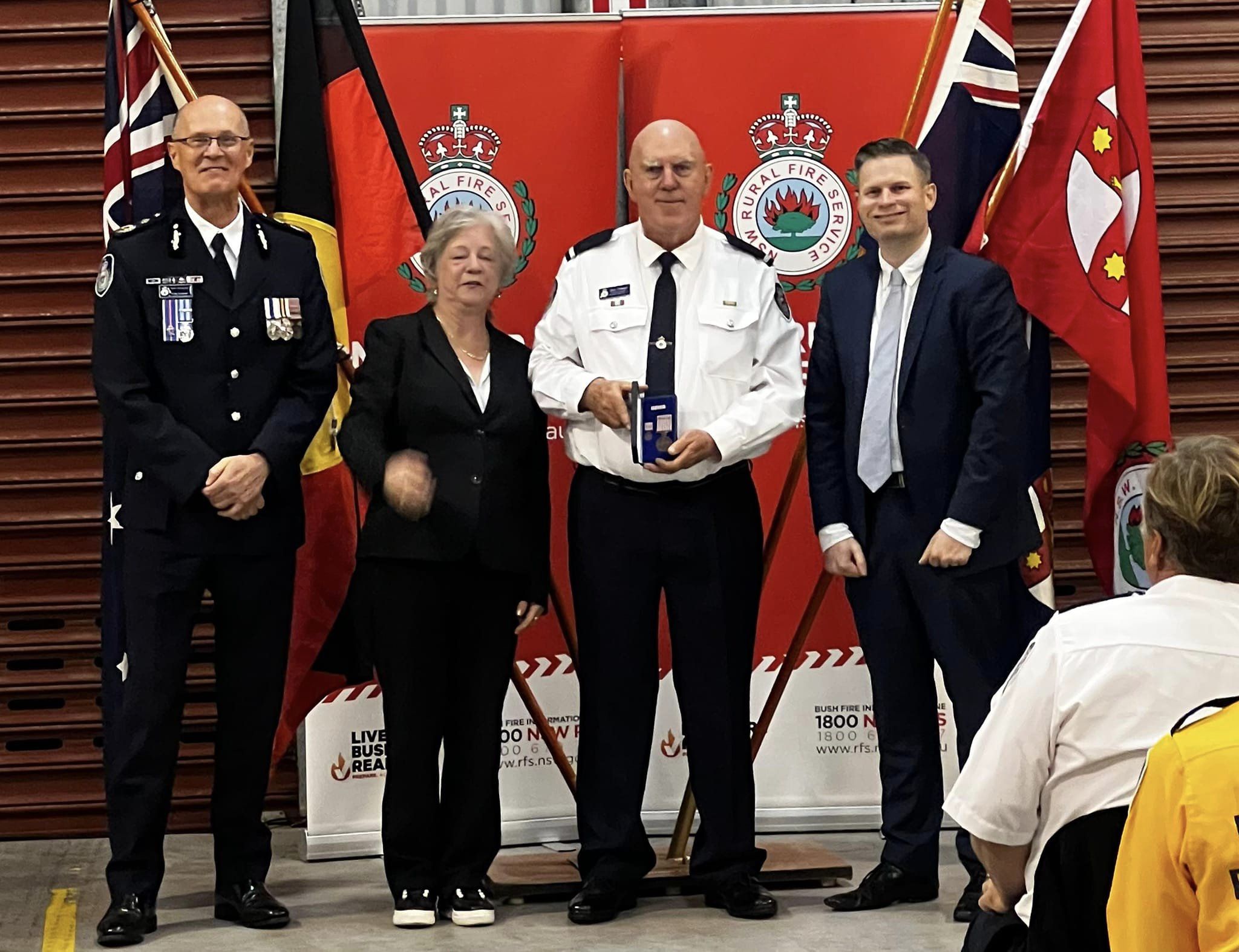 Photos: by and courtesy Warringah / Pittwater Headquarters Rural Fire Brigade; Life member Firefighter Allan Brett AFSM who has received his third National Service Medal clasp, totalling a massive 52 years of service to the Northern Beaches community. Throughout his time at the Brigade, AB has risen through the ranks to Group Leader and still contributes significantly to the brigades operations. We are also celebrating Deputy Captain John Freeman who received his 15 year National Service Medal. Better known as Kiwi, John has contributed countless hours to the training of our members and attending incidents across NSW.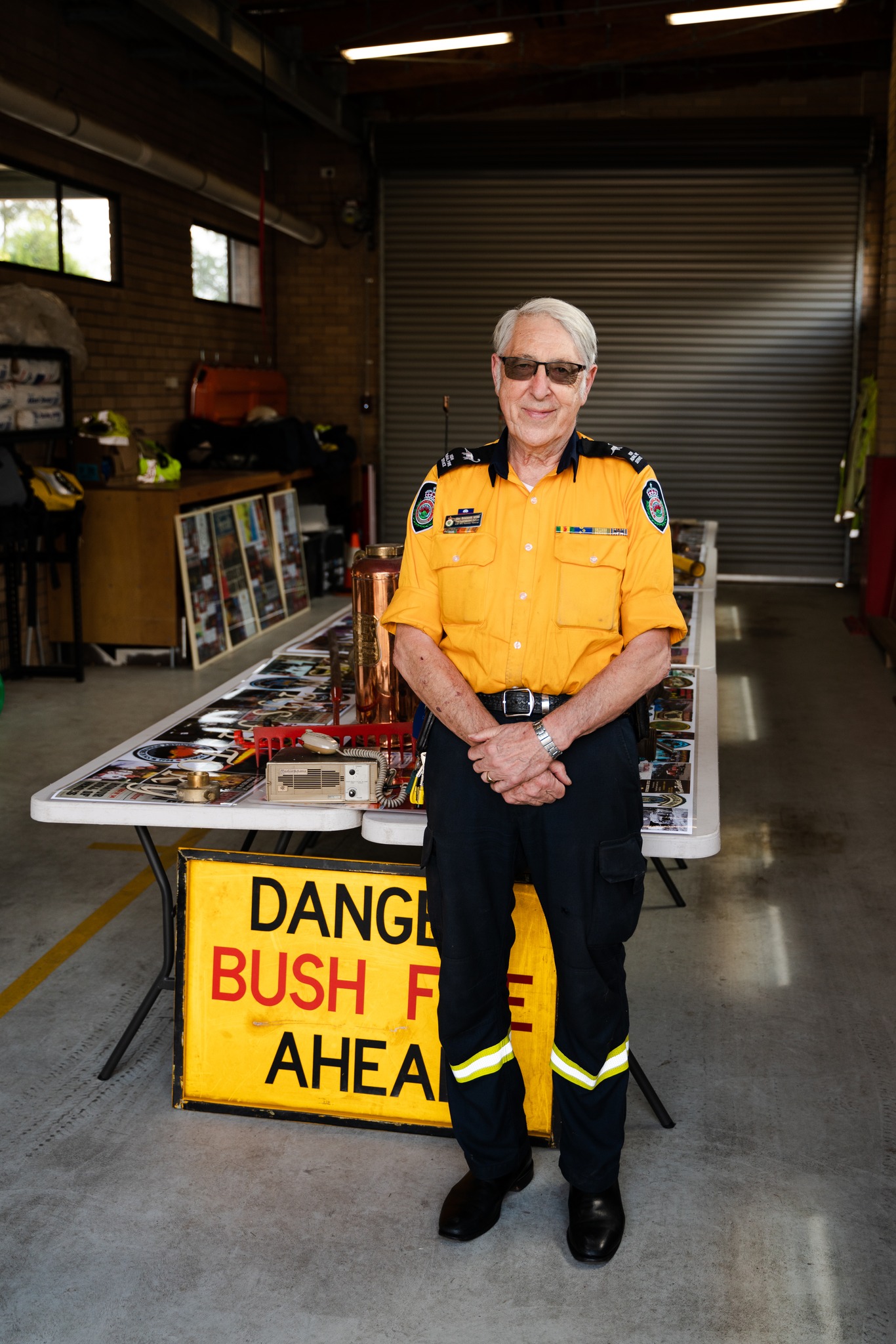 Photo: Alan Brinkworth ('Brinky') - by and courtesy NSW RFS Terrey Hills Brigade - Brinky's historical Rural Fire Service Display. With decades of RFS knowledge and memorabilia, Brinky has curated the most comprehensive historical display.
Congratulations gentlemen and thank you for your service!
Rising Cost Of Living Keeps Older People Awake At Night
According to research, 53% of older Australians believe they will outlive their savings.
New research by National Seniors Australia and Challenger reveals most older people are increasingly concerned about the rising costs of living, with four in five reporting it had negatively impacted their lifestyle and wellbeing.
The report The Cost of Living and Older Australians' Financial Wellbeing, based on the 2023 National Seniors Social Survey of almost 6,000 people aged 50 and over, unpacks how cost-of-living pressures are affecting the financial security of older Australians.
Over half the survey respondents (53%) said they thought they would outlive their savings, and 85% of them were worried about that.
Those concerned about long-term cost-of-living struggles were five times more likely to be concerned about this scenario.
National Seniors Australia Chief Operating Officer, Chris Grice, said older people are typically thought to be protected from the more severe impacts of increasing living costs because of their relatively high rates of home ownership, but that is simply not the case.
"The survey findings show that people aged 50-plus are very diverse in terms of the impact of the increasing cost of living on their financial wellbeing," Mr Grice said.
"Older people experience less overt challenges to their financial wellbeing that undermine financial security and overall quality of life and these effects vary depending on age, gender, partner status, health, wealth, home ownership, and sources of income.
"The results are clear, recent increases in the cost of living in Australia have impacted older people's financial wellbeing across all three of its components: meeting expenses, being in control of finances, and feeling financially secure."
Long-term impacts for most vulnerable
Eighty-three per cent of survey respondents believed they would continue to feel cost-of-living impacts on their lifestyle over the 12-month period following the February survey.
People with less savings, people who don't own their home, younger age groups, those in poor health, and women were the groups most likely to hold long-term concerns about the rising cost of living.
Being able to afford essentials was the highest cause for concern, with respondents listing health, energy, and grocery expenses as the top three pain points.
For most, managing their financial situation meant cutting back. Almost two-thirds of respondents (62%) chose this as an option they could use to adjust to increasing cost-of-living pressures.
Challenger Head of Retirement Income Research, Aaron Minney, said cutting spending is not a sustainable long-term strategy for older Australians to manage rising costs of living, with the impacts of this issue set to be long-lasting.
"An important factor for retirement wellbeing is having the financial capacity to maintain living standards that were enjoyed before retirement," Mr Minney said.
"In general, older people's sense of financial resilience and financial security have fallen since the start of the pandemic and the increasing cost of living has further undermined long-term planning and financial goal setting of older Australians.
"Certainty of income is vital to give retirees the confidence to spend and peace of mind that they have the financial security to protect their lifestyle, health, and wellbeing throughout their golden years."
Retirees want money that lasts a lifetime
To manage the concern about outliving savings, 83 percent of those surveyed reported they want money that lasts a lifetime, and income that increases with inflation is also a top financial priority for most. Regular income for essentials (91%) and being able to afford care and medical costs (86%) were also crucial to long-term confidence.
"Financial wellbeing is critical to quality of life in older age, and rapidly increasing living costs are undermining the financial wellbeing of older people," Mr Minney said.
"Finding ways to mitigate worry and giving greater confidence that they will always have the income to meet these essential expenses will improve people's wellbeing and quality of later life. A guaranteed and adequate income stream provides a lot of reassurance and comfort to older Australians battling rising costs.
"After nearly 30 years of relative stability in the cost of living, retirement planning and financial advice must better address the potential effects of inflation in undermining people's control over their finances."
Inquiry Into Housing Policies And Practices For Precariously Housed Older Australians
This final Inquiry brings together the findings of three research projects to address how Australia can deliver the types of housing precariously housed individuals in, or approaching, retirement need to support their life aspirations, wellbeing, participation and inclusion.
Over the last 20 years, housing options for older Australians on lower incomes have been getting worse with home ownership rates falling, more people carrying their mortgage debt into retirement and reduced access to social housing. By 2031 an estimated 440,000 older households will be unable to find or afford suitable housing.
Lower income older Australians want housing that is achievable, with some factors gaining greater significance as people get older, such as they want to stay in an affordable home and to live in safe, secure and neighbourhoods. The Inquiry developed and explored alternative housing models through a survey with lower income households. There was a clear preference for a shared equity home ownership model, a cooperative housing model and a transportable housing model, which reflects the expectation that it is 'normal' to own one's home in Australia.
In addition, the research highlights that, even though many low income older householders can't afford any form of mortgage, some people are paying large proportions of their income on rent. If they could get a loan there are two options that have the potential to deliver forms of home ownership, with the security of tenure and well being that provides: shared equity mortgages and land lease mortgages.
The research mapped the increases (and decreases) in populations of older low income households across Australia and predicted changes in each area to 2031, measured in suburb-sized geographical areas. The largest projected increases are likely to be in peri-urban and outer-suburban regions, with some significant rises in regional and rural locations.
Faulkner, D., Sharam, A., James, A., Tually, S. and Barrie, H. (2023)
Inquiry into housing policies and practices for precariously housed older Australians, AHURI Final Report No. 406
, Australian Housing and Urban Research Institute Limited, Melbourne, https://www.ahuri.edu.au/research/final-reports/406, doi:
10.18408/ahuri3225001.
U3a At Newport Community Centre: Coming Up
About Our Courses and Activities
Sydney u3a comprises seven regions covering the greater Sydney metropolitan area. The local one is U3A Northern Beaches Region.
Sydney u3a is managed and run entirely by volunteers who contribute time and energy to provide life-long learning and social activities for everyone. Join in to enjoy the benefits of membership! At the one affordable annual membership fee of $85.00 (less than $2 per week), you'll get:
access to a wide range of courses and presentations
friendly and inviting social events in your region
Members can attend any course in any of the seven regions
Volunteers lead and administer the courses and talks
A wide range of topics is covered – from learning foreign languages to table tennis to history to book/movie clubs to philosophy to science related issues. There's something for everyone!
Courses are held in a variety of local venues and via Zoom
Events, visits, tours and social activities are also offered
Full details of activities are listed each semester in the Course Book and on individual regional pages
From time to time there are changes to course details after publication of the Course Book. Please keep checking your region's website or the website home page for updates.
u3a Northern Beaches Region
Our current newsletter includes up to date information on courses, events and any changes to the program. Previous newsletters are
available here
if you missed any information or wish to refresh your memory.
Please note: The newsletter is distributed to members by email at the end of each month. If you haven't received the latest copy please check as it may have been captured in your Junk email folder. If this is the case, please adjust your settings so that you receive future newsletters as soon as possible. We also take this opportunity to issue a friendly reminder to contact us with your updated details if you change your home or email address. Thank you.
Every Thursday from 1:15 to 4:15
Table tennis stimulates physical and mental performance.
We offer the opportunity to revive a dormant skill and to
socialise with new friends in an air-conditioned venue that is
ideal for year-round play.
Every Monday from 12:30 to 2:00
Main Hall
Please book only one yoga class per week. Every
class consists of basic yoga practice, breathing and
deep relaxation which will help improve joint mobility,
increase muscle flexibility and bone density.
Teacher: Maryanne Deans Kolek
Alternate Wednesdays from 8 Feb 1:30 to 4:00
Activity Rooms 1 and 2
Looking for fun and an enjoyable activity that extends you?
Join our drama activities where you will meet new people
and have fun along the way. We do drama to music, also
mime, improvisation and roleplaying.
Every Wednesday (except first Wed every month)
from 8 Feb 2:00 to 3:30
Main Hall.
Reconnect with nature via this gentle, moving
meditation originating in China. Relaxes the joints,
aids digestion and sleep, calms the mind and gently
tones and strengthens muscles. Work at your own level.
Suitable for most.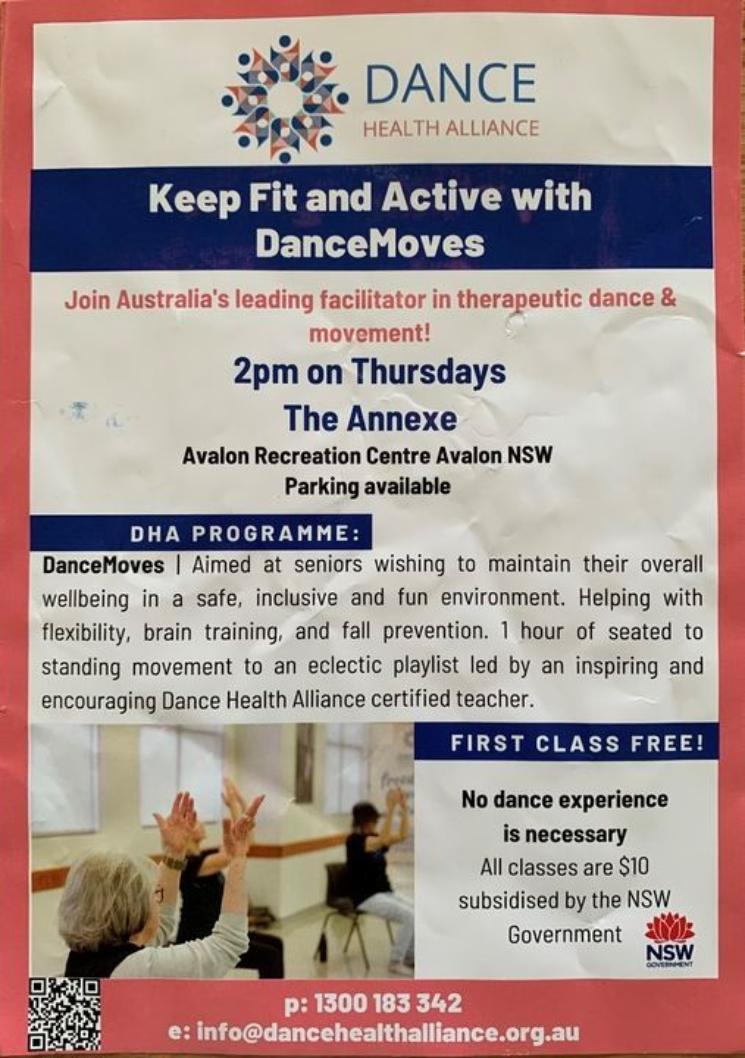 Pittwater RSL: Seniors Show + Lunch 2023
Our Seniors Shows are on every last Monday of month!
LIVE in the auditorium.
Two course luncheon in the Glasshouse PLUS a show special: $20pp
Doors open from 10am for an 11am show.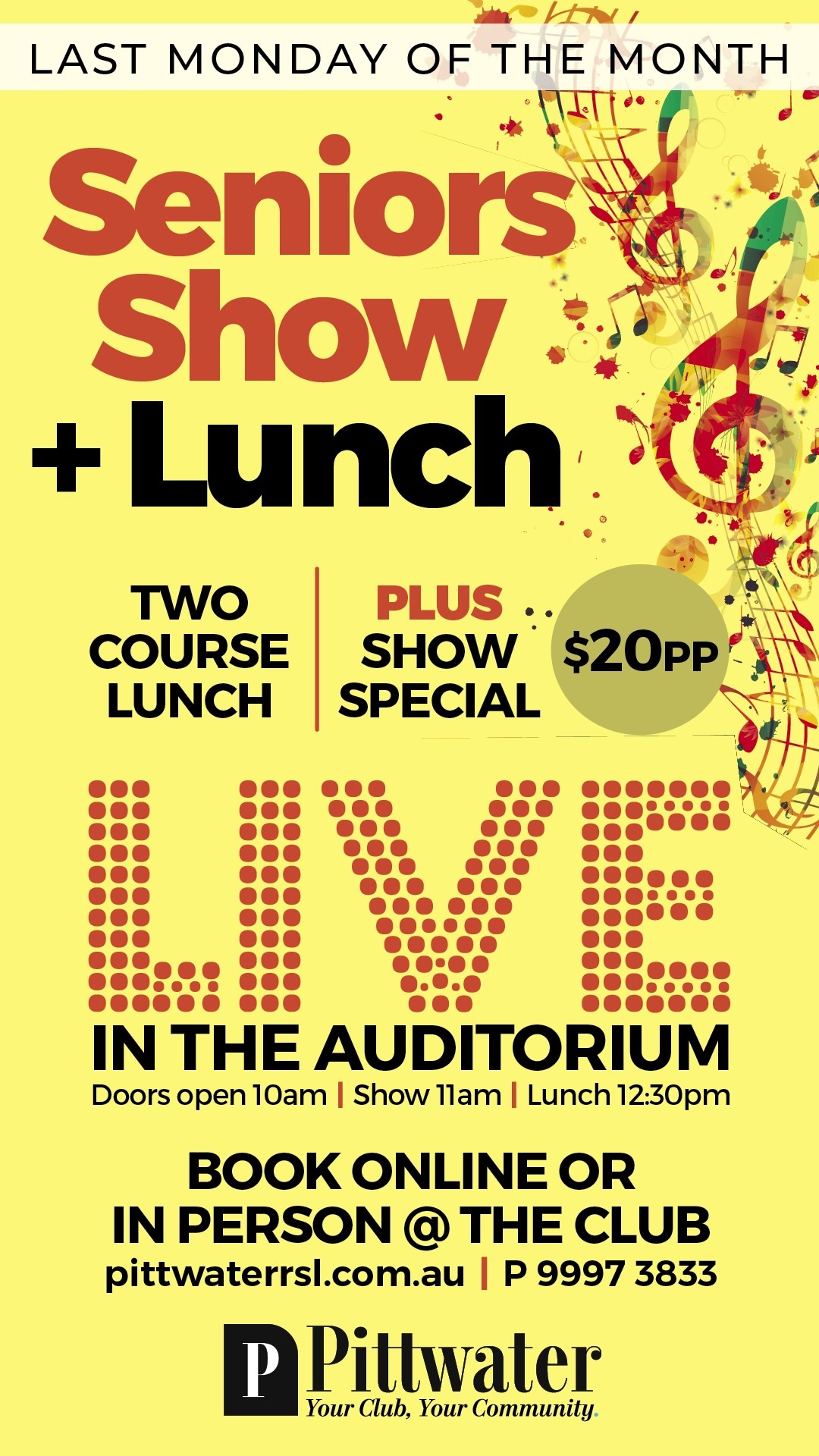 Active And Healthy At Any Age
Staying physically active is the single most important thing you can do to stay fit and independent, as you get older. Age is no barrier, research shows that exercise, at any age, is worth the effort. If you are in any doubt about exercise, please talk to your doctor.
Join Healthy And Active For Life Online!
Healthy and Active for Life Online is a FREE 10-week healthy lifestyle program for adults aged 60 years* and over.
The program will help you learn how to make small, sustainable changes in your lifestyle to improve your health.
The program covers lots of topics including healthy eating and physical activity.
No prior knowledge or exercise experience is required!
*Aboriginal people aged 45+ years can register.
Healthy and Active for Life Online will help you to be active by:
Providing online exercise programs for you to complete in the comfort of your home
Providing you with an exercise manual and log to keep you on track
Helping you to create realistic goals and increase your fitness
Time To Surgery Is Critical For Survival After Hip Fracture
Many people with a hip fracture wait longer than is optimal for surgery – despite some hospitals making a dramatic improvement in time to surgery in the past few years.
Today
the Australian Commission on Safety and Quality in Health Care (the Commission)
is launching the updated national clinical care standard for hip fracture at the binational Hip Fest 2023 conference, hosted by the Australian & New Zealand Hip Fracture Registry (ANZHFR).
The updated standard reduces the recommended maximum time to surgery – along with other improvements for better care – and will drive meaningful change as hospitals establish protocols to meet these targets.
Every year in Australia, 19,000 people fracture their hip[i], usually after a fall. Most hip fractures happen to people over 65 years and are often a life changing event.
Australia's aging population makes taking action on hip fracture more important than ever.
Hip fracture significantly increases an older person's risk of death, with one in four people dying within 12 months after a hip fracture injury.[ii] Of those who survive, many lose their ability to live independently or return to their former lifestyle.
The updated
Hip Fracture Clinical Care Standard (2023)
for hospitals has reduced the maximum time to surgery from 48 hours to 36 hours in line with international guidelines. For the first time, this explicitly includes patients who need to be transferred to a hospital that can perform the surgery.
The Commission's Acting Chief Medical Officer, emergency physician Associate Professor Carolyn Hullick, said there was an urgent need for health services to offer better care for people with a hip fracture, using the framework in the updated standard.
"Anyone who has seen someone live through a hip fracture knows it's much more than a broken bone. People with a hip fracture tend to be older, frail and more vulnerable, so it is critical the fracture is repaired quickly to reduce pain and get them on the road to recovery back to independence," she said.
"The data is sobering, as an Australian with a hip fracture is almost four times more likely to die within a year than someone of the same age who isn't injured. This has an immense personal toll on individuals and families, in addition to the burden on our health system of around $600 million each year." [iii]
Much has improved since the Hip Fracture Clinical Care Standard was introduced in 2016, according to ANZHFR annual reports. The ANZHFR contains around 90,000 records, with 91% of hospitals performing hip fracture surgery in Australia participating to help improve their hip fracture care.
While some hospitals have substantially reduced their time to surgery, there is still marked variation.
In 2022, the average time to surgery ranged from 16 to 92 hours,ii with the longest waiting times for people being transferred for surgery. 78% of patients had surgery within 48 hours.
A lever for change: 'We can and should do better'
Geriatrician Professor Jacqueline Close, Co-chair of the ANZHFR and Co-chair of the expert advisory group for the standard, knows first-hand the value of high-quality care for hip fractures and believes the updated standard will be a lever for change.
"The Hip Fracture Clinical Care Standard sets expectations for how every patient should be cared for, while allowing for treatment to be tailored to the individual," she said.
"The adage 'don't let the sun set twice before hip fracture repair' has merit for several reasons. Firstly, no-one wants to see their mum or dad fasting and in pain waiting for surgery; and shorter time to surgery is associated with fewer complications, better recovery and survival.
"It is also more cost efficient to manage these patients well. Every day surgery is delayed, two days are added to the length of stay. The sooner you operate, the quicker patients can get walking and go home."
Professor Close said the registry data shows Australia can do better in several key areas of hip fracture care. "The evidence tells us the sooner you are supported to get out of bed, the better your functional recovery. Last year, fewer than half (45%) of patients walked on the first day after hip fracture surgery.
"Also, only one third (32%) of patients leave hospital on bone protection medication for osteoporosis to prevent another fracture. We absolutely can and should do better," she said.
A/Professor Hullick added: "Older people can have complex needs, and research shows the best results come when specialists from both orthopaedic surgery and geriatric medicine work together on a patient's care – known as an orthogeriatric model of care.
"This means that as well as repairing the bone, we are managing the person's other medical conditions, their cognitive function, their mobility and reducing the risk of more falls and fractures. This has been a focus since the standard was first introduced, with many hospitals now having orthogeriatric teams.
"The standard has already been a catalyst for change. By updating it and addressing the gaps, care will continue to improve. It will be fantastic to see a solid boost to patient outcomes as hospitals embed these latest changes."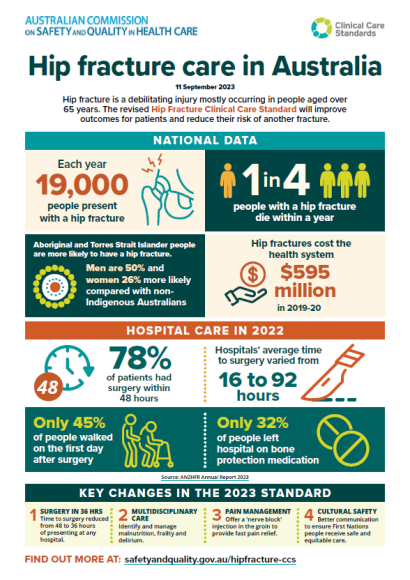 [i] Australian Institute of Health and Welfare. Hip fracture incidence and hospitalisations in Australia 2015–16External link
[ii] Australian and New Zealand Hip Fracture Registry. ANZHFR Annual ReportExternal link 2023
[iii] Australian Institute of Health and Welfare. Disease expenditure in Australia 2019–20
World Patient Safety Day: 17 September
This Sunday is World Patient Safety Day, a global movement to champion safer healthcare practices.
Engaging patients for patient safety
This year's World Patient Safety Day theme, 'Engaging patients for patient safety', highlights the vital role patients and consumers play in shaping the safety and quality of our healthcare system.
Patient and consumer voices shape our practice, improve outcomes, and contribute to a positive safety culture. Working in partnership with patients, their families, carers and the wider community is critical to achieving a healthcare system that is efficient, effective and meets people's needs.
This World Patient Safety Day, the Commission is releasing a
new Guide for consumers
. This guide has been developed by patients and consumers, and provides valuable insights on strengthening partnerships between patients, consumers and health services.
I also encourage you to view our new
Consumer Insights Video Series
to hear directly from consumer representatives on their experiences working to improve health care.
Safe health care is person-centred health care, and we will continue to support, encourage and empower patients and consumers to help improve health care for everyone.
As we stand together on this important day, I invite you to reflect on your role in patient safety. Whether you are a patient or consumer, healthcare professional, manager or policymaker, your dedication and commitment contribute to safer healthcare practices.
Yours sincerely,
Conjoint Professor Anne Duggan
Australian Commission on Safety and Quality in Health Care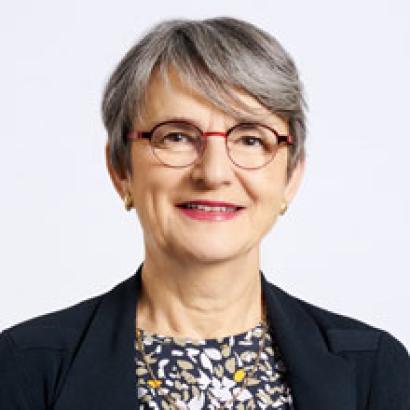 App Unlocking Benefits Of Music Therapy, Wearable Tech And AI For Dementia Awarded $2m Grant
An app that unlocks the therapeutic potential of music for people living with dementia across Australia will receive $2 million ($1.3m USD) in grant funding and support from Google's philanthropic arm, to develop wearable sensors and AI-enabled music adaptive systems and undertake a pilot in Australia.
MATCH (Music Attuned Technology - Care via eHealth) is an adaptive, music-based tool that aims to address a common challenge for people with dementia - agitation that can occur when emotional and physical needs go unmet – by detecting early signs of agitation behaviours and providing music-based interventions to regulate mood and reduce the likelihood of developing, or severity of challenging behaviours.
55 million people live with dementia globally, with 90 per cent of them displaying agitation, a challenging symptom that can lead to physical and verbal aggression, distress to families and professional carers, and most importantly, poorer quality of life for the person with dementia.
University of Melbourne Professor Felicity Baker, principal investigator of the MATCH project, said the app has the potential to provide a practical and personalised tool to support dementia patients globally.
"Many carers of people with dementia recognise music's value in supporting the wellbeing of a loved one. We are working to create a better everyday life for people living with dementia, their families, and carers on the dementia journey using the proven therapeutic benefits of music, alongside wearable sensors and AI," Professor Baker said.
The Australian Government's Royal Commission into Aged Care Quality and Safety recommended every Australian aged care provider provide access to music and art therapy for people in their care by July 2024. Limitations on the number of therapists is expected to see this recommendation go unmet.
"Our music attunement intervention has been shown to significantly decrease agitation and reduce care costs, however music therapists, who implement the intervention, are in short supply and often not available when episodes of agitation occur," Professor Baker said.
"By combining the known therapeutic benefits of the patients' personally preferred music with wearable sensor technology and AI that creates a bespoke music adaptive system, we will be able to provide early detection and treatment of agitation."
The MATCH app AI system will learn each person's own unique agitation behaviours and positive music interventions, through an improving cycle of detection and interpretation making use of wearable sensors, observation, analysis, and music treatment. The person with dementia's preferred music will adapt to synchronise and treat their agitation.
"Even the smallest change in agitation reduces care costs per person, and will reduce the need to use pharmacological interventions that can increase confusion and have other side effects," Professor Baker said.
"Our app will overcome access and equity barriers by providing support to people with dementia whenever and wherever it is needed."
The MATCH project has two components - a training package app for caregivers with curated lists of music to enable targeted music interventions to support care, of which a prototype app has already been developed, and the music-adaptive system being developed with funding from Google.org.
Professor Baker said: "The music-adaptive system will be integrated within this app. We are looking for residential aged care homes, and people living with dementia at home, to come forward and be involved in testing our app prototype and the development of the music-adaptive system."
University of Melbourne Professor Lars Kulik, leading the development of the app's AI and the integration of sensor data, said the grant will see the technology developed and introduced in Australia before being expanded globally.
"We will be able to develop a device, similar to a smartwatch, that can monitor movement, heartrate and other biomarkers. Should it detect signs of agitation, the app will play music from a curated playlist designed to soothe and calm them. If the initial music choice isn't effective, it will continue to change tracks until the person's state stabilizes," Professor Kulik said.
"While developing the technology, we will also have access to Google's knowledge, expertise, and data technologies that would normally be out of our reach."
Google.org's AI for the Global Goals Impact Challenge supports organisations through the $25 million philanthropy challenge for projects that use artificial intelligence (AI) to accelerate progress towards the United Nations Sustainable Development Goals.
The University of Melbourne is the only Australian organisation receiving support through Google.org's $25 million philanthropy challenge for projects that use artificial intelligence (AI) to accelerate progress towards these goals. Out of many submitted proposals, 15 were selected for funding. All the projects will be open-sourced, so other organizations can build upon the work.
Google SVP of Research James Manyika said: "Each of the 15 selected organisations share our vision for using AI to accelerate progress on the United Nations' Sustainable Development Goals, and each organisation brings their own expertise to help move the needle,"
"We are inspired by the possibilities they see for how AI can be harnessed to help people solve societal problems, and are excited about the collective impact they will have over the next three years."
More information on the MATCH app project can be
found here
.
Professor Baker and her team are inviting stakeholders – such as aged care providers, and people living with dementia at home, to participate in the MATCH project throughout the various stages of its development, including the algorithm-building phase of the project, which is proceeding now.
"We're going to need quite a lot of data to teach the algorithms how to reliably detect. And the more data we get, the more sensitive we can make the system so that it will be more and more accurate," Professor Baker said
People will be able to participate in the pilot testing of the app mid-next year. To register interest click here.
Bilgola Plateau Probus Club 1st Birthday
Bilgola Plateau Probus Club has grown in the previous 12 months from a gathering of nine to having over 103 members today.
To celebrate, the Club is having their
1st birthday party on October 6th at the Newport Bowls Club, starting at 10:00am.
Visitors and prospective new members are cordially invited to attend for games, a raffle, best dressed (blue and gold colours), have a free cuppa and some nibblies.
Admission is free.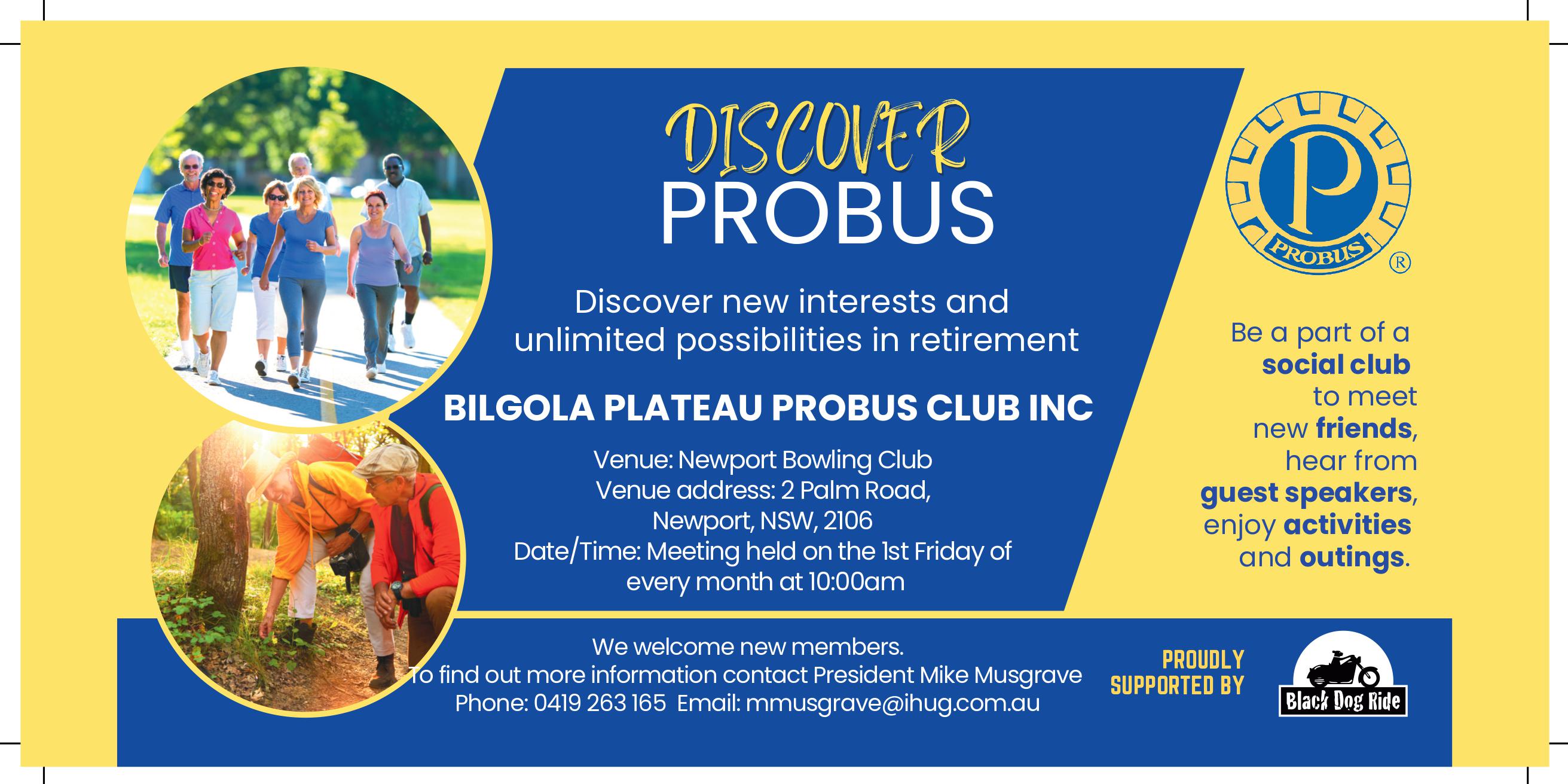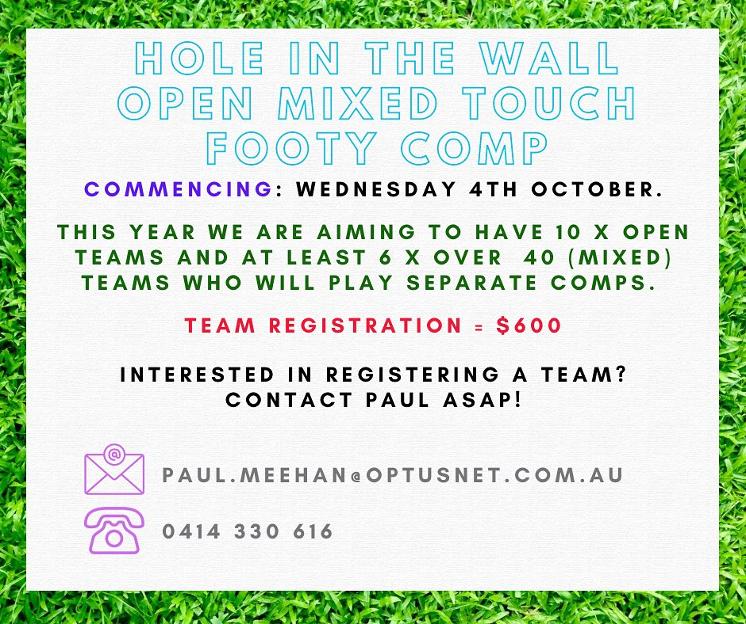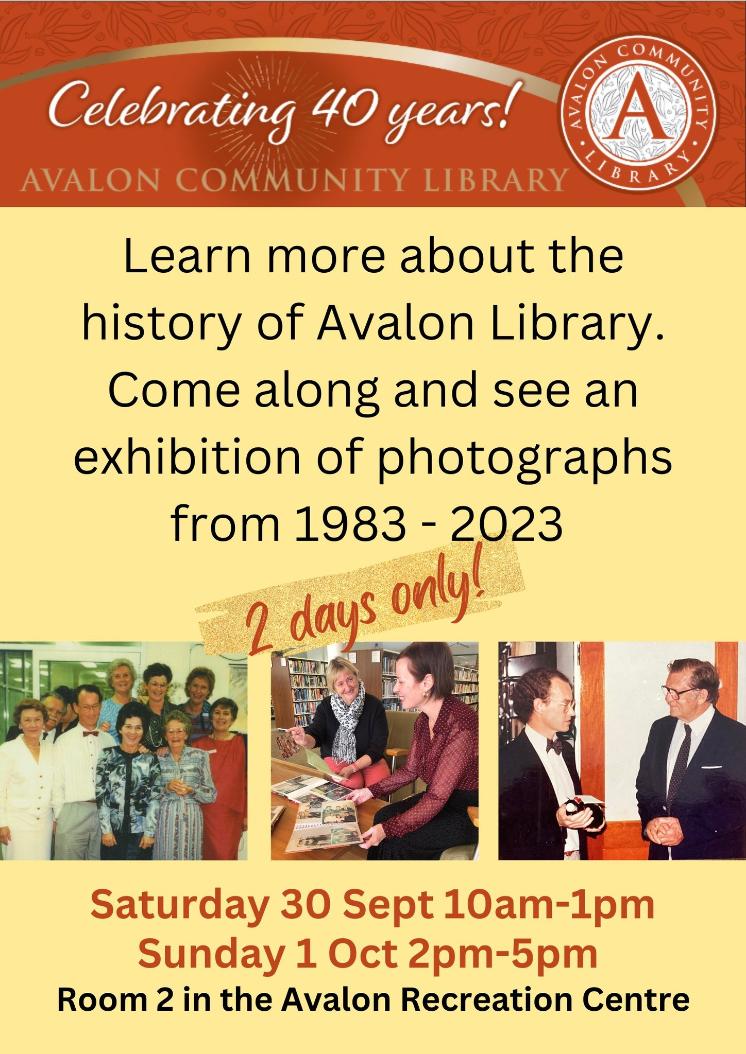 Spring Surfing Celebration
Do you some boards that are lingering in the yard unused?
Come and sell/swap or trade them on Saturday 23rd Sept, between 12 noon and 4pm at Surfrider Gardens, Narrabeen.
The legendary Mick Mock will be there, chilled tunes from @borderlines___ , Surfboard Souls Manly will host sustainable surfboard art activities for adults and kids, and 2nd hand boards raffle from Aloha Manly Style. Thank you legends.
Bring your boards for a Spring Surfing celebration!
Surfrider Foundation Northern Beaches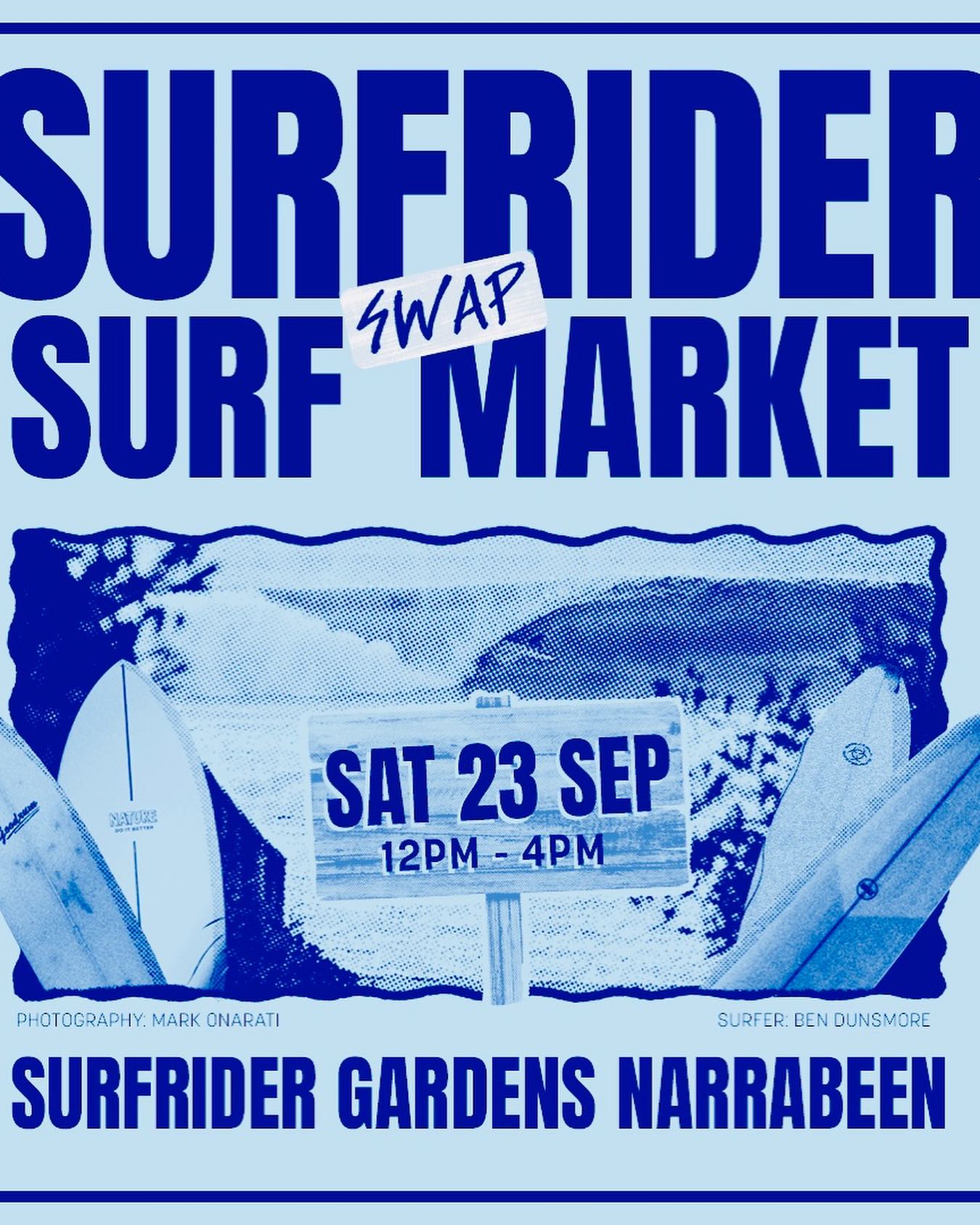 COTA Australia Backs 'YES' Campaign For A Voice To Parliament
COTA Australia – the leading advocacy organisation for older Australians – has officially thrown its support behind the Voice to Parliament.
Patricia Sparrow, COTA Australia Chief Executive Officer, said the organisation support a 'yes' vote in the lead up to the upcoming referendum on October 14th.
"COTA Australia strongly believes that publicly supporting a 'yes' vote in the upcoming referendum is the right thing to do," Ms Sparrow said.
"This wasn't a difficult decision for the COTA Australia Board to make. When you look at the core values of our organisation, providing support for an Indigenous Voice to Parliament became very clear.
"At COTA we understand the importance of consultation and in providing everyone with the means to have a say in matters that affect their lives and communities. It's central to who we are as advocates for older people.
"We see those values reflected in the Voice to Parliament.
Ms Sparrow said COTA Australia's eyes are open to the differing views on the Voice currently held within the community and urged respect across the board.
"Everyone will make their own decision come referendum day. We see COTA Australia's role as providing as much clear and factual information as possible to help people ensure that they're making an informed decision when they head to the polling booth on October 14th.
"It is important for COTA Australia to always be transparent and clear in its actions and to stay true to its values, which is why we're publicly stating our support for the Voice.
"While we of course respect everyone's right to their opinion, we are hoping for a large 'yes' vote from all Australians, including older people.
"This is an historic opportunity to create a better, fairer Australia for everyone."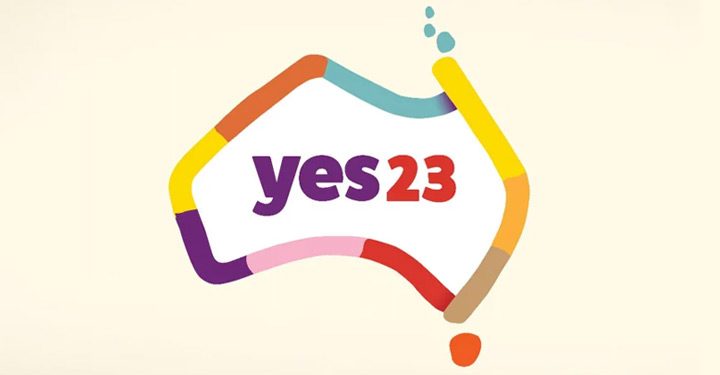 Pittwater-Narrabeen Parkinson's Support Group
The purpose of our group is to support seniors (55yrs +) living with Parkinson's, their carers, relatives and those who have lost a partner to Parkinson's, who live on the northern beaches of Sydney.
This support Group has been meeting for around 30 years on the Northern Beaches. Our meetings aim to help reduce the social isolation, and increase community connectedness for our members. Through guest speakers, discussions, and group activities, our meetings will support and promote mental health, healthy lifestyles and well-being.
Our Facebook webpage will be used to store resources and links, and provide another way to safely keep in touch, for those who want to use Facebook. We also have a website that is regularly updated
https://wheresdot.wixsite.com/nbpdsupportgroup
We meet regularly and due to Covid we have been meeting at Jamieson Park, The Esplanade, Narrabeen.
NSW Health: Be On The Look Out For Serious Bacterial Illnesses
NSW Health is advising the community to be aware of the signs and symptoms of rare but severe, invasive bacterial infections following recent increases in cases.
Dr Trevor Chan, Clinical Director, Emergency Care Institute at the Agency for Clinical Innovation said late winter and spring are usually peak times for meningococcal disease in NSW, while cases of invasive group A Streptococcus (iGAS) are steadily increasing.
"It's very important the community is aware of the risks of these infections. While meningococcal and iGAS are rare, both can be very serious and can cause death or permanent disability," Dr Chan said.
"So far, 28 cases of meningococcal disease have been reported in NSW this year. 544 cases of iGAS have been notified in NSW to the end of August this year.
"In the early stages, invasive bacterial infections can appear similar to more common viral illnesses. Occasionally they can occur at the same time, or follow a viral infection.
"Rapid intervention and treatment for invasive bacterial infections are available and can be lifesaving.
"We urge people to pay close attention to symptoms, trust their instincts, and seek urgent medical care if symptoms worsen or if they or the people they care for are getting worse.
"Bacterial infections, like meningococcal and iGAS can lead to sepsis, a life-threatening condition. Intervention and treatment for invasive bacterial infections are available and can be lifesaving," Dr Chan said.
A person with sepsis often reports feeling the sickest they have ever felt. Other indicators of serious illness include fever, a fast heart rate, difficulty breathing, cold hands and feet or a mottled look to the skin, difficulty waking or increased lethargy or confusion. The person looks unwell and may also have nausea, vomiting or diarrhoea, headache or muscle aches and pains.
Symptoms to look out for in young children that may indicate severe illness include irritability, difficulty waking, high-pitched crying, refusal to eat/feed, fewer or no wet nappies or decreased urination, cold or mottled limbs, and difficulty breathing. For more information see the Sydney Children's Hospital Network website – signs of serious illness in children.
People with meningococcal disease may experience severe headache, neck stiffness, dislike of bright lights, or unexplained joint or limb pain. A non-blanching rash of red-purple spots may also occur but often presents later in the illness. Do not wait for a rash to occur to seek urgent medical care.
People with iGAS may develop a red, warm, painful, and rapidly spreading skin infection which may have pus or ulceration. Children may present with a sunburn-like rash. The rash and skin changes are not always present so do not wait for a rash to seek care if the person is very unwell.
For more information on iGAS, meningococcal disease and sepsis see the NSW Health website.
If you are concerned about your or your child's health call your GP or healthdirect on 1800 022 222. If you or the person you care for is seriously unwell call 000 or go to your local Emergency Department.
Businesses Urged To Remove Unfair Contract Terms Ahead Of Law Changes
The ACCC is encouraging businesses to review their standard form contracts and remove or amend any unfair contract terms before new penalties take effect.

From 9 November, changes to the Australian Consumer Law will prohibit businesses from proposing, using, or relying on unfair contract terms in standard form contracts with consumers and small businesses.
The changes will allow Courts to impose substantial penalties on businesses and individuals who include unfair terms in their standard form contracts. Currently, a Court can only declare specific terms of a contract unfair and therefore void.
"The changes to the unfair contract terms laws should motivate businesses to take steps to ensure their standard form contracts are fair, including by removing or amending concerning terms," ACCC Deputy Chair Mick Keogh said.
"There was previously little motivation for businesses to comply with the law, despite the ACCC's compliance and enforcement actions. We strongly urge businesses to review their contracts now to ensure they comply."
Standard form contracts provide a cost-effective way for many businesses to contract with significant volumes of consumer or small business customers. However, these contracts are largely imposed on a 'take it or leave it' basis and are usually drafted to the advantage of the party offering them.
"The test for whether a contract term is unfair has not changed. However, businesses now could potentially face substantial penalties for contravening the law. This will better protect consumers and small businesses who have limited bargaining power, expertise, and ability to negotiate or assess standard form contracts," Mr Keogh said.
"While some of the changes won't apply to contracts until they are renewed, or a new contract is entered into, businesses should be proactive in reviewing their standard form contracts now."
Tips for businesses to consider when reviewing their contracts:
Consider both points of view:

if you think a term is necessary to protect your business's legitimate interest, consider the term from the other party's point of view.

Include counter-balancing terms:

check that your contract has appropriate counter-balancing terms. For example, if you consider that your business reasonably needs the ability to unilaterally change the product or service being provided under the contract, does the contract also allow your customers to exit the contract without penalty when this occurs?

Avoid broad terms:

don't have terms that are as broad as possible. Make sure terms are only as broad as reasonably necessary to protect your business's legitimate interests.

Meet your obligations under the Australian Consumer Law:

don't have terms that seek to avoid your business's obligations under the Australian Consumer Law. For example, don't include terms that seek to limit your customers' consumer guarantees rights, or terms that seek to disclaim any representations your business may have made outside of the contract.

Be clear:

Use clear and simple language in your contracts.

Be transparent:

ensure key terms are clearly drawn to the attention of your customers during the sign-up process, and any renewal process.
The changes will also expand the coverage of the unfair contract term laws to apply to more small business contracts than before. The threshold for small business contracts will increase to apply to small business that employ fewer than 100 persons or have an annual turnover of less than $10 million.
Other key changes include the removal of the contract value threshold and clarifying other aspects of the laws, such as more clearly defining 'standard form contracts'.
Businesses can view information about changes to the unfair contract terms laws on the
ACCC's website
.
The ACCC has been advocating for the introduction of penalties to unfair contract terms for many years. This includes in our submission to the Government review of the unfair contract terms protections in 2018, and in a submission to the regulation impact assessment process in 2020 about proposed enhancements to the unfair contract terms provisions.
Additionally, one of the key recommendations of the ACCC's 2020 Perishable Goods Inquiry was to introduce penalties for unfair contract terms, and this has also been a key recommendation throughout the ACCC's digital platform services inquiry.
Recent ACCC actions in relation to unfair contract terms include:
In 2023, suppliers in the fertiliser industry agreed to amend their contracts following an ACCC investigation into unfair contract terms.
In 2022, Fowler Homes Pty Ltd provided a court-enforceable undertaking to the ACCC, admitting that its standard home building contract contained unfair contract terms.
In 2022, the Federal Court declared that 38 contract terms used in contracts entered into by Fujifilm Business Innovation Australia or Fujifilm Leasing Australia (together, Fuji) with many thousands of small businesses were unfair, following court action by the ACCC.
Funeral service providers Parkside Funerals and Bowra & O'Dea each provided the ACCC with a court-enforceable undertaking, committing to remove potential unfair terms from their funeral services contracts, among other commitments.
The maximum financial penalties for businesses under the new unfair contract terms law are the greatest of:
$50,000,000;
three times the value of the "reasonably attributable" benefit obtained from the conduct, if the court can determine this; or
if a court cannot determine the benefit, 30 per cent of adjusted turnover during the breach period.
The maximum penalty for an individual is $2.5 million.
The changes will apply to:
Standard form contracts made or renewed on or after 9 November 2023.
A term of a contract that is varied or added on or after 9 November 2023.
However, where a term of a contract is varied or added on or after 9 November 2023, the changes relevant to deciding whether a contract is a standard form contract apply to the whole contract.
Fairer Democratic Elections To Return For City Of Sydney
The NSW Government announced on September 13 2023 it is ''returning democracy and fairness to the City of Sydney by removing rules that favour the votes of businesses over residents in local government elections''.
The City of Sydney Amendment Bill 2023 introduced by the Government seeks to reinstate the voting rules for non-residential electors that apply in all other LGAs across NSW.
In 2014, the City of Sydney Act 1988 was amended to give eligible businesses two votes in council elections, compared to one each for residents.
As a result, businesses that own, lease, or occupy rateable land in the City of Sydney can currently nominate two people to vote on their behalf in council elections.
The Government's new bill will remove this unfair weighting and bring balance back to the system.
The changes will also remove the automatic enrolment of non-residential electors, which does not exist anywhere else in the state, and currently applies regardless of whether these electors wish to vote in City of Sydney elections or not.
Eligible people will still be able to apply to become non-residential electors, however, only one person will be entitled to be enrolled on behalf of corporations or multiple owners, lessees or occupiers.
The 2014 amendment being reversed by this bill cost City of Sydney ratepayers $9.7 million to establish and approximately $1 million per year to maintain.
It also resulted in an increase in the number of fines issued by the NSW Electoral Commission.
Following the 2021 council elections, 18,501 failure to vote notices and fines were issued by the Electoral Commission to non-residential electors. This equates to 39 per cent of all non-residential electors for the area.
If passed, this bill will:
ensure the same rules that govern voting by non-residential electors in all other LGAs in NSW will apply to the City of Sydney
make the preparation of non-residential elector rolls much less onerous and costly and relieve the City of Sydney of a significant administrative burden
deliver cost savings for the City of Sydney that can be redirected towards services and infrastructure for the local community
Minister for Local Government, Ron Hoenig stated
,
"

The current City of Sydney Act gives businesses two votes in local government elections in a deliberate decision orchestrated by the former government to suit its political agenda.
"
The amendments were made by the Liberals in a brazen attempt to oust Sydney Lord Mayor Clover Moore from office and give the party an electoral advantage in controlling the Sydney Town Hall
.
"As expected, the amendments have clearly missed their target with thousands of non-resident ratepayers being slugged with fines for not voting instead.
"For nearly a decade, City of Sydney ratepayers have also been forced to foot an annual bill of approximately $1 million to maintain the non-residential electoral roll.
"Nowhere else in this state do we see one group of voters favoured in this way. It erodes the democratic process and undermines the vital importance of giving residents and ratepayers a balanced voice in local council elections.
"The Labor Government is proud to return the balance to the City of Sydney democratic process, and plan to have the new laws passed and implemented for the September 2024 council elections."
Lord Mayor Clover Moore stated
in response to the announcement:
''Today the NSW Government has introduced a Bill to reverse the undemocratic and
targeted legislation that gave two votes to businesses in City of Sydney elections
.
I welcome the Government's commitment to removing this unfair weighting and bringing democratic balance back to our local system.
I have always been supportive of measures that make it easier for businesses to vote – businesses contribute greatly to our city and deserve to have a say in its leadership.
But the Shooters and Fishers Bill, which became known as the "Get Clover Law" and was adopted by the Baird Government, eroded the democratic power of residents and placed an unworkable and costly burden on the City.
At the time the legislation was being considered, respected election analyst Antony Green described it as "inspired by malice, not public policy", saying "whoever's putting this up is trying to rort the result."
Those who supported the Bill in Parliament said they simply wanted to make it easier for business in the City to vote. However, the truth is that this legislation was not about business voting at all. It was about manipulating democracy.
Businesses already had greater rights to vote in the City than anywhere else in NSW, as they only needed to operate in the City for three months before they could enrol and vote while everywhere else in NSW businesses were required to operate for at least three years.
The legislation gave businesses two votes while leaving residents with just one, completely reversing one of the founding principles of Australia's democracy: one vote, one value.
It allowed people who have never even been to the City of Sydney the right to vote; subjected businesses to more red tape by requiring them to provide extensive and in some cases intrusive information; and meant that businesses were put at greater risk of hefty fines for not voting.
On top of that, the City of Sydney was directed to maintain a register and rolls of eligible non-residential voters rather than the independent NSW Electoral Commission. The Government forced the City to accept its flawed legislation, then told us we had to pay for it.
In the nine years since these changes were introduced no other LGA had its electoral regulations changed. Given the fact the changes weren't rolled out state-wide, it is hard to see this episode as anything other than a targeted attack on me and my team – a costly and unworkable experiment that has been deemed a failure.
Under independent leadership, Sydney has become one of the most desirable places in the world to live and work and the economic, residential growth and jobs growth statistics back that up.
Since 2004, the economy of City's local government area has grown by $64 billion or 82 per cent. It now exceeds pre-COVID levels at $141 billion a year – as of March 2023 – accounting for more than 22 per cent of the entire NSW economy.
Investing in central Sydney and supporting local businesses is essential to maintaining the economy's buoyancy and success.
Our support is both direct and indirect, because transforming the city into liveable, sustainable, vibrant place is not just great for people who live, work or visit here, it's great for businesses – making it easier to attract and retain clients, customers and staff in a globally competitive market.
I thank Local Government Minister Ron Hoenig MP for introducing legislation to repeal the changes – and I am hopeful the NSW Parliament will see sense and pass the repeal.''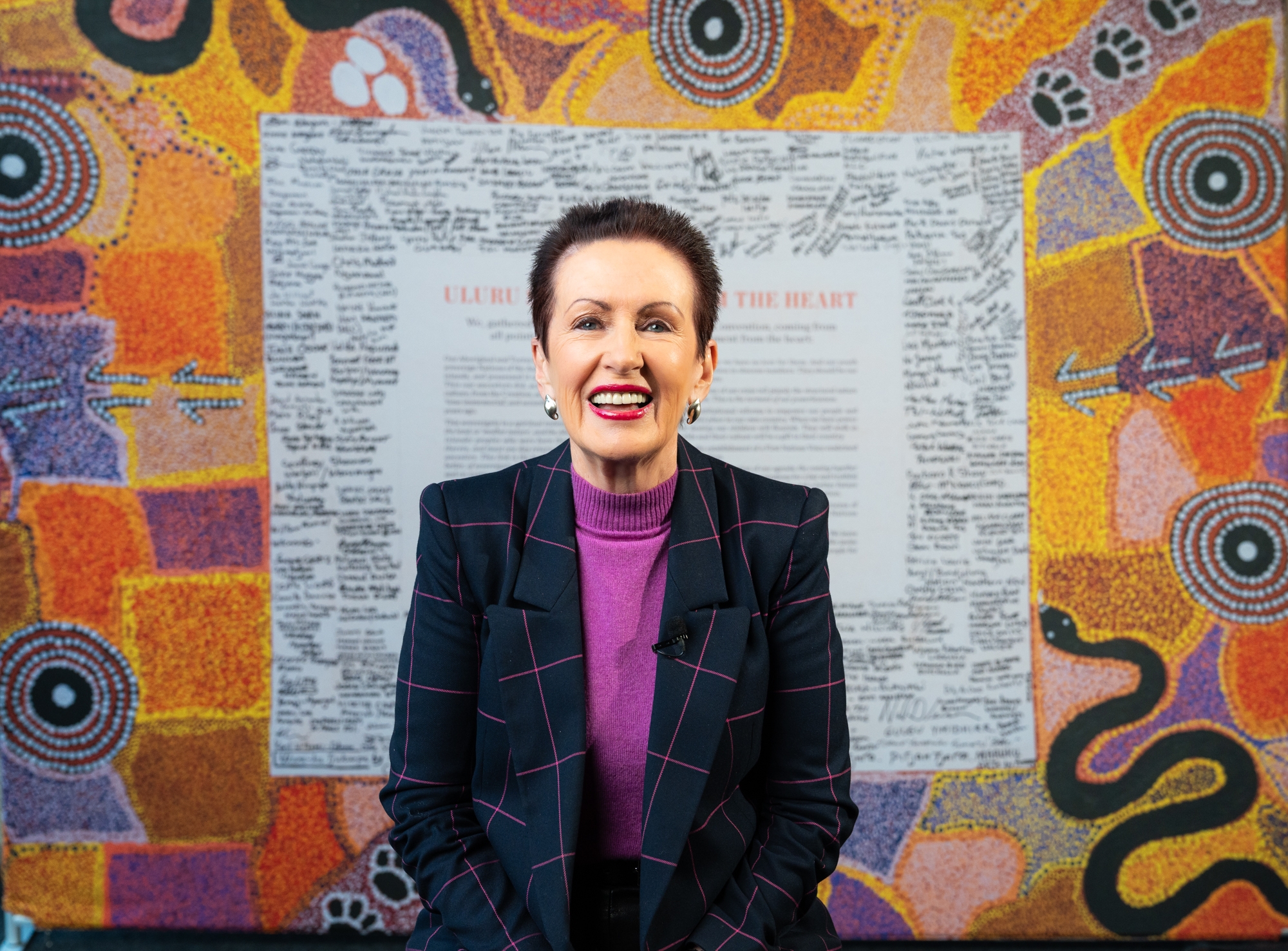 Lord Mayor Clover Moore, photo posted on Facebook September 12, 2023
1112 Nurses And Midwives Made Permanent By Minns Labor Government
On Thursday September 14 the Minns Labor Government stated it is delivering on its commitment to support essential health workers and their patients by saving the jobs of 1112 nurses and midwives in NSW hospitals.
The government announced it is investing an additional $572 million in the 2023–24 NSW Budget to make the 1112 nurses and midwives permanent.
The $572 million will be spent over 3 financial years from 2024–25.
The decision delivers certainty to nurses, midwives and their families, along with local hospitals and patients, the Government stated
''The commitment will also ensure the continued delivery of healthcare services and support health outcomes for patients.
These hardworking nurses and midwives are already embedded in the public health system, working in metro and regional hospitals across NSW.''
More than 750,000 patients presented to emergency departments across NSW in the second quarter of 2023, with a record number (117,949) of life-threatening triage category 2 cases.
But data from the Bureau of Health Information reveals just over half (54%) of those triage category 2 patients started their treatment on time.
The nurses and midwives work across 15 local health districts (LHDs) along with the Children's Hospital Network.
This massive funding black hole included no funding allocated for:
138.2 nurses in the Hunter New England LHD
119.2 nurses in South Western Sydney LHD
109.1 nurses in Western Sydney LHD
104.4 nurses in South Eastern Sydney LHD
99.4 nurses in Sydney LHD

82 nurses in Northern Sydney LHD

61.4 nurses in Illawarra Shoalhaven LHD
57.1 nurses in Central Coast LHD
56.1 nurses in Western NSW LHD
51 nurses in Northern NSW LHD
50 nurses in Nepean Blue Mountains LHD
43.3 nurses in Mid North Coast LHD
41.6 nurses in Murrumbidgee LHD
41 nurses in Children's Hospital Network
26.6 nurses in Southern NSW LHD
6.5 nurses in Far West LHD.
Permanently funding these positions will help the Minns Labor Government implement its commitment to Safe Staffing Levels in NSW hospitals, starting with emergency departments.
Safe Staffing Levels are designed to improve health outcomes, reduce waiting times, take pressure off NSW hospitals and help retain experienced nurses and midwives in our health workforce.
The Minns Labor Government has also committed to hiring an additional 1200 nurses and midwives during its first term, beyond today's announcement, to implement this important reform in our hospitals.
NSW Premier Chris Minns said,
"We are doing what the previous state government failed to do – making these nurses and midwives permanent.
"The NSW health system is under immense pressure. We can't afford to lose hardworking nurses and midwives.
"Today, we are making good on our commitment to support our essential frontline health workers so they can continue to deliver the health services our communities need and deserve."
Health and Regional Health Minister Ryan Park said:
"I am as committed to investing in our frontline healthcare workers as I am about bricks and mortar infrastructure.
"The Minns Labor Government made a commitment to support our frontline nurses and midwives and recognise their enormous contribution to our health system by building the workforce and improving their pay and conditions.
"The implementation of Safe Staffing Levels will mean more nurses and midwives working in our hospitals and is a significant step forward in delivering on the Government's commitment to help rebuild essential services."
Healthy Lifestyle Can Help Prevent Depression -- And New Research May Explain Why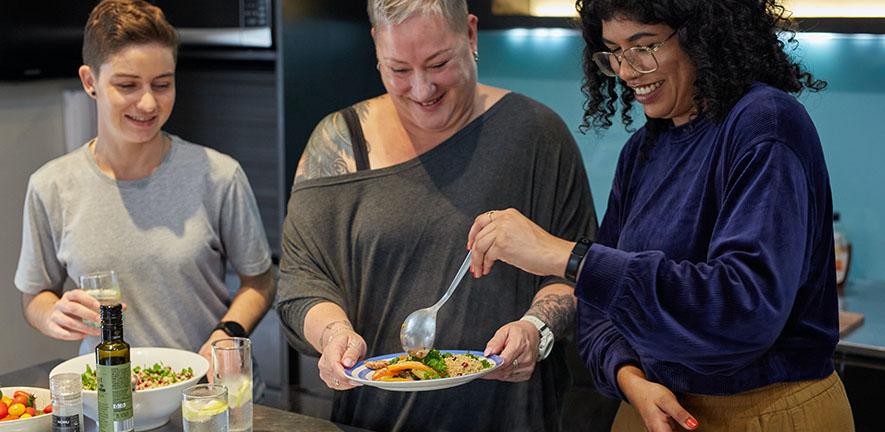 A healthy lifestyle that involves moderate alcohol consumption, a healthy diet, regular physical activity, healthy sleep and frequent social connection, while avoiding smoking and too much sedentary behaviour, reduces the risk of depression, new research has found.
In research published today in Nature Mental Health, an international team of researchers, including from the University of Cambridge and Fudan University, looked at a combination of factors including lifestyle factors, genetics, brain structure and our immune and metabolic systems to identify the underlying mechanisms that might explain this link.
According to the World Health Organization, around one in 20 adults experiences depression, and the condition poses a significant burden on public health worldwide. The factors that influence the onset of depression are complicated and include a mixture of biological and lifestyle factors.
To better understand the relationship between these factors and depression, the researchers turned to the UK Biobank, a biomedical database and research resource containing anonymised genetic, lifestyle and health information about its participants.
By examining data from almost 290,000 people -- of whom 13,000 had depression -- followed over a nine-year period, the team was able to identify seven healthy lifestyle factors linked with a lower risk of depression. These were:
moderate alcohol consumption
healthy diet
regular physical activity
healthy sleep
never smoking
low-to-moderate sedentary behaviour
frequent social connection
Of all of these factors, having a good night's sleep -- between seven and nine hours a night -- made the biggest difference, reducing the risk of depression, including single depressive episodes and treatment-resistant depression, by 22%.
Frequent social connection, which in general reduced the risk of depression by 18%, was the most protective against recurrent depressive disorder.
Moderate alcohol consumption decreased the risk of depression by 11%, healthy diet by 6%, regular physical activity by 14%, never smoking by 20%, and low-to-moderate sedentary behaviour by 13%.
Based on the number of healthy lifestyle factors an individual adhered to, they were assigned to one of three groups: unfavourable, intermediate, and favourable lifestyle. Individuals in the intermediate group were around 41% less likely to develop depression compared to those in the unfavourable lifestyle, while those in the favourable lifestyle group were 57% less likely.
The team then examined the DNA of the participants, assigning each a genetic risk score. This score was based on the number of genetic variants an individual carried that have a known link to risk of depression. Those with the lowest genetic risk score were 25% less likely to develop depression when compared to those with the highest score -- a much smaller impact than lifestyle.
In people at high, medium, and low genetic risk for depression, the team further found that a healthy lifestyle can cut the risk of depression. This research underlines the importance of living a healthy lifestyle for preventing depression, regardless of a person's genetic risk.
Professor Barbara Sahakian, from the Department of Psychiatry at the University of Cambridge, said: "Although our DNA -- the genetic hand we've been dealt -- can increase our risk of depression, we've shown that a healthy lifestyle is potentially more important.
"Some of these lifestyle factors are things we have a degree control over, so trying to find ways to improve them -- making sure we have a good night's sleep and getting out to see friends, for example -- could make a real difference to people's lives."
To understand why a healthy lifestyle might reduce the risk of depression, the team studied a number of other factors.
First off, they examined MRI brain scans from just under 33,000 participants and found a number of regions of the brain where a larger volume -- more neurons and connections -- was linked to a healthy lifestyle. These included the pallidum, thalamus, amygdala and hippocampus.
Next, the team looked for markers in the blood that indicated problems with the immune system or metabolism (how we process food and produce energy). Among those markers found to be linked to lifestyle were the C-reactive protein, a molecule produced in the body in response to stress, and triglycerides, one of the primary forms of fat that the body uses to store energy for later.
These links are supported by a number of previous studies. For example, exposure to stress in life can affect how well we are able to regulate blood sugar, which may lead to a deterioration of immune function and accelerate age-related damage to cells and molecules in the body. Poor physical activity and lack of sleep can damage the body's ability to respond to stress. Loneliness and lack of social support have been found to increase the risk of infection and increase markers of immune deficiency.
The team found that the pathway from lifestyle to immune and metabolic functions was the most significant. In other words, a poorer lifestyle impacts on our immune system and metabolism, which in turn increases our risk of depression.
Dr Christelle Langley, also from the Department of Psychiatry at the University of Cambridge, said: "We're used to thinking of a healthy lifestyle as being important to our physical health, but it's just as important for our mental health. It's good for our brain health and cognition, but also indirectly by promoting a healthier immune system and better metabolism."
Professor Jianfeng Feng, from Fudan University and Warwick University, added: "We know that depression can start as early as in adolescence or young adulthood, so educating young people on the importance of a healthy lifestyle and its impact on mental health should begin in schools."
This study was supported by grants from organisations including the National Natural Science Foundation of China and the Ministry of Science, China*.*A full list of funders can be found in the paper.
Yujie Zhao, Liu Yang, Barbara J. Sahakian, Christelle Langley, Wei Zhang, Kevin Kuo, Zeyu Li, Yihan Gan, Yuzhu Li, Yang Zhao, Jintai Yu, Jianfeng Feng, Wei Cheng.
The brain structure, immunometabolic and genetic mechanisms underlying the association between lifestyle and depression.
Nature Mental Health, 2023; DOI:
10.1038/s44220-023-00120-1
Water World? Methane, Carbon Dioxide In Atmosphere Of Massive Exoplanet
A new investigation with NASA's James Webb Space Telescope into K2-18 b, an exoplanet 8.6 times as massive as Earth, has revealed the presence of carbon-bearing molecules including methane and carbon dioxide. Webb's discovery adds to recent studies suggesting that K2-18 b could be a Hycean exoplanet, one which has the potential to possess a hydrogen-rich atmosphere and a water ocean-covered surface.
The first insight into the atmospheric properties of this habitable-zone exoplanet came from observations with NASA's Hubble Space Telescope, which prompted further studies that have since changed our understanding of the system.
K2-18 b orbits the cool dwarf star K2-18 in the habitable zone and lies 120 light-years from Earth in the constellation Leo. Exoplanets such as K2-18 b, which have sizes between those of Earth and Neptune, are unlike anything in our solar system. This lack of equivalent nearby planets means that these 'sub-Neptunes' are poorly understood, and the nature of their atmospheres is a matter of active debate among astronomers.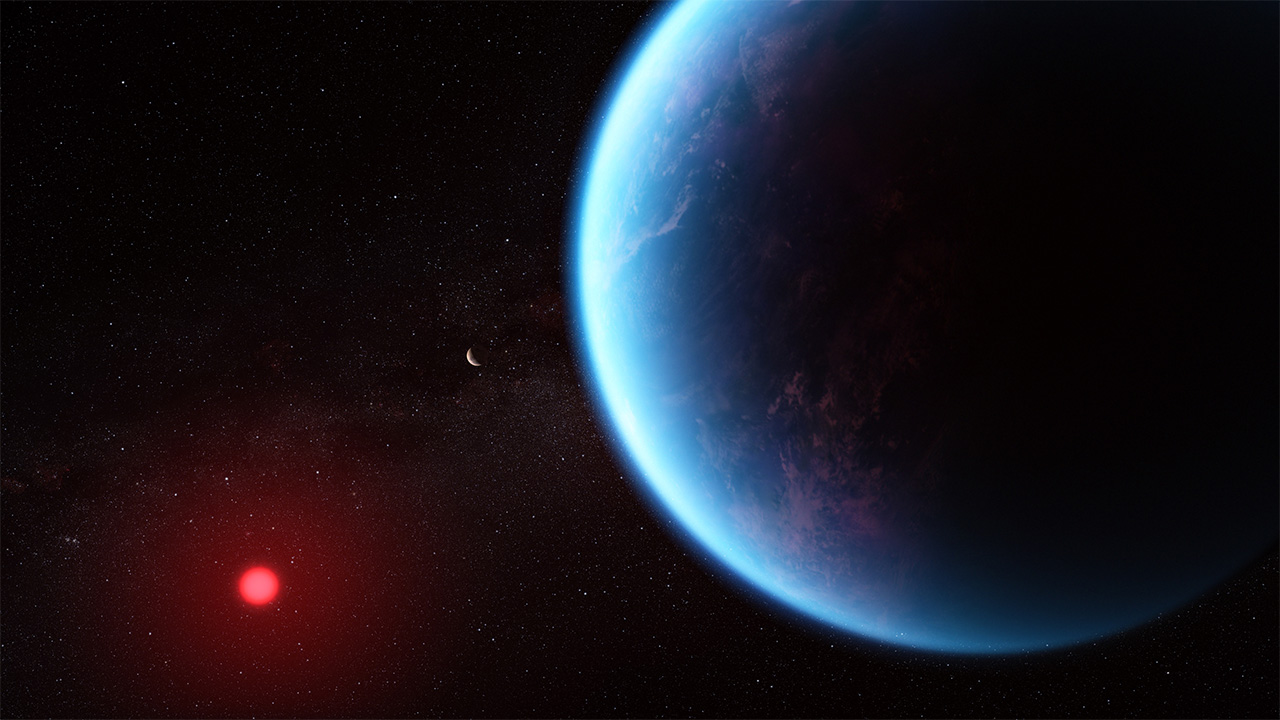 The suggestion that the sub-Neptune K2-18 b could be a Hycean exoplanet is intriguing, as some astronomers believe that these worlds are promising environments to search for evidence for life on exoplanets.
This artist's concept shows what exoplanet K2-18 b could look like based on science data. K2-18 b, an exoplanet 8.6 times as massive as Earth, orbits the cool dwarf star K2-18 in the habitable zone and lies 120 light-years from Earth. A new investigation with NASA's James Webb Space Telescope into K2-18 b has revealed the presence of carbon-bearing molecules including methane and carbon dioxide. The abundance of methane and carbon dioxide, and shortage of ammonia, support the hypothesis that there may be a water ocean underneath a hydrogen-rich atmosphere in K2-18 b. Credits: Illustration: NASA, CSA, ESA, J. Olmsted (STScI), Science: N. Madhusudhan (Cambridge University)
"Our findings underscore the importance of considering diverse habitable environments in the search for life elsewhere," explained Nikku Madhusudhan, an astronomer at the University of Cambridge and lead author of the paper announcing these results. "Traditionally, the search for life on exoplanets has focused primarily on smaller rocky planets, but the larger Hycean worlds are significantly more conducive to atmospheric observations."
The abundance of methane and carbon dioxide, and shortage of ammonia, support the hypothesis that there may be a water ocean underneath a hydrogen-rich atmosphere in K2-18 b. These initial Webb observations also provided a possible detection of a molecule called dimethyl sulphide (DMS). On Earth, this is only produced by life. The bulk of the DMS in Earth's atmosphere is emitted from phytoplankton in marine environments.
The inference of DMS is less robust and requires further validation. "Upcoming Webb observations should be able to confirm if DMS is indeed present in the atmosphere of K2-18 b at significant levels," explained Madhusudhan.
While K2-18 b lies in the habitable zone, and is now known to harbour carbon-bearing molecules, this does not necessarily mean that the planet can support life. The planet's large size -- with a radius 2.6 times the radius of Earth -- means that the planet's interior likely contains a large mantle of high-pressure ice, like Neptune, but with a thinner hydrogen-rich atmosphere and an ocean surface. Hycean worlds are predicted to have oceans of water. However, it is also possible that the ocean is too hot to be habitable or be liquid.
"Although this kind of planet does not exist in our solar system, sub-Neptunes are the most common type of planet known so far in the galaxy," explained team member Subhajit Sarkar of Cardiff University. "We have obtained the most detailed spectrum of a habitable-zone sub-Neptune to date, and this allowed us to work out the molecules that exist in its atmosphere."
Characterizing the atmospheres of exoplanets like K2-18 b -- meaning identifying their gases and physical conditions -- is a very active area in astronomy. However, these planets are outshone -- literally -- by the glare of their much larger parent stars, which makes exploring exoplanet atmospheres particularly challenging.
The team sidestepped this challenge by analysing light from K2-18 b's parent star as it passed through the exoplanet's atmosphere. K2-18 b is a transiting exoplanet, meaning that we can detect a drop in brightness as it passes across the face of its host star. This is how the exoplanet was first discovered in 2015 with NASA's K2 mission. This means that during transits a tiny fraction of starlight will pass through the exoplanet's atmosphere before reaching telescopes like Webb. The starlight's passage through the exoplanet atmosphere leaves traces that astronomers can piece together to determine the gases of the exoplanet's atmosphere.
"This result was only possible because of the extended wavelength range and unprecedented sensitivity of Webb, which enabled robust detection of spectral features with just two transits," said Madhusudhan. "For comparison, one transit observation with Webb provided comparable precision to eight observations with Hubble conducted over a few years and in a relatively narrow wavelength range."
"These results are the product of just two observations of K2-18 b, with many more on the way," explained team member Savvas Constantinou of the University of Cambridge. "This means our work here is but an early demonstration of what Webb can observe in habitable-zone exoplanets."
The team's results were accepted for publication in The Astrophysical Journal Letters.
The team now intends to conduct follow-up research with the telescope's MIRI (Mid-Infrared Instrument) spectrograph that they hope will further validate their findings and provide new insights into the environmental conditions on K2-18 b.
"Our ultimate goal is the identification of life on a habitable exoplanet, which would transform our understanding of our place in the universe," concluded Madhusudhan. "Our findings are a promising step towards a deeper understanding of Hycean worlds in this quest."
Nikku Madhusudhan, Subhajit Sarkar, Savvas Constantinou, Mans Holmberg, Anjali Piette, Andjulianne I. Moses.
Carbon-bearing Molecules in a Possible Hycean Atmosphere
. The Astrophysical Journal Letters
(accepted), 2023
New Super-Fast Flood Model Has Potentially Life-Saving Benefits For Australia
A new simulation model that can predict flooding during an ongoing disaster more quickly and accurately than currently possible has been developed by University of Melbourne researchers.
Published in Nature Water, researchers say the new model has major potential benefits for emergency responses, reducing flood forecasting time from hours and days to just seconds, and enabling flood behaviour to be accurately predicted quickly as an emergency unfolds.
University of Melbourne PHD student Niels Fraehr, alongside Professor Q. J. Wang, Dr Wenyan Wu and Professor Rory Nathan, from the Faculty of Engineering and Information Technology, developed the Low-Fidelity, Spatial Analysis and Gaussian Process Learning (LSG) model to predict the impacts of flooding.
The LSG model can produce predictions that are as accurate as our most advanced simulation models, but at speeds which are 1000 times faster.
Professor Nathan said the development had enormous potential as an emergency response tool.
"Currently, our most advanced flood models can accurately simulate flood behaviour, but they're very slow and can't be used during a flood event as it unfolds," said Professor Nathan, who has 40 years' experience in engineering and environmental hydrology." Professor Nathan said.
"This new model provides results a thousand times more quickly than previous models, enabling highly accurate modelling to be used in real-time during an emergency. Being able to access up-to-date modelling during a disaster could help emergency services and communities receive much more accurate information about flooding risks and respond accordingly. It's a game-changer."
When put to the test on two vastly different yet equally complex river systems in Australia, the LSG model was able to predict floods with a 99 per cent accuracy on the Chowilla floodplain in Southern Australia in 33 seconds, instead of 11 hours, and the Burnett River in Queensland in 27 seconds, instead of 36 hours, when compared to presently-used advanced models.
The speed of the new model also allows responders to account for the considerable unpredictability in weather forecasts. The limitations of current flood forecast models mean that simulations typically focus on the most likely scenario to predict flood.
By contrast, the LSG model developed by the researchers makes it possible to simulate how the uncertainty inherent in weather forecasts translates to on-the-ground flood impacts as a flood event progresses. The model uses mathematical transformations and a sophisticated machine learning approach to rapidly take advantage of enormous amounts of data whilst using commonly available computing systems.
Professor Nathan said the model, which is the product of two years of development work, had a range of potential benefits in Australia and globally.
"This new model also has potential benefits in helping us design more resilient infrastructure. Being able to simulate thousands of different flooding scenarios, instead of just a handful, will help design infrastructure that holds up to more unpredictable or extreme weather events," Professor Nathan said.
"As our climate becomes more extreme, it's models like these that will help us all be better prepared to weather the storm."
Niels Fraehr, Quan J. Wang, Wenyan Wu, Rory Nathan.
Supercharging hydrodynamic inundation models for instant flood insight
. Nature Water, 2023; DOI:
10.1038/s44221-023-00132-2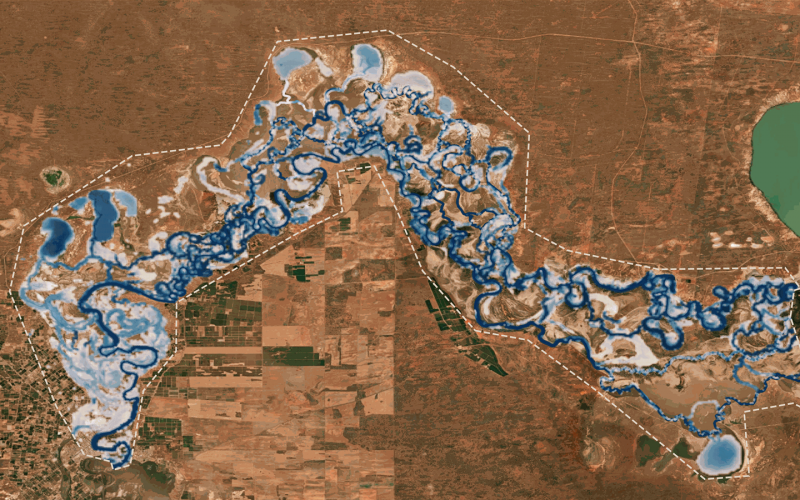 A new simplified hydrodynamic model provides a practical and effective solution to predict flooding quickly

Helicopter-Based Observations Uncover Warm Ocean Water Flows Toward Totten Ice Shelf In Southeast Antarctica
An international team of scientists has successfully conducted large-scale helicopter-based observations along the coast of East Antarctica and has identified pathways through which warm ocean water flows from the open ocean into ice shelf cavities for the first time.
During six days of observations, the team was able to retrieve temperature and other data at 67 sites covering the entire continental shelf region off the Totten Ice Shelf, the floating portion of the Totten Glacier. The study enabled the team to obtain an overall picture of warm ocean water flowing into the ice shelf cavity.
The Totten Glacier has attracted global attention because of the sheer scope of the environmental impacts if the glacier were to melt entirely: global sea levels could be raised by nearly four meters. It is thus necessary to observe the entire continental shelf region to understand the pathways and mechanisms of warm water mass inflow. However, such observations have been historically hindered by the region's intense sea ice and icebergs.
The team, including Assistant Professor Yoshihiro Nakayama and Associate Professor Shigeru Aoki of Hokkaido University's Institute of Low Temperature Science, conducted helicopter-based observations with cooperation by Japan's Maritime Self-Defense Force as part of the 61st Japanese Antarctic Research Expedition (JARE61).
Researchers took a CH-101 helicopter from the icebreaker Shirase to observation sites where they dropped two kinds of ocean observation sensors: AXCTD (Airborne eXpendable Conductivity, Temperature, and Depth) and AXBT (Airborne Bathy-Thermograph). The team was able to investigate underwater temperatures and salinity using data from the sensors.
The team found that broad ocean heat -- stretching across the 150-kilometer range between the longitudes of 116.5° east and 120.5° east -- was intruding toward the shelf. Seawater with a temperature of about 1 degree Celsius higher than the freezing temperature was observed between 50 and 100 meters above the seabed. This showed, for the first time, the overall picture of warm water mass flowing toward the Totten Ice Shelf.
This study also demonstrated the efficacy of using helicopters in conducting such research. They are cheaper and faster than operating an icebreaker, have superb maneuverability, and are not affected by sea ice conditions. The identified pathways can be observed in detail by icebreakers.
This study was conducted jointly by the Institute of Low Temperature Science; Hokkaido University, the Australian Antarctic Program Partnership at the University of Tasmania (Australia); Scripps Institution of Oceanography (U.S.A.); University of Texas at Austin (U.S.A.); the National Institute of Polar Research (Japan); Marine Works Japan Ltd. (Japan) and National Institute of Technology, Tomakomai College (Japan). The results of the study were published in the online edition of Geophysical Research Letters, a U.S. scientific journal on September 11, 2023.
Yoshihiro Nakayama, Pat Wongpan, Jamin S. Greenbaum, Kaihe Yamazaki, Tomohide Noguchi, Daisuke Simizu, Haruhiko Kashiwase, Donald D. Blankenship, Takeshi Tamura, Shigeru Aoki.
Helicopter‐Based Ocean Observations Capture Broad Ocean Heat Intrusions Toward the Totten Ice Shelf.
Geophysical Research Letters, 2023; 50 (17) DOI:
10.1029/2022GL097864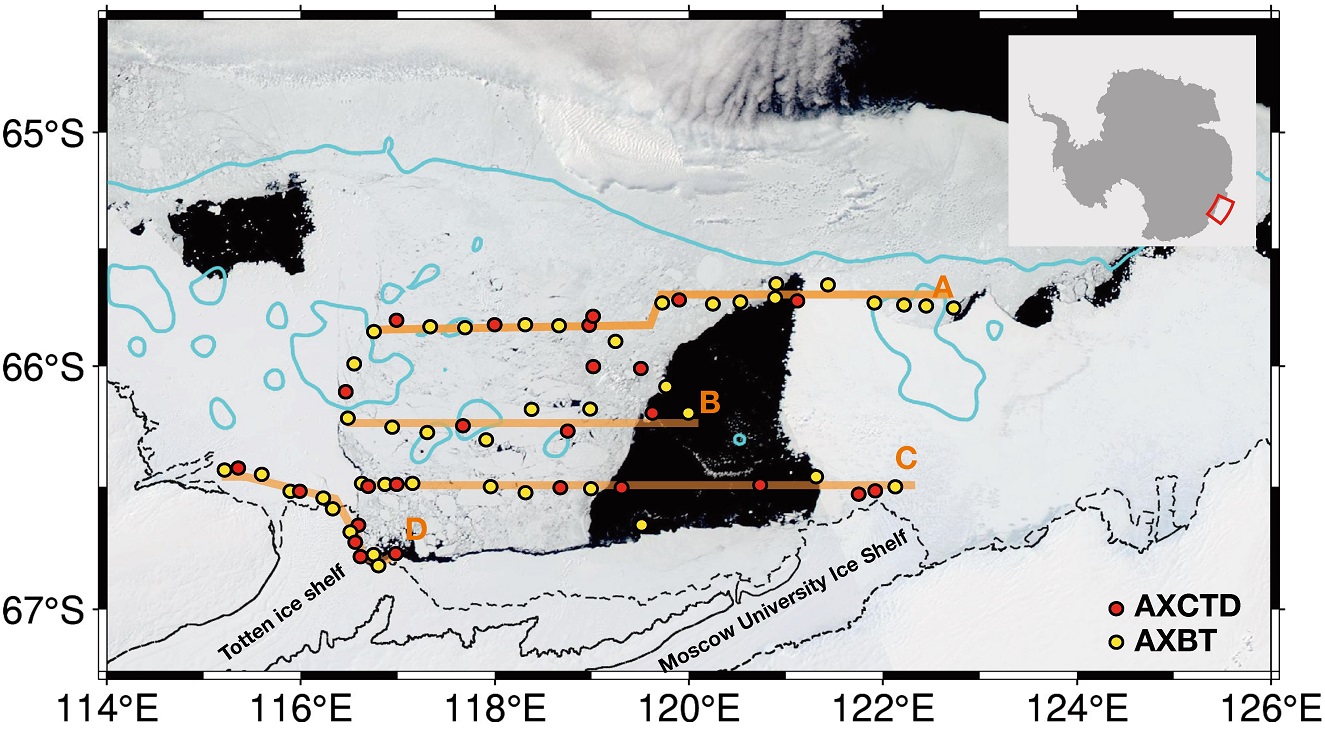 A satellite photo of the region surrounding the Totten Glacier, showing the Totten Ice Shelf and Moscow University Ice Shelf, with sampling paths (orange lines), sampling locations (yellow and red circles), and the 1000 m depth contour (cyan outlines). (Yoshihiro Nakayama, et al. Geophysical Research Letters. September 11, 2023)

Study Reveals Reductions In Breast Cancer Screening Uptake During COVID-19 Pandemic
A review of COVID-19 studies globally has revealed reductions in breast cancer screening participation during 2020, with differences between geographic regions and healthcare settings.
The findings, published in eLife, suggest the need for continued monitoring of access to breast cancer screening and early diagnosis services, to help identify if prevention services may need strengthening to increase participation for disadvantaged groups.
Breast cancer is the most common cancer worldwide, with 2.3 million cases diagnosed and 685,000 deaths in 2020. Mammography-based screening programs allow for the early detection and treatment of breast cancer to help improve patient outcomes, but these programs were strained by the COVID-19 pandemic in 2020.
"Previous work on modelled evaluations of breast cancer screening, with a focus on tumour stages and mortality as patient outcomes, suggested that scenarios are likely to differ based on region and the organisation of screening services," says first author Reagan Lee, a medical student at the Usher Institute, University of Edinburgh, Scotland, UK. "For this study, we wanted to collate existing available data from different populations on breast screening participation levels before and after the first COVID-19 wave, when restrictions were put in place in nations with and without population-based screening programs." Reagan's mentor was senior author, Professor Jonine Figueroa, a molecular epidemiologist, Honorary Fellow at the University of Edinburgh's Usher Institute and Senior Investigator and Distinguished Scholar at the U.S. National Cancer Institute, part of the National Institutes of Health.
In different countries, screening models vary from opportunistic to population-based screening. Opportunistic screening is offered to individual patients during routine medical visits or consultations, and occurs more commonly in private healthcare settings. Settings for opportunistic screening can present different levels of organisation and coordination. For instance, it can be performed according to a documented screening policy, following a defined protocol, system of quality assurance, and so on. Population-based screening is a government program that invites all eligible individuals in defined groups to reach most of the population at higher risk of the disease, according to the national screening policy.
For their study, the team performed a rapid literature review to document and estimate the COVID-19 pandemic's global impact on breast cancer screening during the whole of 2020. They investigated two primary study outcomes: reported changes in screening volume and screening uptake. They searched Medline, the World Health Organization COVID-19 database and governmental databases. From 935 independent records, they identified 26 eligible studies from 13 countries. These countries had international movement controls in place during the pandemic, including internal movement controls, stay-at home requirements, public transport closures and other measures.
Analysing these studies, the team observed reported reductions in both screening volume and uptake rates among eight countries:
Australia,
Brazil, Canada, China, Italy, Mexico, the UK and US.
To investigate screening volume, they extracted summary data from 17 studies across these countries. The data came from 106,484,908 women before and after COVID-19 infection control measures were put in place. The team found that reductions in screening volume in five countries with national population-based screening ranged from 13% to 31% during 2020. Among two countries that consist of more opportunistic screening programs -- Mexico and Brazil -- this reduction ranged from 61% (Mexico) to 41% (Brazil).
Within the US, which has a mixture of insurance providers, there was a wide range of change in screening volumes. Population participation volumes varied from an increase of more than 18%, to a reduction of 39%, depending on the study and healthcare setting. The analysis suggests that this variable change may be in part influenced by participants' insurance status, depending for example on whether they are covered by a national public or private healthcare insurance.
For screening uptake, the team then analysed a total of nine studies that reported breast cancer screening participation levels, representing more than 46,257,402 people across five countries: Belgium, Brazil, New Zealand, the UK and US. They saw considerable variability in change during 2020, ranging from an increase in uptake of 2-8% in the UK to a reduction in uptake of 43.5% in Brazil. In the US, they identified consistent negative changes in screening uptake.
Many countries had physical distancing measures to reduce COVID-19 infection that likely had a role in the observed reduced overall screening volumes and uptake in 2020 -- both for nations with opportunistic and population-based screening programs. Reductions in screening capacity potentially another likely factor, with social distancing, staggered appointments and cleaning measures across some countries resulting in less time allocated to screening itself.
The authors add that there are certain limitations to this review. Most notably, almost all studies analysed had a high risk of bias due to insufficient statistical analysis and confounding factors. Another key limitation is the fact that COVID-19 is an evolving field with fast publication turnovers; more papers could have been published since the review started. There have been many improvements in capacity and uptake to breast screening programs that were not covered in this review. Despite this, the review could be built upon to identify more clearly the global impact of COVID-19 on breast cancer detection and subsequent care as more data become available including for other countries and areas not captured in this review.
The authors noted that "While participation uptake and volumes are not conclusive of patient outcomes themselves, our work suggests they are important metrics that require monitoring by health systems and key demographics. This could help inform future prevention and early diagnosis efforts, especially to encourage greater uptake among specific groups that have lower participation rates."
This study is an output of UNCOVER and the International Partnership for Resilience in Cancer Systems (I-PaRCS), Breast Cancer Working Group 2.
The study has been published and will be included in eLife's Special Issue on the impact of the COVID-19 pandemic on cancer prevention, control, care and survivorship.
Reagan Lee, Wei Xu, Marshall Dozier, Ruth McQuillan, Evropi Theodoratou, Jonine Figueroa.
A rapid review on the COVID-19's global impact on breast cancer screening participation rates and volumes from January-December 2020
. eLife, 2023; 12 DOI:
10.7554/eLife.85680
Disclaimer: These articles are not intended to provide medical advice, diagnosis or treatment. Views expressed here do not necessarily reflect those of Pittwater Online News or its staff.