September 9 - 15, 2018: Issue 375
My Singing Story
By Ken (Sava) Lloyd.
I was lucky to have my Mum play the piano, and I used to sit on the piano stool when very young and Mum would play away and she could play and I have certificates from the London College of Music making her an Associate of that College. Mum would play all the World War 2 songs and I would sing away with her, the first song I can remember singing was "Nursie". So I was lucky enough to grow up with Mum playing all the hits and singing along with them. Sunday night we would sit in front of the radio and listen to The Amateur hour and the Vincents Hit Parade, and to think that as a member of the The Four Brothers we very nearly won it in 1955. Probably one of my biggest regrets was that I did not learn from Mum how to play the piano.
I started to knock around Collaroy Surf Club when I was about 12 years old, up till then I spent most of my time fishing in Narrabeen lake and wandering the beach front at South Narrabeen, I saw lots of Sharks at South Narrabeen. I got my Bronze on 20th December 1953 at Collaroy. On Sundays after the Surf Patrols finished at 5.30pm the Club would Crack an 18 gallon keg and the members would sit around on the seat that went right around the room, between 50 and a hundred blokes, and after a few beers each member would have to "sing sing or do the other thing'. The other thing was to do a Hambo (drop your tweeds). Three blokes from North Sydney Mick Beasley, Tom Whelan, Ticky Ticeshurst all ex North Sydney Marist Brother Students would jump up and harmonise and I was invited by them to sing with them. The Mills Bros were our favorites.
Thus started The Four Brothers quartet. The first song I sang with them was the Dark Town Strutters Ball. We started to sing after Surf Carnivals and we entered The Amateur Hour, Terry Dear was the compere. We went to Melbourne for the semi-final, ended up running 2nd in the Grand Final. That was at the Sydney Town Hall and Tom reckons we sang after the show and the crowd would not let us go. We also started being on the Vincent Youth Parade, a weekly radio show with Howard Craven the presenter, with Frank Iffield, Nollene Bately.
I always remember we practised in the Men's toilet and that was 1955. Jack Neary became our Manager who also managed Bobby Limb, Dawn Lake, Jimmy Parkinson, Les Welch, and we sang at Saturday night dances, at The Albert Palais (big crowds doing the Albert Crawl) to Bob Gibsons 16 piece band and many clubs, we were regulars on Bill McColl's Jazz concerts at the Town Hall and Leichardt Stadium, with Norm Erskine, Edwin Duff, I can remember the English Big Band leader Ted Heath came out and we auditioned for him and he said that we were good enough to take back to England but couldn't afford to pay for 4 singers so Jimmy Parkinson got the job. One of the best gigs we did was with the Port Jackson Jazz band New Years Eve 1955 on the outside awning of the old Manly Hotel looking up the Corso that was packed with people, Dick Hughes on Piano, Ray Price on banjo, we sang After Your Gone and Ray nailed the backing.
Another night on the lawn of a mansion at Rose Bay with Gus Merzi on Accordion a charity night for Bondi SLSC.
One day when on patrol at Collaroy beach, I was walking down the beach when I was attacked by two Dalmations dogs. It turned out they were owned by Gaby Rodgers and his wife and they made a fuss, in regards to the dogs going me. After all settled down Gaby and I got talking and he said he was the Musical Director for Phillips Records in Australia, so when he found out that I was part of The Four Brothers, he got us into the Studio and the first thing he did for us was to put us in a show that he had organised for the new TV bosses to show how TV worked.
I can just remember we were in one room singing and it was relayed to the next room full of TV executives. Then we were invited up to Channel 9 (This is before they started broadcasting)to Audition and we had to come through a wall of paper. Everything went wrong; we knocked the paper wall down and I think Kerry said 'who are these yokels' and we never heard from 9 again. Gaby then got us into the Recording Studio again and we backed a bloke called Richard Gray on a 45 record.
We were asked back to make a record of our own. The day we turned up, Mick Beazley our lead singer disappeared, he was shanghaied by two Swedish Sailors and ended up on a boat to Sweden, that was the end of The Four Brothers. In later times Mick came home to Australia and spent more than 20 years in The Matthew Talbot home for drunks at Paddo. By the way Mick was first noticed when he won the Johnnie Ray Sing alike at a Lee Gordon Concert at the White City Stadium.
I was then asked to join a quartet from Freshie called the Fore Shores about 1958. They were twins Dave and Mick Jackman,Warren Sullivan and myself. They had a drunk in their crew so I took his place. We used to go on Channel 7 about every fortnight on The Keith Walsh Show. Then Johnny O'Keefe came over to 7 from the ABC Six-O'clock Rock. Kevin Ryder was the producer and Deidre his Secretary liked us. We also went on some Tommy Tyco shows and we would go to Tommie's home at Balgowlah and sing the songs we were going to perform. He would listen, jot some notes and when we turned up at Channel 7 he would have the backing written out for the 16 piece orchestra.
Channel 7 wanted us to be part of their music staff but we were apprenticed in our jobs so knocked the offer back. We also sang at lots of Clubs and Pubs, and were offered the job of being the regular group at Balmains League Club but Dave was a health nut and reckons there was too much smoke at the pubs and Clubs.
What I laugh about now is that we were all good board riders and if we had had a video of us all on the same wave, stepping from board to board as we could, we might have been the original Beach Boys; in fact we were.
Dave hit the headlines in 1960 being the first board rider to crack the Queenscliff Bombie and I was in the first Aussie surfing mag, hanging ten at Nth Steyne also 1960.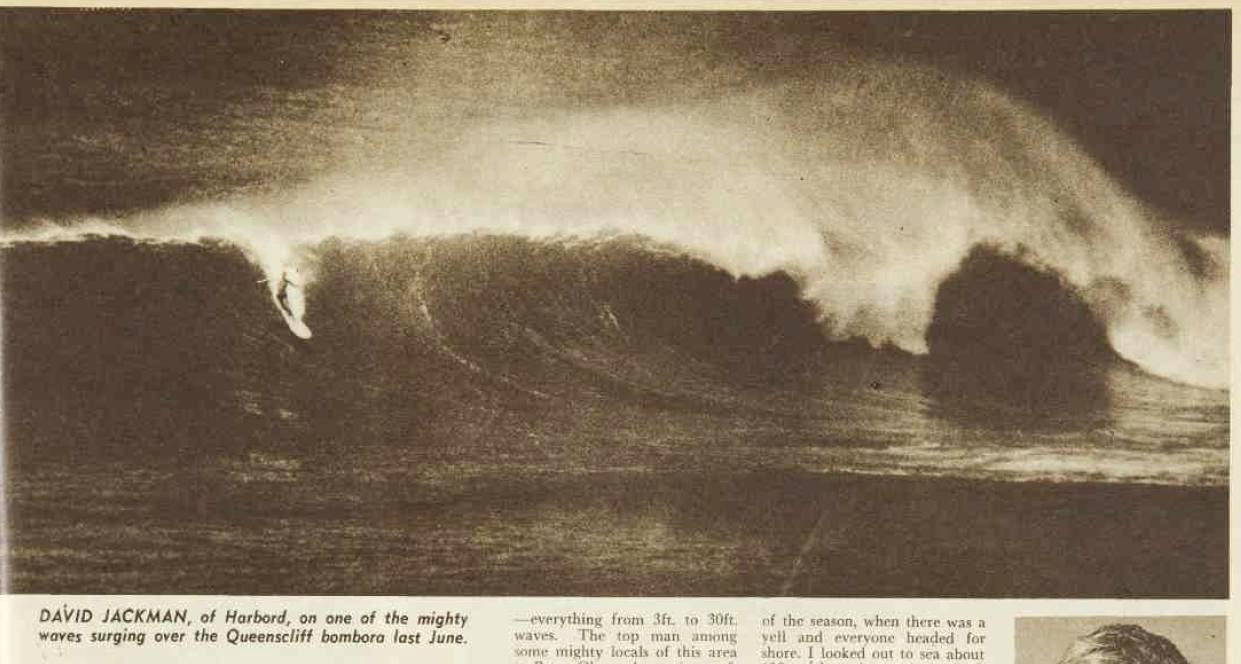 Teenage Weekly Supplement (page 5) in Australian Womens Weekly 20 September 1961, image sourced online via Trove

Dave started wanting to surf more and more with a group of Freshie blokes that included a very young Midget Farrelly and Mick and Sullo went to England as paid lifesavers at Newquay Cornwell. So I got married and that was the end of my singing career. But I have never lost my voice or my love of music.
The Limbs' Pittwater Paradise
TV perennials husband-and-wife Bobby Limb and Dawn Lake have their own prescription for relaxation: Take a weekend, a boat, and a bay, and face Monday and the TV camera brand new. It obviously works for them, for viewers rate them year after year among the people they most like to watch for their entertainment.
ABOVE: The Limbs' 26ft. motorcruiser Altair sleeps four, fishes two in the utmost comfort. Left: Dawn, who is the skipper, does marvels in the tiny galley. Right: Crewman Bobby, engine-happy, loves the machine that takes them out of sight of civilisation on Pittwater, north of Sydney.
Pictures by staff photographer Keith Barlow
ALT AIR in profile. Bobby Limb's "Sound of Music," Sydney, TCIS9, Fridays, 7.30 p.m.; Melbourne, GTV9, Brisbane, QTQ9, Saturdays, 7.30 p.m.; Adelaide, 1SWS9, Saturdays, 8 p.m. Dawn Lake's "Here's Dawn," Sydney, TCIS9, Mondays, 730 p.m.; Melbourne, GTV9, Wednesdays, 7 p.m.; Adelaide, ISWS9, Fridays, 7 p.m.; Brisbane, QTQ9, Sundays, 7.30 p.m.
The Limbs' Pittwater Paradise (1965, July 28). The Australian Women's Weekly (1933 - 1982), p. 17. Retrieved from http://nla.gov.au/nla.news-article46448864