Inbox and Environment News: Issue 423
September
29 - October 12, 2019: Issue 423
Littoral Rainforest Saved At 62 Hillside Rd Newport: New Bushcare Group
Join us this Sunday September 29 9 - 11.30am to celebrate saving this land from development.
We'll drink a toast to the land at 9am, then if you wish you can join the brand new bushcare group to make a start on the weeds. If you plan to do this, please wear long pants and sleeves and sturdy shoes, BYO gloves. Tools, plant identification and morning tea provided by Council.
Parking will be difficult, so please park down the road and walk up. Car-sharing a good idea. Our picture above is a treefern on this land.
Pittwater Natural Heritage Association.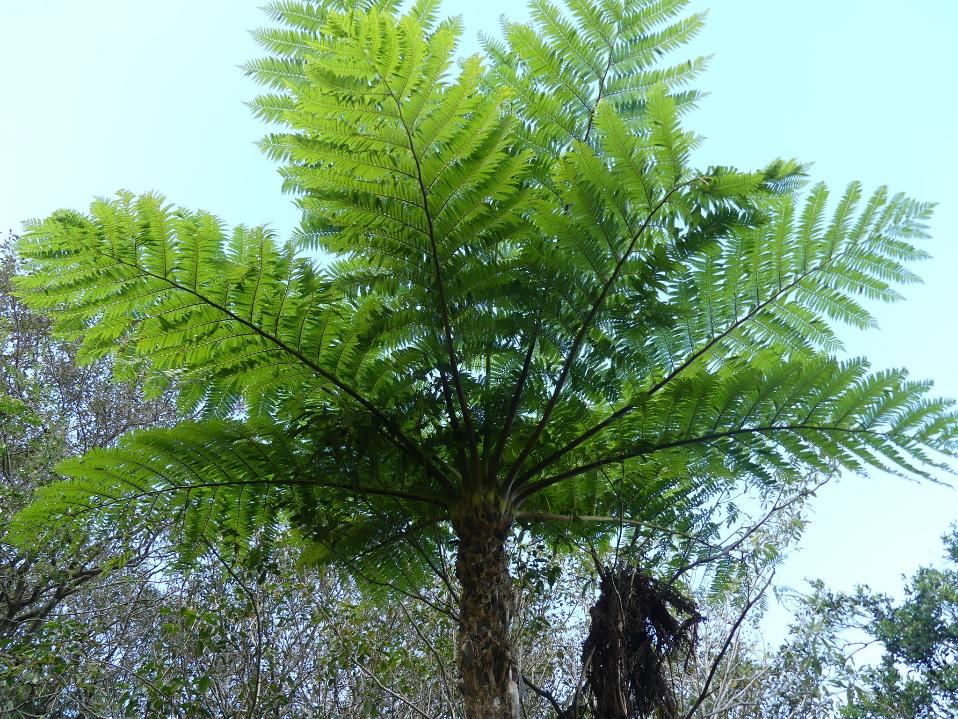 Bushcare In Pittwater
For further information or to confirm the meeting details for below groups, please contact Council's Bushcare Officer on 9970 1367
BUSHCARE SCHEDULES
Where we work Which day What time
Avalon
Angophora Reserve 3rd Sunday 8:30 - 11:30am
Avalon Dunes 1st Sunday 8:30 - 11:30am
Avalon Golf Course 2nd Wednesday 3 - 5:30pm
Careel Creek 4th Saturday 8:30 - 11:30am
Toongari Reserve 3rd Saturday 9 - 12noon (8 - 11am in summer)
Bangalley Headland 2nd Sunday 9 to 12noon
Bayview
Winnererremy Bay 4th Sunday 9 to 12noon
Bilgola
North Bilgola Beach 3rd Monday 9 - 12noon
Algona Reserve 1st Saturday 9 - 12noon
Plateau Park 1st Friday 8:30 - 11:30am
Church Point
Browns Bay Reserve 1st Tuesday 9 - 12noon
McCarrs Creek Reserve Contact Bushcare Officer To be confirmed
Clareville
Old Wharf Reserve 3rd Saturday 8 - 11am
Elanora
Kundibah Reserve 4th Sunday 8:30 - 11:30am
Mona Vale
Mona Vale Beach Basin 1st Saturday 8 - 11am
Mona Vale Dunes 2nd Saturday+3rd Thursday 8:30 - 11:30am
Newport
Bungan Beach 4th Sunday 9 - 12noon
Crescent Reserve 3rd Sunday 9 - 12noon
North Newport Beach 4th Saturday 8:30 - 11:30am
Porter Reserve 2nd Saturday 8 - 11am
North Narrabeen
Irrawong Reserve 2nd Saturday 2 - 5pm
Palm Beach
North Palm Beach Dunes 3rd Saturday 9 - 12noon
Scotland Island
Catherine Park 2nd Sunday 10 - 12:30pm
Elizabeth Park 1st Saturday 9 - 12noon
Pathilda Reserve 3rd Saturday 9 - 12noon
Warriewood
Warriewood Wetlands 1st Sunday 8:30 - 11:30am
Whale Beach
Norma Park 1st Friday 9 - 12noon
Western Foreshores
Coopers Point, Elvina Bay 2nd Sunday 10 - 1pm
Rocky Point, Elvina Bay 1st Monday 9 - 12noon
Plastic Bag Ban Passes In NSW Upper House
Banning plastic bags in NSW is a step closer after a bill to ban single-use bags passed the Upper House on Thursday night, September 26th.
"NSW is way out of step with the nation, it's way out of step with the community because they support this move," she said
The bill, which bans thin single-use plastic bags and includes a six month transition period, will now go to the Lower House in two weeks.
NSW remains the only state in Australia without a plastic bag ban.
Avalon Boomerang Bags Update
We were having such fun sewing and making the bags, we almost forgot it's school holidays - no bag making workshops Tuesday 1st or 8th October.
Resuming Tuesday 15th 11.30-3.30. Please join us for a hour or two or more.
Avalon Market Day Sunday 17th November
Save the date, this is a great community event and we are pleased to be a part of it and support the Avalon Chamber of Commerce once again. (Thanks for making the free community space available to us).
We need some volunteers for the day to promote our message and sell a few fabulous bags and enviro gifts. They make awesome Christmas presents..................why not 'wrap' ALL your gifts in 'Bought to Support' bags - we'll have some in Christmas fabrics and colours too.
If you can help, please reply or let one of us know..........they more the merrier!
Thanks Yous - just to mention a few
Thanks to Jasmine Bridge from Pittwater High for completing her Duke of Edinburgh award by sewing bags for us , we have signed off for her.
Thanks to Westpac Avalon for donation of 30 bags.
Thanks Peter Reardon for repairs and donation of a sewing machine.
Thanks Karen, for the idea of the dog
bandannas
, we have made 50 so far, we're sure they will sell well at the Avalon market day, also our local vet and dog groomer at Avalon who loves them and will sell some for us.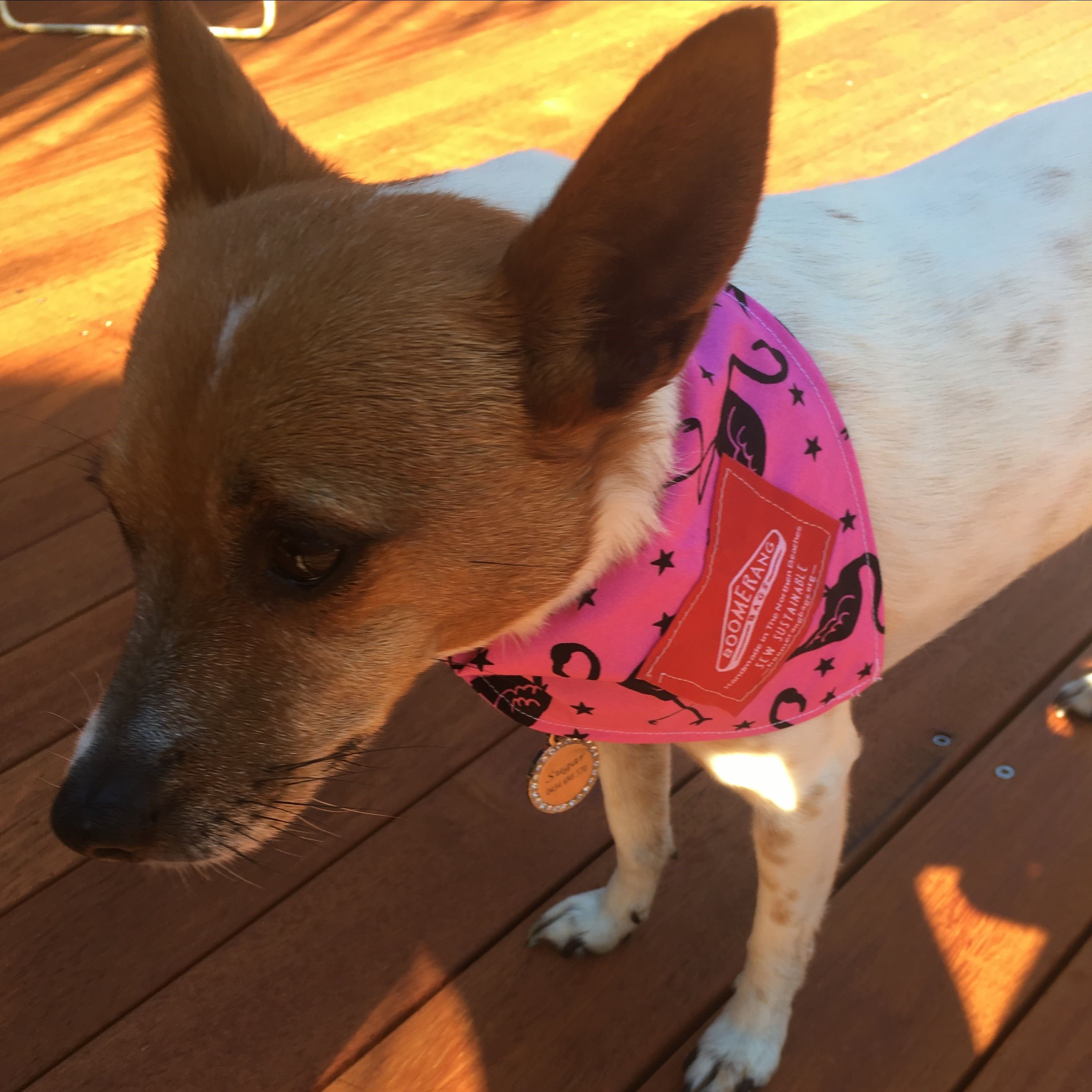 Thanks to Robyn for sorting Public Liability insurance for NSW Boomerang Group
Thanks to our newest 'sew at home' volunteer Sally for her beautiful bags, many of the team are quick to purchase them as they are so beautiful
Thanks to Nonie and all the regulars who turn up week after week and produce the bags - without them, none of this would happen.
Fish Care Volunteers Needed For Long Reef
Have you a passion for helping others, and helping contribute to better fishing and aquatic systems in the future?
Then why not become a FISHCARE volunteer - it's rewarding, a great way to learn and impart skills, meet new friends and have fun, it also allows you to give back to recreational fishing.
The next free Fishcare training weekend is taking place on the
2nd of November at Narrabeen
, so jump on board and get involved in this fun, social, stewardship based volunteer program. The training weekend encompasses a variety of topics
with a focus on Long Reef Aquatic Reserve (including a guided reef walk)
, and is open to anyone over the age of 18 years of age.
Places are limited in the training a so if you are interested, please get in contact as soon as possible.
Narrabeen Coastal Environment Centre,
entry via Pelican Path,
Lake Park Road,
North Narrabeen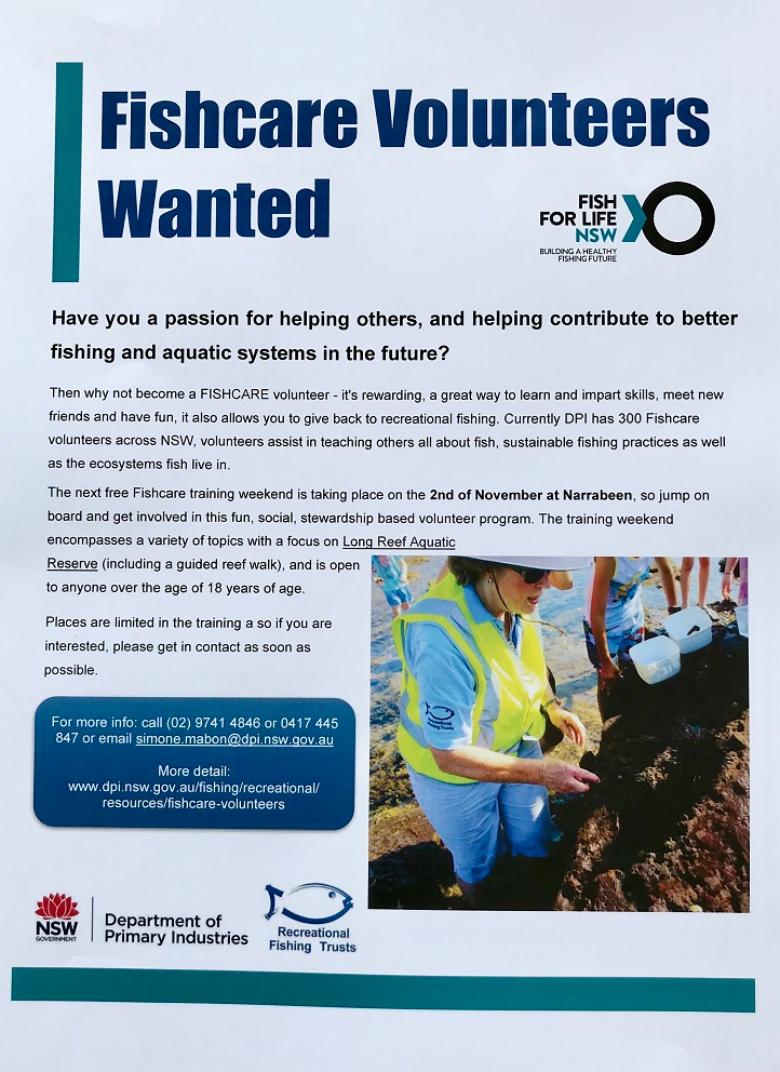 Australian Companies & Industries Track Towards Zero Emissions: Leaving Federal & State Government Fiddlers Way Behind
In the wake of this week's UN Climate Conference where our prime minister continues along a coal pit deep and drought ridden track of denial, and spent probably his only chance to address the UN taking potshots at truth mongers (and even outright porky-pies according to fact checkers), residents should take heart that it is actually them and their fellow Australians who are making the choices and following those up with actions to exceed any lip-service claims their 'quota' in reducing emissions is being reached.
While our youngsters are taking it to the streets it's good to remember their parents and elders have already seen a fair amount of 'spin' by now and just get on with it. And this is not just us recycling all those trees that are delivered to our letterboxes in thin slices steeped in inky poison or taking our own mug to the local cafe for that morning cuppa to avoid another dead tree/plastic top being what we leave behind us. Australian companies, industries and small businesses are taking up the slack too.
Most know by now that the Commonwealth Bank is getting out of coal, the ANZ has committed to 100 per cent renewable energy within five years and joins RE100 to be powered by 100 per cent renewable energy. These banks are joined by Monash University, Multiplex, the City of Melbourne, AMP Capital Wholesale Office Fund, CBUS Property, Cundall, the City of Sydney, GPT Wholesale Office Fund, Local Government Super, Nightingale Housing, and Stockland in striving for net zero emissions within 10 years.
These companies do not stand alone.
Our Australian property industry is on track to zero emissions by 2050, or way before.
Dexus, Frasers Property Australia,
Mirvac Group, GPT Group, Vicinity Centres, Cromwell Property Group and Investa (ICPF) are on their way to zero emissions according to new research from climate change think tank ClimateWork.
Dexus has raised the bar again by achieving an average 5 Star Green Star Performance rating across its group office portfolio and a Green Star Performance portfolio rating of 4 Star across 76 office and retail properties.
Six of these companies, represent 36 per cent of total ASX200 property sector market capitalisation. Committing to achieving net zero emissions before 2050 for the assets they own and manage must have been missed by those pushing 53 more coal mines and
billions of tonnes
of more coal emissions.
Download the September 2019 report here
.
Our Australian companies, run by Australians, with all-Australian workers, are not alone in taking this stance.
On Monday, September 23rd, 2019, more companies in the private sector had a chance to demonstrate how it can bring about real positive change, when 87 major companies - with a combined market capitalisation of over US$2.3 trillion, over 4.2 million employees, and annual direct emissions equivalent to 73 coal-fired power plants - committed to setting climate targets across their operations.
These businesses include well-known brands such as Burberry, Danone, Ericsson, Electrolux, IKEA, and Nestlé. A number of these companies (you can find the full list
here
), went a step further, by committing to "science-based targets", which means that their corporate emissions cuts can be independently assessed.
Speaking at the UN Global Compact Private Sector Forum, Anand Mahindra, chairman of the Mahindra Group, an Indian multinational conglomerate with over 200,000 employees, said that more and more business leaders are waking up to the fact that sustainability and profit go together, and that climate action represents the biggest business opportunity of the next few decades.
In the finance sector, some of the world's largest pension funds and insurers, responsible for directing more than $2 trillion in investments, have joined together to form the Asset Owner Alliance, which committed to moving their portfolios to carbon-neutral investments by 2050. The members of the Alliance are already engaging with companies in which they are investing, to ensure that they are decarbonising their business models.
So how does the population get it through to those currently incumbent or in opposition that they are not reaching their potential or what this generation and the next generation they're robbing require of them?
The pro-mining politicians of both LNP and Labor at state and federal level have made their positions abundantly clear on coal mining. It has been made clear that the logging of every single forest of every single tree until 100% is gone and every single animal is dead is on our representatives 'to do ' list. After so many instances of
changing laws and policy and position to benefit their 'friends', why would you think anything else will occur?
After so many decades of robbing the poor to give to the rich, in everything from your local beach where birds once lived and children cavorted safely, to your public hospital being demolished and its land bequeathed to private hands on 99+ year leases, or having representatives alike Federal Resources Minister Matt Canavan, whose incessant coal spruiking has, apparently, no benefit to
his family's mining interests
, how do the masses take back what is theirs and their childrens?
By getting on with it.
By supporting those Australian companies who have 'gone green' or are following green policies, possibly because that is the future, financially, but also because they too, by doing so, are 'activists' now too. Eat at Ocean Friendly cafes and restaurants, buy sustainable fair-trade coffee, use your Boomerang Bags, plant a tree.
Australia cannot wait for those who embarrass us daily with their flagrant displays of complete disrespect for Australians. These individuals will continue to rob the poor to give to the rich, will sneer at you while doing so, be condescending and arrogant when representing us on the world stage. They will
fondle coal
during federal parliament sessions, take coal magnates to dinner in Washington, have
coal festivals in the state parliament of NSW
, promote land-clearing, fracking, the draining of river systems, the extinction of species, the privatisation of public assets.
The change we need will not come from our so-called 'leaders', they will lead us into a black hole.
As always, it will come from us. It will come from our companies, our children, our small businesses and their owners who work 7 days a week all year long. It will come through the steady making and sharing of Boomerang bags, by the beach cleans, through the wildlife carers who look after the animals the roaming dogs have maimed, the mums who make their own biscuits to veto all packaging, the dads who walk their youngsters to soccer instead of taking the car.
Change is being made by every single person who makes a choice for the other people, animals and plants here.
Welcome to 2019, where even your local bank is now an 'activist' too and, while our politicians continue fiddling the numbers, lighting the matches and smirking as the whole country burns, their fellow Australians are the volunteers who are putting out those fires.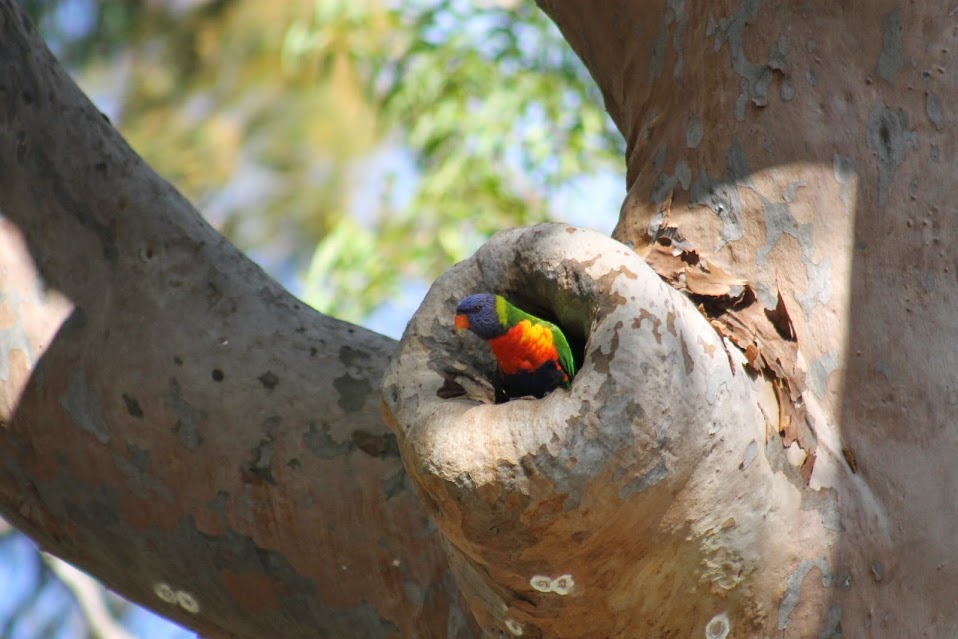 Farm Bill Attacks Civil Liberties And Protest Rights
The NSW State government has introduced a Bill to NSW Parliament that conservationists state will significantly restrict people's civil liberties and their rights to peaceful protest.
Called the
Right to Farm Bill
, it increases the penalty for 'aggravated unlawful entry on inclosed lands' from $5,500 to $22,000 or 3 years imprisonment or both.
"This is completely disproportionate response and a clear attempt to shut down dissent everywhere," Nature Conservation Council Chief Executive Chris Gambian said this week.
"This is an illiberal attack on our democratic right to protest and should not be allowed to become law."
"Peaceful protest is the cornerstone of a functioning democracy but hidden within this bill are sneaky new laws which directly threaten that right in NSW.
"This goes way beyond just animal welfare activists on farms.
"These new laws could see farmers who oppose coal and gas projects, communities who protest logging, or even someone who stages a silent protest in a bank in Sydney, face up to three years jail and massive fines.
"It is outrageous that the government have tried to hide their intentions in an agricultural bill when this is a clear attempt from the government to shut down dissent everywhere.
"The provisions of the bill will capture anyone hindering any business anywhere where they are also trespassing.
"This includes farmers and knitting nannas protesting CSG, unions on worksites, communities protesting against logging in state forests, people staging a sit-in in corporate headquarters of a company, and more." Mr. Gambian said.
Transcript Of Greta Thunberg's Climate Summit Speech
Monday, September 23rd, 2019: New York time, Swedish climate activist Greta Thunberg, 16:
"My message is that we'll be watching you.
"This is all wrong. I shouldn't be up here. I should be back in school on the other side of the ocean. Yet you all come to us young people for hope. How dare you!
"You have stolen my dreams and my childhood with your empty words. And yet I'm one of the lucky ones. People are suffering. People are dying. Entire ecosystems are collapsing. We are in the beginning of a mass extinction, and all you can talk about is money and fairy tales of eternal economic growth. How dare you!
"For more than 30 years, the science has been crystal clear. How dare you continue to look away and come here saying that you're doing enough, when the politics and solutions needed are still nowhere in sight.
"You say you hear us and that you understand the urgency. But no matter how sad and angry I am, I do not want to believe that. Because if you really understood the situation and still kept on failing to act, then you would be evil. And that I refuse to believe.
"The popular idea of cutting our emissions in half in 10 years only gives us a 50 per cent chance of staying below 1.5 degrees [of warming] and the risk of setting off irreversible chain reactions beyond human control.
"Fifty per cent may be acceptable to you. But those numbers do not include tipping points, most feedback loops, additional warming hidden by toxic air pollution or the aspects of equity and climate justice. They also rely on my generation sucking hundreds of billions of tonnes of your CO2 out of the air with technologies that barely exist.
"So a 50 per cent risk is simply not acceptable to us – we who have to live with the consequences. To have a 67 per cent chance of staying below a 1.5 degrees global temperature rise – the best odds given by the IPC [Intergovernmental Panel on Climate Change] – the world had 420 gigatonnes of carbon dioxide left to emit back on January 1, 2018. Today that figure is already down to less than 350 gigatonnes.
"How dare you pretend that this can be solved with just 'business as usual' and some technical solutions! With today's emissions levels, that remaining carbon dioxide budget will be entirely gone within less than 8½ years.
"There will not be any solutions or plans presented in line with these figures here today, because these numbers are too uncomfortable, and you are still not mature enough to tell it like it is.
"You are failing us. But the young people are starting to understand your betrayal. The eyes of all future generations are upon you. And if you choose to fail us, I say: We will never forgive you. We will not let you get away with this.
"Right here, right now is where we draw the line. The world is waking up. And change is coming, whether you like it or not.
"Thank you."
Actions Not Words: What Was Promised At The UN's Landmark Climate Summit
Many countries committed to upping their game, announcing emission cuts and other measures to fight climate change. France, for example, announced that it will no longer enter into trade agreements with countries whose policies run counter to the 2015 Paris Climate Agreement; Germany committed to carbon neutrality by 2050; and China said that it will cut emissions by over 12 billion tons annually.
Several countries signalled a move away from fossil fuels, with pledges to ban oil or gas exploration on their lands or off-shore waters, and the phasing out of coal as an energy source.
The Climate Action Summit focused on nine interdependent tracks, with the aim of boosting ambition, and accelerating action to implement the 2015 Paris Climate Agreement:
Enhancing climate mitigation of major emitting countries,
Social and political drivers, such as health, gender and security,
Youth and public mobilization, streamlining youth participation across all related topics,
Energy transition, including boosting renewables, energy efficiency, and storage,
Industry transition, creating stronger commitment from emission-heavy sectors such as steel and cement,
Infrastructure, cities and local action, to scale up ambitious commitments on low-emission and climate-resilient infrastructure,
Nature-based solutions, focusing on areas such as forests, smart agriculture and oceans,
Resilience and adaptation, focusing on integrating climate risks into public and private decision-making,
Climate finance and carbon-pricing, directing finance towards climate resilient development, with low greenhouse gas emissions
Using the power of nature is believed to be one of the most effective and immediate ways to address the climate crisis. Strengthening natural ecosystems such as forests, for example, is one such solution: more forests means more capacity for carbon capture, and replanting mangrove forests provides an effective and cheap natural barrier against coastal floods and shoreline erosion.
Monday saw the launch of several initiatives designed to boost nature-based solutions. These include the
Global Campaign for Nature
, which plans to conserve around 30 percent of the Earth's lands and oceans by 2030; a High-Level Panel for the Sustainable Ocean Economy, which will build resilience for the ocean and marine-protected areas; and the Central African Forest Initiative promises to protect the region's forest cover, which provides livelihoods for some 60 million people.
It is now possible to construct buildings that are 100 per cent net-zero carbon emitters, and the
Zero Carbon Buildings for Al
l initiative is pledging to make all buildings – new build and existing – net zero carbon by 2050. This could potentially lead to a $1 trillion investment in developing countries, by 2030.
A total of 2000 cities committed to placing climate risk at the centre of their decision-making, planning and investments: this includes launching 1,000 bankable, climate-smart urban projects, and creating innovative financing mechanisms.
Tackling traffic congestion and pollution is the aim of the Action Towards Climate Friendly Transport initiative, which includes actions to plan city development in a way that minimises travel, shift from fossil-fuelled vehicles to non-motorized and public transport, and increase the use of zero-emission technologies.
A full list of the many initiatives announced during the Climate Action Summit can be found
here
.
Greta Thunberg (Young Climate Activist) At The Climate Action Summit 2019 - Official Video
Published on 24 Sep 2019 by United Nations
Greta Thunberg, Young Climate Activist, at the Opening of the Climate Action Summit 2019.
Global emissions are reaching record levels and show no sign of peaking. The last four years were the four hottest on record, and winter temperatures in the Arctic have risen by 3°C since 1990. Sea levels are rising, coral reefs are dying, and we are starting to see the life-threatening impact of climate change on health, through air pollution, heatwaves and risks to food security.
The impacts of climate change are being felt everywhere and are having very real consequences on people's lives. Climate change is disrupting national economies, costing us dearly today and even more tomorrow. But there is a growing recognition that affordable, scalable solutions are available now that will enable us all to leapfrog to cleaner, more resilient economies.
The latest analysis shows that if we act now, we can reduce carbon emissions within 12 years and hold the increase in the global average temperature to well below 2°C and even, as asked by the latest science, to 1.5°C above pre-industrial levels.
Thankfully, we have the Paris Agreement – a visionary, viable, forward-looking policy framework that sets out exactly what needs to be done to stop climate disruption and reverse its impact. But the agreement itself is meaningless without ambitious action.
UN Secretary-General António Guterres is calling on all leaders to come to New York on 23 September with concrete, realistic plans to enhance their nationally determined contributions by 2020, in line with reducing greenhouse gas emissions by 45 per cent over the next decade, and to net zero emissions by 2050.
Winners Of The 2019 UN Global Climate Action Awards Announced
The recipients of the 2019 United Nations Global Climate Action Awards were announced today, helping to shine a light on some of the most practical examples of what people across the globe are doing to combat climate change.
The award-winning projects range from an in-app mini program that's helped plant 122 million trees, to a "climate positive" burger that's taking the fast food industry by storm.
The announcement of the award winners comes shortly after the UN Climate Summit in New York, convened by UN Secretary-General António Guterres, and in parallel with Climate Week NYC.
"The recipients of the UN Global Climate Action Awards are leaders from communities, governments, businesses and organisations, and they are from all corners of the globe and all levels of society," said Niclas Svenningsen, Manager of the UN Climate Change Global Climate Action Programme. "It is crucial we celebrate all actors who are leading the way. Their award-winning initiatives send a strong political signal to all nations – and through their leadership and creativity, we see essential change."
Today's announcement is part of the wider effort to mobilise action and ambition as national governments work toward implementing the Paris Climate Change Agreement and the Sustainable Development Goals.
"Announced against the backdrop of nations signalling their renewed determination to meet the goals of the Paris Agreement, these awards shine a light on 15 incredible examples of scalable climate action around the world," added Mr. Svenningsen. "These inspiring examples of climate action serve as beacons, guiding us towards a more resilient, more sustainable and more prosperous future for all."
The UN Global Climate Action Awards are spearheaded by the Momentum for Change initiative at UN Climate Change. The projects are recognised as innovative solutions that not only address climate change, but also help drive forward progress on many other sustainable development goals, for example, innovation, gender equality and economic opportunity.
The 2019 awards were selected by an international Advisory Panel as part of UN Climate Change's Momentum for Change initiative, which is implemented with the support of The Rockefeller Foundation, and operates in partnership with the World Economic Forum, donors supporting the implementation of the UN Climate Change's Gender Action Plan and Climate Neutral Now.
"This year, we had over 670 applications from all over the world ranging from local governments, global companies, grassroots development initiatives and multi-million dollar impact investment projects," said Gabrielle Ginér, Chair of the Momentum for Change Advisory Panel. "This year's winning activities are amazing examples of innovative, scalable, and replicable climate action. We hope they will inspire others as we look to tackle one of society's biggest challenges."
The 2019 winners of the UN Global Climate Action Award are:
Impossible Foods | Singapore, Hong Kong, USA, Macau: Creating plant-based alternatives to meat.
Alipay Ant Forest | China: Using digital technologies to scale up climate action.
Ghent en Garde | Belgium: Creating structural change through local food policy.
Electriciens sans frontières | Dominica: Providing "emergency pockets" of solar energy to health centres.
MAX Burgers | Sweden, Norway, Denmark and Poland: Creating the world's first "Climate Positive" menu.
Natura's Carbon Neutral Programme | Global: Measuring and reducing emissions across their entire value chain, from the extraction of raw materials through to their distribution.
Apple's Emissions Reduction Mission | Global: Reducing their emissions through clean energy and innovative product design.
Infosys' Journey to Carbon Neutrality | India: One of the first companies of its type to commit to carbon neutrality, while investing in local carbon offsetting projects.
Campaign for Female Education's Climate-Smart Agriculture Guides | Sub-Saharan Africa: Training young women from marginalised farming communities to become Agriculture Guides.
Mothers Out Front | US: A movement of over 24,000 mothers mobilising for a liveable climate for their children.
Women's Action Towards Climate Resilience in South Asia | Bangladesh, India and Nepal: Empowering women in low-income households to increase their climate resilience.
Eco Wave Power | Israel, Gibraltar: A world-leading project generating clean energy from the ocean, co-founded and led by a female CEO.
Financing for Climate Friendly Investment:
Beyond the Grid Fund | Zambia: Providing affordable, off-grid clean energy solutions that are quick to deploy.
Women's Livelihood Bond Series | Global: Unlocking over USD 150 million in capital to empower over two million women in South and Southeast Asia.
Québec's International Climate Cooperation Program | Canada: Issuing climate finance and support to developing countries, funded by the province's own carbon market.
The 15 award-winning projects fall within four focus areas: Planetary Health,Climate Neutral Now,Women for Results, and Financing for Climate Friendly Investment. All activities will be showcased at a series of special events during the second week of the UN Climate Change Conference (COP25) in Santiago, Chile (2-13 December 2019).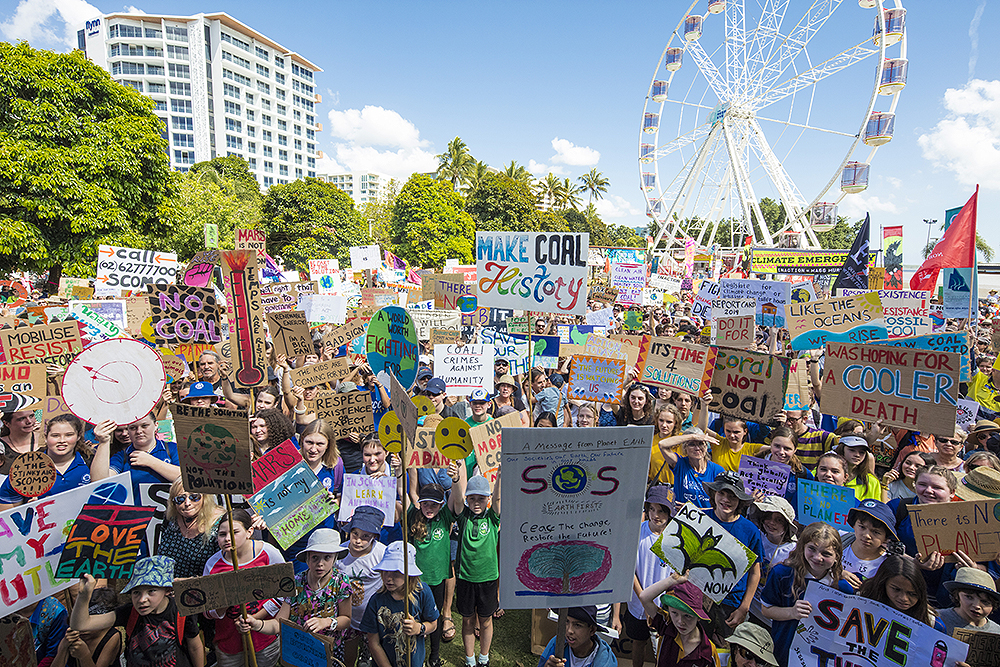 Clouds Creek Forest
Published on 22 Sep 2019 by the Nature Conservation Council of NSW
Nature NSW's ecologist In this video, ecologist Mark Graham walks through Clouds Creek, an old-growth forest that houses towering, old giant trees and habitat to many threatened native species.
Under the NSW Government's proposed remapping and rezoning plan, this forest will be opened up to logging. Watch the video and learn how this disastrous plan will affect the fragile ecosystems in this ancient forest.
Thanks to Max Phillips for filming and editing the video.
Aussie Bread Tags Collection Points
Collecting bread tags enables us to provide wheelchairs that change the life of disabled people in need, as well as keeping the tags out of landfill to help to preserve the environment.
Bread Tags for Wheelchairs was started in South Africa in 2006 by Mary Honeybun. It is a community program where individuals and organisations collect bread tags, which are sold to recyclers. The money raised pays for wheelchairs for the less fortunate which are purchased through a local pharmacy. Currently about 500kg of bread tags are collected a month in South Africa, funding 2-3 wheelchairs.
We have been collecting bread tags nationally in Australia since September 2018 and now have more than 100 collection points across the country. In February 2019 we started local recycling through Transmutation - Reduce, Reuse and Recycle in Robe, SA, where our tags are recycled into products such as door knobs and bowls. Tags from some states are still sent to South Africa where a plastics company called Zibo recycles them into seedling trays.
These humble bits of polystyrene can make a real difference so get your friends, family, school, workplace and church involved. Ask school tuck shops and boarding school kitchens, child care centres, aged care facilities, hospitals, cafes and fast food outlets to collect for you - they get through a lot of bread!
All the information and signage for collecting or setting up a public collection point is
on our website
.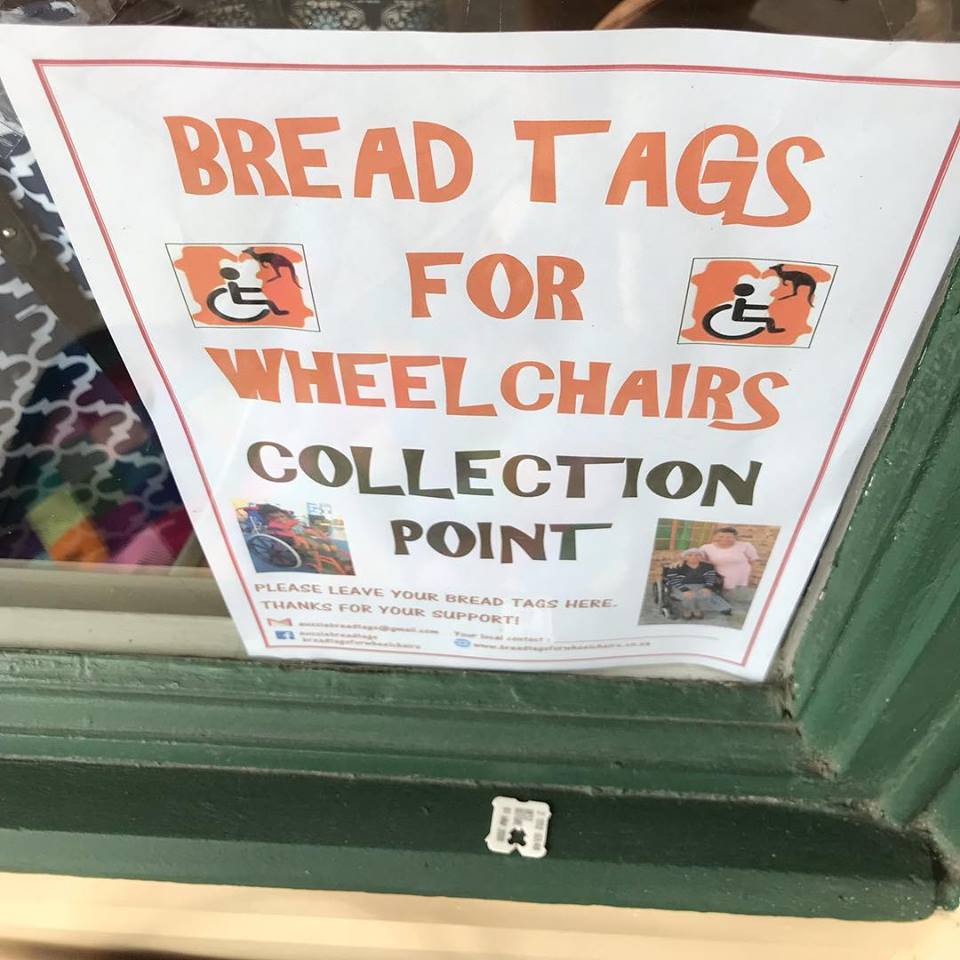 March Against The Central Coast Coal Mine 2 - At Wyong
Saturday, October 26, 2019 at 2:30 PM – 4:30 PM
DID YOU KNOW THAT THE STATE LIBERAL GOVERNMENT APPROVED AN ENORMOUS SOUTH KOREAN GOVERNMENT-BACKED COAL MINE (WALLARAH 2) RIGHT IN THE MIDDLE OF THE CENTRAL COASTS WATER SUPPLY??
This will directly affect the following communities; the Yarramalong and Dooralong valleys, Blue Haven and Wyee areas, Olney State Forest and Jilliby State Conservation Area and have detrimental impacts on the broader landscape of our beautiful Central Coast.
Join us and March Against the Central Coast Coal Mine!!
> Saturday 26th October
> Time of Event: 2.30pm - 4.30pm
> Meeting point: Outside Wyong Council
'March Against the Central Coast Coal Mine 2' is our next peaceful demonstration march with the aim to raise awareness of the recently State Liberal Government approved enormous South Korean Government-backed Coal mine right in the middle of the Central Coasts water supply.
A coal mine that is only 5 minutes from Wyong and 20 minutes from Gosford - 28 years of non-stop destruction of our land, air, our water and our children's future.
Together with the community, we will be uniting outside Central Coast Council (2 Hely Street, Wyong) building at 2.30pm to hear a few great guest speakers, then to have a colourful and musical march against the Government's recent approval of the Wallarah 2 Coal Project.
Over 200 people joined the Erina march in July, which was just amazing. Lets double those numbers at this next event in Wyong! Please get sharing this event and spreading the news so we have a bigger, stronger community voice in Wyong protecting our land, water and wildlife. For more info, check out this short film from our last event outlining the situation: https://bit.ly/2TstQyr
Run by the passionate team from Coast Environmental Alliance (CEA)
There are 16 known endangered species, such as the yellow-bellied glider and the sheath-tailed bat, spotted tailed quoll as well as irreplaceable Aboriginal sites in the locality also.
This will be devastating to our area! So we must call on our official State representative, Adam Crouch, to stand up with us, and represent the people he swore an oath to serve, and call on the Liberal Government to stop this mine from going ahead.
While the Government has suggested that the risk to our water supply is minimal, ANY risk of contaminating our water supply is totally unacceptable.
The Liberal Government knows full well there is a risk to our water, that is why they have PROMISED to stop it in the past. Then as soon as elected, they approved it.
••••• Why meet outside Central Coast Council at Wyong? •••••
Historically, Council has been supportive of stopping the Central Coast Coal mine, but since the recent approval of the mine, have done nothing to draw attention to the issue through the media.
We need our local elected leaders to publically call on the State Government to stop this from going ahead.
Right now is an absolutely critical time where we really need our local Councillors and other politicians to publicly stand up and support the community.
Also, it's a good location for the gathering. Only 5 minutes from where the proposed mine will be located.
••••• Why on a Saturday? •••••
Our last March was on a Friday afternoon during work hours. We did this so we could draw attention to the issue in peak-hour traffic. And we certainly accomplished that.
We have made this event on a Saturday so hopefully more people can attend (due to not having to work) so we can build on our numbers from last time.
••••• What is the purpose of a second rally? •••••
Our first rally was great! But unfortunately it was largely ignored by the mainstream media.
We need to build our numbers to a point where this issue can no longer be ignored by the media or our elected leaders.
••••• Who should attend?•••••
Anyone who believes that our community is entitled to breathing clean air, drinking clean water and maintaining a healthy environment in the place we are so privileged to call home.
** Event Details **
When: Saturday 26th October
Time: 2.30pm -4.30pm
Meeting: Central Coast Council, Wyong Office (2 Hely Street, Wyong)
March: Led by drummers, musicians and colourful members of the community we will march to the main road to stand up for the Land of the Central Coast.
Guest speakers from local environmental groups will be at this event to share ways we can get involved in helping to stop Wallarah 2 and what action we have taken to date.
Get creative! Dress up, bring your instruments and your furry friends and the whole family - Lets UNITE to show that PEOPLE POWER is much stronger than the 'people in power'!
Lets make this fun and creative through different forms of expression. Dress in colour, bring musical instruments, and let us come together in solidarity for our precious and unique local environment.
Some ideas for signs that are relevant could include wording such as:
"Save Our Water!"
"Protect our land, water and air"
"Stand up for our wildlife"
"Say NO to Wallarah 2"
This event will go ahead RAIN, HAIL OR SHINE.
PLEASE SHARE THIS EVENT FAR AND WIDE FOR WE NEED MANY VOICES TO CREATE ONE POWERFUL VOICE
*** SOME DISTURBING FACTS ABOUT THE W2CP ***
• 68 percent of the water from this catchment supplies drinking water to the whole Central Coast and will be at serious risk of contamination from the mine
• Round the clock noise, light pollution at night, air and dust pollution from trucks, machinary, railway and traffic
• Extraction of up to 5 Million tonnes of thermal coal per year
• The total greenhouse gas emissions over the life of the mine will be over 264 million tonnes of CO2
• The Jilliby SCA alone provides critical habitat for over 150 native animal species, including 16 threatened species and more than 130 species of birds
• Jilliby is an important cultural and historical area for Aboriginal people. There are more than 40 recorded Aboriginal sites in Jilliby, and the adjacent Watagans National Park also includes art sites, axe-grinding grooves and open campsites.
• Subsidence of up to 2.6 metres beneath a state forest area; increased flooding impacts for more than 170 property owners that could require lifting or relocating homes and increased flooding impacts affecting 15 bridges and roads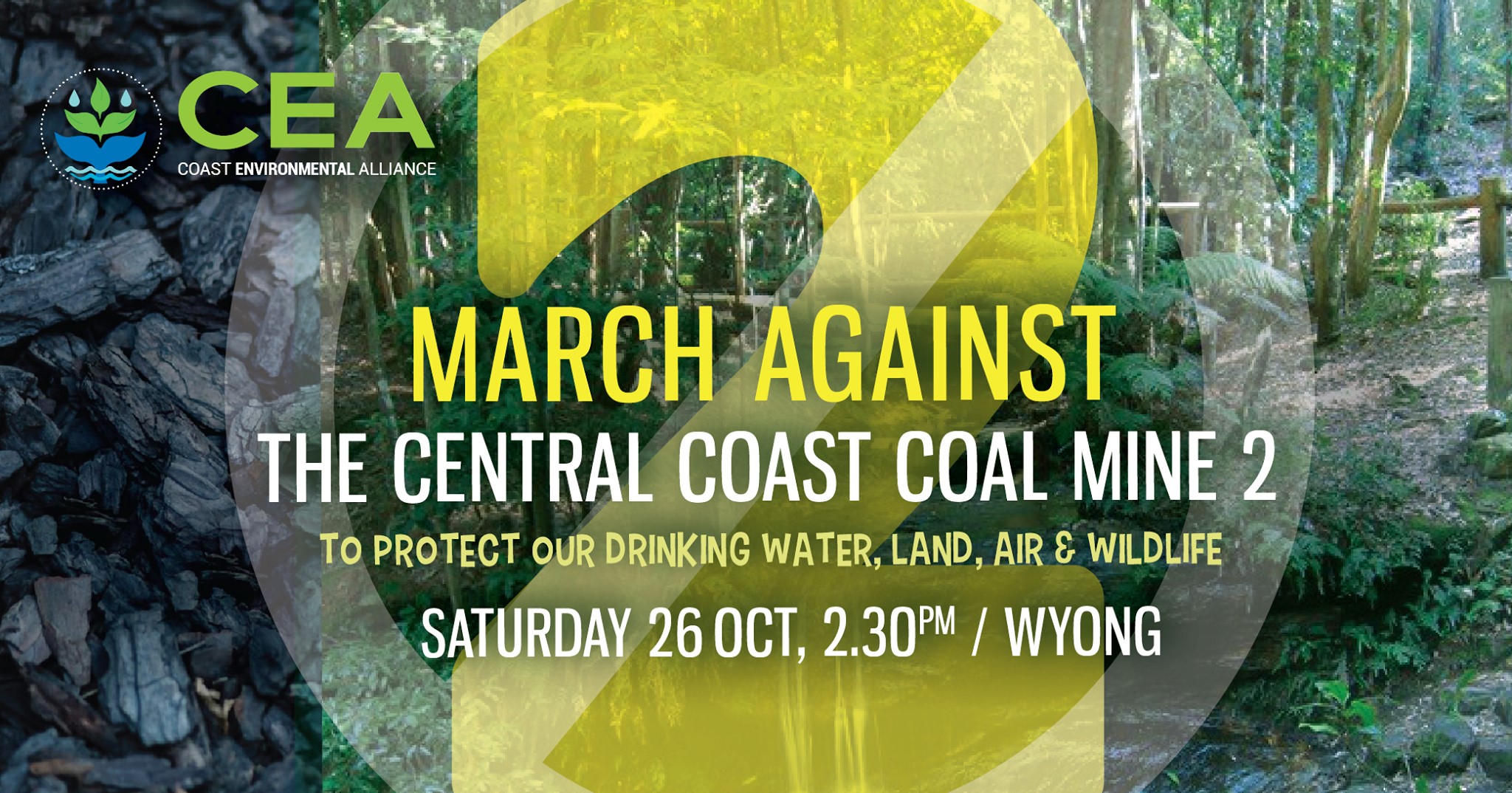 Archie's Pittwater Clean Up
I am a Seabin Ambassador, I started this campaign because I want to take a stand against ocean plastics!
My goal is to raise enough money to bring a minimum of 20 Seabins to Pittwater NSW as I want to give The Northern Beaches the opportunity to reduce its plastic pollution impact on the ocean. Its amazing how much accidental rubbish comes down our creeks and into our waterways
I need your help to raise money to buy the Seabins a revolutionary ocean cleaning technology which is essentially a floating rubbish bin that operates 24/7 catching all floating debris in the water.
The Seabin helps clean the ocean of floating debris which in turn creates cleaner oceans and we all benefit from this in one way or another. I mean, who really wants to swim in pollution? Not me that's for sure!
Did you know that 300 million tons of plastic are produced in the world every year, half of which is for single use products, from this more than 8 million tons of plastic is dumped into our oceans every year. We need to do something about it and now with the purchase of a Seabin we can all participate and make a difference!
Join me and my campaign to help ensure cleaner oceans!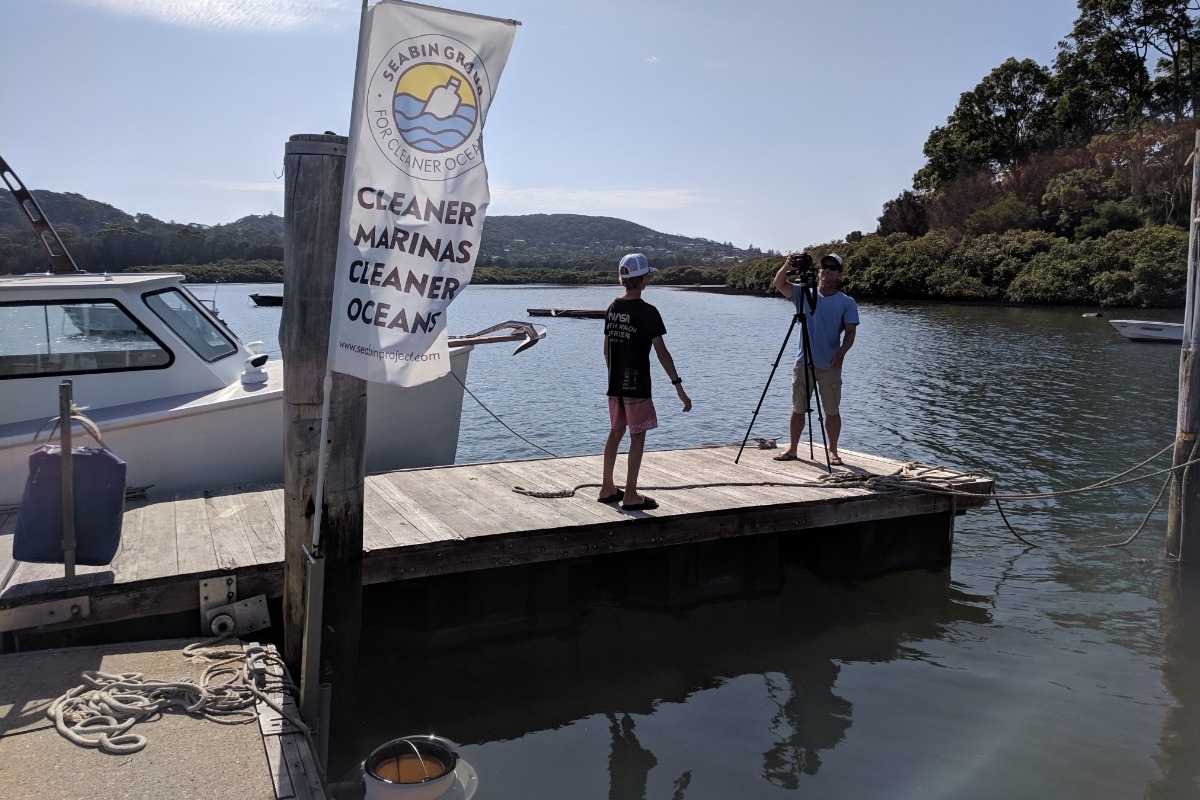 The Seabin is a floating rubbish bin that is located in the water at marinas, docks, yacht clubs and commercial ports.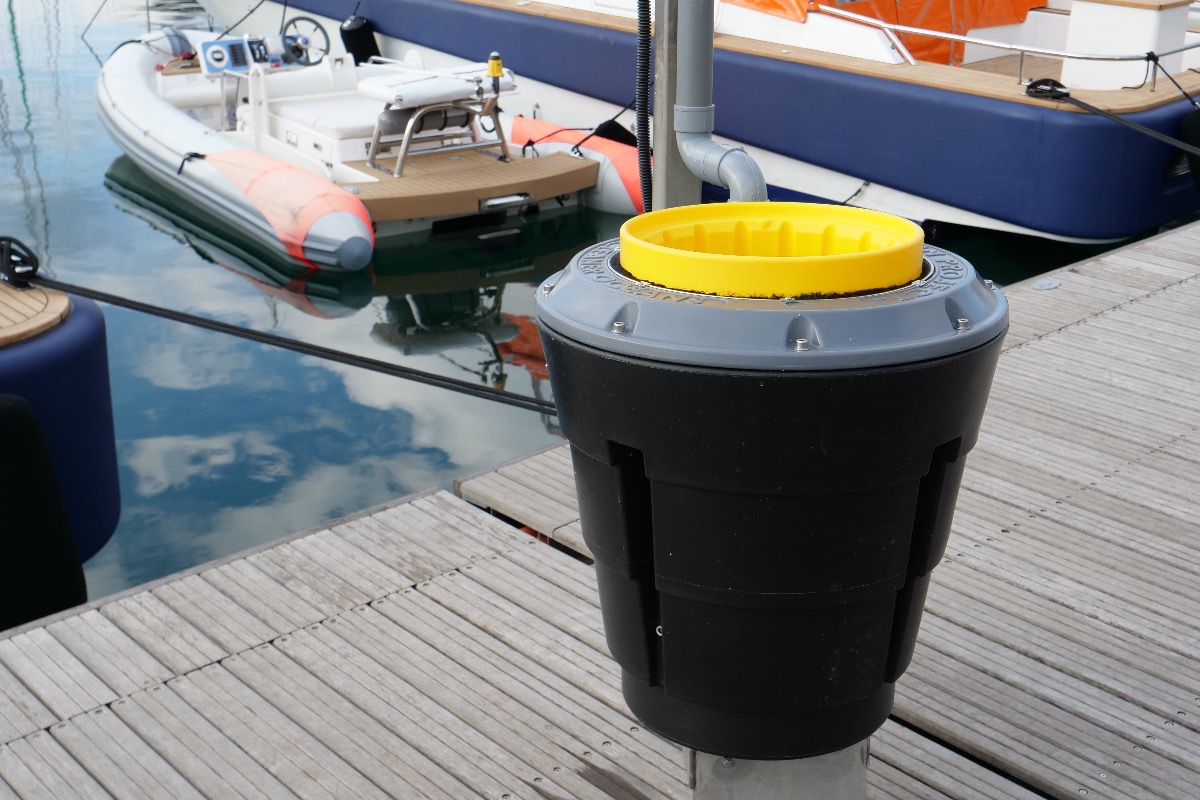 The Seabin can catch an average of 3.9kgs of floating debris per day which adds up to 1.4 tons per year. (depending on weather conditions and debris volumes) The Seabins is catching large plastic bags, bottles, plastic straws, coffee cups, food wrappers, surface oils and micro plastics down to 2 mm small.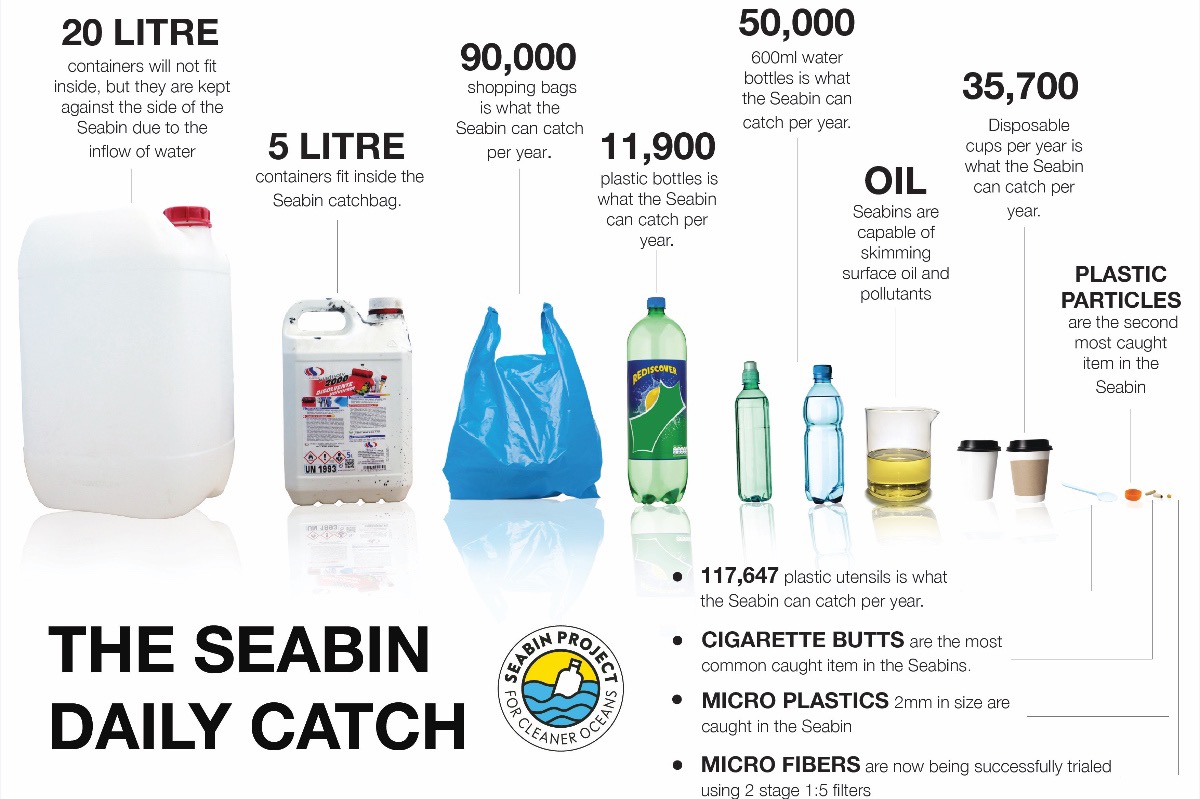 How can a Seabin contribute to cleaner oceans?
The Seabin contributes to cleaner oceans by removing 1.4 tons of floating debris per unit per year. The location of the Seabin in marinas is ideal and where it matters most, close to the source of entry for floating debris. Ports and Marinas are perfect locations to stop floating debris from entering the open ocean and ocean plastics are also brought in by wind and currents.
Are the Seabins a danger to marine life?
The fish According to the team at Seabin, stay away from the surface of the water where the Seabin sucks in the water. They are deterred by the force of the water current. If there are swarms of jellyfish or bait fish it is recommended that the Seabins are turned off until the swarms pass. If a fish was to accidentally go into the Seabin, it would be caught in the Seabin and stay submerged in water until the marina staff retrieve the filter and throw the fish still alive back into the water.
Water is sucked in from the surface and passes through a catch bag inside the Seabin, with a submersible water pump capable of displacing 25.000 LPH (liters per hour). The water is then pumped back into the marina leaving litter and debris trapped in the catch bag to be disposed of properly.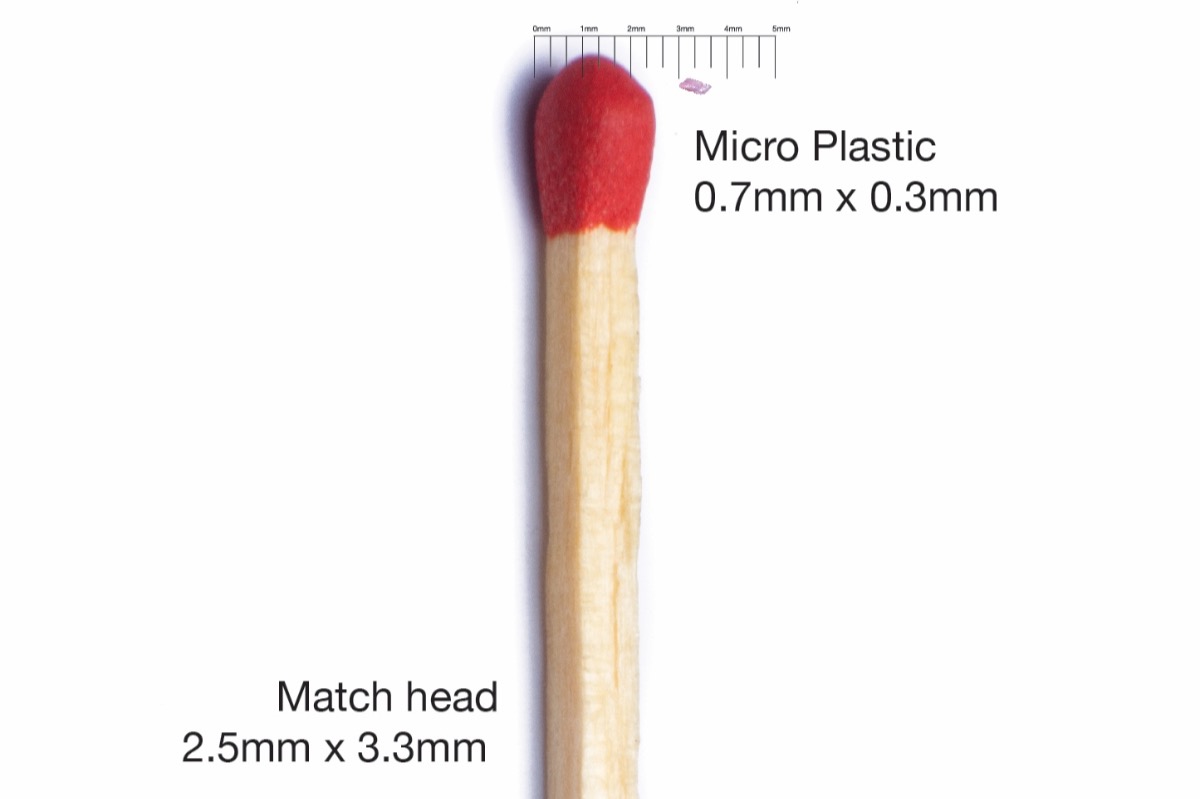 Who is responsible for the Seabin?
This is the best part of it all, the marina will be the one responsible for the upkeep of the Seabins and also they will be paying for the energy consumption of the Seabin which is around $2 - $3 a day.
The marina enjoys a cleaner marina and the rest of us and the marine life enjoy cleaner oceans with less floating debris polluting our oceans!
Seabins part of a whole solution
Seabins whole solution is Technology, Education, Science, Research and Community. The reason for this is that Technology alone is not the solution to stopping ocean plastics, education is the real solution.
Great! Can our local community be involved also?
Yes! The team at Seabin have interactive programs and lessons designed for schools, community and youth to interact with the Seabins and have over 2000 school students engaged around the world, this is something that we can do locally also with support from the team at Seabin Project.
What will we be doing if we participate in these programs?
You would be joining an international community contributing important data and feedback on ocean plastics to the Seabin central data base. Renowned scientists, universities and environmental agencies are all a part of the programs also.
The lessons range from identifying ocean plastics to data collection of what the Seabins are catching weekly. The data collection is a very easy activity and where we can all see the measurable impact of debris the Seabins are taking out of the water in all weather conditions.
It's as simple as counting how many plastic bags, plastic particles, food wrappers and then noting it down on a spreadsheet or app. Weather conditions and location information is also entered into the data base.
How can you help our campaign and make a difference in the world?
Every contribution to this crowdfunding campaign helps, be it $1 or $50 dollars, it all adds up and bring us closer to our goal.
Even if you cannot afford a donation, please help by sharing this campaign with your friends and family on social media. The more people that know about the campaign the better!
Thanks everyone for taking the time to check out our campaign!
FAQS SHEET
Seabin Project FAQs
Q: Can someone pay out the crowdfunding campaign goal?
A: Yes! We need help! The more money we can raise, the more Seabins we can buy.
Q: Why crowdfund a Seabin?
A: Until now, the Seabins were not for the everyday person to purchase because marinas ports and yacht clubs are the target market for Seabin Group. This is a way where everyday people can give something back to the oceans.
Q: How do Seabins work in tidal areas?
A: Seabins at present are designed for floating docks and pontoons. The Seabins move up and down with the tide on the floating dock.
Q. How are the pumps run?
A. The pumps are currently electric, and around $2-$3 a day to run.
Q: When are the Seabins available?
A: Depending on your countries location, Seabins will be available Feb 2019.
Q: Do any fish get sucked into the Seabins? What about smaller marine life?
A: There is a possibility of fish to enter the Seabins, however in the last 2 years of development, the Seabins have only caught a handful of small bait fish. Most of which have been thrown back into the water alive. The fish simply stay away from the flow of water entering the Seabin and with the current fine tuning of the Seabin, the risk is now minimal.
Q: I don't have any money to donate, how can I help?
A: Don't worry! Your amazing anyways and thanks for even contacting us. We need help to share this project around with any media we can. Social media platforms like Facebook, Instagram, Twitter, websites, bloggers. Also with newspapers, magazines, tv, radio and journalists. Also friends and family!
Safe Solution To Mop Up Oil Spills
September 24, 2019: Queensland University of Technology
QUT researchers have come up with a new, safe way to clean up oil spills using compounds equally useful as common household cleaning products.
There have been more than 700 oil spills worldwide in the past 20 years, polluting oceans and coastlines as well as endangering marine ecology and other wildlife.
Associate Professor Jingsan Xu said the team from QUT's Science and Engineering Faculty, had invented a nontoxic, low-cost, easily processed foam for oil removal.
He said when an oil spill occurred, the foam could be sprayed onto its surface to absorb the waste very quickly. The same principal could be applied to spills in the home of cooking or other oils. The foam is then easily scraped away for safe disposal.
A paper revealing their findings -- Reversible Switching of the Amphiphilicity of Organic-Inorganic Hybrids by Adsorption-Desorption Manipulation -- has just been published in The Journal of Physical Chemistry.
"Thousands of tons of oil have been disgorged into our oceans over the decades. One of the most memorable was the Exxon Valdez oil spill in Prince William Sound, Alaska, in 1989 which spilled 37,000 metric tons of crude oil and is considered one of the worst ever human-caused environmental disasters," said Professor Xu.
"More recently, the Deepwater Horizon oil spill in the Gulf of Mexico in 2010 had the dubious honour of becoming the largest marine oil spill in the history of the petroleum industry.
"Although there are methods for cleaning up oil spills, they are usually very messy and difficult to contain while some methods, such as in situ burning, create more hazards for the environment.
"Sorbents -- large sponges -- are also used but only for the removal of final traces of oil or in places skimmers cannot get to. The key to saving the environment from maximum damage is to mop up the oil as quickly as possible.
"So what we have focused on is the adaptability and possibilities associated with surfactants which are already widely used in research, industrial production and daily lives via household cleaning products.
"Surfactants are compounds that lower the surface tension between two liquids, between a gas and a liquid, or between a liquid and a solid -- in other words, they can be detergents, wetting agents, emulsifiers, foaming agents, and dispersants.
"One way to remove the floating oil from sea surface is adsorption. Hydrophobic porous foam -- low density material that can float on liquid -- is a promising candidate to achieve that and we recently reported on the synthesis of a hydrophobic hybrid foam which showed excellent adsorption performance to a range of organic liquids."
Professor Xu and the team have now created what they call a 'hybrid surfactant' by combining an oil-soluble molecule, stearic acid, with water-dispersible alumina nanofibers via chemisorption at the oil-water interface.
"Our hybrid surfactant exhibits reversible switching between hydrophilic (molecules attracted to water) and lipophilic (able to dissolve in fats, oils, lipids, and non-polar solvents) states by manipulating the adsorption-desorption volume of stearic acid attached to the alumina nanofibers," he said.
"Therefore, the emulsions stabilised by this organic-inorganic hybrid can reversibly transform between oil-in-water and water-in-oil type by simple mechanical manipulation.
"Unlike conventional approaches, no other external stimulus is needed to set the amphiphilic properties of the hybrid surfactant. This protocol may have significant applications in cosmetic, food and other fields.
"As a bonus, organic-inorganic three-dimensional solid foams can be readily prepared based on the emulsion system, which demonstrates a strong potential for use in evaporating oil spills -- in the ocean or the kitchen -- in a very quick fashion."
Chenhui Han, Eric R. Waclawik, Xiaofei Yang, Peng Meng, Hengquan Yang, Ziqi Sun, Jingsan Xu.
Reversible Switching of the Amphiphilicity of Organic–Inorganic Hybrids by Adsorption–Desorption Manipulation.
The Journal of Physical Chemistry C, 2019; 123 (34): 21097 DOI:
10.1021/acs.jpcc.9b07040
Little Change In National Health Spending
More than $185 billion, or almost $7,500 per person, was spent on health goods and services in Australia during 2017–18, according to a new report by the Australian Institute of Health and Welfare (AIHW).
'Total health spending increased by $2.2 billion in 2017–18 to $185.4 billion in constant prices. This was a 1.2% increase on 2016–17 against a backdrop of 3.9% average annual growth over the decade,' said AIHW spokesperson Dr. Adrian Webster.
'The lower growth rate in 2017-18 was partly due to the previous year having included one-off capital expenditure on projects such as the new Royal Adelaide Hospital. It was also a result of a previous spike in Australian Government spending on new drugs to treat hepatitis C.
'Governments funded two-thirds ($126.7 billion) of total health spending in 2017–18, with the Australian government contributing $77.1 billion—$1.8 billion more than the previous year.
Australia's state and territory governments spent $49.5 billion—$1.3 billion less than the previous year.
'Health expenditure by governments represented 24.4% of tax revenue, a decline from 2016–17 where 26% of tax revenue was spent on health,' Dr. Webster said.
'The decline in health expenditure as a proportion of tax revenue was primarily due to relatively rapid revenue growth when compared with previous years.'
In 2017–18, personal out-of-pocket health costs amounted to an average of $1,578 per person. There was little change in the proportion of individual net worth spent on health over the decade.
Contributions to health spending by private health insurers rose by $400 million to $16.6 billion in 2017–18.
'The decade has seen an overall increase in spending by private health insurance providers per person covered. In 2017–18, private health insurers spent an average of $1,470 per person covered, compared with $1,043 in 2007–08,' Dr. Webster said.
The total number of people holding private health insurance decreased by almost 2 million over the decade.
'Regular reporting of national health expenditure is important to understanding Australia's health system and how spending relates to changes such as the ageing population, increased chronic disease prevalence, and medicinal and technological developments,' Dr. Webster said.
Scientists Decode DNA Of Coral And All Its Microscopic Supporters
September 24, 2019: University of Queensland
Scientists have seen for the first time how corals collaborate with other microscopic life to build and grow.
A study led by The University of Queensland and James Cook University reveals at the DNA level how coral interacts with partners like algae and bacteria to share resources and build healthy, resilient coral.
UQ's Dr Steven Robbins said the research may aid in the revival of the world's embattled coral reefs.
"Symbiotic relationships are incredibly important for thriving corals," Dr Robbins said.
"The mostly striking example of this is coral bleaching, where corals expel their algal symbiotic partners at higher-than-normal water temperatures," he said.
"As algae make up the bulk of the coral's food through photosynthesis, the coral will die if temperatures don't cool enough to allow symbiosis to re-establish.
"It's possible that equally important interactions are happening between corals and their bacteria and single-cell microorganisms (archaea), but we just don't know.
"To properly manage our reefs, we need to understand how these relationships work, and genomics is one of our best tools.
"Genomics allows us to look at each organism's entire library of genes, helping us work out how coral symbiotic relationships might support coral health."
In the research, the scientists took a sample of the coral Porites lutea from a reef near Orpheus Island, just north of Townsville.
In the lab, they separated the coral animal, its algal partner and all associated microbes, sequencing each organism's DNA.
"Once we've sequenced the genomes, we use computer algorithms to look at the entire library of genes that each organism has to work with," Dr Robbins said.
"This allows us to answer questions like, 'what nutrients does the coral need, but not make itself?'"
Associate Professor David Bourne, from JCU and the Australian Institute of Marine Science (AIMS) said that having high-quality genomes for a coral and its microbial partners is hugely important.
"Large advances in human medicine have been achieved in the past 20 years since the human genome was decoded," he said.
"Over the next 20 years, similar knowledge of corals and how they function will emerge -- this data set represents a foundation for that.
"For the first time, we now have the genomes of a large number of the microbes that make up this coral, which is incredibly important for their survival.
"It's truly ground-breaking -- this is the blueprint for coral and their symbiotic communities."
The researchers hope the research may help imperiled coral reefs globally.
"Our coral reefs support incredible diversity and when we lose reefs, we lose far more than corals," Dr Robbins said.
"There are many threats to coral, but climate change is the most existential for our reefs.
"In 2016 and 2017, nearly 50 per cent of all corals on the Great Barrier Reef died, and we don't see this trajectory reversing if carbon emissions remain at current levels.
"But, as scientists we can try to understand what makes corals tick to devise ways to make them more resilient, and we're delighted to have added to that body of knowledge."
The researchers paid credit to Dr Sylvain Forêt from ANU, who contributed to the study up until his sudden death in 2016.
Steven J. Robbins, Caitlin M. Singleton, Cheong Xin Chan, Lauren F. Messer, Aileen U. Geers, Hua Ying, Alexander Baker, Sara C. Bell, Kathleen M. Morrow, Mark A. Ragan, David J. Miller, Sylvain Forêt, Christian R. Voolstra, Gene W. Tyson, David G. Bourne.
A genomic view of the reef-building coral Porites lutea and its microbial symbionts
. Nature Microbiology, 2019; DOI:
10.1038/s41564-019-0532-4
Congratulations Class Of 2019
Congratulations to all students finishing year 12 this week. You made it! You did it!
Hope you all have/had a great time at your formals, walks, and graduation ceremonies.
For those who are now settling down to some pre HSC study (written exams commence October 17th) the NSW Government's ESA website has a page with past exam papers and other help. Visit
HERE
Many will have heard advice to get decent sleep, stay hydrated, eat good for you food during this study period and remember to exhale - to take that break, go for that swim, be kind to yourself - so there's no point repeating all that here.....
Remember
you're all champions already
anyway and as often as you have been inspired you are, in return, inspiring.
You have already excelled!
Warriewood SLSC Surf Boats Come & Try Day
Sunday 6 October 9am at Bayview

(flat water - time and place subject to weather and numbers)
If you are a patrolling member with Bronze or SRC, come and try surf boat rowing for fun, fitness or competition.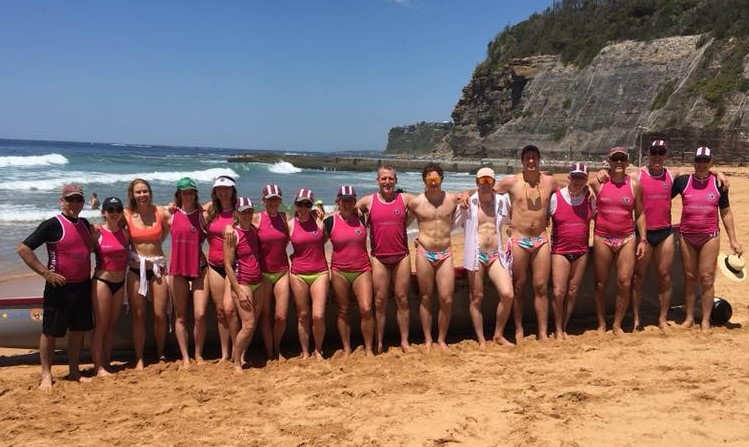 Head To The Stars: Barrenjoey
Ku-Ring-Gai Chase National Park
Calling all amateur astronomers to Barrenjoey Headland in Ku-ring-gai Chase National Park. Discover astrophotography, learn about the solar system and tour Barrenjoey Lighthouse at this fun event.
When:
Saturday 19 October 2019
Station Beach activities run from 5pm to 9.30pm
Optional guided tours of Barrenjoey Lighthouse run from 5.30pm to 7pm, 6.30pm to 8pm, 7.30pm to 9pm and 8.30pm to 10pm. Select a time slot for your guided tour when you book. Lighthouse tour takes around 30 minutes each way.
Where:
Ku-ring-gai Chase National Park
Accessibility:
No wheelchair access
Grade:
Medium. Station Beach activities suitable for all ages. Optional guided lighthouse tour suitable for adults and children 8 years and over with moderate fitness.
Meeting point:
Station Beach in front of Governor Phillip Park, Palm Beach.
What to
bring:
Torch, drinking water
Bookings:
Bookings required. Phone 1300 072 757 for more information or book online.
Join us at Palm Beach, 1 hour from Sydney's centre, as we set out to simulate a pristine dark sky landscape. We'll be transforming Barrenjoey Headland into an observatory for 1 night only. Come along and witness the sparkly wonder of the solar system under the light of the new moon.
There's plenty to see and do at this great event, including:
Learning about the solar system from local astronomers and looking through one of the onsite telescopes
Going on an optional guided tour of Barrenjoey Lighthouse
Listening to stories about Aboriginal astronomy
Learning tips and tricks for night sky photography from our experienced astrophotographer. Don't forget your camera and tripod
Discovering why dark, natural night skies are important to animals, plants and humans
Enjoying a barbecue dinner and some tea, coffee or hot chocolate
If you're a nocturnal adventure seeker or solar system enthusiast, don't miss this fantastic evening under the stars. Remember to bring a headlamp or torch and a water bottle.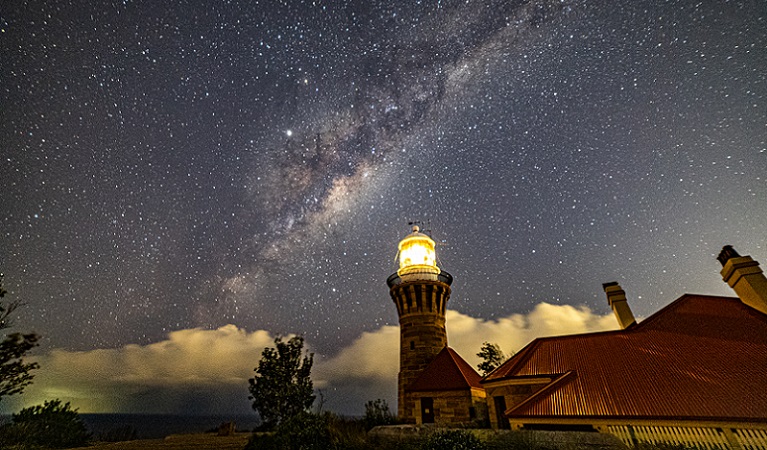 Bee Biodiversity Barometer On Fiji
September 23, 2019: Flinders University
The biodiversity buzz is alive and well in Fiji, but climate change, noxious weeds and multiple human activities are making possible extinction a counter buzzword.
Just as Australian researchers are finding colourful new bee species, some of them are already showing signs of exposure to environmental changes.
Flinders University PhD candidate James Dorey -- whose macrophotography has captured some of Fiji's newest bee species -- says the naming of nine new species gives researchers an opportunity to highlight the risks.
"Homalictus terminalis is named so to indicate that, like many Fijian bees, it is nearing its limit and is at risk of climate-related extinction," he says.
"Found only on Mount Batilamu near the city of Nadi, where many tourists launch their holidays, H. terminalis has only been found within 95 metres of the mountain peak."
The impressive black Homalictus achrostus, featuring unusual large mandibles, is one of the most interesting endemic bee species on Fiji.
But, like many Fijian bee species, H. achrostus has only ever found on a single mountain top.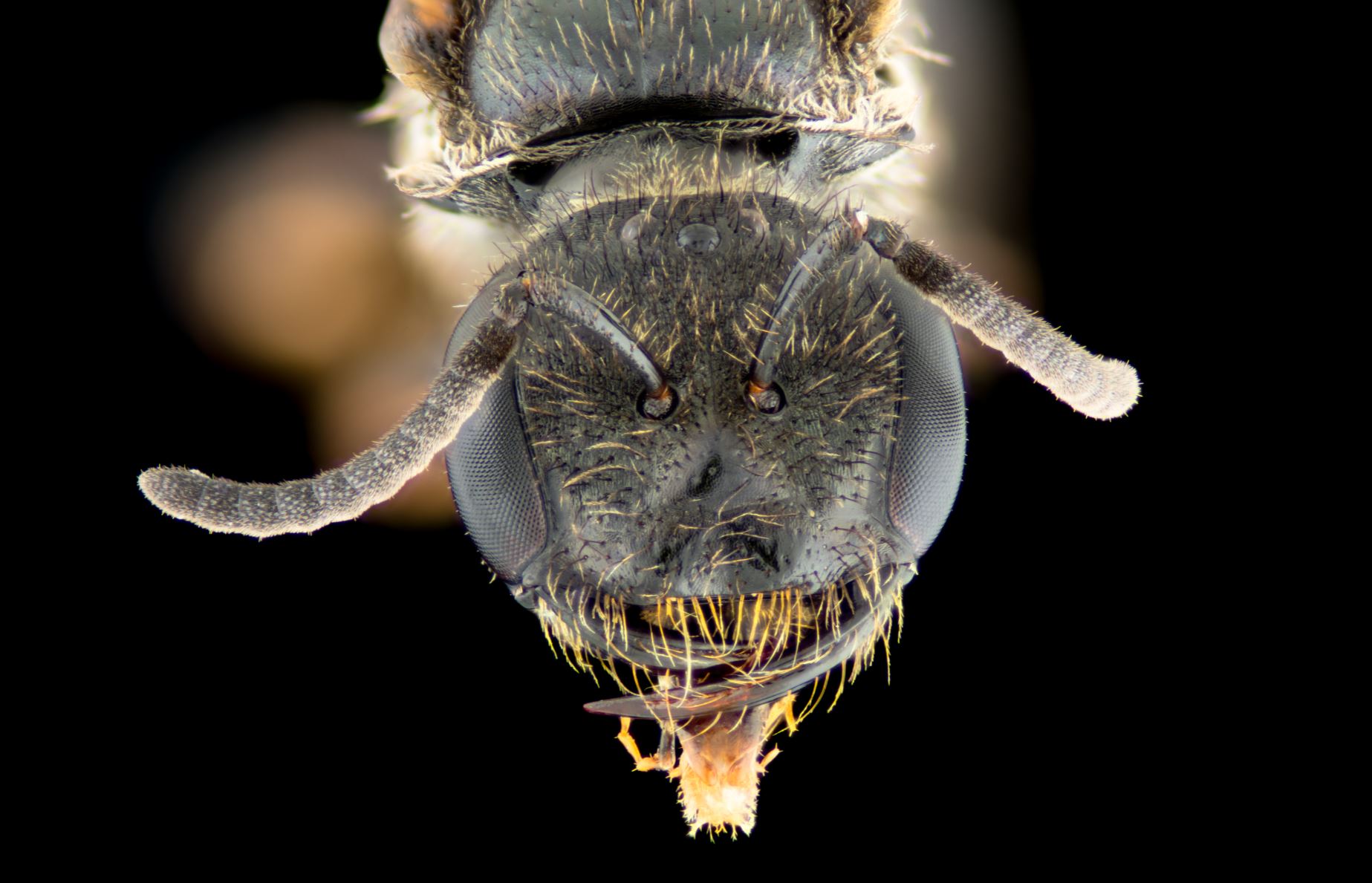 An impressive black Homalictus achrostus, newly named by Flinders University researchers. Photo: James Dorey.

"Six individuals were collected on Mount Nadarivatu in the 1970s and two in 2010, but despite frequent searching almost every year since no more have been found," says Flinders University Associate Professor Mike Schwarz, a co-author on the paper.
"A likely driver of this possible extinction is changing climates," Associate Professor Schwarz says.
"The cooler climate of the Fijian highlands could be slowly pushed upwards and off the top of the mountains bringing with it the species that require this climatic refuge.
"With H. achrostus one of the four previously described species of endemic bee in Fiji, this raises real concerns about the extinction of many highland species in Fiji and across all of the tropics."
South Australia Museum senior researcher terrestrial invertebrates, Dr Mark Stevens, says the bee genus Homalictus Cockerell has not been taxonomically reviewed in the Fijian archipelago for 40 years.
"These field trips have allowed us to redescribe four known species and describe nine new ones, bringing the number of endemic Homalictus in Fiji to 13 species," says Dr Stevens, who is collaborating on the study.
"Most of the species diversity (11 species) live 800 metres or more above sea level, which highlights the vulnerability of highland-restricted species to a warming climate."
One of the new species, the eye-catching Homalictus groomi, was named in honour of Flinders biological sciences graduate Dr Scott Groom, who began uncovering this hidden diversity using molecular techniques with Flinders University and the South Australian Museum in 2009.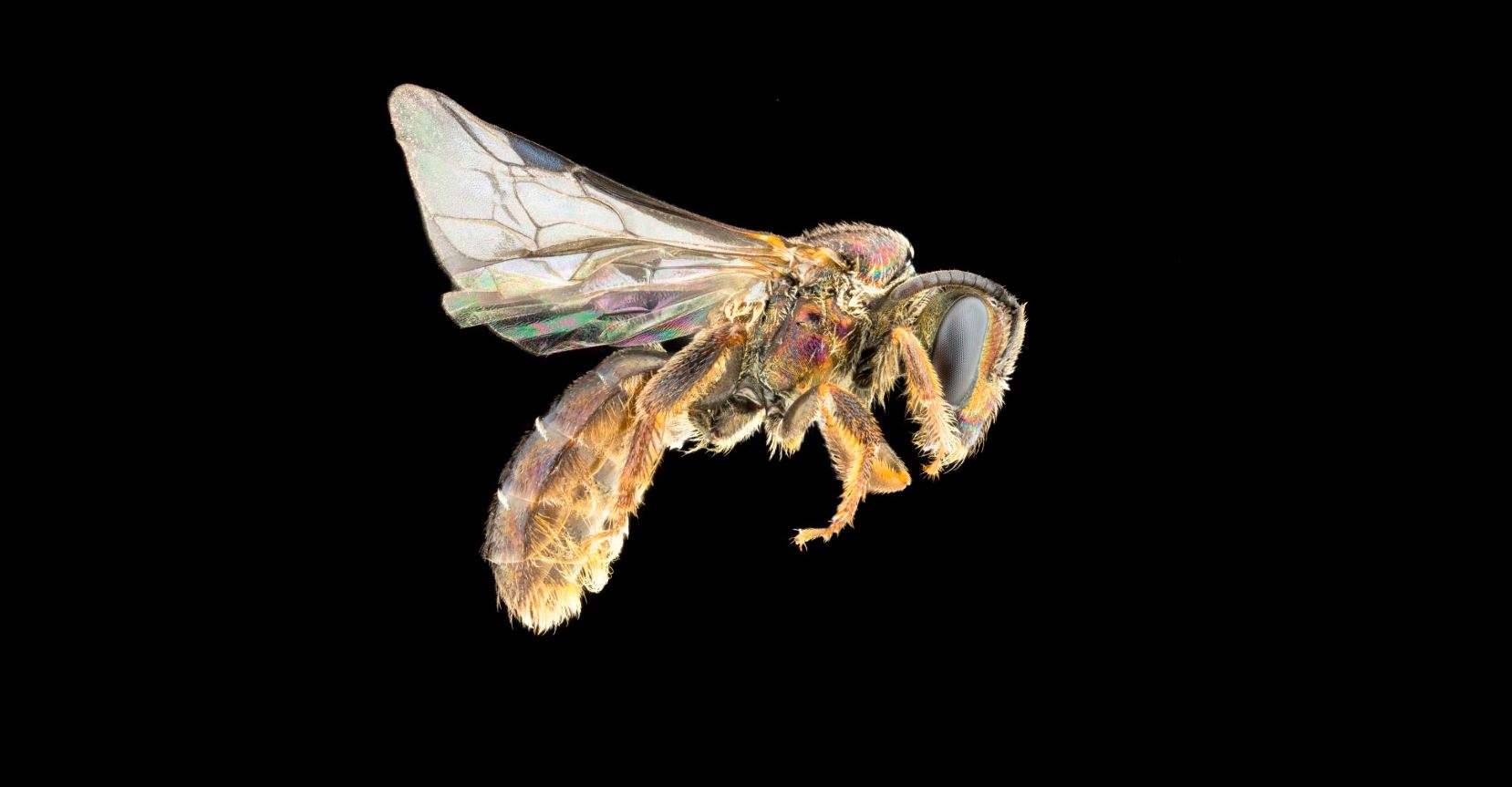 The eye-catching Homalictus groomi was named after Flinders biological sciences graduate Dr Scott Groom, who began uncovering this hidden diversity using molecular techniques with Flinders University and the South Australian Museum in 2009. Photo James Dorey, Flinders University

Previous New Colombo Plan biological sciences field trips have also studied the effects of noxious weeds and human activities on other animals and plants in Fiji.
James B. Dorey, Michael P. Schwarz, Mark I. Stevens.
Review of the bee genus Homalictus Cockerell (Hymenoptera: Halictidae) from Fiji with description of nine new species.
Zootaxa, 2019; 4674 (1): 1 DOI:
10.11646/zootaxa.4674.1.1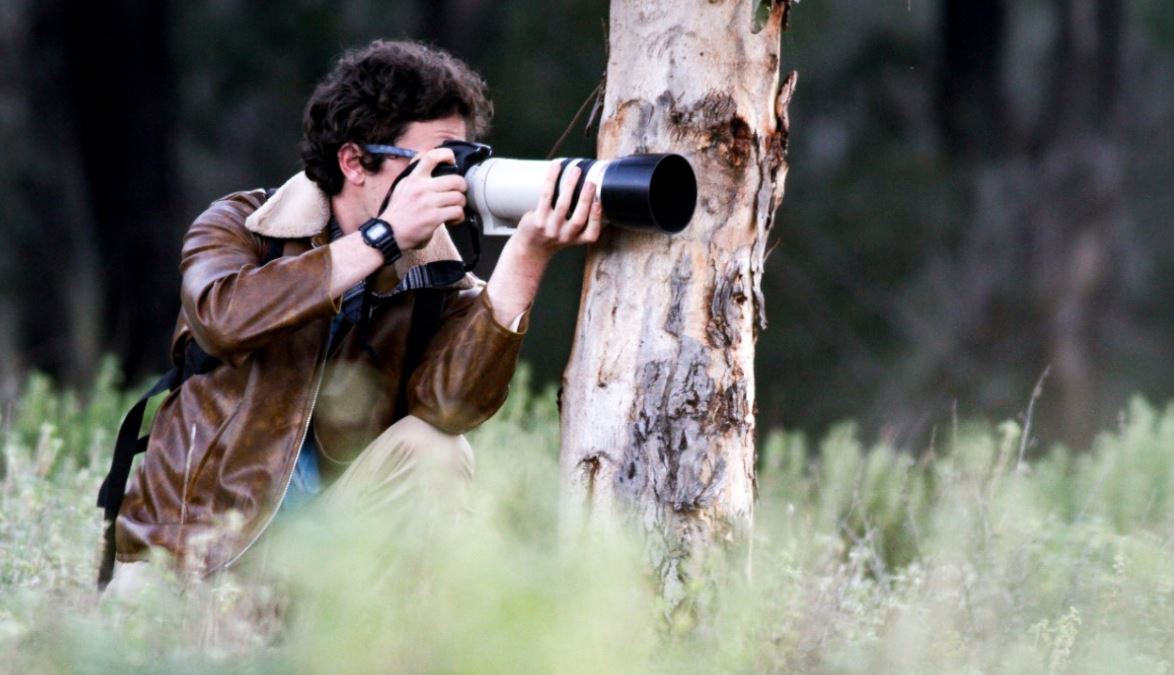 Flinders University PhD James Dorey on location.
Machu Picchu: Ancient Incan Sanctuary Intentionally Built On Faults
The ancient Incan sanctuary of Machu Picchu is considered one of humanity's greatest architectural achievements. Built in a remote Andean setting atop a narrow ridge high above a precipitous river canyon, the site is renowned for its perfect integration with the spectacular landscape. But the sanctuary's location has long puzzled scientists: Why did the Incas build their masterpiece in such an inaccessible place? Research suggests the answer may be related to the geological faults that lie beneath the site.
On Monday, 23 Sept. 2019, at the GSA Annual meeting in Phoenix, Rualdo Menegat, a geologist at Brazil's Federal University of Rio Grande do Sul, will present the results of a detailed geoarchaeological analysis that suggests the Incas intentionally built Machu Picchu -- as well as some of their cities -- in locations where tectonic faults meet. "Machu Pichu's location is not a coincidence," says Menegat. "It would be impossible to build such a site in the high mountains if the substrate was not fractured."
Using a combination of satellite imagery and field measurements, Menegat mapped a dense web of intersecting fractures and faults beneath the UNESCO World Heritage Site. His analysis indicates these features vary widely in scale, from tiny fractures visible in individual stones to major, 175-kilometer-long lineaments that control the orientation of some of the region's river valleys.
Menegat found that these faults and fractures occur in several sets, some of which correspond to the major fault zones responsible for uplifting the Central Andes Mountains during the past eight million years. Because some of these faults are oriented northeast-southwest and others trend northwest-southeast, they collectively create an "X" shape where they intersect beneath Machu Picchu.
Menegat's mapping suggests that the sanctuary's urban sectors and the surrounding agricultural fields, as well as individual buildings and stairs, are all oriented along the trends of these major faults. "The layout clearly reflects the fracture matrix underlying the site," says Menegat. Other ancient Incan cities, including Ollantaytambo, Pisac, and Cusco, are also located at the intersection of faults, says Menegat. "Each is precisely the expression of the main directions of the site's geological faults."
Menegat's results indicate the underlying fault-and-fracture network is as integral to Machu Picchu's construction as its legendary stonework. This mortar-free masonry features stones so perfectly fitted together that it's impossible to slide a credit card between them. As master stoneworkers, the Incas took advantage of the abundant building materials in the fault zone, says Menegat. "The intense fracturing there predisposed the rocks to breaking along these same planes of weakness, which greatly reduced the energy needed to carve them."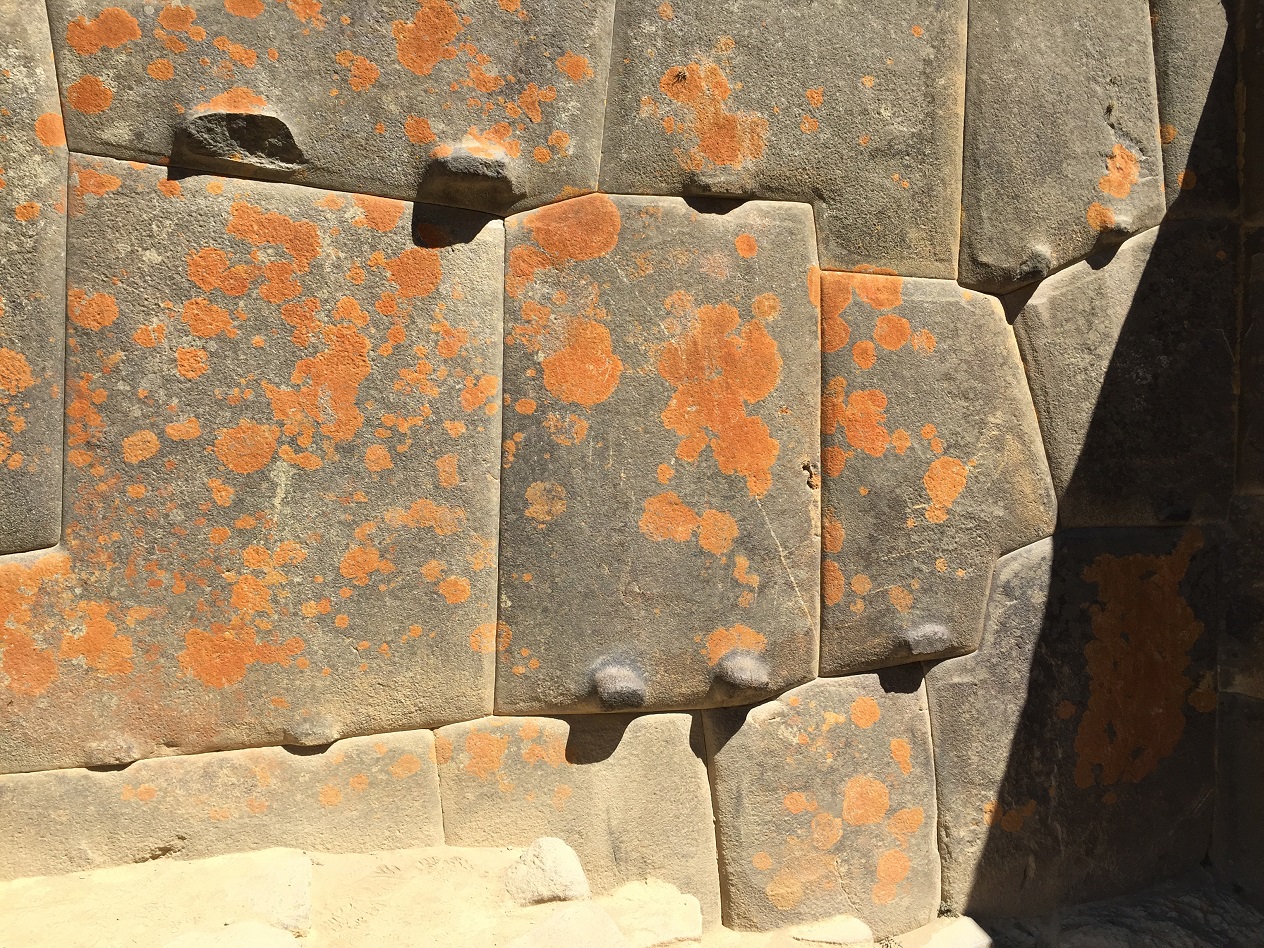 Ollantaytambo, Peru: The Incas took advantage of pre-existing fractures in local stones to reduce the amount of energy needed to create their master stonework. Photo taken 21 July 2016, credit: Terri Cook and Lon Abbott.

In addition to helping shape individual stones, the fault network at Machu Picchu likely offered the Incas other advantages, according to Menegat. Chief among these was a ready source of water. "The area's tectonic faults channelled meltwater and rainwater straight to the site," he says. Construction of the sanctuary in such a high perch also had the benefit of isolating the site from avalanches and landslides, all-too-common hazards in this alpine environment, Menegat explains.
The faults and fractures underlying Machu Picchu also helped drain the site during the intense rainstorms prevalent in the region. "About two-thirds of the effort to build the sanctuary involved constructing subsurface drainages," says Menegat. "The preexisting fractures aided this process and help account for its remarkable preservation," he says. "Machu Picchu clearly shows us that the Incan civilisation was an empire of fractured rocks."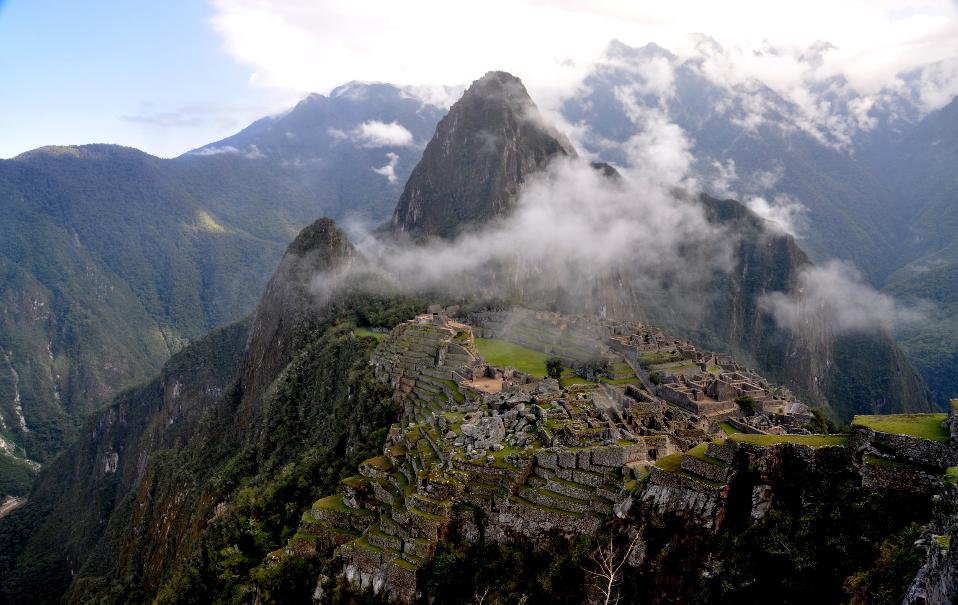 Machu Pichu. Detailed mapping indicates the World Heritage Site's location and layout were dictated by the underlying geological faults. Photo taken 5 Nov. 2010; credit: Rualdo Menegat.