Inbox and Environment News: Issue 409
June 16 - 22, 2019: Issue 409
Mona Vale Dunes Bushcare
June 8:
where were we? On Mona Vale Dunes. We've planted next to the path near Golf Ave. Rabbits active there so plant covers needed.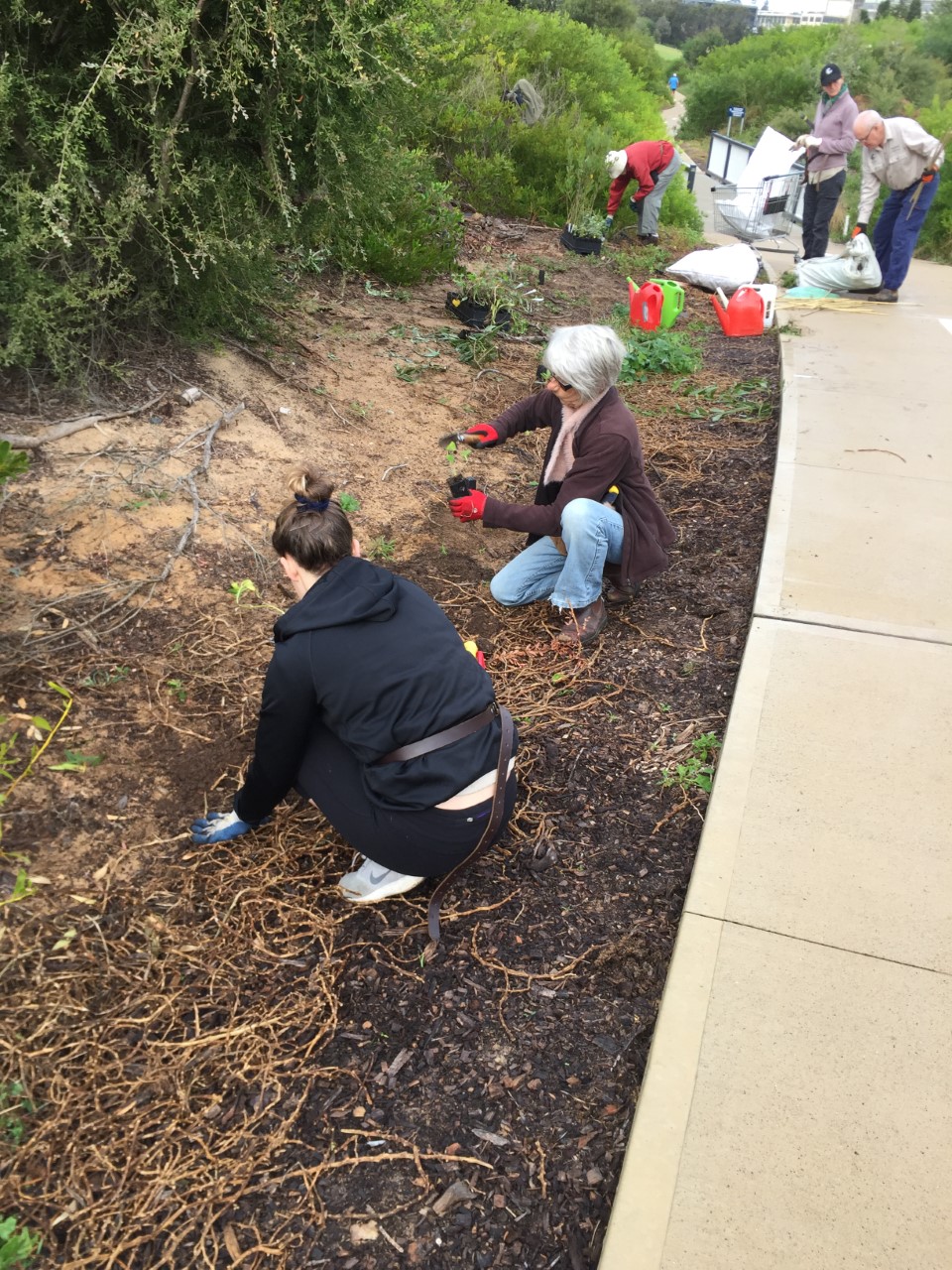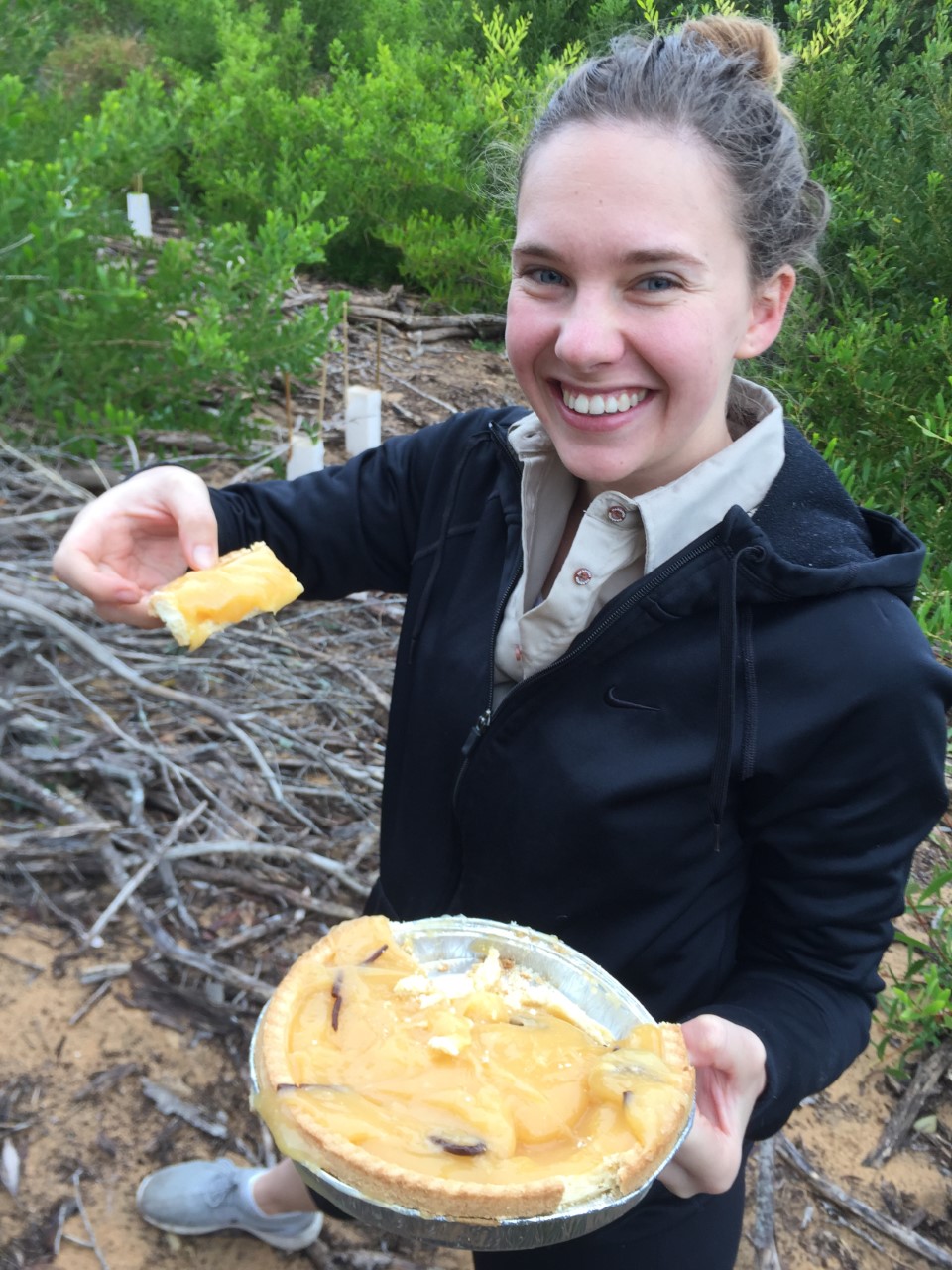 Morning tea: Jen Quine + Lemon tart.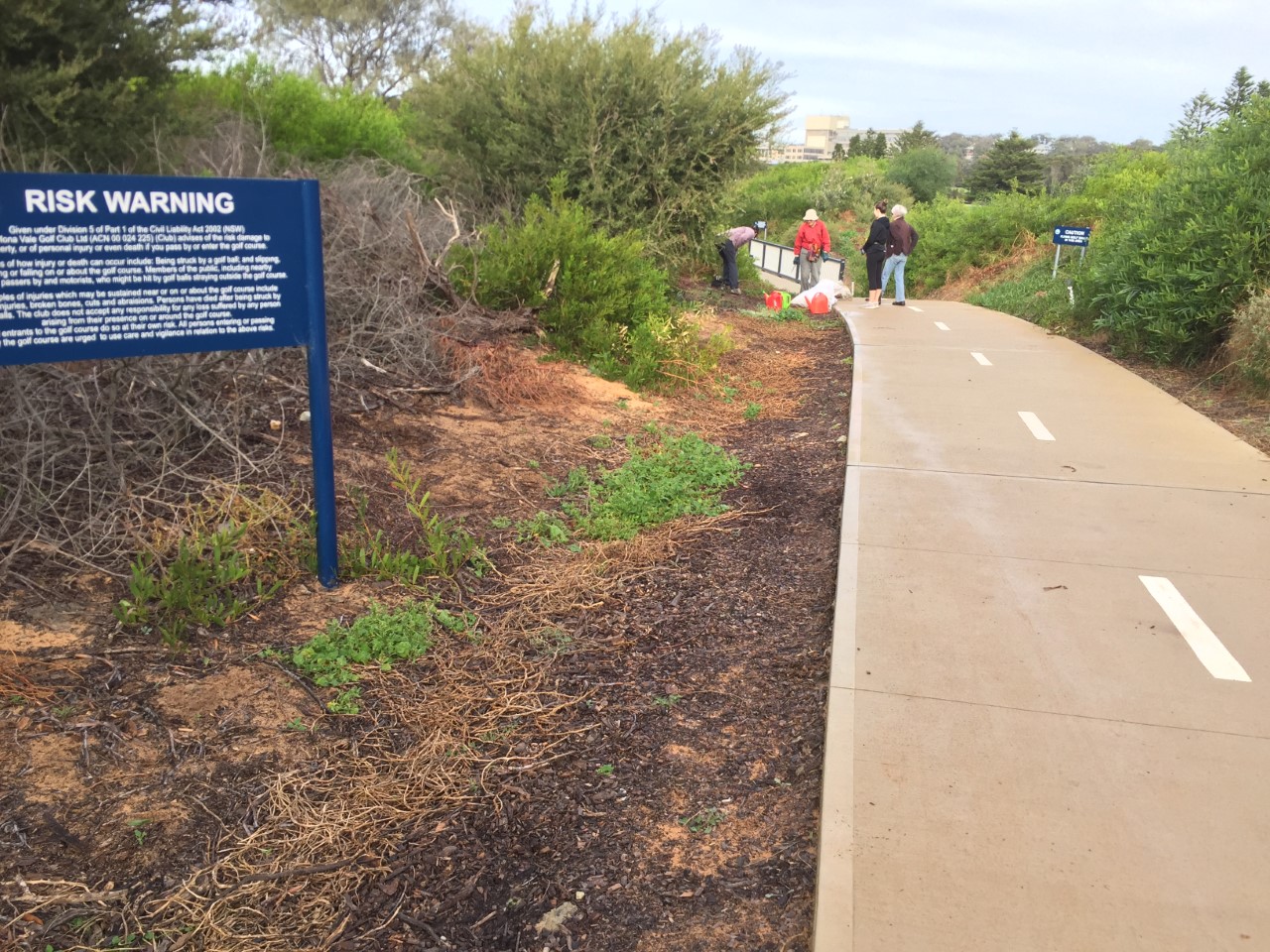 Lots of interested walkers this morning.
Next chance to join us: Thursday June 20!
We meet at 8.30 am at the end of Golf avenue and work for around 3 hours or whatever time you can manage. Please wear enclosed footwear, long sleeves and trousers. BYO gardening gloves.
To suit most of us, we meet on two days of the month, so people come on either the second Saturday morning and the third Thursday - sometimes both!

Our morning teas are legendary - what will we have on Thursday June 20th?
Progress is so encouraging. In July 2014 dense lantana and asparagus was cleared and left in piles to give wildlife somewhere to hide. Tubestock was planted by council and then maintained by our bushcare group. See the difference now, in May 2019.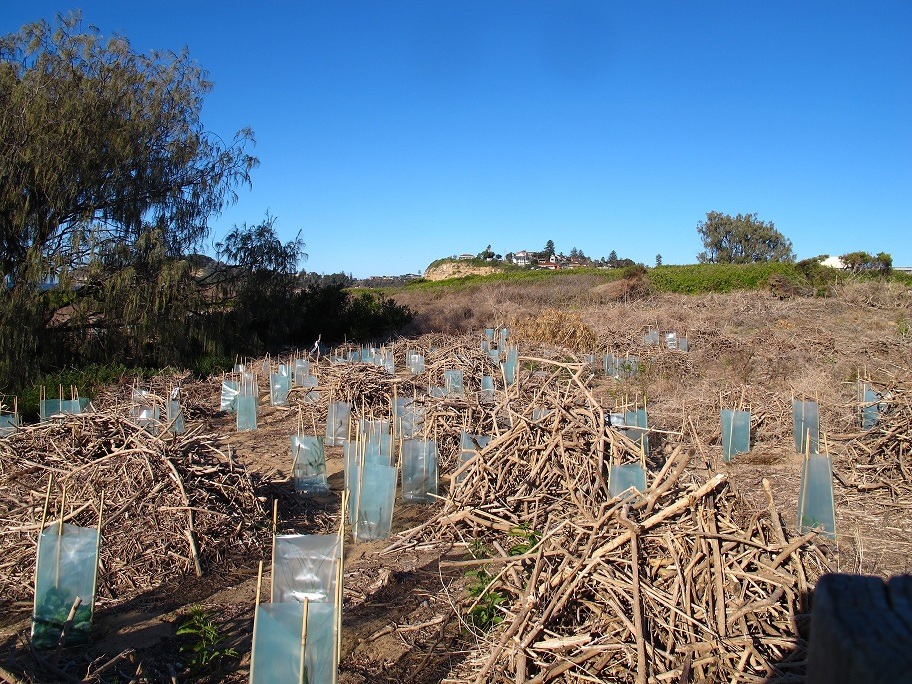 July 2014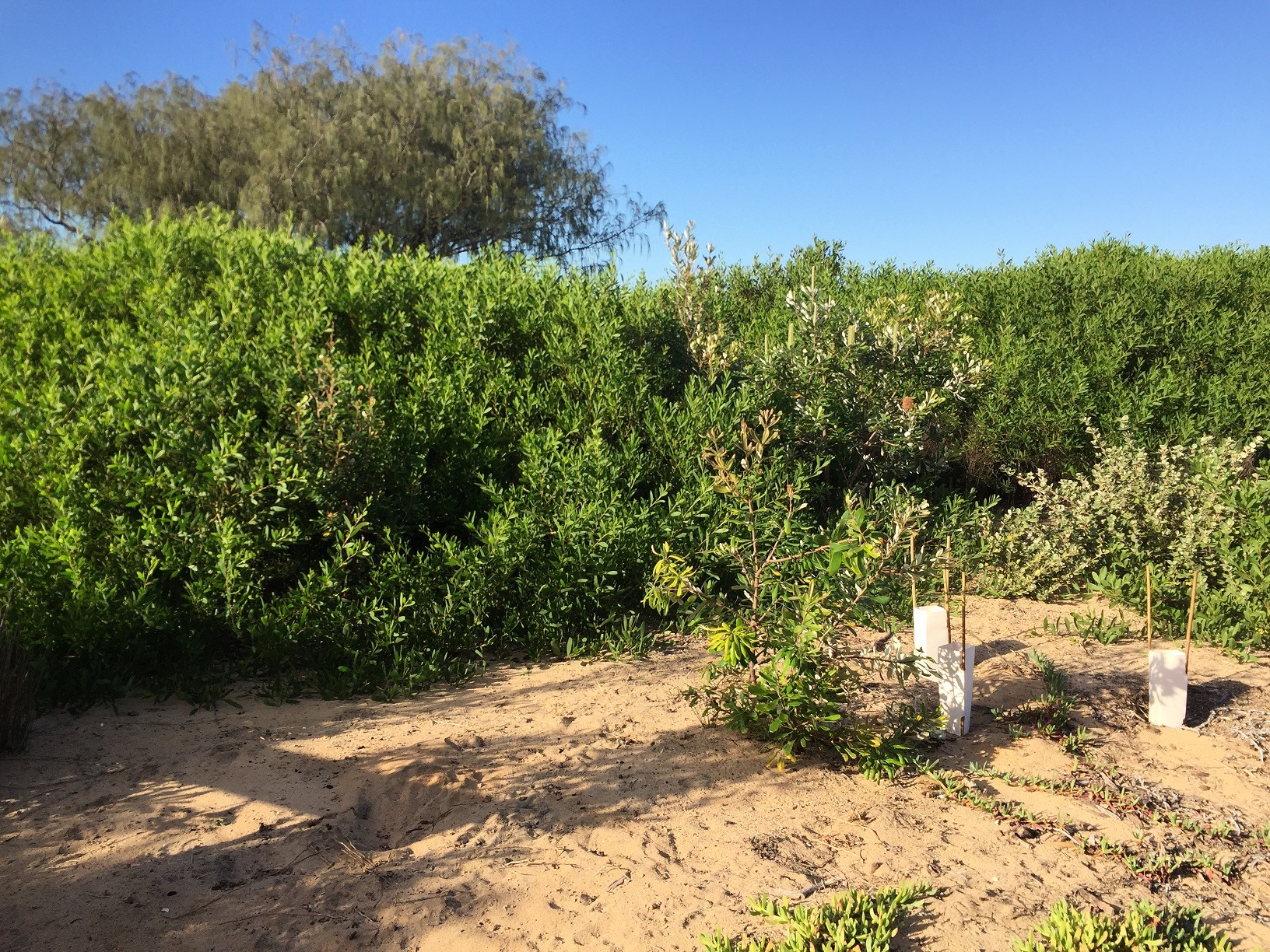 May 2019
Avalon Boomerang Bags Celebrating 4 Years This June
Launched
in June 2016
by Pittwater MP, the Hon Rob Stokes, this grass roots, hands-on group are turning the tide on plastic bags locally. The work that preceded this launch, and all continued to be done since, is a testament to the work done by these volunteers and a community determined to be free of plastic. As well as doing the work to ensure an alternative to plastic,
Avalon Boomerang Bags
members also recently attended a BIG meeting:
NSW Boomerang Bag meeting Sat 25 May 2019 - it's not just about the bag!
Held at Camperdown Commons on Mallett St - a pocket community farm practicing ecological urban farming methods and providing produce to the on site restaurant 'Acre Eatery'.... definitely worth visiting if you are in the area (2 streets from the RPA hospital).
The meeting was run by the amazing co founders of the community Boomerang Bag initiative, Jordyn de Boeur and Tania Potts from Burleigh Heads and the brilliant master of ceremonies Anthony Hill founder of Plastic Pollution Solutions (mission is to educate to engage behavioural change).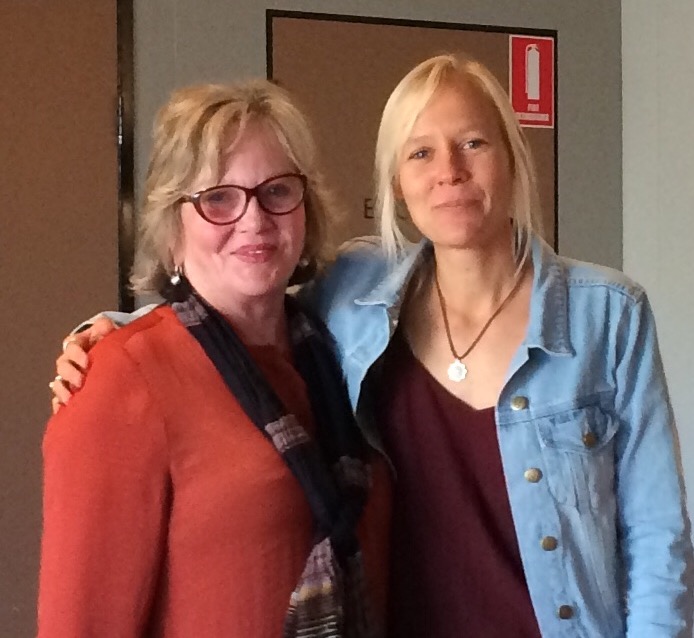 BB community representatives came from Newcastle, Forster/ Tuncurry, Inner West, Berry, Blue Mountains, Milton, Canada Bay and Avalon.
The meeting gave everyone the opportunity to discuss the highlights and challenges which have been uncovered in setting up, running and communicating within the local community groups as well as hearing about the evolution of the BB from its early days to now. The true understanding that Boomerangs in their traditional design do in fact 'not come back' and confirmed by bags not returning are the reasons 'borrow and reuse' has become the logo replacing the 'borrow and bring back' slogan ....perhaps we can change our expectations (but at the same time not lose hope).
Another slight shift in practice was changing the wording around 'Sewing bag' workshops to 'Bag making' workshops to reach a wider audience of potential volunteers.
Fund raising opportunities and insurance issues were also discussed. The strategy of box sponsorships (a' la Avalon) was well received.
Acknowledgement as to why the concept has mushroomed globally from just 3 or 4 communities in just a few years to over 815 communities worldwide today is attributed to the fact that it meets a need in society - the opportunity to connect with other people in our local community and beyond. Apparently Hugh Mackay (renowned Australian social researcher and psychologist) has a high regard for the BB concept in its ability to reach into the community. Of course the environmental issue of reducing single use plastic bags is also a primary reason as well. Evolution and paradigm shifts in society and human relations, attitudes, business practices, utilisation of resources and closed economies were also topics covered.
The day formally ended with a powerful 10 min video interview between Dr Zach Bush and Rich Roll (described by the interviewer as the best monologue ever). Available at:
https://youtu.be/aLaVutWXju0
Dr Zach Bush is an American endocrinologist who brings together human health, environmental degradation, farming practices, science and spiritual transformation onto the one platform.
The meeting was a great experience - creative, interactive and fun - and
lunch was delicious!
Thanks Anne - and to think you apologised for this being "more than a few words" - so great to hear about yours and Laurel's fantastic day.
Look at our freshly painted boxes....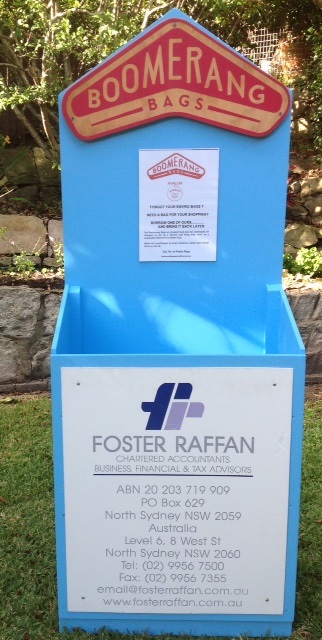 Thanks Ross for maintaining & painting the boxes.
Boomerang Bags are currently located at:
Avalon Village Meats
Herforts Chemist Avalon
Chambers Cellars Avalon
Andrew Blake Real Estate
Johnson Brothers Mitre 10 Avalon
Elvina Ave Supermarket
North Avalon - Porters Liquor
Bilgola-Organics Avenue/Four Square
Clareville Cellars
Thank you to our current box "hosts",
we appreciate you putting them out each day and bringing them in at night.
Diary Dates
Saturday 6th July
- Boomerang Bags Bar-B-Que fundraiser
Hosted by Tanya from Narrabeen Boomerang Bags and Marina from Collaroy Plateau Boomerang Bags, the event will be held at Bunnings Narrabeen. The girls would love a hand, if you can spare some time, please email Marina
collaroyplateau.boomerangbags@gmail.com
Tuesday 9th July - School Holidays
NO regular bag making workshops
Tuesday 9th July - Boomerang Bag meeting 11am
Followed by lunch.
Tuesday 9th July - NAIDOC week
2pm smoking ceremony & author talks Avalon Recreation Centre $5
Tuesday 16th July - School Holidays
NO regular bag making workshops
Friday 19th & Saturday 20th July - Plastic Free July Event
To be held at Avalon Recreation Centre and among other things there will be stalls and a Recycled Fashion Show.
Tuesday 23rd July - Bag making working shops resume
11.30am - 3.30pm Avalon recreation Centre
Come for an hour or come for the day - we're making a difference in so many ways.
Sunday 3rd November - Avalon Market Day
Whale On!
During the past few weeks Readers have reported sighting humpback whales, southern right whales and even minke whales off our coasts, whether spotting them from the shores or from boats while out on the water.
It may be early but the

ORRCA Whale Census Day is scheduled for June 30th this year and this will be the 20th Whale Census

.
For those of you who like spotting whales, this may be an activity you would like to get involved in. Visit HERE.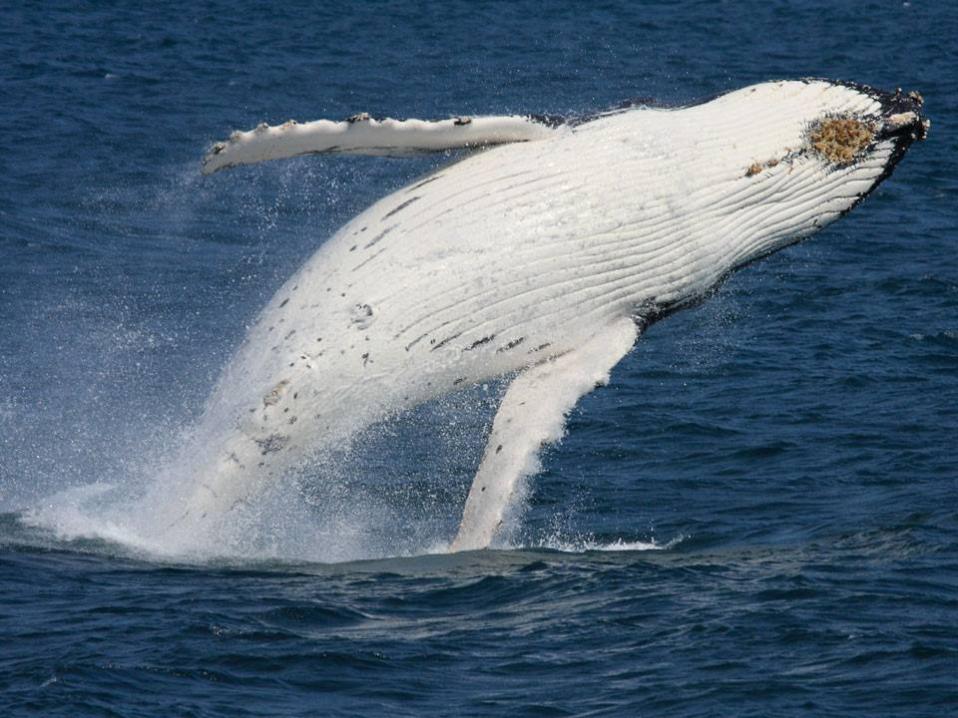 Catch A Glimpse Of A Humpback Whale
Visit a coastal NSW national park to spot a humpback whale, as they start their annual migration north.
From May to November 2019, over 30,000 humpback whales will migrate from the cold waters of Antarctica to the warmer waters off north east Australia to mate and give birth before heading south again.
Vantage spots for whale watching include national parks with lookouts, headlands and foreshores.
Southern right and minke whales may also be spotted off the NSW coast during migration season.
Keen whale-watchers can download the free Wild About Whales mobile app, which helps users find the best locations for spotting whales, get real-time notifications of nearby sightings, and record their sightings.
Environment Minister Matt Kean said the app is a great tool for the whole family to learn more about whales, while also contributing to a citizen science project.
"Citizen science volunteers and other organisations such as ORRCA do an amazing job of monitoring the number of whales migrating along the NSW coast each season," Mr Kean said.
Find whale watching vantage points
National Tree Day 2019
National Tree Day started in 1996 and has grown into Australia's largest community tree-planting and nature care event.
It's a call to action for all Australians to get their hands dirty and give back to the community. ​​​
While every day can be Tree Day, we dedicate celebration of Schools Tree Day and National Tree Day to the last Friday and last Sunday in July. In
2019 Schools Tree Day is Friday 26th July and National Tree Day is Sunday 28th July.
Adani Is Cleared To Start Digging Its Coal Mine – Six Key Questions Answered
by Adrian Werner, Professor of Hydrogeology, Flinders University and Matthew Currell, Associate Professor in Environmental Engineering, School of Engineering, RMIT University
There is now nothing standing between Indian mining giant Adani and the coal buried in Queensland's Galilee Basin.
By approving the Adani's groundwater management plan on June 13, the Queensland government has given the final green light to the company's controversial Carmichael coal mine.
What did the Queensland government just approve?
This plan outlines Adani's proposed strategies to protect ecosystems that depend on groundwater, such as the Doongmabulla Springs wetland, which some experts have warned could be destroyed by the project. The plan's approval at a state level removes the final legislative hurdle standing in the mine's way.
Read more: Unpacking the flaws in Adani's water management plan
Didn't the federal government suffer a legal setback this week relating to the mine? Why is the mine still clear to proceed?
On June 12, 2019, in response to a legal challenge by the Australian Conservation Foundation, the federal government conceded in the federal court that it failed to properly consider public submissions in passing judgement on Adani's North Galilee Water Scheme.
This scheme concerns Adani's plans for taking water from the Suttor River to the east of the mine, which will be required for mining operations.
The federal government will now need to reappraise this proposal. But the approval to take river water does not impact Adani's ability to start mine construction.
Has Adani made significant changes to its groundwater plan in light of scientific criticism?
In February 2019, CSIRO and Geoscience Australia advised the Queensland government that they did not consider Adani's groundwater plan adequate for assessing the risk to local springs. They recommended more research drilling, monitoring and analysis, to better understand the source aquifer for the springs.
On June 7, CSIRO and Geoscience Australia responded to a series of questions from the Queensland government. They effectively reiterated their earlier concerns, including that Adani's groundwater model is not fit for the purpose of assessing the mine's likely impacts to the springs.
Among a raft of suggested changes to the groundwater plan, they recommended that Adani make firmer commitments to protecting the springs. However, Adani has not strengthened this part of the plan, and actions required to address impacts to the springs remain vague.
Adani has made some changes to the investigations it is required to complete within one to two years. But there appears to be no new scientific work or findings in the most recent version of the groundwater plan to address scientific uncertainties or flaws in the modelling, as pointed out by CSIRO, Geoscience Australia and others.
Does Adani know where the Doongmabulla Springs water comes from?
No. Adani and the Queensland government seem relatively confident that the source aquifer for the springs is a geological unit called the Clematis Sandstone. But the Queensland government acknowledges that some uncertainty remains. The CSIRO and Geoscience Australia advice makes clear the springs could in fact flow from multiple sources, in agreement with a consortium of other experts. Adani has been asked to determine this during the first two years of the mine's operation.
So have the scientific concerns been satisfied or not?
The final groundwater plan is based on science that has been shown to be questionable and containing crucial errors and data gaps, as indicated in the CSIRO/Geoscience Australia reviews in both February and June 2019. The plan also fails to consider key scientific issues that we raised in collaboration with colleagues from other universities. The shortcomings in the science raised by a range of scientists from multiple universities and agencies will therefore remain unaddressed until after mining activity begins, risking irreversible harm to the Doongmabulla Springs.
We believe that uncertainties in the future groundwater impacts from the mine are high, but could have been addressed if Adani had acted upon the advice it has repeatedly received over the past six years.
Read more: Adani's finch plan is approved, just weeks after being sent back to the drawing board
After so many government approvals processes, court rulings, and legal challenges, does Adani truly have permission to start digging now?
Yes. Adani's excavations will mark the start of a highly uncertain experiment into the effects of mega-scale disturbance to a natural groundwater flow system and the ecosystems that depend on it. Time will tell whether the benefits of the mine warrant the impacts it will cause.
Read more: If the Adani mine gets built, it will be thanks to politicians, on two continents
This article first appeared in
The Conversation
. republished under a Creative Commons licence.
Adani Water Approval: Original Custodians Response
The decision of the Queensland Government to approve Adani's ground water management plan imperils our sacred Doongmabulla springs and the water essential to our lives.
Draining our water for Adani's massive coal mine will irreparably damage the ecology of our homelands. Without the water, everything will struggle to survive.
The ecology is our home, our Yumba, the locus of creation, the Rainbow Serpent. We are being told we must give this up for a few second-rate jobs in a sunset industry. We are offered a pittance in compensation for the destruction of our lands and waters, and the denial of our fundamental rights.
To add insult to injury, we are coerced into so-called "land use agreements". We are the original sovereign people from that land, and there is no founding agreement with the State, or mining corporations like Adani, that allows them to determine the future of our country without us.
The State does not have our free, prior informed consent. It does not deal with us respectfully as a first nation or recognise our original tribal sovereignty. It interferes with the practice of our culture and ceremony, our law and religion. All of which are deeply and inextricably connected to the water.
We are the water protectors. We want to look after the land for all future generations. We said no to Adani and we will keep saying no. Adani is not welcome in our country.
But again, the Queensland Government simply continues the relentless dispossession of our lands and waters that our people are forced to endure.
We will not be subjected to these actions and stay quiet. We speak for our law on that country and we will speak out against those who would allow its destruction.
We will stand our ground in defence of country.
Wangan and Jagalingou Traditional Owners Council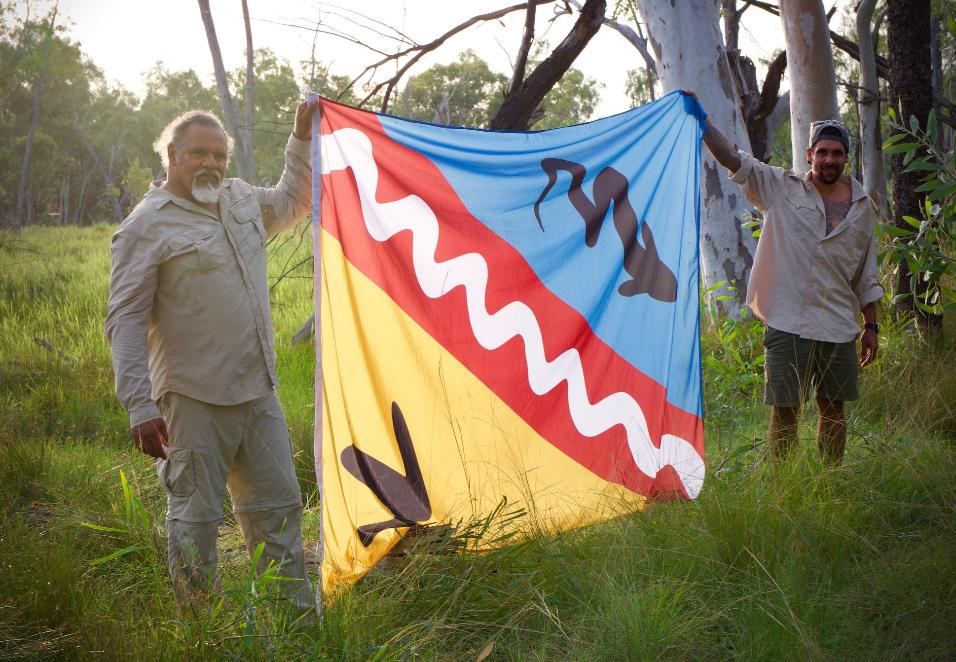 Adani Groundwater Plan Approval Flushes Farmers' Hopes For A Fair Go
Lock the Gate Alliance has condemned the Queensland Government's approval of Adani's deeply flawed Carmichael coal mine Groundwater Dependent Ecosystems Management Plan.
Central Queensland grazier Bruce Currie, whose groundwater will be put at significant risk should the mine be built, said it was
a kick in the teeth for all primary producers operating in the Galilee Basin.
The decision also comes at a time when 65 per cent of Queensland is drought declared.
"State and Federal politicians have ignored the scientists and pleas of farmers who are acutely aware of how much damage Adani's mine will have on vital underground water resources, including the Great Artesian Basin," Mr Currie said.
"We are sacrificing sustainable grazing land to greedy multinational mining companies so they can rip our resources out of the earth, and sell it overseas.
"Queensland
Premier Annastacia Palaszczuk's rhetoric about supporting people in the bush means nothing
if her government ignores farmers and scientists to rush through politically inconvenient and environmentally destructive projects like Adani.
"If this mine is built, there will be increased problems for the government as Adani will cause more catastrophes impacting farmers and the environment that so easily could have been avoided."
Lock the Gate Alliance Queensland spokesperson Ellie Smith said Adani's GDEMP was approved despite criticism from
independent scientists
and concerns over a lack of information from the
CSIRO
.
She said there had been
clear political interference
, and the scientific evidence showed there would be serious damage to underground water systems and unique Great Artesian Basin spring wetlands.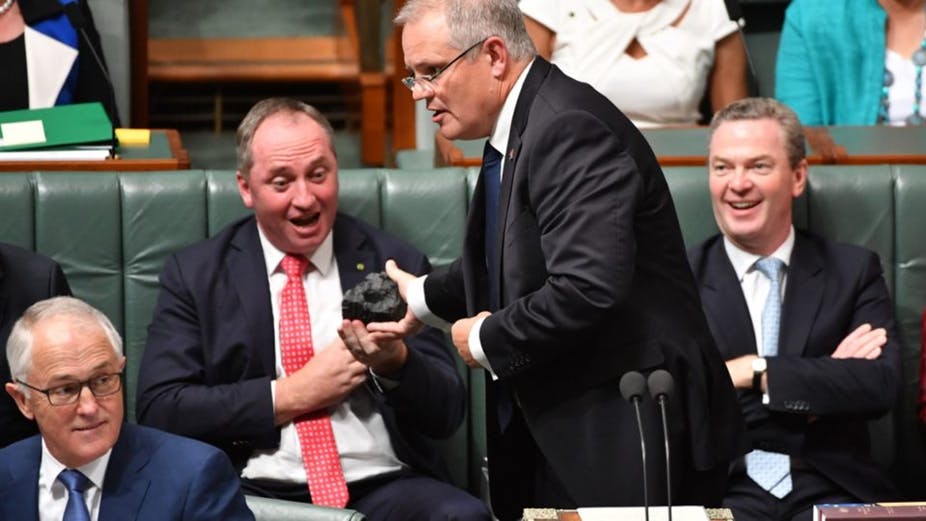 "CSIRO's previous assessment of Adani's water plan was scathing. It said Adani's modeling was not fit for purpose, and contained many errors and unreasonable assumptions. CSIRO warned this plan would fail to protect QLD's precious water resources," she said.
"Adani has also demonstrated through multiple failed attempts at its water plan that it has no idea where the source aquifer is for the ancient and unique Doongmabulla desert springs.
"Scientists are deeply concerned that these springs will dry up should the Carmichael coal mine be built.
"The Queensland community expected the Palaszczuk government to follow the law and science, not cave in to undue pressure from Adani.
"
Adani has broken Queensland laws and has shown it can't be trusted. It was only this year fined for allowing the release of coal laden water into the Caley Valley Wetlands
on the doorstep of the Great Barrier Reef."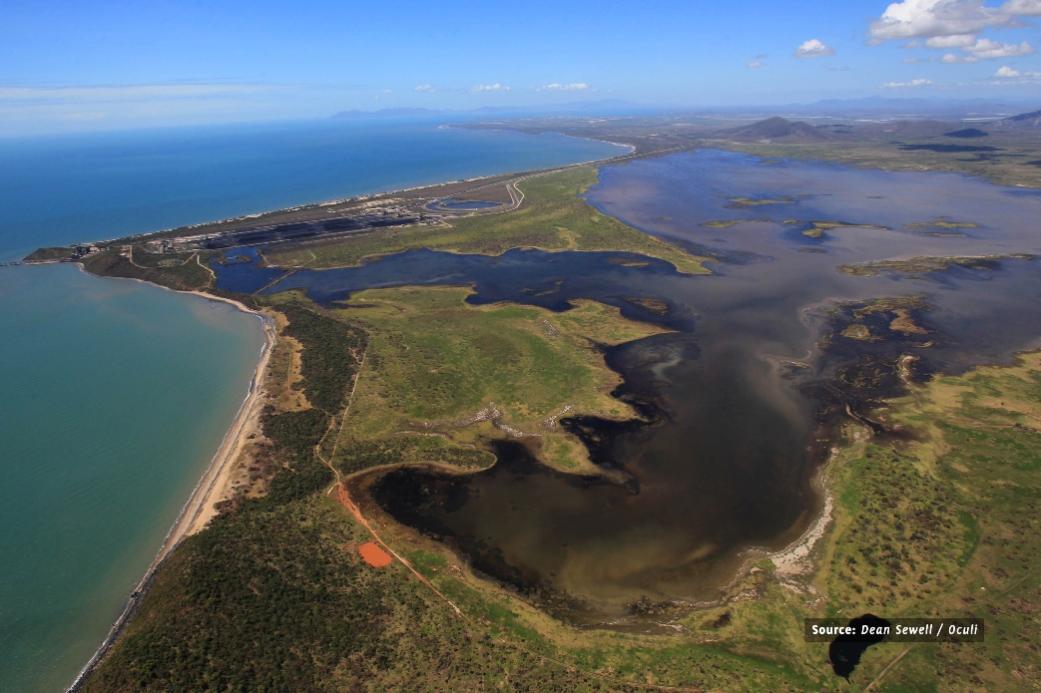 Adani Coal water run-off moving north-west into the wetlands and coal dust on the beaches from the Abbot Point coal loading facility. Photo: Dean Sewell
Where To On Adani?
June 14 2019: by Stop Adani Movement
Adani just got the last environmental approval they need to begin construction. What does that mean and where to from here?
The QLD Government - after intense pressure from Adani and the Murdoch press - has approved Adani's inadequate groundwater plan, which scientists say gives the Doongmabulla Springs an 8/10 chance of extinction, to add to the real-time extinction of the endangered Black-Throated Finch we will likely witness as a result of Adani's inadequate plan to manage its habitat.
What does this mean for Adani and for the millions of Australians who care deeply about stopping this mine?
The fight is far from over, but we need everyone who cares about solving the climate crisis to get involved. Please
sign the pledge
to do what it takes to stop Adani and share it with anyone who might want to sign.
Adani are framing this approval as their green light to start work, off the back of their relentless bullying campaign over the last year to pressure the Queensland Government to sign off. But there are a
number of obstacles
before major work can begin including:
The Wangan and Jagalingou Family Council have said no to Adani five times

, and their latest court appeal to Adani's sham Indigenous Land Use Agreement was heard last month by the full bench of the Federal Court. A decision is expected in late August-early September. This press release from W&J provides a general update on their ongoing struggle. You can donate to support their work here.

Adani needs two more federal approvals, and to act on two state requirements

, before it can begin mining coal, including Federal approval of the Great Artesian Basin Springs Research Plan and the Rewan Formation Connectivity Research Plan.
The Australian Conservation Foundation's court challenge to the Federal Government's decision to not refer the North Galilee Water Scheme project was successful, which sends that approval process back to the Morrison Government. Lawyers are looking into other possible legal actions including over both the Federal and Queensland Governments' rushed approvals of Adani's groundwater plan.

Adani has not yet clarified who will build the mine, or where the finances are coming from.

But we expect that despite many analysts speculating about whether or not the project will stack up financially, in short, any project can become financially viable with enough subsidies from the governments. With the election of governments in Australia and India that support Adani's coal expansion, we need to be on high alert that

Adani will be seeking taxpayer handouts

. This piece is helpful in understanding some of the dynamics.
While
the federal election is being framed by the coal lobby and the Murdoch press as a "mandate for coal and to dig Adani"
we know that is far from true.
Two thirds of Australians oppose the mine
, and plenty of people voted for more climate action all around the country. In places where we worked, there were swings to candidates who stood strongly on platforms to stop Adani and move Australia beyond coal, and away from those who didn't.
The #StopAdani movement's goal has always been to protect people from the worsening impacts of the climate crisis by stopping the expansion of coal -- the number one driver of global warming. Our movement has been working to keep Galilee Basin coal in the ground for seven years. The #StopAdani alliance launched in early 2017 after Matt Canavan promised $1 billion of taxpayer funds for the project, and Annastacia Palaszczuk declared the project 'critical infrastructure'. We weren't sure how would win then, but people power stopped that loan and saw Australia's big 4 banks and over 50 financial institutions, insurers and contractors rule out or stop supporting the project.
It's going to be tough, but people power has stopped Adani for seven years, and that's what's going to stop it now.
We can do this - and we need to do it together. Here's what you can do right now:
Our movement is going to use this moment to build a stronger, more powerful movement for climate justice. Because when it comes to solving the climate crisis -- failure is not an option.
Sydney #StopAdani Assembl
y
After the shock result of the Federal Election it's time for the StopAdani movement to regroup, reflect and re-energise our efforts to stop the mega coal mine once for all.
The StopAdani Assembly is for people from across NSW and ACT to:
deepen connections between the 50+ groups in our region
finalise our evaluation of the election and
get the most up to date analysis on Adani's progress and the options available to stop the mine
discuss and shape the national and local strategies that will help grow an even bigger and boulder movement for climate action.
[We highly recommend attending both days if you can. If you can only attend one, we'd recommend the Saturday.]
Day 1 Saturday 29 June, 9am-5pm
Focussed on evaluating and learning from the unexpected election outcome. Then developing the national and local strategies to #StopAdani and continue building momentum to keep fossil fuels in the ground and a fair transition to clean energy.
Day 2 Sunday 30 June, 9am-3pm
Locking in a timeline of actions, events and community organising for the next 6-12 months. Workshops on key skills we'll need for the work ahead.
ACCOMMODATION: We won't be organising shared accommodation but if you are coming out of town and need accommodation, tick that option on the registration form and we will find a local #StopAdani legend to host you!
TRAVEL: If you are coming from out of town and require travel assistance to attend please tick that box on the
registration form
and we will endeavour to help.
FOOD: Morning tea, lunch and afternoon tea will be provided both days. We'll plan a shared dinner somewhere on the Saturday night.
COST: We don't want cost to be a barrier for anyone attending, but a donation of $10 per day or more if you can afford it will help us cover the costs of catering and hiring the venue.
MORE HERE
Date And Time
Sat., 29/06/2019, 9:00 am –
Sun., 30/06/2019, 3:00 pm AEST
Location
Rex Centre
58-60 MacLeay Street
Potts Point
Federal Environment Minister Approves Adani Water Plan Without CSIRO And Geoscience Australia Concerns Being Addressed: April 2019
Groundwater studies by the CSIRO reveal the modelling used by consultants ahead of the federal government's decision to approve Adani's Carmichael mine "was not suitable to ensure the outcomes" needed to meet Australia's environmental legislation.
"A number of limitations were also identified in the proposed monitoring and management approaches indicating they are not sufficiently robust to monitor and minimise impacts to protected environments," the CSIRO's February 2019 groundwater studies found.
Adani was required to identify the source of the underground aquifer connecting the Great Artesian Basin to the threatened Doongmabulla Springs to the south-west of the mine, it must keep impact on water flowing from those underground bores to under 20 centimetres and it must satisfy protection of the black-throated finch.
The CSIRO is satisfied Adani identified the source of the aquifer.
However, it questions the impact on the Doongmabulla Springs.
In November 2018, Adani's nominated consultants Eco Logical reported the impact on one section of the crucial Doongmabulla Springs was 19 centimetres. That was reported last month in the Brisbane Times.
In February, the CSIRO raised similar concerns and questioned whether the modelling was accurate enough to make detailed predictions.
"In particular, the SEIS model under-predicts groundwater drawdown arising from mine development for the following reasons," the report found.
Specifically, it "questions the accuracy of the 0.19m predicted drawdown at the Doongmabulla Springs complex (DSC) by the SEIS model".
After February 29, the department met with Adani staff to establish a regime of extra testing, with
CSIRO writing a letter
clarifying its support on April 5.
The letter, from CSIRO director Land and Water, Jane Coram, notes some issues "still need to be addressed".
"CSIRO is of the view that Adani's responses should satisfy the recommendations to update the groundwater models and are directed to address the modelling-related issues and concerns raised in our advice, noting that there are still components of that advice that will need to be addressed."
The CSIRO recommended the model used must be recalibrated because when the tests were re-run they predicted "less drawdown at the Doongmabulla Springs Complex (DSC) and more baseflow depletion in the Carmichael River than the (particular-selected) model".
"The model used by the [groundwater management plan] is considered to be the most conservative of the available model scenarios as it predicts the greatest impacts from the mine development in all aquifers.
"However, being the best choice of available model runs for use in the [plan] does not mean that this model run is considered to be fit-for-purpose, as outlined in the following sections."
Despite these specific issues that "still need to be addressed" the federal

environment

minister

, on the eve of the federal

election being announced, thus dissolving Parliament

, approved the Adani water

management

plans with her

interpretation being that Adani may rerun the modelling and address CSIRO and Geoscience Australia's concerns 'within two years of the commencement of coal extraction' -

not prior to, but after.
The timing of this week's election announcement means CSIRO and Geosciences Australia will not be able to be questioned over their recent report on the Adani mega mine at Senate Estimates.

Critics this week are likening the approval to
that
commensurate
with the
approvals
given
to the huge
conglomerates
of cotton farmers whose rights to take massive
amounts
of water from the Darling River are cited as one of the main reasons
that
river is now dying.
RMIT hydrology expert Dr Matthew Currell said, "Adani is yet to conduct the detailed science required to identify the springs' source aquifer and its monitoring plans risk potentially missing impacts that cause irreversible damage to them.
"Possible impacts include drying up of spring wetlands and reduced flows of groundwater to spring vents and pools, which could lead to irreversible ecological and cultural damage.
"The CSIRO review identified significant shortcomings with Adani's groundwater model, including that it underestimates the drawdown on the springs and the Carmichael River, and it is very unclear what Adani is going to do in response."
Environment Groups are
appalled
at the announcement, with one, Lock the Gate, calling for the decision to be investigated.
"We need a national corruption body and an urgent investigation into how this deeply flawed approval was granted."
Carmel Flint of Lock the Gate said on Wednesday, April 10th.
"The Prime Minister and the Environment Minister have caved in to pressure from Adani and their political backers in the Liberal National Party, and sold Queenslanders down the river.
"There has been blatant political interference in relation to this issue over the last week, with LNP threats against the Environment Minister and hurried meetings between the Adani CEO with the Prime Minister"
Lock the Gate Alliance spokesperson Carmel Flint said
"Adani's Federal approval effectively requires them to restrict drawdown in the Doongmabulla Springs to 20cm.
"However, in Appendix B of the report, CSIRO states that if hydraulic conductivity values in the groundwater model are adjusted to better reflect expected values, then 'the drawdown at the springs would be greater than 0.2m'.
"Therefore, the CSIRO report foreshadows very strongly that the key restraint contained in the approval to protect the Great Artesian Basin Springs cannot be met."
Ms Flint said, as a result, the rushed decision prior to the election was clearly based on political considerations, not on science.
"The Adani mine puts at risk 187 unique Great Artesian Basin spring wetlands which are vital to graziers and wildlife in Central Queensland.
"Independent water experts have identified glaring failures with the water plan and Adani have still not done the research recommended by Great Artesian Basin spring experts in 2016.
"Minister Price's own department also released new research late last year which showed that there was likely to be much greater losses of groundwater due to mining in the Galilee Basin than predicted by Adani."
"We'd like to see the Federal Labor party commit to review all of Adani's environmental approvals thoroughly if it is elected to government, in light of the appalling political interference by LNP politicians that has dogged this water plan," she said.
The federal environment minister's media release announcing the water approval for Adani goes on record below:
Independent Assessment By CSIRO And Geoscience Australia For Groundwater Management Plans
Media release: 9 April 2019 - The Hon. Melissa Price MP, Minister for the Environment
CSIRO and Geoscience Australia have independently assessed the groundwater management plans for the
Carmichael Coal Mine
and Rail Infrastructure project.
Both CSIRO and Geoscience Australia have confirmed the revised plans meet strict scientific requirements.
Following this independent assessment and the Department of the Environment and Energy's recommendation for approval, I have accepted the scientific advice and therefore approved the groundwater management plans for the Carmichael Coal Mine and Rail Infrastructure project under the Environment Protection and Biodiversity Conservation Act 1999.
This decision does not comprise the final approval for this project.
The Project now requires further approvals from the Queensland Government prior to construction commencing. To date, only 16 of 25 environmental plans have been finalised or approved by the Commonwealth and Queensland Governments with a further 9 to be finalised.
It must meet further stringent conditions of approval from the Commonwealth before it can begin producing coal.
This project has been subject to the most rigorous approval process of any mining project in Australia.
Approvals for the project by the Commonwealth in 2015 and the Queensland State Government in 2016 resulted in the setting of 180 strict conditions to protect the environment.
The Project's water management plans have been thoroughly assessed by the Department of the Environment and Energy, which commissioned independent technical advice from Geoscience Australia and the CSIRO.
That advice identified areas of groundwater modelling, monitoring and management that required further work.
That advice recommended a number of actions, which the Company has accepted in full, including:
A substantial increase of early warning monitoring between the mine and the Doongmabulla Springs using additional deeper bores and an additional bore site to monitor flows
Tightened corrective action triggers requiring an immediate response to any unexpected groundwater impact
Commitments to re-run the model addressing all Geoscience Australia and CSIRO concerns

within two years of the commencement of coal extraction

(noting there are no predicted impacts to nationally protected matters within 15 years).
Geoscience Australia and the CSIRO have provided written assurances that these steps address their recommendations.
The advice from Geoscience Australia and CSIRO has been provided to the Queensland Government.
This process reflects our commitment to ensuring robust environmental protection
while balancing the needs of Australia's economy.
This is a commercial project
.
The Australian Government is not providing any financial support to the mine or to its rail project.
Undocumented Plant Extinctions Are A Big Problem In Australia – Here's Why They Go Unnoticed
Adjunct Professor and Research Associate, University of Western Australia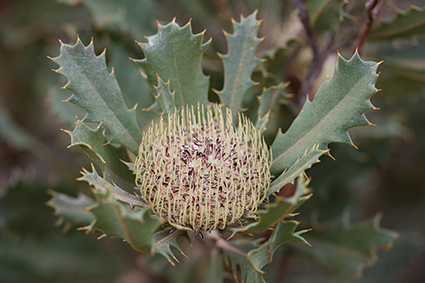 Matchstick banksia (Banksia cuneate). There are only about 500 of these plants left in the wild at 11 different sites, with much of its habitat having been historically cleared for agriculture. Andrew Crawford/Threatened Species Hub
A
recent survey
on the world's plants found a shocking number have gone extinct – 571 since 1750. And this is likely to be a stark underestimate. Not all plants have been discovered, so it's likely other plants have gone extinct before researchers know they're at risk, or even know they exist.
In Australia, the situation is just as dire. The Threatened Species Recovery Hub recently conducted two evaluations that aren't yet published of extinct plants in Australia. They found 38 have been lost over the last 170 years, such as the Daintree River banana (Musa fitzalanii) and the fringed spider-orchid (Caladenia thysanochila).
Read more: 'Plant blindness' is obscuring the extinction crisis for non-animal species
But uncertainty about the number of plant extinctions, in addition to the 38 confirmed, is an ongoing concern.
Both studies pointed out the actual number of extinctions is likely to be far more than those recognised in
formal lists
produced by the Commonwealth and state and territory agencies.
Dark-bract banksia (Banksia fuscobractea) Fewer than 100 plants remain in the wild. It's only found at two road-side sites about 125 km north of Perth. A major cause of the plants decline has been the clearing of the surrounding landscape for agriculture. Andrew Crawford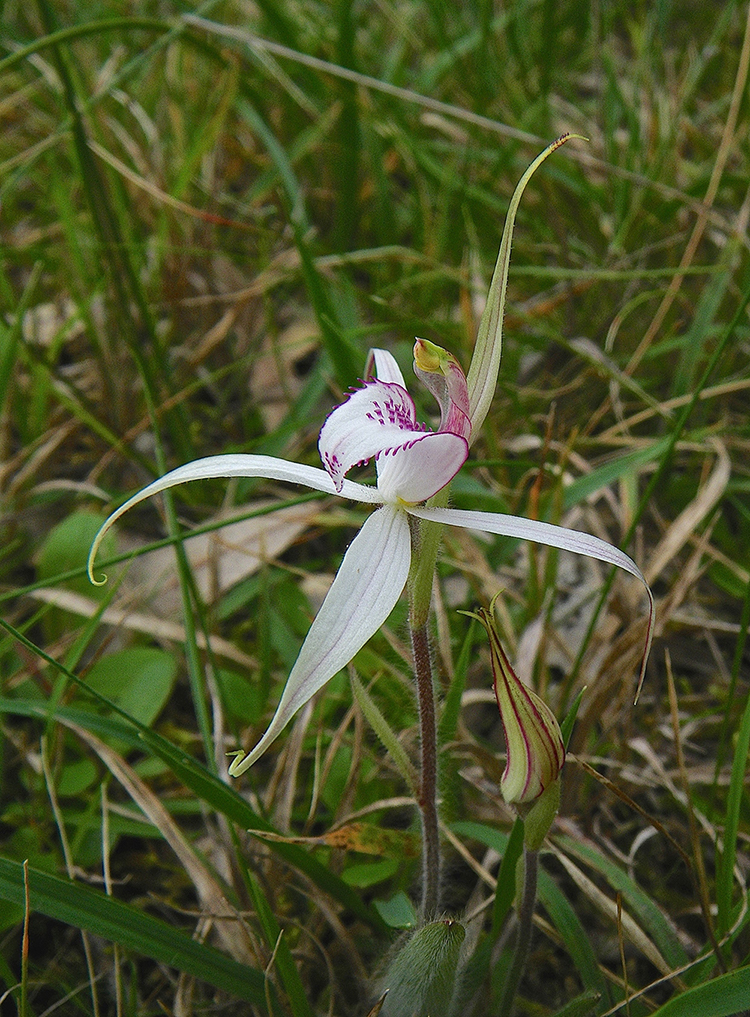 Dwarf spider-orchid (Caladenia pumila). Thought extinct for 80 years then rediscovered 10 years ago. There are only two plants left in the wild. Continuing effort by the native orchid conservation program at the Royal Botanic Gardens Victoria has resulted in approximately six adult plants now in the nursery, bring the world population to almost ten. John Eichler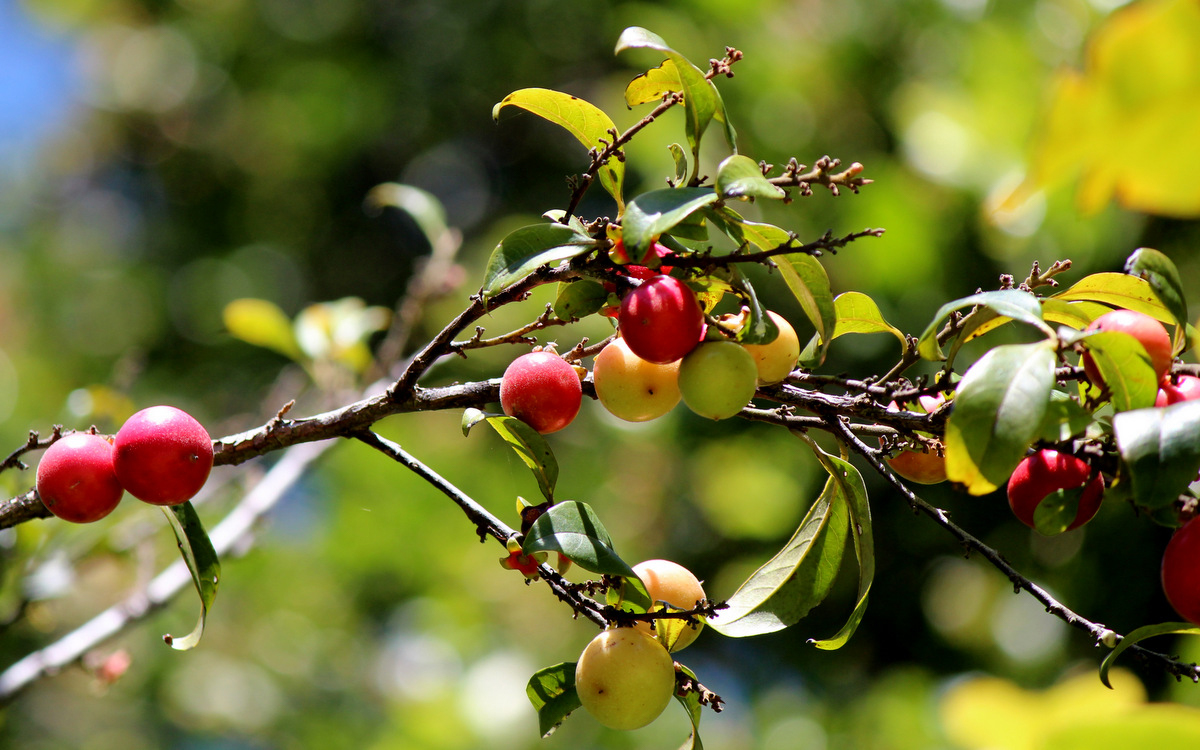 Red-fruited ebony (Diospyros mabacea). A subtropical rainforest tree that often grows near rivers, this plant is found in a few stands around Mullumbimby. Threats include clearing for agriculture and trampling by livestock. Pete the Poet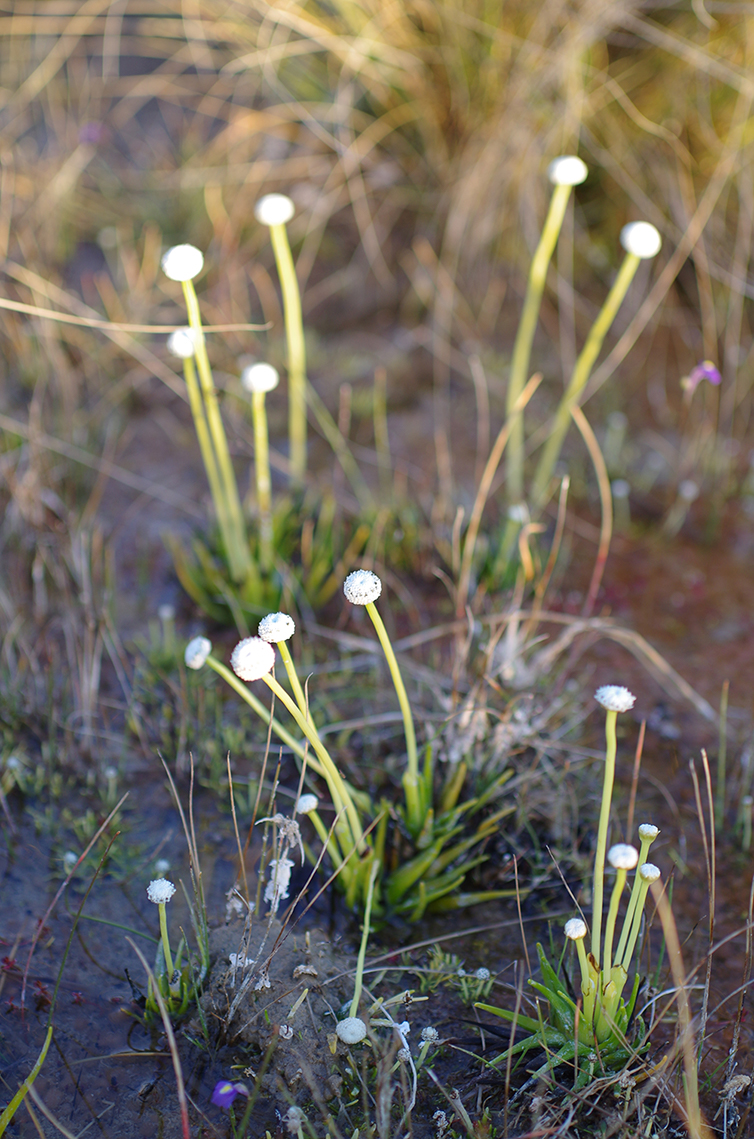 Aloe-leafed pipewort (Eriocaulon aloefoliu). This aquatic plant species is only found at a single spring wetland in central Queensland. Habitat damage by pigs is an ongoing threat to the remaining wetland. Rod Fensham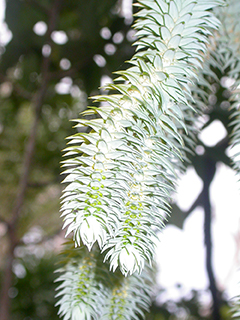 BlueTassel-fern (Phlegmariurus dalhousieanus). A fern which grows attached to trees or rocks, it's found in the Wet Tropics of Cape York. Only a few small populations remain, some core habitat has been lost to urban development. Illegal collection, both by the nursery trade and plant enthusiasts is a key threat to the plant. It has not yet been successfully cultivated by nurseries. Ashley Field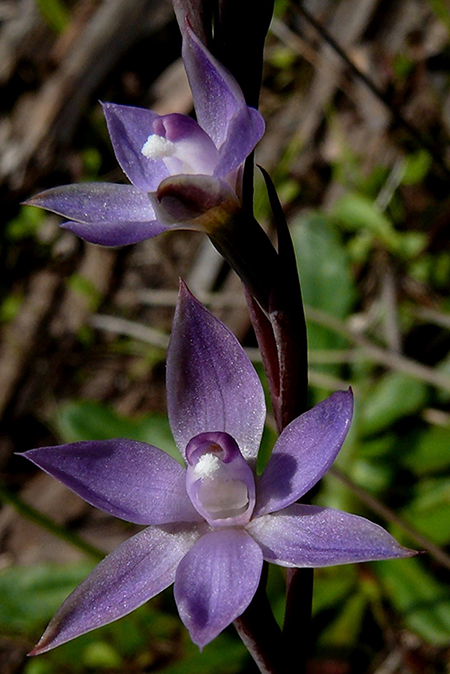 Blue top sun-orchid (Thelymitra cyanapicata). This orchid is known from only one location on the Fleurieu Peninsula south of Adelaide with approximately 130 individual plants. They grow in manna gum swampy woodland. The species was a traditional food resource for local Indigenous people, having an edible underground tuber. Bob Bates

For example, there is still a high rate of discovery of new plant species in Australia. More than 1,600 plants were discovered between 2009 and 2015, and an estimated 10% are still yet to be discovered.
The extinction of Australian plants is considered most likely to have occurred in areas where there has been major loss and degradation of native bushland. This includes significant areas in southern Australia that have been cleared for agriculture and intensive urbanisation around major cities.
Many of these extinct plants would have had very restricted geographic ranges. And botanical collections were limited across many parts of Australia before broad scale land clearing and habitat change.
Why extinction goes undocumented
There is already one well recognised Australian plant extinction, a shrub in Phillip Island (Streblorrhiza speciosa), which was never formally recognised on any Australian threatened species list.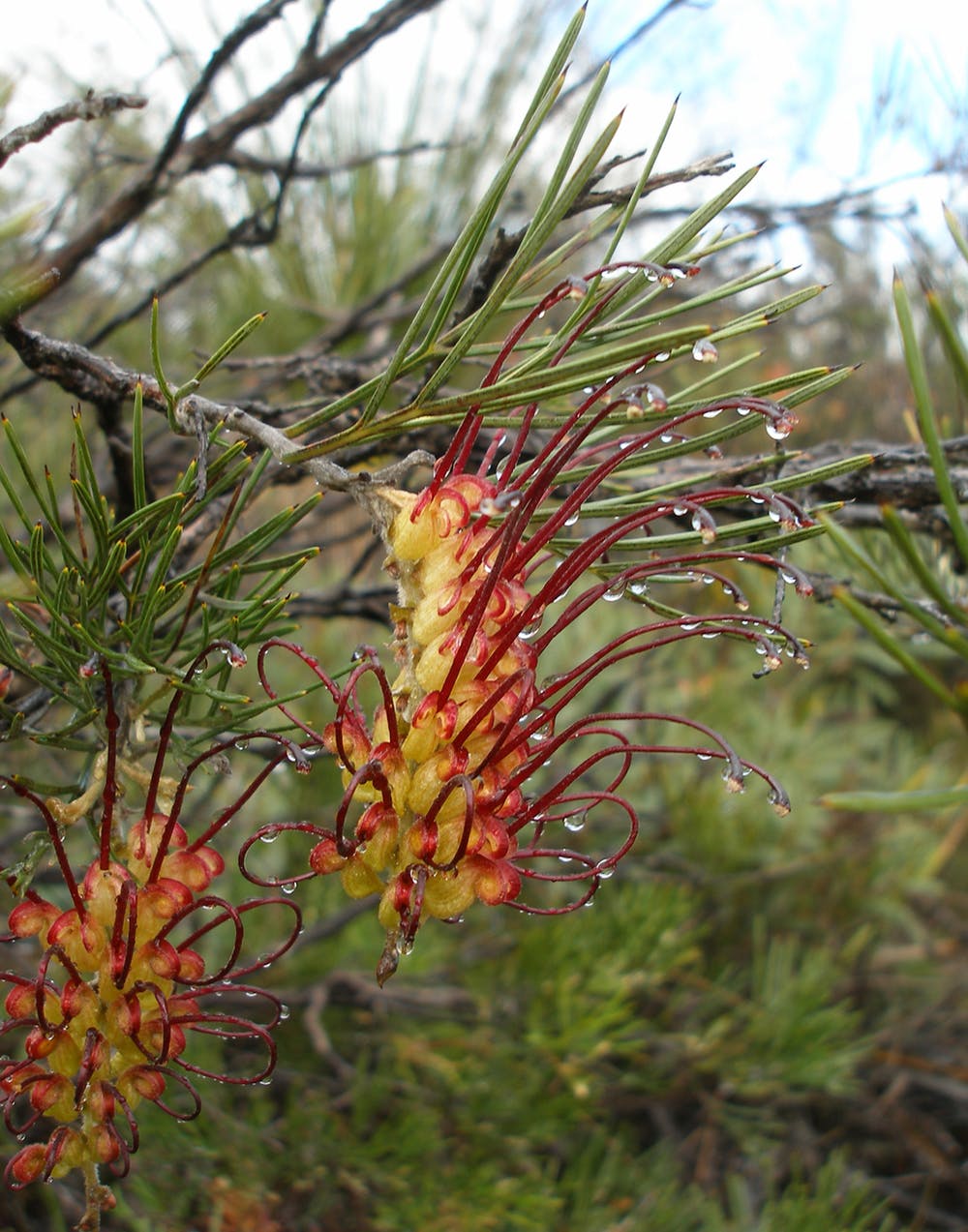 Black magic grevillea (Grevilla calliantha) is known from only six populations within a range of 8 square kilometres. In the wild the species is threatened by frequent fire, habitat loss, invasive weeds, herbicide overspray, grazing animals and phytophthora dieback. Dave Coates
Researchers also note there are Australian plants that are not listed as extinct, but have not been collected for 50 years or more.
While undocumented extinction is an increasing concern, the recent re-assessment of current lists of extinct plants has provided a more positive outcome.
The re-assessment found a number of plants previously considered to be extinct are not actually extinct. This includes plants that have been re-discovered since 1980, and where there has been confusion over plant names. Diel's wattle (Acacia prismifolia), for instance, was recently rediscovered in Western Australia.
Read more: 'Revolutionary change' needed to stop unprecedented global extinction crisis
A significant challenge for accurately assessing plant extinction relates to the difficulties in surveying and detecting them in the Australian landscapes.
Many have histories associated with fire or some other disturbance. For example, a number of plants spend a significant part of their time as long-lived seeds – sometimes for decades – in the soil with nothing visible above ground, and with plants only appearing for a few years after a fire.
But by far, the greatest reason for the lack of information is the shortage of field surveys of the rare plants, and the availability of botanists and qualified biologists to survey suitable habitat and accurately identify the plants.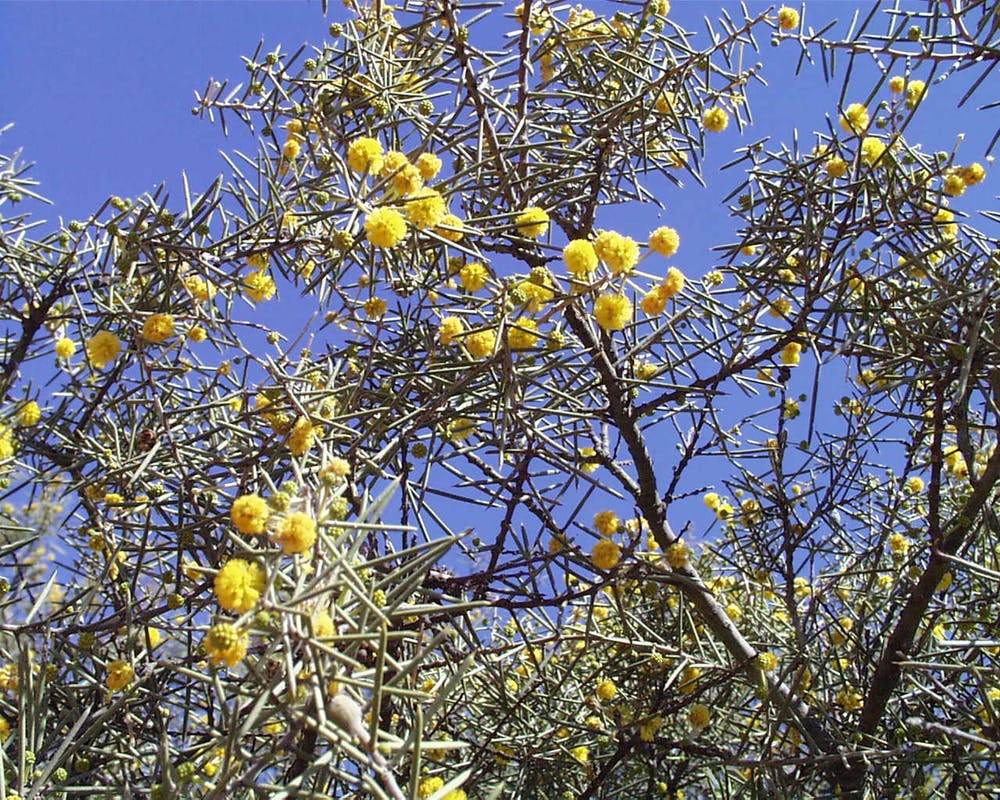 Purple-wood wattle (Acacia carneorum) is slow growing and rarely produces viable seed. Threats are not well understood but grazing by livestock and rabbits is likely to impact on the species. Andrew Denham
The continuing decline of Australia's threatened plants suggests more extinctions are likely. But there have been important achievements and lessons learnt in dealing with the main causes of loss of native vegetation.
Our understanding of plant extinction processes – such as habitat loss, habitat degradation, invasive weeds, urbanisation, disease and climate change – is improving. But there is still a significant way to go.
Read more: How I discovered the Dalveen Blue Box, a rare eucalypt species with a sweet, fruity smell
One challenge in dealing with the causes of Australian plant extinction is how to manage introduced diseases.
Two plant diseases in particular are of major concern: Phytophthora dieback, a soil-borne water mould pathogen, and Myrtle rust, which is spread naturally by wind and water.
Both diseases are increasingly recognised as threats, not only because of the impact they are already having on diverse native plant communities and many rare species, but also because of the difficulties in effective control.
Two Australian rainforest tree species Rhodomyrtus psidioides and Rhodamnia rubescens were recently listed as threatened under the NSW legislation because of myrtle rust.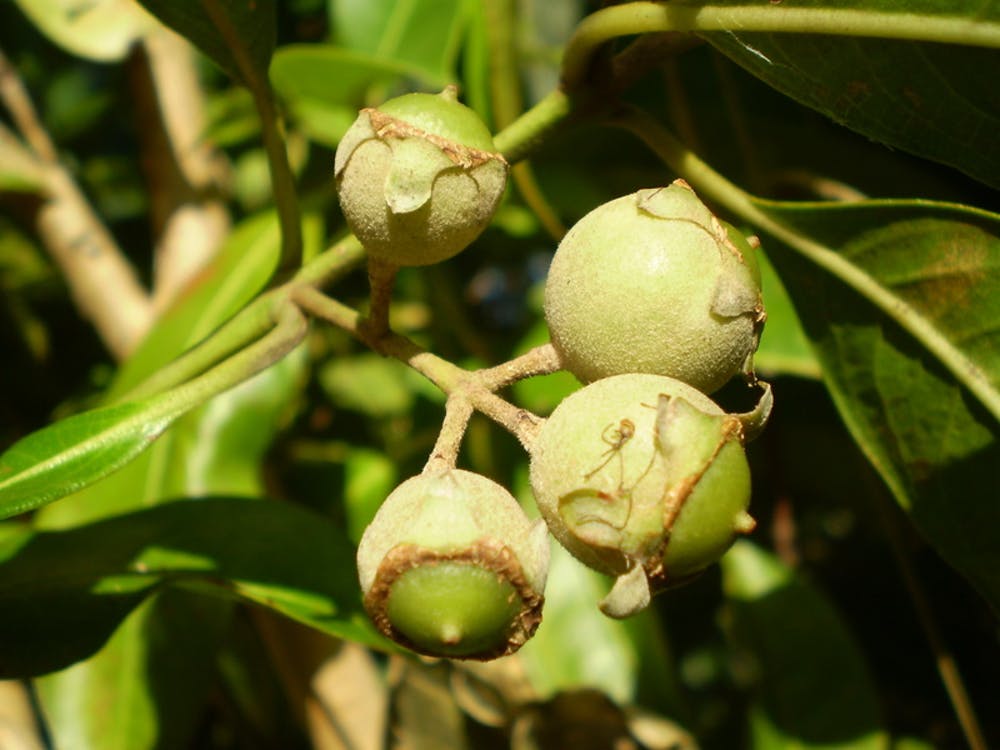 Native guava (Rhodomyrtus psidioides) A tree species around the margins of rainforest between the NSW and the QLD border. The species is has now been listed as Critically Endangered. Surveys of rainforest areas infected with Myrtle Rust found that 50 to 95% of native guava trees were killed by the disease within a few years. Zaareo/Wikimedia
While extinction associated with disease is often rapid, some individual plants may survive for decades in highly degraded landscapes, such as long-lived woody shrubs and trees. These plants will ultimately go extinct, and this is often difficult to communicate to the public.
While individual species will continue to persist for many years in highly disturbed and fragmented landscapes, there is little or no reproduction. And with their populations restricted to extremely small patches of bush, they're vulnerable to ongoing degradation.
Read more: How many species on Earth? Why that's a simple question but hard to answer
In many such cases there is an "extinction debt", where it may take decades for extinction to occur, depending on the longevity of the plants involved.
But it's not all doom and gloom. A recent study found of the 418 threatened Australian plants showing ongoing decline, 83% were assessed as having medium to high potential for bouncing back.
And with long-term investment and research there are good prospects of saving the majority of these plants.
This article first appeared in
The Conversation
. republished under a Creative Commons licence.
Koala Drinking Stations Can Reduce Impact Of Climate Change
June 5th, 2019: University of Sydney
A long-held view that koalas get all their hydration from eating leaves has been overturned by new research published today from Dr Valentina Mella and colleagues at the University of Sydney.
The study in PLOS ONE offers hope in the fight to conserve this threatened species, with researchers finding that koalas will regularly use artificial water stations, particularly during hot and dry conditions.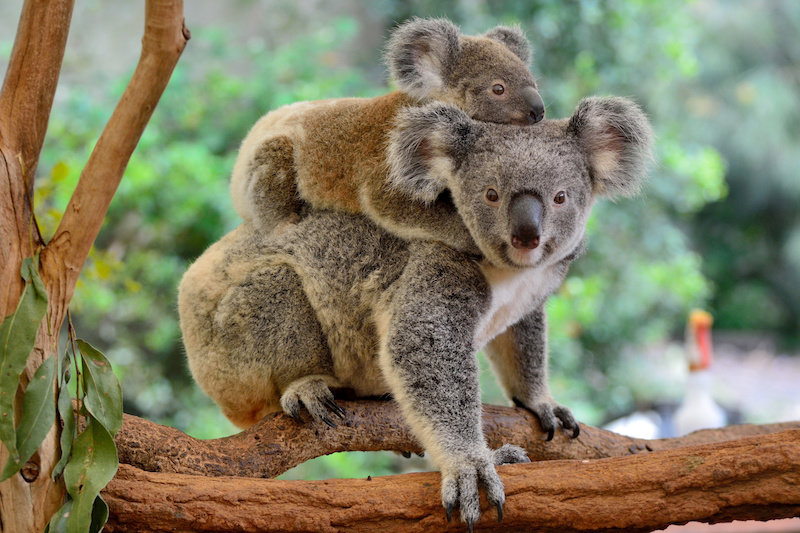 Koalas (stock image). Credit: © Alizada Studios / Adobe Stock

"Drinking stations could help koalas during heat and drought events and might help mitigate the effects of climate change," said Dr Mella from the School of Life and Environmental Sciences.
Dr Mella also said drinking stations could prove a useful strategy to support other arboreal folivores such as gliders and possums in Australia and sloths, lemurs and some monkeys on other continents.
Koala populations along Australia's east coast have been declining due to lost habitat from deforestation, diseases such as chlamydia, attacks from feral animals, fire and vehicle collisions.
The Australian Department of Environment estimates that combined koala populations in Queensland and New South Wales declined from 326,400 in 1990 to 188,000 in 2010, a drop of 42 percent.
However, koalas are also particularly vulnerable to the effects of climate change, suffering heat stress, Dr Mella said, and because the trees they rely on are affected by temperature and rainfall change.
Koalas can't simply eat more leaves to compensate for reduced water content in their favourite food. This is because koalas are limited in their food intake by leaf toxins.
"It is predicted that increased CO2 emissions will increase the level of phenolics and tannins in eucalyptus leaves," Dr Mella said. "This means koalas will need alternative strategies to find water -- and that's where we can help with drinking stations."
Dr Mella has been conducting field work in Gunnedah in western NSW where, in 2009, a heat wave killed an estimated quarter of Gunnedah's koala population.
"We weren't sure if the water stations could be used to mitigate the impact of extreme weather events," Dr Mella said. "But our results clearly show koalas will regularly use these stations to supplement their water needs."
During the first 12 months of the study, Dr Mella and her team recorded 605 visits to 10 pairs of water stations, with 401 of these visits resulting in koalas drinking.
They found that the total number of visits and total time drinking doubled during summer compared to other seasons.
"Frequent access to water may be fundamental for koalas to assist thermoregulation when temperatures are high," Dr Mella said.
Initial findings about koalas' drinking behaviour were announced in 2017 with videos that showed widespread use of water by the iconic mammals, particularly during drier periods.
The release of these findings prompted a successful fundraising campaign at the University to support further research into koala conservation that raised more than $150,000.
Dr Mella's study has influenced the direction of state and national koala research, with water supplementation adopted by the NSW Office of Environment and Heritage, included as a specific feature of the NSW Koala Research Strategy and used by the North West Local Land Services as a central concept to koala management on private properties.
These results also prompted Campbelltown council in Adelaide to install drinking stations for koalas.
"We need to monitor how effective these are -- as the stations can also attract feral animals and predators. Fortunately, we haven't seen any deaths from predators near the drinking stations in Gunnedah," Dr Mella said.
To mitigate this risk, her team has now developed drinking stations that are inaccessible to ground-based predators.
"Our next steps will be to see if disease, such as chlamydia, influences koala drinking behaviour," Dr Mella said. "And we will also monitor individual koalas to examine these drinking behaviours over a longer time period."
Valentina S. A. Mella, Clare McArthur, Mark B. Krockenberger, Robert Frend, Mathew S. Crowther.
Needing a drink: Rainfall and temperature drive the use of free water by a threatened arboreal folivore.
PLOS ONE, 2019; 14 (5): e0216964 DOI:
10.1371/journal.pone.0216964
Are You Koalified To Report Wildlife Sightings?
By NSW Office of Environment & Heritage
NSW communities are being asked to share where they have seen wildlife around New South Wales, over the last 2 years, as a new online Community Wildlife Survey launched 24 May.
"We want to know about your sightings of brushtail possums, foxes, platypus, wombats, koalas, spotted-tailed quolls, kangaroos, deer and dingos," said Dr Tom Celebrezze, Science Director, Office of Environment and Heritage.
"Whether you see a possum, a wombat whilst out working, or a koala during your holiday, every sighting helps to understand where in New South Wales these animals are living and how their populations are faring.
"Community wildlife sightings are hugely valuable to researchers and they give local communities a chance to share what is happening with the wildlife in their area.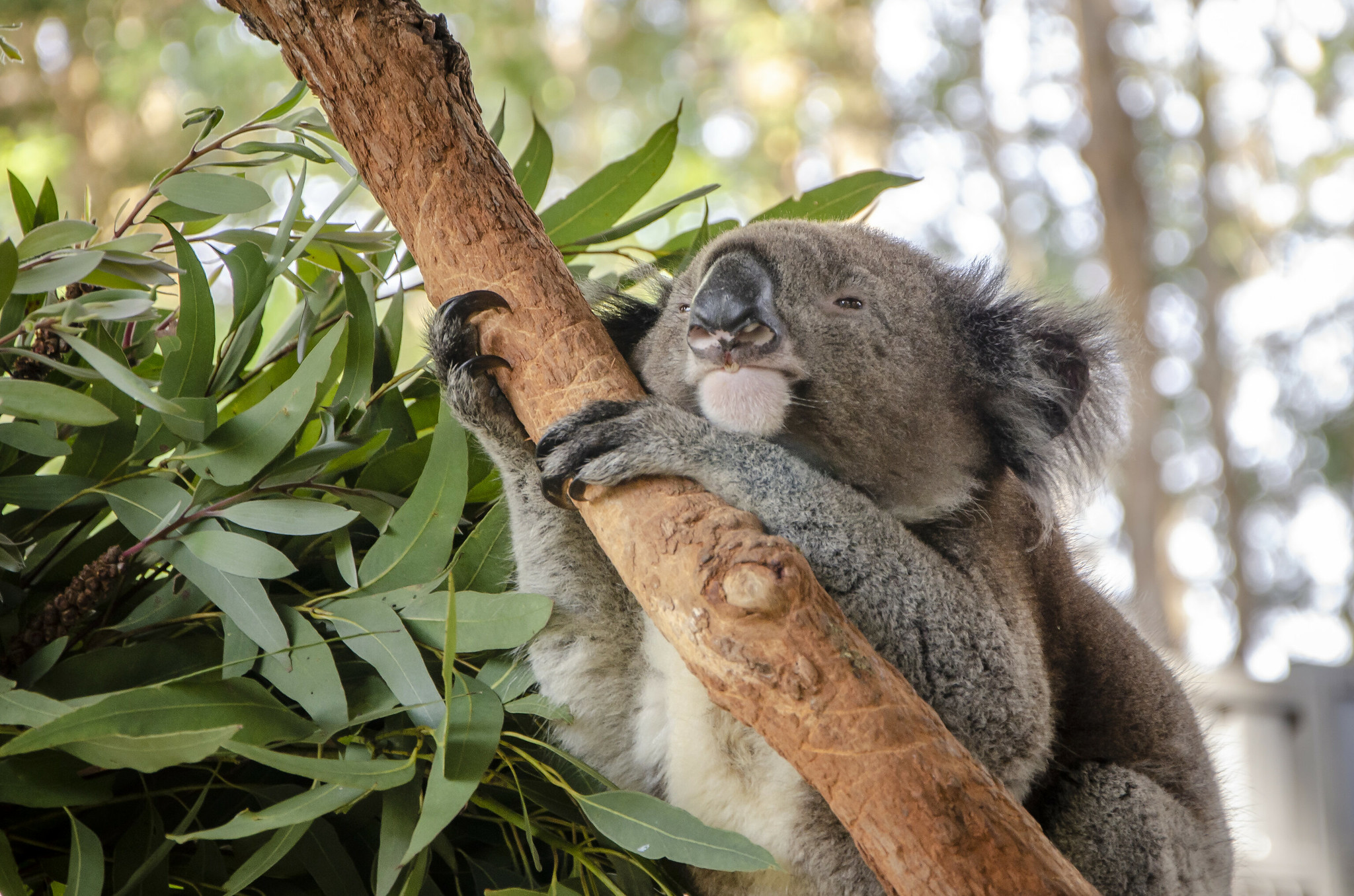 Koala, Macquarie Nature Reserve - Photo credit John Spencer, OEH

"This rich data source helps scientists to get a better view of wildlife across New South Wales and gain a clearer understanding of where these animals are, their health, and any threats," said Dr Celebrezze.
The survey, conducted by the Office of Environment and Heritage (OEH), asks contributors to record sightings of 10 key animals, over the last 2 years, wherever they have been seen across New South Wales.
Mr Celebrezze said the survey also draws on community knowledge, asking contributors if they think populations are increasing, decreasing or staying the same in their local area.
"Scientists will use the data to look at how the populations of the 10 animals have changed since the last survey in 2006," said Dr Celebrezze.
"Back in 2006 more than 16,000 people shared their wildlife sightings and the data generated played a vital role in understanding more about the location and status of animals in New South Wales, helping to shape research and conservation priorities for the State.
"We are keen to get a similar number of survey participants this year, if not more.
"The survey is being funded as part of the $44.7 million NSW Koala Strategy, that will help secure the future of koalas in the wild. Data from this year's survey can help identify sites for priority action under the NSW Koala Strategy as well as forming part of koala monitoring across the State.
"I encourage every NSW resident who has seen one of the 10 animals over the past 2 years in New South Wales, to share their sightings and wildlife information through the survey.
"It only takes 10 to 20 minutes to complete. It's a great opportunity to help build knowledge about wildlife in your local area," said Dr Celebrezze.
Access the new wildlife survey here: Community wildlife survey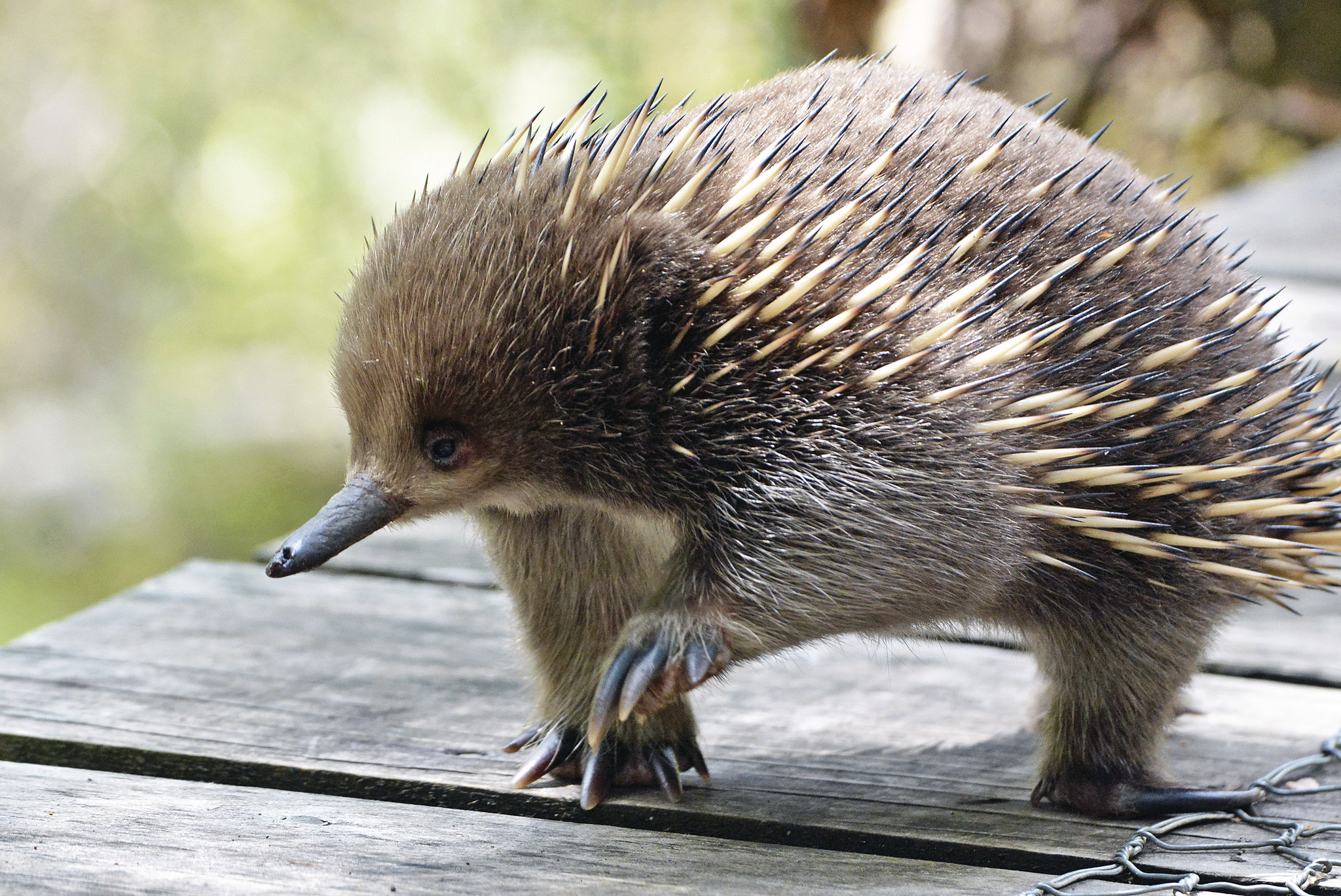 Short Beaked Echidna. Photo credit Sharon Wormleaton, OEH
Organics Collections Grants Now Open
Applications are now open for Round 7 of the Organics Collections grants.
This eight-year, $27 million program funds new or improved local council household kerbside collection services for food and garden organics, including collection systems for garden only, food waste, or a combination of both.
Grants of up to $1.3 million are available for bins, kitchen caddies and education for councils (or groups of councils) to introduce new food and garden waste collection services. Funding is also available for trials and system roll outs for source separated organics collections in multi-unit dwellings.
Businesses and councils with projects that involve collection of food waste from businesses are also eligible for funding, with up to $500,000 available for 50% of the cost of collection vehicles, bins and expert advice.
Applications close at 3pm on 27 June 2019.
Six Forgotten Wood Giants
With Council getting closer to putting a call out for sculptures and statues for a walking trail that will stretch from Palm Beach to Manly Pittwater Online is investigating examples from here in Australia and overseas. This week a lovely example from the wooded places around Copenhagen. Next week an insight into some cows that stand in bronze before the new Camden council chambers and tell a story of the Cowpasture road.
It's a way to start thinking about what treasures could stand as markers along our ways - things that relate to and celebrate our indigenous peoples, our history, our environment, our people - OUR Place.
Check this out:
Danish artist
Thomas Dambo
creates larger than life sculptures hidden around his hometown of Copenhagen.
His sculptures require secret poems and clues in order to locate them. He says each has its own treasure map or poem engraved into stone to steer people onto unfamiliar paths where they'll discover them.
Each is made of recycled wood consisting of roughly 600 pieces taken from pallets, fences, and even an old wooden shed. With the help of local volunteers, Thomas was able to complete his series of giant wooden sculptures.
All six sculptures are part of the first chapter of Thomas Dambo's ongoing story: "The great story of the little people and the giant trolls".
The project wants to bring art out of the museum, show the beautiful and often overlooked nature spots, and at the same time give an exciting and different experience.
Høje Taastrup, 2016
Teddy Friendly is a recycle sculpture Thomas Dambo made as a part of the larger project "Forgotten Giants". The project consists of 6 large sculptures made in the outskirts of Copenhagen. Common for all sculptures is that they are made solely from local scrapwood and recycled materials, and made in a hidden beautiful location. This way it invites the viewers to go on a treasure hunt, not only to see the sculptures, but also to discover hidden gems in nature.

Teddy friendly is made from local scrapwood, including cut offs from cut down local trees, which has been used for his fur. He is standing at a water stream, at a lake holding out his hand helping people to cross.
The Thomas Dambo team had help from a local activation center, which provided four unemployed people and a teacher to assist in building the sculpture. The teachers name was Teddy, he was a super friendly and hardworking guy, and together with his team he made a huge effort, therefore Thomas Dambo decided to name the sculpture after him.
Little Tilde is located in the area of Vallensbæk Mose, a beautiful area filled with wild nature and animal life. She watches through the trees at the other side of a small lake, from where you will be able to catch a glimpse of her at a distance.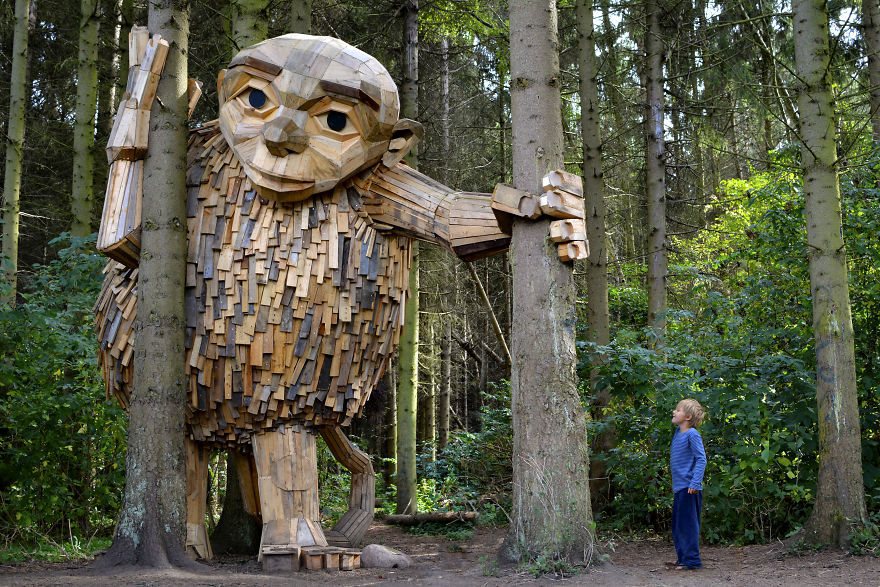 Tilde is made solely from local scrapwood scavenged by the Thomas Dambo team. To build the sculpture the team had help from a group of volunteers including two senior craftsmen (one of which was aged 86), and a couple of locals including Tilde, from whom the sculpture got her name.
As a little bonus Thomas Dambo made 28 birdhouses inside the sculpture, for the birds and maybe a squirrel to seek shelter when winter hits Vallensbæk Mose.
Ishøj, 2016
Oscar under the bridge is made from scrapwood from a torn down watermill and broken pallets from local industries. He is named after an artist from Chile who came to visit Thomas and help him in his work during the time that Thomas and his team was building the sculpture.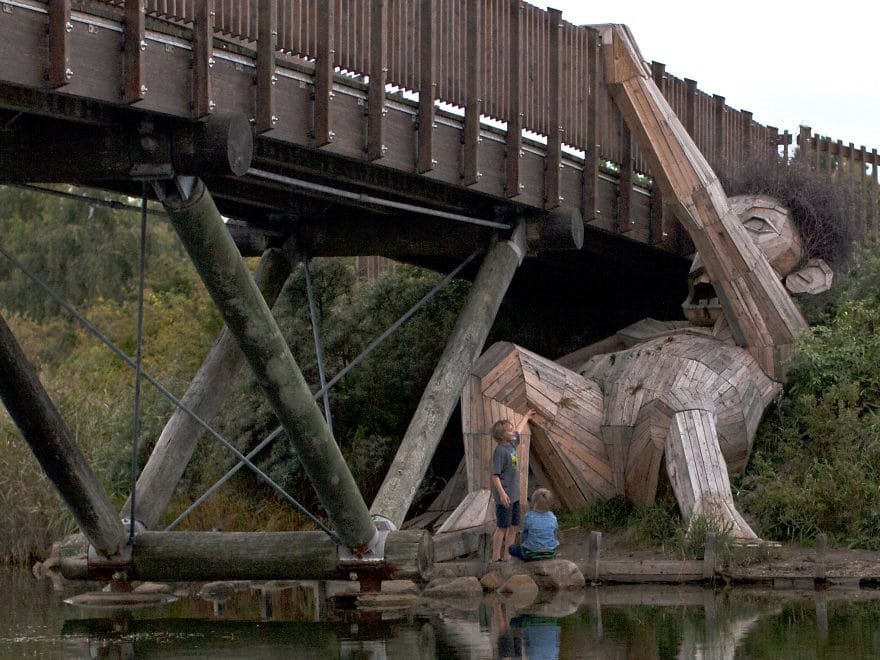 Copenhagen, 2016
Hill Top Trine is resting on top of a little hill in Hvidovre, Copenhagen, where you can crawl into the palms of her hands and get a beautiful viewpoint overlooking Avedøresletten. She is named after one of the volunteers who worked on one of the other hidden giants.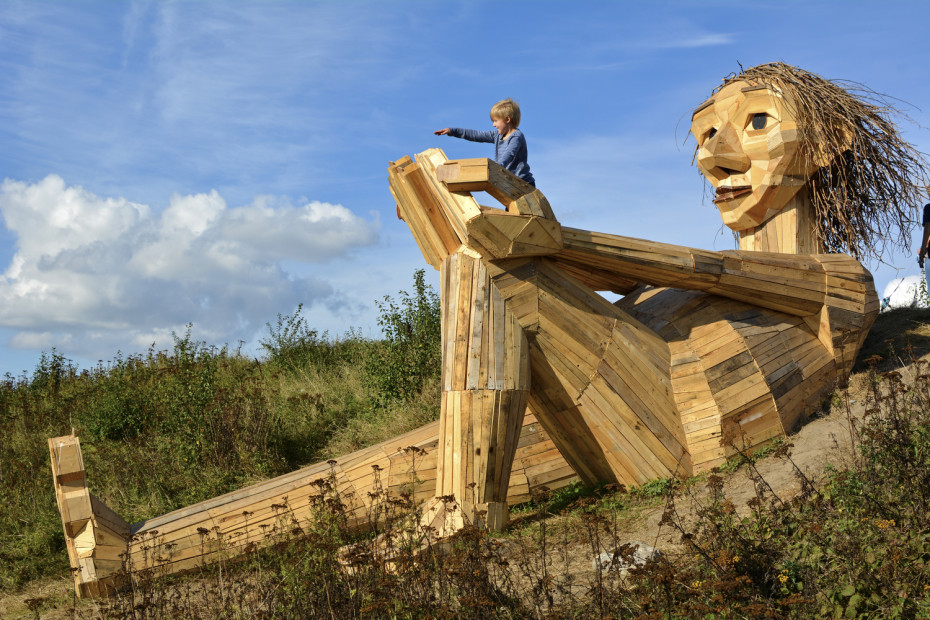 Just like her siblings, Hill Top Trine is made from scrapwood, branches and old pallets from Stark. The Thomas Dambo team have had help building the wooden sculpture from a handful of local volunteers.
Copenhagen, 2016
Thomas On The Mountain has found a good place to chill on top of a hill. From here he has a great view of the municipality of Albertslund, and so can you if you join him. His legs are long, and a good place to sit with your friends.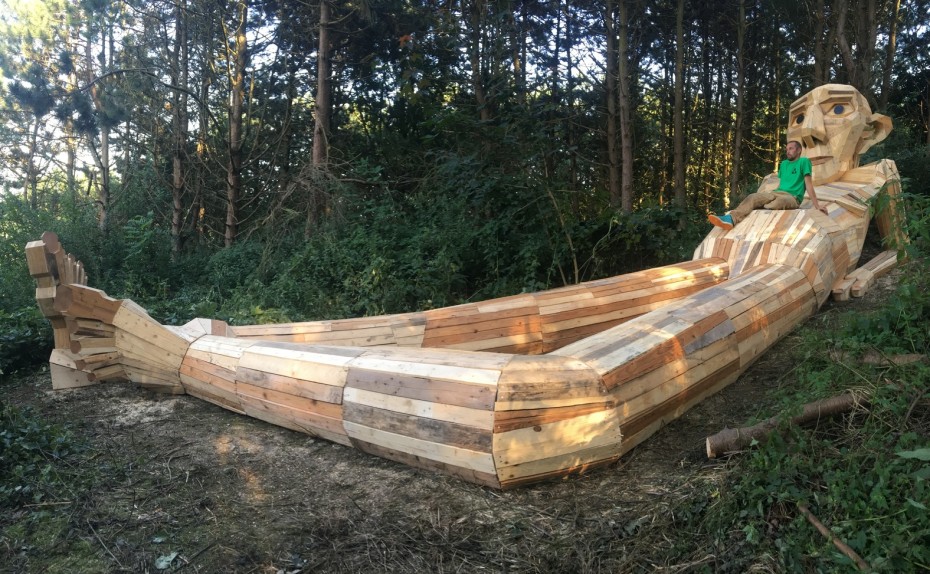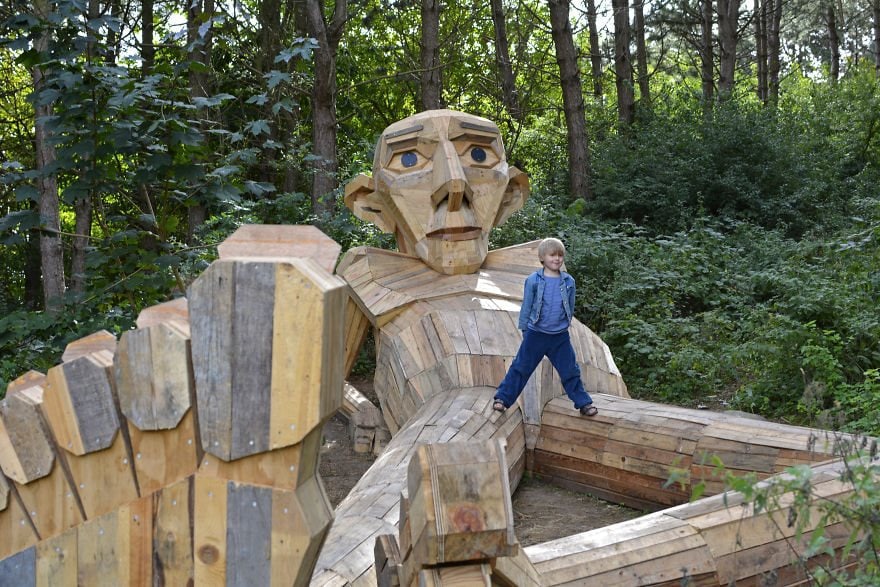 The giant sculpture is made solely from local scrapwood scavenged by the Thomas Dambo team. To build the sculpture the team had help from a group of young volunteers from a local school as well as a couple of seniors. The giant is named after Thomas Dambos intern also named Thomas, who has been a huge part of the Forgotten Giants project, and helped create all six sculptures.
Copenhagen, 2016
Sleeping Louis is taking a nap on a hill, covered in trees and nature, in a secret place in Rødovre outside of Copenhagen. People can crawl into his gaping mouth, and play or even sleep inside of him.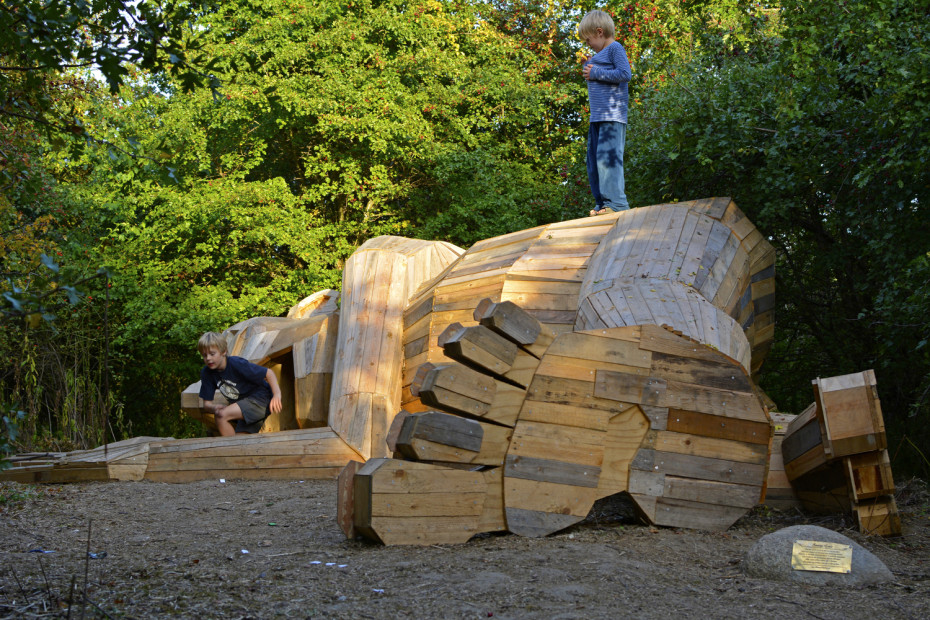 Sleeping Louis is made solely from local scrapwood scavenged by the Thomas Dambo team. To build the sculpture the team had help from a group of young volunteers from an organisation helping young unemployed people get work experience before reentering the work market. Thomas' old assistant Louis from Bristol, England came back to Copenhagen for a visit, and worked hard to help finish the sculpture, why Thomas and the team decided to name the sculpture after him.
Curious Kids: Why Did The Dinosaurs Die?
PhD Candidate, Vertebrate Palaeontology, The University of Queensland
Why did the dinosaurs die? – Whitaker, age 4.
That's a great, and tricky question!
We know that dinosaurs ruled the Earth for about 180 million years. Then, around 66 million years ago, a huge rock from outer space (called an asteroid) smashed into the Earth.
It crash-landed near Mexico. It shook the ground. It made big waves in the sea. Any animals and plants that were nearby would have gotten squashed or washed away!
The asteroid made lots of dust and dirt and rocks to fly up into the air. All that dust and dirt covered the planet and made the sky dark. There were many forest fires too.
Before the asteroid hit Earth, there were lots of volcanoes erupting in what we now call India. They made smoke, and ash, and gases fill up the air. We are not sure if the asteroid then hitting Earth made more volcanoes erupt. Maybe it was just very bad timing.
It was so dusty and dark that the warm sunshine couldn't reach the ground. This made the Earth very cold.
But after the dust settled and the sun came out, the Earth got very hot indeed. The sea creatures, plants, and land animals didn't like that very much. The plants probably had a hard time growing. The plant-eating animals ran out of plants to eat, and then the animals that ate other animals also ran out of food. So it became very hard for dinosaurs to survive.
But it's still really hard to know for sure exactly why the dinosaurs died. Dinosaur-scientists (palaeontologists) still wonder whether it was because of the asteroid, or the volcanoes, or both the asteroid and volcanoes. Did the animals get too cold or too hot? Did they run out of food?
We might not ever know for sure, but we will always keep looking for answers!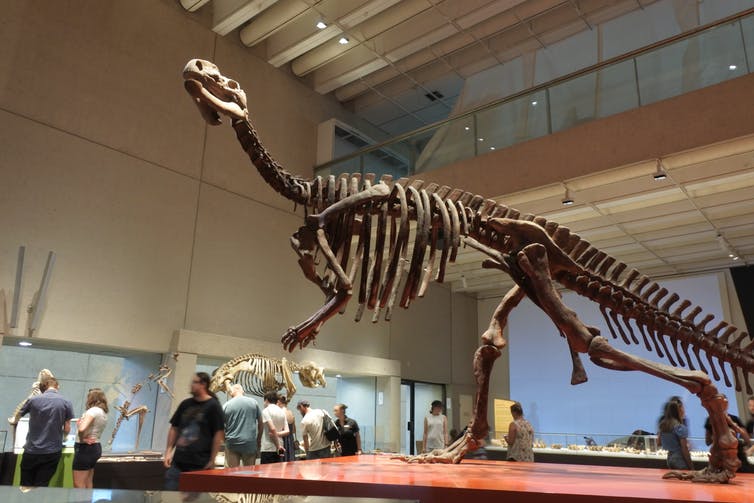 Here is a life-size skeleton of Muttaburrasaurus in the Queensland Museum. Muttaburrasaurus was a large, plant-eating dinosaur that lived in eastern Australia. Shutterstock
Read more: Curious Kids: How many dinosaurs in total lived on Earth during all periods?
Who went extinct and who didn't?
Most of the dinosaurs died. We call this going "extinct". An animal is extinct when it doesn't exist anymore anywhere in the world.
It wasn't just most dinosaurs that went extinct 66 million years ago. Among others that went extinct were: flying reptiles called pterosaurs, huge reptiles that swam in the ocean called plesiosaurs and pliosaurs, creatures with curled, spiral shells called ammonites, and lots of other plants and animals.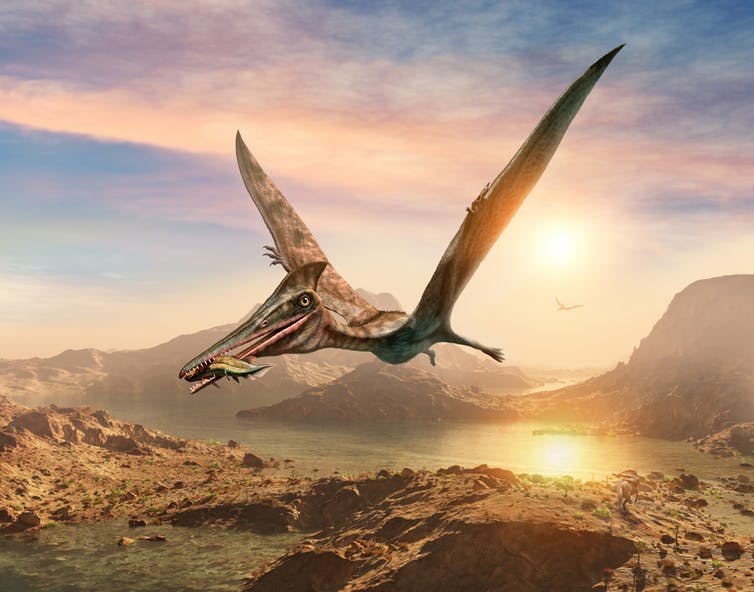 Here's an artist's impression of a pterosaurs. Shutterstock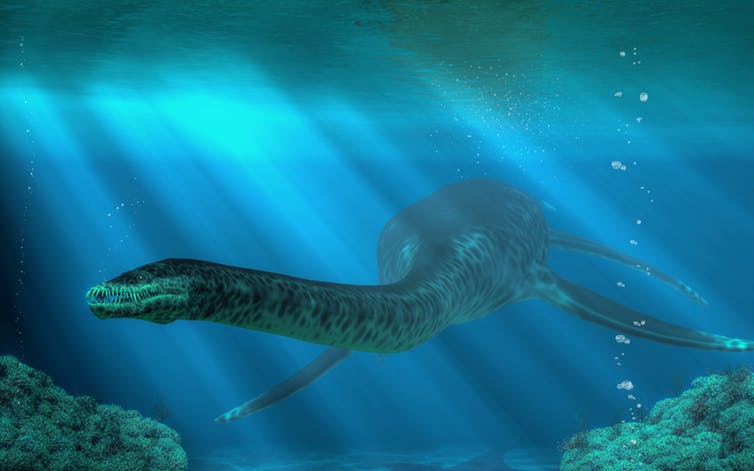 Huge reptiles called plesiosaurs once swam in the ocean. Shutterstock
But others survived. Different types of insects, lizards, crocodiles, mammals, birds, sharks, fish, crabs, snails, flowers, ferns and trees all made it through.
How? We don't really know.
It could be because the animals were small and didn't need much food. Maybe it was because they could eat crunchy seeds the dead plants left behind, or mushrooms growing on the dead plants, or tiny scraps of old, dry meat. Maybe it was because they could burrow into the ground to keep warm. Maybe it was because they could swim far away to keep safe. And maybe some of those dry, crunchy seeds could grow into plants after they were buried for a long time.
But we know they survived.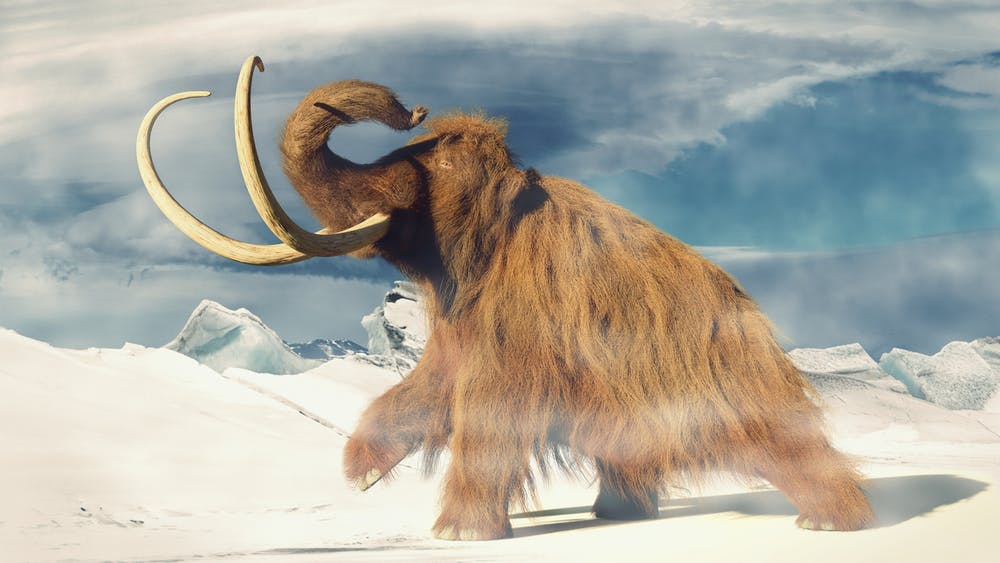 Woolly mammoths once roamed the Earth. Shutterstock
Those animals and plants found new homes. And as the plants grew bigger and stronger, the animals could grow bigger too. They could take the place of the big dinosaurs that had died. Big woolly mammoths, giant kangaroos, and whales now roamed the land and sea. New types of plants grew, like grass. And a long time later, human beings evolved – that's us!
Now mammals rule the Earth.
Not all the dinosaurs died
Did you know that not all the dinosaurs went extinct 66 million years ago? They're not the type of dinosaurs you might be thinking of, like Tyrannosaurus, or Brachiosaurus, or Muttaburrasaurus.
The dinosaurs that survived were… birds!
That's right! All birds are actually dinosaurs.
Ancient birds lived beside other dinosaurs. They survived the asteroid and volcanoes. And now birds live alongside us today.
Read more: Curious Kids: Are mermaids real?
I think it's sad that all the other dinosaurs went extinct so long ago. But we can remember them by visiting museums and looking at fossils, or by reading books about them, or by watching birds fly through the sky.
But if it weren't for all the other dinosaurs going extinct so long ago, fluffy little mammals wouldn't have had room to grow and evolve. And there wouldn't be any humans.
Helping Aussie Birds - The Birds In Backyards Program
Birds in Backyards is a research, education and conservation program focusing on the birds that live where people live. Get involved by becoming a member and taking part in our online surveys. Learn how you can create bird-friendly spaces in your garden and local community. Refer to the Birds in Backyards website (
http://www.birdsinbackyards.net
) for more information. Produced by Focus Films Australia (http://www.focusfilmsaustralia.com).
Cost A Barrier For Life-Saving Asthma Treatments, New Study Finds
June 11, 2019: The George Institute/UNSW
Out-of-pocket costs are preventing many people from taking vital asthma medication, the new study says.
Half of all adults and a third of children with asthma are missing out on essential treatment due to out-of-pocket costs, a new study has found.
A team of researchers led by The George Institute for Global Health and the Woolcock Institute of Medical Research surveyed 1400 people with asthma (adults with asthma and parents of children with asthma) across Australia and found that half of the adults and one-third of the children in the study were either decreasing or skipping doses of asthma medicines to make them last longer.
Senior Research Fellow Tracey-Lea Laba, of The George Institute, said the results published in the journal JACI : In Practice were especially concerning because around two-thirds of adults and children had poorly controlled asthma symptoms.
"Asthma affects around one in nine Australians and is one of the world's leading causes of death and disability. We know that preventer inhalers can be incredibly effective at controlling symptoms and preventing people from being hospitalised or even from dying of asthma, yet our study has found that out-of-pocket costs are preventing Australians from accessing medicines which can be life-saving."
The most commonly prescribed preventer treatments for asthma contain inhaled corticosteroids (ICS), which if taken regularly reduce the severity of the disease and the number of asthma related deaths. Unlike many other countries, Australia has a national medicines subsidy program through the Pharmaceutical Benefits Scheme (PBS), but most patients still have a co-payment. In Australia, patients with healthcare cards (pensioners, unemployed, single parents and people with a long term disability) pay $6.50 per prescription. Everyone else (around 40% of people with asthma) pays up to $40.30.
The study, which was funded by the National Health and Medical Research Council (NHMRC), NPS MedicineWise, and Asthma Australia, found out-of-pockets costs were leading many people to either skip or decrease dosages to make medicines last longer, and that young male adults were the most likely to under-use asthma treatments. This was compounded by GPs being largely unaware that out-of-pocket costs were a significant concern for many of their patients, or that some preventers had lower out-of-pocket costs for patients than others.
Key findings
52.9% of adults and 34.3% of parents reported under-using treatments due to cost.
Three-quarters of children and adults had partly or poorly controlled asthma symptoms.
About 40% of adults with asthma had not used an ICS-containing medication in the previous year, despite Australian guidelines recommending that these should be taken by almost all adults with asthma.
45% of adults and 64% of children had required urgent healthcare treatment for their asthma in the previous year.
While differences in income did not appear to be a driving factor in underuse, a sub-class of 'working poor families' with asthmatic children was identified as having higher levels of underusing medications for asthma.
Fellow author Professor Helen Reddel, of the Woolcock Institute, said it was clear that prescription costs were off-putting for many people with asthma in Australia.
"It all adds up and $40 a prescription is a lot of money for people on a budget. So you can start to understand why so many people with asthma are not taking preventer medications either correctly or at all.
"But asthma is a long-term disease and one where you really need to keep the inflammation under control by taking a preventative medicine and not just relying on short-term symptom relief from a blue inhaler. We need doctors to talk to their patients to stress that this Band-Aid approach does not work, and can leave them hospitalised or even worse as a result."
The paper called for urgent interventions to promote discussions between patients and their GPs about the cost of medicines, including the availability of lower cost preventer treatments.
The study was funded by the NHMRC, NPS MedicineWise, and Asthma Australia and was a collaboration of The George Institute, The Woolcock Institute of Medical Research, UNSW Sydney, the University of Sydney and the University of South Australia.
BHI Shows Effect Of Early Flu Season
June 12th, 2019: NSW health
Between January and March this year public hospitals across NSW have experienced the busiest period of emergency department activity on record, with the early start to the flu season already making its impact felt.
The latest independent quarterly Bureau of Health Information figures on public hospital performance, released today, shows more than 750,000 patients presented to emergency departments during January to March 2019.
NSW Health Deputy Secretary Susan Pearce said this was an increase of around 42,000 people, a 5.9 per cent increase from the same quarter in 2018 and higher than any previous quarter on record.
"While many people will remember the 2017 winter, our worst flu season on record, we saw thousands more patients this quarter, and these figures do not even show the full winter months," Ms Pearce said.
Ms Pearce said despite the challenges posed by the record rise in patients, hospital performances across the state maintained a high standard, with nearly three-quarters of emergency department patients, 543,000 people, starting treatment on time.
"While there is always room for improvement, it was pleasing to see that some of our hospitals improved their performance despite large increases in presentations and very unwell patients".
"These results are a testament to the efforts of our doctors, nurses and paramedics, but NSW Health continues to urge people to get their flu shots to protect them during the cold days ahead, because it's not too late, and the flu jab is an important step in reducing the risk of succumbing to the potentially lethal virus," she said.
NSW Ambulance experienced a very busy quarter, responding to close to 307,000 responses, up by 10.2 per cent or an additional 28,359 responses, on 2018's quarter.
Almost 170,000 patients in emergency departments arrived by ambulance, also a 10 per cent increase, and almost 90 per cent (88.8 per cent) were transferred from paramedics to hospital staff within the benchmark time of 30 minutes.
Ms Pearce said elective surgery also continued to lead the nation in elective surgery performance, with 96.4 per cent of all elective surgeries were performed within recommended time frames.
In 2018-19, the NSW Government is investing a record $22.9 billion in health, an increase of $1.1 billion on the previous financial year. This includes $19.2 billion towards improving services in hospitals in NSW this year.
An investment of $759 million for acute patient services will fund an additional 40,000 emergency department attendances in addition to 2.9 million already provided and an extra 3,200 elective surgeries in addition to the 225,500 already provided.
The NSW Government's record $1 billion 2018-19 NSW Ambulance budget includes a commitment to provide an additional 700 paramedics and 50 Triple Zero control centre staff over the next four years.
The 2018-19 Budget also added 1,370 health staff, including 950 nurses and midwives, 300 medical practitioners and 120 allied health professionals – resulting in a record frontline clinical and clinical support staff of over 105,000.
Combating Mosquito-Borne Diseases With Bacteria
Viruses, spread through mosquito bites, cause human illnesses such as dengue fever, Zika and yellow fever. A new control technique harnesses a naturally occurring bacterium called Wolbachia that blocks replication of viruses and breaks the cycle of mosquito-borne disease, according to an international team of researchers.
"Wolbachia is present in around 50 percent of all insects," said Beth McGraw, professor and Huck Scholar in Entomology at Penn State, who did this research while at Monash University. "Interestingly it is not present in some of the major mosquito vectors (insects that transmit pathogens). After researchers put Wolbachia into mosquitoes, they found that, quite excitingly, Wolbachia effectively vaccinates mosquitoes, preventing viruses from replicating."
Spread by Aedes aegypti mosquitoes, dengue virus affects millions of people each year. Symptoms include fever, body aches and nausea, although a more severe version, known as dengue hemorrhagic fever, can be fatal.
In the tropics and subtropics where Ae. aegypti resides, several large releases of Wolbachia are underway to test whether Wolbachia can reduce the incidence of human disease.
In a paper published today in Virus Evolution, McGraw and her team report that dengue virus failed to evolve resistance to Wolbachia in controlled lab-based experiments. These findings show promise for the long-term efficacy of Wolbachia following field release.
"I am continually surprised by Wolbachia," said McGraw. "I thought we would get dengue variants that would evolve resistance. Wolbachia is doing a better job than I expected at controlling virus replication in cells."
The researchers took dengue virus and infected mosquito cells that either had Wolbachia or were free of bacteria. After five days, they collected the viruses that had been released from the cells and used them to infect fresh cells.
"Dengue takes over the machinery of the host cells, makes lots of copies of itself, and then it buds or burst out of the cell," explained McGraw.
After nine rounds of passaging the virus through mosquito cells, the team found that the amount of virus released was stable in the Wolbachia-free cells. However, in the presence of Wolbachia, virus levels crashed -- and in some cases, disappeared completely.
Dengue viruses grown with Wolbachia were also less effective at infecting mosquito cells and had reduced ability to replicate, compared to viruses grown without the bacterium.
Although this is good news for the control of dengue and other mosquito-transmitted diseases, the researchers note the study has limitations. The researchers used mosquito cells -- which may not reflect what happens within the whole insect. And outside the lab, where mosquito populations are much larger, there may be more opportunities for the virus to develop resistance to Wolbachia.
"I think our study suggests that the evolution of resistance to Wolbachia in the virus is challenging," said McGraw. "I don't think it's a guarantee that the virus is not going to evolve under field conditions because the natural system is much more complex. The real experiment is being done in the field right now, because Wolbachia has been released into communities in Australia, Indonesia and Brazil, among others. Monitoring in release areas will be needed to test for the emergence of resistance in the virus."
Other control methods for dengue have largely been unsuccessful. Because Ae. aegypti is active during the day, bed nets are ineffective at reducing mosquito bites. Spraying of insecticides to control the mosquito and removing standing-water breeding sites have also been difficult to implement in urban environments where the mosquito thrives.
Wolbachia is an attractive control option because it blocks the replication of many disease-causing viruses. It is also self-spreading because of a curious effect, where Wolbachia-containing male mosquitoes cannot reproduce successfully with Wolbachia-free females. According to McGraw, this means that these males prevent Wolbachia-free females from reproducing. Because the bacterium is transmitted from mother to offspring, each generation has successively more mosquitoes containing Wolbachia.
Researchers are still unsure exactly how Wolbachia reduces virus replication in the mosquito.
"We think it might have to do with competition between Wolbachia and the virus for physical space (inside the cell) or for nutrition they both need from the mosquito," said McGraw. "Or it could be that Wolbachia is increasing the immune capacity of the mosquito. There are a whole range of theories, none of which are entirely satisfying."
Cassandra Koh, Michelle D Audsley, Francesca Di Giallonardo, Emily J Kerton, Paul R Young, Edward C Holmes, Elizabeth A McGraw.
Sustained Wolbachia-mediated blocking of dengue virus isolates following serial passage in Aedes aegypti cell culture.
Virus Evolution, 2019; 5 (1) DOI:
10.1093/ve/vez012
Carbon Dioxide Levels In Atmosphere Hit Record High In May
Atmospheric carbon dioxide continued its rapid rise in 2019, with the average for May peaking at 414.7 parts per million (ppm) at NOAA's Mauna Loa Atmospheric Baseline Observatory.
The measurement is the highest seasonal peak recorded in 61 years of observations on top of Hawaii's largest volcano and the seventh consecutive year of steep global increases in concentrations of carbon dioxide (CO2), according to data published today by NOAA and Scripps Institution of Oceanography. The 2019 peak value was 3.5 ppm higher than the 411.2 ppm peak in May 2018 and marks the second-highest annual jump on record.
Monthly CO2 values at Mauna Loa first breached the 400 ppm threshold in 2014.
"It's critically important to have these accurate, long-term measurements of CO2 in order to understand how quickly fossil fuel pollution is changing our climate," said Pieter Tans, senior scientist with NOAA's Global Monitoring Division. "These are measurements of the real atmosphere. They do not depend on any models, but they help us verify climate model projections, which if anything, have underestimated the rapid pace of climate change being observed."
The concentration of CO2 in the atmosphere increases every year, and the rate of increase is accelerating. The early years at Mauna Loa saw annual increases averaging about 0.7 ppm per year, increasing to about 1.6 ppm per year in the 1980s and 1.5 ppm per year in the 1990s. The growth rate rose to 2.2 ppm per year during the last decade. There is abundant and conclusive evidence that the acceleration is caused by increased emissions, Tans said.
The Mauna Loa data, together with measurements from sampling stations around the world, are collected by NOAA's Global Greenhouse Gas Reference Network and produce a foundational research dataset for international climate science.
CO2 and the Keeling Curve
The highest monthly mean CO2 value of the year occurs in May, just before plants start to remove large amounts of the greenhouse gas from the atmosphere during the northern hemisphere growing season. In the northern fall, winter and early spring, plants and soils give off CO2, which cause levels to rise through May.
Charles Keeling was the first to observe this seasonal rise and subsequent fall in CO2 levels embedded within annual increases, a cycle now known as the Keeling Curve.
Life In Australia: Melbourne In 1966
Made by The Commonwealth Film Unit 1966. Directed by Douglas White. Episode 10 of the Life in Australia series. This series was made to encourage immigration to Australia and to highlight the various social activities, employment and educational opportunities and lifestyles of the various cities and regional centres throughout Australia. This film shows an idyllic picture of life in the Victorian capital of Melbourne in the mid 1960s.
UNSW PhD Candidate Takes Up Research Fellowship At The Julliard School
June 12, 2019: Nick Rafferty, UNSW Media
Receiving the Australian government's Endeavour Research Award will enable Marco Susino from the School of the Arts & Media to further explore the emotional language of music.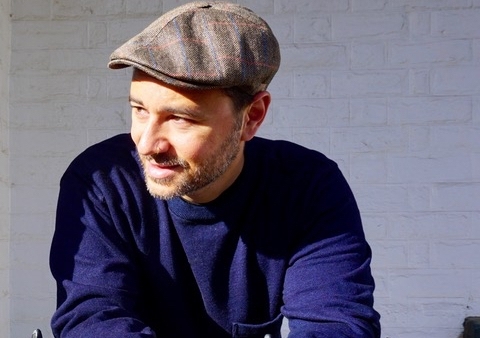 Marco Susino will be working alongside some of the world's most renowned composers, choreographers and dancers. Photo: Marco Susino
Marco Susino will move to the renowned Juilliard School in New York as a visiting scholar and research fellow to work on his project The Music that Moves Us.
"I feel humbled and honoured," he says. "I am humbled because of the prestige of the fellowship I am being honoured with, but more so because of the people and institute I am about to collaborate with, artists and academics from The Juilliard School.
"The fellowship will bring an overwhelming wealth of knowledge and will have a profound effect, to be recognised as an international expert in my area of research. To be working alongside some of the world's most renowned composers, choreographers and dancers will give me a new understanding of artistic and academic imagination, developing practice-based research and exploring new artistic and research areas."
Marco will co-create six bodies of work with composers and choreographers at Julliard that express specific emotions and investigate how emotion in music is embodied in dance. He will explore the emotional language of music expressed in movement and how psychological processes are responsible for the embodiment of musical emotions. His expertise is in emotion in music, and how these are experienced across cultures and across the arts.
His path to postgraduate research in this field was seeded in India in 2010, when he was performing at a concert that was part of several months of performances throughout Asia. In this concert, he observed some of the audience's unusual emotional reaction to one of the standard repertoire songs – it was something he hadn't seen anywhere else.
Noting this, Marco proceeded to investigate and play a recording of the song to people from different cultures. He noted that most North Indian listeners appeared to respond emotionally and similarly to the music, but differently to non-Indian and even South Indian listeners.
This sparked his interest in the field of music psychology and led him to read This is Your Brain on Music, by Daniel Levitin. By the end of the book, Marco was even more fascinated by the subject and decided he had to investigate the effects of culture further. This was his first step on the road to his research career, and eventually winning the Endeavour Fellowship.
As a session musician, Marco has recorded for major labels and enjoyed international performances in Asia, Australia, Europe, the Americas and the UK, including a broadcasted performance for the 2008 Beijing Olympics in China, a performance at the Queen Elizabeth Hall in London, and in 2018 he conducted an orchestra at the Concert Hall of the Sydney Opera House.
In 2017, he received a Gerry Farrell Travelling Scholarship from the Society for Education and Music Psychology in the UK to conduct research in Havana, Cuba, and since 2015 he has been invited to work with world-leading music psychologists on their Australian Research Council (ARC) projects, contributing on the effects of cultural stereotyping of emotion in music.
"Most of us, regardless of our culture, will voluntarily listen to music in our daily lives, most likely because we want music to affect, enhance or affirm our emotional disposition.
"Understanding the processes of how these experiences occur, and if they occur across cultures or not, informs research beyond the discipline of music, but across the fields of creative arts, artistic performance, social behaviour, consumer decision-making, psychology and wellbeing."
Marco's advice to postgraduate students is to "stay curious" about their research topic.
"Many of us who embark on an academic career do it for a deep interest to answer a burning question about a topic or field of interest. For me, it is the same curiosity and passion which makes me enjoy what I do and never see it as a job.
"If you appreciate both the ups and the downs, and critically construct and de-construct your own work, in the end, it all contributes to shaping you as a person, as an artist and a scholar."
Night Owls Can 'Retrain' Their Body Clocks To Improve Mental Well-Being And Performance
A simple tweak to the sleeping patterns of 'night owls' -- people with extreme late sleeping and waking habits -- could lead to significant improvements in sleep/wake timings, improved performance in the mornings, better eating habits and a decrease in depression and stress.
New international research by the Universities of Birmingham and Surrey in the UK, and Monash University in Australia, showed that, over a three-week period, it was possible to shift the circadian rhythm of 'night owls' using non-pharmacological and practical interventions.
The study, recently published in Sleep Medicine, showed participants were able to bring forward their sleep/wake timings by two hours, while having no negative effect on sleep duration. In addition, participants reported a decrease in feelings of depression and stress, as well as in daytime sleepiness.
"Our research findings highlight the ability of a simple non-pharmacological intervention to phase advance 'night owls', reduce negative elements of mental health and sleepiness, as well as manipulate peak performance times in the real world," lead researcher Dr Elise Facer-Childs from Monash University's Turner Institute for Brain and Mental Health said.
'Night owls' are individuals whose internal body clock dictates later-than-usual sleep and wake times -- in this study participants had an average bedtime of 2.30am and wake-up time of 10.15am.
Disturbances to the sleep/wake system have been linked to a variety of health issues, including mood swings, increased morbidity and mortality rates, and declines in cognitive and physical performance.
"Having a late sleep pattern puts you at odds with the standard societal days, which can lead to a range of adverse outcomes -- from daytime sleepiness to poorer mental wellbeing," study co-author Dr Andrew Bagshaw from the University of Birmingham said.
"We wanted to see if there were simple things people could do at home to solve this issue. This was successful, on average allowing people to get to sleep and wake up around two hours earlier than they were before. Most interestingly, this was also associated with improvements in mental wellbeing and perceived sleepiness, meaning that it was a very positive outcome for the participants. We now need to understand how habitual sleep patterns are related to the brain, how this links with mental wellbeing and whether the interventions lead to long-term changes."
Twenty-two healthy individuals participated in the study. For a period of three weeks participants in the experimental group were asked to:
Wake up 2-3 hours before regular wake up time and maximise outdoor light during the mornings.
Go to bed 2-3 hours before habitual bedtime and limit light exposure in the evening.
Keep sleep/wake times fixed on both work days and free days.
Have breakfast as soon as possible after waking up, eat lunch at the same time each day, and refrain from eating dinner after 7pm.
The results highlighted an increase in cognitive (reaction time) and physical (grip strength) performance during the morning when tiredness is often very high in 'night owls', as well as a shift in peak performance times from evening to afternoon. It also increased the number of days in which breakfast was consumed and led to better mental well-being, with participants reporting a decrease in feelings of stress and depression.
"Establishing simple routines could help 'night owls' adjust their body clocks and improve their overall physical and mental health. Insufficient levels of sleep and circadian misalignment can disrupt many bodily processes putting us at increased risk of cardiovascular disease, cancer and diabetes," Professor Debra Skene from the University of Surrey said.
Dr Facer-Childs said 'night owls', compared to 'morning larks', tended to be more compromised in our society due to having to fit to work/school schedules that are out of sync with their preferred patterns.
"By acknowledging these differences and providing tools to improve outcomes we can go a long way in a society that is under constant pressure to achieve optimal productivity and performance," she said.
This intervention could also be applied within more niche settings, such as industry or within sporting sectors, which have a key focus on developing strategies to maximise productivity and optimise performance at certain times and in different conditions.
Elise R. Facer-Childs, Benita Middleton, Debra J. Skene, Andrew P. Bagshaw.
Resetting the late timing of 'night owls' has a positive impact on mental health and performance.
Sleep Medicine, 2019; DOI:
10.1016/j.sleep.2019.05.001
Trailblazing Findings On The Properties Of Daguerreotypes
The Metropolitan Museum of Art (The Met) and The University of New Mexico (UNM) today announced the groundbreaking findings of a two-year study of the plasmonic properties of daguerreotypes.
Using atomic force microscopy and scanning electron microscopy, together with numerical calculations, the team of scientists from The Met and UNM, in collaboration with Century Darkroom, Toronto was able to determine how the light scattered by the metallic nanoparticles on the surface of a daguerreotype determines the characteristics of its image, such as shade and colour.
The pioneering research -- recently published in the journal PNAS -- not only provides an in-depth understanding of these 19th century photographs that are crucial for their preservation, but also introduces new possible approaches for colour printing where nanostructures are directly manufactured by light.
"We are thrilled by these findings that help us better understand the fascinating properties of daguerreotypes and shed light on how to continue to advance the preservation of these incredible works of art," said Silvia A. Centeno, Research Scientist in the Department of Scientific Research at The Metropolitan Museum of Art.
"The team at the University of New Mexico embarked on this study to achieve a better understanding of the mechanisms that give rise to the optical response of daguerreotypes and to contribute to the development of protocols for preserving these fragile artefacts," said Alejandro Manjavacas from the Department of Physics and Astronomy at The University of New Mexico. "Thanks to the fantastic teamwork between scientists from both the cultural and scientific communities we were able to accomplish what we set out to do."
Unlike other types of photographs, daguerreotypes rely on light scattering by metallic nanoparticles to create images that project off a reflective silver substrate. These early photographs can be recognised as the first examples of plasmonic colour printing, an emerging research field that exploits the interactions between light and metallic nanostructures to produce vivid colours.
The image tones of a daguerreotype are dynamic and unique in that they can change with the viewing angle and, for the first time, this effect is explained by the authors, who found that the morphology and size of nanoparticles determines how these will scatter thus creating the visual outcome of the daguerreotype. Studies of the image properties of daguerreotypes serve to inform the development of preservation protocols, as well as novel approaches to future colour printing technologies inspired by past ones.
Andrea E. Schlather, Paul Gieri, Mike Robinson, Silvia A. Centeno, Alejandro Manjavacas.
Nineteenth-century nanotechnology: The plasmonic properties of daguerreotypes.
Proceedings of the National Academy of Sciences, 2019; 201904331 DOI:
10.1073/pnas.1904331116
Disclaimer: These articles are not intended to provide medical advice, diagnosis or treatment. Views expressed here do not necessarily reflect those of Pittwater Online News or its staff.