Inbox and Environment News: Issue 267
June 12 - 18, 2016: Issue 267
Northern Beaches Declared Natural Disaster Zone
June 8, 2016
Member for Pittwater Rob Stokes today said the Northern Beaches is among 37 local government areas across NSW to be declared a natural disaster zone.
The joint declaration has been made by the State and Federal Government in response to the damaging storms which swept across the northern beaches over the weekend and means financial assistance is now activated for local families, small businesses, community organisations and the Northern Beaches Council.
"Unfortunately parts of our community are among the most affected areas in NSW," Rob Stokes said today.
"The amount of damage and disruption we've seen is frightening and many families are still doing it really tough.
"Whilst most of the attention is on coastal properties damaged by the ocean surge – there's many other properties impacted by damaged roofs and flooding.
"With the clean-up now underway the State and Federal Governments are seeking to provide financial assistance to those with limited means to recover on their own.
"Our local emergency service personnel have done an outstanding job – but there's still lots more work to do.
"Essential council infrastructure is among the key priorities and support is now available to assist with rebuilding and repair works.
"Information on the disaster assistance programs which have now been activated is available by visiting www.emergency.nsw.gov.au ," Rob Stokes said.
Bushcare Alert! Bushcare postponed until further notice due to storm clean-up
The wild weather has increased hazards at a number of our bushland sites and as a result all Bushcare activities have been postponed until further notice. We expect that most Bushcare groups will be able to reconvene in the next two weeks. Council staff are currently inspecting and monitoring our sites and this will be ongoing over the next few weeks so thank you for your patience. In the meantime we ask all residents to avoid areas with tree canopy, steep slopes, drains and creeklines. Bushcare groups will be contacted over this period and advised of any hazards and clean-up activities, and provided with safe work plans.
Information to assist residents dealing with storm damage can be found athttp://www.pittwater.nsw.gov.au/storm_update.
For more information please give me a call.
Thanks for your amazing efforts and continued support!
Helena Dewis, Bushcare Officer
Northern Beaches Council
P - 9970 1367 - M - 0408 164 235
Winter trout closures begin June 14
8 June, 2016
Anglers looking to catch a trout are reminded that the June long weekend is their last opportunity in designated streams and rivers across NSW, before the fishing season closes in these waters over winter.
NSW Department of Primary Industries' (DPI) Inland Senior Fisheries Manager, Cameron Westaway, said the annual closure will start on Tuesday 14 June and re-open in time for the October long weekend on Saturday 1 October 2016.
"This closure allows brown, rainbow and brook trout to breed uninterrupted during their annual spawning run, while also allowing trout fishers to fish during both the June and October long weekends," Mr Westaway said.
Anglers can continue fishing for trout during the annual closure, without breaking the rules, at any of the trout dams across the State that have been stocked as part of the NSW DPI fish stocking program.
"Popular winter fishing spots include Lakes Jindabyne and Eucumbene, Oberon Dam near Bathurst, Tantangara and Talbingo Dams near Tumut and Lake Wallace and Thompson's Creek Dam near Lithgow.
"DPI, in conjunction with local acclimatisation societies, has been stocking trout dams and rivers in NSW for many years.
"During the 2015/16 season, around 2.9 million trout were stocked in NSW waterways, consisting of approximately 2 million Rainbow Trout, 630,000 Brown Trout, 150,000 Atlantic Salmon and 110,000 Brook Trout."
NSW DPI Director of Fisheries Compliance, Patrick Tully, said it is an offence to fish in trout streams during the closed season and fisheries officers will also be patrolling waterways across the State to ensure that fishers are adhering to the closure.
"Fishers heading to one of the trout dams this winter are reminded that they are still required to have a current NSW recreational fishing licence receipt on them at all times while fishing," Mr Tully said.
"A combined bag limit of five and a size limit of 25cm applies for trout or salmon in all trout dams except Thompsons Creek Dam and Black Lake where the bag limit is two."
Detailed information on the fishing rules can be found at or in the 2016-17 NSW Freshwater Fishing Guide which is available in hard copy from DPI Fisheries offices and most bait and tackle stores.
Bills assented to This Week:
Coastal Management Act 2016 No 20 — Assented to 07 June 2016
National Parks and Wildlife Amendment (Adjustment of Areas) Act 2016 No 21 — Assented to 07 June 2016
National Parks and Wildlife Amendment (Adjustment of Areas) Bill 2016

The National Parks and Wildlife Amendment (Adjustment of Areas) Bill 2016 was passed on May 31st, 2016. There is provision within this to facilitate the upgrade of Mona vale Road, Stage 3 by taking an area of about 0.768 hectare, from the Ku-ring-gai Chase National Park Part of the speeches during the Reading of this Bill focused on the necessity to make provision for a fauna bridge.
Compensatory land will be offered by Roads and Maritime Services, in almost two hectares of land being added to the adjoining Garigal National Park. This will include land surrounding Whale Rock, a significant Aboriginal rock engraving, which will greatly benefit from increased protection under the reserve system.'
Overview of Bill
The object of this Bill is to amend the National Parks and Wildlife Act 1974:
(a) to change the reservation of Ben Halls Gap National Park (which consists of about 3,018 hectares) to a nature reserve to be known as Ben Halls Gap Nature Reserve, and
(b) to change the reservation of about 2,020 hectares of Khappinghat Nature Reserve to a national park to be known as Khappinghat National Park, and
(c) to revoke the reservation of about 88.42 hectares of Gwydir Wetlands State Conservation Area, and
(d) to revoke the reservation of the following land and to vest the land in the Minister for the purposes of Part 11 of that Act, which enables the Minister to sell, grant leases of, dispose of or otherwise deal with the land:
(i) about 0.1 hectare of Jervis Bay National Park,
(ii) about 140.94 hectares of Kosciuszko National Park,
(iii) about 2.018 hectares of Ku-ring-gai Chase National Park,
(iv) about 0.04 hectare beneath the surface of Lane Cove National Park,
(v) about 0.34 hectare of Middle Brother National Park,
(vi) about 18.5 hectares of Morton National Park,
(vii) Penrith Lakes Regional Park (which consists of about 6,656 square metres),
(viii) about 13.4 hectares of Royal National Park,
(ix) about 1.6 hectares of Wollemi National Park,
(x) about 0.11 hectare of Yaegl Nature Reserve, and
(e) to provide that the Minister must not transfer the parts of that land currently forming part of Ku-ring-gai Chase National Park and Middle Brother National Park, unless satisfied that appropriate compensation has been provided, and
(f) to revoke the reservation of about 86.31 hectares of land in Macquarie Pass State Conservation Area that has been transferred to the Illawarra Local Aboriginal Land Council, following a claim under the Aboriginal Land Rights Act 1983.
The National Parks and Wildlife Amendment (Adjustment of Areas) Bill 2016 Bill (and Explanatory note) are available here
More in: Bill To Facilitate Mona Vale Road Upgrades Passes: Vital Fauna Bridge Discussed
Biofuels Regulation 2016
Comment by 28 June 2016
What's this about?
In December 2015, the Hon Victor Dominello MP, Minister for Innovation and Better Regulation announced reforms to the NSW biofuels regime. The reforms were developed after a review by the Independent Pricing and Regulatory Tribunal (IPART) of options to improve compliance with the biofuels mandates established by the Biofuels Act 2007.
In March 2016, NSW Parliament passed the Biofuels Amendment Act 2016. The Biofuels Regulation 2016 will provide the legislative support and administrative detail for the operation of the amended Biofuels Act.
What's happening now?
Fair Trading has released the Regulatory Impact Statement for the Biofuels Regulation 2016 (PDF size:1.9kb), which includes the text of the proposed Regulation.
Have your say
Read the Regulatory Impact Statement and provide your written feedback to help the Regulation and the amended Biofuels Act operate more effectively. The closing date for submissions is Tuesday 28 June 2016.
To lodge your submission, email us atbiofuels.regulation@finance.nsw.gov.au
Alternatively, post your comments on the draft Regulation to:
Biofuels Regulation 2016, Policy & Legislation, NSW Fair Trading, PO Box 972. PARRAMATTA NSW 2124
Please note that submissions will be published on the NSW Fair Trading website. If you do not want your submission published, please indicate this clearly in your submission. However, be aware that the Government is required by law to release this information in certain circumstances.
Key dates
The closing date for submissions on the draft Regulation is Tuesday 28 June 2016.
The Biofuels Regulation 2016 and the remaining amendments to the Biofuels Act will commence in August 2016.
Related information
• Biofuels Act 2007
• Biofuels Amendment Act 2016
• Minister release - reforms to ethanol mandate
• Independent Pricing and Regulatory Tribunal (IPART) report
Ethanol Mandate: Options to increase the uptake of ethanol blended petrol
'Pristine' landscapes haven't existed for thousands of years due to human activity
June 6, 2016
'Pristine' landscapes simply do not exist anywhere in the world today and, in most cases, have not existed for at least several thousand years, says a new study in the journal, Proceedings of the National Academy of Sciences (PNAS). An exhaustive review of archaeological data from the last 30 years provides details of how the world's landscapes have been shaped by repeated human activity over many thousands of years. It reveals a pattern of significant, long-term, human influence on the distribution of species across all of the earth's major occupied continents and islands.
The paper by lead author Dr Nicole Boivin from the University of Oxford and Max Planck Institute for the Science of Human History, withresearchers from the UK, US, and Australia, suggests that archaeological evidence has been missing from current debates about conservation priorities. To say that societies before the Industrial Revolution had little effect on the environment or diversity of species is mistaken, argues the paper. It draws on new datasets using ancient DNA, stable isotopes, and microfossils, as well as the application of new statistical and computational methods. It shows that many living species of plants, trees and animals that thrive today are those that were favoured by our ancestors; and that large-scale extinctions started thousands of years ago due to overhunting or change of land use by humans. The paper concludes that in light of this and other evidence of long-term anthropogenic change, we need to be more pragmatic in our conservation efforts rather than aiming for impossible 'natural' states.
The paper identifies four major phases when humans shaped the world around them with broad effects on natural ecosystems: global human expansion during the Late Pleistocene; the Neolithic spread of agriculture; the era of humans colonising islands; and the emergence of early urbanised societies and trade.
It draws on fossil evidence showing Homo sapiens was present in East Africa around 195,000 years ago and that our species had dispersed to the far corners of Eurasia, Australia, and the Americas by 12,000 years ago. This increase in global human populations is linked with a variety of species extinctions, one of the most significant being the reduction by around two-thirds of 150 species of 'megafauna' or big beasts between 50,000 and 10,000 years ago, says the paper, with their disappearance having 'dramatic effects' on the structure of the ecosystem and seed dispersal.
The second phase, the advent of agriculture worldwide, placed new evolutionary pressures on plants and animals that had 'unprecedented and enduring' effects on the distribution of species, according to the paper. The data highlighted shows that domesticated sheep, goats and cattle were first in the Near East 10,500 years ago, and arrived in Europe, Africa and South Asia within a few millennia. Chickens, originally domesticated in East Asia, reached Britain by the second half of the last millennium and now outnumber people by more than three to one globally, says the paper. Meanwhile, it also highlights research showing that the domestication of dogs happened before the emergence of agricultural societies, with around 700 million to one billion dogs in the world today. By contrast with domesticated animals, the percentage of truly wild vertebrates left today as a result of these long-term processes is described as 'vanishingly small'.
Thirdly, the paper outlines the impact of the human colonisation of islands. It observes that the resulting movement of species was so common that archaeologists speak of 'transported landscapes'. With the humans came new species, fire, deforestation and predatory threats to indigenous animals and birds.
Finally, the paper outlines the effects of an expansion in trade from the Bronze Age onwards, with a period of intense farming in response to growing human populations and emerging markets across the Old World. In the Near East, deciduous trees were turned over to evergreen oak, and indigenous forest became cultivated with the introduction of crops like olive, grape and fig. Around 80-85% of areas suited to agriculture were cultivated in the Near East 3,000 years ago, says one study highlighted in the paper. It also shows plants in 'ancient' forests in France are strongly linked with what would have once grown in Roman sites, and cites a recent estimate that at least 50 new plant foods -- mainly fruits, herbs and vegetables -- were introduced to Britons in the Roman period alone.
Lead author Dr Nicole Boivin, from the School of Archaeology at the University of Oxford, and Max Planck Institute for the Science of Human History, says: 'Archaeological evidence is critical to identifying and understanding the deep history of human effects. If we want to improve our understanding of how we manage our environment and conserve species today, maybe we have to shift our perspective, by thinking more about how we safeguard clean air and fresh water for future generations and rather less about returning planet Earth to its original condition.'
She also emphasises the importance of the study to current debates about a human role in climate warming: 'Cumulative archaeological data clearly demonstrates that humans are more than capable of reshaping and dramatically transforming ecosystems. Now the question is what kind of ecosystems we will create for the future. Will they support the wellbeing of our own and other species or will they provide a context for further large-scale extinctions and irreversible climate change?'
Nicole L. Boivin, Melinda A. Zeder, Dorian Q. Fuller, Alison Crowther, Greger Larson, Jon M. Erlandson, Tim Denham, Michael D. Petraglia.Ecological consequences of human niche construction: Examining long-term anthropogenic shaping of global species distributions.Proceedings of the National Academy of Sciences, 2016; 201525200 DOI: 10.1073/pnas.1525200113
Greenland Set Melt Records in 2015 Consistent with 'Arctic Amplification'
June 9, 2016
Following record-high temperatures and melting records in northwest Greenland in summer 2015, a new study provides the first evidence linking melting in Greenland to the anticipated effects of a phenomenon known as Artic amplification.
Arctic amplification, in the simplest terms, is the faster warming of the Arctic compared to the rest of the Northern Hemisphere as sea ice disappears. It is fueled by a feedback loop: rising global temperatures are melting Arctic sea ice, leaving dark open water that absorbs more solar radiation, and that warms the Arctic even more. Arctic amplification is well documented, but its effects on the atmosphere are more widely debated. One hypothesis suggests that the shrinking temperature difference between the Arctic and the mid-latitudes will lead to a slowing of the jet stream, which circles the northern latitudes and normally keeps frigid polar air sharply separated from warmer air in the south. Slower winds could create wilder swings of the jet stream, allowing warm, moist air to penetrate farther north.
The new study, published this week in the journal Nature Communications, shows that those anticipated effects occurred over northern Greenland during the summer of 2015, including a northern swing of the jet stream that reached latitudes never before recorded in Greenland at that time of year.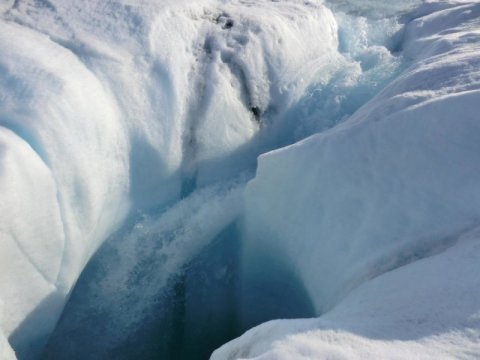 A river of meltwater on the Greenland ice sheet. Photo: Marco Tedesco
A stream of meltwater flows across the Greenland ice sheet. Photo: Marco Tedesco
"How much and where Greenland melts can change depending on how things change elsewhere on earth," said lead author Marco Tedesco, a research professor at Columbia University's Lamont-Doherty Earth Observatory and adjunct scientist at NASA Goddard Institute for Space Studies. "If loss of sea ice is driving changes in the jet stream, the jet stream is changing Greenland, and this, in turn, has an impact on the Arctic system as well as the climate. It's a system, it is strongly interconnected and we have to approach it as such."
The Greenland ice sheet, earth's second largest after Antarctica, holds enough ice that, if it were to melt entirely, it would raise average global sea level by about seven meters. Understanding the drivers of melting is critical to understanding how quickly and by how much sea level will rise in the future and how Greenland's freshwater runoff will affect ocean circulation and ecology.
Northwest Greenland's summer of melt
Northwest Greenland's summer of melt started in June 2015, when a high-pressure ridge squeezed off from the jet stream, the study shows. It moved westward over Greenland until it sat over the Arctic Ocean and affected weather across the island through mid-July.
That high-pressure system, called a cut-off high, brought clear skies and warmed northern Greenland, helping set records for surface temperature and meltwater runoff in the northwest, the study shows. With less summer snow falling and melting underway, northern Greenland's albedo, or reflectivity, also decreased. A less-reflective surface absorbs more solar energy, which feeds more melting, as Tedesco illustrated in a study earlier this year on the darkening of Greenland.
The map shows changes in runoff from the Greenland ice sheet during July 2015 compared to the 1981-2010 mean. The bar chart focuses on the northwest sector, showing standardized anomalies for mean July runoff (black line), surface temperature (red bards) and surface broadband albedo (blue bars) over time. Source: Tedesco et al., 2016
The map shows changes in runoff from the Greenland ice sheet during July 2015 compared to the 1981-2010 mean. The bar chart focuses on the northwest sector, showing standardized anomalies for mean July runoff (black line), surface temperature (red bars) and surface broadband albedo (blue bars) over time. Source: Tedesco et al., 2016.
Northern Greenland also set an unusual July record for wind: the winds blew east to west on average, rather the usual west to east; only two other years on record show easterly winds on average in July, both near zero. At the same time, the jet stream's northernmost ridge swung farther north than ever recorded for that month, passing 76 degrees North latitude, nearly 2 degrees farther north than the previous July record, set in 2009, the authors write.
The same atmospheric pattern had a different impact on southern Greenland, where new melting records have been set over the past decade. The south saw more snow during summer of 2015 and less melting than previous years.
What drove the changes?
The authors stop short of confirming Arctic amplification as the cause of the warming, but they say the results fit the anticipated effects of Arctic amplification described by Jennifer Francis of Rutgers University and Stephan Vavrus of the University of Wisconsin in a 2012 paper.
Recent studies exploring the potential effects of Arctic amplification have showed that high-pressure blocks connected to northward swings of the jet stream have become more common near Greenland. Edward Hanna of the University of Sheffield, a co-author of the new Nature Communications paper, released a study in May using the Greenland Blocking Index to measure the strength of stationary high-pressure systems over the past 165 years and found that seven of the top 11 systems had occurred since 2007.
"The significant increase in Greenland high-pressure blocking that has occurred in the last 20 to 30 years is clearly related to recent record warming over the region, as well as jet-stream changes," Hanna said. "This makes it more likely than not that within the next five to 10 years we will witness further record Greenland melt events like in 2012 and 2015."
"The Arctic is full of climate surprises, and Greenland is a key player," said James Overland, an oceanographer and climate scientist at the National Oceanic and Atmospheric Administration who was not involved in the new study. "Climate models suggest a 4 degree Celsius Arctic temperature increase by mid-century, but such jet stream related surprises acting on Greenland as reported by Tedesco et al. can accelerate Arctic climate change."
Whether the patterns seen in 2015 will continue in the future remains to be seen. This spring, Arctic sea ice set another record low for its maximum extent for the year. "Greenland also experienced early season melt in early April of this year comparable to April 2012. Record setting melt occurred later that summer, but it is too early to tell whether the same will hold true in 2016," said co-author Thomas Mote of the University of Georgia.
"The conditions we saw in the past aren't necessarily the conditions of the future," Tedesco said. "If humans change the forcing, we are going into uncharted territory."
The other co-authors of the new paper are Xavier Fettweis of University of Liege; Jeyavinoth Jeyaratnam, James Booth, and Rajashree Datta of City College of New York; and Kate Briggs of University of Leeds. The study was supported by funding from NASA's Interdisciplinary Data Science Program, NASA's Cryosphere Program and the National Science Foundation.
M. Tedesco, T. Mote, X. Fettweis, E. Hanna, J. Jeyaratnam, J. F. Booth, R. Datta, K. Briggs. Arctic cut-off high drives the poleward shift of a new Greenland melting record. Nature Communications, 2016; 7: 11723 DOI:10.1038/ncomms11723
Coal Seam Gas (CSG) wells flooded in Nepean River
Published on 6 Jun 2016: Lock the Gate Alliance
AGL's CSG wells flooded over the weekend (5 June 2016) and CSG water holding tanks are floating in Menangle Park, Sydney. This footage taken today also shows heavy bubbling near submerged gas wells.
It highlights the national risks to water given the frequency of storms and floods.
Lock the Gate calls on EPA to investigate risk of contamination at AGL's flooded CSG wells in Camden
Published: June 07, 2016: by Lock the Gate Alliance
Local people in the Menangle Park area have contacted Lock the Gate with serious concerns about more than six CSG wells that have been submerged in floodwaters, south-west of Sydney, in areas adjoining the Nepean River, and CSG water tanks and containers that have been transported by flood waters and upended.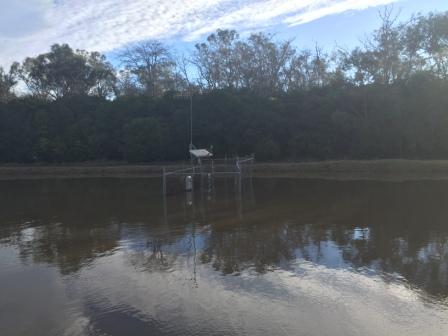 Dan Robins, from Lock the Gate Alliance, has been out on site over the past two days and witnessed first hand the flooding and upended waste water tanks
Lock the Gate is calling on the NSW EPA to urgently investigate the contamination risk posed to nearby residents, the adjoining Nepean River nearby creeks and waterways.
"We believe that there is a high risk that untreated waste water from AGL's Camden CSG wells has been dumped into the Nepean River during the flooding, as tanks have been upended.
"According to AGL's own water monitoring data, the waste water they produce from the Camden gasfield is extremely salty and also contains pollutants like barium and boron.
"This looks like a pollution event that never should have happened, and we don't believe AGL has any licence or authority which allows it to pollute the Nepean River, so we are calling for urgent action from the EPA to investigate.
"AGL need to immediately advise how much wastewater has been released into the Nepean River, and provide full disclosure on the contaminants it contains.
"People in the Menangle Park area have repeatedly raised concerns about AGL's CSG wells in floodwaters near Sydney in areas adjoining the Nepean River, and the real risk that poses to our water.
"CSG and unconventional gas should not operate in important water sources - it should be banned from floodplains and water catchments - and all nationally significant water sources should be fully protected.
"Mining on floodplains is a crazy idea, and it should never have been allowed, the risk to water just isn't worth it.
"AGL should display some corporate responsibility and shut-down these wells immediately, rather than continuing to risk NSW water.
"It is because of these serious risks to water that unconventional gas is a major federal election issue across Australia, from south-west Western Australia to South Australia and along the eastern seaboard.
"This is exactly why CSG should not go ahead on the Liverpool Plains or in the recharge zone of the Great Artesian Basin," said Mr Robins.
EPA inspection finds no gas leaks from flooded gas wells near Camden
Media release: 10 June 2016 - By EPA
The NSW Environment Protection Authority (EPA) identified no gas leaking from wells during its inspection of AGL's Camden Gas Project on Wednesday.
Officers inspected a total of 12 gas wells located in the flood affected areas of Menangle Park, Glenlee and near the Elizabeth Macarthur Agricultural Institute.
Testing was carried at wells in the Menangle Park area where bubbling had been observed by members of the community.
The EPA detected no methane leaks during monitoring.
AGL advised the EPA that approximately 7,500 litres of produced water was potentially released after floodwater dislodged three storage tanks. The tanks remained within the boundary of the site.
The EPA has considered the impact of this volume of produced water on the flood water that was present in the catchment at the time and considers the environmental impact to be low.
As produced water should not be released to the environment at AGL's Camden site, the EPA will be conducting a review of AGL's flood management procedures in line with the EPA's lead regulatory role under the NSW Gas Plan.
The EPA has requested AGL to provide regular updates as the flood water recedes and the wells are gradually brought back into operation.
A blooming marvellous addition to Sydney
10 June 2016
Sydney's newest cultural attraction, the $17 million world-class horticultural exhibition space The Calyx, will open to the public tomorrow, NSW Environment Minister Mark Speakman announced today.
The Calyx is a living-art gallery featuring a 285m² 'green wall' with more than 18,000 plants – the largest in the southern hemisphere.
"The Calyx is a fusion of art and flora and will feature themed exhibitions that address conservation and environment issues in an imaginative, accessible way," Mr Speakman said.
"It is a welcome addition to our wonderful Royal Botanic Garden and to the city of Sydney as a whole and we expect more than 150,000 people will visit in its first year.
"The Royal Botanic Garden Sydney, in its 200th year, is Australia's oldest living scientific institution. The Calyx is a new opportunity to engage visitors and showcase the Garden's important conservation work."
The Calyx launch exhibition Sweet Addiction – the Botanic Story of Chocolate aims to show visitors how chocolate is made – from seed to sweet treat. The exhibition will run until Easter 2017.
Features of The Calyx include:
• A 285m² interior green wall featuring more than 18,000 plants
• The pre-existing arc glasshouse, designed by renowned Australian architect Ken Woolley, retained and incorporated into the new building
• Exhibition plants that have been grown in the Garden's technologically advanced glasshouse or sourced from across Australia
• Flexible indoor and outdoor gallery and function spaces.
The Calyx opens to the public on Saturday 11 June.
Sweet Addiction - The Botanic Story of Chocolate: Live at The Calyx
Sweet Addiction is the inaugural exhibition at The Calyx, Sydney's newest attraction. Find out more and book tickets at www.thecalyx.com.au
11 Jun 2016 - 17 Apr 2017, The Calyx, Sydney
See another side of nature and experience its stories in an unexpected way through Sweet Addiction – the botanic story of chocolate.
Sweet Addiction is the first exhibition to open in The Calyx, a world-class horticultural space and Sydney's newest must-see attraction.
An exhibition you can taste, touch, see, hear and smell, this is an opportunity to experience chocolate like never before.
From the depths of a South American rainforest, journey through chocolate plantations, ancient history, a Lindt chocolate mill, and a delightful chocolatier room. See the awe-inspiring interior green wall – the southern hemisphere's largest contiguous green wall complete with over 18,000 plants! And learn amazing things you never knew about chocolate.
Sweet Addiction is designed as a self-guided 45 minute experience. Suitable for chocaholics of all ages. Tickets on sale now, pre-purchase online to save!
The exhibition opens 11 June with interactive chocolate-themed events taking place throughout the exhibition period.
Watch the video to get your first taste of the exhibition.
______________
Some history of this wonderful garden which celebrates 200 years this June is in: The Royal Botanical Garden Sydney Celebrates 200 Years in 2016
Camden Gasfields Petition
AGL still have 96 coal seam gas production wells in South Western Sydney, surrounding Camden, some between 40m - 200m from family homes and schools.
While the Eastern suburbs, electorates for Mike Baird and Malcolm Turnbull MP, have zero.
As the largest growth center in Sydney there are current plans to build 35,000 new homes as close as 20m from AGLs existing coal seam gas wells.
AGL plans to stop all production in this area by 2023. This is not acceptable. These families do not deserve 7 more years of these horrific health effects. 35,000 new homes in the same area is a health epidemic in the making.
Australian Mothers-Against-Gas started this petition with a single signature, now they need more support to help protect Camden and shut down those wells NOW.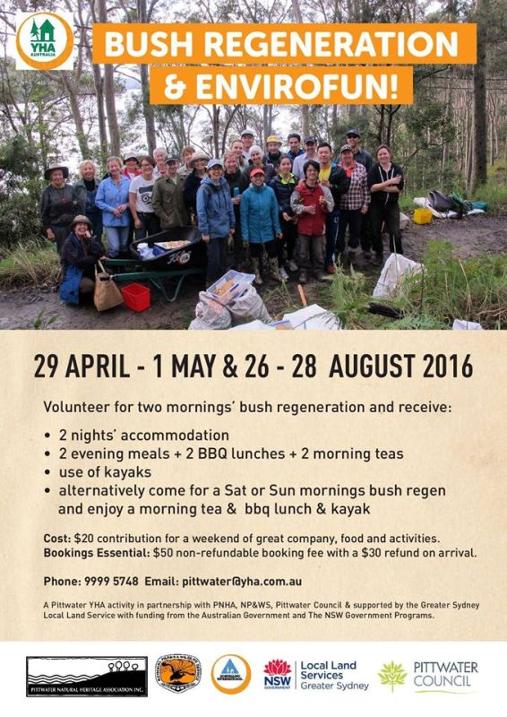 New Era In Land Management and Conservation
Tuesday, 3 May 2016: NSW OEH Media Release
The NSW Government has released its consultation package to overhaul ineffective, complicated environmental laws and create a new system that improves both environmental outcomes and farmers' productivity.
Under the new system, routine farm work would be exempt from regulation, farmers would be able to plan for the future to improve their productivity, and the government would provide farmers with incentives to conserve native plants and trees on their land.
The reforms would also protect and enhance the environment with an historic investment of $240 million over five years in private land conservation, $70 million in each following year and $100 million dedicated over five years to the "Saving Our Species" program.
Deputy Premier Troy Grant said the NSW Government was delivering on its commitment to repeal the Native Vegetation Act and create laws that both protect the environment and give farmers a fair go.
"For too long the burden of these laws has rested on the shoulders of farmers – and I am
proud we are one step closer to repealing this legislation and delivering on the independent panel's recommendations to reform land management in this state," Mr Grant said.
Environment Minister Mark Speakman said the new laws would take a strategic approach to conservation and would complement the Commonwealth's biodiversity protections.
"We are delivering a simple and effective way to use and protect land that is backed by record government investment to build a network of conserved lands on private property.
"We have tough measures to protect endangered ecological communities supported by Commonwealth protections that will conserve our biodiversity for future generations."
Minister for Primary Industries Niall Blair said the reforms would give farmers an opportunity to make informed choices on what works best for their land.
"Our farmers are our frontline environmental custodians and it makes sense to give them the flexibility to manage and protect the land that is the lifeblood of our regional communities."
The reform package will:
• Ensure land clearing is assessed under a single set of rules, simplifying the task of farmers in managing their land
• Conserve biodiversity at a bioregional level
• Give landholders incentives to conserve biodiversity on private land
• Reverse the historical decline of biodiversity in NSW
Drafts of the new Biodiversity Conservation Act and amended Local Land Services Act are on public exhibition and open for submissions for the next eight weeks. Details: www.landmanagement.nsw.gov.au
Members of the public are invited to submit their feedback on the proposed biodiversity conservation reform package.
• Draft Biodiversity Conservation Bill (PDF, 755KB)
• Draft Local Land Services Amendment Bill (PDF, 394KB)
The submission guides provide detailed information for members of the public to provide constructive feedback. The guides contain specific consultation questions that can help to inform the development of the reforms.
• Simplifying Land Management submission guide
• Native Vegetation Regulatory Map submission guide
• Ecologically Sustainable Development submission guide
• Protecting Native Plants and Animals submission guide
• Private Land Conservation submission guide
Written submissions can be submitted online using the form on this page or posted to:
Biodiversity Reforms - Have Your Say, Office of Environment and Heritage, PO Box A290, Sydney South. NSW 1232
The public consultation period ends on 28 June 2016 at 5pm.
2016 National Landcare Conference and Awards - Registrations Open
June 7: Landcare Australia
We are pleased to announce that registrations are now open for the 2016 National Landcare Conference and Awards, to be held at the Melbourne Convention and Exhibition Centre from 21-23 September 2016.
Themed 'Collaborative Communities – Landcare in Action', the 2016 National Landcare Conference and Awards is your opportunity to contribute to, engage with, and learn from your community and peers.
Held over three exciting days, the 2016 National Landcare Conference and Awards will deliver an engaging programme, as well as offer you the opportunity to attend a variety of informative and educational field trips within close proximity to Melbourne CBD. To recognise the hard work and innovation of the Landcare community, the Landcare Awards gala dinner provides you the chance to let your hair down and celebrate the achievements of peers with the announcement of the National Landcare category winners, the People's Choice Award winner, and the ultimate acknowledgement of the 2016 Bob Hawke Landcare Award and $50,000 prize winner.
We officially welcome Landcarers across the country, who grow our food and protect our environment, to register for the 2016 National Landcare Conference and Awards. The Conference represents the diversity of Australia's leading volunteer movement, providing an opportunity for all to join in the discussion on how we can build a resilient agricultural and environmental future.
The diverse conference programme focuses on the theme of Collaborative Communities – Landcare in Action, with keynote speeches being delivered by Major General the Honourable Michael Jeffery, AC, AO (Mil), CVO, MC (Retd), as well as Don Bourke, Presenter and Executive Producer of Australia's beloved Burke's Backyard.
Register now for your Early Bird discount and save. For further details or to register, go to the official National Landcare Conference website: www.nationallandcareconference.org.au
Mobile phone footage helps EPA catch illegal dumper
Media release: 10 June 2016
The NSW Environment Protection Authority (EPA) has issued a penalty notice and fined a business man from Young $4,000 for the unlawful transport and disposal of septic tank waste onto a property at Bigga, near Crookwell.
The EPA commenced an investigation after a member of the public captured footage of the November 2015 incident on their mobile phone and provided it to the EPA. The footage showed a brown liquid substance being discharged from the back of a truck and spilling freely onto the ground.
Testing carried out later by EPA officers found pathogens consistent with human sewage present in the soil, confirming that septic waste had been transported and disposed of illegally onto the land.
The EPA's Director South, Gary Whytcross said illegal dumping of waste is an environmental crime that will not be tolerated by the EPA or by the community.
"In this case, not only was the septic waste unsightly, but it also posed a potential risk to human health and the local environment," Mr Whytcross said.
"Unfortunately the dumping of waste onto unoccupied land is not an isolated incident, but as we saw in this case, the community can play a really important role in helping the EPA catch these illegal dumpers in the act and bring them to account.
The community are our eyes and ears, and with smartphone technology people can capture vital evidence that can go a long way to helping us stop illegal dumping across NSW."
Anybody who sees suspicious or unusual truck activity on a property report should report it immediately to the EPA's 24hour Environment Line on 131 555, providing details of the vehicle's registration, a description of the vehicle and type of waste, as well as the time and location of the incident.
The EPA must take a range of factors into account before delivering a proportionate regulatory response, including the degree of environmental harm, whether or not there are any real or potential health impacts, if the action of the offender was deliberate, compliance history, public interest and best environmental outcomes
Penalty notices are one of a number of tools the EPA can use to achieve environmental compliance. Other tools include; formal warnings, additional notices and directions, mandatory audits, enforceable undertakings, legally binding pollution reduction programs and prosecutions.
For more information about the EPA's regulatory tools, see the EPA Compliance Policy at: www.epa.nsw.gov.au/legislation/prosguid.htm
Research proves Aboriginal Australians were first inhabitants: Conflicting theories of Mungo Man debunked
June 6, 2016
Lake Mungo region, Australia. A new study refutes an earlier landmark study that claimed to recover DNA sequences from the oldest known Australian, Mungo Man. Credit: © markrhiggins / Fotolia
Griffith University researchers have found evidence that demonstrates Aboriginal people were the first to inhabit Australia.
The work refutes an earlier landmark study that claimed to recover DNA sequences from the oldest known Australian, Mungo Man.
This earlier study was interpreted as evidence that Aboriginal people were not the first Australians, and that Mungo Man represented an extinct lineage of modern humans that occupied the continent before Aboriginal Australians.
Scientists from Griffith University's Research Centre for Human Evolution (RCHE), recently used new DNA sequencing methods to re-analyse the remains of Mungo Man from the World Heritage listed landscape of the Willandra Lakes region, in far western New South Wales.
Professor Lambert, from RCHE, said it was clear that incorrect conclusions had been drawn in relation to Mungo Man in the original study.
"The sample from Mungo Man which we retested contained sequences from five different European people suggesting that these all represent contamination," he said.
"At the same time we re-analysed more than 20 of the other ancient people from Willandra. We were successful in recovering the genomic sequence of one of the early inhabitants of Lake Mungo, a man buried very close to the location where Mungo Man was originally interred.
"By going back and reanalysing the samples with more advanced technology, we have found compelling support for the argument that Aboriginal Australians were the first inhabitants of Australia."
Professor Lambert explained that the results proved that the more advanced genomic technology was capable of unlocking further secrets from Australia's human past.
"We now know that meaningful genetic information can be recovered from ancient Aboriginal Australian remains," he said.
"This represents the first time researchers have recovered an ancient mitochondrial genome sequence from an Aboriginal person who lived before the arrival of the Europeans."
The research, which has just been published in the journal Proceedings of the National Academy of Sciences, was planned and conducted with the support of the Barkindjii, Ngiyampaa and Muthi Muthi indigenous people.
There has been considerable debate in Australia and around the world about the origins of the first Australians since the publication in 1863 of Thomas Henry Huxley's Man's Place in Nature.
Tim H. Heupink, Sankar Subramanian, Joanne L. Wright, Phillip Endicott, Michael Carrington Westaway, Leon Huynen, Walther Parson, Craig D. Millar, Eske Willerslev, and David M. Lambert. Ancient mtDNA sequences from the First Australians revisited. PNAS, 2016 DOI:10.1073/pnas.1521066113
Independent PAC to decide on second IMAX building and hotel option
08.06.2016: Departmental Media Release - Department of Planning and Environment
A second proposal to redevelop the IMAX site as part of Darling Harbour's revitalisation has been recommended for approval by the Department of Planning and Environment, with conditions responding directly to issues raised during consultation.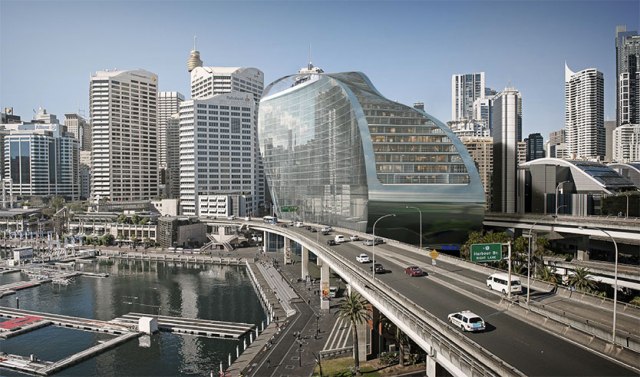 The independent Planning Assessment Commission will make the final decision on Grocon Pty Ltd's second application which proposes to construct a new 25-storey hotel and serviced apartment complex with updated IMAX theatre and some retail to replace the existing cinema.
Key issues raised during consultation include use of public land, building design, traffic, access and safety.
These issues have been addressed in the Department's assessment by recommending strict conditions in response, including:
a legal restriction prohibiting permanent residential use of the building, consistent with City of Sydney Council's standard practice which would also be placed on serviced apartments if individually sold in the future

certification for the building façade glazing to achieve high-levels of noise protection and glare reduction for pedestrians and motorists on the Western Distributor

a requirement for the building to achieve a five star Green Star rating certification from Green Building Council of Australia within two years of the final occupation certificate

a management and operational plan for the car stacker, loading dock, valet service and porte de cochere will be prepared in consultation with government agencies before a construction certificate can be issued

a Road Safety Audit and Traffic Impact Assessment be prepared in consultation with government agencies before a construction certificate can be issued

a requirement to provide minimum footpath width on the building's western side improving safety and accessibility for pedestrians.
A three storey car stacker would provide 170 car parking spaces for the hotel and apartments, with 295 bicycle spaces also included.
Public space upgrades are also part of the plans including a new playground, a public display screen on the western façade of the building to televise information or events such as sporting matches, and an updated Harbour Street pedestrian walkway.
The Department carefully considered issues of building design and considers the new application to be largely consistent with the previous approval and is of a high architectural quality.
"Consultation with the community is enshrined into the process for assessing applications like these," a spokesperson from the Department said.
"The Planning Assessment Commission is an important part of the NSW planning system ensuring major developments are subject to expert, independent review and assessment.
"The Commission will now consider the Department's report and recommended conditions as well as community submissions to make a final decision."
The Department publicly exhibited the second application between January and February 2016. There were four public submissions received objecting to the proposal and ten submissions from government agencies.
Grocon's initial application to demolish the existing IMAX theatre included office building plans for city workers. This original consent remains while the applicant seeks approval for a second application.
Under the Environmental Planning and Assessment Act an applicant may hold more than one development consent for the same site.
For more information please visit the Major Projects website
Appointment of new electoral commissioner
3rd June 2016: NSW Government
NSW Premier Mike Baird today announced the appointment of John Schmidt as the State's new Electoral Commissioner.
Mr Schmidt has held senior roles in the Commonwealth and NSW public service, including as chief executive officer of the Australian Transaction Reports & Analysis Centre. AUSTRAC is Australia's financial intelligence unit with regulatory responsibility for anti-money laundering and counter-terrorism financing.
"As part of our reforms to clean up politics in NSW, we established a new Electoral Commission with appropriate investigative functions and a clear mandate to institute criminal and civil proceedings for breaches of electoral laws," Mr Baird said.
"In John Schmidt we have a person with the right skills and experience to lead the organisation into the future."
Mr Schmidt will commence in the role on 8 August 2016. His term runs for seven years.
Linda Franklin will remain as Acting Commissioner until Mr Schmidt commences, and will continue to oversee the management of local government elections scheduled for 10 September.
Glass now has smart potential
June 7, 2016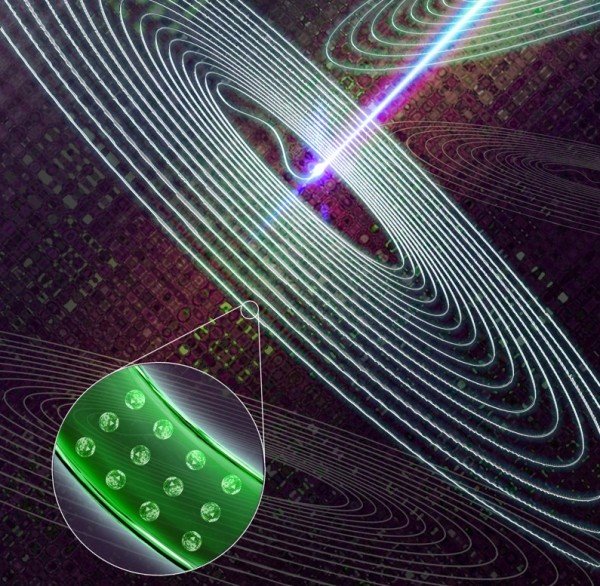 Graphic representation of nanoparticles embedded in glass. Credit: University of Adelaide
Australian researchers at the University of Adelaide have developed a method for embedding light-emitting nanoparticles into glass without losing any of their unique properties -- a major step towards 'smart glass' applications such as 3D display screens or remote radiation sensors.
This new "hybrid glass" successfully combines the properties of these special luminescent (or light-emitting) nanoparticles with the well-known aspects of glass, such as transparency and the ability to be processed into various shapes including very fine optical fibres.
The research, in collaboration with Macquarie University and University of Melbourne, has been published online in the journal Advanced Optical Materials.
"These novel luminescent nanoparticles, called upconversion nanoparticles, have become promising candidates for a whole variety of ultra-high tech applications such as biological sensing, biomedical imaging and 3D volumetric displays," says lead author Dr Tim Zhao, from the University of Adelaide's School of Physical Sciences and Institute for Photonics and Advanced Sensing (IPAS).
"Integrating these nanoparticles into glass, which is usually inert, opens up exciting possibilities for new hybrid materials and devices that can take advantage of the properties of nanoparticles in ways we haven't been able to do before. For example, neuroscientists currently use dye injected into the brain and lasers to be able to guide a glass pipette to the site they are interested in. If fluorescent nanoparticles were embedded in the glass pipettes, the unique luminescence of the hybrid glass could act like a torch to guide the pipette directly to the individual neurons of interest."
Although this method was developed with upconversion nanoparticles, the researchers believe their new 'direct-doping' approach can be generalised to other nanoparticles with interesting photonic, electronic and magnetic properties. There will be many applications -- depending on the properties of the nanoparticle.
"If we infuse glass with a nanoparticle that is sensitive to radiation and then draw that hybrid glass into a fibre, we could have a remote sensor suitable for nuclear facilities," says Dr Zhao.
To date, the method used to integrate upconversion nanoparticles into glass has relied on the in-situ growth of the nanoparticles within the glass.
"We've seen remarkable progress in this area but the control over the nanoparticles and the glass compositions has been limited, restricting the development of many proposed applications," says project leader Professor Heike Ebendorff-Heideprem, Deputy Director of IPAS.
"With our new direct doping method, which involves synthesizing the nanoparticles and glass separately and then combining them using the right conditions, we've been able to keep the nanoparticles intact and well dispersed throughout the glass. The nanoparticles remain functional and the glass transparency is still very close to its original quality. We are heading towards a whole new world of hybrid glass and devices for light-based technologies."
Jiangbo Zhao, Xianlin Zheng, Erik P. Schartner, Paul Ionescu, Run Zhang, Tich-Lam Nguyen, Dayong Jin, Heike Ebendorff-Heidepriem.Upconversion Nanocrystal-Doped Glass: A New Paradigm for Photonic Materials. Advanced Optical Materials, 2016; DOI:10.1002/adom.201600296
Reduce cyberslacking, increase physical activity with a tap, a click or a kick
June 6, 2016
An innovative wearable technology for standing desks that creates a new way of interacting with your computer could reduce cyberslacking and increase healthy movement.
Researchers at the University of Waterloo's David R. Cheriton School of Computer Science are hoping to make computing a bit more fun and physically active all while helping computer users kick cyberslacking habits by introducing a foot interaction method for computer users with a standing desk.
Professor Daniel Vogel presents Tap-Kick-Click: Foot Interaction for a Standing Desk at the Association for Computing Machinery's Designing Interactive Systems 2016 in Brisbane, Australia today. The idea behind the research project, conducted with Master's student William Saunders, is that computer users at standing desks can increase their physical activity through indirect, discrete two-foot input using combinations of kicks, foot taps, jumps, and standing postures which are tracked using a depth camera and instrumented shoes.
In addition to increasing physical activity while standing, these techniques use foot input as a cyberslacking deterrent by requiring the user to stand in a mildly uncomfortable position, such as a lunge, while viewing social networking websites or other distracting content. When the user changes from that position, the distracting content locks again.
"People already use a standing desk to be healthier and more productive. Increasing physical activity by using your feet to enter commands is our main focus, but the anti-cyberslacking pose is something that really pushes the whole idea farther," said Vogel. "Some people already install software to completely block sites like Facebook when they want to get work done. Our technique lets people use those sites, but since they need to stand in an uncomfortable pose while viewing them, they're naturally encouraged to keep it brief."
The researchers demonstrate the Tap-Kick-Click technique with a web browser, document reader and a code debugger, but the system can be paired with almost any desktop applications. An on-screen guide helps the user remember and perform associated foot actions while taking a break from working with their hands.
"There's plenty of research showing that using feet to type or move a cursor isn't a very good idea. We demonstrate that with the right style of interaction, feet are a good fit for slower tasks with intermittent input. Things like scrolling a webpage while reading or interactive code debugging," said Vogel. "We hope our system can make computing more physically active and maybe even a bit more fun."
The above is reprinted from materials provided by University of Waterloo.
Tap-Kick-Click: Foot Interaction for a Standing Desk
Published on 29 Apr 2016 by Daniel Vogel
Foot interaction techniques for controlling conventional desktop applications at a standing desk are described. Indirect, discrete two-foot input using combinations of spatial kicks, taps, jumps, and standing postures are tracked using a depth camera and instrumented shoes. An implemented system shows how visual feedback and interface augmentation can make foot input compatible with existing desktop applications. Application scenarios using the system demonstrate productive pure foot input breaks with real application tasks like web browsing and code debugging, as well as using feet as a secondary input channel with mouse and keyboard. An evaluation validates the usability of the approach.
Full details and description to appear in this research paper:
William Saunders, Daniel Vogel. 2016. Tap-Kick-Click: Foot Interaction for a Standing Desk. Proceedings of Designing Interactive Systems 2016 (DIS). ACM.
New frontiers of discovery
6 June, 2016: University of Technology Sydney
"Only nine ARC Discovery Project grants were awarded in Law and Legal Studies across Australia, and the UTS Faculty of Law received three of those," says former Associate Dean (Research) in the Faculty of Law, Professor Ana Vrdoljak.
Each year the Australian Research Council (ARC) awards Discovery Project (DP) grants to individual researchers and research teams for projects that will contribute to our national strategic research priorities.
The average national success rate for Discovery Projects commencing in 2016 was just under 18 per cent. The success rate for UTS's Faculty of Law was more than twice as high at 38 per cent.
"I think it shows that UTS is a really exciting place to be doing research in law at the moment and that the research we are doing is striking a chord in the wider community," says Associate Professor Isabella Alexander.
Alexander's project, 'Copyright and Cartography: Understanding the past, shaping the future' was one of the faculty's three successful grant applications.
Her project investigates the history of mapmaking and the copyright of maps both in the United Kingdom and Australia. The Discovery Project funding will enable Alexander to travel to archives overseas and across Australia, attend conferences to present findings, speak to others in adjacent fields and pay for research assistants.
She hopes her work will highlight the way copyright and culture influence each other, and the intersection between private rights and public access.
"Because it's a historical project, the main focus is to help us understand the world we live in," explains Alexander. "I think it will help us understand the interplay between legal regulation, the creation and circulation of information and the impact of law on commercial trade."
Associate Professor Thalia Anthony and Professor Larissa Behrendt's project, 'Where are Indigenous women in the sentencing of Indigenous offenders?' was also awarded funding. This research is aimed at ensuring fair and appropriate sentencing is given to Indigenous women – the fastest-growing prison demographic in Australia today.
For both Anthony and Behrendt, a major component of their project is encouraging the self-determination of Indigenous people.
"We are putting together a committee of Indigenous advisors to help cast research questions, as we want it to be led by Indigenous experts," explains Anthony.
The third successful DP-funded project is Professor Katherine Biber and Dr Trish Luker's 'What is a Document?'. This project will research the changing nature and role of documentation as evidence in litigation. The aim is to ensure the law is adapting to the digital age.
Both Vrdoljak and Alexander agree the faculty's strong results reflect the collaborative efforts of the whole team.
Says Vrdoljak, "I am really proud of everyone, both my colleagues that were successful and those who were not. I'm also proud of the professional staff including the research development officers, Emily Hammond and Claire Wiltshire who helped put the applications together."
And following on from the faculty's two successful DP-funded projects in 2015, it's another step forward in their goal to become one of the top five law schools in Australia by 2018.
Byline: Lexy Akillas, Bachelor of Arts in Communication (Journalism)
Tropical Pacific Ocean continues its cooling trend
BOM: June 7, 2016
The tropical Pacific Ocean remains in a neutral El Niño–Southern Oscillation (ENSO) state—neither El Niño nor La Niña. Sea surface temperatures across the tropical Pacific have been at neutral levels for the past four weeks, with the central Pacific Ocean having recently cooled to levels close to the long-term average. Temperatures below the tropical Pacific Ocean surface are much cooler than average. In the atmosphere, indicators such as the trade winds, cloudiness near the Date Line, and the Southern Oscillation Index (SOI) are at neutral levels. The latest monthly SOI, +2.8 for May 2016, is the highest value since May 2014.
The Bureau's ENSO Outlook remains at La Niña WATCH. This suggests around a 50% likelihood of La Niña forming later in 2016. International climate models indicate the tropical Pacific Ocean will continue to cool, with six of eight models suggesting La Niña is likely to form during the austral winter (June–August). However, individual model outlooks show a large spread between neutral and La Niña scenarios. At least one model suggests La Niña conditions may be short lived, returning to neutral by October.
Typically during La Niña, winter-spring rainfall is above average over northern, central and eastern Australia.
Warm sea surface temperatures (SSTs) continue to cover much of the Indian Ocean. Recent values of the Indian Ocean Dipole (IOD) index have dipped below the negative IOD threshold of -0.4. However it will take several more weeks of similar temperatures before a negative IOD event is considered established. Model outlooks suggest a negative IOD event may form during the austral winter. A negative IOD typically brings increased winter-spring rainfall to southern Australia.
Latest ENSO Wrap-Up issued 7 June 2016
__________________________________________________________________________________________________________________
Disclaimer: These articles are not intended to provide medical advice, diagnosis or treatment. Views expressed here do not necessarily reflect those of Pittwater Online News or its staff.