Inbox and Environment News: Issue 266
June 5 - 11, 2016: Issue 266
Coastal Management Bill passes
National Parks and Wildlife Amendment (Adjustment of Areas) Bill 2016

The National Parks and Wildlife Amendment (Adjustment of Areas) Bill 2016 was passed on May 31st, 2016. There is provision within this to facilitate the upgrade of Mona vale Road, Stage 3 by taking an area of about 0.768 hectare, from the Ku-ring-gai Chase National Park Part of the speeches during the Reading of this Bill focused on the necessity to make provision for a fauna bridge.
Compensatory land will be offered by Roads and Maritime Services, in almost two hectares of land being added to the adjoining Garigal National Park. This will include land surrounding Whale Rock, a significant Aboriginal rock engraving, which will greatly benefit from increased protection under the reserve system.'
Overview of Bill
The object of this Bill is to amend the National Parks and Wildlife Act 1974:
(a) to change the reservation of Ben Halls Gap National Park (which consists of about 3,018 hectares) to a nature reserve to be known as Ben Halls Gap Nature Reserve, and
(b) to change the reservation of about 2,020 hectares of Khappinghat Nature Reserve to a national park to be known as Khappinghat National Park, and
(c) to revoke the reservation of about 88.42 hectares of Gwydir Wetlands State Conservation Area, and
(d) to revoke the reservation of the following land and to vest the land in the Minister for the purposes of Part 11 of that Act, which enables the Minister to sell, grant leases of, dispose of or otherwise deal with the land:
(i) about 0.1 hectare of Jervis Bay National Park,
(ii) about 140.94 hectares of Kosciuszko National Park,
(iii) about 2.018 hectares of Ku-ring-gai Chase National Park,
(iv) about 0.04 hectare beneath the surface of Lane Cove National Park,
(v) about 0.34 hectare of Middle Brother National Park,
(vi) about 18.5 hectares of Morton National Park,
(vii) Penrith Lakes Regional Park (which consists of about 6,656 square metres),
(viii) about 13.4 hectares of Royal National Park,
(ix) about 1.6 hectares of Wollemi National Park,
(x) about 0.11 hectare of Yaegl Nature Reserve, and
(e) to provide that the Minister must not transfer the parts of that land currently forming part of Ku-ring-gai Chase National Park and Middle Brother National Park, unless satisfied that appropriate compensation has been provided, and
(f) to revoke the reservation of about 86.31 hectares of land in Macquarie Pass State Conservation Area that has been transferred to the Illawarra Local Aboriginal Land Council, following a claim under the Aboriginal Land Rights Act 1983.
The National Parks and Wildlife Amendment (Adjustment of Areas) Bill 2016 Bill (and Explanatory note) are available here
More in: Bill To Facilitate Mona Vale Road Upgrades Passes: Vital Fauna Bridge Discussed
New protest laws commenced
June 3, 2016: EDO

Changes to laws targeting environmental protesters have commenced on June 1, 2016. The changes include new trespass offences and new offences specific to coal seam gas protests.
Changes made to the law to broaden police powers to move people on who are part of a genuine protest and to search and seize property have not yet commenced.
The Inclosed Lands, Crimes and Law Enforcement Legislation Amendment (interference) Act 2016 No 7 Government Gazette.
Whale of a spectacle on the way
29 May 2016
Whale watchers can expect a bumper number of sightings during the 2016 NSW whale season which kicks off this week, NSW Environment Minister Mark Speakman said today.
A big year of calving in 2015 means the number of humpbacks, southern right whales and minke whales along the NSW coastline is likely to increase – and so will the likelihood of spotting them.
"The population of humpback whales passing the NSW coast is estimated to be more than 20,000 and is increasing more than 10 per cent each year," Mr Speakman said.
"The number of people visiting NSW coastal national parks during whale season is soaring – up 39 per cent between July and October in the past five years, which we believe in large part is due to the popularity of whale watching."
Mr Speakman said that during last year's National Parks and Wildlife Service Wild About Whales campaign, more than $2 million in accommodation bookings was made in NSW coastal national park properties.
"National parks make up almost 50 per cent of the NSW coastline. These bookings also help support the local economy through tourism to those areas along the coastline and make NSW Australia's best whale watching state."
Mr Speakman reminded whale watchers who ventured into the water to keep a safe, respectful distance.
"It's a busy time offshore for shipping and marine mammals and anyone on the water should be vigilant to avoid collision," he said.
"All vessels including kayaks, surf skis and surfboards must remain at least 100 metres from a whale and 300 metres if there is a calf present, which are both for the safety of whale watchers and the wellbeing of the whales themselves."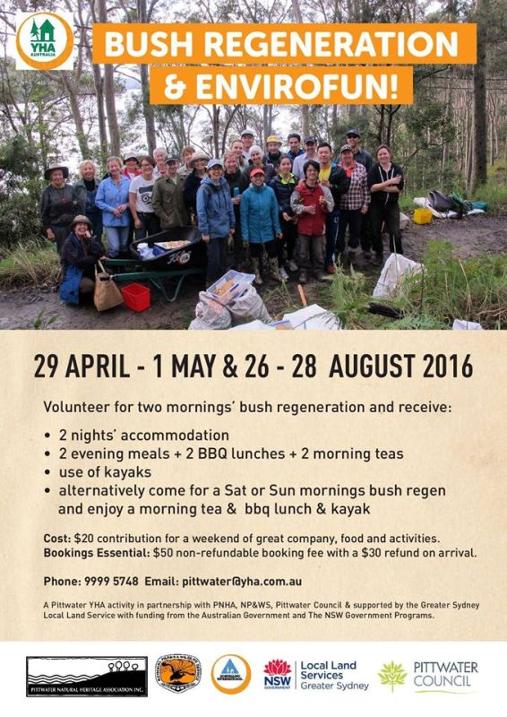 New thinking needed on environmental campaigns
June 1, 2016: James Cook University
James Cook University researchers are fine-tuning better ways to motivate people to look after the environment.
They say that current social marketing techniques have little impact on changing people's behaviour towards the environment.
The JCU research team ran surveys of visitors to Reef HQ in Townsville measuring people's intentions - and then six months later surveyed them on how environmentally friendly their actions actually were.
The researchers identified waste plastics as a major threat to marine life and focused their questions on whether and how people were going to reduce their use of plastic bags.
"People had good intentions, but six months later we found that life had often gotten in the way and they had not followed-up with effective action," said JCU marketing expert, Professor Lynne Eagle.
Professor Eagle said the research showed that just providing information was not effective and that people both needed and wanted to be regularly reminded that rubbish that goes into drains or landfills often ends up in rivers and oceans.
They also identified the need for businesses to provide environmentally friendly alternatives and communication at the point of sale to encourage positive behaviours.
Professor Eagle said marketing theory had more sophisticated techniques available to encourage people to care for the environment.
"There have been very successful social marketing campaigns with clear theoretical underpinnings – the 2007 campaign to reduce water use in drought-struck south-east Queensland and ended up reducing the region's water use by more than 22 per cent," she said.
Professor Eagle said fishers in Victoria were also reached with the successful 'seal the loop' campaign that encouraged the disposal of old fishing gear in an environmentally friendly way.
The researchers are currently designing a new test campaign for ferry passengers travelling to Townsville's Magnetic Island, with the aim of convincing the island's more than 2000 permanent residents, as well as visitors, to become plastic bag free.
• Plastic waste makes up 80 percent of marine and coastal waste.
• Ten percent of that is whole or fragmented plastic bags.
• 4 -5 trillion plastic bags are produced each year.
Camden Gasfields Petition
AGL still have 96 coal seam gas production wells in South Western Sydney, surrounding Camden, some between 40m - 200m from family homes and schools.
While the Eastern suburbs, electorates for Mike Baird and Malcolm Turnbull MP, have zero.
As the largest growth center in Sydney there are current plans to build 35,000 new homes as close as 20m from AGLs existing coal seam gas wells.
AGL plans to stop all production in this area by 2023. This is not acceptable. These families do not deserve 7 more years of these horrific health effects. 35,000 new homes in the same area is a health epidemic in the making.
Australian Mothers-Against-Gas started this petition with a single signature, now they need more support to help protect Camden and shut down those wells NOW.
Keep records of your native animal pets
31 May 2016
If you hold a Native Animal Keeper Licence you must keep records and lodge them with the Office of Environment & Heritage Wildlife Team in April each year.
Licensed native animal keepers must keep accurate records of their native animal pets. The easiest way to do this is with the web-based electronic native animal keeper record book, or e-book.
The e-book is a diary to record details about the native animals you buy or dispose of. All licenced native animal keepers can register for the e-book. It's better to use the e-book but you can also use a paper book if you don't have access to a computer.
These records help the Office of Environment and Heritage understand the extent of native animal keeping. Tracking records ensures that captive-bred animals, and not animals taken from the wild, are being bought and sold.
You can enter records into your e-book at any time but you cannot lodge records until after 1 April. We suggest regularly recording your animal holdings and transactions throughout the year, rather than at the end of the reporting period, to simplify your record keeping and lodgement. To enter records login to e-book.
Failing to keep accurate records is an offence under the National Parks and Wildlife Act 1974.
Lodgements open each year on 1 April for the previous 12 months (April to March).
Even if you have no animals or there has been no change to your holdings, you still must lodge records as a condition of holding a Native Animal Keeper Licence.
If you don't have access to a computer and are keeping a paper record book, complete your records for the year and lodge these by post with the Wildlife Team:
Wildlife Licensing, National Parks and Wildlife Service
PO Box 1967, Hurstville BC NSW 1481.
Find out more here
Seasonal fishing closure in force across NSW Hunter and Central Coast
3 Jun 2016
A four month operation targeting illegal fishing in the Hunter district is underway in a bid to crack down on non-compliant fishing activity at known hotspots in the region.
NSW Department of Primary Industries' (NSW DPI) Director of Fisheries Compliance, Patrick Tully, says the hot water outlet canals of the Eraring Power Station near Lake Macquarie and other waterways on the Central Coast are closed to all methods of fishing from May 1 to August 21 between the hours of 6pm and 6am.
"The closure aims to protect juvenile fish stocks, which aggregate in large numbers in the warm water near the outlets to be able to make their way to the Lake Macquarie Recreational Fishing Haven," Mr Tully said.
"Unacceptable levels of non-compliance during the closure period have occurred in recent years so DPI Fisheries officers will be taking a hard line approach to all incidents of non-compliance at these two locations over the next four months.
"Anyone found at these spots fishing between the closure hours can face hefty on the spot fines or prosecution."
Offences detected in recent years include taking fish from waters protected from recreational fishing and possessing fishing gear at closed waters.
Fines for non-compliance penalties range for $75 to $500 while prosecution penalties can be up to $22,000.
"Illegal fishing activity won't be tolerated, and our fisheries officers will work tirelessly to protect the aquatic environment and safeguard fish stocks for future generations.
"These closures are in place to protect and conserve our native fish and aquatic habitats to ensure that fishing activities remain sustainable," said Mr Tully.
To report illegal fishing contact the Fishers Watch Phone Line on 1800 043 536 or visit www.dpi.nsw.gov.au/fishing/compliance
First Great Whites Caught As Part of Shark Technology Trials
Thursday June 2, 2016: NSW Dept. of Primary Industries
The first great white sharks have been successfully caught, tagged and released into deeper waters using smart drumline technology being trialled as part of the NSW Government's $16 million shark strategy.
Minister for Primary Industries Niall Blair today confirmed two females, measuring 2.35 metres and 2.8 metres and two males, measuring 2.65 metres and 2.45 metres, were caught off Evans Head Beach on the state's Far North Coast during trials being carried out this week.
The trials are being carried out as part of the NSW Government's $16 million strategy, which aims to better protect beachgoers from the risk of shark attack.
"This is a great example of how different technologies can be successfully used together to detect sharks off the NSW coast," Mr Blair said.
"Since we started trialling smart drumlines Department of Primary Industries (DPI) scientists have been able to successfully tag and release bull sharks. Catching these first great whites is further proof the technology works, particularly in conjunction with other technologies."
Aerial surveillance near Evans Head detected sharks in the region, whichtriggered DPI's shark scientists to dispatch smart drumlines in the area.
The sharks were successfully caught, tagged with both satellite and acoustic tags before being driven out into deeper waters and released unharmed.
They have since been detected by satellite and have remained offshore in deeper waters.
Each shark tagged by NSW DPI shark scientists is monitored to gain a better understanding of its movements and behaviours.
The NSW Government's shark scientists will continue to conduct trials of the smart drumlines along the entire stretch of the NSW coastline over the winter months.
Tiny Sloane's Froglet Becomes Super-Sized Mosaic With The Help Of 400 Students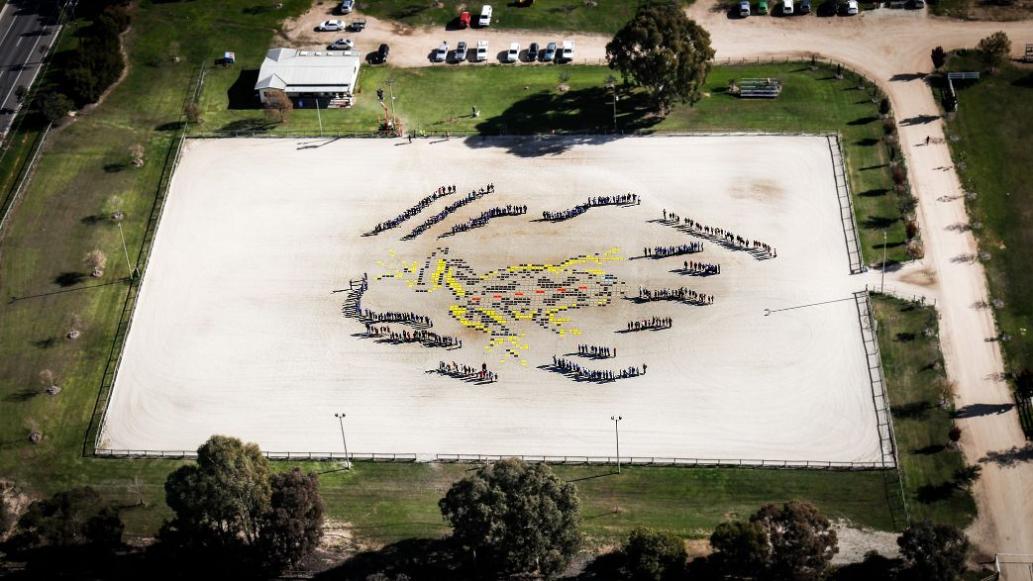 Photo courtesy Office of Environment and Heritage NSW
Tiny Sloane's Froglet becomes super-sized mosaic with the help of 400 students
Media release: 2 June 2016
Around 400 NSW students created a giant mosaic on Wednesday 1 June during the lead-up to World Environment Day (5 June) at Albury, jointly organised by AlburyCity and the Office of Environment and Heritage (OEH).
Students aged from 8 - 15 years formed the super-sized artwork of a Sloane's Froglet, a threatened species and local resident. Created by Thurgoona artist Vicki Luke, the mosaic was so large a helicopter was used to capture aerial photographs.
The frog was made using a series of colourful boards carefully painted by volunteers from the Albury Volunteer Resources Bureau. Children from three local schools (Thurgoona Public School, Border Christian College and Trinity Anglican College) formed the surrounding habitat of the Froglet mosaic.
OEH Senior Threatened Species Officer Dr Dave Hunter said the Sloane's Froglet is a small frog that breeds in shallow winter flooding wetlands.
"The Albury suburb of Thurgoona is home to the largest population of Sloane's Froglets in NSW which makes this area extremely important for the species overall survival in the wild," said Dr Hunter.
"The mosaic was the centrepiece of the day but the children also participated in a number of fun activities exploring local threatened species such as the squirrel glider, corroboree frog, spider orchid and woodland birds."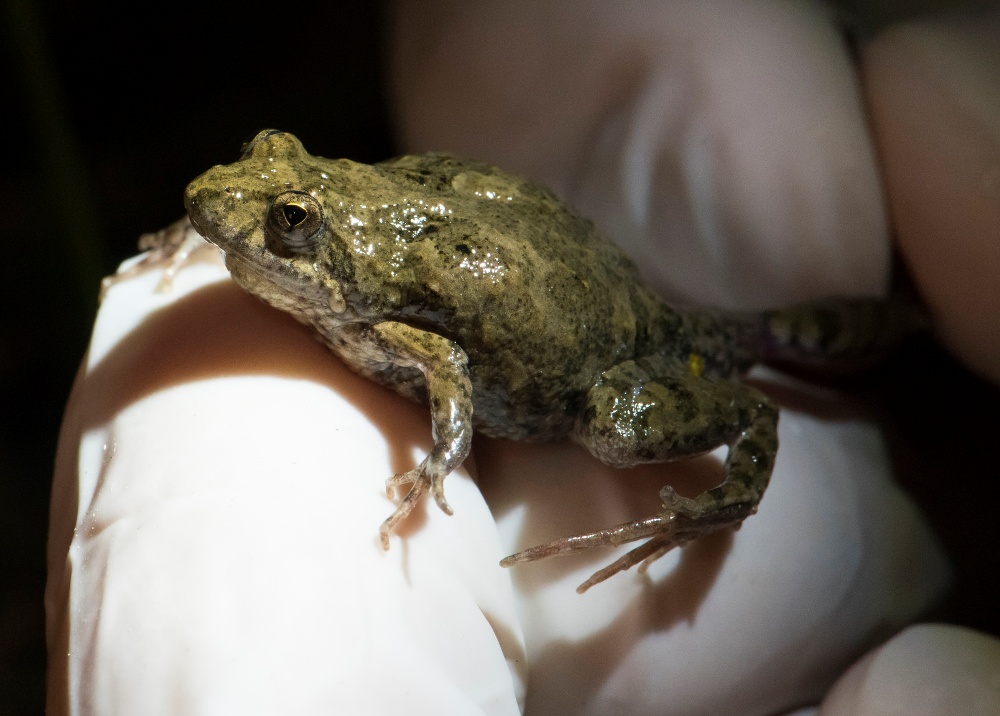 Sloane's Froglet - Photo: Stuart Cohen

The Sloane's Froglet is one of almost a thousand animals and plants threatened with extinction in NSW which the NSW Government Saving our Species (SoS) program aims to secure in the wild.
The SoS program works in partnership with schools, volunteers and Councils, such as AlburyCity, to save species that are at risk of extinction.
Office of Environment and Heritage NSW - Photo: Stuart Cohen. Sloane's Froglet
______________________
Sloane's Froglet Crinia sloanei is a small ground-dwelling frog belonging to the family Myobatrichidae. In appearance this species superficially resembles other frogs of the genus Crinia, but it can be readily identified by its call and specific physical characteristics. It is named after Patsy Littlejohn's uncle, Ian Sloane, of Savernake, NSW, in appreciation of his support of the Littlejohn's field studies (Murray Littlejohn, pers. Com)
Littlejohn found this species after distinguishing its call from that of two sympatric species, Crinia signifera and Crinia parinisignifera, in the Riverina region of NSW.
Sweet Addiction - The Botanic Story of Chocolate: Live at The Calyx
Sweet Addiction is the inaugural exhibition at The Calyx, Sydney's newest attraction. Find out more and book tickets at www.thecalyx.com.au
11 Jun 2016 - 17 Apr 2017, The Calyx, Sydney
See another side of nature and experience its stories in an unexpected way through Sweet Addiction – the botanic story of chocolate.
Sweet Addiction is the first exhibition to open in The Calyx, a world-class horticultural space and Sydney's newest must-see attraction.
An exhibition you can taste, touch, see, hear and smell, this is an opportunity to experience chocolate like never before.
From the depths of a South American rainforest, journey through chocolate plantations, ancient history, a Lindt chocolate mill, and a delightful chocolatier room. See the awe-inspiring interior green wall – the southern hemisphere's largest contiguous green wall complete with over 18,000 plants! And learn amazing things you never knew about chocolate.
Sweet Addiction is designed as a self-guided 45 minute experience. Suitable for chocaholics of all ages. Tickets on sale now, pre-purchase online to save!
The exhibition opens 11 June with interactive chocolate-themed events taking place throughout the exhibition period.
Watch the video to get your first taste of the exhibition.
______________
Some history of this wonderful garden which celebrates 200 years this June is in: The Royal Botanical Garden Sydney Celebrates 200 Years in 2016
New Era In Land Management and Conservation
Tuesday, 3 May 2016: NSW OEH Media Release
The NSW Government has released its consultation package to overhaul ineffective, complicated environmental laws and create a new system that improves both environmental outcomes and farmers' productivity.
Under the new system, routine farm work would be exempt from regulation, farmers would be able to plan for the future to improve their productivity, and the government would provide farmers with incentives to conserve native plants and trees on their land.
The reforms would also protect and enhance the environment with an historic investment of $240 million over five years in private land conservation, $70 million in each following year and $100 million dedicated over five years to the "Saving Our Species" program.
Deputy Premier Troy Grant said the NSW Government was delivering on its commitment to repeal the Native Vegetation Act and create laws that both protect the environment and give farmers a fair go.
"For too long the burden of these laws has rested on the shoulders of farmers – and I am
proud we are one step closer to repealing this legislation and delivering on the independent panel's recommendations to reform land management in this state," Mr Grant said.
Environment Minister Mark Speakman said the new laws would take a strategic approach to conservation and would complement the Commonwealth's biodiversity protections.
"We are delivering a simple and effective way to use and protect land that is backed by record government investment to build a network of conserved lands on private property.
"We have tough measures to protect endangered ecological communities supported by Commonwealth protections that will conserve our biodiversity for future generations."
Minister for Primary Industries Niall Blair said the reforms would give farmers an opportunity to make informed choices on what works best for their land.
"Our farmers are our frontline environmental custodians and it makes sense to give them the flexibility to manage and protect the land that is the lifeblood of our regional communities."
The reform package will:
• Ensure land clearing is assessed under a single set of rules, simplifying the task of farmers in managing their land
• Conserve biodiversity at a bioregional level
• Give landholders incentives to conserve biodiversity on private land
• Reverse the historical decline of biodiversity in NSW
Drafts of the new Biodiversity Conservation Act and amended Local Land Services Act are on public exhibition and open for submissions for the next eight weeks. Details: www.landmanagement.nsw.gov.au
Members of the public are invited to submit their feedback on the proposed biodiversity conservation reform package.
• Draft Biodiversity Conservation Bill (PDF, 755KB)
• Draft Local Land Services Amendment Bill (PDF, 394KB)
The submission guides provide detailed information for members of the public to provide constructive feedback. The guides contain specific consultation questions that can help to inform the development of the reforms.
• Simplifying Land Management submission guide
• Native Vegetation Regulatory Map submission guide
• Ecologically Sustainable Development submission guide
• Protecting Native Plants and Animals submission guide
• Private Land Conservation submission guide
Written submissions can be submitted online using the form on this page or posted to:
Biodiversity Reforms - Have Your Say, Office of Environment and Heritage, PO Box A290, Sydney South. NSW 1232
The public consultation period ends on 28 June 2016 at 5pm.