November 3 - 9, 2019: Issue 427
The Other Angels from Avalon: 50th Anniversary of the IRB marks the saving of over 100 thousand lives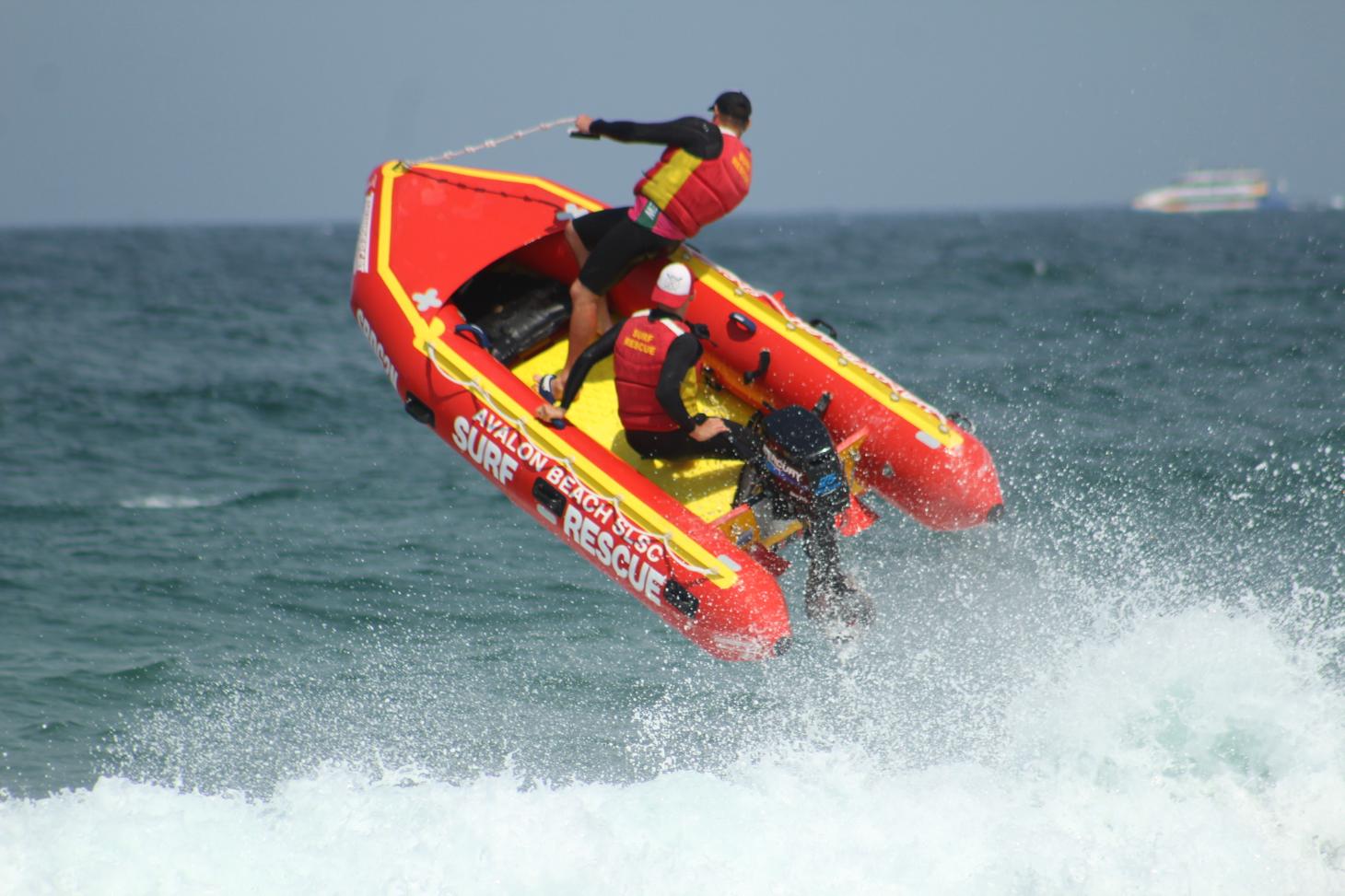 Avalon Beach SLSC was the birthplace of the IRB with the world's first successful trial of an inflatable rescue boat (IRB) for surf rescues taking place at Avalon Beach on November 2nd 1969.

This trial was carried out by Warren Mitchell and his brother, Don, both members (later Life Members) of Avalon Beach Surf Life Saving Club.
Warren Mitchell OAM grew up here and joined Avalon Beach SLSC at 12. At 17 he was in the first group of Lifeguards to travel to the U.K. to work on the beach. After a terrible drowning of a child while in the U.K. Warren started working on how an inflatable boat could work to negotiate a surf break to reach patients faster than the line and reel method.
A month after that first trial the first IRB surf rescue took place at Avalon Beach when Warren and John Fuller rescued eight children caught in a rip.
Warren pioneered the development and use of inflatable boats for surf rescues right here at Avalon Beach.
"Given the great air of uncertainty that had surrounded the concept, I was just a little happy to find the bloody thing worked! We worked against great odds. It was a team effort by Avalon Beach Surf Life Saving Club." - Warren Mitchell OAM.
Warren faced an uphill battle against conservative thinking and had to address numerous concerns, for example fears about propellers being amongst swimmers prompted the development and installation of a propeller guard. Many specific use improvements resulted from his persistence. He knew that the IRB vastly improved surf rescue methods.
After a lot of hard work by Warren, Avalon Beach SLSC members and other supporters, IRBs proved themselves faster, more efficient and safer than the traditional belt, line and reel, and oared surfboats, and eventually replaced these earlier rescue methods.
He demonstrated the use of the IRB in comparison with a belt swimmer and an oared surfboat at surf carnivals. On every occasion the IRB rescued the patient and was back on the beach before the other rescue methods had even reached their patients.
The first IRB was approved for trial by Surf Life Saving Australia in 1970. Different versions of the boat were tested including Mitchell's Dunlop inflatable boat and Ken Brown's French Zodiac.
Harry Brown OAM (North Cronulla) designed an IRB approved for use by surf clubs in 1976. In 1977 Surf Life Saving Australia published the first IRB training manual written by Harry Brown OAM and issued the first IRB licenses. Harry Brown was assigned IRB license 01.
Ken Brown won an Australian Design Award in 1987 for the development of the rigid hull version of the boat.
The development and use of IRBs evolved into a race sport from 1978 and continues as a state and national championship event to this day. The sport remains a vital training method for volunteer surf life savers as it simulates using this equipment in a range of sea conditions and hones the skills of those operating the IRB's and the crew in rescue methods.
Warren's work in developing his concept revolutionised surf lifesaving methods in Australia and overseas. He paved the way for the introduction of new technologies such as jetskis and drones, making their acceptance pathways a lot easier. Interestingly, the pioneer of the use of jetskis for surf rescues, big wave surfer and Hawaiian lifeguard, Brian Keaulana visited Avalon Beach and the surf club and said he had experienced similar resistance to the use of jetskis for surf rescue in Hawaii, as Warren did with the IRB.
The IRB is now used in over 50 countries as a superior surf rescue craft. Across Australia there are 1,094 IRBs currently in operation in the 314 Australian surf clubs, with 7,292 Active and proficient IRB drivers and 14,388 Active and proficient IRB crew members.
There have been 108,244 Recorded rescues by the IRB since 1979 (Between 1970-79 the rescues performed by IRB were recorded as board or ski rescues).

All those whose lives have been saved can thank Warren for persevering with his original idea.

"Everytime somebody puts their hand out for an IRB to rescue someone, it's my hand and all the other crews; it's our hand saving lives." - Warren Mitchell OAM
On Saturday 2nd of November 2019, Surf Life Saving celebrated the 50th anniversary of that first trial of an Inflatable Rescue Boat (IRB) in Australia unveiling a plaque to mark the place where this all began. Special guests attending, Warren's brother Don, George Shales Surf Life Saving NSW President, Steven Pearce AFSM, CEO Surf Life Saving NSW, Jason Falinski Member for Mackellar, Cr. Michael Regan, Mayor of the Northern Beaches Council, John Brogden Club Patron and Bronwyn Bishop Club Patron, all paid tribute to a revolution that began here 50 years ago.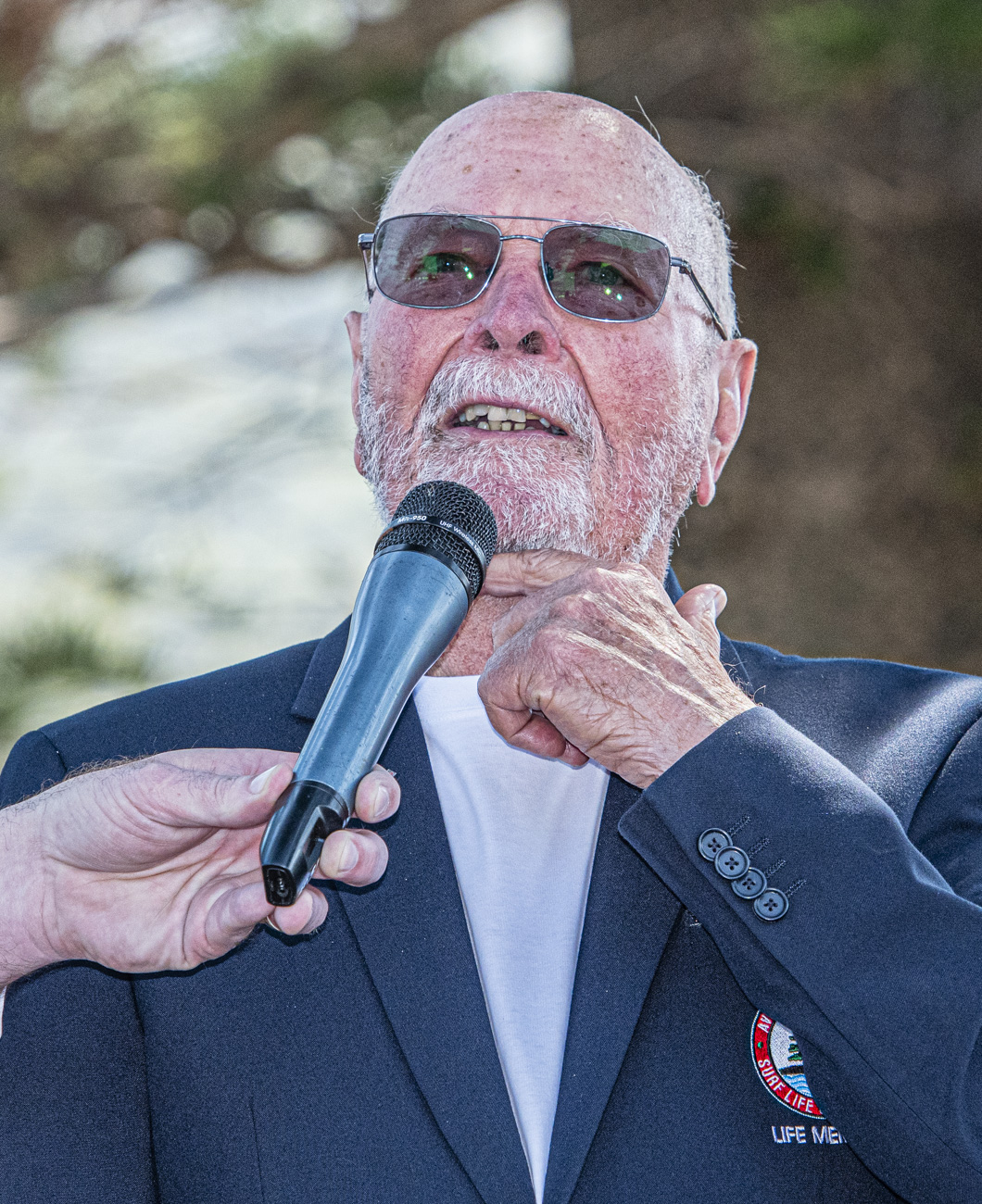 Don Mitchell at IRB plaque unveiling - photo by Michael Mannington
Warren has been awarded an SLSA Innovation Award, Order of Australia Medal, and a book "Breakthrough: The Story of the Inflatable Rescue Boat" by E Wake-Walker (2007) was written about his outstanding contribution to surf life saving.
As part of the 50th anniversary celebrations a special historical display, curated by Avalon Beach SLSC Life Member and Avalon Beach Historical Society president Geoff Searl OAM and an on-water demonstration of IRB rescue capability from a number of surf clubs showed how fast these boats can go and how proficient drivers and crews are.
"What I'm most proud of is that the boat we set up 50 years was simple. The Concord has come and gone but the IRB lives on. It's exactly the same as it was 50 years ago." - Warren Mitchell OAM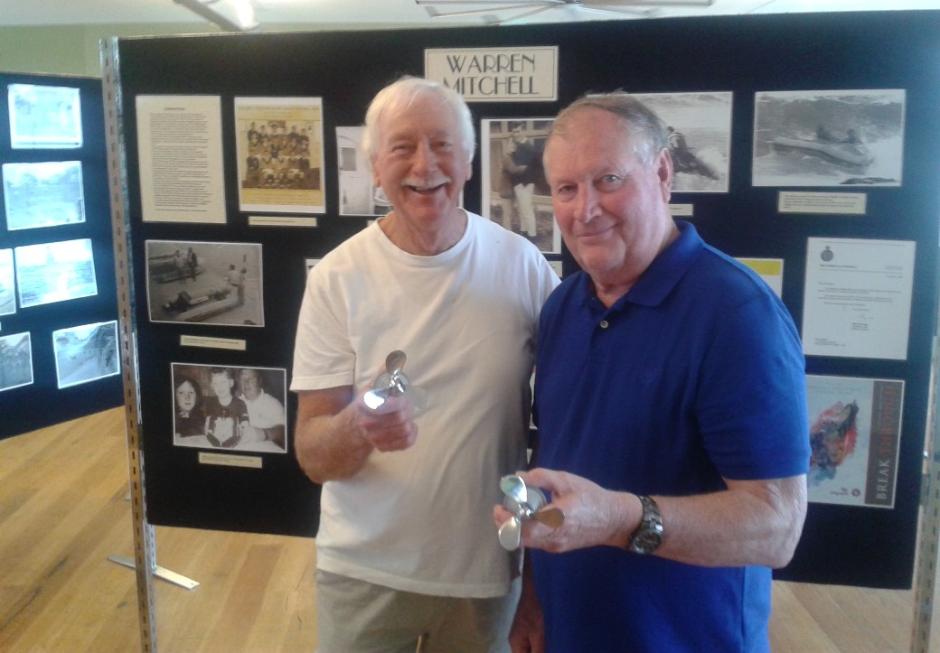 Left to right - Avalon Beach SLSC Life Members Roger Sayers and Warren Mitchell OAM at ABSLSC in 2015
Roger's work was instrumental in ensuring a plaque was installed at the place where this all began.
More in The Quiet Revolution – Or Making Waves? by Roger Sayers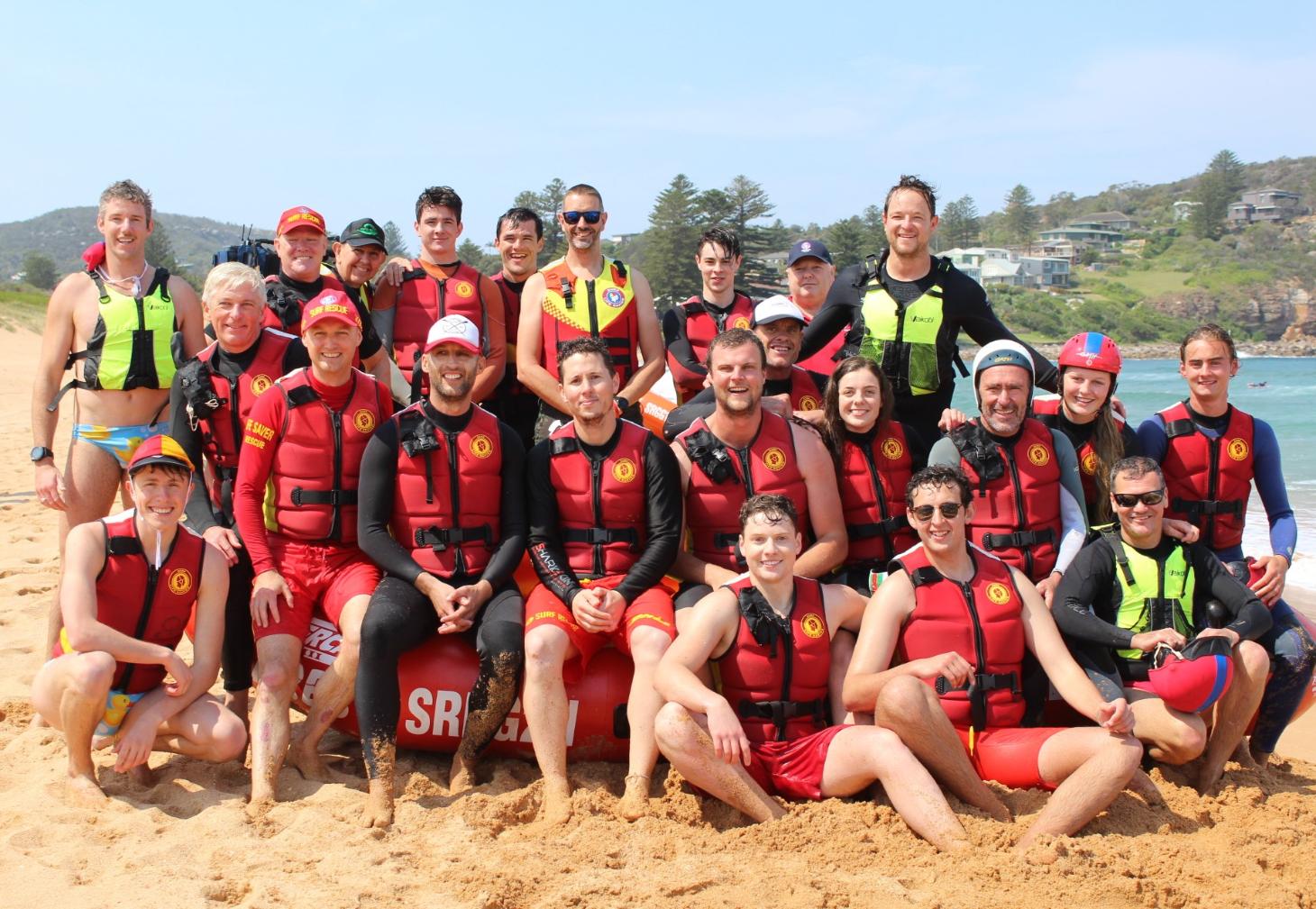 Avalon Beach SLSC IRB drivers and crew members were joined by sister clubs Queenscliff and Mona Vale on the beach where it all began - the crews demonstrated racing and life saving skills utilising their IRB's. A J Guesdon photo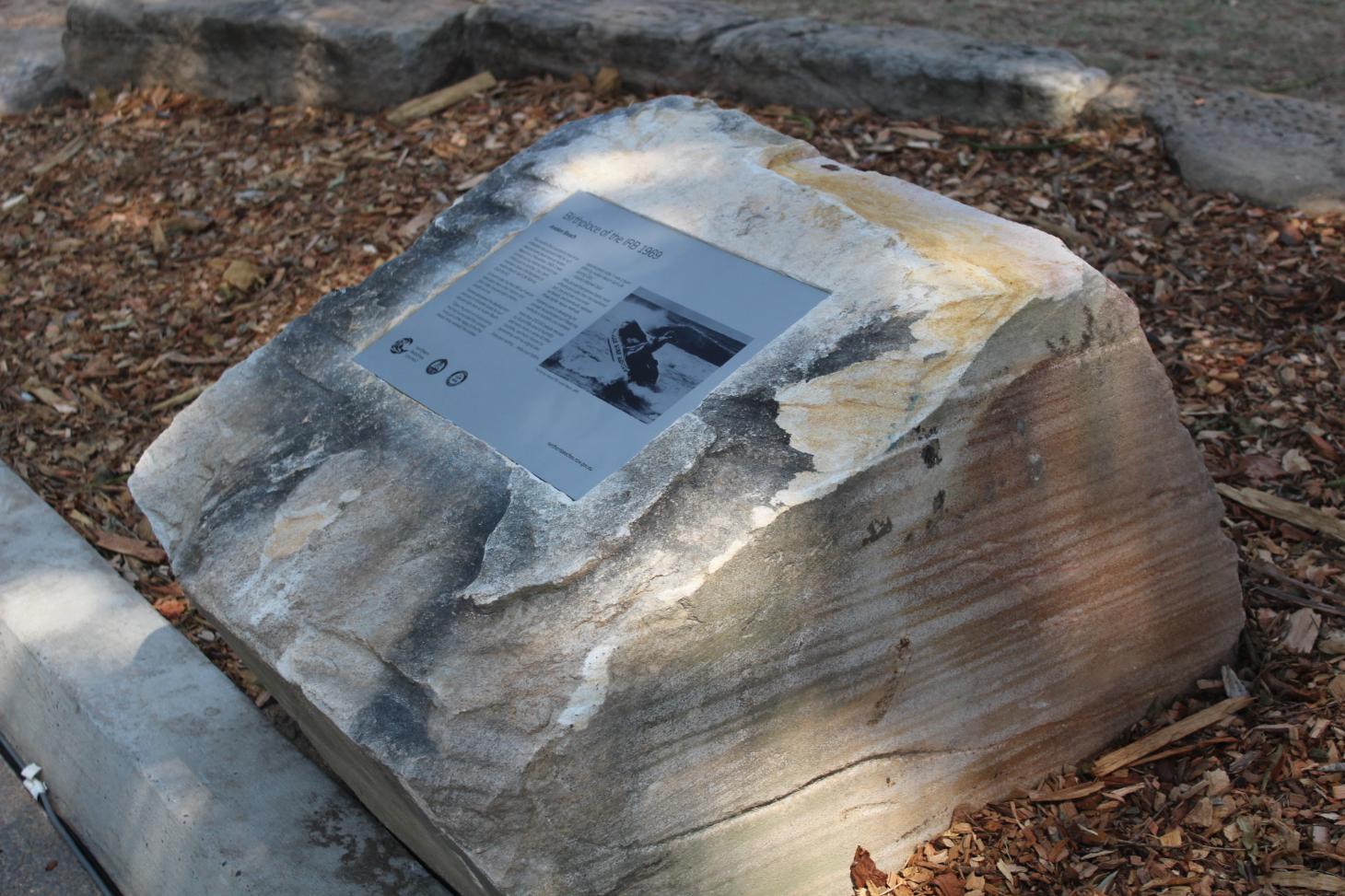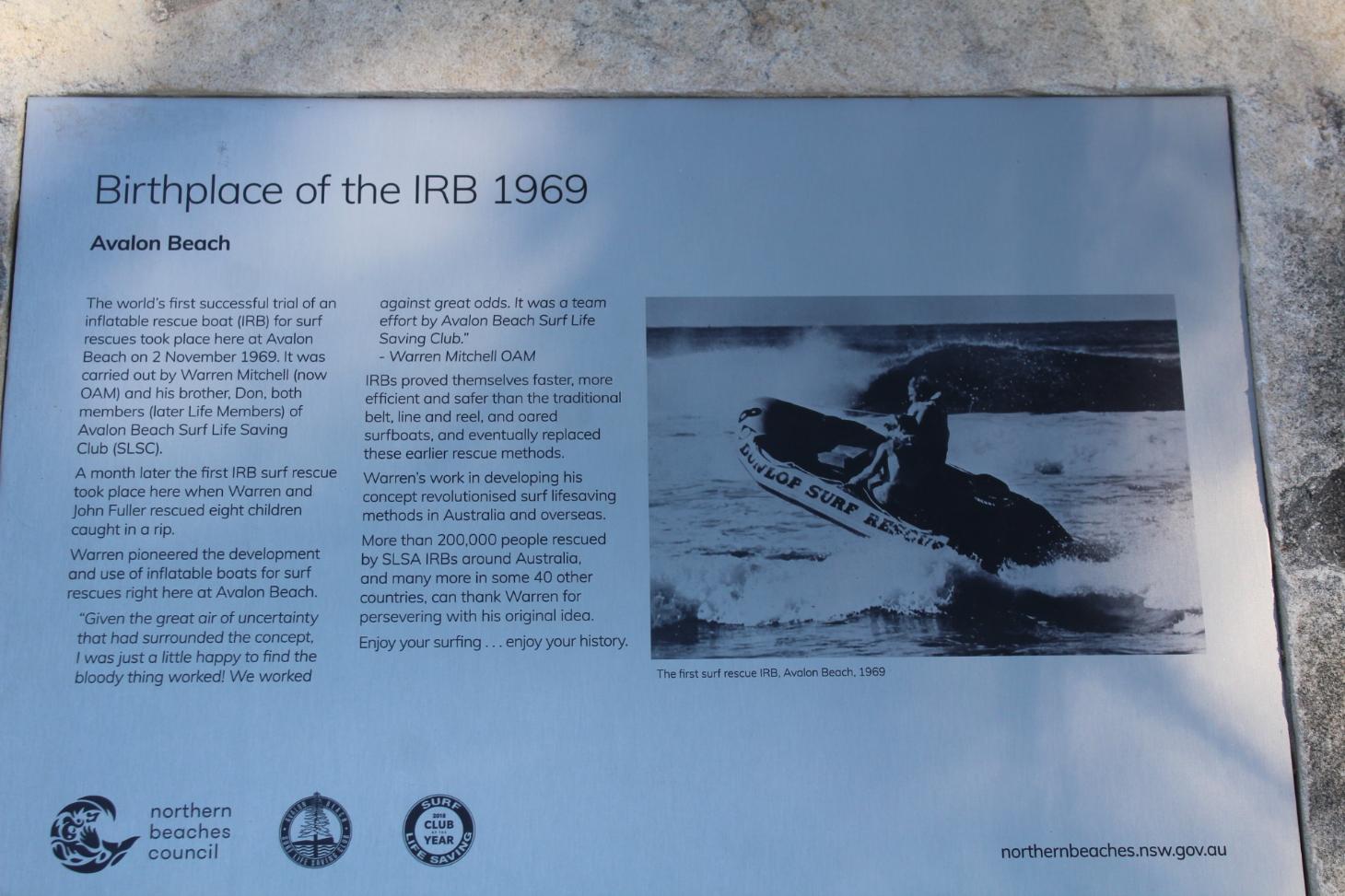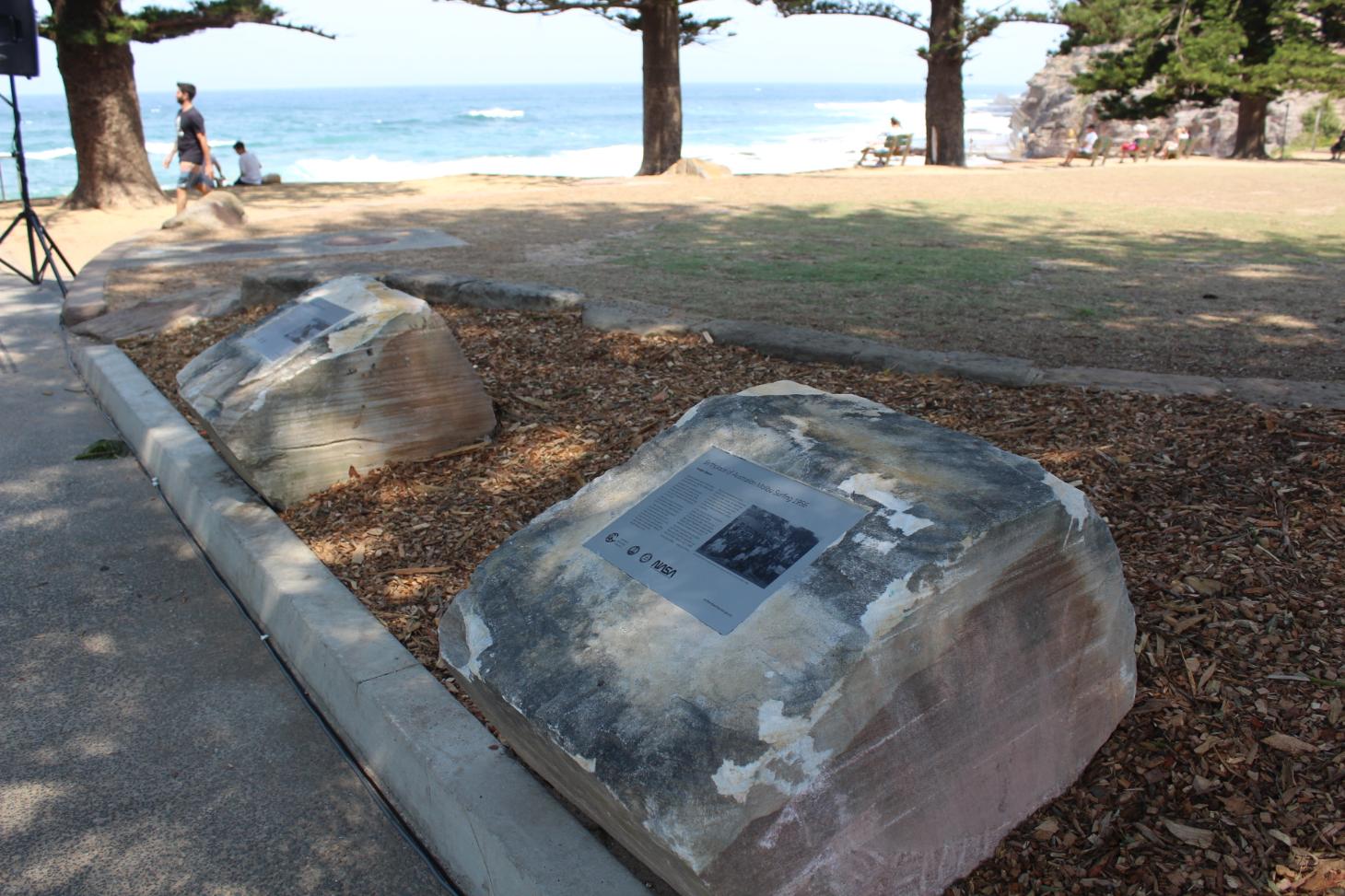 The second plaque installed at Avalon Beach this week may be read about in this Issue's
History page
.
50 Years of IRBs in Australian Surf Life Saving
Published by Surf Life Saving NSW