May 2 - 8, 2021: Issue 492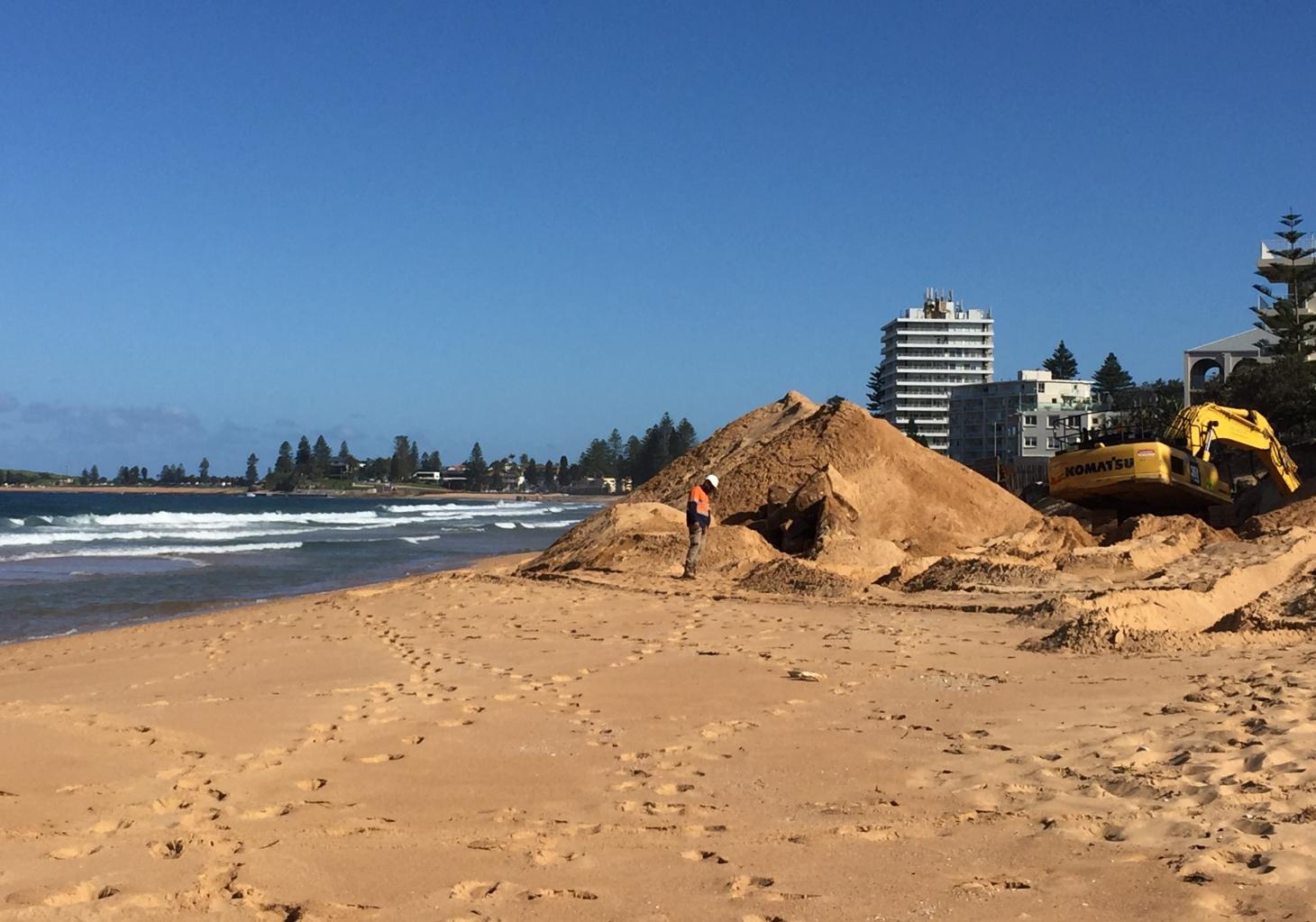 Collaroy beachfront April 2021
The Coast
Radio Northern Beaches
Friday 7 May at 11am
Work has begun on a sea wall to protect private properties at Collaroy-Narrabeen beach from erosion and storm damage but questions remain about whether sea walls are the best solution to this "wicked" problem.
The Collaroy-Narrabeen stretch of coast has long been subject to dangerous storm and tide erosion, with properties severely damaged in the 1920s, 1940s, 1970s and again in 2016.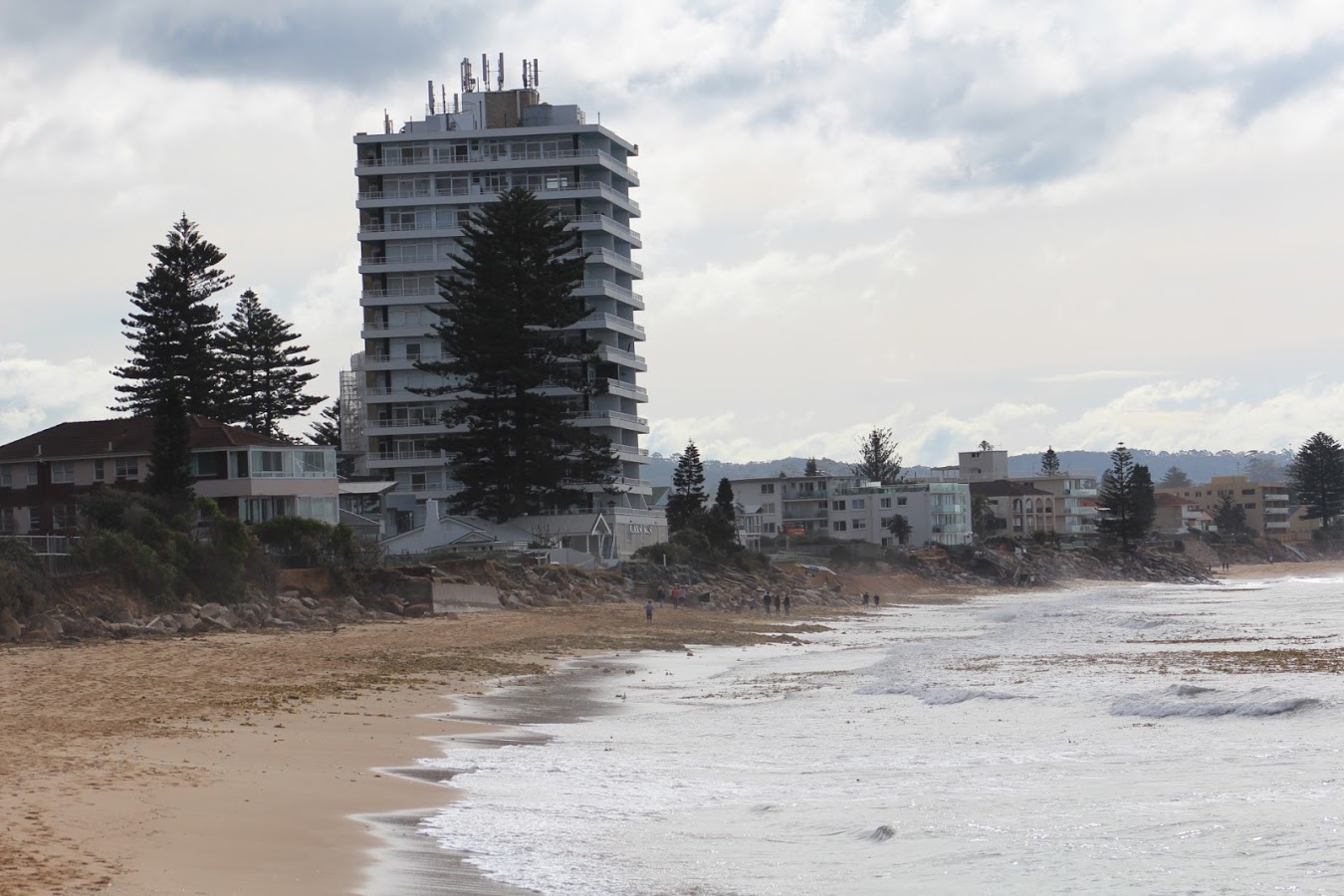 Collaroy beachfront after June 2016 storms - A J Guesdon photo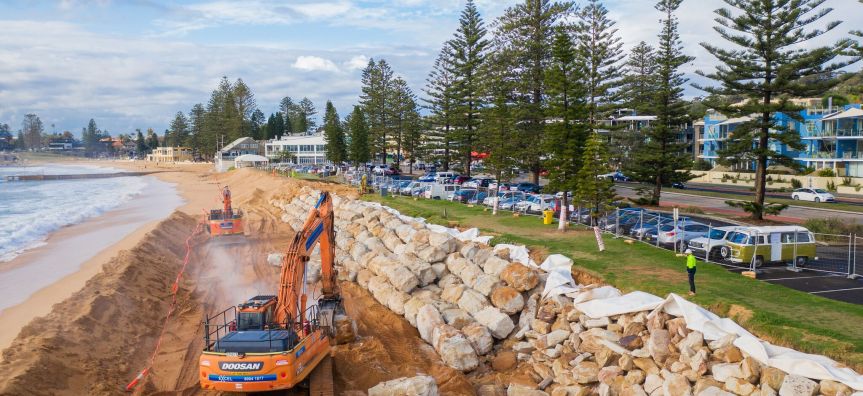 Public works to protect Collaroy carpark and Pittwater Road, completed in 2019. photo courtesy Northern Beaches Council

Sea walls have been planned in the past, but the current work is the biggest so far, with construction stretching 1.3 kilometres from Collaroy to South Narrabeen, and encompassing 49 private properties interspersed with 11 public land areas.
It is hoped the project will eventually also protect nearby Pittwater Road and its gas and communications lines.
The construction is being done in parts, with different groups of private property owners collectively paying for various sections of the wall.
Speaking to host of Radio Northern Beaches show The Coast, Wendy Frew, coastal engineer and former General Manager of Pittwater Council, Angus Gordon, says the work should be handled as a "singular, coordinated design and construct" project to get the best result both for property owners and for the beach itself.
However, that's not possible under current legislation.
"The unfortunate thing is that the State Government has failed to change the Local Government Act to facilitate this occurring in a sensible manner," Angus explains in an episode of The Coast that will be broadcast on Friday 7 May, at 11am.
Angus says it would be best if Council could build one long, continuous wall and, over time, recover the costs from those private property owners who would benefit from the wall.
"What's happening now is that people are putting in development applications for individual walls to protect individual properties ... A group of individuals have got together and they are building a vertical wall for a specific length of the beach."
"That is really not a good idea in the long-term for the overall benefit of the community. It will help to save the houses but at the cost of the beach from the community's viewpoint. It is a sad comment on the fact that the [State] government has not really reacted, in my view, appropriately and provided Council with the authority to carry out a sensible solution."
Asked about design issues related to a vertical wall, he says it "is perhaps the one that has the most severe potential for serious damage on the beach and it is also the one more prone to catastrophic failure … which is not a good idea if you accept there will be climate change over the life of the wall and you will have higher water levels and larger waves than the wall was designed for."
Others are calling for beach nourishment rather than the construction of sea walls, where sand lost through longshore drift or erosion is replaced with sand from other sources.
Surfers and others are concerned about what a seawall could mean for the way waves break on the shore, for the public's access to the beach, and for the appearance of the beach.
Surfrider Foundation Northern Beaches Branch has campaigned hard against the construction of a seawall along Collaroy-Narrabeen Beach as far back as 2002 when thousands of local surfers and residents lined the beach in protest.
Branch President, Brendan Donohoe, explains why Surfrider continues to campaign for sand nourishment and why any work should be primarily paid for by private property owners.
"Beaches don't need seawalls; we need seawalls to protect property that lies behind them," Brendan says.
"Seawalls don't help a beach perform the way a beach should perform. The sand dunes behind a beach should be your buffer."
This episode of The Coast also hears from cultural historian Caroline Ford, whose book Sydney's Beaches, A History, tells the story of how Sydney's world-famous beach culture only exists because the first beachgoers demanded important rights.
Her research uncovered a complicated history that saw Sydney's beaches move from public to private ownership and back again over the decades. In the case of Collaroy, failure by government to buy back all of the land close to the beach meant private landowners continued to build very close to the shore, even after some properties were severely damaged by storms.
To hear more about the seawall at Collaroy-Narrabeen and how we got to this point, tune in to The Coast on Radio Northern Beaches (88.7/90.3FM) on Friday 7 May at 11am. Or you can listen anytime at: https://www.mixcloud.com/TheCoastRNB/
Update: Collaroy seawall protection
Friday, 26 February 2021 - By Northern Beaches Council
If you've been down near Collaroy or Narrabeen beach lately you may have seen the seawall construction works happening along the beachfront. This work is being undertaken by residents to protect their homes in the event of a storm as devastating as the 2016 east coast low that wrought such havoc on this part of the coastline.
They are part of the 1.3km seawall proposed from South Narrabeen to Collaroy to protect both private and public assets. There are 11 parcels of public land (including the Collaroy carpark, South Narrabeen Surf Club, reserves and road ends) interspersed between 49 private parcels of land that require protection.
The works to protect private homes is being 80% funded by private owners, with Council and the NSW Government contributing 10% each. As private properties are the substantial beneficiaries of the protection, it is reasonable that they bear the majority of the expense for protecting their land.
It has not been an easy process for residents to get to this point and Council has worked to support them navigate the complex legal, planning and financial issues that have arisen. It's great to see that the first of these private works to protect 10 vulnerable properties is finally underway.
We are continuing to work with other residents along the strip so they too can begin the works to protect their properties and 29 of the 49 private properties have already had DAs approved and there are currently no DAs with Council awaiting determination.
Other protection works on public land at Collaroy carpark have been completed by Council, jointed funded with the NSW government, and works at the remaining public sites will be undertaken in a coordinated way with adjoining private works.