May 2 - 8, 2021: Issue 492
Grace Campbell: Liberty Foundation's Inaugural Carer of the Year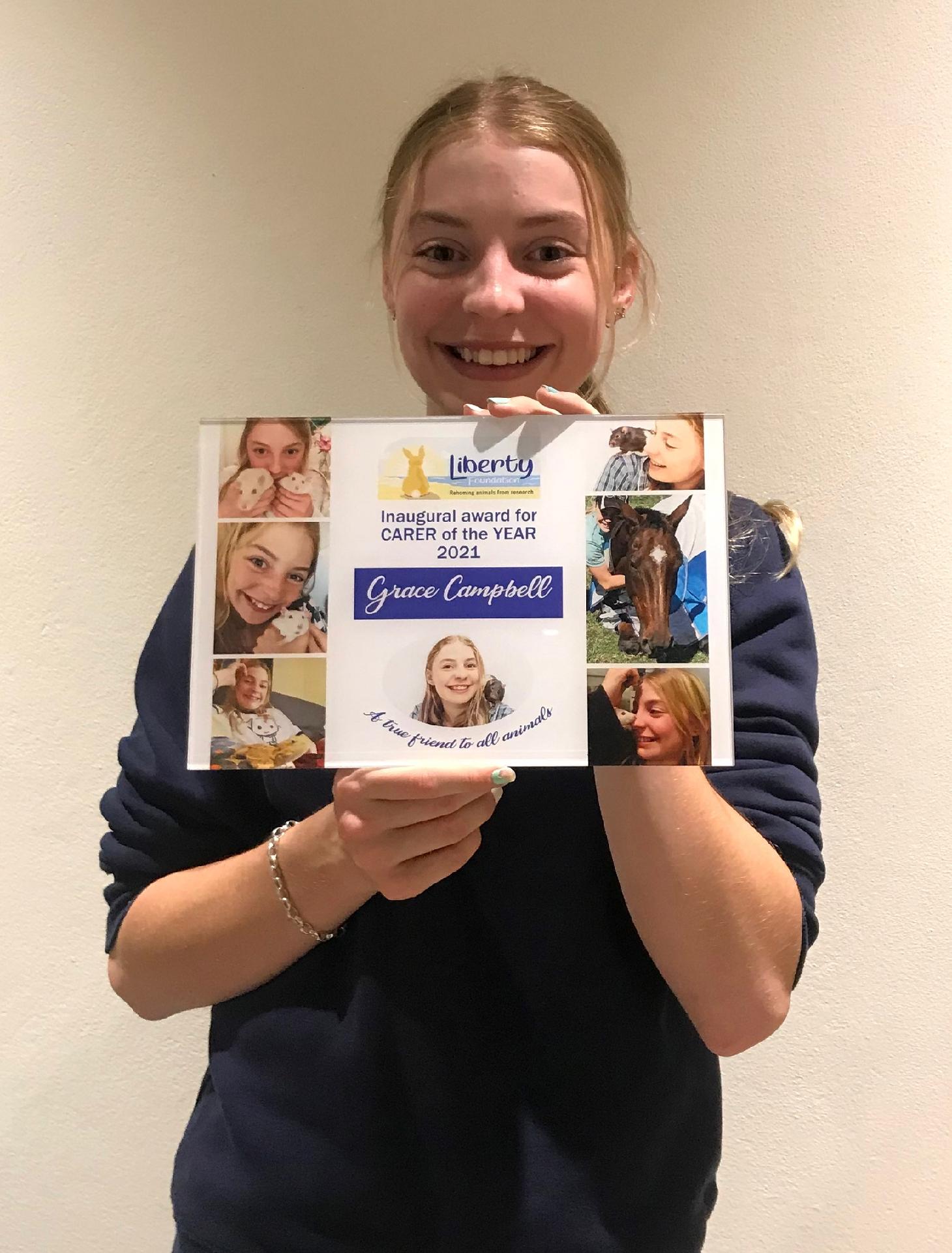 Grace Campbell. Photo supplied
In Issue 490 the Profile of the Week was the
Liberty Foundation: service rehoming animals from research
to coincide with the launch week of this great organisation. Local residents look after some of these animals as carers prior to them finding homes.
On day three of the launch week the Liberty Foundation announced their very first Carer of the Year as 14-year-old Grace Campbell, who is from our area.
Grace has been a carer of animals from Liberty Foundation since 2018. Her mum, Georgie, adopted three albino girl rats from us who all lived long and very contented lives with the Campbell family.

Since then, the family adopted a male rat Banjo and provided foster care for guinea pigs, mice and a dog Ellie.
Those who have seen any of the Liberty Foundation videos may remember a spaghetti eating rat, that was Scarlett, or the amazing flying rat, that was Banjo? They all belong to Grace, who befriended and nurtured these little creatures and has been a loyal, loving and responsible carer over several years. Although people think when they see rats in the videos that all rats are like these, it takes a special touch and a lot of time and effort to establish a bond like Grace has with her rats.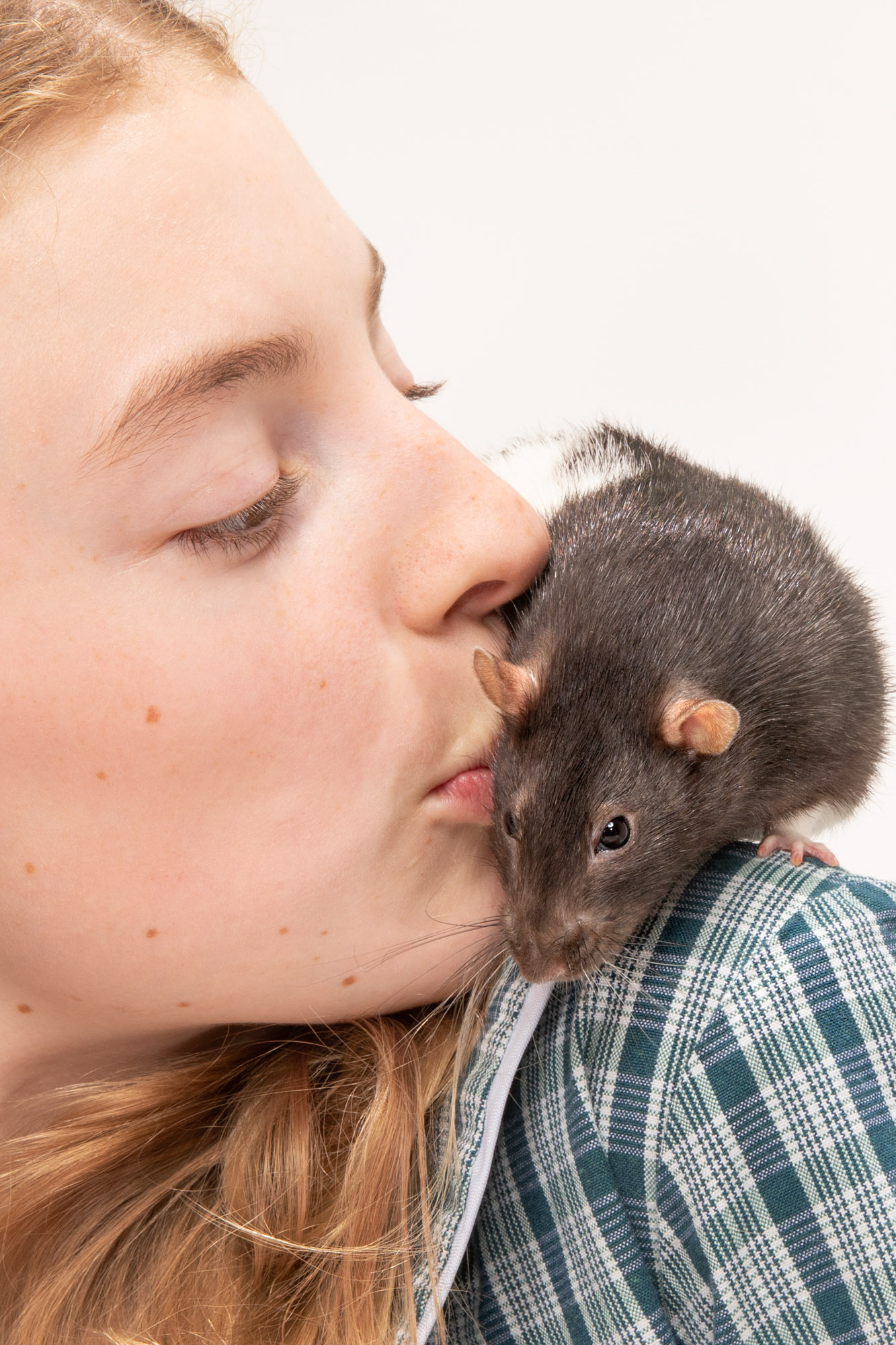 Grace and Banjo
Grace has many other animals she shares her life with, such as her beloved horses Gus and Ellie and pygmy dragon Sophie.
Grace has been a fierce advocate for animals from a young age under the guidance of her parents Georgie and Grant who run a vegan food business – Addiction Food – which has featured in our food page. Started 20 years ago, this business was one of the first to offer high quality vegan treats including the best brownies you've ever tasted.
Mum Georgie is a dedicated wildlife carer and skilful (and fearless) snake/reptile rescuer with Sydney Wildlife.

The Liberty Foundation presented their first ever Carer of Year title to Grace for her years of dedication and invaluable skill as a carer.
After adding our own congratulations and thanks for her wonderful work as a carer, we asked a few questions.
When did you first start looking after animals and what was the first you looked after through the Liberty Foundation?
There were just so many! We always had lots of animals coming and going due to mum's wildlife rescue. I'm pretty sure that my very first pet was a mouse, actually about 3 or 4. But we weren't aware that 2 of them were actually pregnant when we got them so we ended up having almost 40 little mice.
I first started looking at animals through Liberty Foundation in 2018 when I was 11. The first animals were got from Liberty Foundation, were three little white rats, Scarlette, Ruby and Rosie.
Were there any adjustments you had make for this pet – and what does the work entail?
It's quite easy to look after rats but you do need to spend time with them. They need a good sized cage where they can feel safe and they like having contact with people which is important for their socialisation. They usually build a nest and they like you to stay out of it, but you do have to clean it out occasionally as they can stash stuff in there like their favourite food. Other than that they are very clean and use a litter tray, they like to live in a clean and dry environment away from bright light - they are nocturnal and sleep most of the day. We already had a lot of stuff for rats like cages etc. so it was easy for us to take on these animals.
Why is it important, to you, to do this?
Raising awareness of animals in need is very important because all animals great and small all need a second chance in life.

Congratulations!: You have won the Inaugural Liberty Foundation Carer of the Year Award – what does this mean to you?
Because I love caring and looking after animals so much, I didn't expect to get such a great award for my passion for animals. It's a real honour to receive the Inaugural Carer of the Year award and I would like to thank Liberty Foundation for choosing me to receive it.

Do you think you will continue to care for animals into the future?
I definitely want to continue caring for animals in the future! They are always there as our best friends, so we need to give back and make sure we can help them out in return.

We did adopt another rat and also fostered some mice, guinea pigs and dogs. We are now fostering a dog from research called Snickers who is a Kelpie Labrador X and she will be with us while she learns more about living in a house with a family.
If you want to find out what pets are available or how you can help the Liberty Foundation, visit: www.libertyfoundation.org.au