December 11 2022 - January 14, 2023: Issue 566
Gold for Emma Dieters at 2022 Pismo Beach ISA World Para Surfing Championship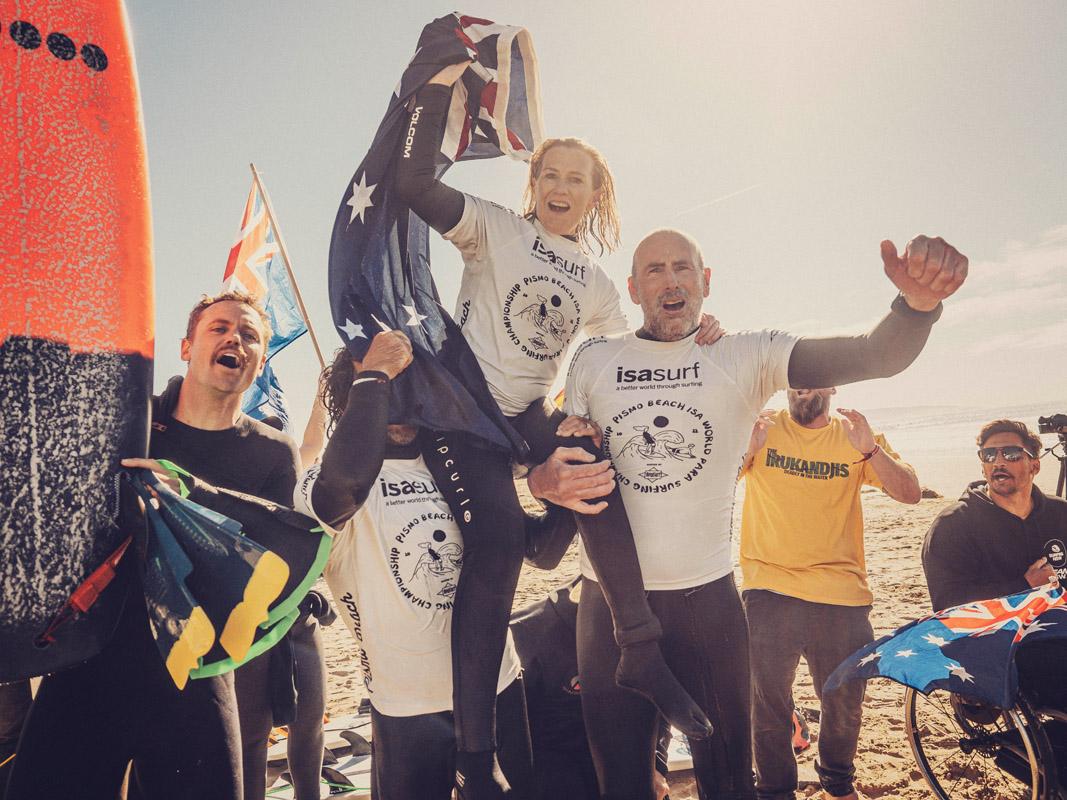 Emma Dieters, chaired by her husband, celebrates winning her first world title. Photo: ISA/Pablo Franco
Emma Dieters (Mona Vale) set a new record at the ISA Para Surfing Championship on day three of competition in the 2022 Pismo Beach ISA World Para Surfing Championship. Her 17.83 heat total in Women's Prone 2 was the highest in history and a remarkable feat for the first-time competitor.
"It feels awesome. I was just lucky, I think I was in the the right spot at the right time. It was big out there," Emma said after her surf.

"This whole experience is like none other. All teammates, competitors, event staff and volunteers are so supportive and just amped to pump you up. There's no pressure to do well just support to do your best. This makes it easy to enjoy the whole experience. I'm stoked with my current position and looking to keep focused on my finals run," Dieters said.
At 51-years-old Sam Bloom (Newport) is determined to continue improving. Competing for the first time in the unassisted Women's Prone 1 division, the two-time Women's Prone 2 gold medallist collected a 14.17 heat total and sits on top of the leaderboard ahead of defending champion Sarah Bettencourt (USA).
Sam was at the top of the leaderboard in her division, with the Finals for Women's Prone 1 commencing Sunday December 11th Australian time.
Sam Bloom, Team Australia. Photo: ISA / Sean Evans

Lee Ferrier (Narrabeen) won his Round 2 heat in Men's Prone 2 and progressed to the semi-finals before being eliminated. However, he's still on the beach, cheering on his team mates.
Mark 'Mono' Stewart found redemption on day four in Men's Kneel Round 2, jumping all the way to the top of the leaderboard after a shocking Round 1 heat on day one left him at the bottom of the rankings. He is also in the Finals.

A shock loss for Matt Formston (AUS) in the Semifinals allowed for his teammate Jack Jackson (AUS) to compete in his first Final.

The BIG news already available for locals is Emma Dieters is one of two new World Champions crowned Saturday morning, December 10th our time, and the 9th at the 2022 Pismo Beach ISA World Para Surfing Championships.
Starting with an 8.33 and quickly backing it up with an 8.93, Australia's Emma Dieters left fellow Women's Prone 2 finalists Sarah Almagro (ESP), Celine Rouillard (FRA) and Jocelyn Neumueller (AUS) needing a combination of two waves to take the win. A 9.00 from teammate and defending champion Neumueller left the door open, with both surfers waiting for scores on the sand, but in the end it was first-time competitor Dieters winning the gold medal, Neumeuller, silver, Almagro, bronze, and Rouillard, copper.
"I can't believe that this has just happened," Dieters said. "It's an incredible feeling. To go one and two for Australia is just amazing."
"I wanted to do it for my kids, my family, everyone that's got me here. It's been amazing." Emma said

Emmas' two children were watching on, and her husband was her support person in the water.
"I've got champions who are right by my side, helping me, giving me direction and just want to thank them for all the encouragement and support and just the good vibe with the crew here," she said.
Sam Bloom also commented on 'Team Australia', stating ''Our 2022 Irukandji Para Surf team encapsulates the true spirit of being an Aussie.''
Dieters told Surfing Australia it's still sinking in.
"Australia's competitors have come from being mostly unknown to each other to being a tight knit team that has supported one another on everyone's quest to do their very best on the world stage. Early morning or late arvo Team Australia chanted their hearts out to amp up our teammates. I feel really proud to be part of this Irukandjis Team. I am beyond stoked to take away the gold medal for the team at my first world championship. I have had a taste of it, and would like to get to a few more contests if possible.
"I am also so happy to help bring more awareness to the sport and encourage others to get involved. I'm looking forward to getting home and celebrating with my family and friends and local community," she said.
Dieters was diagnosed as a C4 quadriplegic in February 2021 after spinal fusion surgery went wrong. After months of rehab and a chance meeting with 2x world para surfing champion Sam Bloom, Dieters returned to the sport she has always loved.
There were great results all around with 6 of out the 11 Irukandjis athletes finishing in a top three finals position.
Team coach, Brittani Nicholl said: "It was a fantastic result for Australia in really testing conditions and a few close nail biters up until the end."
ISA President Fernando Aguerre said: "All week we have seen incredible surfing from elite athletes and the performance levels continue to rise. The future of para surfing is so bright."
Australia finished sixth overall out of 26 countries.
FINAL - RESULTS
Women Prone 2
1st Emma Dieters
2nd Jocelyn Neumueller
Men Kneel
2nd Mark Mono Stewart
Men VI1
2nd Jack Jackson
Men VI2
3rd Kirk Watson
Men Stand 1
3rd John Wheele
Women Prone 1
4th Sam Bloom
Men Prone 2
Equal 5th Lee Ferrier
Men VI1
Equal 5th Matt Formston
Men Stand 3
10th Chris Blowes
FINAL - TEAM POINTS (top 10)
1. USA 10890
2. FRANCE 10695
3. SPAIN 10448
4. BRAZIL 10440
5. SOUTH AFRICA 7924
6. AUSTRALIA 7880
7. COSTA RICA 7658
8. JAPAN 6235
9. ENGLAND 5454
10. HAWAII 3852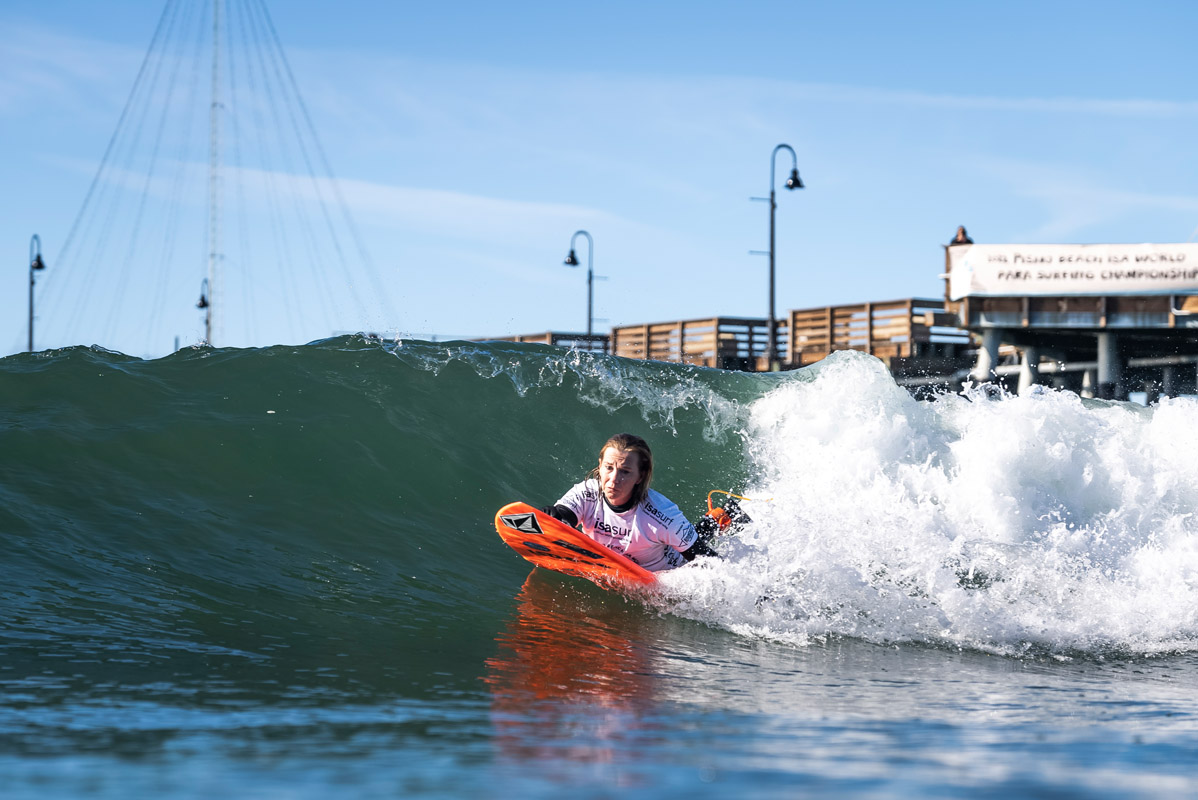 Emma Dieters in the final. Photo: ISA / Sean Evans

THE 2022 IRUNKANDJIS TEAM:
Mens' PS-Stand 1: John Wheele
Men's PS-Stand 3: Chris Blowes
Men's PS-Kneel: Michael Foti
Men's PS-Knee: Mark Mono Stewart
Women's PS-Prone 1: Sam Bloom
Men's PS-Prone 2: Lee Ferrier
Women's PS-Prone 2: Jocelyn Neumueller
Women's PS-Prone 2: Emma Dieters
Men's PS-VI 1: Kirk Watson
Men's PS-VI 2: Jack Jackson
Men's PS-VI 2: Matt Formston