May 28 - June 3 2023: Issue 585
Weedy Seadragons Citizen Scientist Project Needs More Eyes On The Seas, Sands + Shores: The SeadragonSearch Project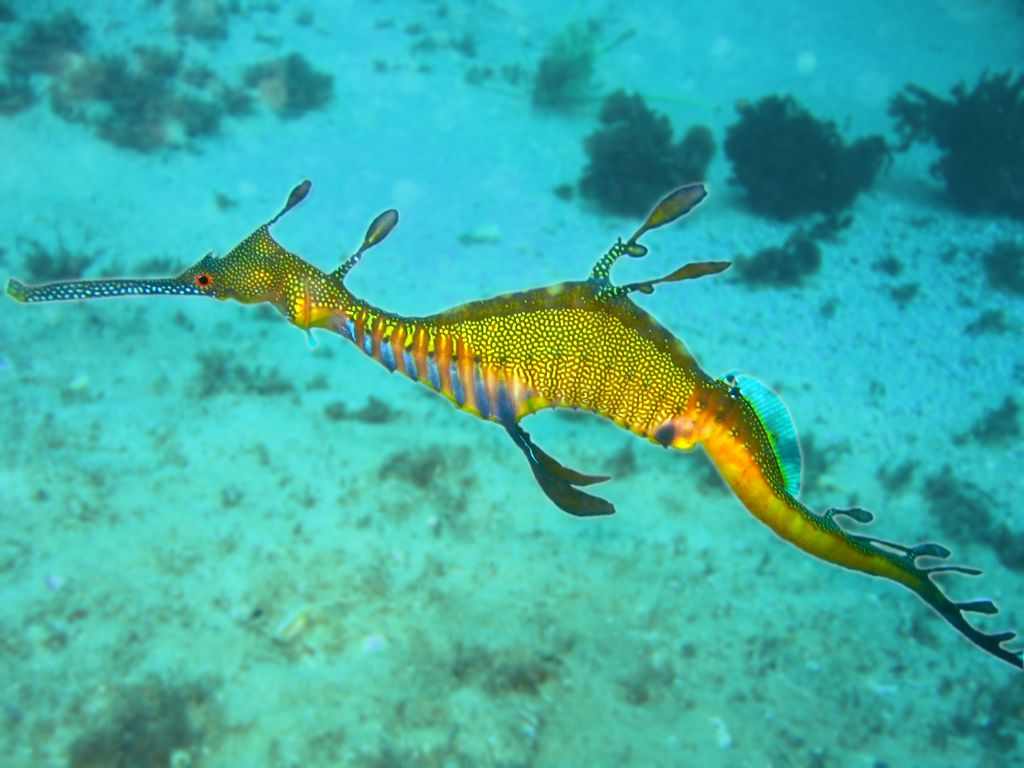 Weedy Seadragon (Phyllopteryx taeniolatus), Cabbage Tree Bay, Manly. Photo: Richard Ling
Residents reading Council's 'have your say' feedback webpage for Paradise pool on Pittwater may have been surprised to read that Council has prepared a seahorse relocation plan in consultation with the Fisheries Department in order to do the renewal of the pool's perimeter structures. Both a heritage impact study and aquatic ecology study of the works area have been undertaken.
These studies and plans will inform a Review of Environmental Factors (REF) that will be considered by Council staff prior to the works being approved. Appropriate mitigation measures outlined in the REF and a Fisheries Permit will be applied during the construction phase to minimise environmental impacts.
Living here in the Pittwater estuary is the White's seahorse, which is listed as Endangered in NSW. The primary cause for the decline in abundance of White's Seahorse is the loss of natural habitats across their range in eastern Australia. The seahorses occur within coastal estuaries and embayments which are areas subject to population pressure.
This is why you will see signage around the estuary edge cautioning you to be careful not to damage their habitat, whether on the estuary or on the beach.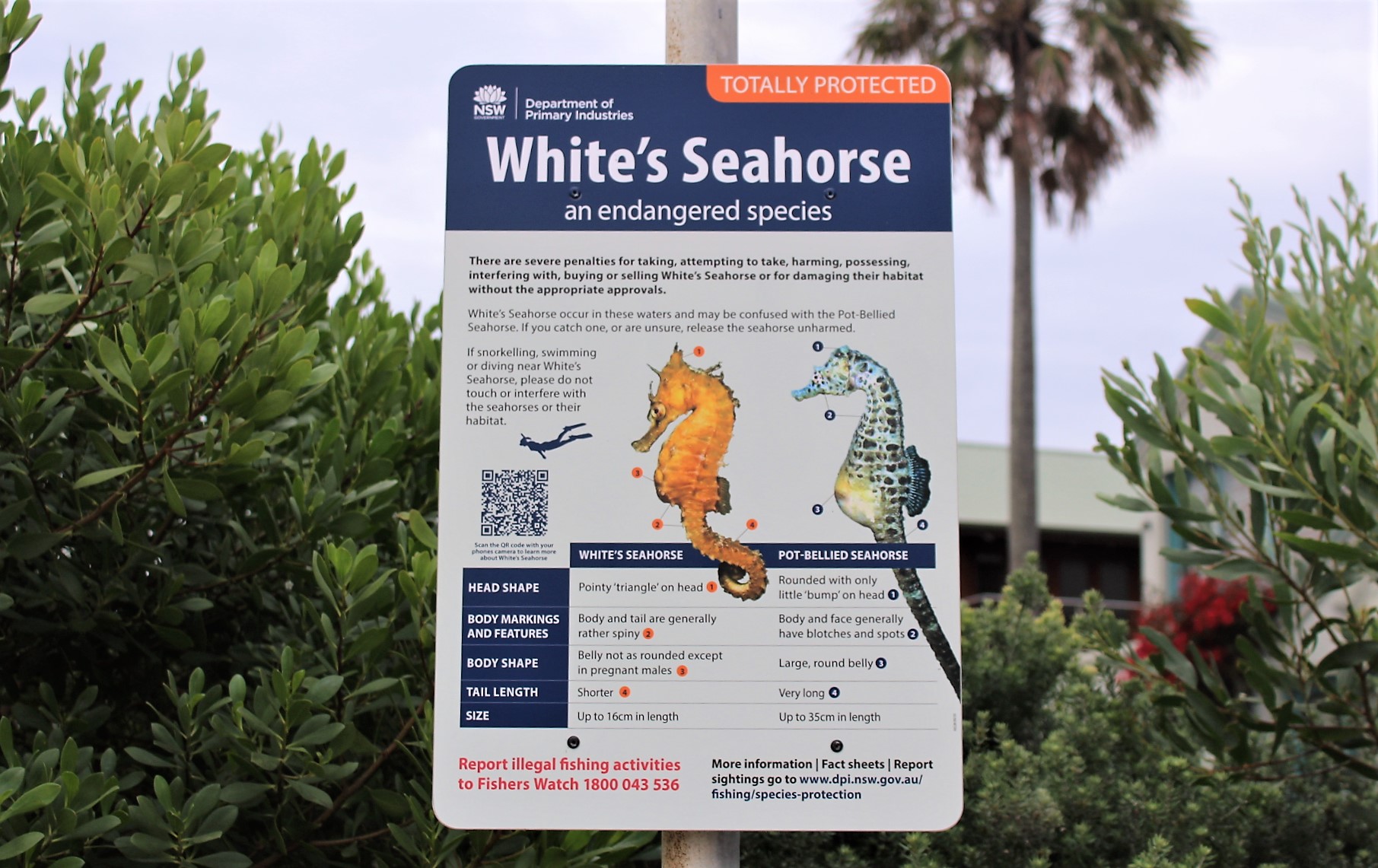 Another local species, the Weedy Seadragon, Phyllopteryx taeniolatus, live along much of the Pittwater estuary foreshores and right along our beaches from Palm Beach to Manly. These seadragons are often seen around piers, pylons and jetties in association with seagrass meadows and seaweed beds.

Scientists consider Weedy Seadragons to be near threatened with extinction. Without continued careful management of the human activities that affect seadragon populations, the species could become more seriously at risk of being lost.
They are yet another local species with a second name of being a 'common seadragon' even though they are not so common anymore, and another reason to tread carefully when you are in or near their homes, or 'habitat' as it otherwise called.
Weedy Seadragons are found only in Australian coastal waters where they are mostly found in a thin strip of shallow water along the coastline. Although they appear to be seaweed when drifting in the water column almost motionless, Weedy Seadragons are actually bony fish.
Taking or possessing Weedy Seadragons (or any other species of protected fish) is an offence and heavy penalties apply. For corporations, these penalties can include fines of up to $55,000 while individuals can face fines of up to $11,000 and up to 3 months in prison.
Adverse weather conditions can cause high levels of natural mortality in Weedy Seadragons.
They are poor swimmers and may be washed ashore during storms or heavy seas. During the April 2022 storms residents were finding them washing ashore, with 20, in one case, washing up on Narrabeen beach and others found at Palm Beach, Bungan, Mona Vale, Warriewood and Turimetta beaches. This recurred in July of that year.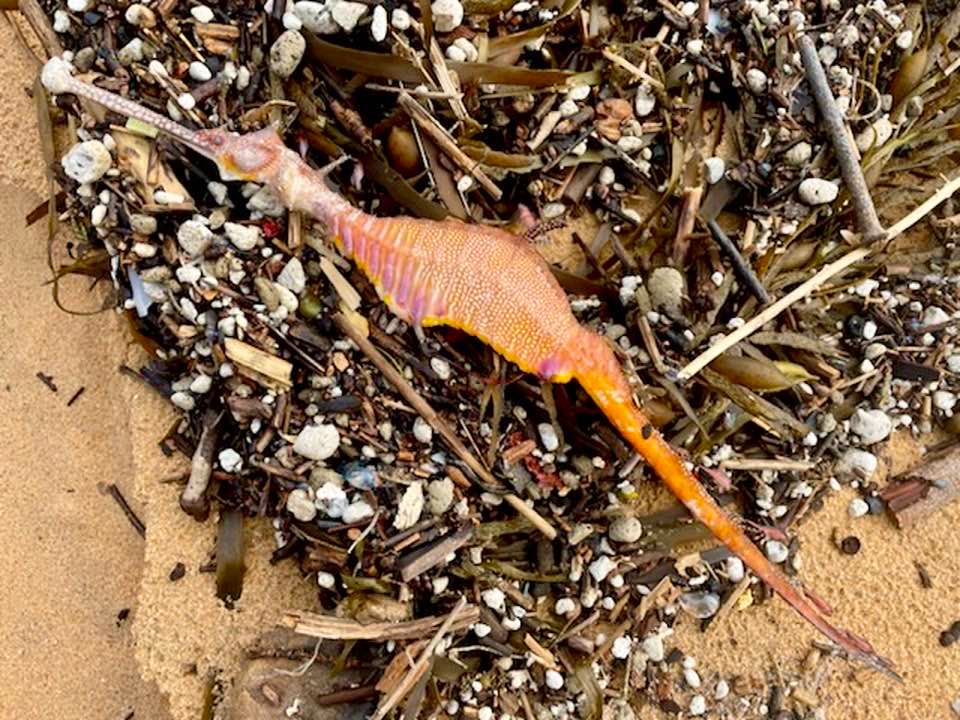 Weedy Seadragon at South Palmy July 8th 2022. Photo: Adriaan van der Wallen - there is a colony of these off Barrenjoey at a dive site called 'Weedy Seadragon'
However, there is something you can do about it apart from doing what you should do when in these places by not damaging their habitat.
Seadragon expert Dr David Booth, a professor of marine ecology at the University of Technology Sydney, and Dr Selma Klanten, Associate Researcher at University of Technology Sydney, are part of a 10 year research project, SeadragonSearch. This is a community-driven research initiative using artificial intelligence in a decade-long quest to identify, understand and protect seadragons and their habitats.
But, they need your help - they need more citizen scientists sending in sightings.
Over the past few weeks Joe Mills has been in touch with the UTS/Weedy Seadragon Research Unit, to offer them some dead specimens he and friends found at the northern end of Turimetta Beach. Research Scientist Dr Selma Klanten has subsequently picked them up with thanks.
In discussions with her, she mentioned she was not sure how far up the coast these little creatures live, as their main data comes from Sydney, Cronulla and Wollongong.
Joe mentioned to her that their call for citizen scientists would reach a few locals along the coast with an aquatic bent through Pittwater Online News and so now we ask you, our local divers, beach walkers and swimmers and fishermen to help with weedy seadragon sightings, and where and when, and a contact for them to get back to, and send these in to UTS.
Even those you find washed up on beaches will be of help with their work.
SeadragonSearch will use AI tools to recognise individual dragons from photos taken by community members and uploaded to the project's website. The resulting data about their lifespans and other traits will inform conservation policy for these charismatic fishes and their habitats.
That's right, like any other species on the planet, including ours, every single Weedy Seadragon is an individual.
Mona Vale's John McFadden Wins World Food Championships!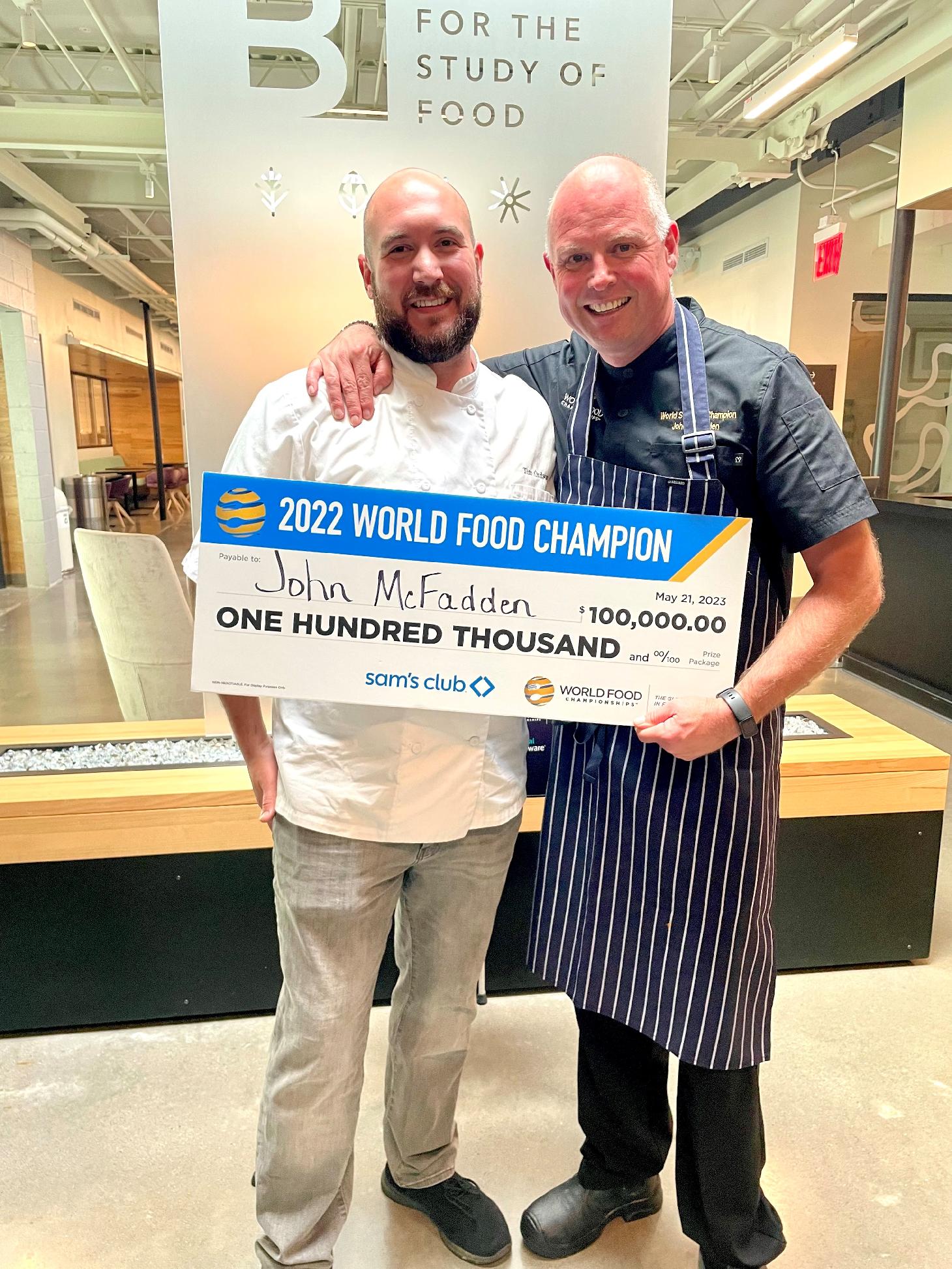 John standing with chef Timothy Ordway, Executive Chef at Crystal Bridges Museum of American Art (n Bentonville, Arkansas0, after taking out the World Food Championships overall title.
Mona Vale Chef John McFadden claimed the coveted title of World Food Champion at the 10th World Food Championships' Final Table in Bentonville, Arkansas on Sunday, May 21st, picking up $US100,000.
Touching down in Sydney he was greeted by his family with 'congratulations' signs at the airport and by neighbours with Australian flags in their home street.
John, who won the category title of World Seafood Champion at WFC's Main Event in Dallas last November, went on to best nine other category champions in a three-round culinary gauntlet designed to test skills, technique, creativity and time management.
"Exhausted", is how the well-liked Aussie chef described his experience when asked about the win, which saw him go up solo against three teams of three across three challenges, two of which were elimination challenges.
The last challenge was to cook courses three and four from a five-course tasting menu.
"My course three-dish was 'surf and turf' prawns, scallops, and chorizo, cauliflower puree, roast crab and prawn sauce," McFadden told Club Management from Bentonville, Arkansas, straight after the final.
"The fourth-course dish was seared lamb, roast heirloom carrots, spiced carrot puree, dukkah, salted yoghurt and hazelnuts."
On Saturday morning, May 27th, he told Pittwater Online News he was stoked to have won. It is 10 years since someone outside the US has won the World Food Championships.
"I won the final by 10 points across five judges with a score of 95," he said.
John commenced his career in the kitchen at the age of 12, starting as a humble kitchen hand. He commenced his apprenticeship aged 15, at The Lantern Palace Wamberal before completing at La Mer Fine Dining at Peppers on Sea at the age of 19. John moved quickly through the ranks with postings at notable restaurants including the two-hatted Grand Fine Dining Room at The Windsor Hotel, Hayman Island and Xu Bistro at the Hyatt Regency where he won best Hotel Dining Restaurant in Australia.
Along with Carol Selva Raja he was one of the first and youngest Australian chefs to be invited to cook at The James Beard Foundation in New York for 80 New York food critics. During recent years has been a Group Executive Chef level overseeing multiple operations and teams nationwide delivering varied food concepts and training programs.
John McFadden is one of the great all-rounders of the hospitality industry. From Fine Dining, Hotels, QSRs, Catering Companies and busy club spaces (Executive Chef at Pittwater RSL Club in 2016) to helping providores and consulting to suppliers and industry McFadden is a highly-motivated chef whose attention to detail is well-known industry-wide. He is a great communicator, mentor and motivator who loves to share his broad experience with keen apprentices and rising chefs who aim to have the same exacting standards that John holds in high regard.
John has been the National Chairman of Judges for Chef of the Year at Foodservice Australia for a decade, he has also assisted in the judging process for Bocuse d'Or Australia, to select the Australian Culinary team. He was recently invited by the founding Board of Women in Hospitality to be a culinary mentor for their program.
''Having 38 years within hospitality I provide training and development courses for secondary schools and assist with their transition into workplace. I offer mentor opportunities for young chefs who require assistance on their journey. Along with menu development for restaurants always happy to assist where I can.''
More on that in June.

John is also an Anti Cyber Bullying Ambassador with Starshell Student, which addresses students' social problems through, inappropriate incoming and outgoing messages and provides guidance for students and parents to overcome the inappropriate messages.
John was also approached by Typsy to design and present an Introduction to a kitchen series which is now live to over 100 countries worldwide. John has spent time as a BDM for a fruit and vegetable providore working closely with farmers, growers and understanding the dynamics of getting produce from farms to the kitchen door.
Today he is National Business Development Manager at Squizify, a digital food safety program that provides tools for food safety management, including temperature monitoring, compliance checks, and corrective action tracking. It is designed to help food service businesses and restaurants comply with food safety regulations and prevent foodborne illness.
In more exciting news, after winning the World Food Championships in the USA, John has partnered with Doug Fraser, Kylie Franks Fraser and the Basin Dining Room to create a 5 course tasting menu showcasing the award winning dishes. The event will be held on Wednesday June 28th.
For bookings contact The Basin Dining Room, overlooking glorious Mona Vale Beach, at: www.basindining.com.au
The next World Food Championships will be held in Australia, at the Melbourne Convention Centre from 30 June to July 2 and at Sydney Showground from 22-24 September.
The World Food Championships is the largest competition in Food Sport, where culinary competitors of previous events convene for a chance at winning the ultimate food crown and a share of hundreds of thousands of dollars in prize money.

Two Catherines - A Twisted Scotland Island Tale: Runs This June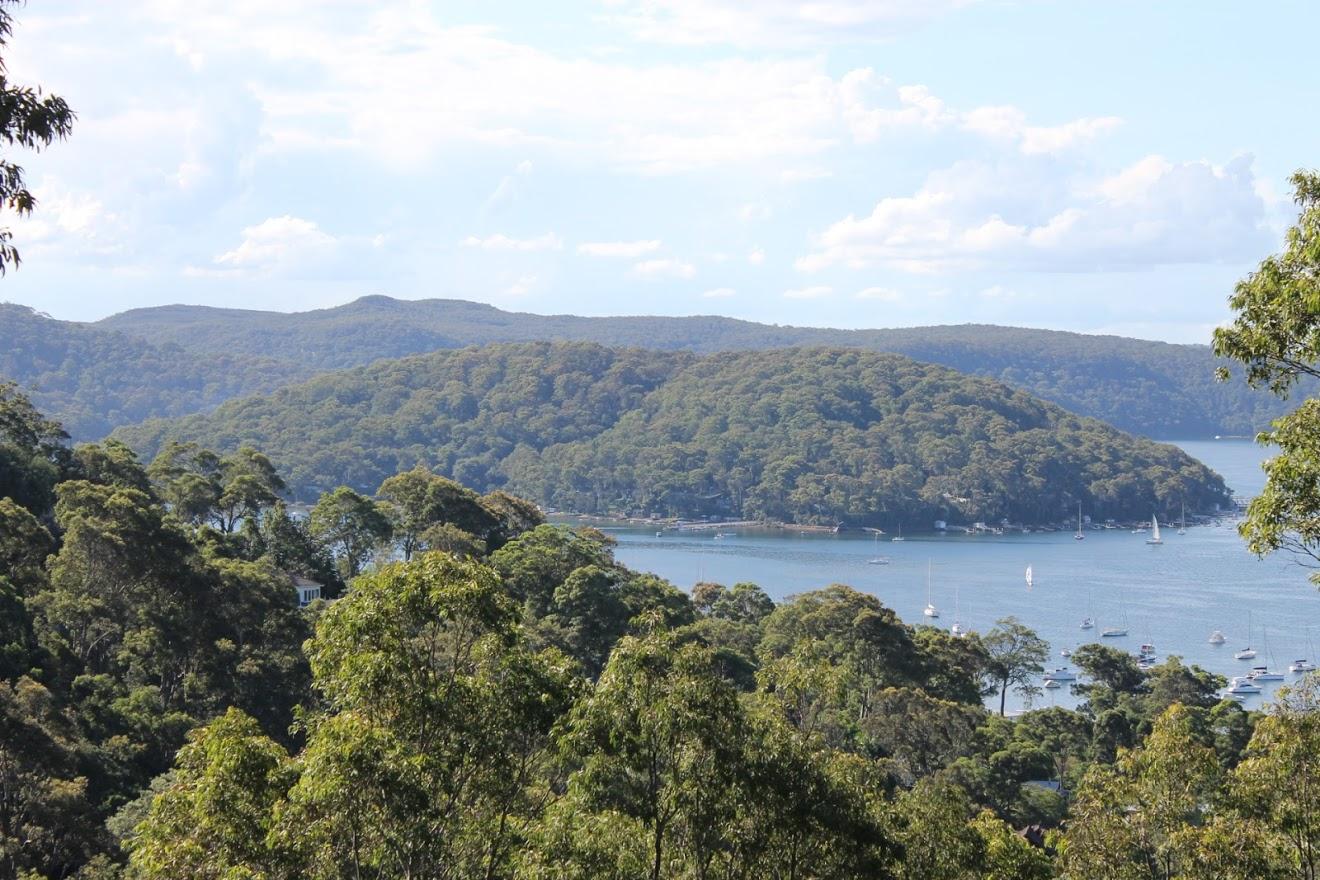 Scotland Island Residents Association is delighted to present a new historical fiction play based on two women important to the history of Scotland Island. The play is coming to the island community hall in June.
The history of Scotland Island is replete with stories about men – most notably Andrew Thompson (a former convict) and Herbert Fitzpatrick (a land developer). But we know very little about the women associated with the island. The opening of the Two Catherines Café, in August 2019, was the first step in redressing this imbalance. But to understand more about the role Catherine Benns and Catherine Bouffier played, we needed a story.
Catherine Benns was born on Bar Island in the Hawkesbury River in 1838 and moved to Scotland Island in 1874 when she married Jo Benns. She filled a very important role in Pittwater as a midwife and was often rewarded by her grateful clients with jewellery.
Catherine Bouffier (nee Gatenhoff) was born in Sydney in 1857 and married into a German family with a winery, the Bouffier Bros. When her husband died in 1898, she took over the family's wine business and became a prominent Sydney figure.
The play is staged around a wine exhibition by Bouffier on Scotland Island. The gathering of island residents keen to taste the wares includes Jo Benns who, unbeknown to Bouffier, knows where his wife hid her treasure but is reluctant to say.
A hunt for Benns' treasure begins but a chorus of 'wife-swappers' intercept the searchers and exercise their right to a toll. But who will pay the toll? The notorious Tilly Devine, also a one time resident of the island, reveals she has information crucial to their search.
The play is a new piece from a young playwright, Jasper Marlow. It is professionally directed by Elvina Bay resident Sophie Lepowic with the musical score and original songs produced by internationally renowned guitarist and composer Markus Plattner.
Pittwater Online News spoke to Jasper this week about his new play.
Do both Catherine Benns and Catherine Bouffier appear in your play, 'Two Catherines - a twisted Scotland Island tale'?
''They are both explored – Bouffier is more visible on stage; the two Catherines are a launching point to how they connect to the island and how they connect to everyone else on the island, through an imaginative story to bring them all to life.'' Jasper said
''If we can get across all of the fun and story and music involved I'm sure everyone will have a great time. It is very silly in some ways and about having some wine and having some fun. When you go to the theatre and you check your watch that is the worst possible scenario. I didn't want anyone to be checking their watches when they could be having fun so we've actually banned all watches from coming into the hall.'' [laughs]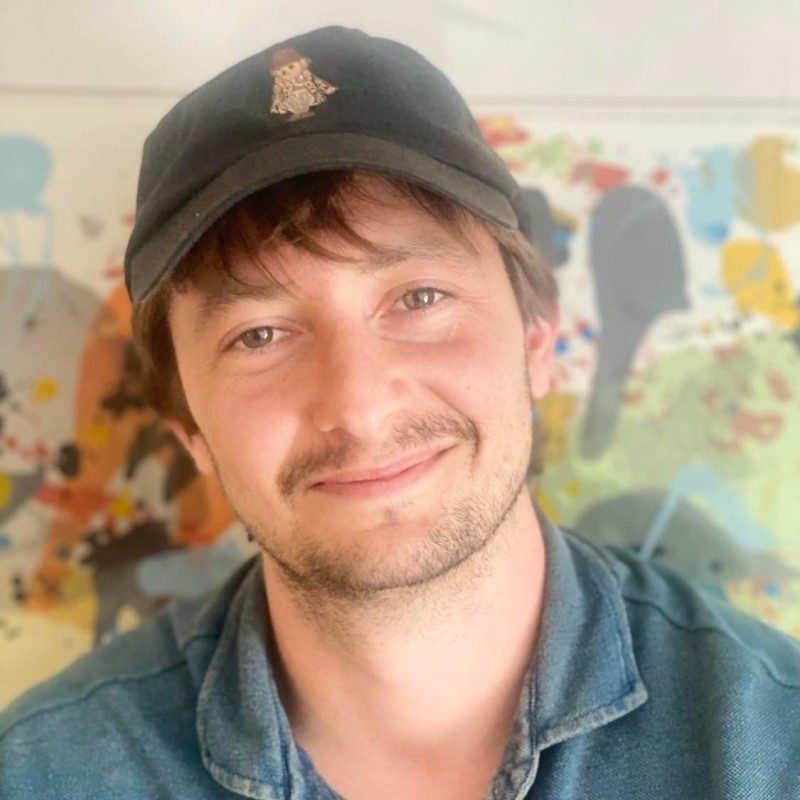 Jasper Marlow
Performances
16 and 17 June, 7.30pm, Scotland Island Community Hall
23 and 24 June, 7.30pm, Scotland Island Community Hall
Tickets are available for purchase here. Adults: $30 Concession: $15
Autumn Becomes Winter In Pittwater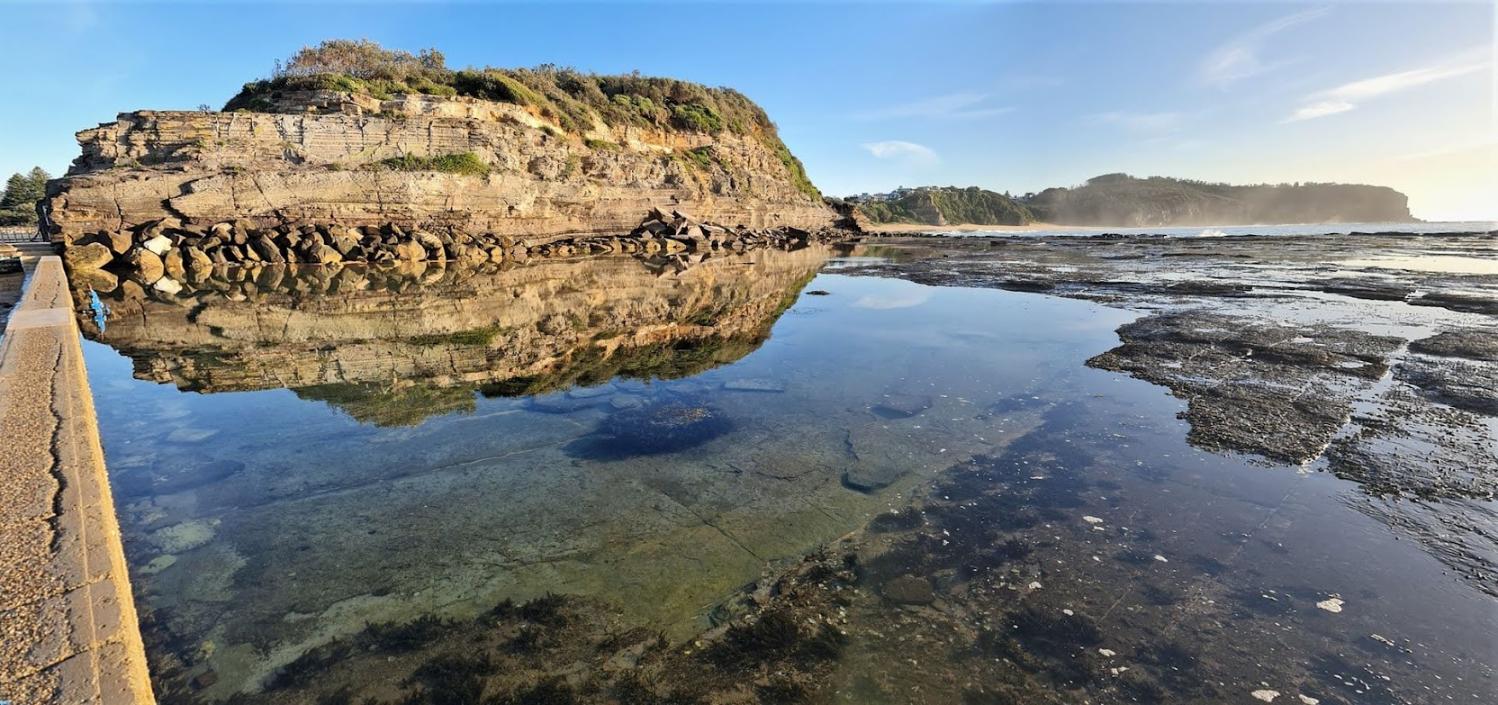 More in this Issue's Pictorial -
Aquatic Reflections seen this past week: Narrabeen + Turimetta
by Joe Mills
Past Features Archives (pre 2014)
Pittwater Online News was selected for preservation by the State Library of New South Wales and National Library of Australia. This title is scheduled to be re-archived regularly.
Archived Issues (2014 on) may be accessed here: pandora.nla.gov.au/tep/143700
Past Issues are also listed on site on the Community News page, by month.