May 21 - 27 2023: Issue 584
Clay Stormwater Still Polluting Bayview Golf Course, Pittwater Estuary: Bayview GC's 3 Year Battle To Save The Environment And Waterways 'Like Banging Your Head Against A Brick Wall'
Since 2021 Bayview Golf Course's President has been battling to get stormwater pollution through Cahill creek and into the course and Pittwater estuary addressed.
In 2023 clay laden water has run through the creek on January 1st, and was immediately reported to one Pittwater Councillor by the club's president after two years of what members state has been; 'banging our heads against a brick wall with Council'
These photos were taken on a phone by a member whilst playing golf on January 1st: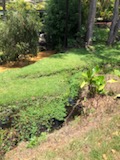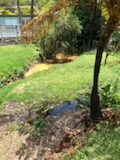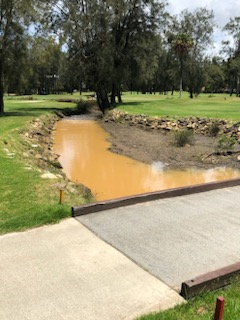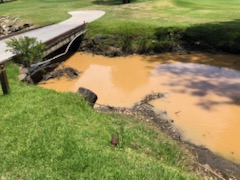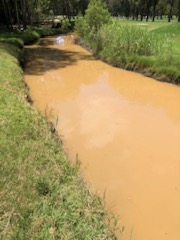 ''The worst part of all this clay like substance is it flows to Pittwater and in the following rains the channel flushed out to Pittwater.''
They were sent in to Pittwater Online in March 2023 after the images from January 1st had been forwarded the next day to one Pittwater Councillor and no response had been received by club during the 3 months since.

Pittwater Online contacted Vincent De Luca OAM, Independent Councillor, who always responds promptly to requests from community members for assistance, who had a response within hours.
Council's Management response to these concerns was:
With regard to the concerns relating to inadequate sediment and erosion control measures at the Mona Vale Road works upgrade site, we have written to the NSW EPA, who are the appropriate regulatory authority (ARA) to manage pollution concerns in relation to the RMS project, to make them aware of the concerns.
The Mona Vale Road East upgrade build has a sediment basin near the Mona Vale Cemetery.
There is also barriers of sorts further up the hill from the cemetery, as these photos taken by Pittwater Online on December 22nd 2022 show: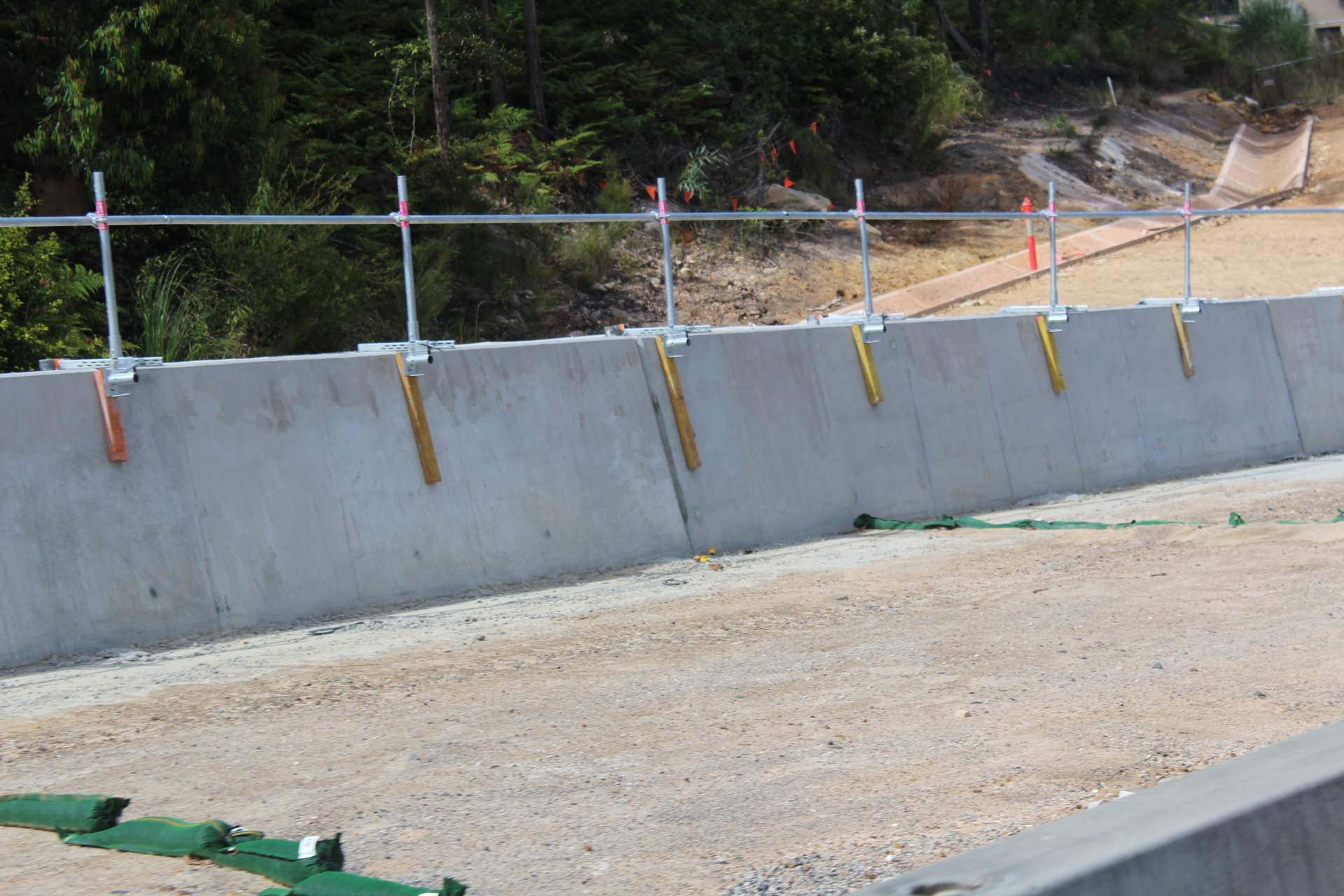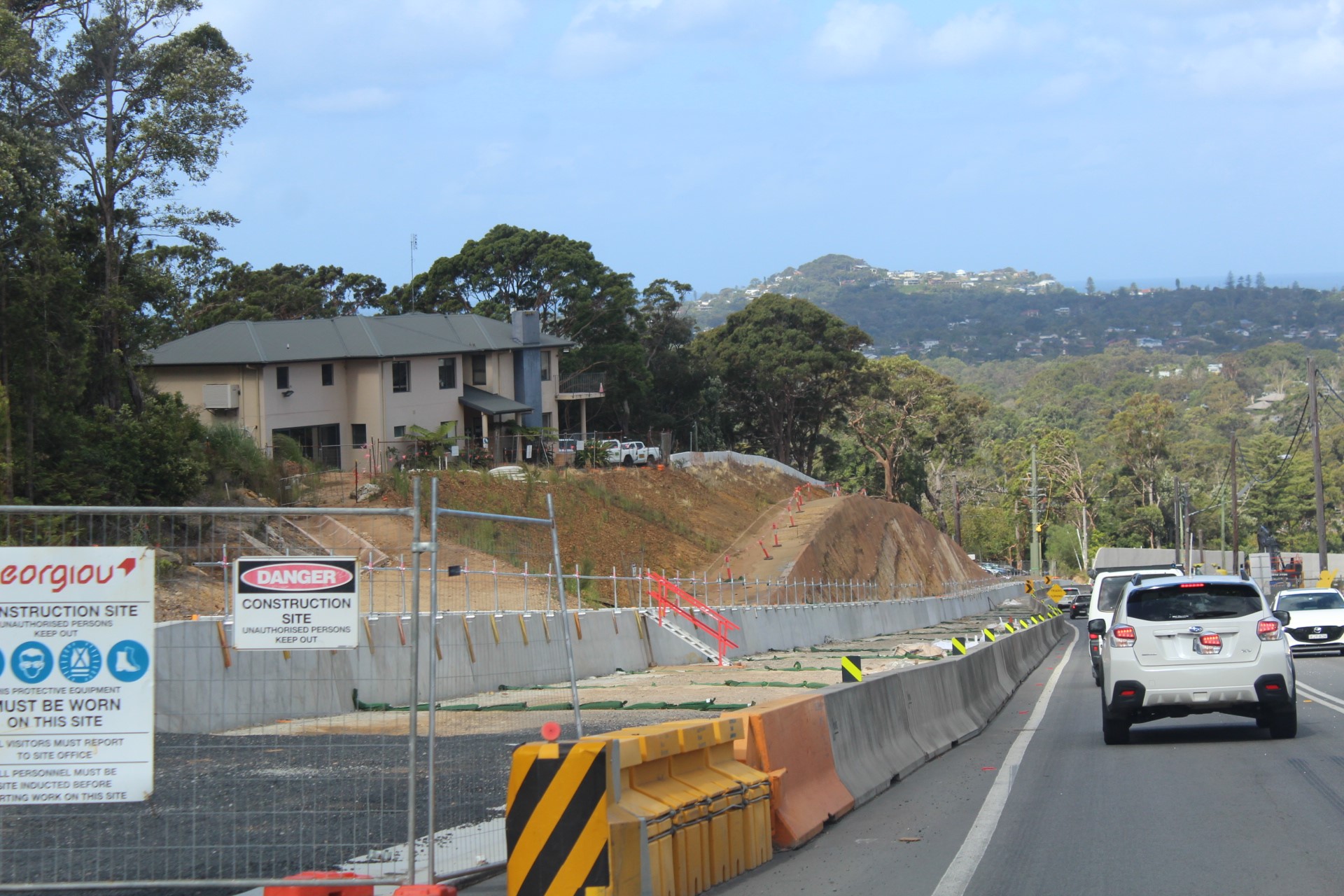 Although the amount of sediment and clay coming into Cahill creek since 2021, with no other large scale construction going on within that catchment, was suspected of originating from the Mona Vale road East upgrade, this has not been confirmed as yet. However, Cahill Creek is the south-western floodplain, also referred to as the 'Bayview' catchment or the Bayview Creek catchment. The Bayview catchment and floodplain is a rural area in the upper catchment with an urbanised area within the lower portion of the catchment. The dominant feature of the lower portion of the floodplain is Bayview Golf Course.
This Google Maps shows the creeks and little creeks flowing into it via the blue lines, with the stormwater pipes that carry the water where those blue lines go underground omitted: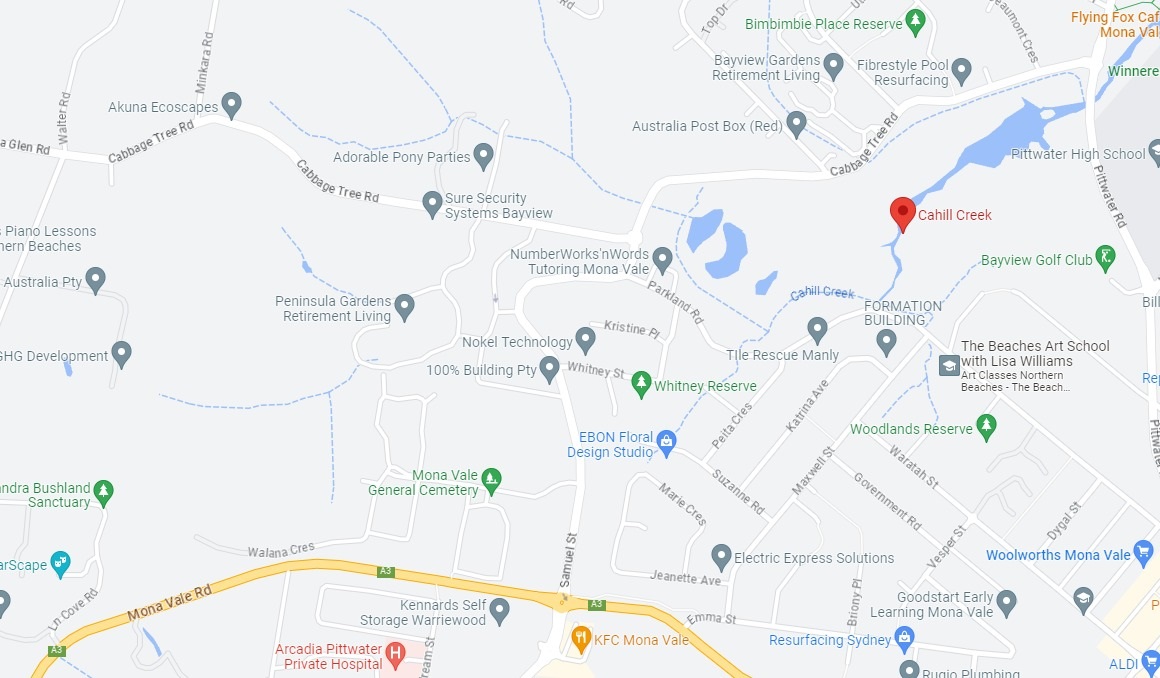 The EPA had issued a Penalty Notice to the contractors on June 22nd 2022. None has been issued since, with a now established EPA requirement for a monthly report and publicly available documents on the EPA website listing the MVR requirements by the licence granted to the contractors.
The Mona Vale Road East Upgrade is a large project, with a huge site to manage. There have been some ongoing issues over the length of the build.
When the works commenced, over 4 years ago, the following was sent in to Pittwater Online News;
In July 2021 professional photographer Guy Finlay took a series of images recording the flow of sediment into the Warriewood creek system and then into Narrabeen Lagoon. Through a social media forum the images were brought to the attention of Cr. Vincent De Luca OAM and Cr. Rory Amon by residents.

Cr. De Luca instantly responded, sending the images through to Council who had been working with the EPA in recent months on job site sediment run-off compliance and education. Council staff reported that incident to the EPA. Similarly, the council stated the EPA will investigate the pollution event at Bayview as well.
"This is the current state of Narrabeen Creek and Mullet Creek to Narrabeen Lake. The flow is static at the moment the Lake entrance is closed , the lake is filling up slowly again, but as the current approaching rain front arrives it will dump more rain in the area and the progress of the sediment filled brown water from Mona Vale Rd will progress into Narrabeen Lake!' Guy explained.
''Please note the pictures of the pipe emptying into Narrabeen Creek at Ponderosa Pde are about >10% full of sediment, gravel etc from Mona Vale Rd and you would think that an amount of this has filled into the creek and wetland system too.
It is now sitting in the Wetlands between Boondah and Mullet Creek. You can see the beginnings of it as it enters Narrabeen Lake in the drone photos." Mr Finlay stated when explaining the sequence of images taken.''
The creek system through the Warriewood wetlands is habitat for a variety of plant species and fauna, including turtles and birds such as azure kingfishers who rely on clean water to find their food.
All photo credits: Guy Finlay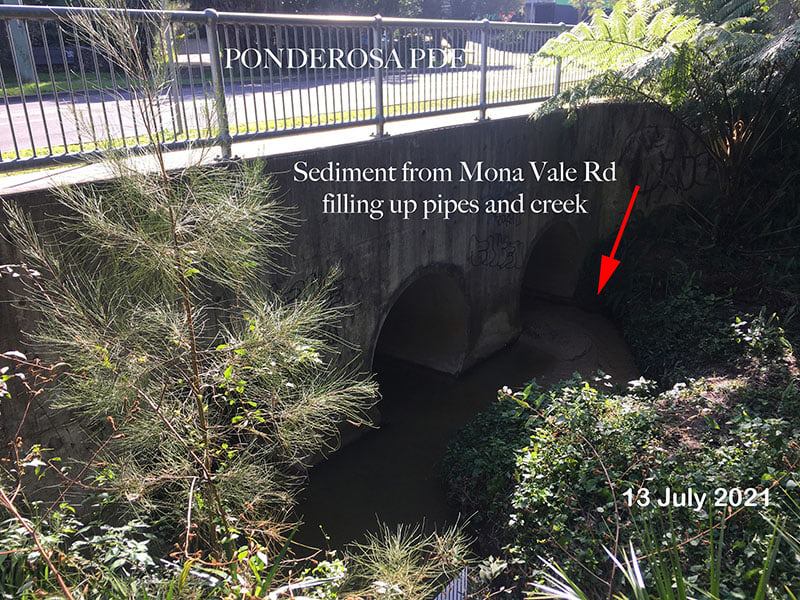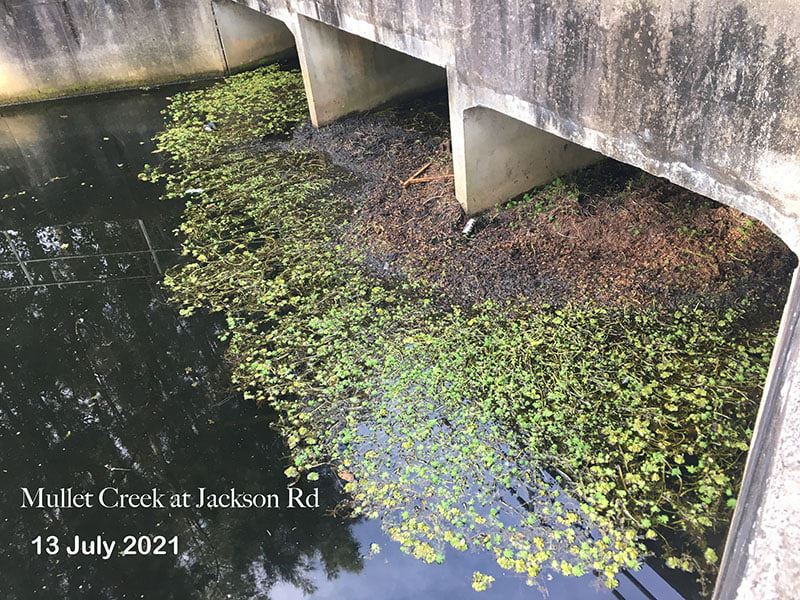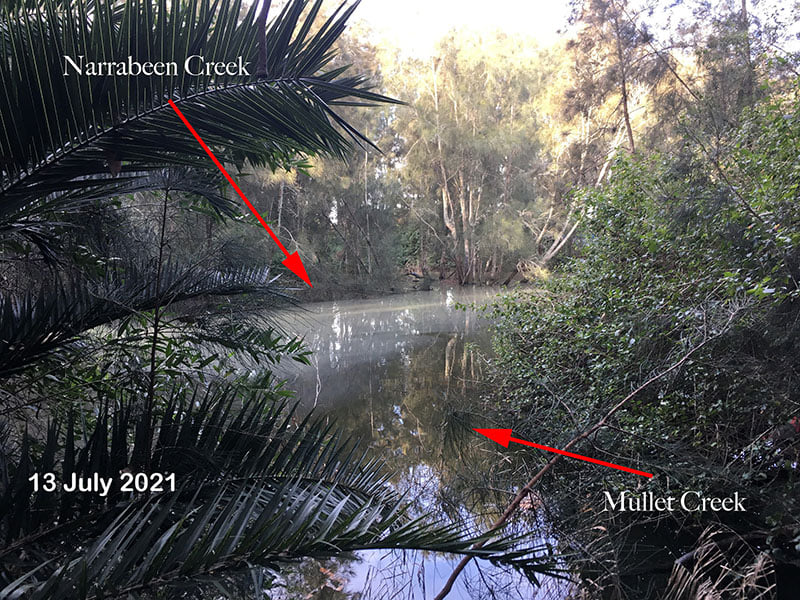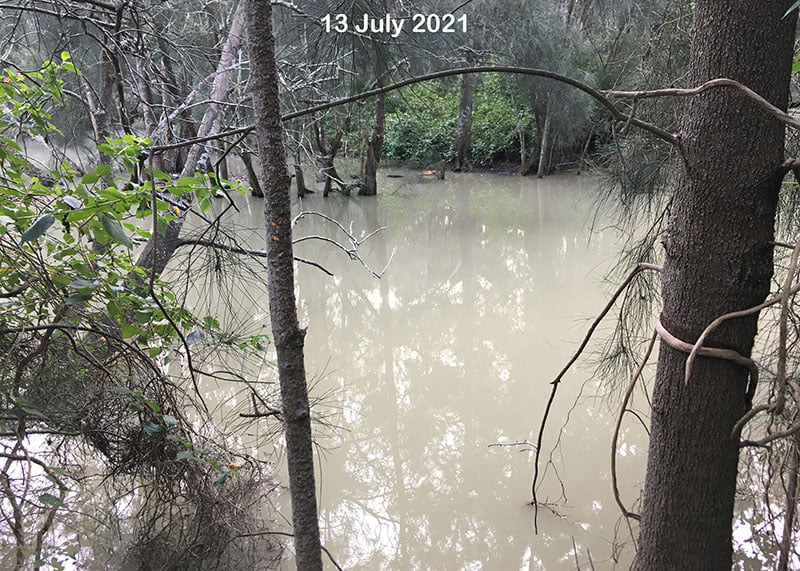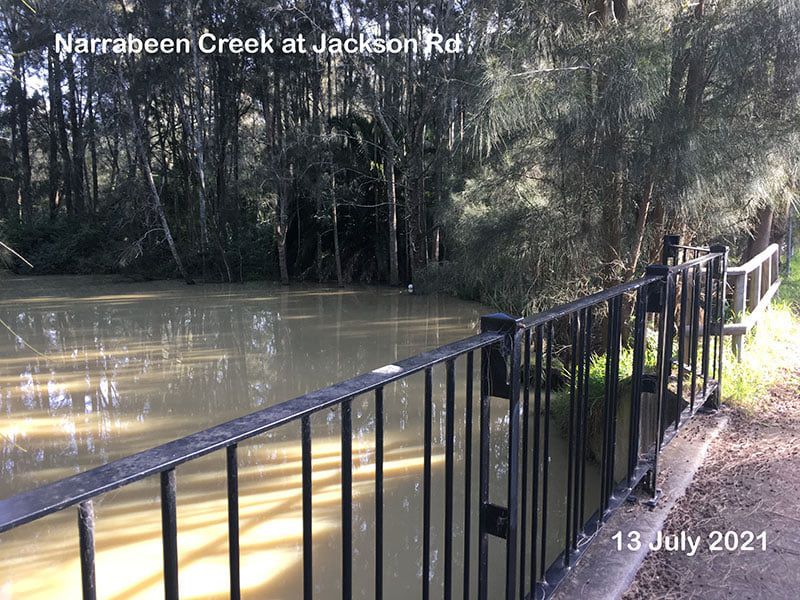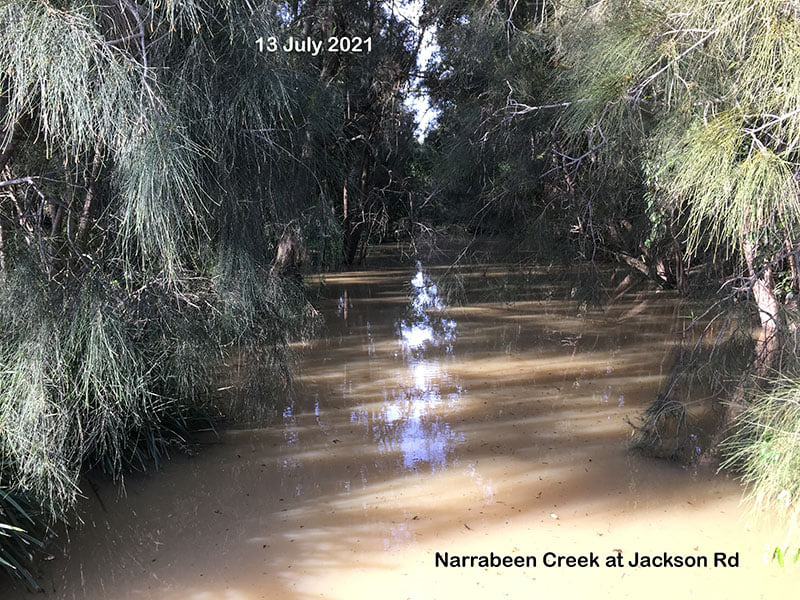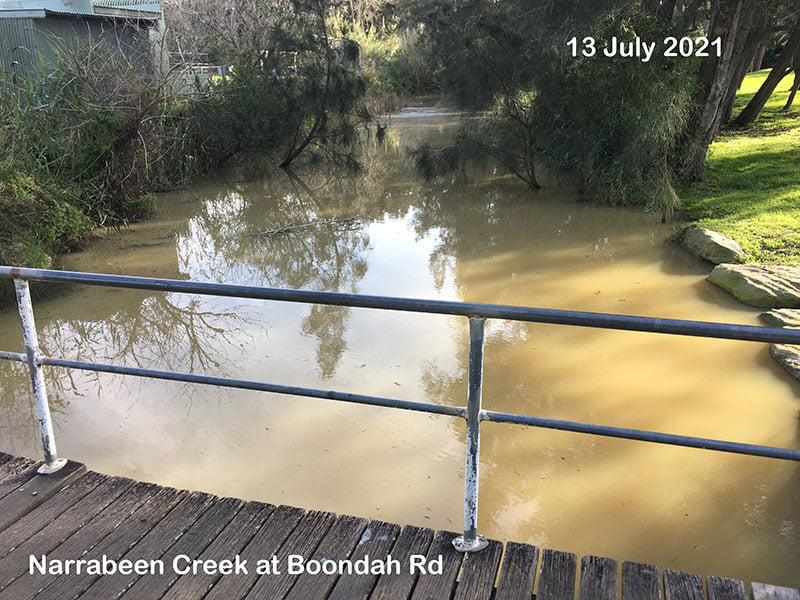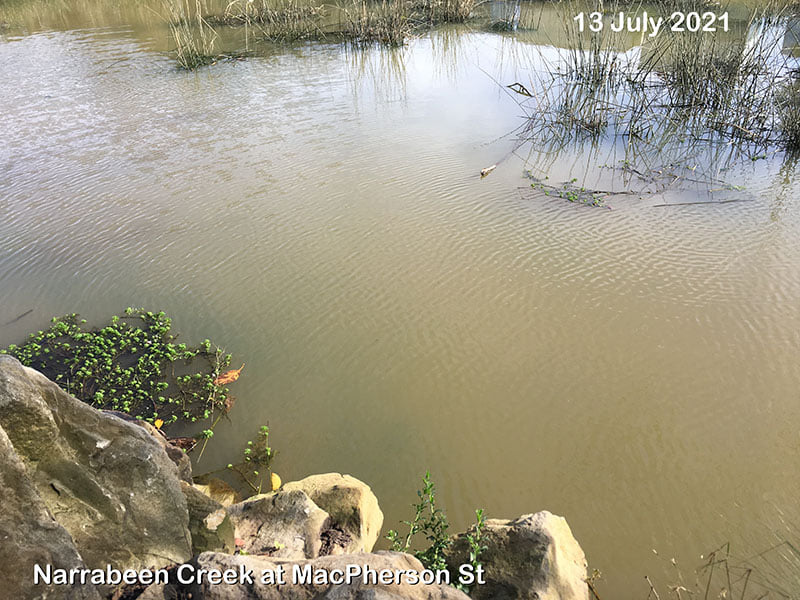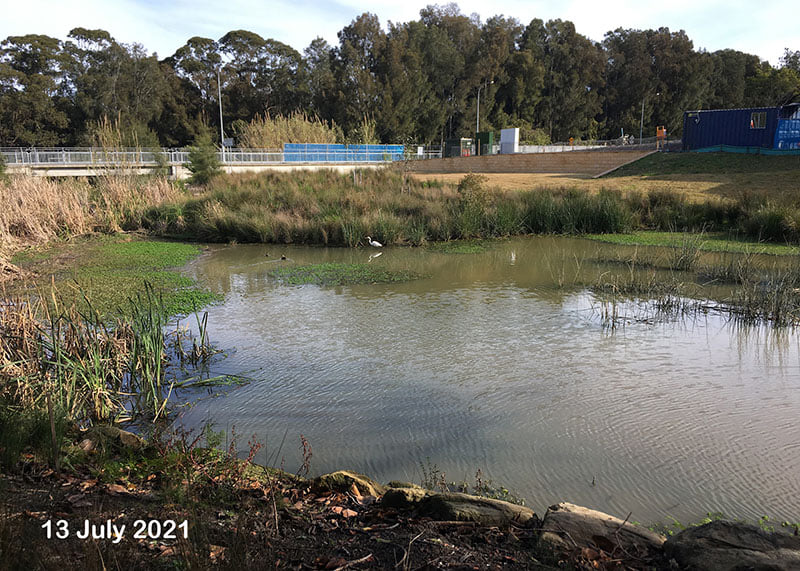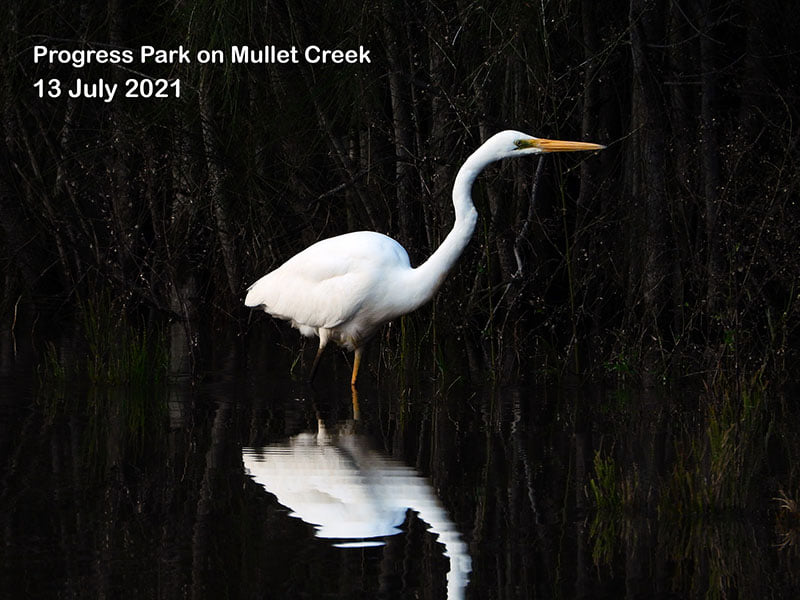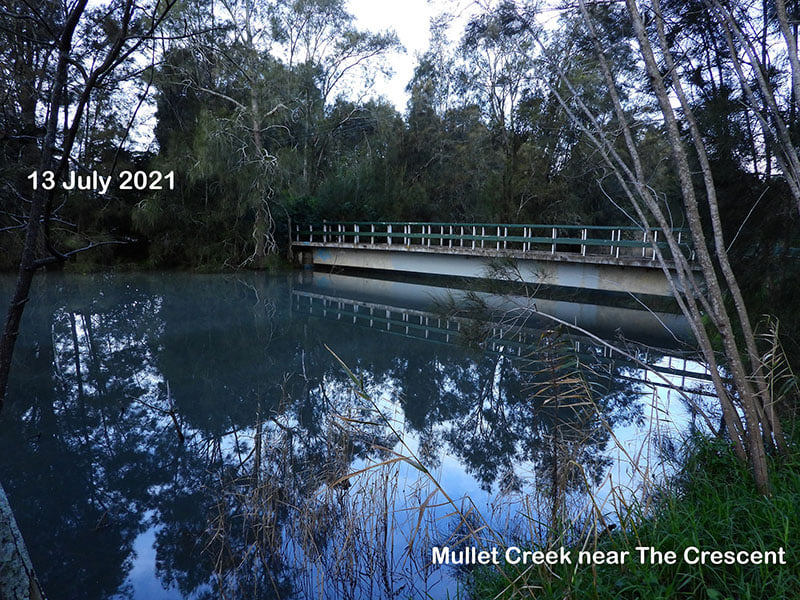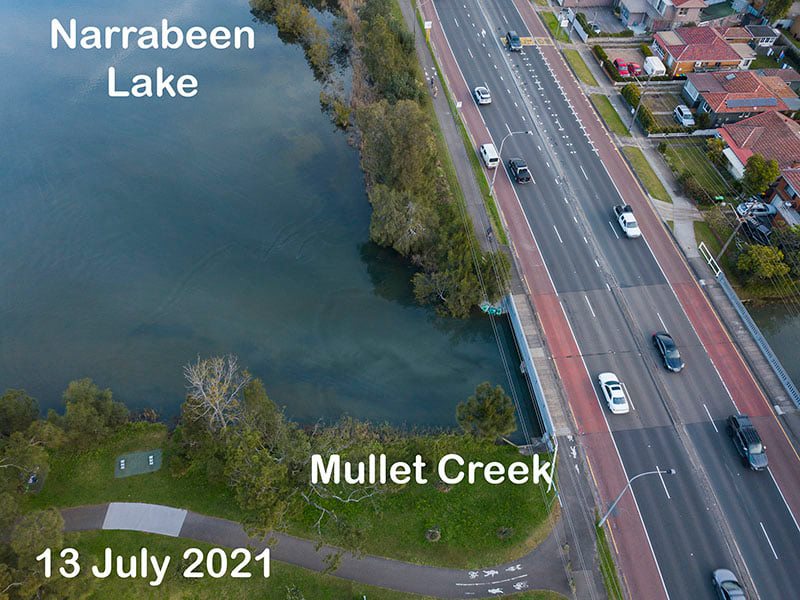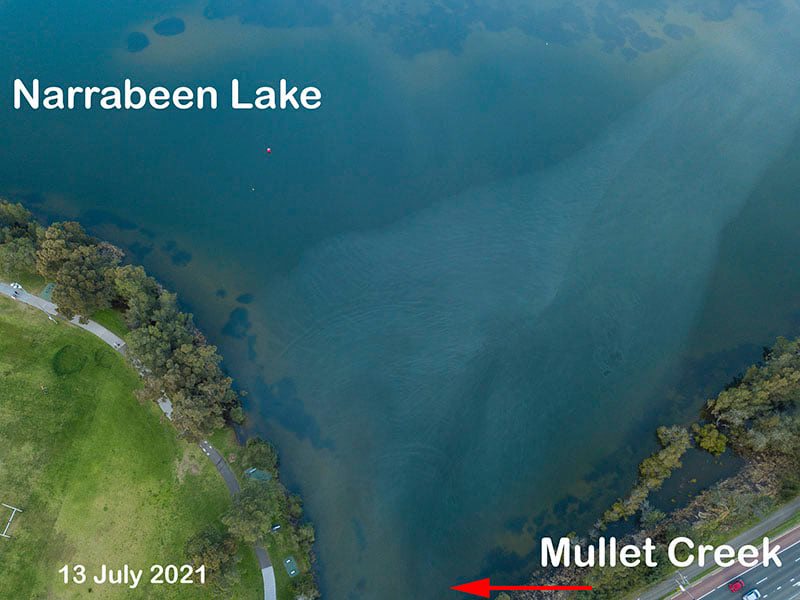 And now more photos and a video from Wednesday May 17th have been sent through, with members and their President, Irene Newport, still banging their heads against a brick wall to save the wildlife that depend on this water source and stop pollution flowing into the golf course and then into the Pittwater estuary, 3 years on.
The Pittwater estuary is lined with sailing clubs and marina that, since 2014, have become part of the Fish Friendly initiative. Fish Friendly accreditation is an information campaign and accreditation system focusing on marina fish habits and developed by the Department of Primary Industries (DPI) in collaboration with the Marina Industries Association (MIA) and the NSW Boating Industry Association (BIA).
What makes a fish friendly place? Clean water! How do you keep the water clean? By keeping the muck out; clay, chemicals, runoff from sites.
Further, in 2009, as a part of the Bring Back the Fish project, the installation of an auto-tidal floodgate allowed for greater tidal exchange with increased fish access to 3 km of upstream habitat on Cahill creek. Here they could make more little fishes to return to the estuary.
Can fish breathe in water filled with clay? No, they cannot, they die.
Can the mangroves at the Pittwater end of Cahill creek survive being smothered in clay? No, they will die too.
Then you must take into account the enormous expense and long hard road Bayview Golf Club has taken to maintain this pristine environment and even utilise some of that once clean water that once flowed through this creek towards the estuary.
Their website tells you:
Bayview Golf Club is located just seconds from the estuaries of Pittwater; known for its pristine water, mangrove forest and plentiful wildlife. With our location in mind, we strive to ensure that our practices are sustainable in order to ensure the continuity of our environment.
Water Policy

The club continues to actively manage water use and quality and continues to search for new ventures to reduce our environmental impact. This includes careful selection and control of pesticides and fertilisers to avoid pollution. The club has installed a water tank to preserve water and increase irrigation efficiency.

Environmental Policy

Bayview Golf Club operates, manages and maintains a private golf course and club house facilities for the enjoyment of its members and guests. Bayview is a picturesque golf club located in the northern beaches area of metropolitan Sydney. The course offers 18 holes of pure recreational and golfing enjoyment hidden away among the rolling hills of the Peninsula. The course's tree-lined and undulating fairways are impressive with lakes, creeks amongst the other natural features within our club. Bayview Golf Club has established itself as a central part of the local community offering a peaceful, social and recreational experience. "Bayview Golf Club is committed to protecting its local environment through education and management action. Staff, members, guests and the environment will benefit from such actions.

To achieve this we will:
Identify and manage environmental aspects within our operations and apply best practice principles to ensure pollution prevention and the conservation of natural resources;
Constantly strive to achieve continual improvement in our environmental performance by making business decisions that work towards sustainable outcomes;
Meet and, where appropriate, exceed the requirements of all relevant legislation, regulations and other requirements to which we subscribe;
Utilize the e-par environmental management system framework to plan, document, measure and monitor environmental performance including setting and assessing environmental objectives and targets and conducting periodic reviews to report on progress;
Continue to recognise the environmental, recreational, educational and social significance of golf;
Openly communicate this policy to all employees, contractors, regulators and other stakeholders and make this policy available to the general public and local community;
Foster an environmentally responsible attitude within our organisation by providing appropriate training and competent assessments
Ensure all those who work for or on behalf of Bayview Golf Club aspire to our expected standards of environmental performance and behaviour.
Unfortunately, at present, and for the past 3 years, they have been banging their heads against a brick wall trying to stop this - photos supplied, from Wednesday May 17th, 2023: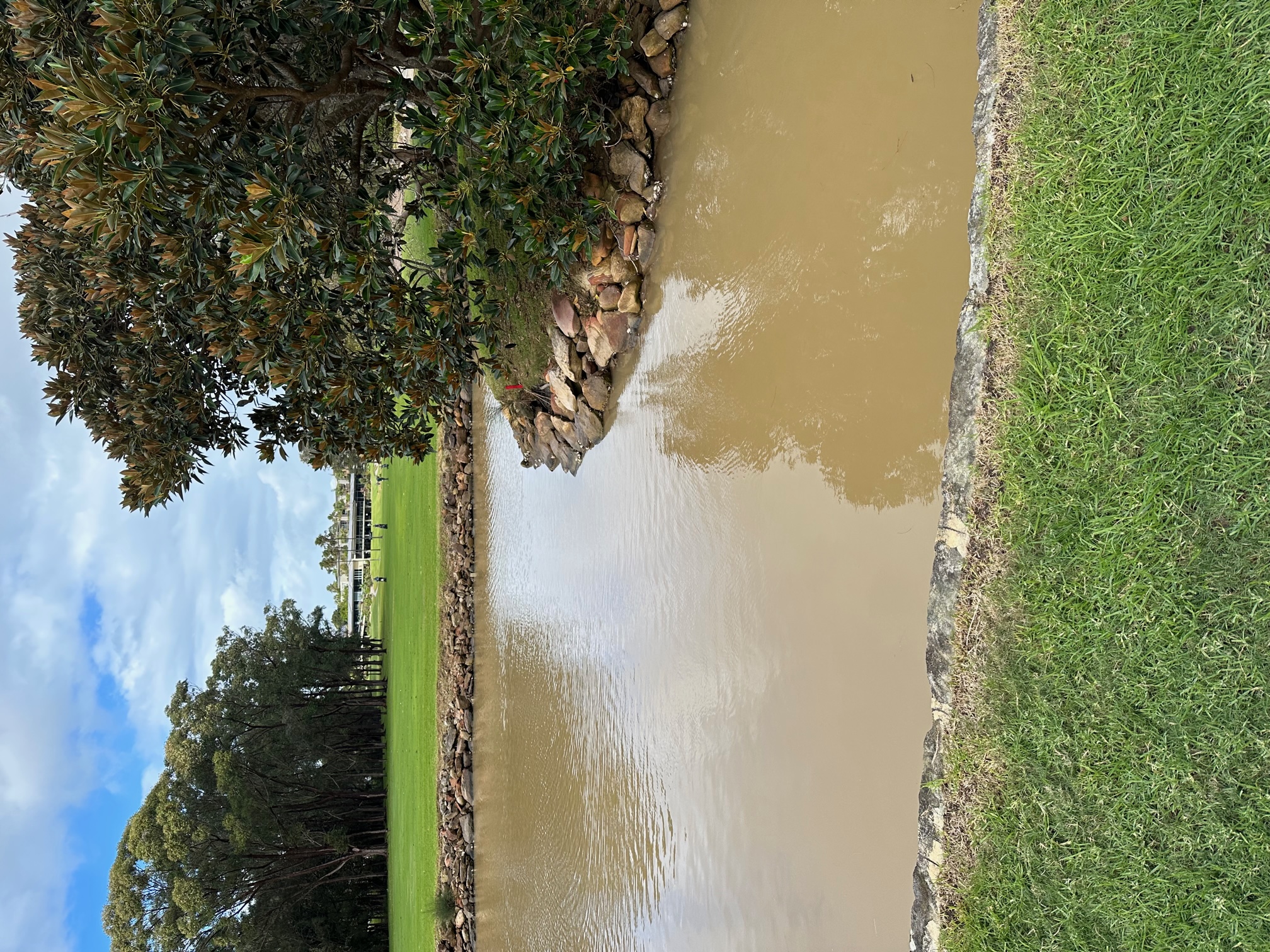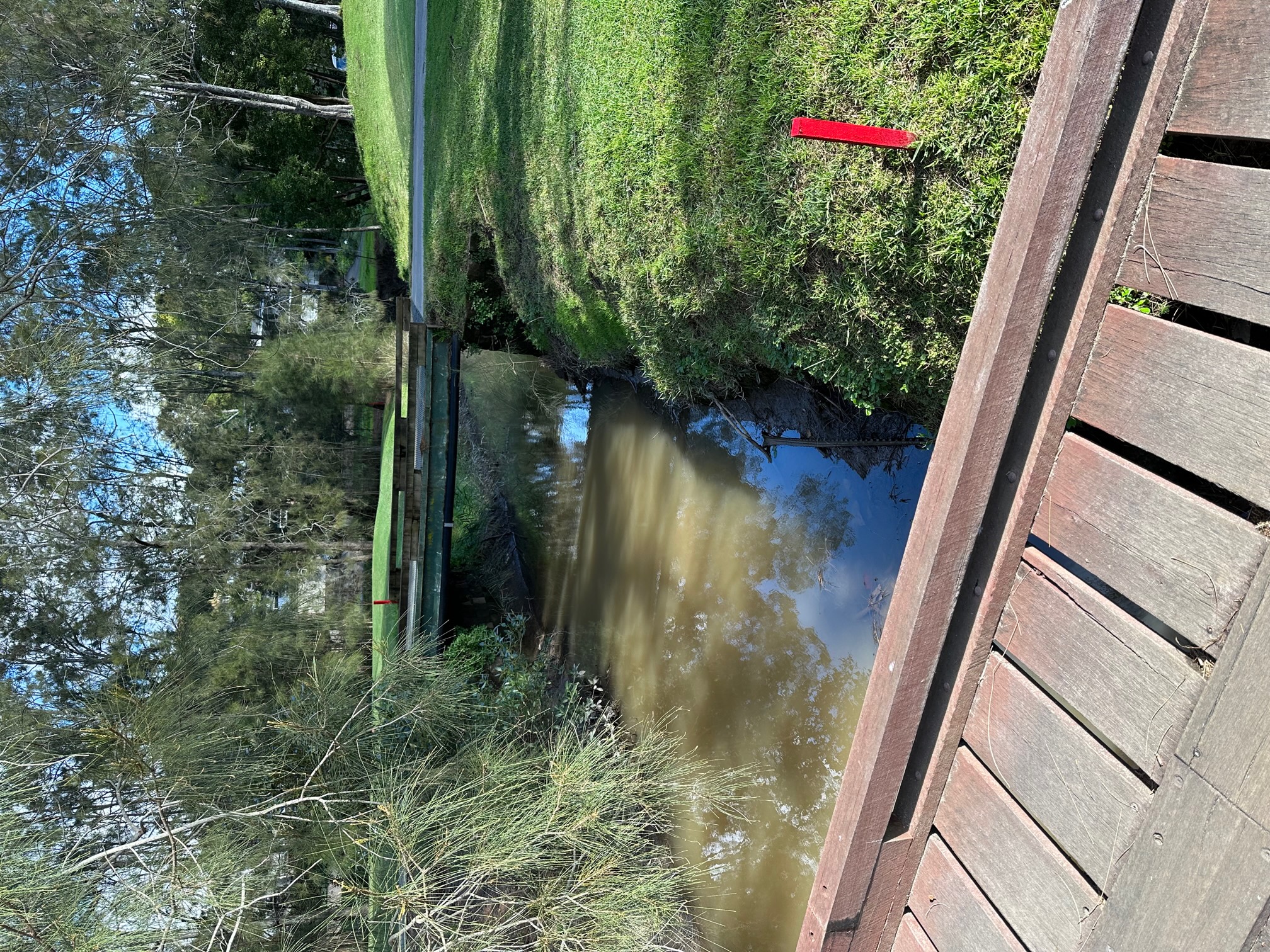 Sue Heins Elected As New Northern Beaches Council Mayor - Rory Amon Submits Resignation: Karina Page Likely To Be Next Pittwater Councillor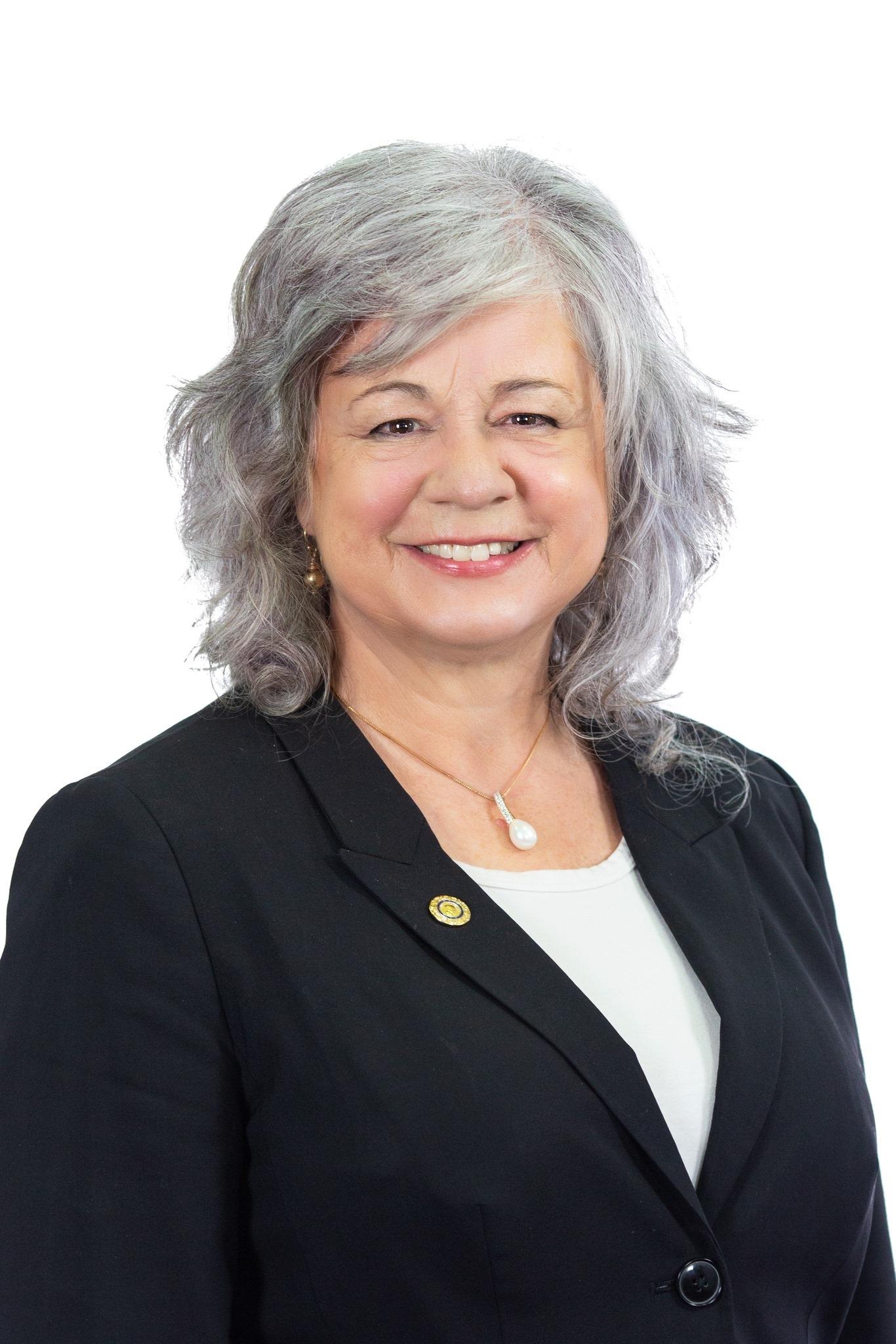 Sue Heins has been elected as the new Mayor of the Northern Beaches. Council voted for the position at an Extraordinary Council Meeting held on Tuesday May 16 following Michael Regan's resignation from the role.
Pittwater councillor Rory Amon also submitted his resignation from Northern Beaches Council following his election to the seat of Pittwater in the NSW State Government. Council will consult the NSW Electoral Commission for a countback of the ballot papers to fill the vacancy in the Pittwater Ward.
Prior to the ordinary local government elections held in December 2021, amendments to legislation enabled councils in New South Wales to choose for the first time to use countback elections, instead of by-elections, to fill any councillor vacancies arising after the ordinary elections. Of the 128 local councils in New South Wales, 99 passed a resolution to use countback elections, including the Northern Beaches Council.
In these instances a countback election is used to elect a councillor to fill a single vacancy, where the vacating councillor was elected under the proportional representation method (i.e. where two or more candidates were elected at a local government ordinary election). If there are multiple vacancies, a separate countback election is held for each vacancy. The countback election is run using the same ballot papers from, and the same proportional representation voting count system as, the general election.
In the case of groups, if the first candidate in a group is vacating their seat, the Above The Line preferences for that group would be allocated to the second candidate in that group.
As Mr. Amon was grouped with the Liberal Party, which secured 8,245 above the line votes, the role would become open for second on that ticket, Karina Page, should she want to be considered in this countback election. Mr Amon had 684 votes for him alone as part of the overall 9,042 Liberal Group total, Karina Page secured 68 votes.
Alex McTaggart, was credited with 846 votes for him alone as Group D, however he was excluded at Count 11 of all the ballot papers in 2021.
Karina Page stood unsuccessfully for Manly Council in the September 1995 local elections on the United Community Team ticket alongside David Oldfield, who co-founded and was deputy leader of the Pauline Hanson's One Nation party, and Glen Wirth, a successful real estate agent.
Ms Page was first elected to Manly Council, this time as Liberal candidate, in a by-election on 30 November 1996 to replace Councillor Ian MacDonald. In her statement to the press she was described as "31, Liberal, owner/operator of a local business for the past 12 years, lived in Balgowlah Heights and Balgowlah for 30 years." Ms Page was re-elected at the Council elections in 1999.
Ms Page served on Manly Council until 2003. Since then Ms Page, a mum, has moved to Mona Vale and been a resident there for at least 12 years.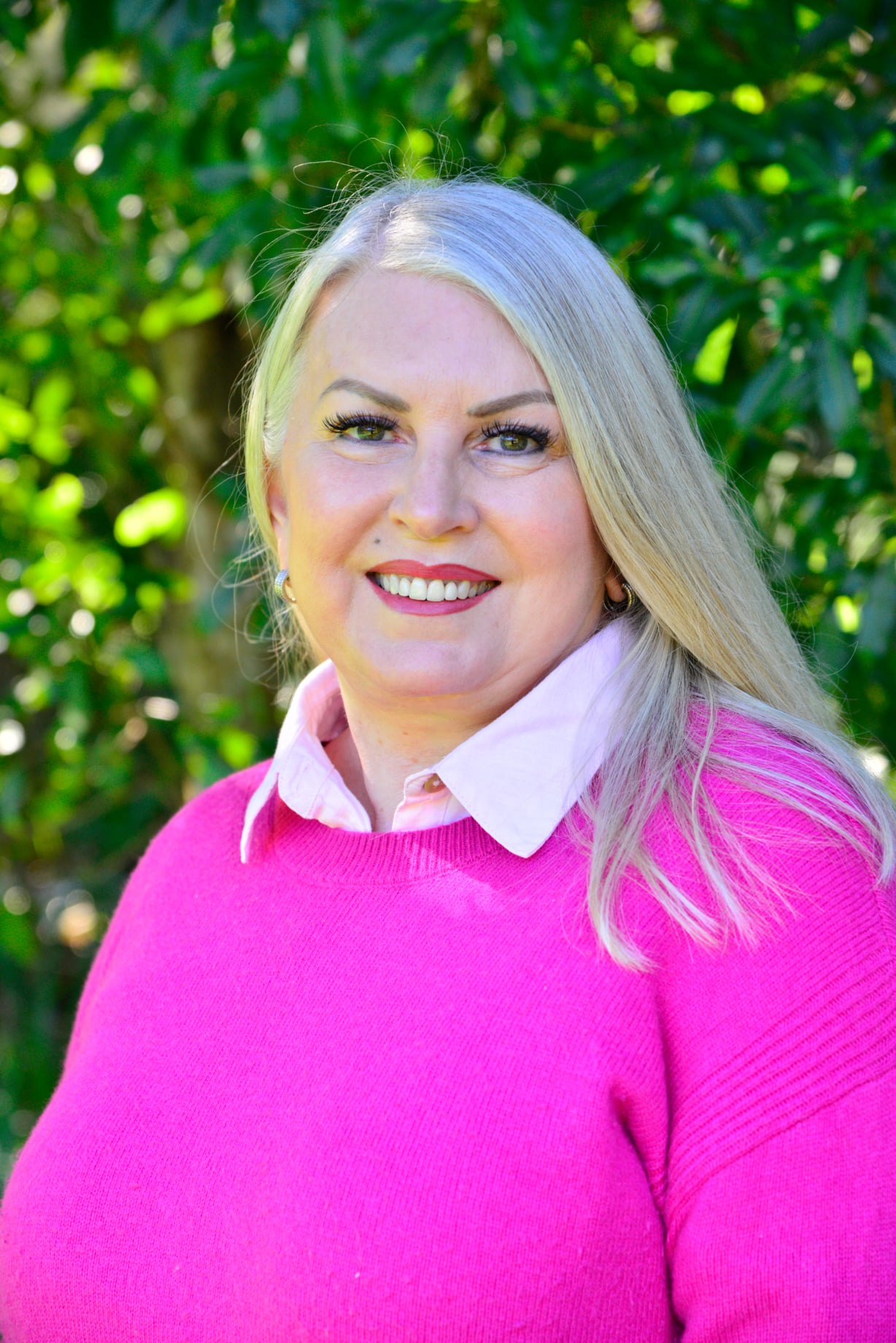 Candidate photo for Karina Page in 2021 local government lections
Mayor Heins who represents the Curl Curl Ward, was first elected to Council in 2012 and formed part of the Your Northern Beaches Independent Team for the 2017 elections for the newly 2016 created Council. Mayor Heins stood for the Narrabeen Ward in these first elections.
Mayor Heins will hold the position of Mayor until the next Mayoral election in September 2023.
Mayor Heins acknowledged the work of former Mayor Michael Regan and said she was honoured to accept the role.
"I would like thank Councillor Regan for his 15 years of devoted service as Mayor, to both Northern Beaches Council and the former Warringah Council. His commitment to the local community will go down in history and is something to be commended and appreciated," Mayor Heins stated
"I thank my fellow Councillors for having confidence in me and voting me into this position.
"I am looking forward to collaborating with my fellow Councillors and thrilled to serve the Northern Beaches community in this new role," Mayor Heins said.
Councillor Heins has served as a councillor since 2012, first on the then Warringah Council and has served as Deputy Mayor for three terms.
Councillor Heins has lived and worked in the area for over 25 years. Sue has supported the local small business community passionately for many years, running networking events and facilitating mentoring programs.
Councillor Heins is the former President of the Warringah Chamber of Commerce and Industries. Councillor Heins is also involved with several charities and is currently Chairperson of Women & Children First (domestic violence services) and Women's Healing Sanctuary.
In 2015, Cr Heins received the Minister's Award for Women in Local Government for her outstanding contributions to Council and the community.
Known for her indefatigable work across our area and common sense approach, at all times, Cr Heins is very popular with Pittwater residents already, many of whom have sent through their heartiest congratulations to Cr Heins this week.
Corella Fledgling Pair On Mother's Day 2023; 'Feed Me, Feed Me!'
They are still slightly smaller than their small already parents and a little less sure when jumping around on tree branch etc. - prone to almost missing the bough.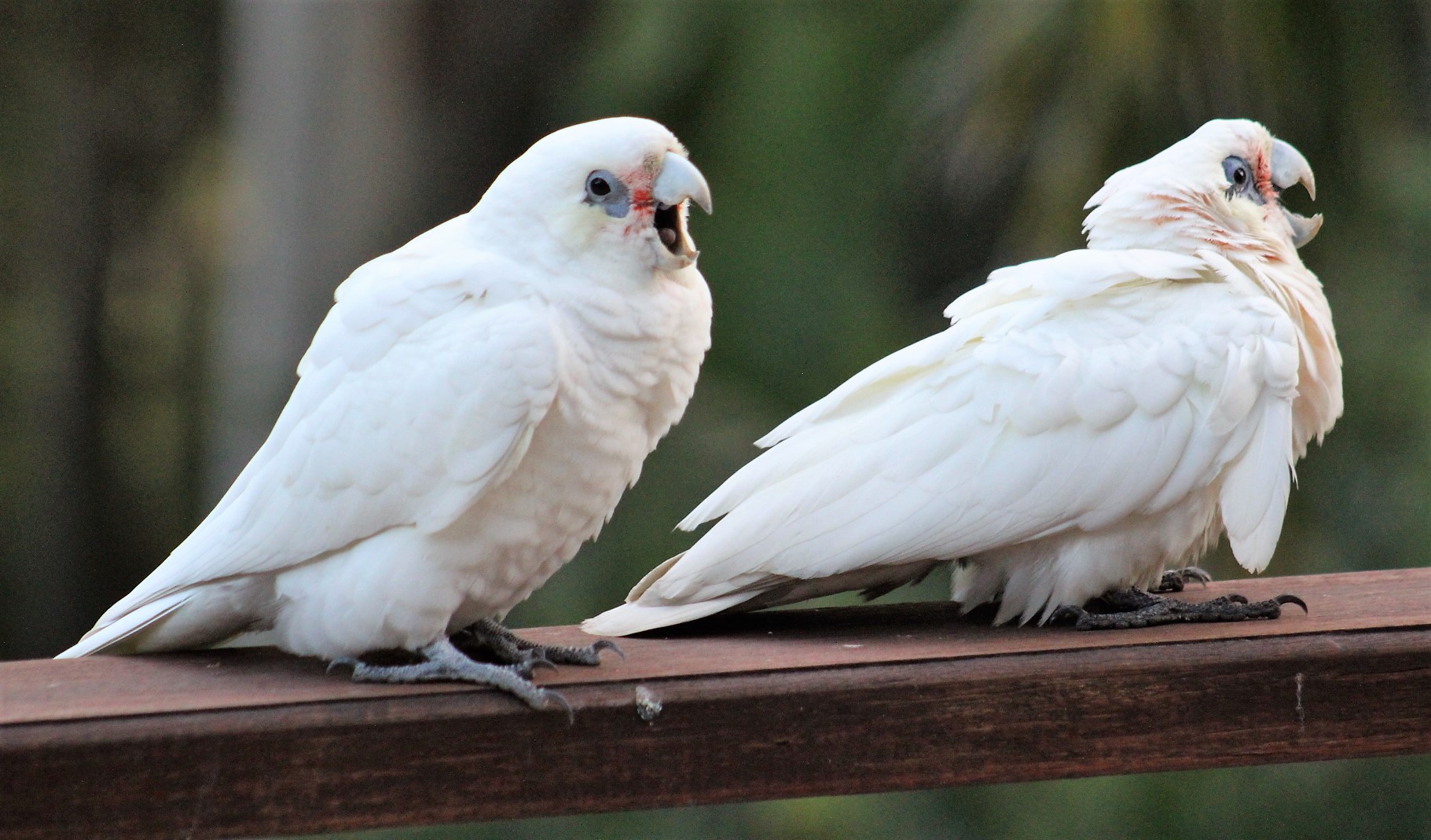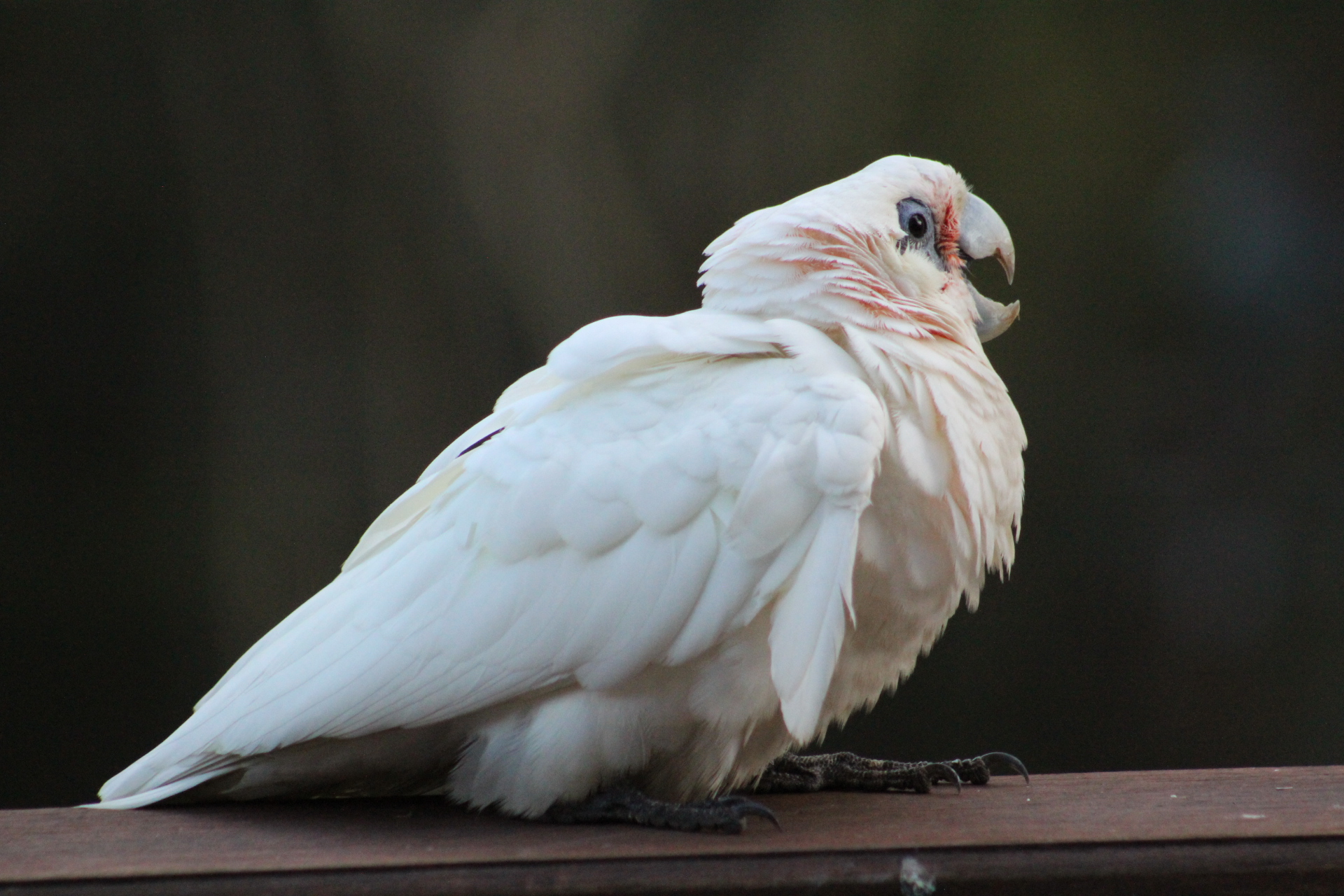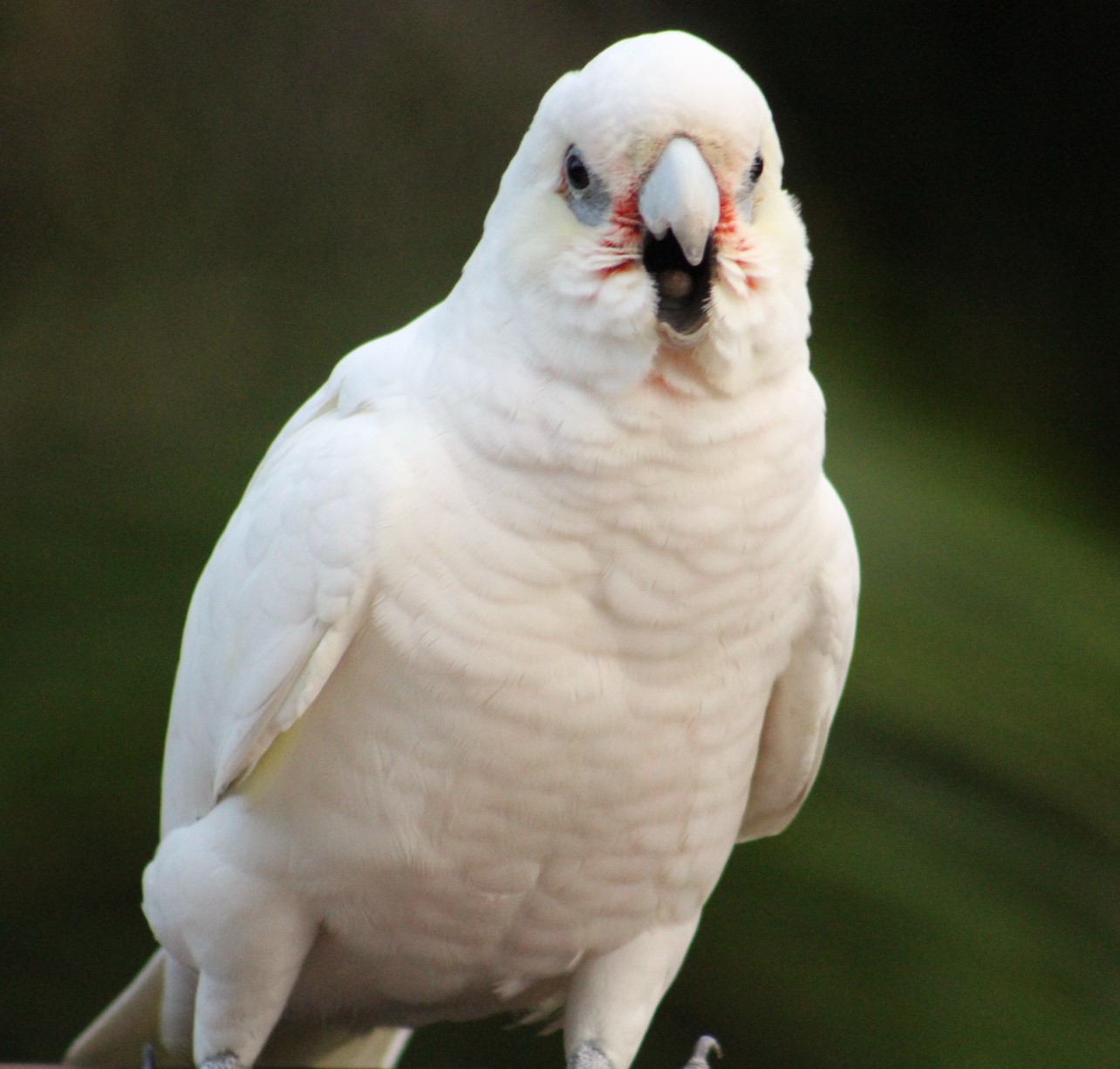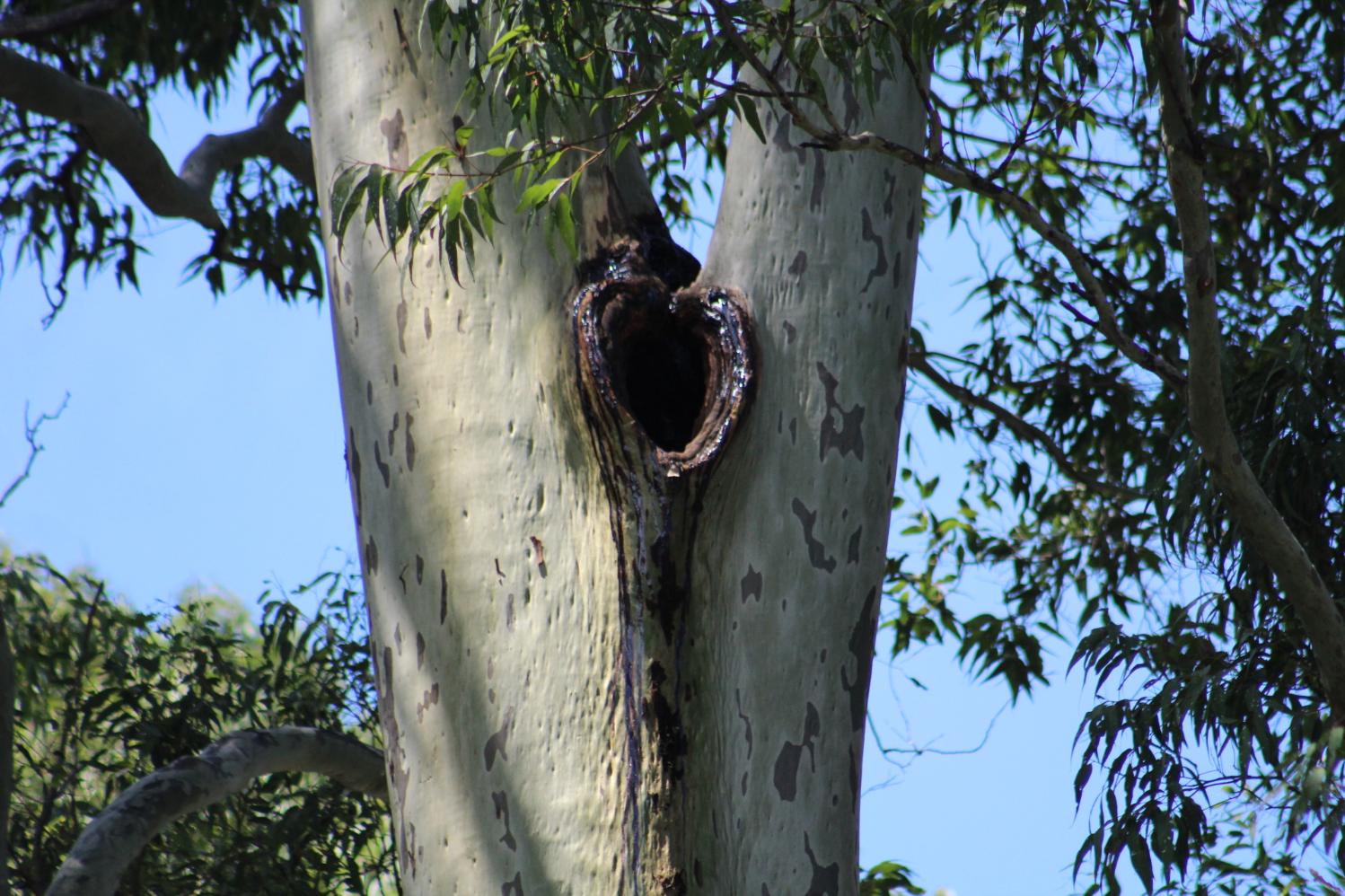 Past Features Archives (pre 2014)
Pittwater Online News was selected for preservation by the State Library of New South Wales and National Library of Australia. This title is scheduled to be re-archived regularly.
Archived Issues (2014 on) may be accessed here: pandora.nla.gov.au/tep/143700
Past Issues are also listed on site on the Community News page, by month.