March 12 - 18 2023: Issue 575
Aboriginal Support Group – Manly Warringah Pittwater's Bush Tucker Night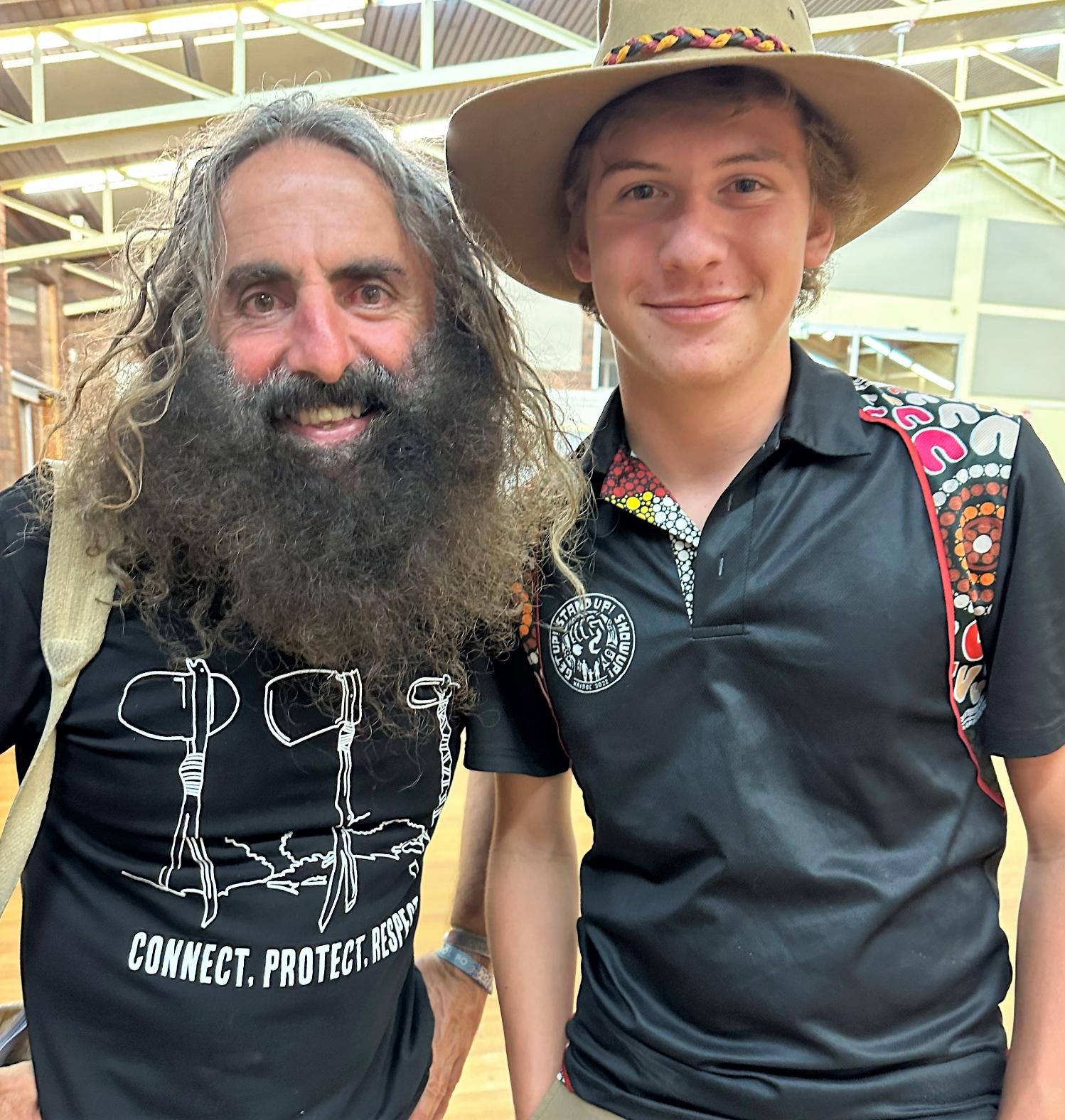 Costa Georgiadis and Noah Smith. Photo: Miranda Korzy
The eyes of local Aboriginal elders are still watching that we take care of country, local First Nations student Noah Smith told a bush tucker meeting at Mona Vale Hall last night.
Noah, 17, Northern Beaches Young Citizen of the Year provided a great introduction to foods which can still be found growing in the area. A Barrenjoey High Year 12 student, he also works at the Terrey Hills Bush to Bowl social enterprise selling and promoting bush foods.
The audience of 150 included indigenous and non-indigenous people, with Gardening Australia presenter Costa Georgiadis amongst them and taking notes throughout the evening!
Noah had collected specimens from around the Bilgola Plateau and the Avalon Beach dunes area, and he explained the uses of each in bush tucker and for medicinal purposes. Wattle seed, for example, can be used to add a nutty flavour to food or crushed and combined with water as an anti-bacterial soap.
Heath Banksias, which he explained grow in higher localities such as the Plateau, can be used to filter water or dipped in water first thing in the morning to make a slightly sweet cordial. Meanwhile the rounded protrusions on the seed pods are the elders' eyes, Noah said and were, "watching that we take care of country".
Meanwhile, Bracken fern, especially the young furled leaves, could be crushed and applied to ant bites to reduce the pain.
Noah was keen to pass on his knowledge gained from both his job and the Aboriginal community. "I want to help people learn about the plants around us and how to use them," he said. "I'm trying to encourage them to bring the bush back into their backyards."
Max Weston Wins Noosa Longboard Pro 2023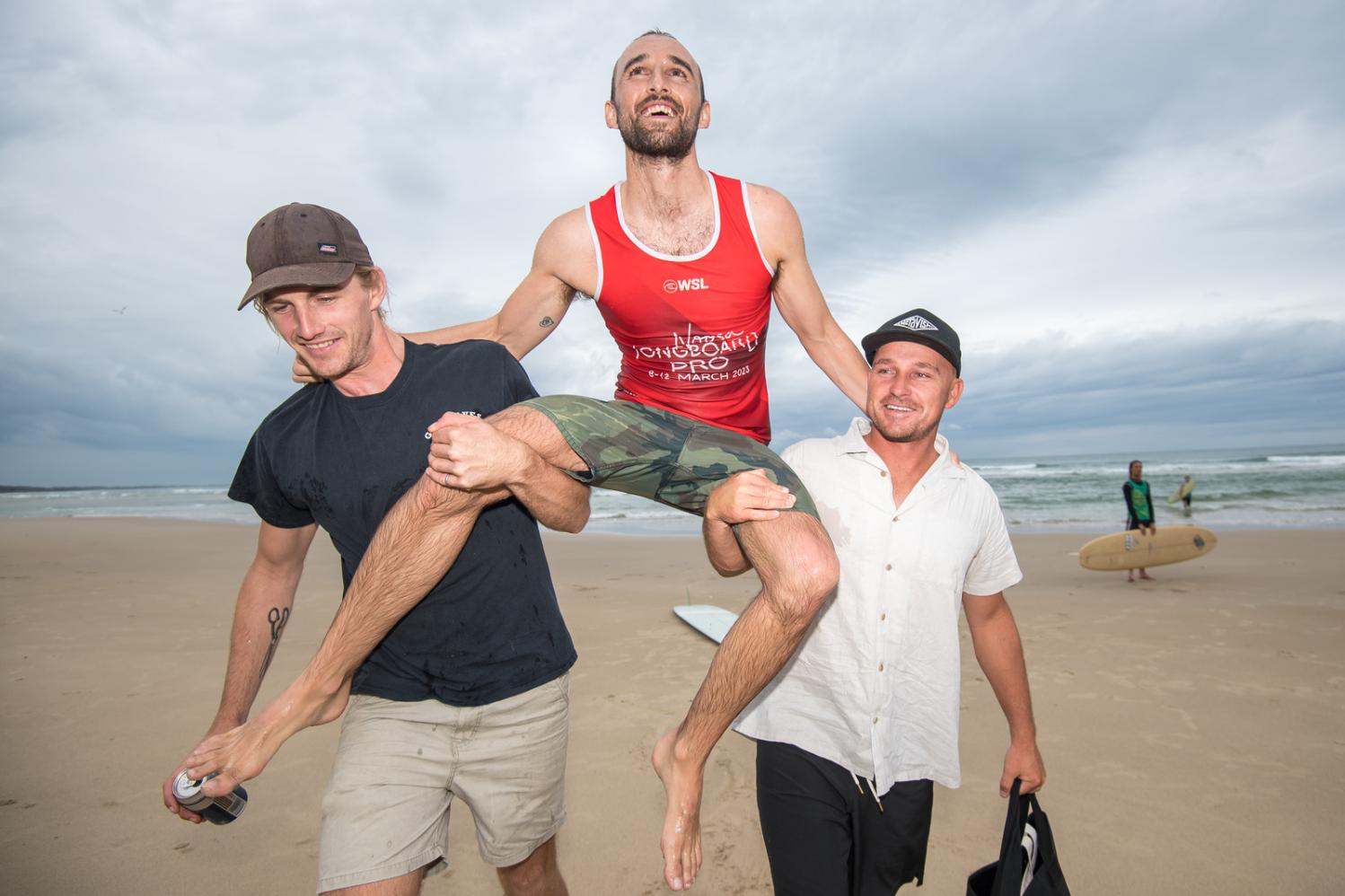 Max Weston being chaired after his win. Photo: WSL / Dave Gleeson
Avalon's Max Weston, a Chemical and Biomolecular Engineer in his 'other life', won the Noosa Longboard Pro, World Surf League (WSL) Longboard Qualifying Series event (LQS) on Friday March 10th, setting himself up for a good boost as a lead into the 2023 Manly Longboard Classic, to be run May 4th to 5th.
Pittwater local Max Weston came into the Noosa Longboard Pro searching for his first major event win, and from his first heat of the day, the silky smooth natural footer looked destined for the win. Weston posted the highest two-wave total of the event in his Semifinal, only to start the Final on the backfoot. Sitting in third and needing a change of tact, Weston found back-to-back long rides, weaving, cross-stepping and nose-riding to the beach to earn a mid-range heat total of 13.70 (out of a possible 20), which was enough for the lead and eventually the win.
"I'm super stoked with this win; it's definitely the biggest of my career," Weston said. "We've had really fun waves the whole time and a range of different conditions, so it's been a perfect event, and we've been able to do everything. The aim is definitely to get onto the World Tour – all the waves on there sound awesome, especially for a natural footer. This is the perfect start, so I can now look forward to Manly."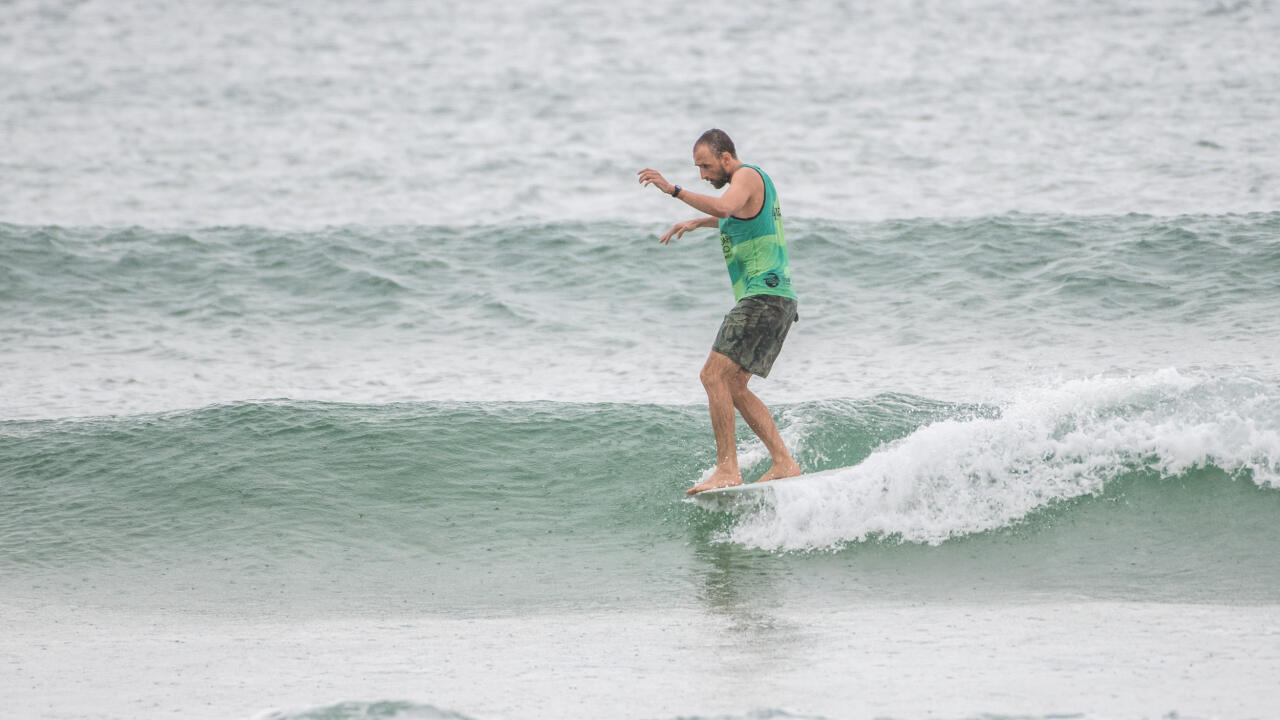 Max Weston. - Credit: WSL / Dave Gleeson
Surf Life Saving NSW State Opens + Surf Boats Championships 2023 A Great Final Weekend Celebration Of Surf Sports For All: Newport Crowned Open Champions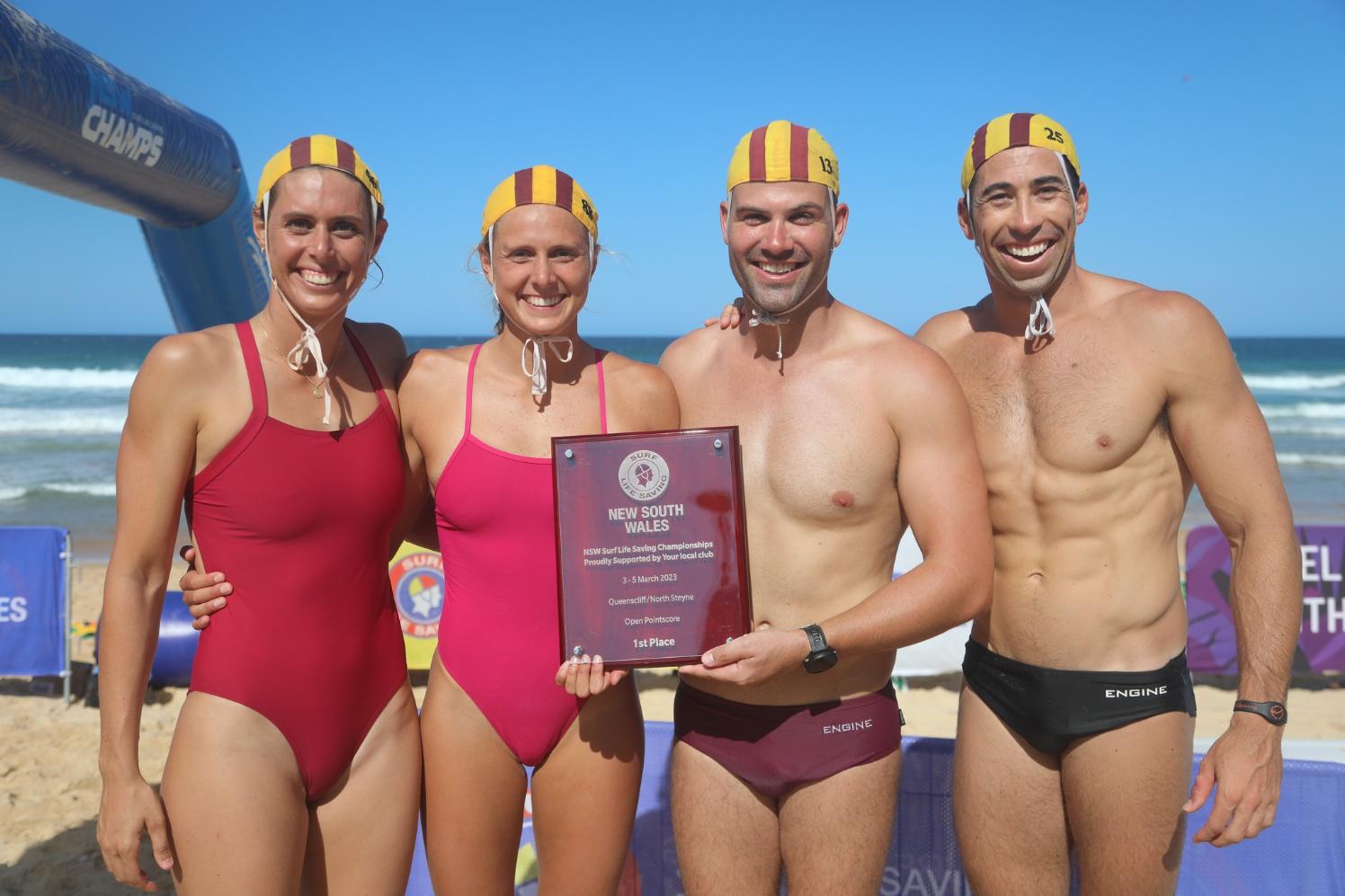 Newport SLSC wins pointscore in 2023 SLS NSW Opens State Championships. Photo: SLS NSW
The 2023 NSW Surf Life Saving Championships is done for another year, as Newport SLSC capped a huge 12 days of elite competition with the Open title for an incredible ninth time.
Packed to the rafters with surf sports stars, Newport entered the Open Championships as the favourite once more and duly delivered on a day that finished with a win to a different cap, but an overall win to the yellow and brown.
Indeed, the Open Male Taplin Relay wrapped the final day of competition at Queenscliff Beach, with Redhead SLSC claiming a quite comprehensive win when it was all said and done; Isak Costello taking the time to passionately hug and high five each of his team mates on the shore before running up the beach to finish the race.
It capped a truly sensational day for the Hunter club who also walked away with an Open Male Ironperson title, with Daniel Collins finishing ahead of North Cronulla SLSC's William Budd and Cronulla SLSC's Jay Furniss. Young Nick Stoddart, who led after an incredible swim leg to kick things off, finished just outside the podium places for Swansea-Belmont SLSC.
It was to be Newport SLSC's day, though, as the club rode to victory on the back of their young talent just as much as their seasoned heads.
The 'B' team of Sascha Taurins, Piper Harrison, and Dominique Melbourn pipped the 'A' team of Jemma Smith, Maddy Spencer and Lizzie Welbourn in the Open Female Taplin, just one race from the end, as a signal the young guard is on the march, but Lizzie's dominant win in the Open Female Iron not half an hour earlier – her first ever state title in the discipline – was a reminder of the club's depth at all levels.
Newport illustrated its strength in depth through both first days of competition, seeing multiple teams and athletes score podiums in the same races and generally looking strong across the board.
On Saturday, March 4th, Arabella Cox, Lizzie Welborn, Jemma Smith and Maddy Spencer did it in the Open Female Board Rescue, the former two running first and the latter two second, while two Newport teams did the same thing again in the U19 Female Rescue Tube Rescue.
In its first running at the NSW Surf Life Saving Championships, the Mixed Open Taplin Relay was also won by a stacked Newport team of Conner Maggs, Maddy Spencer, Mitch Trim, Jemma Smith, Lizzie Welborn and Charlie Brooks. A Newport team that could just have easily have been winners claimed silver and, for a moment heading into the final legs, it looked like a third team from the Northern beaches club may claim the bronze.
Bulli SLSC's Hannah Minogue and Jasmine Locke beat out the highly fancied Jemma Smith and Sascha Taurins Newport combination in the Open Female Double Ski, Newport's only defeat in the event across four age and gender categories.

On the Friday, March 3rd, Newport led all comers in podium finishes and gold medals, accruing five by the time the Belt races were over, signalling the end of the day.
Siblings Bailey and Olivia Clues were responsible for one of those in the U19 Mixed Double Ski – Olivia's second of the day after teaming with Analise Kibble, Kimberley Doyle, and Jodie Louw to win the U19 Female Surf Teams.
A Newport one-two-three, led by elite ski specialists Jemma Smith and Mitch Trim, in the Open Mixed Double Ski was a highlight at club level – they're the first to do it in teams events at the 2023 State Championships.
Manly LSC dominated in the Open Male Surf Teams, finishing with all four swimmers inside the top seven before later swimming to gold in the Open Female Surf Belt race.
The Surf Belt, a nod to history in surf lifesaving where competitors swim out to a selected buoy while teammates stand on the beach and in the water continuing the flow of a rope that connects the swimmer to the reel on the shore, closed out the first day as spectators gathered in large numbers to watch.
In other traditions maintained that everyone loves, Silver was won by the Collaroy Ladies in the Open March Past. North Cronulla TEAM A won the gold and Burning Palms Team A the bronze.
The Collaroy team; Alison Ducker, Anna Mickan, Anne Bullivant, Ann-Maree Donlan, Brooke Perry, Debra Trim, Janine Fahey, Karen McKie, Nicole Bridges (Reserve), Nicole Bowyer, Jacqueline de Kort and Kerry Armstrong.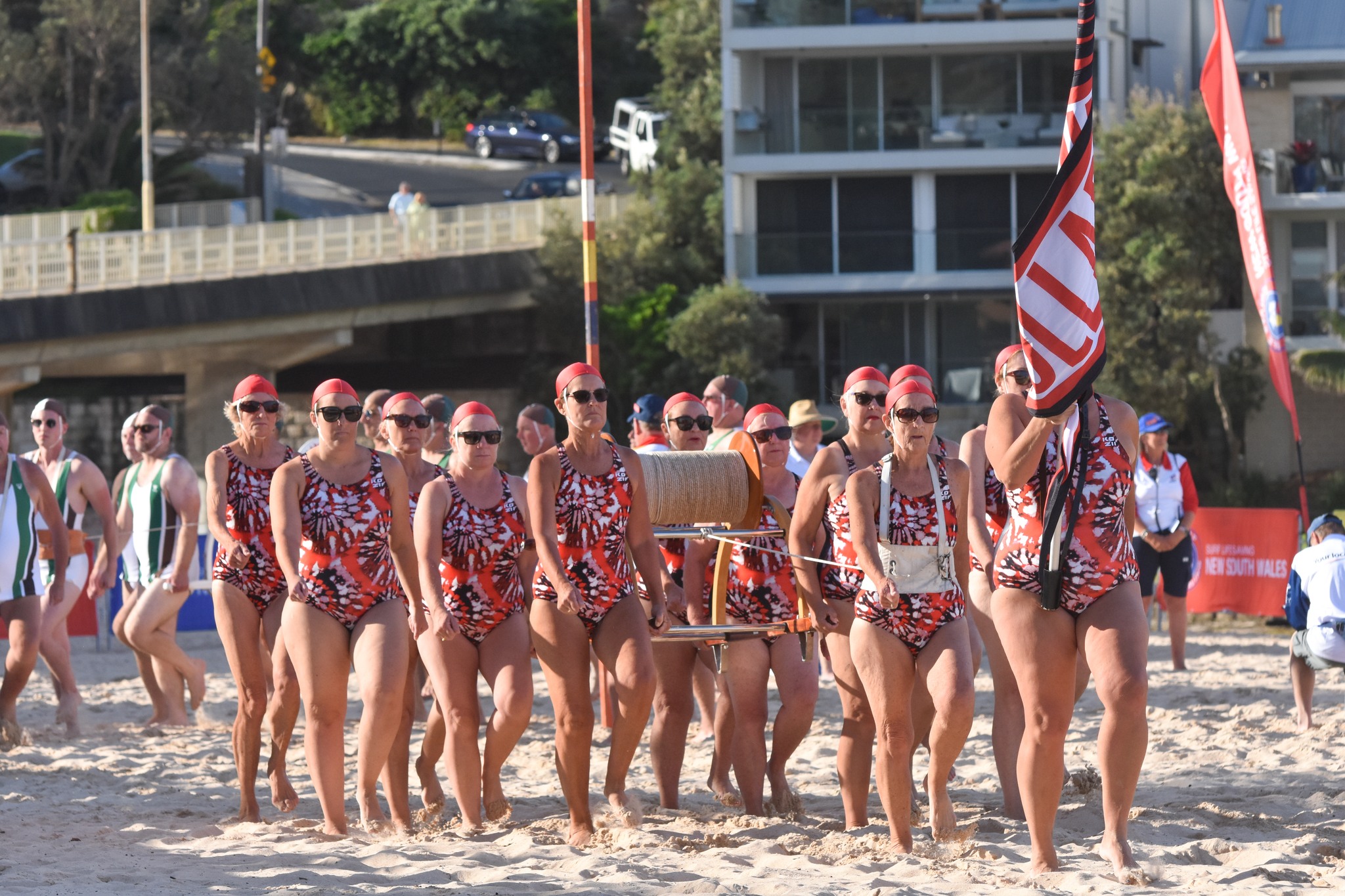 Wanda SLSC would finish second on the overall point score, with India Hulbert's win in the U17 Female Surf Race, and Elyssa Pierce's in the Open Female Ski – in tricky conditions – helping them to a fantastic finish.
Swansea-Belmont finished in third thanks to results like Kaitlin Rees gold medal in the U15 Female Surf Race and Redhead climbed from ninth to fifth between day two and three – Charlie Burns in the Open Female Surf Race and Lani Waller taking out the U17 Female Iron helping them to leapfrog several big Sydney clubs on the way.
Waller's win, in particular, was very emotional, and followed her win in the same event of the U15s two years ago at Swansea.
Niamh Sharpe, the sister of Country Championships Open Iron winner, Ollie, grabbed a win for Cudgen Headland SLSC in the U17 Female Board Race and Lily Finati of North Bondi SLSC picked up wins in the U19 Female Board and Iron races.
Manly LSC's Ethan Neville handled the conditions best to claim the Open Male Ski Race and Sidney Forbes of Cooks Hill SLSC came home strongest with some wave assistance in the U17 Male Ski. Cooks Hill also had a win with Alex Walker in the U17 Male Surf Race before he fell agonisingly short of a win in the U17 Iron.
Kyle Graham of Terrigal SLSC won the Jacob Lollback Memorial Trophy in the U19 Male Board Race, the Central Coast club's only gold medal of the weekend.
Pipi Te Pania of North Curl Curl SLSC grabbed gold in the U15 Female Iron as her club edged Elouera SLSC – who had a win on the final day with Kai Robertson in the U19 Male Surf Race – to round out the top 10. In winning that race, Kai also won the Saxon Bird Memorial Trophy.
Further down the beach, Masters athletes showed their skill in the surf as the Surf Boats Championships kicked off, with the formidable Batemans Bay SLSC 'Banshees' a notable winner in the 180 Year Min Female category while the Avalon Beach SLSC 'Chaos' won the Reserve Female competition, with Queenscliff's Team A taking the silver.
Boat crews representing Avalon Beach at the SLSNSW State titles this weekend.
Open Women "Brumbies": Lauren Petersen, Naomi Richardson, Gem Eastwood, Elena Di Biagio – Nathan Wellings (S)
Reserve Men "Pinkies": Thomas Curnow, Lachlan Mills, Ellis James, Matthew Mayall – Nathan Wellings (S)
Reserve Female "Chaos": Sophie Valentine, Laura Baierl, Sophie Holmes, Tara Neasmith - Nathan Wellings (S)
U23 Female "Chickies": Angela Carter, Olivia Gligorevic, Grace Seaglove, Eliza Cutrie – Nathan Wellings (S)
U19 Female "HCMFs": Angela Carter, Ruby Hume, Molly Baczkowski, Alice Binns – Peter Carter (S)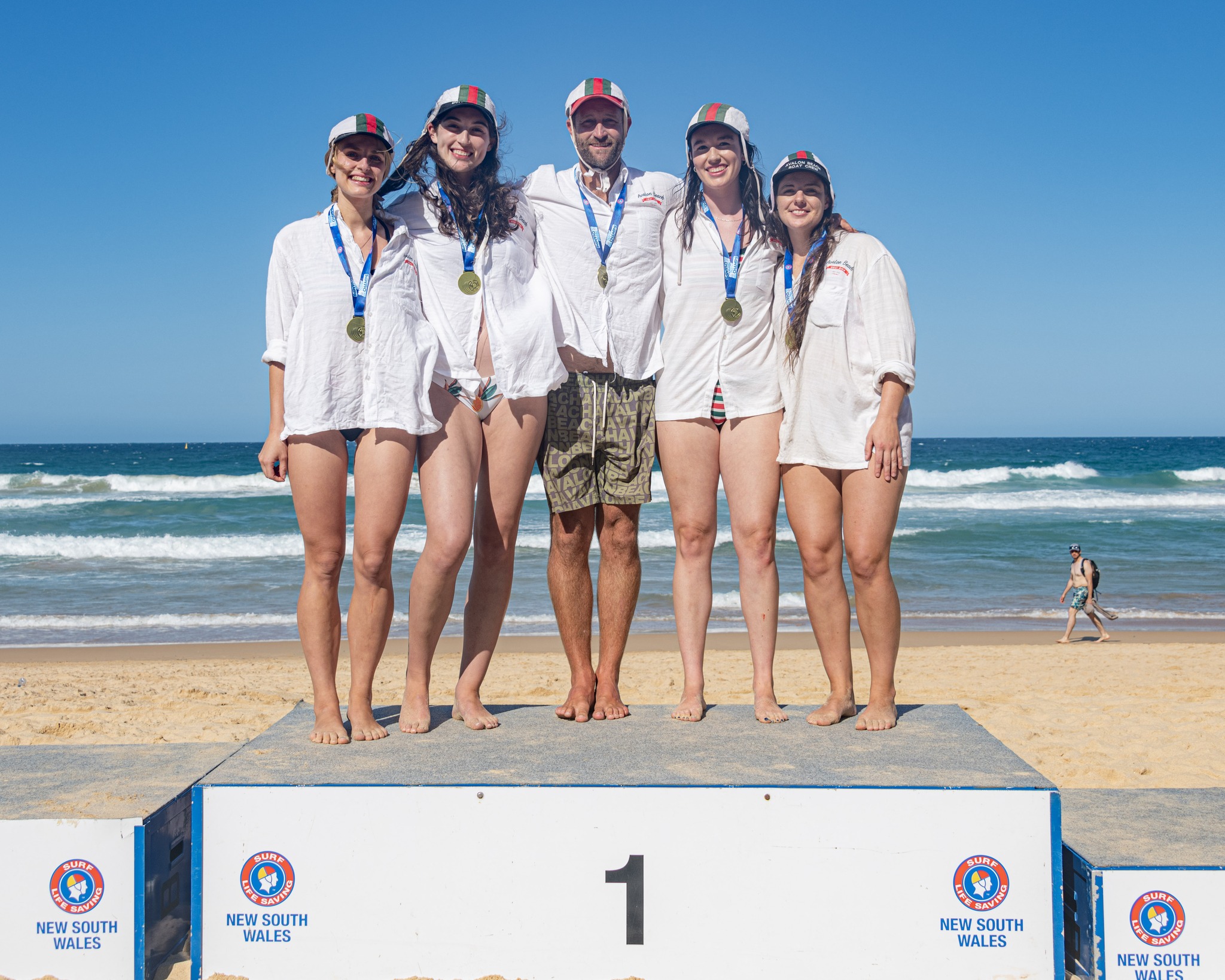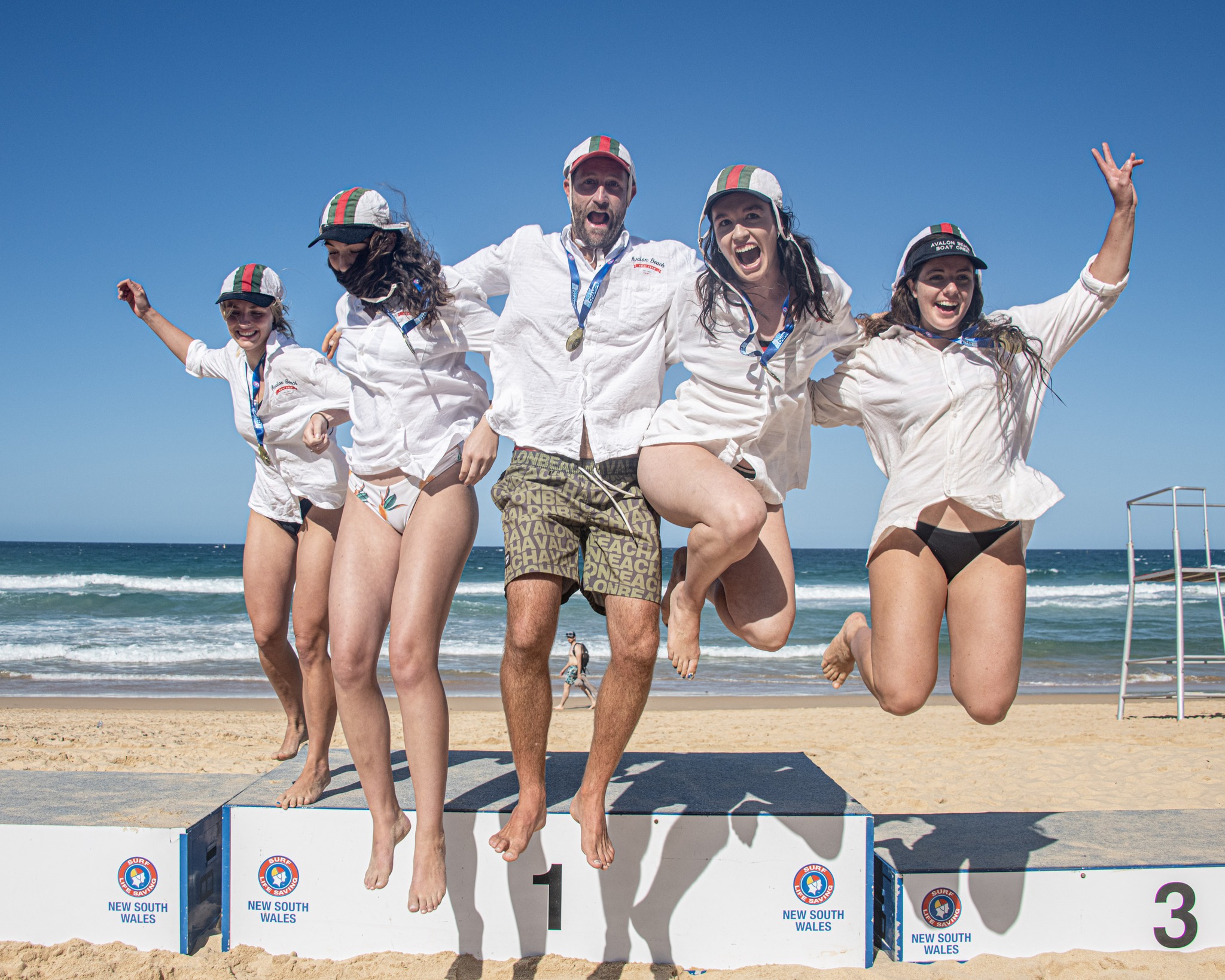 Avalon Beach SLSC's 'Chaos' - gold in the Reserve female. Photos; Malcolm Trees
Bulli SLSC and Port Kembla SLSC were upset by local hope, Queenscliff SLSC in the Open Male final in an incredibly tight finish, while North Steyne 'Alive' won gold in the 160 Female.
Palm Beach SLSC had five gold medals in the Open Female 'Paddlers', Reserve Grade Male 'Padlocks', U23 Male 'Plumbers' and Open Relay. Palm Beach SLSC would also have some great results in the Under 19's Surf Boat races, finishing 1st 'Parmigianas' and 5th overall, 'Penitokos', along with taking out the silver and the bronze in the U23 Female with PBSLSC 'Peastmode' and 'Palmtrees' while South Curly 'Milk' would take the gold in that division.
A good 2023 States Surf Boats competition for that club, most of whose Boat Division will be heading west for the National Championships, to be held this year in Perth, Western Australia at Scarboro SLSC and Trigg Island SLSC from 25 March to 2 April 2023.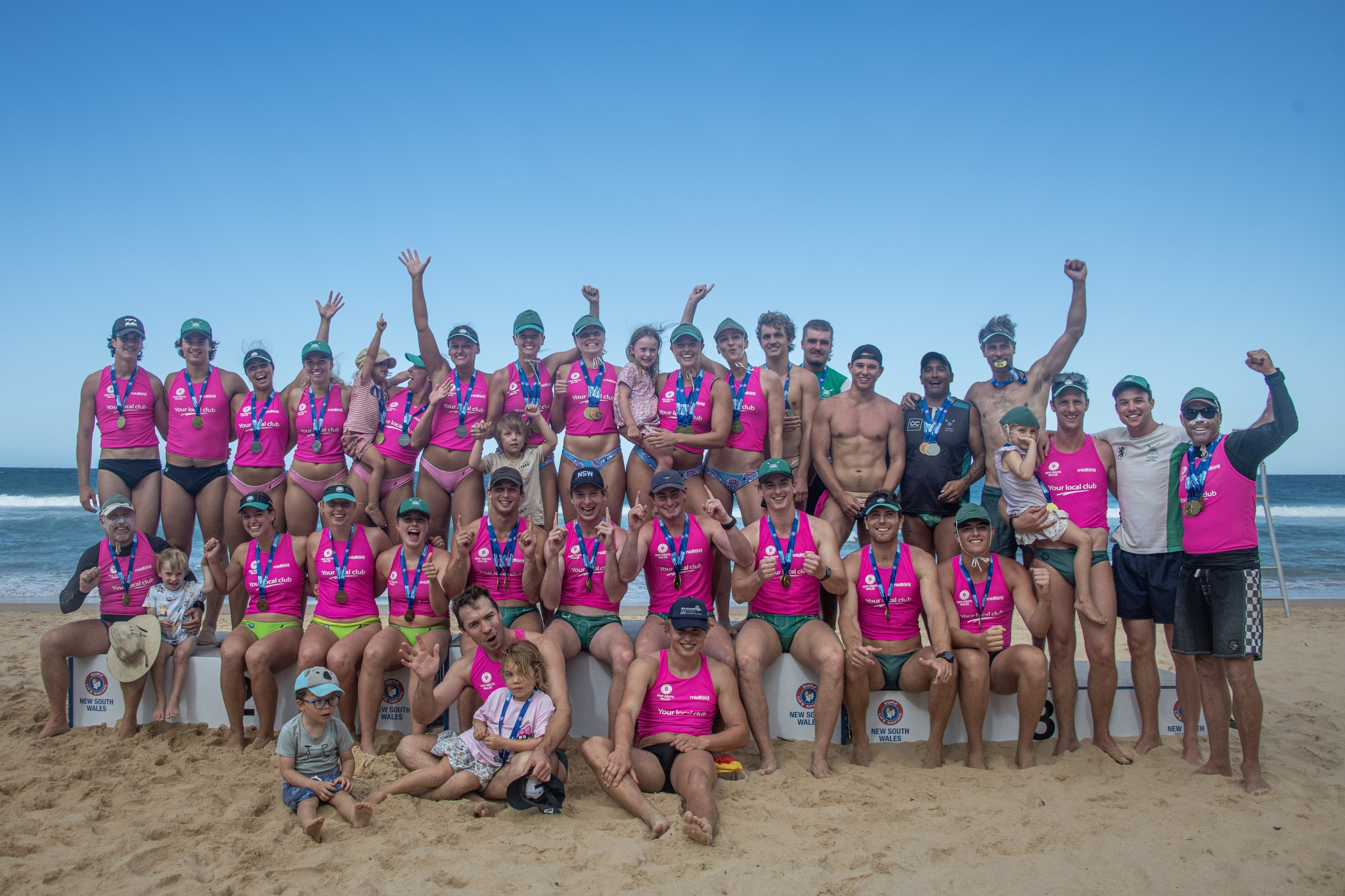 The Palmy Surf Boats Division Army - having a great 2022-2023 Season. Photo: Malcolm Trees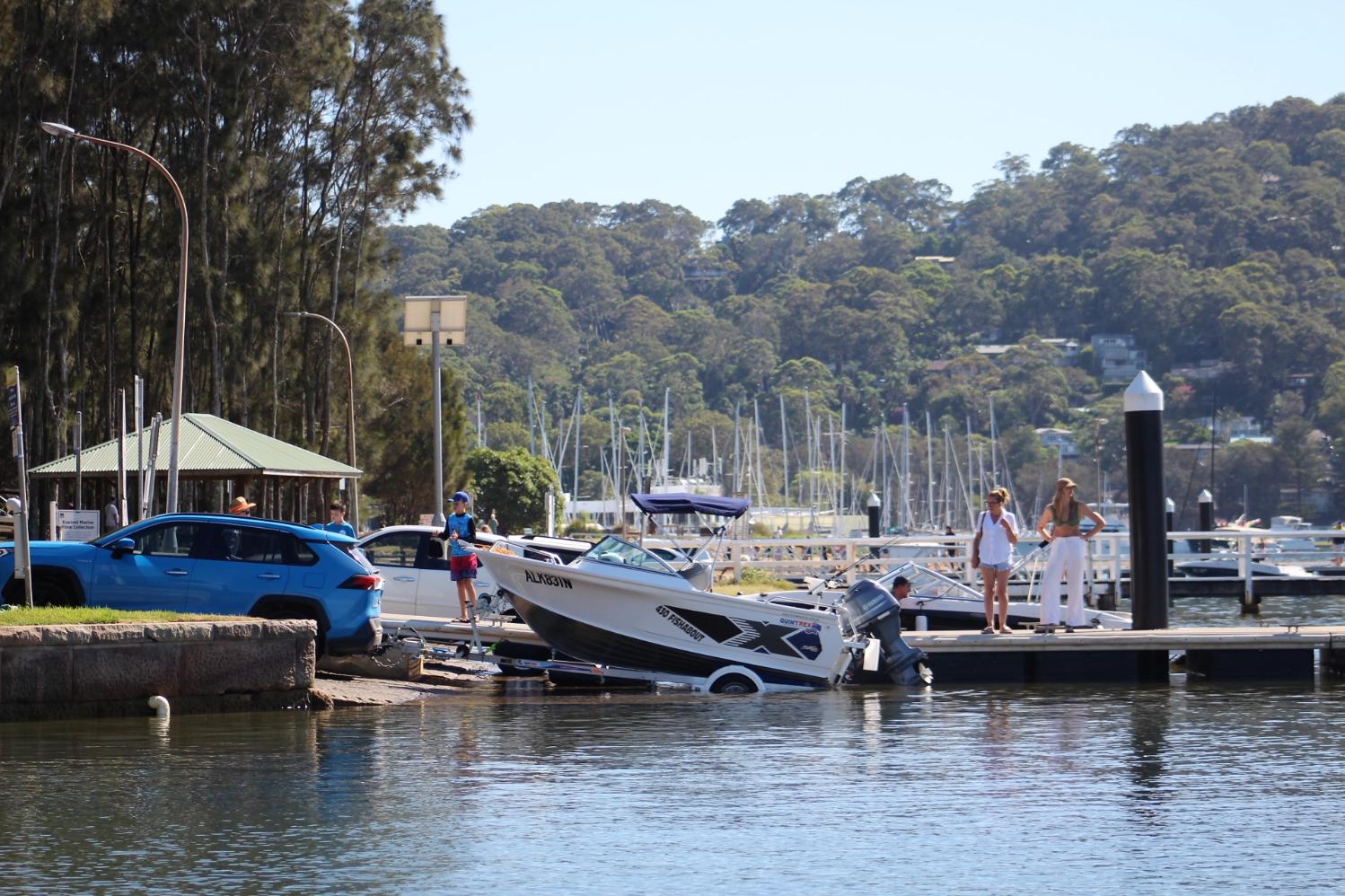 Bayview Boat Ramp, Rowland Reserve, Saturday March 11, 2023, 10am: a half dozen boats were put into Pittwater in five minutes, with a que of more behind them, along with others who had been fishing and were coming back in.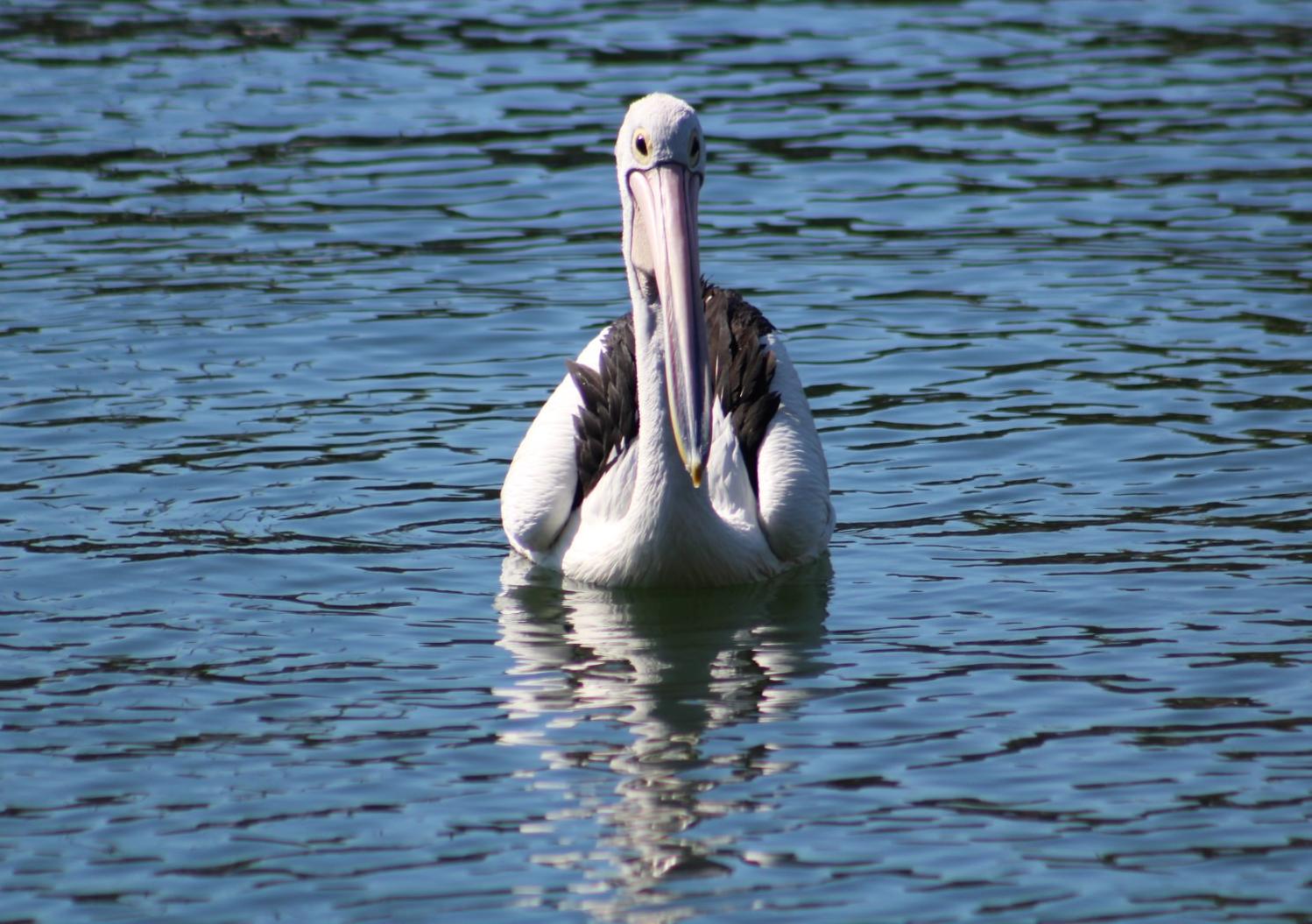 Pelican, Bayview, Pittwater - Saturday March 11, 2023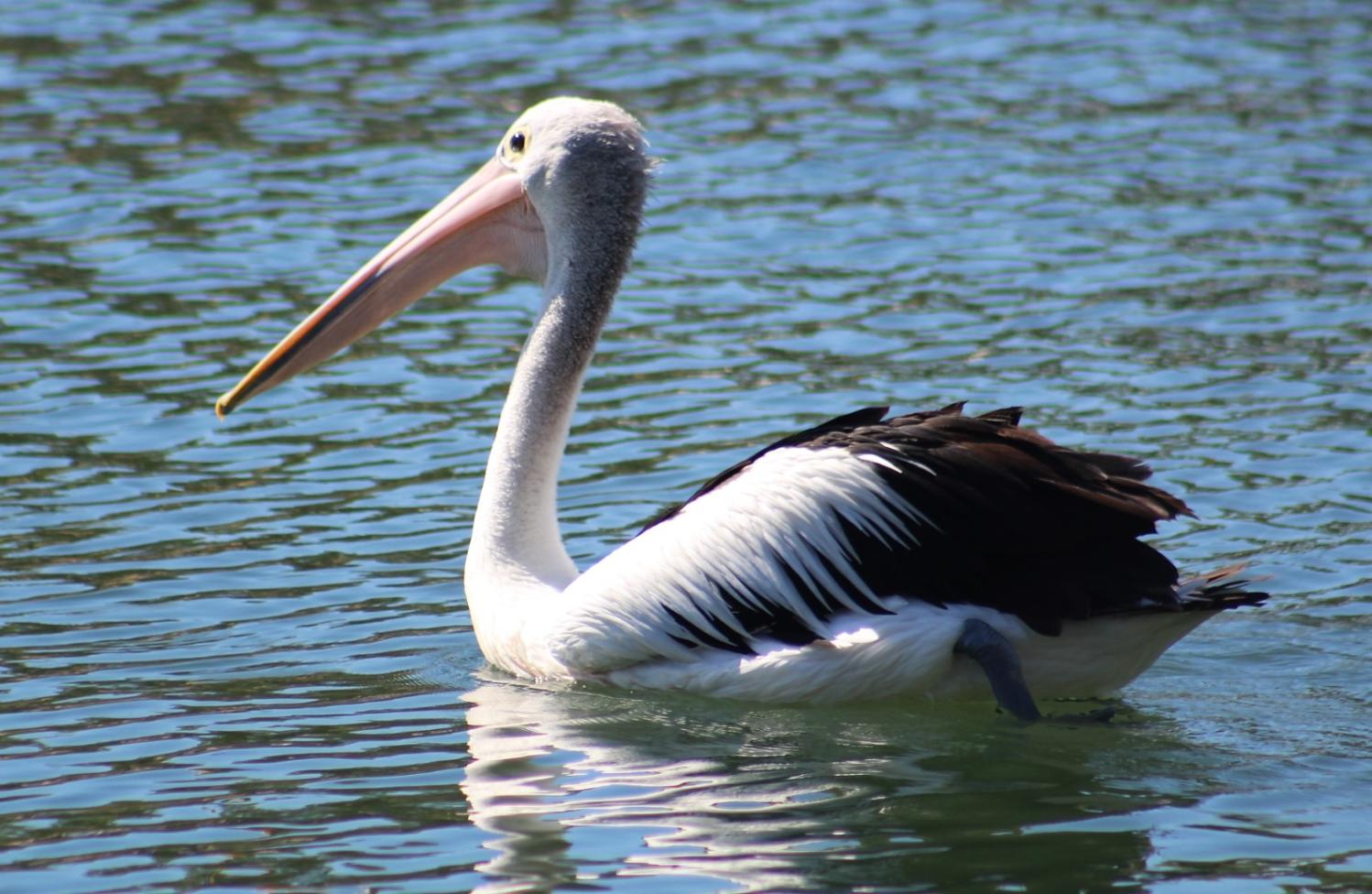 Pelican, Bayview, Pittwater - Saturday March 11, 2023
Past Features Archives (pre 2014)
Pittwater Online News was selected for preservation by the State Library of New South Wales and National Library of Australia. This title is scheduled to be re-archived regularly.
Archived Issues (2014 on) may be accessed here: pandora.nla.gov.au/tep/143700
Past Issues are also listed on site on the Community News page, by month.