March 12 - 18 2023: Issue 575
Aboriginal Support Group – Manly Warringah Pittwater's Bush Tucker Night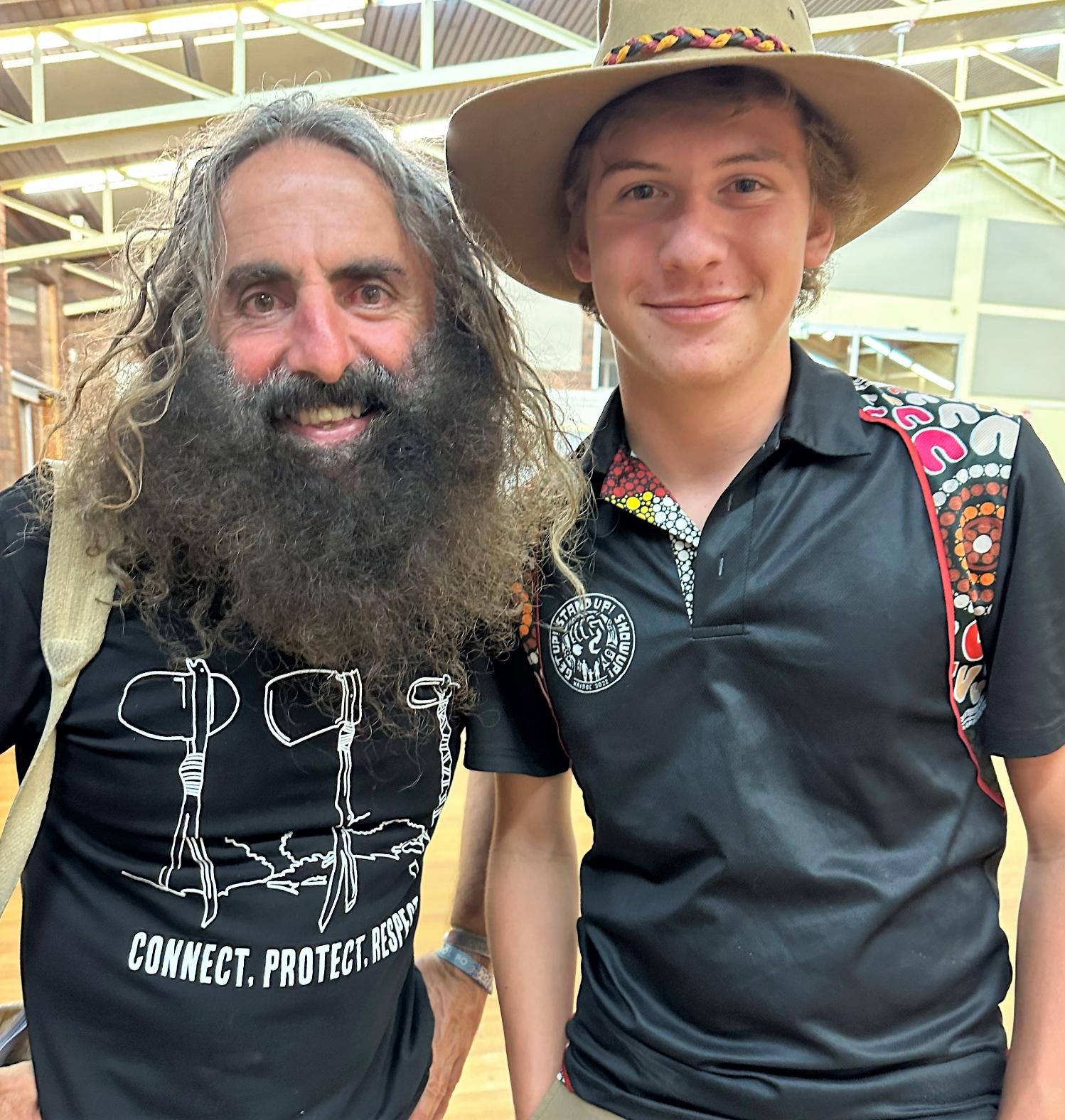 Costa Georgiadis and Noah Smith. Photo: Miranda Korzy
The eyes of local Aboriginal elders are still watching that we take care of country, local First Nations student Noah Smith told a bush tucker meeting at Mona Vale Hall last night.
Noah, 17, Northern Beaches Young Citizen of the Year provided a great introduction to foods which can still be found growing in the area. A Barrenjoey High Year 12 student, he also works at the Terrey Hills Bush to Bowl social enterprise selling and promoting bush foods.
The audience of 150 included indigenous and non-indigenous people, with Gardening Australia presenter Costa Georgiadis amongst them and taking notes throughout the evening!
Noah had collected specimens from around the Bilgola Plateau and the Avalon Beach dunes area, and he explained the uses of each in bush tucker and for medicinal purposes. Wattle seed, for example, can be used to add a nutty flavour to food or crushed and combined with water as an anti-bacterial soap.
Heath Banksias, which he explained grow in higher localities such as the Plateau, can be used to filter water or dipped in water first thing in the morning to make a slightly sweet cordial. Meanwhile the rounded protrusions on the seed pods are the elders' eyes, Noah said and were, "watching that we take care of country".
Meanwhile, Bracken fern, especially the young furled leaves, could be crushed and applied to ant bites to reduce the pain.
Noah was keen to pass on his knowledge gained from both his job and the Aboriginal community. "I want to help people learn about the plants around us and how to use them," he said. "I'm trying to encourage them to bring the bush back into their backyards."
The event was held by the Aboriginal Support Group - Manly Warringah Pittwater, and member Sue Evers, had prepared a delicious feast using bush foods. On the table were different varieties of Kangaroo meat balls, kangaroo sausages, emu casserole, Warrigal Greens and Macadamia based pesto, breads, dampers and shortbread made with a variety of grains, as well as jams and chutneys made with Lilli Pilli fruit and bush plums, amongst other delicacies. Recipes were available on the night!
Thanks so much to Noah, Sue and the Aboriginal Support Group for a great night!
Report and photos by Cr. Miranda Korzy

Bunya nut