May 8 - 14, 2022: Issue 537
WINNERS Revealed At The 2022 Australian Surfing Awards: Sam Bloom - North Narrabeen Boardriders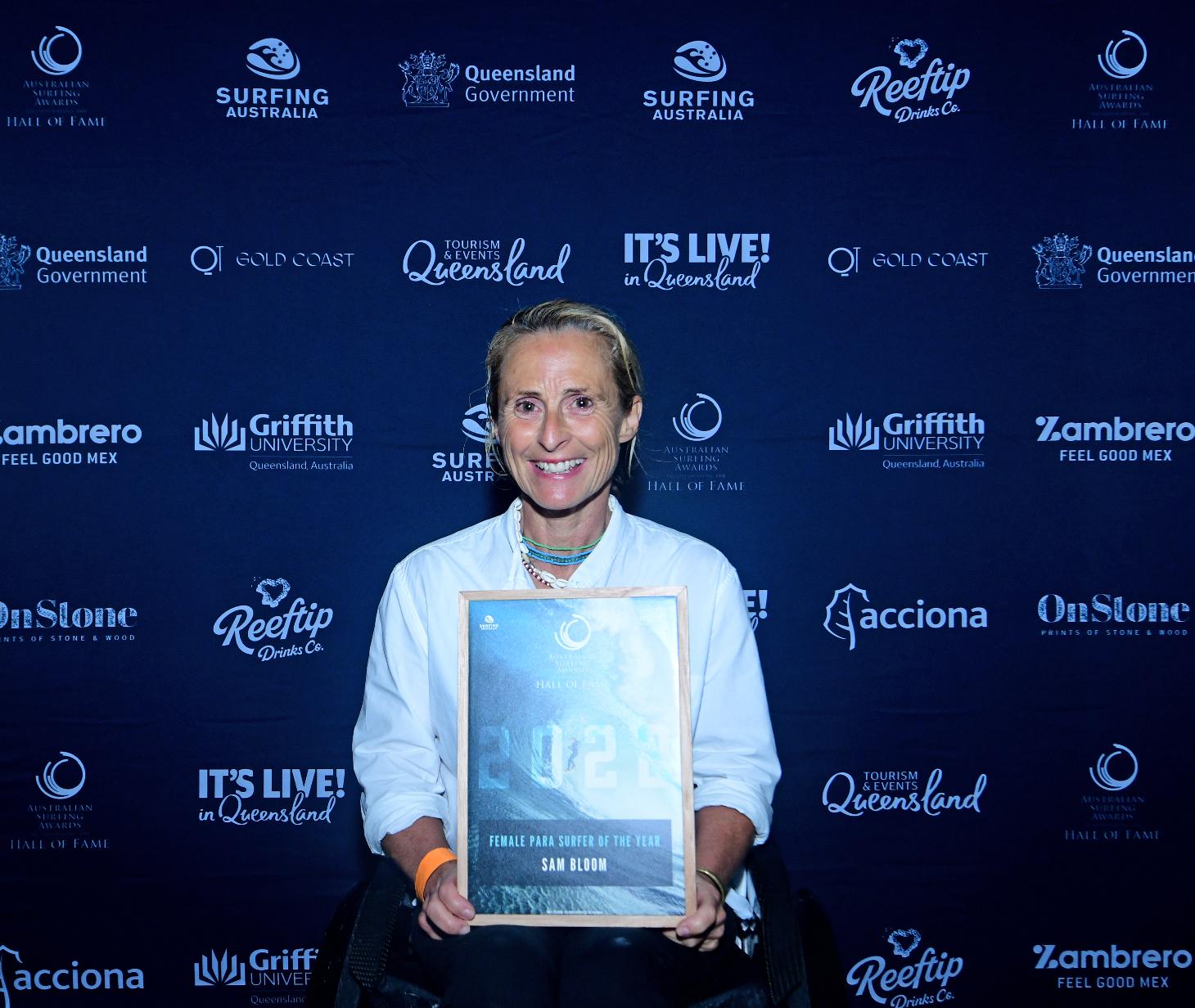 Sam Bloom, Surfing Australia's Para-Surfer of the Year 2022. Photo: Surfing Australia
Sunday, May 8th, 2022
Joel Parkinson's Australian Surfing Hall of Fame induction presented by Billabong headlined a huge celebration of Aussie surfing at QT Gold Coast last night. The 2012 World Champion and Coolangatta legend was humbled by the honour and was presented the award by long-time mentor Michael Searle.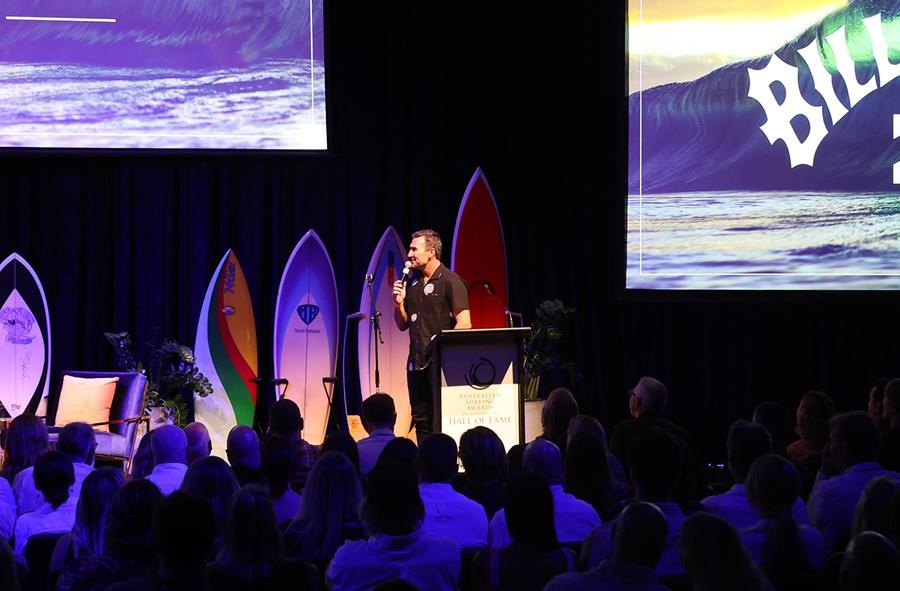 Joel Parkinson on stage as part of his Australian Surfing Hall of Fame presented by Billabong induction. Photo: Surfing Australia

After a massive 2021 rookie season that included a top five finish at the WSL Finals in California, Morgan Cibilic was crowned Male Surfer of The Year while young gun Molly Picklum took out Female Surfer of The Year, out voting seven-time World Champion Steph Gilmore and Isabella Nichols for top honours.
Local honours went to Newport's Sam Bloom, amazing Inaugural Para-Surfer winner, while the 2022 Simon Anderson Club Award went to North Narrabeen Boardriders Club. This is awarded to the Australian boardriders club whose outstanding performances in the water have been matched by contributions of all kinds to the benefit of its wider local community. This video insight by the WSL lends and insight into this local club, formed in 1964 and still going strong as one of the larger extended families of Narrabeen.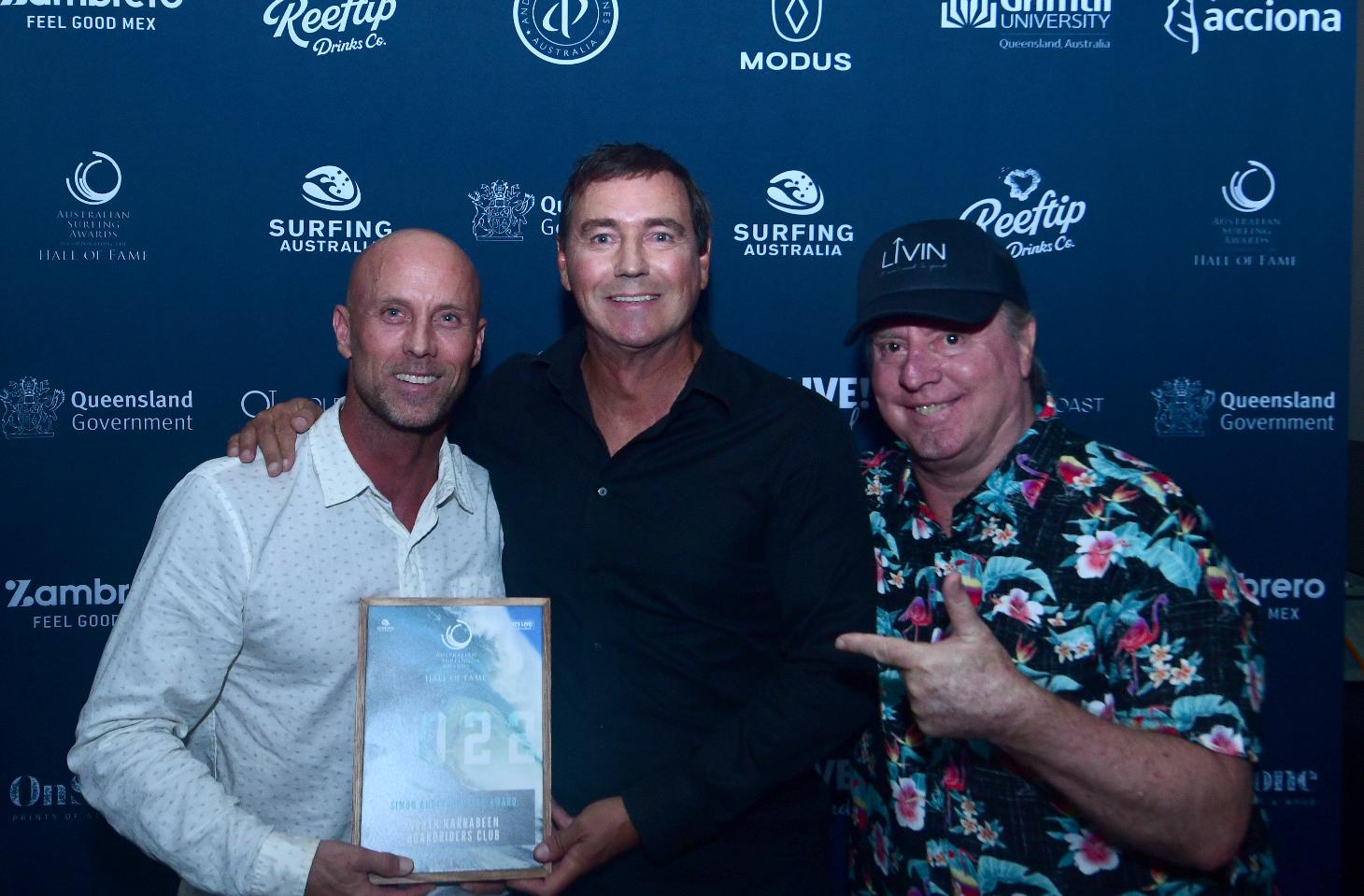 Simon Anderson Club Award; North Narrabeen Boardriders Club. Photo: Surfing Australia
Belrose 1A Strike Team E18-201 - Northern Beaches HQ 1
Firefighters

Commitment And Bravery Recognised In St Florian's Day 2022 Commendations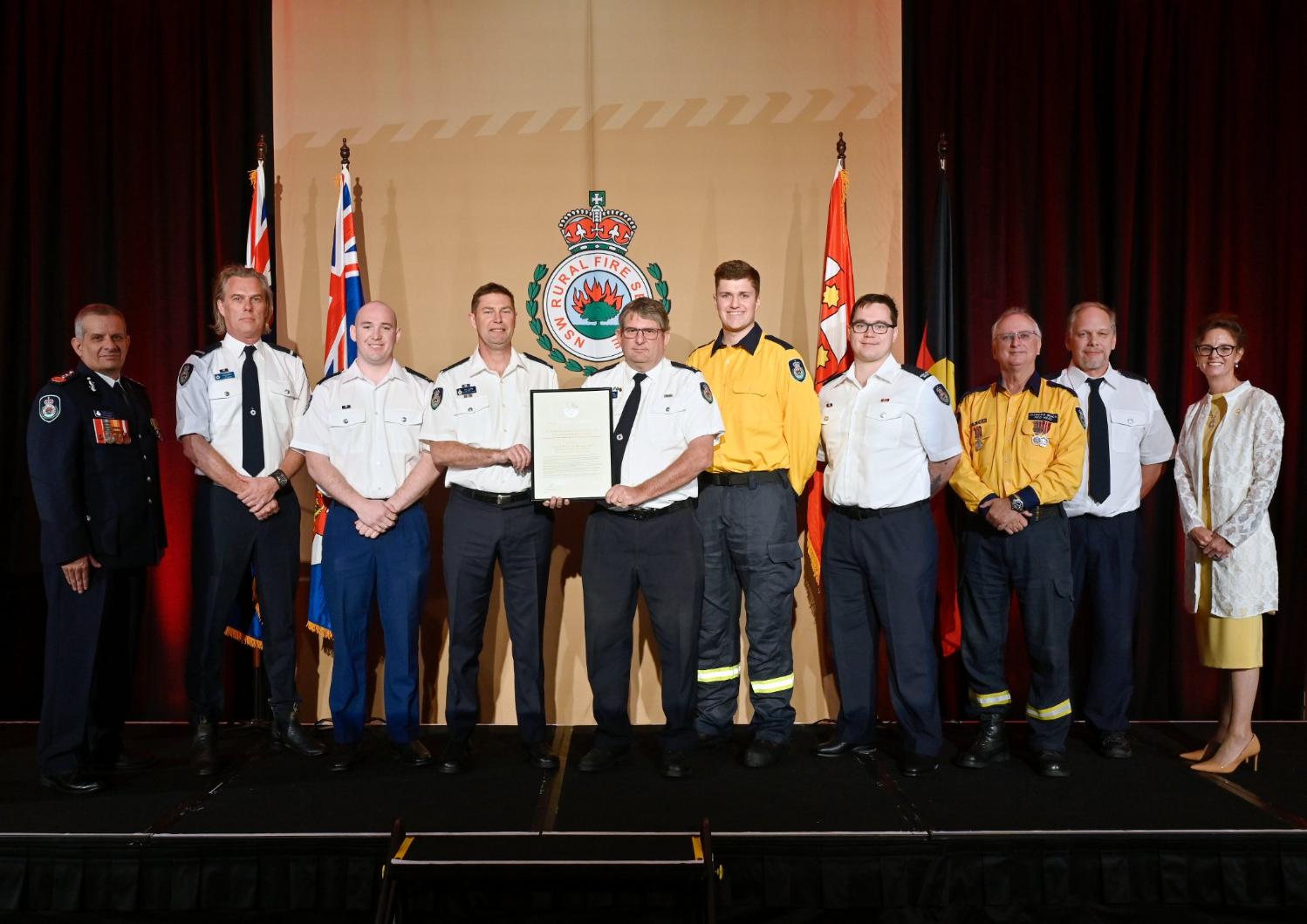 Photo: NSW Rural Fire Service
Nineteen NSW Rural Fire Service (NSW RFS) staff, volunteers and teams were honoured for their bravery and exceptional service on St Florian's Day 2022. Held on 4 May each year, the St Florian's Day awards coincides with the Feast Day of St Florian, Patron Saint of Firefighters, and International Firefighters' Day.
From pulling a man from a burning building to delivering hampers for COVID-stricken communities, 19 NSW Rural Fire Service (NSW RFS) staff, volunteers and teams have been honoured for their bravery and exceptional service.
NSW RFS Commissioner Rob Rogers was joined by Minister for Emergency Services and Resilience and Minister for Flood Recovery Steph Cooke to recognise the efforts of the NSW RFS members at the annual St Florian's Day awards.
Commissioner Rogers praised the recipients for their ongoing hard work and professionalism.
"These past few years have seen the State face fires, floods and a global pandemic, and our NSW RFS members have selflessly stepped up to help communities through these challenges," Commissioner Rogers said.
Minister Cooke thanked each award recipients for their dedication and commitment to serving and protecting communities across NSW.
"I am incredibly proud of our NSW RFS staff and volunteers who remain on call, day after day, responding to all manner of emergencies and incidents," Ms Cooke said.
The full list of recipients of the 2022 St Florian's Day Awards is available here: www.rfs.nsw.gov.au/news-and-media/st-florians-day-2022
Among these are a Commissioner's Commendation for Northern Beaches Headquarters 1 and Belrose 1A, Strike Team E18-201.
Fake-Illegal Corflutes Posted All Over Mackellar - Warringah Electorates + Grass Roots Liberal Party Members Overruled + An Invisible One Nation Candidate + Biased News Reports + Malcolm Turnbull's Address In The US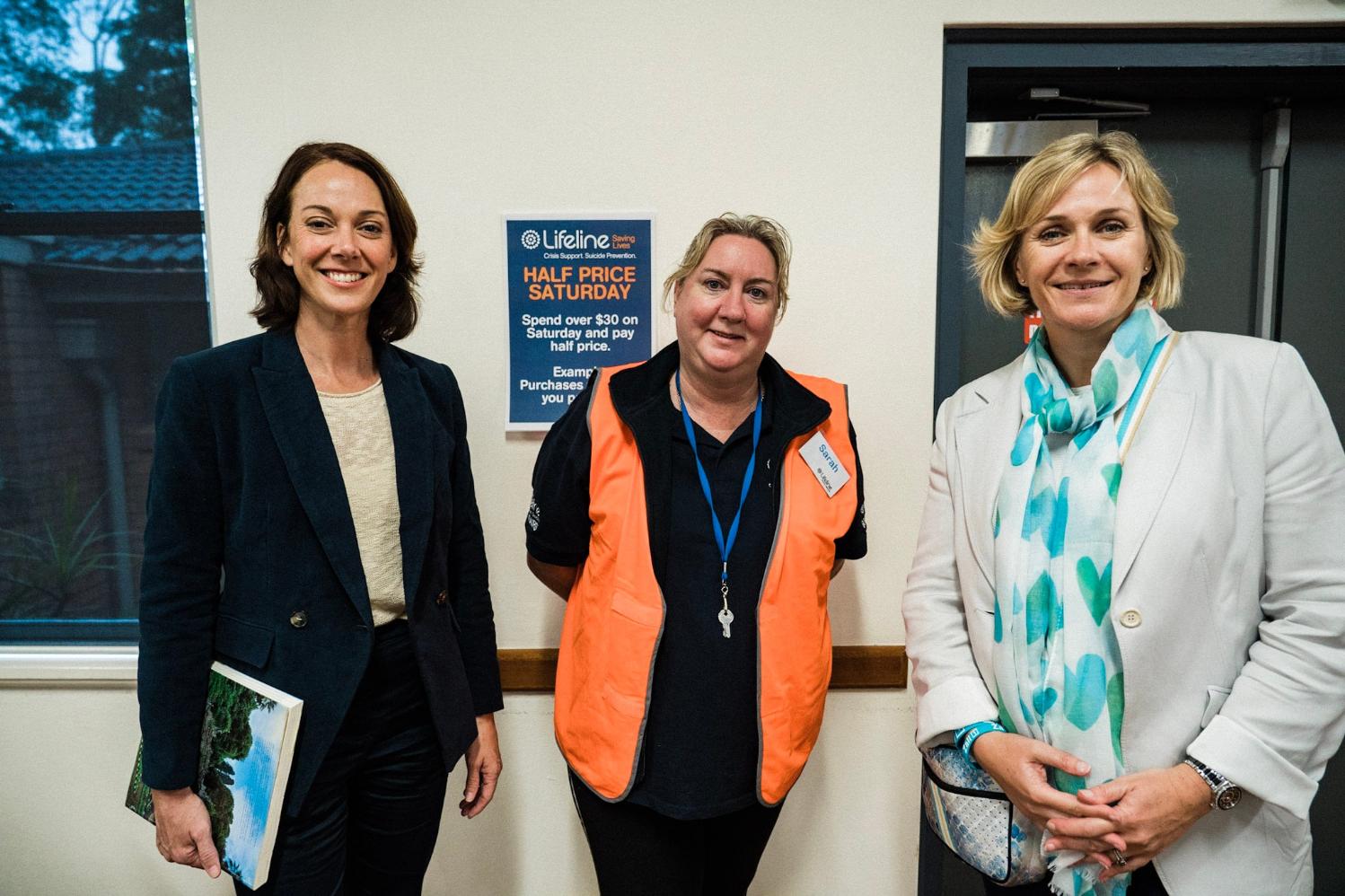 Dr Sophie Scamps and MP for Warringah Zali Steggall at Forestville Lifeline Book Fair in April. Photo: Dr. Sophie Scamps FB page.
The 2022 Federal Election took an insidious turn on Thursday evening/Friday morning May 5th/6th as fake and illegal corflutes were placed on light poles in Mackellar, displaying a contempt for the local community and a clear disregard for democratic processes. The following corflute was seen attached to an electric pole on the corner of Barrenjoey and Careel Head roads, north Avalon.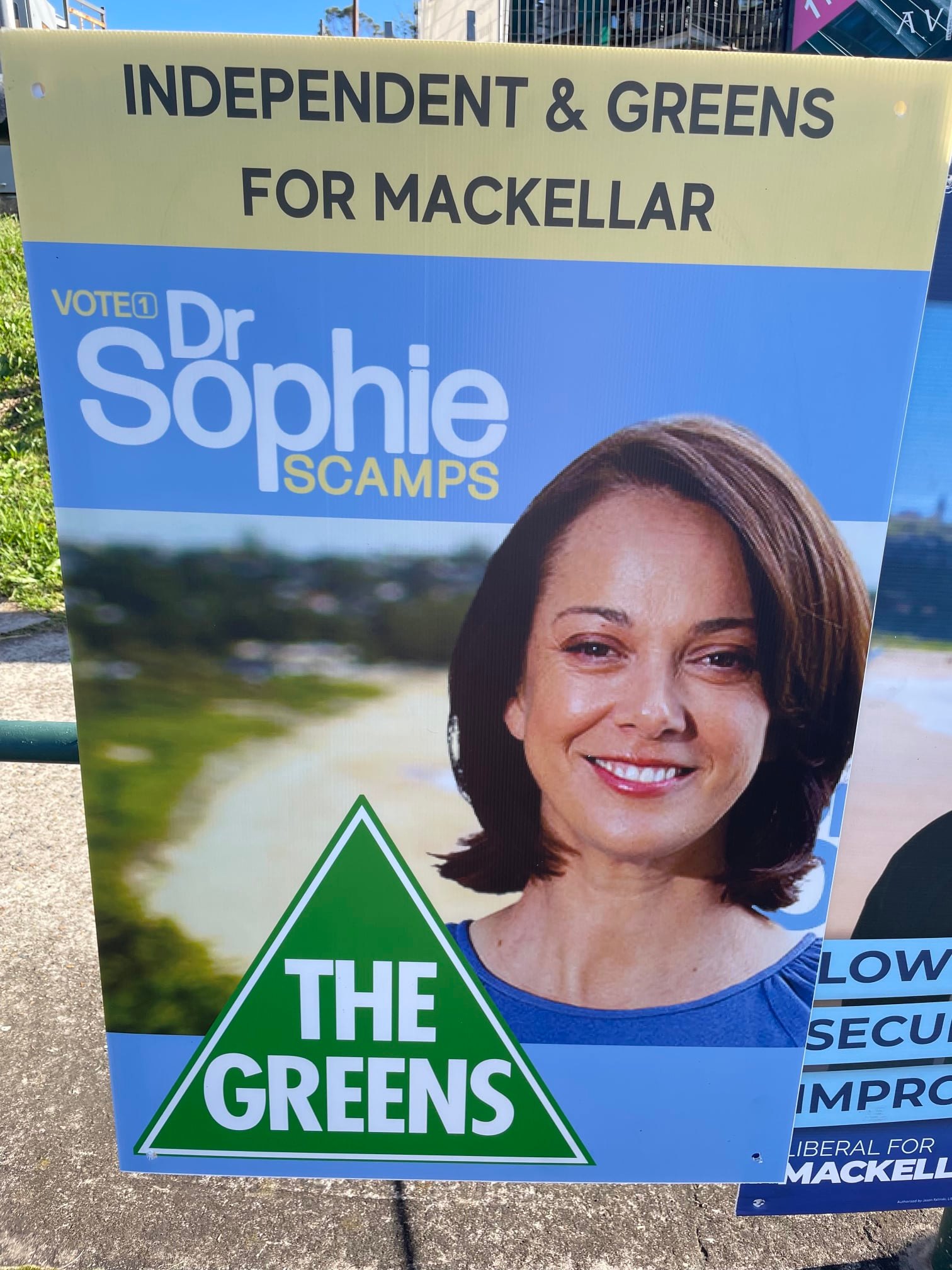 The fake corflutes also appeared in the seats of Warringah and Hughes, similarly targeting Independent Candidates in those seats.
These are clearly trying to make it look as though these candidatures are associated with each other. They have since been taken down from everywhere they were placed, by human hands, right along the main Barrenjoey and Pittwater roads.
A well-organised and well-funded disinformation campaign is clearly in action and although those Independents targeted and The Greens have been quick to point to the Liberal party as 'those who done the dirty deeds', there are also members of Clive Palmer's well-funded United Australia Party standing in these seats, while others have pointed to well-heeled lobby group Advance Australia, which is also attacking anything that is not the Liberal Party.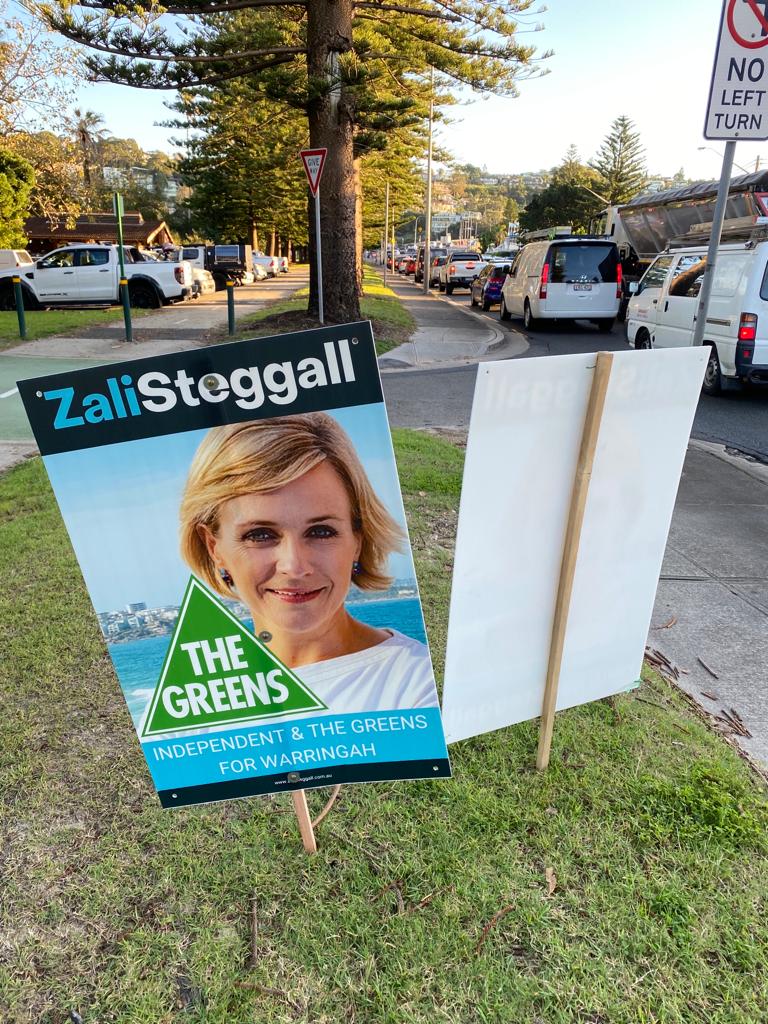 The same day the illegal corflutes appeared former Australian Prime Minister Malcolm Turnbull was giving an address to the Harvard Club of Washington DC which reflects on the rise of independents this election and why members of Liberal Party branches may choose to vote for them instead of those candidates chosen for them by overruling members of 12 Liberal branches. An extract from this reads,;
Big Tent Parties captured by extremes

In many countries, including Australia and the US, you have a big political party on the centre right and on the centre left. In our country the Labor Party, historically the political wing of the trade union movement, is the main party on the left, and my party, the Liberal Party, is the main one on the right - a misnomer you could say, but its founder, Sir Robert Menzies, was anxious to ensure that the party was not narrowly perceived as a conservative party, like its counterpart in the UK.

Historically these parties were big tents or broad churches with members with a wide range of views, and inevitably that meant that the left of the centre right party often overlapped with the right of the centre left party thus enabling the type of cooperation and compromise that all democratic systems depend on if they are to function effectively.

In recent times however, and especially in the Trump dominated GOP, a big tent party can be hijacked and those who don't share the views of the dominant faction are either driven out or rendered irrelevant.

Australia has not been immune to this trend, although not to the same degree as here. My own party called Liberal has in the past been a combination of both the liberal and conservative traditions, but since my deposition in 2018 it is fair to say that the liberal, or moderate, voices have been marginalised and their influence is much diminished and diminishing - especially on the toxically controversial issue of climate change where the political right, supported by Murdoch's media, have opposed effective action for many years.

So what does a traditional voter for, say, the Liberal Party in Australia or the Republican Party in the US do if they think their party has moved too far to the right? They can vote for the other side - Labor in Australia, Democrats in the US - but that may be a bridge too far. To quote Congressman Adam Kinzinger, a Republican, "I don't really know what the party stands for anymore…I think mentally I feel more like an independent than a Republican."

In Australia, the existence of preferential voting opens up another option and we are seeing it play out in this election. In a number of hitherto safe Liberal seats, residents have organised to support small "l" liberal independent candidates who are typically progressive on climate and social issues, but more conservative than Labor on economic issues.

If such an independent can get enough primary votes to finish second behind the Liberal incumbent, and if that incumbent's vote is reduced to around 40% or less then the independent will likely win on the preferences of Labor, the Greens and other independents.

In many respects this may be the most interesting part of the whole election, because if more of these "teal" independents win, it will mean the capture of the Liberal Party will be thwarted by direct, democratic action from voters. People power, you might say.

Of course the big parties' arguments against independents is always the same - instability, chaos and so on. But in truth, many parliaments, including in Australia, have operated with stability and good effect with major parties requiring the support of independents or minor parties to pass legislation and, in fact, in our Senate that has almost always been the case. Formal coalitions are also very common - the Liberal Party has always been in coalition with the (rurally based) National Party for example. Political instability invariably comes from internal ructions within the major, governing parties not from independents on the cross benches.

Imagine what it would mean here if traditional Republican voters were able to vote for an independent Republican who better represented their values than Mr Trump's pick and who could go on to win a district on Democrat preferences. By direct democratic action, voters could ensure they have, in this case, the centre right representatives that best share the values and political agendas of the majority of the electorate.

In other words, even if the members of a political party cannot escape from the thrall of the dominant faction, their traditional supporters in the electorate can do so by voting for an independent who has a real chance of success.

To conclude, there are clear solutions to the electoral problems I have discussed - and while it is easy to throw reform in this area into the too hard basket, I cannot emphasise enough that just as disaster follows neglecting repair and maintenance of industrial systems, so too does neglect imperil the continuance of our democratic institutions. If January 6 did anything it should have banished complacency.
Mr. Turnbull's reference to preferences is timely given one of the candidates for Mackellar, standing for Pauline Hanson's One Nation party, has not been seen nor heard nor attended any of the Mackellar Candidates forums being hosted locally. Darren Joseph Dickson's page on the Pauline Hanson's One Nation website is completely blank: https://www.onenation.org.au/mackellar. He appears to be a resident of Queensland, not the seat of Mackellar.
The Australian Electoral Commission has stated it is investigating the series of doctored posters that appeared overnight, incorrectly showing the names and faces of independent candidates with the Greens logo.
The AEC website
also provides information on why it is required that electoral communications need to be authorised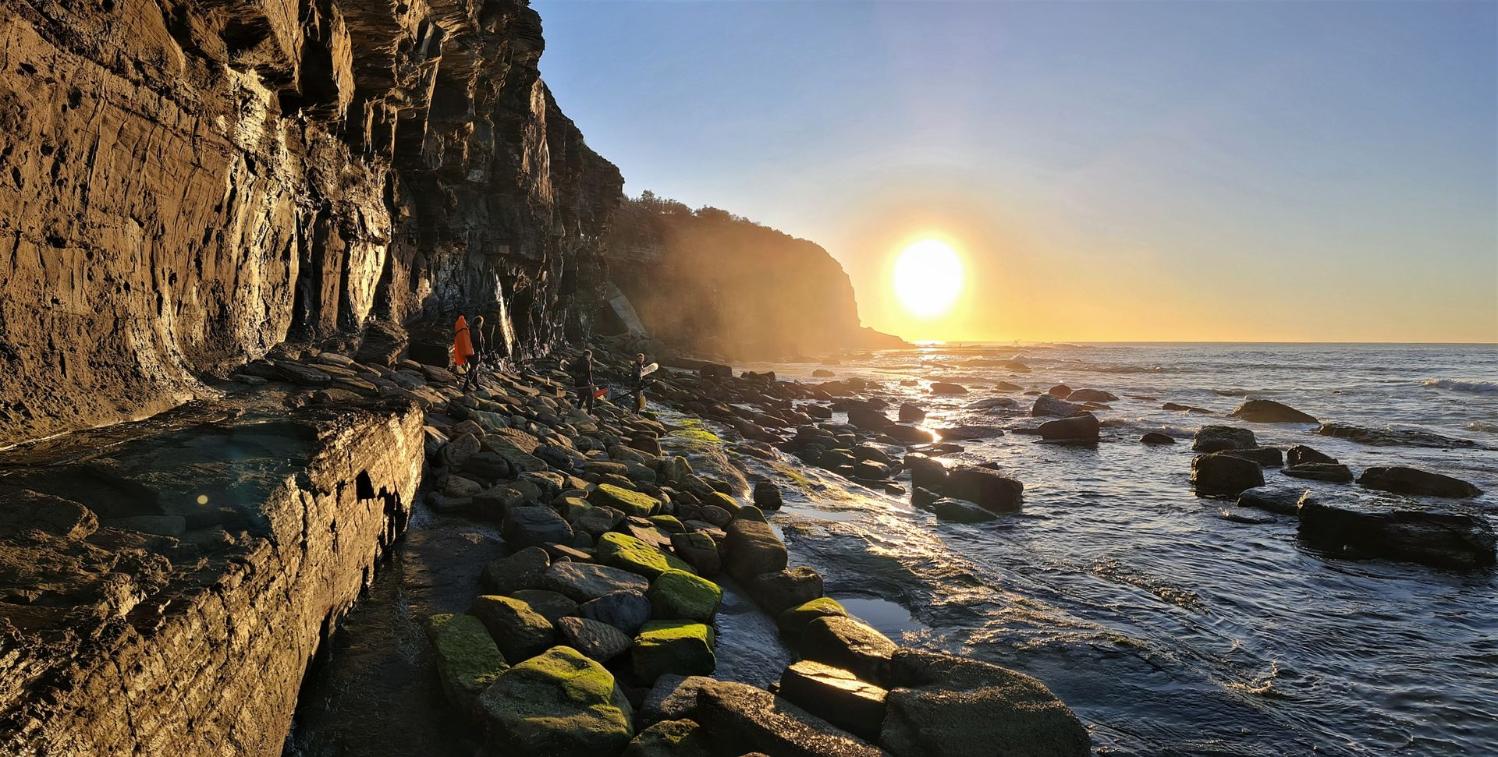 Late Autumn Sunshine. Photo: Joe Mills
Past Features Archives (pre 2014)
Pittwater Online News was selected for preservation by the State Library of New South Wales and National Library of Australia. This title is scheduled to be re-archived regularly.
Archived Issues (2014 on) may be accessed here: pandora.nla.gov.au/tep/143700